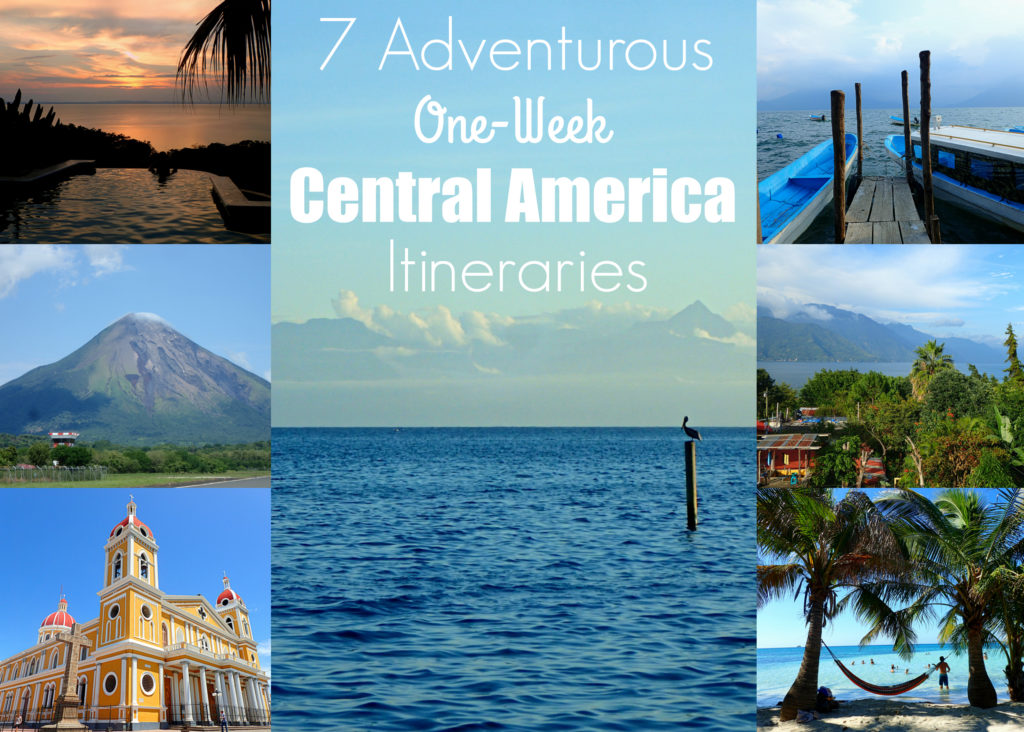 There's a lot to love about the gorgeous and culturally unique countries that make up Central America, from the crystal clear Caribbean waters of Honduras's Bay Islands to the misty mountains and lakes of Guatemala, and from the smoldering volcanoes of Nicaragua to the cloud forests and beaches of Costa Rica. The food is cheap and fresh, the landscapes are wild and untouched, and the people are friendly and welcoming to visitors.
I've already shared my Ultimate Guide to Backpacking Central America, but the truth is, a long multi-month backpacking trip isn't necessary for seeing this striking region of the world, especially if you live in the United States. From where I live in Houston, I can get to any country in the region in under four hours!
If you're eager to dip your toes into the world of Central America travel, but aren't sure where to begin, take a look at these 7 adventurous one week Central America itineraries for ideas and inspiration.

Nicaragua: The Land of Volcanoes (Granada, Isla de Ometepe, Leon)
Fly into Managua, Nicaragua's capital city, and head directly to the colorful and stimulating colonial city of Granada. Spend a day or two strolling the cobblestone streets and allowing your senses to be overwhelmed by Granada's vibrant atmosphere and brightly painted historic buildings. Aromatic street food stands can be found on most corners, and two distinct volcanoes can be seen from the city streets. Then head south to San Jorge to catch a ferry to Isla de Ometepe, an island formed by two volcanoes rising out of Lake Nicaragua. Rent a motorbike to explore the island, kayak along the beaches, ride horses to the San Ramon waterfall, and if you're feeling adventurous, attempt the grueling hike up one of the island's two volcanoes. Then take the ferry back to San Jorge and head back north to Leon, where you can get a taste of Nicaragua's turbulent revolutionary history through the street art, explore the top of a blindingly white cathedral, and sand-board down the active Cerro Negro volcano.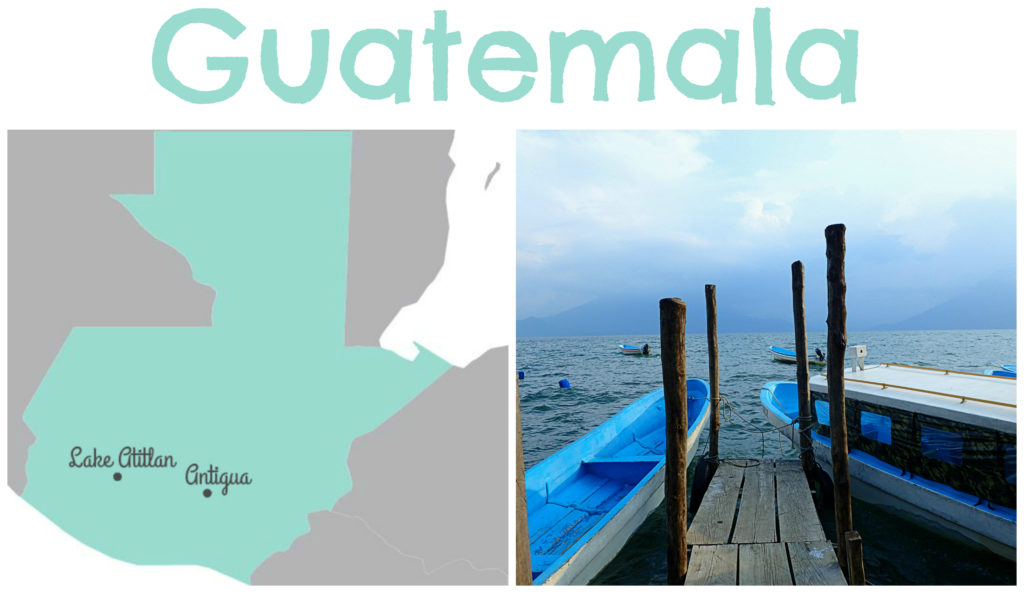 Guatemalan Highlands: Colonial Cities and Maya Influence (Antigua, Lake Atitlan)
Arrive in Guatemala City and transfer to pretty colonial Antigua. Spend a few days exploring the roughly cobblestoned streets, sorting through the crowded handicraft markets, and enjoying the refreshingly cool air that blows in from the surrounding mountains. Take a morning or afternoon trip to the top of Volcán Pacaya, or–if you're feeling more adventurous–an overnight trip to the summit of Volcán Acatenango. Head 2.5 hours northwest and spend the remainder of your trip visiting the numerous small towns and villages that encircle Lake Atitlan. San Pedro makes a fun and lively base (especially if you're up for the occasional party), San Marcos is great if you're looking to get in tune with your spiritual side (and maybe enjoy a chakra reading or two), and Santa Cruz is perfect if you're looking to go totally off the grid. Either way, you can visit all three of these towns in the same day thanks to the frequent boat taxis that roam the lake.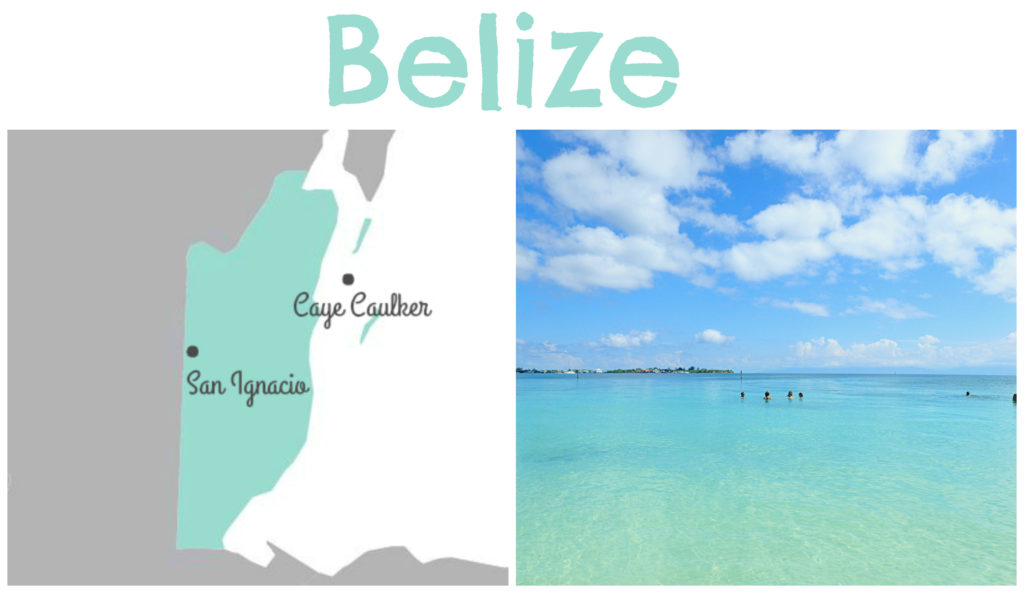 Laid Back Jungle & Island Life in Belize (San Ignacio, Caye Caulker)
Fly into Belize City and head directly to San Ignacio, the heart and soul of inland Belize. Visit the local Mayan ruins (including Xunantunich & Cahal Pech), shop the buzzing local markets, and go tubing through a cave system. Then, head back towards Belize and catch a ferry (or flight–only 10 minutes in the air over scenic islands and tropical waters!) to Caye Caulker, a laid-back island where you'll learn the true meaning of "going slow." Swim, snorkel, ride bikes around the perimeter of the island, and gather at the Split to watch the sun sink below the horizon. Don't forget to visit Hol Chan Marine Reserve and Shark Ray Alley for the best snorkeling near the island!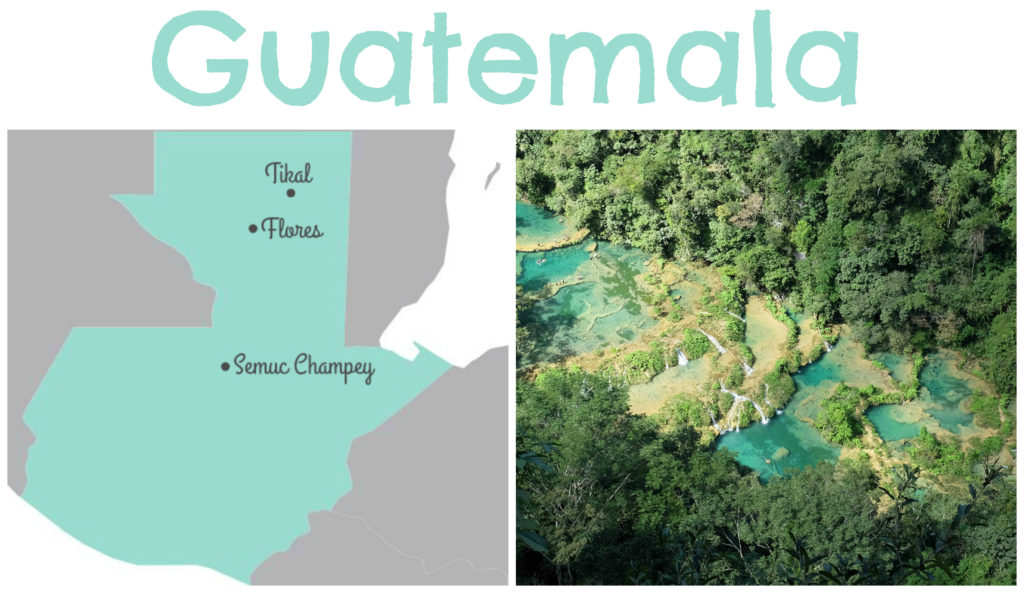 Jungles, Mayan Ruins, and Waterfalls in Guatemala (Flores, Tikal, Semuc Champey)
Ready for a real adventure? Fly into Flores, a pretty and peaceful town in the middle of a lake, and the natural staring point for a trip to the Tikal ruins. Spend some time getting to know this unique and very colorful colonial city before taking a day trip to Tikal (sunrise or sunset tour recommended!) The Tikal ruins are considered some of the most important, most fascinating, and most well-preserved of all of the Mayan ruins. Then, hop on a bus headed south to make the 6 hour journey to Lanquin, the town closest to Semuc Champey. This stunning series of multi-levels waterfalls boasts incredible hiking, swimming, and cave exploring opportunities. Another bonus is the incredible selection of accommodation, including Zephyr Lodge's famous infinity pool (complete with sweeping jungle views). Just be sure to leave enough time for the return journey back to Flores!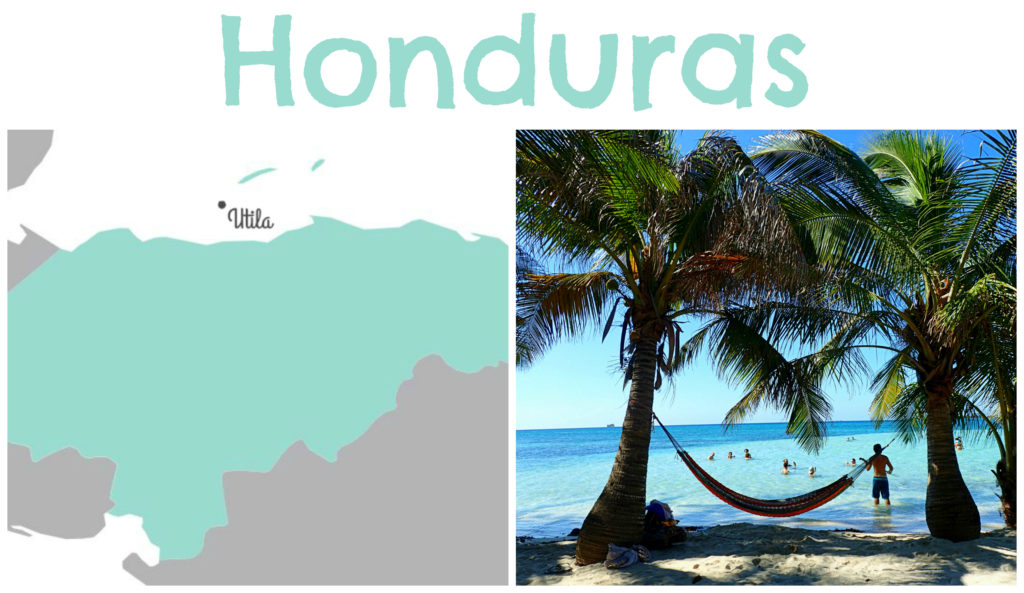 Salt Water, Scuba Diving and Simple Living in the Bay Islands (Utila)
Fly into San Pedro Sula, Honduras and catch a bus or shuttle to the seaside town of La Ceiba. If you've arrived early enough, catch the ferry over to the tiny island of Utila that same day; if not, spend the night in La Ceiba and catch the ferry the following morning. Alternatively, book a flight directly from San Pedro Sula to Utila. Find yourself a dive shop and sign up for a PADI Open Water course, which will take approximately four days. If you're already certified, look into the Advanced Open Water, or sign up for some fun dives. Leave yourself some time to do some on-land exploring too. Check out the small selection of beaches, rent a quad and go exploring in the jungles, or dare to check out the freshwater caves.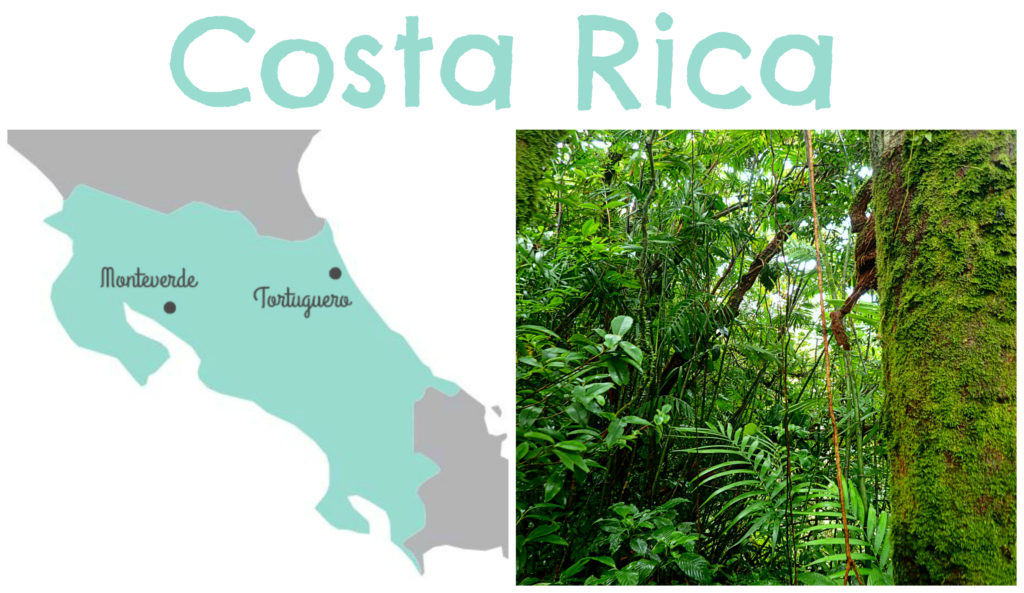 Costa Rica: Cloud Forests, Coffee Beans, and Canals (Monteverde and Tortuguero)
After arriving at the airport in San Jose, head north to the Monteverde Cloud Forest Reserve. This lush natural paradise has an abundance of coffee plantations, zip-lining adventures, and hiking trails. Visit hummingbird, butterfly and frog sanctuaries, and be sure to walk through the cloud forest's hanging bridges, keeping an eye out for wildlife. Then, head towards the Caribbean coast to end your trip in Tortuguero. This Amazon-esque jungle is home to an abundance of native turtle species, and is an important nesting area. Hop on a boat tour to explore the numerous canals the weave their way through the jungles, and see how many species of birds, monkeys, and reptiles you can spot. Night tours are your best bet for catching the local wildlife in action.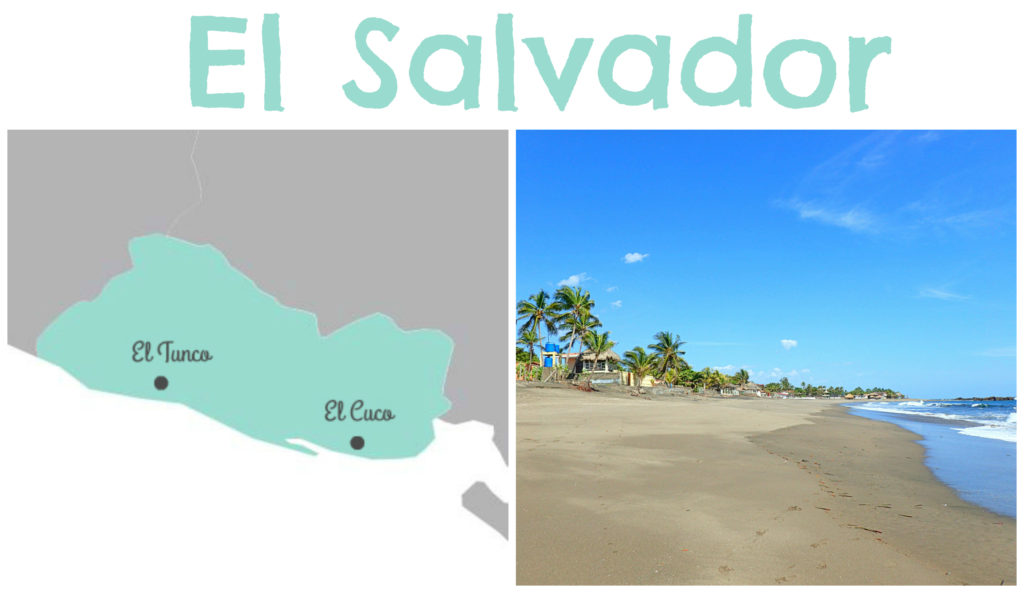 Surf's Up in El Salvador (El Tunco, El Cuco)
Looking for a beach retreat that's well off the beaten path, has a cool and friendly local vibe, and offers some incredible surfing? Look no further than the little beach town of El Tunco. Fly into San Salvador, and El Tunco will be waiting less than an hour away. Spend your days enjoying the cheap local eats, surfing the hours away, watching the sunset with a beer in hand, and enjoying the surprisingly vibrant nightlife when the sun goes down. Then make your way down the coast towards El Cuco, a ridiculously relaxed beachside down with not much else to do other than claim a hammock and waste away the days in pure chilled-out bliss. If you're up for something a bit more active, swimming, paddle-boarding, and long walks along the endless stretches of beach are always available.
---
Pin It!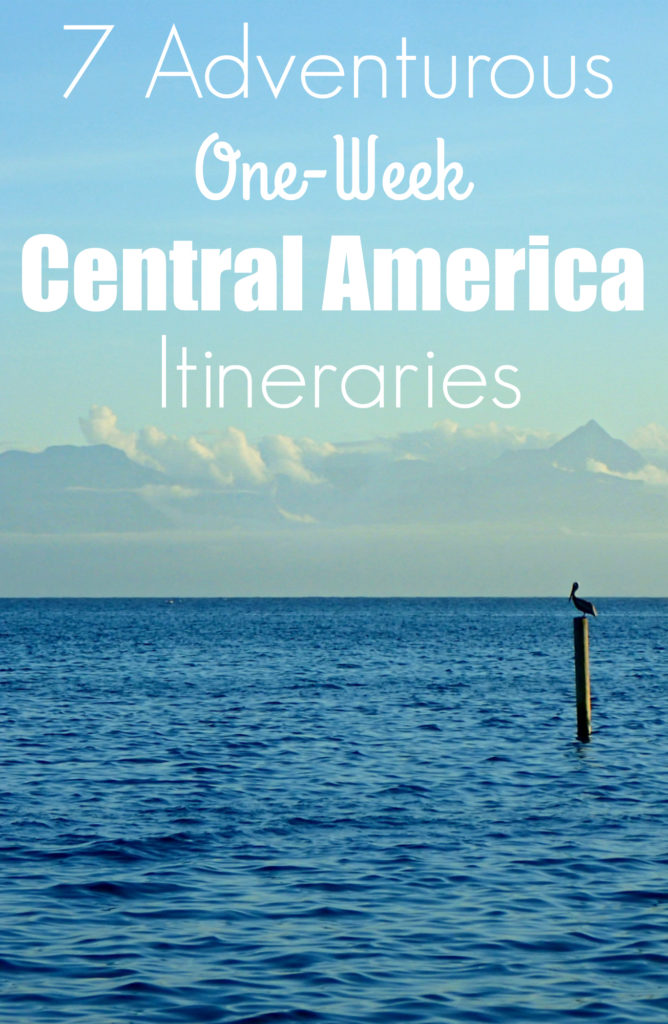 ---
Linked with Wanderful Wednesday: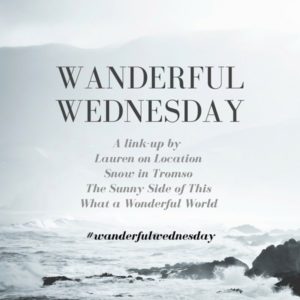 ---
Which of these one-week Central America itineraries is your favorite? Do you have any plans to go to Central America soon?
Let's Connect!