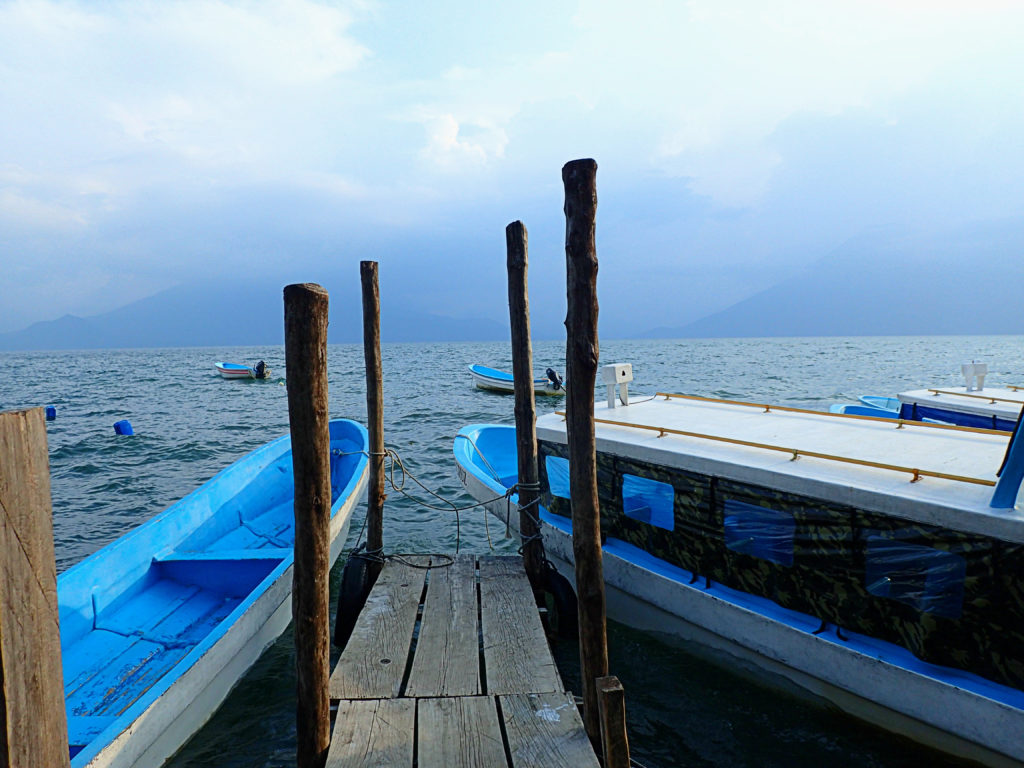 Upon arriving in Guatemala from Nicaragua, there were two things that stood out to me immediately: 1) Woah, Guatemala is WAY chillier than Nicaragua, and 2) Holy cow, this place is GORGEOUS.
I loved Nicaragua. You all know that, from the way I gushed about Matagalpa to my declaration of love for Ometepe. I firmly believe that Nicaragua will always hold a special place in my heart; it's a place I can picture myself returning to many times throughout my life.
But Guatemala instantly felt different to me. Be it the cooler and drier air, the more mountainous terrain, the greener hills, or the shyer people, but something about Guatemala felt more like home to me.
I felt instantly comfortable here, even without knowing much about it.
(By the way, I quickly learned that there's a LOT to love about Guatemala, in addition to Lake Atitlan. Check out this Guatemala itinerary for a better idea of what the country has to offer.)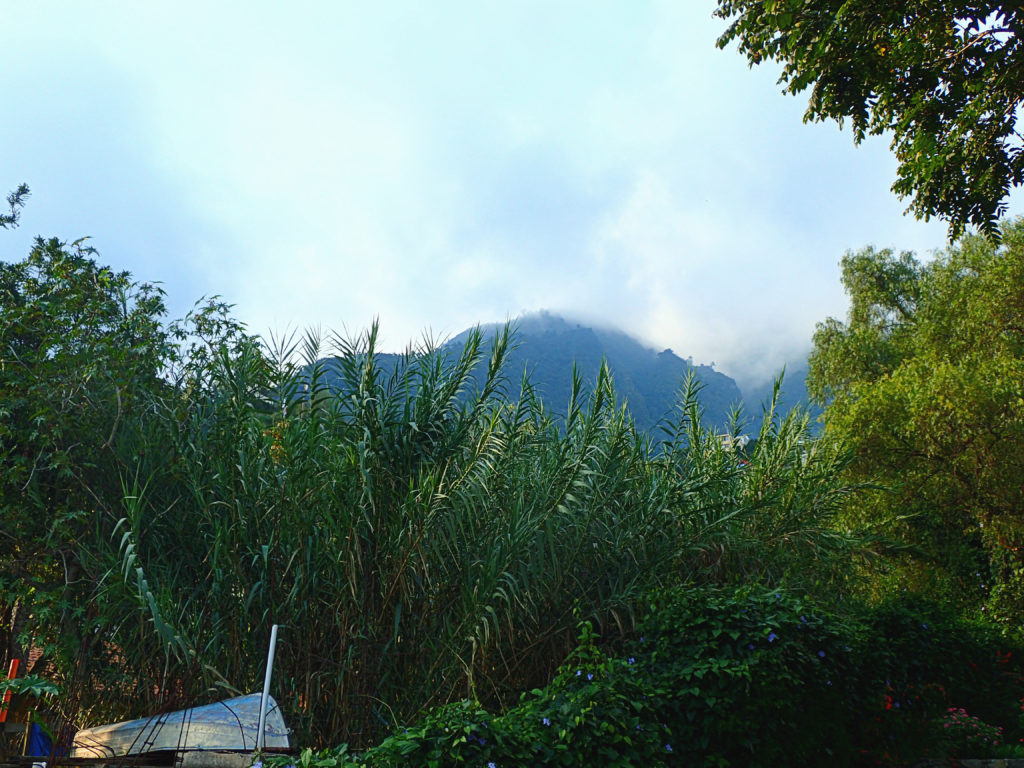 Maybe it's somewhat psychological. This is my second Central American country, and my Spanish (while still horrid) has improved a lot. I can communicate more effectively, and I think I understand the culture and my expectations as a traveler here more clearly.
Not to mention, the never-ending catcalls that bombarded me throughout my entire time in Nicaragua have yet to materialize here in Guatemala. I get some curious looks, sure, and a few guys around my age have given me a cheeky "Hola, linda." But I haven't been subjected to hissing, kissing sounds, whistling or unwanted touching, which has been a relief for my psyche.
But still…I do think it's more than that.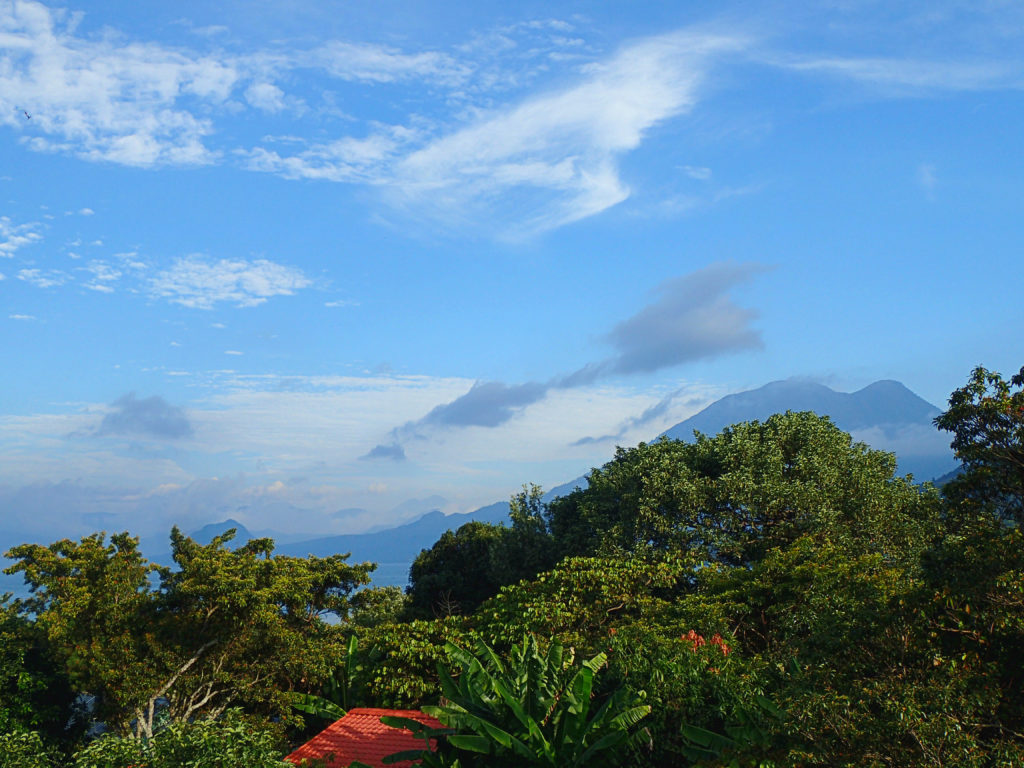 After landing in Guatemala City, I paid for a shared shuttle at the airport which transported me to Lake Atitlan (with a short layover in Antigua). As we sped along the winding roads, I was acutely aware of the goosebumps on my arms from the cool air rushing in through the open windows, as well as the tall, thick trees along the sides of the highway.
I hadn't noticed it before, but outside of Matagalpa and Ometepe, I didn't see many trees in Nicaragua that weren't palm trees. I've always been particularly enchanted by mountainous, forested terrain, and Guatemala certainly fit the bill.
There were huge, towering, rounded mountains in every direction, thickly forested and with low clouds hanging around them. The drive was beautiful and scenic, and I was bubbling over with excitement by the time we arrived in Panajachel, the main hub of Lake Atitlan.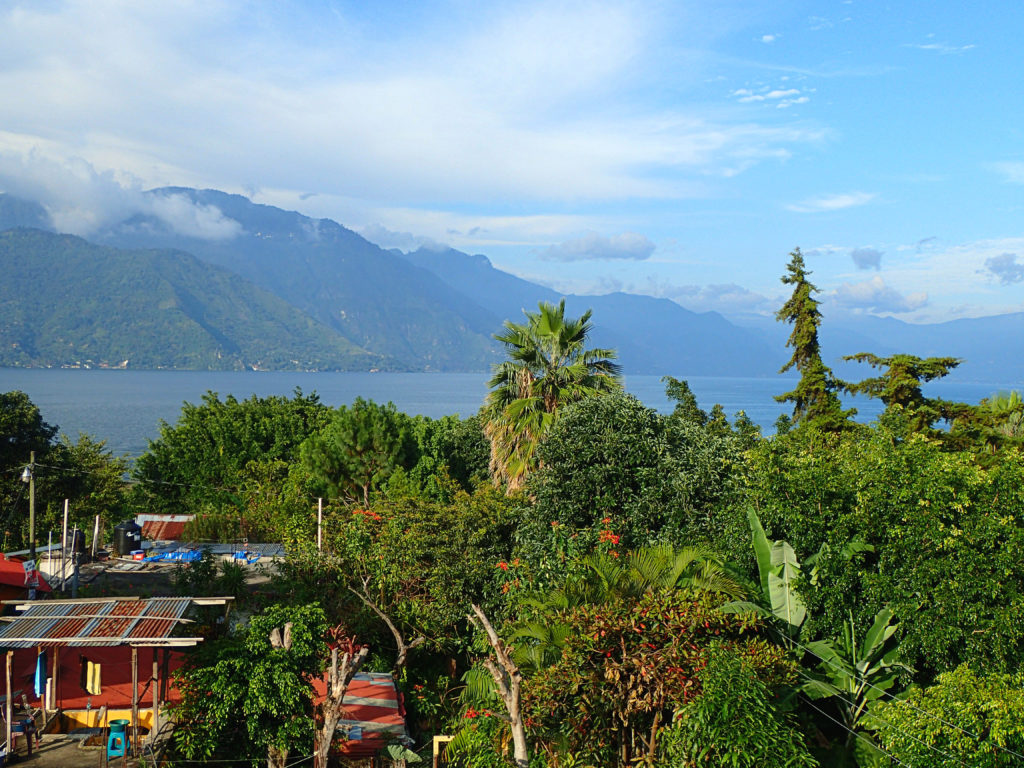 I had heard about the lake's beauty, about how amazing it was. But still, I wasn't prepared for how truly spectacular it would look in person when our shuttle pulled up to the dock at the lake's shore.
It was massive and blue, stretching into the horizon far away, where mountaintops emerged and loomed over the water. The lake itself was drenched in late afternoon sun, but the mountains were covered in a misty layer of clouds.
It was breathtaking.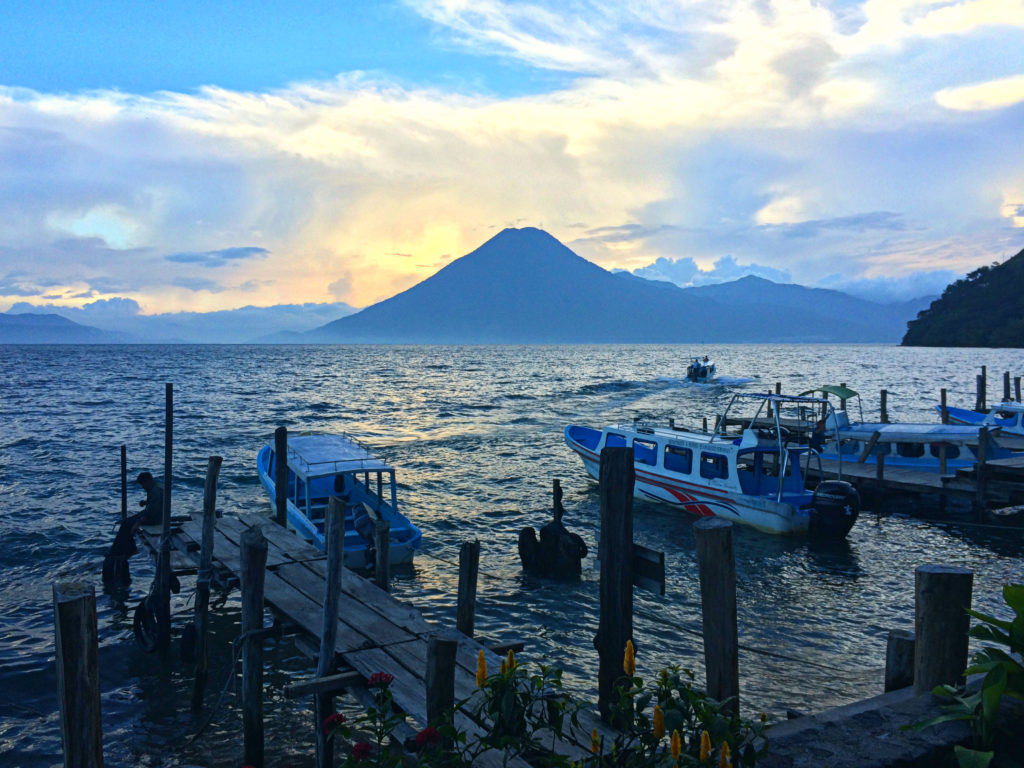 There are a number of towns and villages spread across the shores of the lake, each with their own personalities and reasons for visiting. There's the hippie town, the backpacker party town, or the main hub with restaurants and ATMs and shopping.
My village of choice? Santa Cruz, the chilled out and quiet town.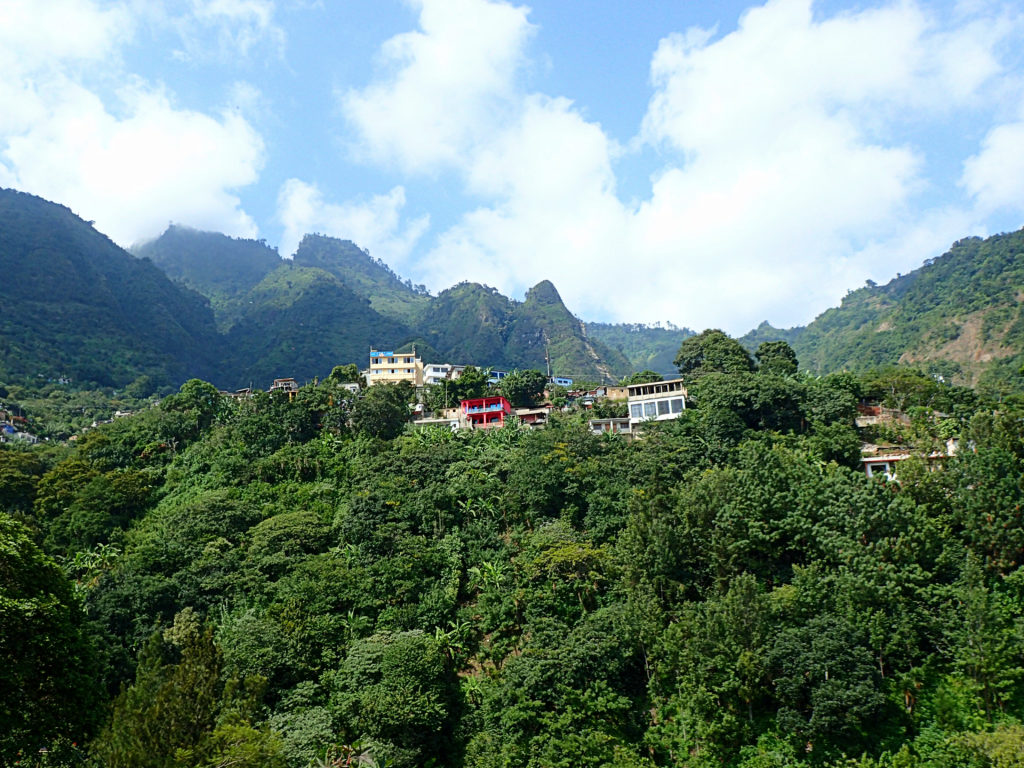 I wanted a place where I could relax, read, write, and think. A place where I could feel at peace, without pressure to see any "must see" sights or to do any "must do" activities. I wanted a retreat, a home.
And I found just that at La Iguana Perdida.
This cozy little hostel sits right along the shore of Lake Atitlan, at the bottom of the village of Santa Cruz. The town itself is located up a steep, winding road, a 15-20 minute walk to the base (although further to walk to the very top).
La Iguana Perdida is perhaps the most chilled out place I've ever been.
Dorms, private rooms and cabanas are scattered across the property, which is thick with greenery and big, tropical leaves. Colorfully painted gates, signs and chairs bring a funky character to the hostel, and the hammocks and cushioned sofas are as comfortable as one could hope.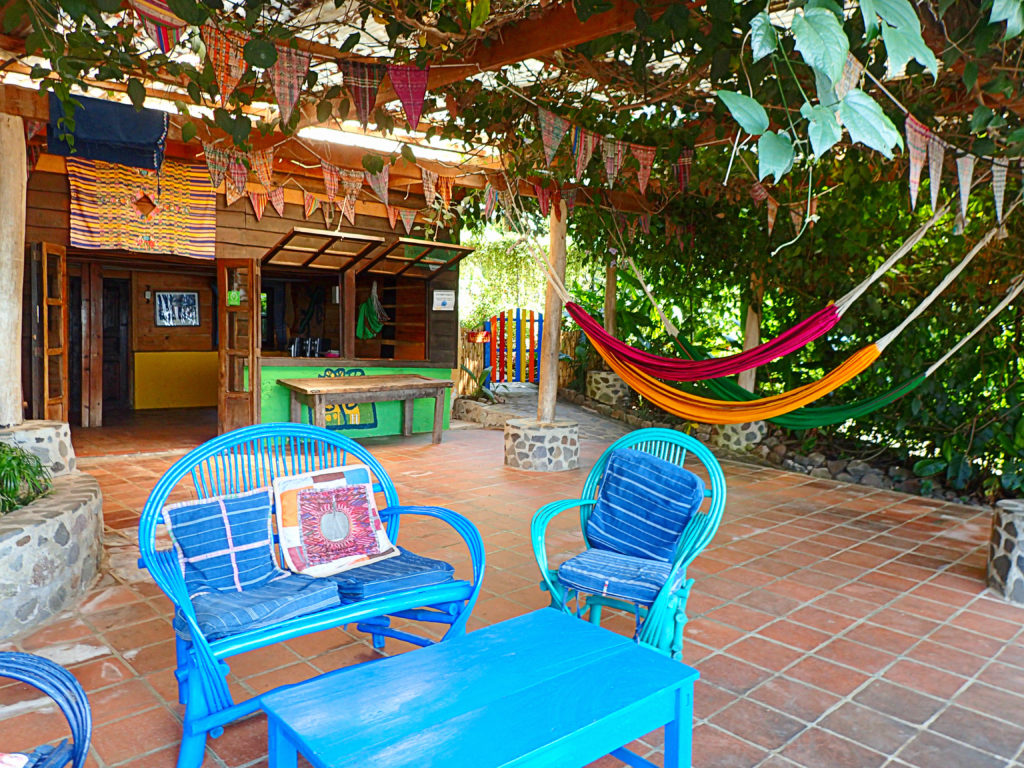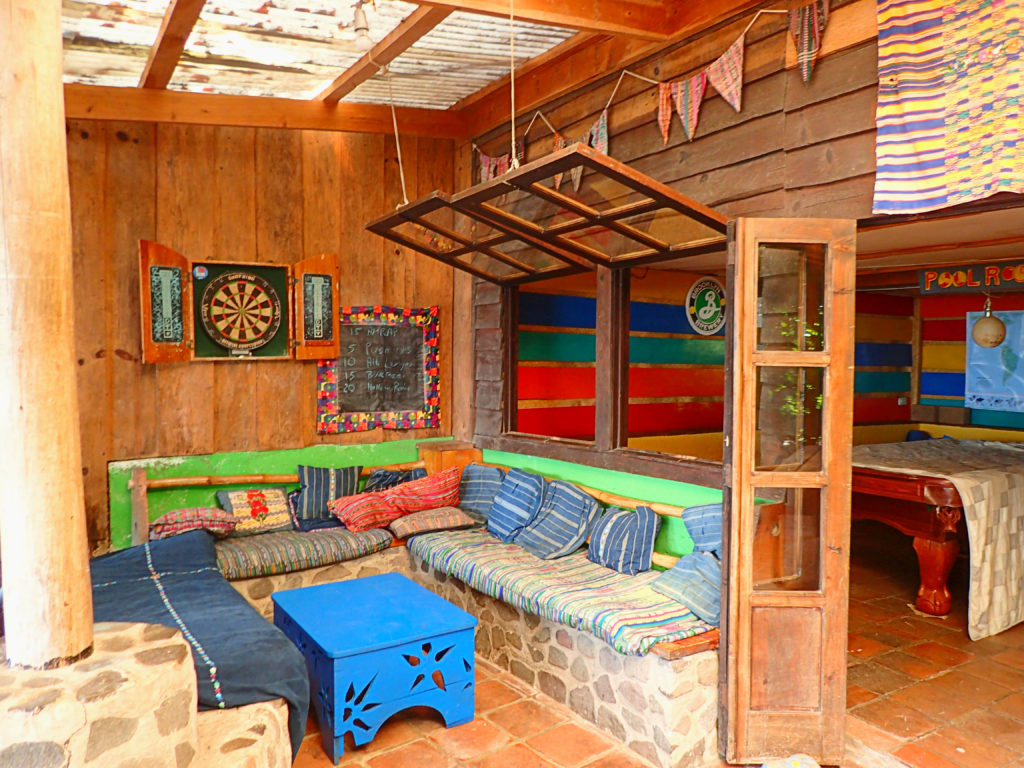 From the moment I arrived at La Iguana's gate, I felt welcomed. The staff here are an absolutely amazing group of people, composed of fellow travelers who work at the hostel in exchange for accommodation and food. Over the course of my stay here, I became fast friends with them all.
I stayed in the Sunshine Dorm, an 8-bed mixed dorm which I ended up having all to myself throughout most of my stay (just one of the many perks of traveling in low season!)
Reception is located at the bar, and family-style dinners are served in the large windowed dining room next to the lake. While I was hesitant at first, these dinners became one of my favorite things about my time in Santa Cruz.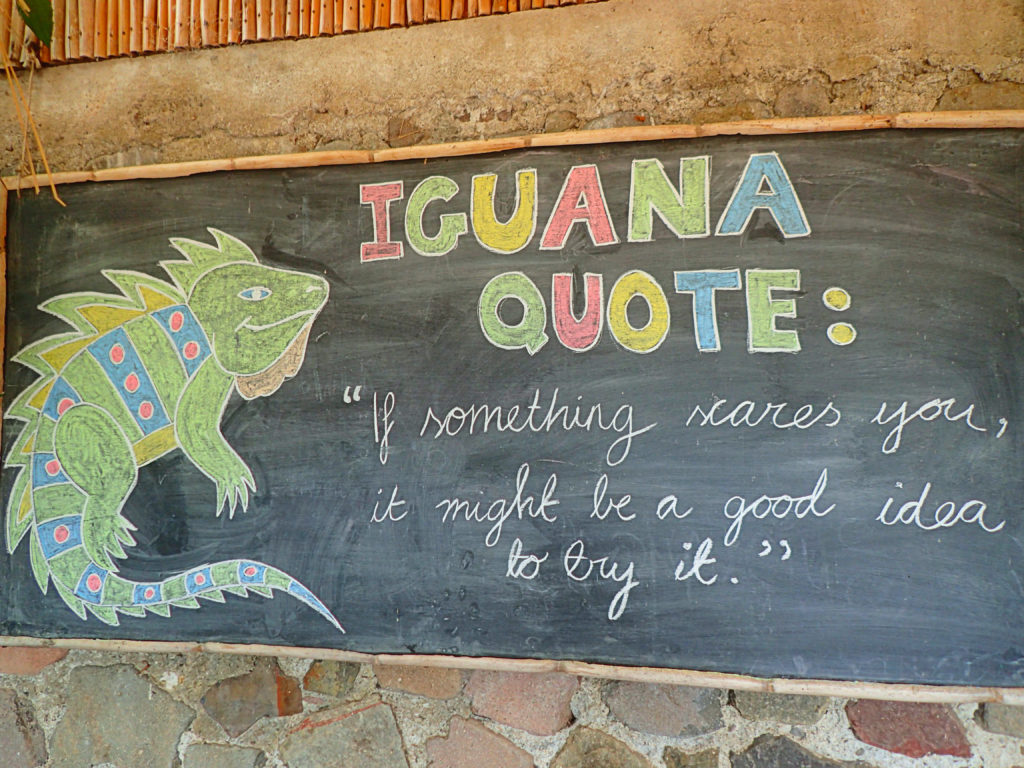 There's nothing quite like sitting at a table with 10-20 strangers every night, sharing a meal, and walking away as friends. It felt cozy and intimate—never awkward—and allowed me to meet almost everyone else who was staying at the hostel.
Candles flickering, rain pattering on the tin roof above, the sound of the lake's waves 20 feet away, wet cool air from the lake drifting in through the open windows, good food, lively conversations with new friends, and beer flowing freely—these are memories that I will cherish forever.
Not to mention the days and nights spend hanging out with the staff and other guests. I have so many hilarious and special memories of these people who had been strangers to me only days before.
Lounging in the movie room, tossing sweet n' salty popcorn into our mouths and watching old MTV shows. Having five-person dance parties, making up the most embarrassingly ridiculous moves to 90's British techno songs. Playing card games, drinking beers, going for walks, and spontaneously jumping into the lake fully clothed.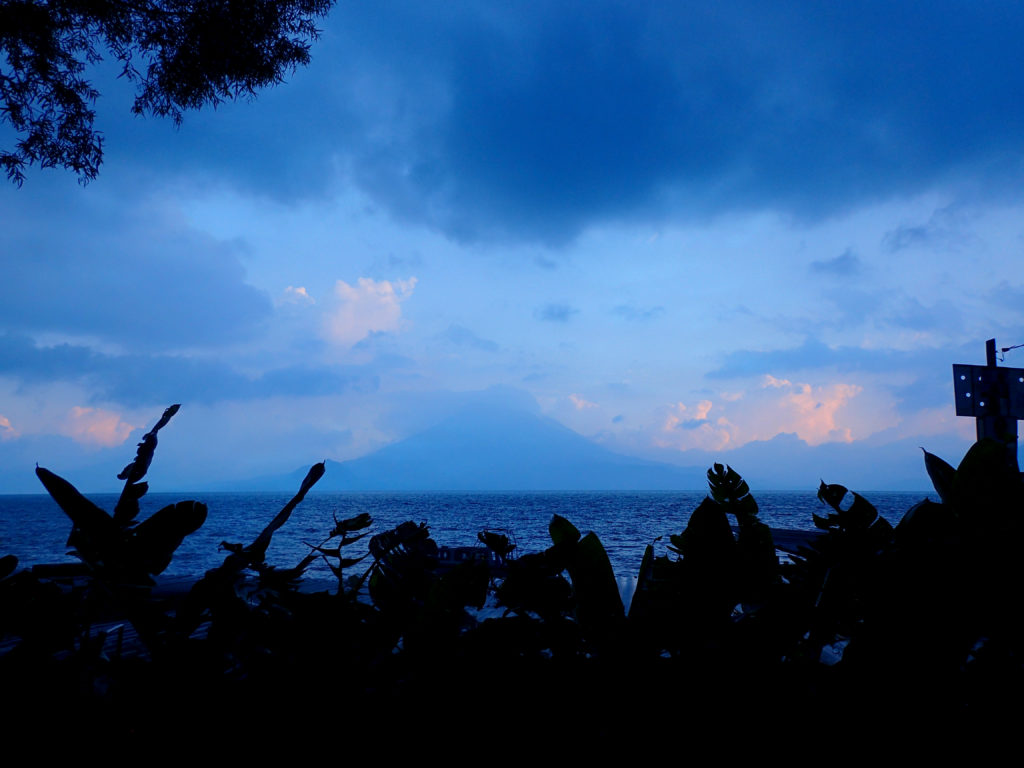 Although I originally planned to stay only two or three nights in Santa Cruz, I knew after my first night there that I wasn't going to be ready to leave any time soon. And it wasn't just the hostel and the people there; it was the lake itself.
It's hard to describe, but looking out at Lake Atitlan, I felt almost a mystical pull towards it. It was unlike any lake I'd ever seen. It was surreal.
It's not a lake that you'd necessarily feel compelled to wake-board or ski or even swim in (although I did dive in on one occasion). It's a lake that you want to sit and look at. It's a lake that you want to sketch, or paint, or write about. It's a lake that mesmerizes you, and eases your thoughts. It's a lake that you never want to leave.
I spent so many mornings, afternoons and evenings staring out across the water, hypnotized by the sound of the waves and the cool air and the endless views.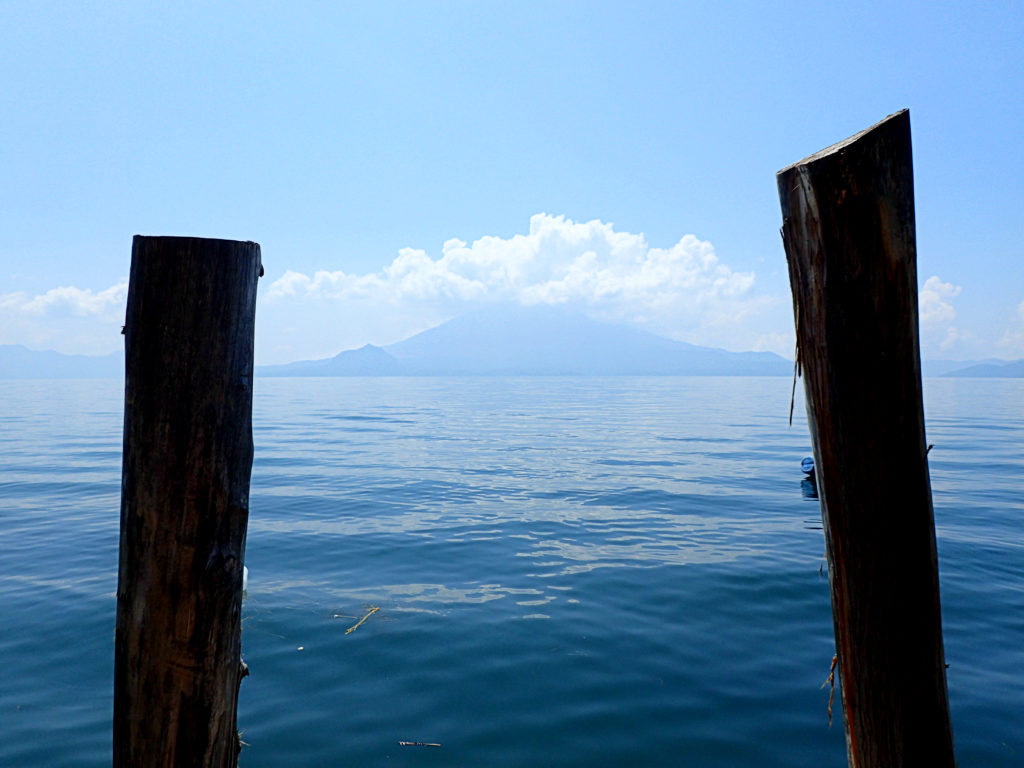 And it was Santa Cruz, too, that I fell in love with. While the trek up the hill into town isn't easy, it's worthwhile. The town is basic and not touristic in the slightest. You won't find shopping or restaurants; instead, you'll find convenience stores and schools and homes.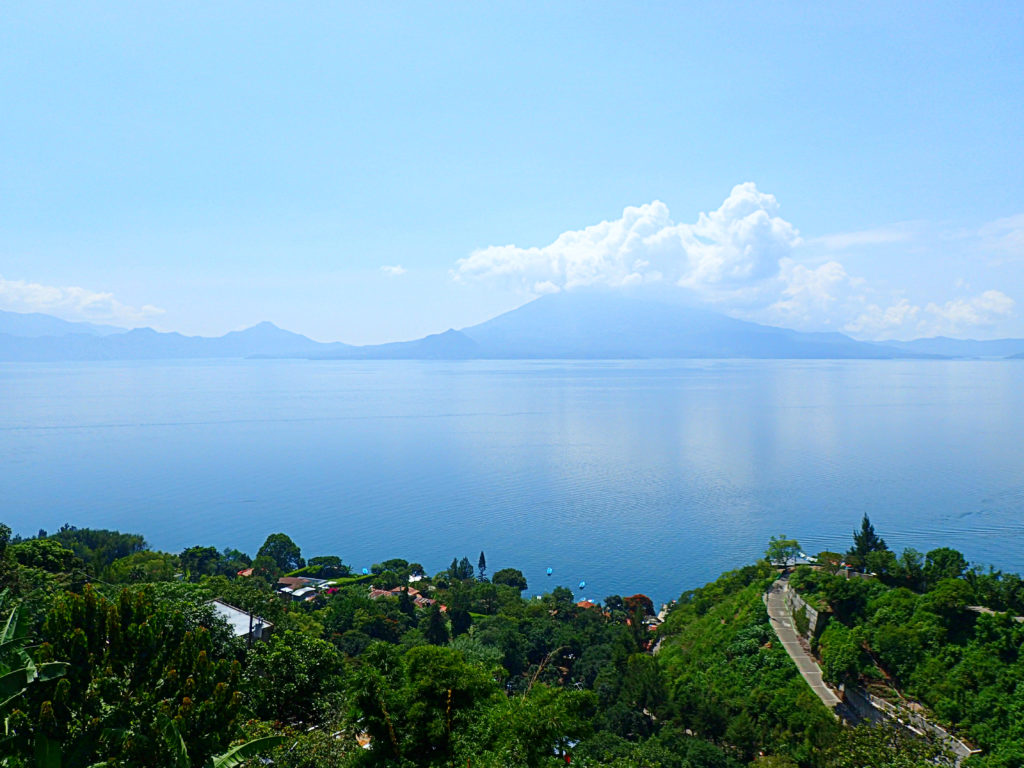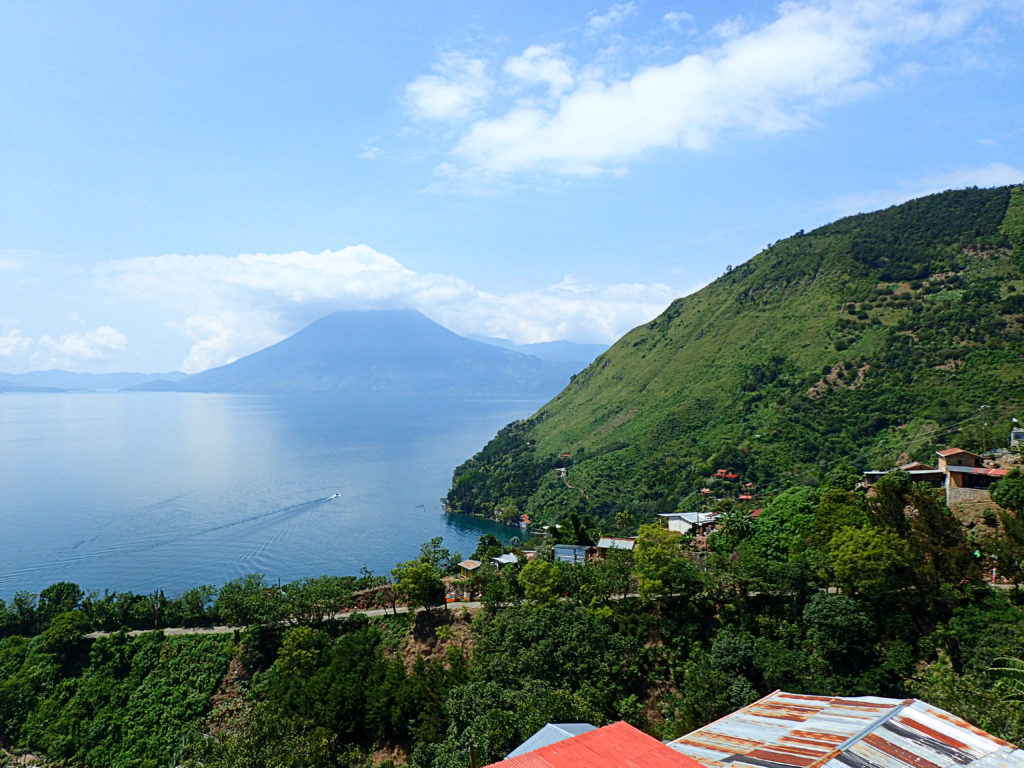 It's not particularly pretty (unless of course you count the stunning mountains above and dazzling lake below, which I do) with cracked pavement, cement and metal buildings, and sun-bleached structures, but it feels real and untouched.
Women in colorful, long skirts with thick braided hair and children with big smiles and dirt-smudged faces go about their daily routines. No one tries to sell you anything, no one begs you for money. You won't see many (if any) cars. There's nothing in particular to see or do in town, aside from walking or sitting and watching.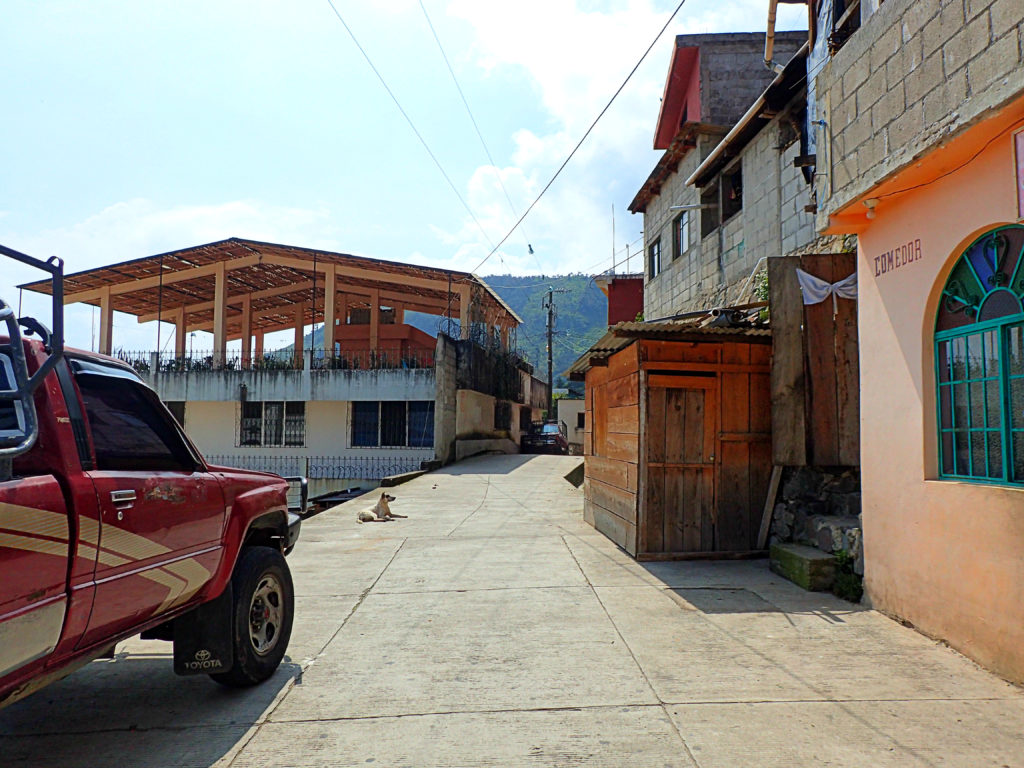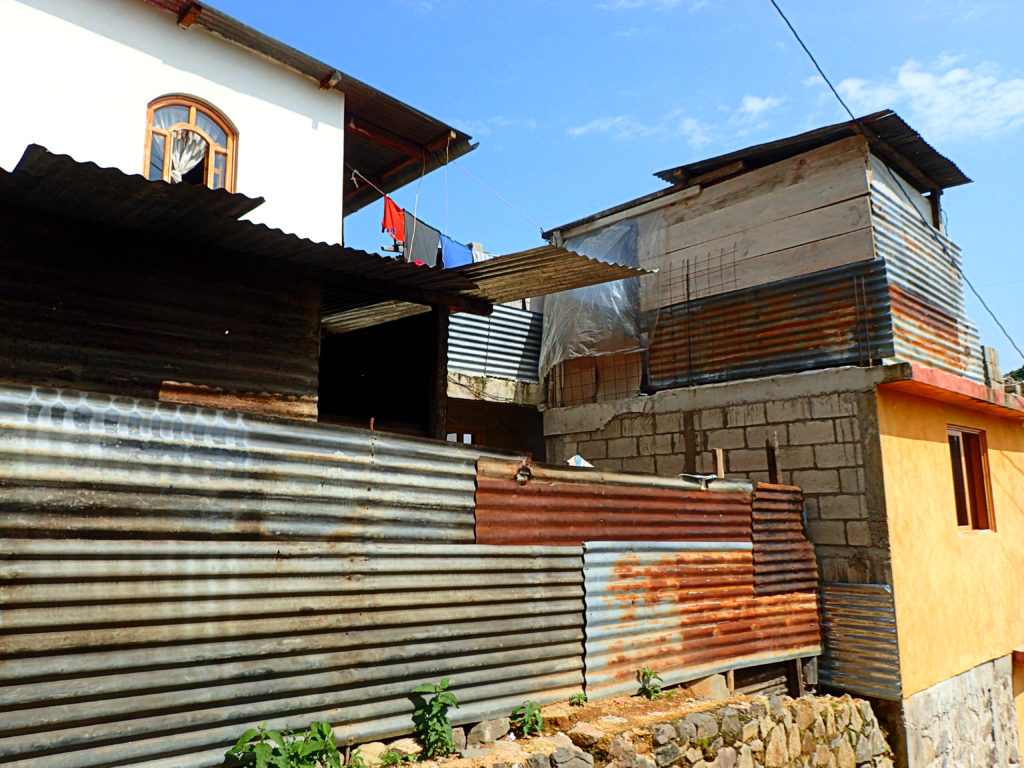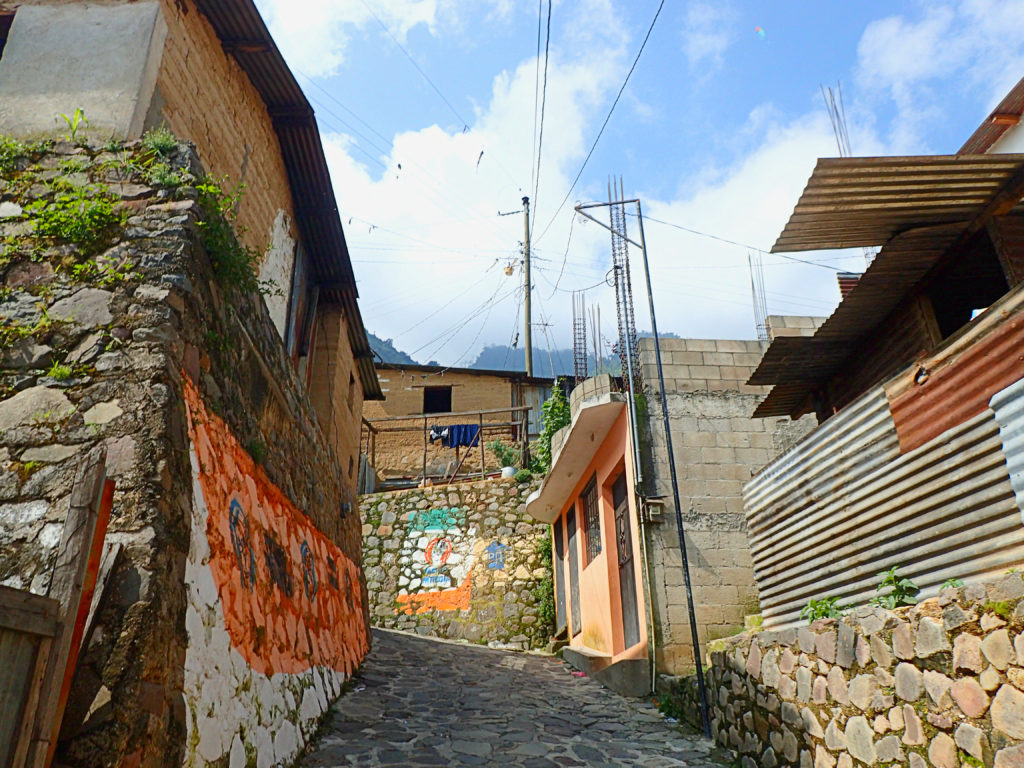 So, that's what I did. I sat on a street corner and watched a group of young boys playing soccer on a cement soccer field, a small church just behind them and the magnificent green mountains towering further in the distance. I watched a trio of children running down the steep town hills, kites fluttering along behind them. I watched a handful of teenagers walking home after school, holding hands and talking excitedly.
I passed my days this way, falling into a bit of a routine:
Wake up. Write for a bit. Eat some breakfast. Wander into town or along the lake and spend a few hours people-watching and taking in the scenery. Slip into my bikini and lay on the dock for an hour or so, soaking in the sunshine. Return to La Iguana in the afternoon and read or write some more. Meander into the bar for a beer, and take it to the dock to watch the waves and listen to music. Join in on family dinner at seven. Spend the evening socializing. Drift off to sleep in pure chilled-out bliss.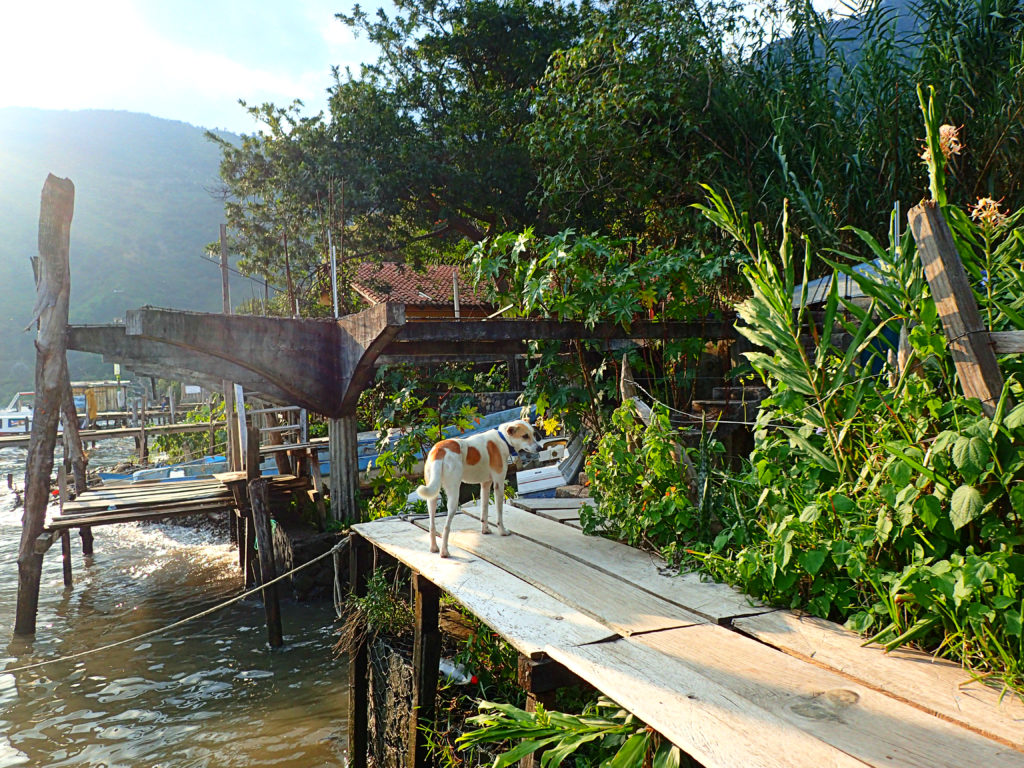 Day in and day out, this was my life for nearly a week straight.
I was happy, I was comfortable, and I could have stayed forever.
But, ultimately, my need to move around and experience new places won out. Now, if you're looking for me, you can find me hanging out in a backpacker's hostel in San Pedro, on the other side of Lake Atitlan.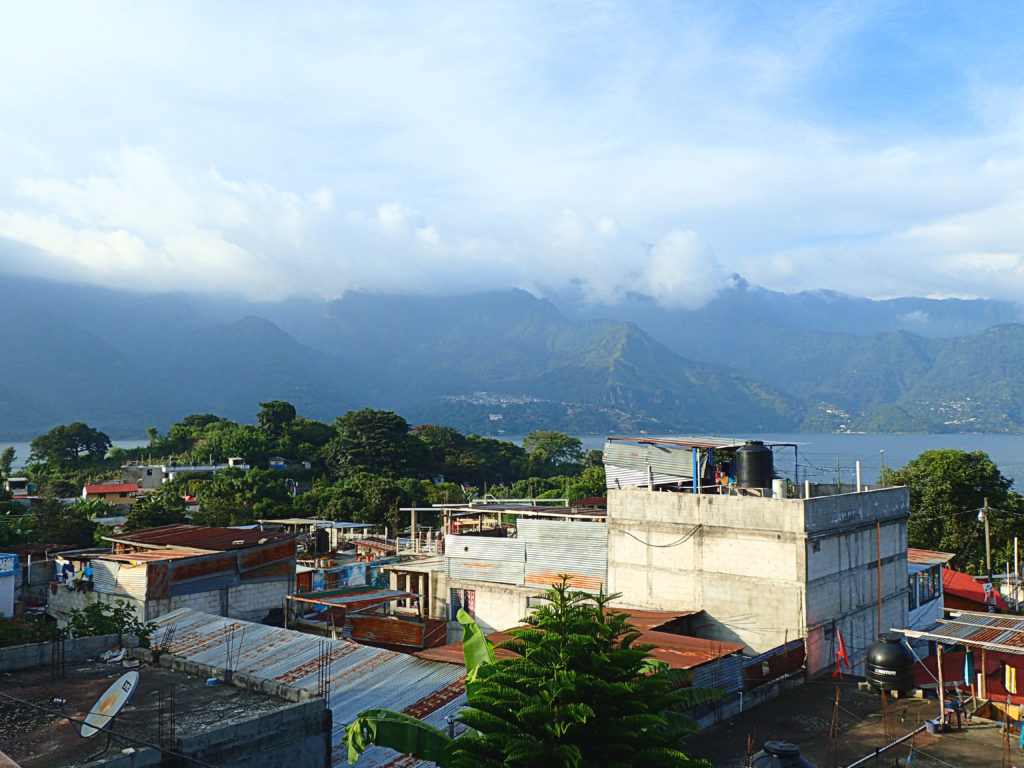 It's busier here and doesn't feel as special to me as Santa Cruz or La Iguana, but I guess that's part of the deal with traveling; you have to leave all places eventually, even the ones you've fallen in love with.
And San Pedro does have it's own charms ($1.50 street food tacos absolutely included). It may not be my home away from home, but it is better for shopping, going out to eat, and socializing with a wider group of people.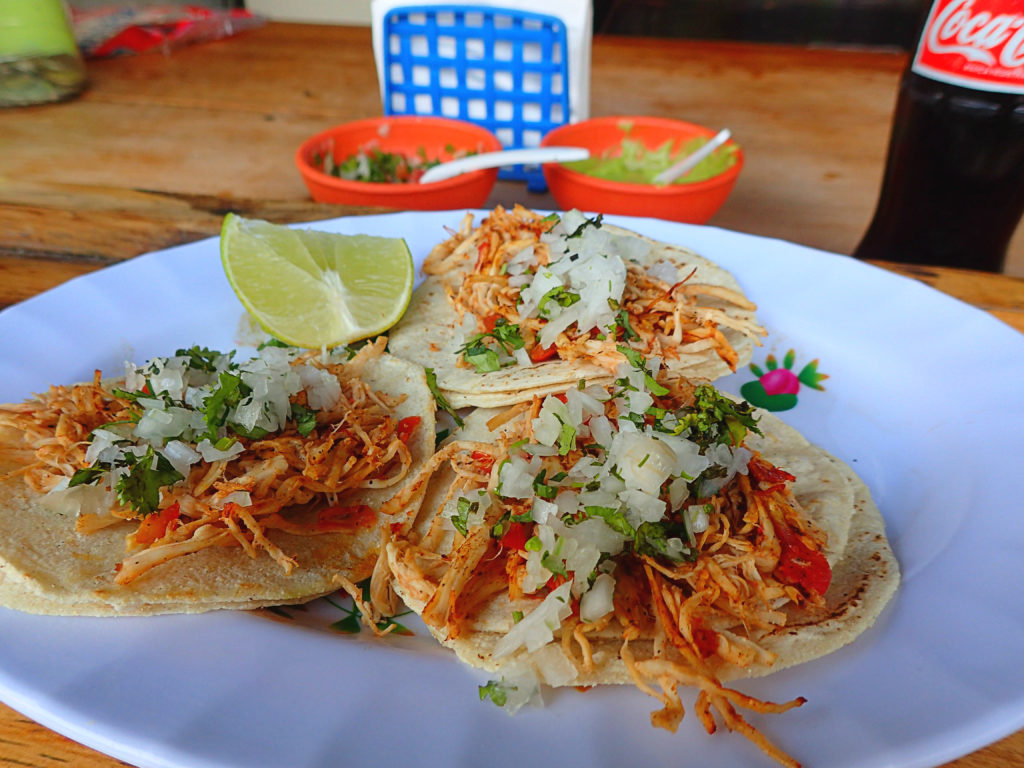 Anyways, I suppose I do have a few new adventures to look forward to…like, um, the fact that DEREK IS COMING TO VISIT ME THIS WEEK!! In Antigua! I'm so excited to see him here in Guatemala, and show him this country that I've fallen so head over heels in love with.
---
Have you ever gotten "stuck" in a place while traveling and stayed longer than expected? What's the hardest place you've ever had to leave?