Close your eyes and envision the following scenery: two massive volcanoes, rising up out of the gently rolling waves of a warm freshwater lake. One of the volcanoes is active, rocky, and perfectly-pointed, while the other is inactive, lush, and encircled by a constant swirl of clouds at its peak.
The two contrasting volcanoes are joined by a thin strip of land, creating a sort of hourglass shaped island. And on this island is a whole little world filled with fertile rain forests, coffee and tobacco plantations, howler monkeys, colorful birds, crystal clear lagoons, waterfalls, and ancient petroglyphs.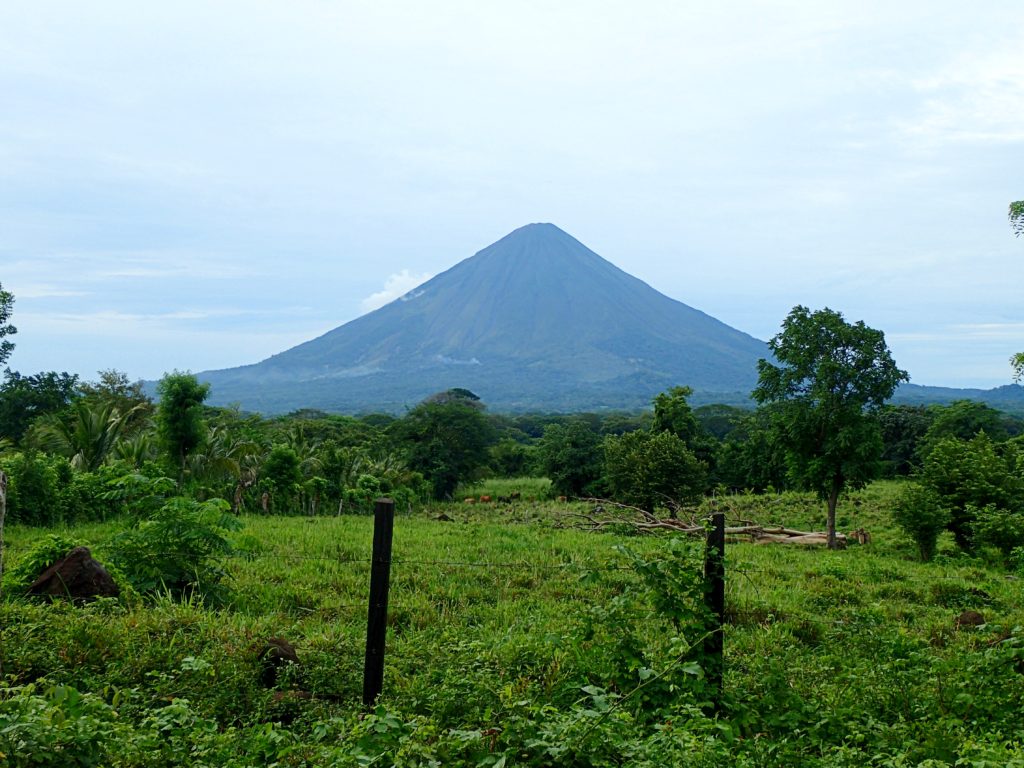 No, this isn't the beginning of a high fantasy novel; this is Isla de Ometepe.
Most visitors to the island will arrive at Moyogalpa, the island's commercial center and largest of Ometepe's ports. However, I was determined to get away from the main hub and head somewhere a bit more off the beaten path: Merida.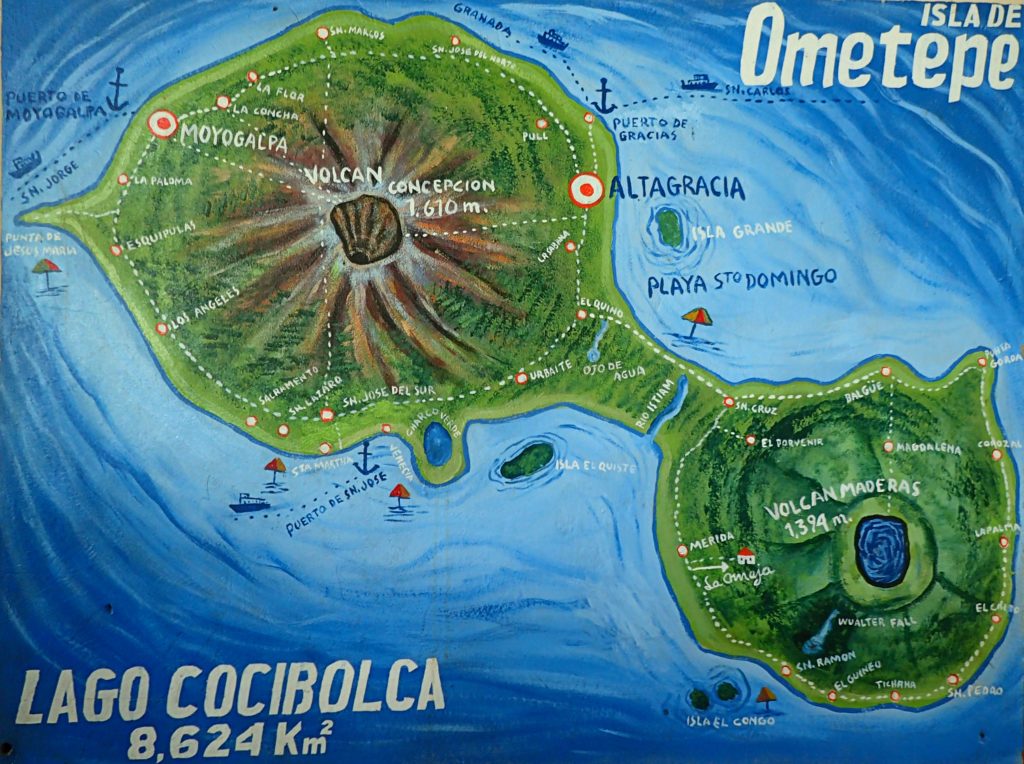 Located on the southern side of the Volcano Maderas, Merida is a rural and tranquil community comprised mostly of family-owned farms. It's one of the most biologically diverse areas in Nicaragua, and is home to a rich mix of flora and fauna.
While it's not the easiest place in the world to get to, it's slowly growing in popularity with ecologically-minded travelers, and is home to a number of eco-resorts, community projects and volunteer opportunities. It's also a prime location for visitors who plan to spend their days hiking, horseback riding, kayaking, and swimming around this ultra-lush region of the island.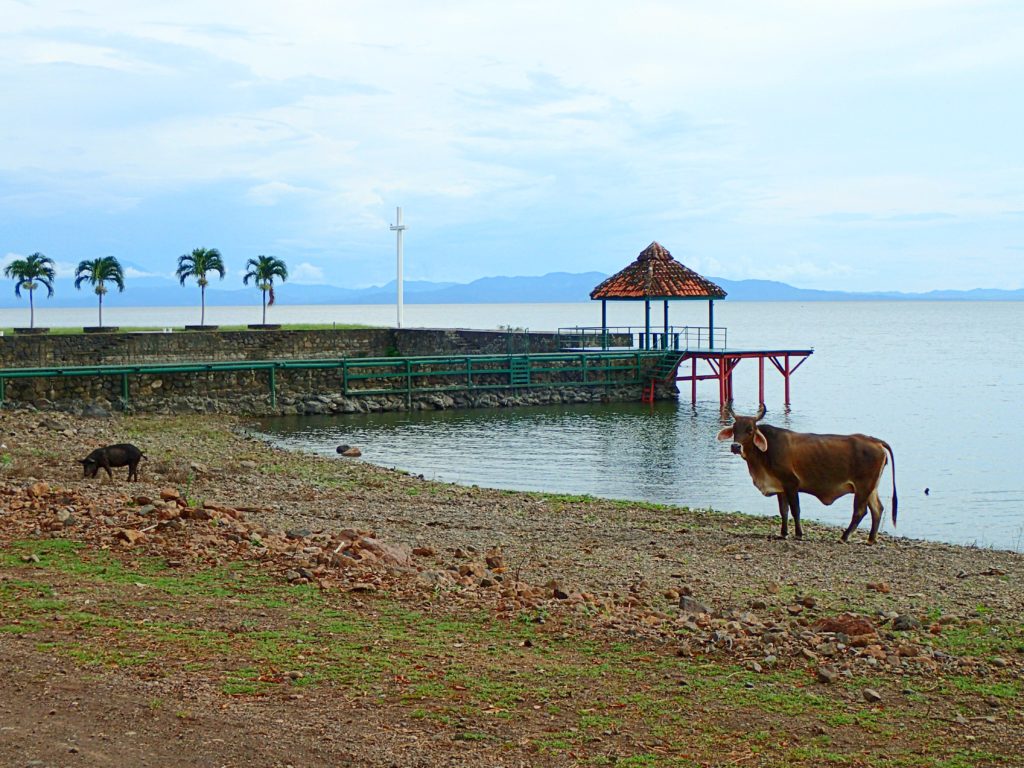 What's more, Merida is the place to go if you're looking to take a big step back in time on this pretty island. Ask anyone who knows anything about Ometepe, and they'll respond with "Oh yeah, Merida is pretty quiet."
What they mean is this: Merida is like no place else you'll visit on this earth. One unpaved dirt road stretches across the entire length of town, with small homes, shops,and farms dotted along either side. On one side of the road you'll see the lush Maderas Volcano towering above you, and on the other side you'll see the endless Lake Nicaragua.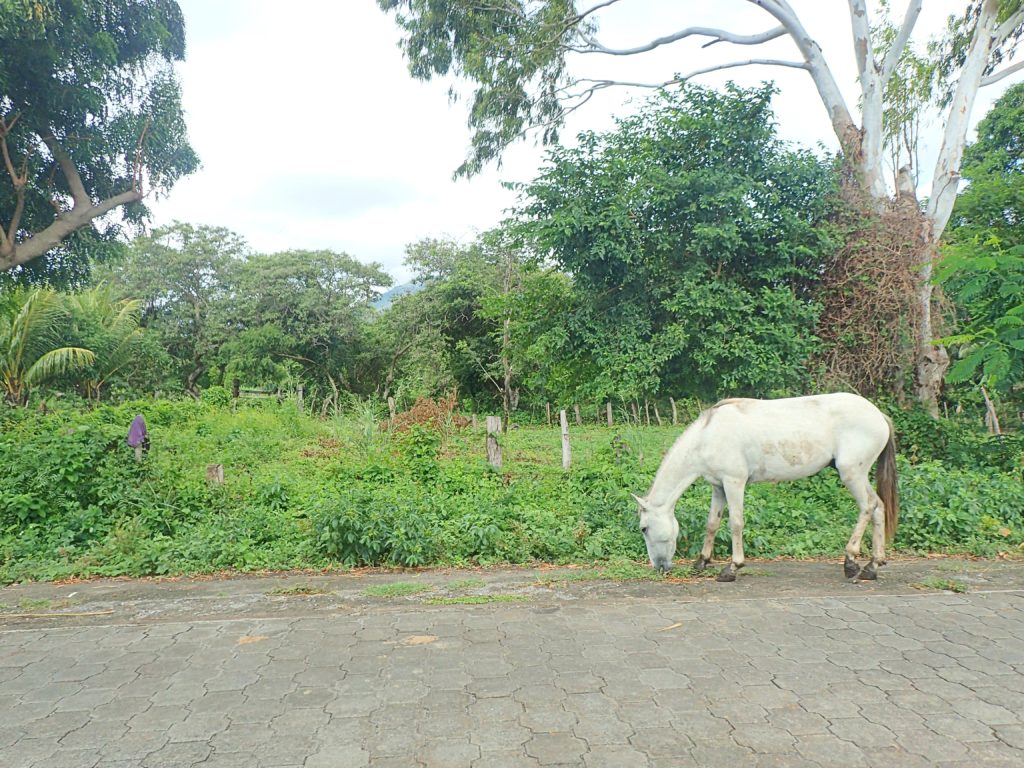 Chickens, pigs, cows, horses and dogs run rampant, palm trees sway and shop owners snooze in hammocks awaiting customers.
It's both beautiful and curiosity-inducing.
And located within this remote little corner of the world is a hotel so relaxing and scenic, you just may never want to leave.
La Omaja Hotel & Restaurant is nestled along the base of the Maderas Volcano, in the heart of the Maderas Nature Reserve. It's situated just past the center of Merida, up a steep hill overlooking the lake with views that will make you swoon.
I pulled up to La Omaja with little idea of what to expect. I was traveling solo again for the first time in weeks, and was both excited and nervous to be staying in such a remote location on my own.
Any trace of nerves I might have been experiencing melted away with the warm hospitality I received immediately upon my arrival. As I stepped out of my taxi, I was greeted instantly and ushered upstairs to the reception area.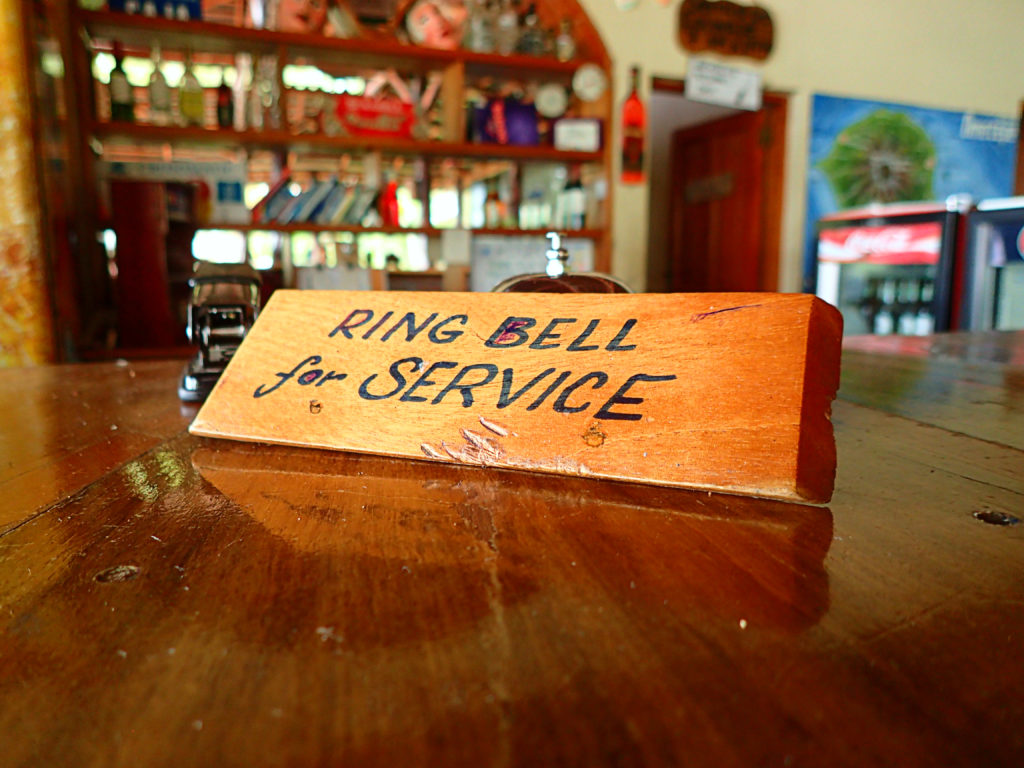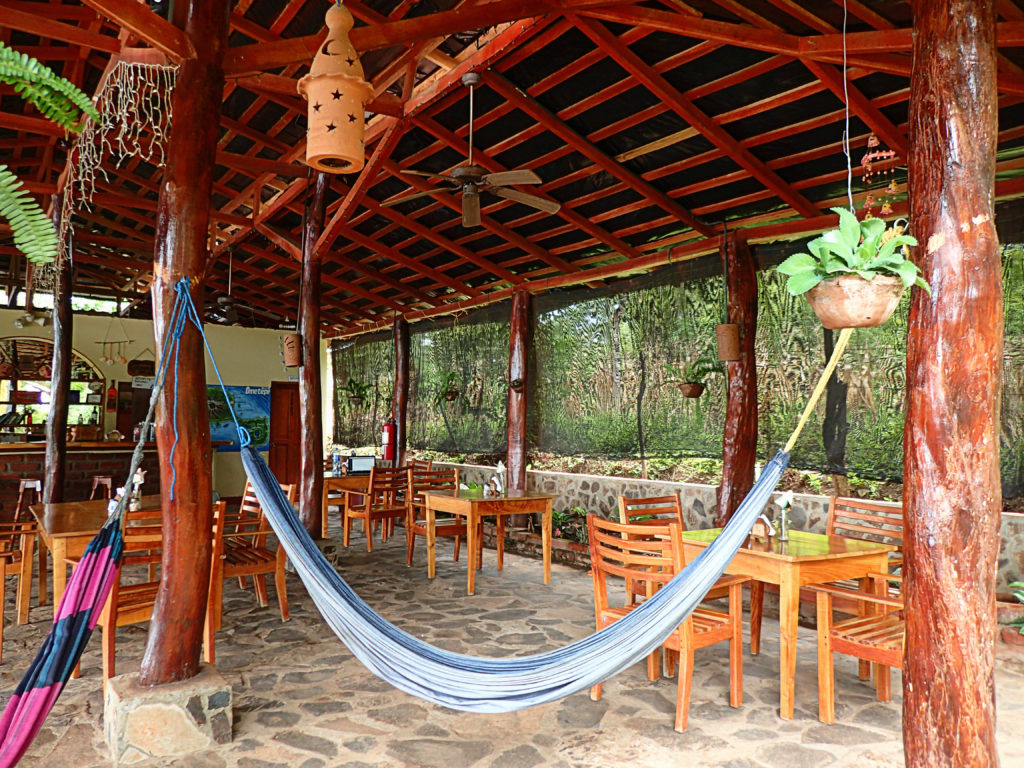 Along our short walk we passed the pool (the infinity pool, no less) and I had to do a double take.
Not only did the pool look out across the beautiful gardens and property–which would have been a sight enough on its own–but it also offered sweeping views of Lake Nicaragua, with a picture-perfect volcano view to boot!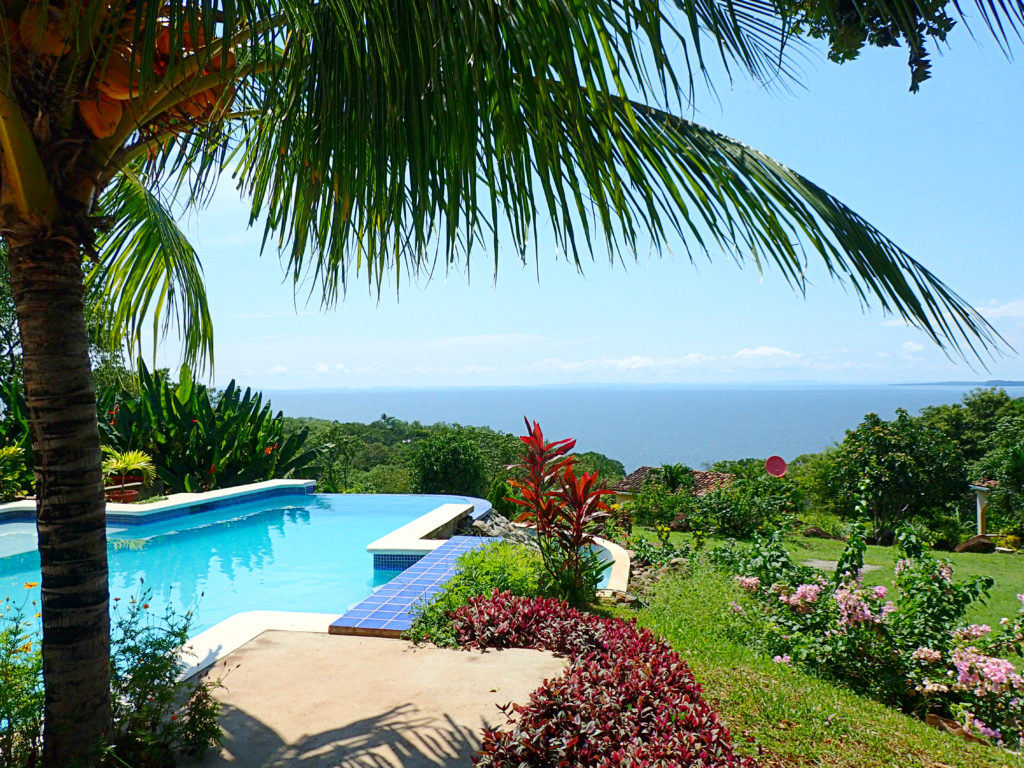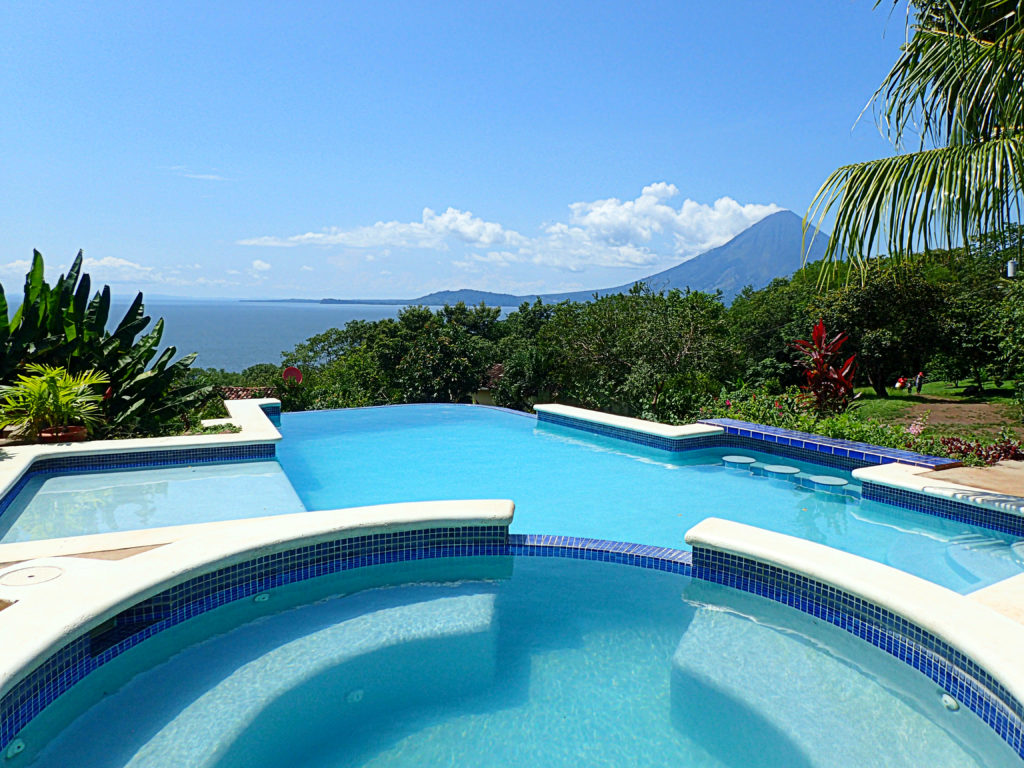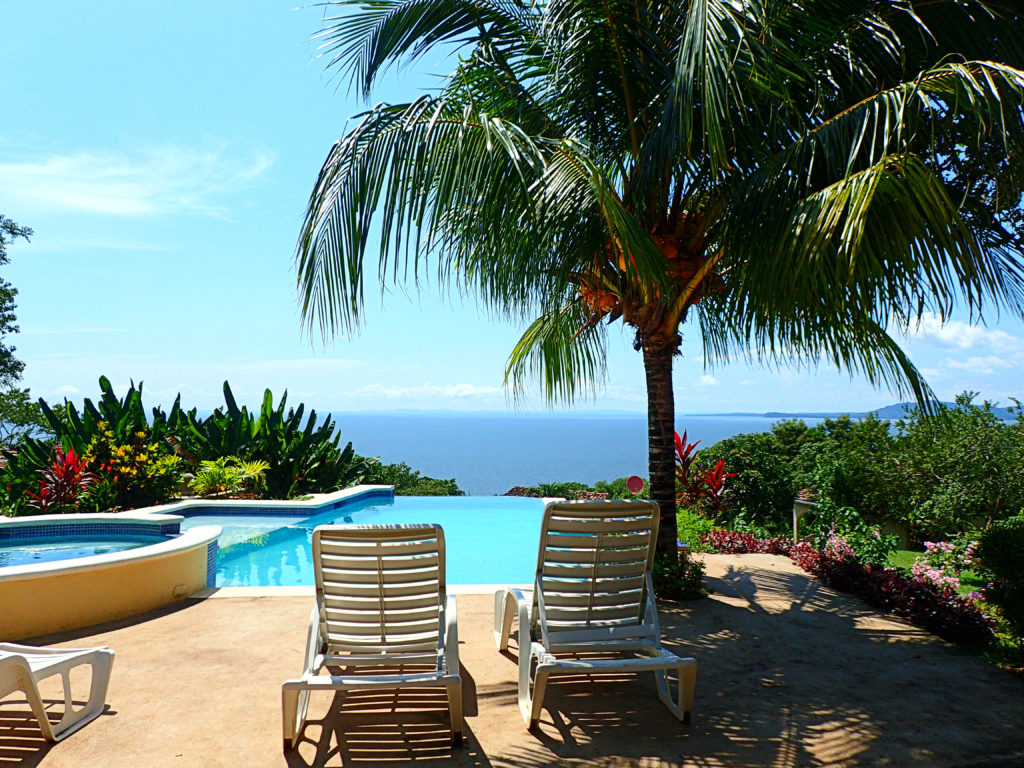 I was already itching to throw on my bikini and hop into that pool, but I was getting ahead of myself. I still had to check into my room!
All of La Omaja's rooms are bungalow style, and each little cabana has its own porch and sitting area. My room was small but cozy, big enough for two people and plenty spacious for a solo traveler like me. I loved the little touches that made my room at La Omaja feel like home, from the fresh flower petals on the bed to the welcome book placed in every room.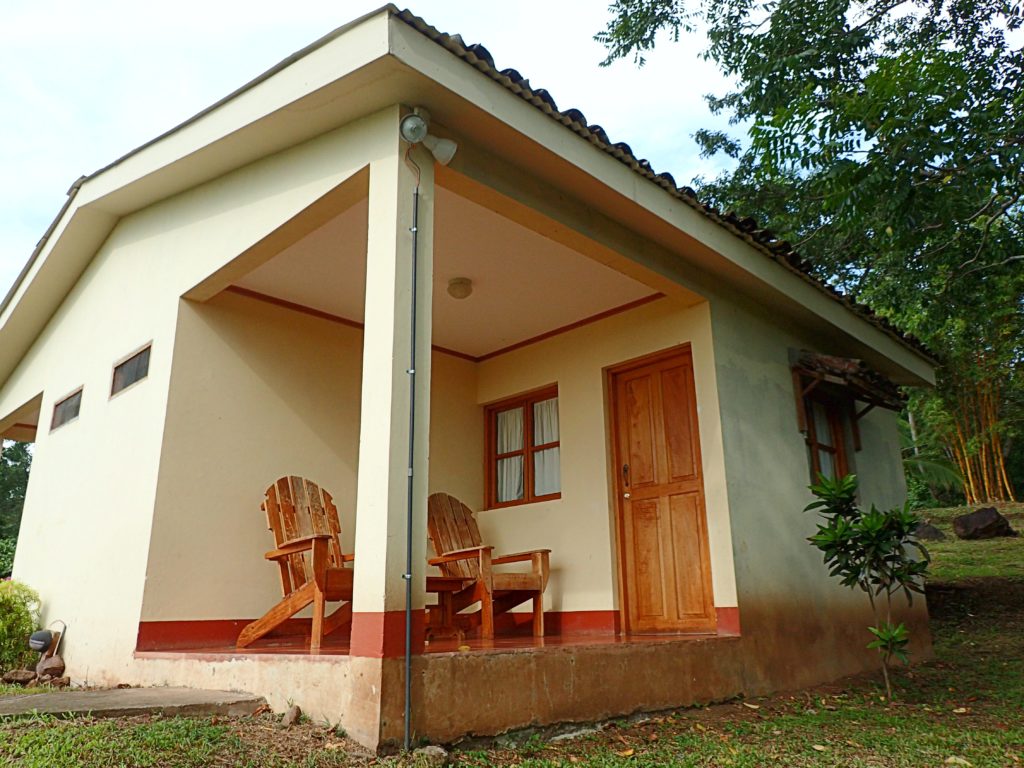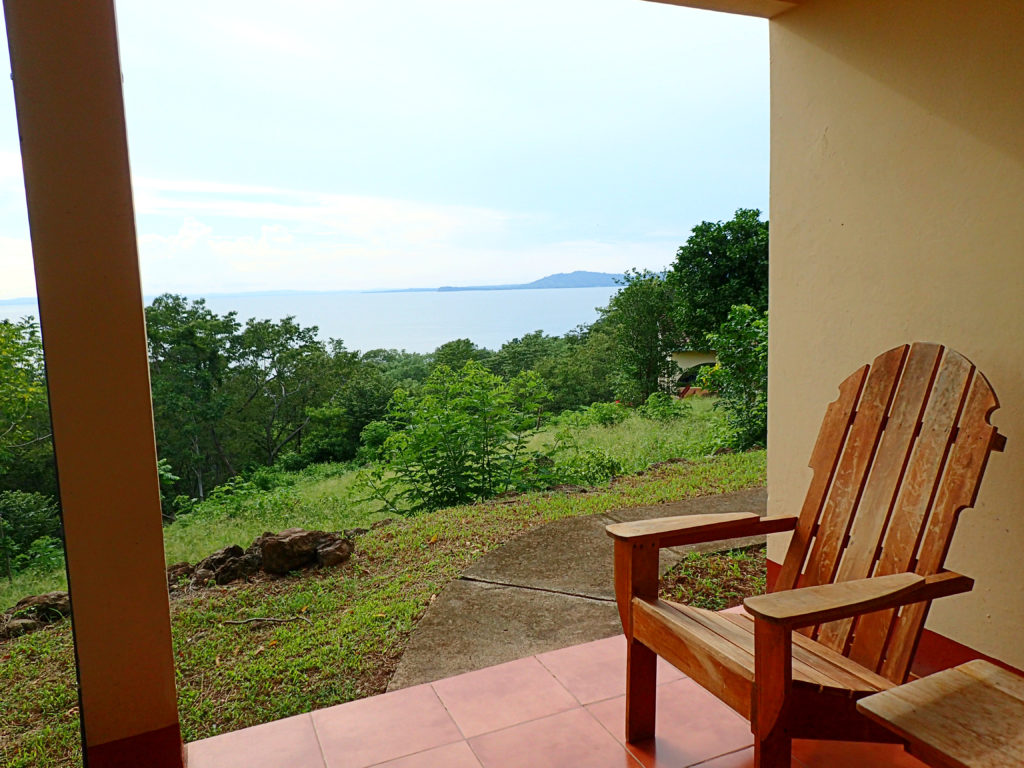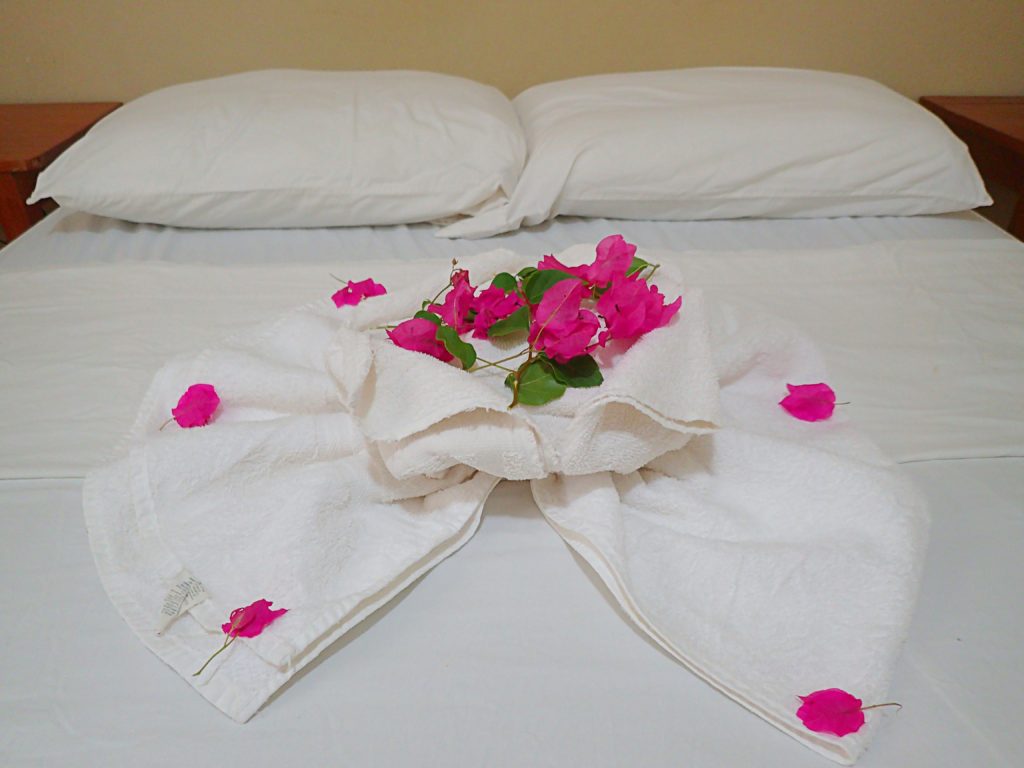 Throw in the strong adjustable A/C and hot water shower, and I was in heaven!
La Omaja is a perfect place to unwind and relax, and I spent my first evening doing exactly that. After exploring the estate and snapping a few colorful photos, I shimmied into my swimsuit and spent the rest of the evening relaxing in the pool.
The grand finale came as the sun sank into the mountainous horizon across the lake.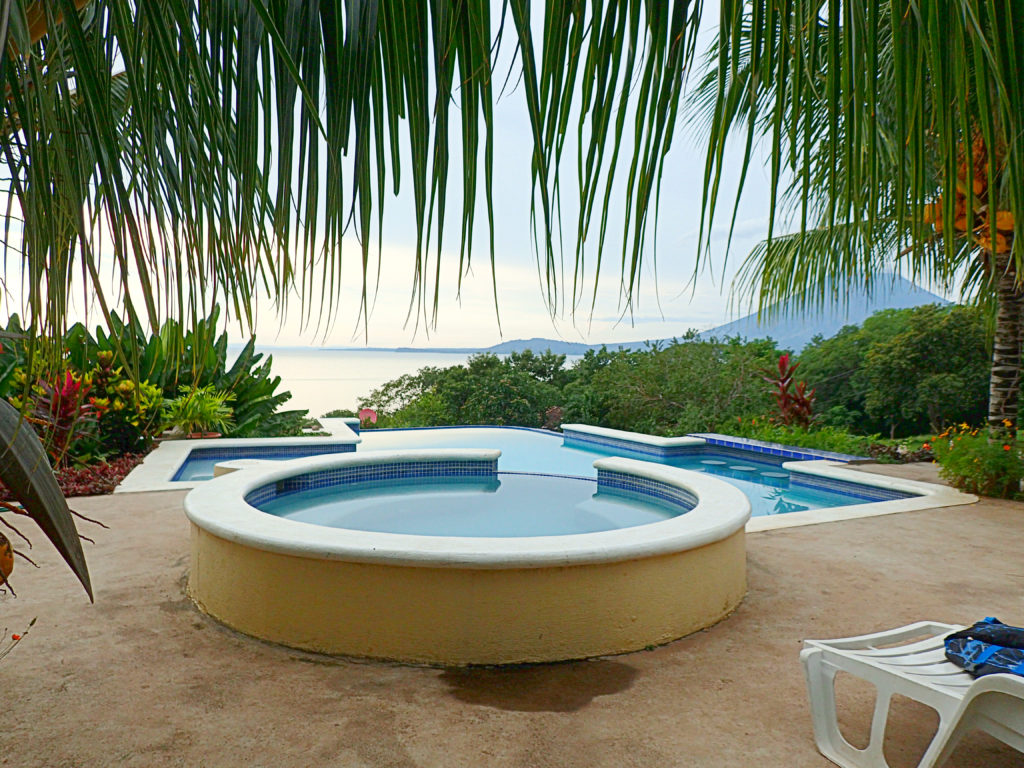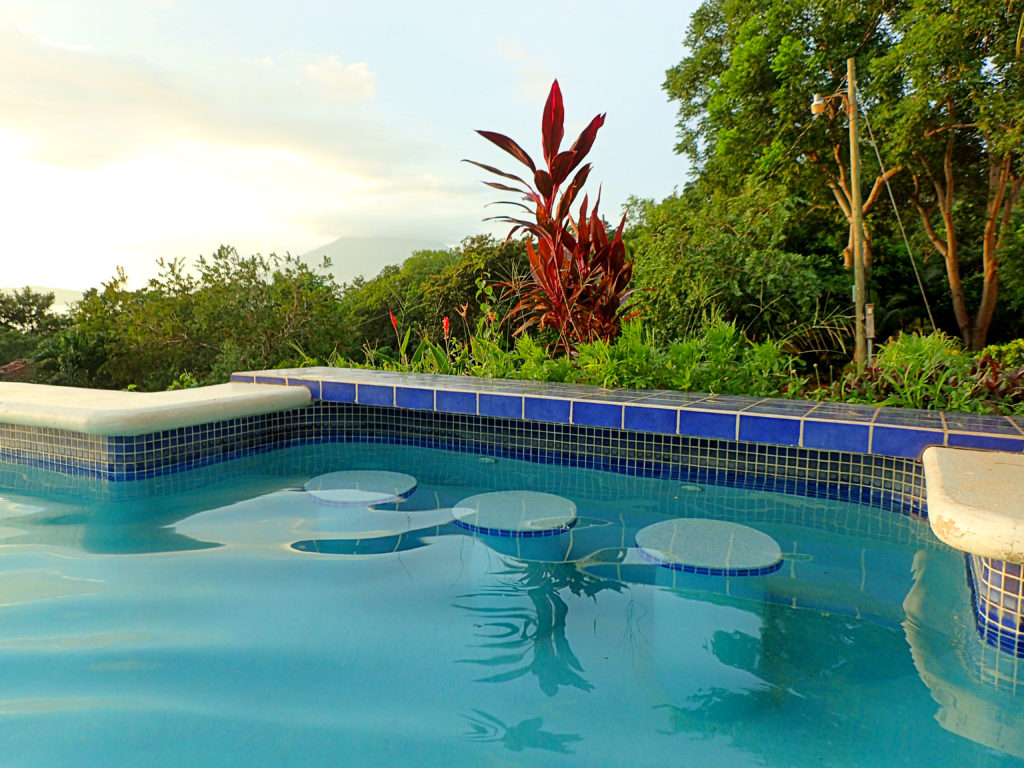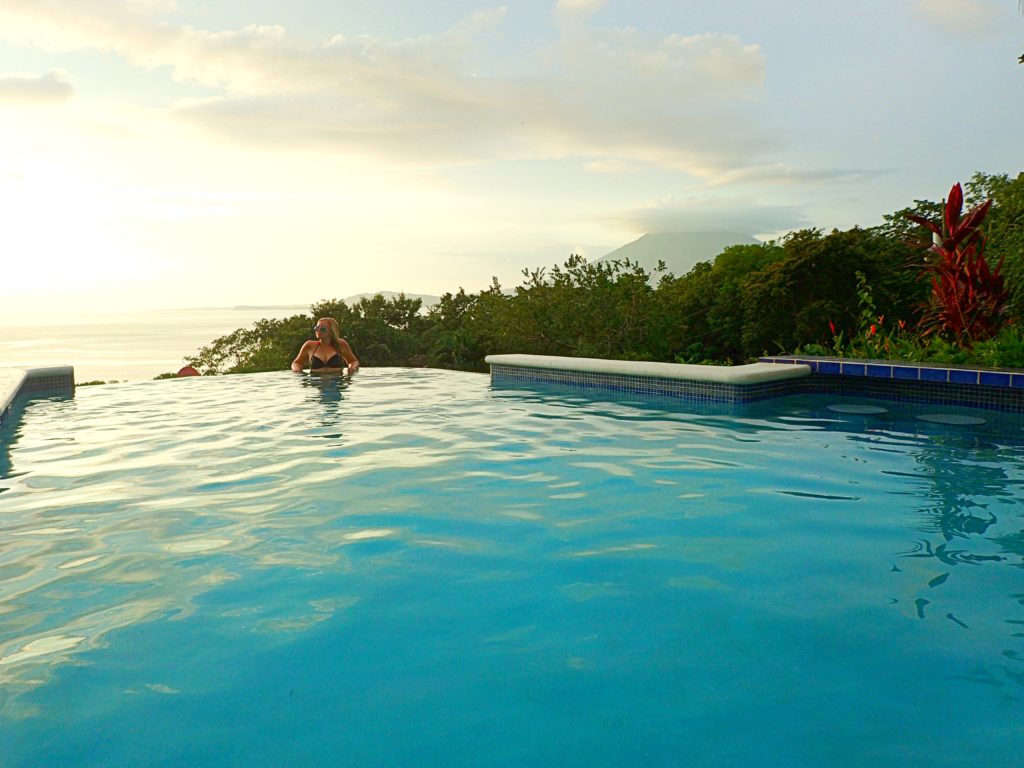 I leaned against the edge of the pool and rested my chin on the ledge, watching the show of colors and light in silence. I couldn't believe how beautiful this place was in every sense of the word.
Not only was the hotel a dream come true, but the location couldn't have been more perfect. From the volcano views to the panoramic scenery, and even to the remote little village down below, I was in heaven. Not to mention the tropical birds and butterflies, and even the sound of the howler monkeys in the distance.
To me, La Omaja felt like a modern oasis plopped down into the middle of a far away, storybook land. A land filled with welcoming islanders and lush jungles, and surrounded by mysterious waters (seriously, did you know that Lake Nicaragua has freshwater SHARKS in it? Sharks! What kind of weird magical place is this?!)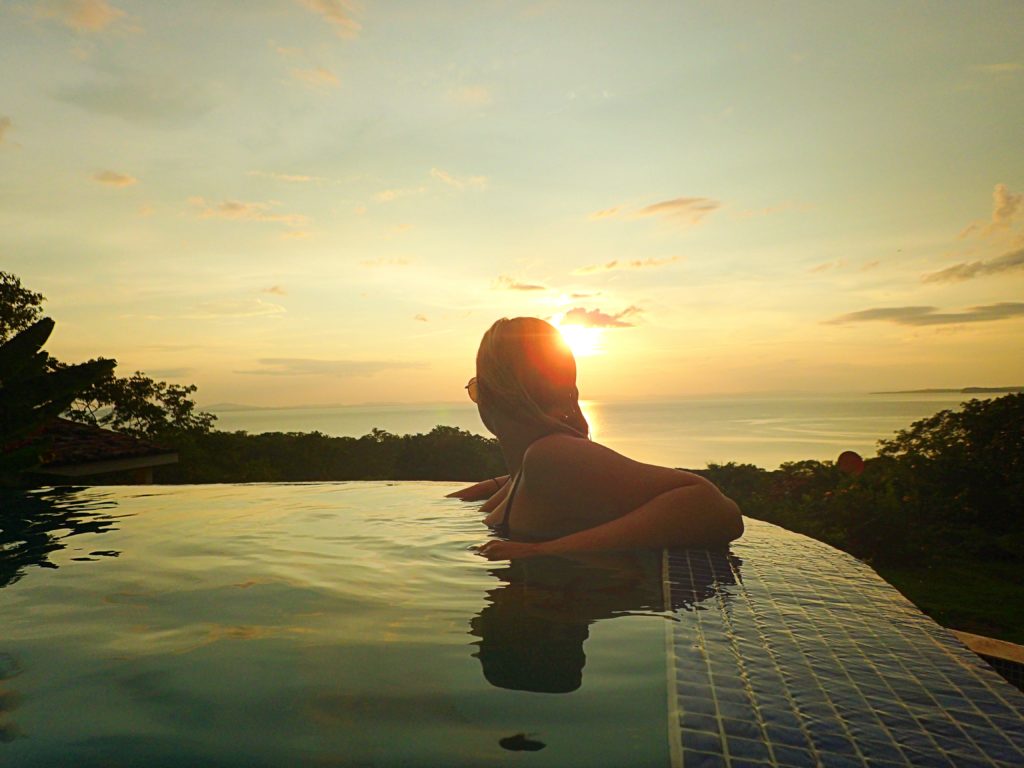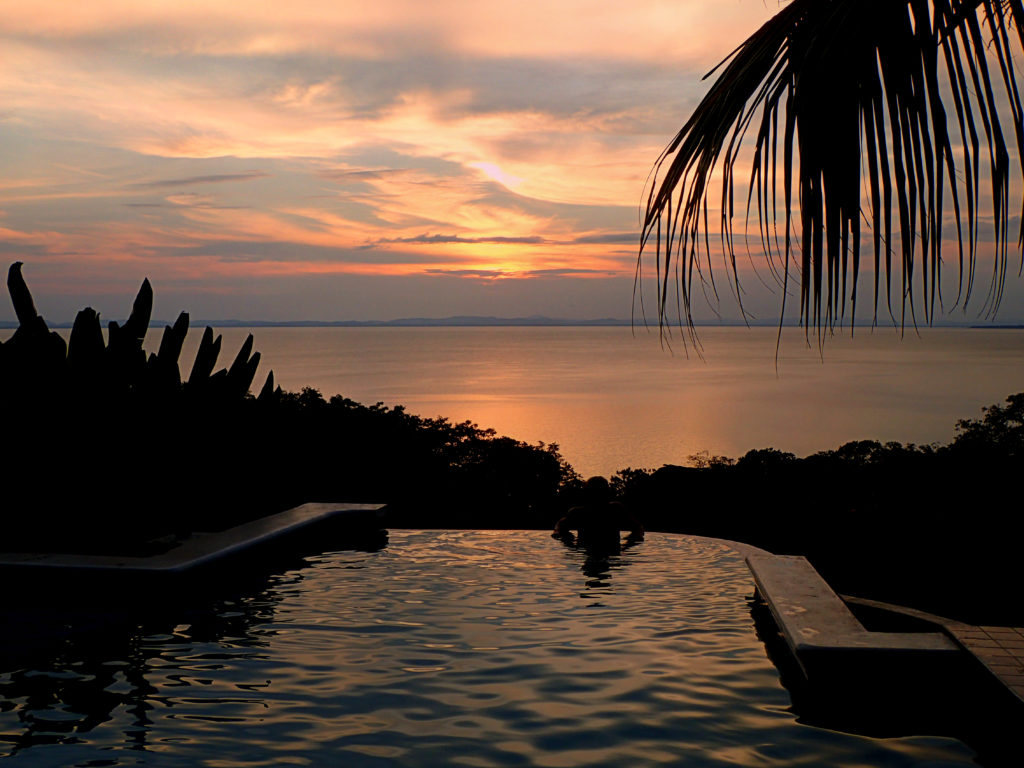 Lost in these thoughts inside my own head, I barely noticed that I had been joined by four other people in the pool area. Two American couples were also staying at La Omaja at the same time as me, and I ended up chatting with them about their travels in Nicaragua and how we all ended up in the same remote corner of the island.
The scenery and the mood at La Omaja make bonding and connecting with others a breeze (if you ever need a solid icebreaker, just lead off with "Wow, that view!"), and I quickly developed a strong sense of camaraderie with my fellow travelers. We ordered a round of strong and sweet Piña Coladas, and spent the rest of the evening and night playing board games and swapping stories.
While it was tempting to spend my entire time on Ometepe lounging around and soaking in the pretty views at La Omaja, I knew that there was much more that I wanted to experience while I was on the island.
My favorite days were the ones where I ventured out in the morning to explore all day, and returned to the peace and tranquility of the hotel by late afternoon.
Here's how to spend your days on the island:
Rent a motorbike and roam the island.
My one pain-point with Isla de Ometepe is that public transportation is pretty unreliable. There are only two buses that leave from Moyogalpa and go to Merida each day (9:00 am and 2:40 pm) and they take more than TWO hours! That's a long ride for one island.
You can always call a cab, but they're pretty pricey ($30 one-way from Moyogalpa to Merida).
The best option? Grab a scooter and explore on your own! My friend Petra (who was staying in Santo Domingo) and I did this on two separate days, and it was the perfect way get around the island all day, whenever we needed.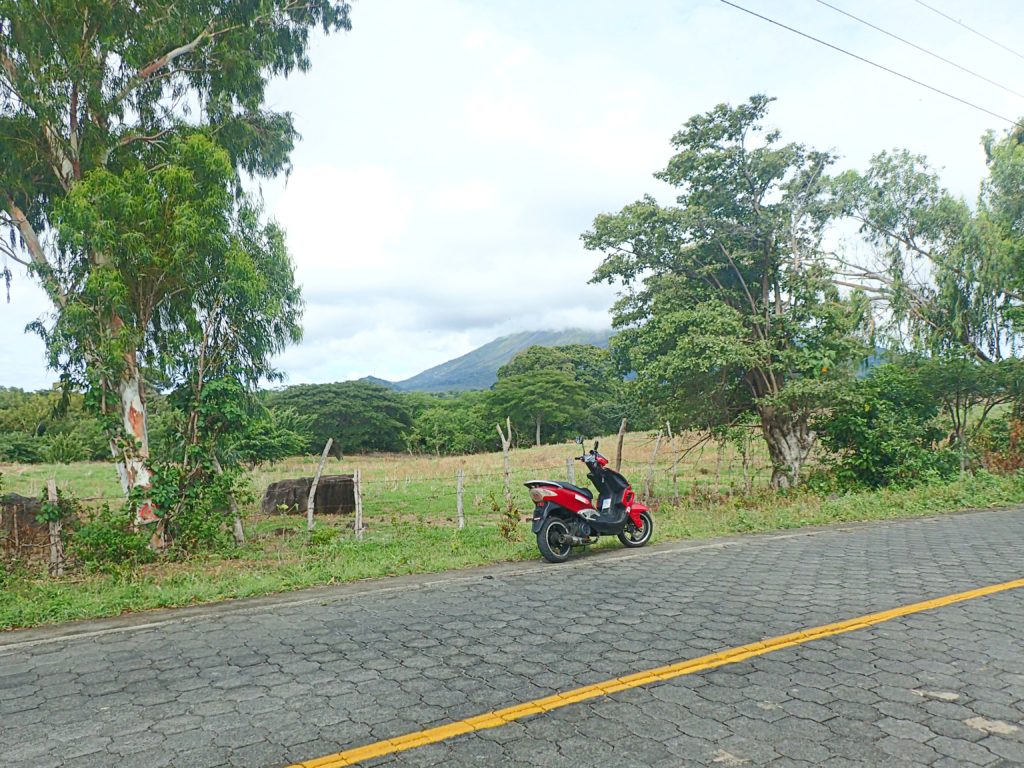 Plus, it was so nice to pull off to the side of the road whenever we wanted and snap some photos of the amazing scenery. For as long as we spent on the island, we never got tired of those volcano views!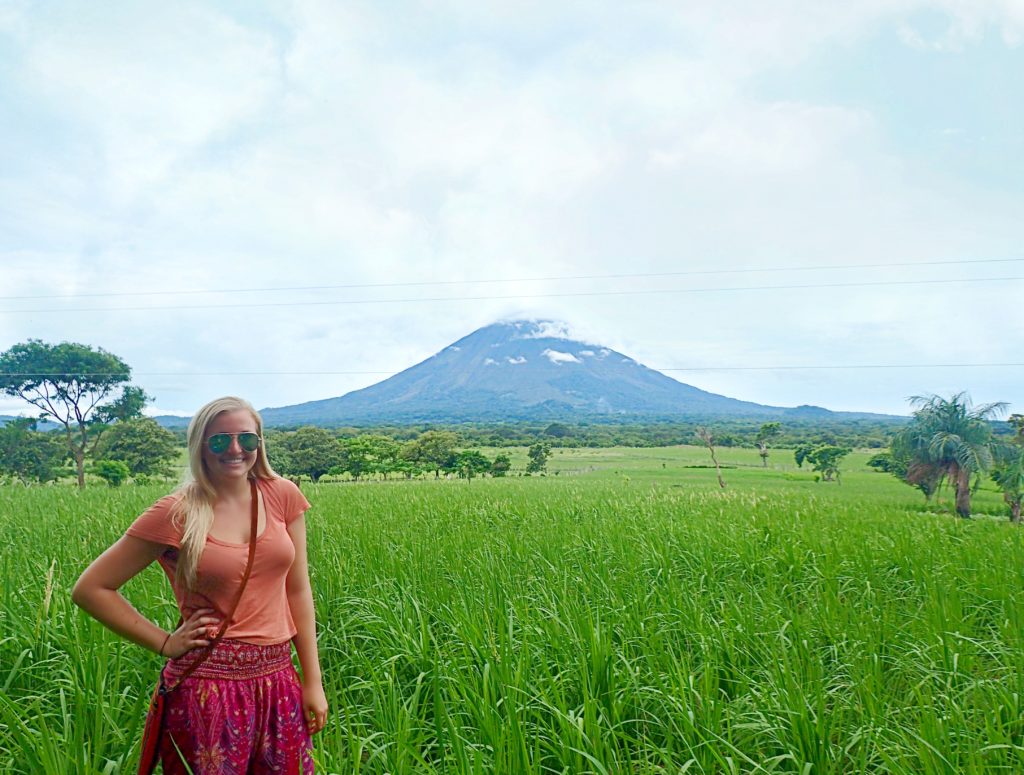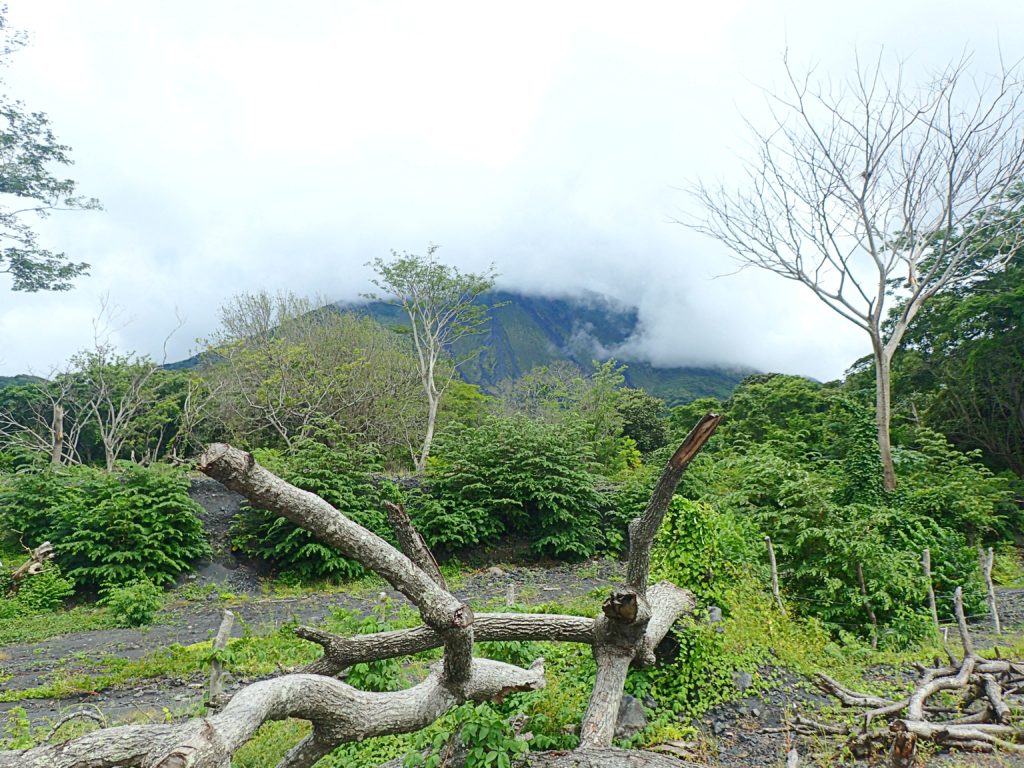 I'm always a big fan of having my own method of transportation when I'm traveling, because I love the freedom and flexibility it gives you to go anywhere and see anything. We were able to explore the most remote nooks and crannies of the island, and I loved finding all kinds of hidden gems and off-the-beaten-path locations.
Not to mention, this is how the locals do it here. You won't see many cars on the island; it's all bicycles, scooters, and motorcycles!
That said, if you don't have experience with driving a motorbike, you may want to find an alternative method of transportation (bicycle?)
A lot of the roads here are unpaved and extremely rocky, and there are cows, horses, pigs, dogs, and pedestrians all over the place. Not to mention the unpainted speed-bumps and potholes.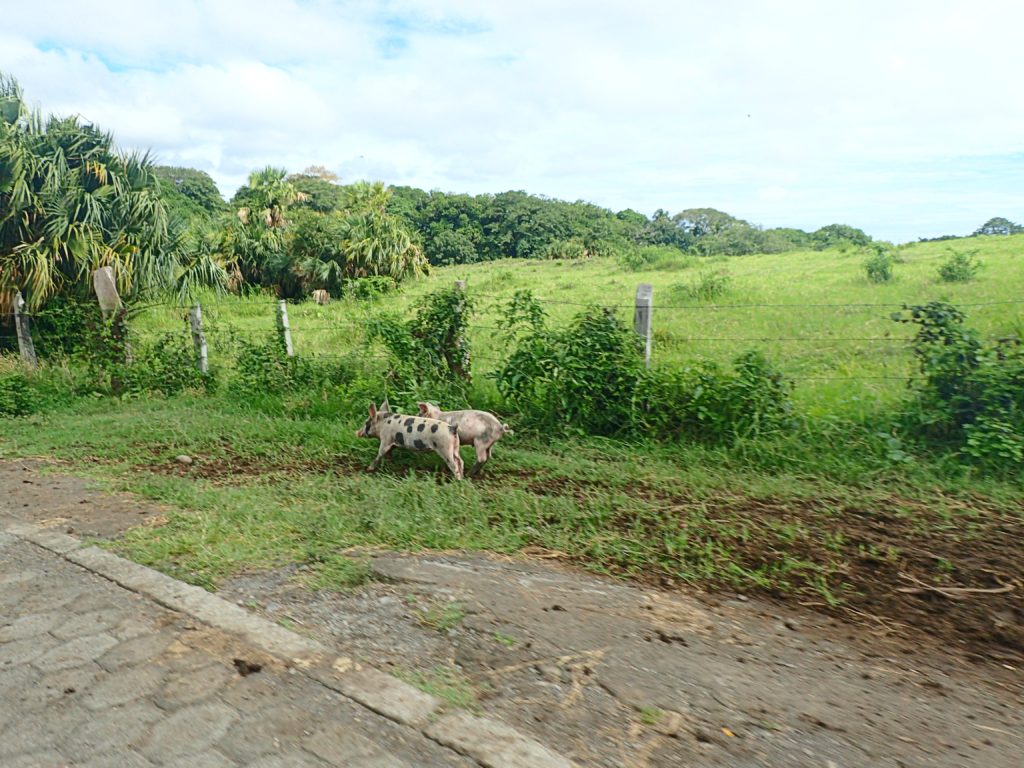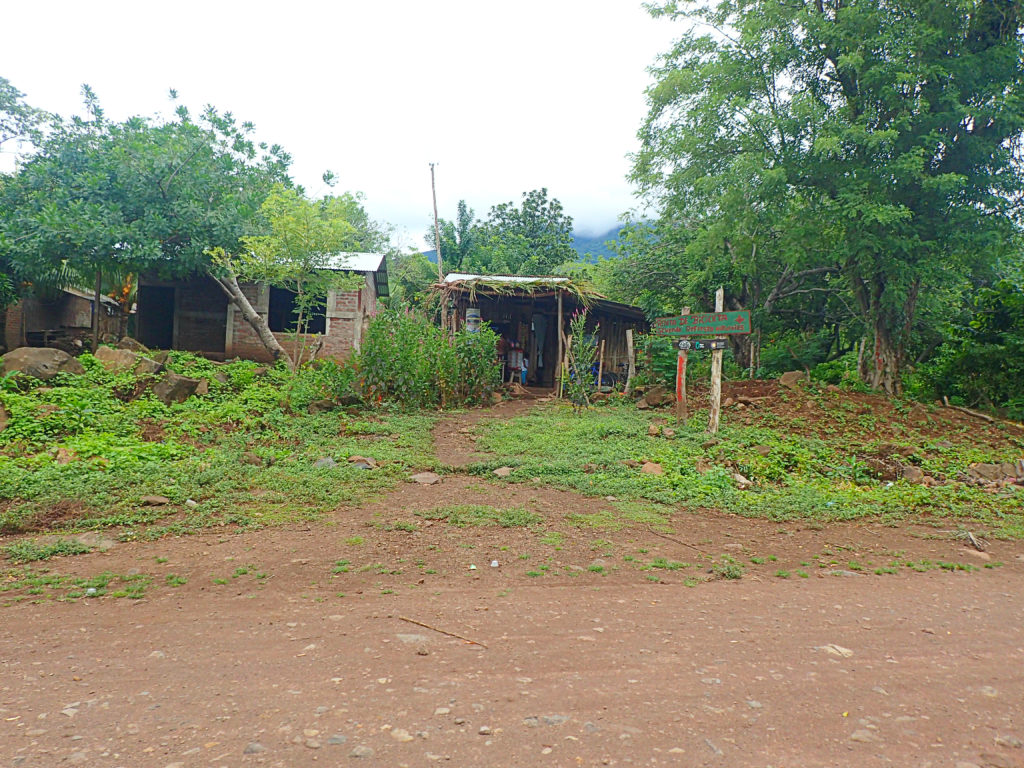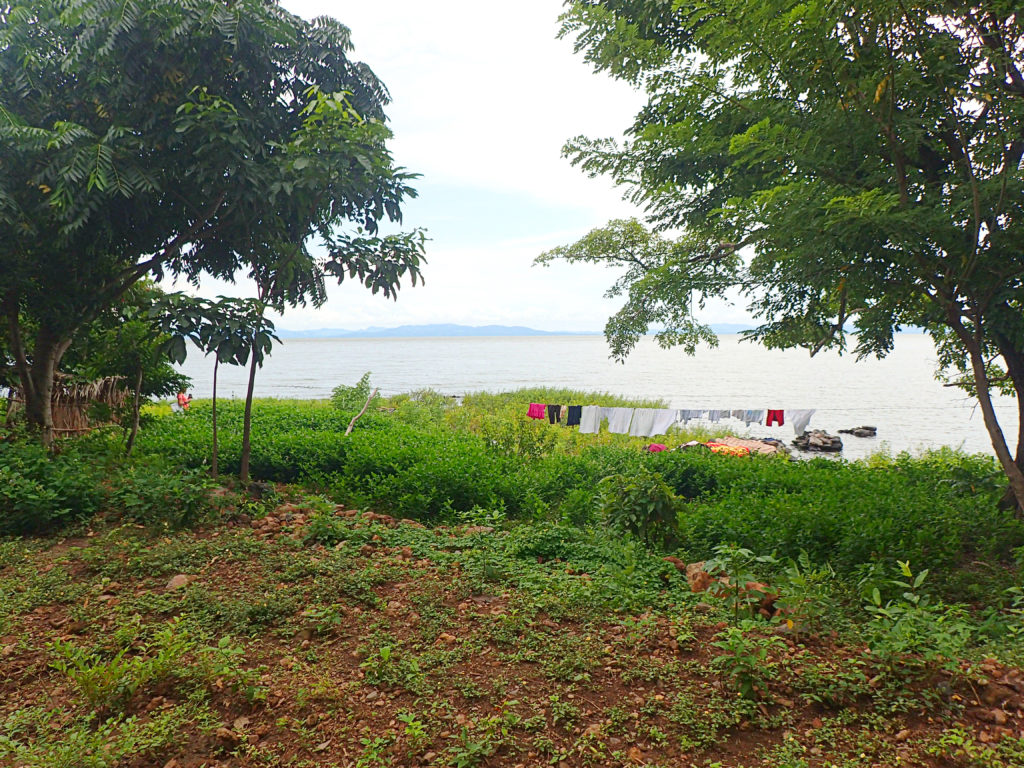 Hike to the San Ramon waterfall.
Isla de Ometepe is a hiker's heaven! If you're really up for a challenge, you can hike the inactive Maderas Volcano (8 hours round trip) or the extremely difficult Concepcion Volcano (11 hours round-trip; experienced hikers only).
I opted for something a bit easier: The San Ramon waterfall hike.
The waterfall is located at the Maderas Volcano, in perfect proximity to Merida and La Omaja. It's around 3 hours round-trip, with half of the trail being fairly easy and the other half being somewhat difficult.
While reaching the massive waterfall is the end goal, the views along the way make the hike worth it all on their own.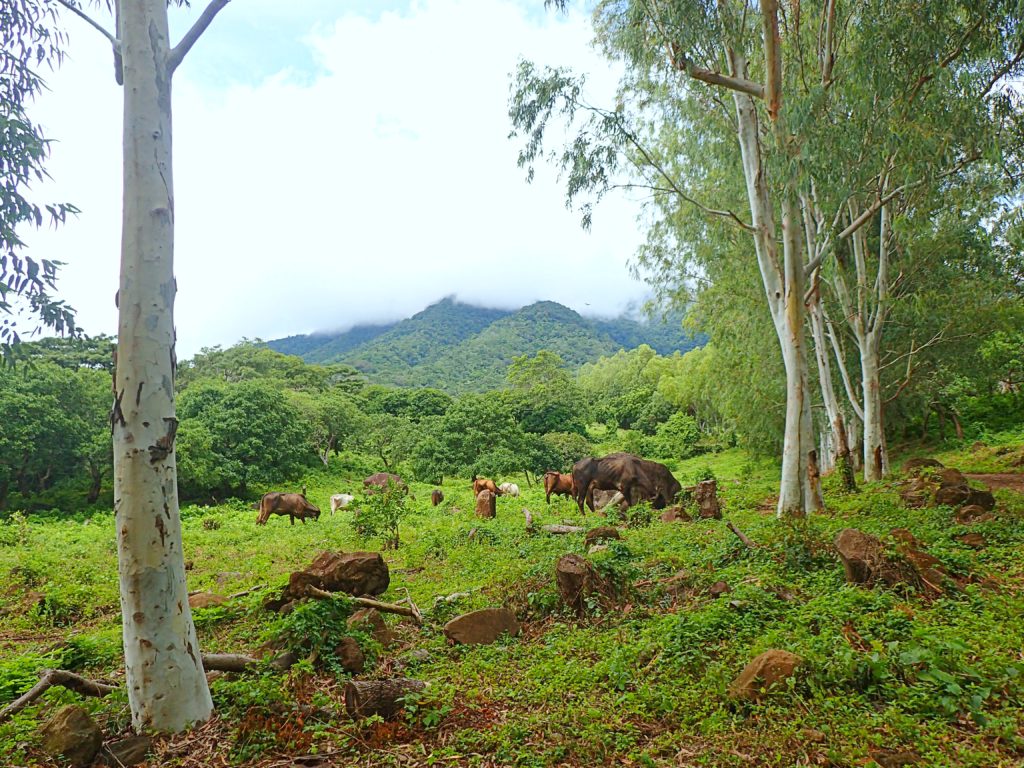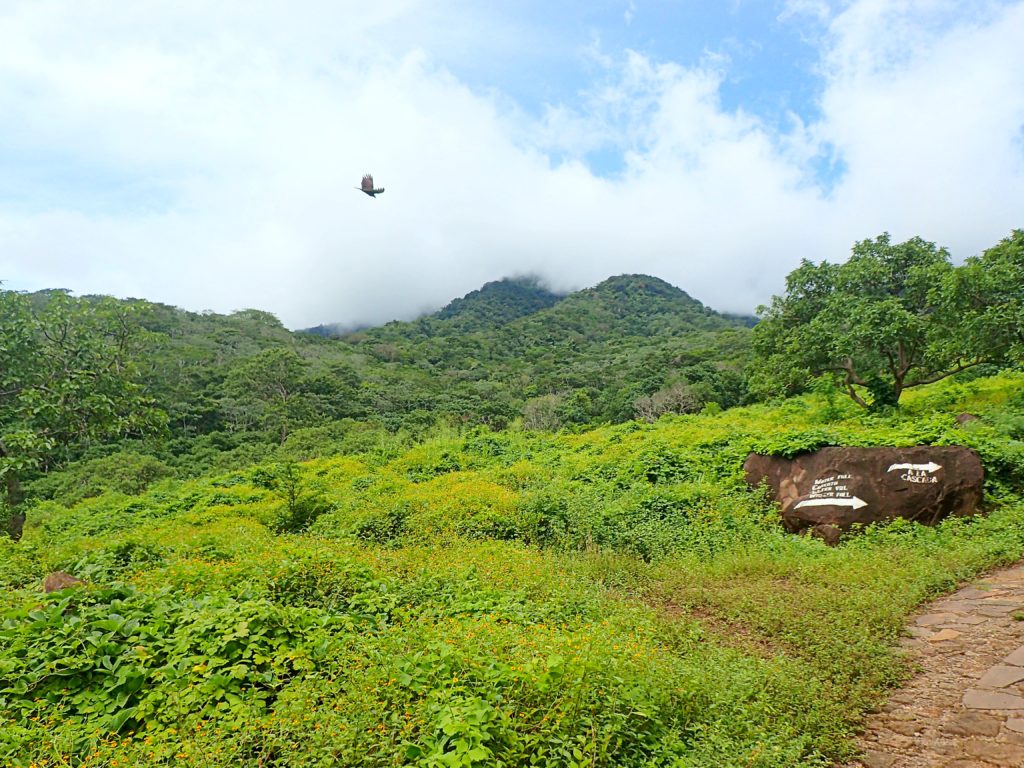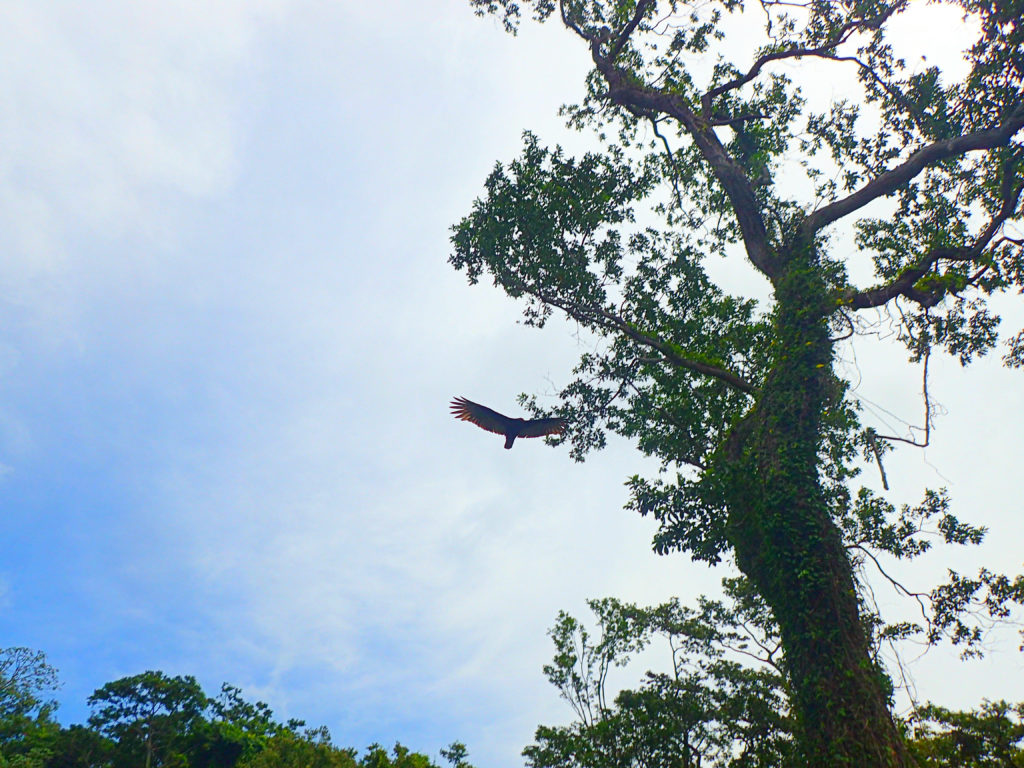 You'll pass grazing cows, rolling hills, and farmlands. Birds fly overhead and howler monkeys sound off in the distance.
It's a true jungle experience, and all of your efforts and hard work will be rewarded when you reach your final destination: the San Ramon waterfall.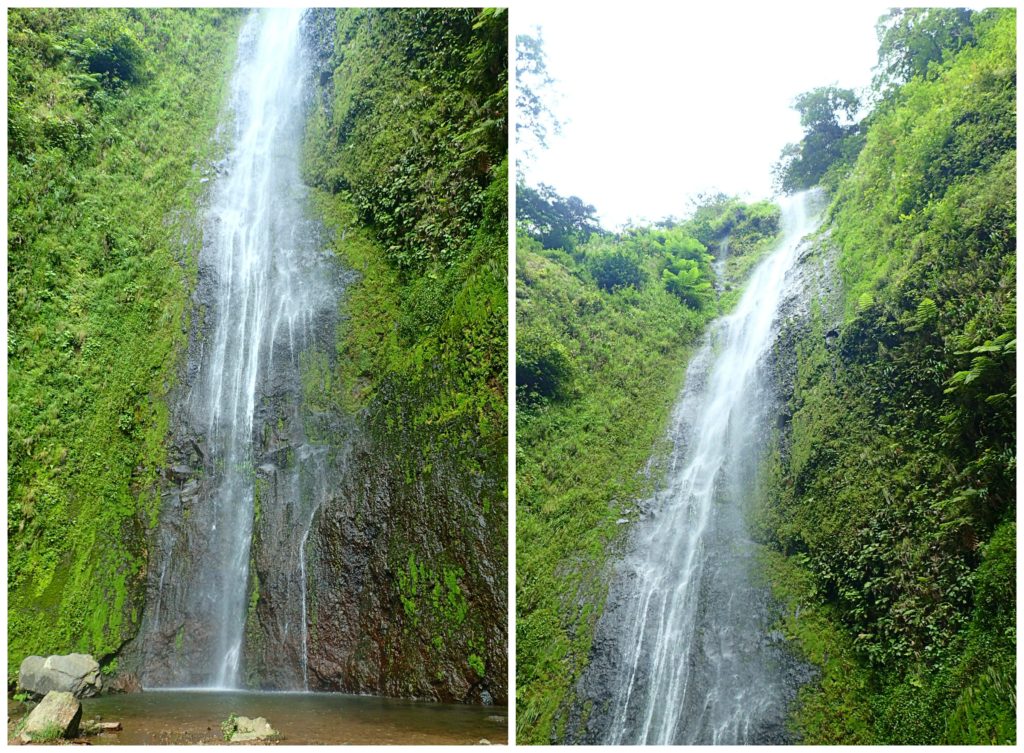 The waterfall is massive, remote, and chilly, and the small pool at the bottom of the falls is a perfect place for cooling down after your workout. The pool itself is too small for swimming, but you can do a bit of wading and splash some water on your face.
Make sure you wear proper closed-toe shoes, and bring plenty of water. I wore my hiking sandals and was not happy with that choice. I also didn't bring enough water, considering how absolutely drenched in sweat I was by the end of the hike.
Chill out on Playa Santo Domingo.
There are a few beaches on Isla de Ometepe, but Santo Domingo is known for being the nicest. If you're working on your holiday tan you can lay out on the sandy beach, or you can retreat to one of the many covered areas for some shade.
There are a few restaurants along the beach, but my favorite was easily the little vegetarian restaurant on the far end. It had a great tropical vibe, and hands-down the best food I've had so far in Nicaragua!
I had lunch here twice and tried both the curry and the pasta, and both were amazing (however, the curry came out slightly on top for me, due in part to the delicious grilled banana that it was served with. Imagine scooping out bites of a hot, sweet, melted banana. YUM!)
You may even get lucky and catch a glimpse of some cows or horses on the beach. They all come here to drink the fresh lake water, and watching them was something that never failed to entertain me.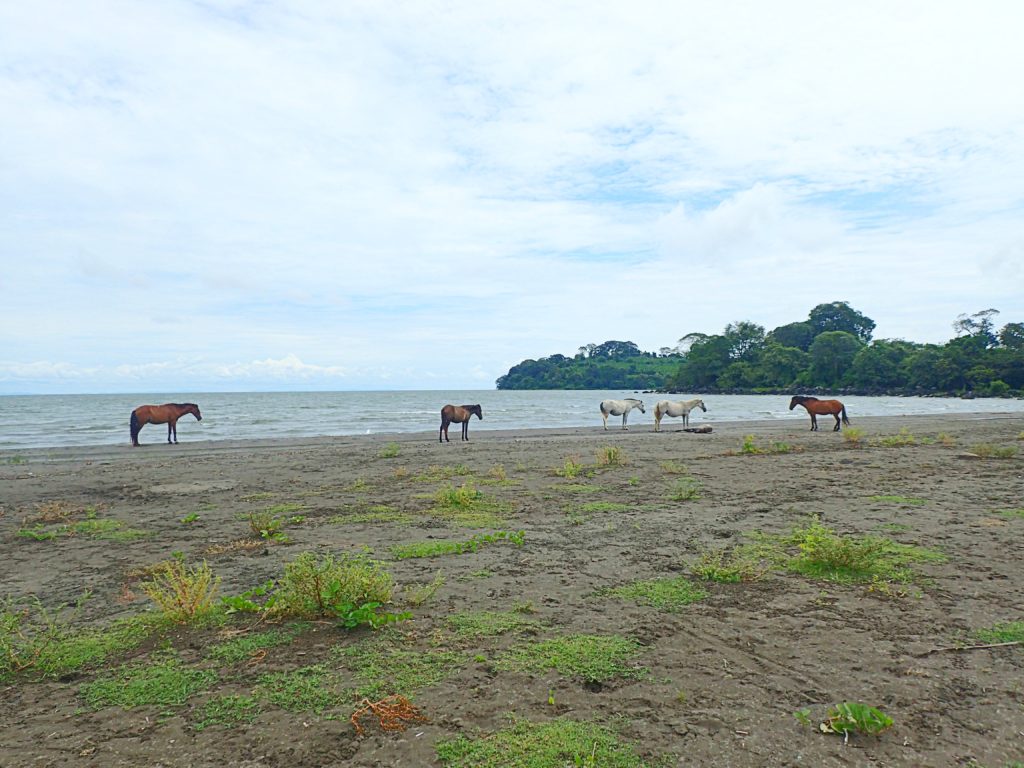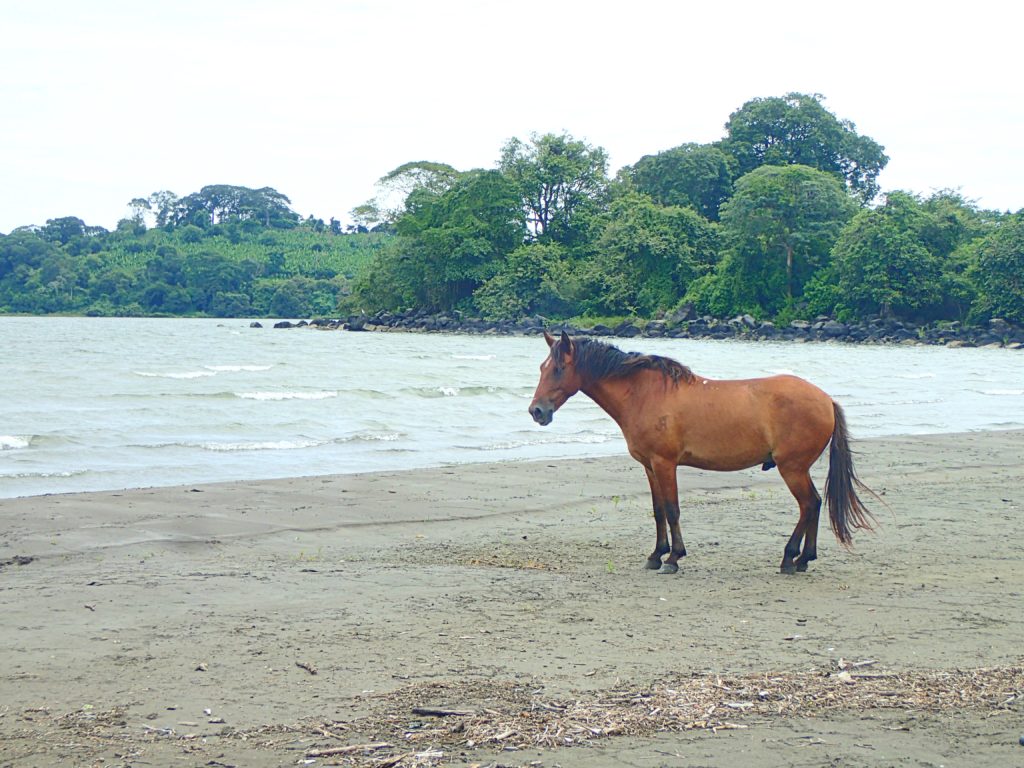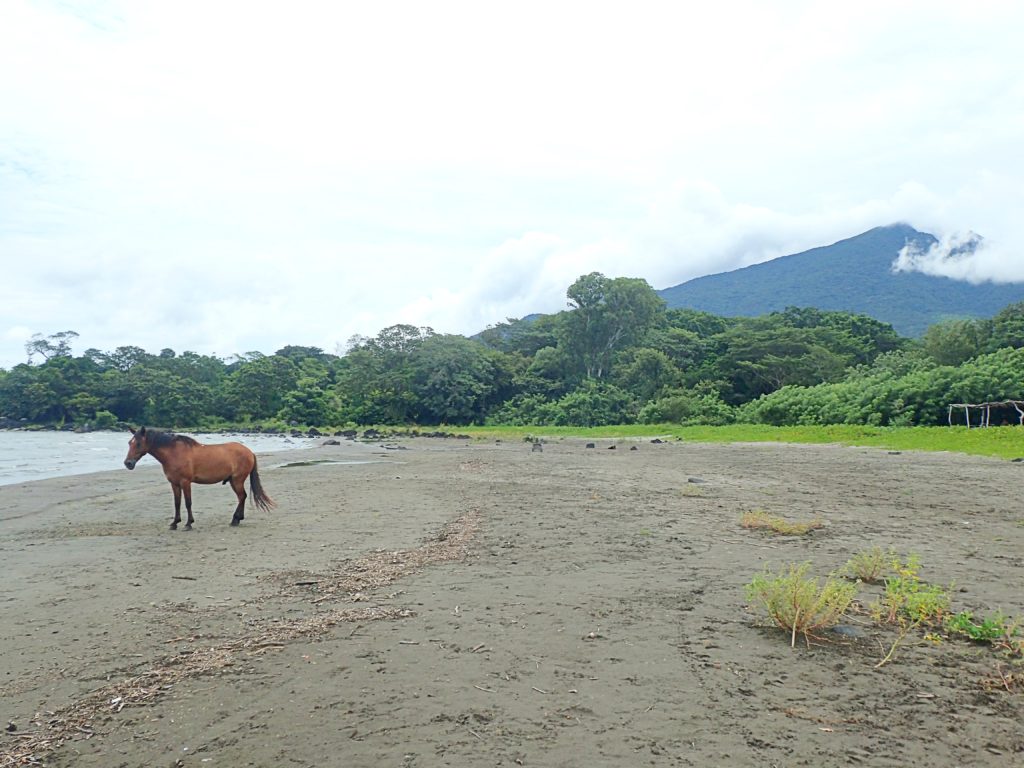 Take a dip at Ojo de Agua.
Located just 2 kilometers or so from Playa Santo Domingo is one of Ometepe's "must sees", the Ojo de Agua.
It's a cold-water spring with crystal clear water, and people come here to swim and relax.
My personal two cents? I found Ojo de Agua to be highly overrated. Growing up in Florida and currently living in Texas I have seen plenty of swimming holes and springs, and many of them are significantly more impressive than this one.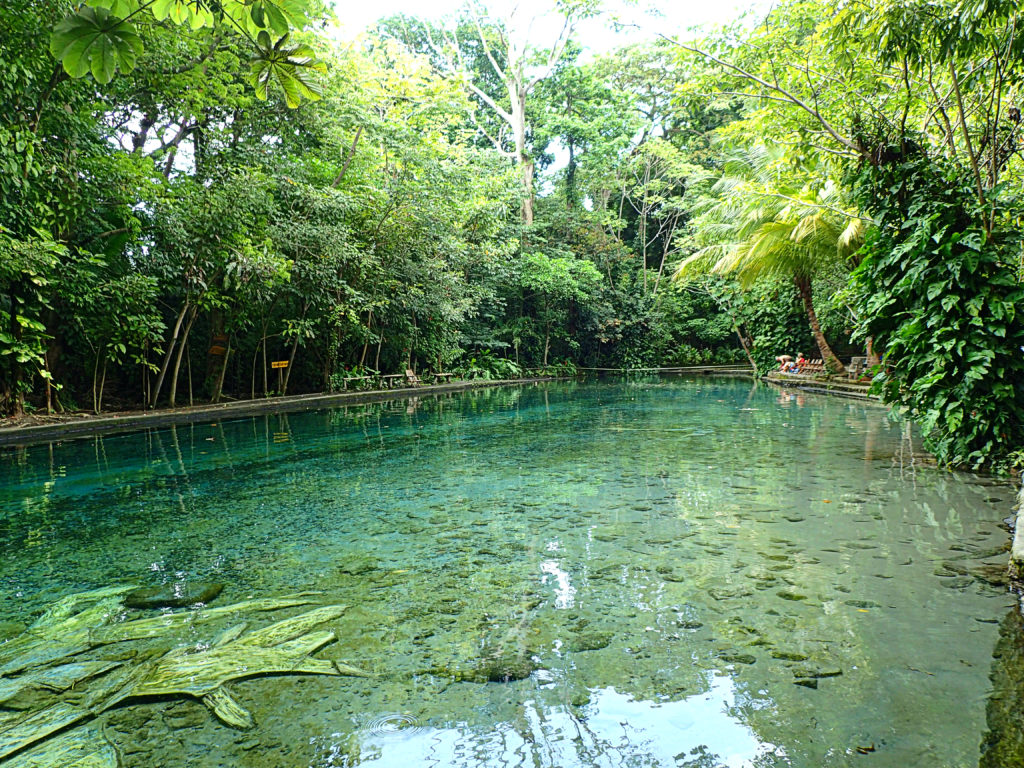 It's quite small, and I imagine that in high tourism season it can get extremely crowded. You can buy food and drinks from the restaurants around the pool, but a quick glimpse at the menu confirmed that refreshments were totally overpriced.
If you haven't seen too many freshwater springs before it may be worth a quick visit, but I wouldn't feel guilty if you decide to give it a pass altogether.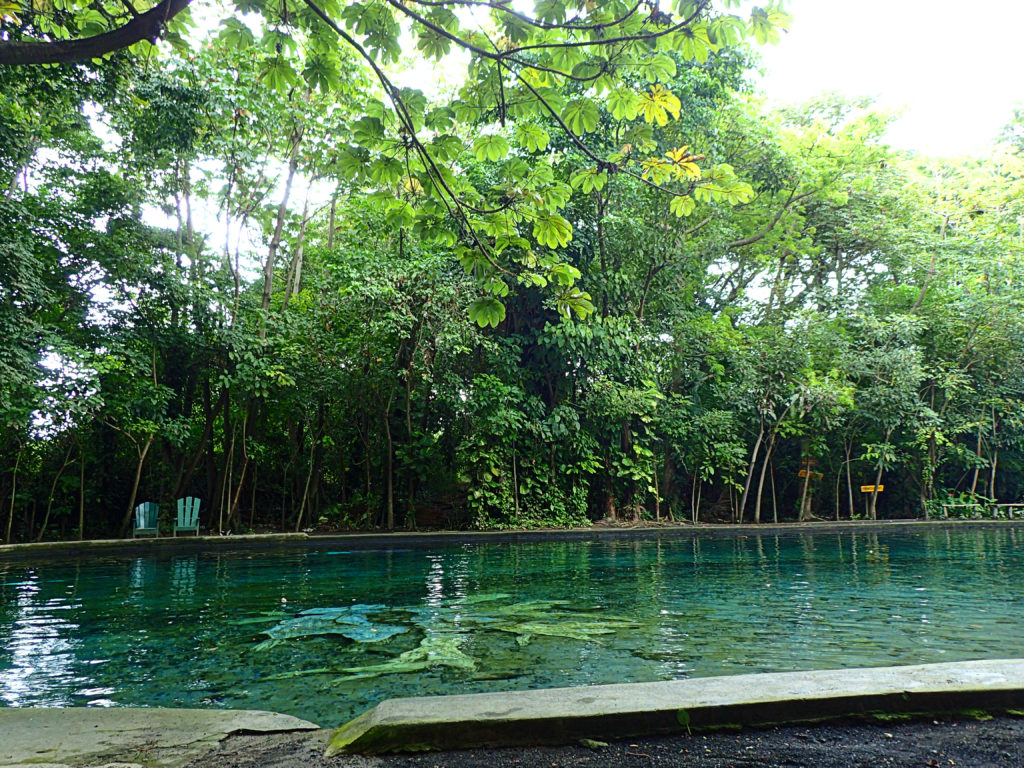 Other Activities
If neither hiking, lounging, swimming nor motorbiking is your thing (does this even apply to anyone?!) don't worry–there are even more ways you can choose to spend your time. You can horseback ride, tour a coffee plantation or organic farm, kayak, or check out some ancient petroglyphs near the Maderas volcano.
If you're craving something really cultural, you could even do a homestay!
Overall, summing up my days on Isla de Ometepe is hard to do. Like so many places I've traveled to, looking back on Ometepe evokes a strong feeling…and feelings can be frustratingly hard to put into words.
How would I describe Ometepe? Mystical. Natural. Pure. Refreshing. Freeing. Comfortable.
How did Ometepe make me feel? Above all else, happy.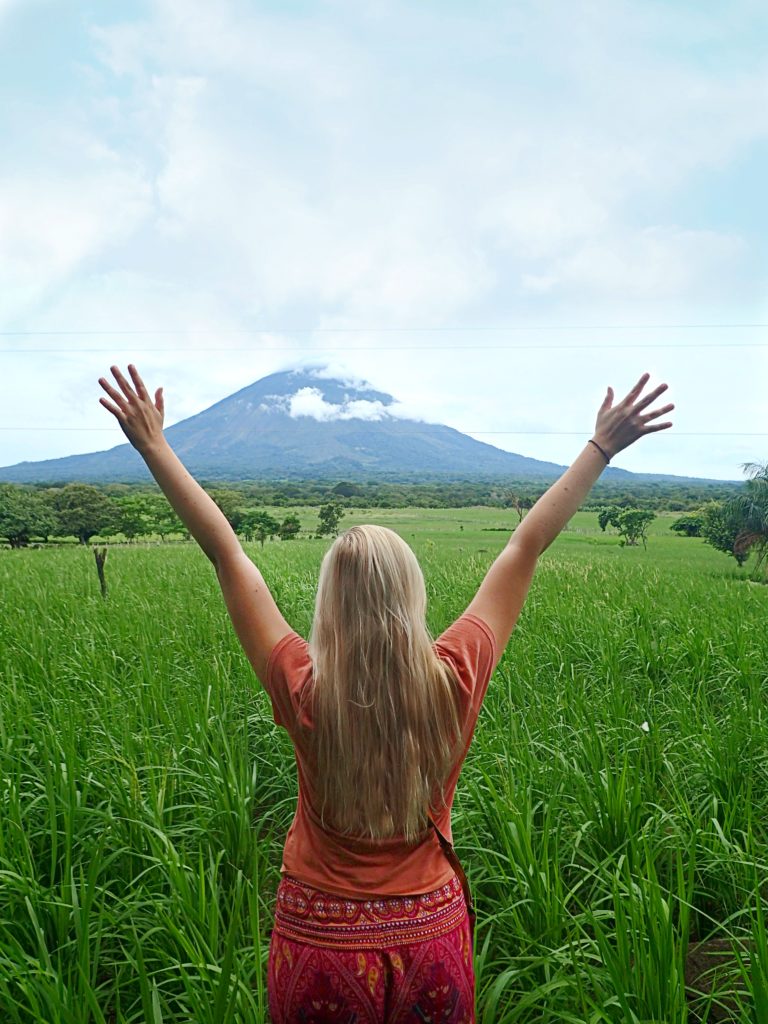 ---
Pin It!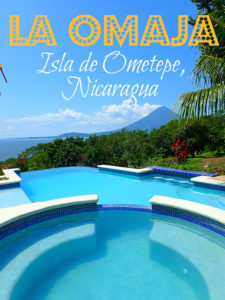 ---
Muchas gracias to La Omaja and owner Jamie for hosting me during my stay! As always, all opinions are my own.