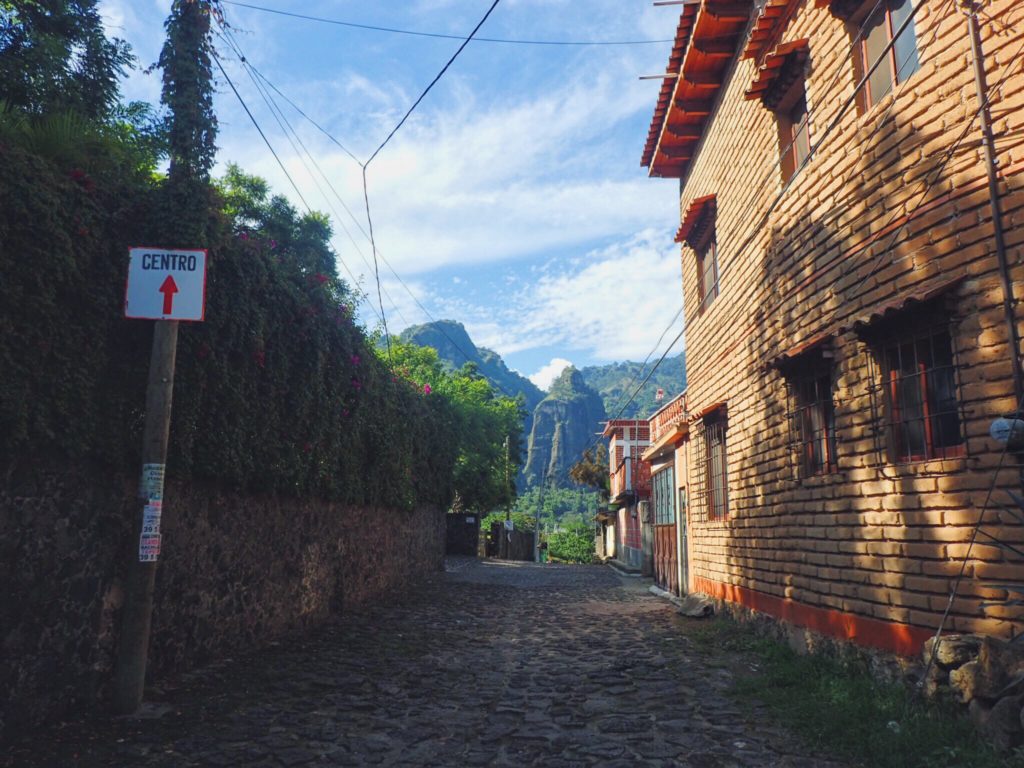 Take a moment to close your eyes and clear your mind. Now, imagine a breathtakingly beautiful faraway land where lush jungles and jagged mountains cradle a small, lost-in-time town. An ancient pyramid stands guard on one of the cliffs overlooking the town of just 15,000 people, and in the city center below, a handful of cobblestone streets merge into a bustling traditional town square.
Whispers of an ancient language can be heard as you wander the streets, soaking in the magnificent scenery and the well-preserved local way of life.
…And now, what if I told you that this faraway land wasn't so far away after all?
Intrigued? Meet Tepoztlán, a relatively unheard-of little town just 1.5 hours south of Mexico City. Despite its proximity to one of the largest metro areas in the world, Tepoztlán feels like a place that was left behind in the ancient world, and long ago forgotten.
In appearance, Tepoztlán is a very quaint and traditional Mexican town. Children are still taught the old Aztec language Náhuatl in schools, goods sold in the markets are still handmade, and there's not a spot in town that you can't walk to on your own two feet. Best of all, the untouched endless jungles and craggy peaks that encircle the town look as if they came straight out of the Jurassic Era.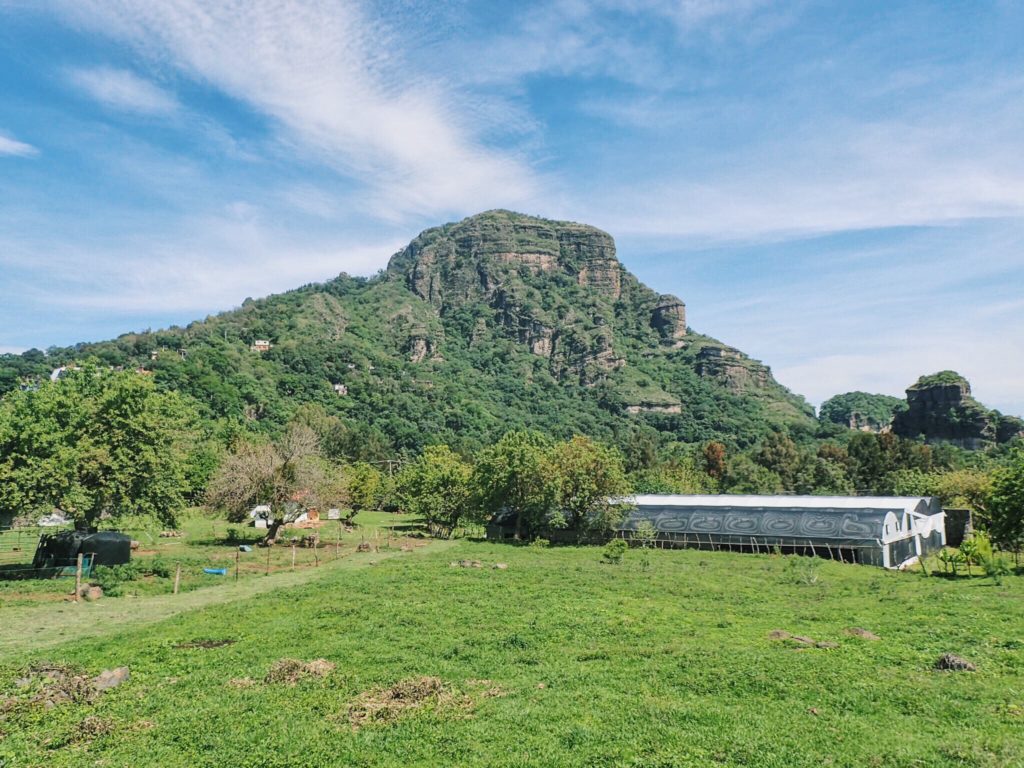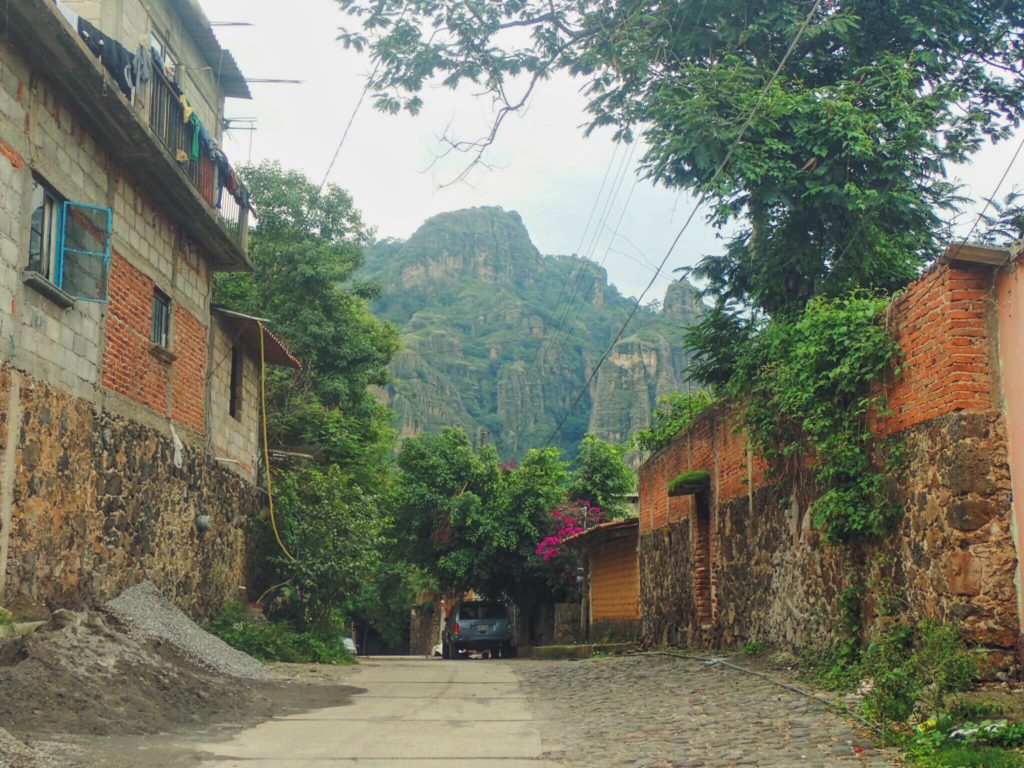 Wandering among Tepoztlán's dated, traditional buildings and rough cobblestone streets, I got the sense that I was being offered a taste of "real" Mexico; the Mexico that hasn't quite been altered to fit the needs of Western travelers…at least not yet.
Long-time readers of my blog may have noticed a pattern in terms of the places that attract me the most: rural, mountainous, natural, spiritual, traditional, and quiet (case in point: Isla de Ometepe in Nicaragua, Santa Cruz La Laguna in Guatemala, Lake Königssee and Berchtesgaden in Germany…need I go on?)
That said, Tepoztlán is truly my kind of place.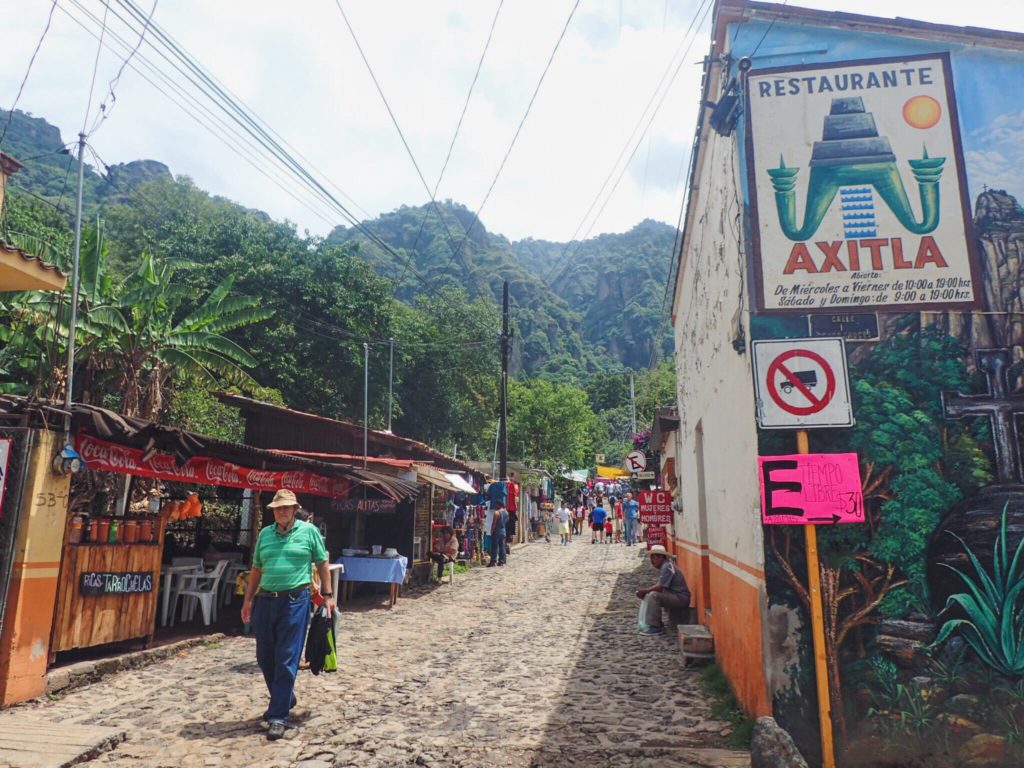 The pace of life is slow and carefree, the people are friendly and warm, the food is flavorful and cheap (like, REALLY cheap), the nature is majestic and unspoiled, and the storied history can be felt like a heartbeat throughout the town.
In fact, it's difficult to pinpoint the exact attributes that charmed me the most about this interesting little town! But hey, what kind of blogger would I be if I didn't try…?
Timeworn traditions and enlightened thinking
According to local legend, the feathered serpent god Quetzalcoatl–worshiped by the Aztecs–was born in Tepoztlán more than 1,200 years ago. The town's storied history and sense of mysticism/religious energy have been well-preserved and passed down among the residents over the years, and as a result, many New Age thinkers have flocked to the town in order to experience it's "spiritual energy."
Whether you come to Tepoztlán to meditate, to practice yoga, to dabble in alternative healing and remedies, to follow creative pursuits, or simply to "find yourself," you'll surely be welcomed with open arms by the locals and expats alike.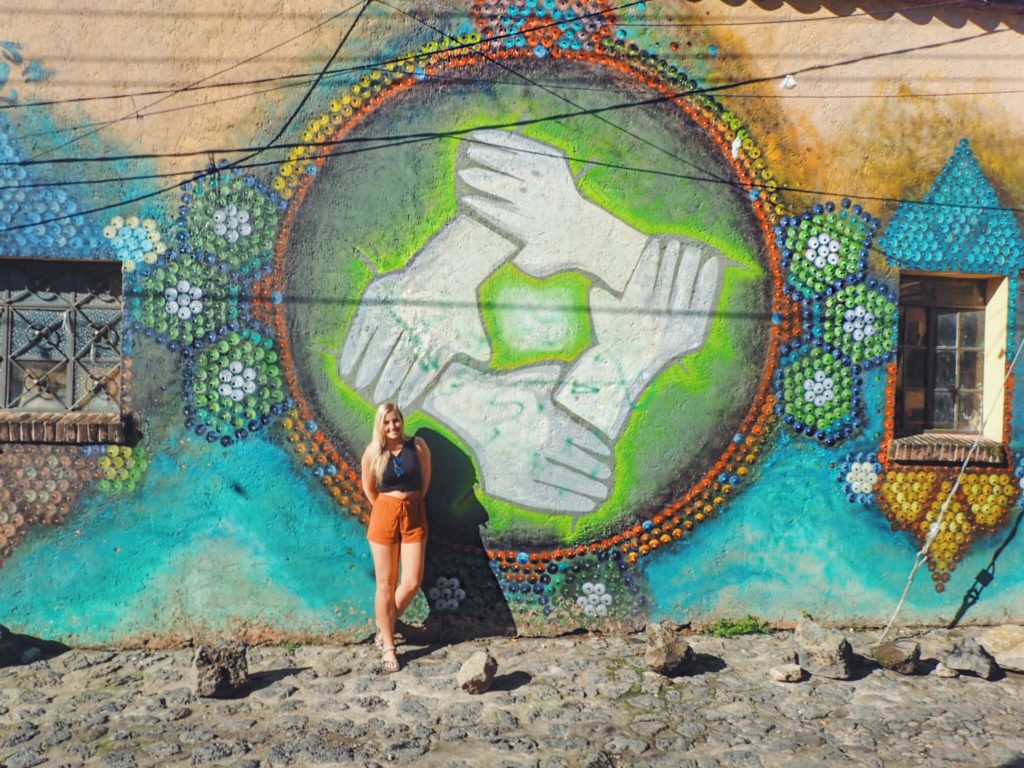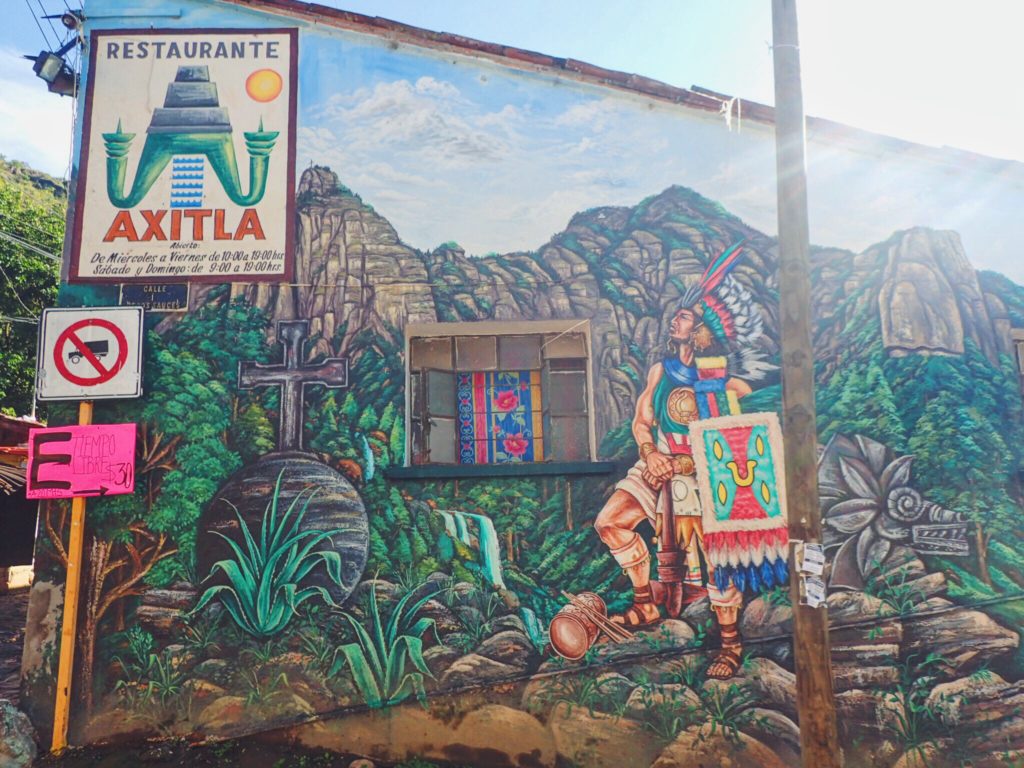 Although the full influence of Western tourism hasn't yet reached Tepoztlán, the town does boast a handful of relaxing healing spas and retreats. Here, you can "cleanse your body and mind" in a dome-shaped stone sweat lodge called a temazcal. These sweat lodges have been used throughout Mexico since pre-Hispanic times, and are considered to be extremely purifying and healing.
This emphasis on healing and mysticism isn't all that surprising, considering that Tepoztlán is one of Mexico's Pueblos Mágicos (Magical Villages), a listing of towns identified by Mexico's Secretariat of Tourism that are said to offer visitors a "magical" experience. Magical indeed!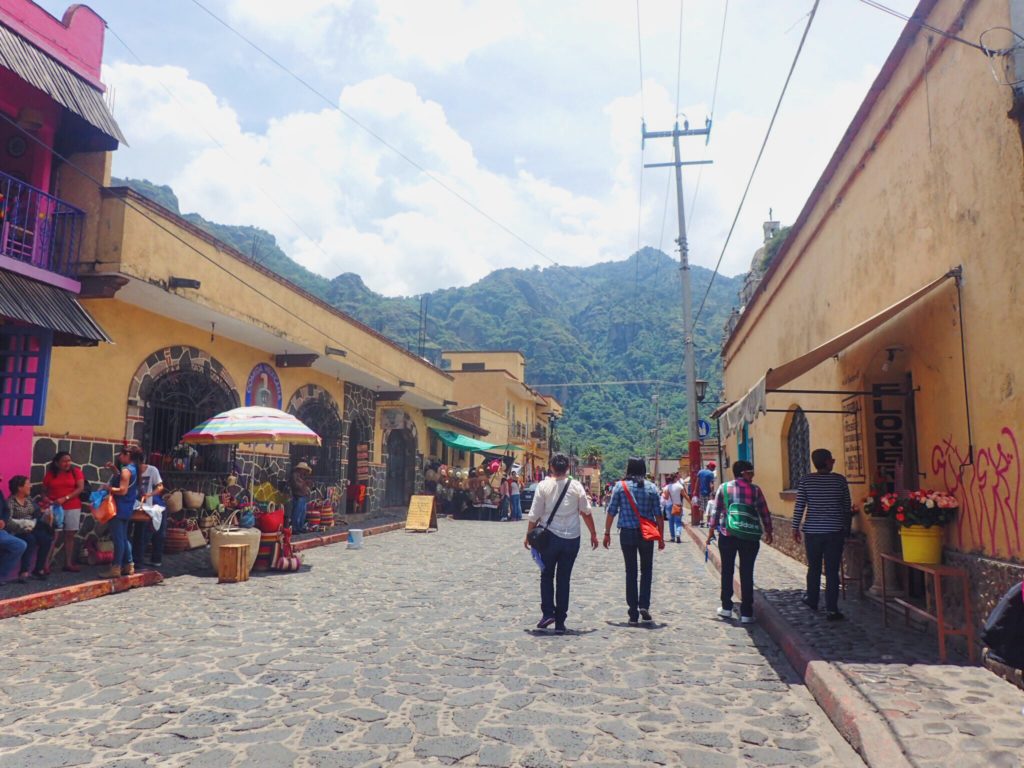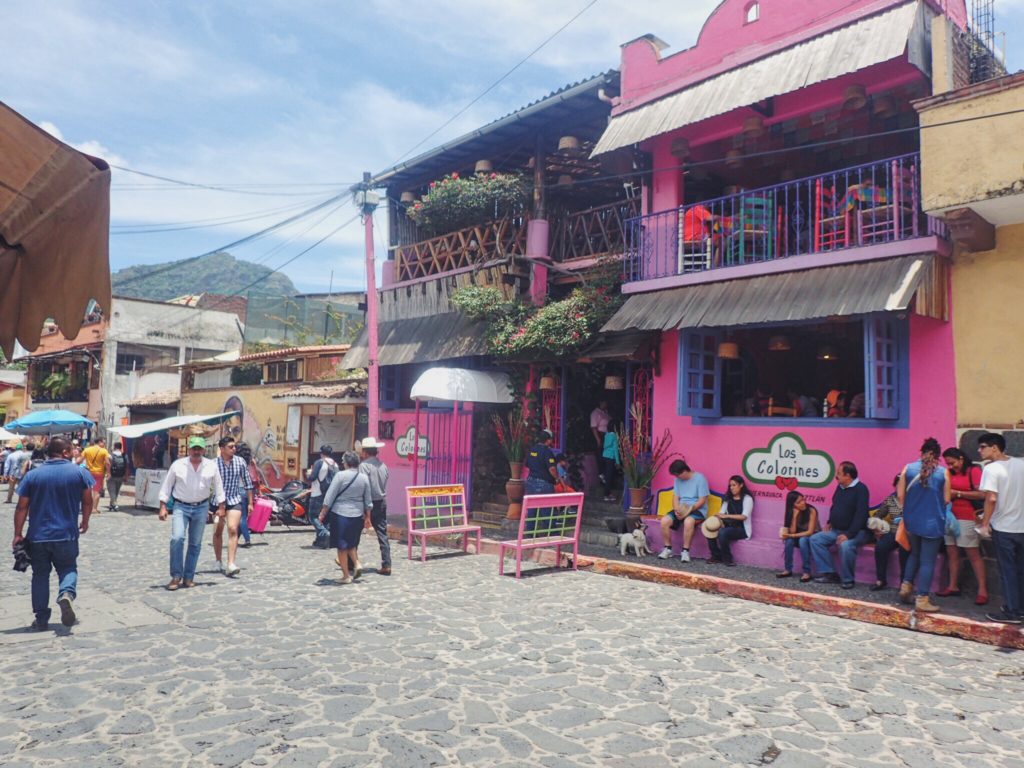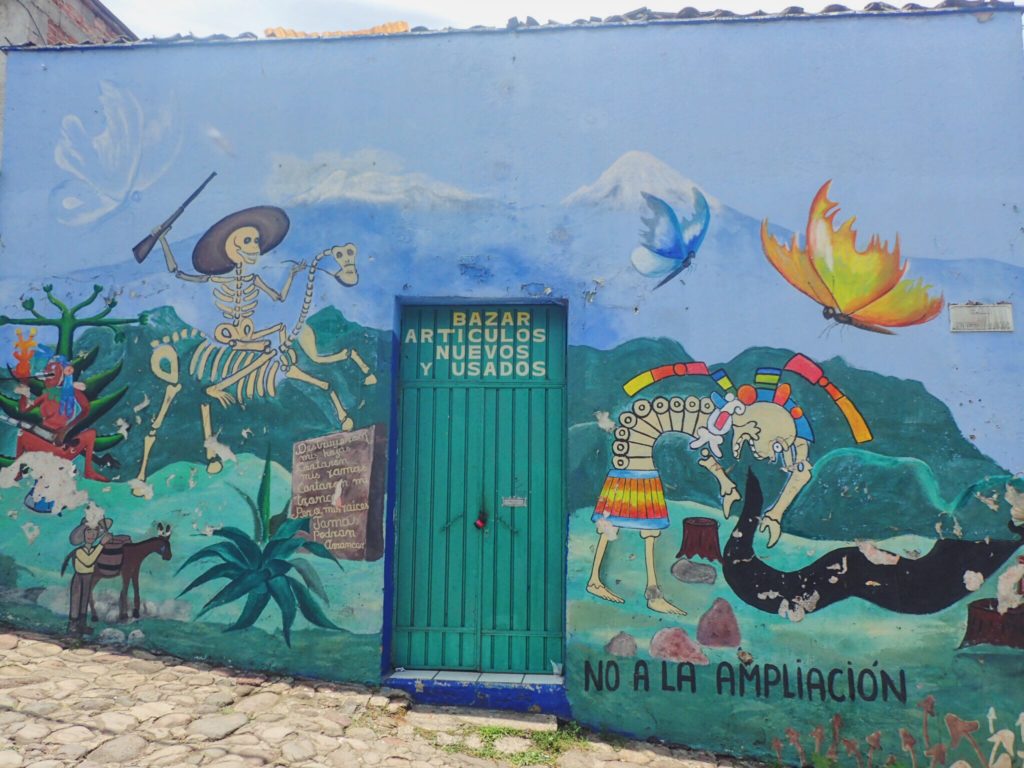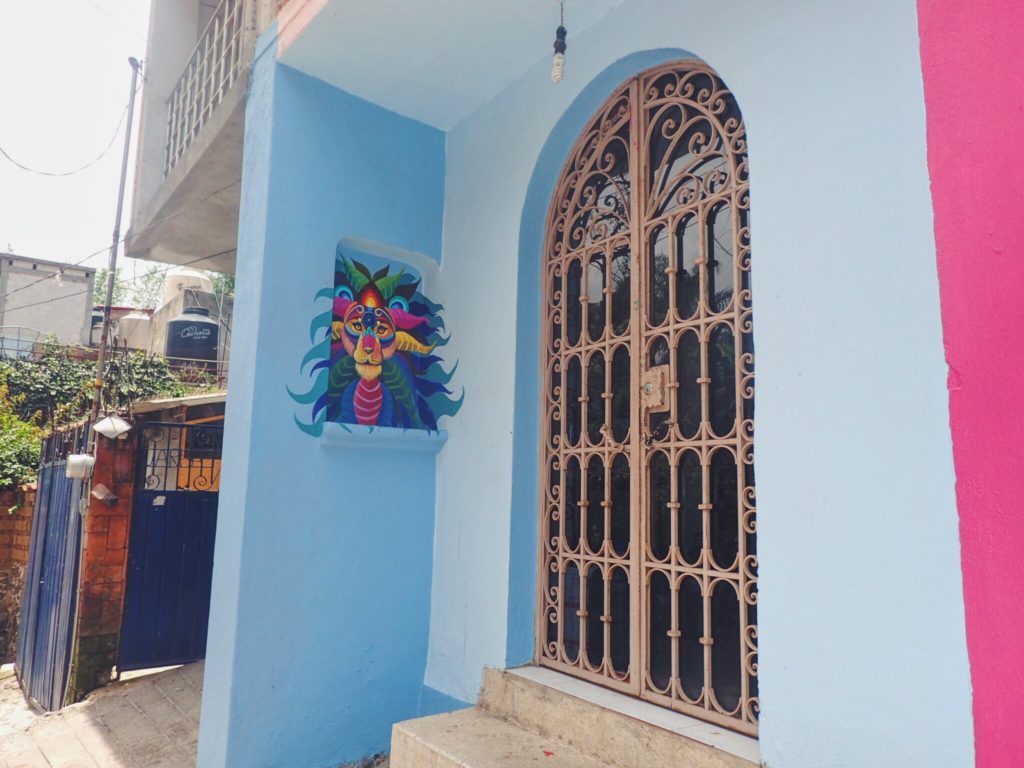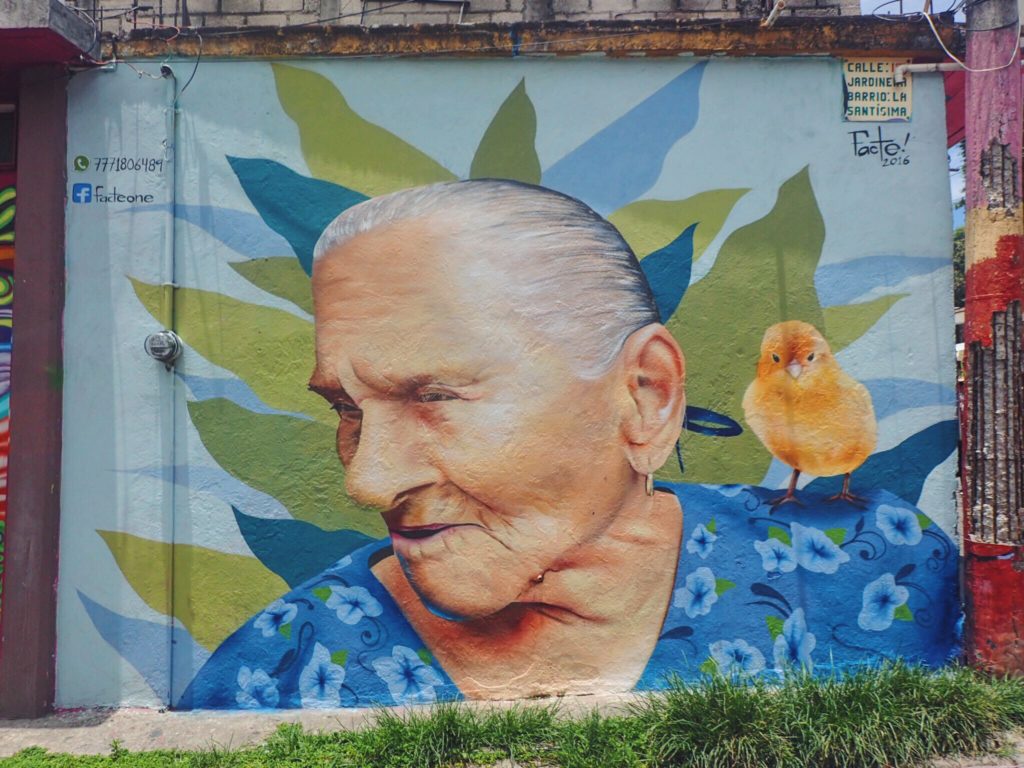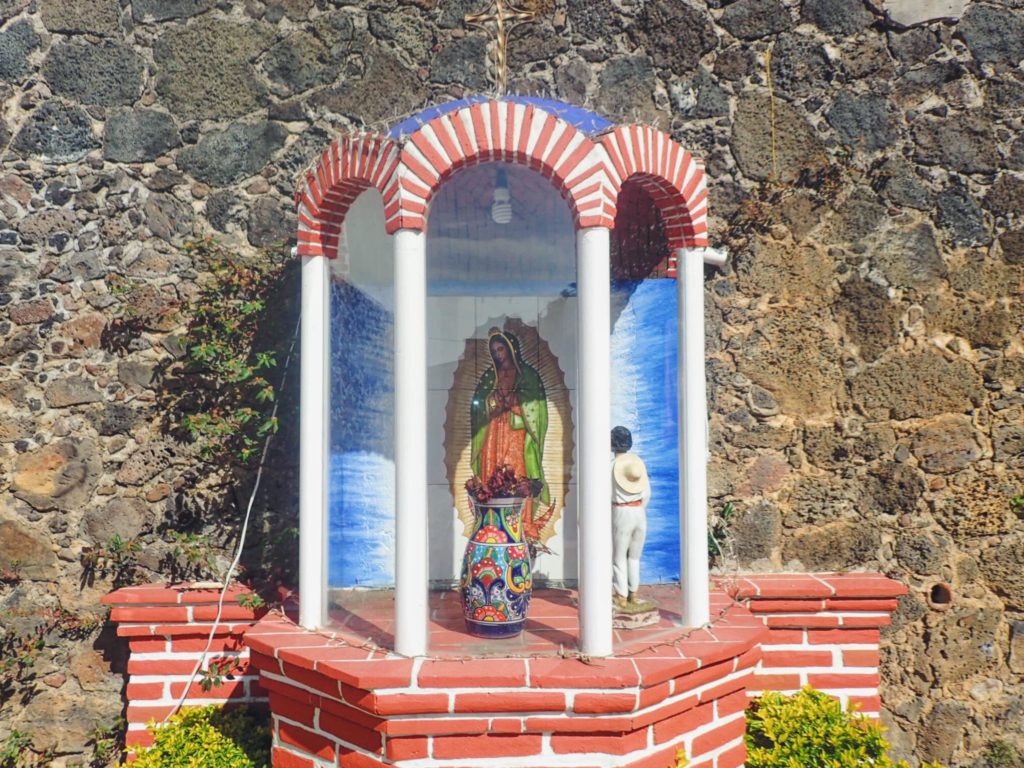 Hiking to the ancient pyramid El Tepozteco
As out of shape as I currently am, there's no denying that I'm always up for a good scenic hike. In Tepoztlán, there's one hike that stands out as a must-do attraction: the hike to El Tepozteco.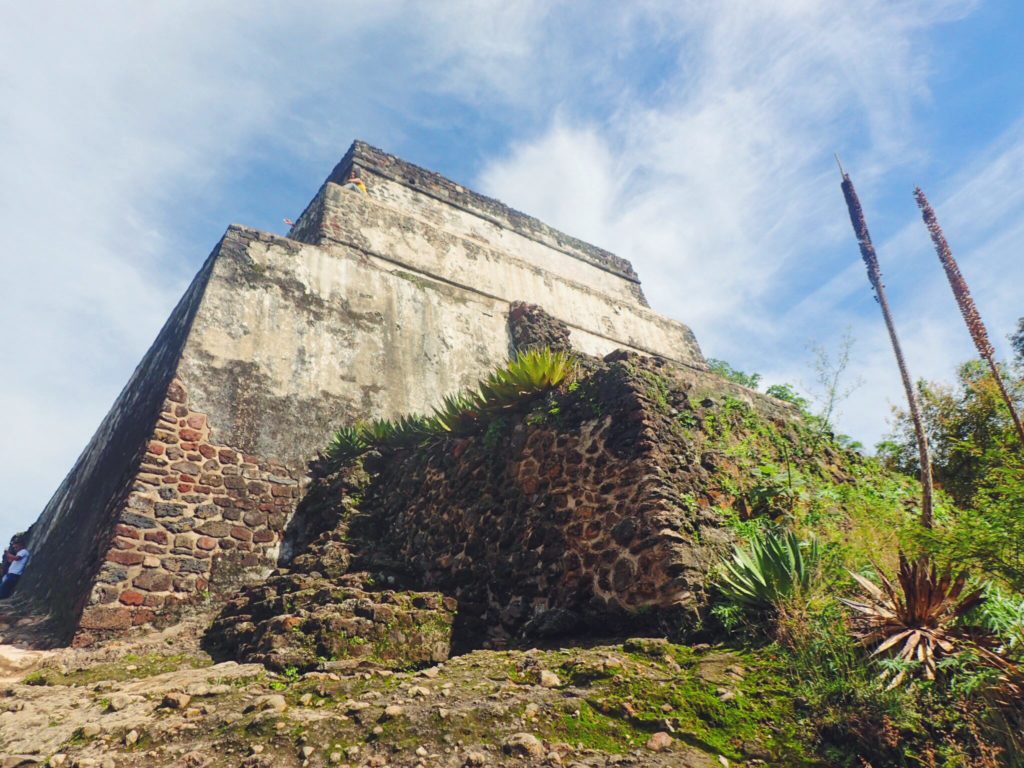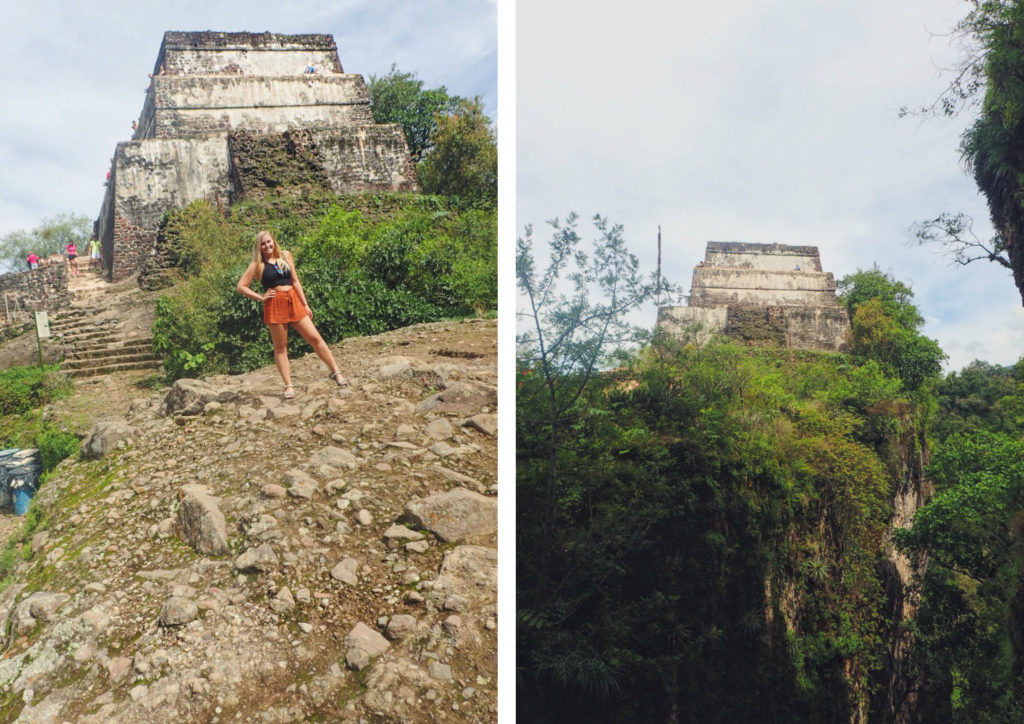 This Aztec pyramid could have been constructed as late as the early 1500s, although many archaeologists argue that it was likely built much earlier. What is known about this site is that it contains a small temple built to honor Tepoztecatl, the Aztec god of pulque (an alcoholic beverage made from fermented agave sap).
The hike to the temple is a straight shot from town (seriously, just walk along the town's single main street and eventually it will turn into a trail that leads up the mountain), although the steep, rocky path and high elevation make the 6km round-trip hike deceptively strenuous. All in all, it took us a bit less than an hour to hike to the top.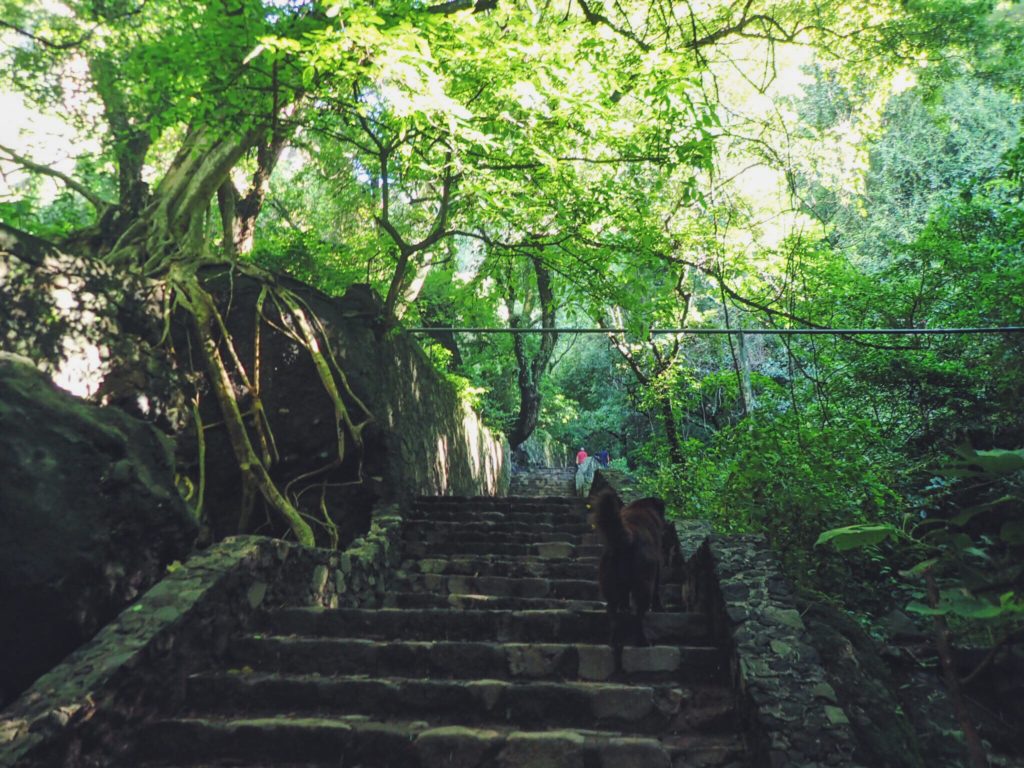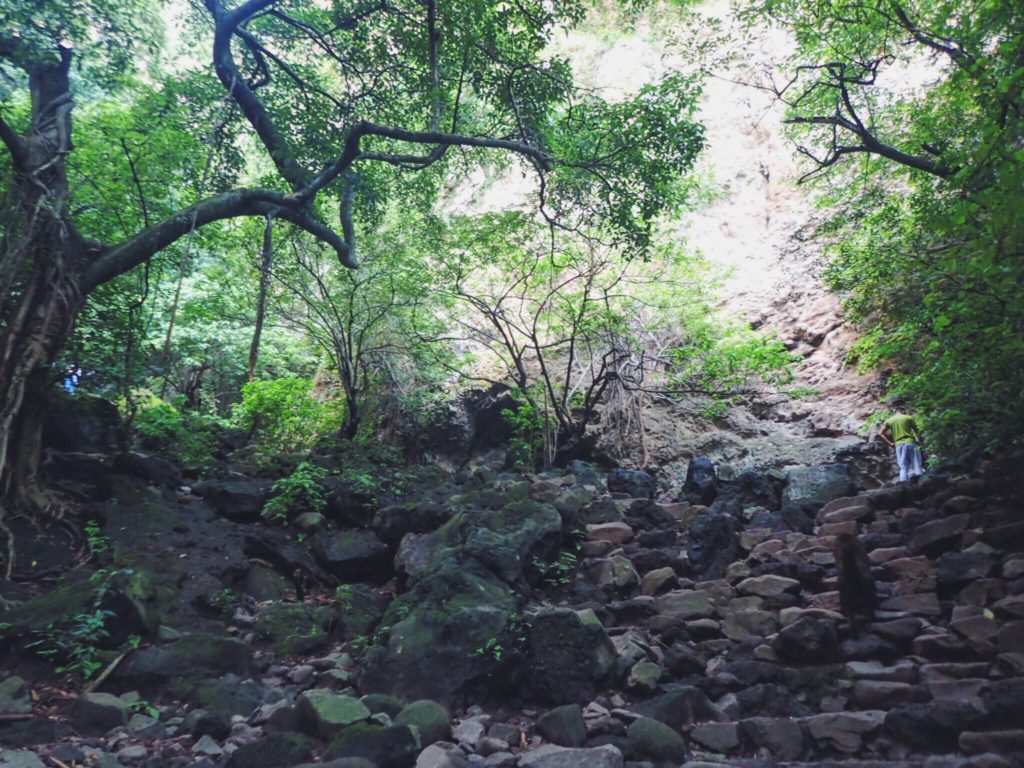 The payout for completing this ridiculously steep trek? The chance to lounge around atop an ancient Aztec pyramid, and these views: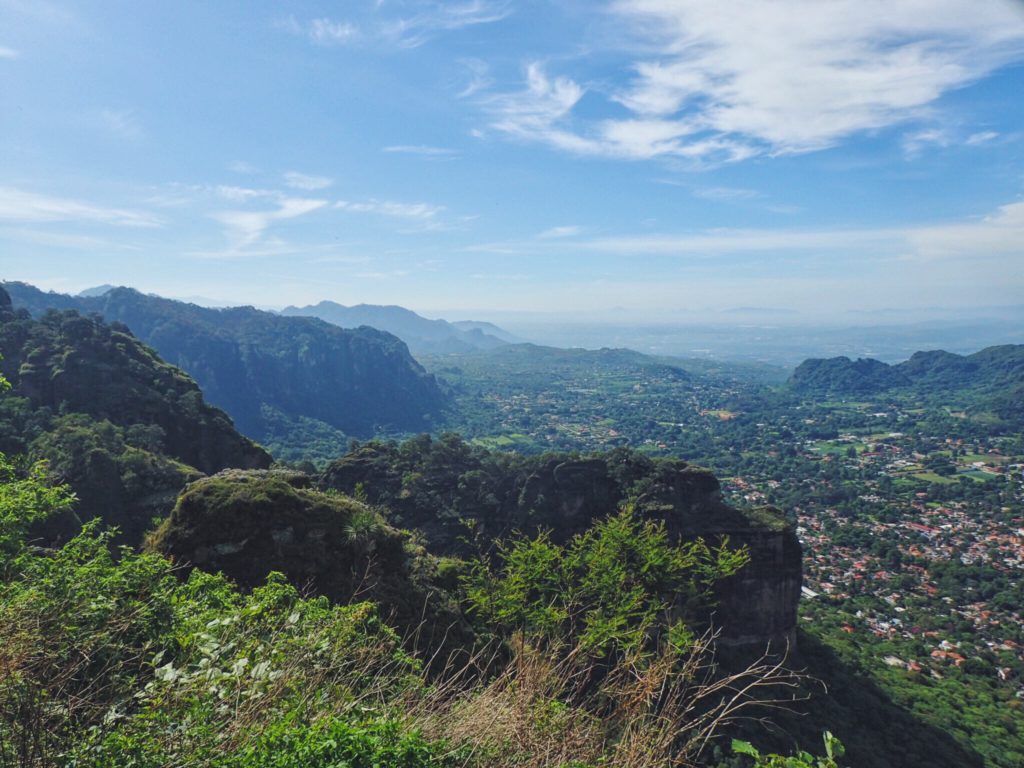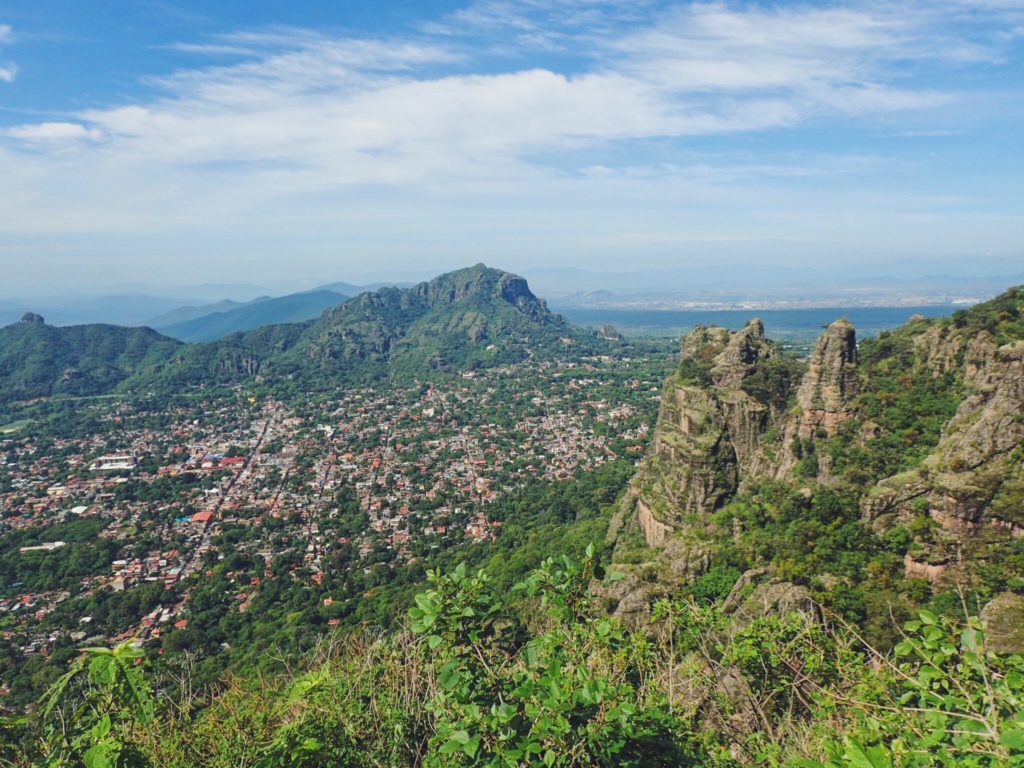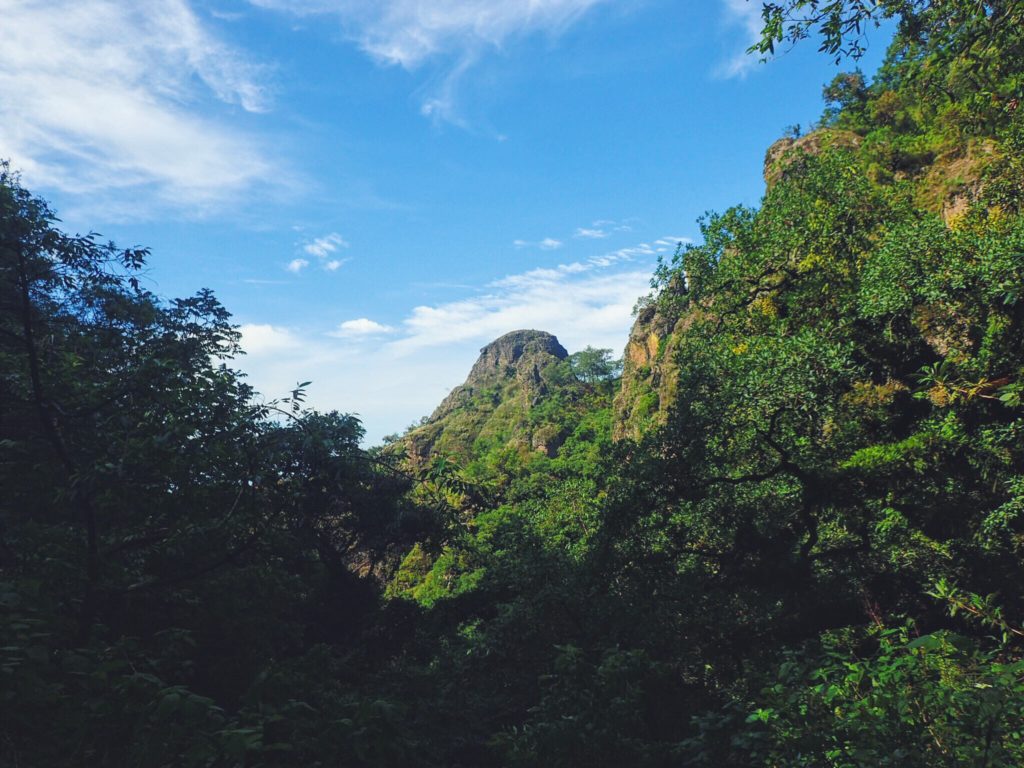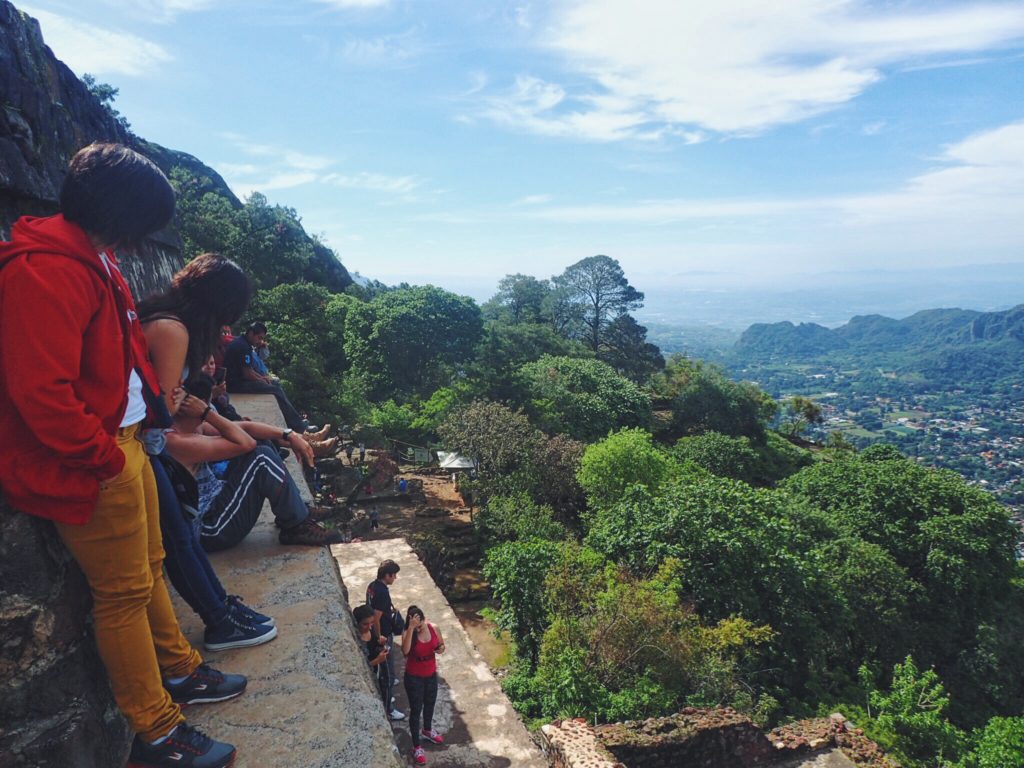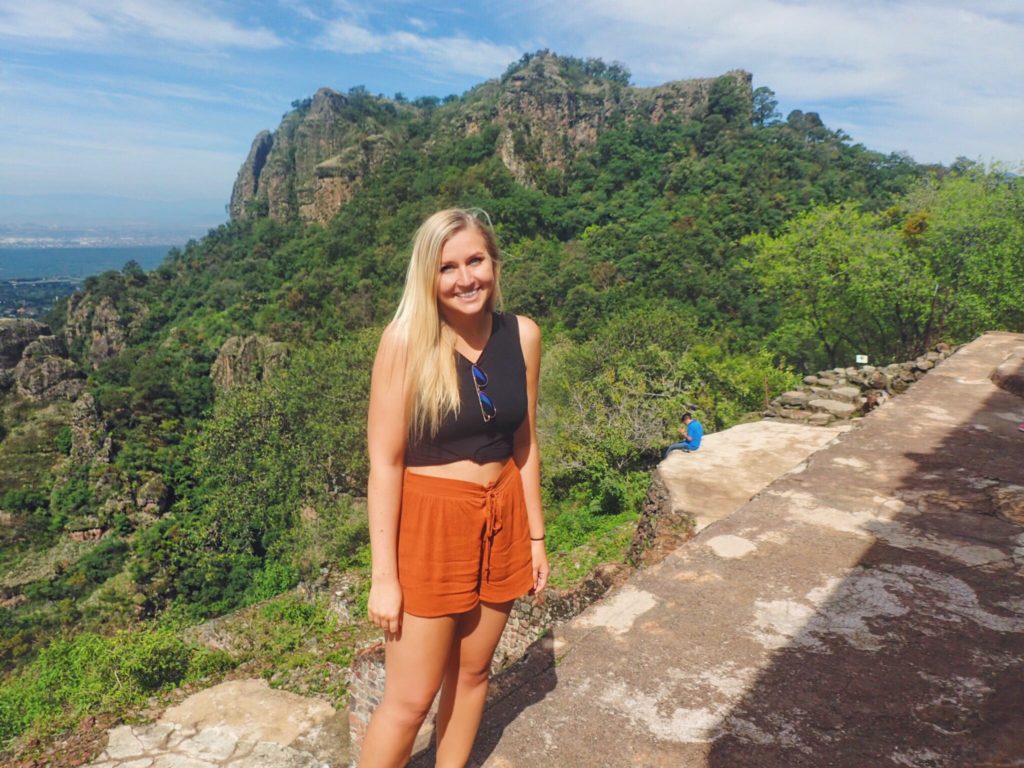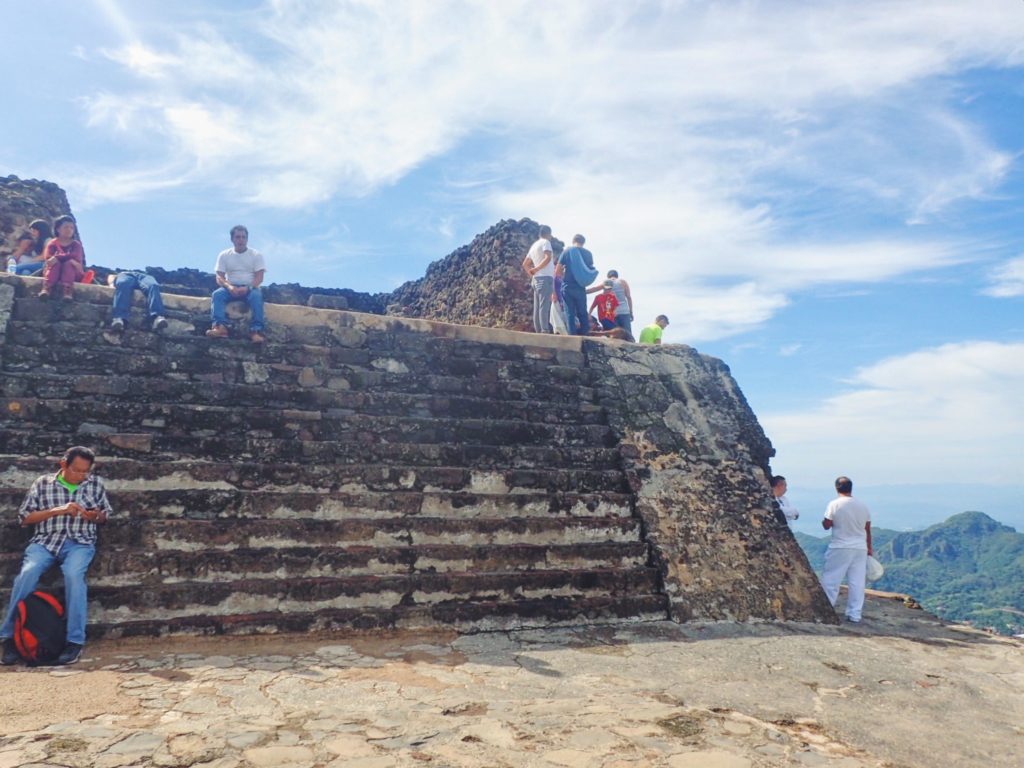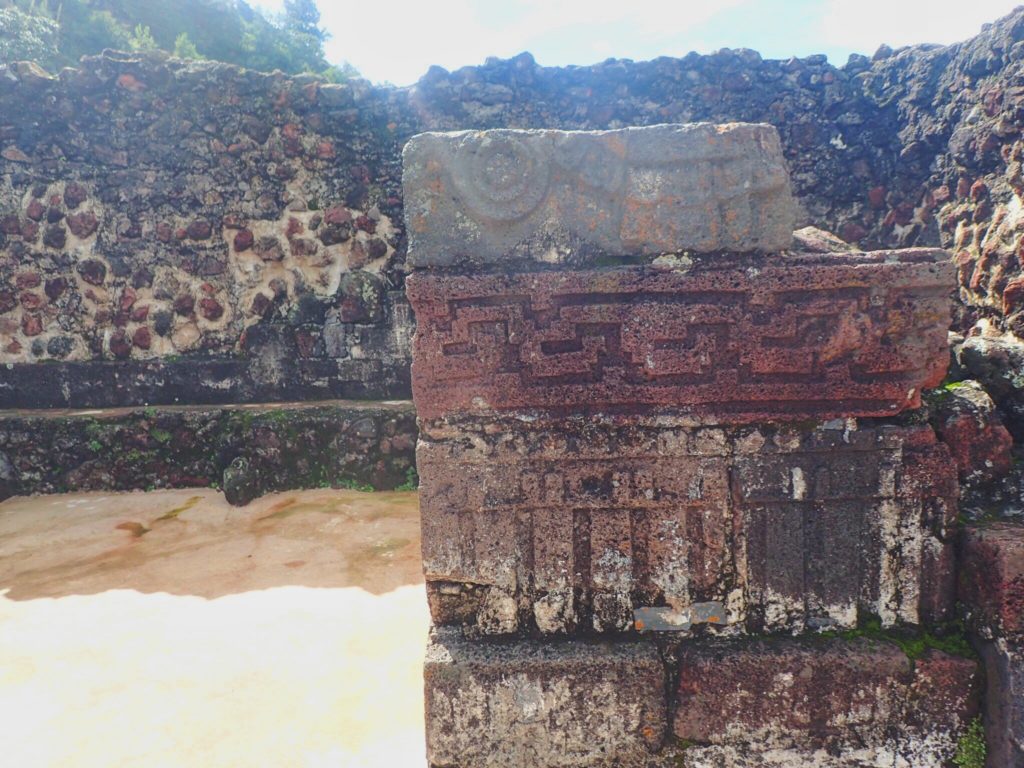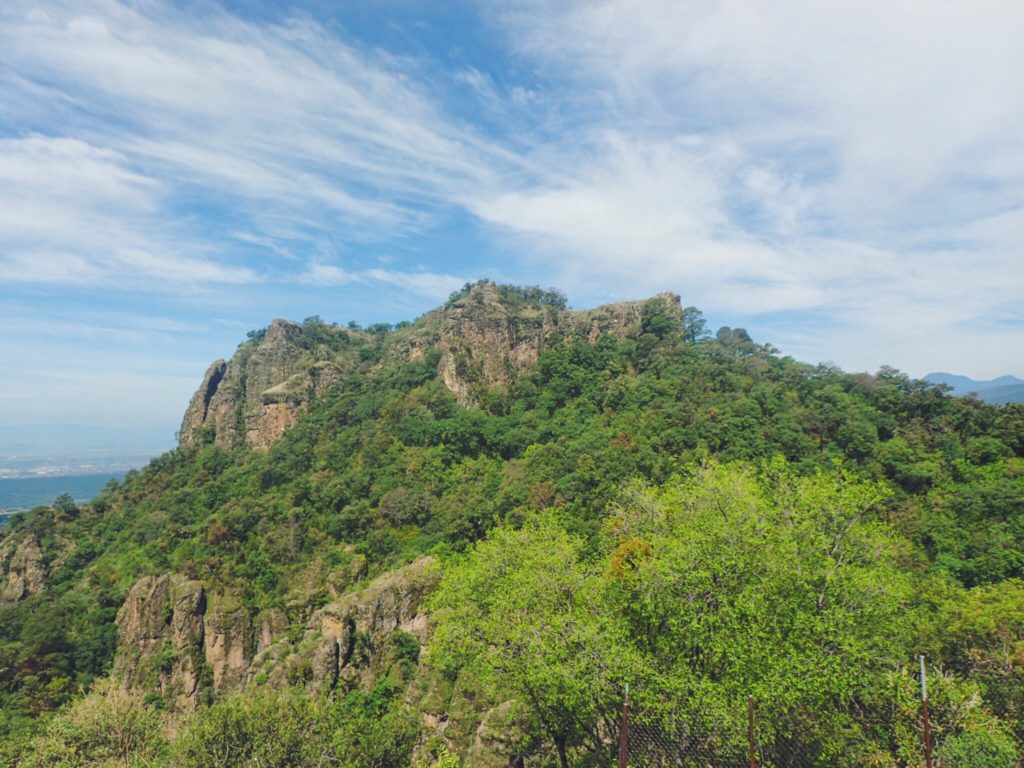 You also might get lucky and come across these funky creatures, called coatis. They're cute, but beware: they're always on the hunt for their next snack, and they won't be shy about rummaging through your belongings to find it!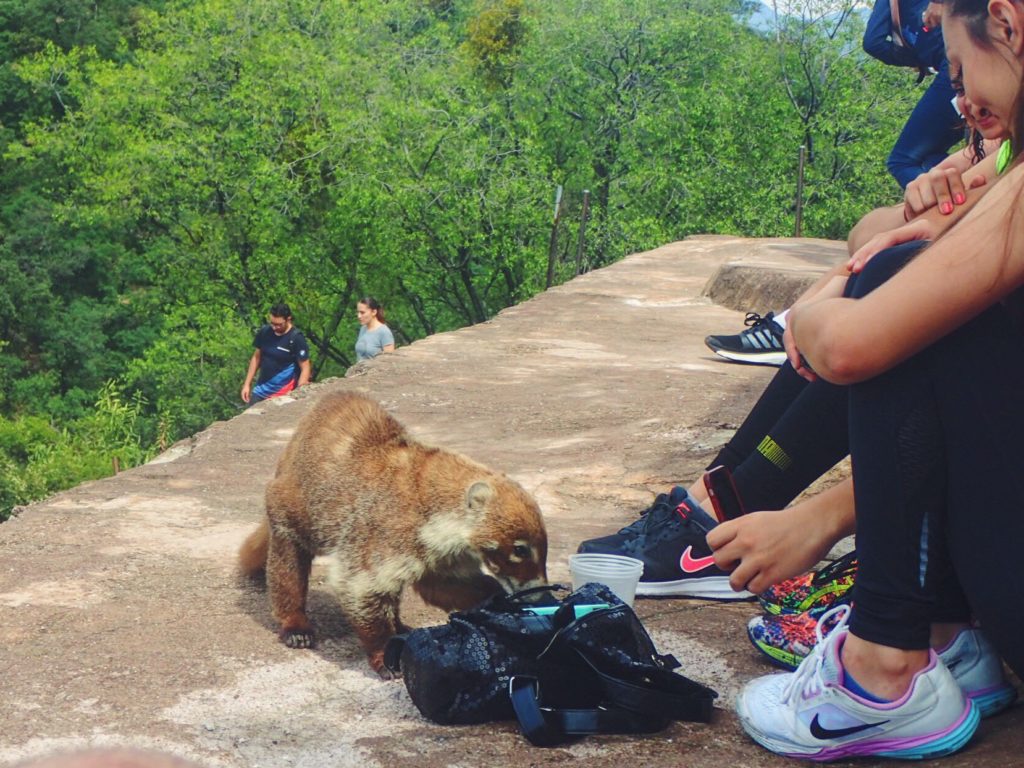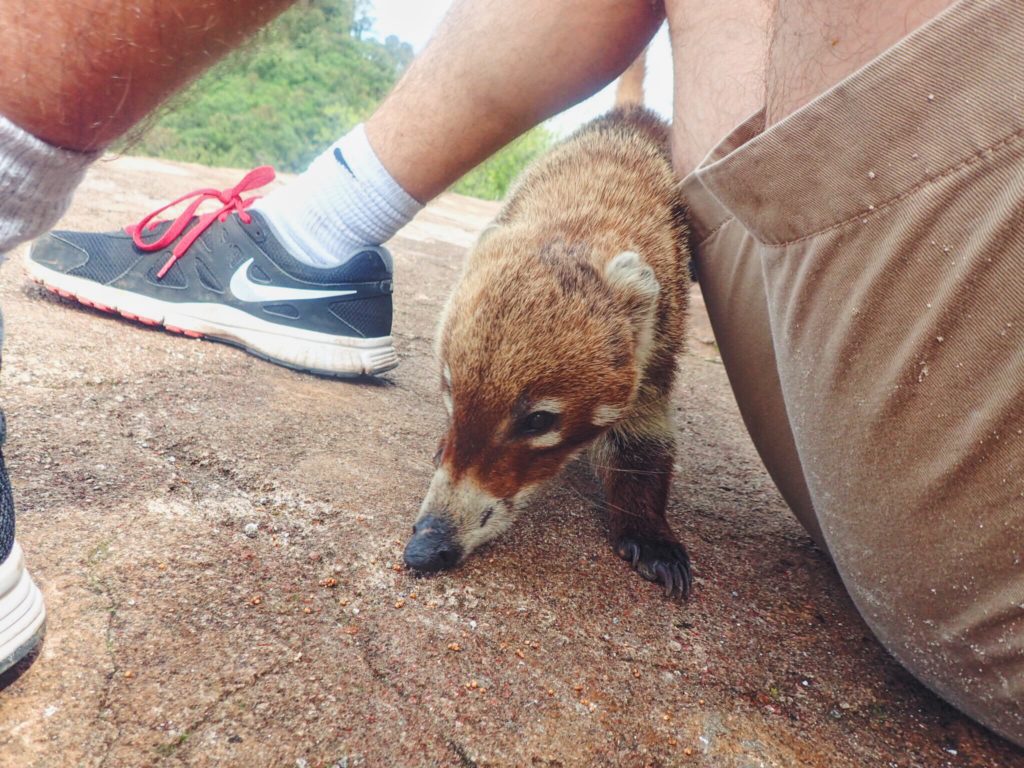 Ex Convento Dominico de la Natividad
This 16th-century monastery and church is located smack dab in the center of town, near the market. It was built by Dominican priests, and is decorated with all sorts of indigenous symbols, inscriptions, and carvings on both its interior and exterior.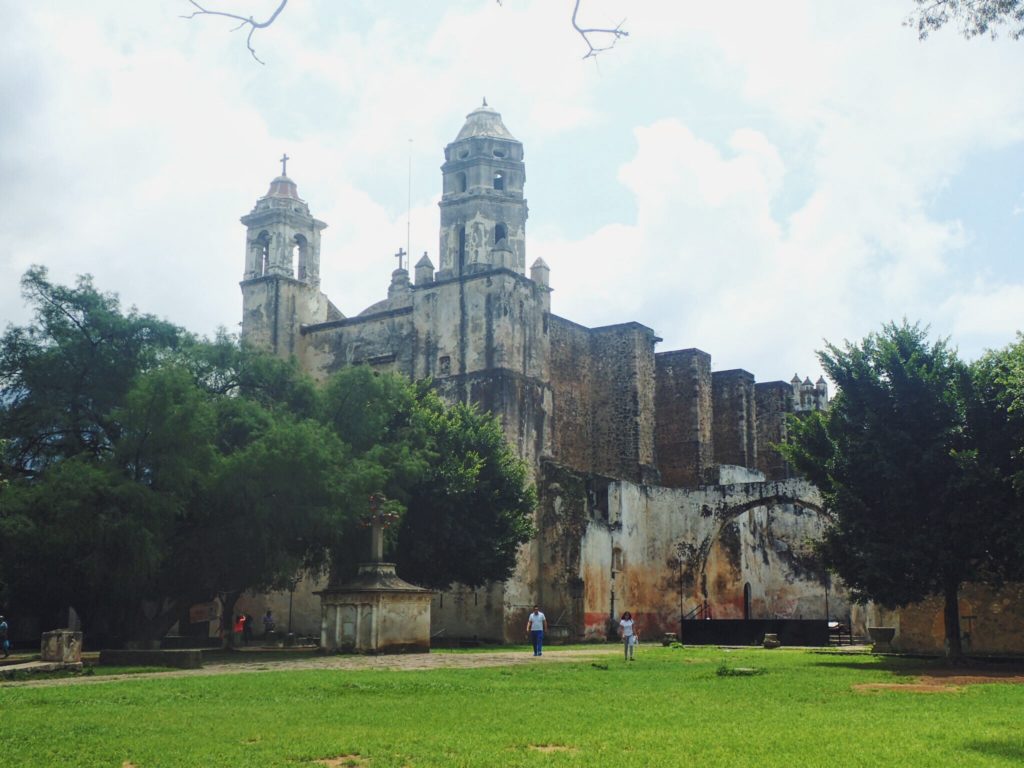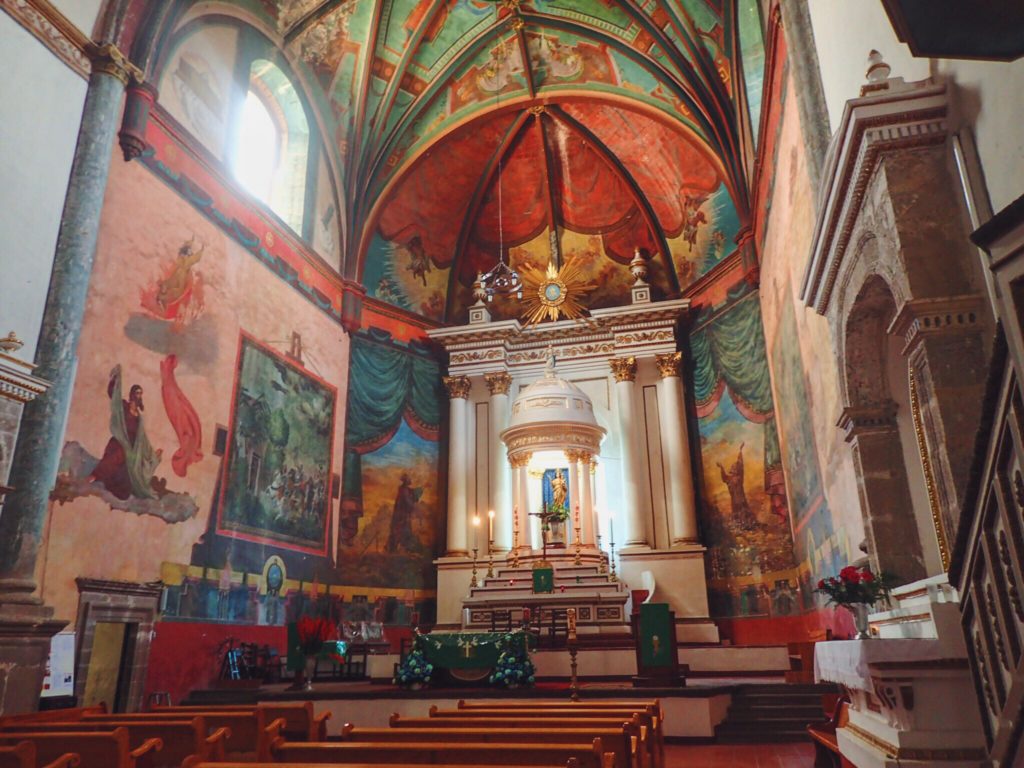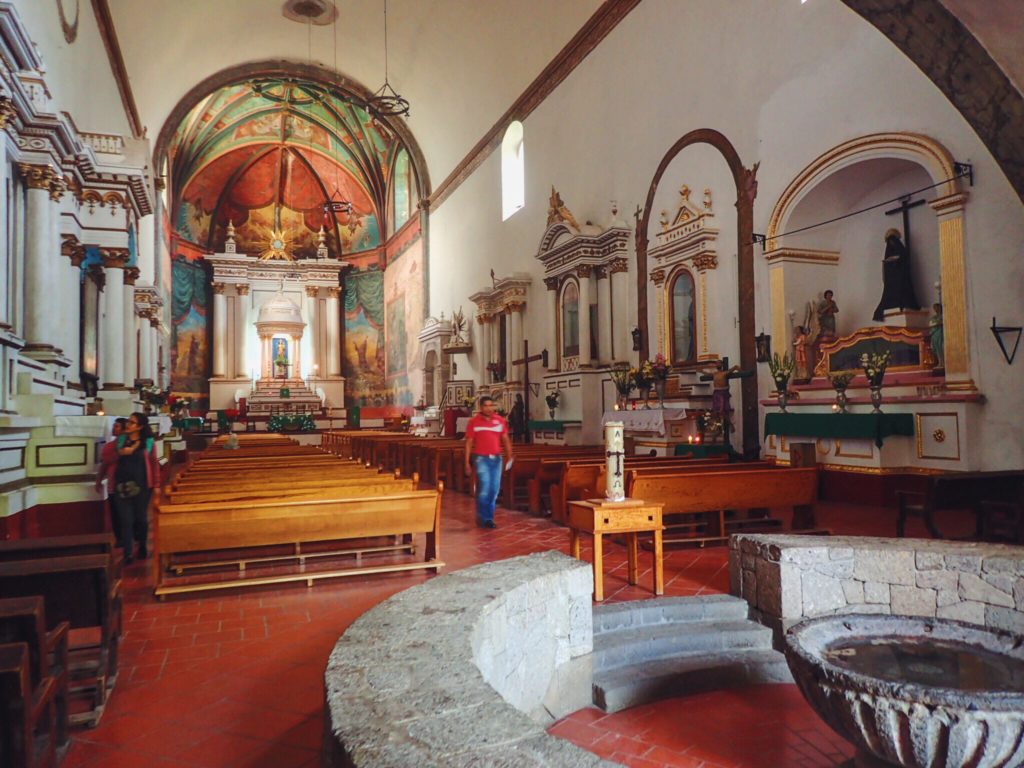 However, by far the most unique element of this religious site's design is at the entryway arch.
See this elaborate mural? What if I told you that this was made entirely of SEEDS?!
Every year, local artists in the town sow a new and original mural out of 60 varieties of seeds. For me, this dedication to both artistry and local traditions is what makes Tepoztlán, well, Tepoztlán.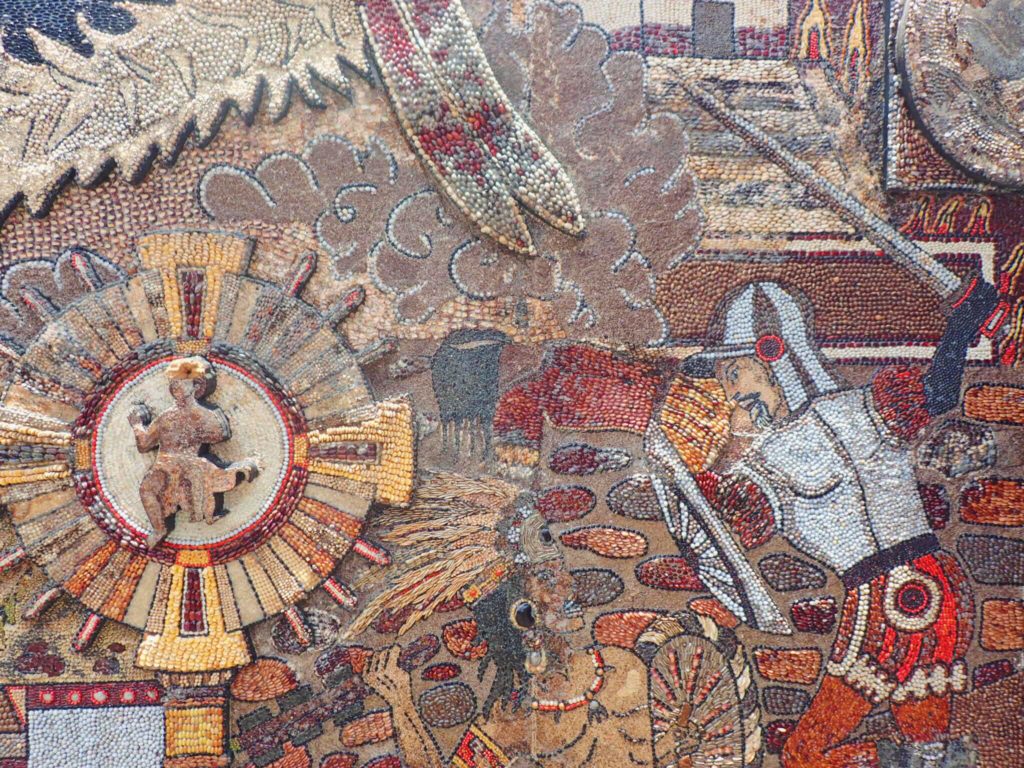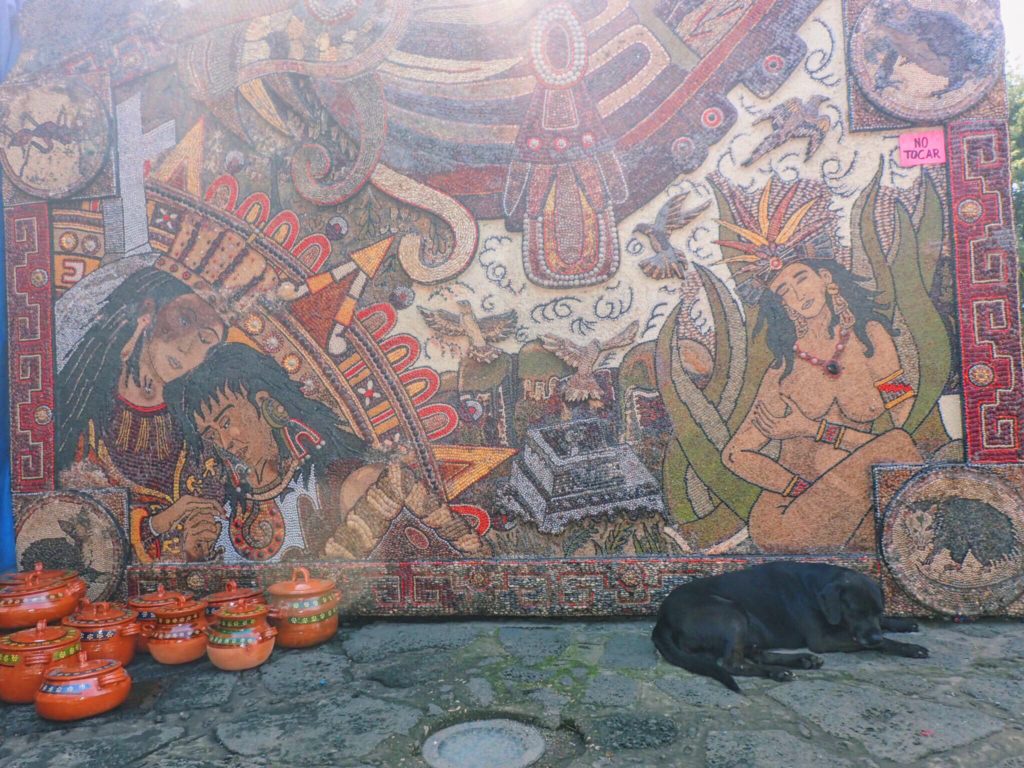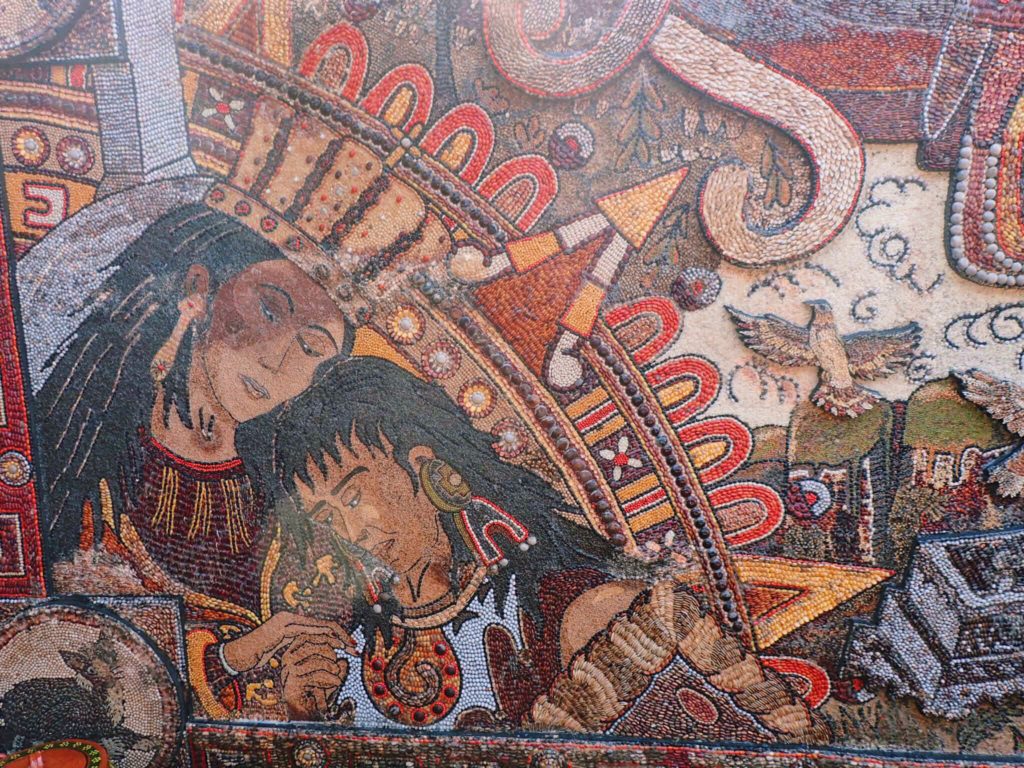 Shopping at the Market
I'm not much of a shopper myself, but it's always fun to take a stroll through the central market and see what kinds of goodies you might be able to stumble across.
Most of the pictures I snapped are from the artisan/handicraft area, but there's also a great covered food market that sells both ingredients and quick meals, and it's absolutely worth checking out.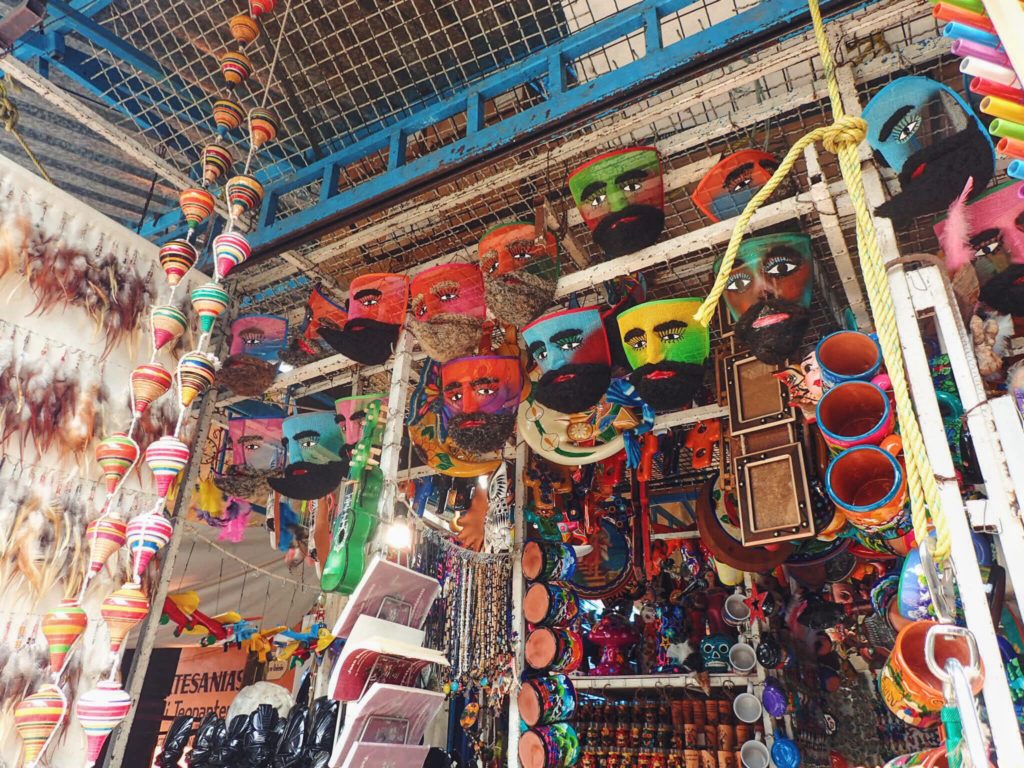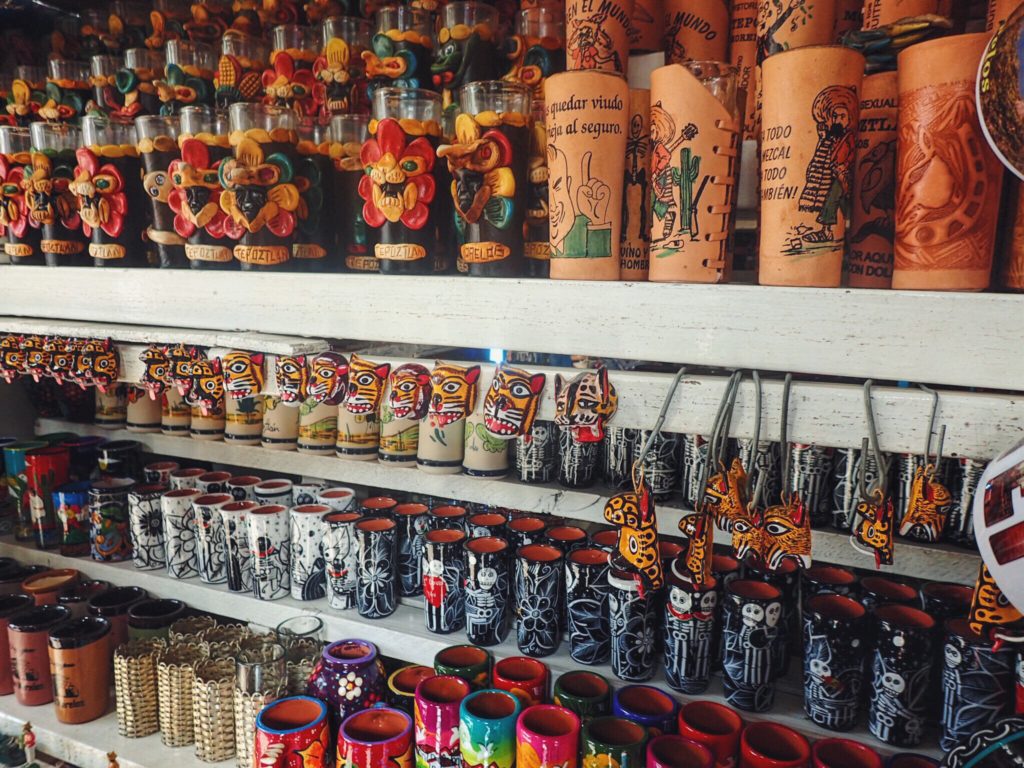 The BEST (and cheapest) food of your life
Remember when I said in this post that one of the things I was most excited for in Mexico was the food? I'm happy to share that Tepoztlán did NOT disappoint!
From $0.25 tacos off the street (cecina or longaniza on corn tortillas with fresh lime juice and pico de gallo, yummmmm!) to quick bites in casual restaurants, I ate SO. MUCH. GOOD. FOOD. HERE.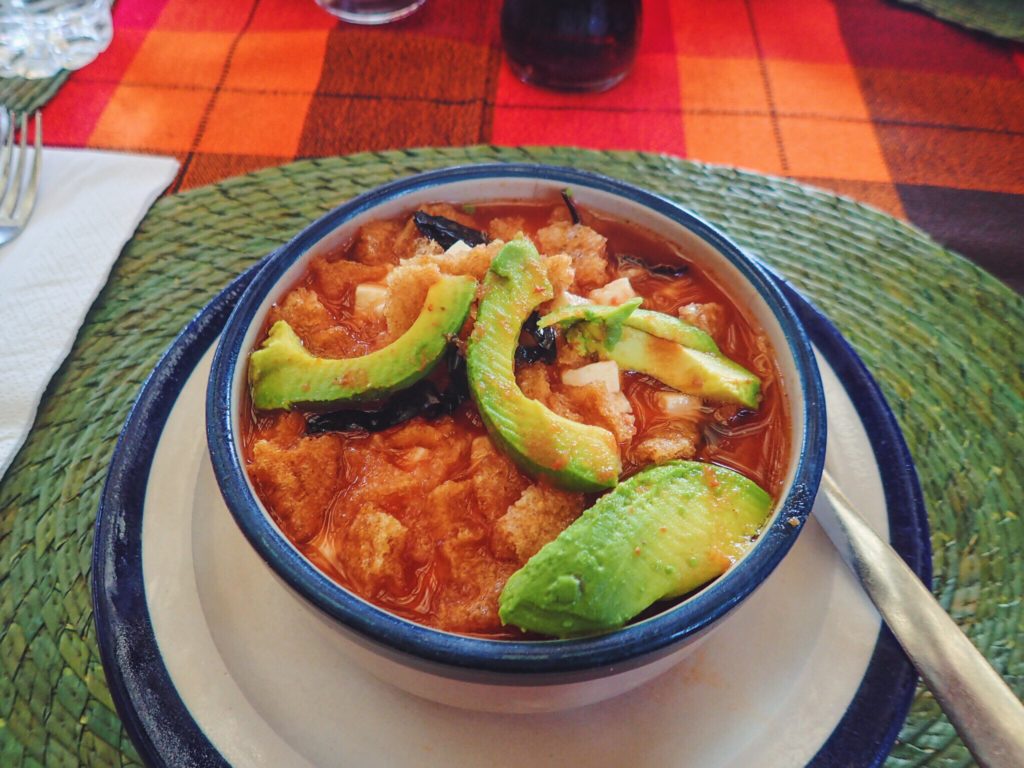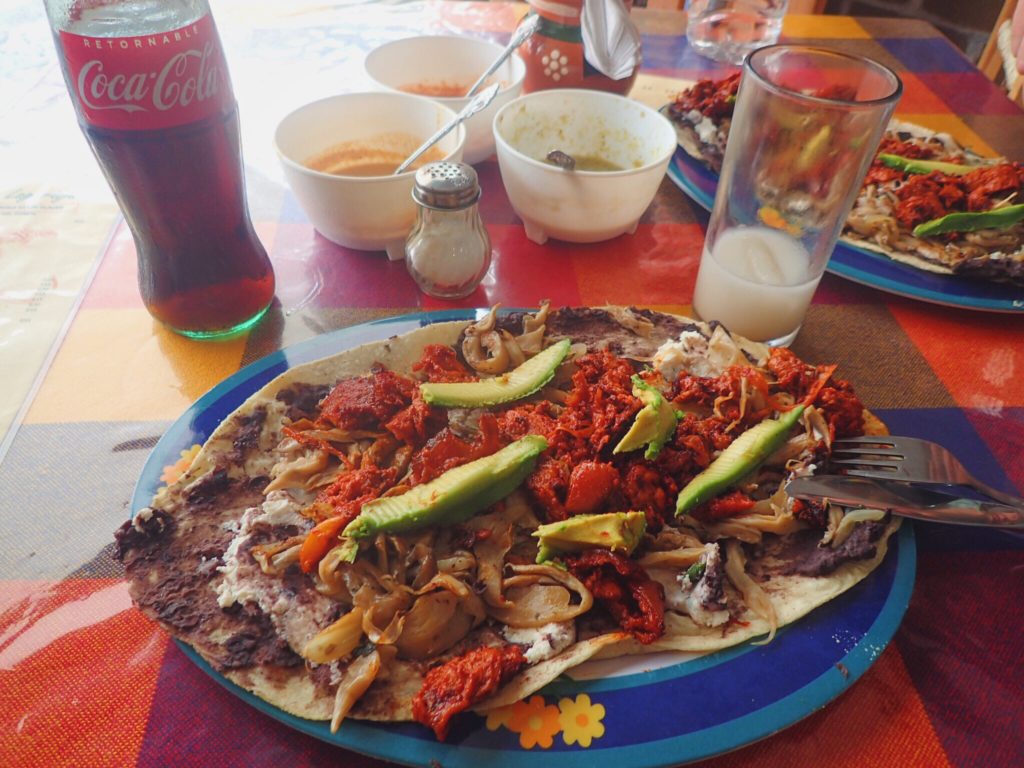 Tacos are a staple, but there are plenty of other tortilla-based menu options to try if you're willing to branch out (like itacates, a local favorite). Of course, there are plenty of local drinks worth trying, too…
…like micheladas, made from your choice of beer mixed with lime juice, sauces and seasonings: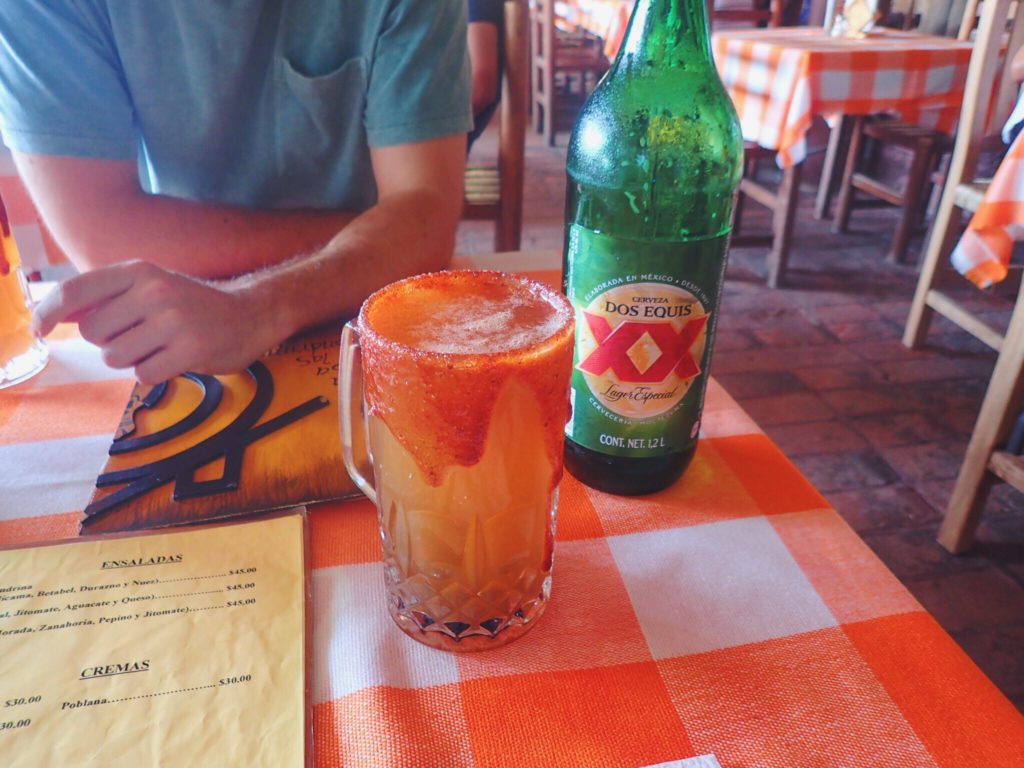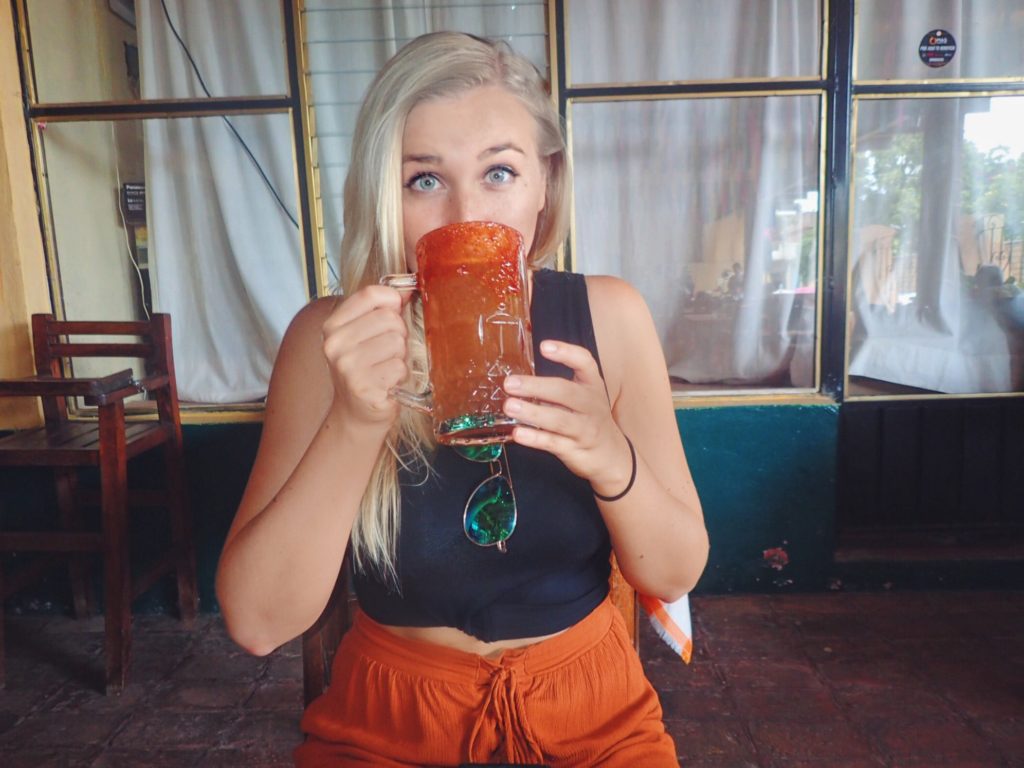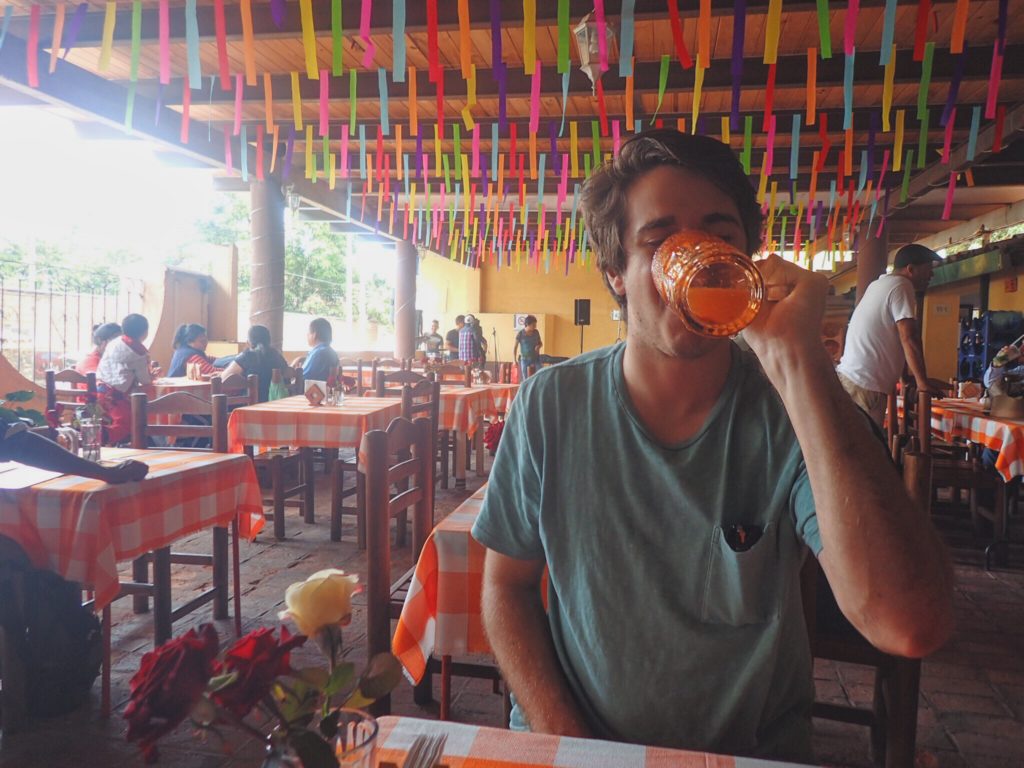 …and horchata, which is made from rice (and best served in a plastic bag from the market!):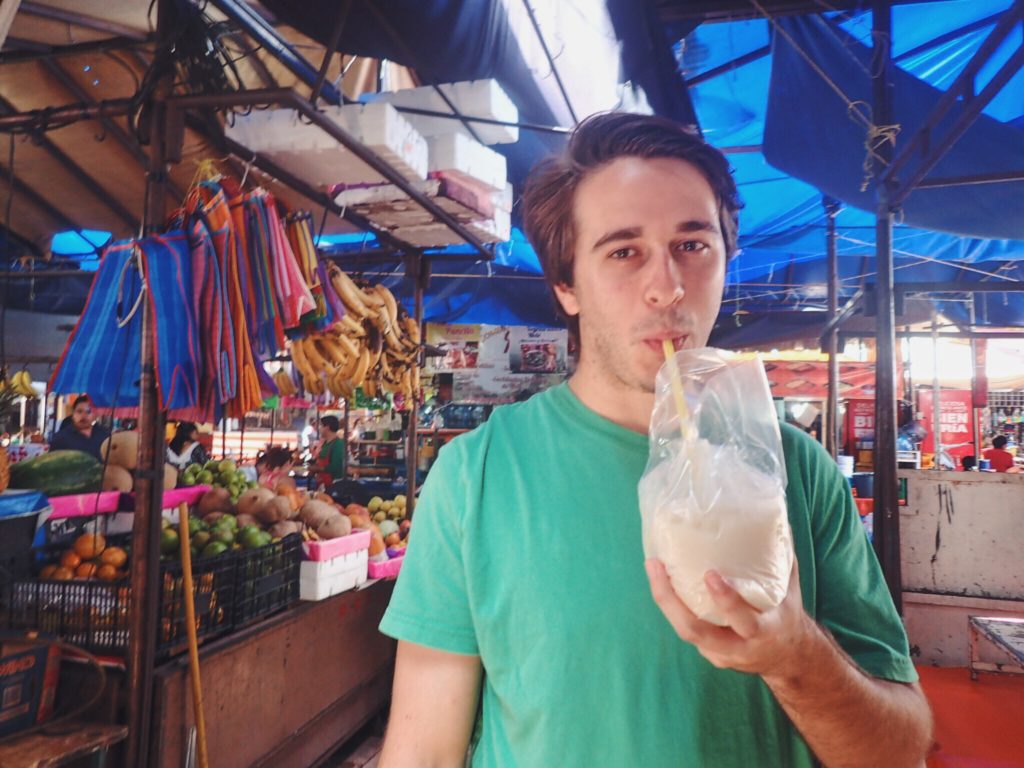 Craving something sweet? Tepoztlán has no shortage of options!
A quick note: I'm not shy about eating food from markets, street vendors, or  small mom & pop shops in foreign countries (in fact, I highly recommend it in places like Mexico, Central America, and SE Asia, as this is where you'll get the most flavorful local food). If you're looking for tips on how to eat this kind of food safely, check out these tips.
All in all, I truly feel as if I connected with Tepoztlán in a way that I strive to connect to all places, but only rarely succeed in doing.
I loved the traditional Central Mexican culture, nature, the history, the spirituality, the food, the peace and quiet offered by the rural surroundings. I loved the fact that I've never connected with anyone (in real life or online) who has traveled here before…ever. I loved everything about this funky little mountain town, and most of all, I loved that this was my first taste of Mexico. After all, I have a lot more exploring to do in this massive country south of the border, and I can't think of a better place to start.
---
Planning your trip
From Mexico City, you have two options for getting to Tepoztlán:
There are direct buses between the Mexico City Terminal Del Sur bus station and Tepoztlán
Alternatively, you can take a bus from the Mexico City Airport to Cuernavaca, and connect there on a second bus to Tepoztlán
Tepoztlán is located in the state of Morelos. At this time, there are no U.S. travel warnings for this Mexican state. You can find updates here.
I felt exceptionally safe the entire time I was in Tepoztlán. As always, exercise caution when it comes to flashing valuables, going out at night, or traveling alone in unfamiliar areas.
As far as I know, there are no traditional hostels in Tepoztlán. I stayed here; there are also traditional hotels and Airbnb.
We saw almost zero non-Mexican tourists in Tepoztlán; the exception was a Dutch couple and their two young children. However, Tepoztlán is a popular weekend destination for residents of Mexico City; as such, the town is MUCH more lively on weekends.
---
Pin It!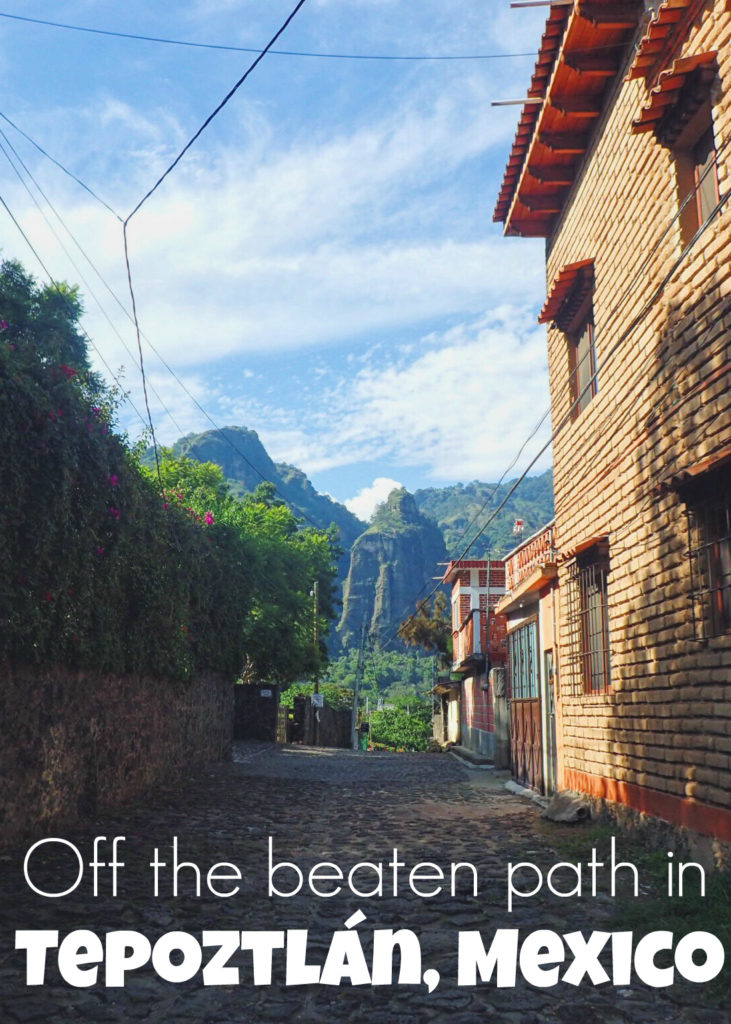 ---
Have you ever traveled anywhere in Central Mexico, or to any of Mexico's Pueblo Magicos? Would you want to travel to Tepoztlán?
Let's Connect!