Because, you know, there's more to eat here than just Pad Thai…
1. Street food is the best value for your money.
Got a dollar? You've got yourself a meal! Got two dollars? You're ready to feast like royalty.
Street food in Southeast Asia is cheap, cheap, cheap. Seriously, 30 baht (1 US dollar) will get you a basic meal at a street vendor, i.e. chicken/beef/pork/shrimp curries, soups, stir-fries, etc.  If you're eating mostly street food, you can easily keep your daily food budget (including a beer or two!) under 10 US dollars. Plus, it's quick and it's a hot meal–where you else can you get that kind of value? Not to mention…
2. Street food is the best food!
Part of what makes street food in Southeast Asia such a great value for your money is that it's really, really good. When I'm abroad, I do my best to eat the local food as much as possible, and I've found that street food tends to beat sit-down restaurants when it comes to local cuisine.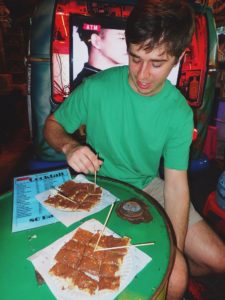 In Chiang Mai, I was super excited to try out a restaurant that had great reviews on TripAdvisor. It was my first sit-down meal in Thailand, and although the restaurant had a really cool vibe, I walked away disappointed. Not only did I pay significantly more than I had grown used to within the country, but it just wasn't very good!
3. You will get tired of rice.
I love rice. I mean, I love all carbs, but weirdly enough I can really go to town on some rice.
That said, you will eat a LOT of rice in Southeast Asia, and you will get tired of it. Like I said, I try to stick to the local cuisine when I travel, and in Asia that means rice, rice and more rice. Sure there are dishes that don't include it, but it kind of sneaks its way in there somehow or another (even the desserts have rice!)
The only way to combat this is to branch out.
Oh, you love chicken fried rice? How about every day for a week…or two weeks…or four weeks…or eight weeks…
Yeah, that scary looking meat stuff you've been avoiding that doesn't have any rice? It's going to start looking pretty good after a while.
4. You need to be choosy with your street vendors.
Which would you rather eat: Spicy pork that you watched sizzle, steam and cook right before your eyes, or spicy pork that was already sitting out in the open when you walked up, meaning it was exposed to smog, bugs and who knows what else before you arrived?
For me, I like to know exactly how my food is being prepared, and I like to know that it's fresh and hasn't been sitting around too long. Freshly cooked foods are much more likely to be safe than foods that have had time to sit at lukewarm temperatures for a while.
The best way to ensure that your food is fresh is by only eating at busy food stalls, especially if it's busy with locals. Not only does this mean that the locals have given this food stall the thumbs up, but a higher turnover means food has much less time to sit around and grow bacteria or become contaminated.
5. Don't drink the water.
Yes, it's a cliche, and yes it's true. If you're going to contract an illness or develop an upset stomach from any one food or drink in Southeast Asia, it's probably going to be the water.
Only drink bottled water, never water from the tap. It's definitely a smart idea to purchase your own big bottle and carry it with you. This also means no ice cubes!
Which ties into…
6. Only eat cooked foods.
Sorry veggie lovers–that raw salad or those fresh fruits at the market are much more likely to upset your stomach than a hot meal. That's because those fruits and vegetables have been washed with–you guessed it–tap water.
Once vegetables have been cooked, they're safe to eat; the risk is definitely greater when they're raw. The one exception is fruits and vegetables that have a peel, meaning you don't eat the outer skin that gets washed (bananas, oranges, avocados, etc.)
7. If you do get sick, don't panic.
There are a number of reasons you could develop an upset stomach when eating street food in Southeast Asia, and not all of them are related to bacteria or food poisoning.
To put it bluntly, food cleanliness standards in the Western world ≠ food cleanliness standards in Southeast Asia. Food in the US and similar countries is ultra sanitized, ultra processed, and ultra hygienic. Cooking utensils are scrubbed and disinfected, kitchens are sterilized and hands are washed and gloved. In Southeast Asia? Yeah…good luck with that.
Think about what happens when you use hand sanitizer or take antibiotics all the time: your natural immunity decreases. The same thing happens with the foods you consume. In Southeast Asia, you may encounter some harmless or even beneficial bacteria that your body isn't used to (because you're so used to ultra sanitized foods), which could lead to some rumbly tummies, but isn't real cause for concern.
8. Take preventative measures.
This is a tip I learned from my uncle, who spent his youth backpacking throughout Asia and other continents: If you've got a particularly sensitive stomach or are really worried about how the food is going to effect it, take a swig of Pepto-Bismol before meals.
This will help coat your stomach and will definitely counteract any excess spiciness you weren't prepared for. According to my uncle, this is an old Peace Corps trick–if it works for them, it should work for you!
Speaking of spiciness…
9. Learn the local word for "spicy"…or "not spicy".
Whether you're a spice-a-holic or an absolute spicy food-crybaby like me, you should never really be too confident that you're going to be happy about the spice-level of the food you just ordered in Southeast Asia. One vendor may take pity on your foreign-ness and automatically tone down the spiciness of your meal without telling you, while another may serve you a fully-fledged "Thai Spicy" dish.
So, it's best to not leave this to chance: Grab your phrasebook and make sure that if you only learn one word before your trip, it's some variant of the word "spicy." As a quick example, in Thai, 'spicy' is 'phet' and 'not spicy' is 'mai phet.' You could also ask for 'phet nit nawy'–'a little spicy.'
10. Keep an open mind.
Unfortunately, not everything at the food stalls is going to look, smell, or even taste good. Like with all aspects of travel, there will be ups and there will be downs. Hopefully you'll experience way more "ups" when it comes to eating street food in Southeast Asia (I definitely did!) but there's truly only one way to find out: just go for it!
Seriously, what's the worst that can happen? It tastes bad? If you follow the above guidelines, you'll minimize your chances of eating contaminated food or food that's too spicy, so the only probable remaining risk is that you won't like what you order.
But at $1 a meal, who cares? If you don't like something you've ordered, shrug it off and move on to the next food stall–there's plenty of them! Be bold with your choices, eat like the locals and try things you wouldn't normally try at home. Not only will it make for some incredible memories and stories for the folks at home, but you just might discover a dish you can't get enough of!