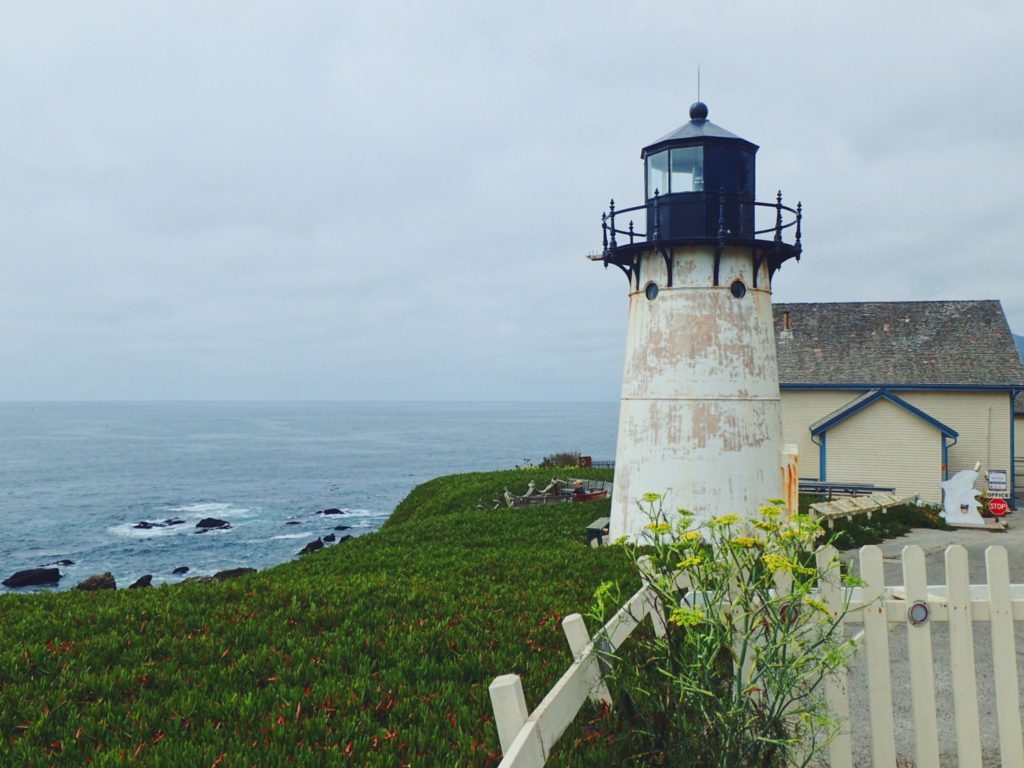 Perched on a coastal cliff along a rural stretch of California's Highway 1, the Point Montara Lighthouse has protected sailors from the rugged, hazardous coastline for more than 140 years.
…And for the last 37 of those years, it has also served as a serene spot for tired travelers to rest their heads.
The beginning of August coincided with the start of my fourth month living in the Bay Area. During our first three months here I've done a bit less local travel than I would have hoped, so I was determined to kick off Month Four with a brand new California adventure.
And if there's one thing NorCal is known for, it's the jaw-droppingly beautiful coastline (or is it wine? Or Lake Tahoe? Or redwoods? Or is it "peace and love" vibes? Okay, maybe it's known for a lot of things!).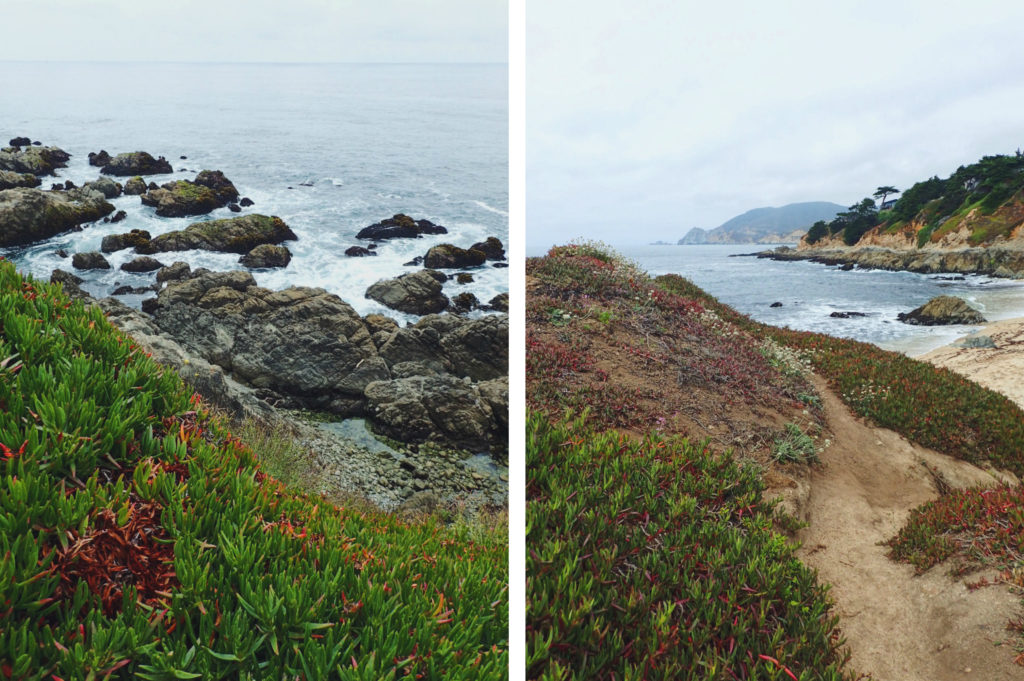 Anyways, with Derek off galavanting across China for work, I seized the opportunity to book a spontaneous solo getaway to California's wild and rugged Central Coast. My accommodation for the night?
You guessed it: Point Montara Lighthouse Hostel.
The Point Montara Lighthouse was initially established as a signal station in 1875, to warn ships at risk of running ashore. Although it is still an operating aid-to-navigation maintained by the U.S. Coast Guard, today the lighthouse serves a secondary purpose: a hostel!
Thanks to a partnership with California State Parks, Point Montara Lighthouse was established as a hostel in 1980. That said, you don't actually sleep in the lighthouse. Instead, guest rooms are located in the old Coast Guard family quarters and the historic fog signal building.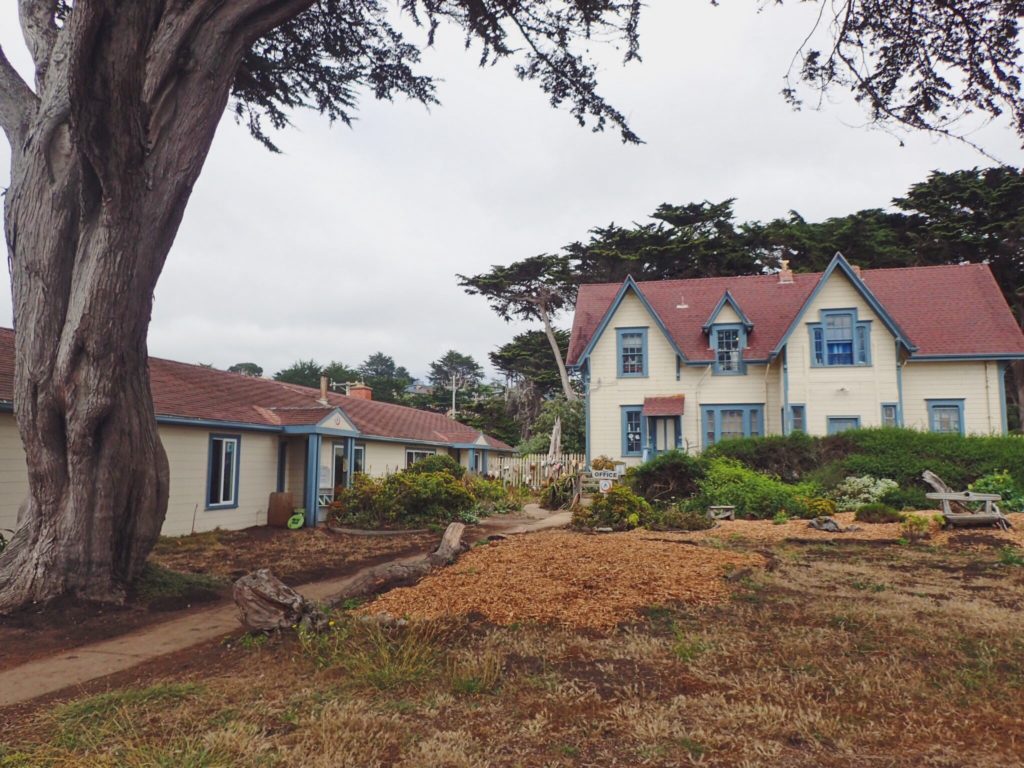 It's exactly as quaint and charming as you'd expect a lighthouse-turned-hostel to be.
The grounds are nothing short of enchanting, with steep cliffs blanketed in wild greenery and the sound of the surf crashing into the rocks below. Seagulls circle overhead, and a mild salty breeze rushes in from the sea.
In the summertime, like on the day that I visited, a thick layer of fog settles over the landscape and creates a moody, mystical atmosphere. Somehow the gloomy weather only serves to add to Point Montara's charm, reminding visitors of why the lighthouse was so needed in the first place. Even on early August days the weather is cool and mild, with temperatures dropping into the high 50's at night (around 13 C).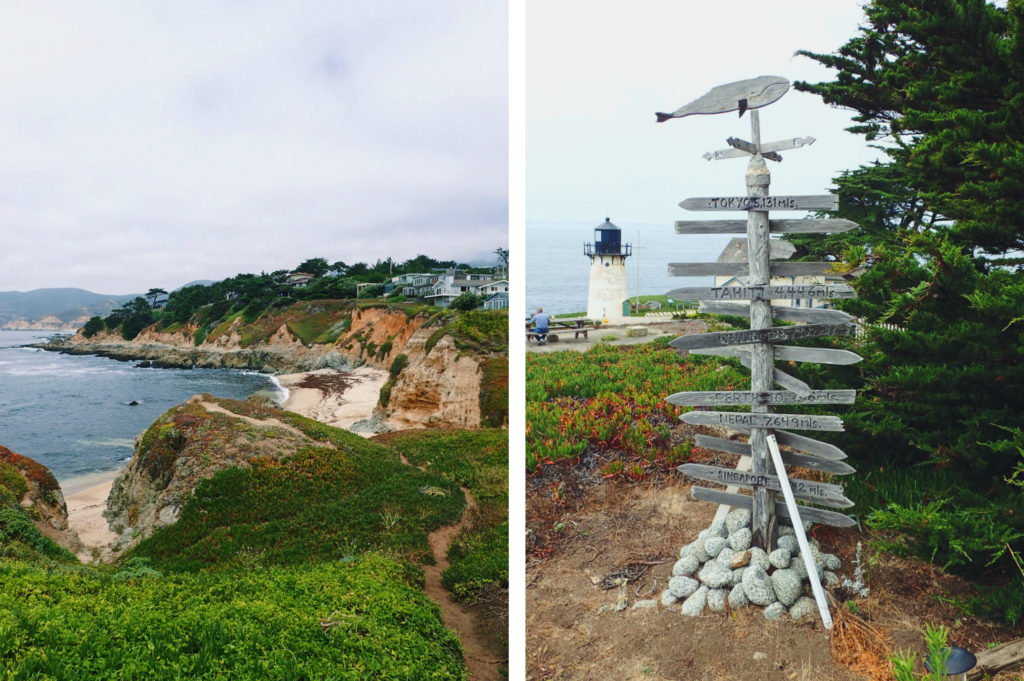 Visiting Half Moon Bay
Since I arrived at the coast several hours before check-in at the hostel, I decided to start my day about 8 miles south of Montara, at Half Moon Bay. The state beach there has 4 miles of sandy shoreline that were just begging to be explored, so I willingly obliged.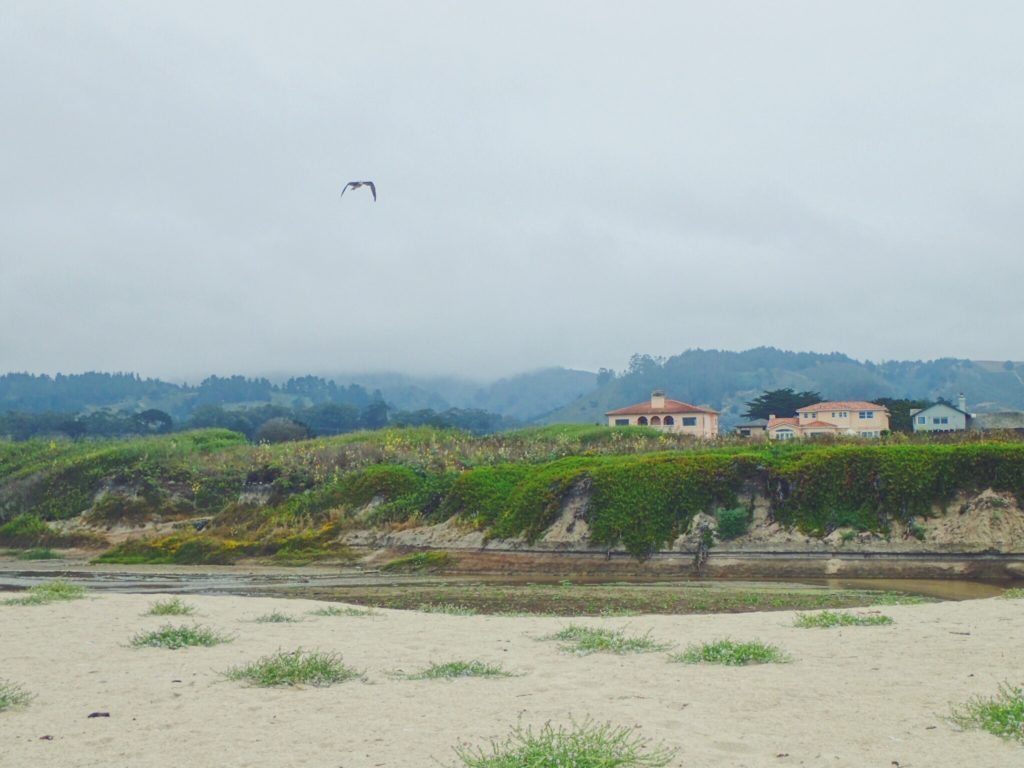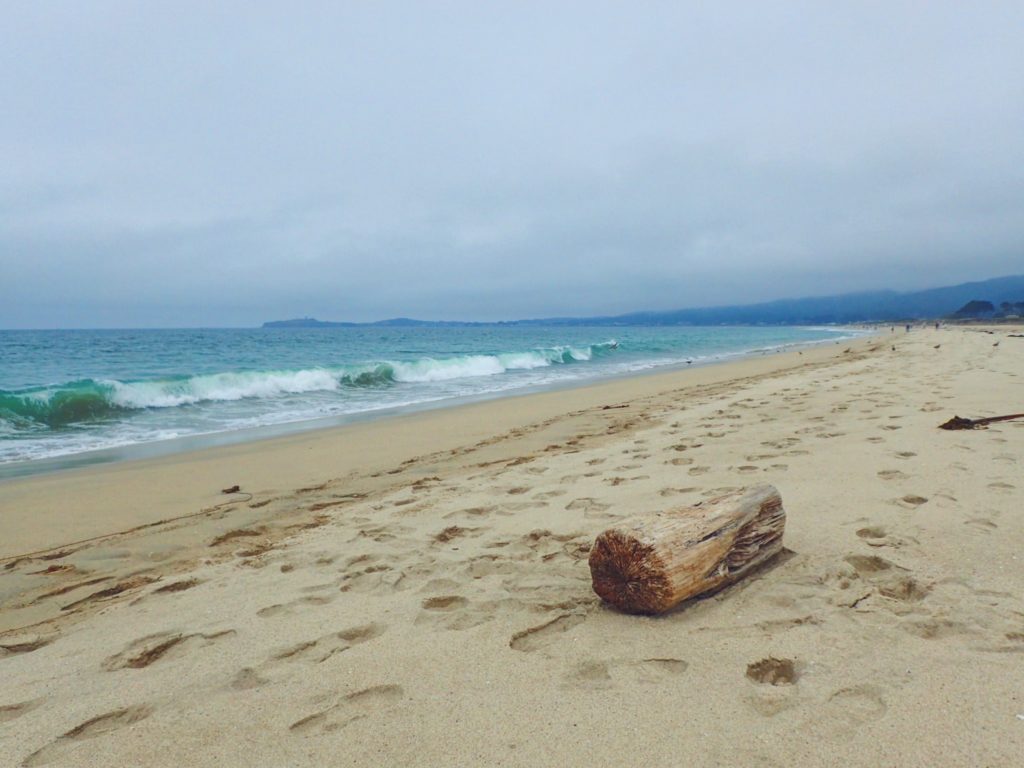 At one point during my walk along the beach I glanced out towards the horizon, and stopped dead in my tracks: was that what I thought it was…?
It was. In the not-so-far-off distance, a whale was whipping its tail out of the water and slamming it back down onto the surface, sending a powerful spray of seawater upwards and in every direction.
From what I understand December through April is the prime time to spot gray whales in Half Moon Bay, but here one was putting on a nearly-private show for me in early August! To say that I was utterly enchanted would be an understatement.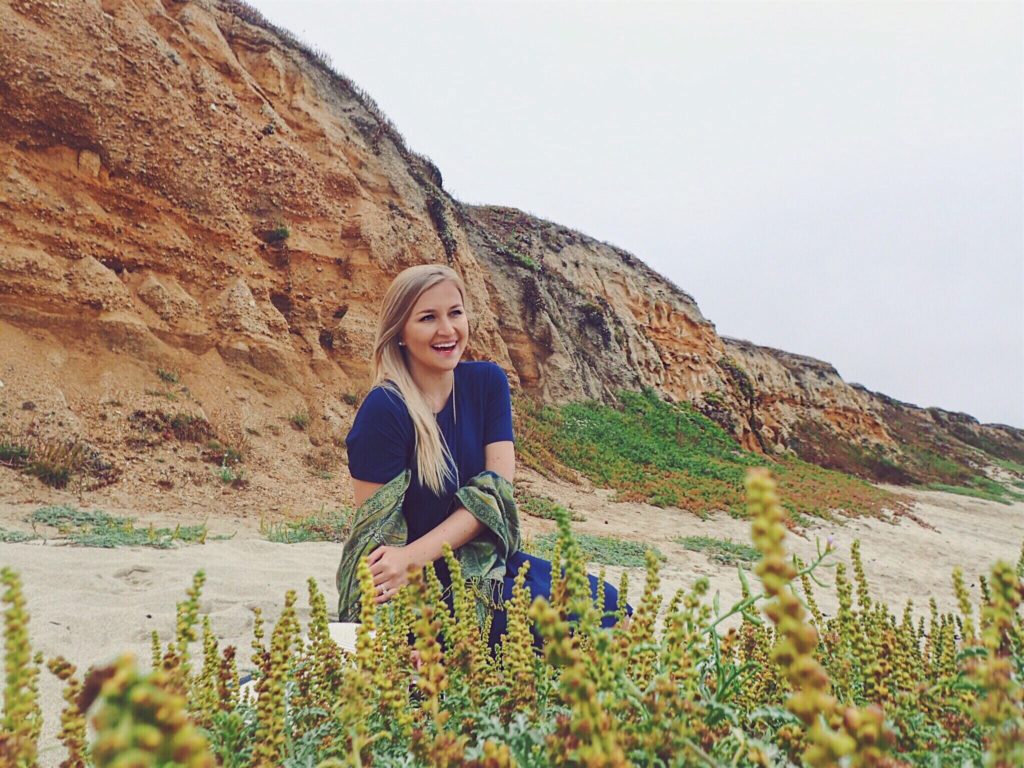 This was my first time seeing a whale in its natural habitat, and even though it was too far away to get any decent shots (oh how I wished I had a zoom lens in this moment!!) it was still absolutely awe-inspiring.
The Teeny Tiny Town of Montara
Having worked up a serious appetite from all of my beach strolling, I decided to hop back in my car and head up the coast towards Montara for lunch. In retrospect, I probably should have been more thorough in my research of this blink-and-you'll-miss-it town; Montara has just one cafe, two restaurants, and a single gas station/mini-mart.
If you plan to do any cooking (or if you're not in the mood for either sandwiches or pricey Peruvian food), I highly recommend stocking up on goods before arriving to Montara.
That said, I was more than happy to grab a bite from Gherkin's Sandwich Shop. I opted for the "Cal Fire:" chicken, avocado, pepper jack cheese, honey mustard sauce, and all the fixin's on a Dutch Crunch roll. I took my sandwich to go, and dined al fresco at one of the picnic tables at Point Montara Lighthouse.
Good food with an even better view makes me oh so happy!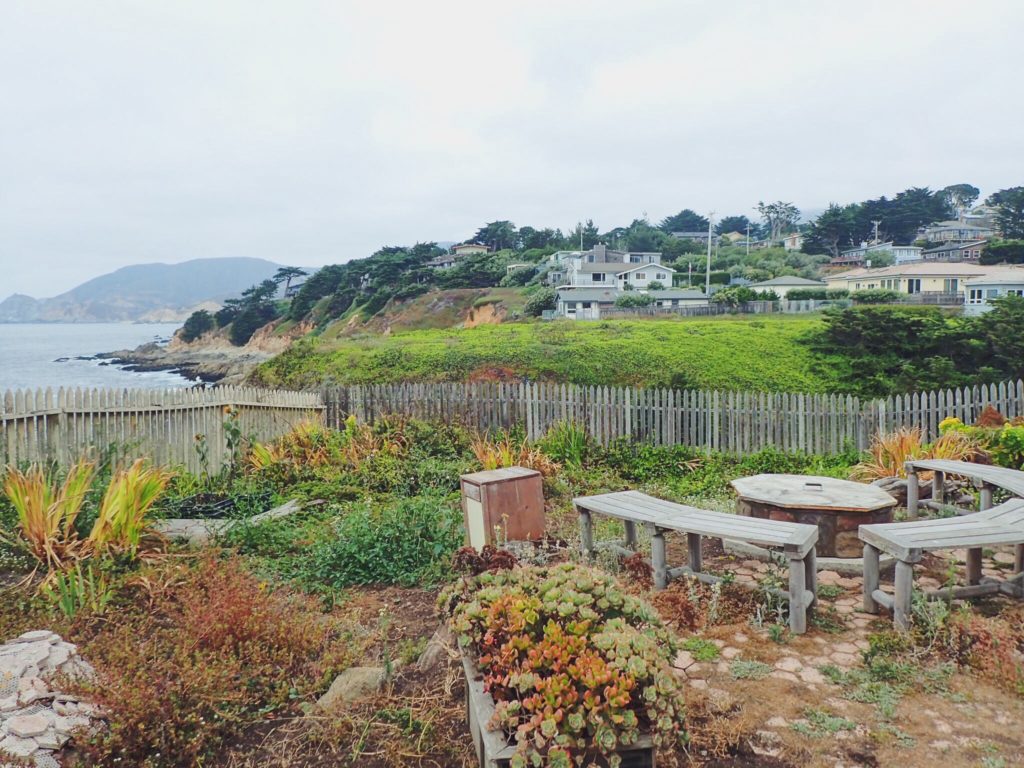 Soaking it all in at Point Montara Lighthouse
Still too early to check in, I wasted away the next hour or two soaking in the views and roaming around the lighthouse property. There's a small, scenic beach that's directly accessible from the lighthouse, and the views of the surrounding cliffs are striking and surreal.
Finally, at 3:30pm sharp I grabbed my duffle from the car and headed inside to check in. The hostel has a strict check-in time; after 3:30 is okay, but not a minute earlier. Because of this, everyone went to check in at the same time, and there was a bit of a line.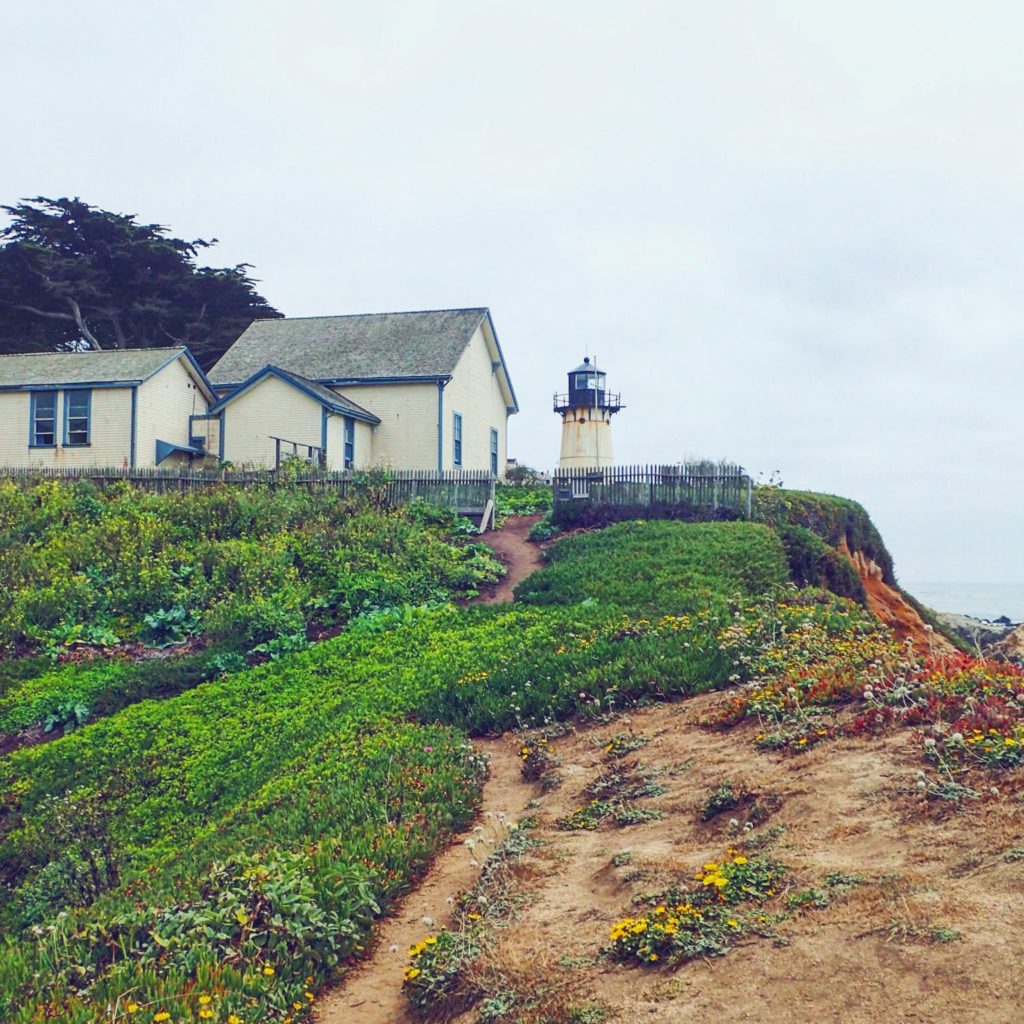 The all-female dorm that I checked into was basic but perfectly comfortable. The room had three sets of bunk beds, electronic key lockers (no lock required), and an attached bathroom. Sheets, towels, and a nice thick comforter were all provided for free, with the stipulation that you strip your bed before check-out and toss your dirty linens into the laundry room.
Having spent the better part of the day roaming and exploring, I decided to spend the afternoon and even partaking in one of my favorite activities: relaxing.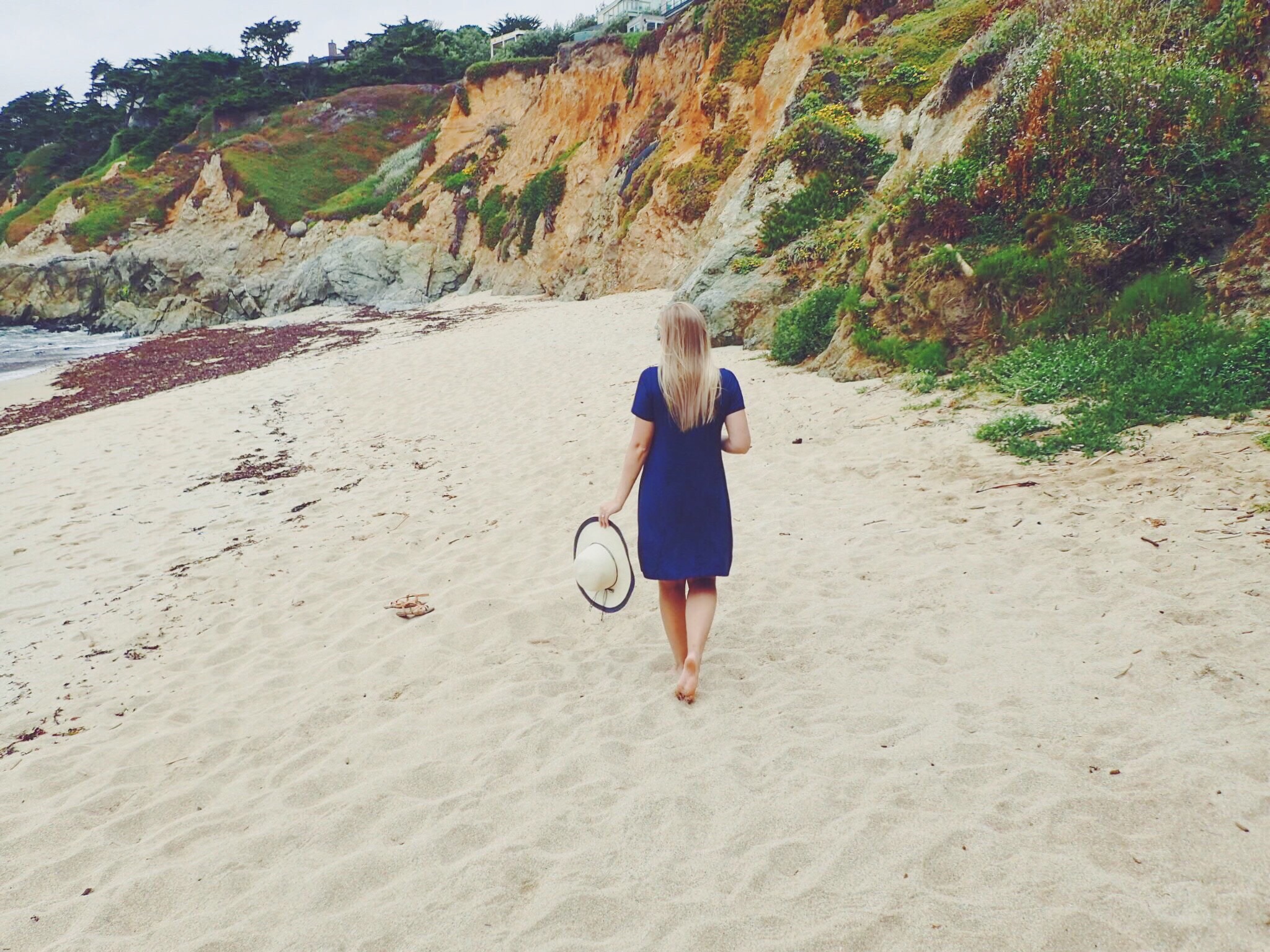 In fact, I'm pretty sure relaxing is the ultimate activity at Point Montara Lighthouse. Between the sound of the ocean, the chilly sea breeze and the peaceful views, it's all too easy to get lost in your thoughts while strolling the property or gazing out one of the kitchen's wide windows.
I ended up finding a secluded picnic table near the back side of the hostel, which offered unobstructed views of the small beach below. Bundled up in a thick sweater, I sat there for more than an hour catching up on some freelance work and pouring myself generous glasses of wine.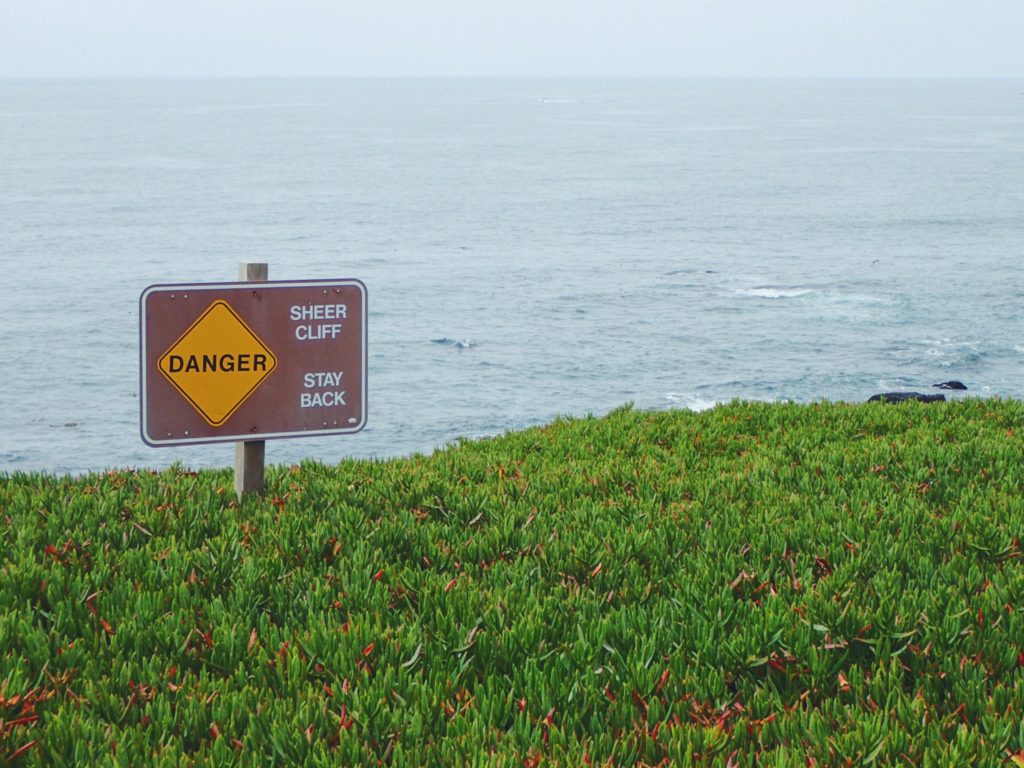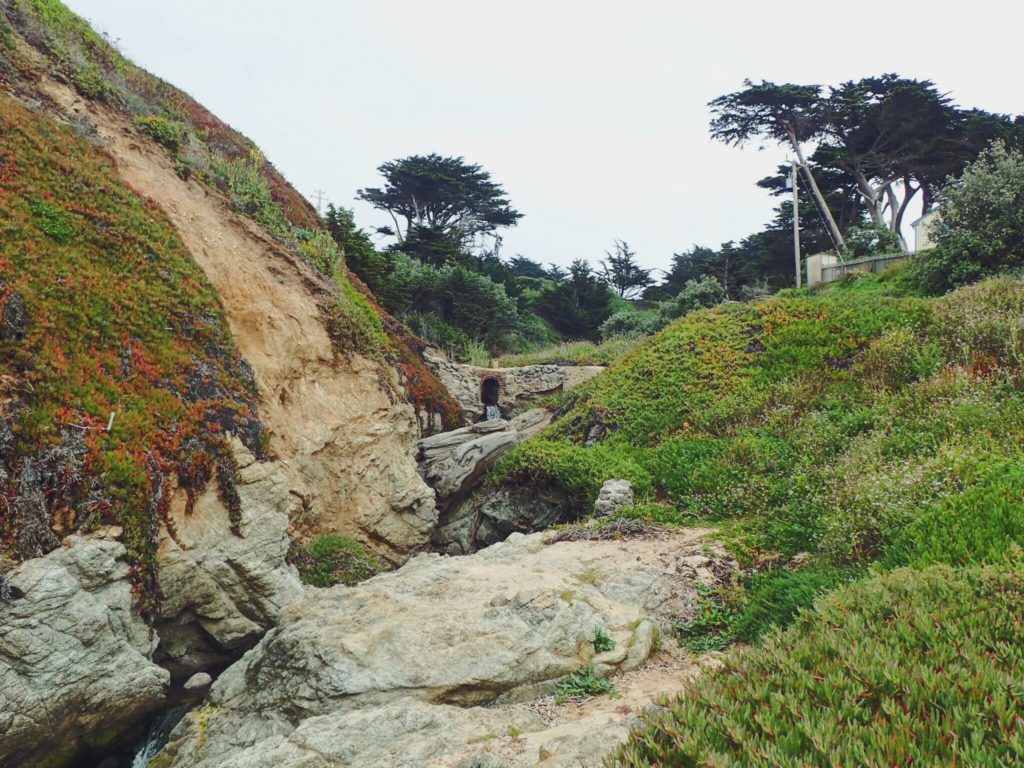 When the outside air got to be too chilly, I retreated back inside and spent the remainder of the evening alternating between entertaining myself on my laptop and chatting with the other travelers in the common area. Point Montara tends to attract an older crowd than most hostels I've stayed in, and lacked some of the social environment I'm used to.
That said, I didn't really mind; between the multiple glasses of wine and the miles of shoreline I had walked earlier in the day, I was snuggled up in my bed and drifting off to sleep by 10pm.
Read Next: Mexican Hobbiton? Sleeping in a tube at Tubohotel!
---
Pin It!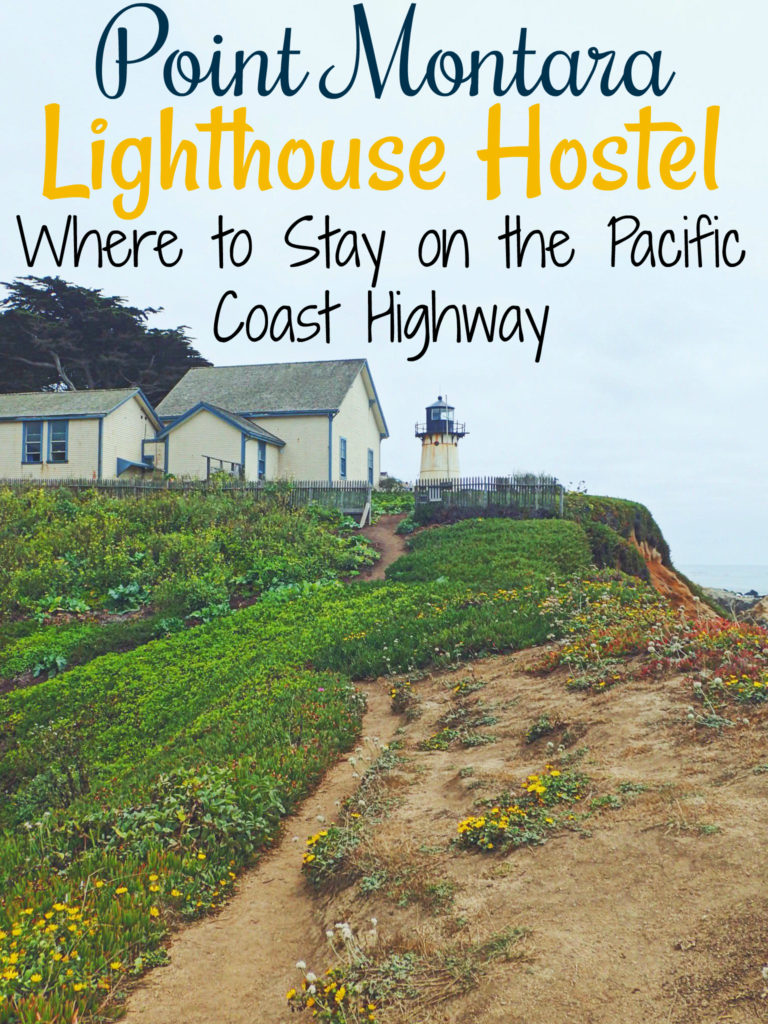 ---
I LOVE unique accommodation like this – what's the coolest hostel, hotel, guesthouse or Airbnb you've ever stayed in? If you have a blog post or Instagram photo featuring fun or memorable accommodation, leave a link in the comments – I'd love to see it!!
---
Like This Post? Let's Connect!
---
This post contains affiliate links. When you make a purchase using these links, I will receive a small commission at no extra cost to you. Thanks for your support!