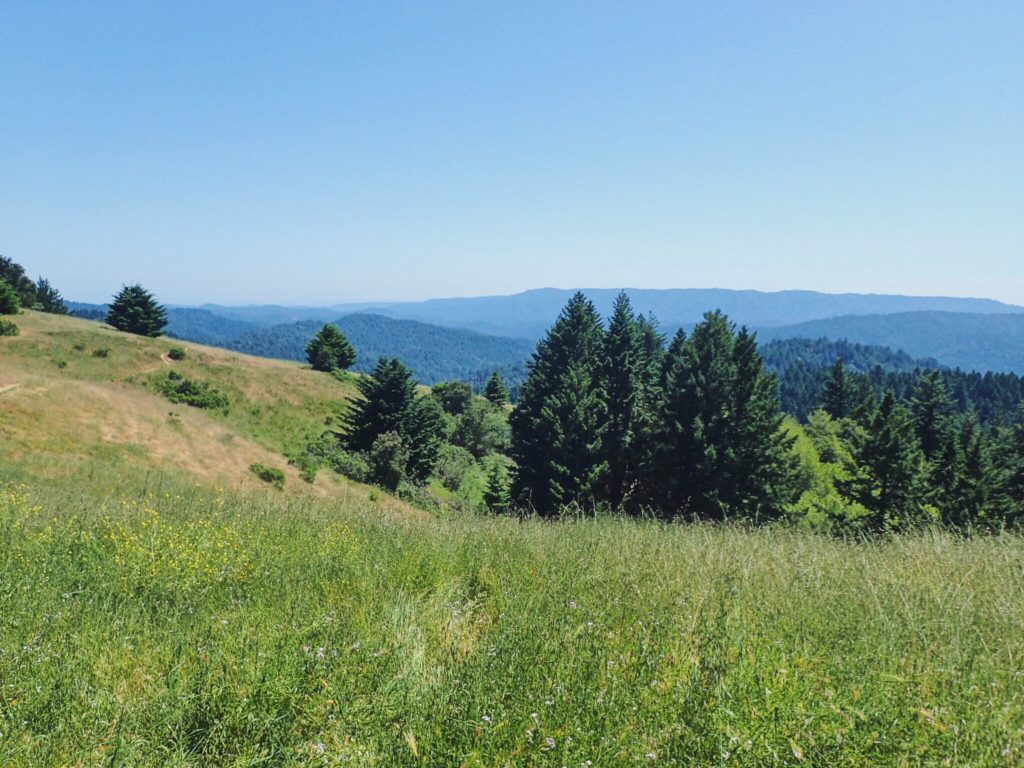 It's a bit hard to believe that it's already been two whole months since we packed up our belongings and moved from Houston, TX to Santa Clara, CA…but at the same time, it almost feels like it's been so much longer than that!
Funny how time seems to play tricks in that way, eh?
Regardless, it's safe to say that Derek and I have pretty much been in heaven ever since we arrived. I mean, California has In-N-Out, gorgeous beaches, mountain views literally visible from our balcony, perfect weather…what more could we want?
Between Derek starting his new job, getting settled into our apartment and having a ball exploring the central California coast, it's been a busy two months for sure. Here's what we've gotten up to during our first two months in our new home:
Getting Acquainted with the Santa Clara Valley
If you had asked me six months ago to point to Santa Clara on a map, I would've had no idea where to start. So, it's safe to say that I had a lot to learn about our new hometown and the surrounding area when we first arrived here.
For one thing, the area where we now live goes by a LOT of names, including:
Bay Area
South Bay
Santa Clara Valley
Silicon Valley
The Peninsula
Valley of the Heart's Delight (…okay, so no one ACTUALLY calls it this anymore. But before the "Silicon Valley" term kicked off, this was the primary nickname. And I love it!)
Call it what you will, this area is basically known for 3 things: wine, tech, and year-round perfect weather. I can get behind that! But personally, I think the region is best explained by this fun "judgemental map" of the Bay Area: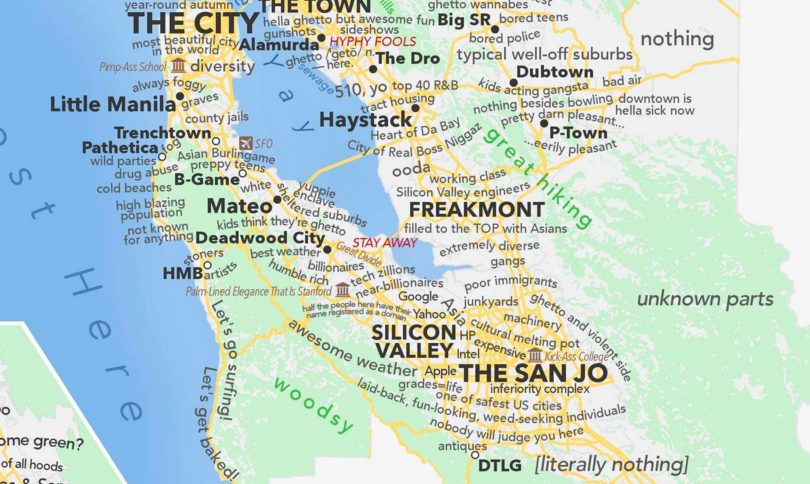 We're located pretty much right where it says "Silicon Valley;" just south of Google, north of Apple, west of expensive, and east of "half the people here have their name registered as a domain." Sounds about right!
Derek and I have already had a blast exploring the nearby towns and cities, from afternoons spent drinking and dining in Mountain View to leisurely evenings at Santana Row to overnight stays on the coast.
That said, I feel like we've barely scratched the surface…there's so much left that I want to see!
Here's what's on my current (ever-growing!) Bay Area/Central Coast Bucket List:
Napa/Sonoma
Sausalito
Yosemite
Santa Cruz
Half Moon Bay
Big Sur
San Luis Obispo
Santa Barbara
A Weekend Getaway to Carmel-by-the-Sea
We spent one of our first weekends in California checking out the small oceanside town of Carmel-by-the-Sea. This ritzy little village is known for its old world charm, scenic and walkable downtown, and dramatic coastal views.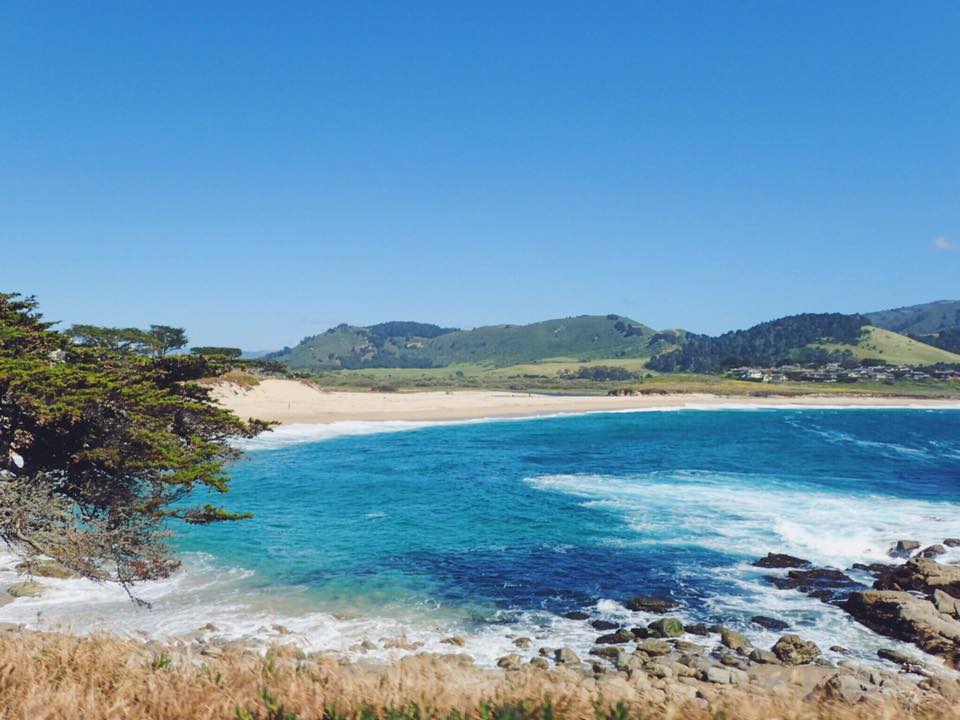 Quaint cottages line the streets of Carmel's one-square mile downtown area, along with boutiques and wine tasting rooms. You won't find any street numbers here; instead, businesses and residents name their homes (i.e. "Sea Urchin") or use cross-streets or descriptive details to provide directions.
Despite its small size, Carmel is home to a whopping 18 tasting rooms! We visited four of them: Vino Napoli, Trio, Albatross Ridge, and Manzoni Cellars.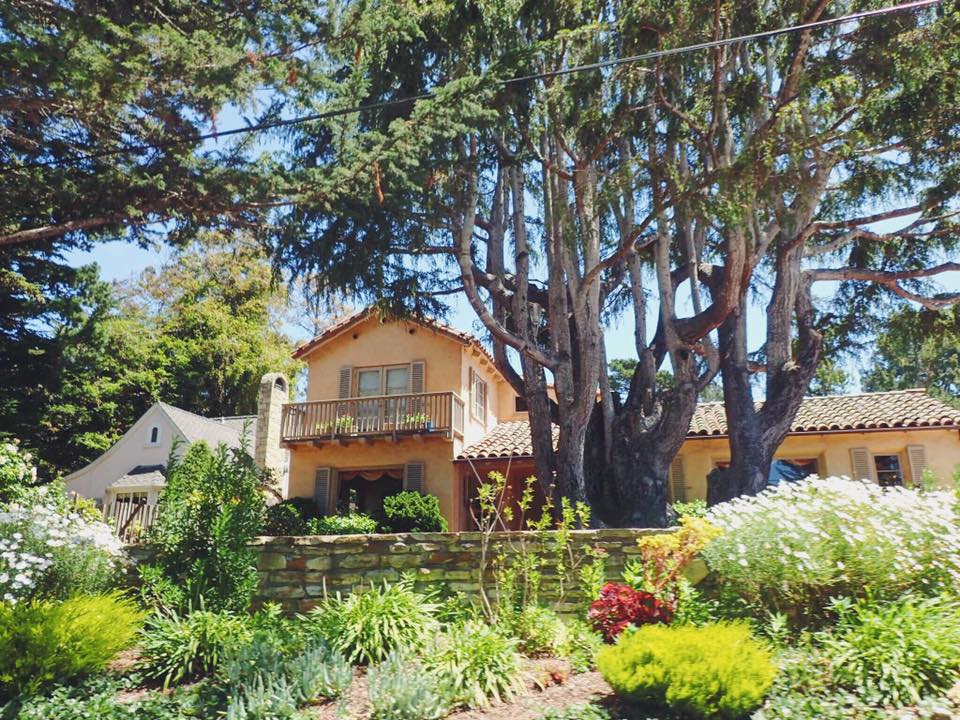 While all four of them were lovely, Trio stood out thanks to the friendly and knowledgeable staff (I'm pretty sure I learned more about wine during this one tasting than all of my other tasting experiences combined) and Albatross Ridge stood out for its  smoky, bubbly, chilled Pétillant Naturel. This wine was seriously unlike any other I've ever tasted – looking back, I'm kicking myself for not buying a bottle!
We also hit up Pebble Beach via Carmel's famous 17-Mile Drive. This scenic road winds down the Pacific coastline past gorgeous vistas, world-famous golf courses and luxurious homes. My favorite sight? The iconic Lone Cypress, a 250-year old tree perched on a rocky cliff, recognized as most photographed trees in North America.
Hiking at Big Basin
Big Basin Redwoods State Park is a California state park located about an hour south of Santa Clara/San Jose, in the direction of Santa Cruz.
Derek and I decided to make the most of our close proximity to the world-famous redwoods by spending a Saturday getting back to nature in the park. We may have settled on the easiest trail in the entire park…but hey, we just moved here from one of the flattest cities in the nation. So it's a start!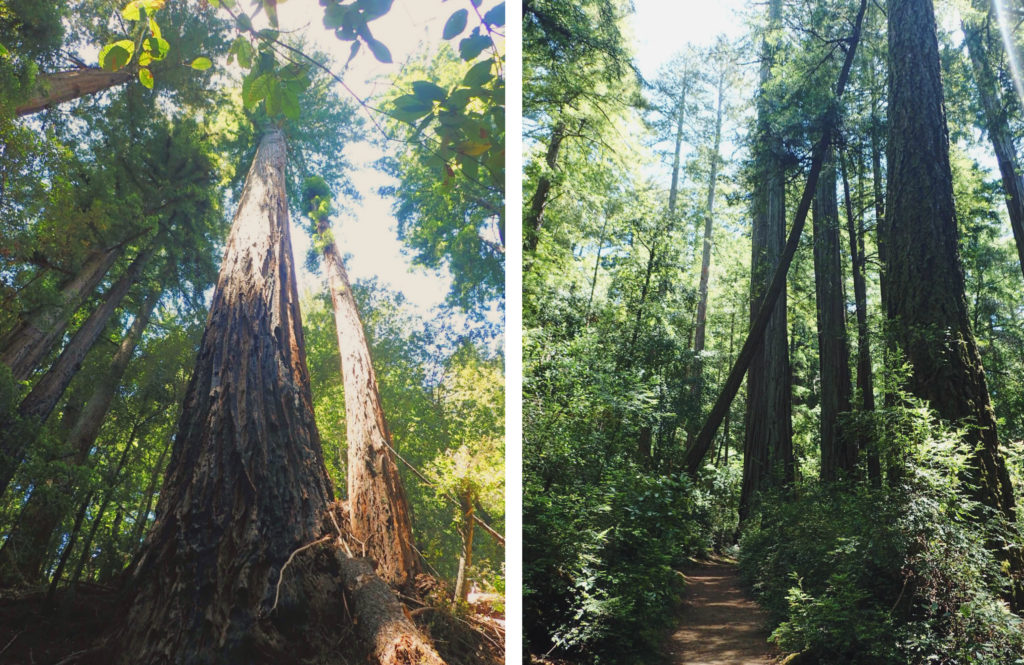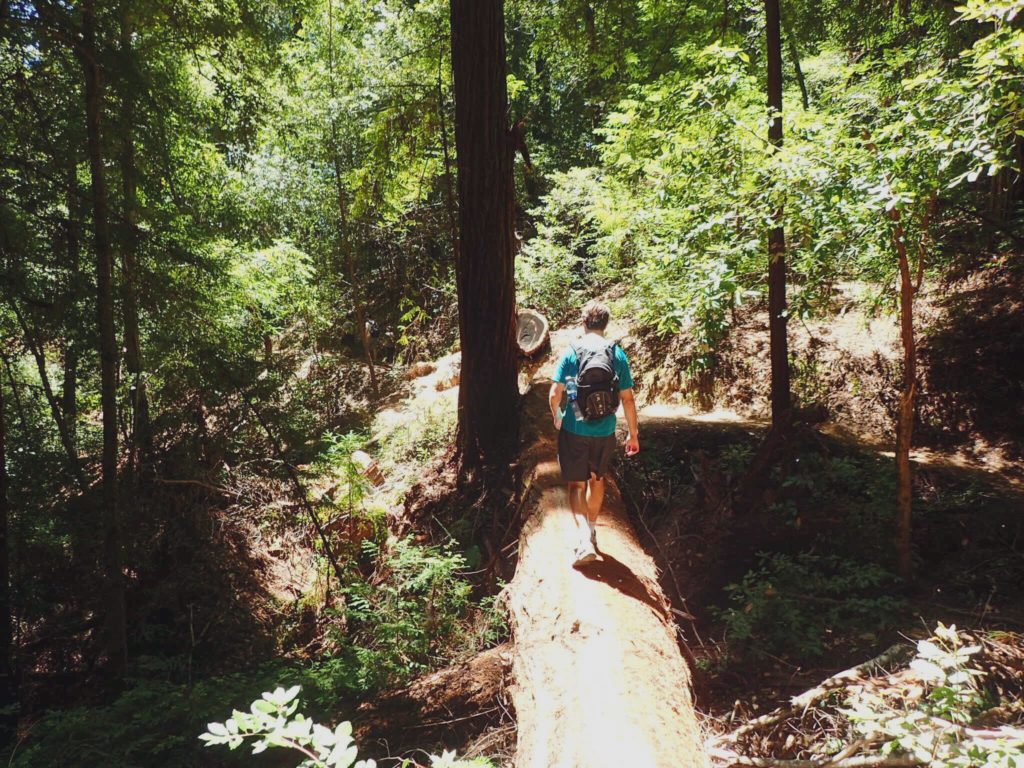 The trail we chose wasn't exactly anything to write home about, but it did still offer nice forest views…and I'll always be amazed by those massive redwood trees.
And hey, I'm sure after a few more months of living here we'll be in shape enough to tackle one of the more challenging (and scenic!) trails.
Celebrating Derek's Birthday Weekend in San Francisco
One of my favorite things about living here in South Bay is being so close to San Francisco, or "the city" as the locals seem call it.
In my world, a birthday always calls for a celebratory getaway, so we booked a quick one-night stay up in San Fran, as none of the locals seem to call it. (Sorry! We're still new here.)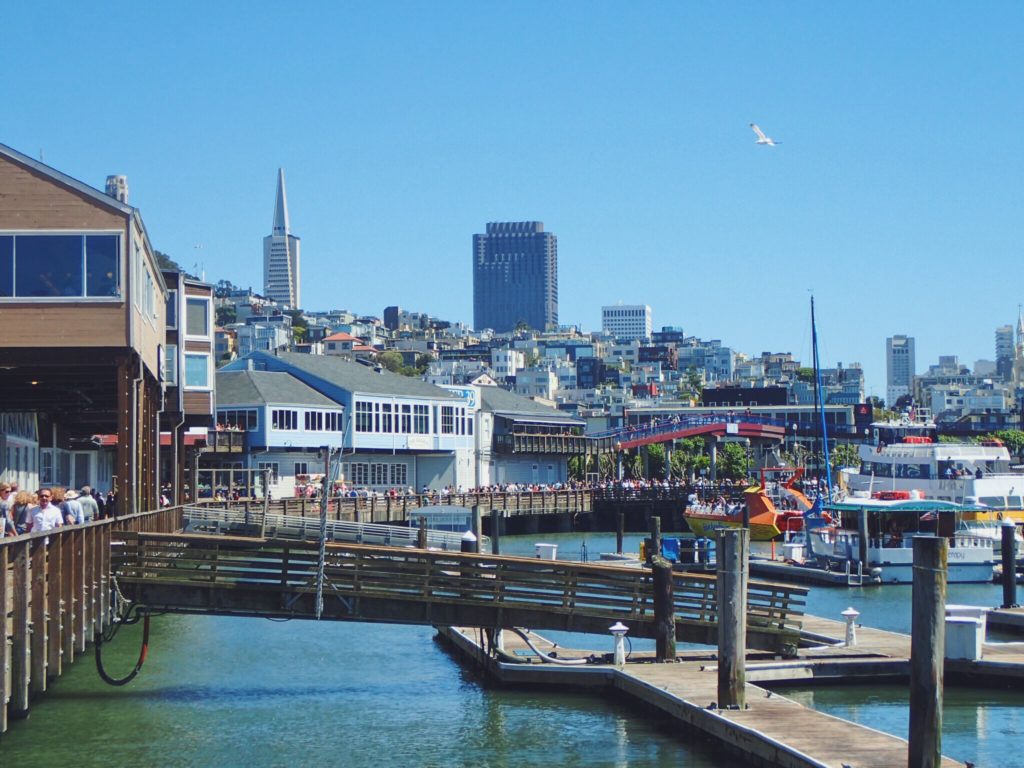 We opted to take the Caltrain up to the city rather than driving, which ended up being a great choice. The Caltrain runs between San Francisco and San Jose, with stops in Santa Clara, Sunnyvale, Mountain View, Palo Alto, and other cities and towns along the way. It's also clean, comfortable, cheap, and on-time – a rare and much-appreciated combination of qualities for a U.S. public transportation system!
I have a feeling we'll be making plenty of trips into the city while we're living here, but this time around it was allllll about San Francisco's epic food scene.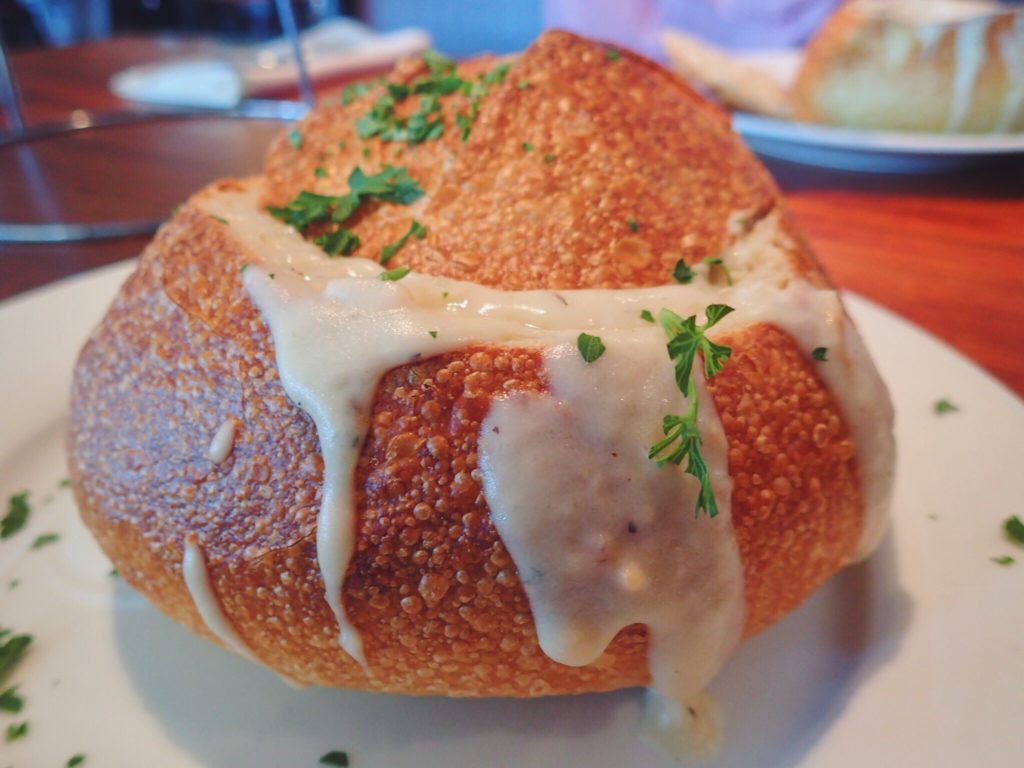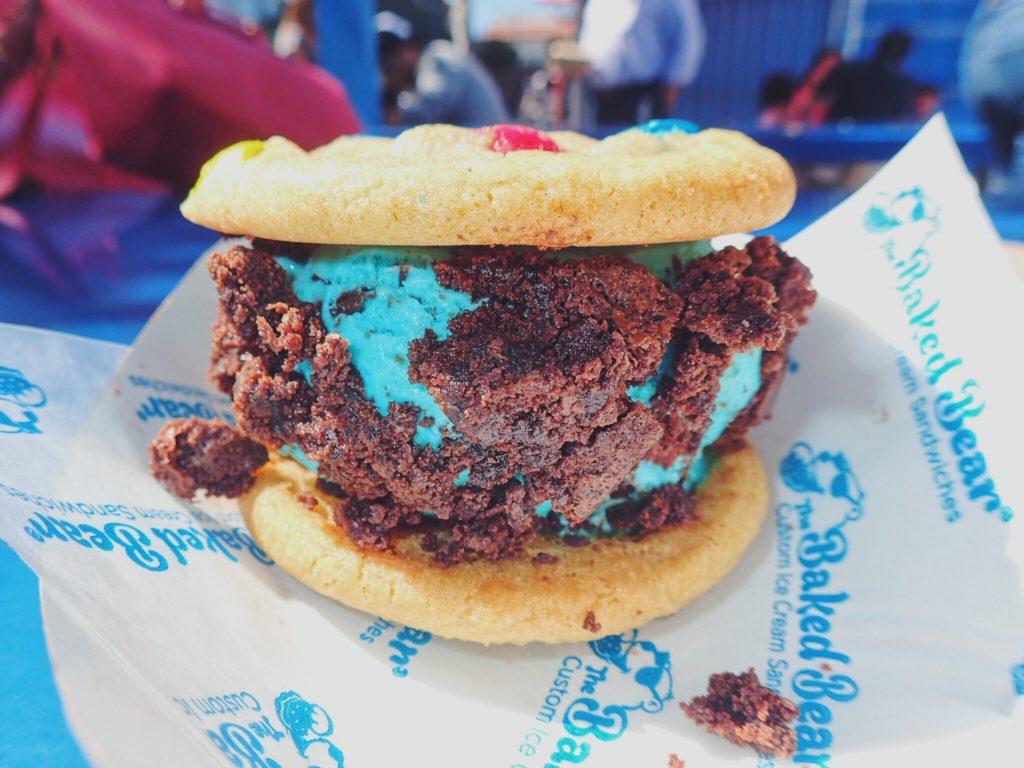 We dined on raw oysters and clam chowder in bread bowls at Fog Harbor Fish House in Fisherman's Wharf, nommed ice cream cookie sandwiches at Baked Bear (M&M cookie with Bear Batter ice cream for me, red velvet cookie for with vanilla ice cream and hot fudge for Derek), and sipped on cocktails and wine flights in the trendy Union Square and edgy Tenderloin neighborhoods…
…all within a span of roughly 8 hours. Whew!
Fortunately we booked a hotel with a near-perfect location that made zipping around the city easy – the funky and fun Hotel Zeppelin.
This boutique hotel in Union Square has a progressive, youthful, and slightly rebellious style that fully channels San Francisco's "Summer of Love" vibes. Think crushed velvet, leather, vinyl, mood lighting, and old-school jams.
Located just a few steps from some of the city's top bars, restaurants, and shops, Hotel Zeppelin is definitely a hotel I could see myself returning to again and again.
Touring the Winchester Mystery House
The Winchester Mystery House is a sprawling 161-room Victorian estate that once belonged to Sarah Winchester, the widow of  William Winchester and the heiress to his successful rifle company.
After the tragic deaths of both her husband and her young daughter, Sarah Winchester visited a psychic in Boston, who warned her that her family was haunted by the ghosts of those who had been killed by her husband's rifles.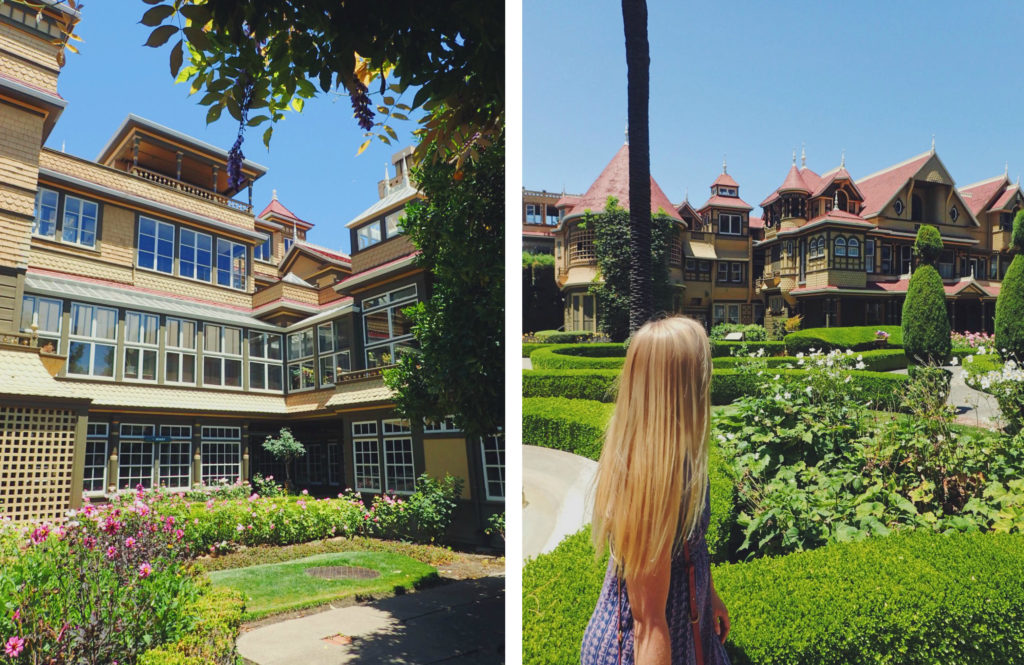 The psychic told Sarah that the only way to seek shelter from these ghosts was to begin construction on her house and never stop, because the spirits could only be driven away by the constant sound of drills and hammers. So, Sarah moved out to Santa Clara and purchased an old farmhouse, which she began renovating…for the next 38 years. Legend has it that construction continued 24 hours a day, 365 days a year until Sarah's death in 1922.
As for the mansion itself, there's quite literally no method to the madness. Construction was entirely random, with the sole purpose of "driving away the spirits," which meant that there was no master blueprint and no end goal – just construction for the sake of construction.
The end result? Narrow twisting hallways, slanted floors, stairways that lead straight into the ceiling, doorways and cabinets that lead to nowhere, and the strangest layout you'll ever encounter.
I'm not overly superstitious; in fact, if anything, I'm a bit of sceptic. But I felt dizzy, disoriented, and on-edge the ENTIRE time I was in that house, and Derek felt the same. Whether it was the Winchester rifle ghosts (as Sarah believed) or just the wacky layout, there's definitely something unsettling about that mansion.
---
And THAT'S what we've been up to this month!
Have you visited the Bay Area or Central California Coast before? Know of any hidden gems or must-sees in the area? Tell me all about it!
Let's Connect!