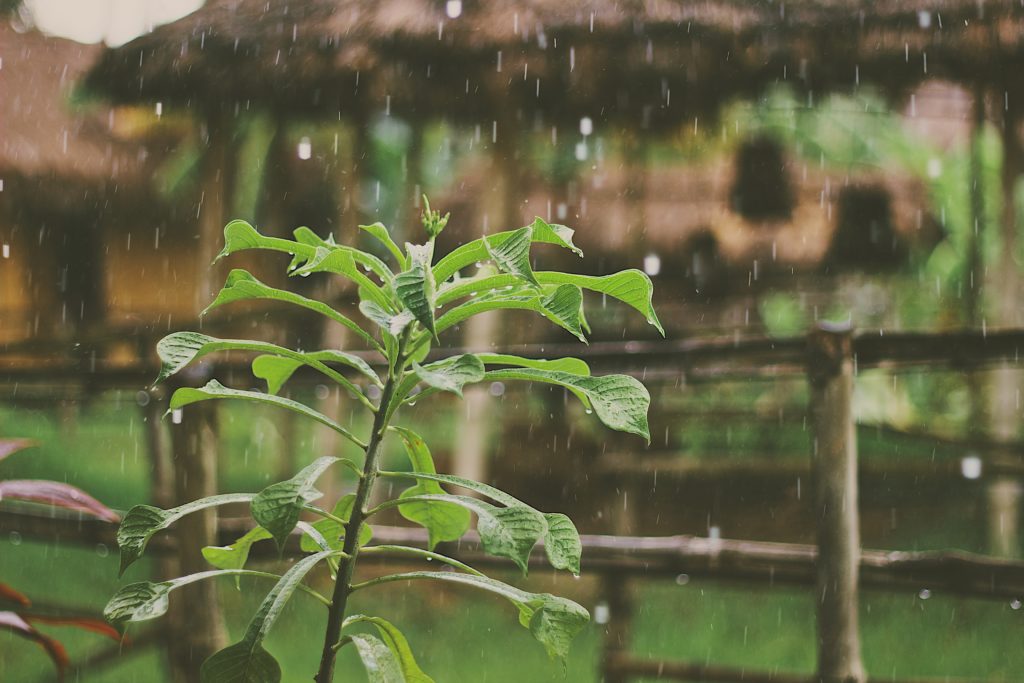 We're standing near a sidewalk curb in Antigua, Guatemala, protected from the torrential downpour around us by a small outcropping of tiled roof, estimating how long it will take us to run to the other side of the street. We wait for the traffic to pass, then sprint through the ankle-deep water and hop up onto the sidewalk, darting into the bar for shelter.
We shimmy out of our rain jackets, grab a table, order a round of drinks, and wait for the rain to pass.
We wait…and wait…and wait…
Eventually we've consumed enough liquid courage to brave the elements again and make the trek towards our hotel. There's no point in running this time – it's too far, so we're getting fully soaked either way.
Several days later, and the rain still hadn't passed. It shouldn't have been a surprise – after all, what do you expect to happen when you travel to Central America during the rainy season? –  but it's still always a bummer when bad weather threatens to crash your travel plans.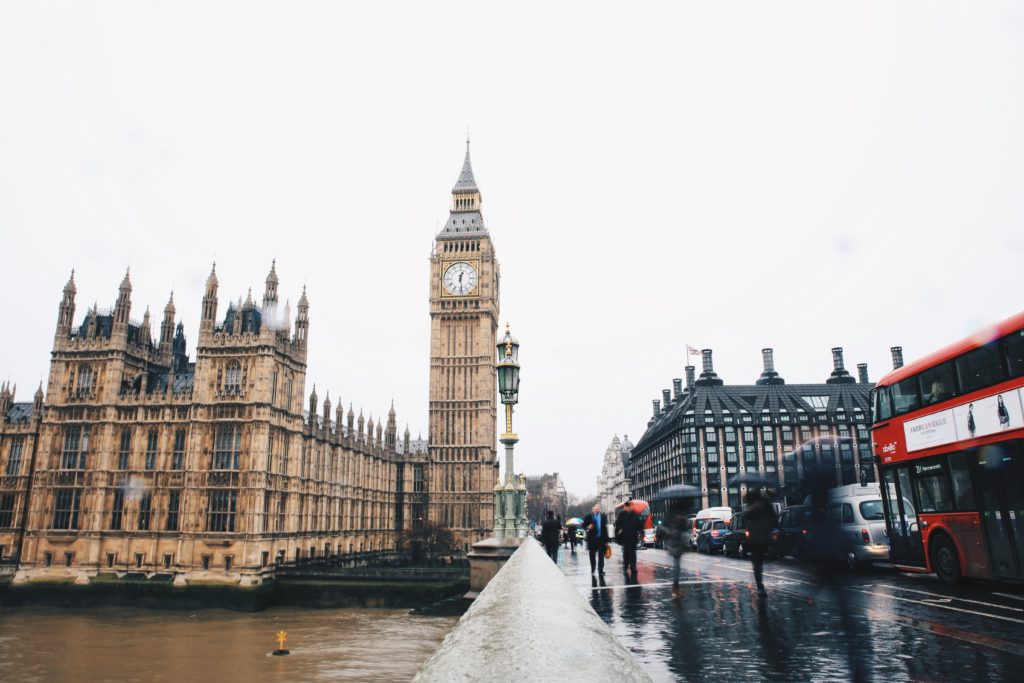 That said, a bit of rain (or even a lot of rain!) is by no means a death sentence for your vacation.
I would know – I've run into rain during my travels more times than I can count! From tropical downpours in Peru to gray drizzle in Paris, I've gathered a few tricks and tips for coping with rainy weather during my trips.
In fact, I'm even going to risk sounding like a total lunatic by saying that rain during your vacation can actually be a GOOD thing sometimes!
…How so? For one thing, nature comes alive during the rainy season. Foliage becomes greener and thicker, waterfalls and rivers appear fuller, and hills and mountain ranges look moodier with a bit of cloud coverage.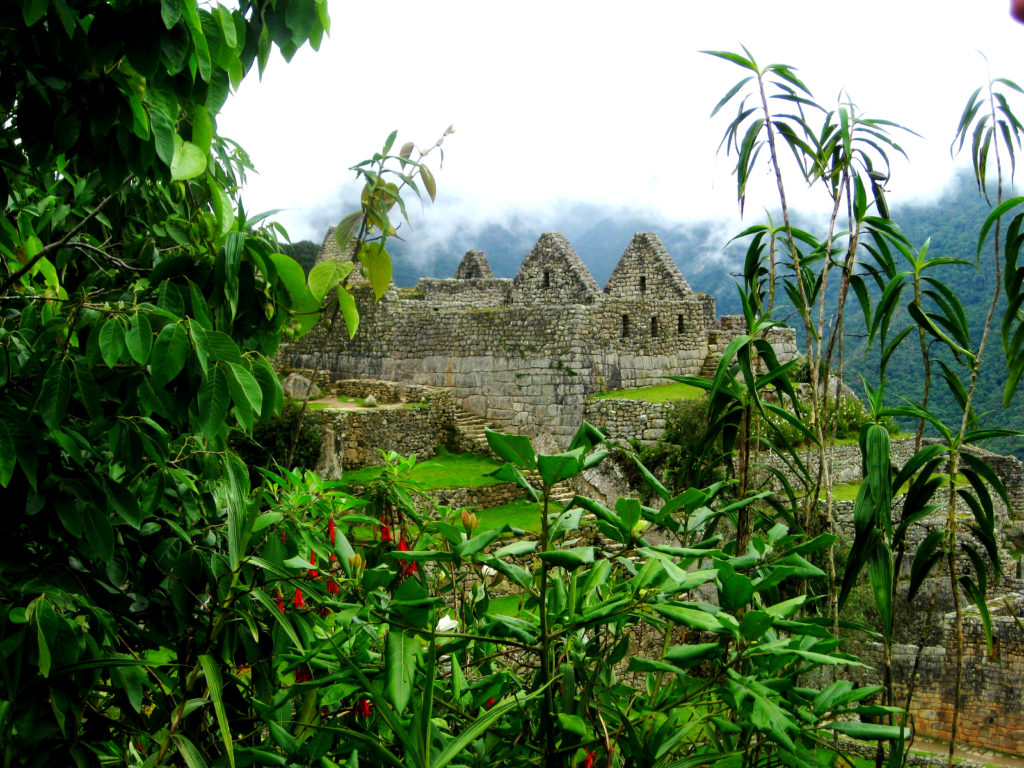 As an example, when I visited Machu Picchu I wasn't bummed out in the slightest about the foggy, damp weather. In fact, I thought the ruins and mountaintops looked WAY more badass and mystical with the shrouds of mist draped over them.
And just look at how green everything was!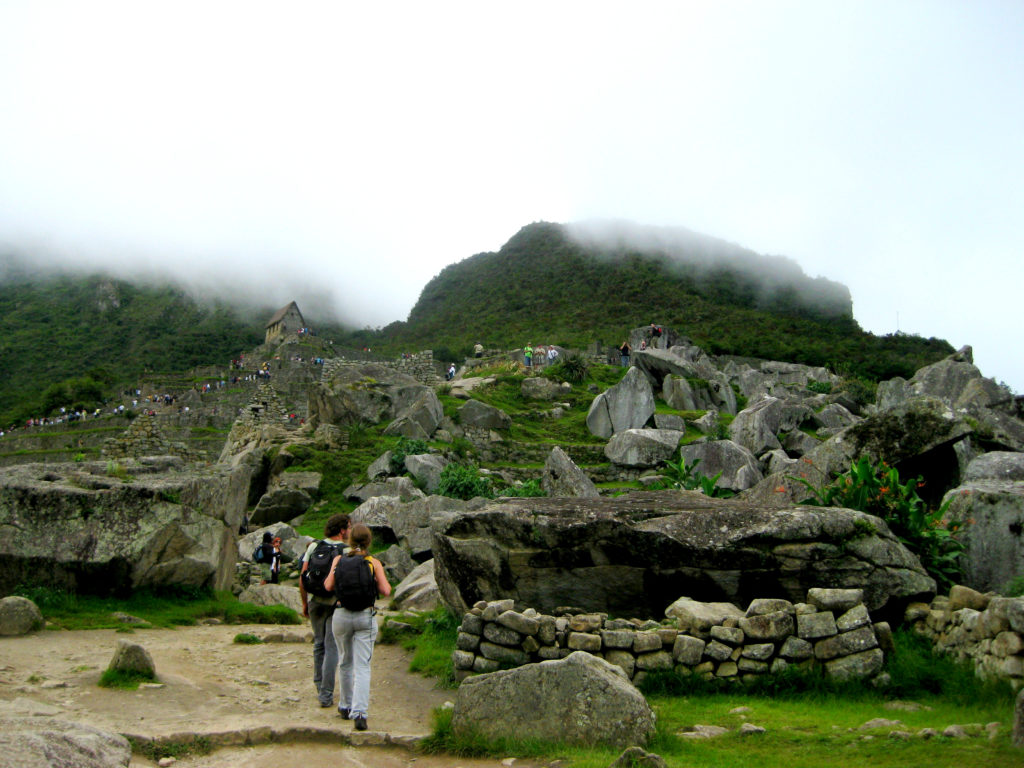 Likewise, when I was traveling through southern Germany and was hit with cloudy, foggy days in the Bavarian Alps, the weather only seemed to enhance features like the rolling hills and dark forests, and add to the whole "Brothers Grimm fairytale" vibe of the small, charming towns I was visiting.
I know rain can foil travel plans and feel like a drag – but it truly does help (at least a little bit!) to try to see the good in it when you can.
Aside from that, here's what else you can do to keep rain from ruining your travels:
Take advantage of indoor activities.
Schelping around the city streets during a thunderstorm is never going to be a ton of fun – so don't force it! Make the most of your rainy travel day by checking out a museum, art gallery, or cathedral, where you can enjoy the sights and culture and stay dry.
Take a cooking class.
Almost all cooking classes will take place under some form of shelter (if not fully inside), making it a perfect rainy day activity. My cooking class in Chiang Mai was hands-down one of my favorite experiences in Thailand.
In fact, I'd love to take more classes all over the world, whether it's raining outside or not.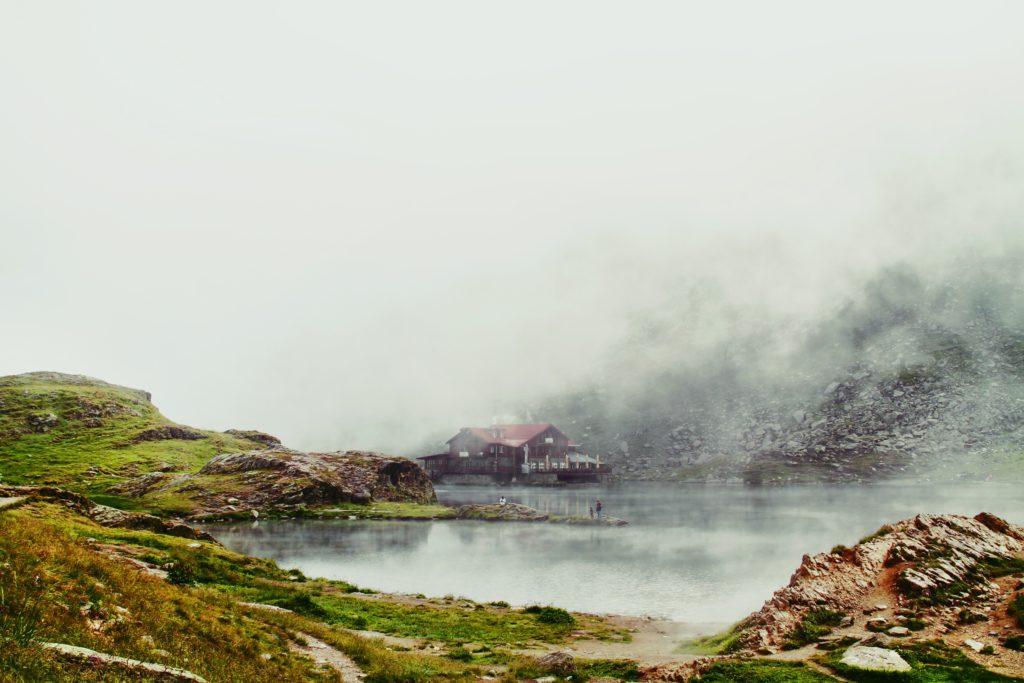 Enjoy a spa day.
Does anyone else feel guilty spending all day getting pampered in a spa when it's gorgeous and sunny outside?! I mean, get out there and enjoy that weather!
On the other hand, if it's raining…what else do you have to do with your time? Bonus points if you can find an open-air spa or massage table where you can listen to the soothing natural sounds of the rain.
Eat, drink, and be merry.
Derek and I had to fill a rainy day in Trogir during our honeymoon, and while we were bummed about not being able to enjoy the nearby beaches or hiking trails, we were stoked about spending a full day hopping between cafes, restaurants, and bars.
It can be nice to grab a seat in a cozy cafe or bar and spend the day hiding away from the bad weather. Plus, it's the world's best excuse to eat and drink to your heart's content!
Go play outside anyways.
Have you ever hiked in the rain before? I have…and shockingly, it doesn't suck as much as you might think. Actually, I almost prefer it over the alternative – cloudless skies and the sun beating down on you.
Hiking in the rain can be refreshing, and assuming you've got proper footwear, it can be fun to slosh through muddy trails and see just how ridiculously dirty you can get.
Swimming in the rain? Even better!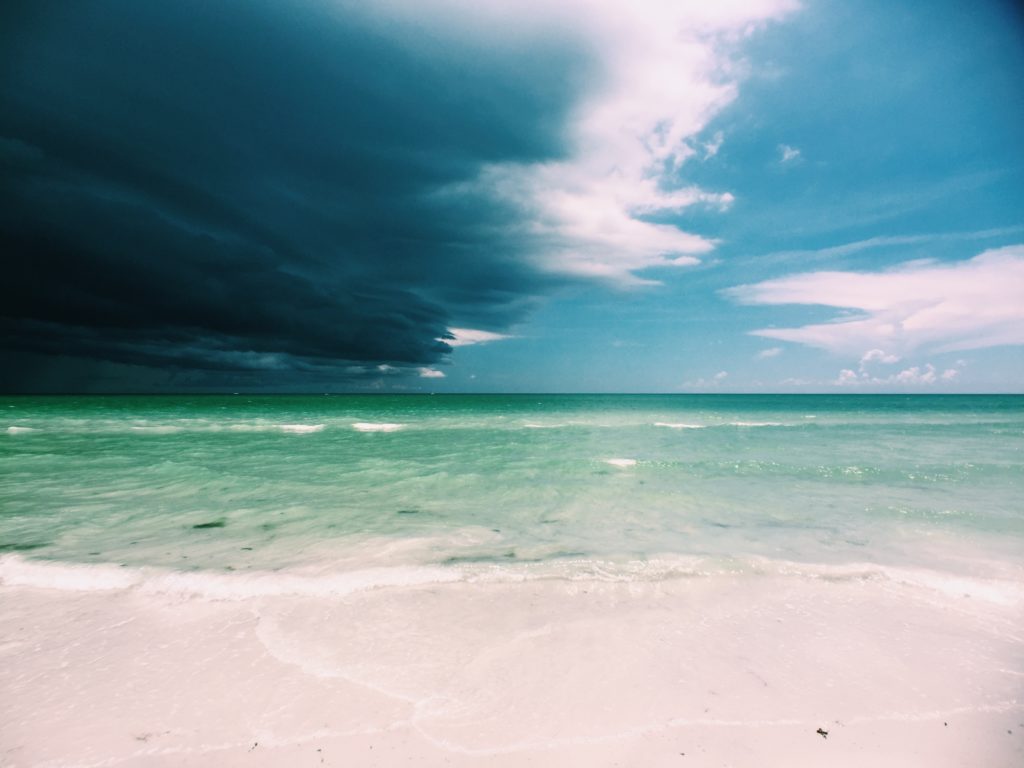 …Hey, you were going to get wet anyways, right? There's actually something a bit magical and surreal about floating in the ocean waves and feeling raindrops falling down onto your face.
(Just be sure to hop out if you see lightning!)
Grab a beer, find a seat, and enjoy the show.
You know the saying, "If you can't beat 'em, join 'em?" Well, there's no beating the weather – it's happening whether you like it or not.
A good thunderstorm can make a surprisingly peaceful backdrop, and I've spent many rainy afternoons and evenings lounging on a covered patio or porch, sipping boozy beverages and socializing with other travelers.
Play cards, swap stories, listen to music and dance, or just sit back and listen to the sounds of rain and thunder, and watch the lightning light up the sky.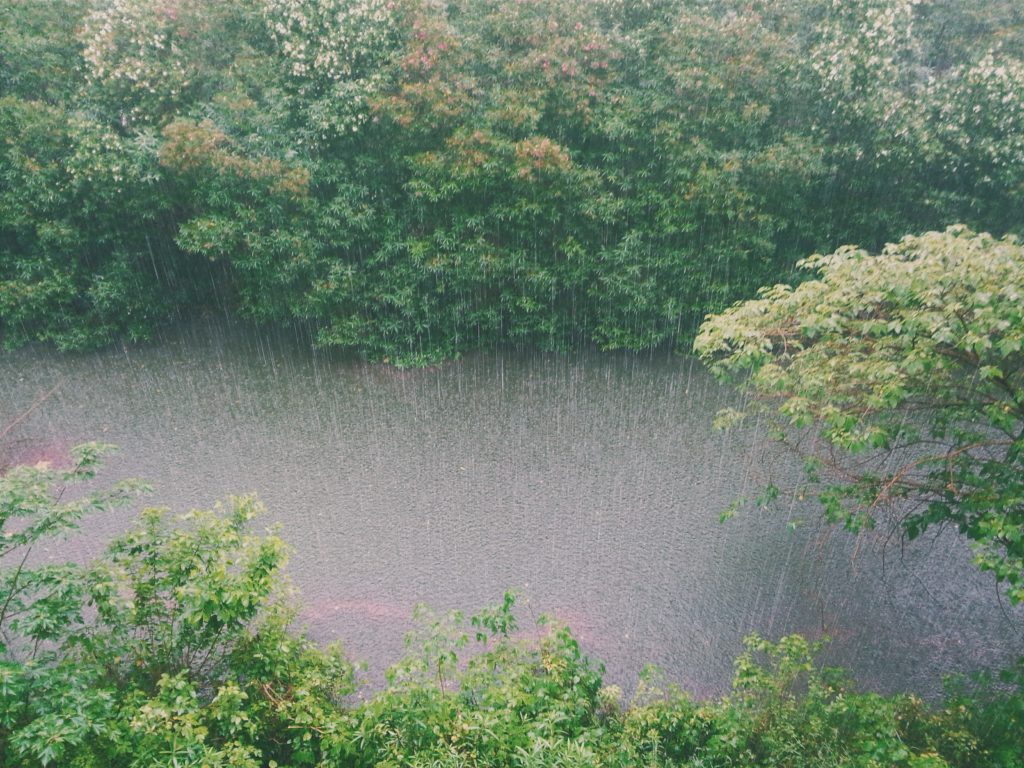 Dealing with rain during your vacation also sucks WAY less if you come prepared with the right equipment.
Whether you're going backpacking through South America or sightseeing in Europe, a good rain jacket will become your best friend if you run into rainy weather while traveling.
Personally, I never pack an umbrella – they take up too much precious bag space! If I really need one, I'll purchase a cheap one while I'm abroad. But for the most part, I stick to the basics below:
Rain Jacket – This is the exact one I use – the North Face Women's Venture Jacket. I love it, and it comes in a ton of colors!
Rain Cover for your Backpack – These are cheap and light to carry, and can protect your backpack (or suitcase) from unexpected downpours during transit.
Waterproof Hiking Boots – I like the hiking boots from North Face, but the most important factor is to make sure they're listed as WATERPROOF, not water resistant. There's a difference!
---
Pin It!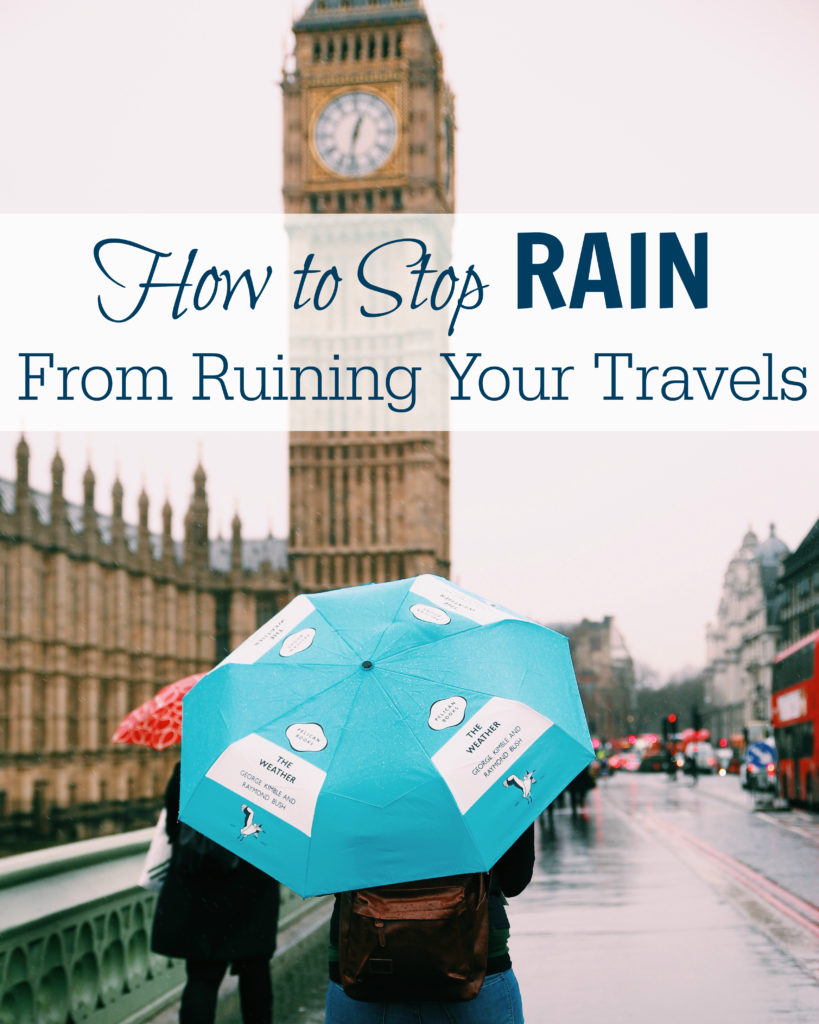 ---
How do you deal with rain during your vacation? Any good tips that I missed?
Let's Connect!