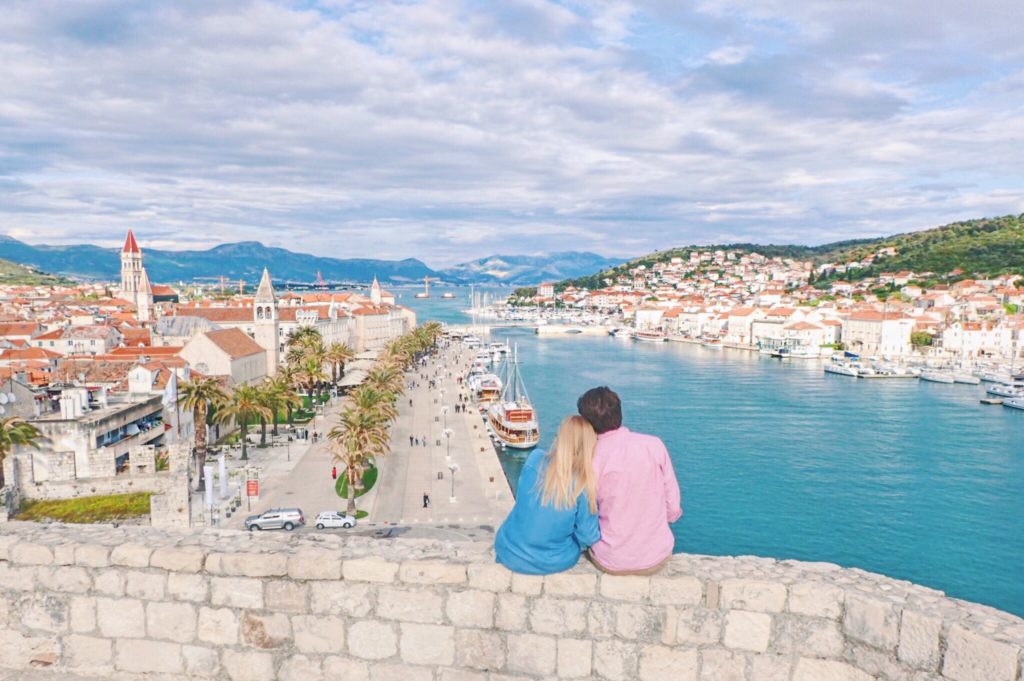 Trogir, nicknamed the "Stone Beauty" (also lovingly called "Little Venice"), is a historic harbor town on Croatia's winding Dalmatian coast. A UNESCO World Heritage site, this gorgeous seaside city is considered to be one of the best preserved medieval towns in Europe, and is dripping with Old World European charm.
Secluded on a tiny island protected by medieval walls, Trogir is a lovely little town for aimless wandering and leisurely exploring. It checks all of the boxes for my "perfect small town" criteria: walkable, scenic, easygoing vibe, great local food, and ideal for people-watching.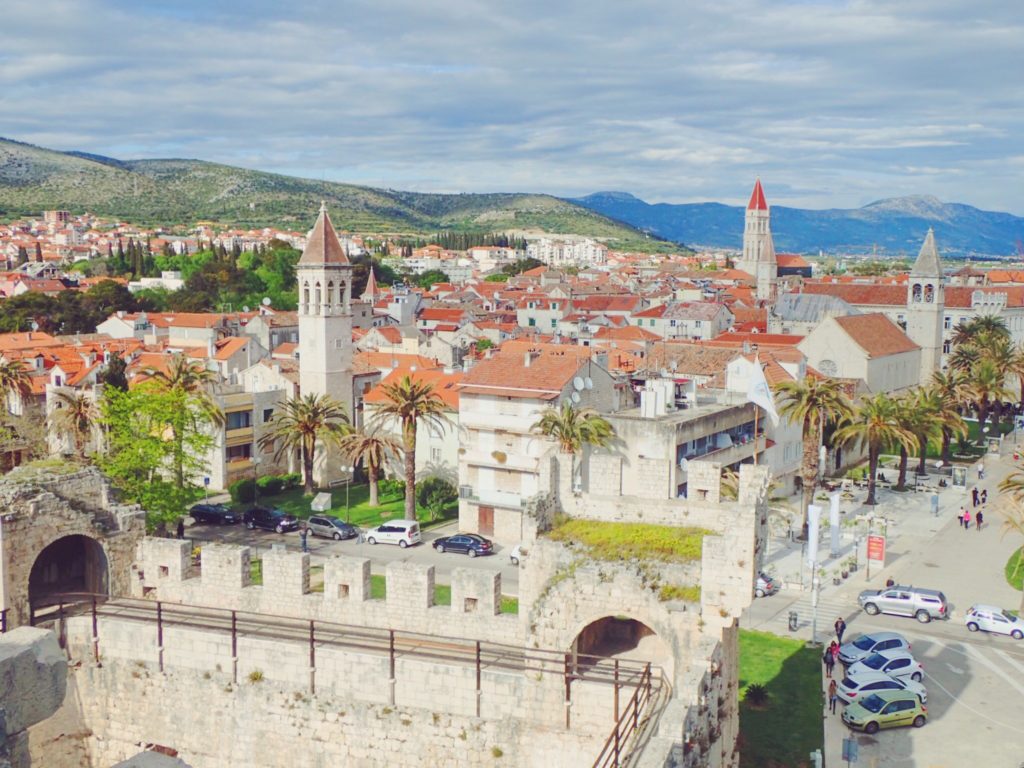 Trogir is located just a few miles away from the much more well-known city of Split. While Trogir would make a fun and easy day trip from Split, we liked the sound of it so much that we opted to base ourselves there instead!
One day in Trogir is enough to explore the city by foot, although I recommend planning more time here to enjoy the nearby beaches and other sites (like Game of Thrones filming location Klis Fortress).
Here's what you can see, do, and eat during one day in Trogir: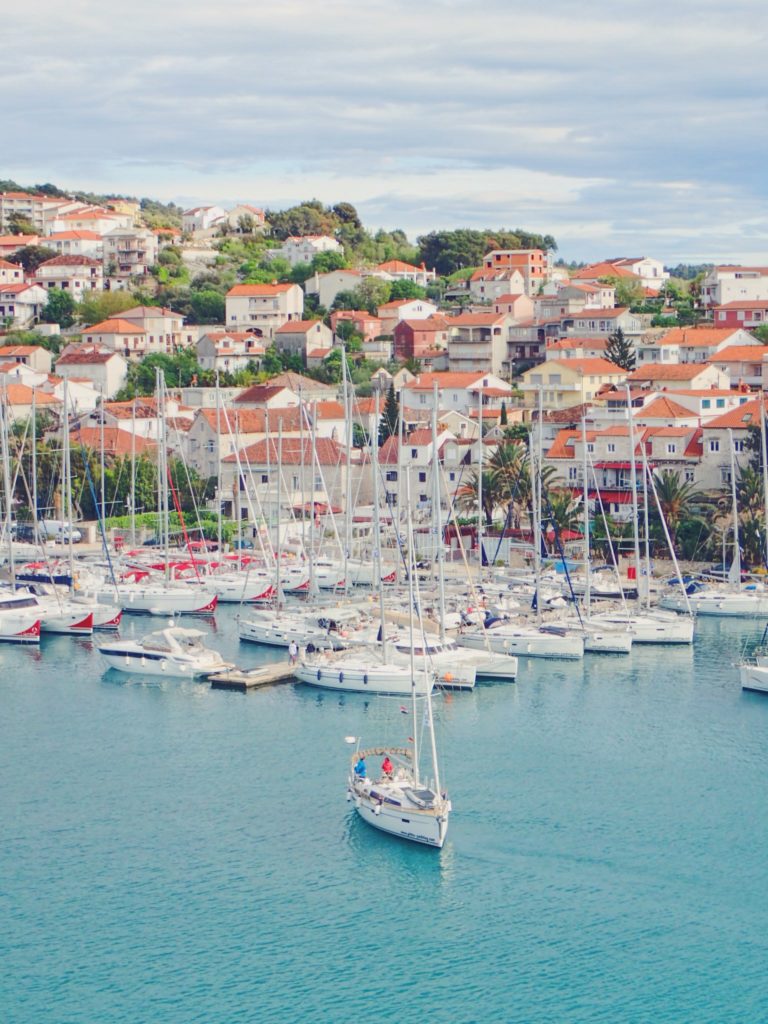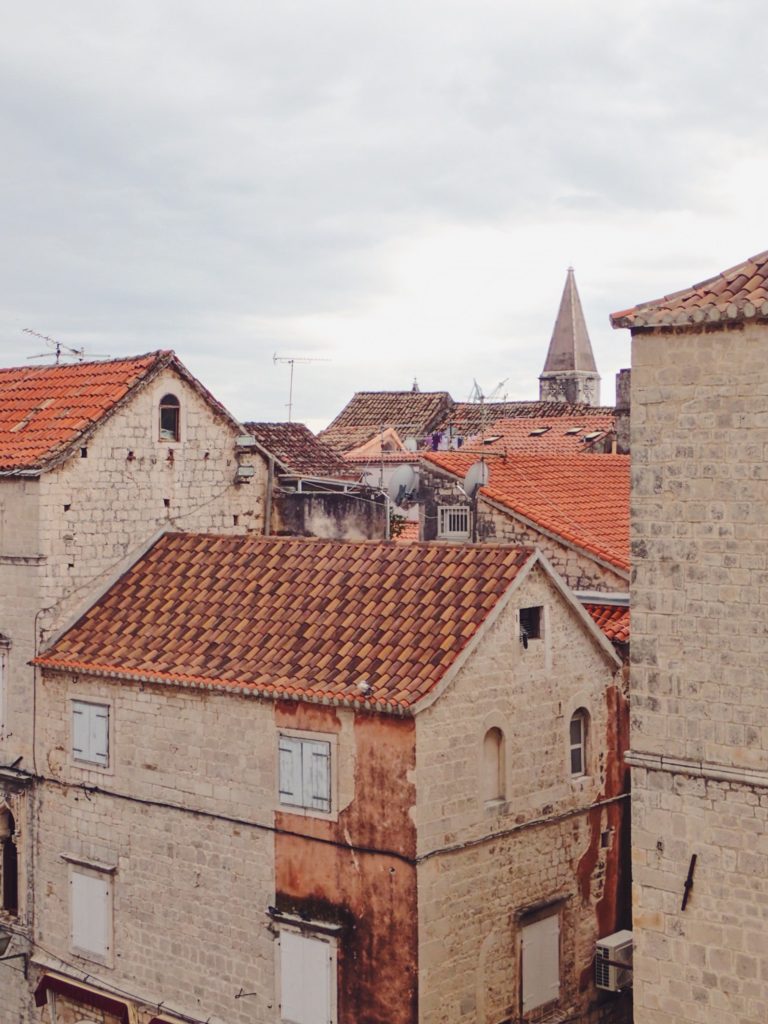 Stroll Along the Promenade
Trogir's wide waterfront promenade is where you'll find the heartbeat of the city.
On one side: a line of fluffy palm trees backed by a week's worth of cozy outdoor dining options. On the other, a parade of yachts and catamarans docked in the azure water.
And in every direction, views of the city's shining stone walls, burnt orange rooftops, sparkling sea, and blue-gray mountain ranges.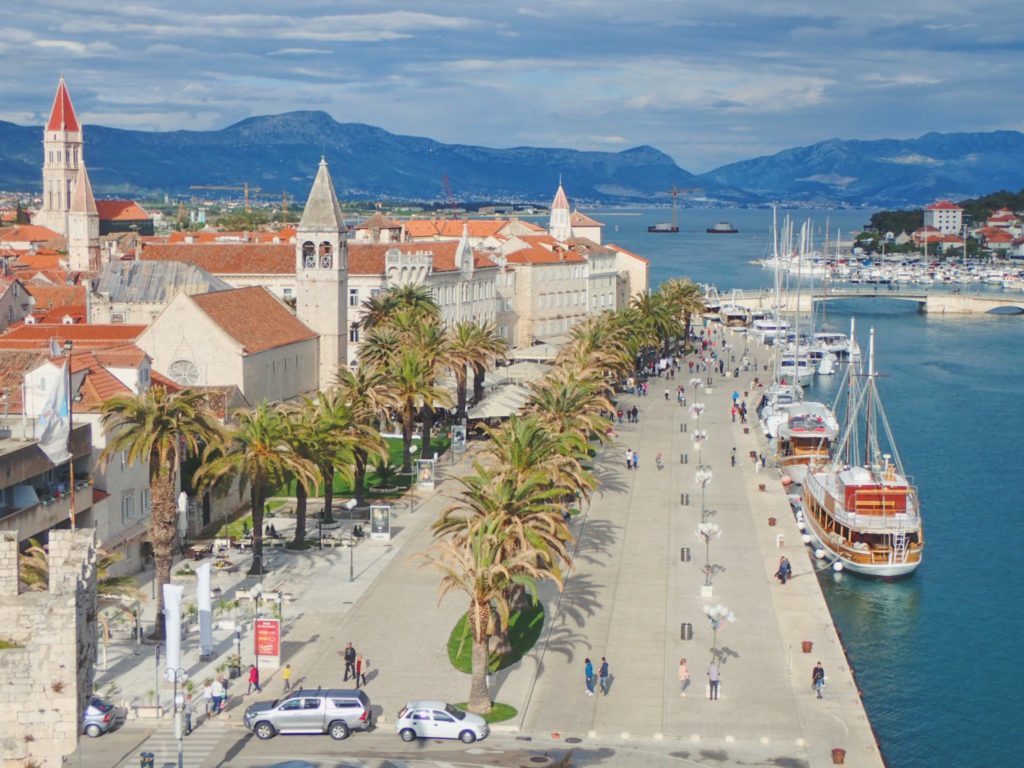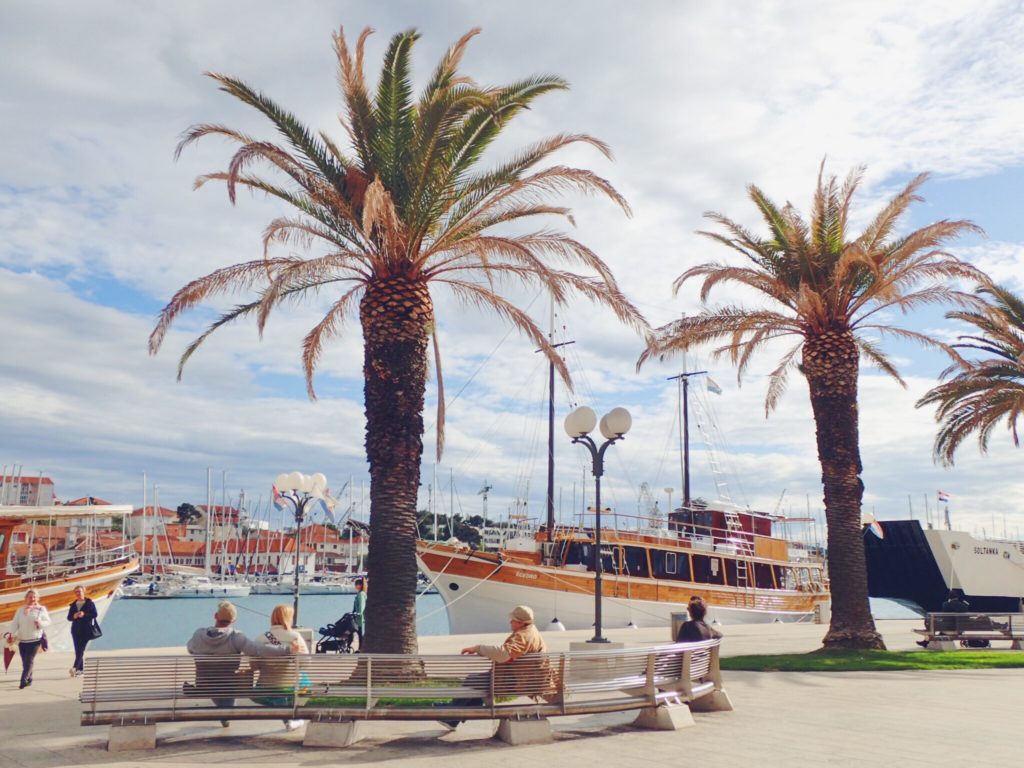 The promenade is the perfect place for strolling, people-watching, dining and drinking. Parents sip wine from the cafe tables and watch their kids run and play on the wide walkway, while groups of friends pass the hours away smoking cigarettes and drinking frothy cappuccinos.
In the eveningtime, the entire city seems to flock to the promenade to socialize, eat, drink, and watch the golden sun sink below the hills.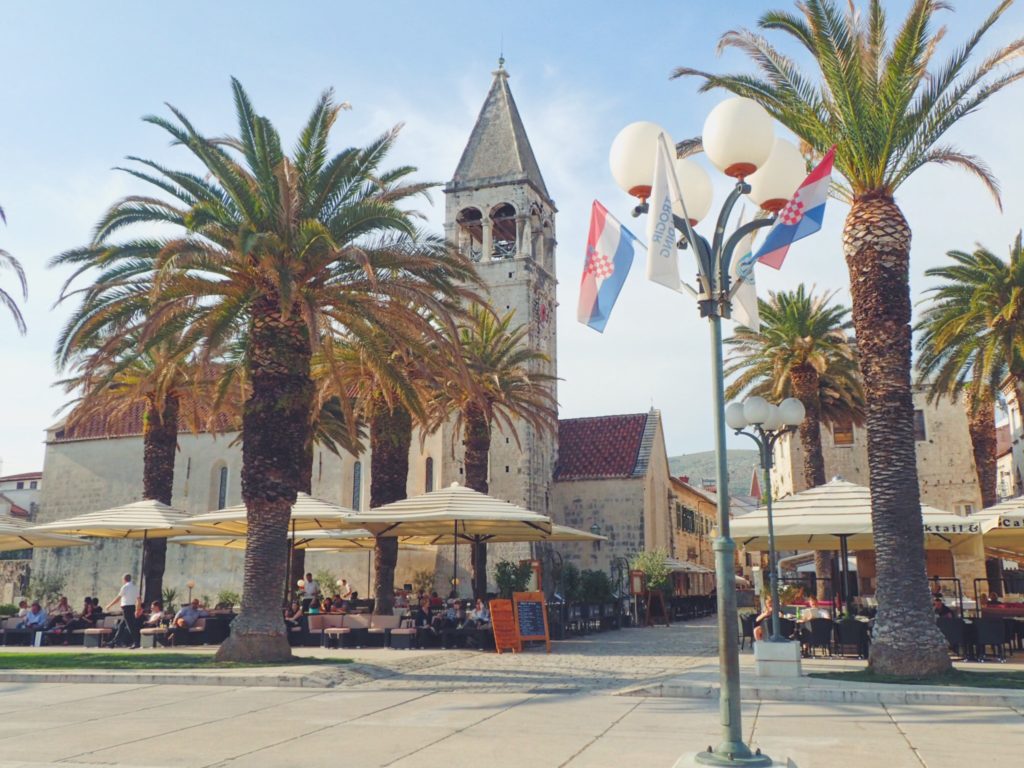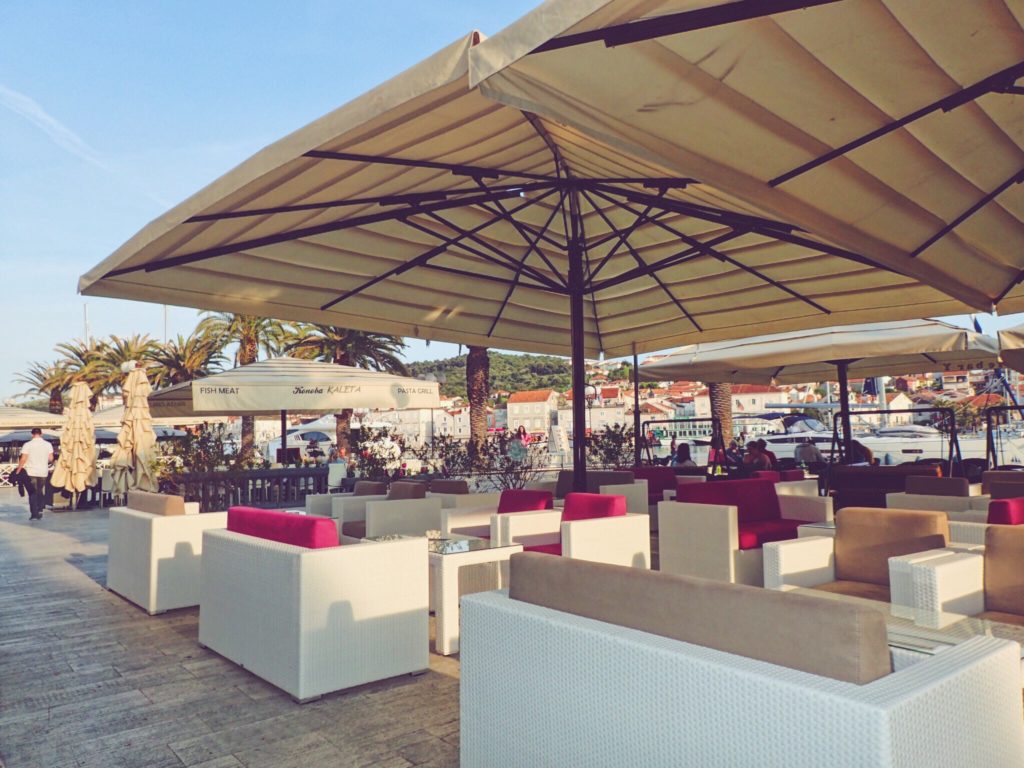 Explore the Maze of Marble Streets
Trogir may be small in size (roughly 15 square miles, with a population of 10,000) but believe me when I say it's surprisingly easy to get "lost" exploring the city's maze of interconnecting streets and alleys.
With the majority of visitors socializing and sightseeing on the promenade, the remainder of the city's winding stone streets feel relatively untouched. Just steps away from the promenade's buzz of social energy, there's a whole other world of scenic streets and enchanting alleyways to explore.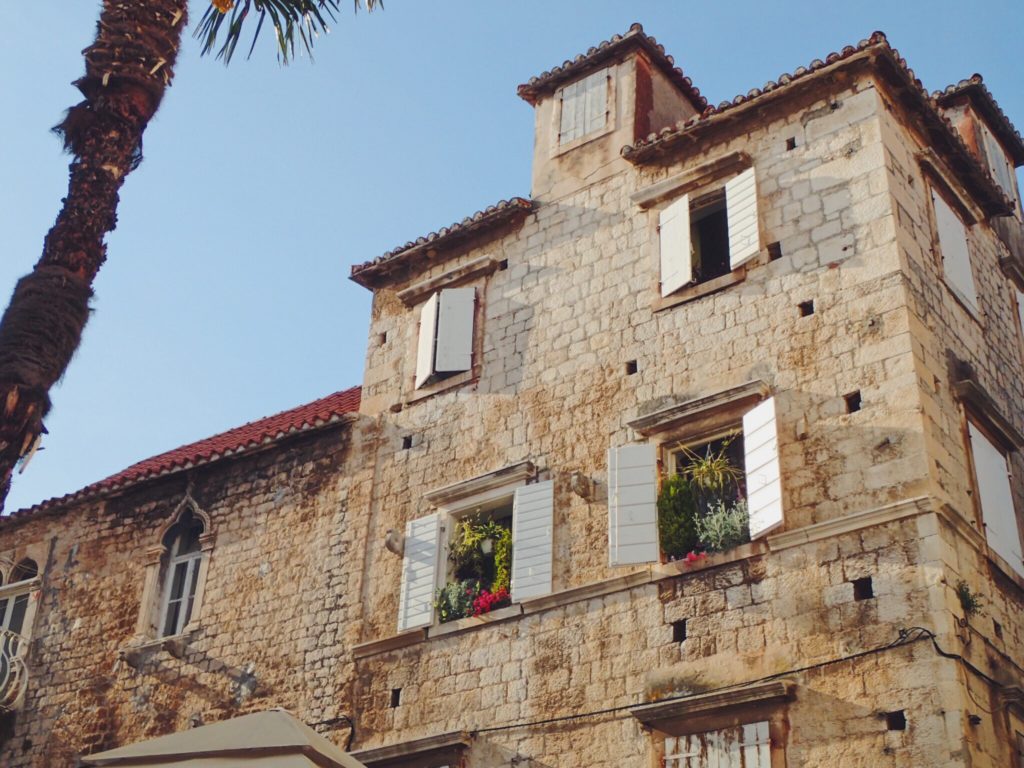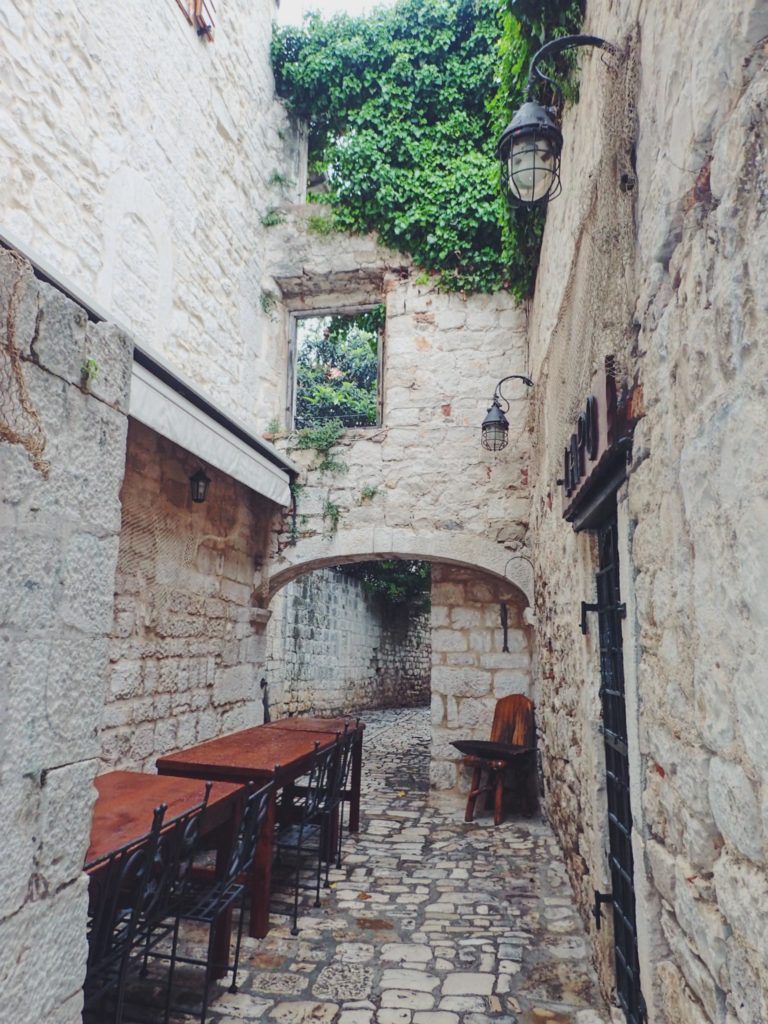 Plentiful cozy, family-owned restaurants and inviting taverns are tucked away on these quiet streets, and picturesque arches, colorful doors, and charming windowsills decorate the smooth stone walls.
It took us several laps to see "everything," and we seemed to stumble across a new shop or restaurant every time we ventured out.
Derek and I joked that the streets of Trogir were like the stairways of Hogwarts – they seem to shift, disappear, and reappear on a whim, and it's not easy to find the same one twice!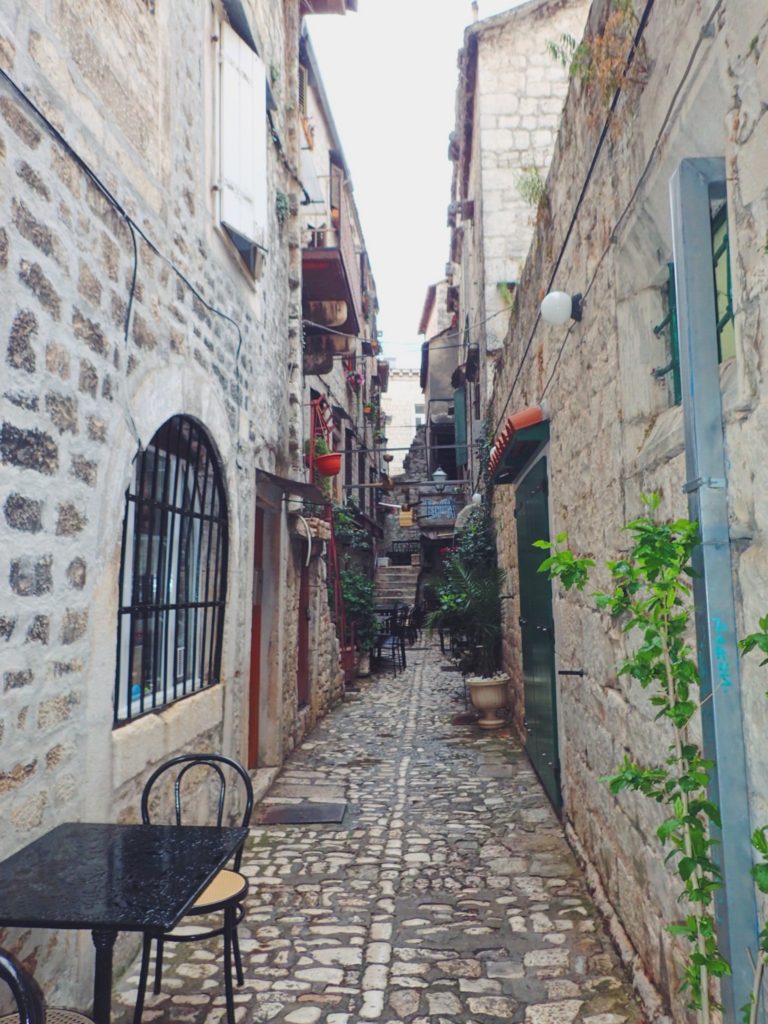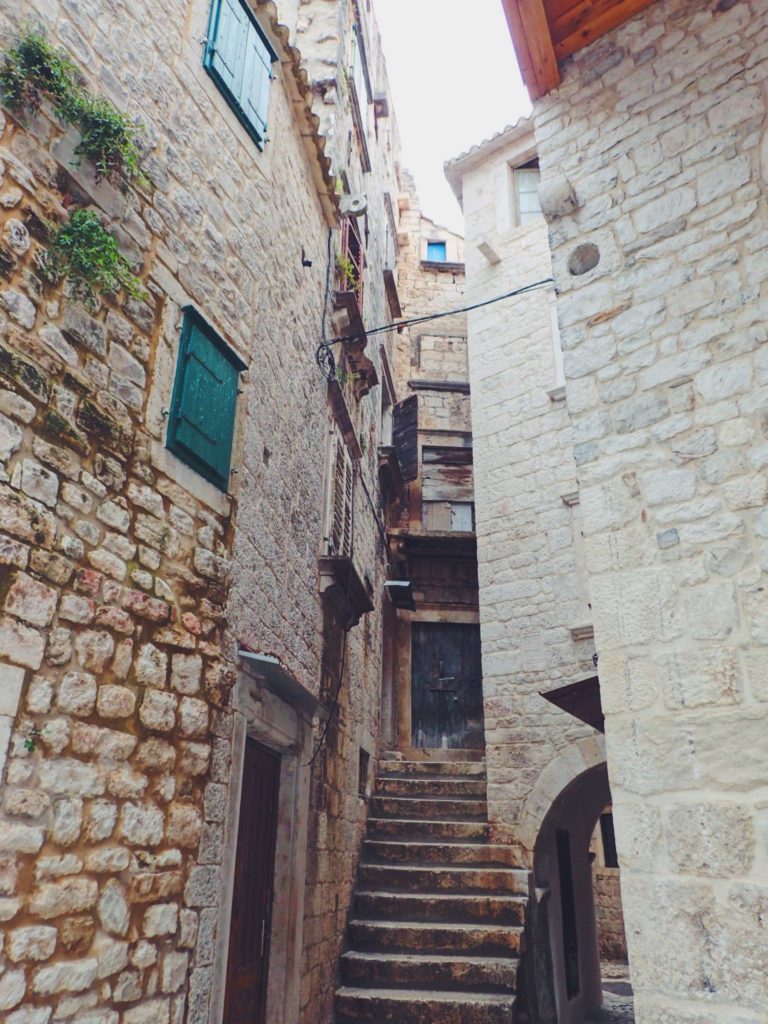 Enjoy the Views from Kamerlengo Castle
Standing proud at Trogir's waterfront is a 14th century fortress called "Kamerlengo." This sturdy structure was built  by the Republic of Venice was built to protect the city and control access to the harbor.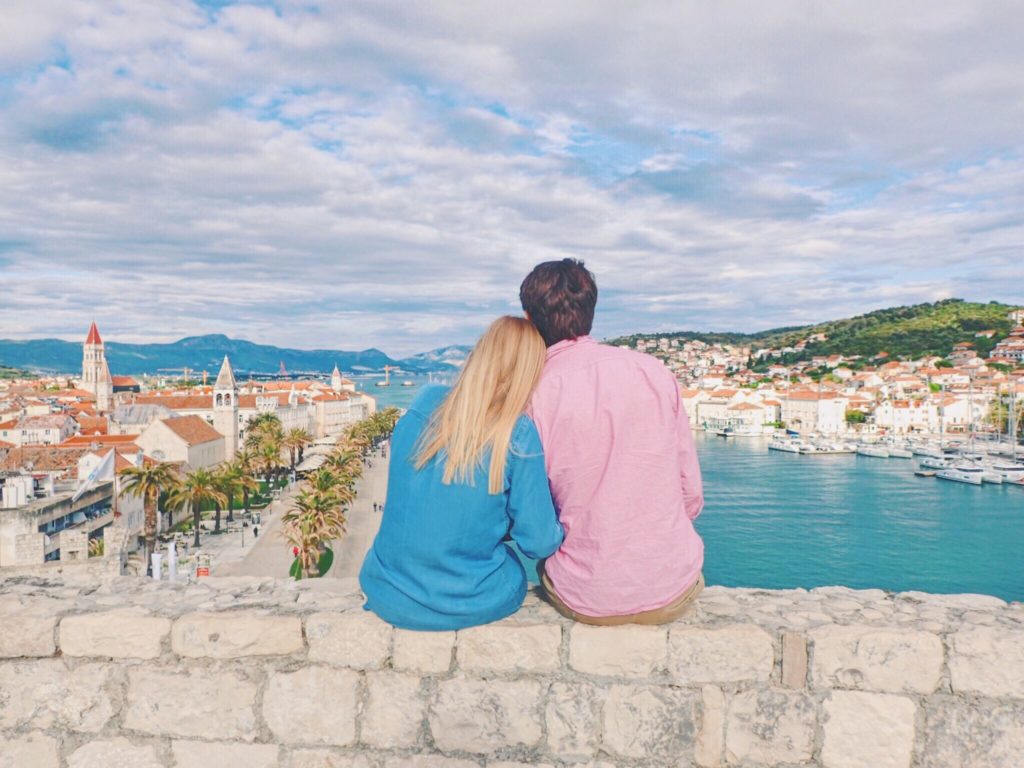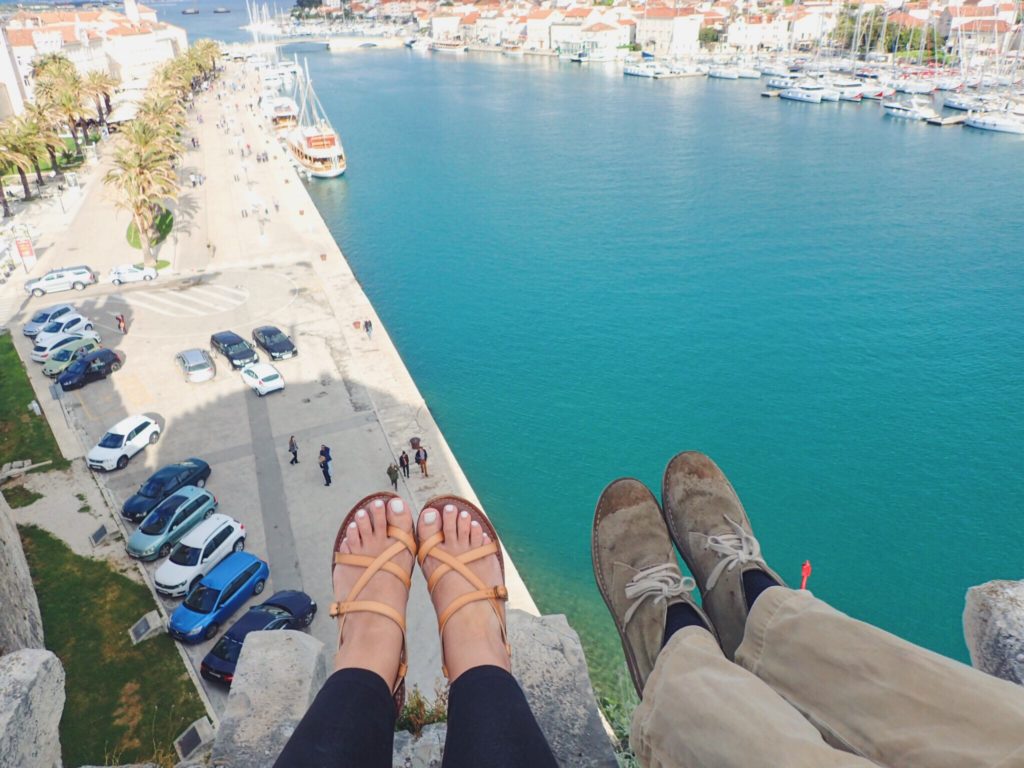 Today, visitors can walk the top of the Kamerlengo Castle walls, and enjoy the sweeping views of Trogir, the harbor, and the distant mountain ranges. We spent a lazy afternoon sitting atop the walls, dangling our feet over the ledge and enjoying the sea breeze.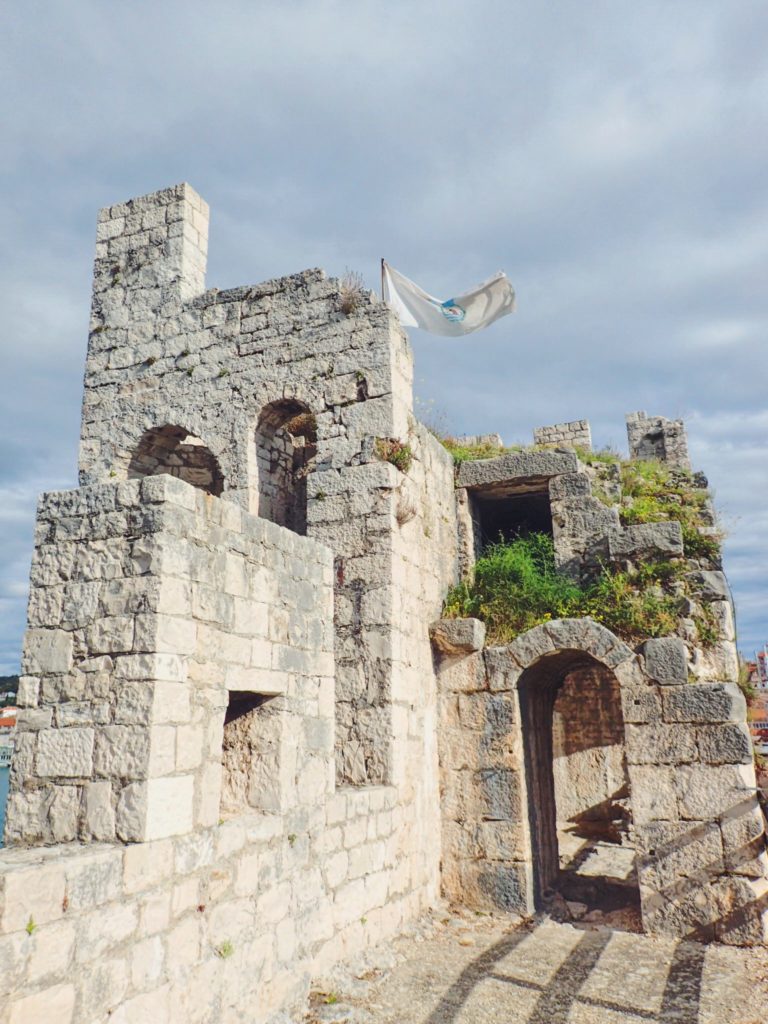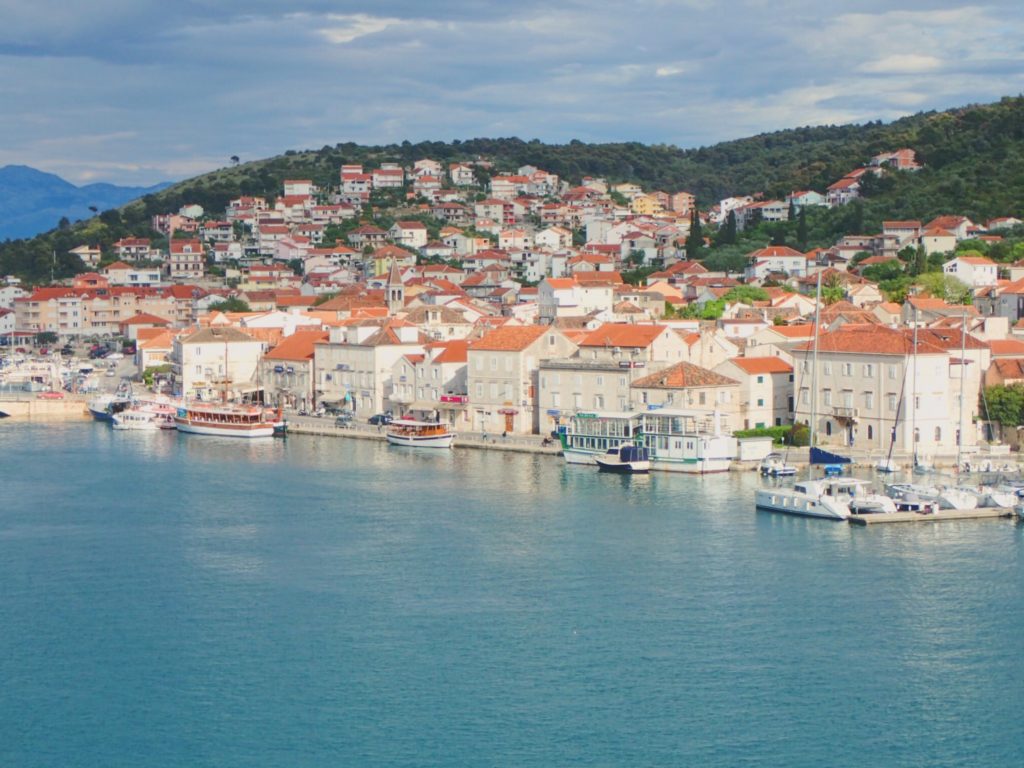 Eat ALL the Seafood
As one of Croatia's oldest fishing and harbor towns, you can guess just how fresh and tasty the seafood is! We had some of our favorite seafood pasta at Pizzeria Kristian, a cozy little restaurant with a nice selection of food and wine.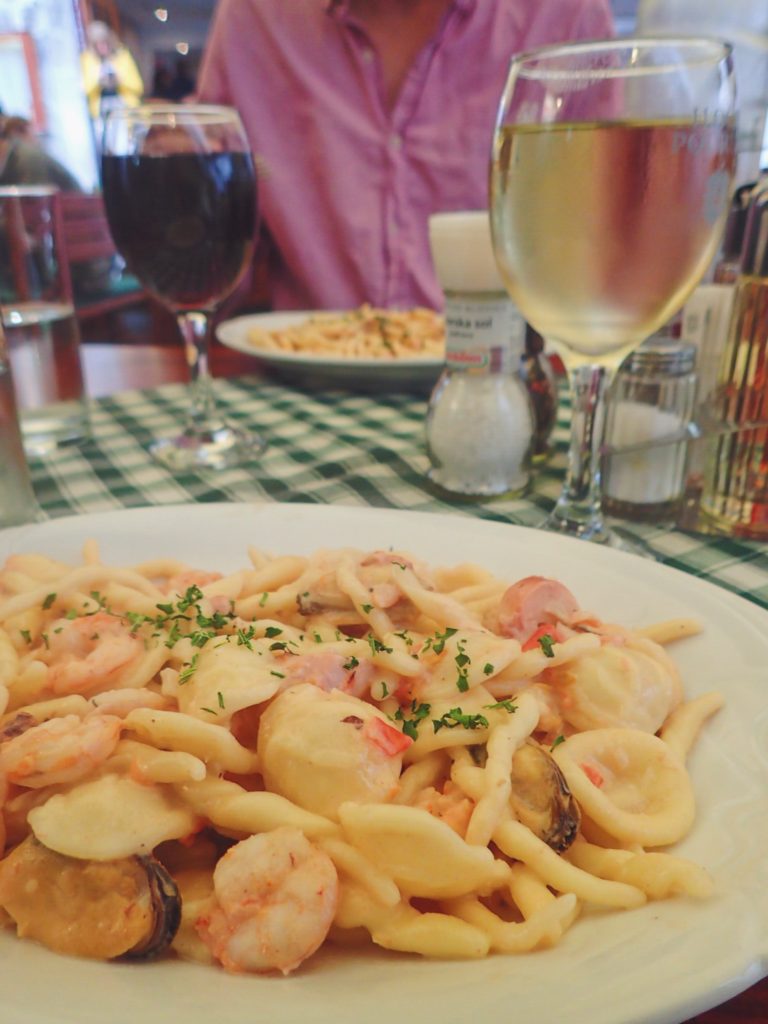 We also had a phenomenal dinner at the waterfront Restaurant Dionis, where we shared a huge tray of three types of pasta with tuna, mussels, shrimp, and crab.
Not a fan of seafood? Not a problem – the cuisine here also includes pizza and Croatian specialties like cevapcici, a delicious minced meat sausage served with onions, pita bread or fries, and a tasty red pepper sauce. We had an especially good meal of cevapcici and cocktails at Restaurant Sv Dominik on the promenade.
Climb to the Top of St. Lawrence Cathedral
The waterfront promenade may be the true heartbeat of Trogir, but the square near St. Lawrence Cathedral is a close runner-up. Derek dubbed the gelato stand near this square "the best in Croatia," and we also enjoyed a few cappuccinos and glasses of wine here as well.
The cathedral's bell tower offers some of the best 360-degree views of Trogir, including the charming town hall in the square below.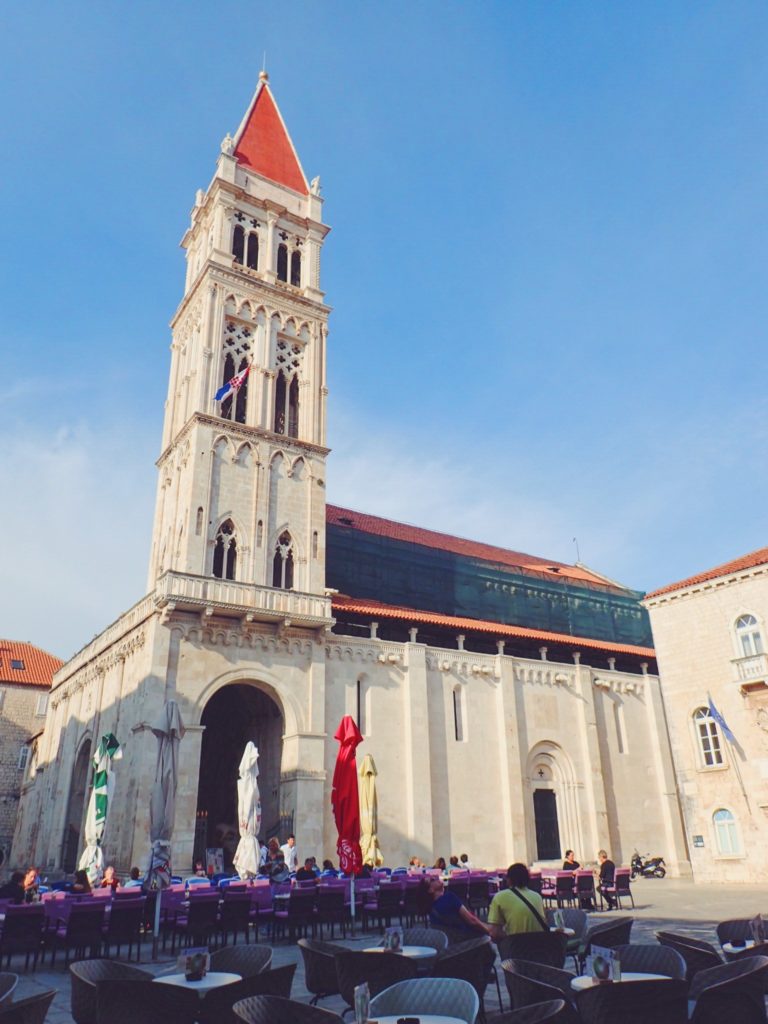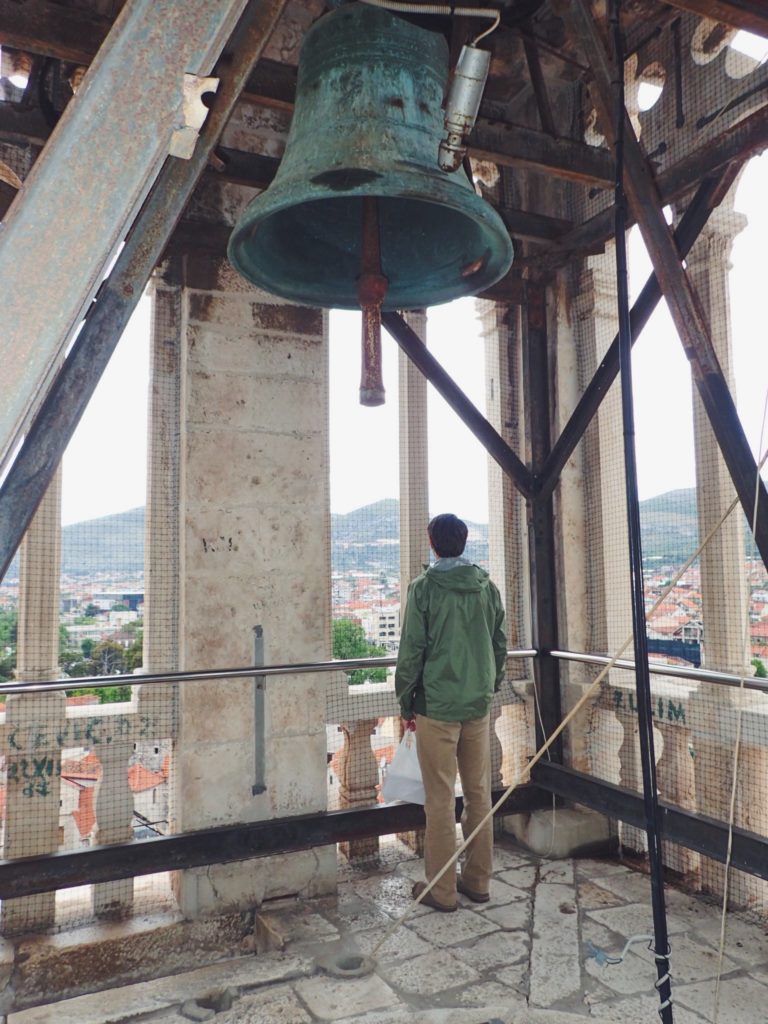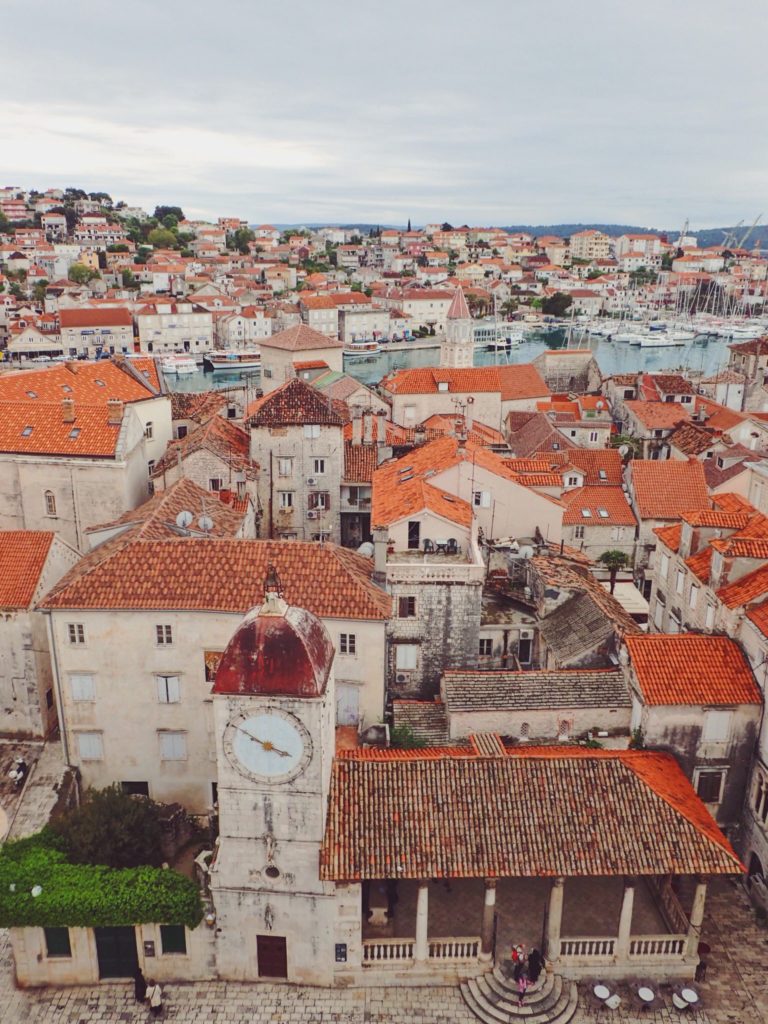 Where to Stay in Trogir
We stayed at Apartments Tragurion, which we booked on Airbnb. Since we had a rental car, our hosts met us at a parking lot just outside the city walls to give us a free parking pass and help us carry our bags up to the apartment. They were extremely gracious and welcoming, and even left us a few snacks and a small bottle of local liquor.
Our room was small but very comfortable, and the location was perfect – just a few steps away from the promenade!
---
Pin It!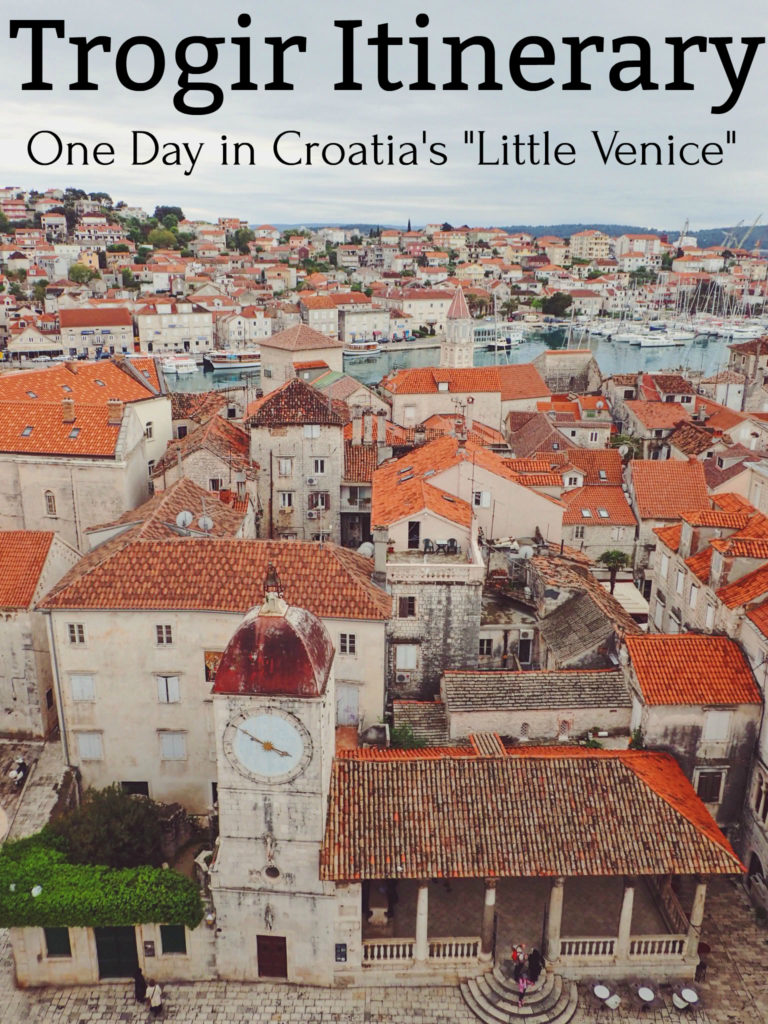 ---
What else do you want to know about spending one day in Trogir? Or, if you've traveled to Trogir, what would you add to this itinerary?