Throughout my entire life, I've been waiting for a place to really surprise me.
You know what I mean; I usually go into a new place with an expectation of whether I'm going to love it or hate it, and I'm usually right. But each and every time, I have a small hope inside me that maybe this place will be the one that will leave me shocked and questioning myself.
Well, newsflash: Munich is NOT that place. Throughout my entire life, I've had a distinct suspicion that I was going to love Munich like crazy, and I damn sure did!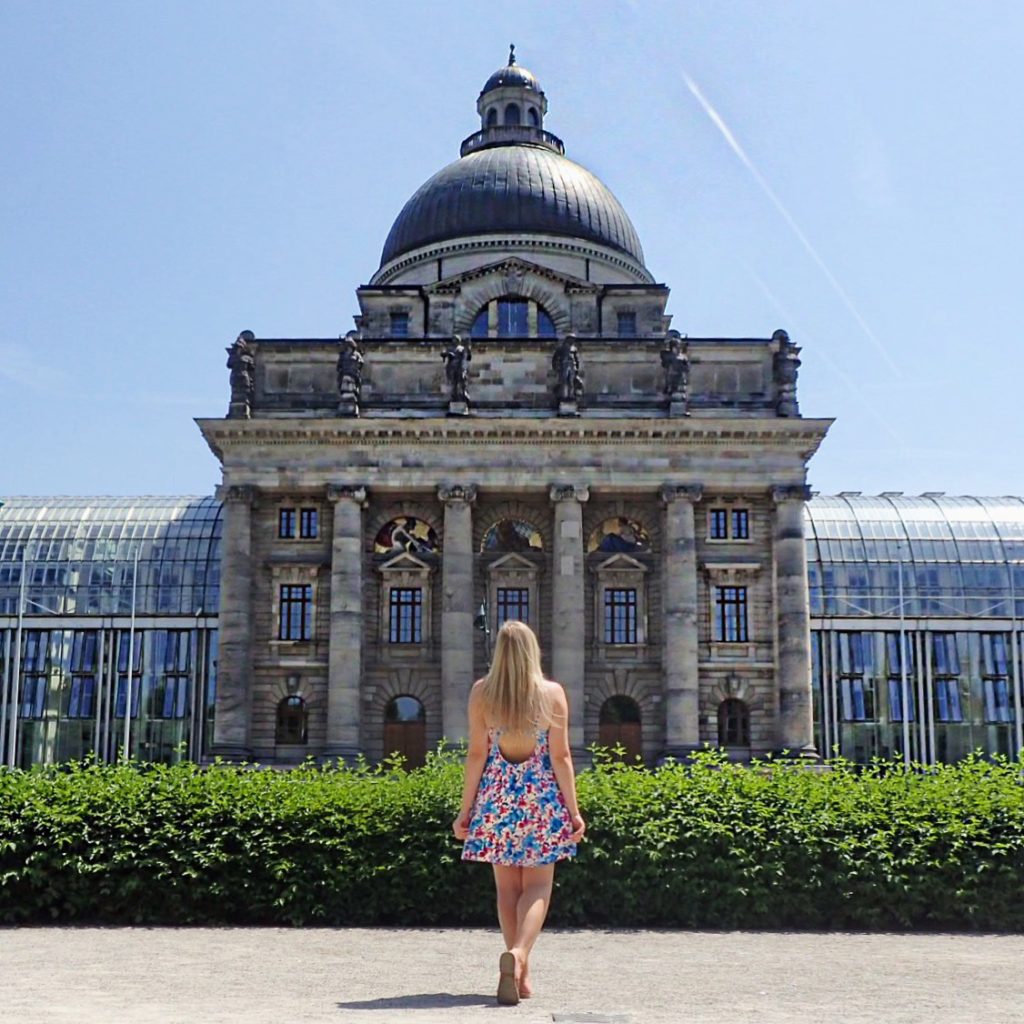 I loved the way historic and ornate churches seemed to blend so perfectly into the modern city streets. I loved the way backpackers and local kids would climb up onto the bridge over the Hackerbrucke S-bahn station, smoking cigarettes and watching the trains fly by under their feet, even in the latest hours of the night. I loved the sense of community, as well as the sense of Bavarian pride that exuded from the city.
It was all too easy for Munich to win me over, and I didn't even try to put up a fight against it. I fell hard and fast for the Bavarian capital, with its old history, Gothic architecture, killer food scene, and slight hint of youthful urban grit.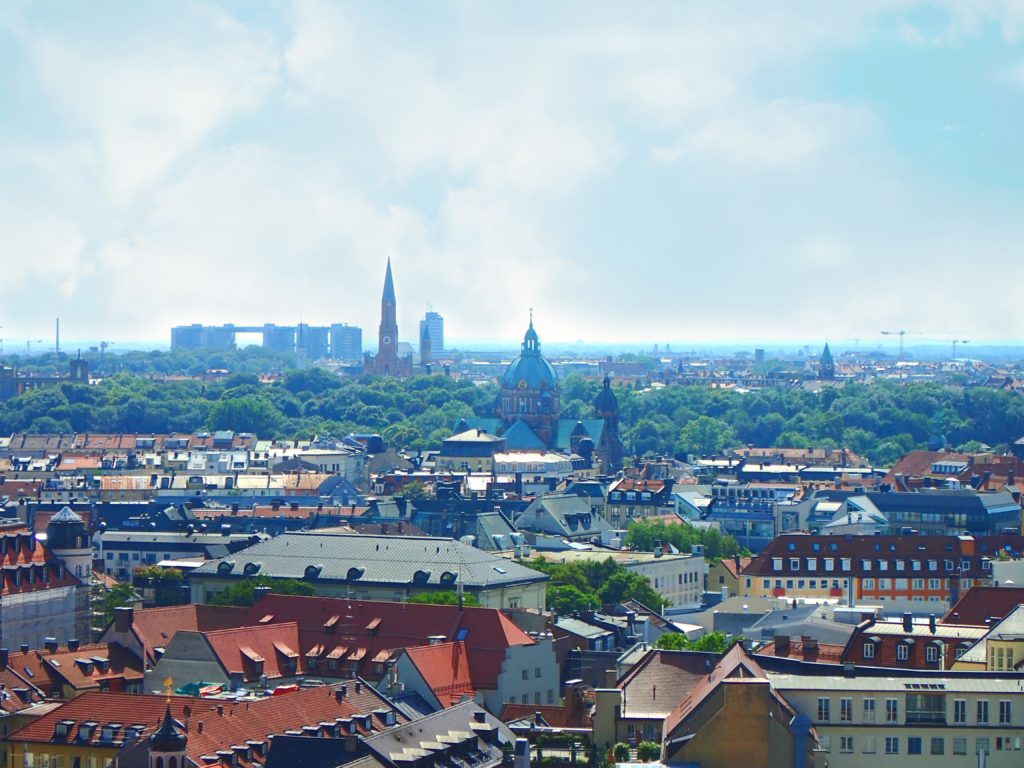 Munich is old, yet mindbogglingly clean; historic, yet progressive; charming, yet believable. It's a city that I could totally see myself living in, and at the very least, a place I'd love to spend more time in.
That said, it's very easy to get around Munich, both by foot and by train. If 48 hours in Munich happens to be all you've got, don't fret! You can see all of the top sights in only two days. Here are the ones you won't want to miss:
Marienplatz
Marienplatz is the heart, soul, and lifeblood of Munich.
It has been the main square for the city of Munich for the past 850 years (!!!) and it has the architecture, style, and history to prove it.
Marienplatz is home to many of Munich's most iconic buildings, skylines and sights, and it's easy to spend a full day in this compact area enjoying the history and culture and scoping out the most tantalizingly fragrant food stalls.
Of course, ask any traveler to conjure up a mental image of Marienplatz and it's likely you'll get the same result every time: New Town Hall.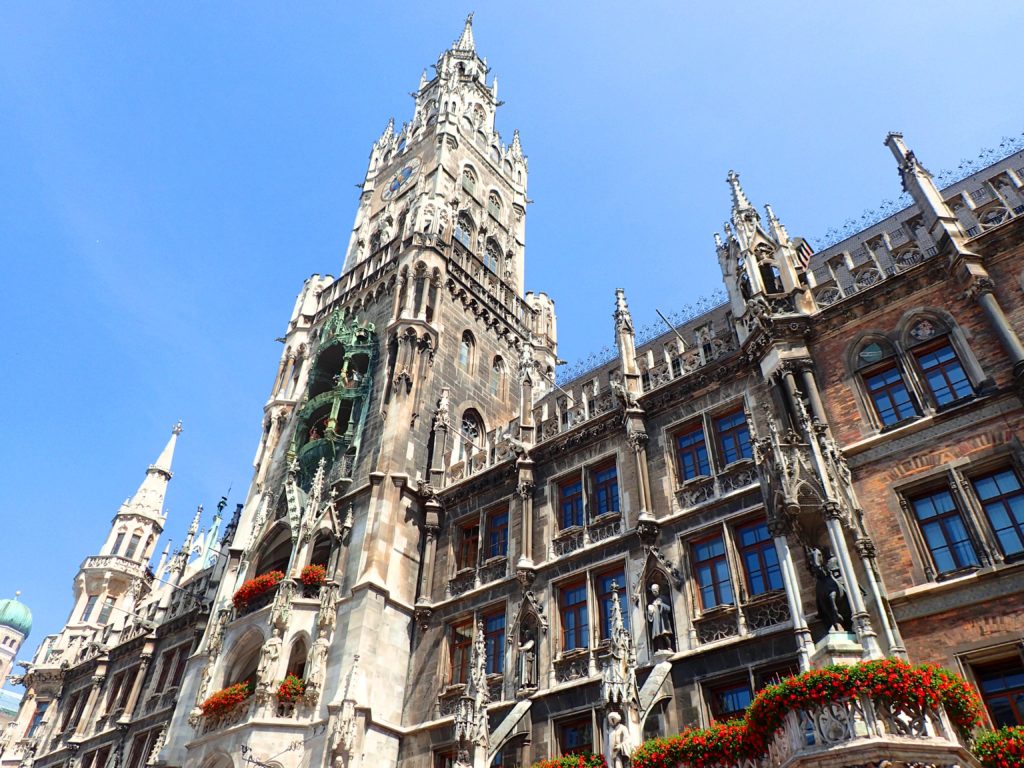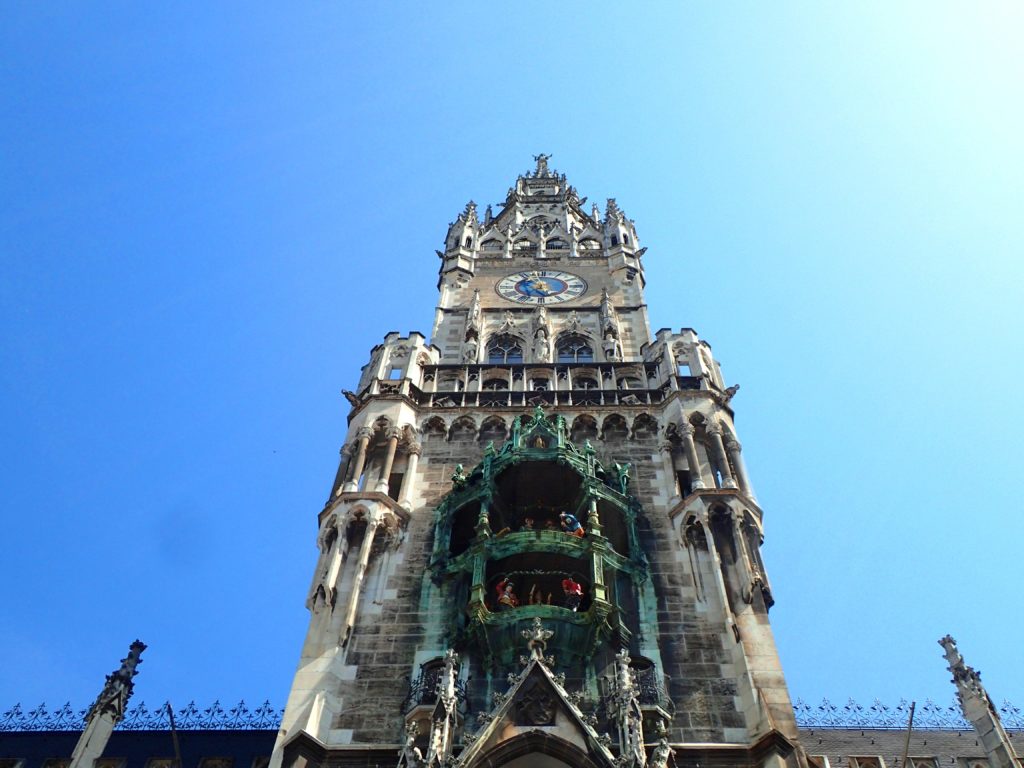 This massive, ornate, Gothic building towers over Marienplatz, and is home to the the uber-famous tourist attraction, the Rathaus Glockenspiel.
At 11am every day (and 12pm and 5pm on summer days), you can enjoy a 15 minute Glockenspiel show depicting two traditional Bavarian story-lines. If you want to catch the full show, make sure you arrive in plenty of time; crowds form early to snag a prime location, and the show stops and ends precisely on time–just like clockwork (ha ha).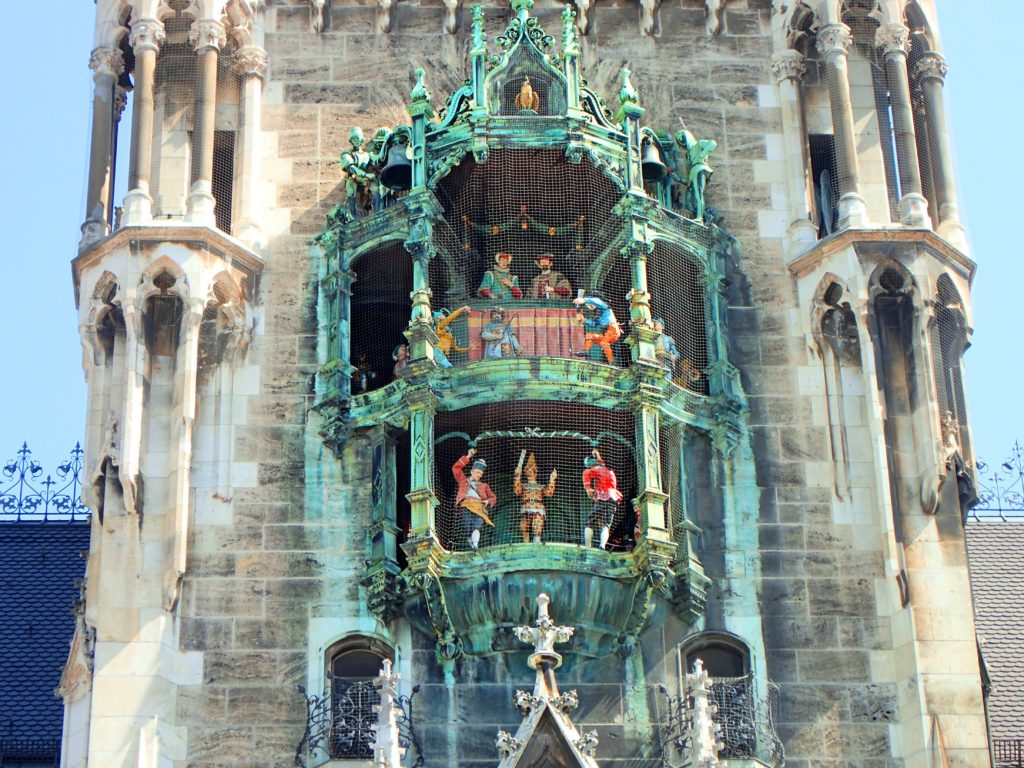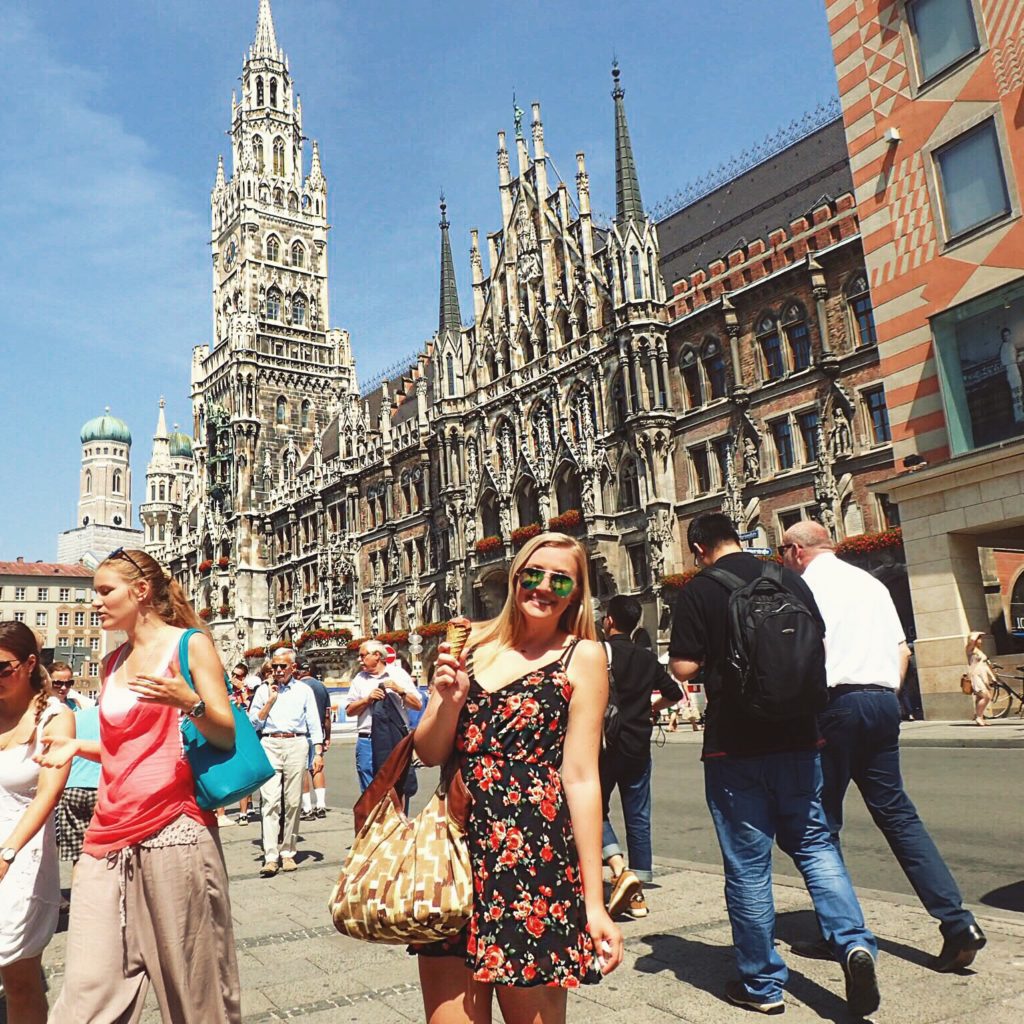 Oh, and there are snacks and ICE CREAM everywhere. Rejoice!!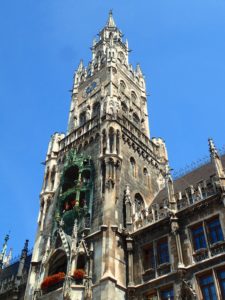 You can also take the lift up to the top of the New Town Hall tower, where you can gaze upon panoramic views of Munich, including views of one of Marienplatz's other big architectural and historic sights: Old Town Hall.
Old Town Hall is much less grand and imposing than New Town Hall, but it's certainly still a beautiful building, especially when combo-ed with the rest of Munich's skyline.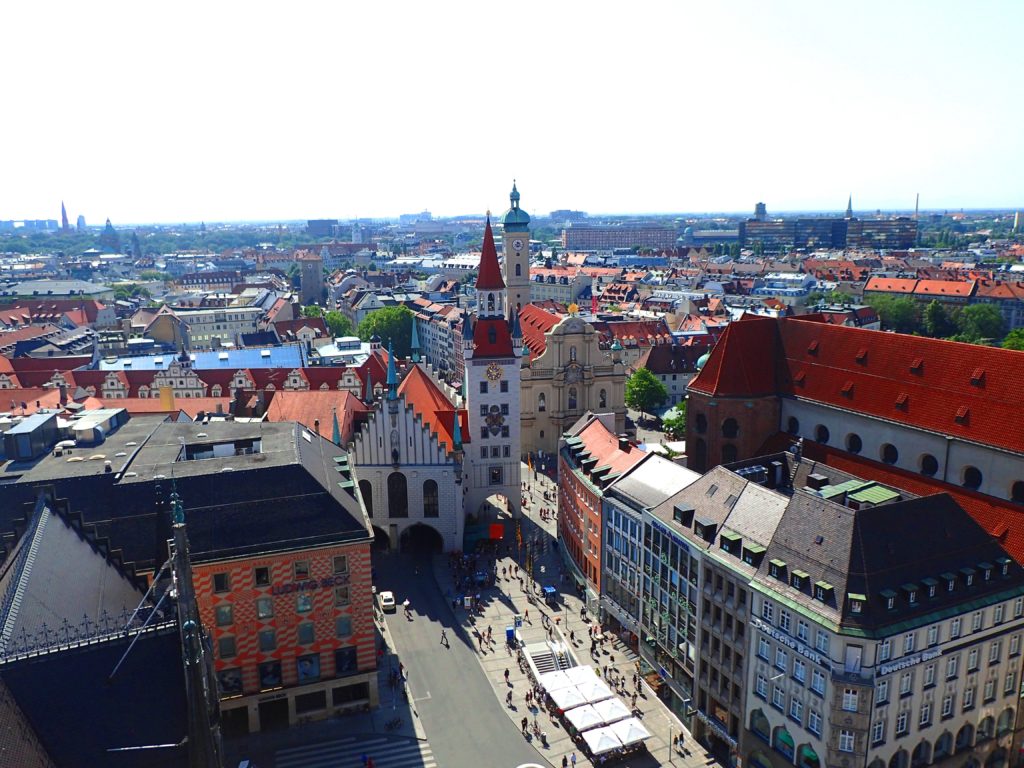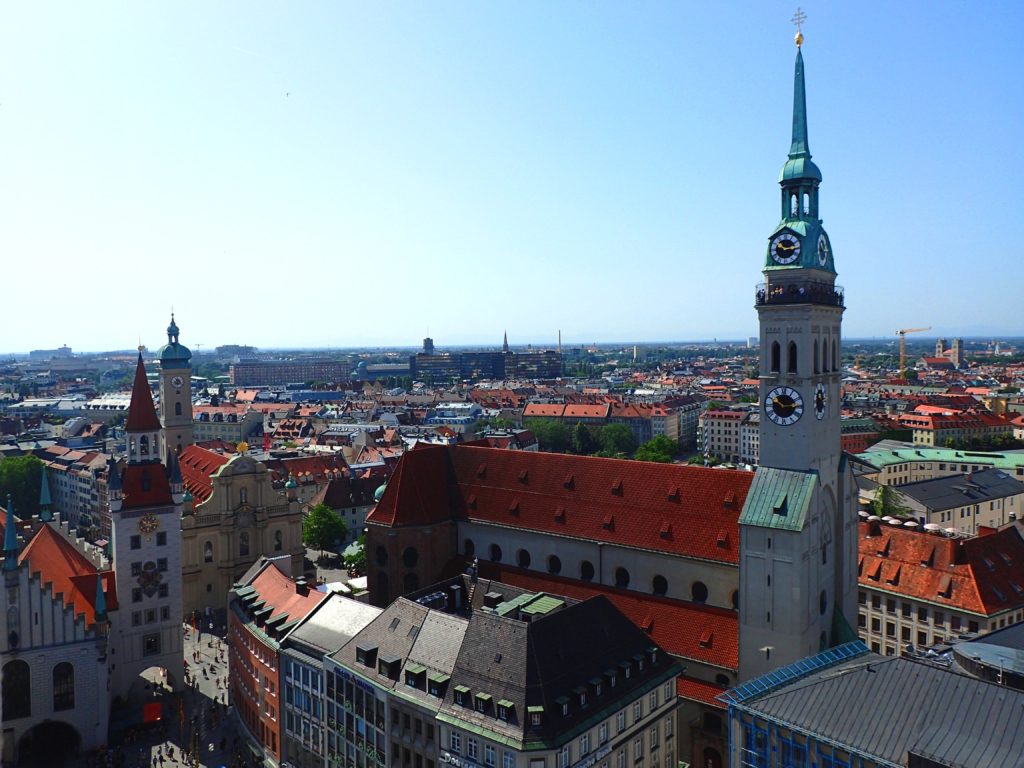 From the top of New Town Hall, you can also see St. Peter's Church, the oldest church in Munich. This Roman Catholic Church is Gothic in style and is as absolutely stunning and impressive on the inside as it is on the outside.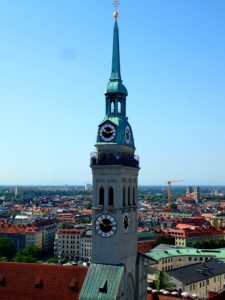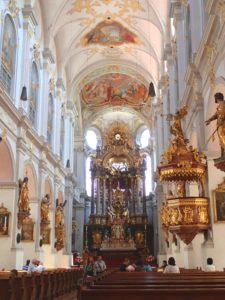 Munich is chock full of gorgeous Catholic churches to admire; you can read more about some of the best ones here.
St. Michael's and St. Johann Nepomuk are both located very close (just a short walk) to Marienplatz, so make sure to stop by for a chance to see the wide variety of architectural styles and character present in Munich's many churches.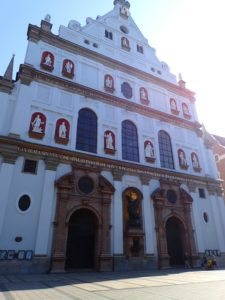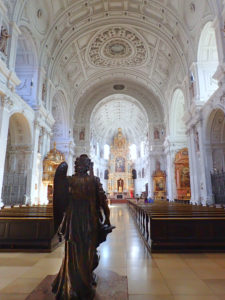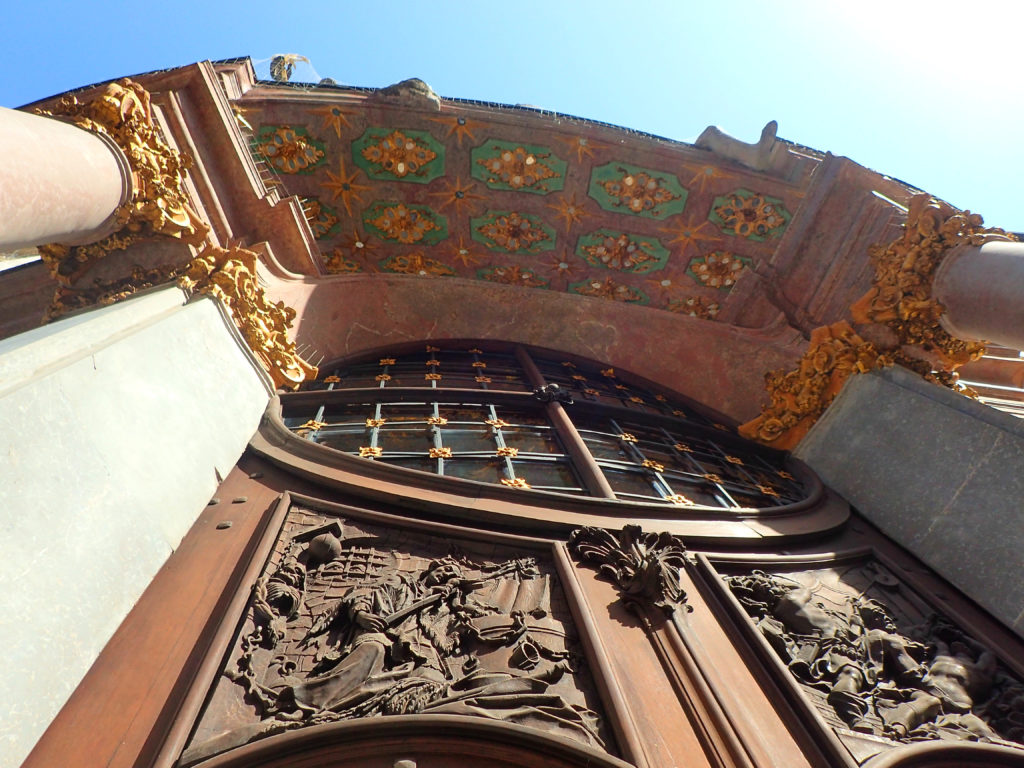 Of course, Marienplatz is a wonderful place to simply have a seat and soak it all in. There are so many subtle details in the area to take in, and it would be a shame to rush through such a complex and historic area.
Marienplatz can, at times, feel a bit chaotic–especially during the touristic summer months. But beyond those maddening crowds are some truly spectacular glimpses into the city's culture, history, and charm, and if you look closely, you'll begin to see the storybook magic of Munich and Marienplatz.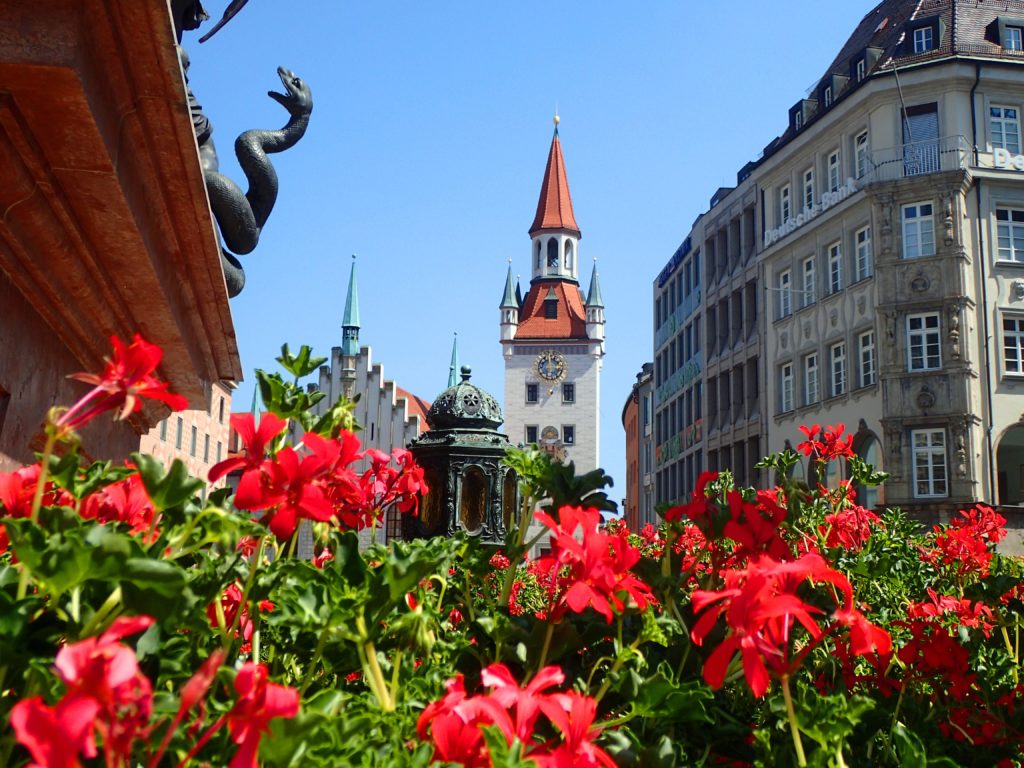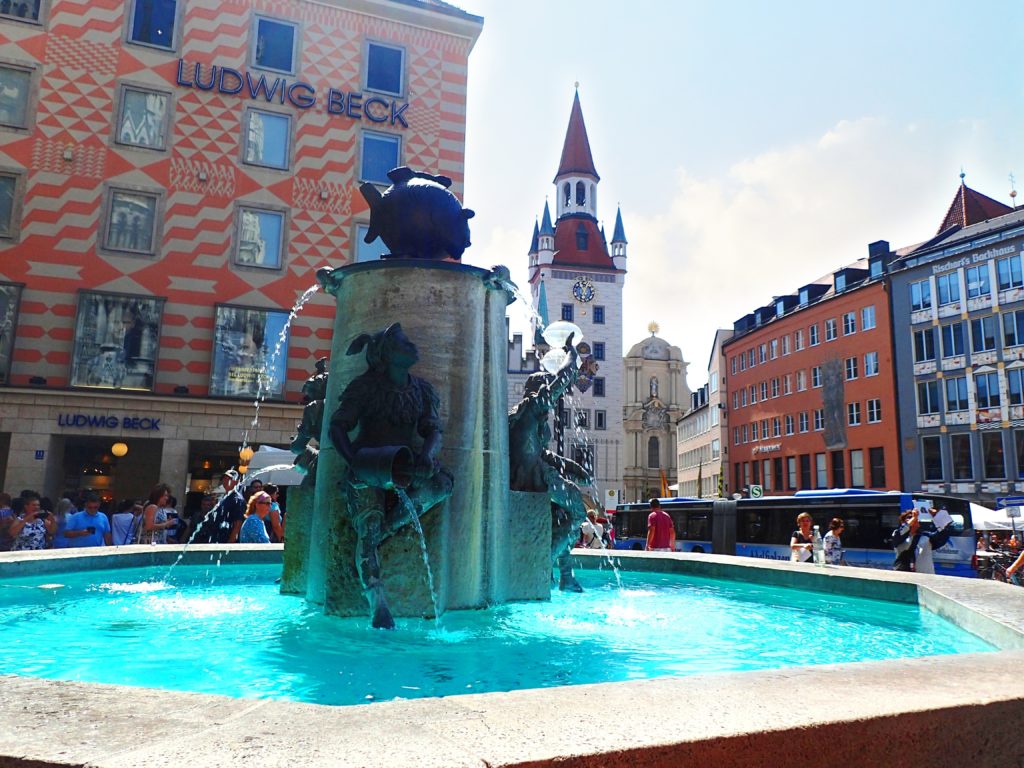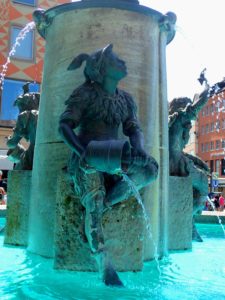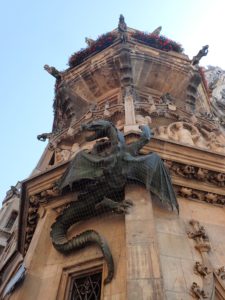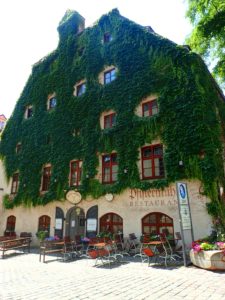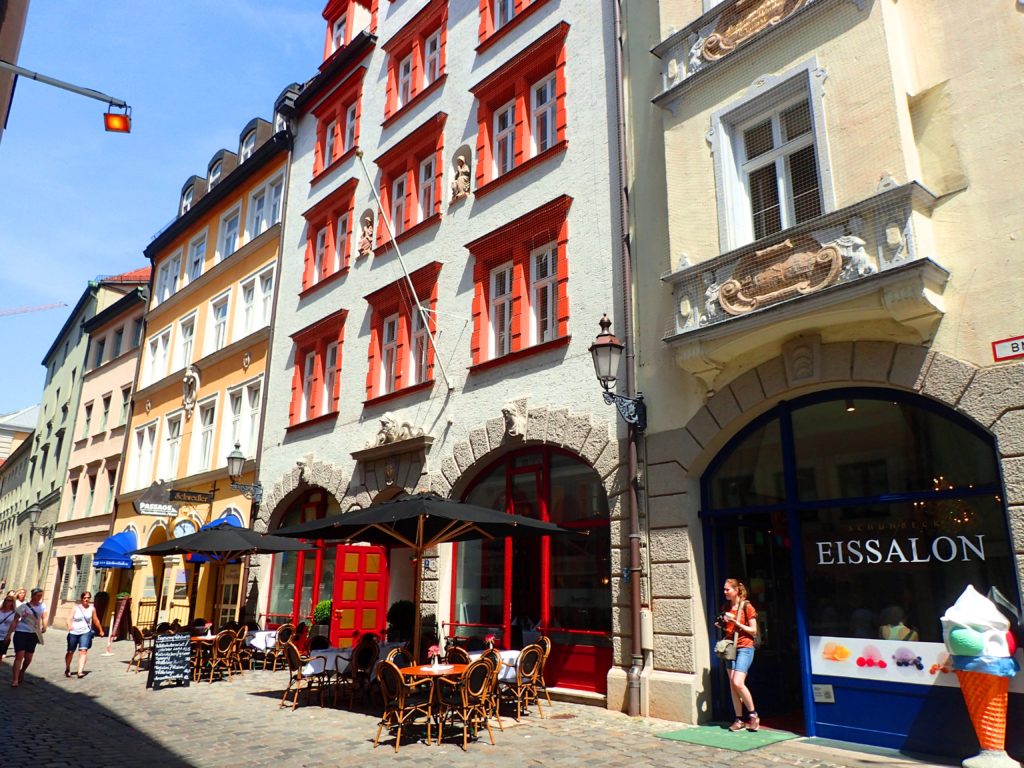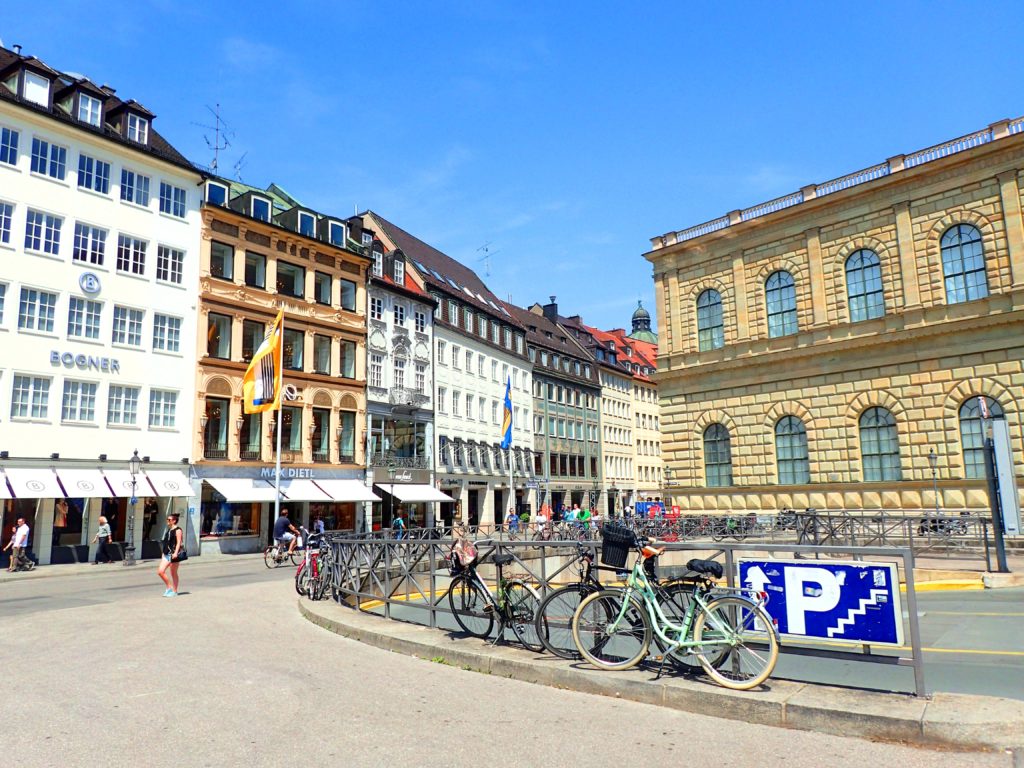 After a full day of exploring and soaking in all that fairy tale charm, I realized I needed something with a little more substance to keep me going: food.
Luckily, Munich is not short on options–not at all.
There are options to suit every budget and palate: food stalls, grab-and-go cafes, sit-down outdoor restaurants, and fine dining. My preference was the Viktualienmarkt food market, conveniently located behind St. Peter's Church.
This daily market offers meats, cheeses, fruits, vegetables, juices, and more. My method was to sample as much as humanly possible, grabbing a sausage from this vendor, a pickle from that vendor, a pretzel from somewhere else and a fresh squeezed juice from yet another stall.
For a snack-o-holic like me, this food market was heaven.
If you're looking for something with a little more shade and relaxation than the food market but with just as much character, then I've got a treat for you: Asamhof Passage.
This little alley is discreetly tucked away just outside of the hustle and bustle of Marienplatz, but stepping inside feels as if you've found your own little springtime oasis of color and wonder.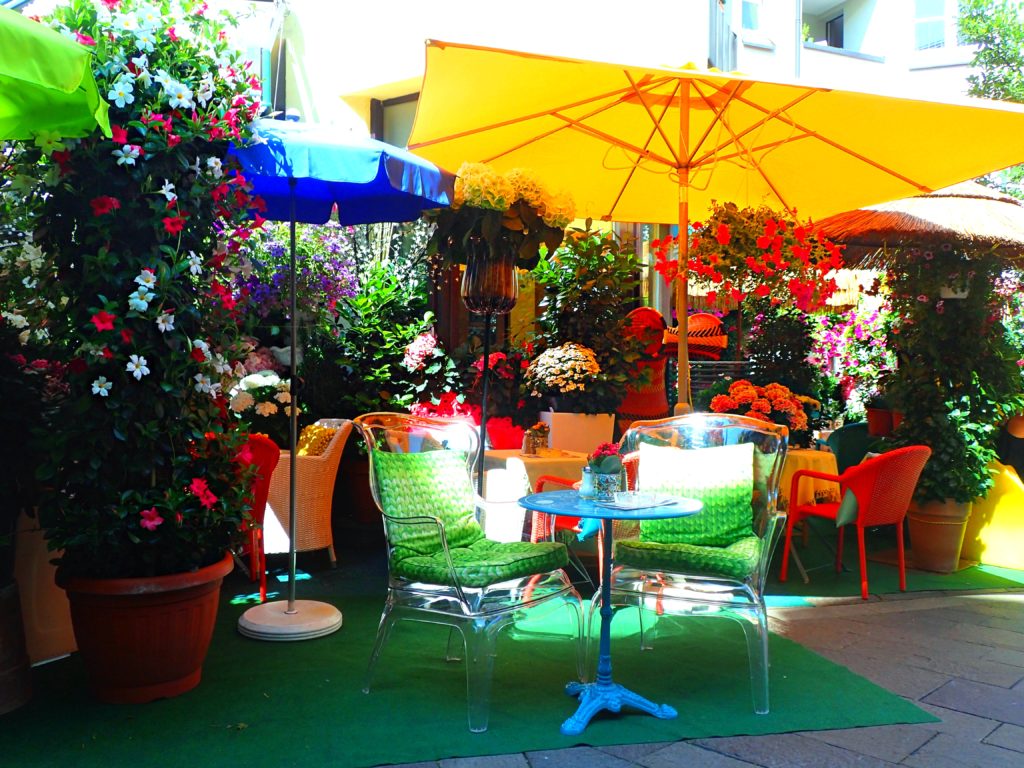 Restaurants with colorful umbrellas, tables and chairs line the alley, but what will really blow you away are the flowers.
Because, um, THERE ARE SO. MANY. FLOWERS.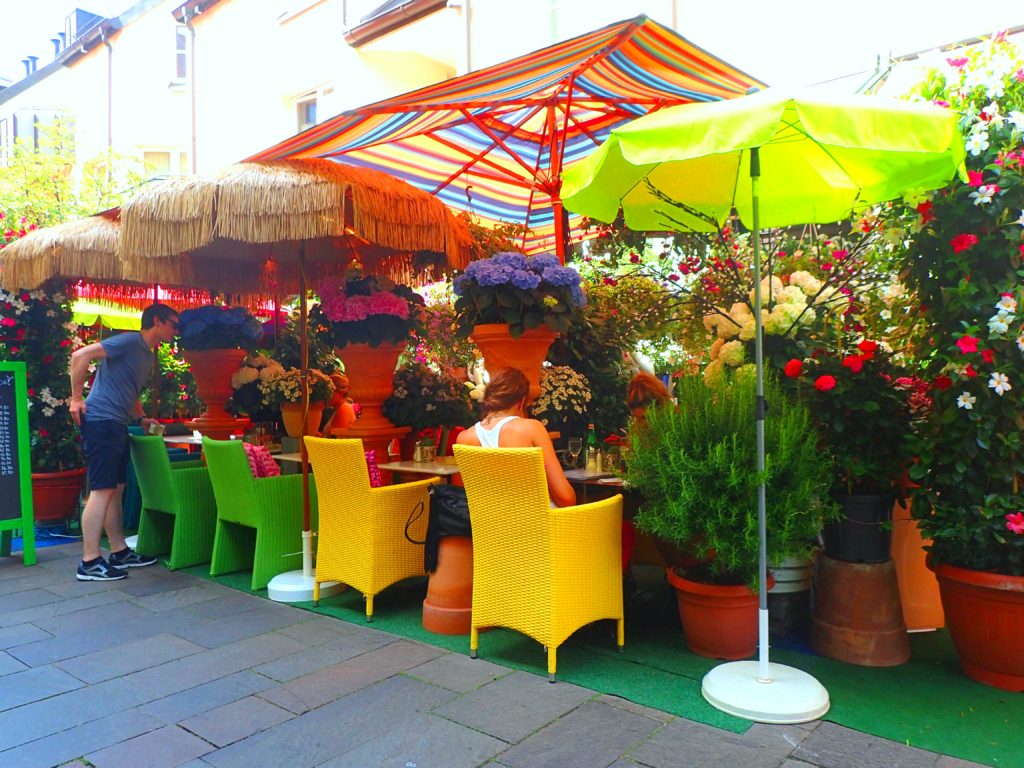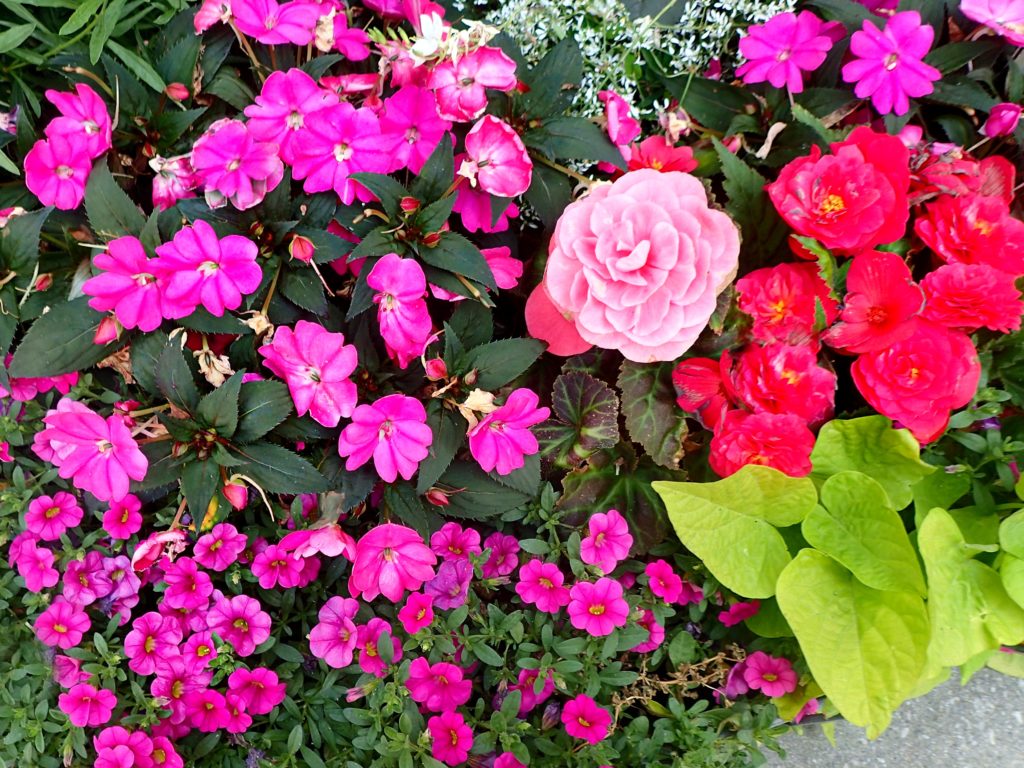 If you've got bad pollen allergies you should probably avoid this place like the plague. But, for the flower-obsessed restaurant-goer, you really can't do much better.
Of course, if you're looking for a cold drink to wash down your hearty German food after a long day of sightseeing, there's really only one option: Hofbräuhaus.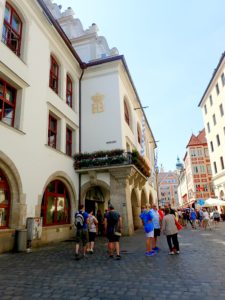 There's the option to sit inside or outside, which I think really depends on what kind of experience you want. For me, the choice was clear: I was going to sit in the shady, lush, green beer garden, and unwind with a big cold one after a long day in the summer heat.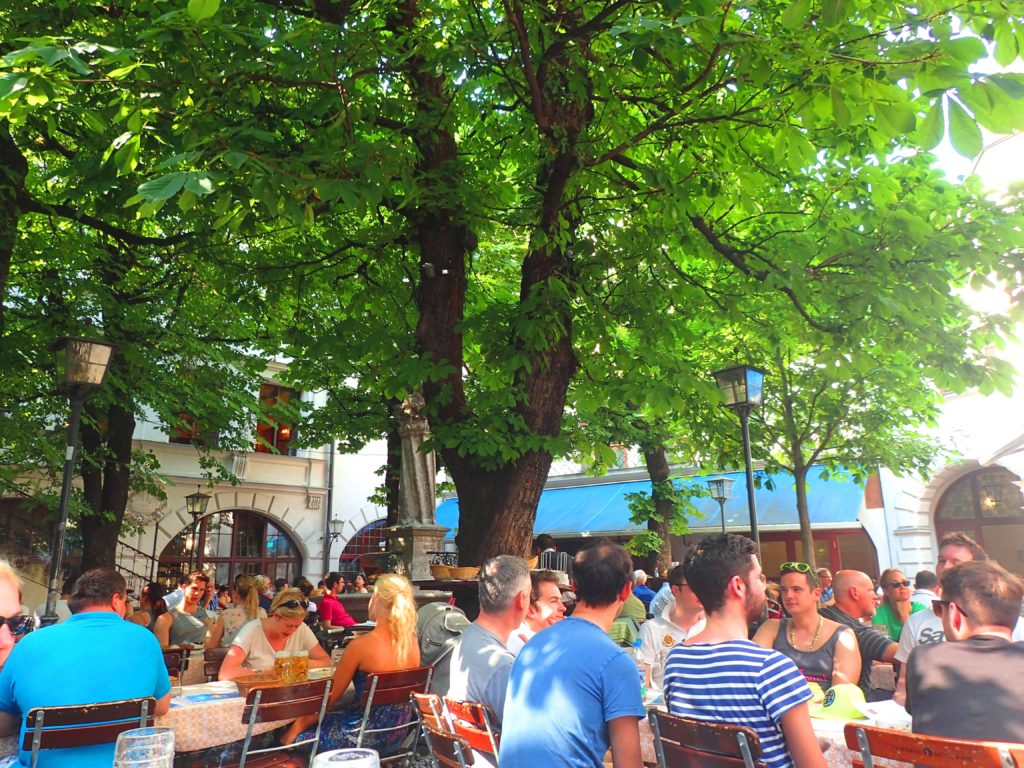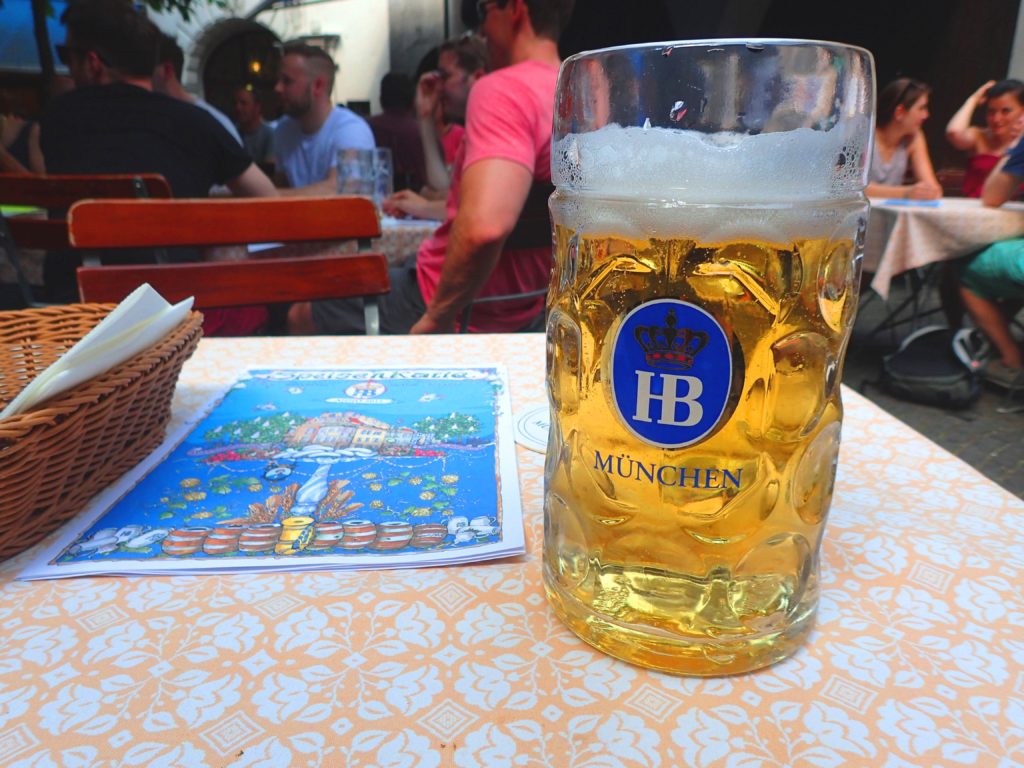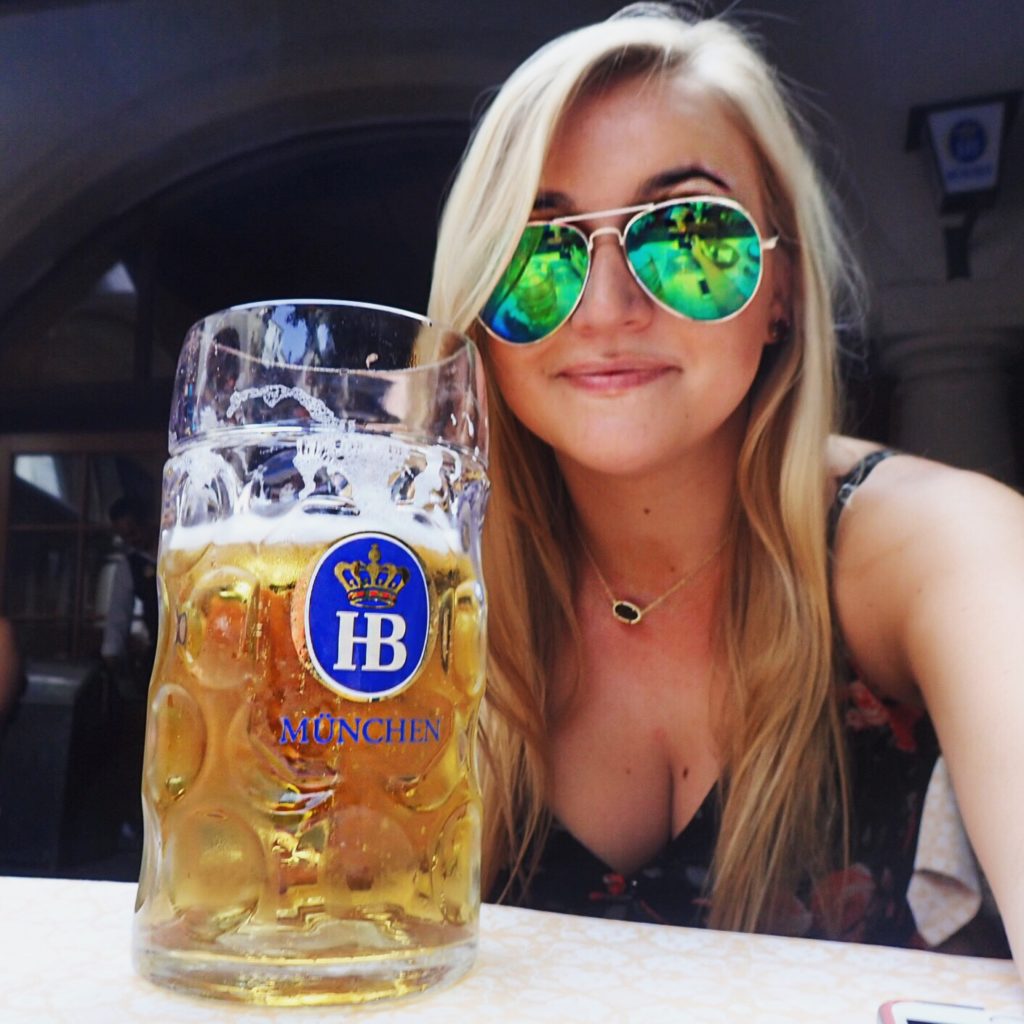 Munich Residenz
Believe it or not, all of the previous sights are located within very, very, very close proximity to each other…as in a five minute walk or less.
If you're willing to walk just a tad further, you'll find yourself at the former royal palace of the House of Wittelsbach: the Munich Residenz.
The Residenz is AMAZING and should not be missed, although it will take you a solid three or so hours to get through all of the rooms here. But, that's only because the architecture and detail here is so out of this world.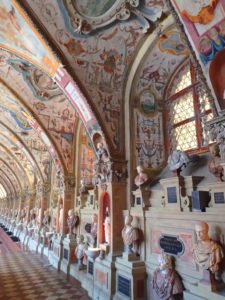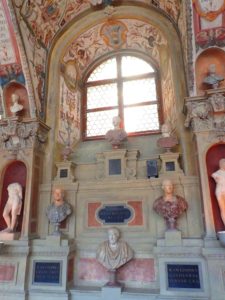 Even after visiting Neuschwanstein and all of Bavaria's amazing churches, the Munich Residenz is still the place that amazed me the most. Plus, it's MASSIVE, with never-ending rooms after rooms filled with beautiful interiors and furniture.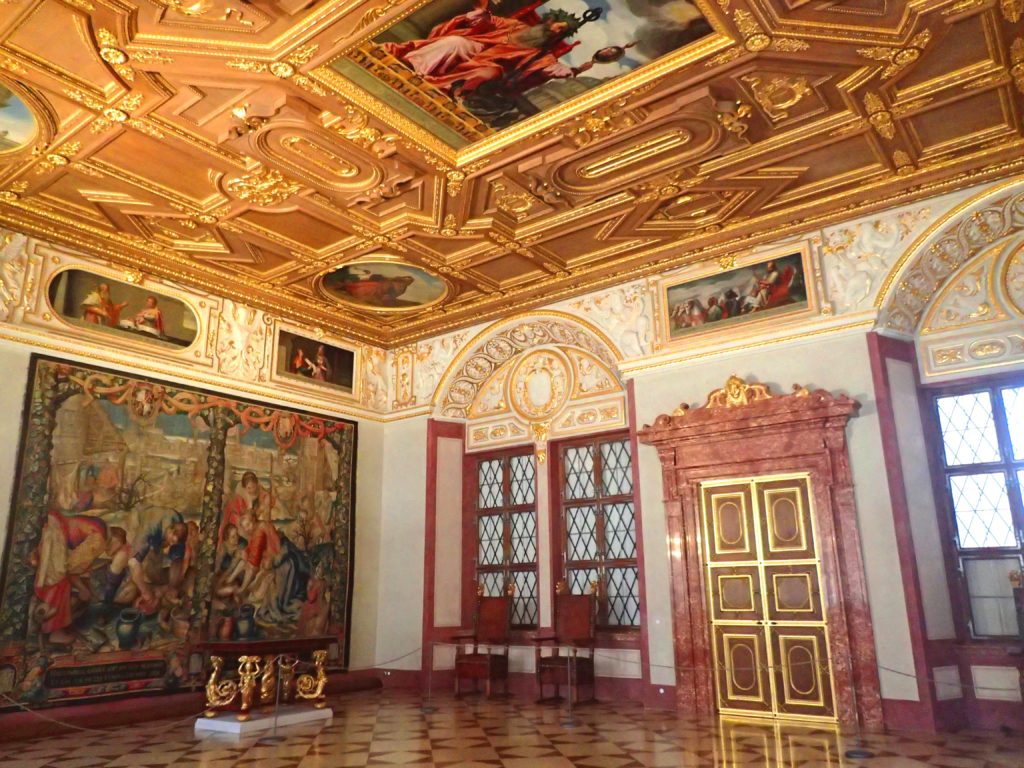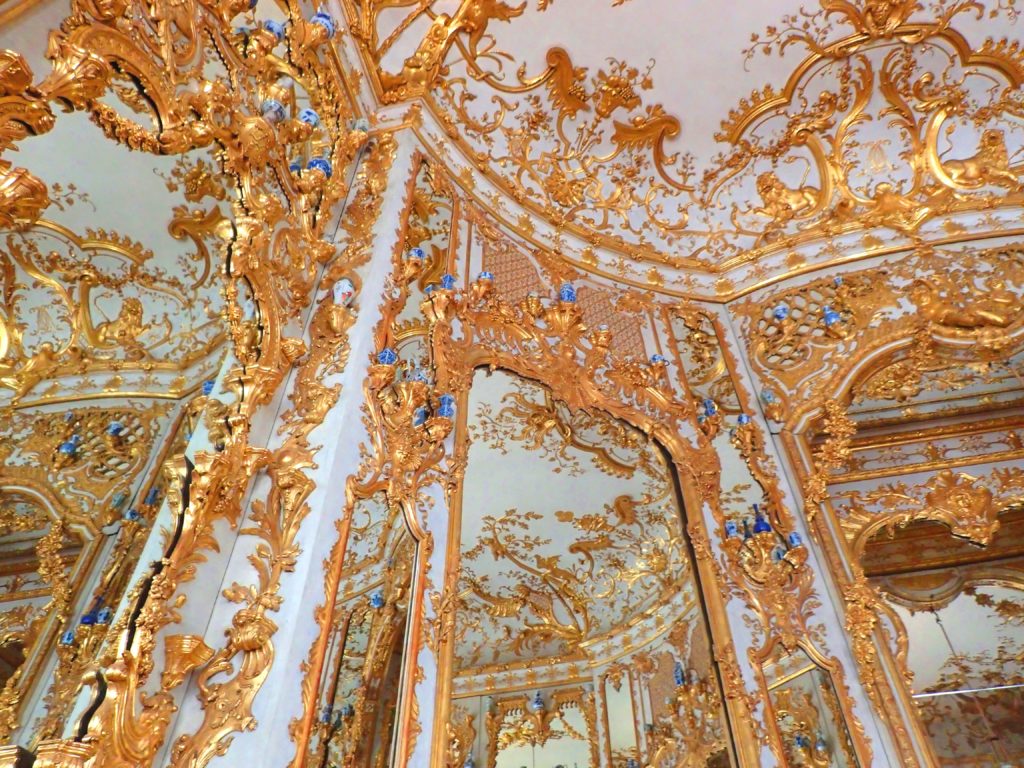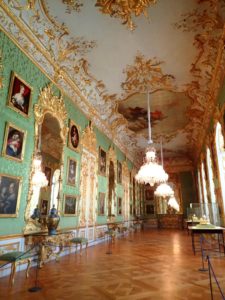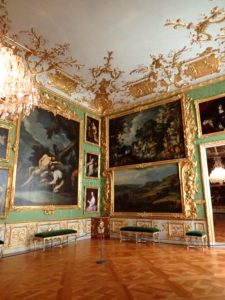 My favorite room in the entire palace was the Grotto Courtyard. It was decorated with rocks and shells, and had the vibe of an underwater sea cave. For me, it felt like a little piece of the lost city of Atlantis had been planted right here inside the palace.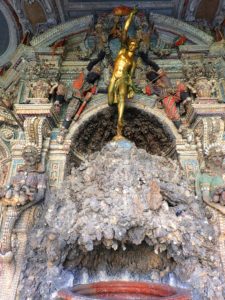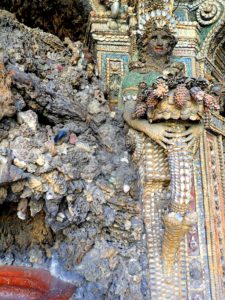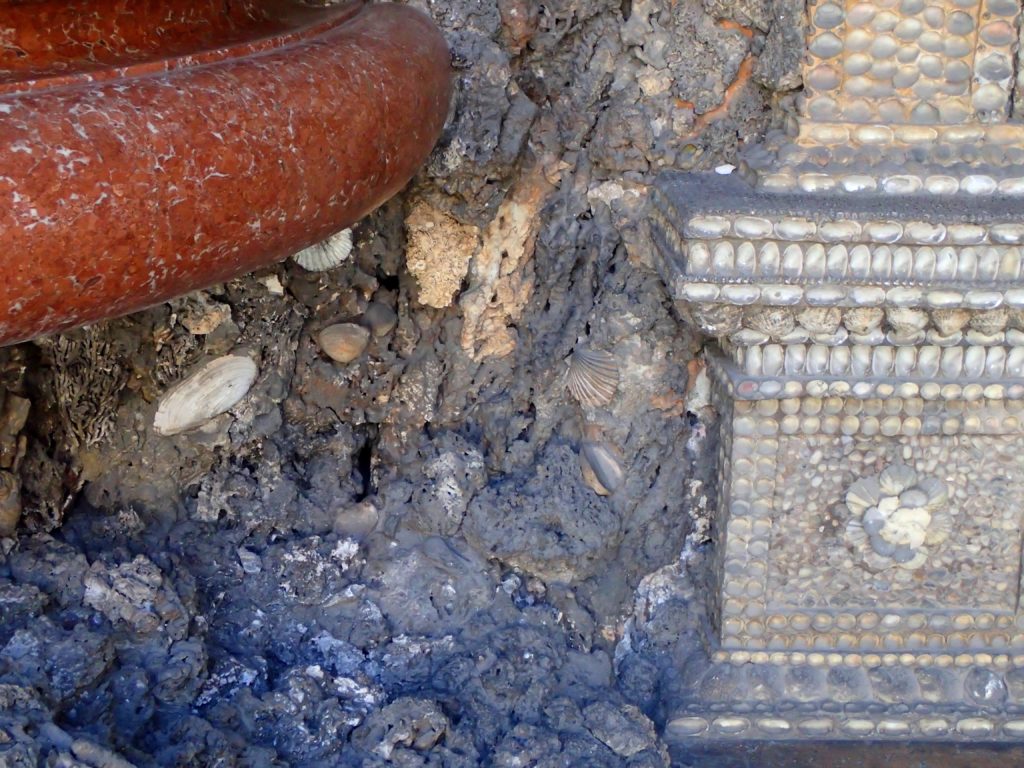 Within the other palace rooms, there were all kinds of historic artifacts to be discovered, such as the statue of Perseus beheading Medusa, or the containers of saints' bones.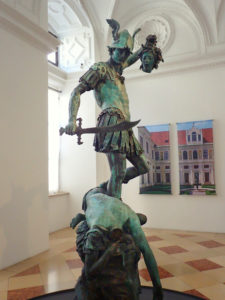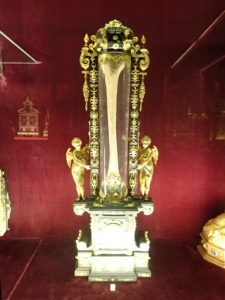 Englisher Garden
If you're craving a bit of greenery and nature time, then continue walking a bit more and you'll find yourself in the lush and sprawling Englisher Garden.
Guys, this park is AMAZING. It's like Central Park on steroids, and it is magical.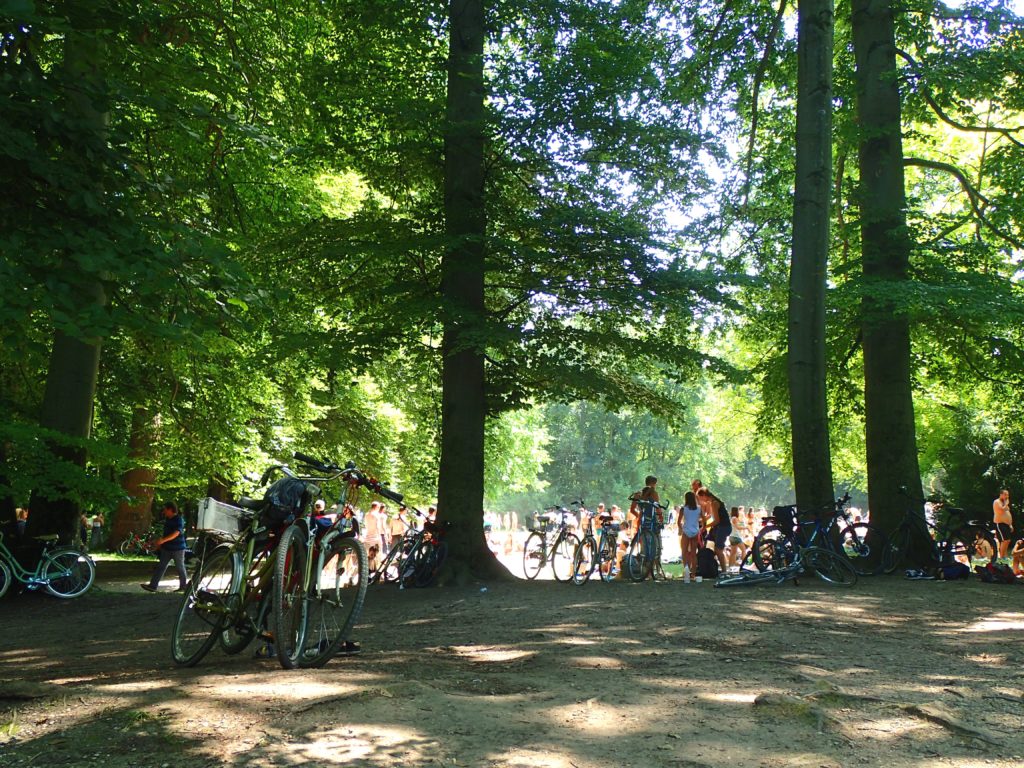 It's extremely popular with the "younger" crowd, and on the uncharacteristically hot day that I visited (it was 95 F…that's 35 C for my non-American friends) it was packed with people trying to get some sun, shade, and everything in between.
My absolute favorite attraction was the river that ran through the park. Not only did the gorgeous blue-green water give off a refreshingly cool mist and provide for a relaxing soundtrack, but it offered some serious fun for anyone willing to hop in and cool down.
I mean, have you ever seen a river that you could SURF IN?!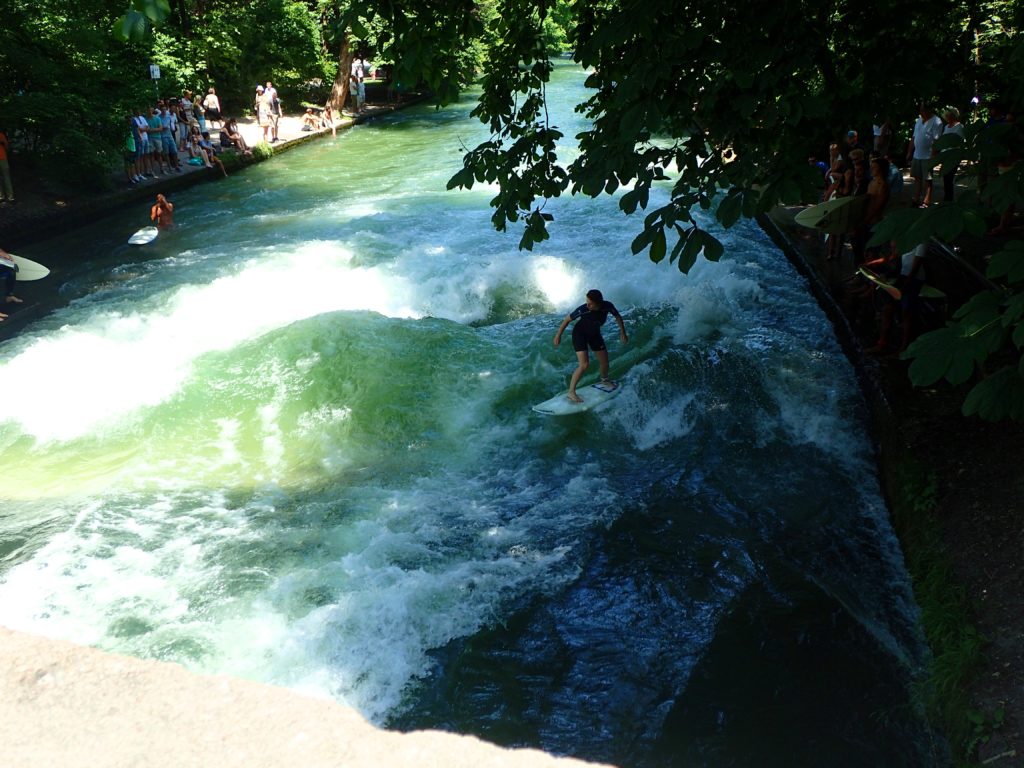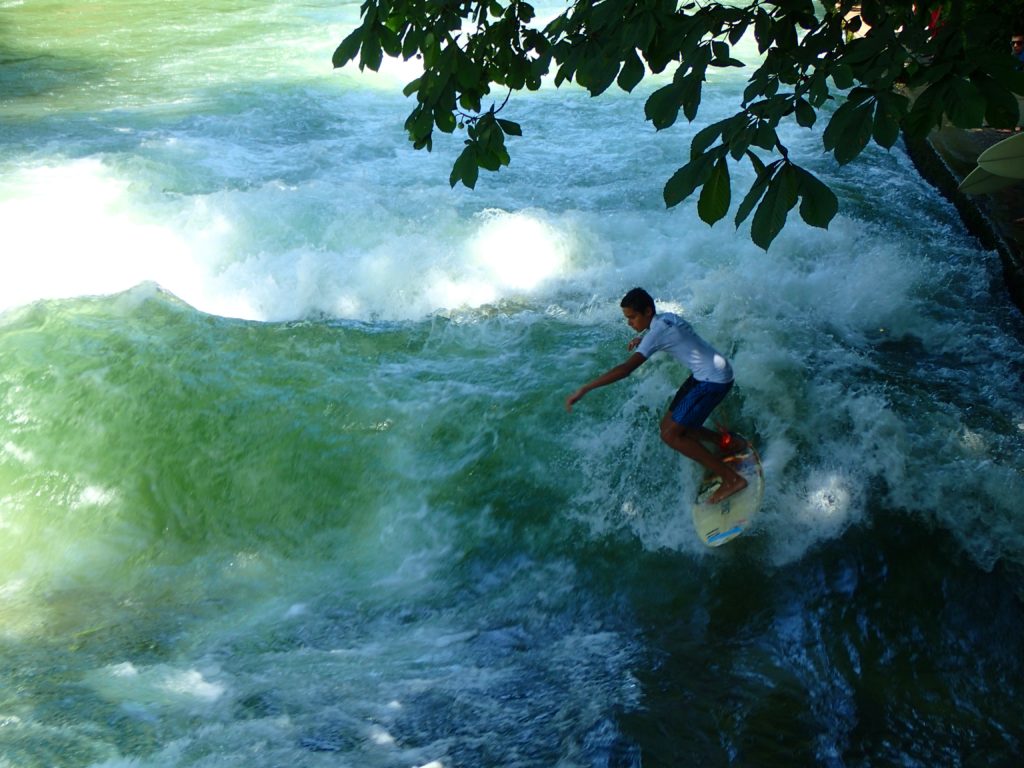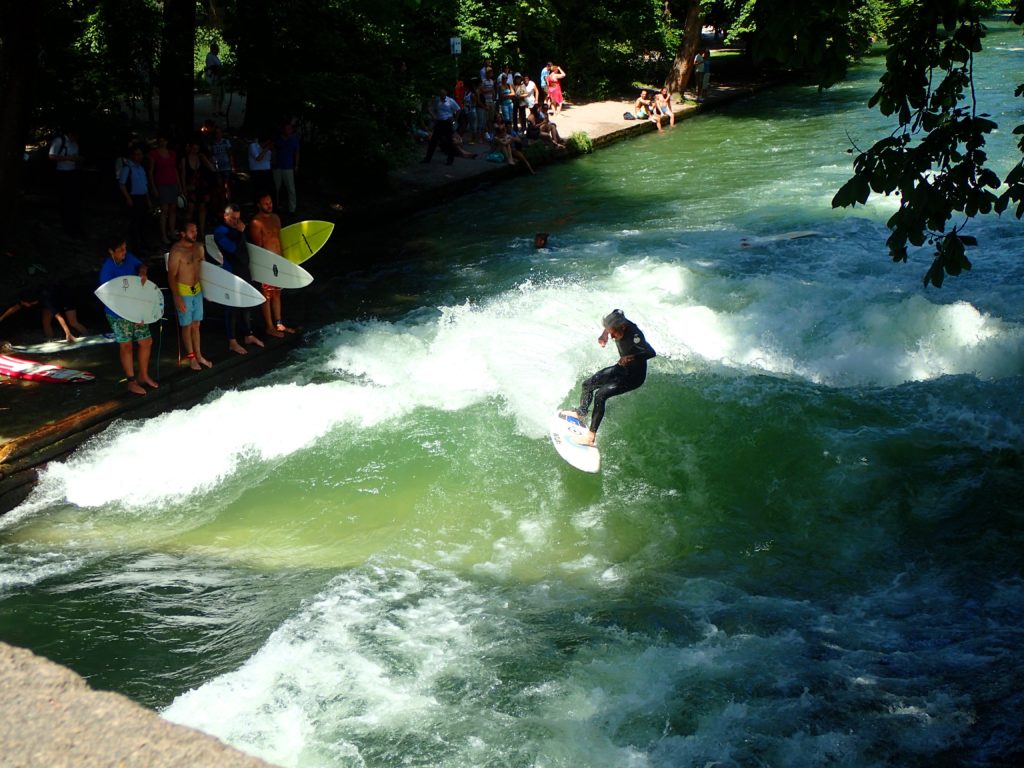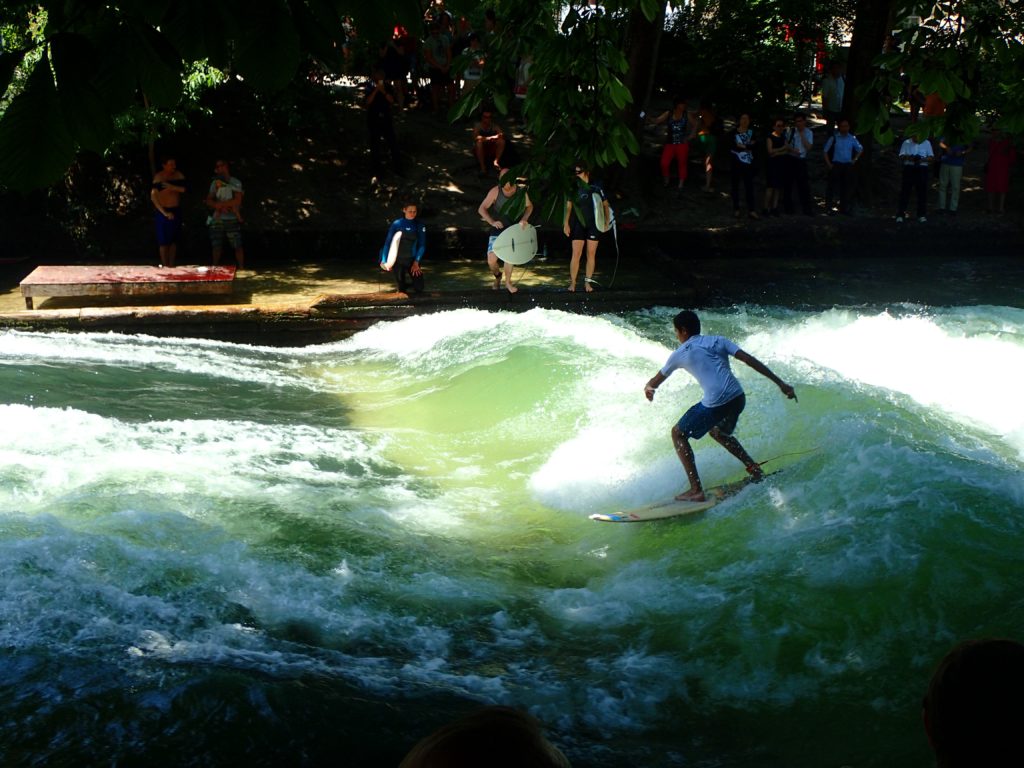 I lost track of time watching these surfers glide back and forth through the waves. It was weirdly hypnotic, and I could see myself coming back here daily to enjoy the show if I lived here.
I was hooked on Englisher Garden as soon as I caught sight of the surfers, but as it turns out, there are many other ways to enjoy the park.
I had read that swimming in the river was prohibited, but it was VERY clear on the day that I visited that if that is a rule, it's not one that anyone abides by.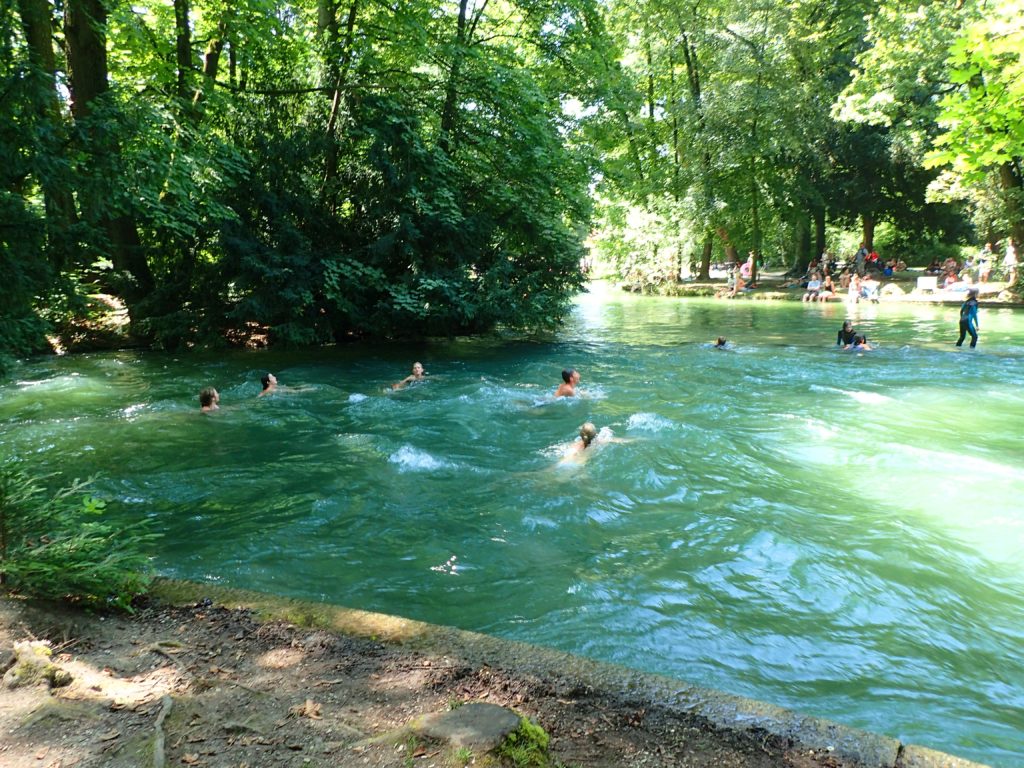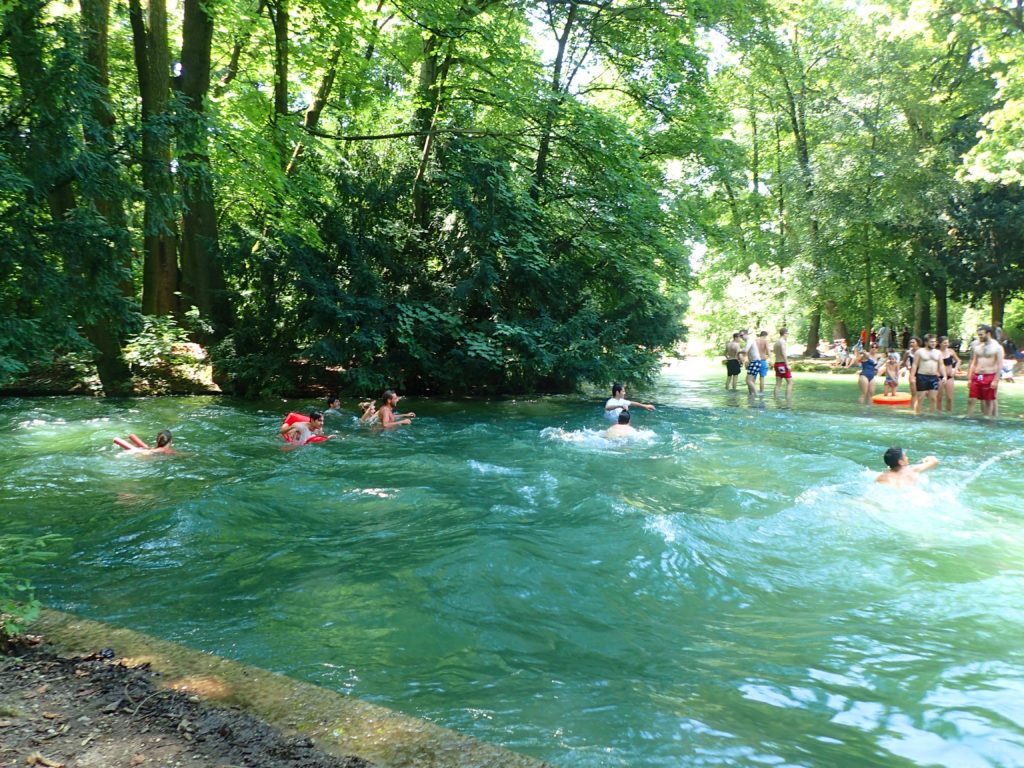 I plopped down in the grass near the river bank and watched as HUNDREDS of swimmers jumped into the quickly moving water and rode it like a lazy river, only to climb out, run back to the start, and do it all over again.
I wished so badly that I could have jumped in too, but I didn't feel like trekking back to my hostel, changing into my swimsuit and coming all the way back just for a swim. So, if you make your way to Englisher Garden on a hot summer day, learn from my mistakes and BRING YOUR SWIMSUIT. It would have been so, so, so nice to cool off in the river, and on top of that, it looked like a blast.
I did, however, find a few other ways to enjoy the park. I grabbed an ice cream cone from a vendor in the park (one scoop chocolate, one scoop hazelnut) and took a leisurely stroll around the park, which was so peaceful and happiness-inducing.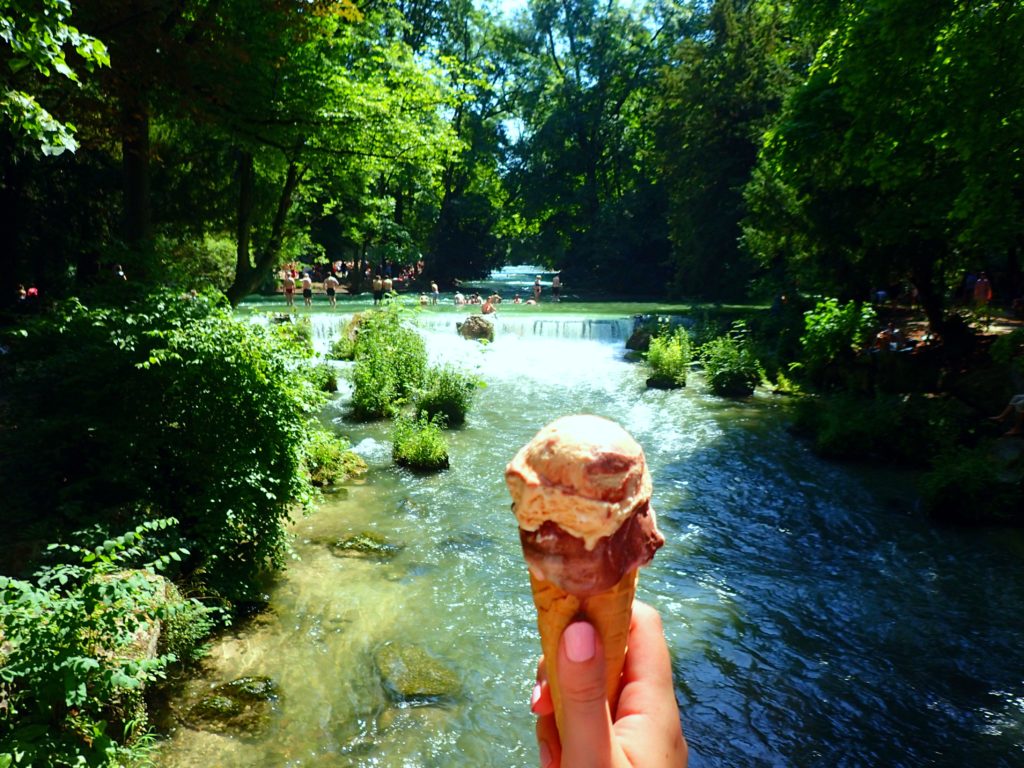 There is nothing in the world like being in an amazing place, surrounded by thousands upon thousands of happy people enjoying the summer weather, and taking in gorgeous green scenery–with an ice cream in hand, I might add.
Not to mention, I was enjoying this leisurely stroll when what to my wondering eyes did appear, but a group of scantily clad German lads taking a dip in the waterfall (you're welcome for the picture).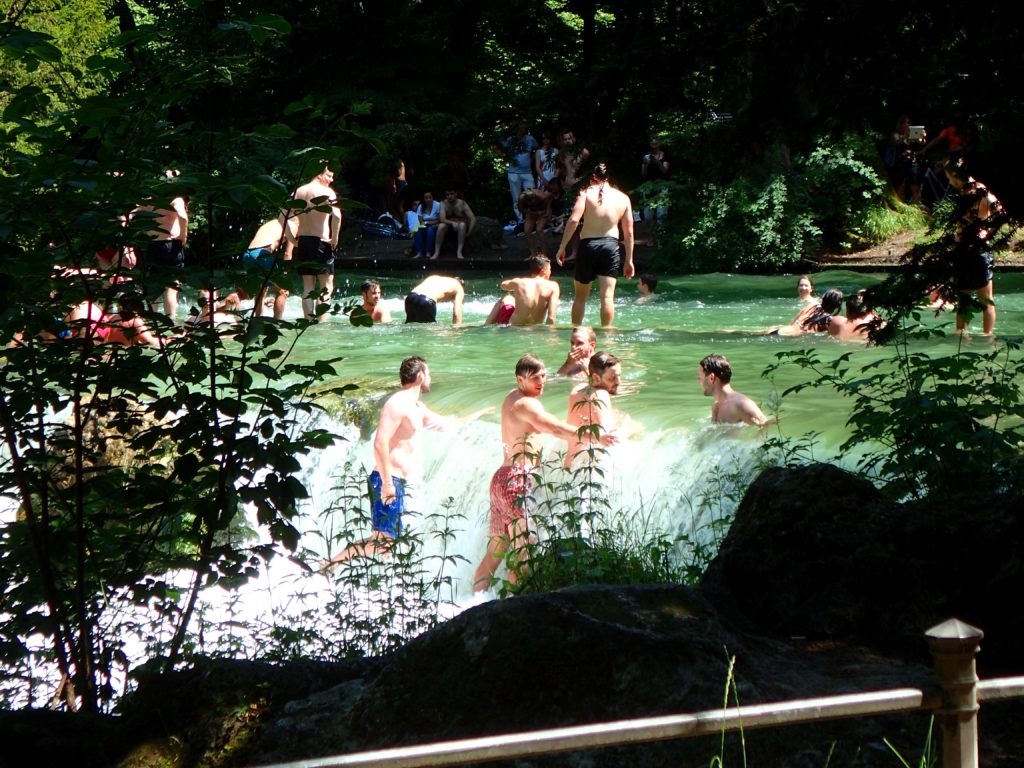 What did I tell you? Englisher Garden is HEAVEN.
---
Pin It!
---
Have you ever been to Munich? What was your favorite sight or activity? If you haven't been, what would you most like to see or do there?