Ah, Neuschwanstein. The castle so beautiful that it even inspired Walt Disney's vision of Sleeping Beauty's castle.
It's arguably one of the most famous historic sites in the entire region of Bavaria, and easily the most famous of "Mad" King Ludwig's castles and palaces.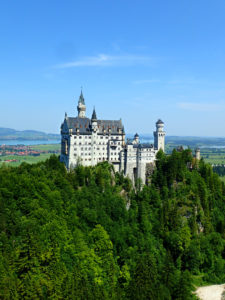 But…
What's the story behind it? Who is King Ludwig? Why was it built? Does it serve any purpose other than just sitting and looking pretty amidst the rolling Bavarian landscapes? And how the heck do you get to visit it?!
Despite having seen countless pictures of the famous palace, these were all questions that I couldn't answer before visiting…but questions that you definitely need to know the answers to before you go!
So, to help you all out, I've put together this handy-dandy little guide to visiting the crown jewel of Bavaria.
What are Neuschwanstein and Hohenschwangau?
Schloss Neuschwanstein ("Schloss" meaning castle/palace) is the result of the vivid imagination of King Ludwig II, who was the King of Bavaria from 1864 until his death in 1886.
Ludwig is known by Bavarians as the Swan King, the Fairy Tale King, and–less affectionately–the Mad King, as he suffered from depression and shyness throughout his life, coupled with a childlike imagination.
As a young prince, Ludwig spent many years in his family's summer palace, Hohenschwangau. After his father's death, Ludwig took up residence in Hohenschwangau while his own palace, Neuschwanstein, was being built.
Construction of Neuschwanstein castle began in 1869. It was designed as a kind of private retreat for King Ludwig, with much more of a creative–rather than a functional–purpose.
The architecture very much follows a Medieval style, and the interior of the castle is whimsical, ornate, and over-the-top colorful. Paintings depicting Bavarian legends and Biblical narratives line nearly every wall. Unfortunately, only around 15 rooms of the planned 200 were completed before Ludwig's mysterious death (to this day, it is unknown whether his death was the result of suicide, murder, or an unfortunate accident).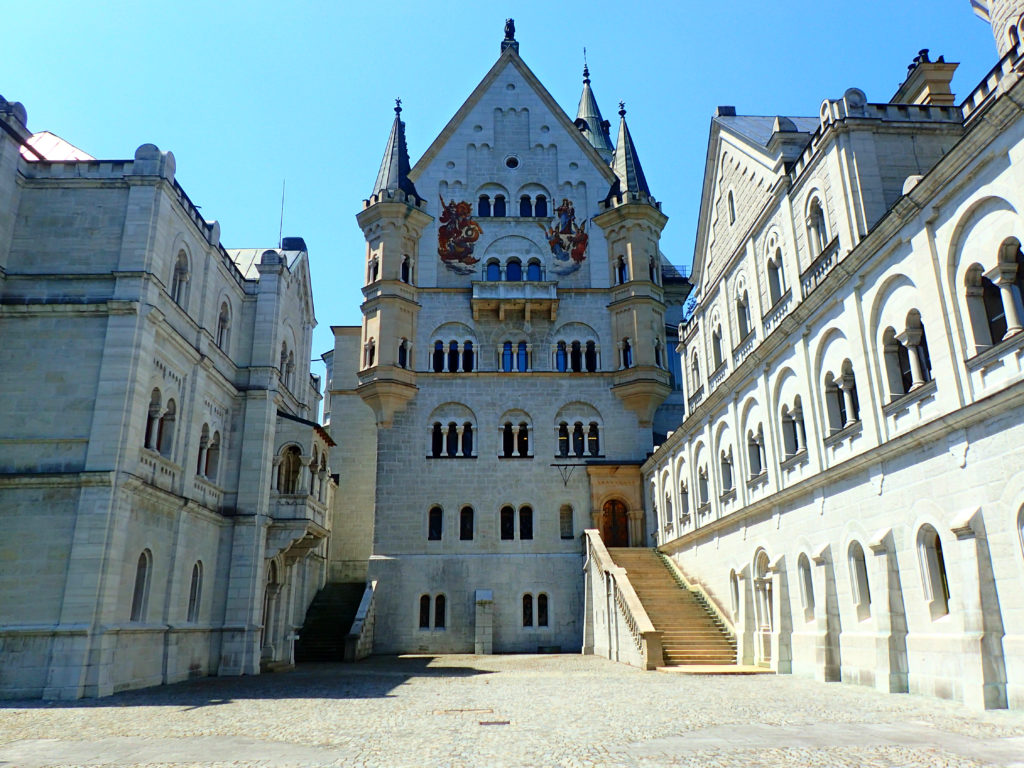 Both castles are located in very close proximity, and can be seen up in the hills from the town of Hohenschwangau below. Although Neuschwanstein is the more famous of the two, both castles were very important in the life of King Ludwig II.
Visiting Neuschwanstein and Hohenschwangau
Where should I stay?
Before you even think about visiting the castles, you need to decide where you want your base to be.
You can certainly take a day-trip to the castles from Munich, and can reach them easily via train, rental car, or big-bus tour company. However, depending on how much time you have in the region, I really recommend basing yourself in one of the smaller towns near the castles.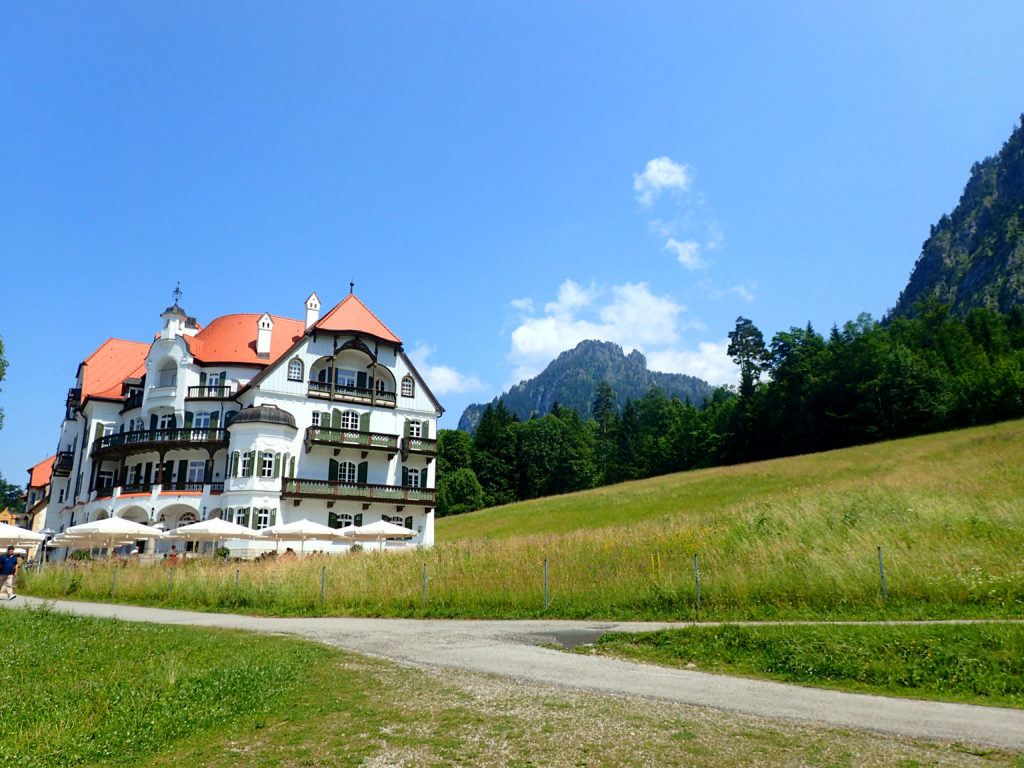 The small village of Hohenschwangau would make an extremely convenient base, as you wouldn't need any further transportation (aside from the bus/horse carriage up the hill to Neuschwanstein). However, it's totally one of those little tourist towns that's quiet during the early morning and evening, but explodes with visitors during the day. All signs and menus are in English, and despite the beautiful views and cool local history, it kind of feels like you're walking around Disney World during the day in peak season.
I stayed in Fussen, which ended up being a perfect base for my visit. There are regular buses between Fussen and Hohenschwangau, and if you have a car, you can find metered parking or paid lots in both towns. It's a 15 minute drive from Fussen to the castles. Plus, Fussen is ultra cute! The streets are lined with colorful and decorative buildings, in true Bavarian style.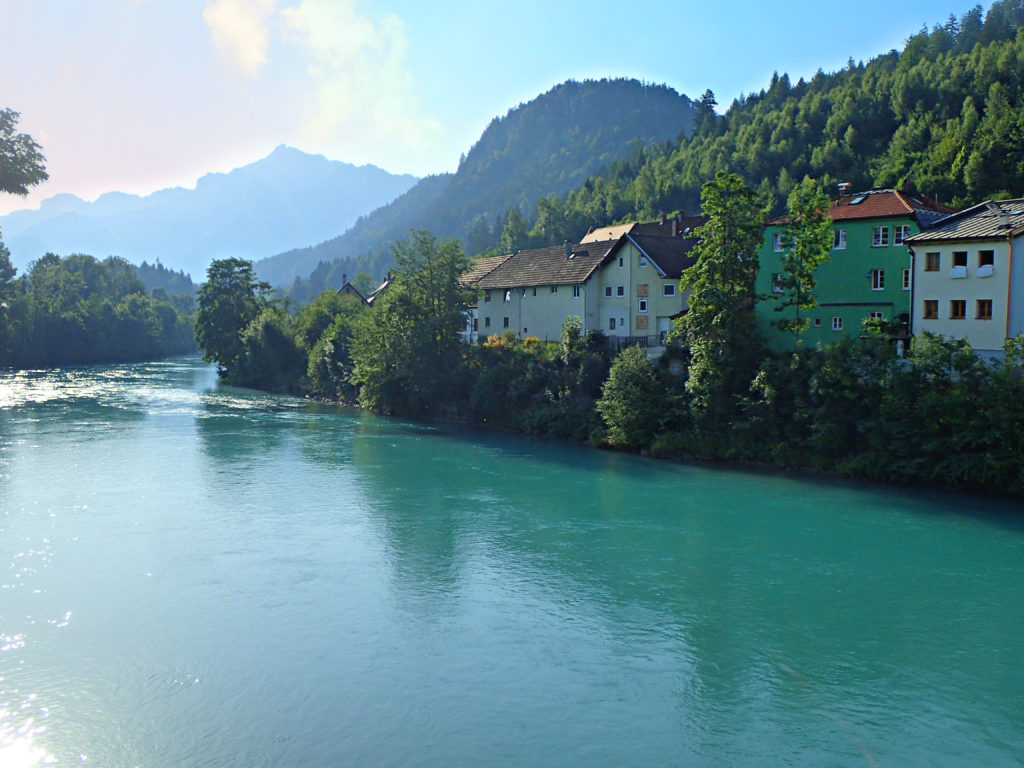 How do I get tickets?
If you want to enter Neuschwanstein and/or Hohenschwangau, you are required to book a guided tour; you cannot enter the castles on your own, although you can view both from the outside without purchasing the tour tickets.
You can purchase tour tickets in advance online, or at the ticket center on the day of your visit. Even if you purchase tickets online, you cannot print them and must pick them up in the ticket center in Hohenschwangau. So, whether you buy tickets in advance or not, you will have to visit the ticket center and wait in line. However, the line for picking up tickets is MUCH shorter than the line for purchasing tickets.
I waited for about 10 minutes to pick up my reserved tickets, and the line for purchasing tickets looked to be about 3x as long as my line…and that was at 9:25am. Also, if you purchase tickets in-person on the day of your visit, you have a smaller chance of getting the time slot you want. Even if you get in line at 9am, all of the tours until 3pm may be booked–there is no way to know beforehand.
So, unless you really need the flexibility of purchasing tickets day-of, I highly recommend booking in advance online.
When you book your tickets online, you will be asked to choose a tour time for Hohenschwangau, as this is the castle you will visit first if you are visiting both (if you are only visiting Neuschwanstein, obviously the time you choose will be for that castle only).
Make sure you check the tour time listed on your confirmation email, as it may not be the exact time you picked. I selected 10am as my preferred tour time for Hohenschwangau, and was given 10:25am for Hohenschwangau and 12:55pm for Neuschwanstein.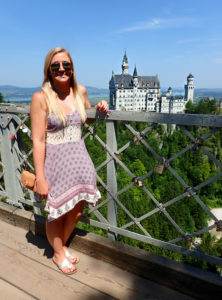 How long do the tours last?
The short answer? Much less time than you'd expect.
Tours of each castle take roughly 35 minutes, but the entire experience of picking up tickets, walking/taking the bus to the castles, touring both castles, and time between tours adds up to around 4-5 hours total.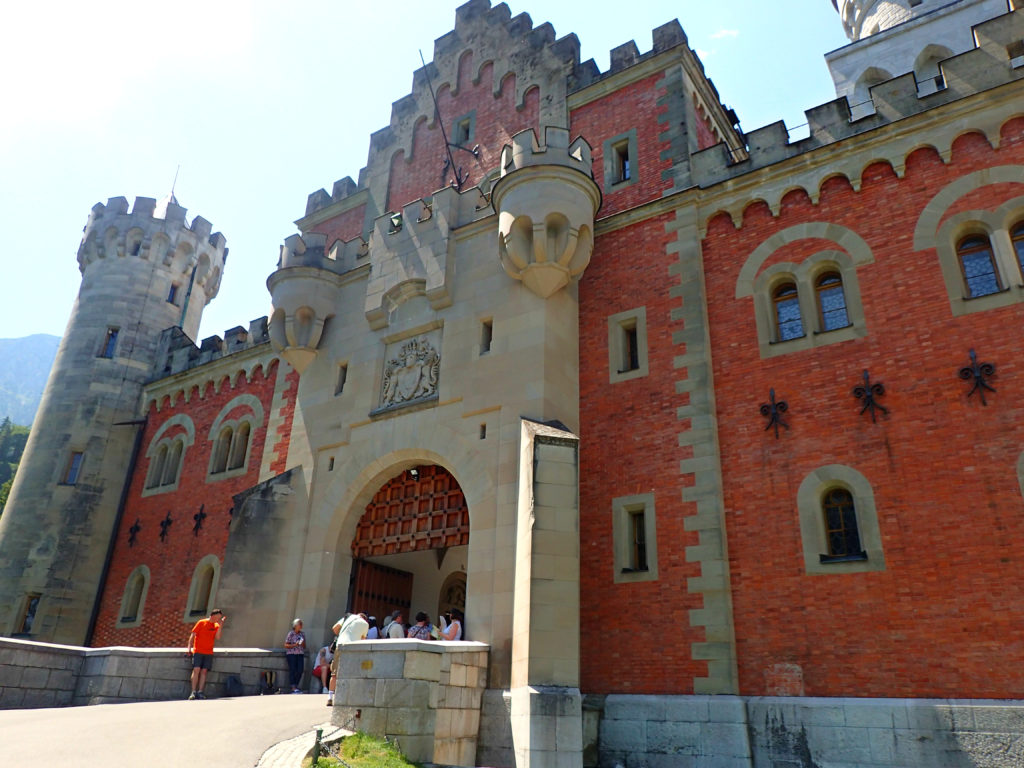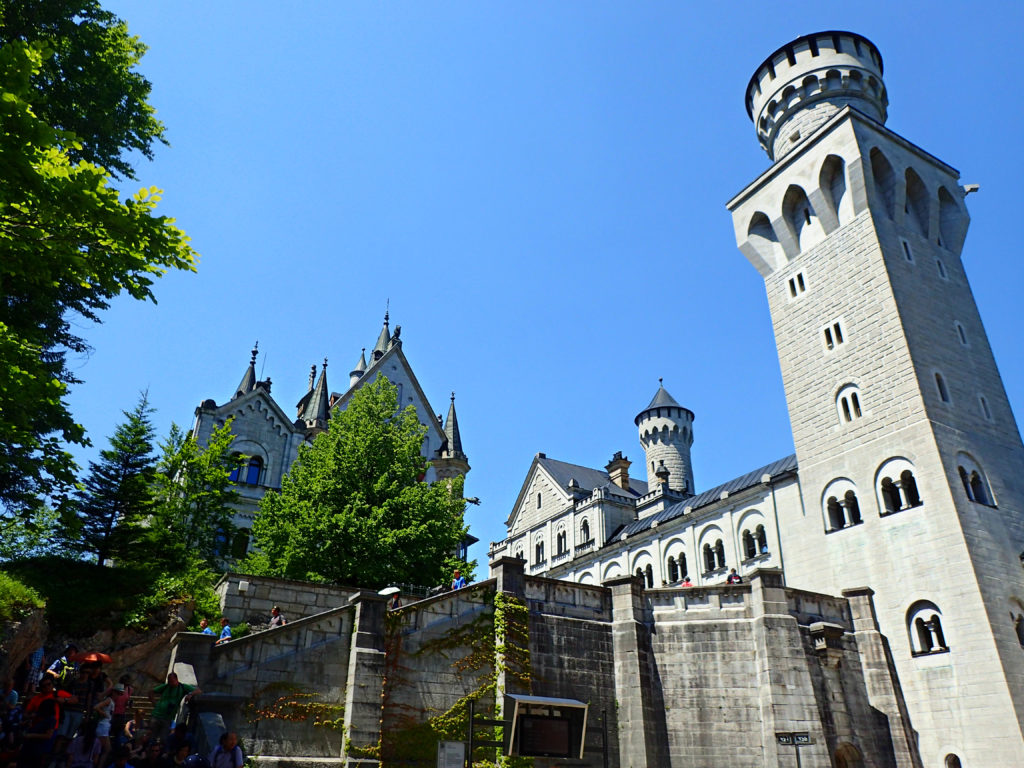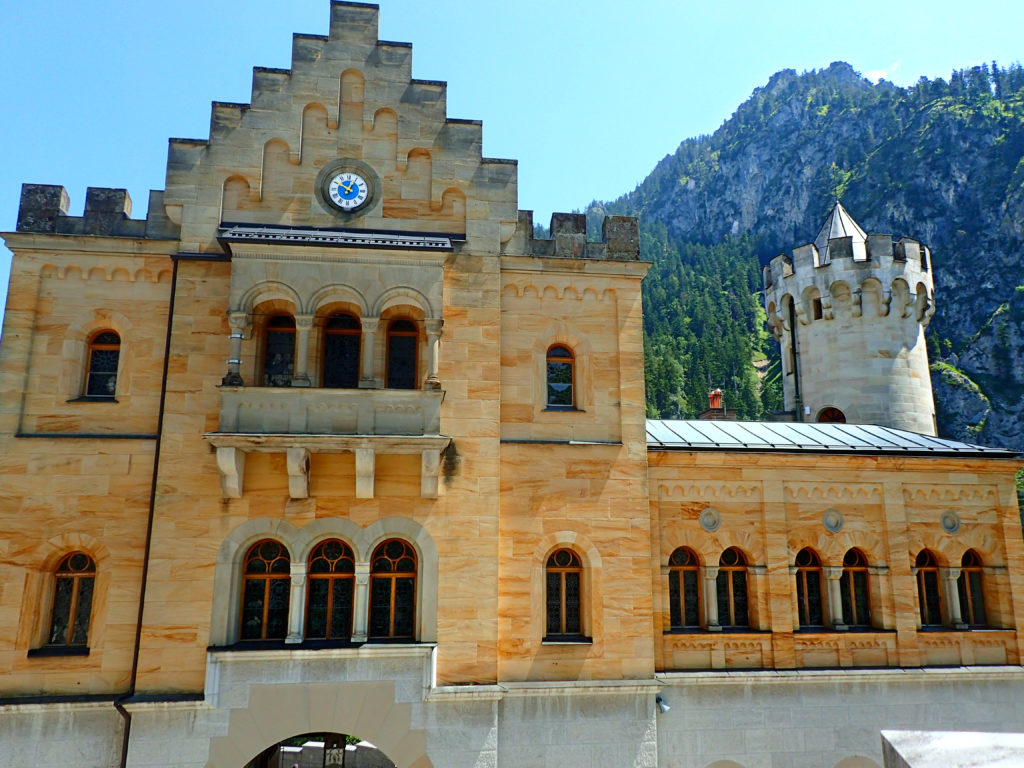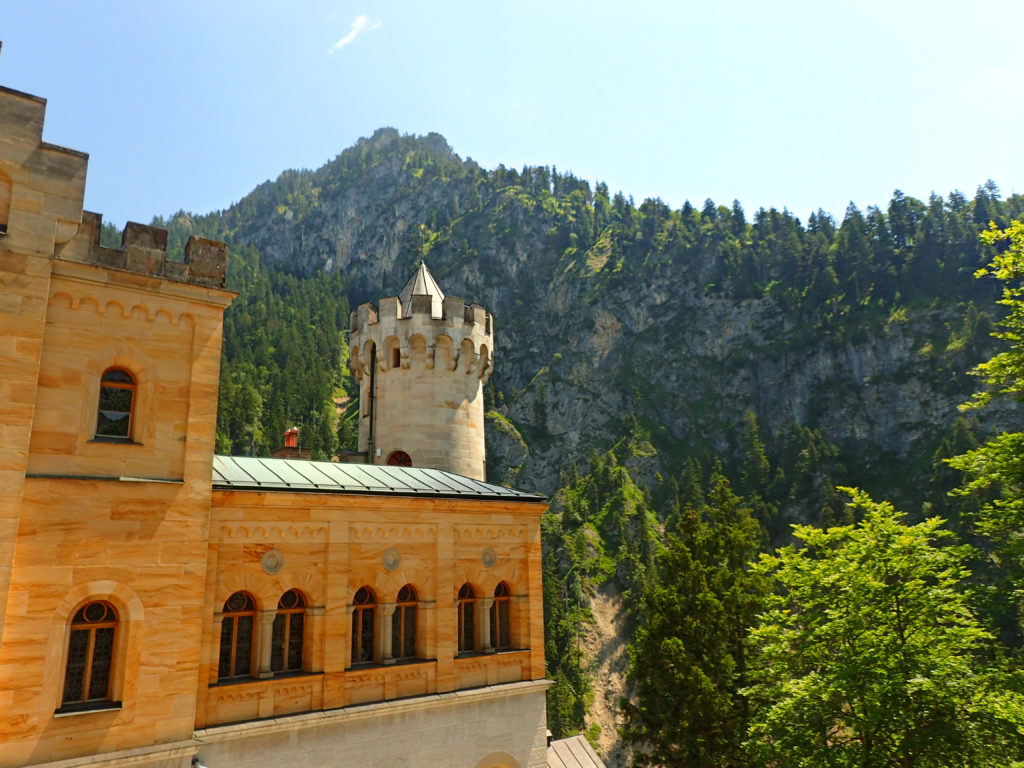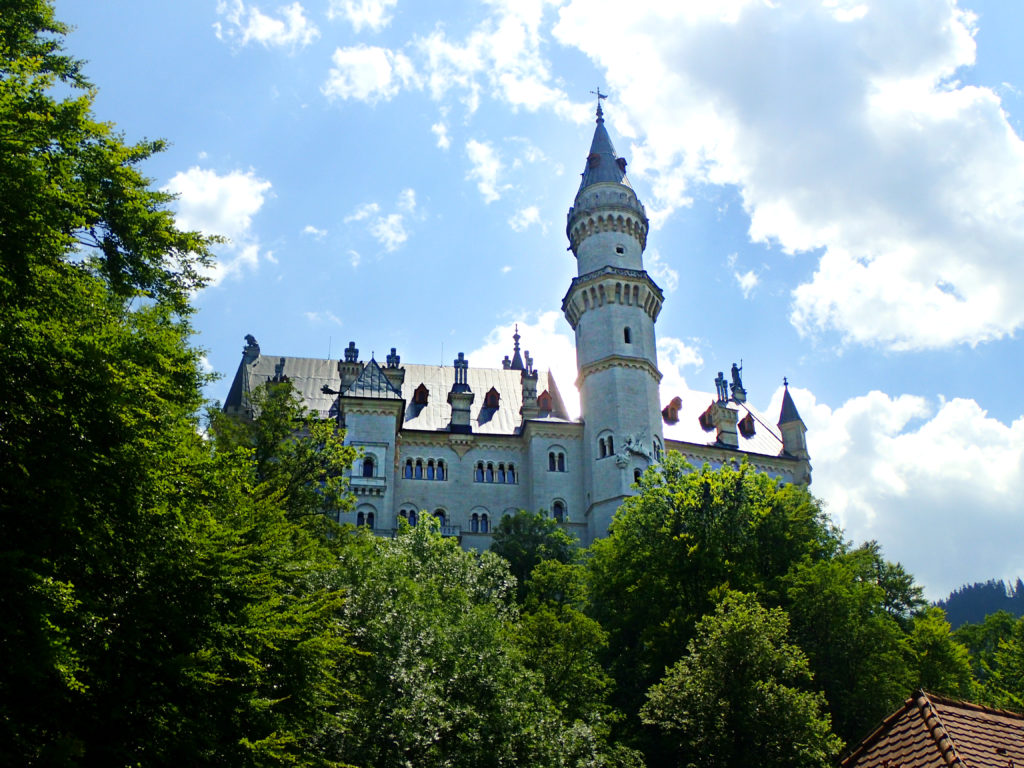 Here's a rough timeline of my entire visit:
9:25am: Arrive in the town of Hohenschwangau and go directly to the ticket center to pick up my tickets.
9:35am: After only about 10 minutes in line, I receive my tickets and walk up the hill to Hohenschwangau Castle. It takes about 10 minutes to walk up, and I spend the rest of the time before my tour walking around the outside of the castle and taking photos.
10:25am: Tour of Hohenschwangau castle begins.
11:10am: Tour of Hohenschwangau castle ends. Go directly to wait in line for the bus ticket, which merges into the line to get onto the bus. Ride the bus to Marienbrucke (Mary's Bridge) above Neuschwanstein castle.
12:15pm: Arrive at Marienbrucke (so the entire line/bus experience took about 1 hour). Take pictures, buy an ice cream cone and wait for tour to begin at 12:55pm.
12:55pm: Tour of Neuschwanstein castle begins.
1:30pm: Tour of Neuschwanstein castle ends.
Should I visit both castles, or only Neuschwanstein?
This one is totally up to you. Neuschwanstein is not only the most famous of the two castles, but it's definitely the more impressive of the two, both inside and outside.
However, if you're making the visit to this little town in the middle of nowhere and don't have anything else in the area planned, I'd say go ahead and see both. I visited both during my visit, and was completely done with the entire experience before 2pm, so I still had time left during the day to see more of the area after touring both castles.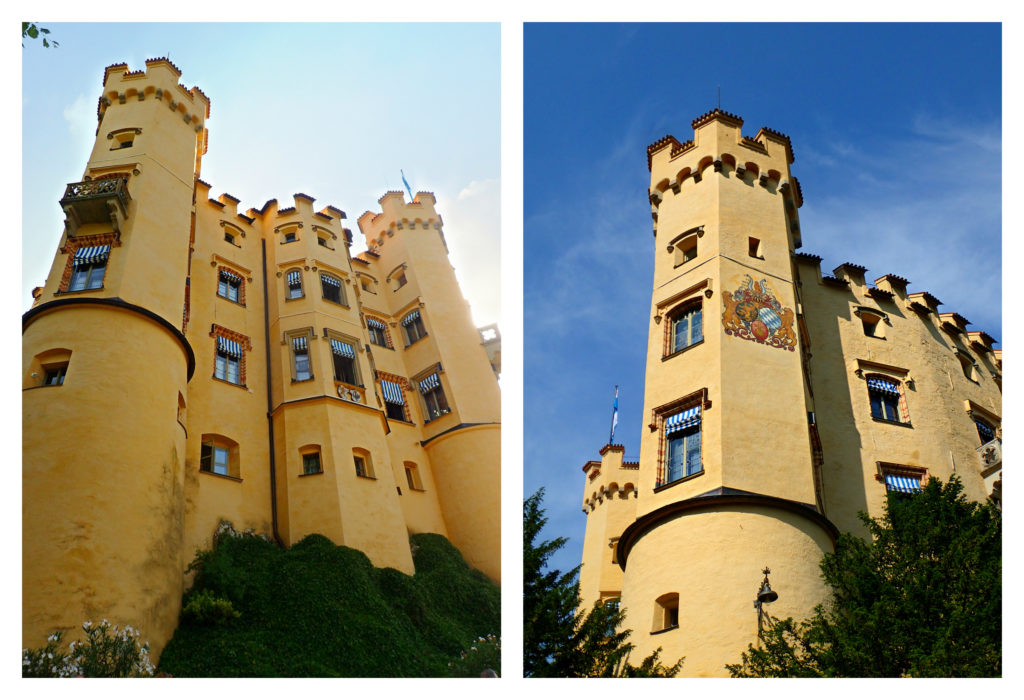 Are the tours inside the castles worth it?
If you're asking this question, it's probably because you've heard someone say something along the lines of "The tour wasn't even that great" or "Just see the outside of the castles and skip the tours" or "It's so touristy."
Yep, yep, and yep. I actually totally get all of those responses. Yet, my response is that yes, you SHOULD do the tours. Are you really going to come all the way to this little village just to look at the outside of the castles?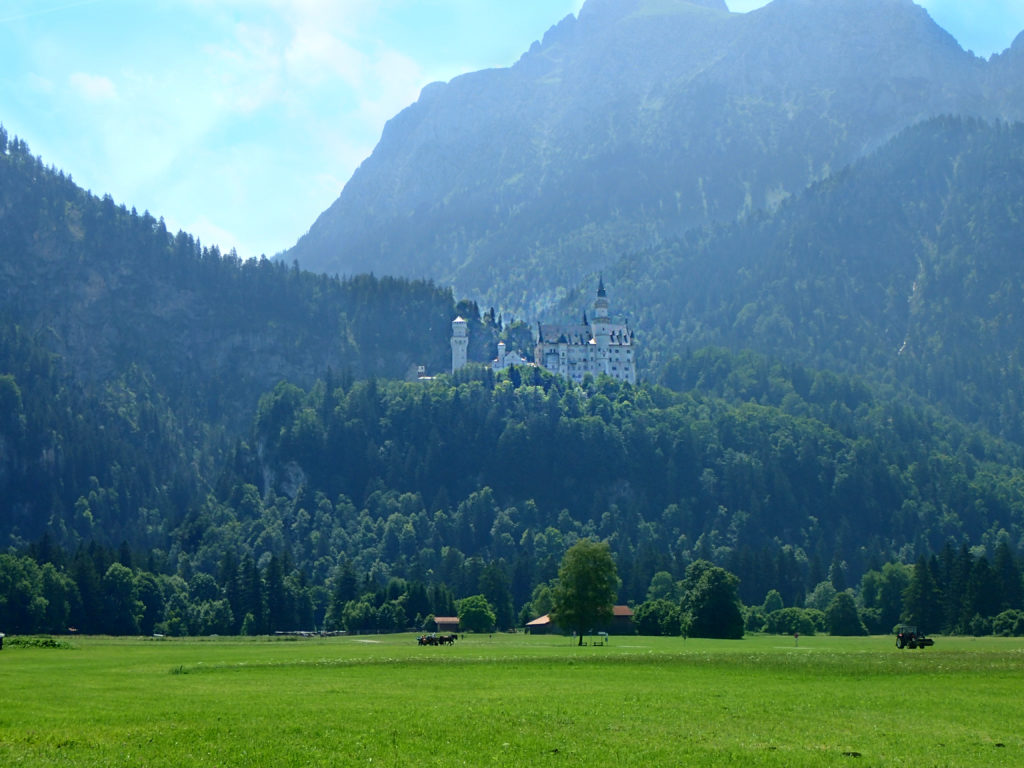 Yes, the outside of the castles, especially Neuschwanstein, really is the most impressive part. It's a beautiful white castle set amidst the rolling green Bavarian alps, overlooking an adorable little town and the big blue beauty of Lake Alpsee. No interior could ever compete with that!
However, I actually thought the interior was quite beautiful, and it was unlike any other castle interior I've ever seen, even in the region. The tours are a little lacking when it comes to being informative and exciting, but getting to see the inside of this gorgeous castle built by a mysterious king was totally worth it to me.
What else is there to do in the area?
If you're staying in Fussen, Hohenschwangau, or another little alpine town nearby, you'll have plenty of shopping and dining options to entertain you. All of the above towns are very cute, with colorful buildings, cobblestone streets, and adorable Bavarian charm.
You could also do some hiking nearby, or rent bikes and explore the greater area.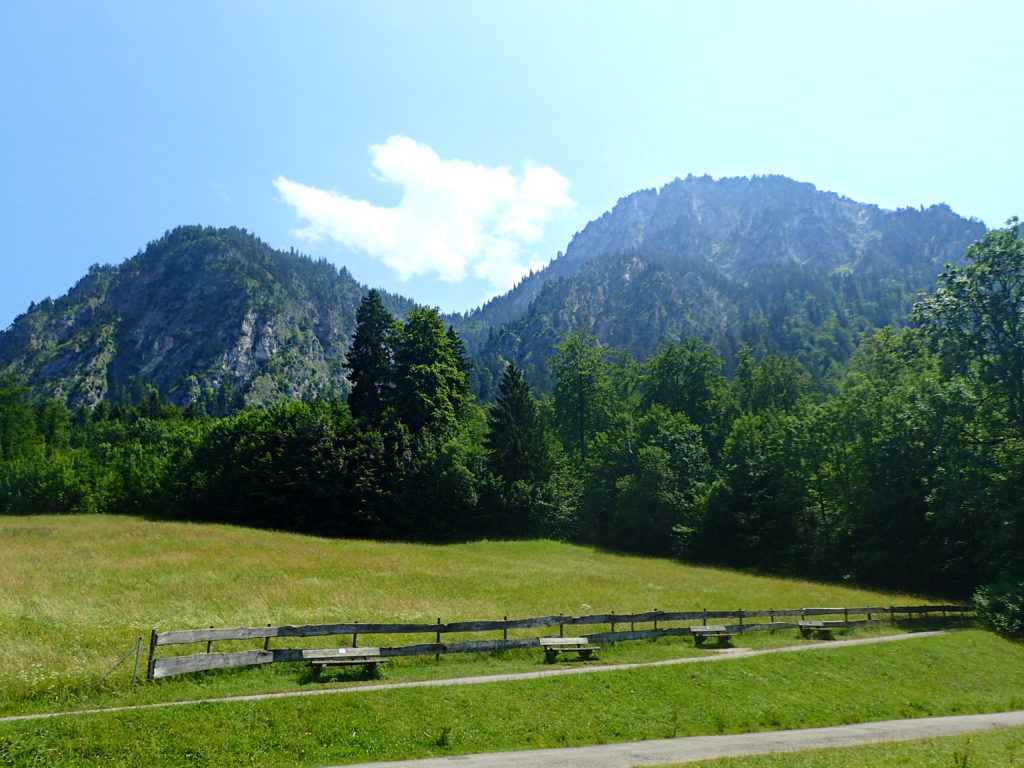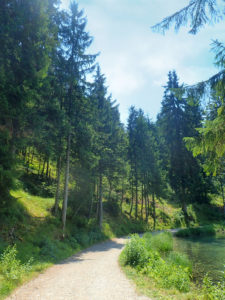 There are a handful of gorgeous lakes in the region as well, which make for epically scenic boating, walking, sunbathing, or swimming spots (although, be warned: the water in these alpine lakes is COLD).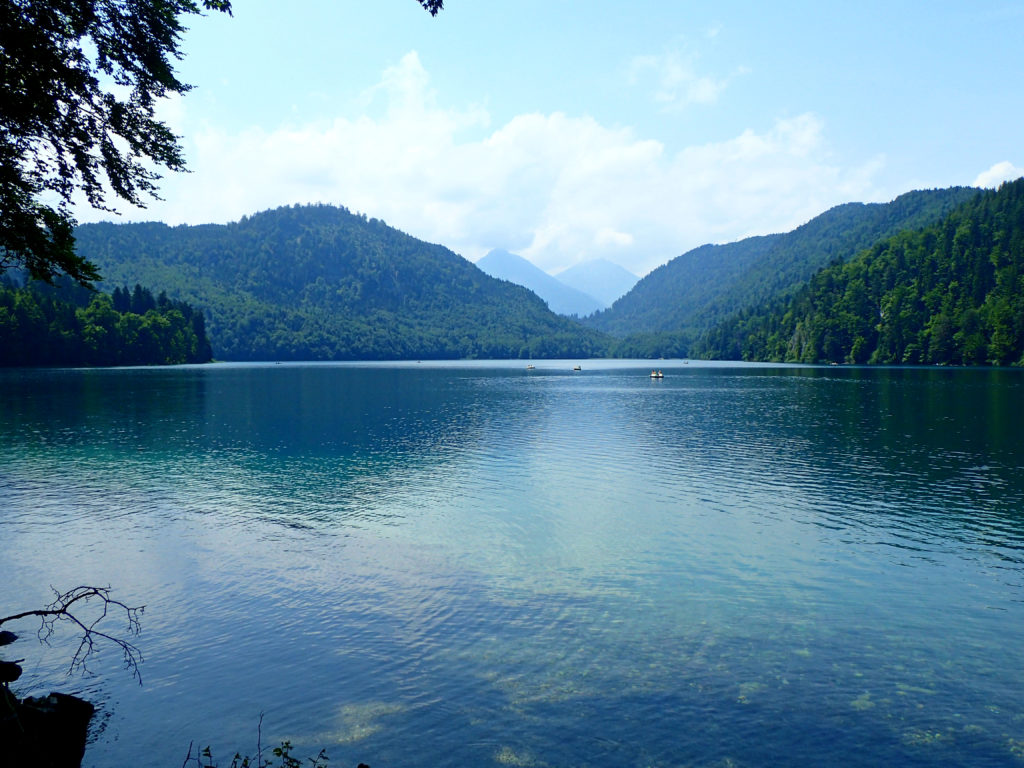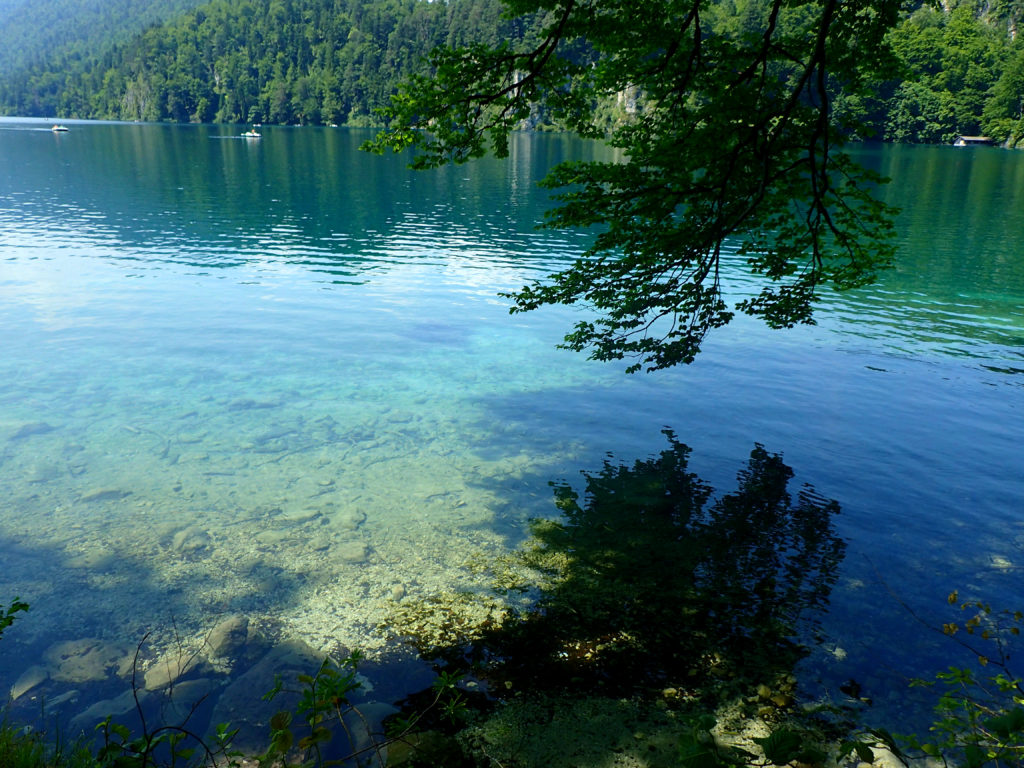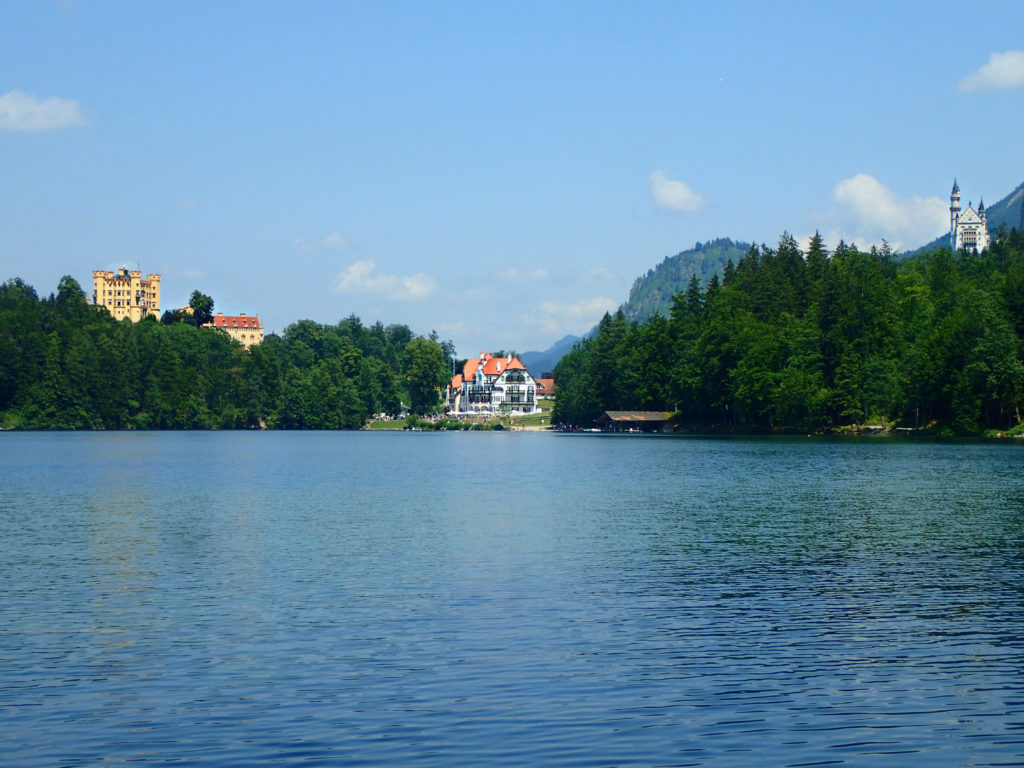 I spent some time walking around and swimming in Lake Alpsee, which offered killer views of both castles from across the lake. Alpsee is extremely easy to reach; if you walk uphill from the center of town in Hohenschwangau, you'll be to the edge of the lake in around 10 minutes.
Quick tips for success:
Book your tickets ahead of time, and double-check your tour time before you arrive.
Plan ahead to make sure your preferred tour times will work with your planned transportation schedule.
Make sure to arrive at the ticket center to pick up your tickets at least 1 hour before your preferred tour time.
Be aware of the fact that you cannot take pictures inside either castle.
Leave yourself plenty of time to either a) Take the bus (recommended), or b) Take the horse carriage up to Neuschwanstein. Walking up to Hohenschwangau castle is fine, but the walk up to Neuschwanstein is very steep and somewhat long.
WEAR COMFORTABLE SHOES. There is a lot of walking involved during this trip, even if you do take the bus up to Neuschwanstein. The town itself is quite hilly and there's a lot of walking between the ticket center/the bus stop/the castles/restaurants/shops. I actually saw a girl wearing stilettos on the walk uphill to Hohenschwangau castle…on cobblestones. Why anyone would do this is beyond me.
Wear sunscreen or bring a hat. Maybe I'm just an L7 weenie, but I actually got sunburned during my visit and it was SO hot. If you're visiting during the summer, be prepared!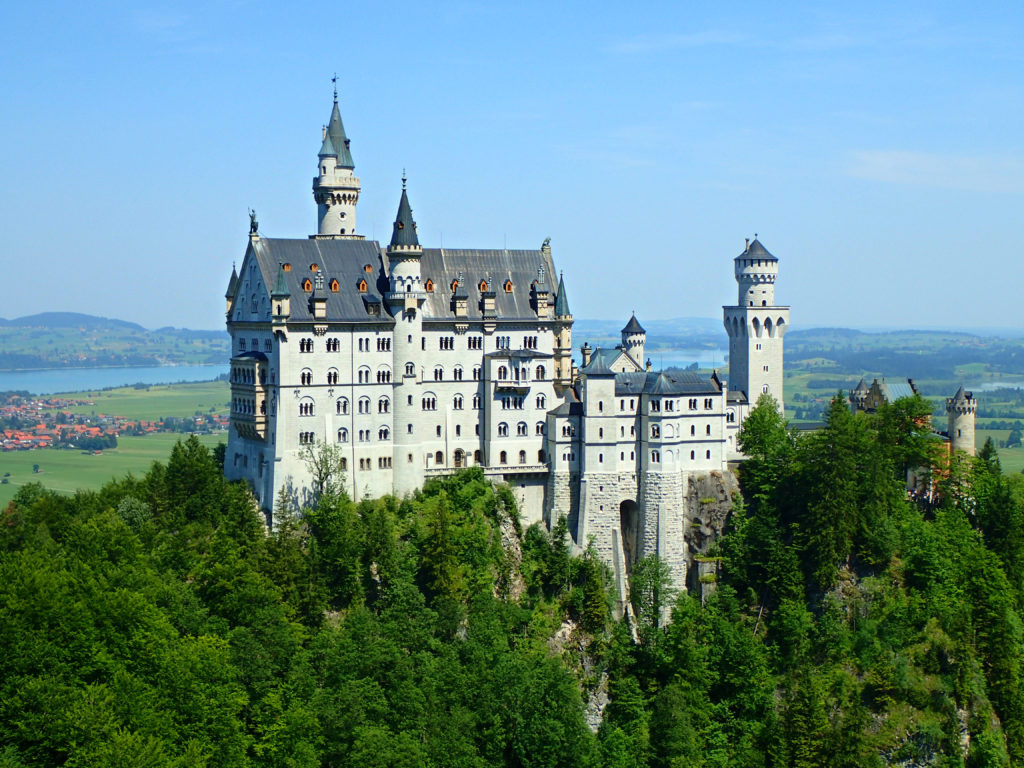 Have you ever visited Neuschwanstein, and did you love it as much as I did? If you haven't been, would you like to go?
---
Pin It!