Last month I published my Ultimate Guide to 2 Weeks in Thailand, which walks through my recommended itinerary for 2 weeks in the country, as well as some suggestions for what to do in each location. Although that post included a synopsis of how to visit Northern Thailand (especially Chiang Mai) I've created a more specific itinerary for "The Rose of the North."
In my 2 week Thailand plan, I recommended spending 4 to 5 days in Northern Thailand. Although you could EASILY spend more time in Chiang Mai, I've decided to keep this itinerary in line with my 2 week plan and have limited the itinerary to 4 full days (although, Day One doesn't necessarily require a full day if you're really short on time).
Know Before You Go:
Why Visit Chiang Mai?
Chiang Mai is scenic and cultural–something that will be extremely apparent if you're coming directly from Bangkok. It's still a big and bustling city, but much less so than Thailand's capital city. It's a great place to really dive into the culture of Thailand, and it's the perfect base for exploring Northern Thailand's gorgeous natural landscapes.
A few things you can expect to encounter in Chiang Mai: Lush green mountains, rolling mist, phenomenal weather, winding rivers, waterfalls, trekking, elephants, ultra cheap prices, outdoor cafes, great coffee and tea, and temples galore.
Where to Stay?
The short answer: Inside or near the Old City (the big square in the map below).
The long answer: Transportation in Chiang Mai is quick, easy and cheap, and it's also a great city for walking, so you'll be alright even if you don't stay in the Old City. However, a lot of the "must see" temples are within the Old City walls, as are some truly great restaurants and cafes. It was my favorite area to walk around and explore, and there are a ton of cheap guesthouses available, so it's a really perfect location.
However, we actually stayed just outside the Old City (literally directly across the street) at Top Garden Boutique Guesthouse. It was cheap, clean, and conveniently located near both the Old City and the Night Bazaar. The area where we stayed is circled in red below:
Is Chiang Mai Expensive?
Nope, not at all! In fact, it's cheaper than both Bangkok and the Thai islands. Our guesthouse was 19 USD per night–for a nice room with a big bed, plenty of space, a private hot-water bathroom, and strong aircon–plus the perfect location. We ate mostly street food, which was typically around $1 to $3 per meal. You could easily get by on $30 per day, even if you were staying in a private (budget-level) room.
Day One: Explore the Old City
On your first day in Chiang Mai, spend some time getting your bearings and set off to explore the Old City. This walking guide is a perfect rough guide for the area, and highlights a route for exploring the major sites of the Old City. It'll take about 5 hours to complete the entire tour (sites included…it's actually only about 90 minutes of walking) which is perfect for your first day in the city, even if you're arriving in the morning via train or plane.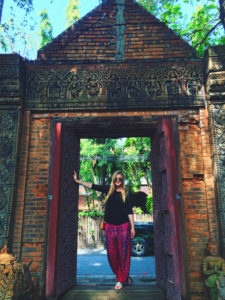 There are 30 temples in the Old City alone, so even if you don't follow the walking guide exactly, you'll be sure to run across some gorgeous Thai temples to explore. That said, make sure you dress appropriately–that means knees covered (and shoulders for the ladies)!
Top Temples to See in the Old City:
Wat Chedi Luang
Wat Chiang Man
Wat Sri Suphan
Wat Phra Singh
Wat Suan Dok
What I love about spending Day One exploring the Old City is that you'll really get a feel for Chiang Mai's charm. Sure, you could pack in another day-trip or full-day adventure on your first day, but then you'd miss out on the little things that make Chiang Mai so freaking lovely.
Like the fact that Chiang Mai is chock full of little cafes with garden settings, where you can sip on organic coffee or Thai iced teas and watch the world go by. Or the fact that there are countless food stalls and markets, to make all of your wildest culinary dreams come true. Or the fact that there are secret gardens and cute handicraft shops and temples with no other tourists in sight just waiting to be explored.
So, put on your comfiest walking shoes (or better yet, rent a bike!) and spend the day strolling through the city streets, eating ALL the Thai food you desire, and seeking out the perfect souvenirs–this is the side of the Chiang Mai you'll fall quickly in love with.
Day Two: Elephant Nature Park
There are an overwhelming number of options when it comes to elephant parks near Chiang Mai, but that doesn't mean they're all equal. There's a dark side to animal tourism in Thailand, which means that if animal welfare is at all important to you, you'll need to do some research before booking your tour.
Elephant Nature Park makes that job much easier. There's no elephant riding, painting or tricks here, but you can guarantee that the elephants are well cared for and you'll have an amazing time at their park.
Your visit to Elephant Nature Park will last a full day, and will include feeding, bathing, and observing the elephants in their natural habitat. Plus, the park is located in a super lush, misty, gorgeous area outside of Chiang Mai. If you opt to visit Elephant Nature Park, it'll definitely be one of the highlights of your trip to this region.
Day Three: Cooking Class
You can't visit Thailand without eating lots and lots of Thai food, so why not take that to the next level and learn how to cook your own?
We booked our class with Thai Farm Cooking School, which is located–go figure–on an organic farm an hour or so outside of Chiang Mai. The total cost was 38 USD per person, which included hotel pickup and transportation to the farm, a stop at a local food market (with explanations of all of the ingredients we'd be cooking with), a tour of the farm, all of the ingredients we'd need, an absolutely hilarious and charismatic instructor, and, of course, the cooking lesson.
Most classes last a full day, and include choices of a variety of dishes. At my class, I chose to make yellow curry with chicken, tom yam soup, chicken with cashew nuts, spring rolls, and bananas in coconut milk for dessert. Yes, it was a ton of food, and yes, it miraculously all turned out a-m-a-z-i-n-g. Who knew I was such a chef at heart?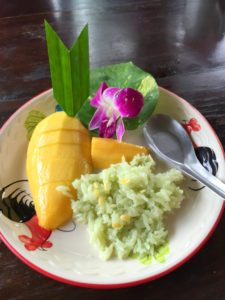 Day Four: Wat Phra That Doi Suthep
This temple is the temple that people come to Chiang Mai to see…so it may come as a surprise when I tell you that I skipped over it. One thing that I've learned about traveling is that you've got to listen to your gut–if you're just not feeling something, who says that you have to do it? Your guidebook? Your go-to travel forum? Who cares!
However, this wouldn't be a proper Chiang Mai itinerary if I didn't include Wat Phra That Doi Suthep, but I do feel the need to include this fair warning: according to online reviews, this temple gets Disney World-level crowds during the day.
For that reason, I recommend visiting super early: 8am or earlier, if you can. Not only will you have the place mostly to yourself, but you may even catch the sunrise from the top of the mountain, which would certainly be more magical than pushing your way through the crowds that accumulate here.
The temple itself only needs 2 hours or so, which means you'll have time to explore other areas of the mountain when you're done.
If you're keen to explore more of the Mae Rim area but are done with seeing Doi Suthep, you could check out Mon Cham, a "camping resort" in the clouds high above Chiang Mai. You can get lunch in bamboo huts with a serious mountaintop view here, or just sit back and enjoy the scenery.
Or, if you're ready to return to town, you could wrap up your final day in Chiang Mai with some shopping, some much-deserved (and ultra cheap) massages, or one of the alternative suggestions below.
Alternative Suggestions:
Not interested in one of the above activities? Got time for an extra day on your visit and need ideas? No worries–there are plenty of ways to fill your time in Chiang Mai…the difficult part is trying to decide which activity appeals to you most! Some of these alternative suggestions require a full day, while others only need a few hours and can be combined into the same day.
Full Day:
Doi Inthanon National Park
If you're keen to experience the natural beauty of Northern Thailand, check out Doi Inthanon National Park. You can hire a guide to lead you on a trek through the park, or you can seek out short hikes to attempt on your own. The park is home to the highest point in Thailand, so it's sure to offer some great views.
Flight of the Gibbon
Spend the day zip-lining through the treetops of Chiang Mai's lushest jungles, for around 100 USD per person. This tour company also offers multi-adventure tours, where you can combine zip-lining with white water rafting, cave rappelling, kayaking, or mountain biking.
Half Day or Less:
Art in Paradise
3-D art museum where you can "interact" with the art by taking creative pictures to make it look like you're part of the artwork.
Tiger Kingdom
Take pictures with a baby tiger? Check. Take pictures with a fully-grown tiger? Yes, seriously, check! Although the ethics of Tiger Kingdom are up for debate, there's no denying it's one of the top attractions in Chiang Mai.
Chiang Mai Zoo
I've never really been a fan of zoos, so I won't be able to vouch for this one myself. However, I've heard great things about the zoo here and know that many visitors consider it a "must-see".
Food Tour
If you're interested in sampling local delicacies but don't know where to start, a food tour may be the perfect option. They're usually walking tours, but may include other methods of transportation such as bicycle, tuk-tuk, or songthaew. There are even food tours that visit the Chiang Mai Night Bazaar, so you could actually add this on to the evening of one of the four days listed above.
Bua Tong Waterfall
Ever heard of a "sticky waterfall"? Neither had I, until I heard of Bua Tong! Mineral deposits on the rocks of the waterfall have caused the rocks to develop a porous, "sticky" texture–so sticky, in fact, that it's actually possible to climb up the waterfall, even as the water is gushing down it.
Huay Tung Tao
This lakeside retreat is yet another great option for getting out of the city for a few hours. When you arrive, you'll have your choice of peaceful lakeside huts–all complete with panoramic lake views–and the option to order some authentic Thai food and drinks. So, what is there to do here? Not much, other than kick back, relax, and take in the incredibly scenic, peaceful surroundings. It has a very "locals only" kind of vibe, which is interesting considering that it's just a short 20 minute drive from the city.
While I tried to cover as many of Chiang Mai's highlights as possible, I definitely recommend bringing along a good guidebook (if nothing else, you'll have plenty to read about on the plane!). My top recommendations are Lonely Planet Thailand
and Fodor's Thailand with Myanmar (Burma), Cambodia & Laos
.
---
Have you ever visited Chiang Mai? What was your favorite activity or adventure there?
*This post contains affiliate links. If you make a purchase using one of these links, I will receive a small commission at no extra cost to you. These commissions help keep this blog running. Thanks!*