Bangkok is one of the craziest cities I've ever been to.
It's truly a city of contrasts; new and old, beautiful and ugly, virtuous and sinful. There's $2 street food and gourmet French restaurants; luxury fashion malls and cheap, cheap street vendors; skyscrapers with posh rooftop bars and splintering, rusted shacks; monks, temples and red-light districts.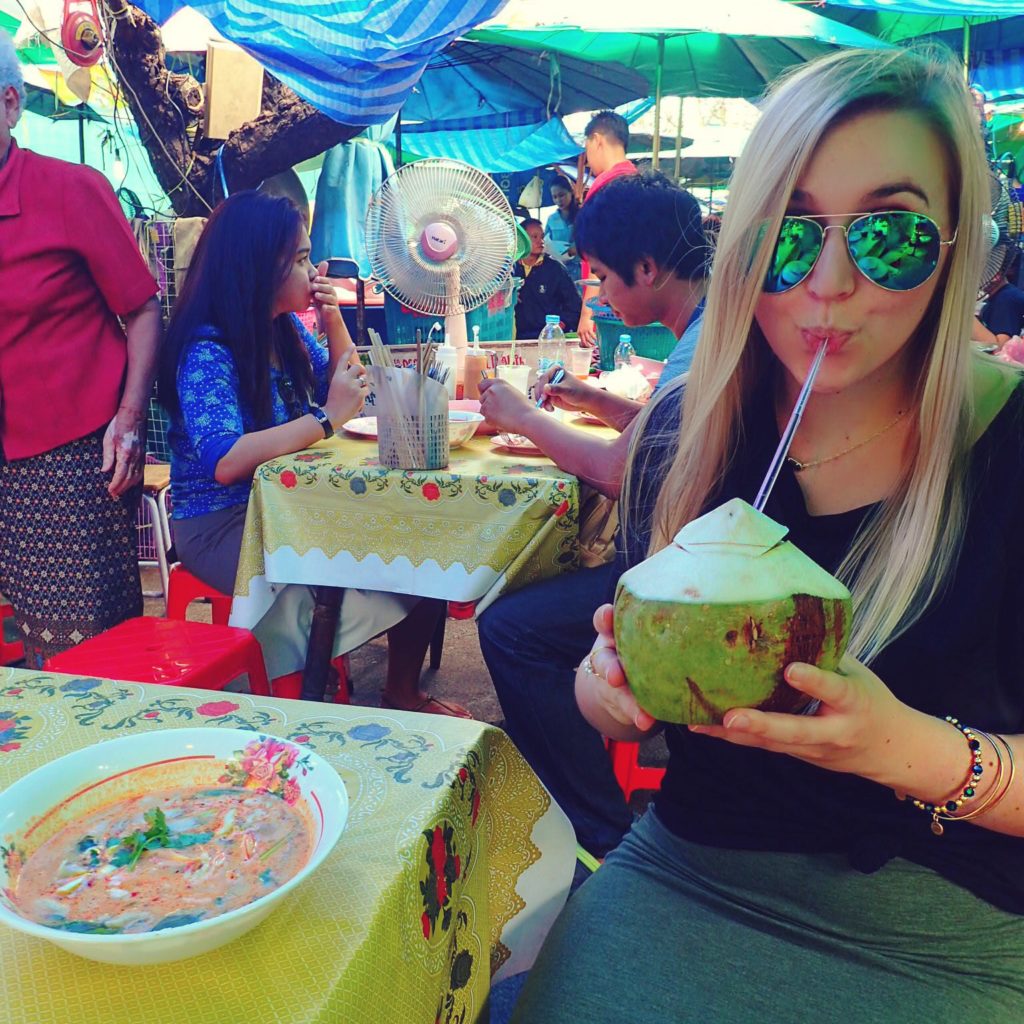 It's one of the few places I know of where you could spend one week meditating in ancient temples, and the next week shacking up with barely legal prostitutes (although I can't imagine that the individual who is interested in one of these activities would be very interested in the other–but who knows, it's Bangkok!).
If you intend to take a trip to Thailand, Bangkok will most likely be your gateway to the region. Of course, Thailand has a whole host of beautiful destinations outside of Bangkok: tropical islands, party beaches, lush jungles, and forested mountains. So, is it worth spending any of your precious travel time in Bangkok?
Yes, absolutely!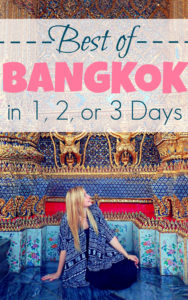 If you're spending the time and money to travel to Thailand, I think you would be doing a HUGE disservice to yourself by merely passing through Bangkok.
It may not be the prettiest location in Thailand, but it's the nation's capital and is home to an incredible amount of history, culture, architecture, and FOOD. Despite all of the delicious dishes available throughout the country, I found Bangkok to have by FAR the best street food.
That said, you really don't need an incredibly long amount of time to see the city's main attractions. In fact, you can see the best of Bangkok in just 1, 2, or 3 full days:
1 Day in Bangkok: Temples, Temples, and More Temples
Bangkok is a BIG city, and there's a lot to be seen. So if you only have one full day here, you're going to really have to pound the pavement. No, you won't be able to see everything, but you'll be able to see a lot. With one day in Bangkok, you should be able to hit:
Grand Palace
Temple of the Emerald Buddha
Temple of the Reclining Buddha
Wat Arun
Street food
8:30am Grand Palace and Temple of the Emerald Buddha (2-3 hours)
Assuming you arrived in Bangkok the night before, you'll probably still be suffering from some serious jet-lag. However, there's no time to waste! In order to maximize your experience, you should plan to arrive at the Grand Palace right when it opens at 8am.
Not only will this get you off to an early start, but it will also help you minimize the inevitable crowds. This place can get Disney World-level crowded, and although it could still be packed right when the gates open, it'll only get worse as the day goes on.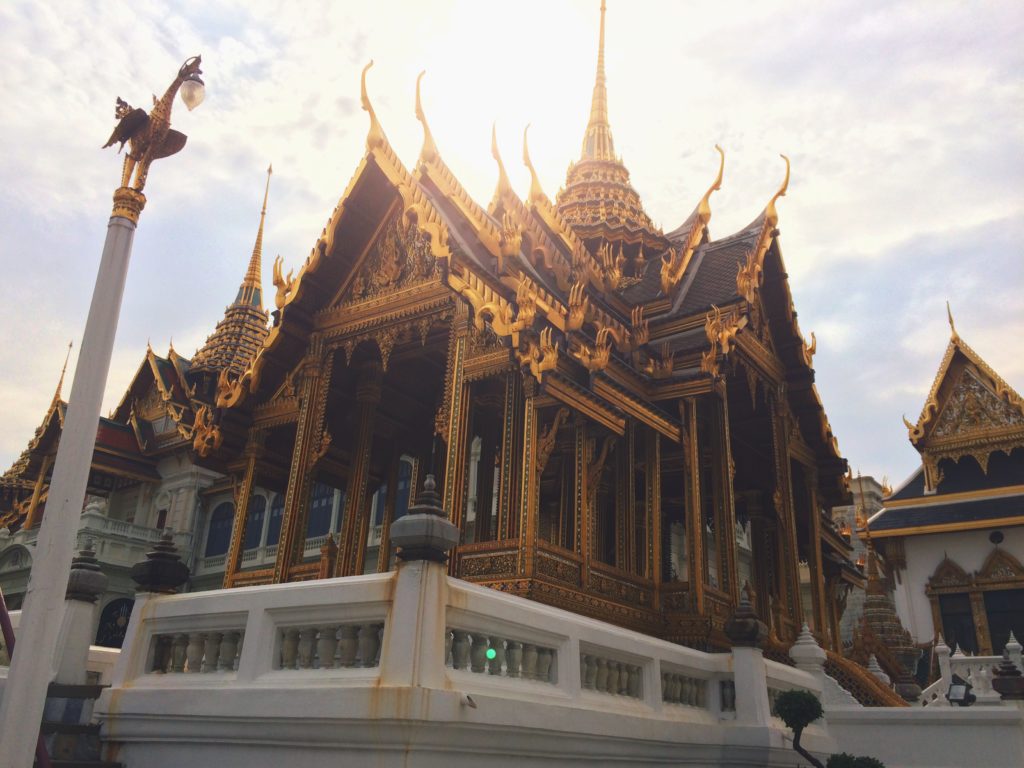 For me, this place is an absolute must-see. The architecture is mind-blowingly beautiful, and it's unlike anything you'll find in the US, Europe, or South America. The Grand Palace and the Temple of the Emerald Buddha are within the same complex, so you'll be able to see them at the same time. It's a pretty big area to cover and it contains a lot to see, so you'll probably need 2-3 hours here.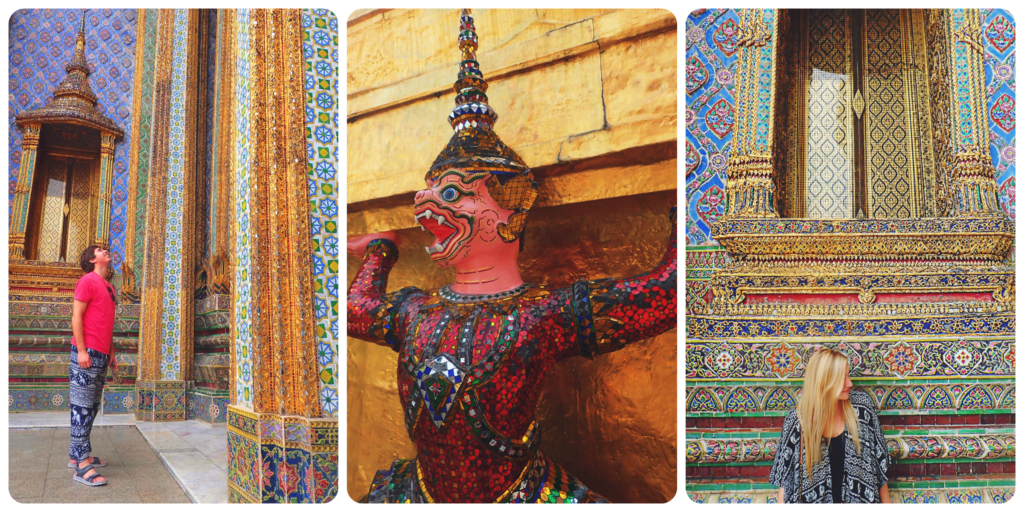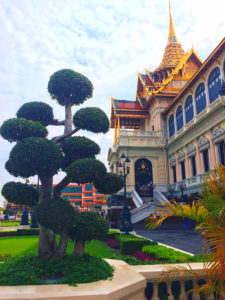 11:30am Temple of the Reclining Buddha (1-2 hours)
Depending on what time you get done with the Grand Palace, you may be ready for a snack or some lunch when you leave.
Luckily, there are plenty of street food stalls between there and your next destination, the Temple of the Reclining Buddha. Grab a quick meal or just a snack, and continue on to the next temple.
What I enjoyed most about this temple was that it was significantly less crowded than the Grand Palace. There were actually several spots that we were able to enjoy all by ourselves, with no one else around us.
It's a gorgeous temple, and definitely worth seeing. Depending on how interested you are in seeing everything, this will probably take 1-2 hours (I think we spent closer to 1 hour here).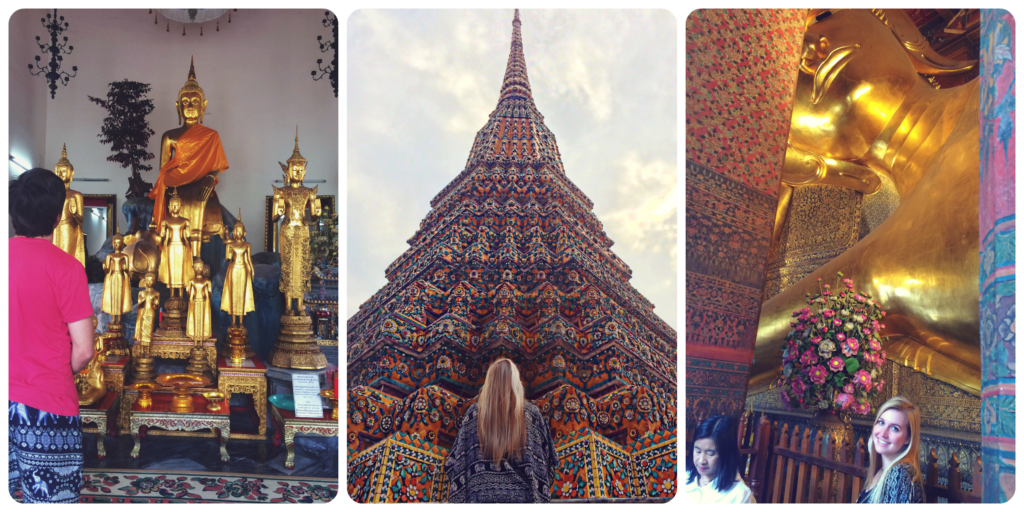 1:30pm Chao Phraya Express Boat or Tuk Tuk to Wat Arun (1-2 hours)
After leaving the previous temple, you'll need to make your way to Wat Arun, which is on the other side of the river.
It's a far walk, and since you're pressed for time, I recommend taking either a tuk tuk or the express boat. Taking a tuk tuk is somewhat of a Bangkok right-of-passage. It's totally toursity but totally fun–it's just one of those things you need to do at least once.
If you opt to take the boat, you have a choice of purchasing an express boat ticket, which is somewhere around 0.50USD, or the tourist boat which is closer to 5.00USD. I've never taken the tourist boat, but I'm pretty sure the only difference is more comfortable seating and a newer boat.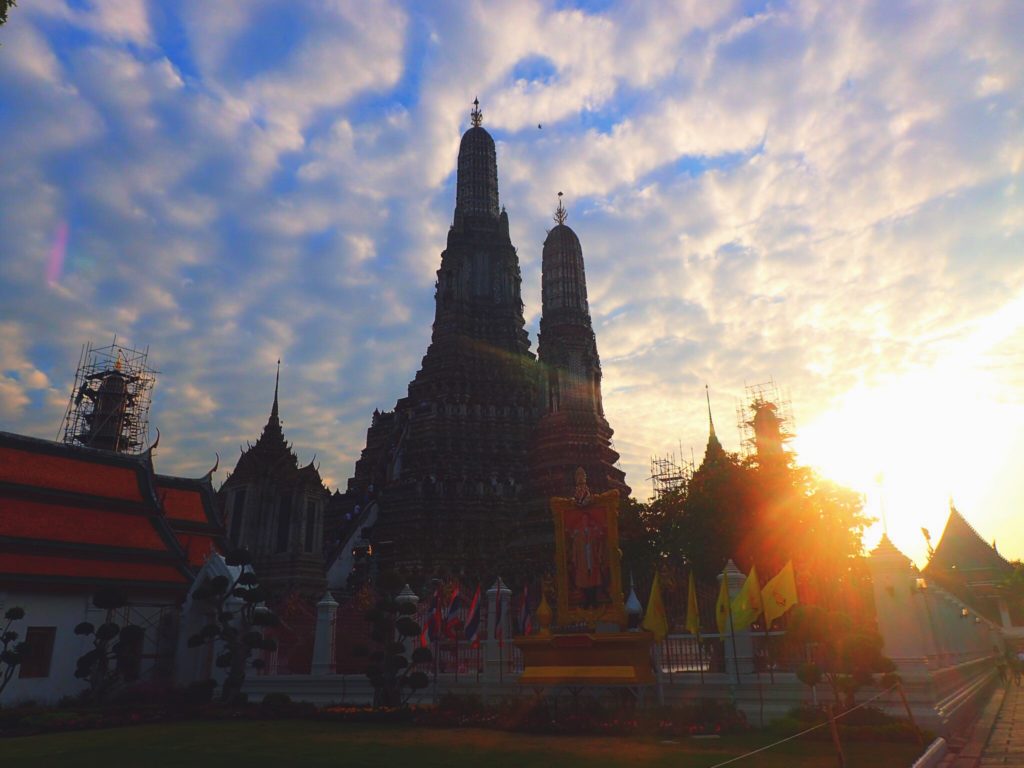 Either way, you'll end up near Wat Arun.
There isn't THAT much to see here, although it's still an amazing temple. You'll probably only need about an hour here, even if you decide to climb the stairs to the top of the temple (and you should).
However, be warned–these steps are actually super steep, and even though I don't consider myself to be particularly scared of heights, I was actually super anxious during the climb down!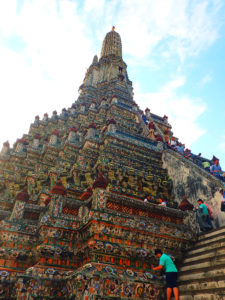 3:30 Walk around Thonburi (1-2 hours)
Since you're already on this side of the river, I recommend taking a stroll around Thonburi, which in my opinion is a highly underrated area of Bangkok.
Here, you barely even feel like you're in a city. Small streets, less traffic, lots of local foods and shops, and plenty of opportunities to stumble across temples. It's a good look at local life–you'll pass lots of homes along the river, and you'll get to see how a family here might live.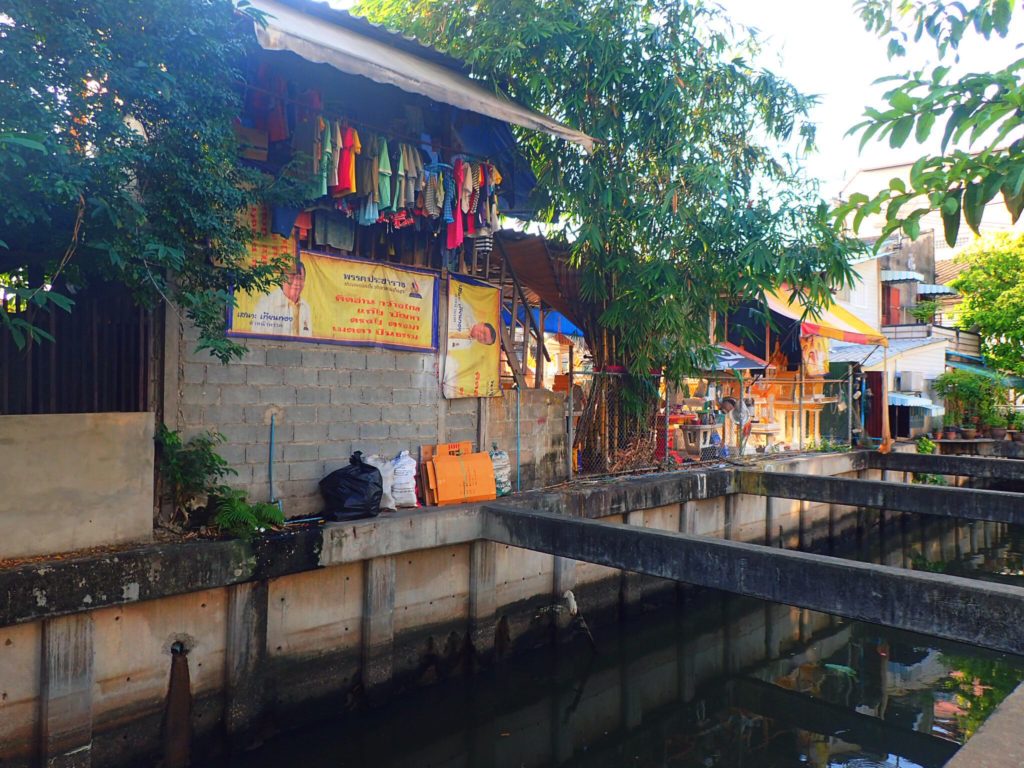 5:30 Relax
Okay, you've just spent an entire day walking around hot, crowded Bangkok–there is no way you aren't completely exhausted by this point.
You've seen the big sites, and now you can relax.
If you're like me, your feet will be hurting, you'll be hungry and thirsty, and you'll be ready to just do nothing. Wind down with a foot or shoulder massage on the street (or a full body massage inside one of the massage shops if you're really wanting to relax) and then head to get dinner and drinks on a popular street (I really liked Soi Rambuttri for this).
Sit back, relax, eat some cheap Thai food, enjoy a cold drink, and watch the nightlife come alive before your eyes. Make sure to try a Nutella and banana roti from a street vendor!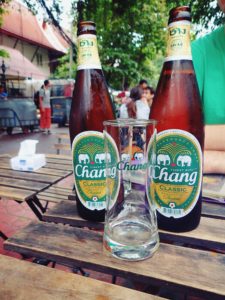 2 Days in Bangkok: Big City Livin'
If you have two full days in Bangkok, follow the previous itinerary for one of your days, and add this itinerary for the other day.
By spending one of your days focusing on temples, architecture, history, and ancient culture, and spending the other day on big city sights, you'll start to see what I mean about Bangkok being a city of contrasts. On this day, you'll have time to experience:
The Skytrain
Siam Square
Lumpini Park
Sukhumvit
Sky Bar
Before I get started, I want to point out that the Skytrain really is an experience in and of itself.
If you're staying in an area close to a Skytrain stop, this method of transportation will be invaluable for you. If you're not staying near the Skytrain but you really want to experience it, you can take another method of transportation to get to one of the stops. A day pass is only around 3.65USD, so it's a great option for someone following this itinerary (or a similar one).
All of the destinations I will mention for this day are easily accessible from the Skytrain. The two lines that you would need to use are Silom and Sukhumvit. Depending on where you start off from, you may benefit from changing this itinerary around.
Morning at Siam Square
Siam Square is a MASSIVE collection of shopping malls, but it's not just for the shopaholics.
Even if you have no intention of buying anything, or if you're thinking that you'd rather pass on spending time in a mall, think again.
The malls that make up this area (Siam Center, Siam Discovery and Siam Paragon) are all multi-story shopping centers filled with a variety of name-brand stores.
Siam Paragon, the most upscale of the three, is home to only the most luxurious brands: Gucci, Dior, Chanel, Louis Vuitton, etc. Think twice before wearing your comfy backpacker attire in here, as you'll be surrounded by well-dressed, attractive people.
The "foodcourt" (it feels wrong to call it that) was home to a number of expensive restaurants, most of which were way out of our price range, as well as a gourmet food market. It's easy to spend a few hours wandering around here, and the dining area of Siam Paragon is a good place to get a nice lunch (just don't expect street food prices!)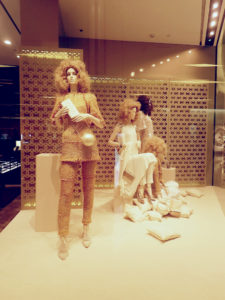 Post-lunch visit to Lumpini Park
Once you're all shopped out, get some fresh air and sunshine at Lumpini Park. Here, you can take a stroll around the lake, try to spot some monitor lizards, or take a rest in one of the park benches. It's a nice break from the chaos of the city, and a good way to decompress before continuing on with your city exploring.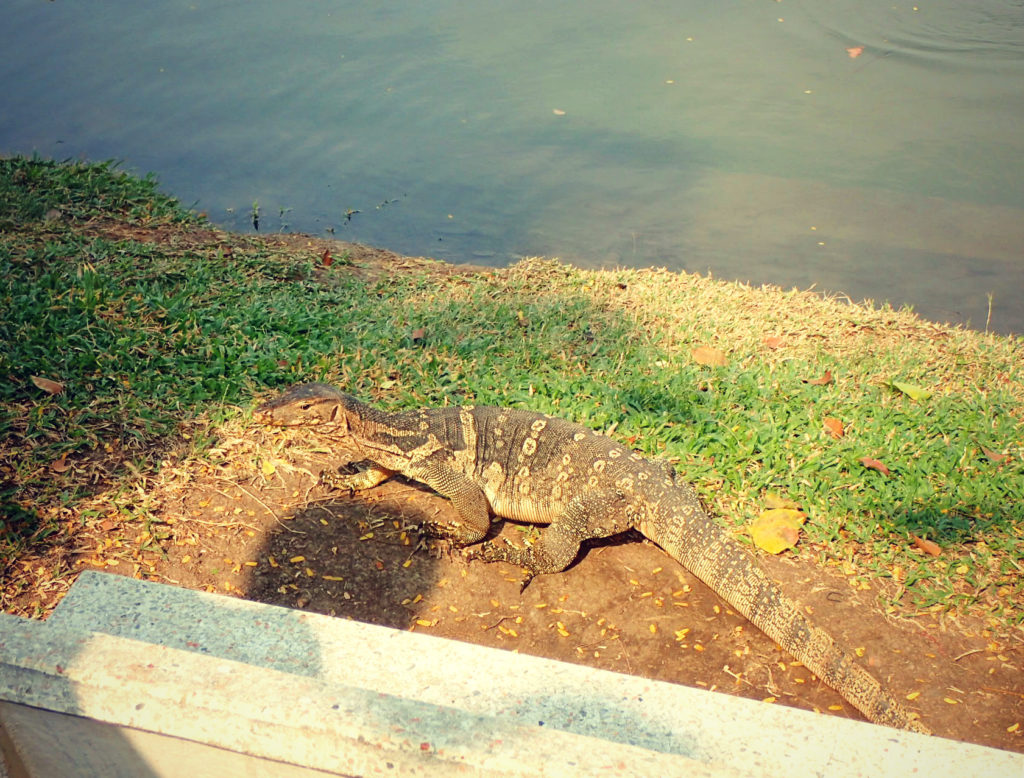 Dinner on Sukhumvit Soi 11
When you're done exploring Lumpini, take the Skytrain over to Sukhumvit Soi 11 (the Nana BTS stop) for some dinner and drinks.
This is a popular expat area, with a number of good restaurants and bars. Not the cheapest dining options, but still reasonably priced. There's lots of outdoor seating, making it a good people-watching area.
Also, a night market opens up around sundown on Sukhumvit road, and this is a prime location to check out the stalls.
If you like the chill expat vibe of this area, go ahead and wind down with a few drinks at one of the many bars. But, if you're looking for something a little more upscale to cap off your big city day in Bangkok…
Drinks at Sky Bar
This is just one of those odd things that in retrospect is not really worth it, but at the same time, you're glad that you did it.
Sky Bar is overpriced and over-hyped, and has absolutely nothing to do with Thailand's culture.
However, if you're at all curious about what it feels like to sip on a 25USD cocktail in an open air bar 820 feet over Bangkok, a visit to this bar may be worth it.
Be warned: you pay for the views here. I ordered the Hangovertini (their specialty, named after The Hangover II which was filmed at this bar) and was not a fan, especially given the price tag. Even a Coke is around 3USD. And yes, it will likely be crowded. But when else in your life will you be able to get buzzed while looking out across this view?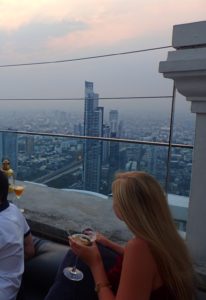 3 Days in Bangkok: Free Day
Free day, what?! This is supposed to be an itinerary, like with actual plans and suggestions, right?
Well, if you have three full days to spend in Bangkok, after spending a day doing intense sight-seeing and a day filled with zipping around the Skytrain, you're bound to be exhausted.
So, I always plan at least one "free day" when I'm visiting a city for the first time.
It's nice to have a day like this at the end of your trip, so that you have the chance to go back and re-visit anything that you wished you could have spent more time at the first time around. Or, you could also put this day at the very beginning of your trip, giving yourself a day to sleep in, adjust to the time difference, and do some leisurely exploring.
That doesn't mean that you can't see anything cool this day, it just means that you don't have any set plans or time constraints. You could take this time to get lost in a less popular area of the city, or ask your hotel owner about some unique sights or events that most tourists miss out on. Or, you could simply wake up, decide what kind of activities you're in the mood for that day, and go.
Here are a few suggestions of activities for your third day in Bangkok:
Visit a floating market or the railroad market
Bike tour around the city or through the "Green Lung"
Khlong (canal) tour via longtail boat
Watch a puppet show at Khlong Bang Luang Artist House
Get massages
Take a cooking class
Eat street food in Chinatown
Shop for cheap backpacker essentials on Khao San Road
Bangkok is truly an amazing city, offering food, drinks, sights, and activities to match every budget and interest.
This itinerary should be do-able on even the cheapest of budgets (okay, you might want to cut Sky Bar if you're REALLY on a budget) but it also offers rich enough experiences to satisfy a variety of interests. Even if you only have 1 or 2 days in Bangkok, you'll be able to see the city's highlights and experience the culture.
For more itinerary suggestions and Bangkok travel tips, I highly recommend Lonely Planet Bangkok
.
---
Have you ever been to Bangkok? What would you change about this itinerary?
*This post contains affiliate links. If you make a purchase using one of these links, I will receive a small commission at no extra cost to you. These commissions help keep this blog running. Thanks!*