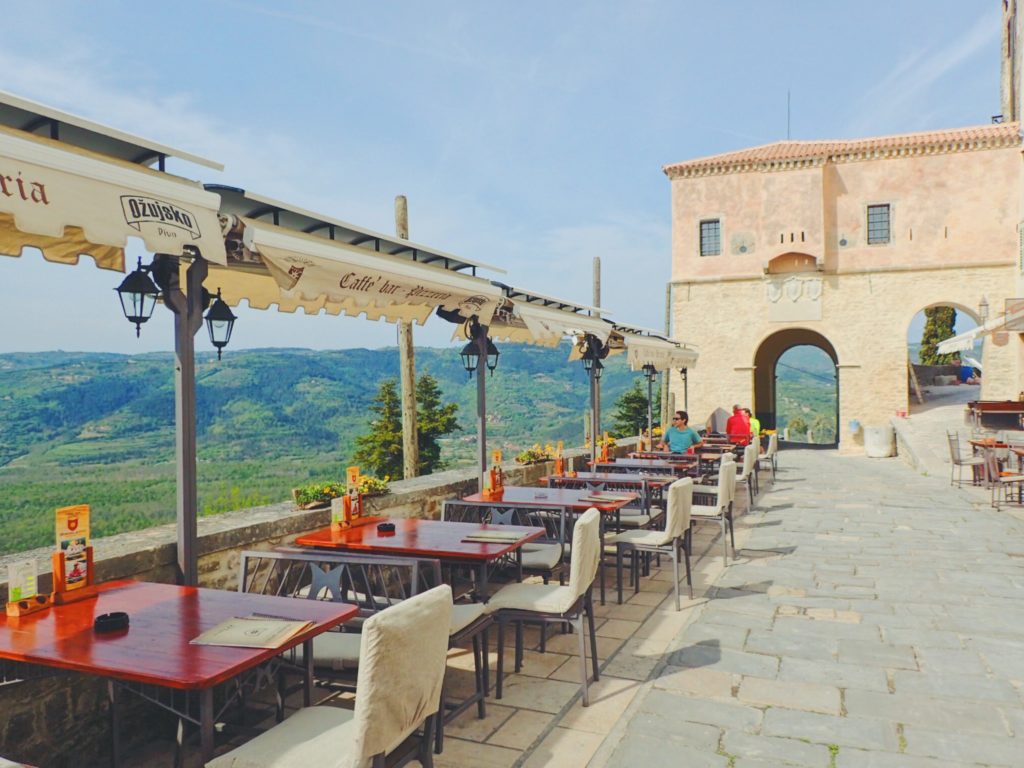 Motovun. Završje. Grožnjan.
Not only are these names a mouthful, they're also a relatively uncommon find on the typical traveler's Croatian itinerary. Most every visitor to Croatia has Dubrovnik, Split, Plitvice, and probably Korcula and/or Hvar on their "must see" list. But the small, sleepy, medieval towns of inland Istria? Not so much…although, I have a feeling that's all going to change in the next five or so years.
The Istrian Peninsula is located in the northwest corner of Croatia, although small sections of the land are also shared by Italy and Slovenia. The peninsula has a strong Italian heritage, having fallen under Italian rule at various points during its long history. With towns and cities scattered both throughout the rolling green hills and along the shimmering coastline, the peninsula can be split into two distinct regions: "Green Istria" and "Blue Istria."
After the chaos and excitement of our wedding weekend (more on that later!) Derek and I knew that we wanted to kick off our Croatian honeymoon with somewhere ultra peaceful and relaxing. And as it turns out, the rural landscape of "Green Istria" fit the bill perfectly.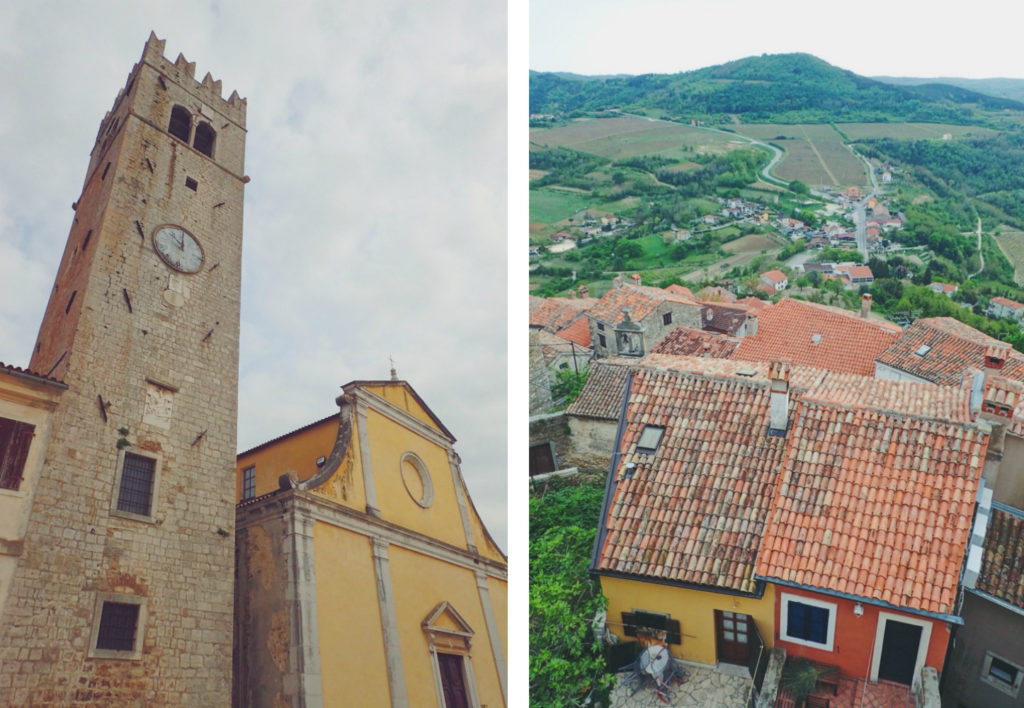 "Green Istria" is more than just a cute name – it's ridiculously accurate. I commented to Derek that inland Istria was the greenest place I've ever seen in person, and he agreed – and he's been to rural Ireland!
But really…just how green are we talking?
Well, close your eyes and imagine that you're standing on the tip-top of a steeply sloping hill in the very center of Istria. You slowly spin in circle, gazing out in every direction as you turn, and your eyes are met with views of endless rolling hills in all directions, with every square inch of the earth covered in green forests, olive groves, vineyards, and fruit orchards. The only break from the greenery is the presence of medieval villages teetering on the hilltops, their ancient stone walls and churches glowing in the golden setting sun.
…Or, you know, just check out the photos below!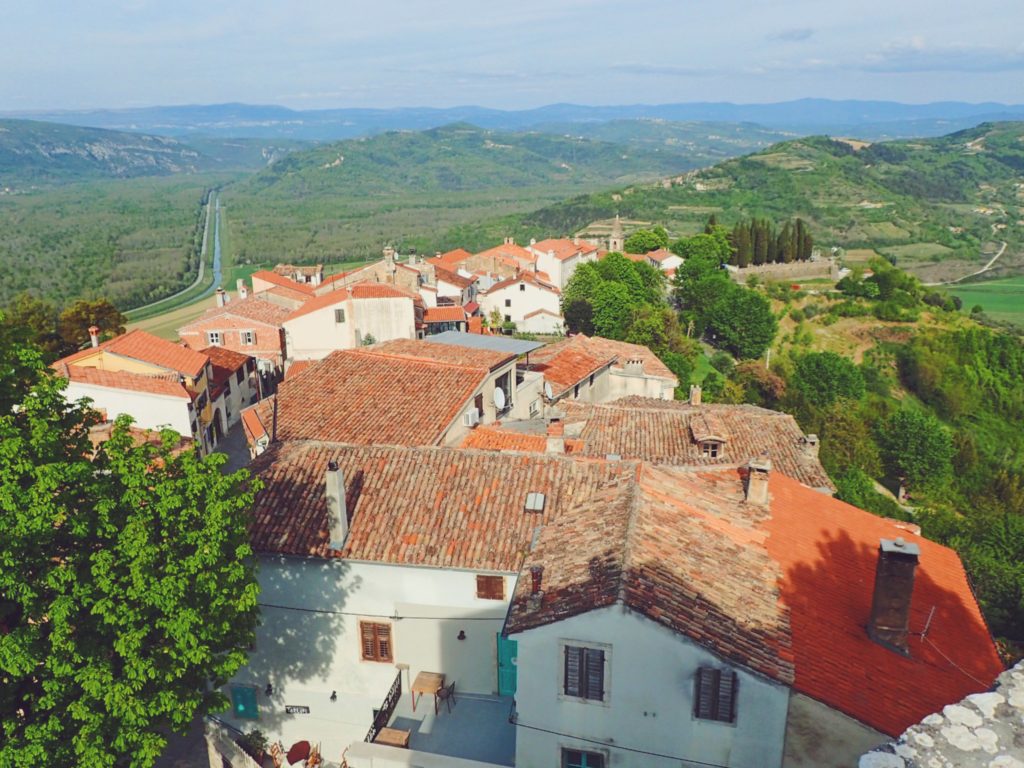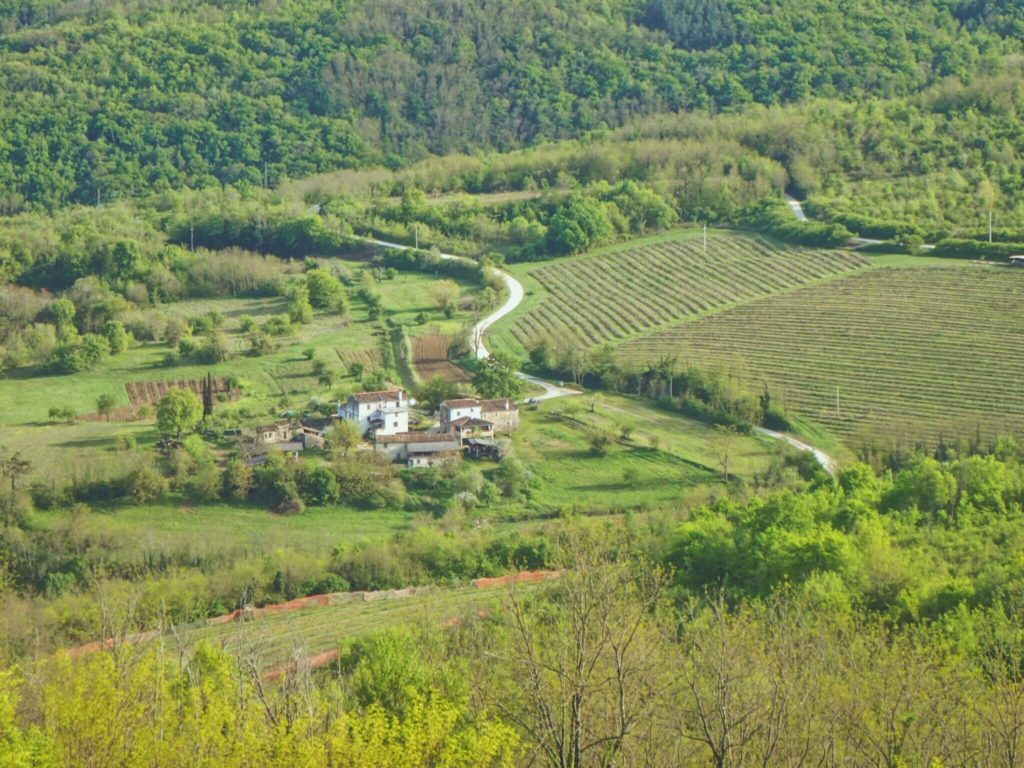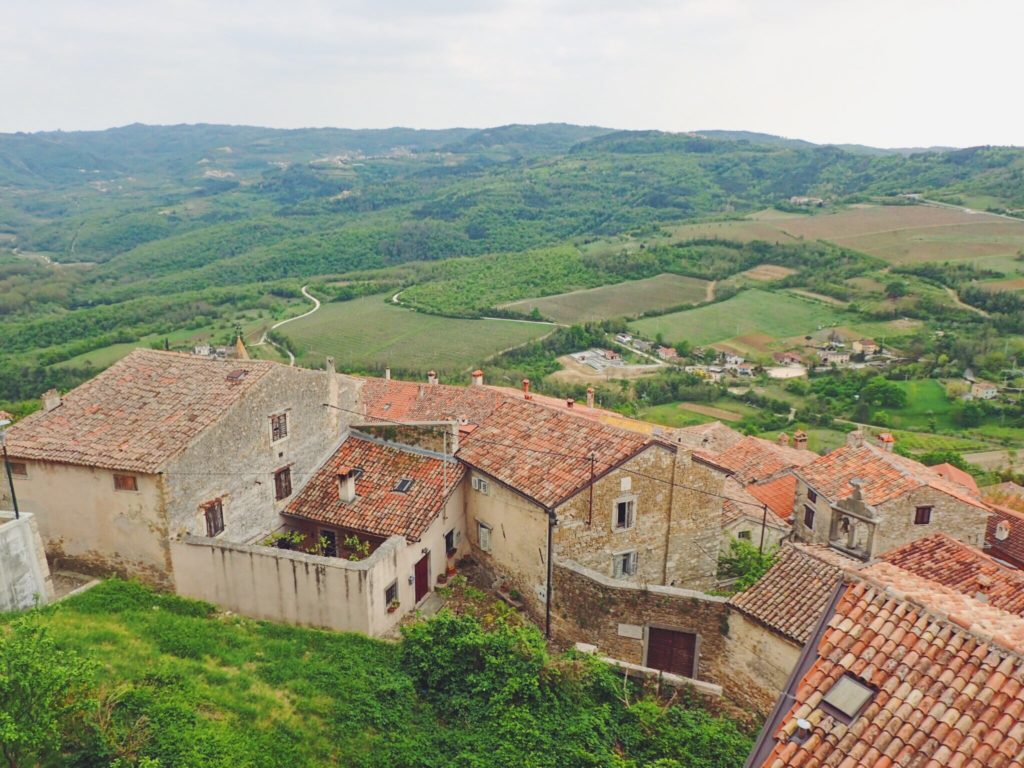 Why Visit Green Istria?
The Istrian Peninsula is hands-down one of the most charming regions I've ever had the pleasure of visiting. The sprawling landscape is rugged and captivating, dotted with wineries and olive groves, and the handful of hilltop towns are filled with charming stone alleyways, 12th century bell towers, and cozy wine cellars.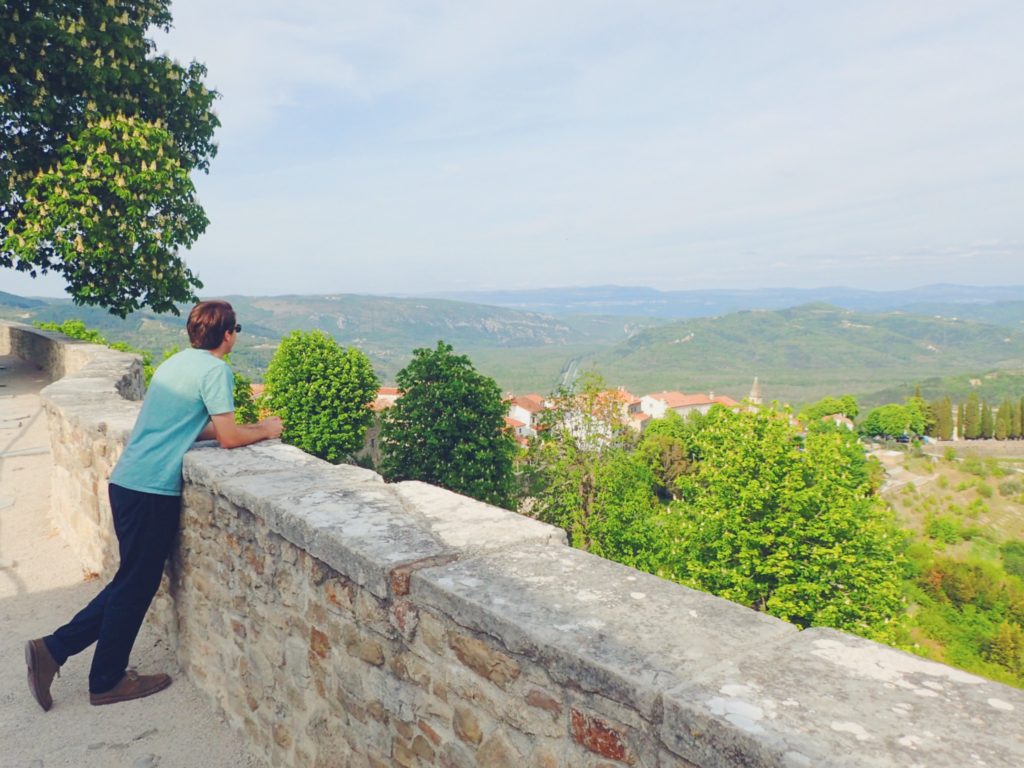 We dined on comfort foods like pizza and pasta topped with homemade olive oil and black truffles, and between meals we snacked on plates of cheese and salami. We sipped small, frothy cappuccinos and generous portions of red and white wines, and treated ourselves to handmade chocolates and cones topped with fluffy gelato.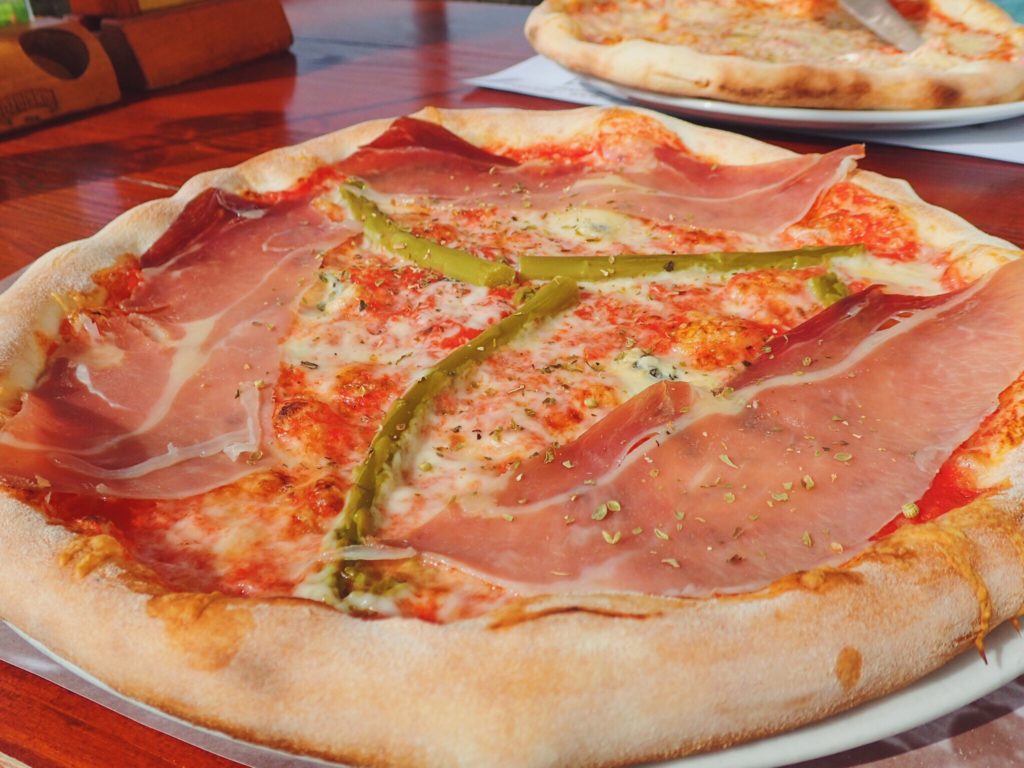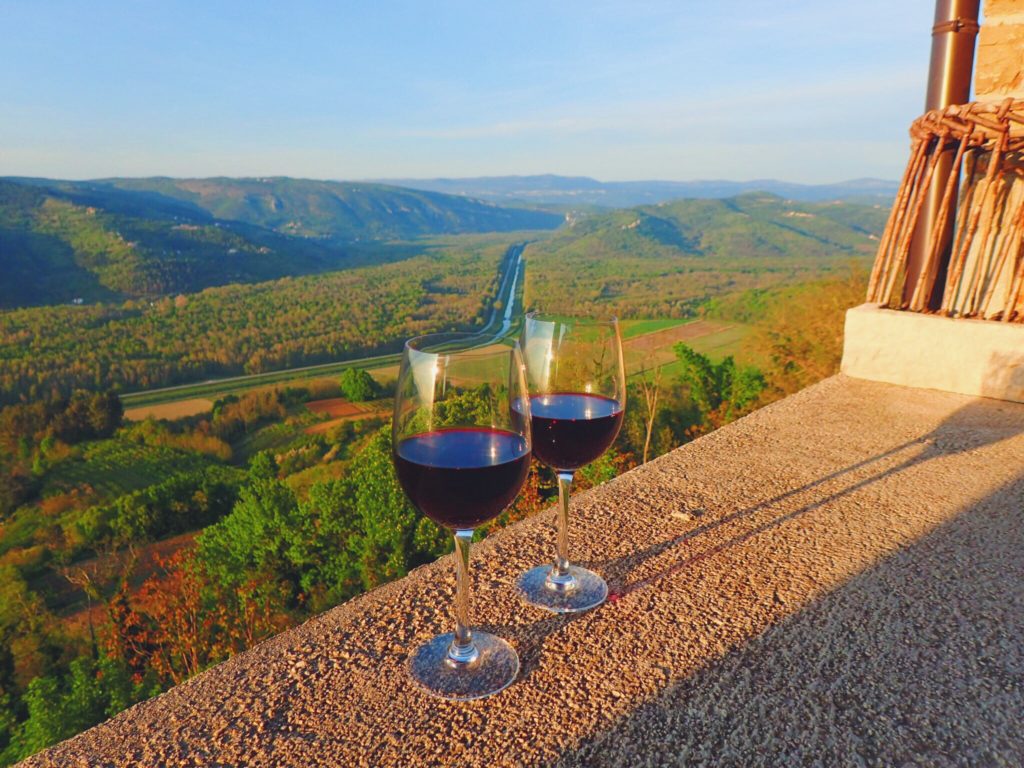 There are countless towns to get lost in throughout inland Istria (one of the reasons I highly recommend renting a car while traveling here!), although a few towns in particular do stick out as the most popular choices for travelers:
Motovun
Završje
Grožnjan
Buzet
Hum
Roč
Derek and I visited the first three towns on the list during our three days in the region, and enjoyed seeing the many similarities and subtle differences between each location.
Motovun
We based ourselves in Motovun, one of the largest and most popular towns to visit in the region. Situated on a hill 886 feet above sea level, Motovun was first inhabited by the Romans in the 1st century, though the "modern" version of the town wasn't built until the medieval period many centuries later.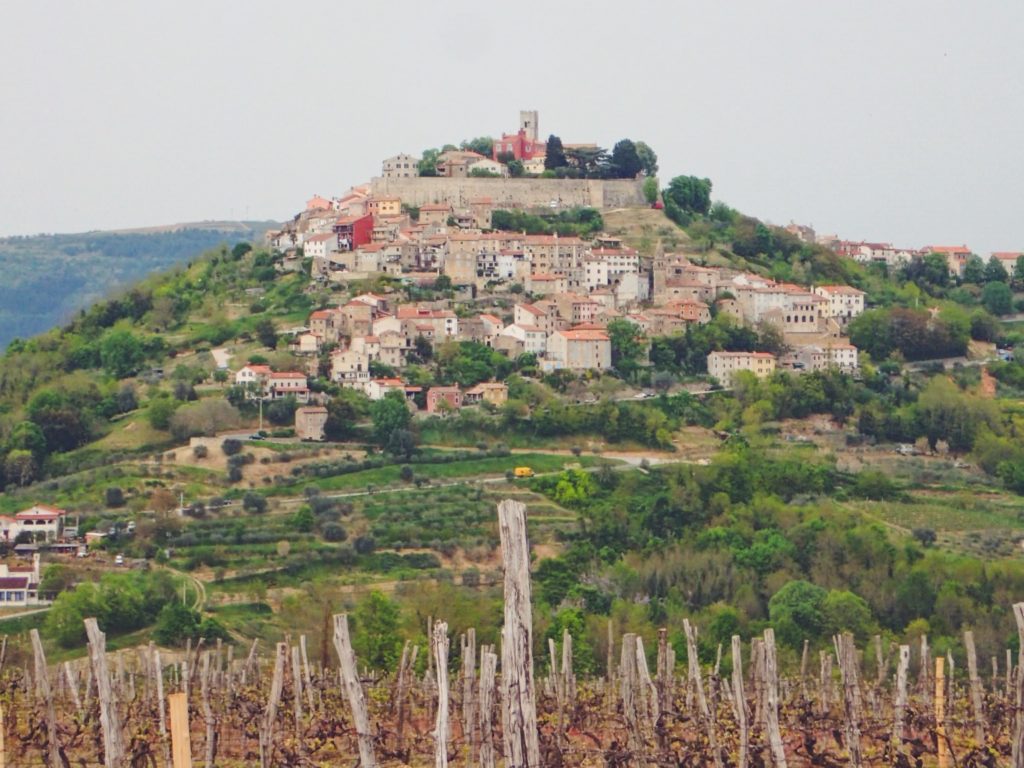 Motovun is made up of a maze of interconnecting cobblestone streets, thick walls, watchtowers, and Gothic-style city gates, all of which offer sweeping 360-degree views of the forests, vineyards, olive groves, and sloping hills below.
The narrow streets are winding and steep, though the lack of cars makes strolling through town an idyllic and leisurely experience. In short, the entire town oozes romance and relaxation, and it's easy to "get lost" and stumble across gorgeous vistas and photo-worthy scenes (although really, you can never stray too far from the center of town!).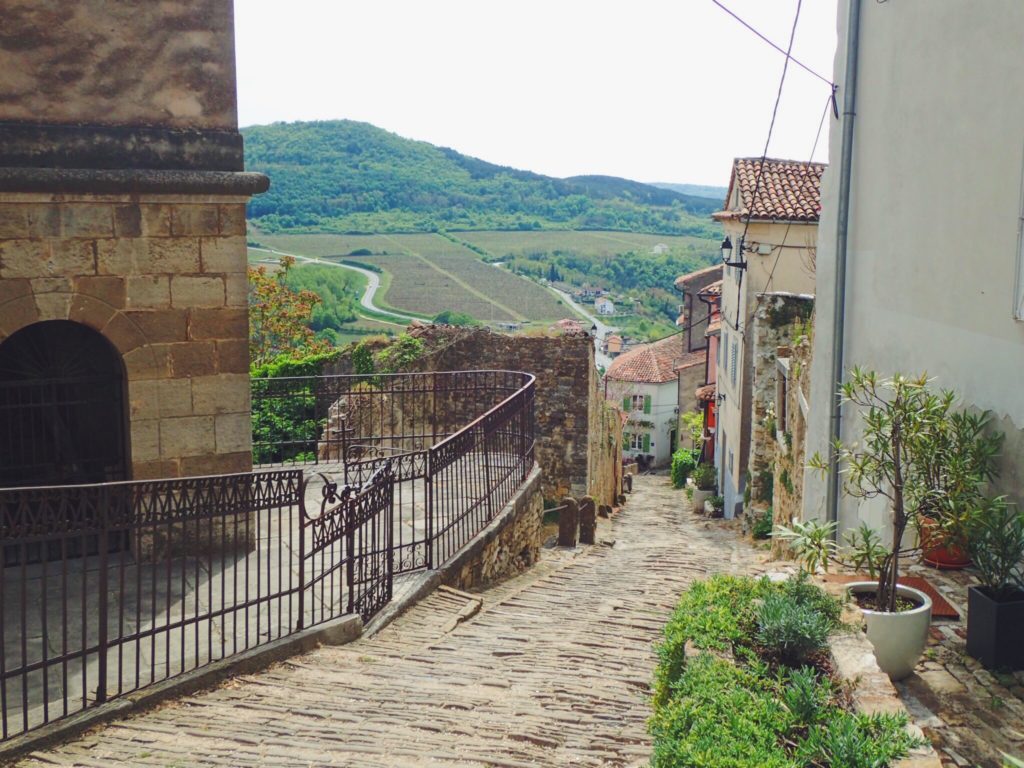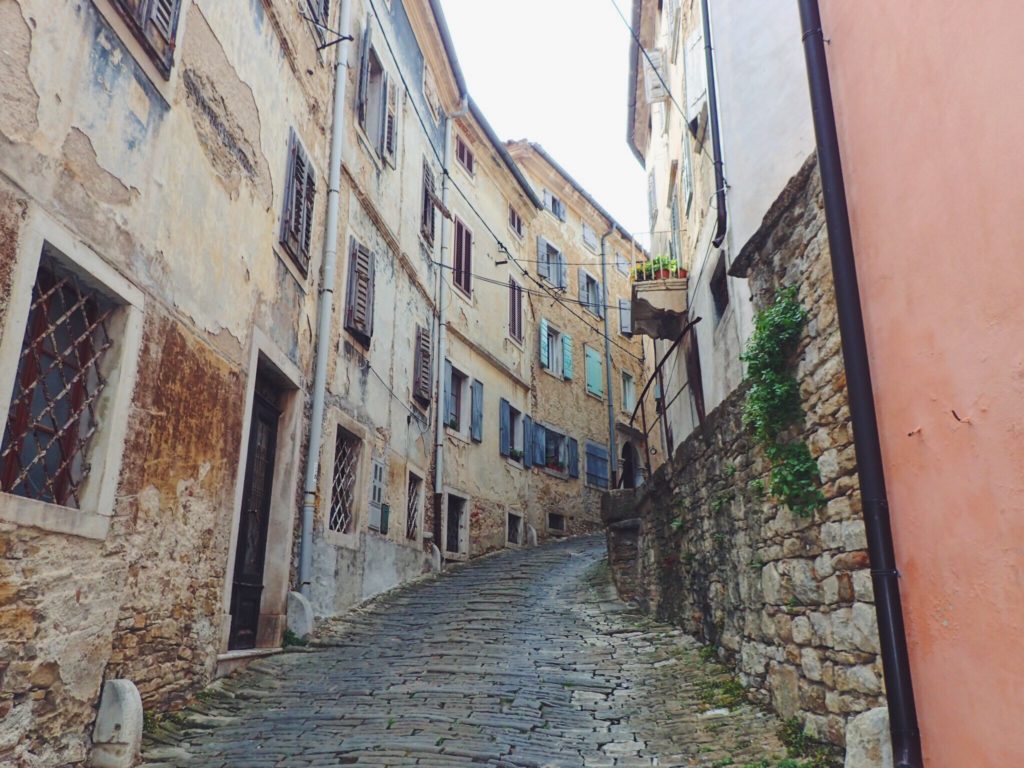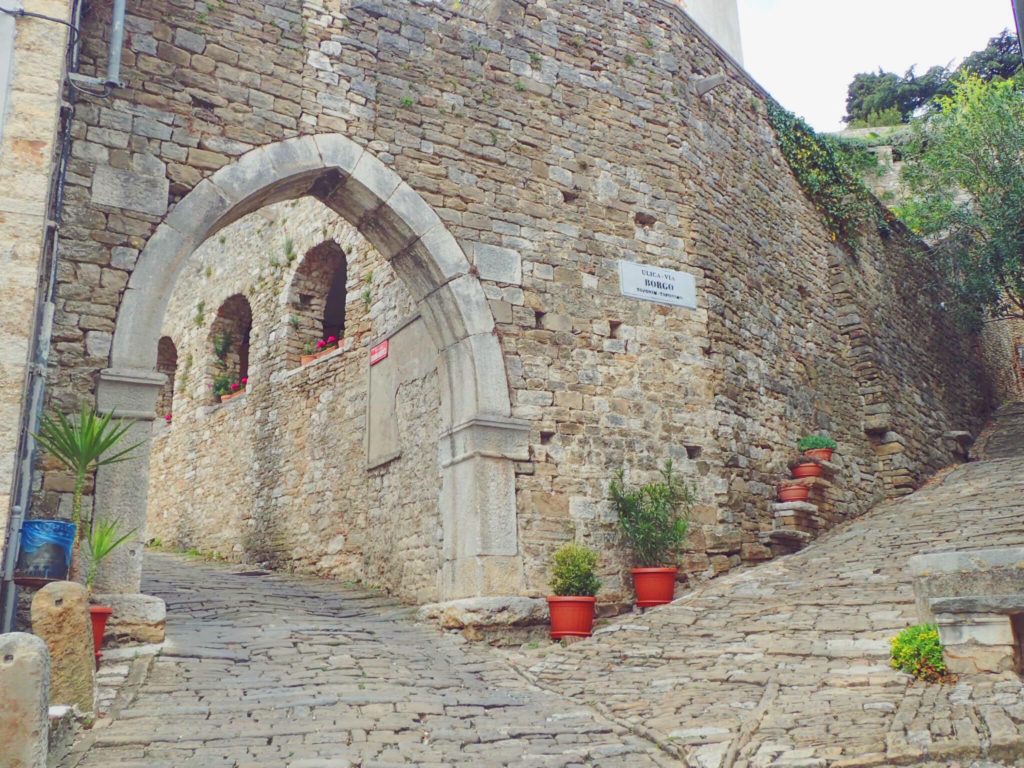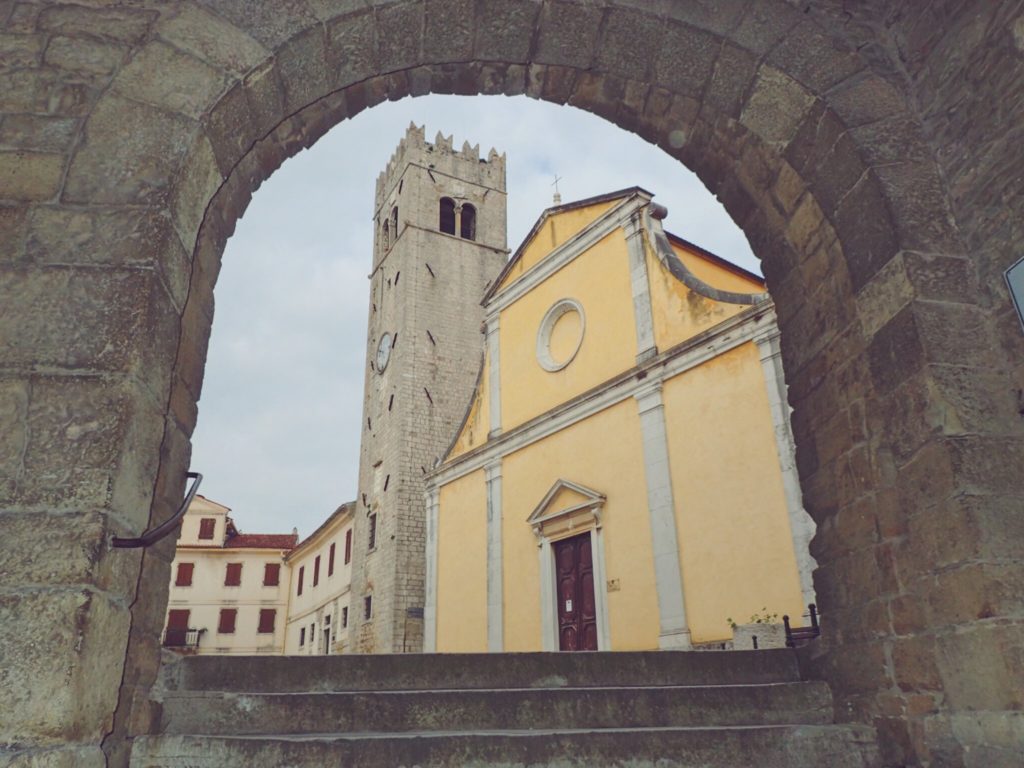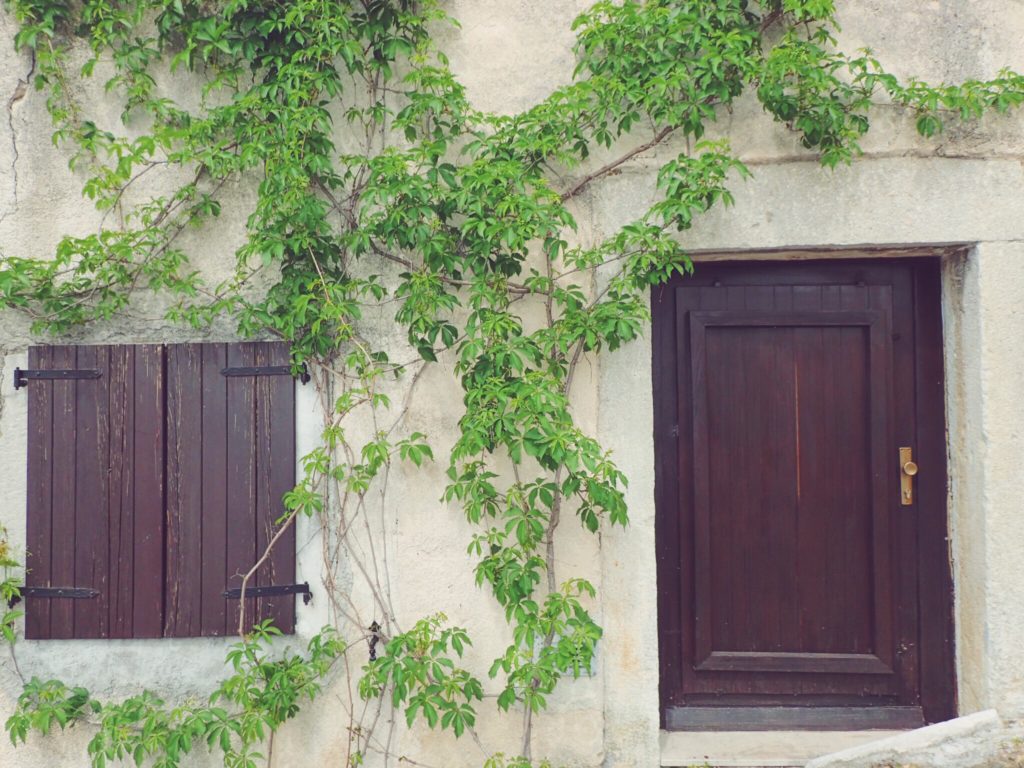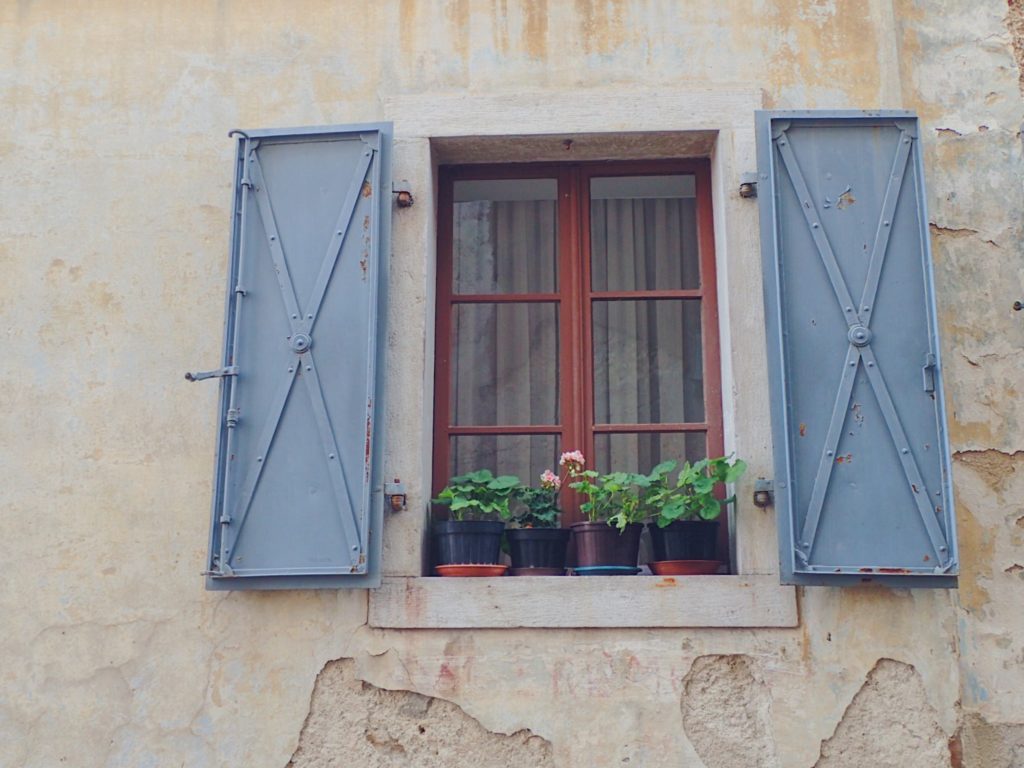 We booked a lovely Airbnb located close to the town's Gothic Gate, and though we've always had a positive experience with renting Airbnbs, we were surprised by just how wonderful our experience was in this particular location. Our hosts, Vlatka and Horst, were a friendly couple who met us at the apartment and gave us tips and advice for making the most of our time in Motovun and Istria.
They also left us a handwritten note congratulating us on our new marriage and wishing us well on our honeymoon, as well as a homemade bottle of wine that their friends – local winemakers – had produced. We ended up sitting out on the elevated terrace in their backyard one evening, watching the sun set over the hills while sharing the bottle of wine and chatting with Horst about travel and tourism in Croatia.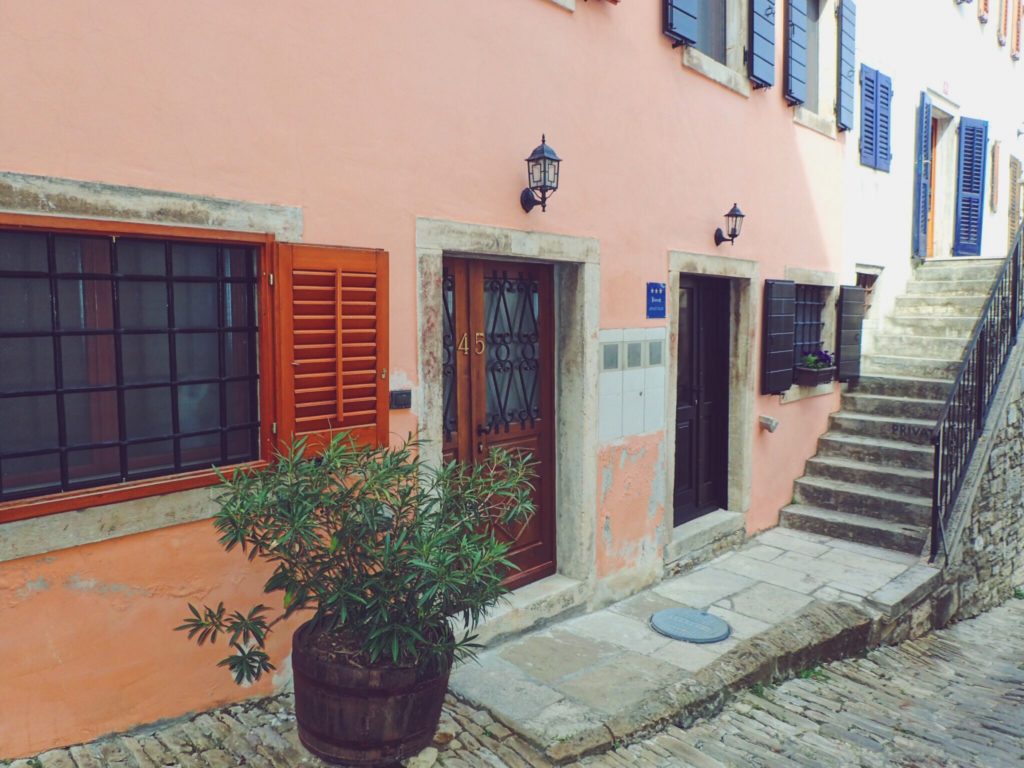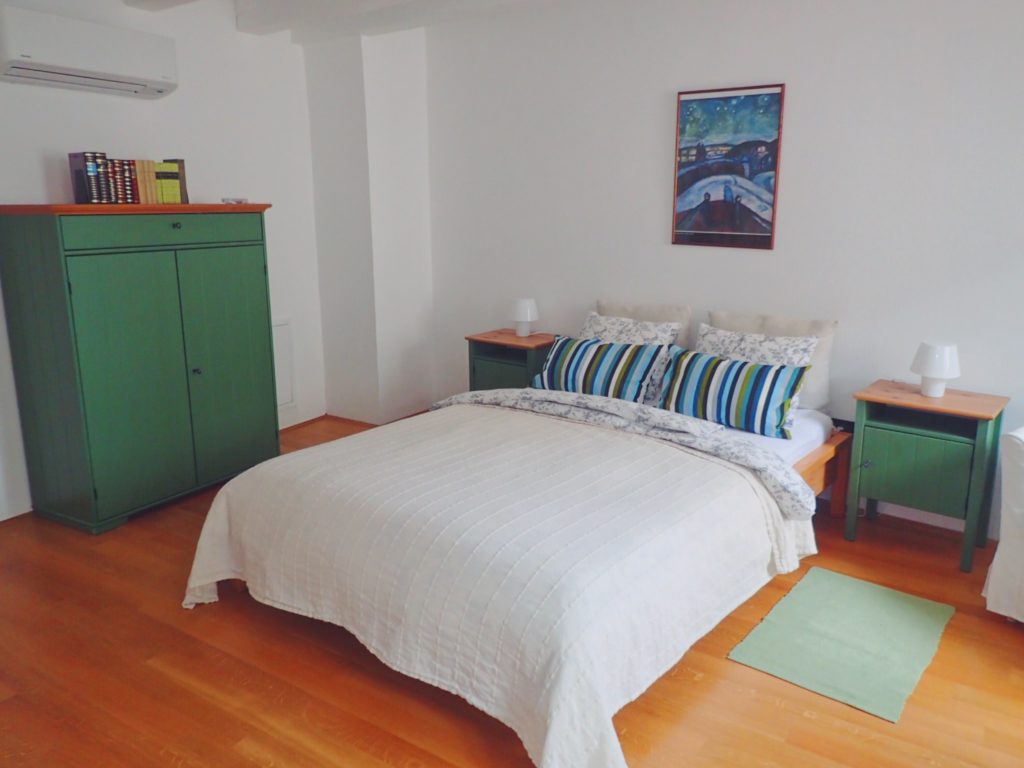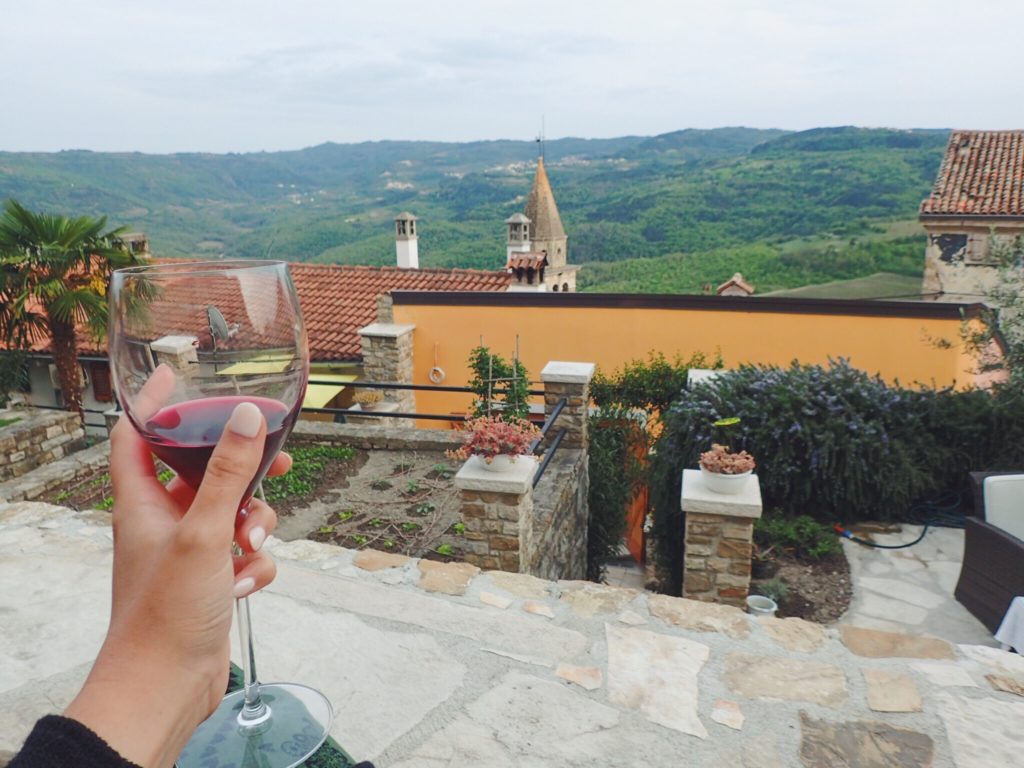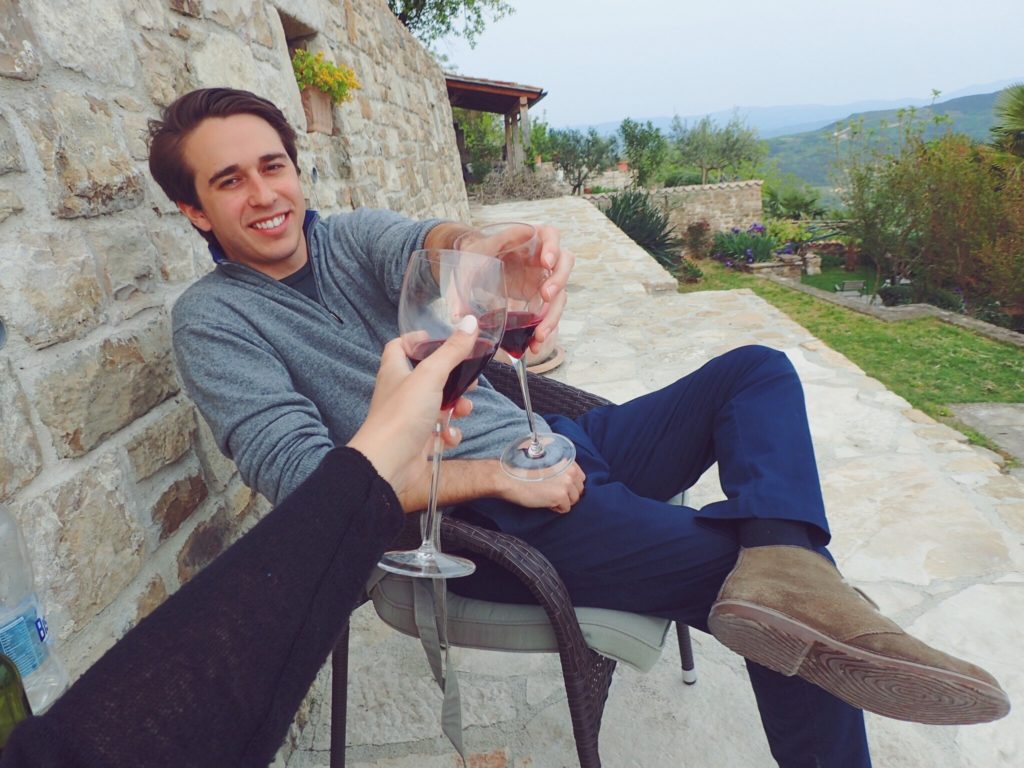 We later experienced this type of warm hospitality at each and every place we stayed during our travels in Croatia, but the fact that this was our first experience with Croatian Airbnbs makes it stand out from the crowd.
Since we were visiting Motovun in April – the tail end of low season for tourism in Croatia – the town was quiet with pleasantly empty streets and few other tourists, especially during the late afternoons and evenings. We lucked out with the weather – mostly sunny skies and mild temperatures, with a gentle breeze that swept in through the valley.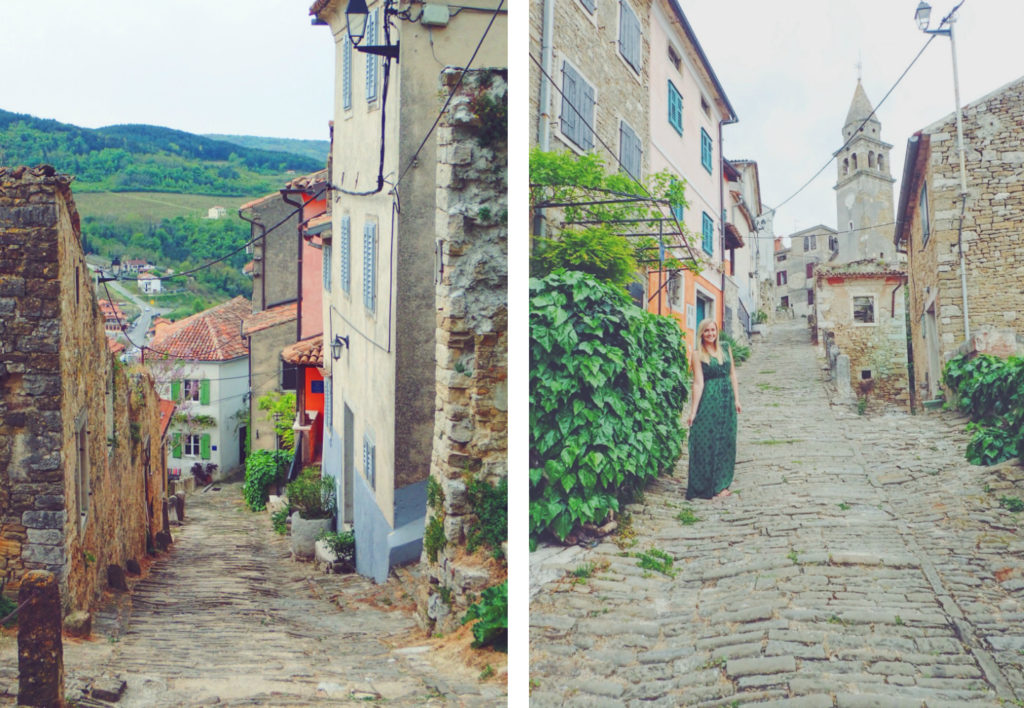 It's certainly possible to visit Motovun and see the main sights in a day – or even a half day – but Derek and I wholeheartedly agreed that we were glad to be spending three nights in town, with the option to take day trips to nearby towns when we wanted.
Our days were leisurely and relaxing; we slept in late in the mornings, then wandered the streets in search of a nice spot for coffee and breakfast with a view. Then, we'd hop in the car to seek out new sights and viewpoints outside of town, returning to Motovun for a late lunch, a bit of strolling and shopping at the handful of truffle and honey shops, a glass of wine, dinner, and maybe a second or third glass of wine before bed.
Many of the shops offer free tastings of their truffle sauces and olive oils, although it's polite to make a purchase afterwards. I snagged a bar of handmade lavender dark chocolate from one of these shops; I thought it was delicious…and Derek thought it tasted like soap. *Shrug*
We had our best truffle pasta at Mondo – a small, top rated restaurant in Motovun – and enjoyed excellent pizza with an even more excellent view at Montona Gallery.
We also enjoyed the views and drinks at Cafe Mure, although our top pick for drinks was a small fruit and wine shop located on the main parking street outside the walls. We wandered in one day for a free wine tasting, and ended up purchasing a bottle of red and drinking it right there on the terrace!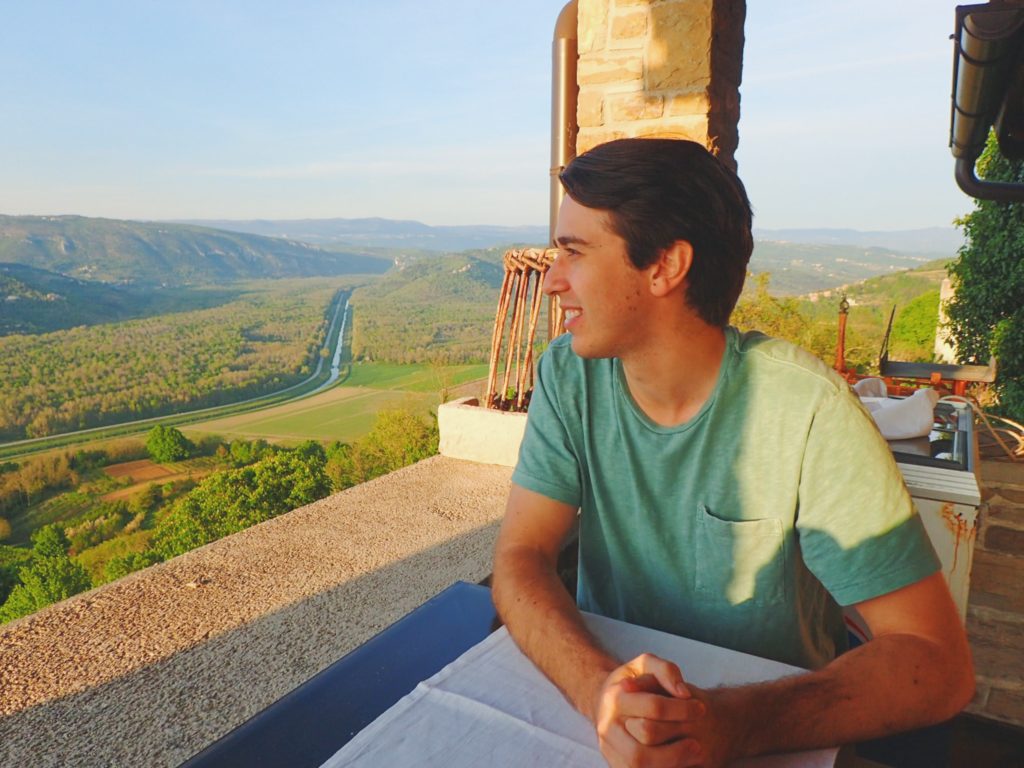 Završje
Perched on a hill just north of the Mirna River, Završje is truly unique among the list of Istrian hilltop towns.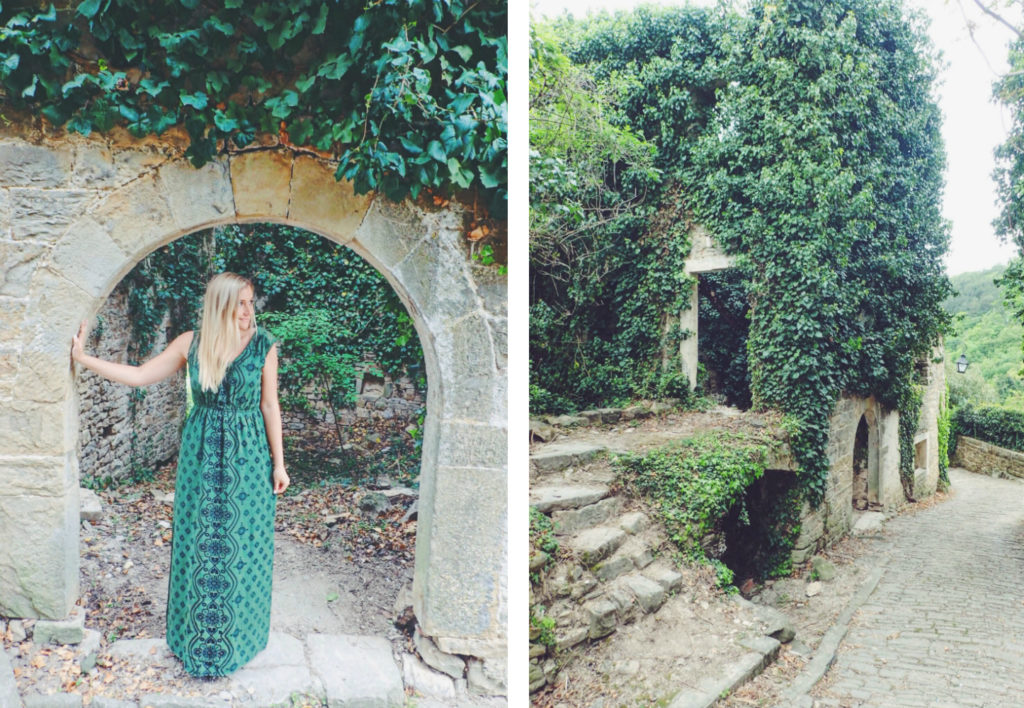 …Why? Well, this gem of a town is largely abandoned, with only 40 permanent residents who call Završje home. From outside the gates, the town appears no different than any other walled town in the region.
But once inside, you'll find empty 16th-18th century stone homes with fully grown trees sprouting out of the floors and out through the missing rooftops, doorways missing their doors and windows missing their glass, and leafy creeping ivy climbing the interior and exterior walls.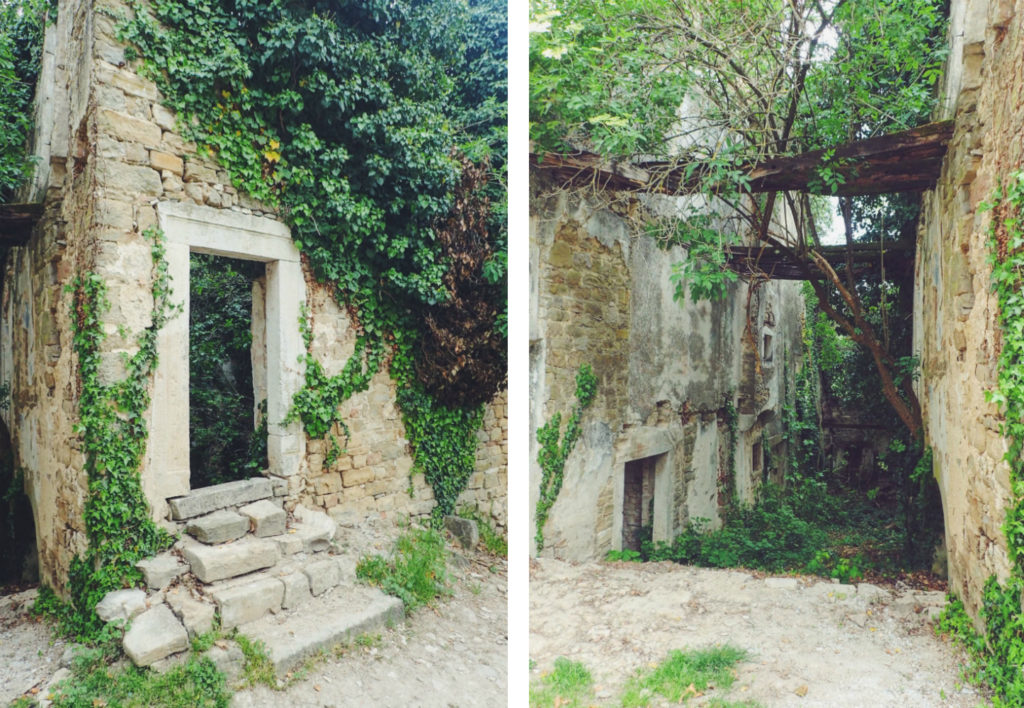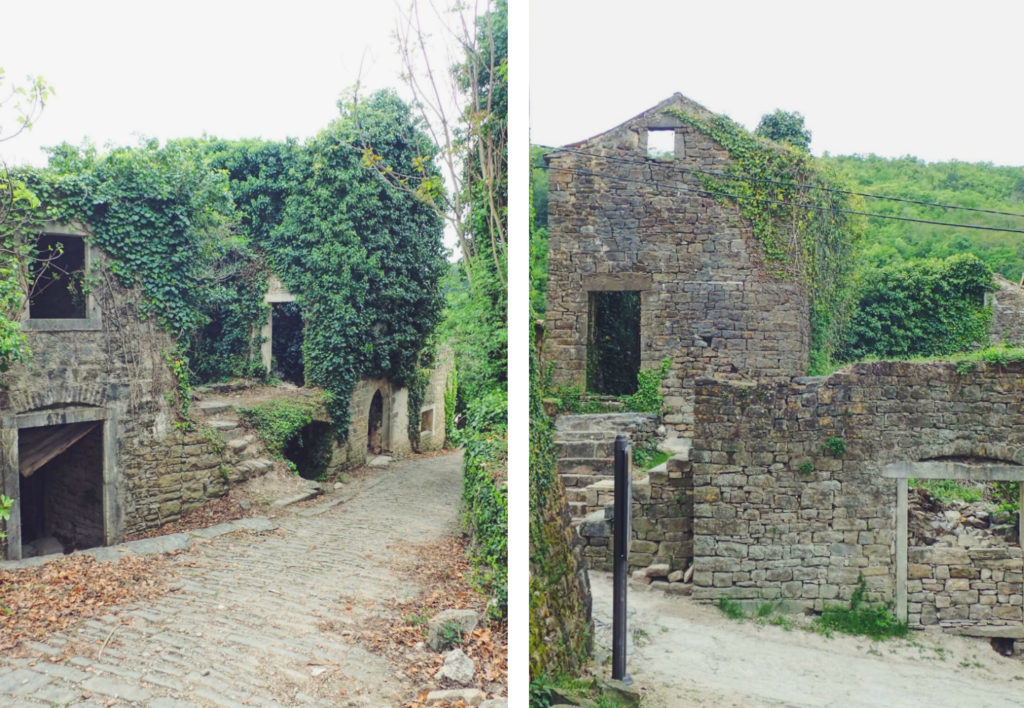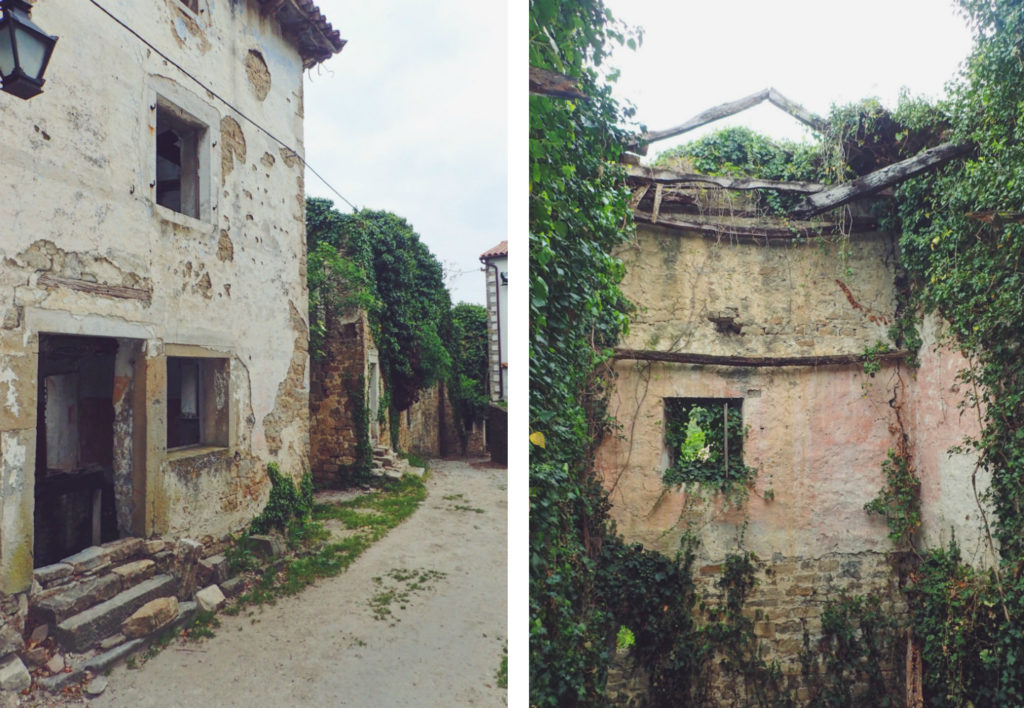 For me, this fascinating medieval ghost town was equal parts romantic, charming, and…unsettling.
There's certainly no denying the fairytale-esque scenery and rustic European beauty (Hans Christian Andersen, anyone?), but there was also something a bit eerie about wandering through the abandoned streets without seeing a single other living soul.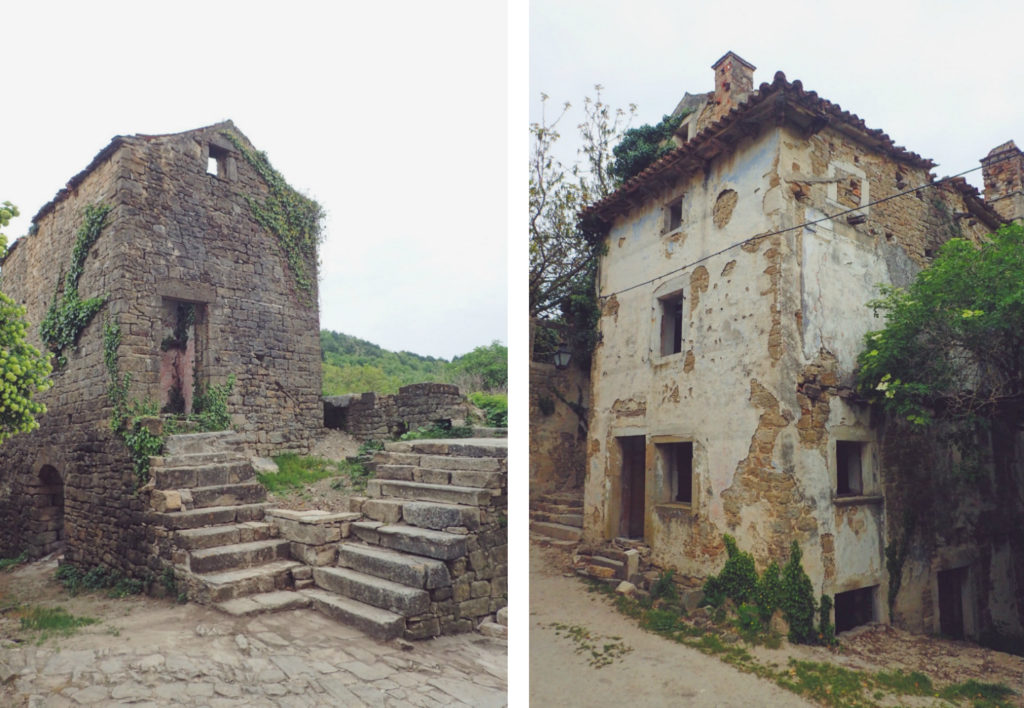 Grožnjan
Perhaps the most photogenic and easygoing town of the bunch (which is really saying something!), Grožnjan is a small hilltop village and a mecca for both local and international artists and musicians.
The well-preserved medieval town is outfitted with rough stone walls, narrow alleyways, colorfully painted doors, lush flowerbeds, and all the mystical charm of a setting straight out of a J. R. R. Tolkien novel.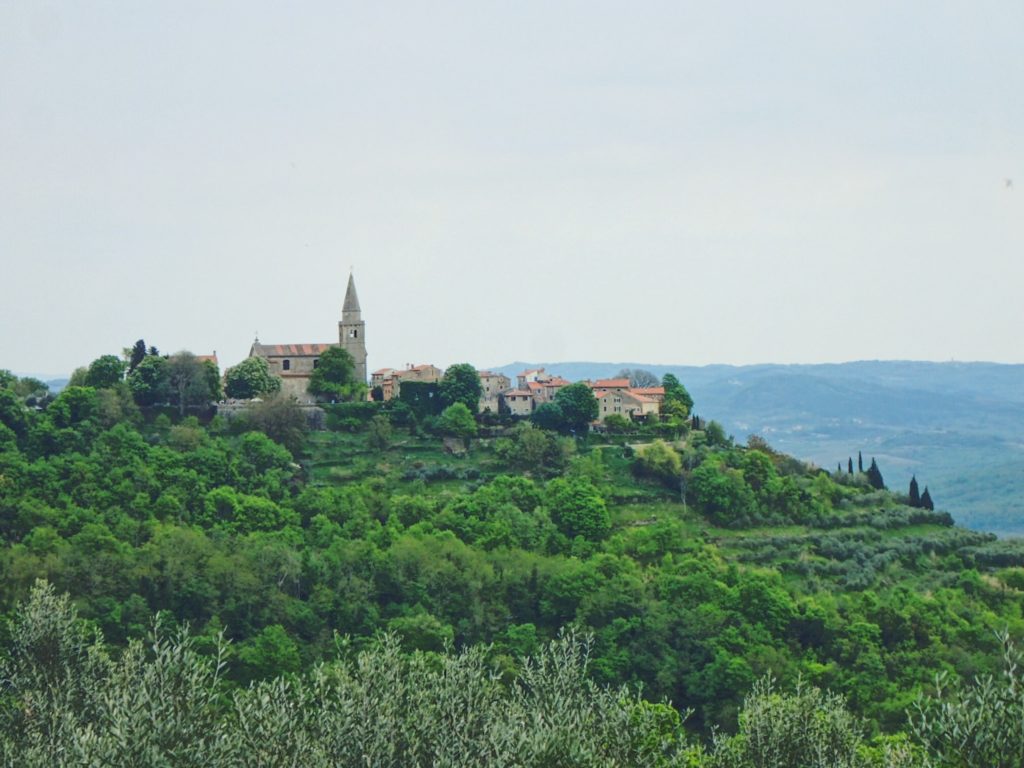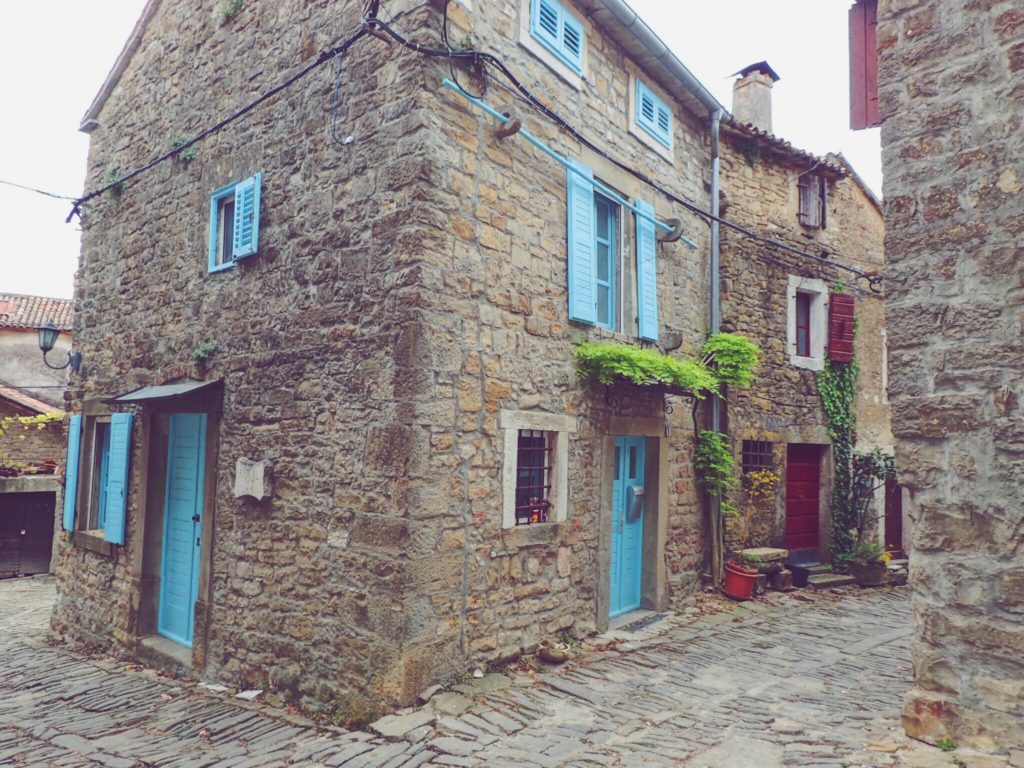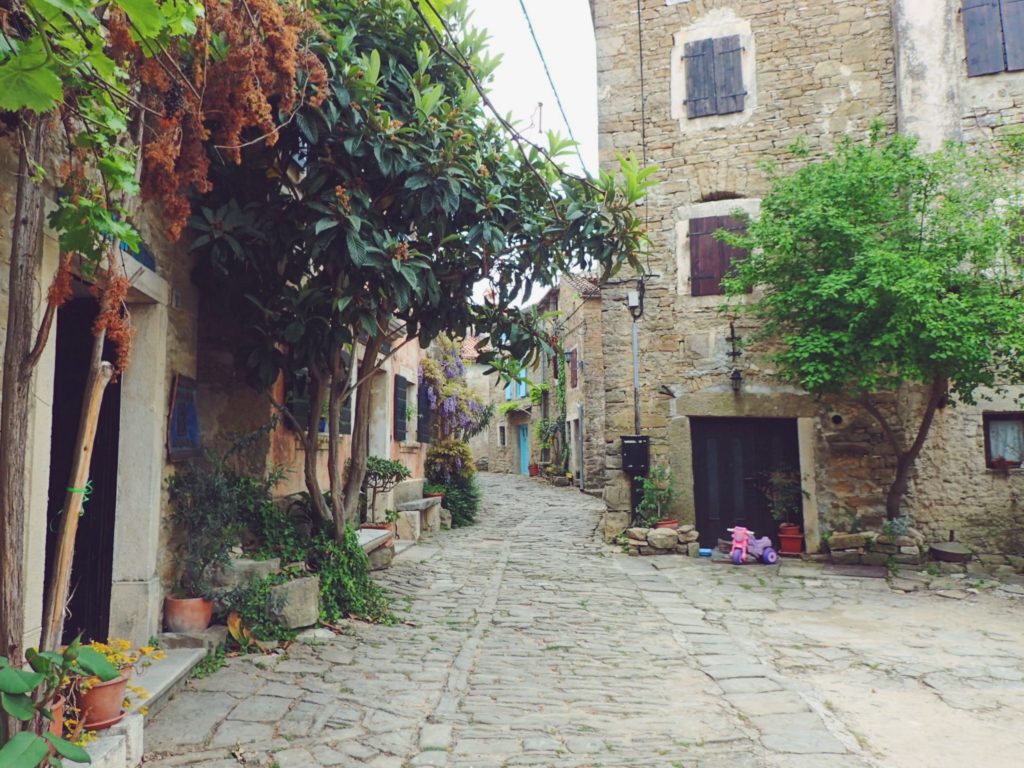 Meander down any of the twisting, winding streets and you're sure to stumble across an art gallery, studio, or workshop. The town really comes alive during the summer months, when music and art teachers and students flock to the local academies, and creative minds gather to enjoy the open galleries and musical performances.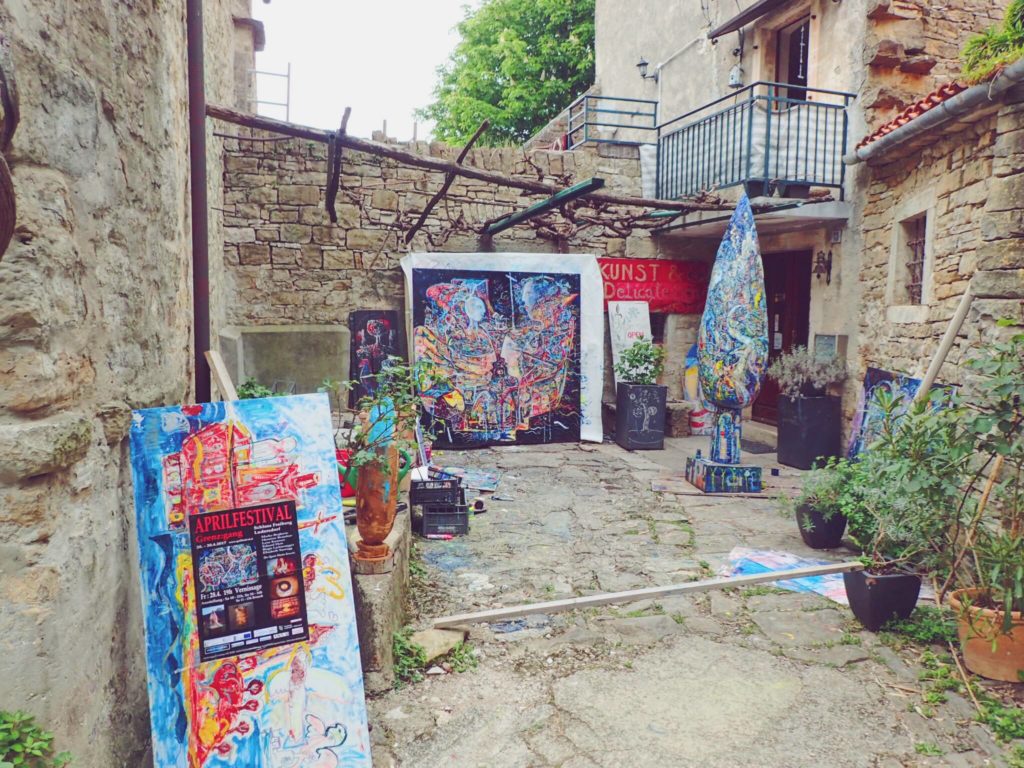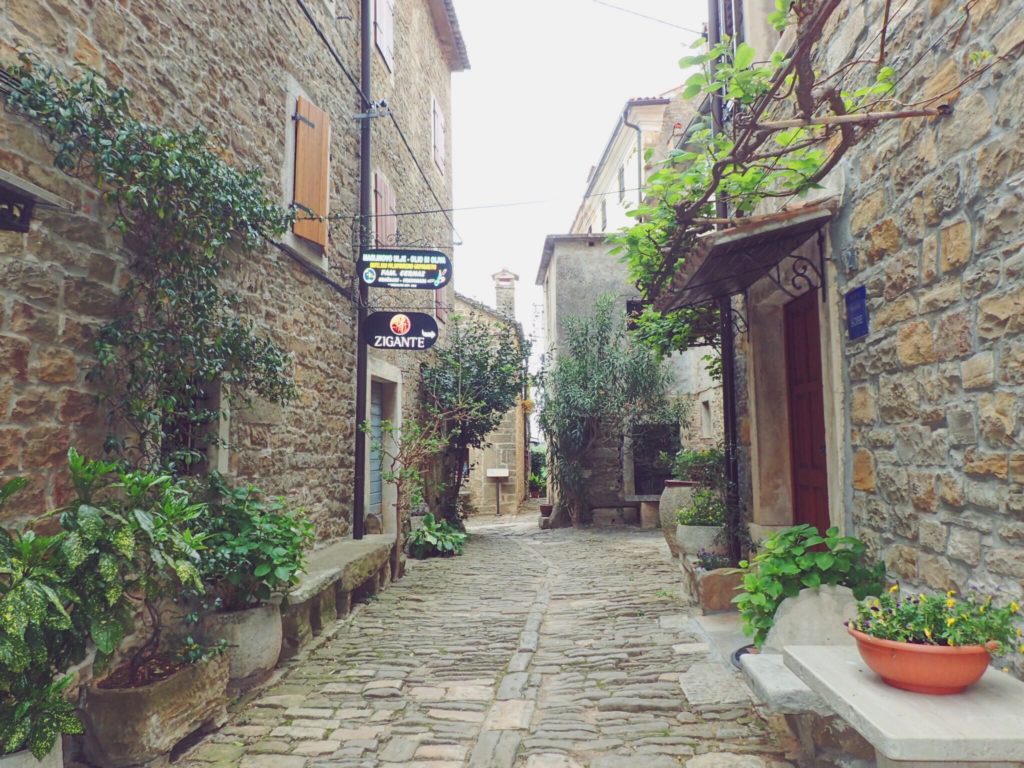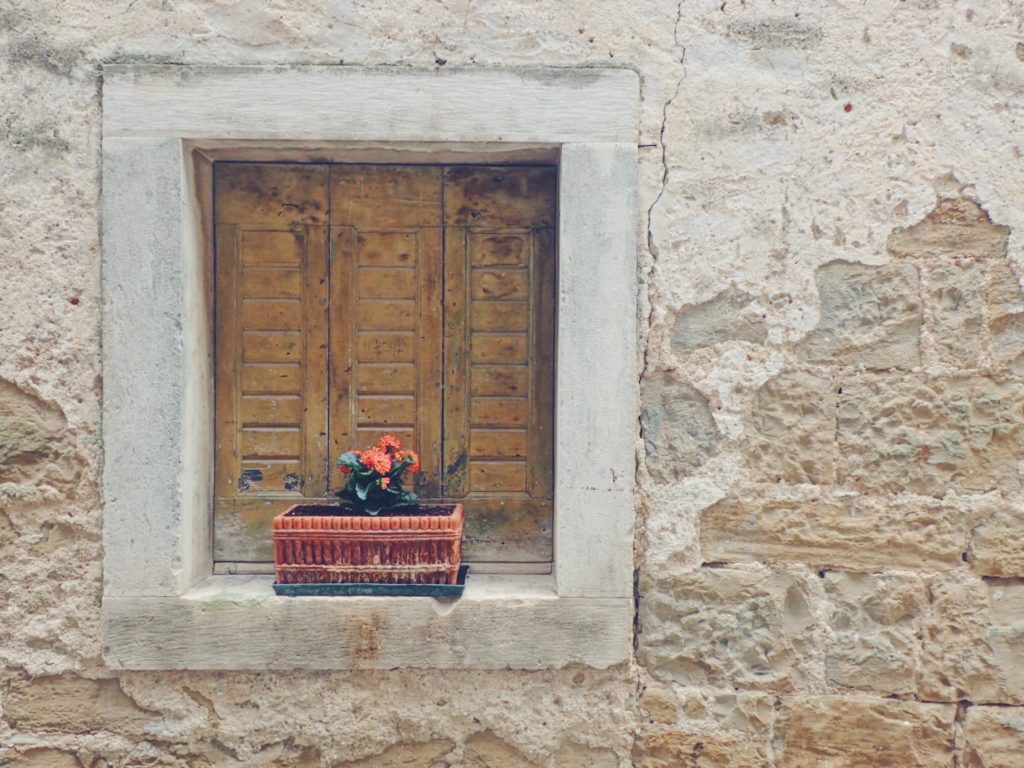 Although our visit was still a few weeks too early to enjoy the summer rush, in exchange we were gifted with quiet, crowdless streets that were fully ours to wander, adding to Grožnjan's air of mysticism and enchantment.
That said, outside of the summer months I do think Grožnjan might be a bit too quiet to consider as a "home base." As a half-day trip, it's perfect; any longer than that, and I could see myself quickly itching to head somewhere with a bit more activity.
---
In the end, Green Istria ended up being my favorite – yes, favorite! – region that we visited in Croatia…even more than the famous coastline. Between the incredible food and wine, the gorgeous scenery, the medieval history, the romantic architecture, and the relative lack of tourist infrastructure, Istria was quick to capture my heart.
But as much as we would have loved to fill even more of our days lazily drinking bottles of homemade wine and dining in cozy cafes with gorgeous vistas, we felt the sea calling…
---
Pin It!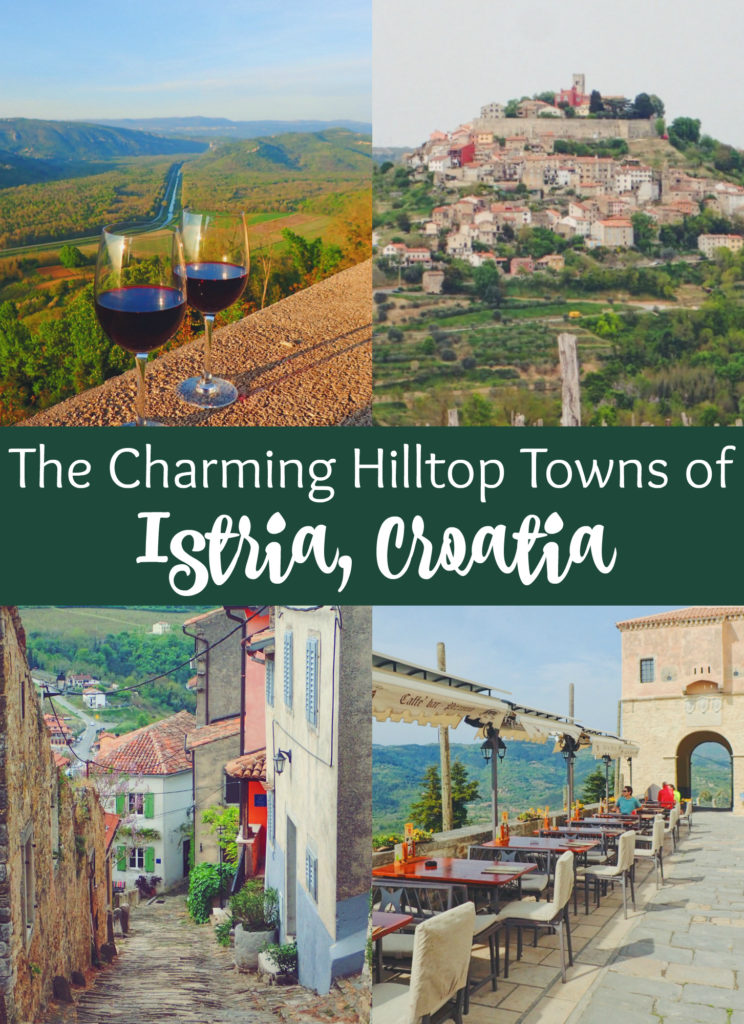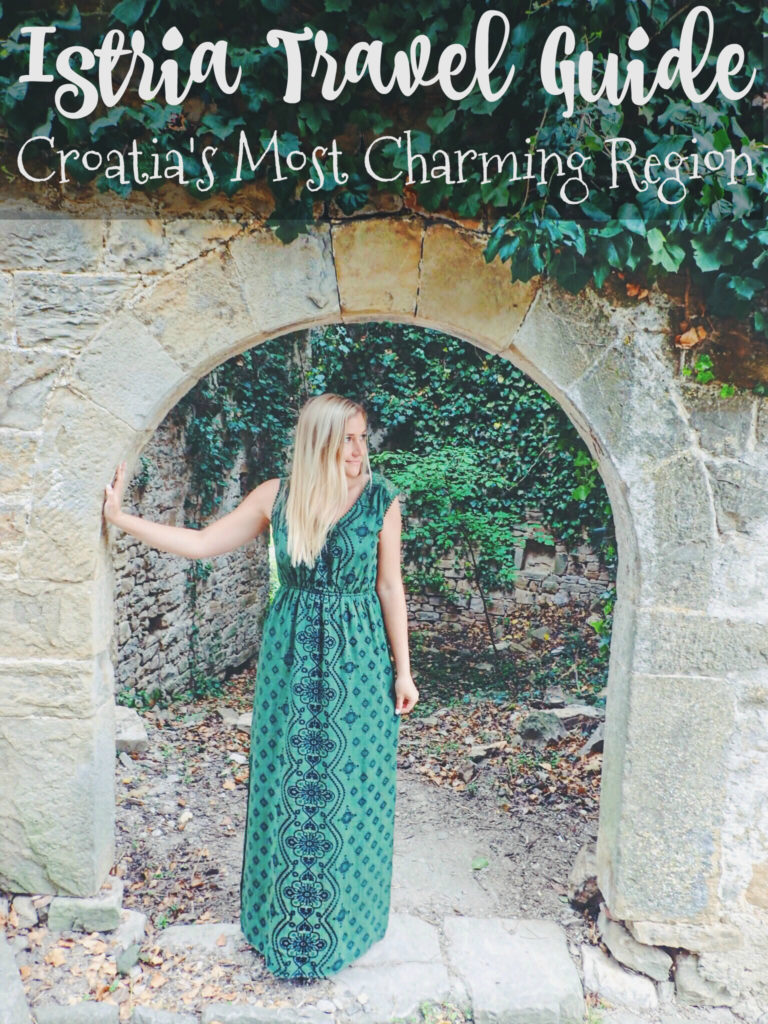 ---
Have you ever heard of or visited the Istrian Peninsula? Do you love towns and scenery like this as much as I do?