I've already shared Part One of my "2 Perfect Days in Denver in the Winter" itinerary, which was filled with plenty of indulgent food, craft beer, architecture, and urban sightseeing, in true Denver fashion.
Part Two, on the other hand, is allll about enjoying the best of Colorado's great outdoors – that's right, we're talking about a road trip to Rocky Mountain National Park!
Our day spent exploring Rocky Mountain National Park was a personal highlight from our time in Colorado, especially as someone who has never lived in a truly wintery or snowy place.
Once you're in the park, there are SO many places to pull over, enjoy the view, and take photos. The entire drive through the park is spectacularly scenic, but trust me when I say that you'll want to plan plenty of buffer time for spontaneous stops (and corresponding photoshoots, naturally).
If you're lucky, you might even spot some wildlife roaming across the snow-covered landscapes. We saw a handful of deer, but I've heard of other lucky travelers catching a glimpse of bighorn sheep, moose, elk, and other larger animals.
Day Two: Road Trip to Rocky Mountain National Park
This itinerary takes you from Denver to Boulder to Estes Park, and finally into Rocky Mountain National Park. Once in the park, plan on spending 2-3 hours enjoying a scenic drive along some of Colorado's prettiest roads. Full route details are below!
Drive from Denver to Estes Park, via Boulder and Nederland (Driving time: 2 – 2.5 hours, not including stops)
From Denver, take Highway 36 to Boulder. Here, we stopped for breakfast at Lucile's – a Cajun style breakfast and brunch joint located in a charming yellow cottage – and took a quick stroll down Pearl Street.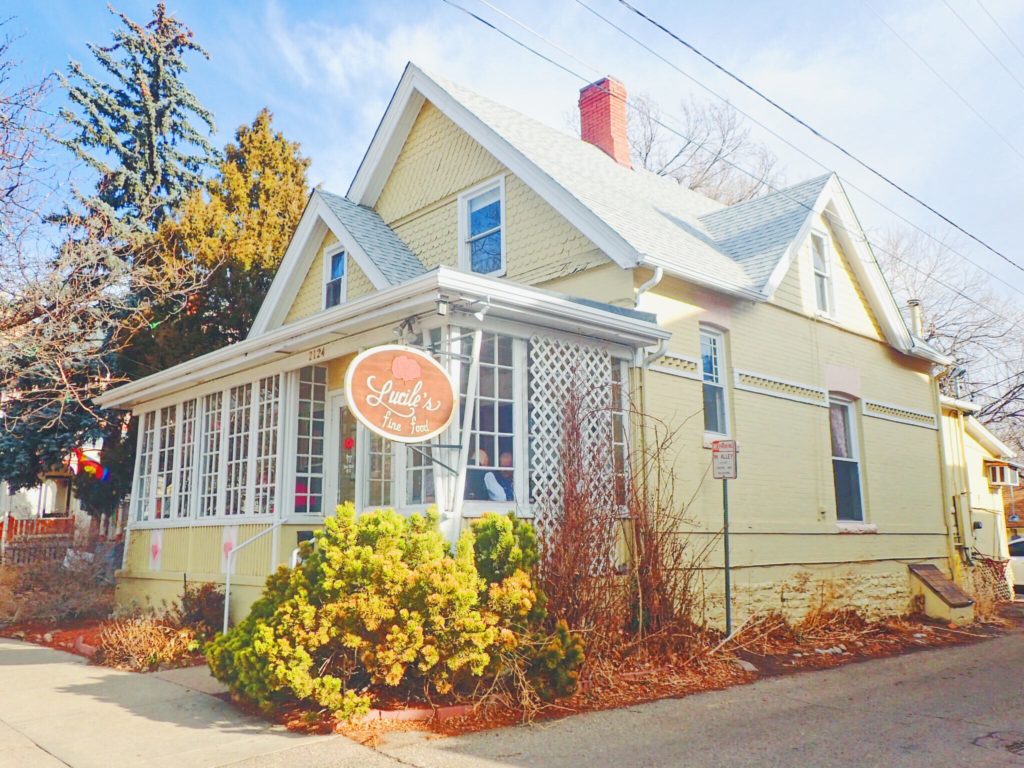 Since it was early morning (in the middle of winter, no less) none of the shops were open and no one was really out and about, but I'd love to come back and devote more time to exploring Boulder someday.
Whether you're stopping in Boulder for a bite to eat or just passing through, once in Boulder you'll take highway 119 towards Nederland. Here, you'll join the Peak to Peak Scenic Byway (72 to 7) towards Estes Park, and you're on your way towards Rocky Mountain National Park!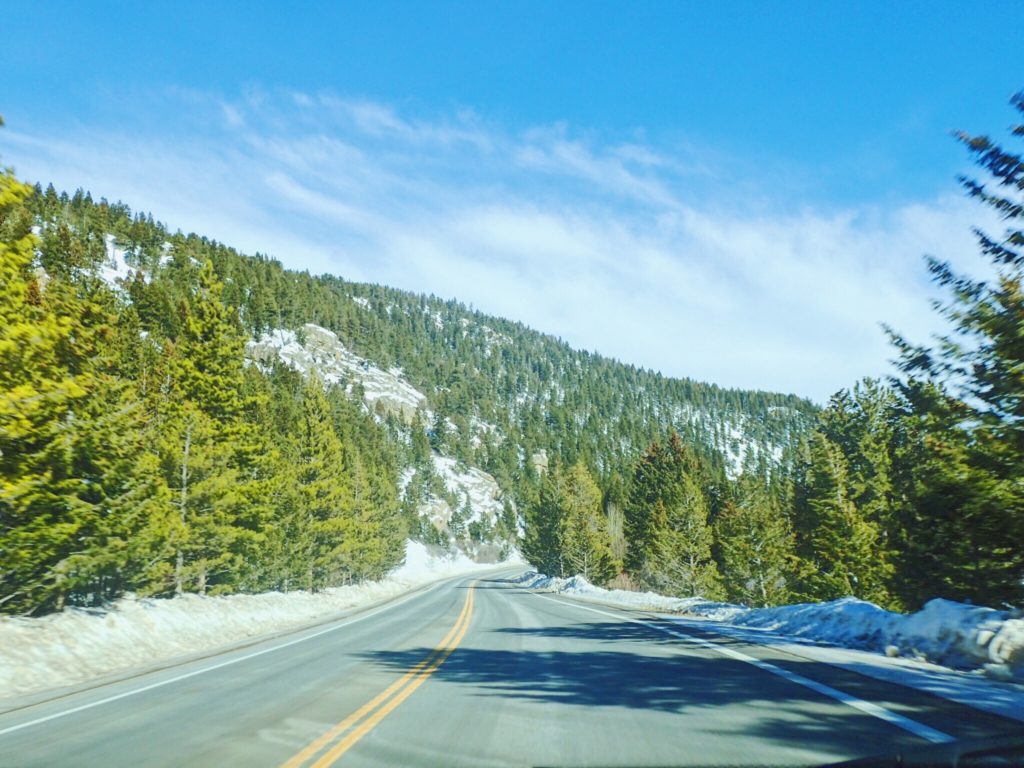 Once you reach Estes Park, I recommend stopping in town and picking up a few sandwiches or snacks to eat during your drive. Alternatively, you could just grab a bite to eat once you arrive, but it all depends on what time you ate breakfast and how hungry you are when you get to Estes Park.
Scenic Drive Through Rocky Mountain National Park (Driving time: 2 – 3 hours, depending on number of stops)
In Estes Park, there will be several opportunities for you to drive into Rocky Mountain National Park. Follow the signs for Fall River Entrance Station, i.e. the highway 34 bypass (also known as Fall River Road). At the entrance station, you'll need to pay the $20 entrance fee and can pick up a park map.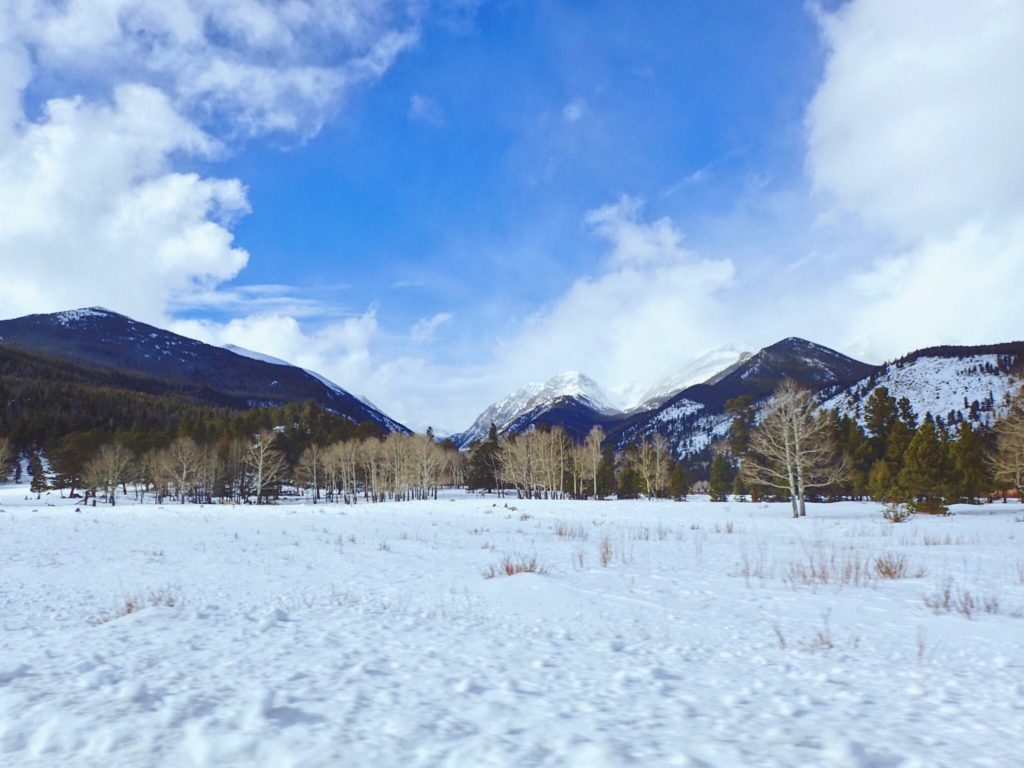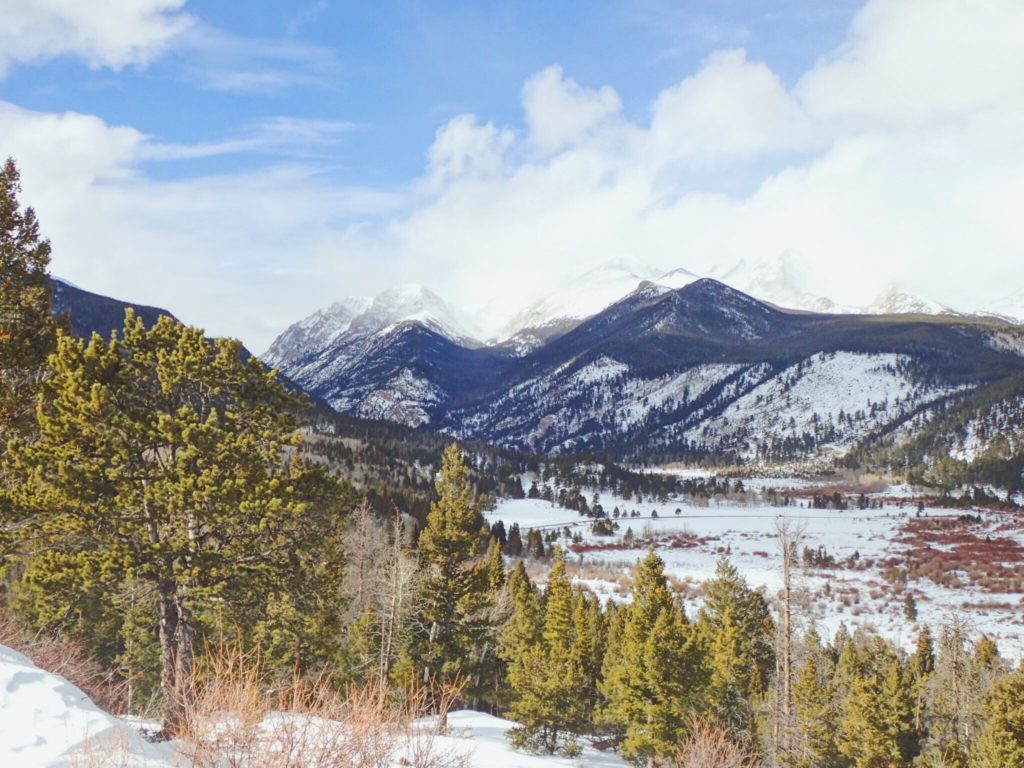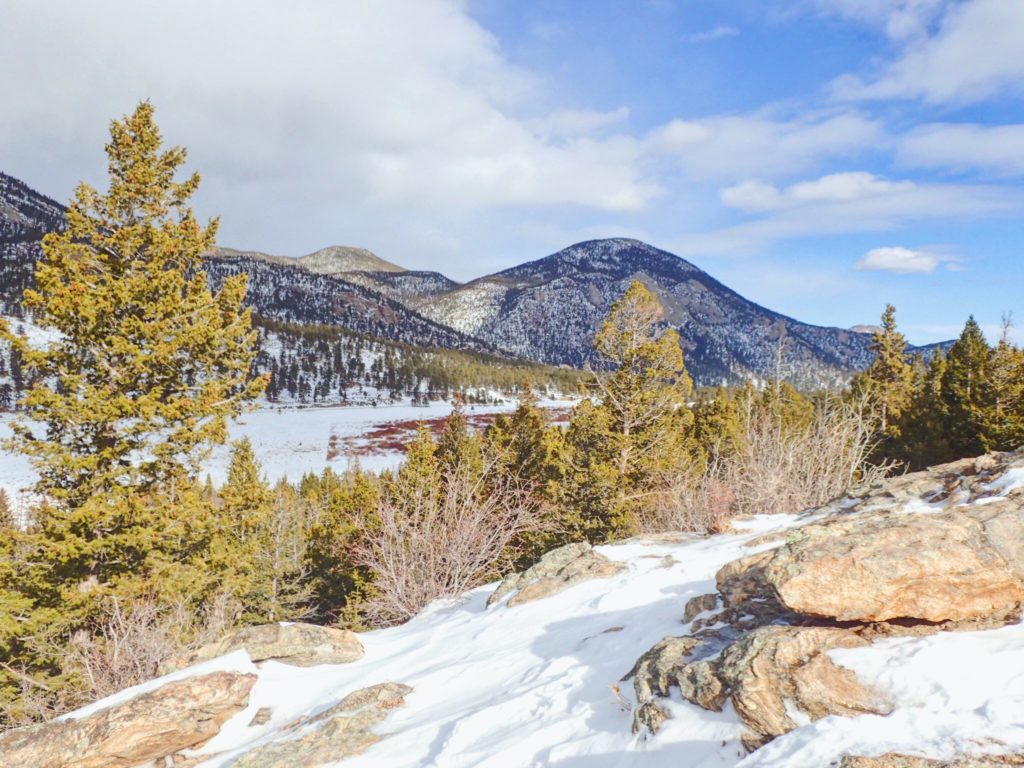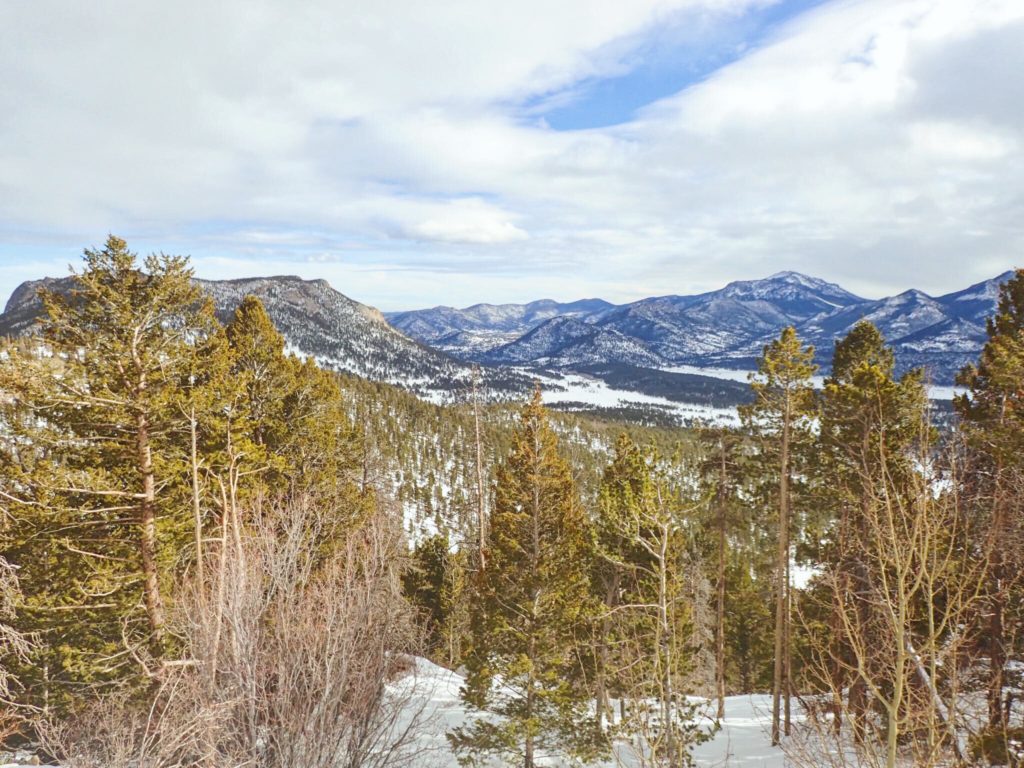 Continue driving along Fall River Road and take in the scenery as you drive past Sheep Lakes and Horseshoe Park. Eventually, you'll reach Deer Junction – a stop where you only have the option of turning left or right. Turn right for now, onto Trail Ridge Road.
During the winter, this road ends at Many Parks Curve, but there's a scenic overlook here that shouldn't be missed. You'll also pass a (busy!) sledding hill and snow play area at the Hidden Valley Picnic Area.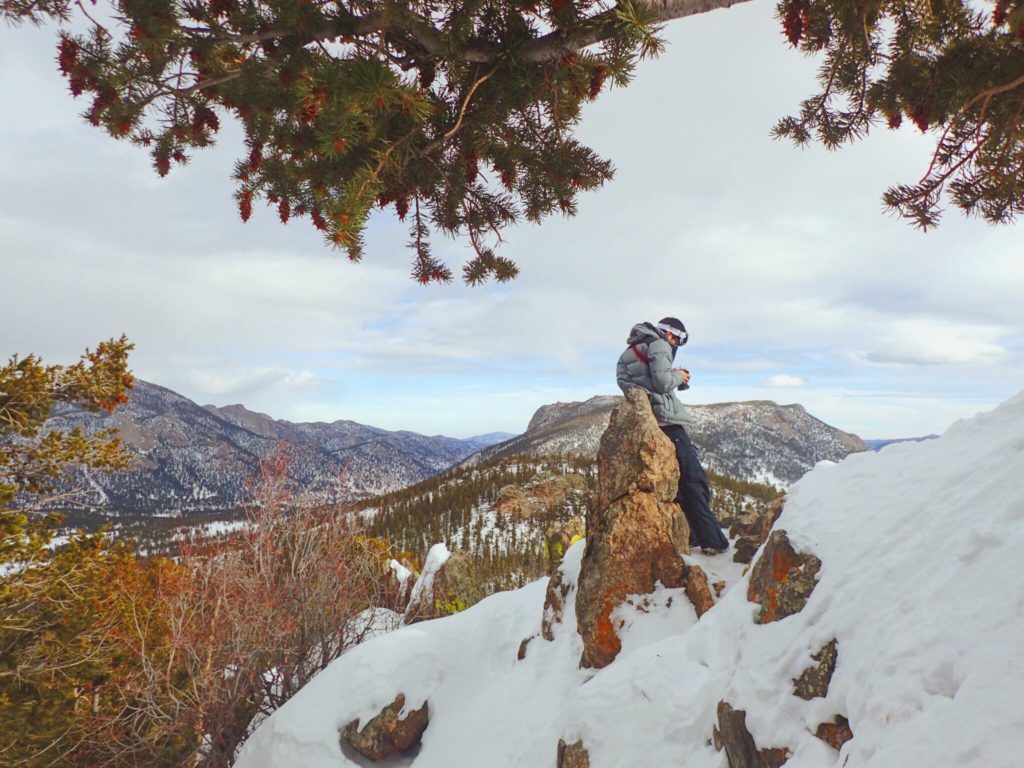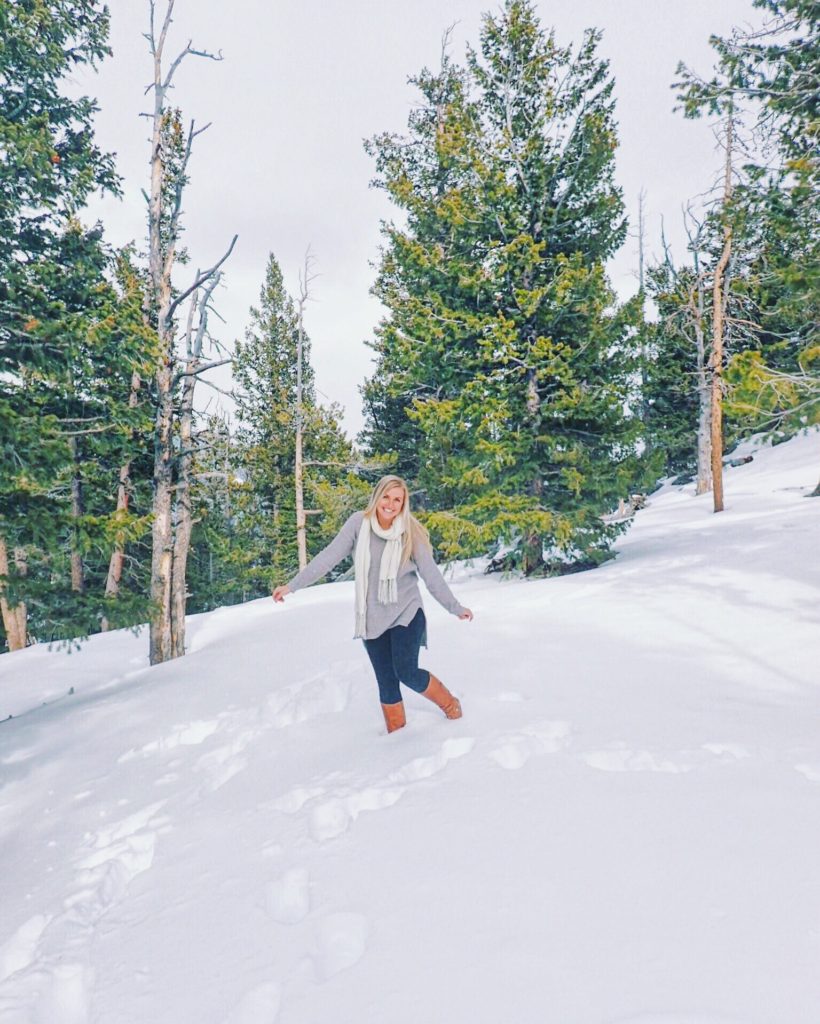 When you're done soaking in the panoramic view at Many Parks Curve, head back the way you came from, towards Deer Junction. Here, you'll continue straight (i.e. the direction that would have been your left turn earlier in the drive).
Eventually, you'll have the option of either continuing straight and exiting the park through the Beaver Meadows Entrance Station, or turning right onto Bear Lake Road, towards Moraine Park and the Moraine Park Visitor's Center.
If you take the left turn down Bear Lake Road, you'll have the option to drive all the way to the end of the road, which ends at Bear Lake after 11 miles. You can also find a safe spot to pull over and turn around if you don't feel up for completing the whole drive, but note that there aren't too many places to do this safely!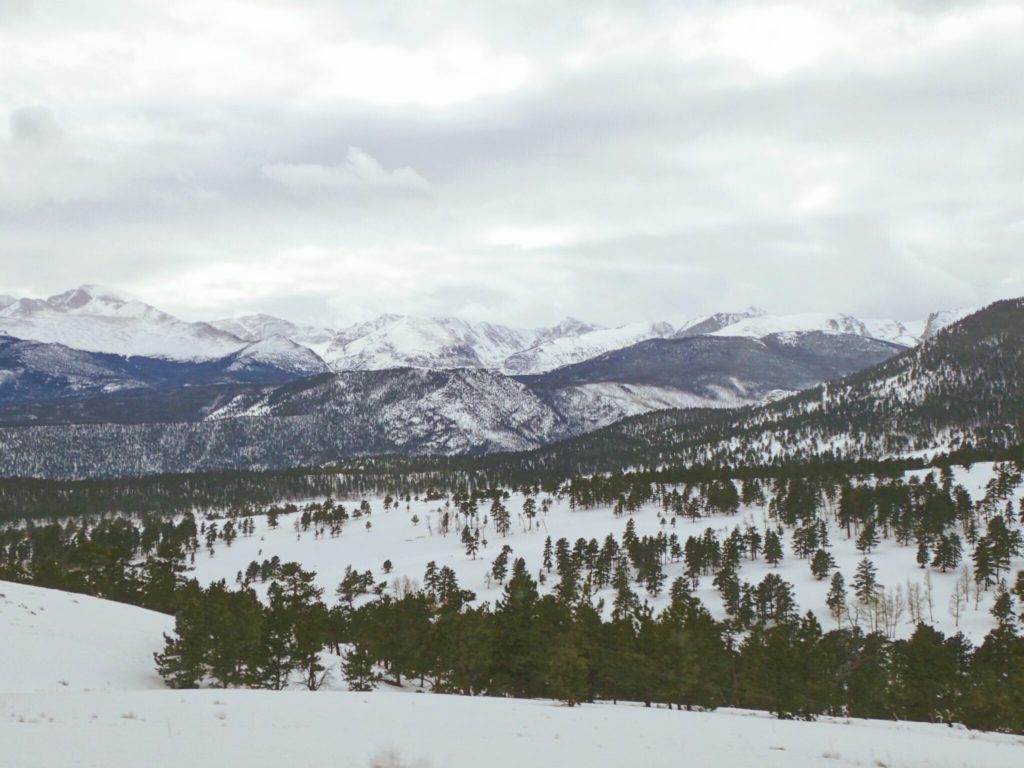 I wish I had more photos from this part of the drive, because I honestly thought it was the most beautiful section of the park that we explored.
There's something truly magical about looking out at Colorado's mountain wilderness, blanketed under a layer of thick, soft snow.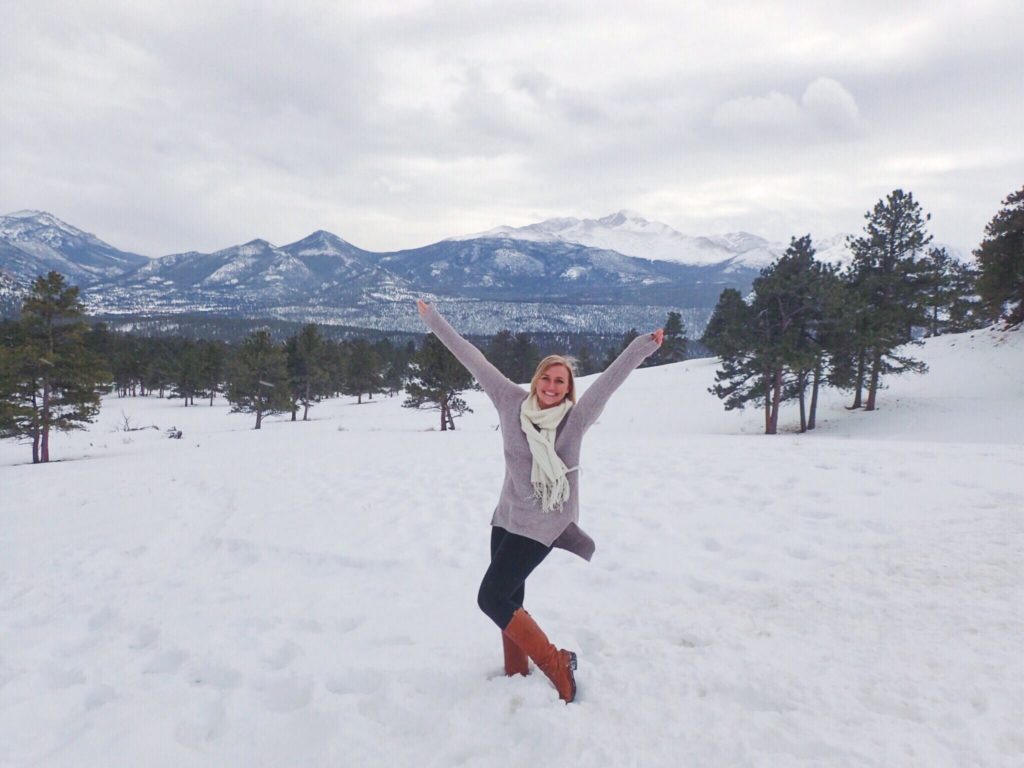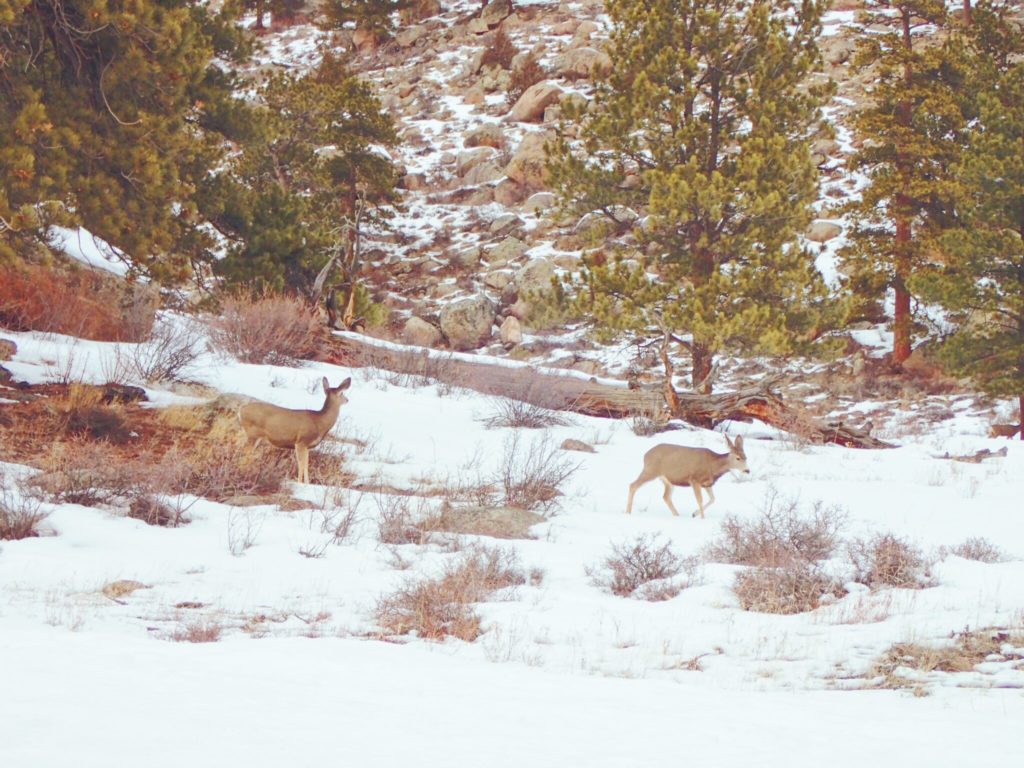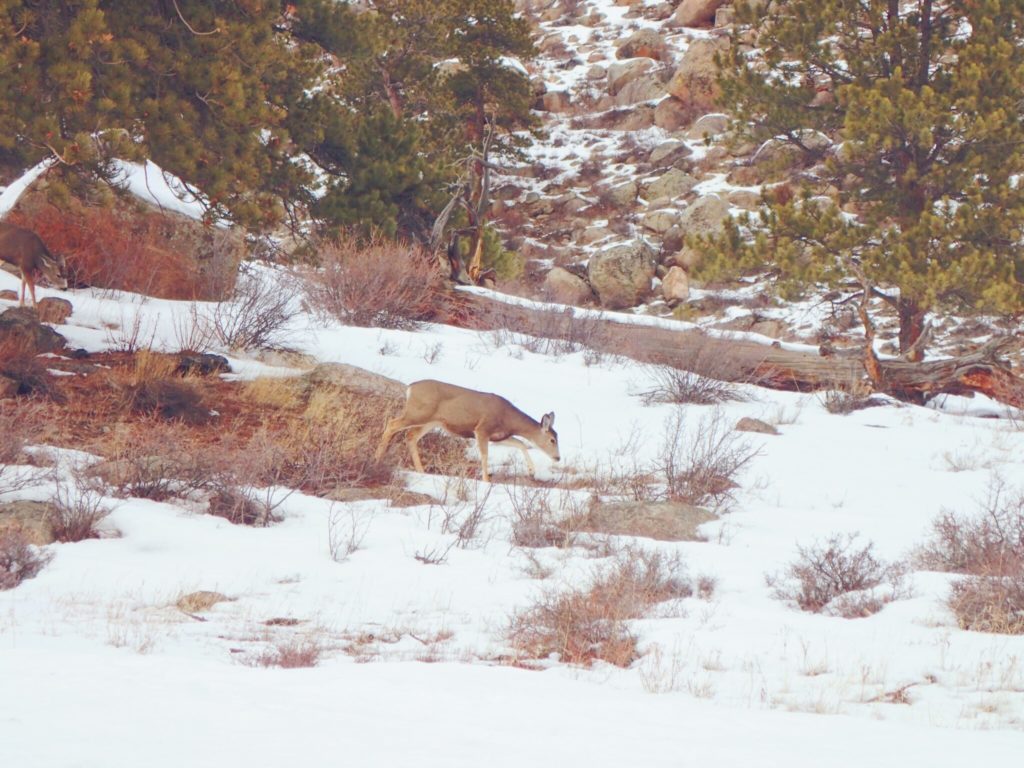 When you're done exploring in this direction, head back towards highway 36 (the road you were taking when you passed through Deer Junction) and turn right.
Exit Rocky Mountain National Park through the Beaver Meadows Entrance Station, and head back towards Estes Park.
On our way our of the park we stopped for hot chocolates at Coffee on the Rocks, a charming little cabin-style coffee shop complete with mountain views, a small pond, and a family of friendly ducks.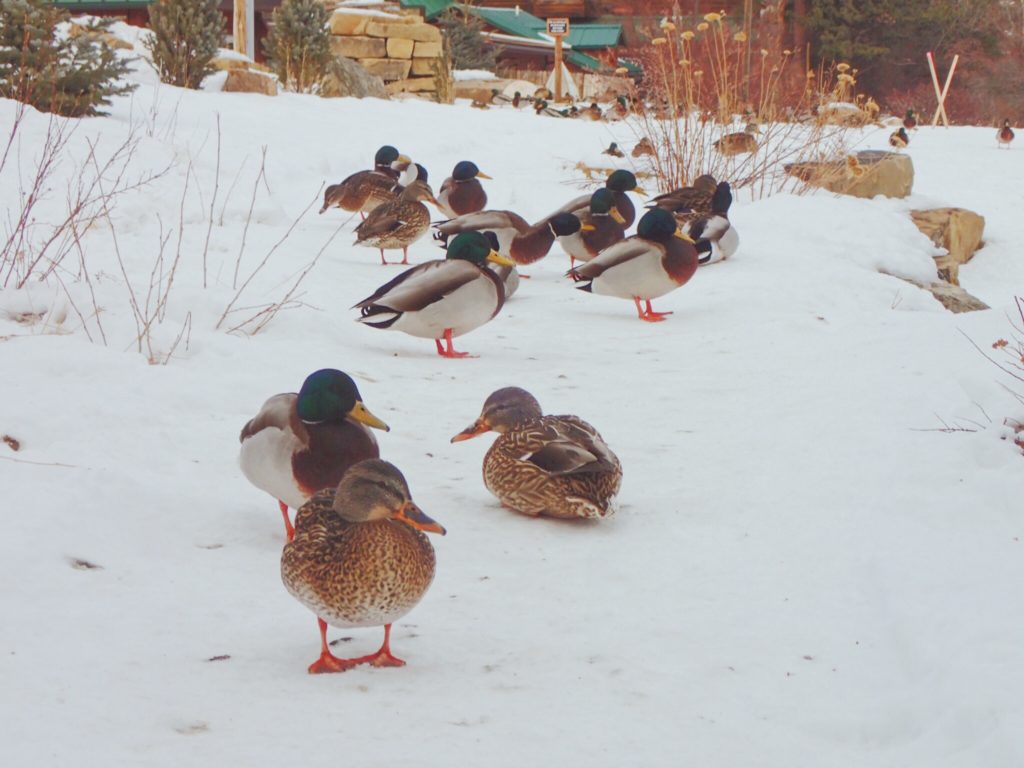 I recommend allowing 2-3 hours for this driving route, depending on how many stops you make you check out the views and snap photos. Once you've left the park, simply follow the highway signs or your GPS to head back towards Denver.
---
Pin It!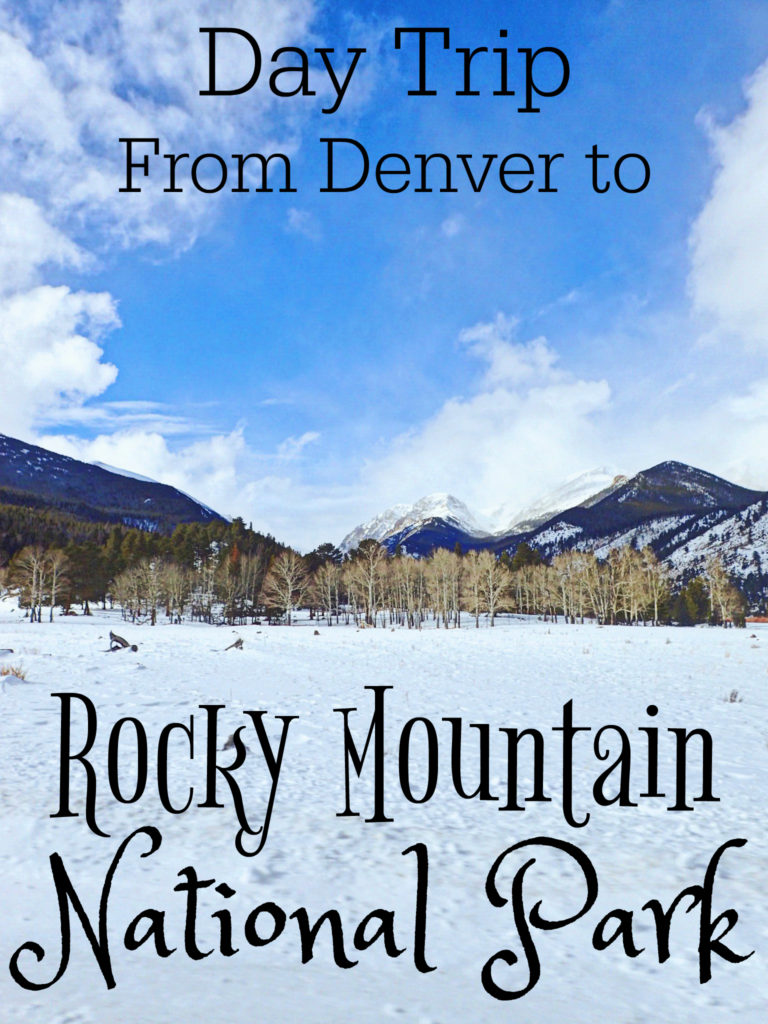 ---
What's your favorite scenic drive? Have you ever taken a scenic drive or road trip during the winter?