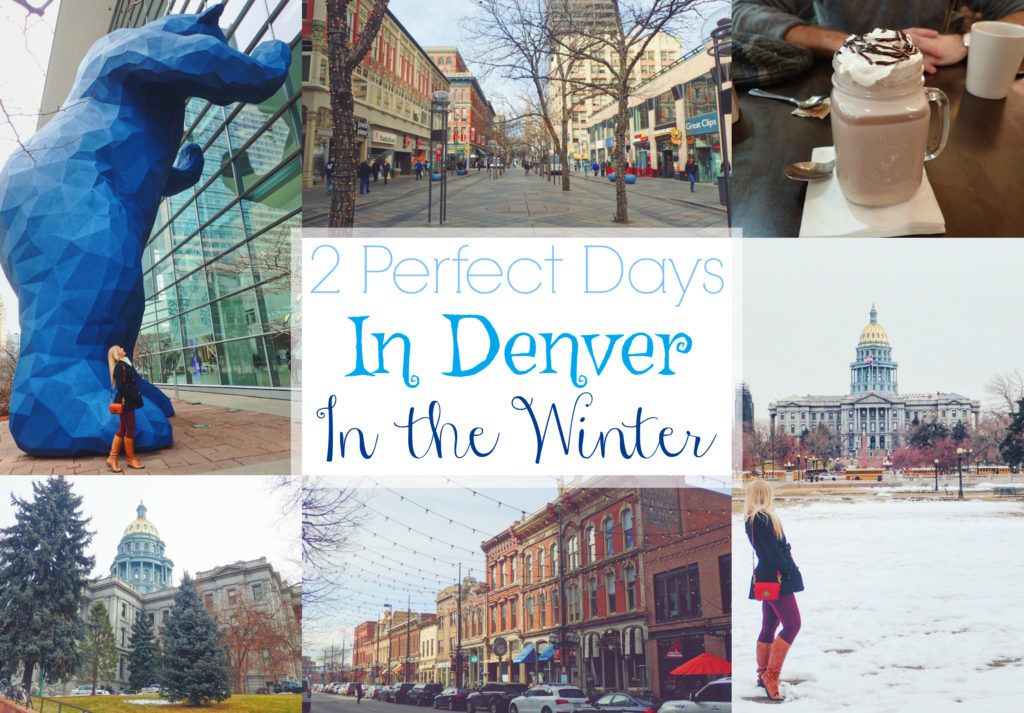 Denver had been high on my U.S. bucket list for a loooong time, particularly after I learned that it was only 2.5 hours away from Houston by plane. So when Derek and I spotted a great non-stop flight deal earlier this year, we knew we had to book it.
The problem? The trip was planned for mid-January…and as you may have gathered from my "travel destinations" page, I've got relatively minor experience with living in and/or traveling to cold places. Arid deserts, tropical islands, and sultry colonial towns with swaying palm trees are my jam…icy sidewalks, blustering winds and snow-covered landscapes? Not so much.
Plus, I had always imagined Denver as a summer destination. When I thought of Denver, I thought of outdoor activities like baseball games, concerts at Red Rocks Amphitheatre, and long hikes with green scenery and perfect weather.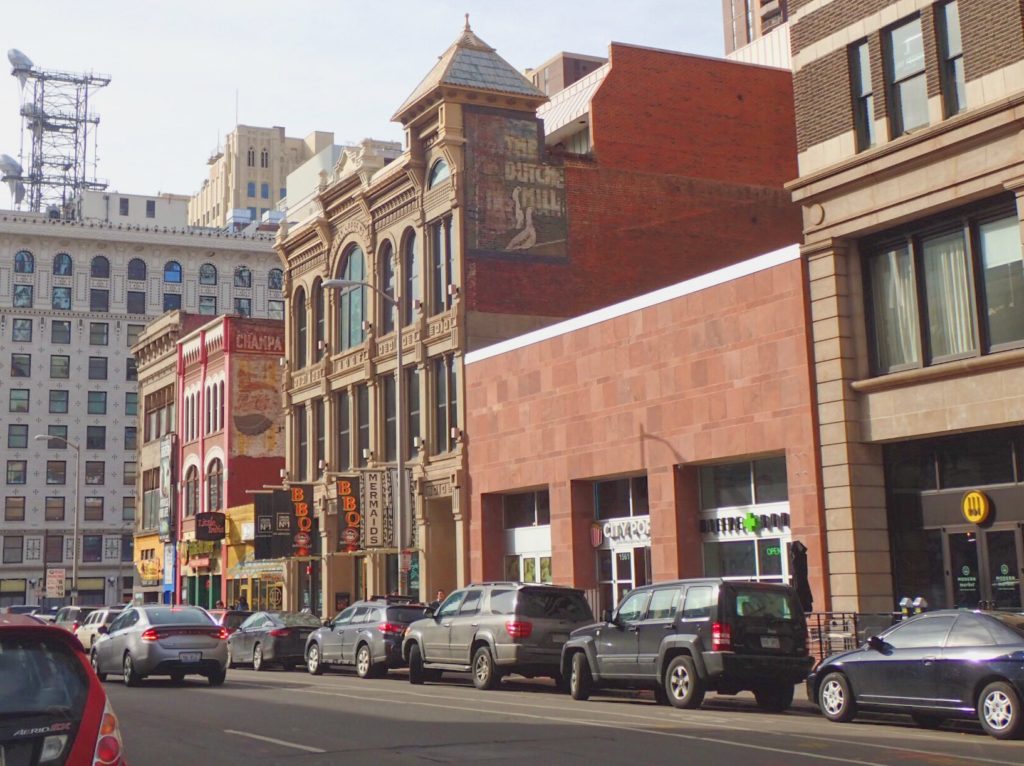 But still, Derek and I were itching to get out Houston and explore somewhere new together, so we booked the ticket and started researching tips to make the most out of a trip to Denver in the winter.
And you know what? Denver in the winter is awesome.
We were only in town for 2.5 days, but I feel like we saw and did SO. MUCH. I've got a lot to share about our trip, so I've broken this "2 Perfect Days in Denver" itinerary into two parts. This is technically Part One, but of course feel free to mix up the two days to best suit your needs!
Day One: Explore Downtown & LoDo (Lower Downtown)
On a short trip to Denver, downtown is definitely the place to be. It's vibrant, bustling, scenic, and extremely walkable, and is home to an overwhelming assortment of bars, cafes, restaurants, shops, museums, and other activities.
You can easily fill an entire day here by checking out some of the city's important historic sites, snapping photos of the abundant public art, nomming alllll the food, and hitting up a brewpub or two. And that's just what we did!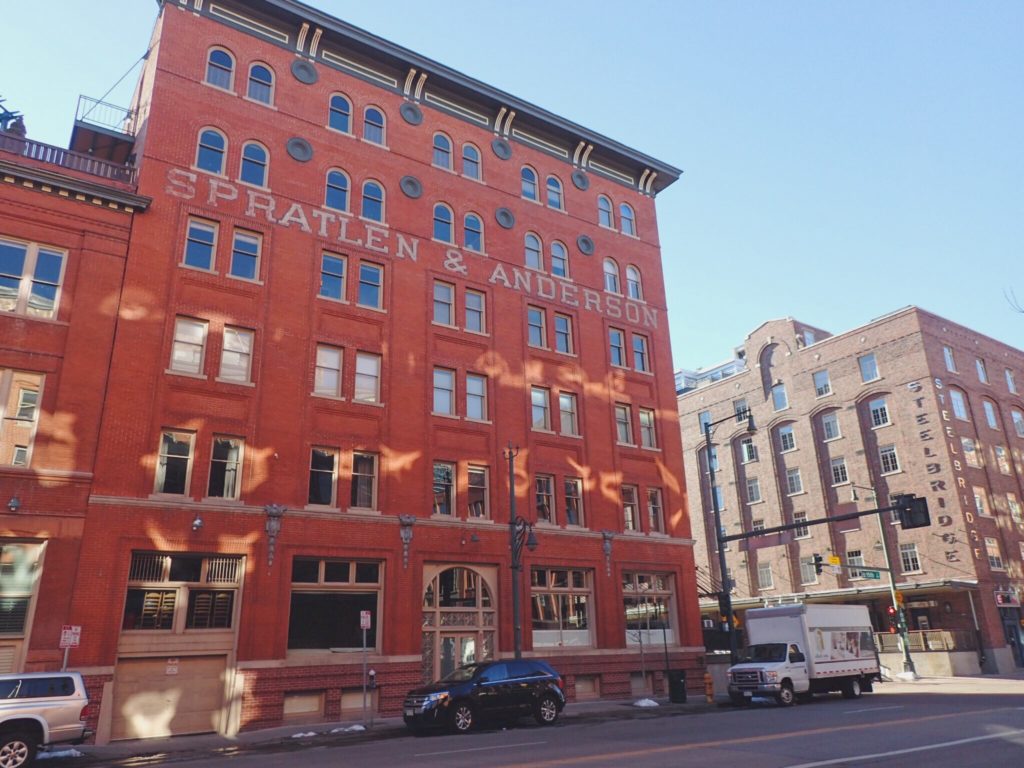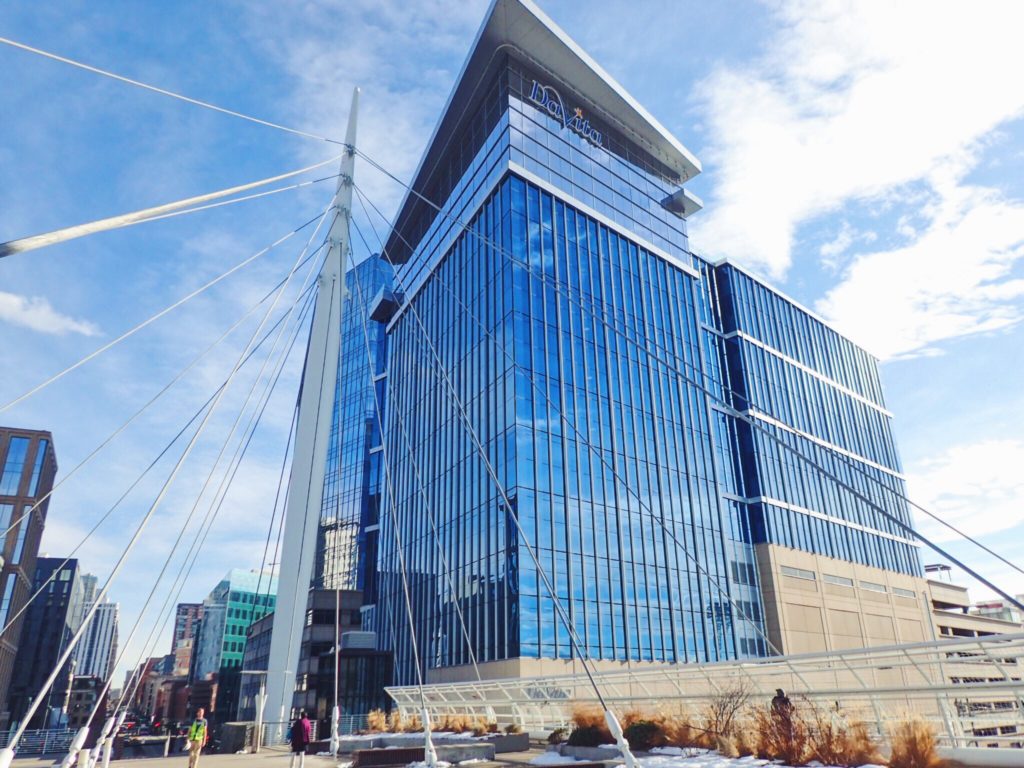 Where to Stay in Denver?
Whether you want to hit up all of the Mile High City's famous craft breweries, check out the historic architecture, watch a baseball game at Coors Field, or sample food at some of the city's hottest eateries, basing yourself in downtown Denver is definitely a smart move.
"LoDo" is the trendiest and most historic area of downtown, but you can easily walk here from any other spot in downtown. Our Airbnb wasn't technically in LoDo, but it still had an absolutely phenomenal location, just off of Denver's famous 16th Street Mall.
Our Airbnb was definitely a funky little place that oozed cool urban vibes, though my one complaint was that it wasn't particularly comfy or homey…which is honestly the first time I can say that about any Airbnb I've stayed in. *Shrug*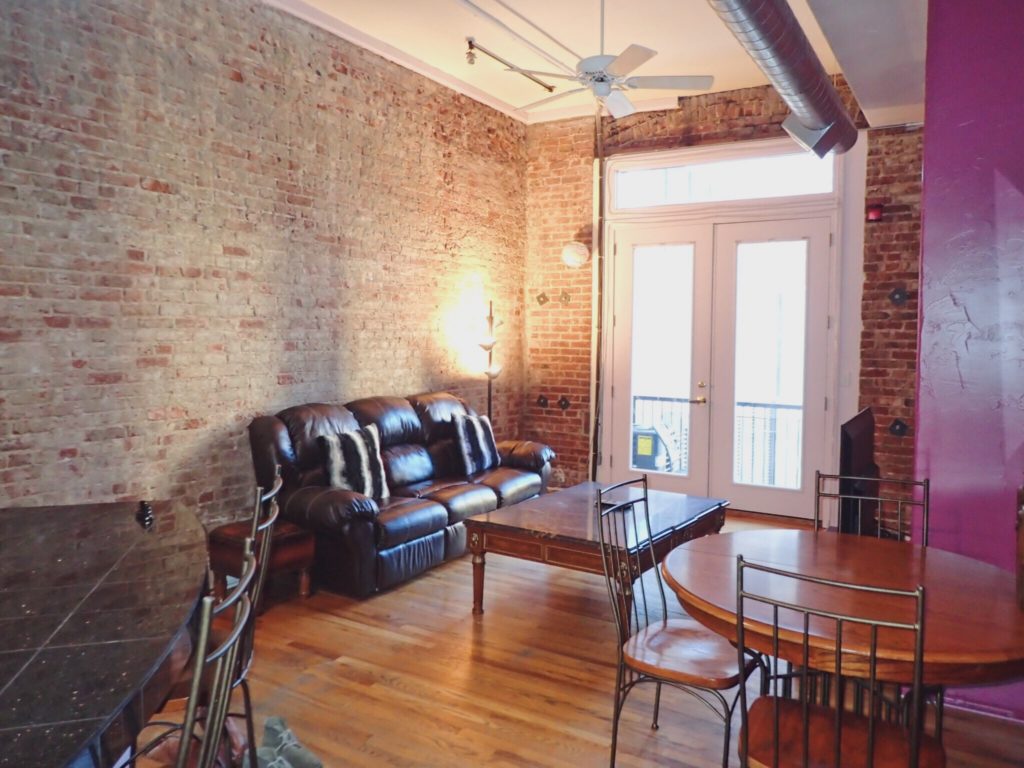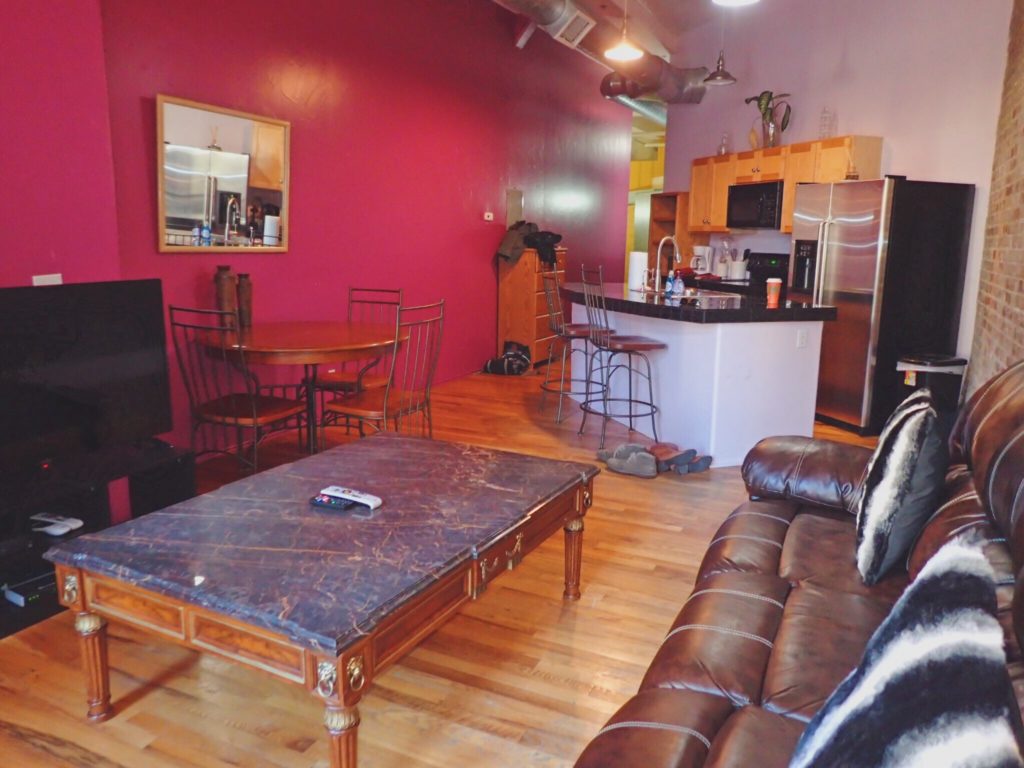 On the map below, I've outlined all of the stops on this itinerary (there are 9 of them in total). The "X" marks the location of our Airbnb, which as you can see was smack-dab in the middle of everything – perfect!
All in all this route involves roughly 4-5 miles of walking, spread out over the course of the entire day.
I really don't recommend driving because parking can be a pain (and driving a grand total of less than 5 miles to visit 9 stops seems a bit, um, counter-intuitive?!), but if you're not up for that much walking, Uber is abundant in Denver.
Alternatively, the city provides free shuttle service throughout downtown. Yep, really – it's free!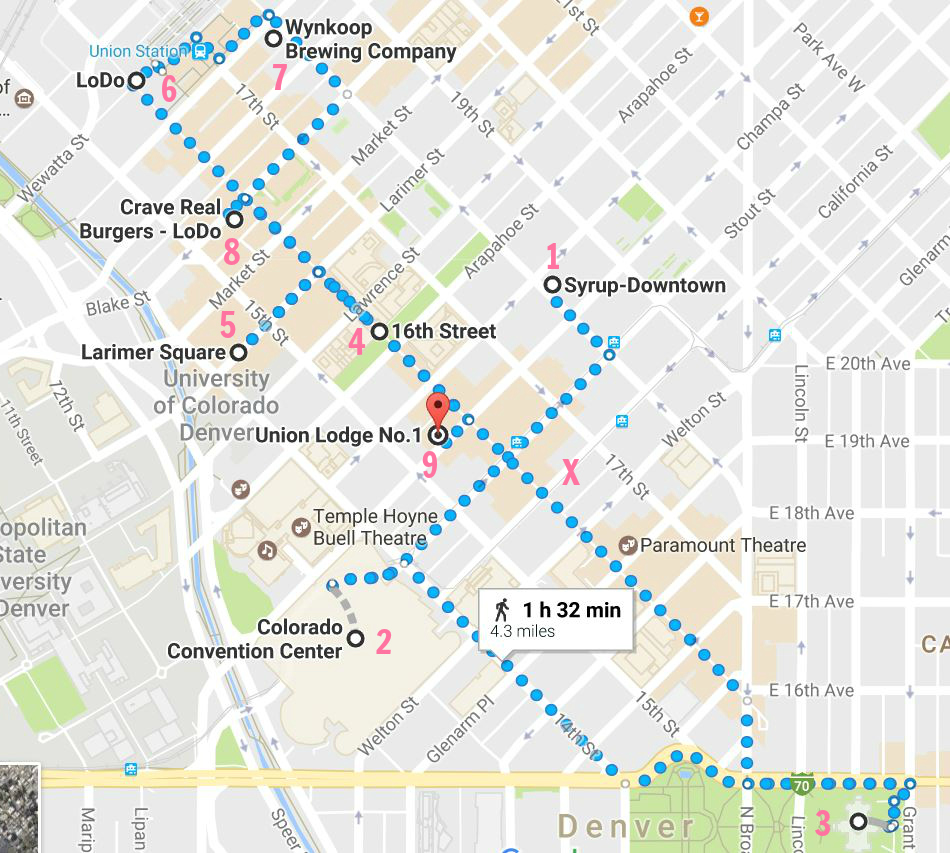 Here's where the itinerary takes you:
Breakfast at Syrup
Colorado Convention Center ("I See What You Mean" sculpture)
Colorado State Capitol (1 hour tour)
Walk towards LoDo (Lower Downtown) along 16th Street Mall
Visit Larimer Square & grab lunch there
Stop by Union Station
Take a brewery tour at Wynkoop
Eat dinner at Crave Real Burgers
Hit up some of Denver's coolest bars!
Let's dive in!
Breakfast at Syrup
I'm allll about finding the best spots to nom when I'm visiting a new city, and Syrup definitely fits the bill. Known for their absolutely killer breakfast & brunch menu, Syrup boasts classic options like omelets and breakfast plates, as well as over-the-top pancakes, waffles, and French toast.
Trust me – you don't want to read their menu if you're even the slightest bit hungry!
Narrowing down the options to just one dish was painfully difficult, but in the end, I chose the Nutella-stuffed French toast with strawberries and bananas; Derek opted for the blueberry pancakes with blackberry syrup.
I also had an absolutely sinful (read: amazing) hot chocolate topped with whipped cream and chocolate sauce.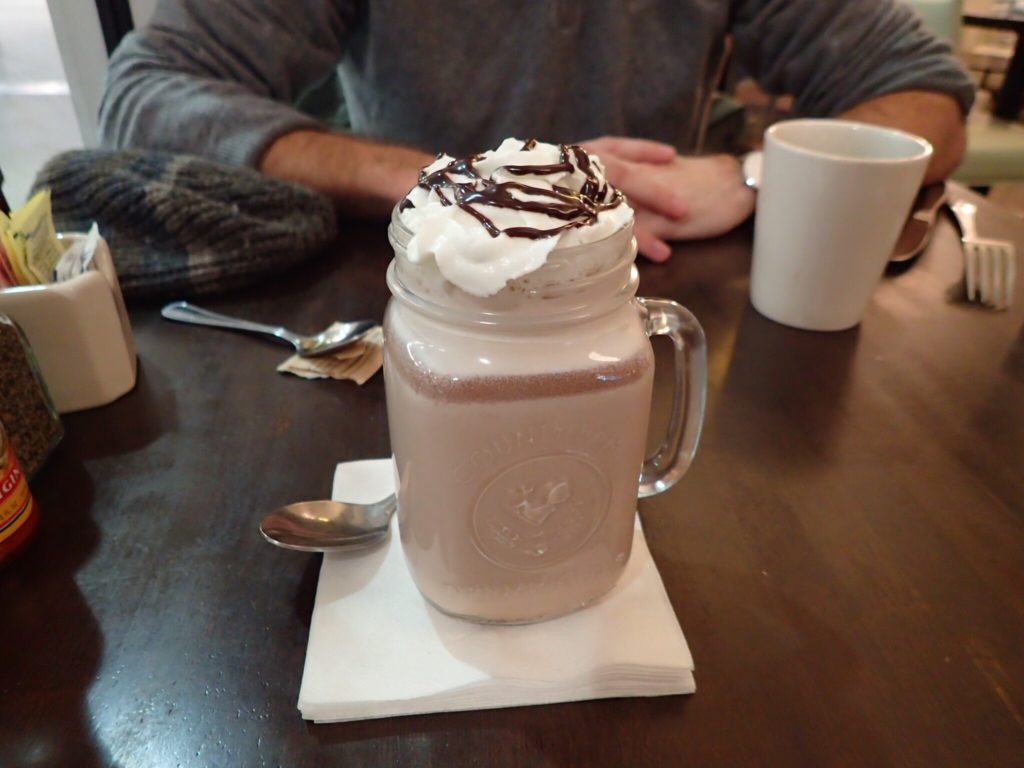 *Cue sugar overload*
It's definitely an indulgent breakfast, but I'm a firm believer in the "treat yo'self" model while traveling. Plus, the name of the restaurant is Syrup after all – so, I think you'd be doing yourself a major disservice by ordering anything not covered in delicious, sticky flavored syrup and/or chocolate sauce!
Check out the Colorado Convention Center's big blue bear
After breakfast, we decided to kill some time (and burn off a fraction of the calories we had just consumed) before our tour at the Colorado State Capitol by stopping by the "I See What You Mean" sculpture at the Colorado Convention Center.
I'm a big fan of public art, especially anything of this size! I can only imagine how fun (er, uh, startling?) it would be to stumble across a sight like this if you didn't know it was there beforehand.
Tour the Colorado State Capitol (Free; 1 Hour Long)
Since we were visiting Denver in the dead of winter and already had so many outdoor sightseeing activities on our bucket list, we wanted to include a handful of indoor options as well.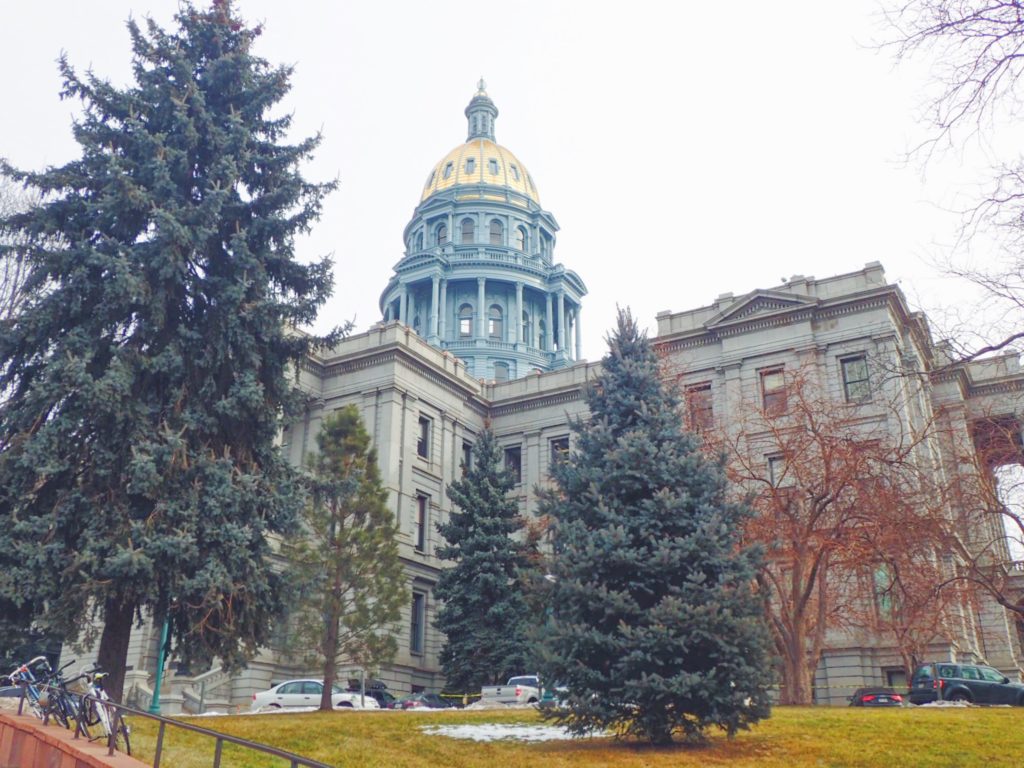 The Colorado State Capitol building offers free one-hour tours for visitors, and reservations are not required unless you have a group of more than 10 people.
Tour are offered hourly between 10:00 am and 3:00 pm Monday – Friday, and the building is closed on weekends and public holidays.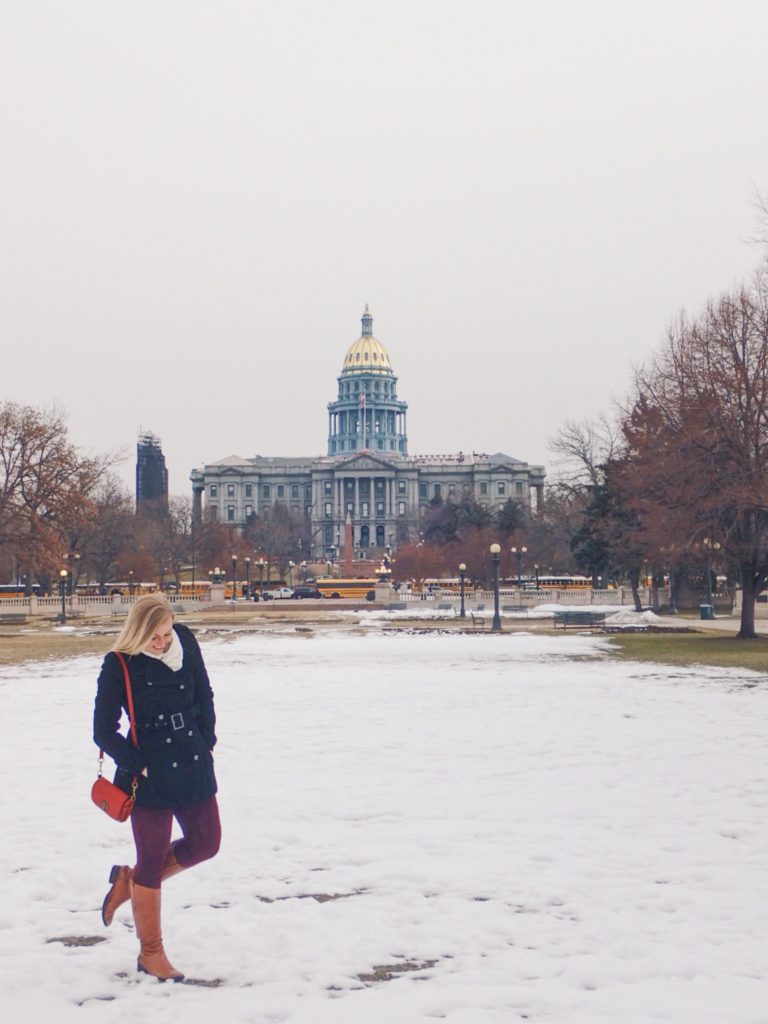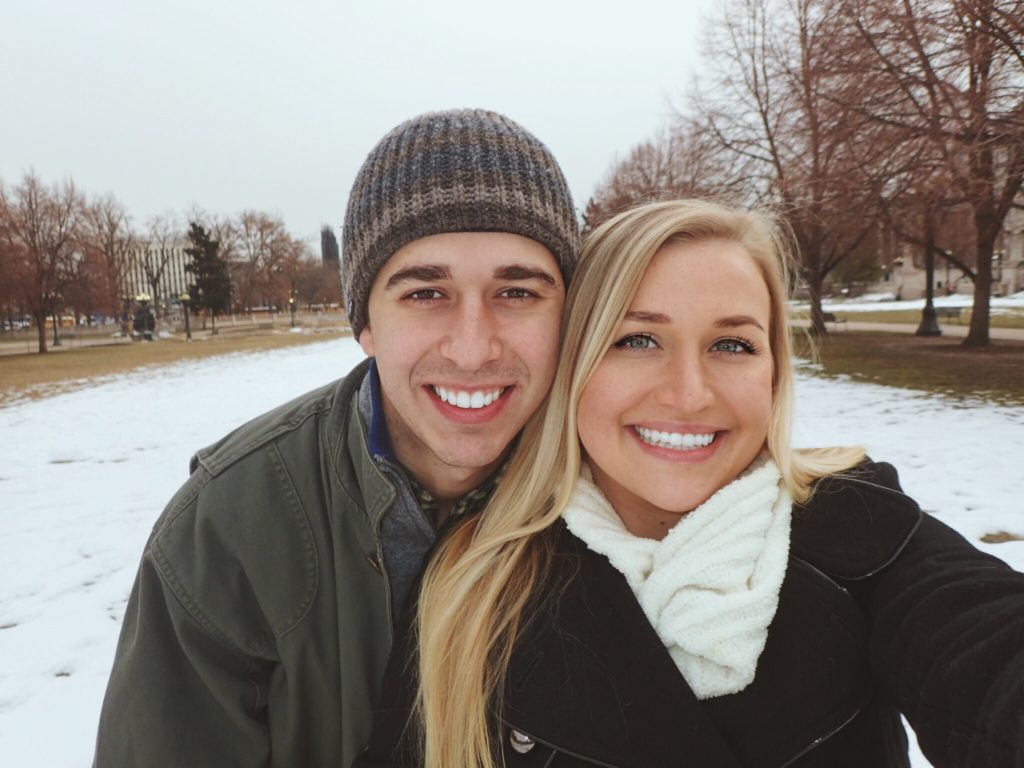 The architecture inside the building was truly stunning, though at one full hour long the tour did feel a little dull at times.
But bless her heart, our tour guide really did put her all into our tour! She was passionate, friendly, and extremely knowledgeable about Colorado history, which really made a difference in terms of enjoying the tour.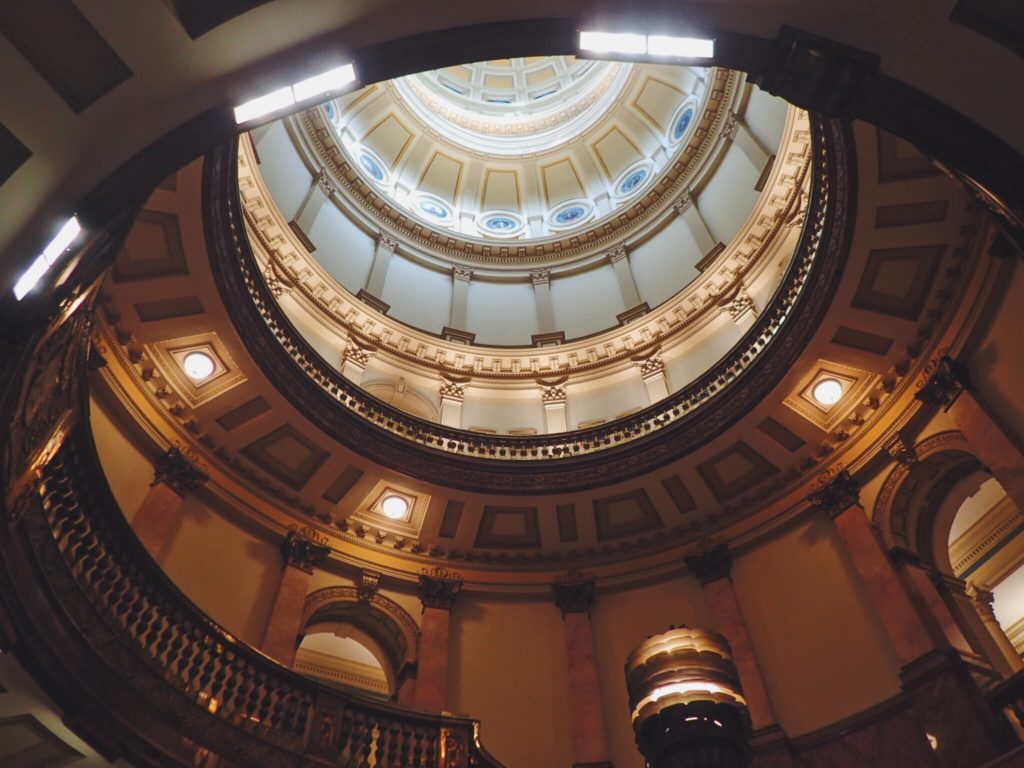 Plus, we were rewarded with one of our all-time favorite views of Denver at the end of the tour, when we reached the top of the dome: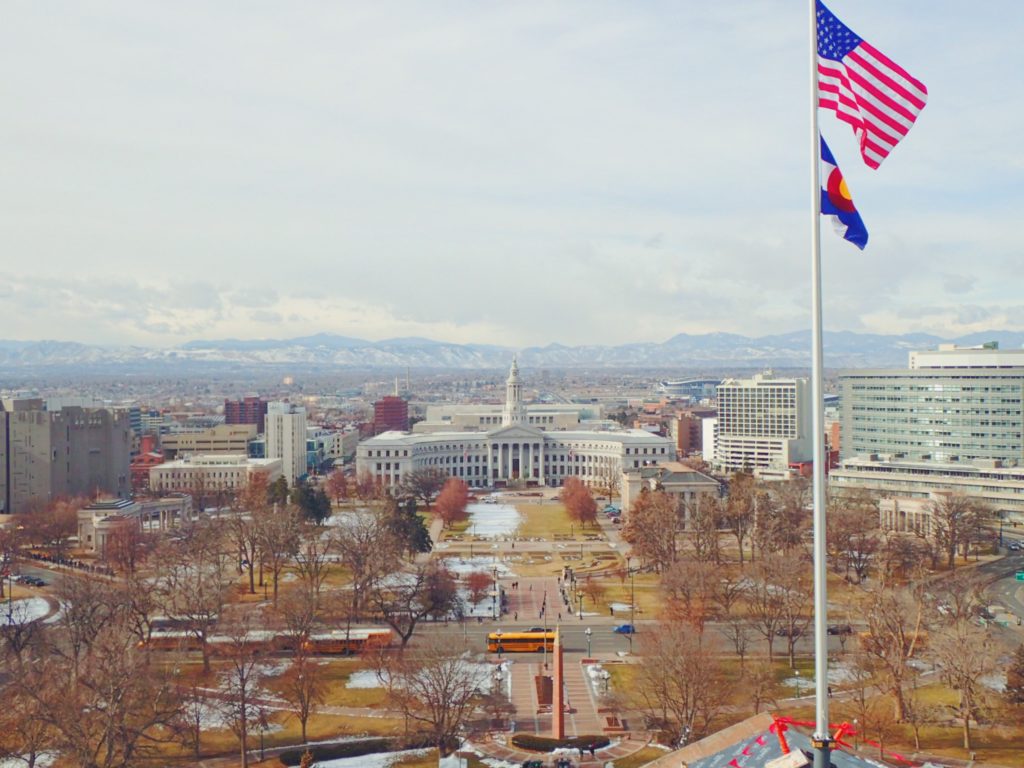 If you happen to be visiting Denver on a weekday and are interested in adding a small dose of Colorado history to your itinerary, I highly recommend joining one of these free tours!
Note: You can tour the building itself without booking a tour, but in order to visit the dome to check out the views mentioned above, you must be with a guide!
Walk down 16th Street Mall
Don't let the word "mall" scare you away – Denver's famous 16th street outdoor pedestrian mall is a must-see!
At 1.25 miles long, this street is packed with more than 50 restaurants, bars, and cafes, and more than 300 stores. All of the establishments are a mix of chains and locally owned businesses, so you'll find a Chipotle or a Panera situated right next to a funky local tavern or quiet cafe.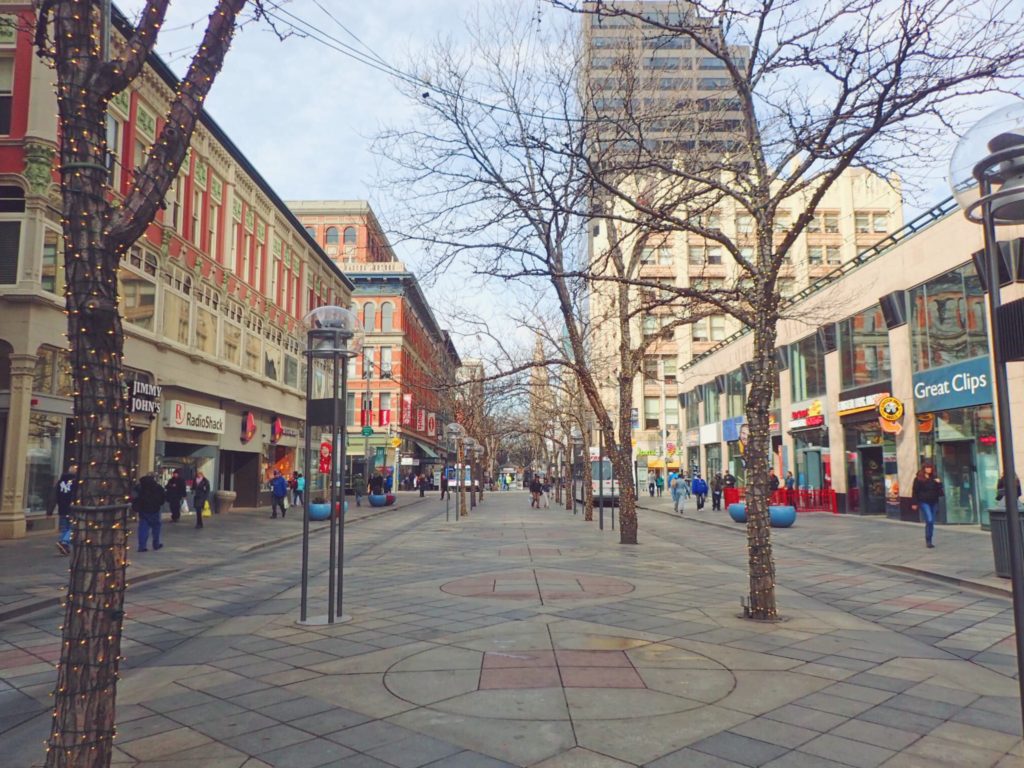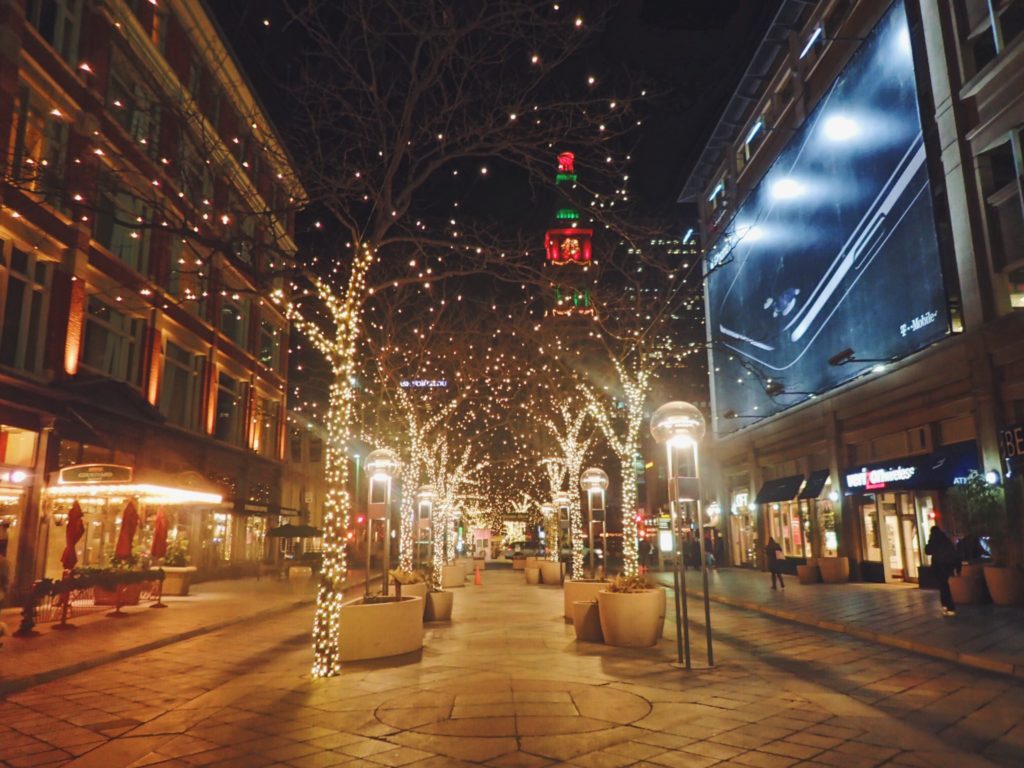 There's also a number of fun grab-and-go food carts, ranging from Thai food to Mediterranean food. Sadly we didn't sample food from any of these stands (sitting outside eating street food in January isn't really high on my list of desirable activities) but they all sounded phenomenal!
For me, 16th Street Mall was best enjoyed by simply strolling along the entire street, taking in the shops and people and architecture and public art. I'm not much of a shopper, but I really loved soaking in the scenery here – it's definitely one of Denver's most attractive and bustling streets!
Larimer Square
If you keep heading northwest along 16th street from the Colorado State Capitol, you'll eventually hit Larimer Street. Turn left on this street and walk just one block more, and you'll find yourself in one of Denver's hottest shopping and dining districts – Larimer Square.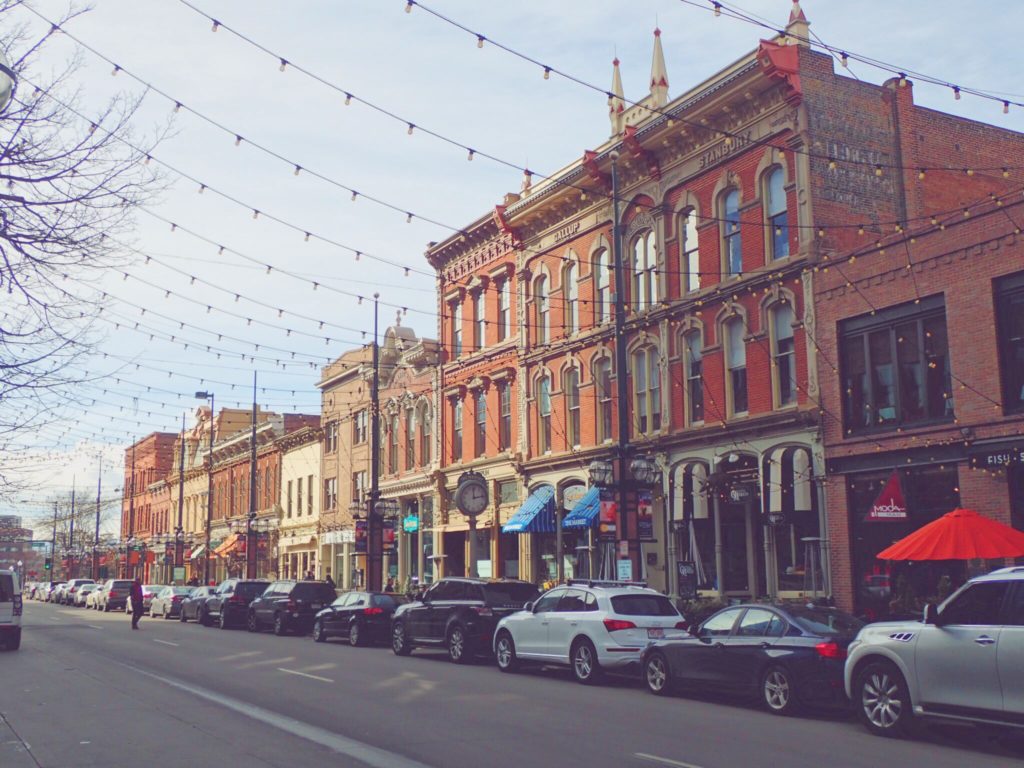 Like I said, I'm not really into shopping, so I found that there wasn't much to keep me entertained in Larimer Square. However, it's an extremely scenic area with pretty Victorian buildings and a permanent installation of canopy lights. Perfectly for a quick look around and a photo or two!
While we were here we also grabbed lunch at Osteria Marco, a trendy Italian restaurant located in a rustic and earthy basement setting. Derek ordered an Italian panini with an arugula side salad, and I chose the creamy onion soup with a house salad. Both meals were phenomenal!
Visit Union Station
Union Station is Denver's main transportation hub and railway station, but it's so much more than that too. In 2012 the station underwent a major renovation, and re-opened as the home to a number of bars, restaurants, and shops, as well as a 112-room hotel.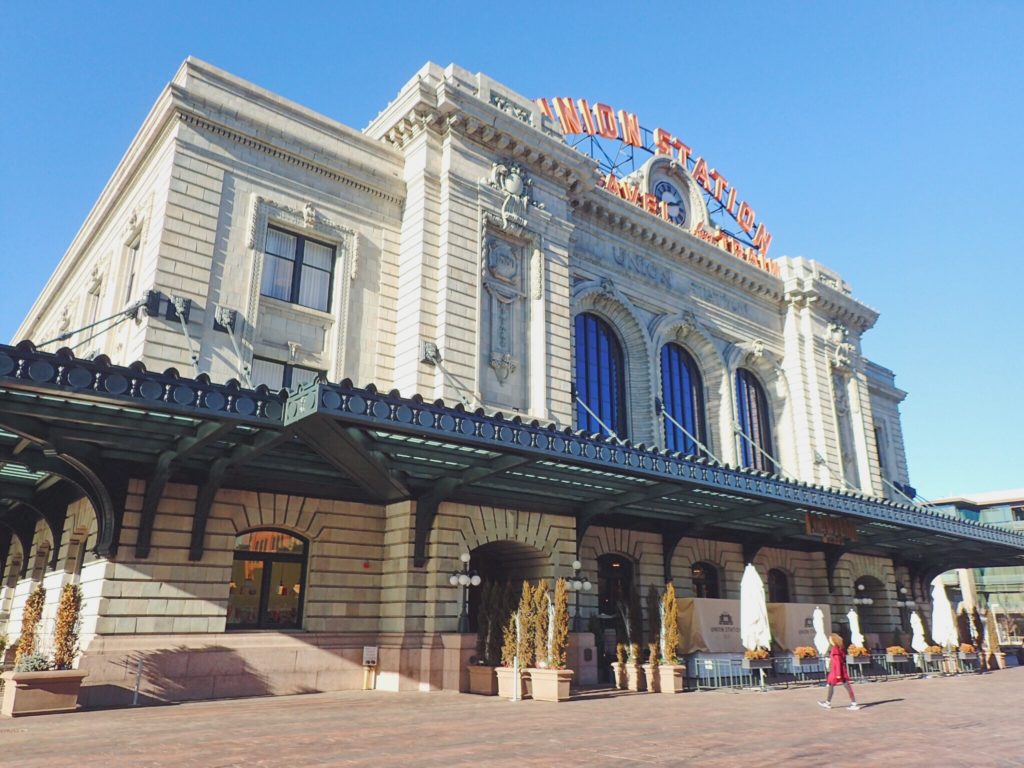 It's now regarded as one of Denver's most iconic historic landmarks, and it's no surprise why – it's a gorgeous building, both inside an out! We popped in for a quick look around and passed a swanky-looking whiskey bar, a number of cute boutiques, an ice cream shop, and Pigtrain Coffee Co., where Derek grabbed a quick cup of coffee to go.
Why aren't ALL train stations like this?!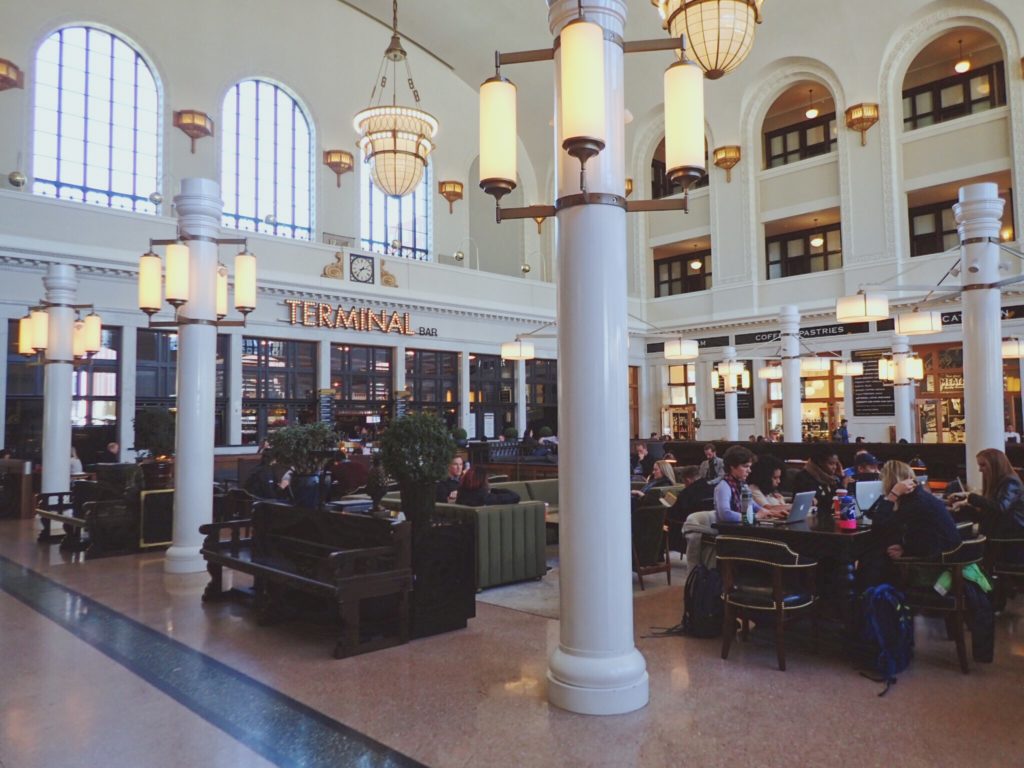 Wynkoop Brewery Tour (1 hour)
Denver is something of a mecca for breweries and craft beers.
…No, really; the metro area is home to roughly 100 brewpubs, breweries and tap rooms! The beer culture is strong and thriving in Denver, and you can learn more about the city's "beer trail" here.
While we sampled local brews at a number of pubs and restaurants throughout the city, we only opted for one official brewery tour, at Wynkoop Brewery. Founded in 1988, Wynkoop was the first craft brewery in Denver, and remains a true Denver institution.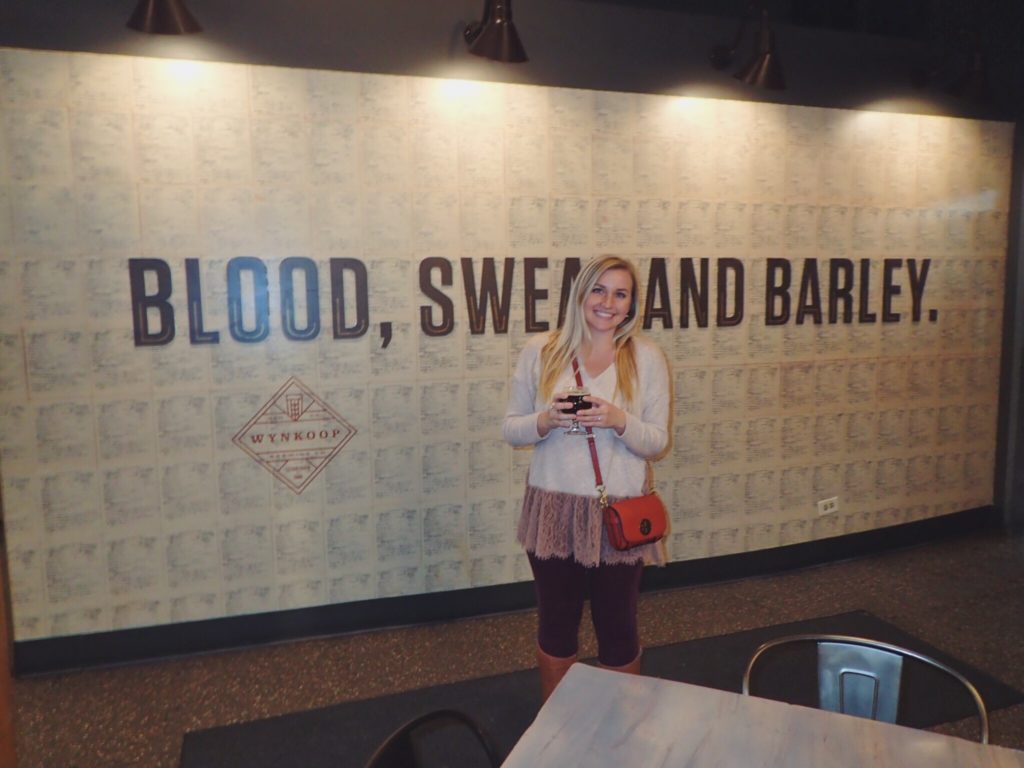 The tour lasted about an hour, and during that time we sampled a total of four beers (plus the brews that Derek and I had ordered before the start of the tour).
It was just long enough for us to learn a bit about the history of craft beer in Colorado, as well as Wynkoop's history and business distribution model (spoiler: you can only get their beers in Denver).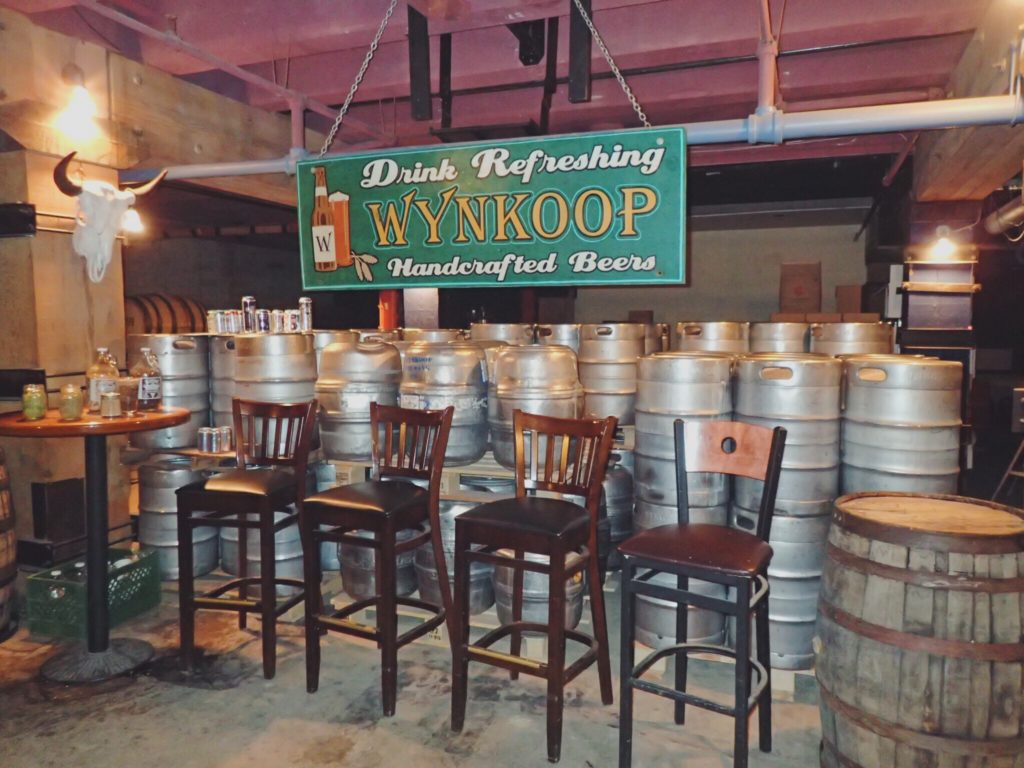 What's especially fun about Wynkoop is that many of their beers are veeeery experimental, with their current on-tap selection constantly evolving.
Their most, er, questionable brew? The Rocky Mountain Oyster Stout, which features Colorado base malts, roasted barley, seven specialty malts, Styrian Goldings hops, and 25 pounds of freshly sliced and roasted bull testicles. You're welcome for that imagery!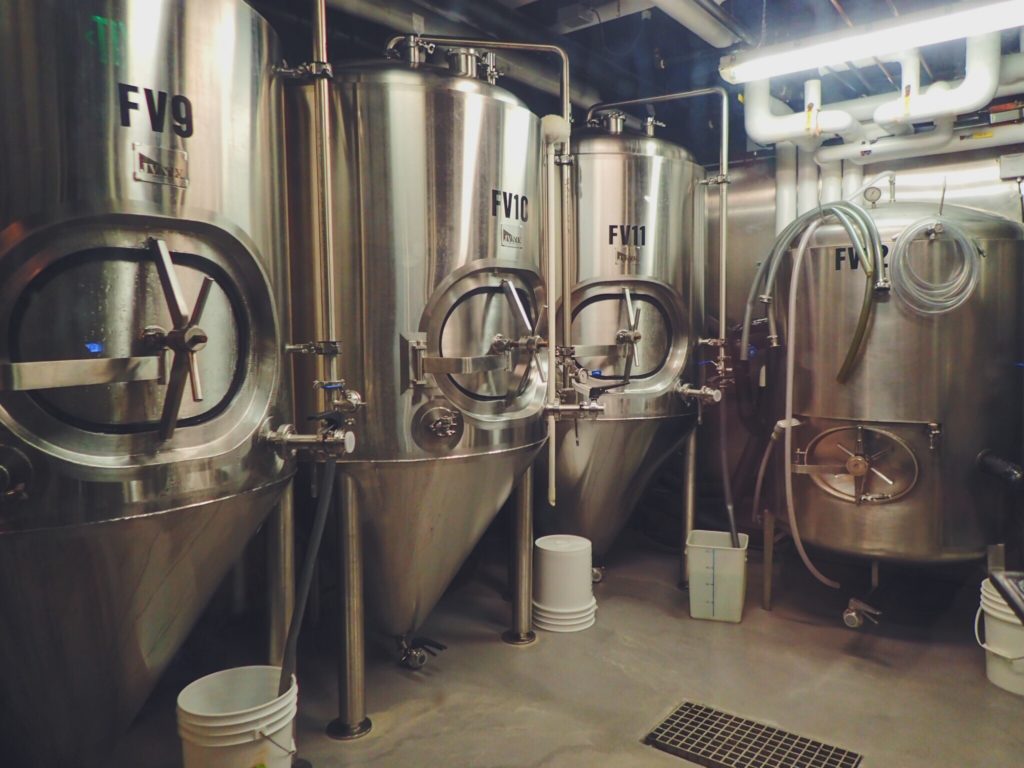 My favorite brew was the Colorojo. From their website: "This small batch gem is a divinely drinkable Imperial red ale. It's crafted with mountains of malts and specialty grains, and an avalanche of Whole-Flower Amarillo dry hops. Colorojo features a glorious "rojo" color, a heady aroma, sticky body, velvety flavors of caramel and malt, and verdant hops throughout." Yum!
Additionally, our guide couldn't have been more perfect for the job. From his quick-witted humor to his easy-going demeanor to his retro-patterned snapback, he was the real-life archetype of someone majorly into Denver's craft beer and marijuana scene.
…And yes, he made the comparison between the Mile High City's two most popular industries several times!
Dinner at Crave Real Burgers
Assuming you're in need of a bit of food to soak up all of that alcohol in your stomach after the tour, I highly recommend stopping by Crave Real Burgers for dinner. Their menu features an absolutely amazing assortment of burgers and sandwiches, plus classic favorites like fries and milkshakes.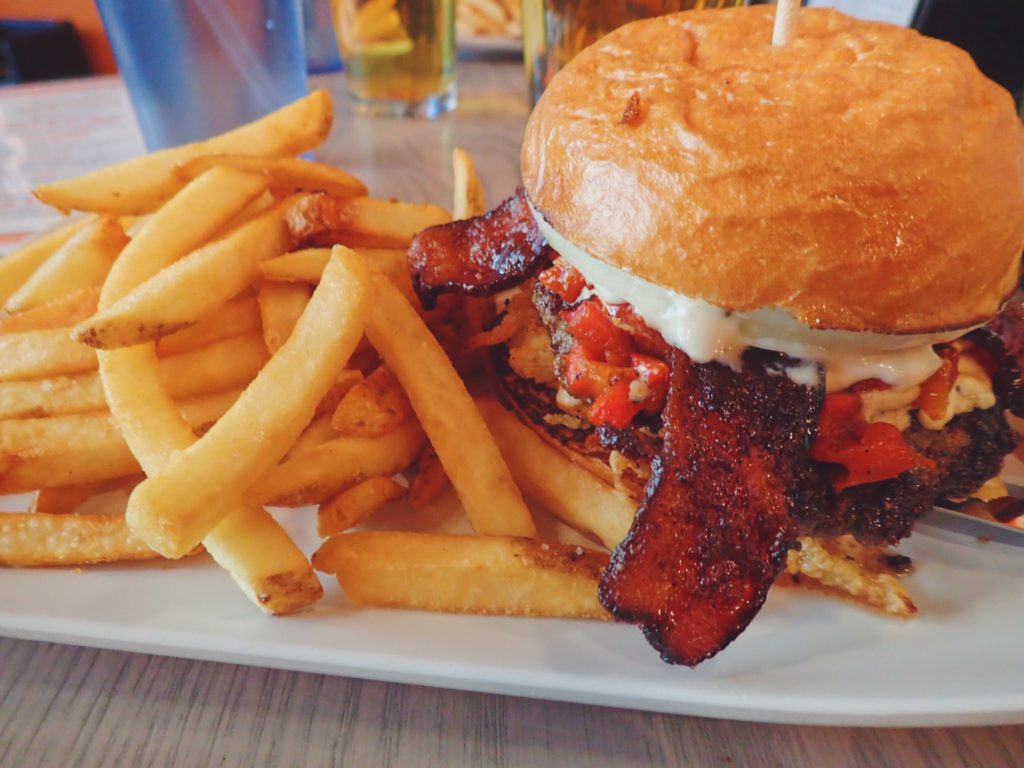 Pictured above: the "Love Stinks" Burger; i.e. a completely-over-the-top-but-ridiculously-tasty conglomeration of burger, bun, garlic, cream cheese, candied bacon, crispy onion strings, roasted red pepper, and red pepper aioli.
Pure. Freaking. Goodness.
Bar-Hopping
At this point you're probably exhausted from a full day of walking, eating, and drinking, but it's not time to hit the hay just yet! It wouldn't be a proper visit to Denver without visiting at least one of the city's trendiest bars.
If you're looking for something a bit more posh and upscale, we absolutely loved Union Lodge No. 1, an artisan & specialty cocktail bar. It's a chill, moody place with a hipster edge that's perfect for sipping on unique, carefully crafted cocktails and chatting the evening away.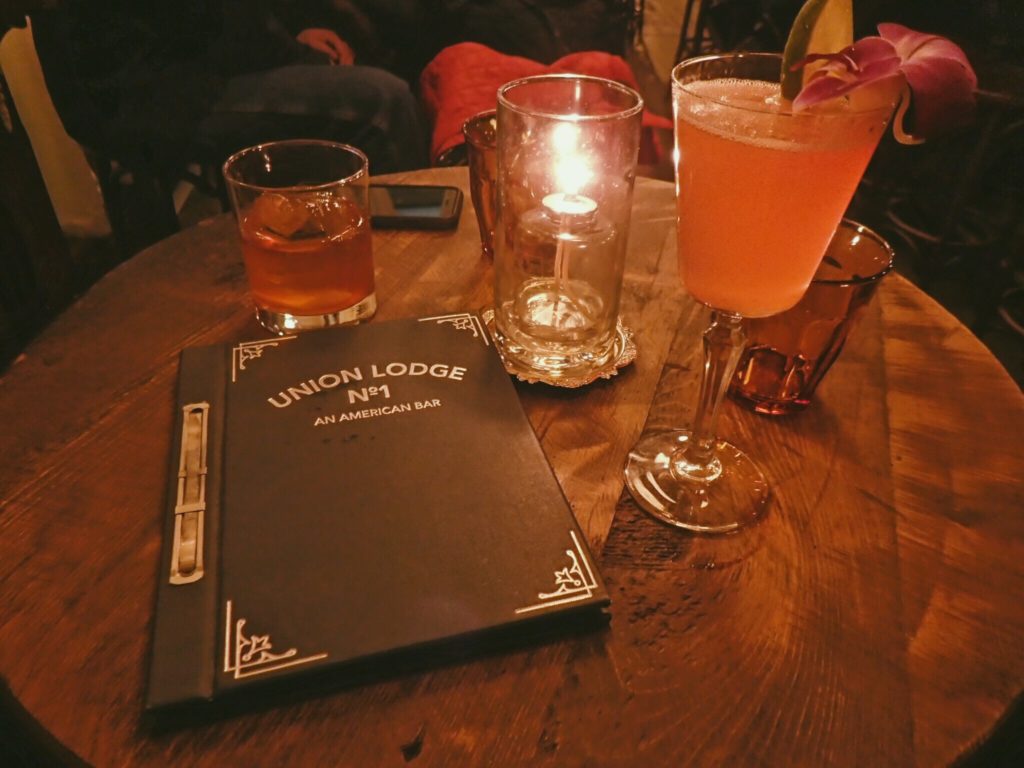 We also enjoyed ViewHouse (located back towards Wynkoop) for it's rooftop location and killer views (oh, and the beer…don't forget the beer!).
After one final nightcap, both Derek and I were fully ready for an early bedtime and a good night's sleep…after all, we had an early start the next morning – to head to Rocky Mountain National Park!
Stay tuned for Day 2 of this "2 Perfect Days in Denver in the Winter" itinerary!
---
Pin It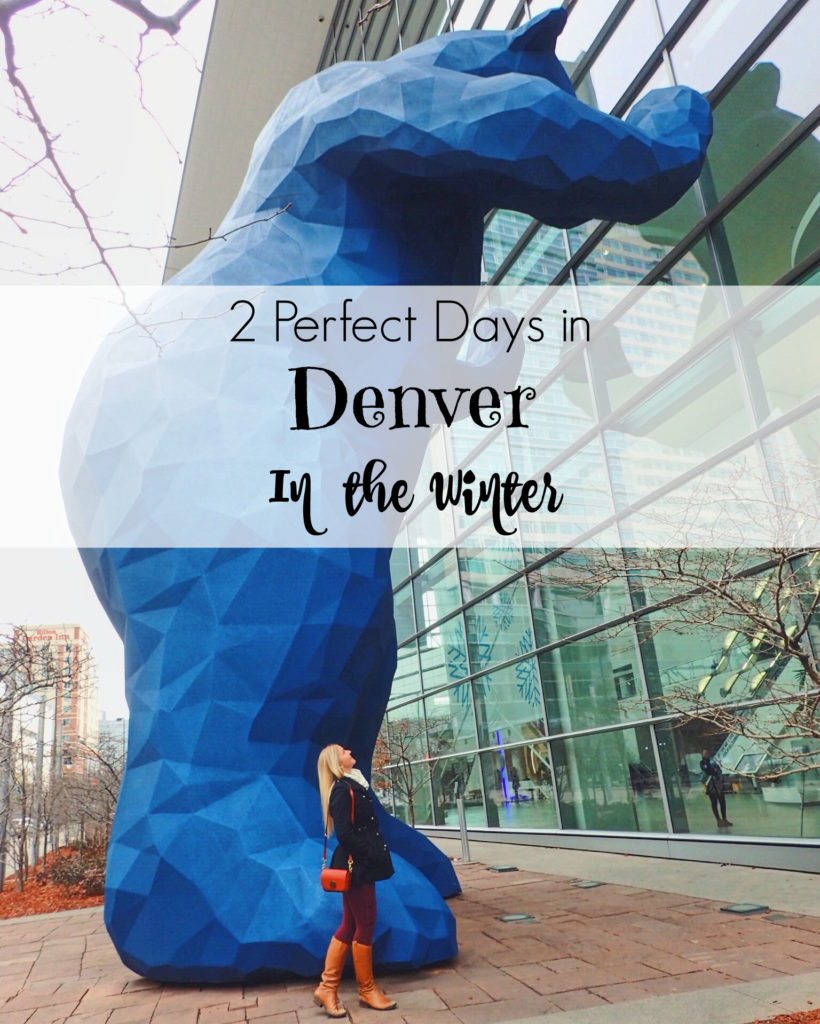 ---
Have you ever been to Denver and/or Colorado? Which season is your favorite for traveling and exploring a new city?