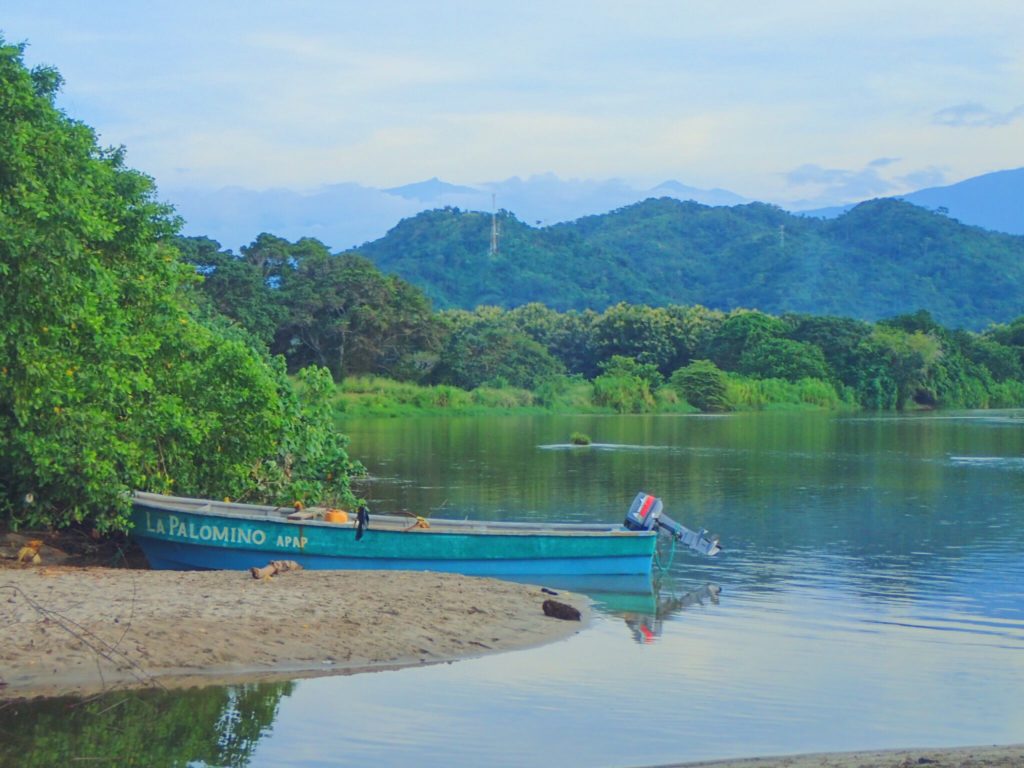 After the sweaty, muddy, and downright exhausting 2 hour trek back from the depths of Tayrona National Park, I found myself back at the side of the Santa Marta-Riohacha highway, just outside of the park entrance. With sweat trickling down my forehead into my eyes and gray mud splattered up the back of my calves, I  hailed a taxi and forked over 40,000 pesos (13 USD) for the 30 minute ride up the coast to Palomino.
This tiny beachside Colombian town wasn't originally in my travel plans; in fact, I had only just heard of it for the first time a few days before, when I began re-evaluating  my plans to embark on the strenuous 4-day Lost City trek and a fellow backpacker suggested Palomino as an alternative. When I asked them for more information about Palomino, they responded with, "Oh, it's at the beach. It's cool. You can go river tubing."
This was what I knew of Palomino before I arrived: It's at the beach, it's cool, and you can go river tubing. Hmm.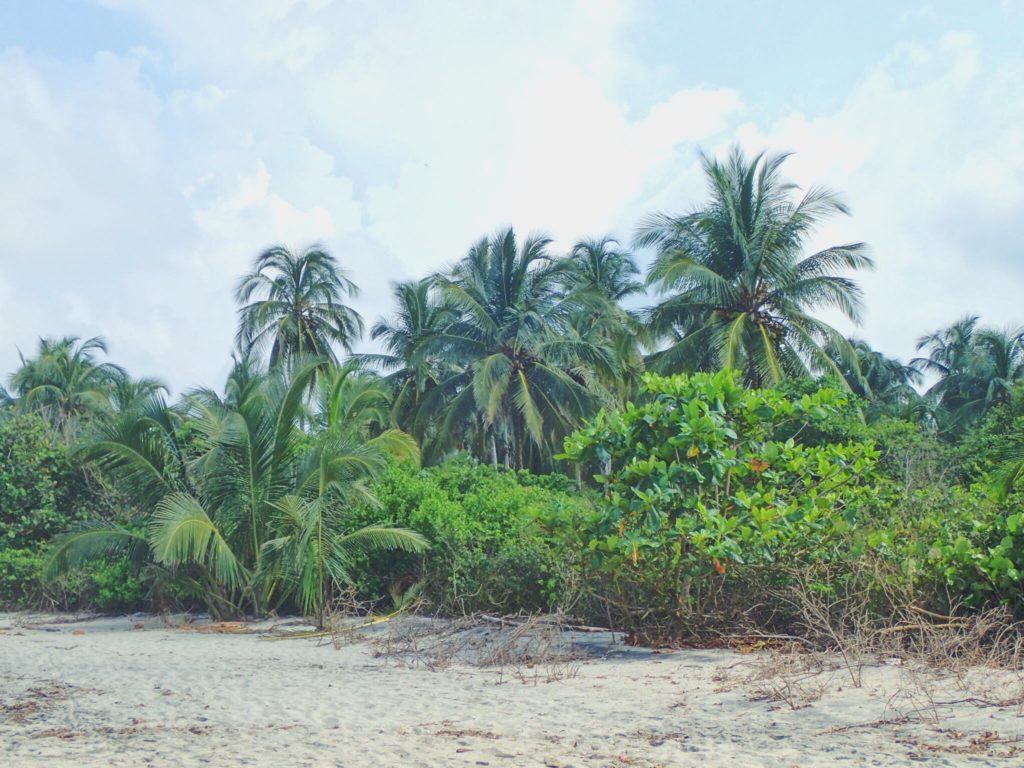 There was just enough information online for me to feel confident in my decision to travel to Palomino, and I was eager to see how the rural, coastal town of 4,000 people would compare to my barely-there expectations.
As the cab whipped down the two-lane highway, I noticed that the mountains were becoming gradually taller, and that the scenery was becoming greener and more lush. The humid, tropical breeze that streamed in through the cracked car windows felt amazing on my flushed skin, and I felt surprisingly content with the dried sweat on my skin, the bleeding mosquito bites on my calves, and the caked mud on my hiking boots. From one adventure to the next.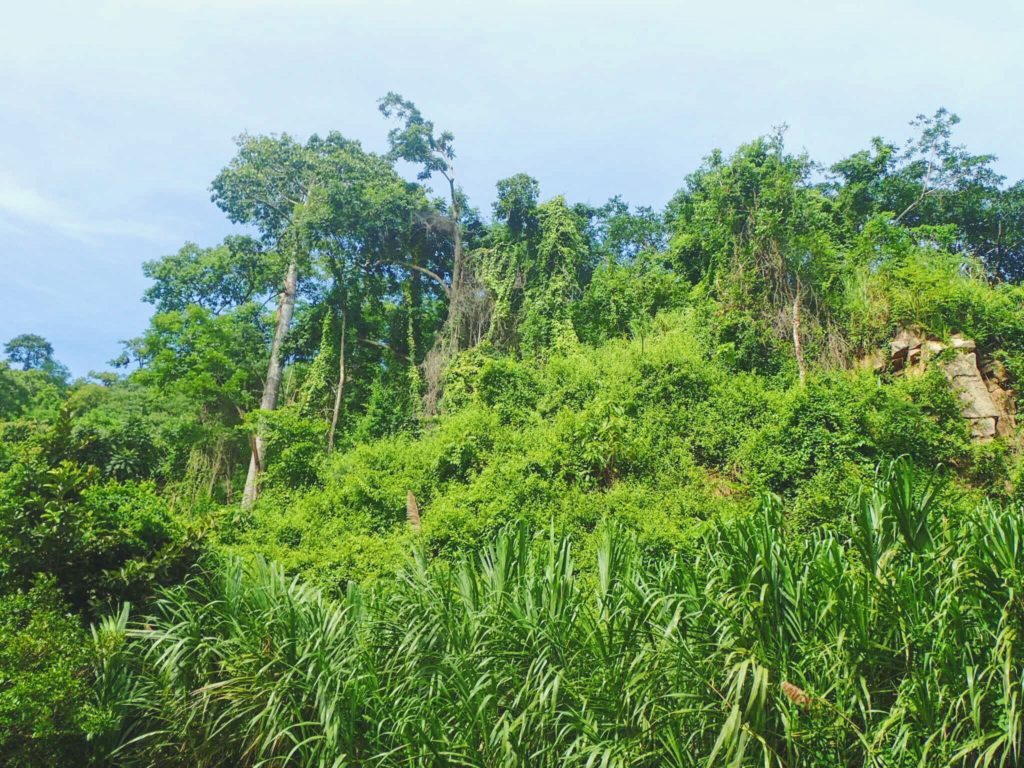 Eventually we turned off the highway and headed down a narrow unpaved road, dotted with muddy potholes and deep puddles. At several points I expected the cab driver to stop and explain that he couldn't make it any further, but we continued bouncing and bumping down the road until he pulled to the side, turned his head to look at me, and said with a nod, "Dreamer Hostel."
After grabbing my backpack and walking onto the property, I had a brief moment of confusion and disorientation. Wait a minute, was I in the right place…?
The sign at the check-in counter confirmed that I was in fact at Dreamer Hostel, but I could hardly believe it. This was a hostel?! While it certainly wasn't as luxurious as a five-star resort, it was outfitted with a full bar and restaurant, a decent-sized pool surrounded by lounger chairs and hammocks, and a beautiful green lawn sprinkled with swaying palm trees. It was beautiful.
My private room wasn't ready for check-in when I arrived, so I decided to take a walk down the beach to kill some time. Dreamer Hostel has a private beach access point (a short footpath that's roughly a one minute walk from the bar to the beach), so I followed the path, stepped out onto the sand, and saw…nothing.
…Okay, I'll admit that "nothing" is a little bit extreme.
What I actually saw was an endless stretch of white sand, sparsely sprinkled with footprints; rows of fluffy, swaying palm trees backed by dense, lush jungle; children laughing and splashing through the powerful waves that rolled through the blue sea water; families, couples, and friends meandering lazily and aimlessly down the beach; and every 20 minutes or so, a cluster of simple wooden stalls selling fresh fruit, water, treats, and handmade jewelry.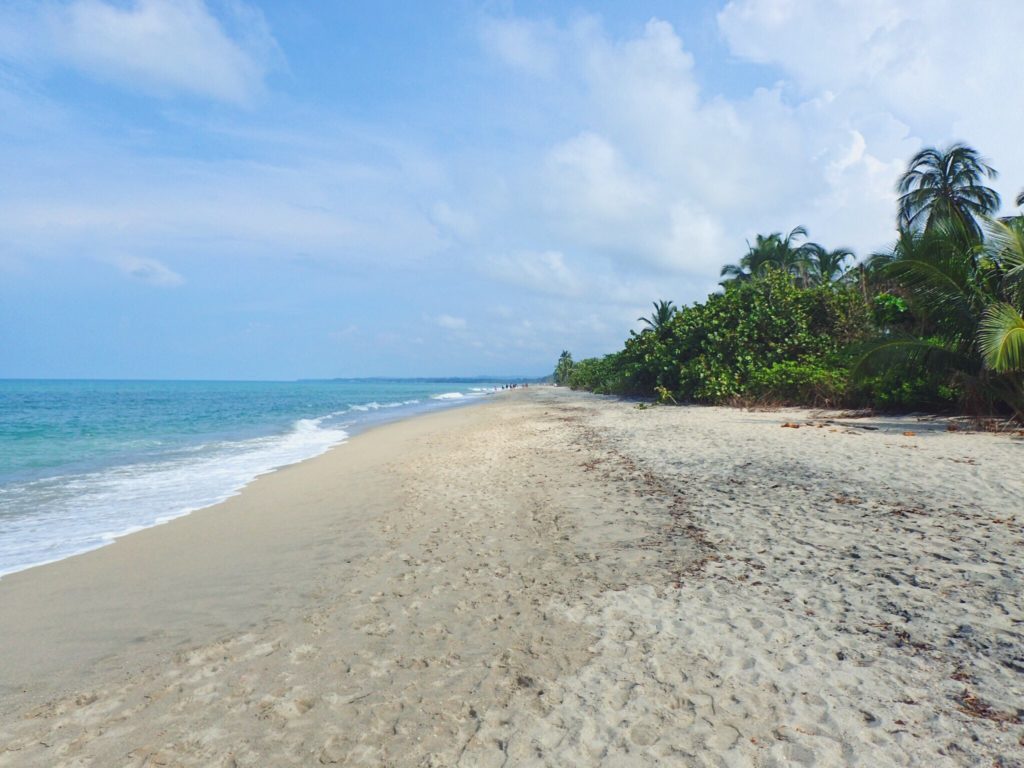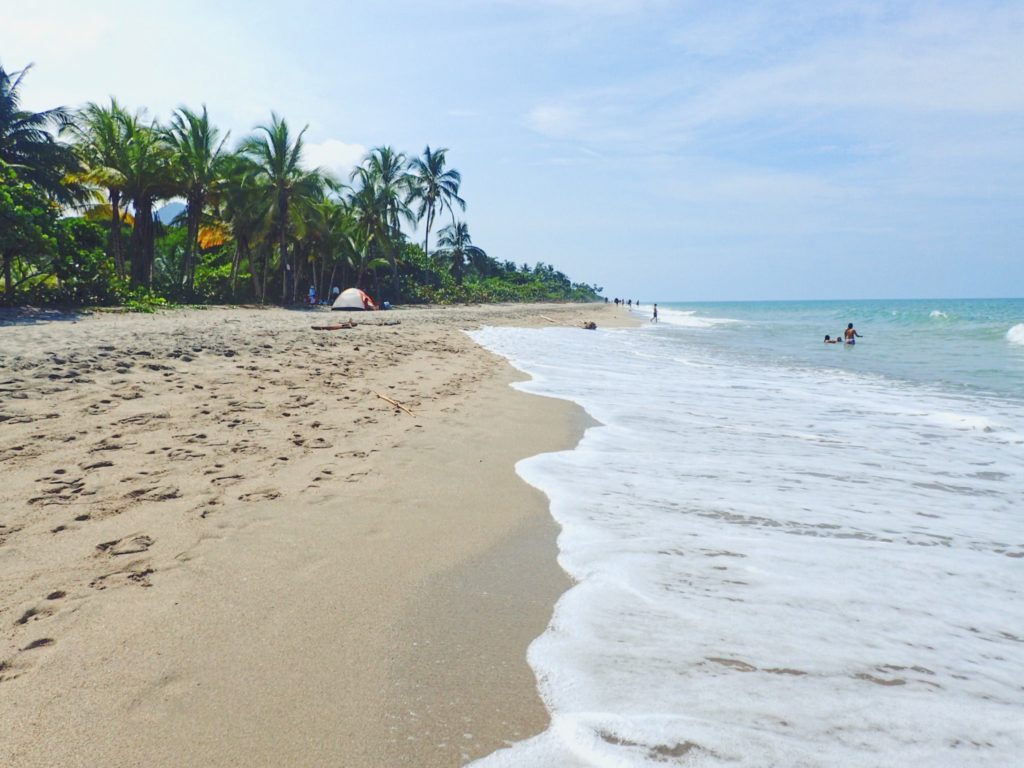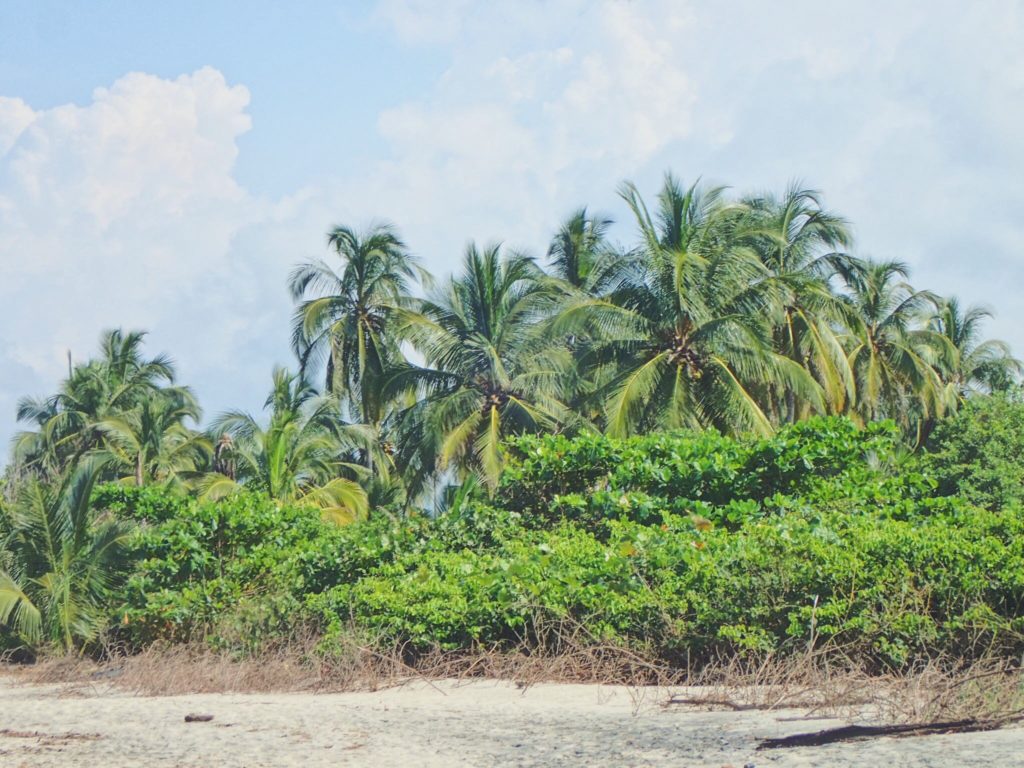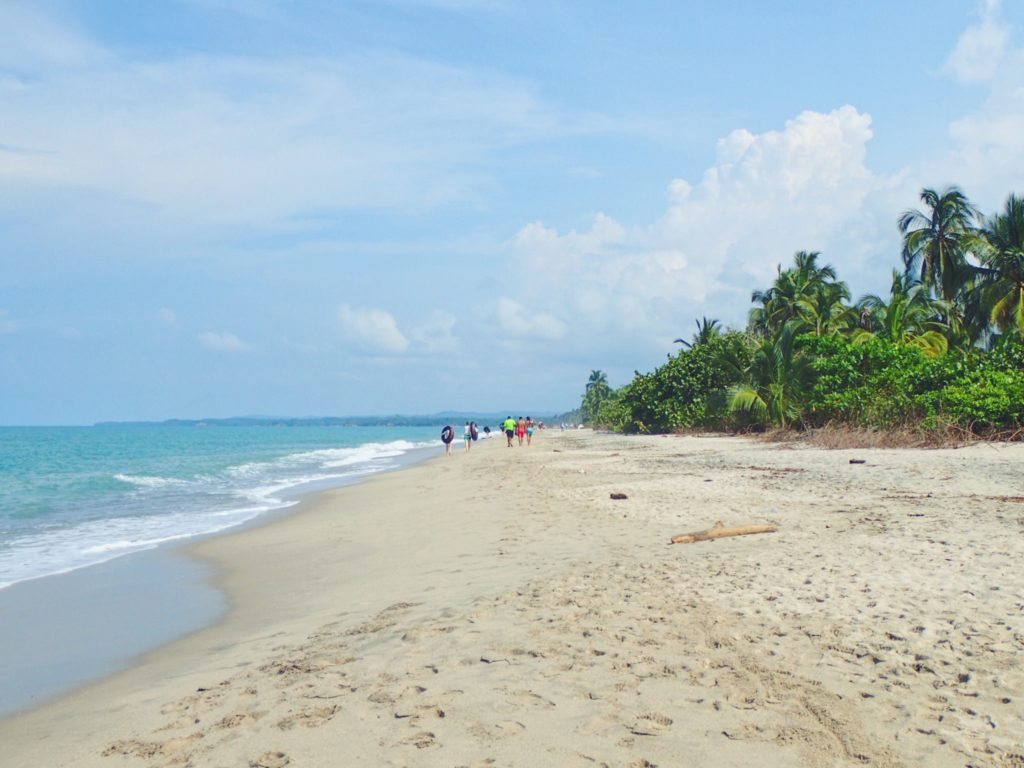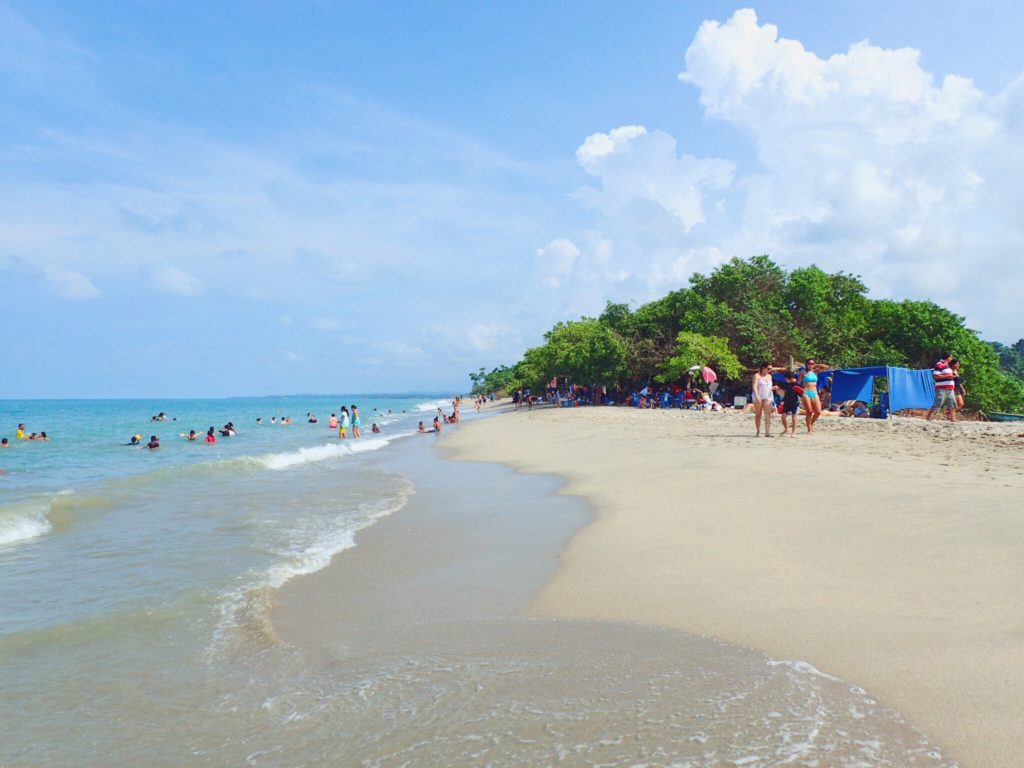 However, I think it's even more important to note what I didn't see, and what I didn't see was this: a single beachfront hotel, resort, hostel, beach lounger, or beach umbrella. Not one.
Palomino is the spitting image of what you might imagine any other beach resort in the world looked like before the developers rolled in: wild, natural, untouched, and pure.
It's not perfect; the sand can be rough and the ocean currents can be brutal, but that's part of Palomino's charm. Its flaws haven't yet been smoothed over and erased to prepare it for the inevitable onslaught of tourism – it still feels "real," tucked away and hidden from the world.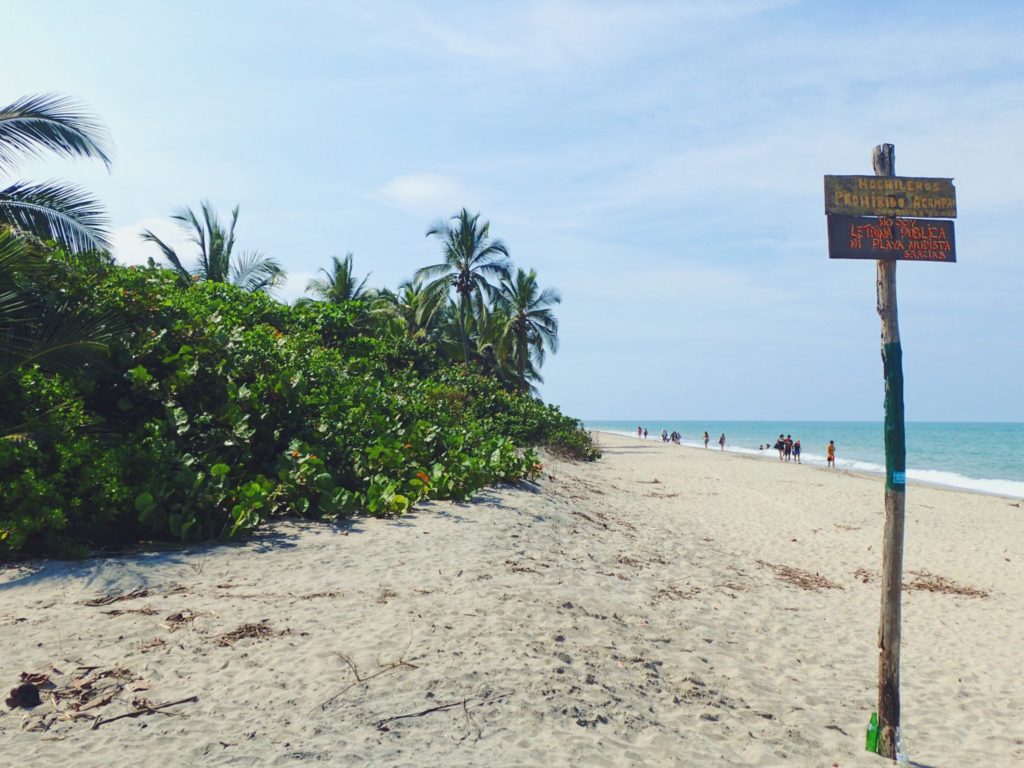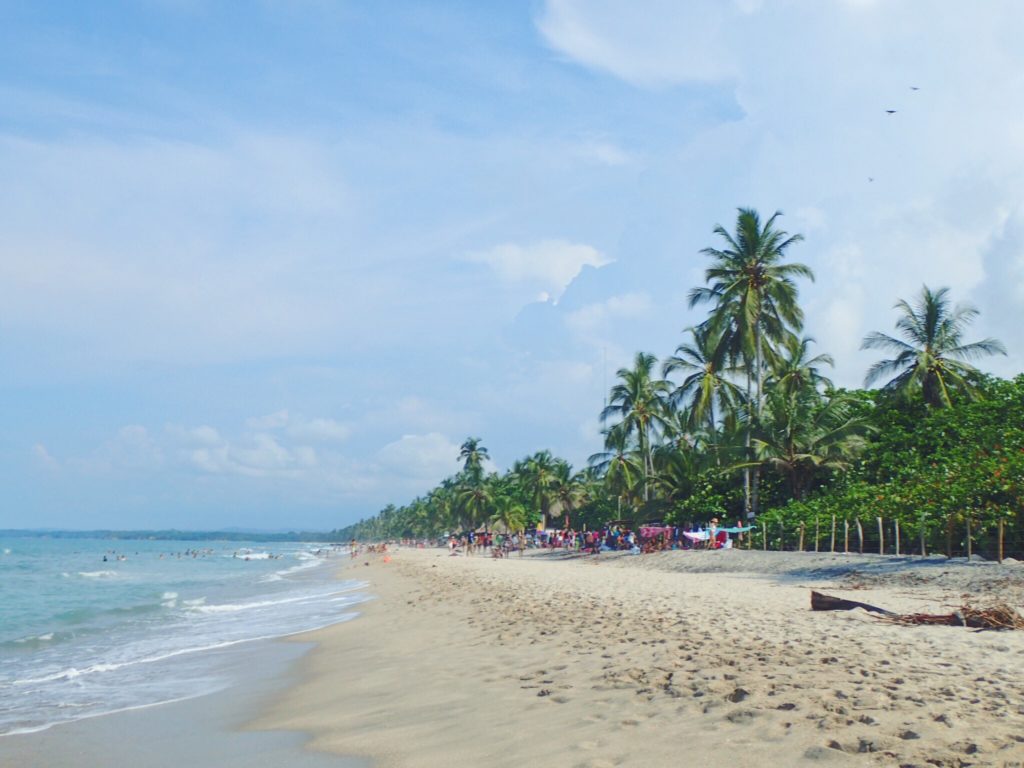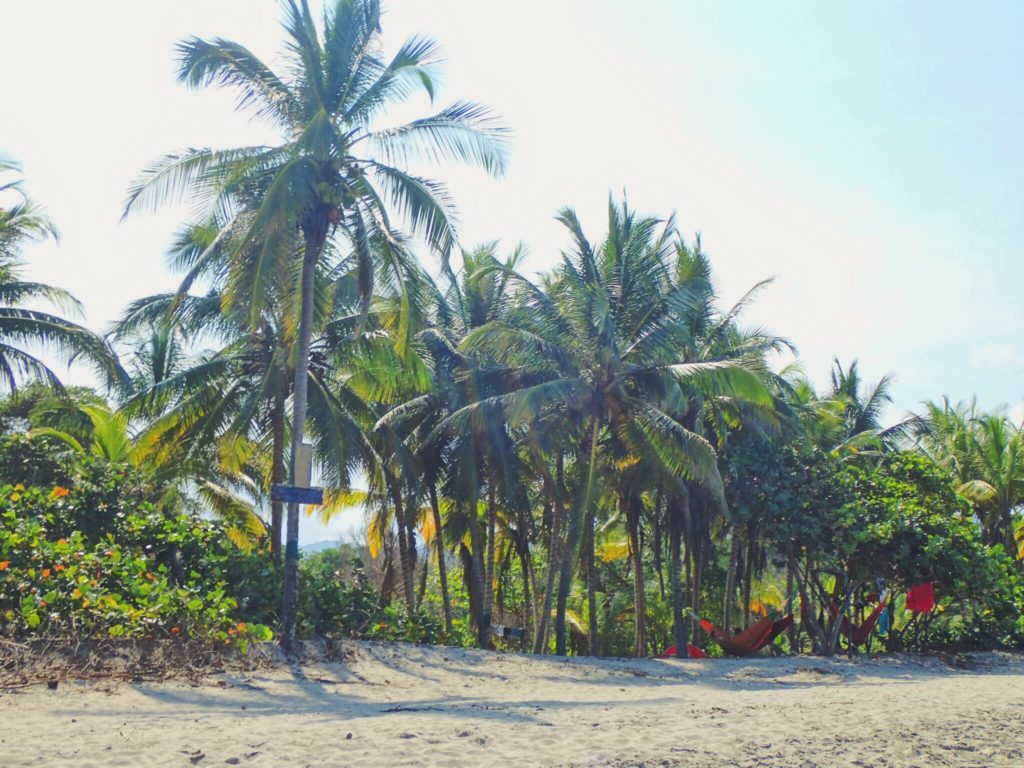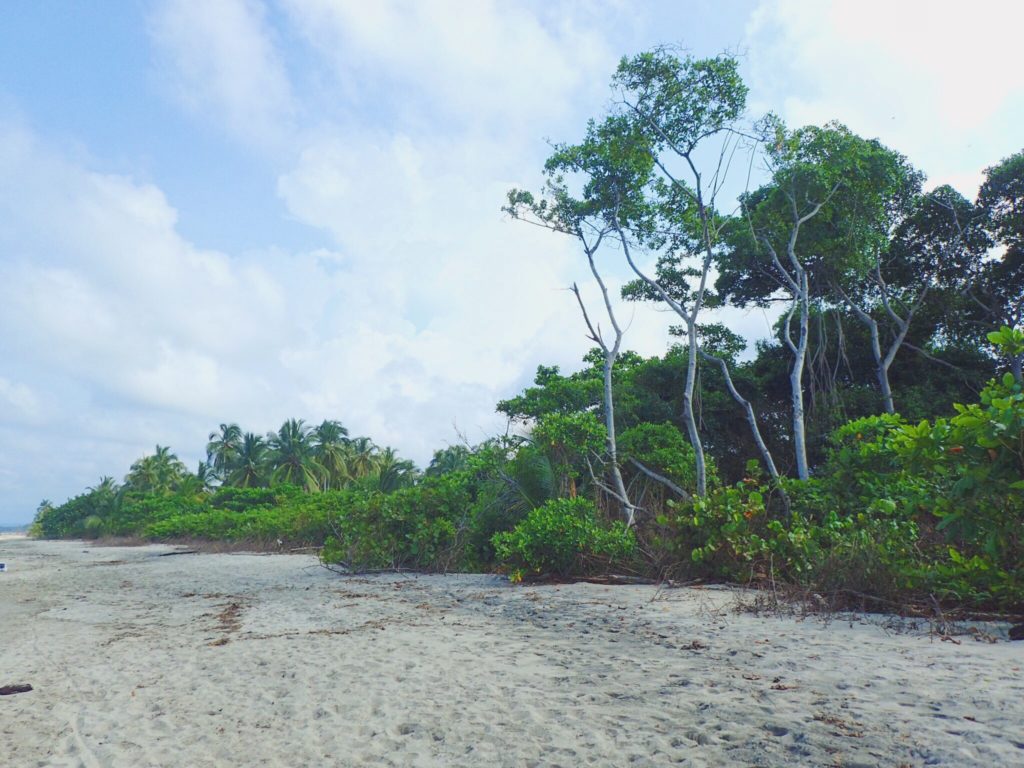 I was truly in awe as I wandered further and further down the coast – Palomino was an honest-to-goodness beach paradise!
Eventually, I stumbled across a view that made me do a double-take: mountains.
Mountains! Visible from right where I was standing in the sand, with the Caribbean sea lapping at my heels. And not just mountains, but also an endless stretch of thick jungle and a slowly winding river that flowed out into the ocean.
I later learned that these mountains are part of the Sierra Nevada mountain range, which contains the highest coastal peak in the world at 5,775 meters above sea level and just 42 kilometers (26 miles) from the coast.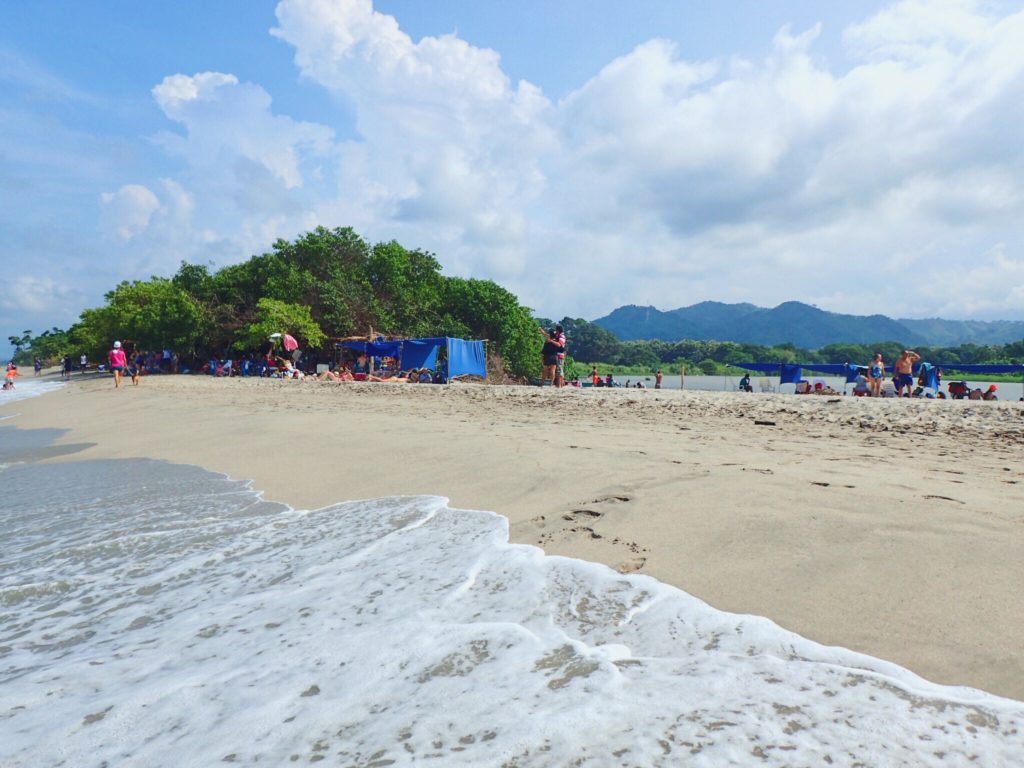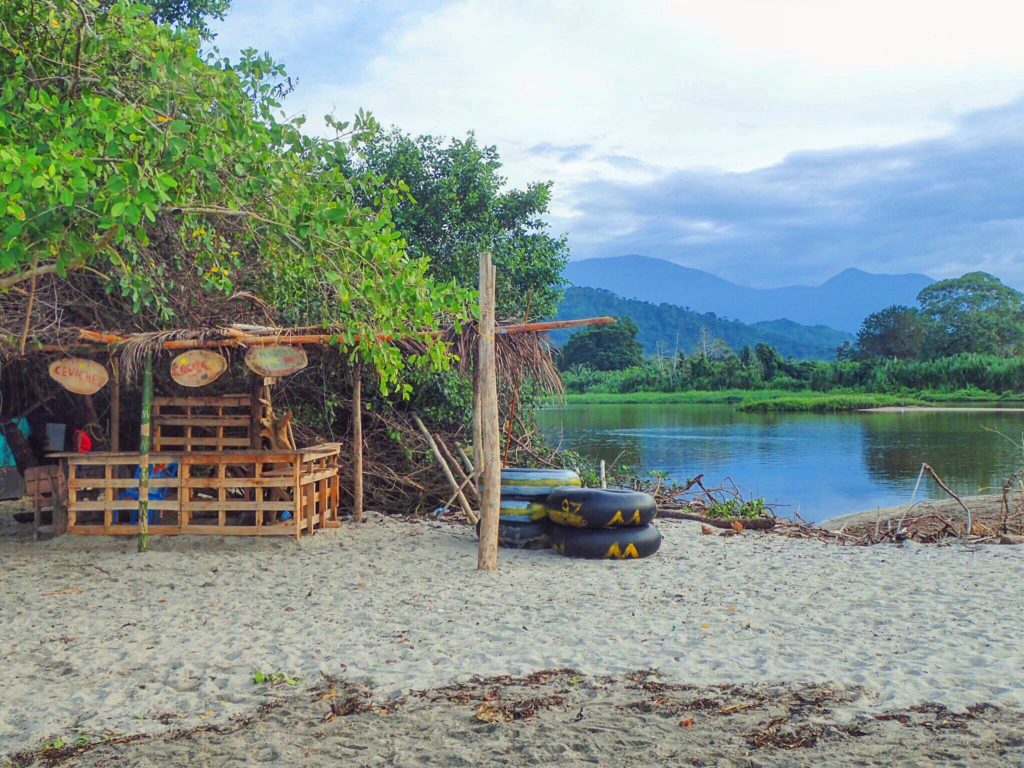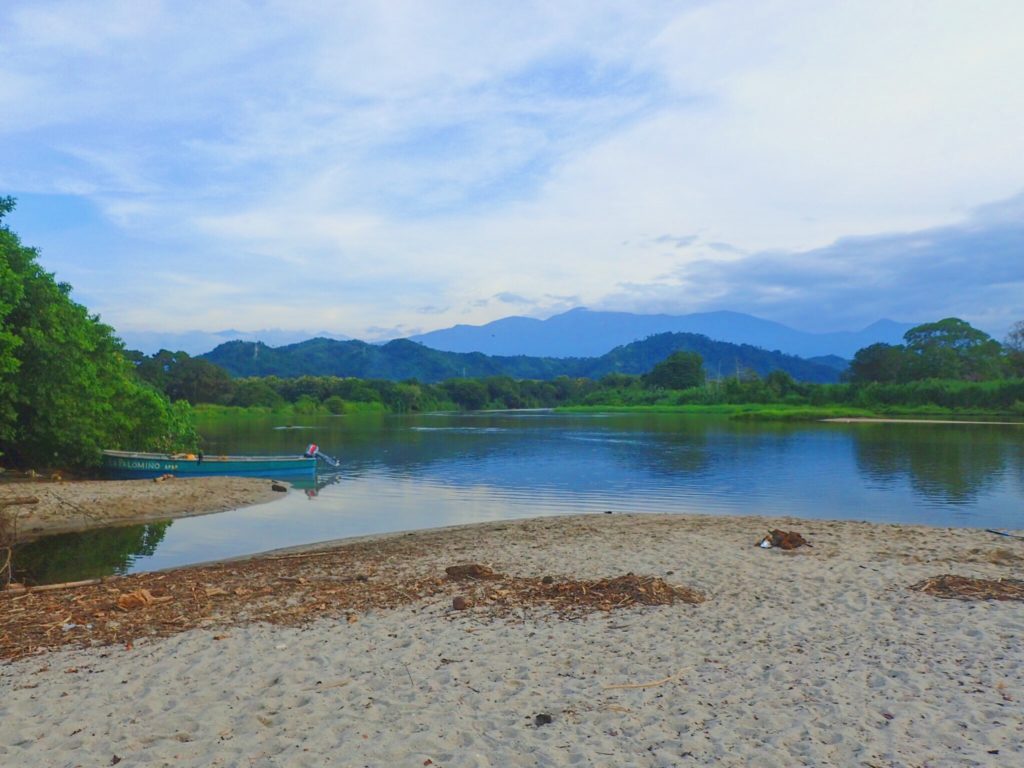 It was almost painfully beautiful; too beautiful. Views of jagged mountains, the turquoise ocean, lush jungle, and the shallow Palomino river all in one place. 
Eventually I turned and made my way back down the beach towards Dreamer Hostel, hoping my room would be ready for check-in by the time I arrived. It was, and I couldn't have been more pleased with it! Not only was it extremely spacious, but it also had a nice sitting area, a comfortable bed, and a private porch with a hammock. As far as hostels go, Dreamer was definitely top-notch.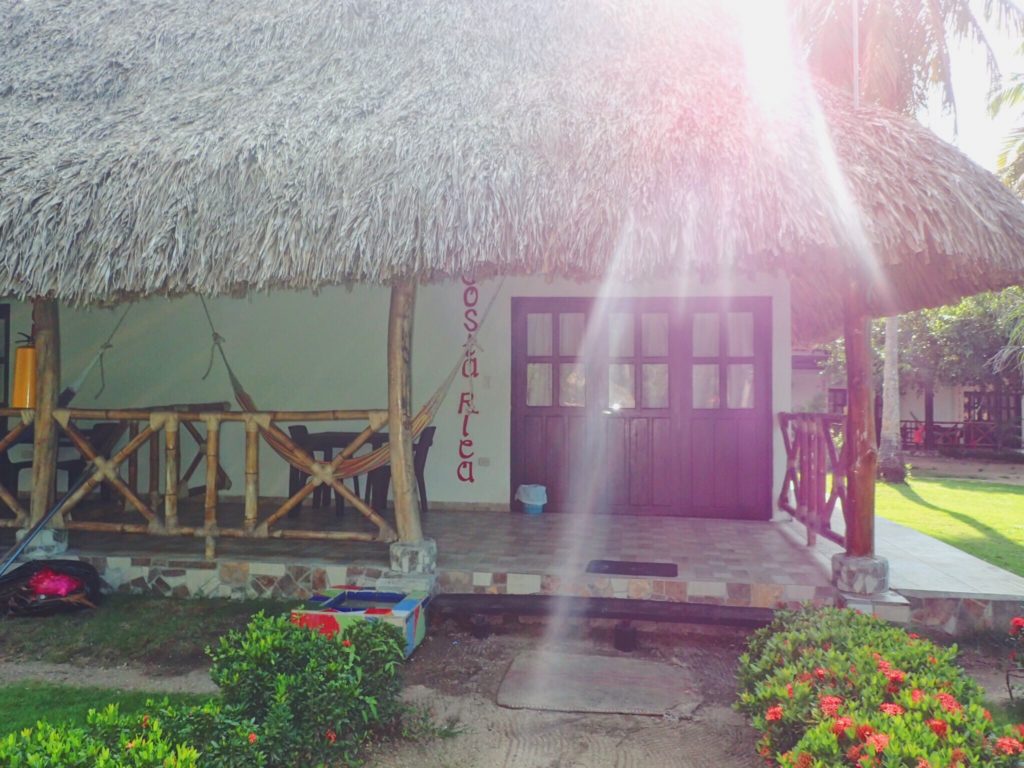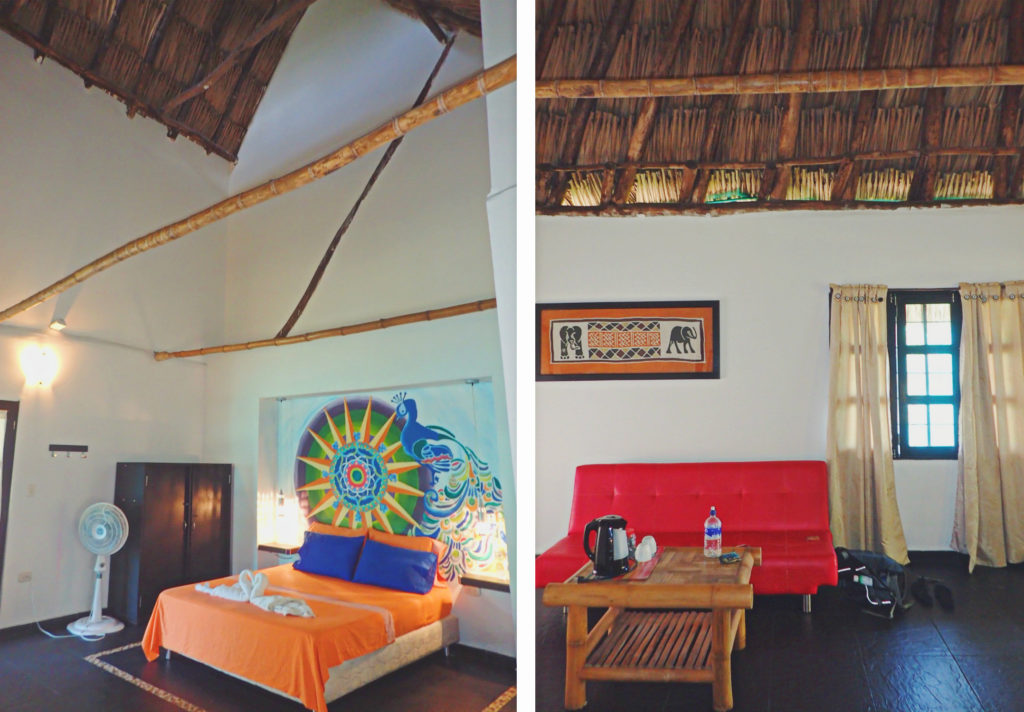 I spent a total of 3 days in Palomino, and 2 of those days consisted of pure, chilled-out relaxation. I spent a good bit of time lounging by the pool, reading my Kindle and enjoying the tropical air (in the shade whenever possible…that Colombian sun is strong). I also took regular beach strolls and enjoyed the convenience of the on-site bar and restaurant.
But as much as I love my R&R, the ultimate highlight of my time in Palomino was on my third and final day there, when I went tubing down the Palomino River with a group of new friends from my hostel.
Tubing the Palomino River
River tubing is THE activity in Palomino. For 20,000 pesos, you get your own rubber tube and a ride to the start of the river. From Dreamer Hostel, just walk straight out of the front gates of the property onto the dirt road, and head to the closest tube rental stand. They'll get you sorted from there, and trust me, it's quite the unique experience!
Before I knew it, I was hopping onto a motorbike, straddling a local kid wearing a hat that said "DOPE SHIT" who looked to be about 18 years old, and trying to figure out the best way to hold my tube while maintaining my balance. Then, we were off!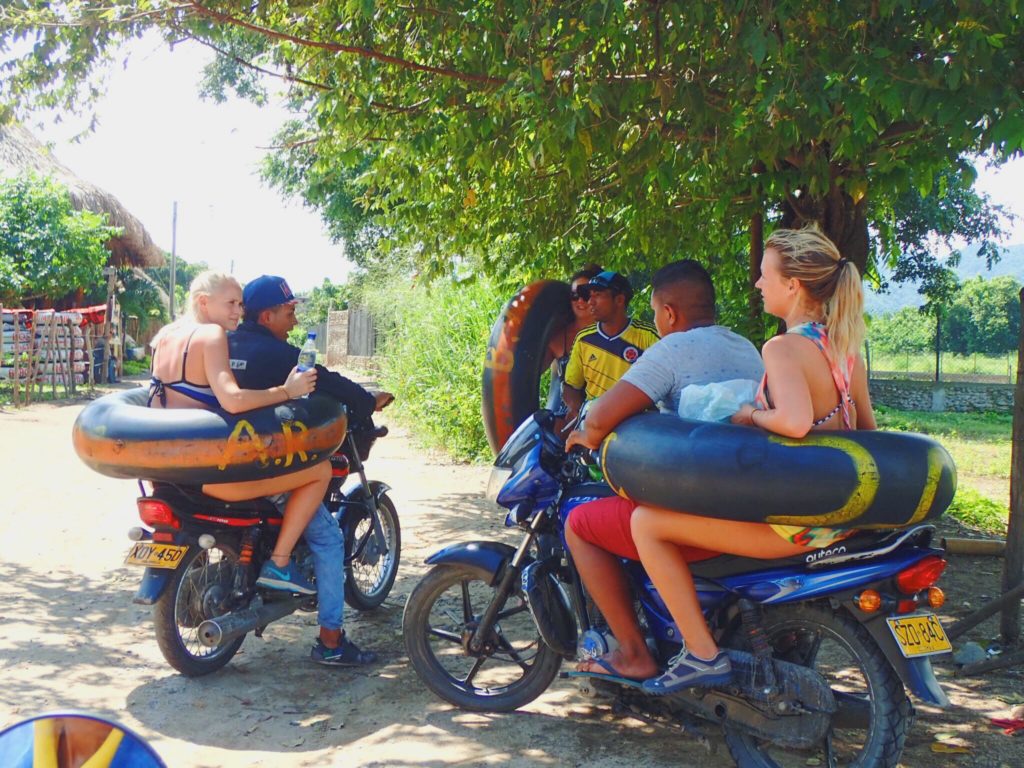 I won't even lie – that ride was fucking terrifying. TERRIFYING, I tell you. We were only on the highway for a short period of time before we turned down a bumpy, rocky, dirt path that sloped upwards, towards the start of the river. I was clinging onto the bike for dear life as we bounced up the hill, with my driver occasionally putting his feet down to keep us from sliding sideways in the deep mud, and shouting "WOO-HOO" every time we took a turn too fast.
My fingers actually ached from gripping the handles so hard when I hopped off the bike just 10-15 minutes later. It was definitely not a comfortable ride, but we had made it!
The drop-off spot is actually about a 30 minute walk from the true start of the river. I wouldn't call it "strenuous," but you'll definitely work up a sweat…making it all the more rewarding when you finally reach the river and can jump right into your tube!
The next few hours can only be described as pure bliss.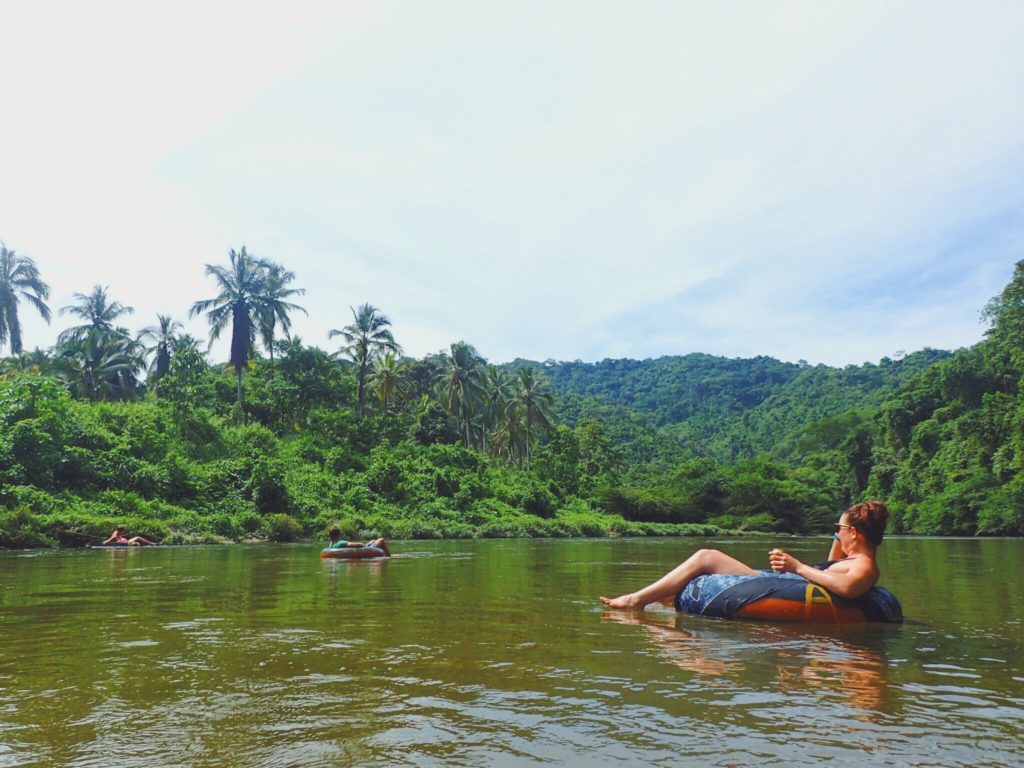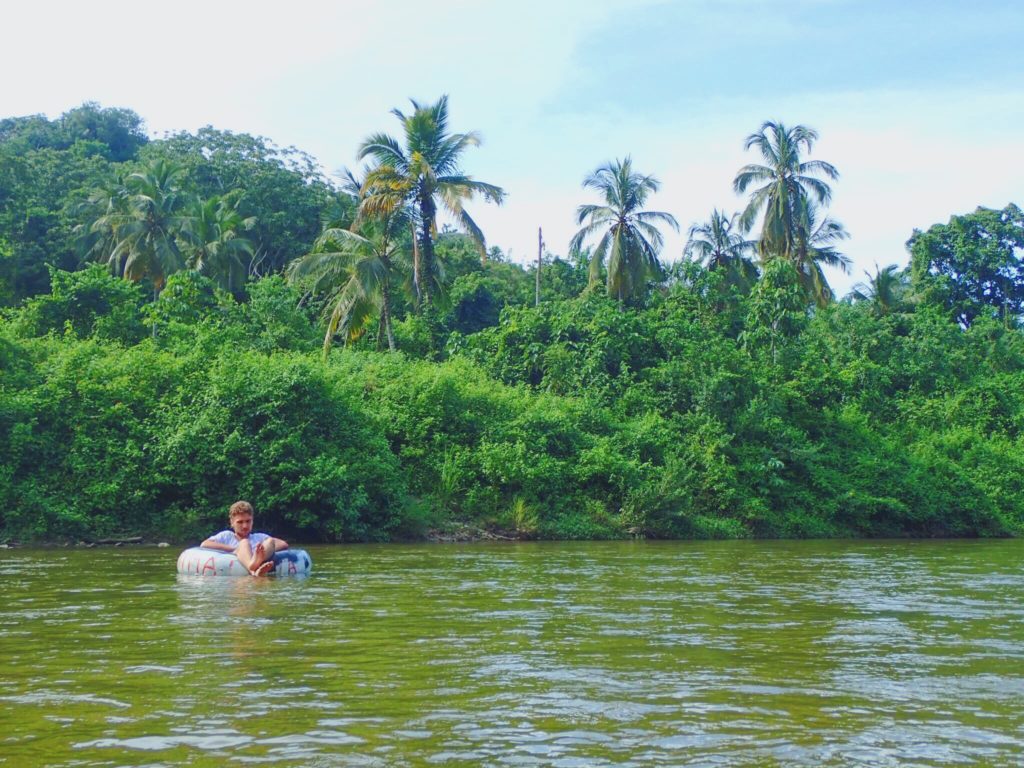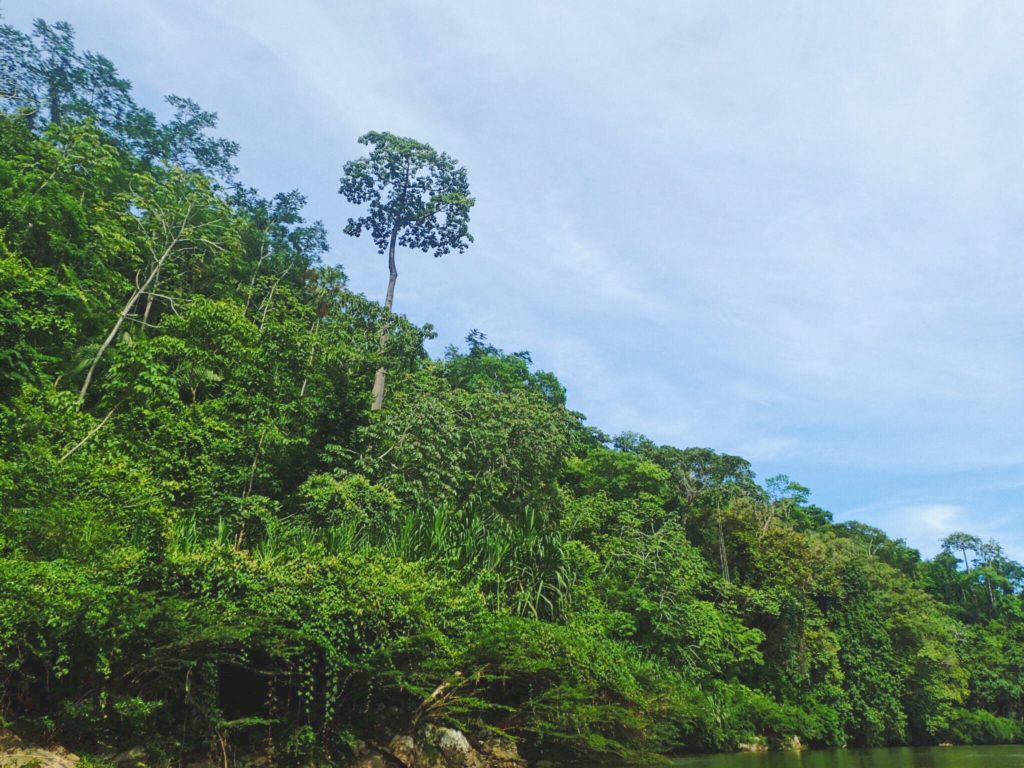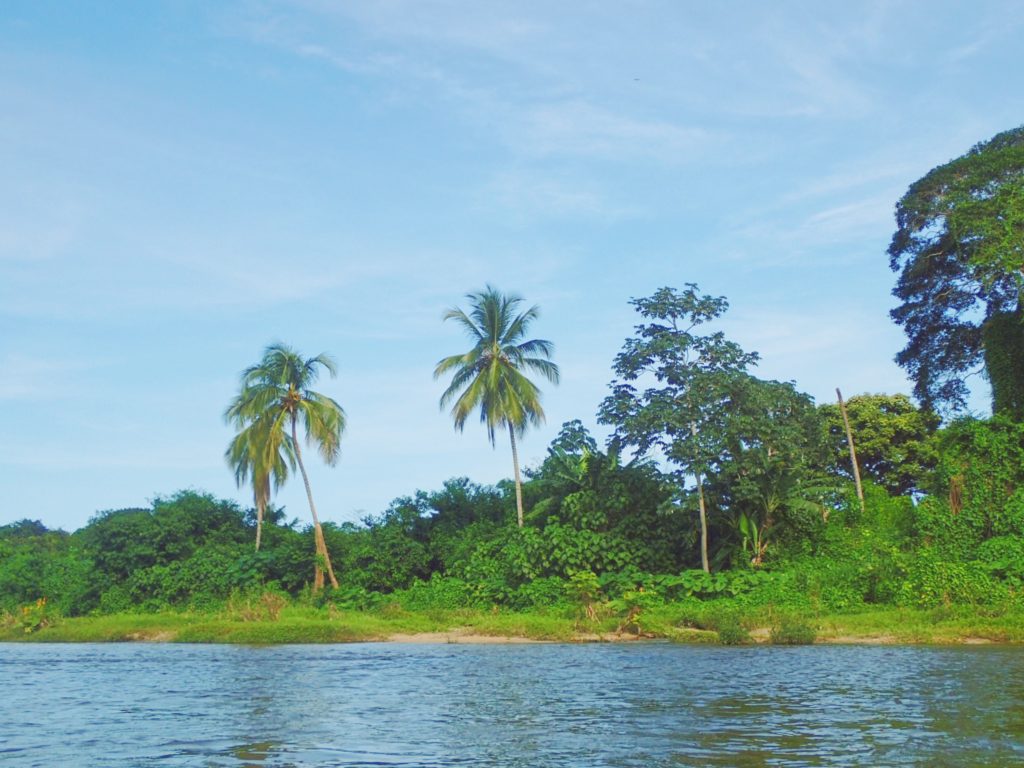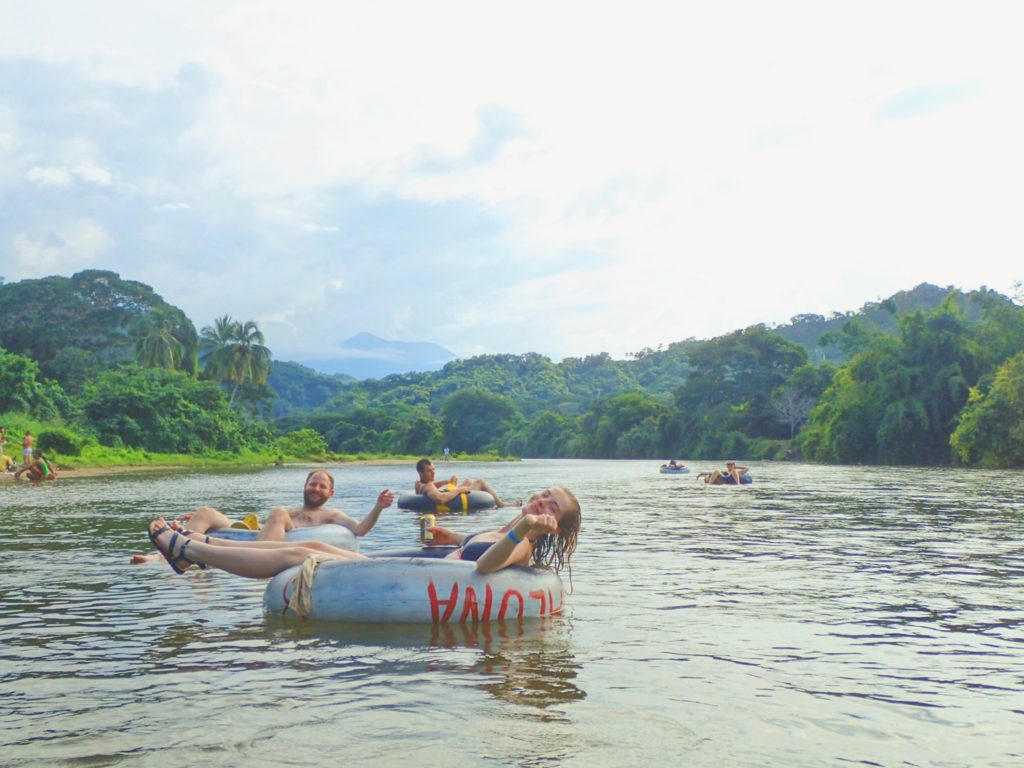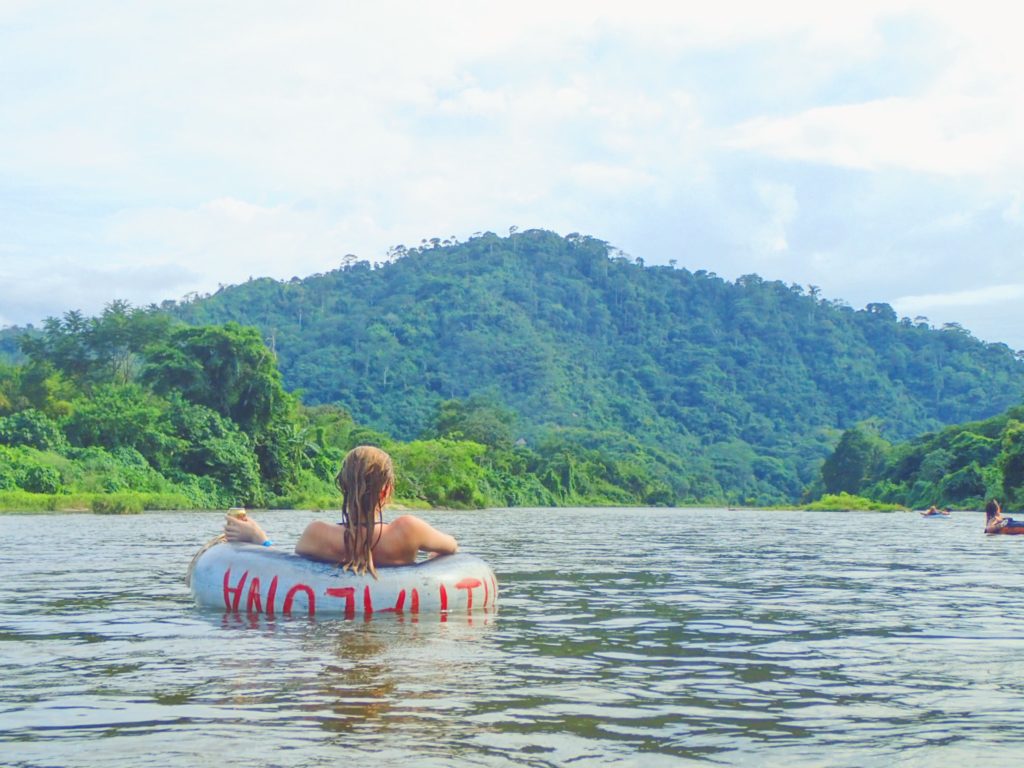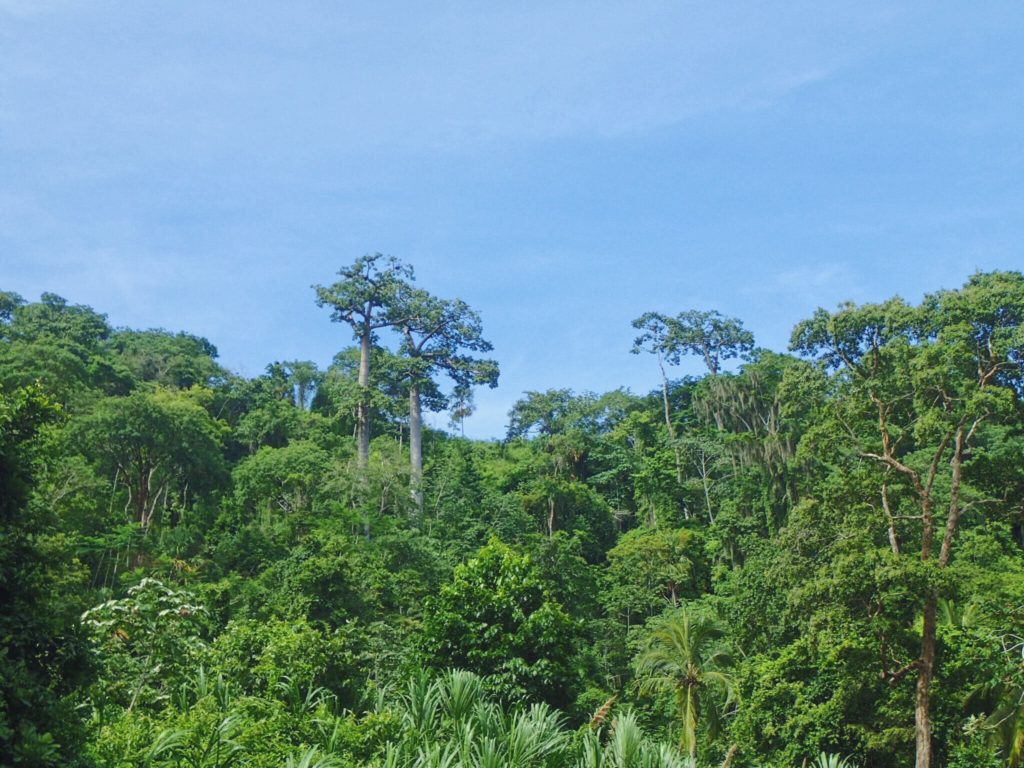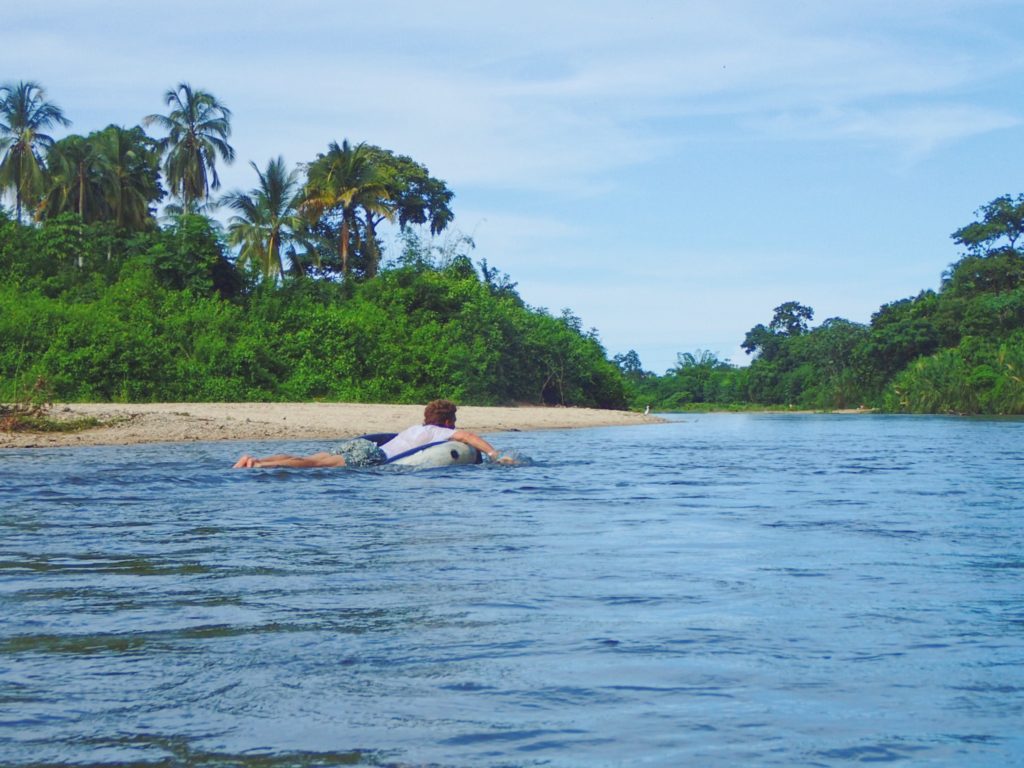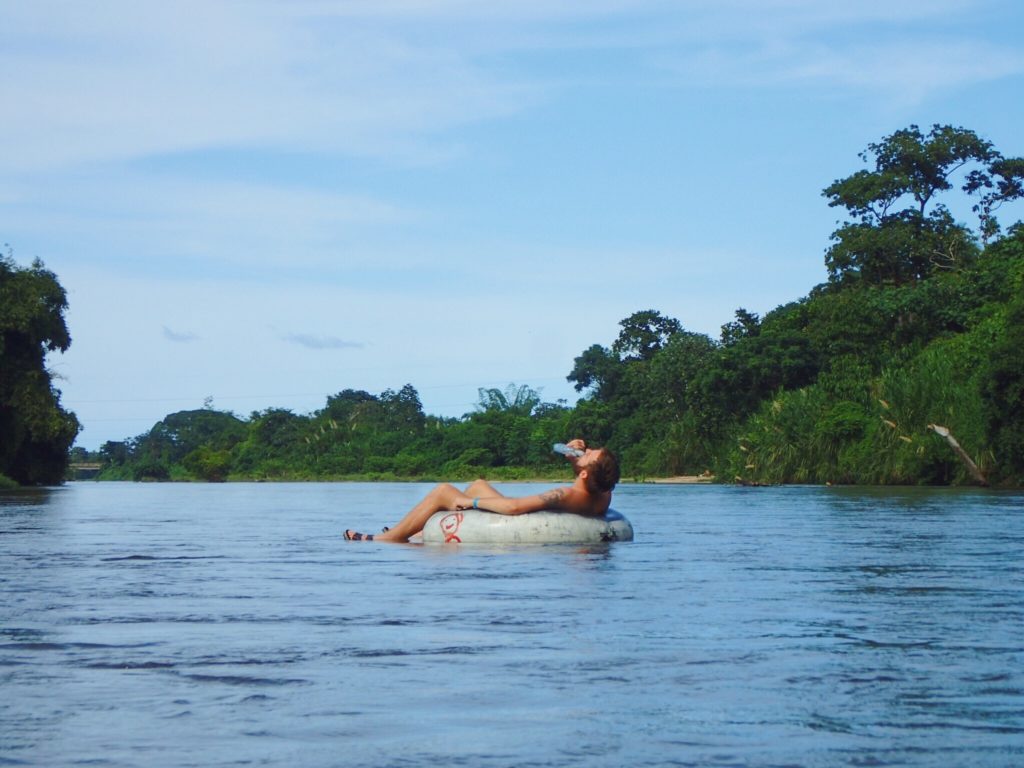 We floated in the cool water, laughing as we sped through a few minor rapids and closing our eyes in relaxation as we eased through the slow, shallow sections. No matter which way you directed your gaze, the effect was the same: thick, wild jungle backed by sharp mountain peaks in the far distance, with palm trees, graceful water birds, and tropical views all around.
In other words, PARADISE.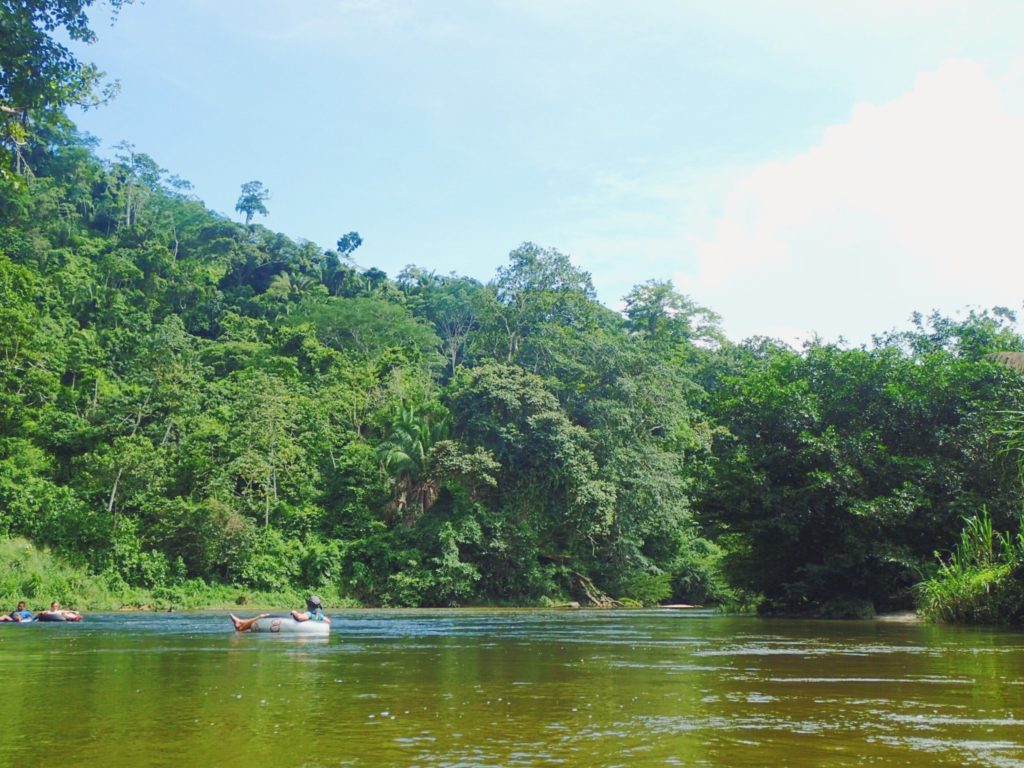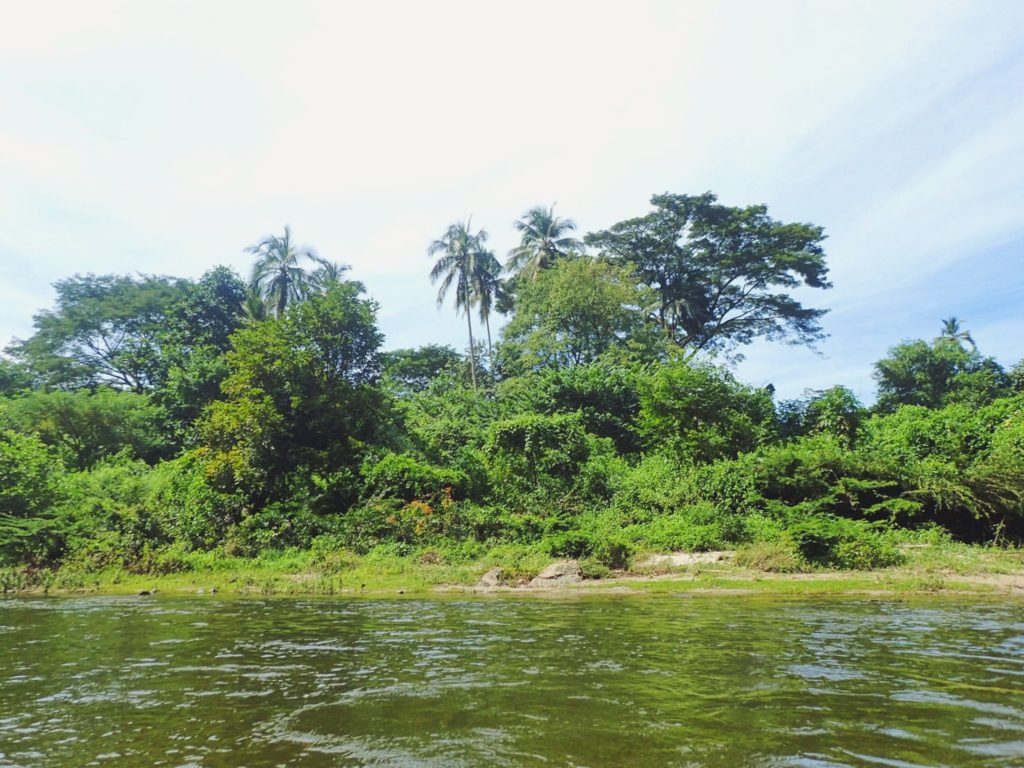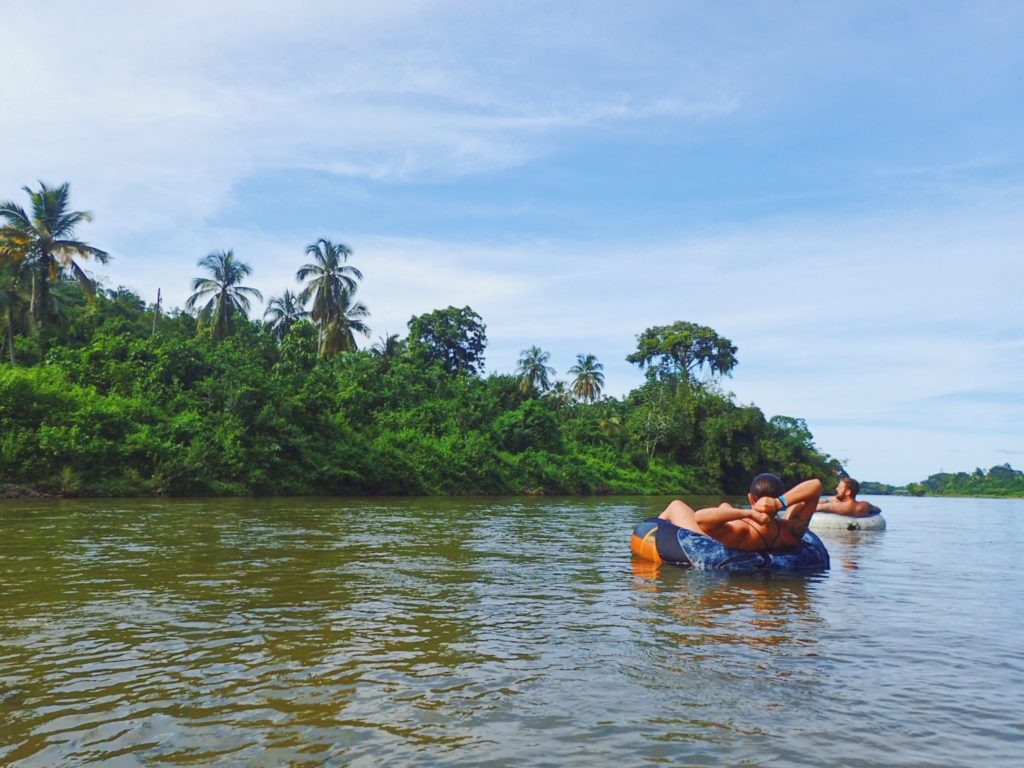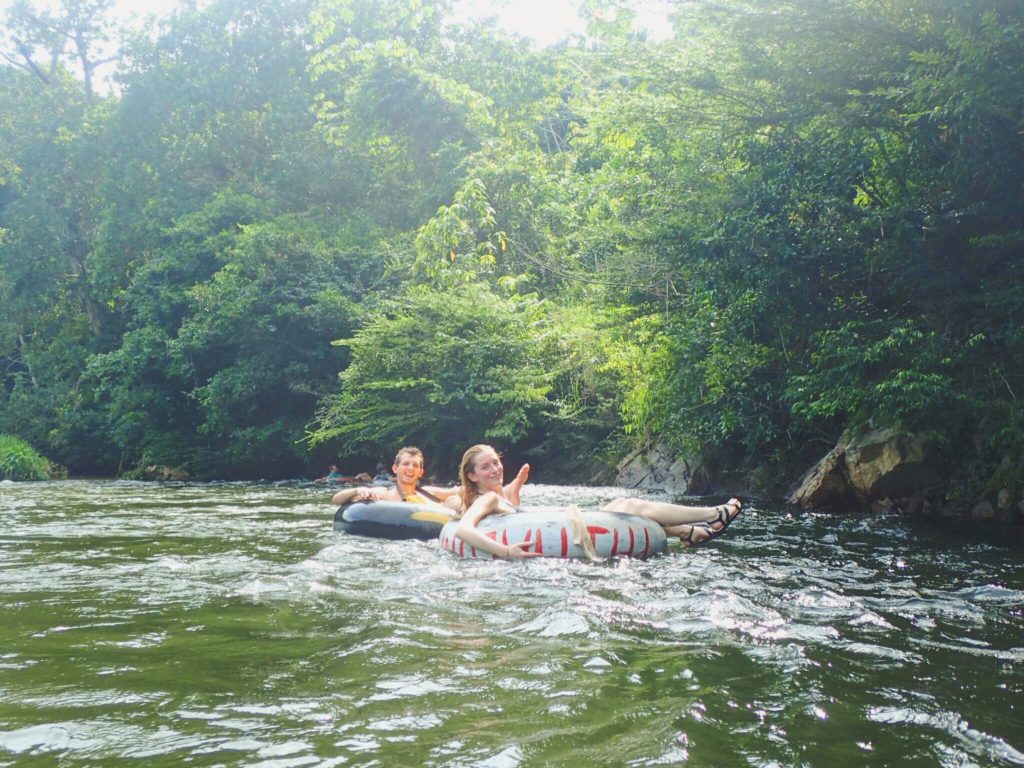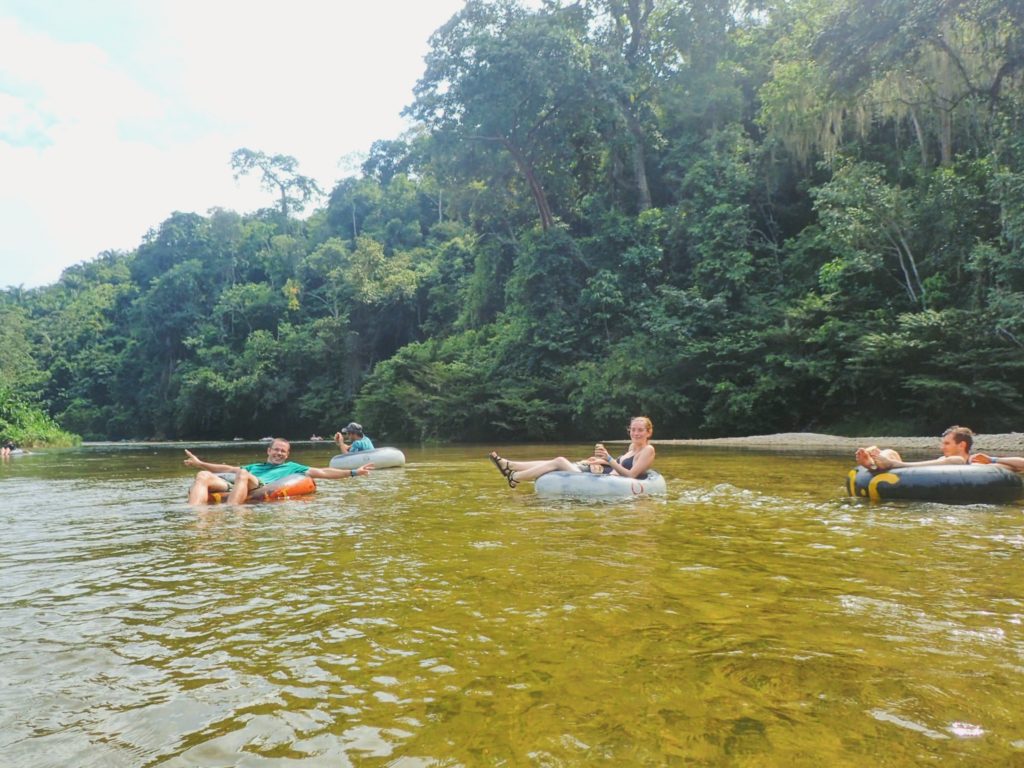 Depending on how quickly you float and how frequently you stop (if at all), the ride down the river can take anywhere from 2-3 hours. My group also packed a few alcoholic beverages, including some Aguilas (a local beer) and a bottle of Aguardiente (a popular licorice-flavored liqueur…*blah*). Just make sure you have a bag for collecting all of your trash!
Eventually the Palomino river will meet the sea, and you'll have a chance to hop out of your tube and wade to shore just before the river flows into the rough, choppy ocean (trust me, you definitely want to get to shore with your tube before you get all the way out into the sea – the currents are extremely strong and dangerous here!).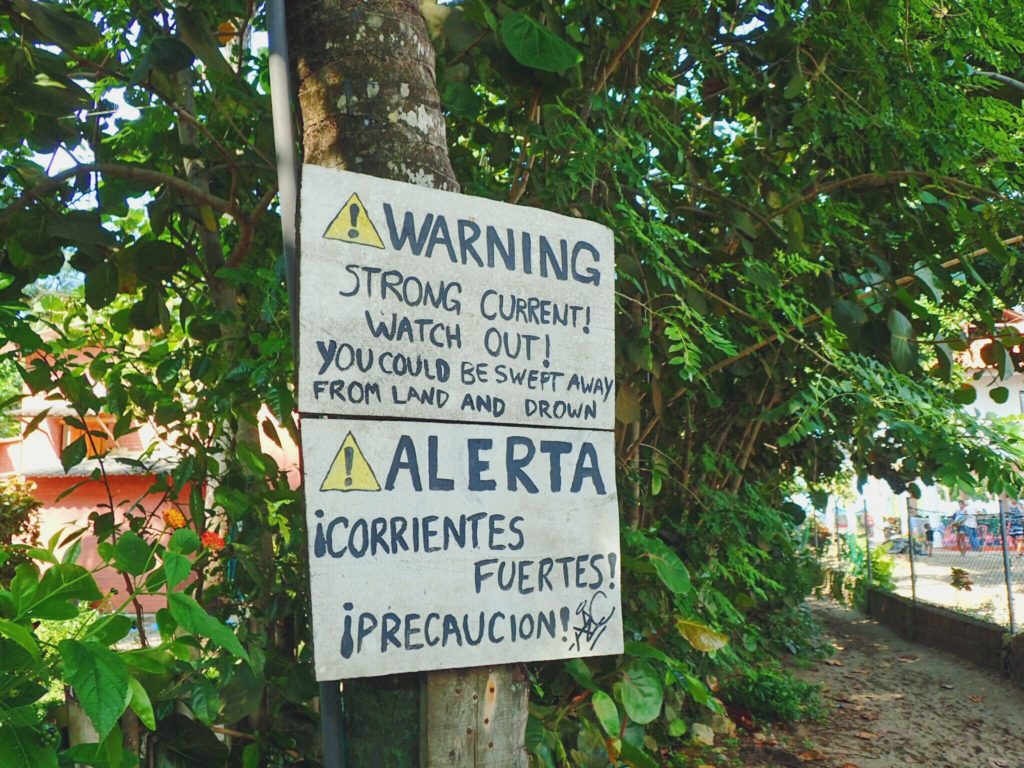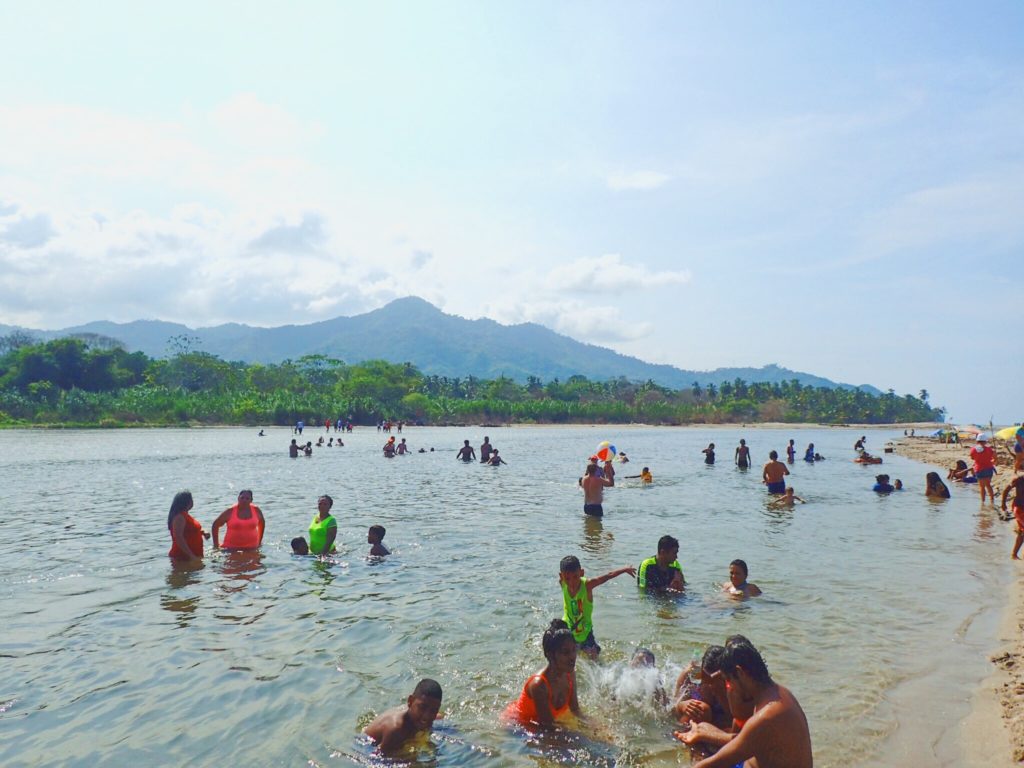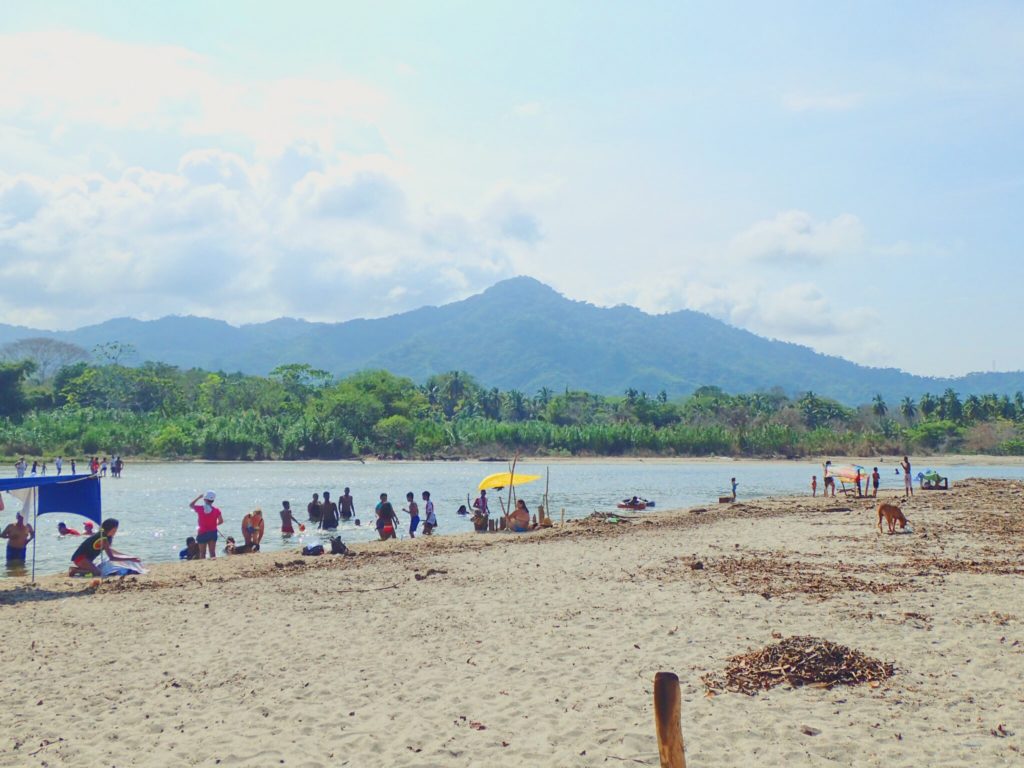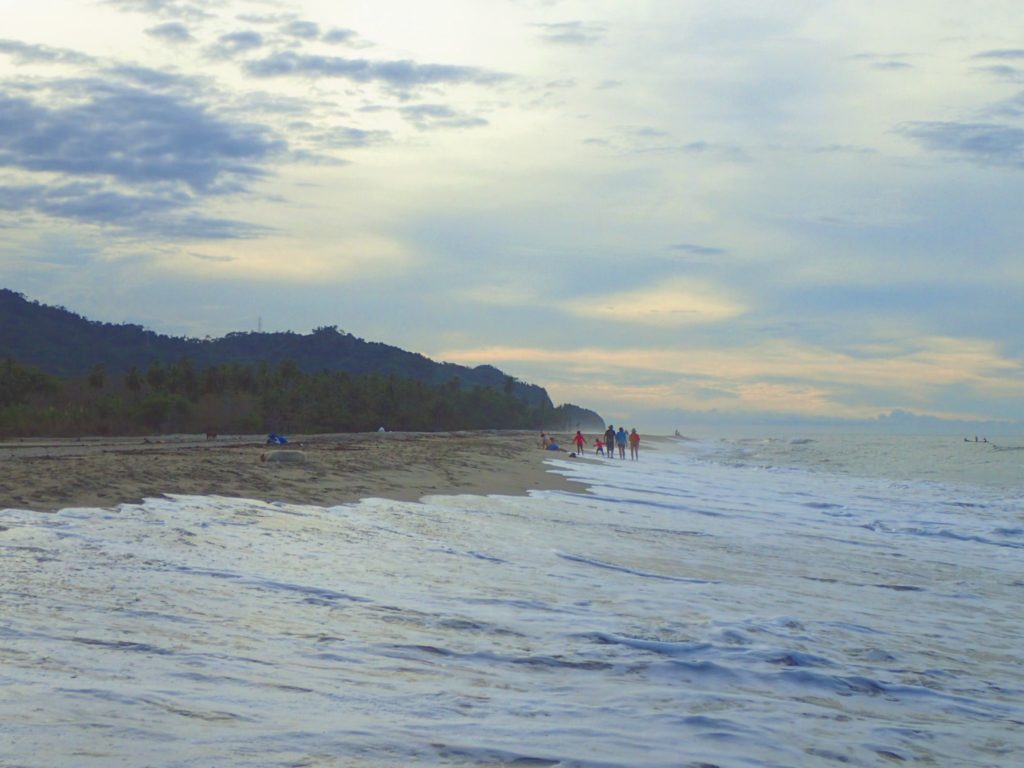 In my opinion, this is THE most stunning spot in all of Palomino, since you can see the mountains in the distance, as well as the jungle, river, and sea directly next to you. As I paddled my tube to shore and climbed out onto the beach, I felt both relaxed and energized – the type of feeling you can only get from spending several uninterrupted hours in the beauty and silence of nature.
I highly recommend bringing a bit of extra cash with you to use at the end of your tubing adventure, since there are a few food stalls in this area of the beach that offer some amazingly fresh fish and other foods.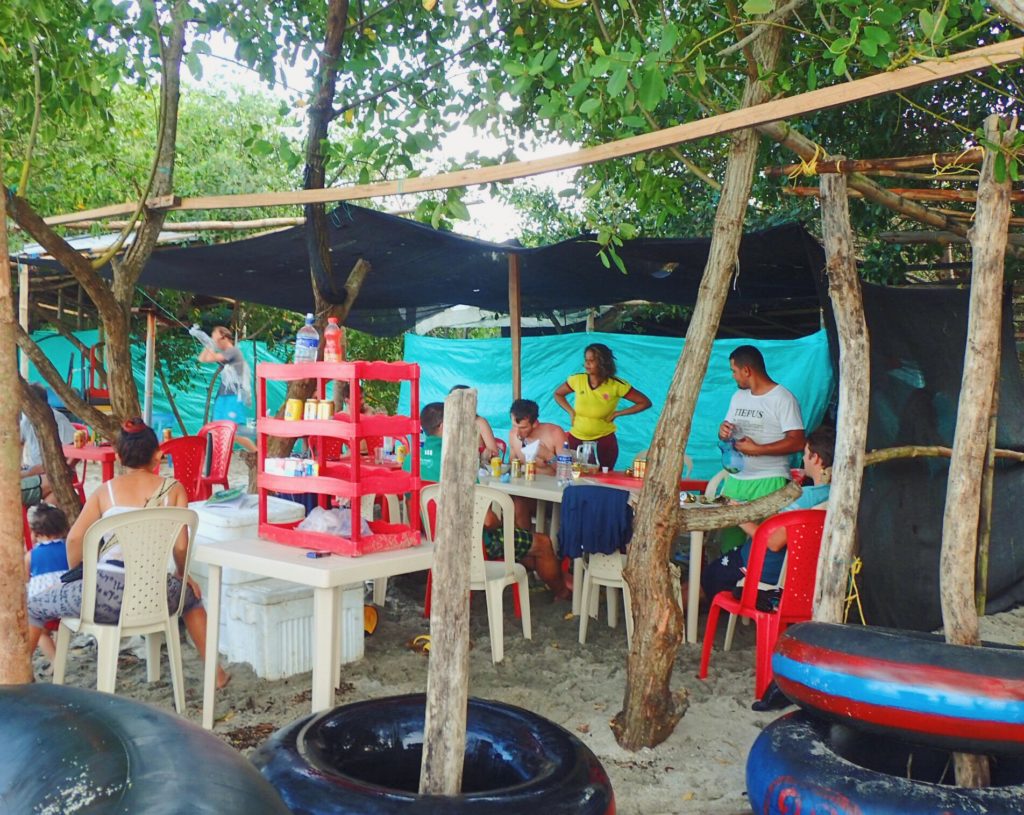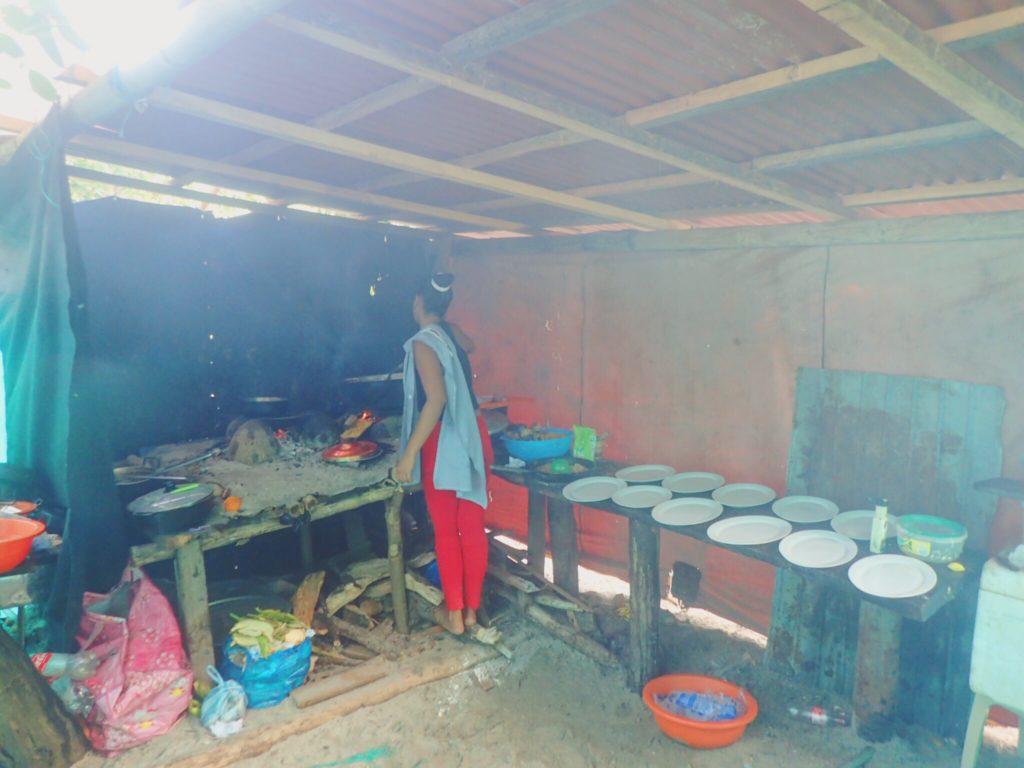 …How fresh, you ask? Well, we saw the children of the food stall owners kneeling on some tied-together tubes just off of shore, reeling in their catches and collecting them in a bucket. Yeah, that fresh. For 12,000 pesos I received a bowl of fish soup and a deliciously seasoned whole roasted fish, served with a side of coconut rice, plantains, and salad. Although I had a lot of incredible meals in Colombia, this was hands-down my favorite!
From here, it's a leisurely 20 minute walk along the beach to Dreamer Hostel and the rental stand where you can return your tube.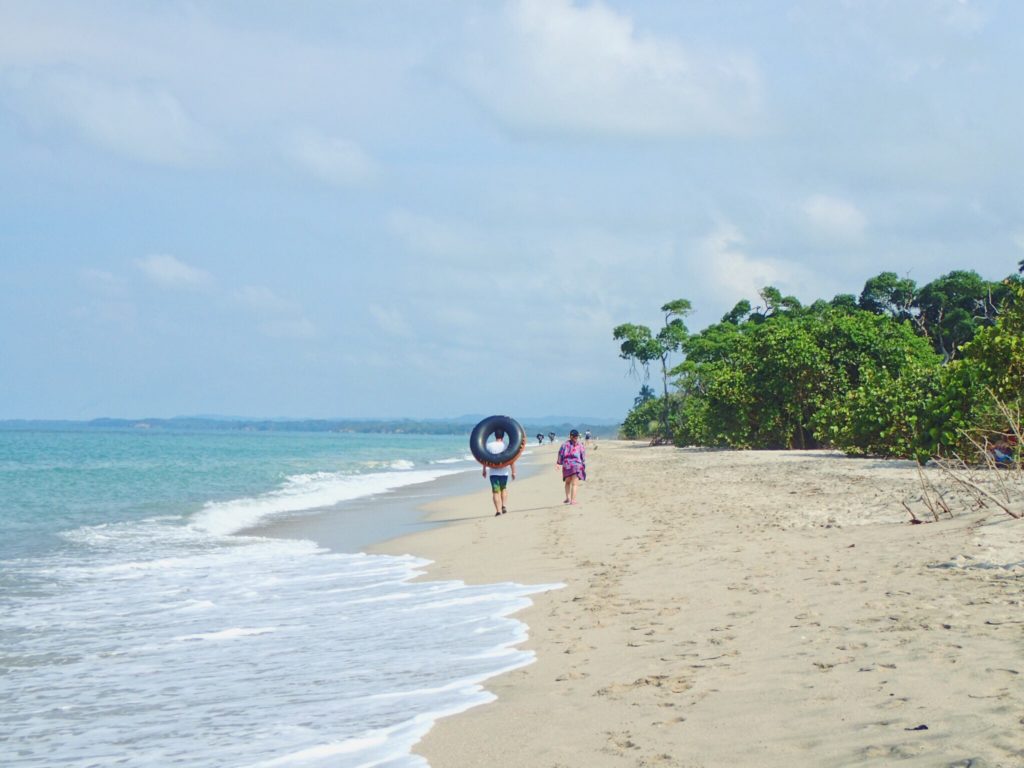 Between the one-of-a-kind views, the incredible nature, the superb local food, the laughter and conversations with new friends from around the world, and the tubing itself, this particular day in Palomino was definitely one for the books, and was among my all-time favorite days from my time in Colombia.
---
Practical Tips
Palomino is 1.5 – 2 hours from Santa Marta by public bus.
There is NO ATM in Palomino – the closest one is located in a nearby town, 30 minutes each way via mototaxi. Bring enough cash!
I booked a private room at Dreamer Hostel for 180,000 COP (60 USD) per night and highly recommend it! Dreamer was easily one of the nicest hostels I've ever stayed at. My room did not have A/C but did have a fan, which kept me cool and comfortable.
When river tubing, I recommend wearing sandals with straps if possible – if not, flip flops are fine. The "hike" at the beginning of the river tubing adventure is definitely do-able in sandals (several members of my group were even barefoot!) and anything bulkier (like sneakers) would be a pain to hold onto while tubing.
EVERYTHING will get fully wet during tubing – choose which items to bring and which to leave at home accordingly.
---
Pin It!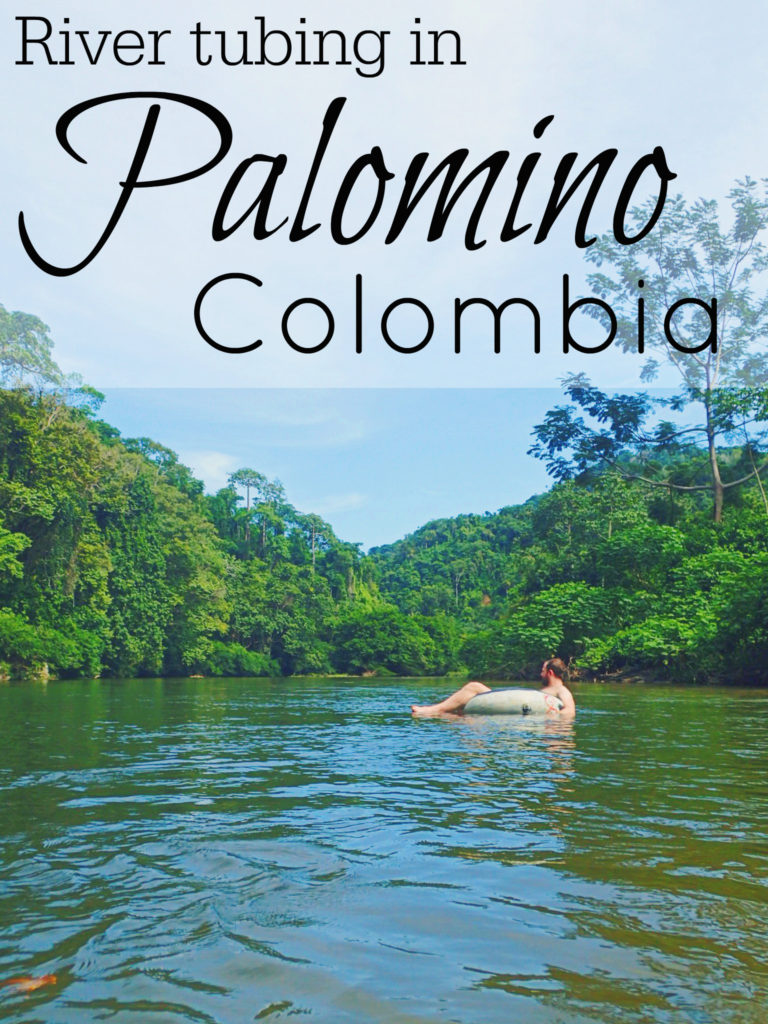 ---
Have you ever visited a place like Palomino? Where was it? Do you think you would like to travel here?