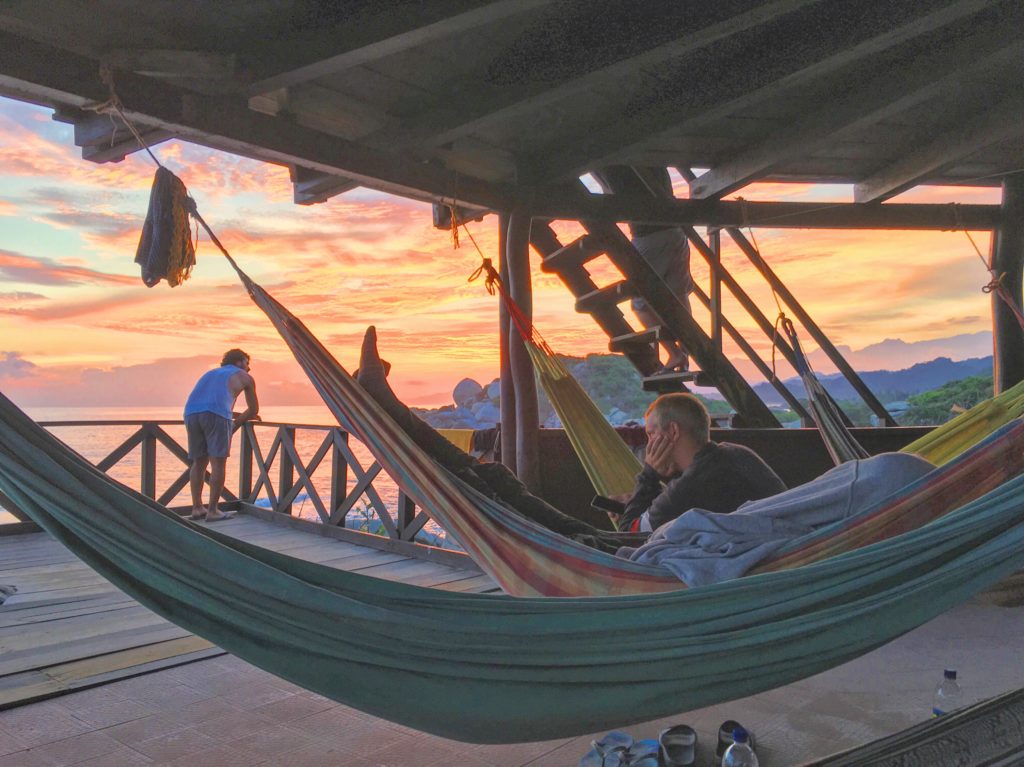 When I published my recent "highlights of Colombia" roundup post, I received a number of comments regarding my overnight trip to Tayrona National Park. After all, sleeping in a hammock in a hut overlooking the sea on gorgeous stretch of beach in Colombia is a pretty freaking awesome experience, so I totally get why that particular story generated so much enthusiasm!
I normally share my travel stories in chronological order, but I had so many thoughts and ideas I wanted to share about Tayrona that I figured I could make an exception in this case. We're all cool with that, right guys?
I don't want to paint a misleading picture; Tayrona National Park isn't some secret unspoiled beach where you'll have miles of coastline all to yourself. It's a popular getaway destination for Colombians and other South Americans, and is becoming more and more popular for backpackers and foreign travelers too.
While the beach at El Cabo San Juan is very beautiful, it's also not the best I've ever seen. And you'll be sharing it with quite a few other people! Factor in the bugs, heat, and sticky humidity…and well, you get the idea.
But despite its flaws, Parque Tayrona still felt like a true Caribbean paradise to me. The combination of wild jungle scenery and swaying palm trees makes the perfect backdrop for the turquoise Caribbean waters, and there's something so thrilling, fun, and adventurous about stepping out onto the sand and soaking in the tropical views after hiking for 2 hours through the jungle, and thinking to yourself, "this was totally worth it."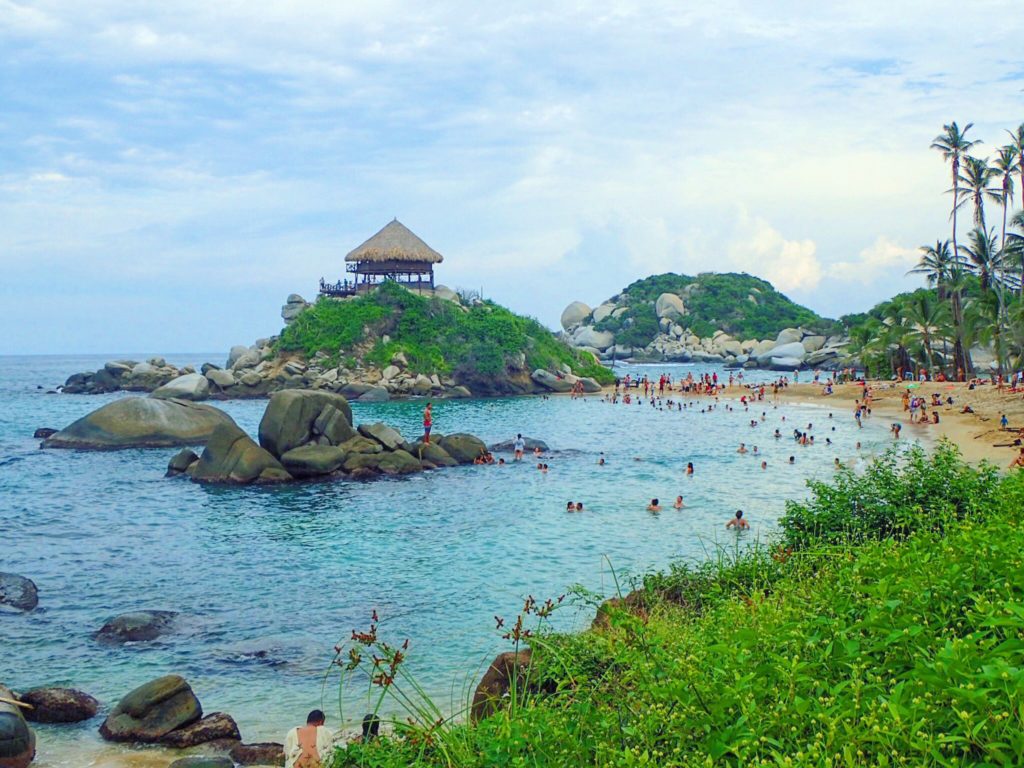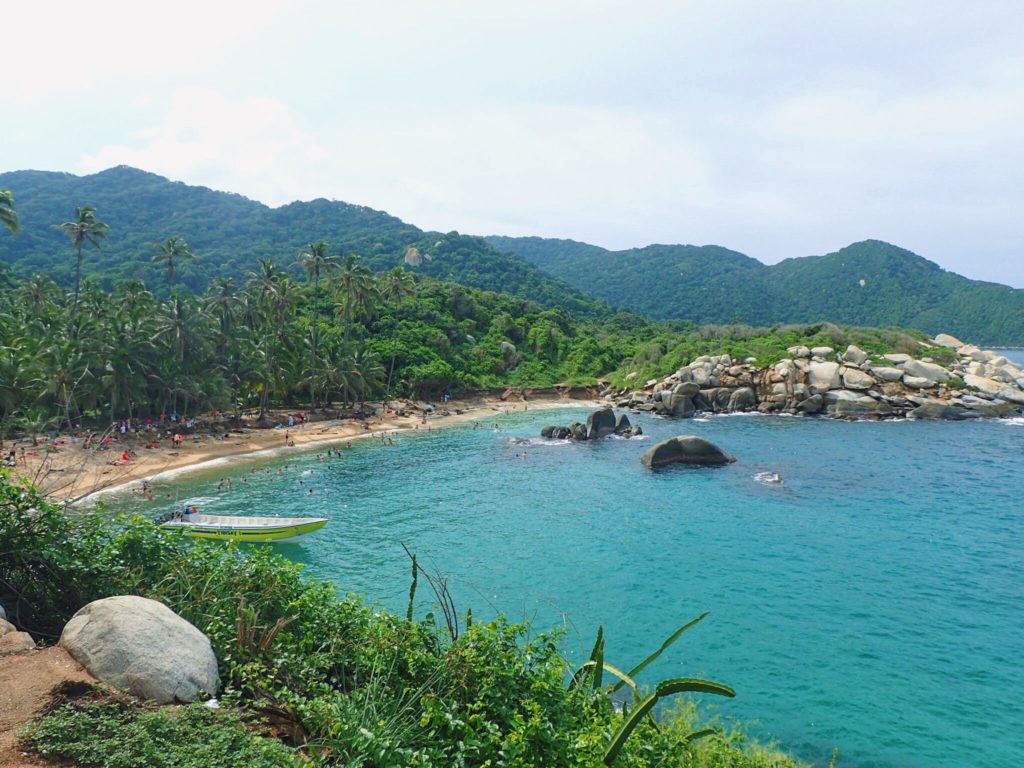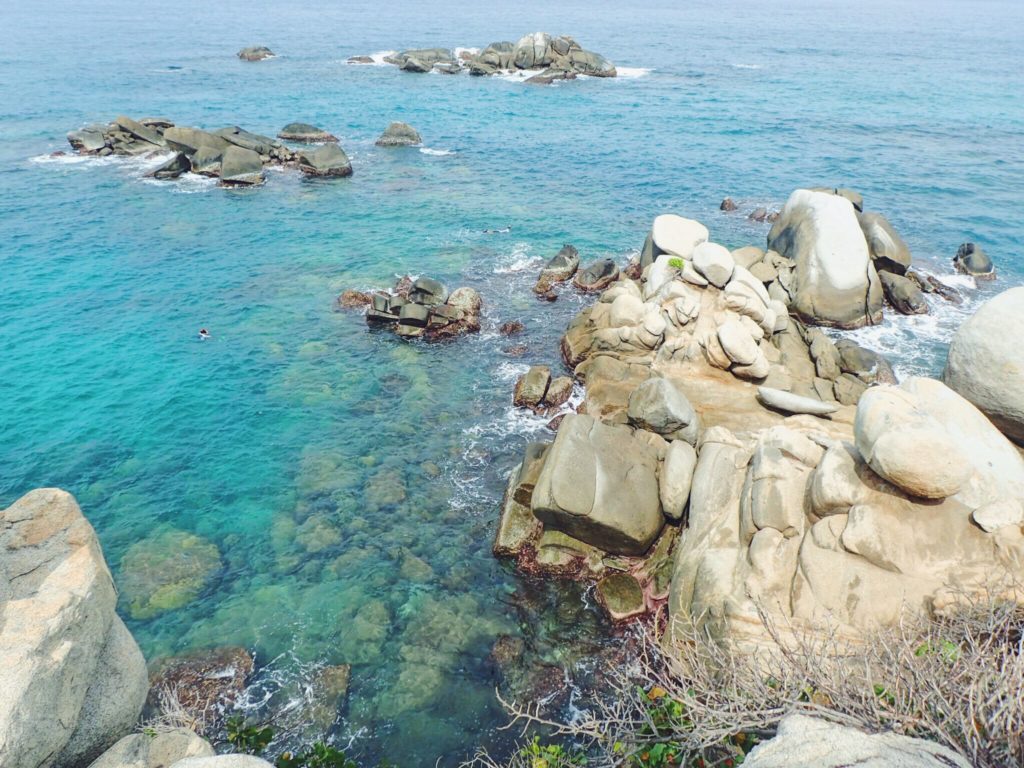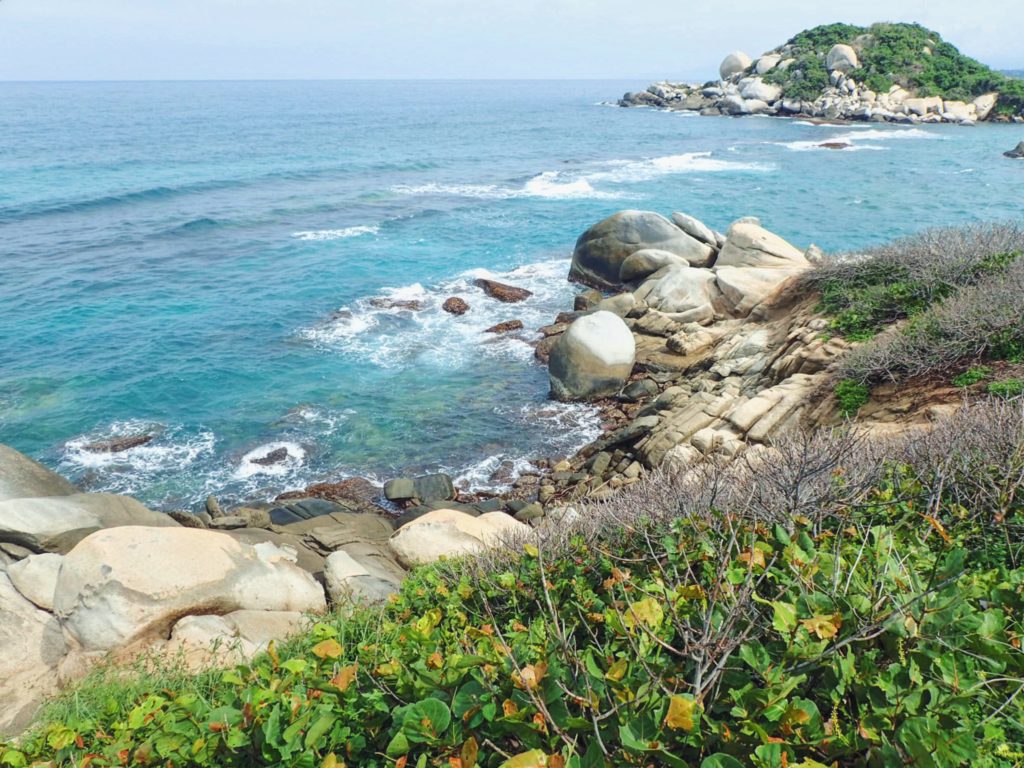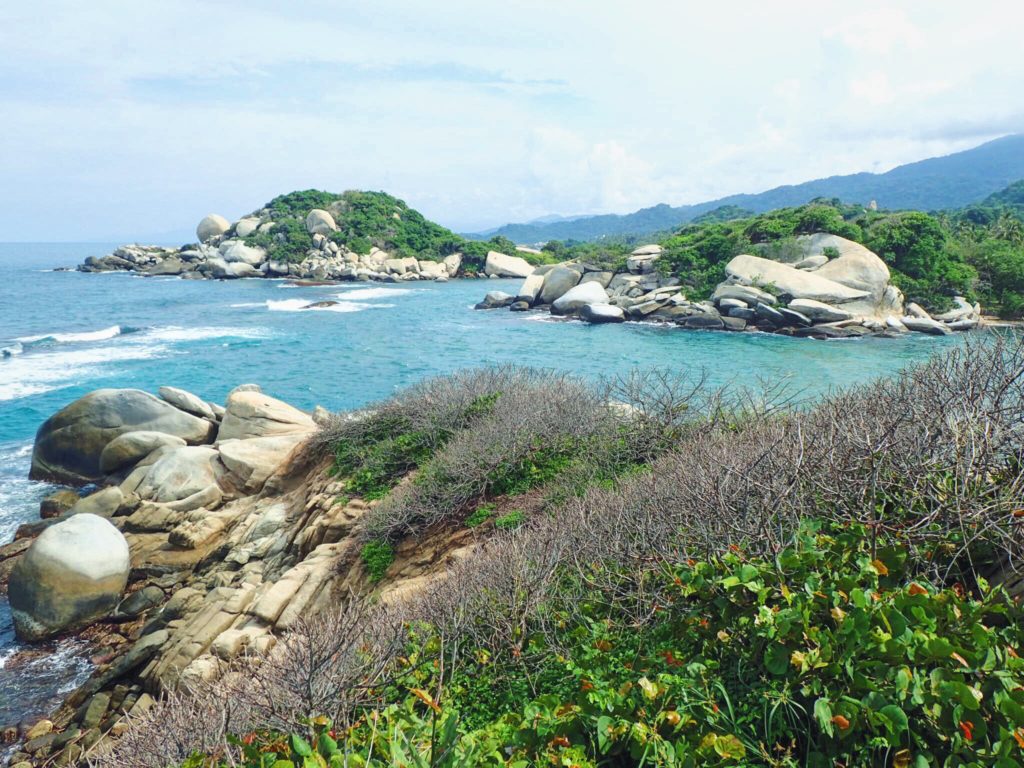 And hey, the experience of spending the night in a hammock on a rock above the Caribbean sea, looking out at the ocean and the stars and the full moon, is definitely a once-in-a-lifetime kind of experience.
There are a few hikes you can do once you're all settled into your campsite at El Cabo, but I chose to spend my day sprawled out on the sand, enjoying a light beach read and taking periodic dips in the warm sea. It gets dark early in the park – it's almost fully black by 6:30pm – so after dinner at El Cabo's only restaurant I retreated back to my hammock to read, listen to music, watch the night sky sparkle and come to life, and drift off to sleep before 9pm.
Between the gentle rocking off the hammock, the cool sea breeze and the sound of the waves crashing on the rocks below, I was as relaxed as a person could possibly be. Sleeping in the hammock itself wasn't the most comfortable and I did a fair share of tossing and turning, but I wouldn't change a thing about my experience if I could do it all again.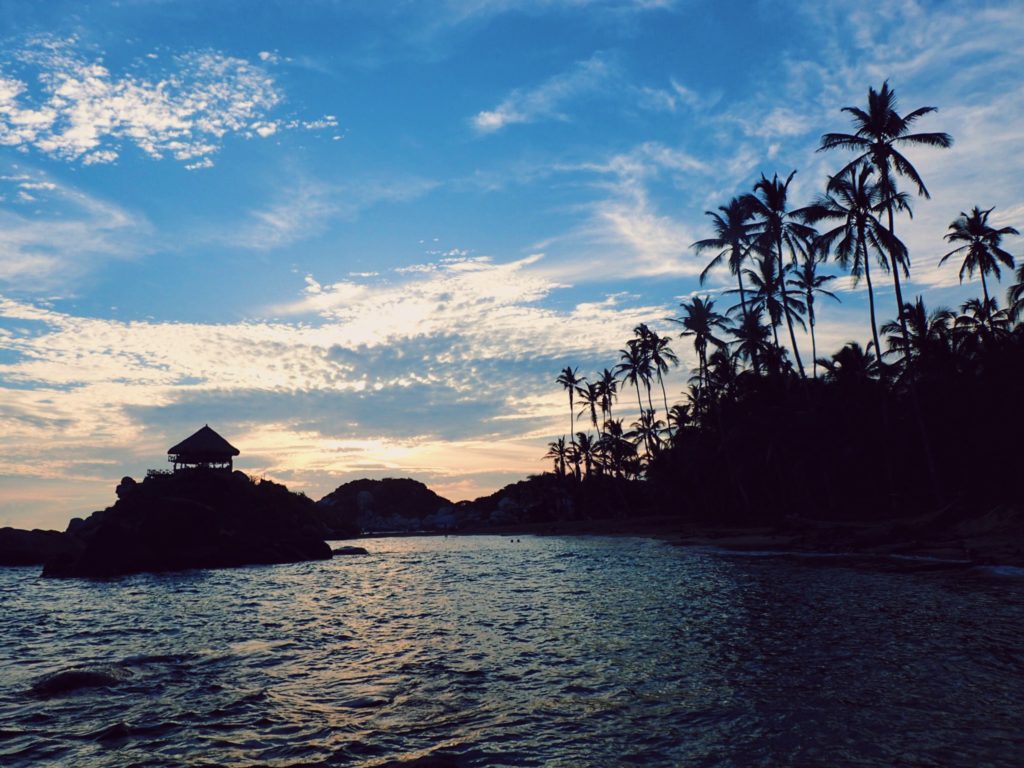 At one point during the night I woke up and rolled onto my side, only to see that the full moon was shining as bright as could be through a haze of clouds. It was so beautiful and unexpected, I honestly felt as if I had woken up in a scene from Pirates of the Caribbean!
However, I think my favorite moment from my time in Tayrona National Park was watching the sun rise from my hammock the following morning. At around 5:30 I heard a lot of shuffling around, and opened my eyes to see a gorgeous pink and orange colored light streaming into the hut from the east. I got up to snap a few photos from the balcony, then hopped back into my hammock to relax and watch the sun light up the morning sky.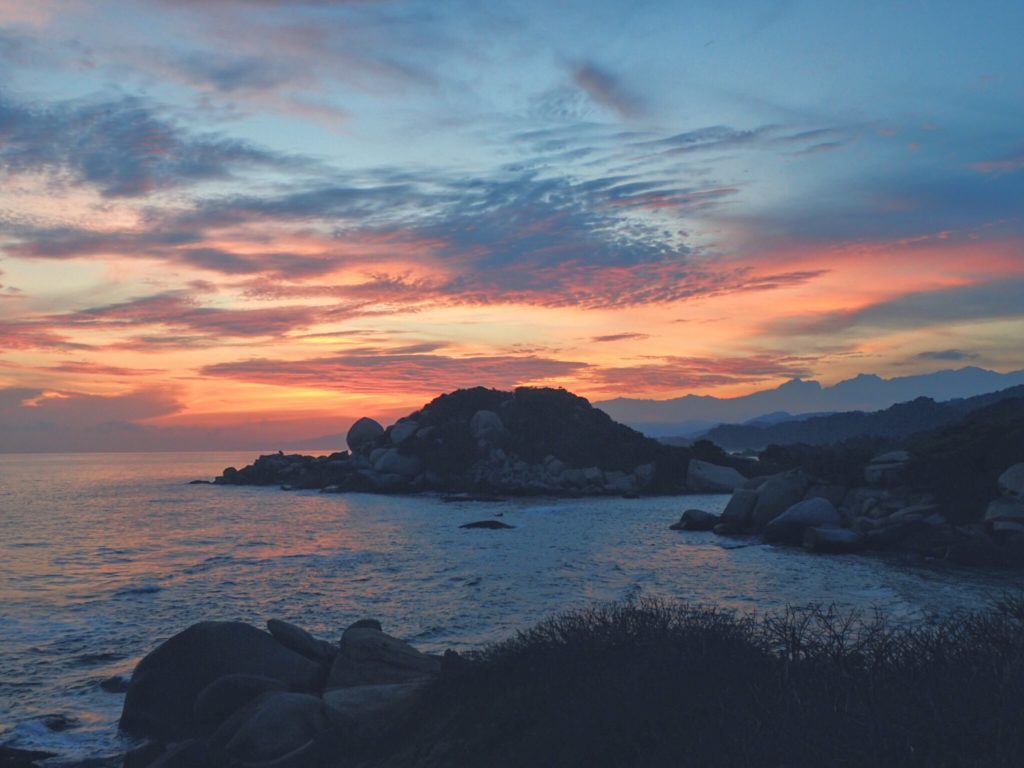 One night in Tayrona National Park was enough for me, but some people do opt to spend 2 nights. Many people also choose to visit the park as a day trip, but for me a day trip to Tayrona would lack some of the magic of an overnight trip. For me, drifting off to sleep in a hammock above the ocean and waking for the sunrise were much more memorable than the beach itself…and you can only experience those moments if you spend at least one night.
However, visiting Tayrona isn't necessarily the easiest process, and I definitely wouldn't advise showing up without doing a bit of research first! Here's what you should be aware of before you start planning your own trip to Tayrona National Park.
Step One: Spend the night in Santa Marta the night before you go.
I took a direct flight from Medellin to Santa Marta on Viva Colombia (1 hour and 15 minutes for $57), arriving at the Santa Marta airport around 9:30pm. Picking up my backpack at baggage claim took all of 5 minutes, and before I knew it I was in a taxi and on my way to Santa Marta's Dreamer Hostel, where I would be sleeping for the night.
Dreamer Hostel is a popular base for travelers who want to explore the many natural attractions surrounding Santa Marta, including Parque Tayrona, the Lost City, and Minca. They'll store your luggage for you, allowing you to travel light during your many outdoor adventures. I HIGHLY recommend leaving your big suitcase or backpack behind in Santa Marta while you travel to Tayrona, and only taking a small overnight bag with some supplies. Your back will thank you during the sweaty, muddy 2-hour hike through the park!
Packing List
1 pair of sneakers/tennis shoes/hiking boots (you'll want these for the hike – as long as they're closed-toe and secure enough to keep you from slipping in the mud you should be fine)
1 pair of flip flops (the sand isn't the softest and can be hot, so basic flip flops can help protect your feet once you're there)
Swimsuit
Coverup (big t-shirt, sarong wrap, shorts and tank top, etc. – whatever you're comfortable in!)
Towel
Clothes for sleeping in (bring something warm, i.e. socks, long pants, and long sleeves – it gets quite chilly)
Toiletries (there are cold-water showers at the campsite)
Toilet paper (never a guarantee)
Cash (no ATMs in the park)
Passport (yes, you really need to bring this!)
Water
Sunscreen
Mosquito repellent
Camera
Torch/flashlight/headlamp (the flashlight on your iPhone will work fine too, but you'll definitely need something with a bright light once it gets dark)
Something for entertaining yourself (book, Kindle, music with headphones, etc.)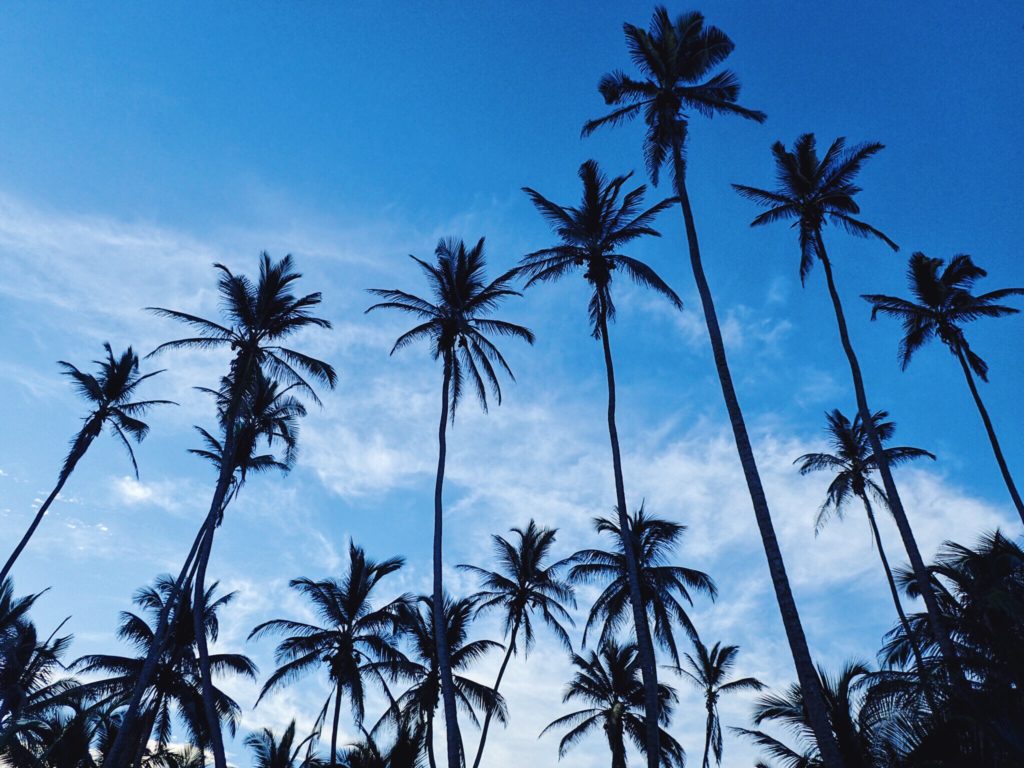 Step Two: Make your way to into the park.
For me, actually getting to the trail-head to start my journey into the park was the most frustrating and time-consuming part of my whole experience! Here's how it all went down:
7:30am: I took a shuttle from Dreamer Hostel (there will be a shuttle for cheap as long as there are at least 4 people total who have signed up) to the entrance of the park.
After we were dropped off at the park entrance, we had to sit through a short film (maybe 10 minutes or so?) that explained some basic information about the park. The video is in Spanish with English subtitles.
Once the film was over, I hopped in line to purchase my entry ticket and was given a wristband. I can't remember the exact amount I paid, but I believe it was around 15 USD. NOTE: MAKE SURE TO BRING YOUR PASSPORT. If for some reason you are not able to bring your passport, at least make sure you have a copy of your passport or some other form of ID (I saw a girl successfully use her driver's license) but you will be asked for your passport.
Then, I paid 3500 COP (a bit more than $1) for a short bus ride to the trail-head. Many people walk instead of taking the bus, but I believe it saves you almost an hour of walking time. Well worth the $1 in my opinion!
9:30am: After surviving the shuttle/bus ride to the park entrance, the film, the ticket line, and the second bus ride, you're ready to start your hike! The entire process from leaving the hostel to arriving at the trail-head took me about 2 hours.
Alternative Transport Options:
Shuttle vs. Bus: If your hostel doesn't have a shuttle to the entrance of the park, no worries! Most people take the public bus from the center of Santa Marta, although you can also get picked up at any point along the route from Santa Marta to Tayrona. Just listen out for the guys yelling, "Tayrona! Tayrona!" and hop aboard. It takes about 60 minutes from town to the park entrance.
Hiking vs. Horseback Riding: Once at the entrance, you can opt to a ride a horse rather than hike. It saves a bit of time and is certainly less strenuous, but will cost you a bit more (around $15-20 USD).
Hiking vs. Boat: For the most direct route into Tayrona National Park, you actually don't need to go through Santa Marta at all. Instead, take a boat directly from Taganga (20 minutes from Santa Marta) to El Cabo San Juan (the main camping beach). The boat takes around an hour and costs around $15-20, but I've heard that it's incredibly bumpy and rough. They also pack everyone in quite tightly! It's not on option I'd personally consider, but it's certainly the fastest way into the park.
Step Three: Get ready to sweat.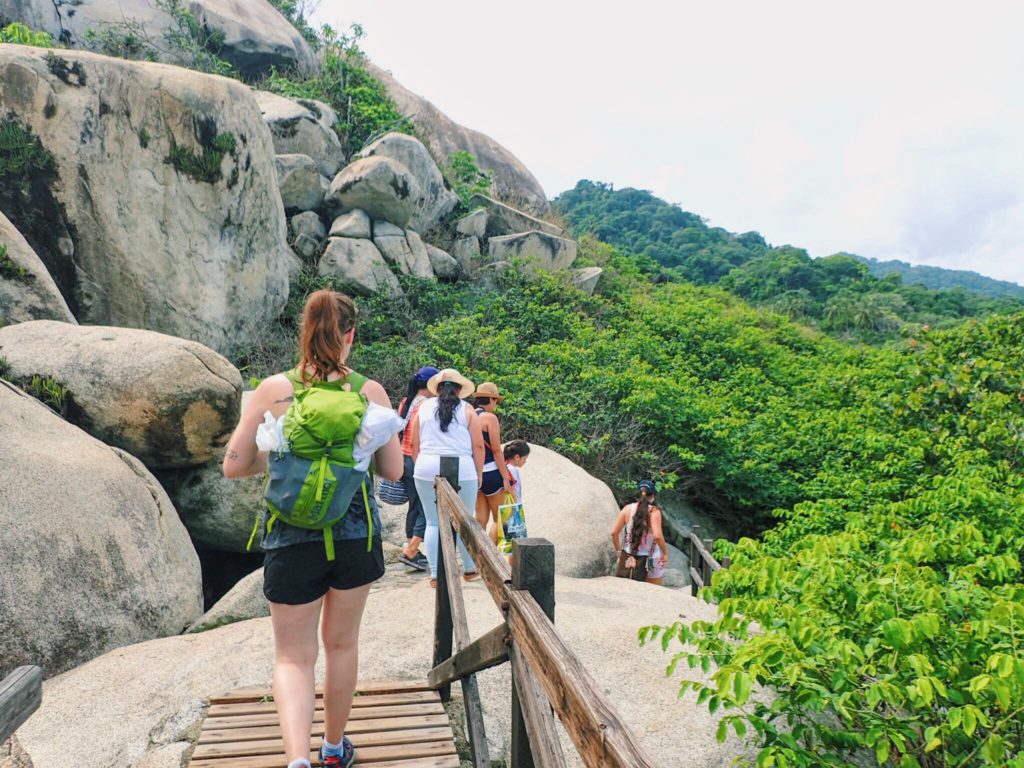 Once you've made it to the trail-head, you're ready to begin your hike. It took me around 2 hours, from 9:30am to 11:30am. I didn't stop for any real breaks; just minor instances like retying a shoelace or grabbing something from my backpack.
The hike isn't particularly strenuous or steep. In fact, during the first 20 minutes or so you'll mostly be walking on wooden platforms and stairs. After that the trail becomes just a tiny bit steep with minor ups and downs, but they're all quite short distances. However, you will become extremely sweaty. We're talking sweat pouring down your face, dripping off your nose and running into your eyes kind of sweaty. So bring PLENTY of water!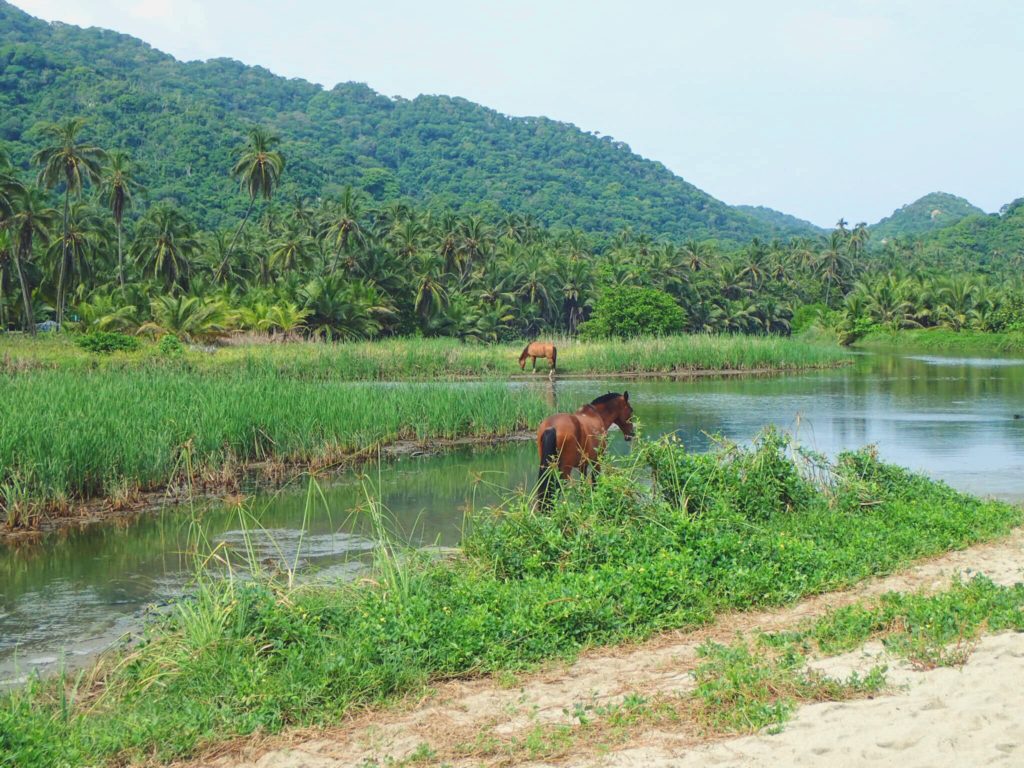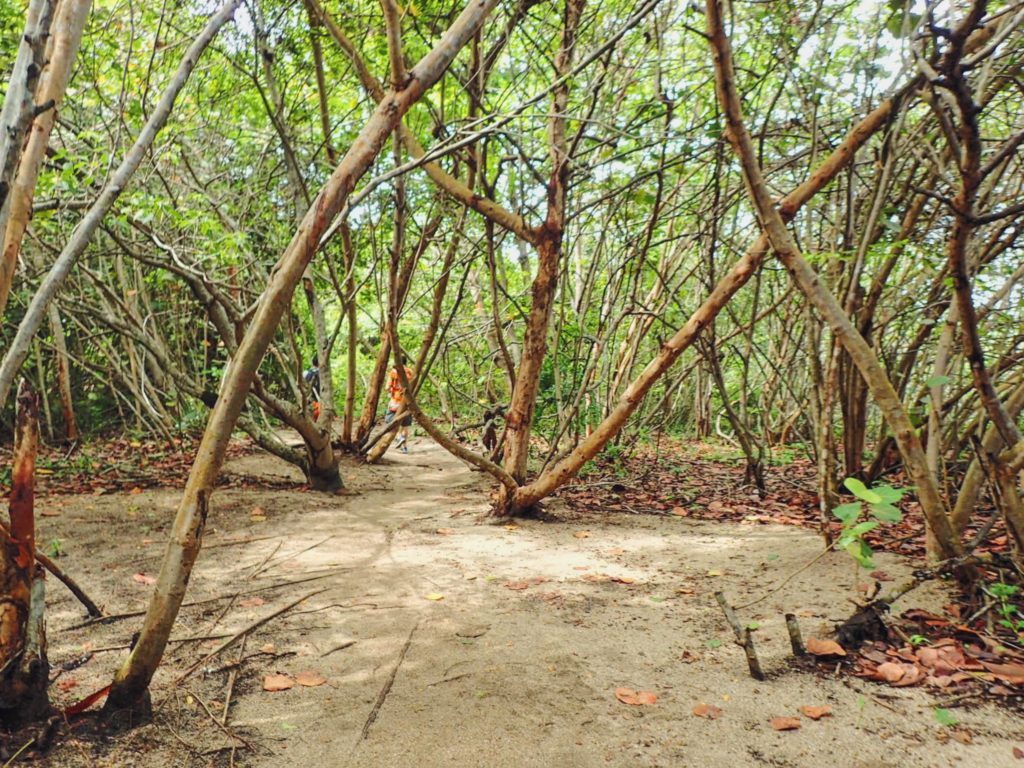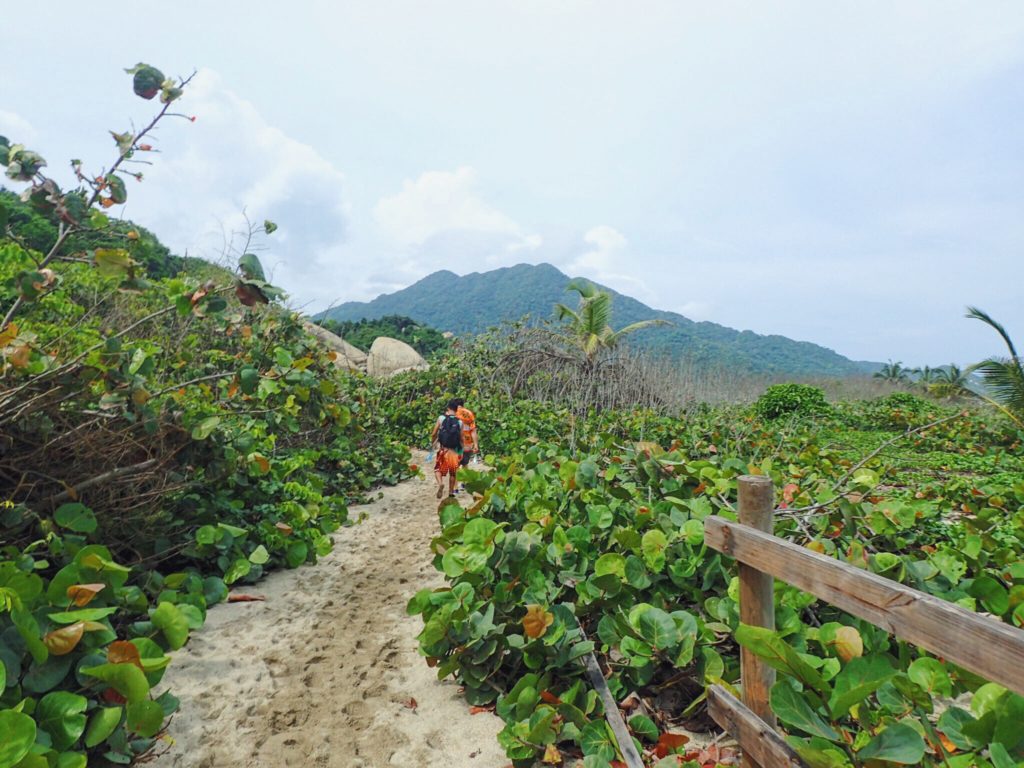 The first half of the trail cuts through thick jungle and can be super muddy, while the second half takes you across two beaches (actually, this was the only part that I truly didn't enjoy! The sun was brutal and I felt so slow and sluggish trudging through the sand in my hiking boots). But all in all I actually quite enjoyed most of the hike, even though I'm not a particularly experienced hiker.
You'll know you've reached the right spot when you see signs for "El Cabo San Juan." Ta-da, you've made it!
Step Four: Secure your "bed" for the night.
There are no hotels in El Cabo San Juan (if you're not up for roughing it, there are some really nice hotels near the entrance of the park). Instead, you cant rent:
A tent
A hammock in the "main" hammock area
A hammock on the rock over the sea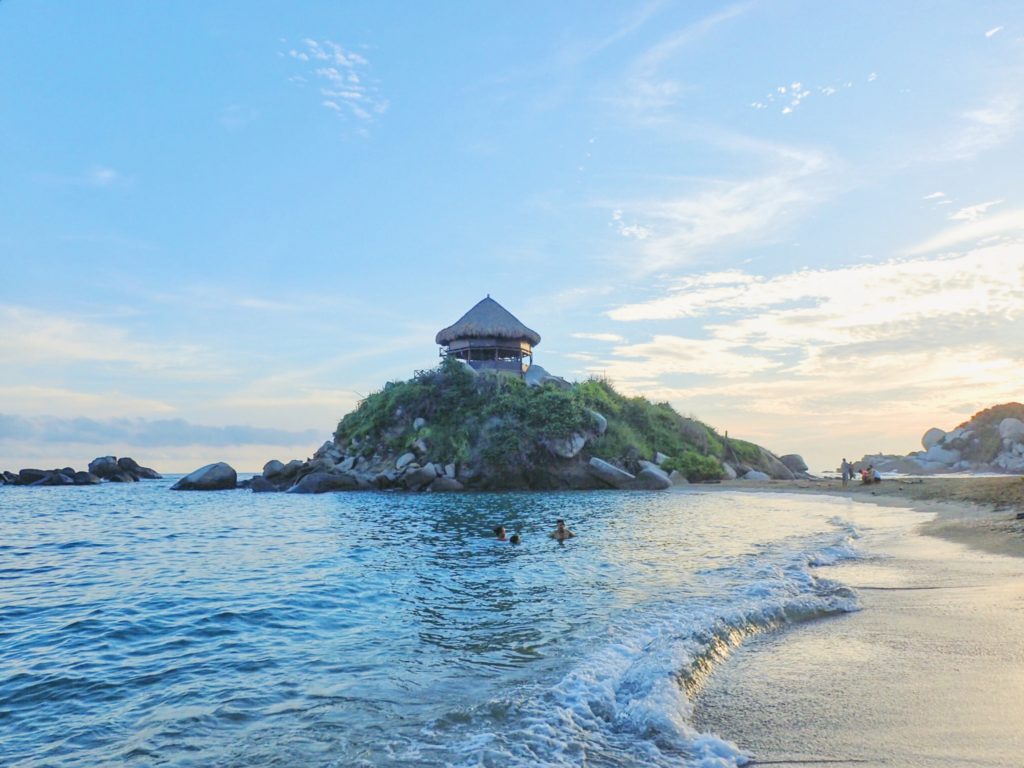 I desperately wanted a hammock on the rock, but I figured that by the time I arrived at 11:30am all 16 of those prized hammocks would have already been snatched up by people who had arrived earlier.
So, imagine my surprise when I rolled up to the check-in booth and the guy asked if I would prefer a hammock on the rock or in the main campsite! (Serious question: who in their right mind wouldn't take the rock hammocks?!)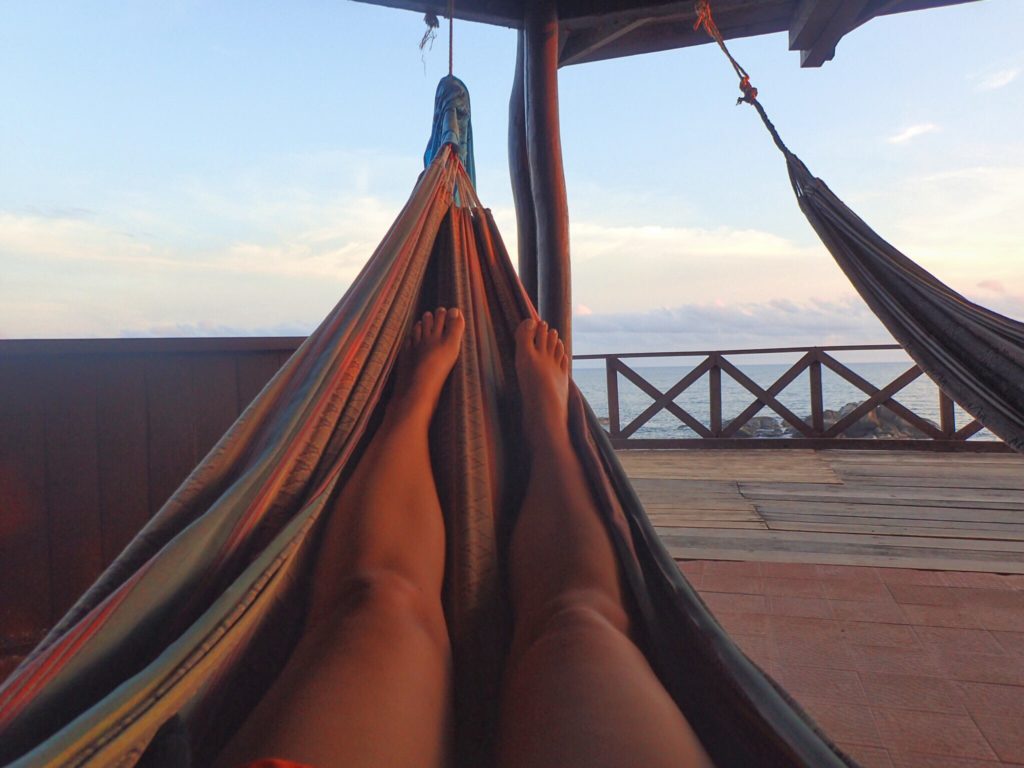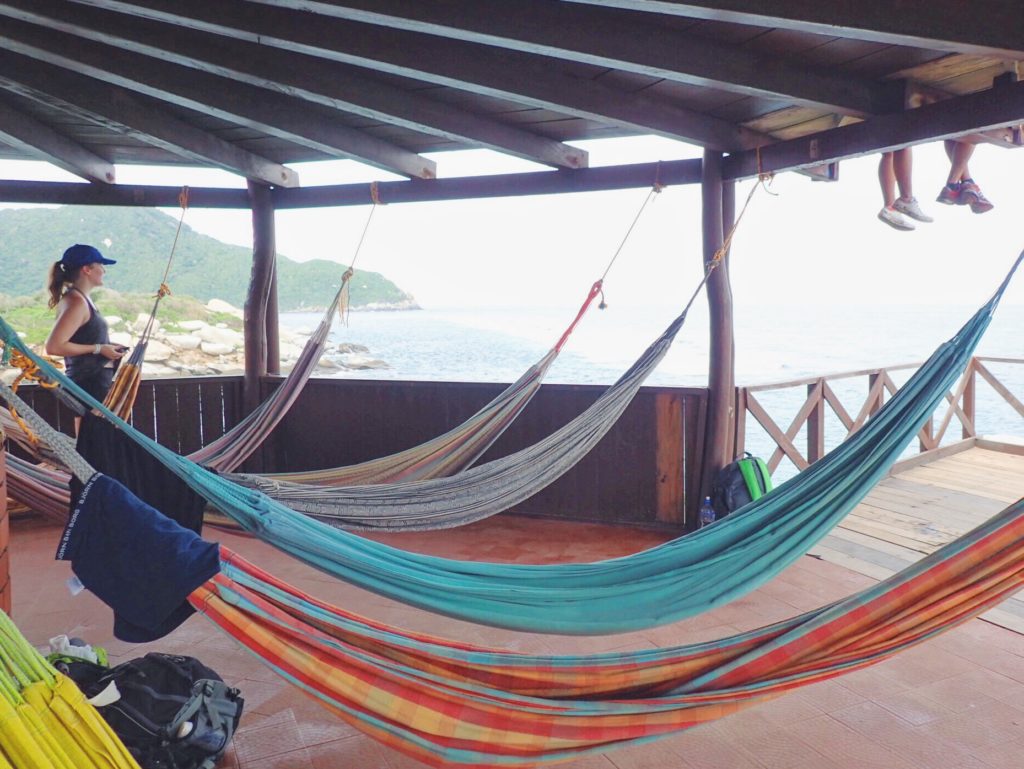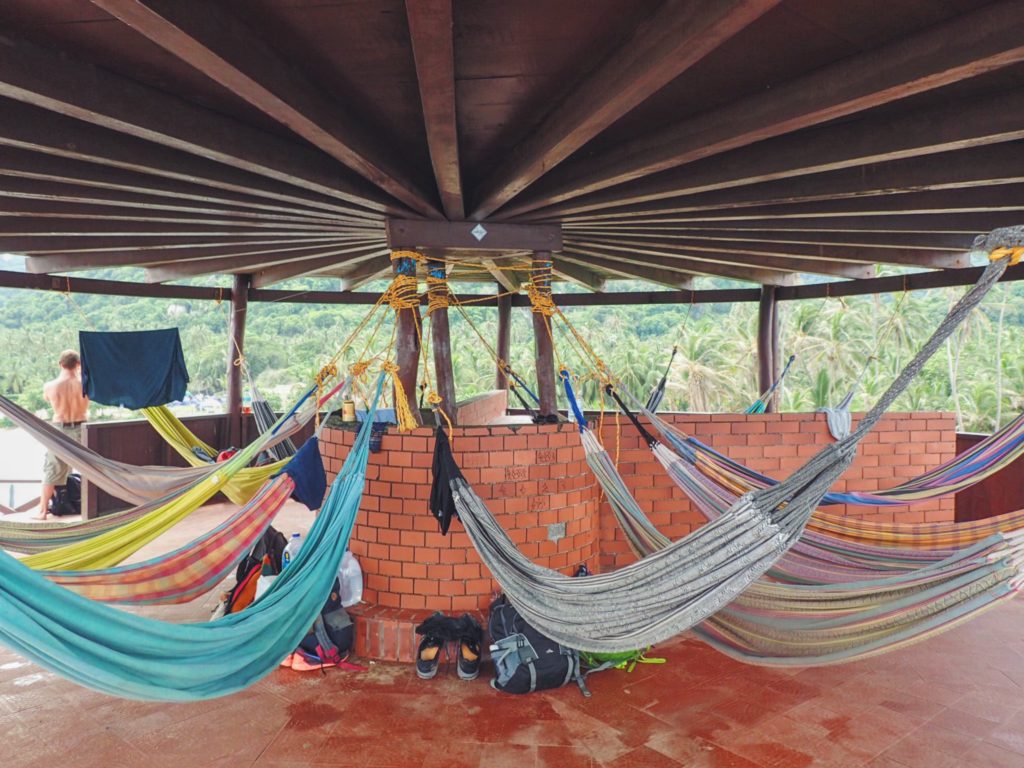 I paid 25,000 COP for my hammock (or just under 8 USD) and very highly recommend snagging one of these prime hammocks if you can! You'll have beautiful views and quite a bit of privacy compared to the hammocks at the main campsite, which are packed quite tightly together and are not on the beach.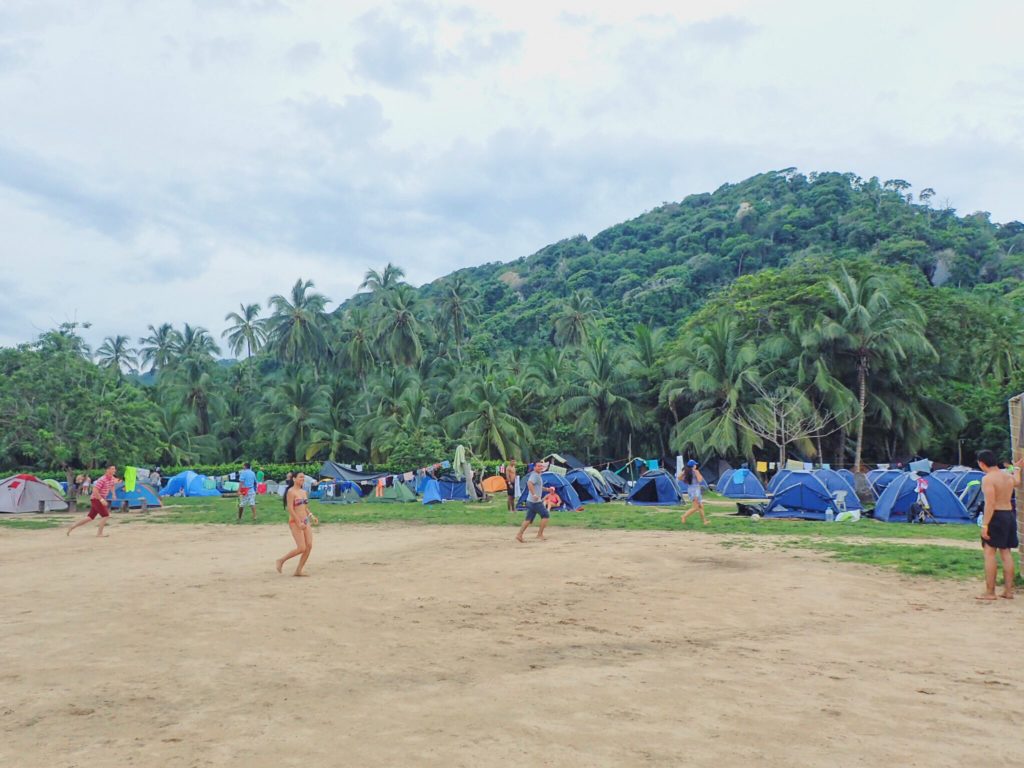 Step Five: Kick back and relax!
What to do: There are apparently a few hikes to choose from in Tayrona, with the most popular being the hike to "El Pueblito," the ruins of a small ancient town. The hike takes a few hours and is supposed to be a bit difficult, AKA not my idea of a good time after I just sweat my butt off getting there in the first place! I saw quite a few people snorkeling at El Cabo San Juan, and the swimming was nice at that beach too. However, my number one recommendation is to bring a book or some cards, and to just spend the day relaxing and soaking in the tropical vibes.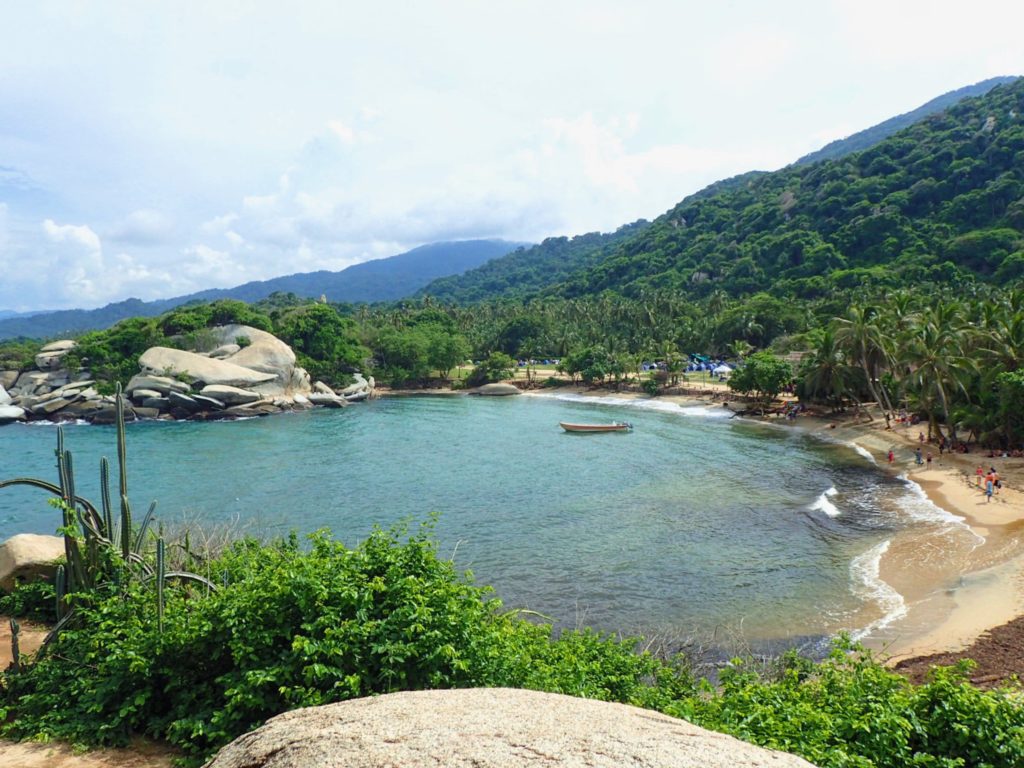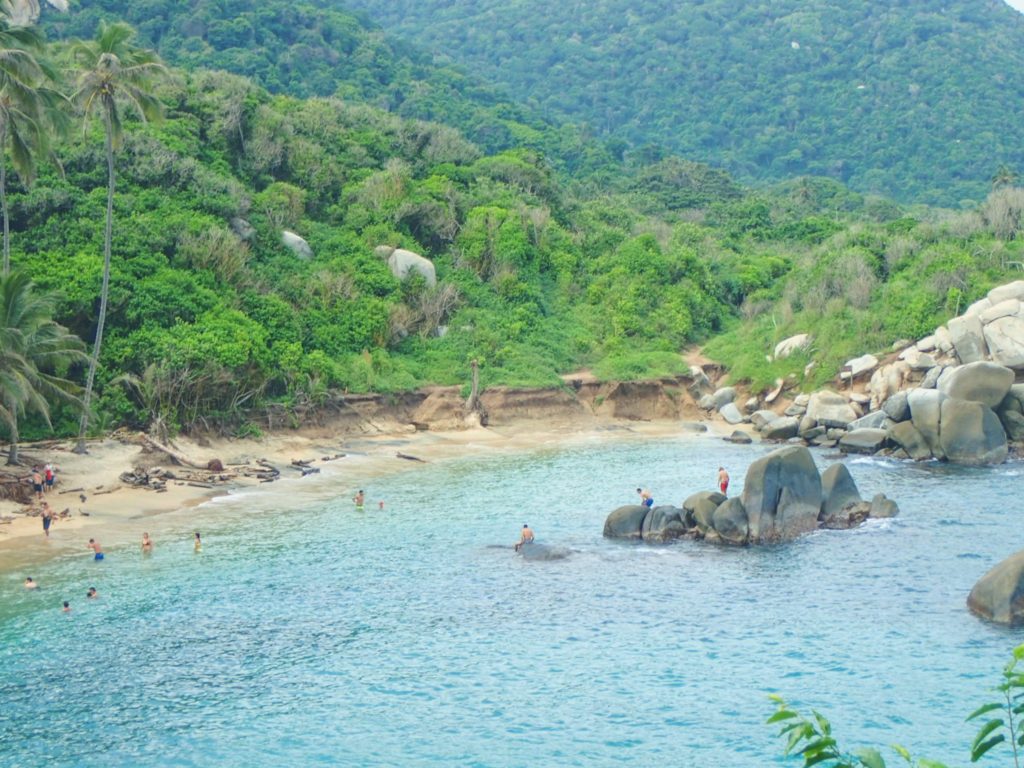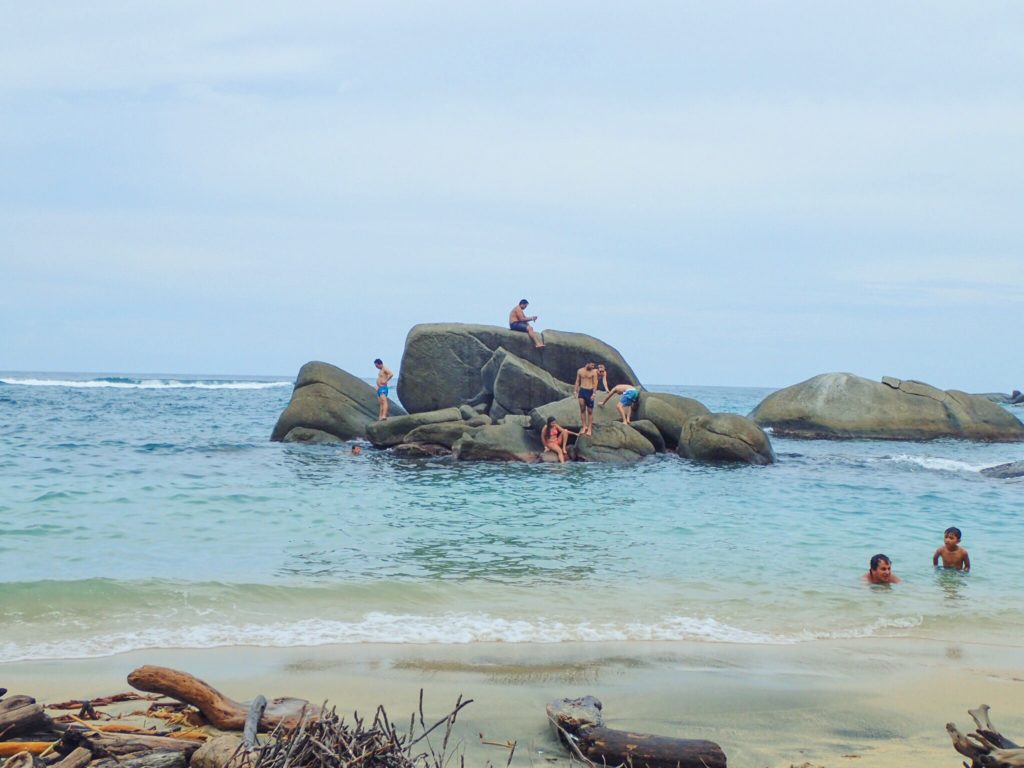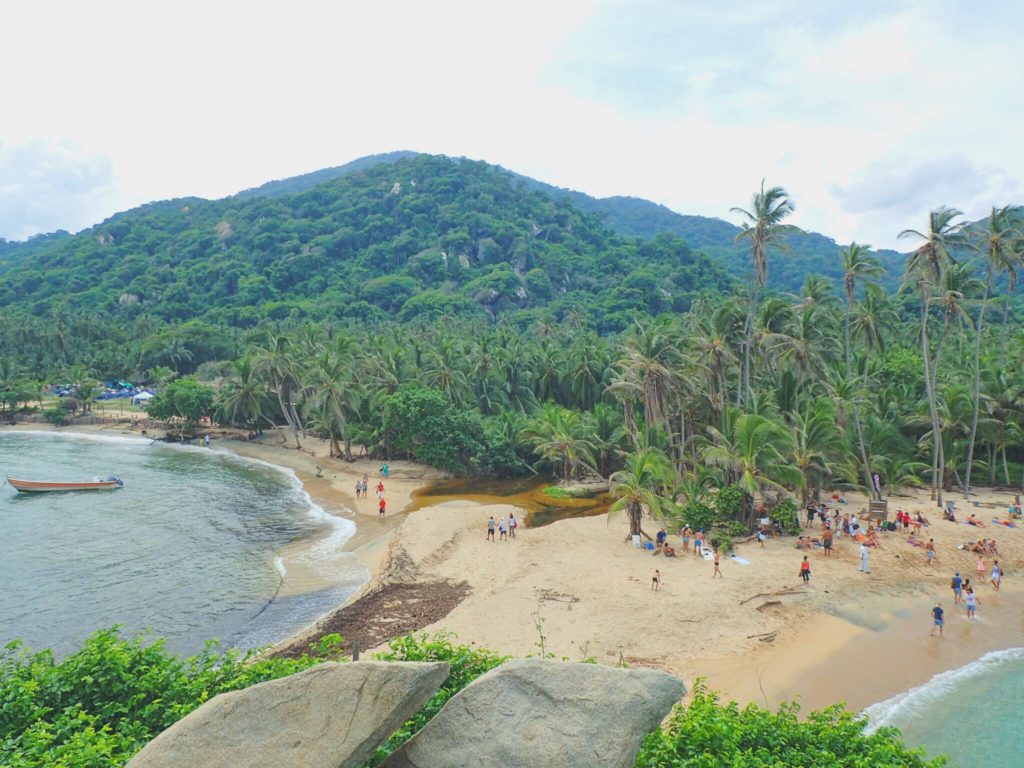 Food: Before arriving, I had heard a lot of talk about how the restaurant at El Cabo is very overpriced. I suppose everyone has a different opinion on what constitutes cheap vs. expensive, but my dinner (spaghetti with a garlic and mushroom sauce) cost just $5, which I had no qualms with. I also bought a handful of snacks and drinks from the concession stand, and while they may have cost $1 or so more than you could buy them for in Santa Marta, it wasn't such a drastic difference that I really even registered it.
Showers/Toilets: There are toilets and showers near the main campsite area at El Cabo San Juan, but both can develop long lines. I was in desperate need of a shower before bed, and waited behind 15 or 20 people to use one of the 4 showers. Fortunately most people tend to take quick showers since the water is quite cold – a quick rinse with some soap and shampoo is all you really need.
---
Pin It!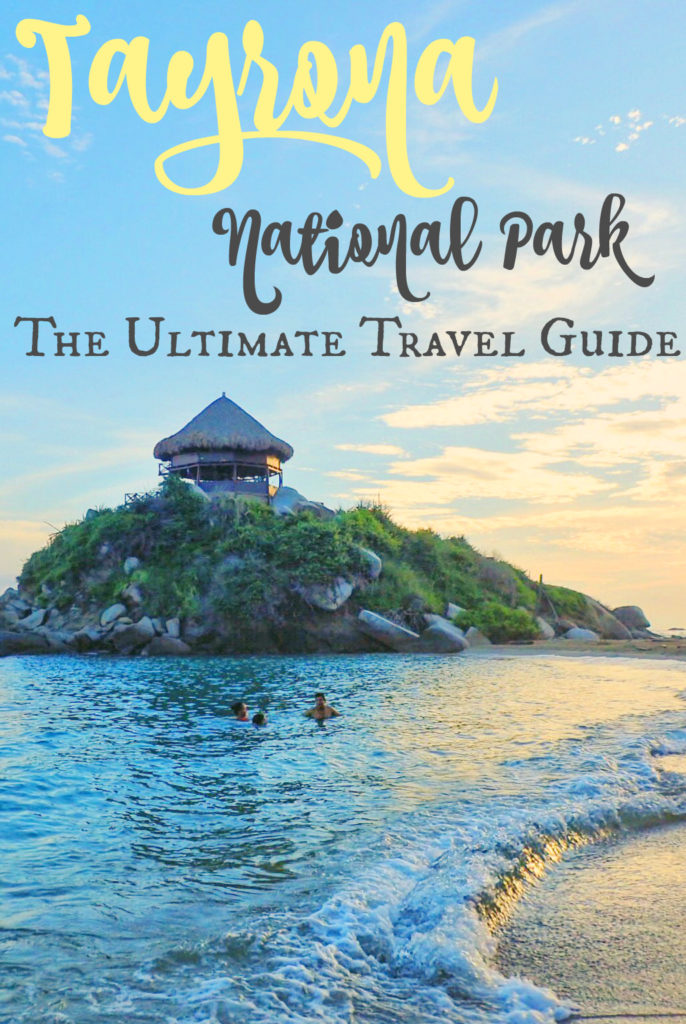 ---
Have you ever visited Tayrona National Park? If so, did you love it as much as I did? If not, would you want to visit here / have you ever visited someplace similar to Tayrona?