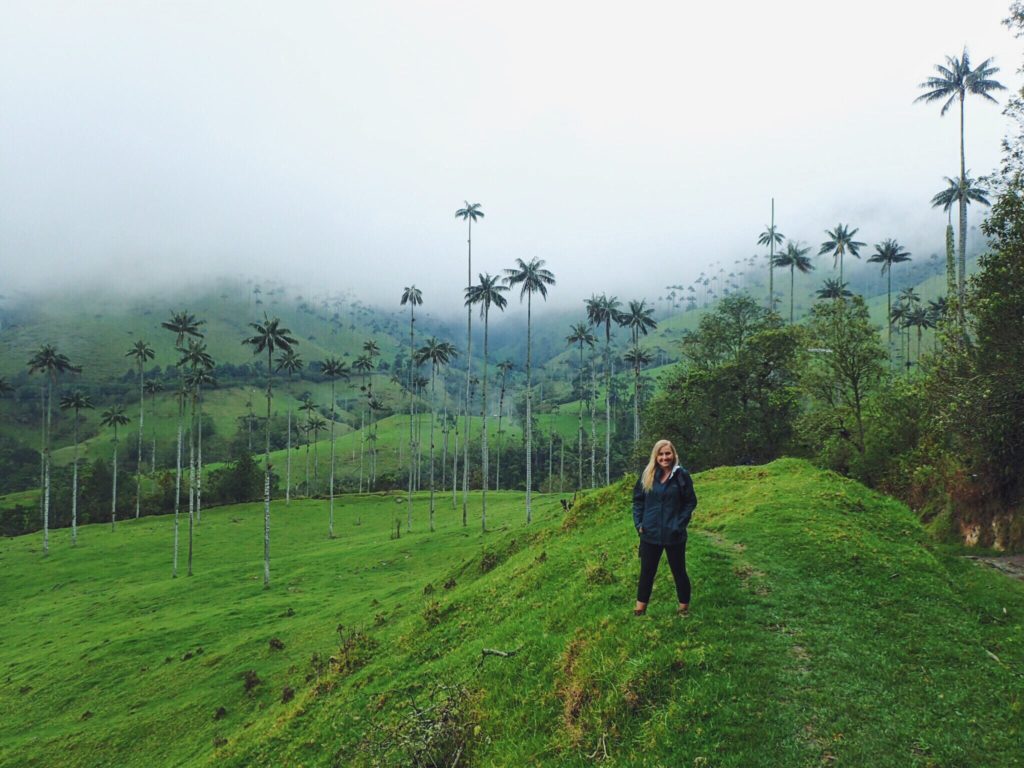 It's my first full day back home after my whirlwind trip through Colombia, and I'm still trying to process and make sense of all of the wonderful things that I saw, did, and experienced. I already know that I have a LOT of stories to tell and photos to share, so today I'm keeping it short, sweet, and simple and sharing only my very favorite moments from my time in Colombia.
For me, the magic and beauty of Colombia can be summed up in one word: nature.
From the palm-fringed coastlines of Palomino and Tayrona to the otherworldly Valle de Cocora, and from the quiet, misty mountains of Minca to the sweeping views from the Peñol Rock in Guatape, Colombia is a nature lover's paradise.
I don't consider myself to be particularly outdoorsy, and I definitely feel like I challenged myself both physically and mentally on this trip (in the BEST possible way) in order to make the most of Colombia's stunning natural beauty. I hiked, I sweat, I developed blisters that never seemed to properly heal, I slept in hammocks and other rustic conditions, and I loved it.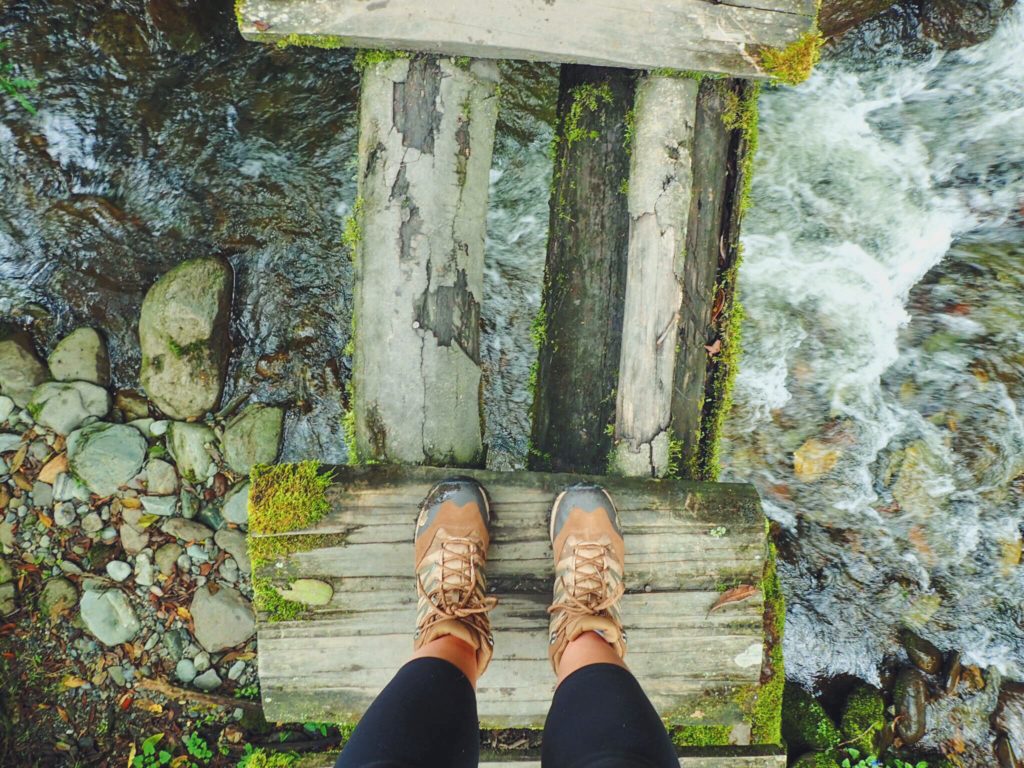 It's not always comfortable – you'll need to battle difficult hiking conditions (hello mud), heat, humidity, sunburn, and bugs – but it is always worth it if you're willing to put in the effort. For that reason, almost all of my "top Colombia highlights" on this list are related to nature and outdoor activities.
So without further ado, in no particular order…
Hiking the Valle de Cocora
The Valle de Cocora had been high on my bucket list for a long time, and was one of the main attractions drawing me to Colombia when I began planning my trip. As most travelers know, expectations (especially when born out of heavily filtered Instagram photos) don't always align with reality, and I was initially worried that I was setting myself up for disappointment when I dubbed Cocora Valley "the number one thing I wanted to see in Colombia."
Guys, I had nothing to worry about.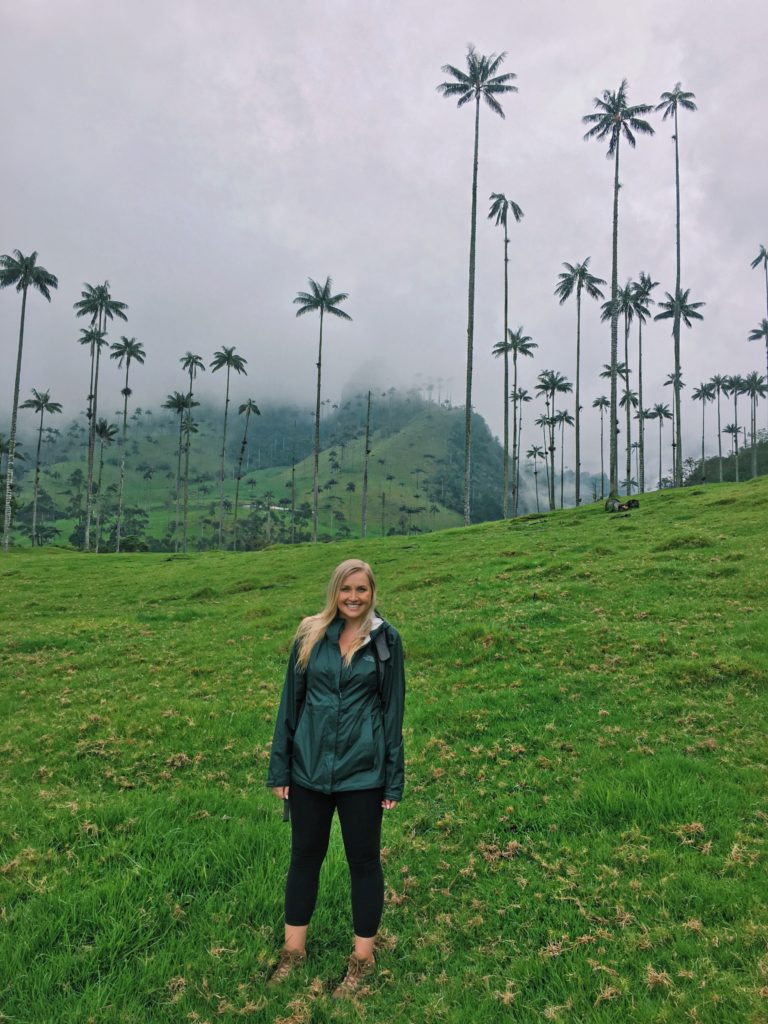 In fact, I think I'll go ahead and make the bold statement that hiking the Valle de Cocora was my number one favorite activity in Colombia.
The towering Quindío wax palms were even more beautiful and surreal in person than they were in online photos!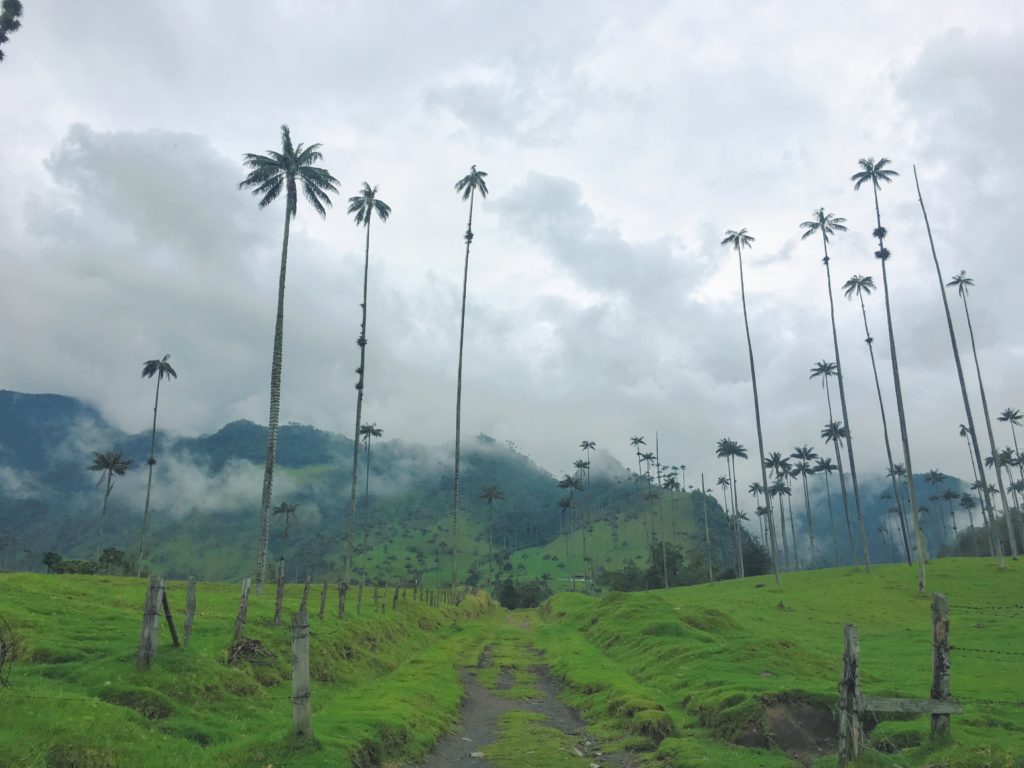 Reaching the palm-filled valley at the end of my long (and wet) hike was an absolutely amazing feeling, and I spent a good amount of time just wandering through the valley in awe, snapping the exact same photos again and again and not caring because IT WAS ALL SO BEAUTIFUL.
Sleeping under the stars at Tayrona National Park
I can now safely cross "spend the night in a hammock" off my bucket list thanks to my overnight trip to the Parque Nacional Natural Tayrona. This stunning natural park is located in close proximity to Santa Marta, but many areas of the park are only accessible by foot, horseback, or boat.
While there are a number of scenic beaches to choose from in Tayrona, for most backpackers the main beach to visit is El Cabo San Juan…and with good reason. Cabo San Juan is home to some of the most iconic, picture-perfect beaches in Tayrona, and is also one of the most popular camping locations.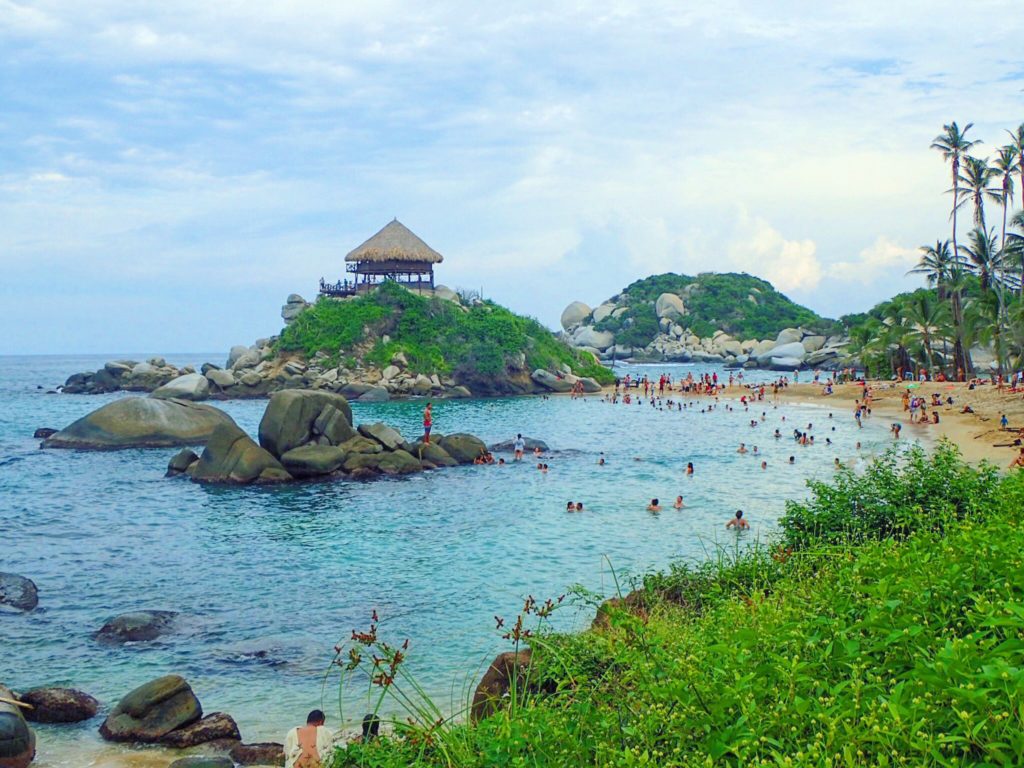 I got lucky and scored one of the coveted hammock spots in the hut on the rock – there are only 16 hammocks in this location.
It gets dark early in the national park, so I was safely snuggled up in my hammock by 8pm reading and listening to music. The skies were black and endless, and the moon was full and bright.
I fell asleep early, thanks in part to the gentle rocking of the hammock, the chilly ocean breeze and the soothing sound of the waves below, and was feeling bright-eyed and bushy-tailed for the spectacular sunrise at 5:30am.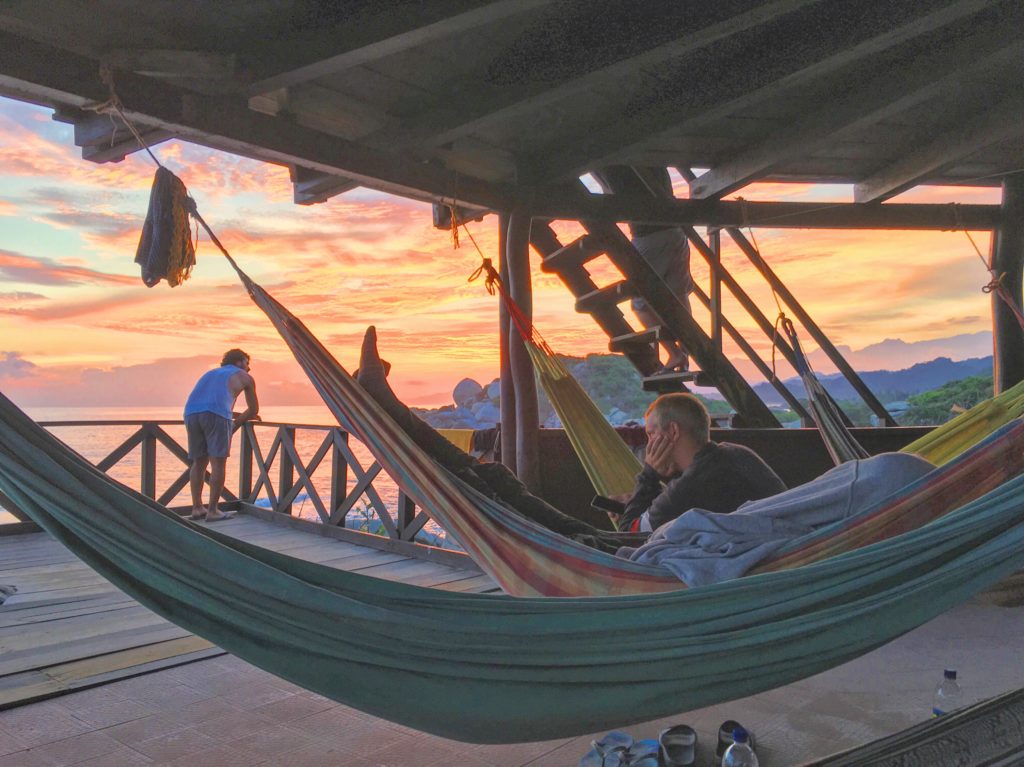 For me, sleeping under the stars in Tayrona was a once-in-a-lifetime kind of experience – well worth the 2 hours of muddy, slippery, humid hiking I had to do to get there and back.
River tubing in Palomino
Actually, all of Palomino was a highlight for me! This quiet coastal town about 2 hours north of Santa Marta is as charming as it gets, with endless stretches of white sand beaches with nary an all-inclusive resort in sight (actually, the only things in sight on Palomino's beaches at all were the sand, the sea, and the lush jungle making its way up towards the Sierra Nevada mountains).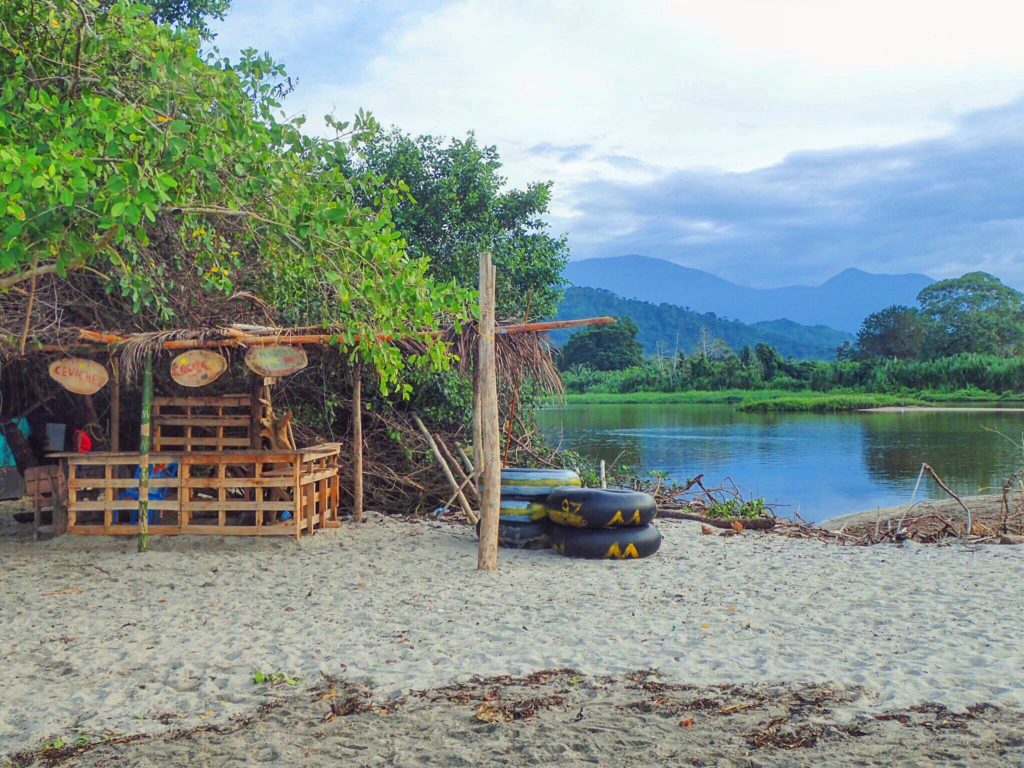 The day that I went river tubing in Palomino was an all around perfect day, from start to finish. I stayed at Dreamer Hostel in Palomino (which I highly recommend), and ended up meeting a group of about 10 travelers to go tubing with at the hostel.
I paid 20,000 Colombian pesos (a bit more than $6) to rent a tube and hitch a ride via moto taxi to the start of the river, where I spent the next 3 or so hours tubing down the river in perfectly zen, chilled-out bliss. The Palomino river is cool and refreshing – a perfect contrast to the blazing hot Colombian sun – and is lined by rolling hills and mountains packed with tropical flora and fauna.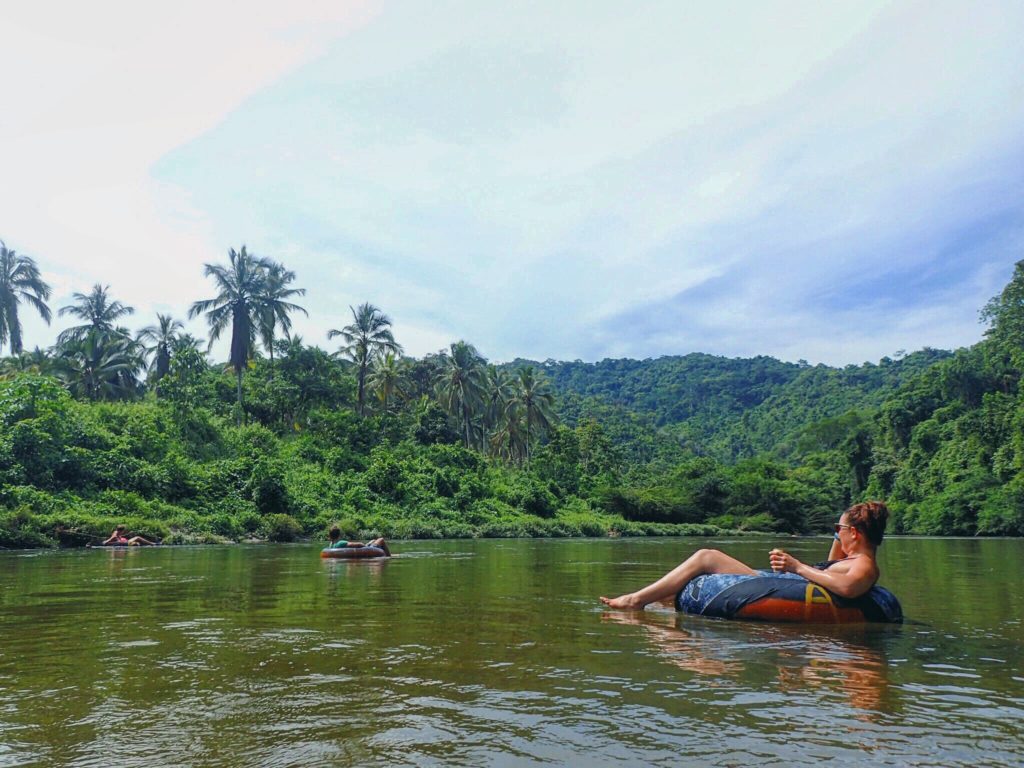 The jungle views are amazing all on their own, but are made even more spectacular by the views of the snow-capped Sierra Nevadas in the distance, as well as the fact that the river drains out into the sea…which means that your tubing voyage ends at the beach! Jungle, mountains, river and ocean all in one jaw-droppingly beautiful place.
Real City free walking tour in Medellin
I'll be the first to sheepishly admit that I had just one thing on my mind when I arrived in Medellin via bus: Pablo Escobar. Obviously I knew that there was more to this sprawling Colombian city than this single awful criminal, but as a serious Narcos fan, he was definitely on my mind.
But after spending a few days in Medellin, I decided that the Netflix series doesn't quite do justice to the trauma, violence, fear, and destruction Pablo Escobar caused. Medellin was once considered the most dangerous city in the entire world; after Escobar's death, that statistic began slowly but surely fading from memory.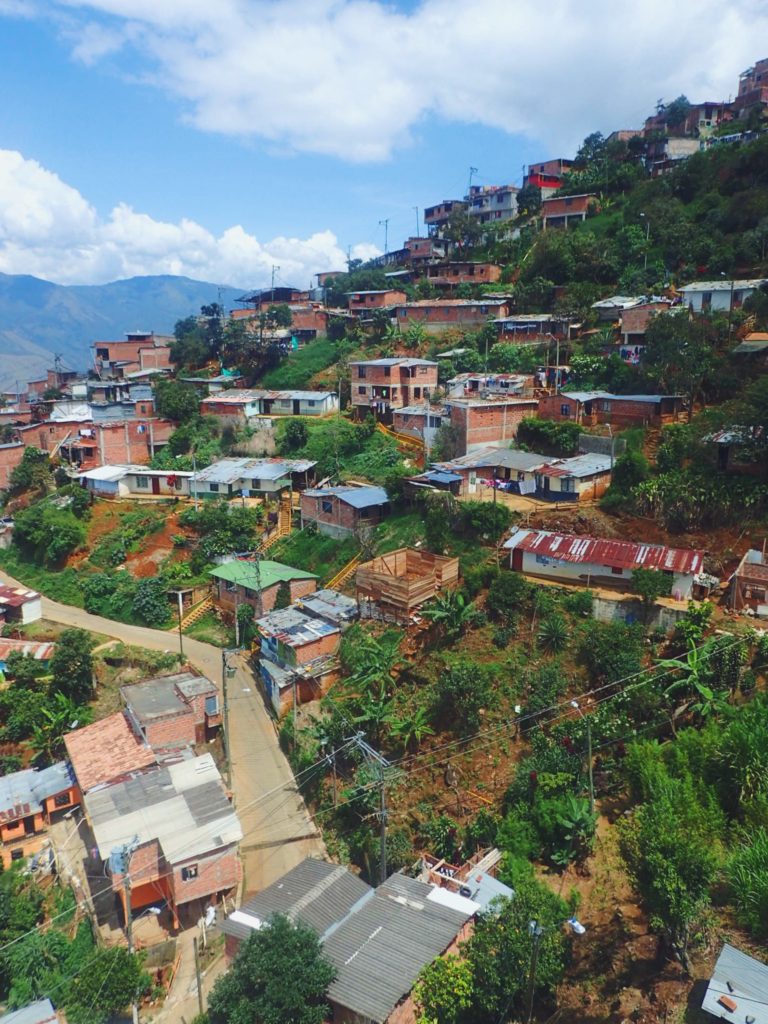 The story of Medellin's transformation from one of the world's most violent and dangerous cities to one of the safest cities in South America (it's even considered safer than NOLA!) is a complex one, with many intertwined layers and plot-lines.
In my opinion, the Real City free walking tour is an absolute must-do, since it sheds some light on Medellin's dark and complex history. The tour aims to paint a realistic picture for visitors: the positive changes and forward strides that have been made in recent years, as well as the lasting scars from the years of violence and corruption.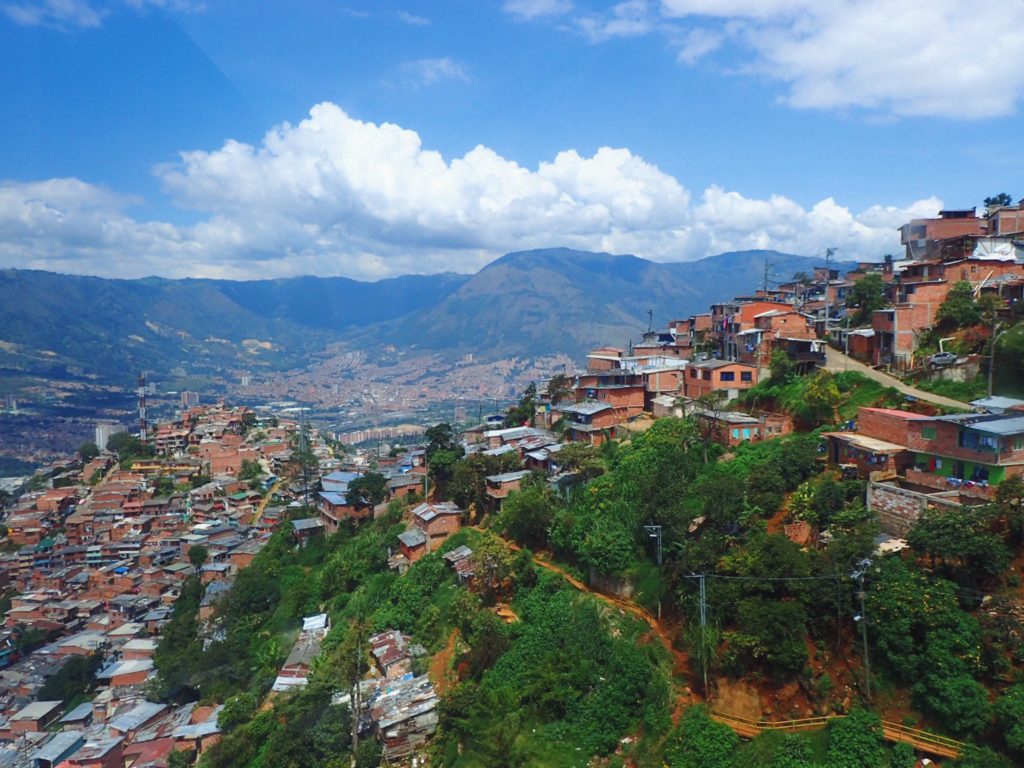 The tour was exceptionally informative, very well run, and gave me a lot to think about as I continued on my journey through Colombia.
Soaking in the views from La Piedra Del Peñol in Guatapé
The view from the top of the Rock of Guatapé (also called El Peñón de Guatapé or La Piedra) is one of the most iconic views in all of Colombia, and I was determined to climb all 740 stairs to check out the scenery for myself. Unfortunately I had just come down with a bit of chest cold the day before I ventured out to Guatapé, and the combination of sore throat + lung congestion + fully blocked nose made for less than ideal stair-climbing conditions.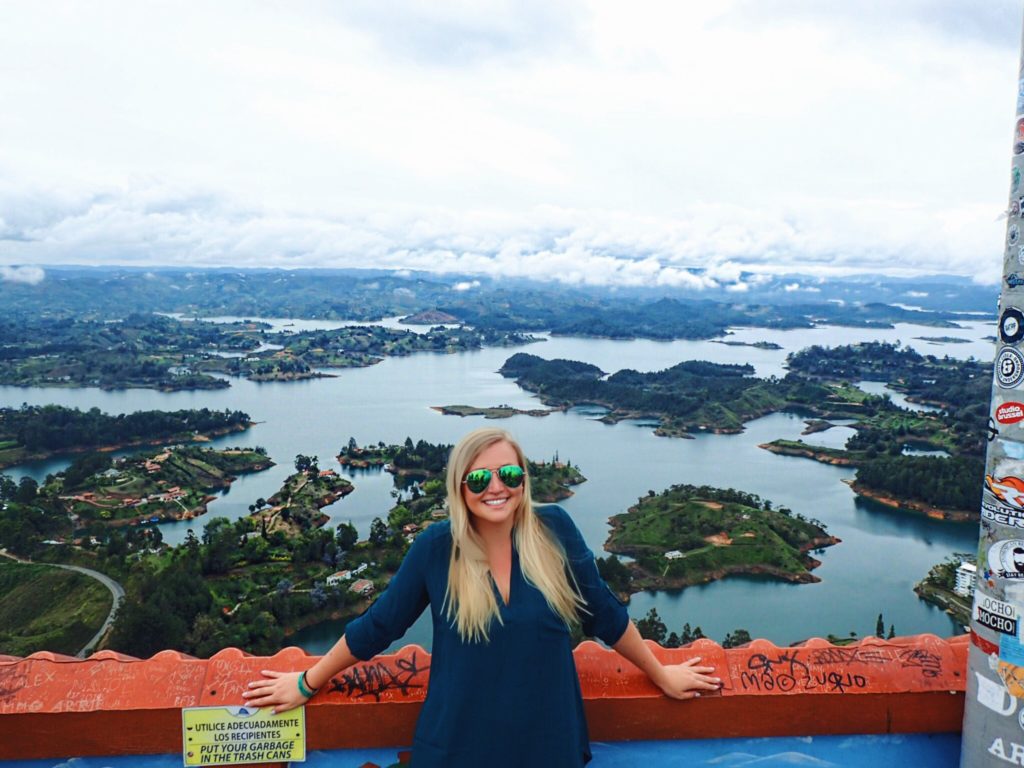 But in the end? Still 100% worth it. I mean, do you see those views?! Yet another stunning example of Colombia's diverse and unique natural landscapes.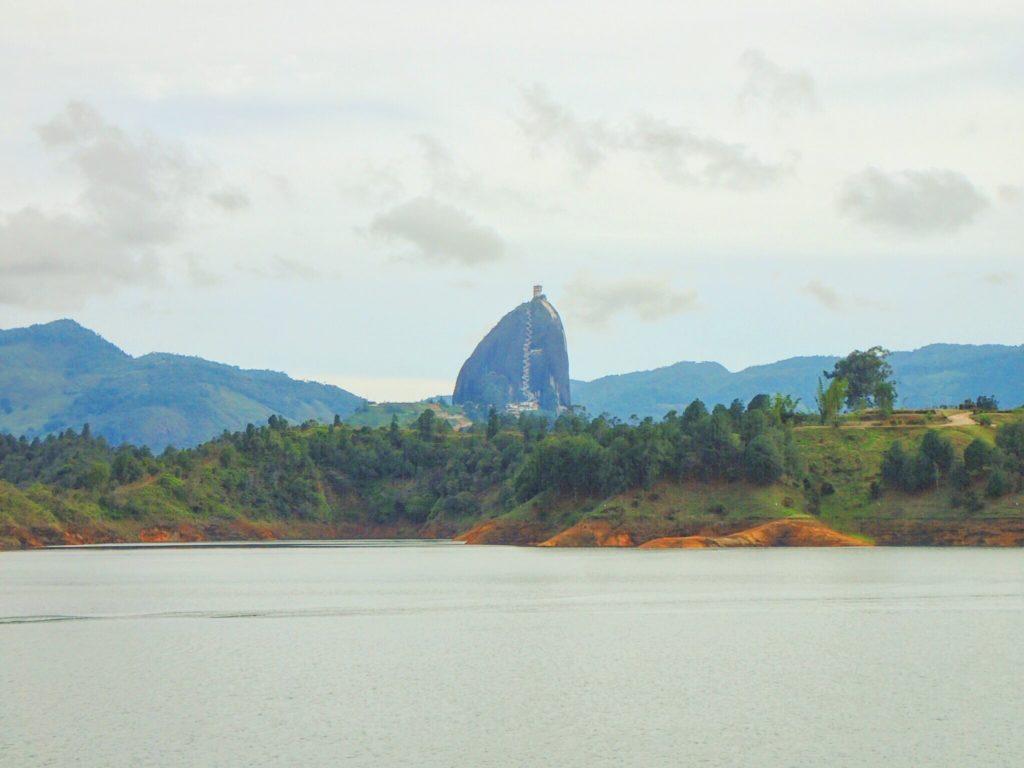 Losing my wallet on the bus from Palomino to Santa Marta
Okaaaaay, so maybe the actual experience of losing my wallet was not a highlight (in fact, it was a definite lowlight) but the events that followed were certainly highlights in their own kind of way.
I'm still not sure if my wallet was stolen or if it somehow fell out of the zippered front pocket of my bag (I was guarding it closely at my feet throughout the entire bus ride, but who knows) but as soon as I stepped off the bus, hopped into a taxi, and realized it was missing, I knew that I was screwed.
I tried to keep the panic out of my voice as I explained to my driver in shaky Spanish that my wallet – with ALL of my credit cards, debit cards, and cash – was missing from my backpack…i.e. I have no money and no way to get money, so if you're going to kick me out of your cab, now's the time to do it.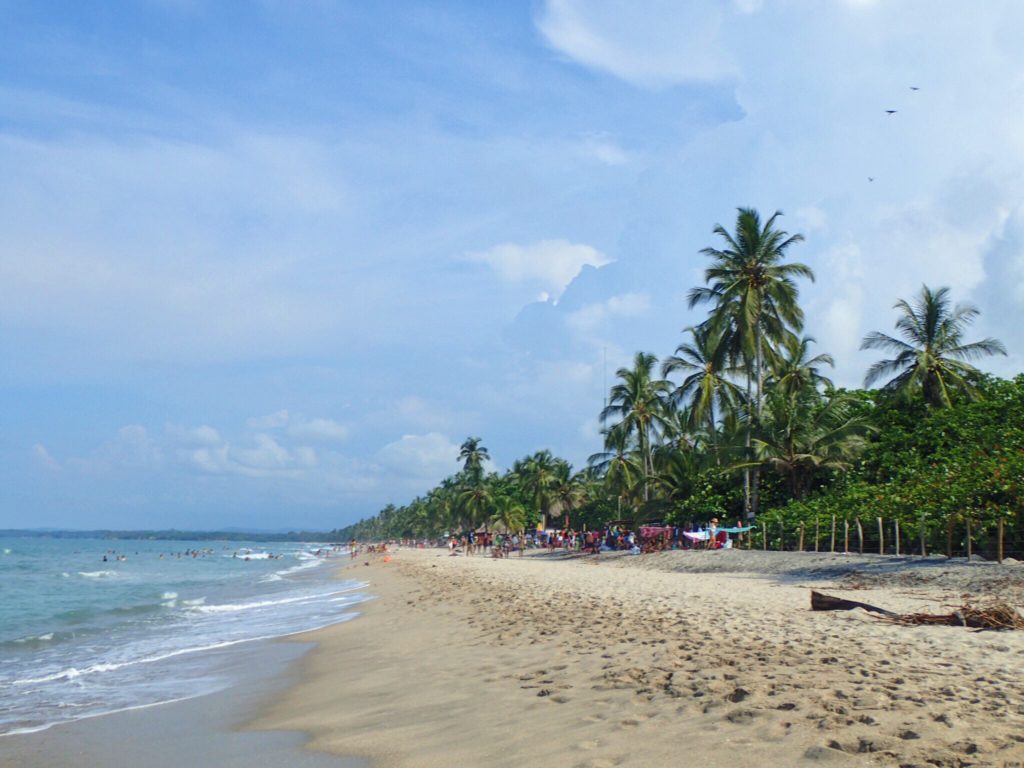 But much to my surprise the driver didn't kick me out of his taxi, but instead gave me a ride to the bus terminal (I had hopped off one stop before the main terminal in Santa Marta) to see if we could track down my bus there. Once at the main bus terminal, he explained my situation to a few bus company representatives to see if we could figure out exactly which bus I was on and where it had gone.
A local man purchasing a ticket at the same counter as us overhead what was happening and offered to help me, handing the taxi driver some cash to cover the cost of my ride. In the end I spent about an hour trying to track down my missing wallet, accepting help from close to 15 people who offered suggestions, made phone calls, and even handed me a bit of cash to help get me through the day.
In the end I never did find my wallet, but thankfully this all happened at the tail end of my trip with just 2 full days left, so it wasn't too difficult to get by. But while I'll certainly always remember the stress and anxiety associated with losing all access to money in a foreign country, what I'll remember even more clearly is the kindness that I was shown by the Colombian people.
It would have been allll too easy for those bus drivers, taxi drivers, and complete strangers to shrug and say, "oh, that's too bad!" and then go on with their lives. But people literally went out of their way to involve themselves in my situation and offer support. It almost felt as if each person desperately wanted to be the hero and find the solution for me.
I did a decent job of holding it together throughout most of the ordeal, until multiple people starting reaching into their own pockets and handing me small bills to make sure that I was taken care of. *Cue the waterworks* According to popular media, Colombia is all drug lords and pickpockets and scammers, and here total strangers (all of whom most likely have much less disposable income than me) were handing me folded up bills from their own wallets.
In other words, THANK YOU Colombia – thank you for being so kind, caring, and gentle with me when I really, really needed it. You are amazing, and I won't forget it.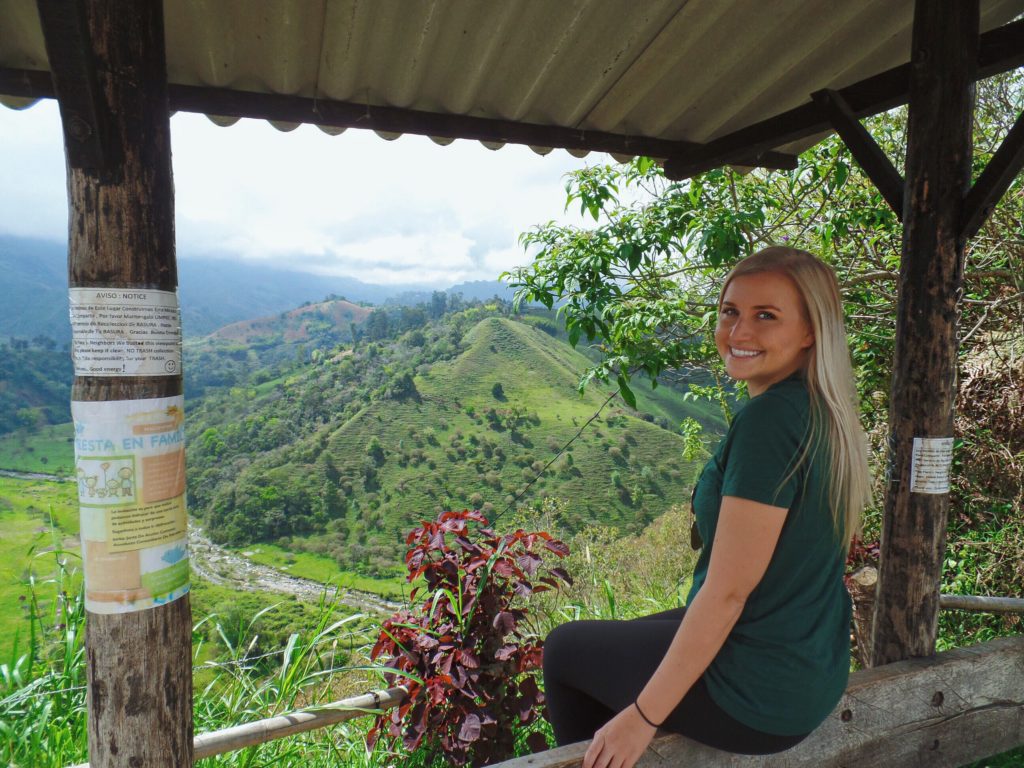 ---
Have you ever been to Colombia? If so, what were your favorite experiences there? If not, which experience do you think you'd enjoy the most?