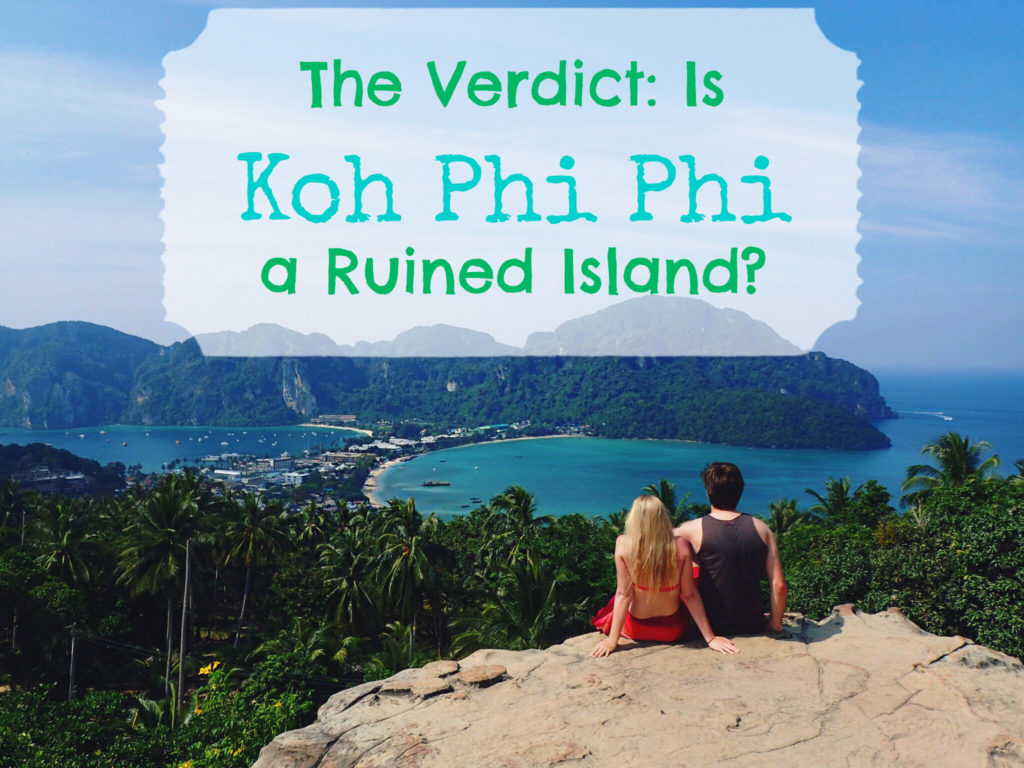 Koh Phi Phi, Thailand.
A majestic archipelago of limestone cliffs, jutting out of the Andaman Sea's emerald waters. Lush Thai jungles, golden beaches, humming longtail boats, and the glorious tropical sunshine.
…Or, is that not how you picture it? Perhaps you've heard tales of the crowded, smelly town center, the drunk backpackers slurping buckets of vodka, the inflated prices, and the damaged ecosystem.
So which is it? Is Koh Phi Phi a sublime island paradise, or a ruined party zone?
In a way, it's probably a bit of both. I spent five days and nights on Koh Phi Phi during my Thailand travels, and I found the island to be both breathtakingly beautiful, as well as a little sad.
…Allow me to elaborate.
For those who don't know, Koh Phi Phi is a Thai island situated between Phuket and Krabi, and to get there, you'll need to take a ferry. This ferry will be jam-packed with families and backpackers, and you will all be deposited at the central hub of Koh Phi Phi: Tonsai pier.
From there, your island experience is fully in your hands. Where you choose to sleep, eat, visit, and explore will determine which side of Koh Phi Phi you see: the overpopulated, pricey, polluted party hub, or the island getaway of your dreams.
DON'T stay in Tonsai Bay or Loh Dalum Bay.
The vast majority of visitors will be staying near Tonsai Bay or Loh Dalum Bay. These two bays make up the narrowest part of the island (i.e. the skinny strip of land visible from the viewpoint), and are home to the pier and 95% of the island's restaurants and hotels.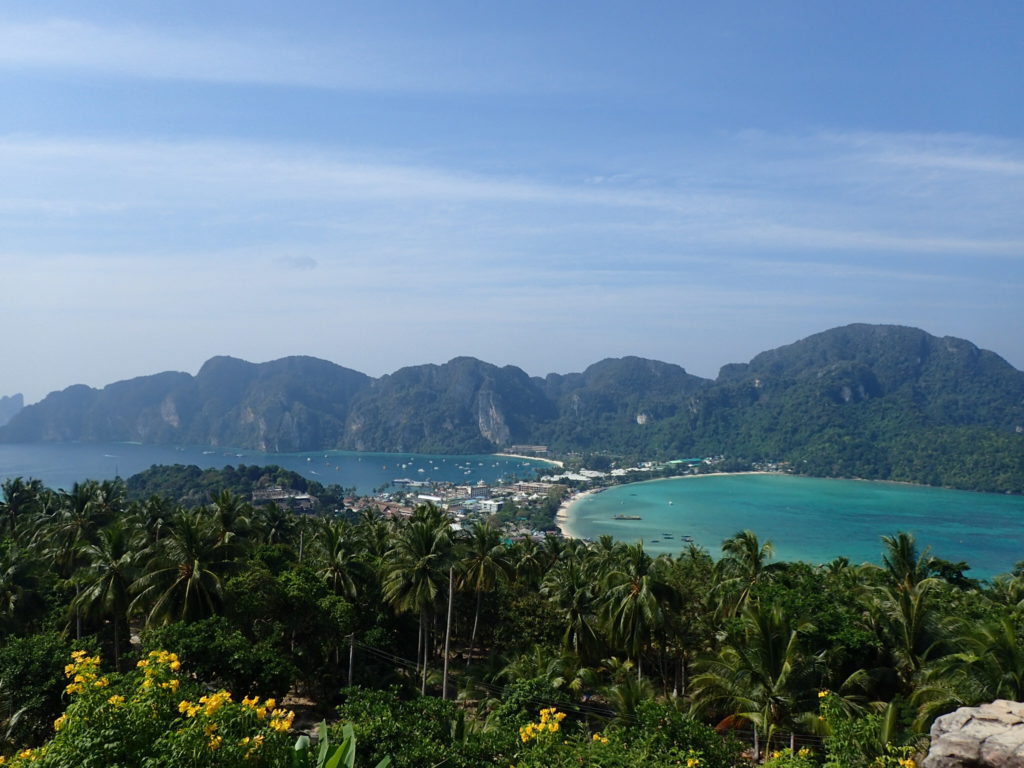 This is NOT where I stayed, nor where I would recommend staying if you're looking for those deserted island vibes.
Instead, we made our temporary home on Long Beach, a much quieter (but still popular) section of Koh Phi Phi. In comparison to Loh Dalum, there are fewer sunbathers and swimmers, but still a nice variety of restaurants and accommodation.
Not to mention, Long Beach is pretty much your quintessential Thai beach, with sugary white sand, turquoise water and picturesque longtail boats lined up along the shore.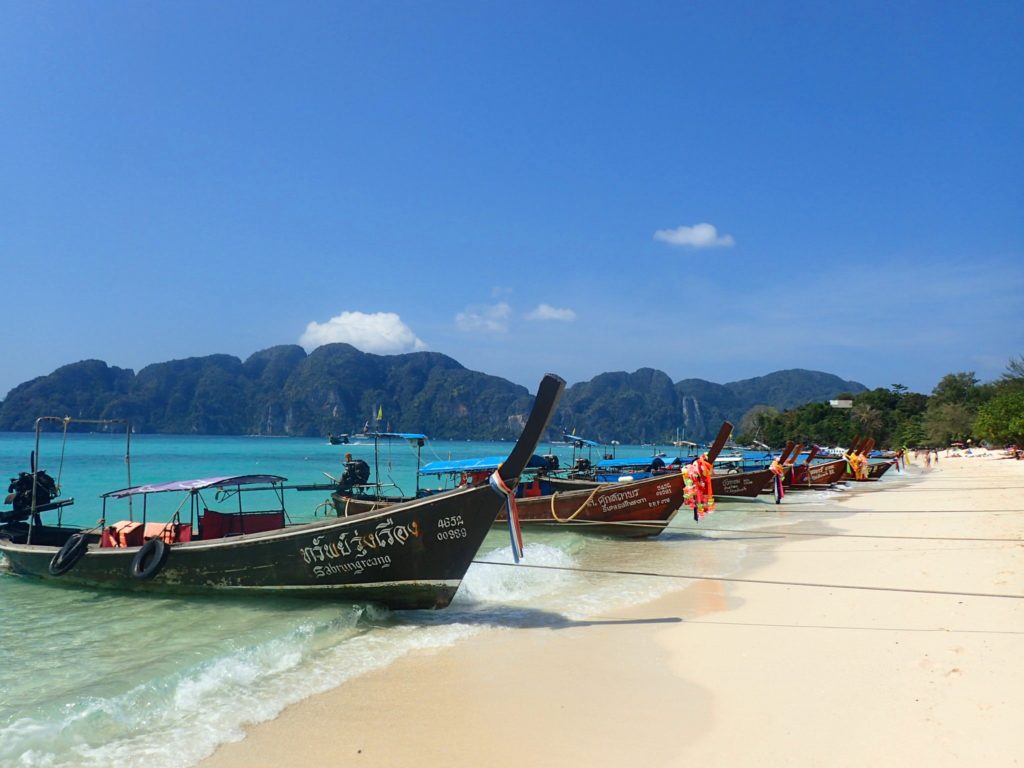 Oh, and did I mention that you can see Koh Phi Phi Leh in the distance, where the famous (and seriously gorgeous) Maya Bay is located?
And how cute is this beachfront treehouse bungalow that we stayed in?!
The best part? Long Beach is a great starting point for finding those rare off-the-beaten-path gems scattered around Phi Phi. Each morning, we ventured out to find even quieter, more remote parts of the island…and we succeeded!
Here were our favorite secluded finds on Koh Phi Phi:
Totally empty white sand beaches
Yes, I'm totally serious – we had more than one run-in with a fully deserted beach on Koh Phi Phi.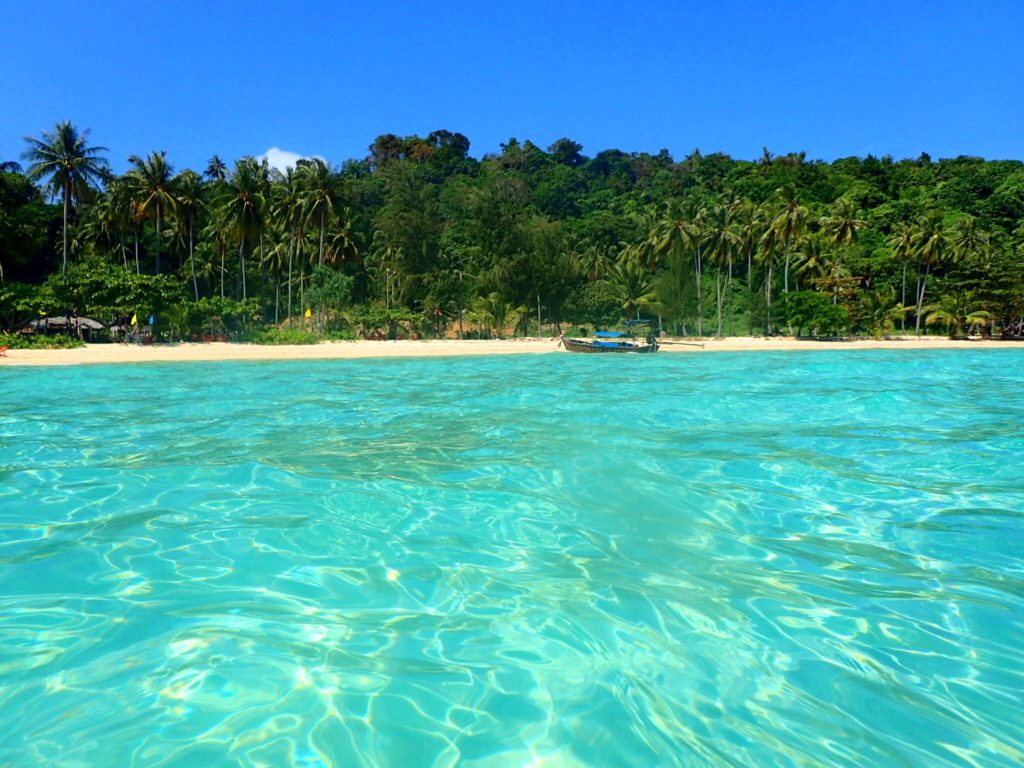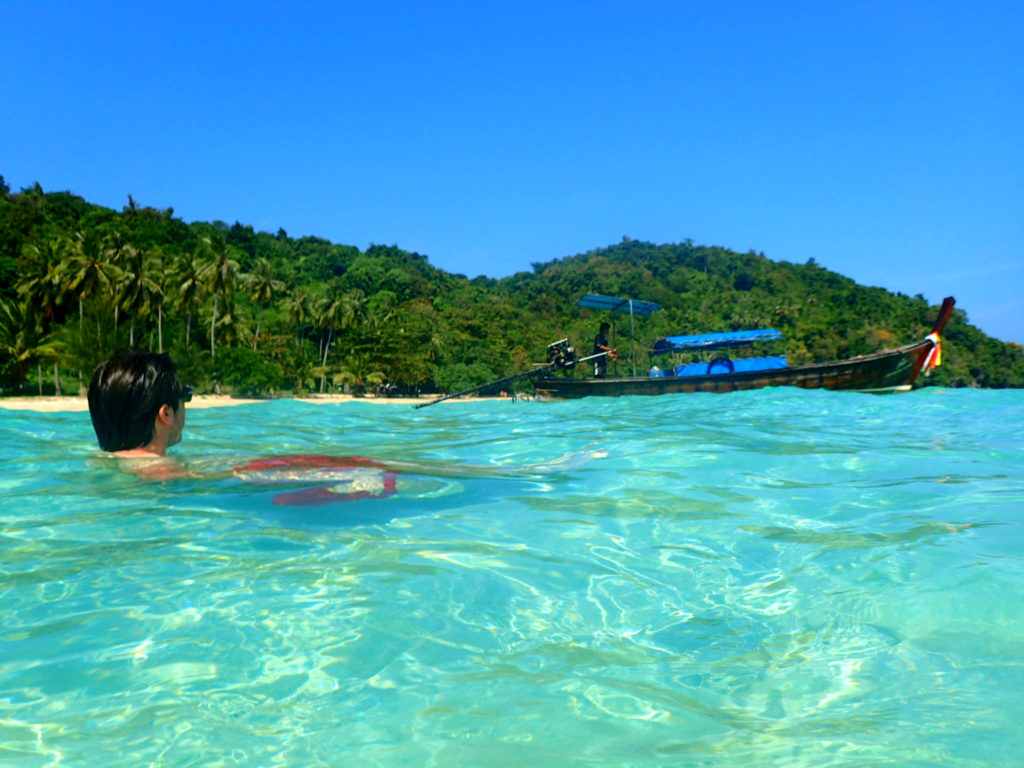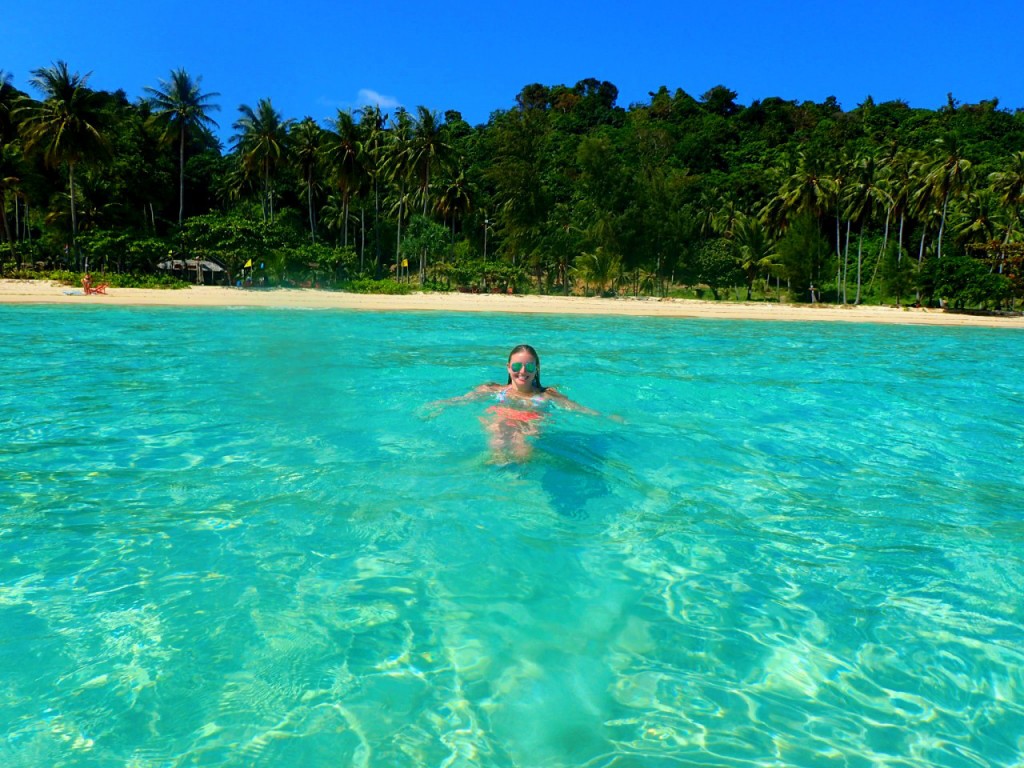 I mean, do you see that turquoise water? Those breezy palm trees? THAT EMPTY BEACH?!
We visited this particular beach twice during our stay on Koh Phi Phi; on the first day there were only around 5 other people, and on the second day we literally had it all to ourselves.
I don't want to give away the name of our secret little paradise, but I will say that we only had to walk about 10 minutes from Long Beach (up one hell of a hill, though!) and that it is listed on several maps of the island.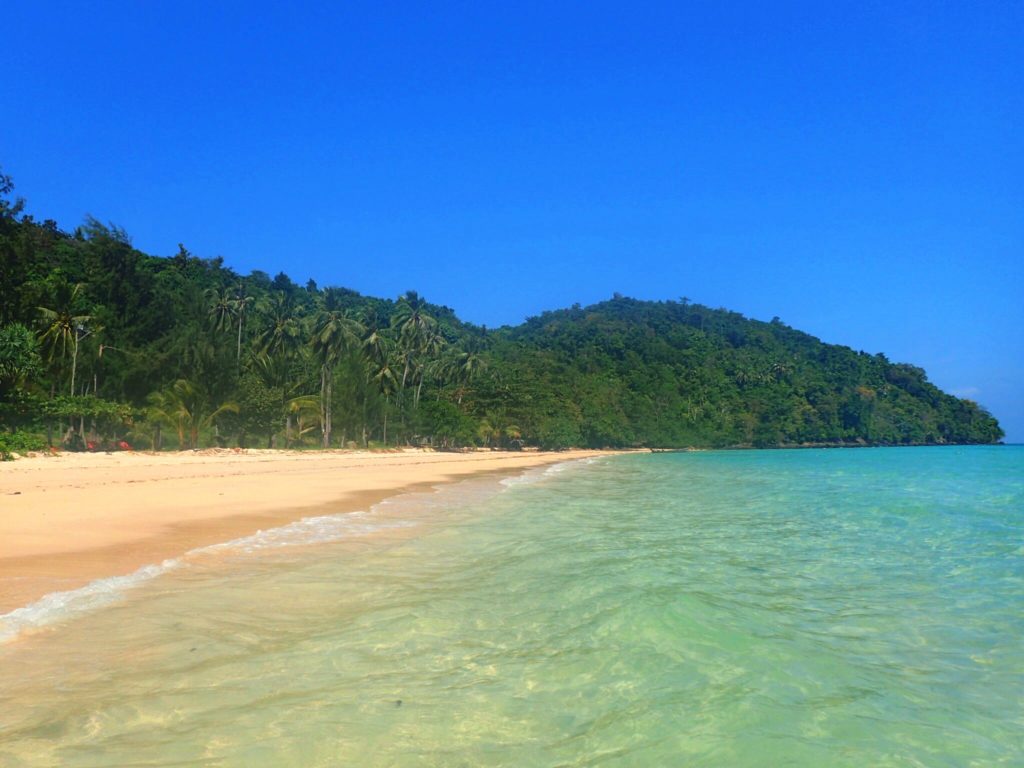 That said, if you opt to visit Koh Phi Phi, I highly recommend doing a bit of exploring and seeing what you stumble across. After all, Koh Phi Phi is an island – there are SO MANY BEACHES to see and enjoy outside of the two that 99% of visitors seem to flock to (just make sure there's no signage indicating that you're on a private beach).
There's no better feeling than emerging from the jungle, sweaty and exhausted, and walking out onto a bright, open, and empty beach. Talk about an incentive for working up a sweat!
Hiking the interior of the island
For reference, Long Beach is about a 20 minute walk east from the main town. For all of our daily adventures, we walked even farther away from town, towards the far eastern side of the island.
This involved quite a few hikes through the hot, humid, densely forested interior of the island. In fact, the island has a whole system of trails linking the ever-popular Phi Phi viewpoint with a number of beautiful beaches and scenic outlooks.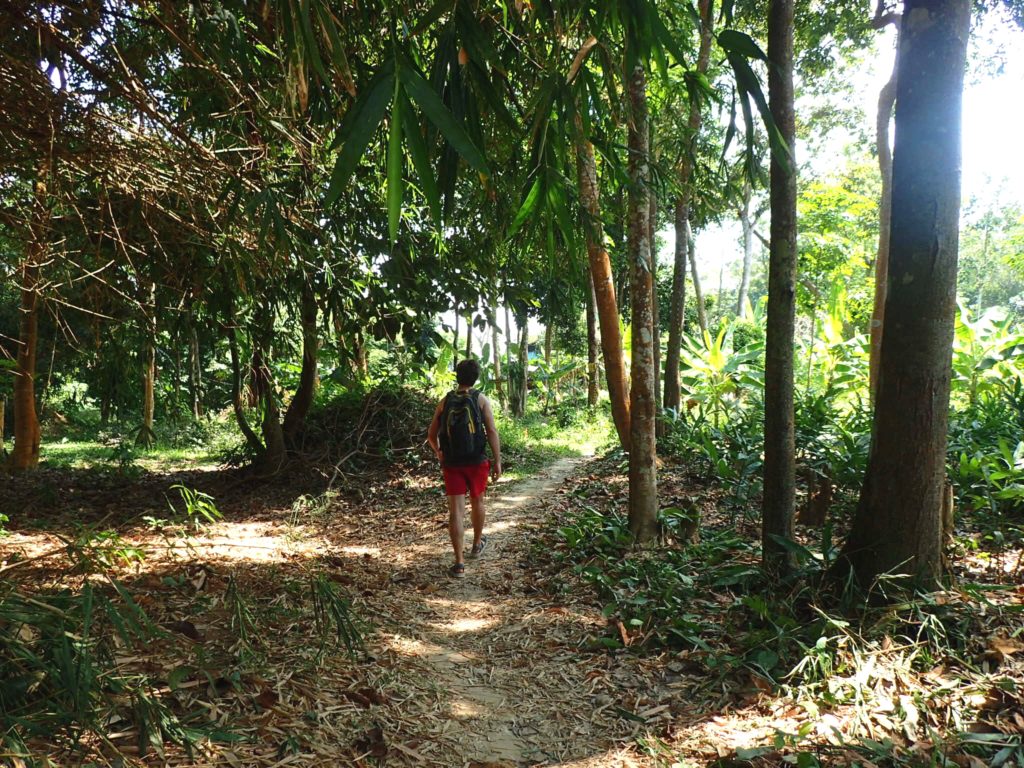 The walks through the jungle-y interior of the island were wonderfully scenic and oh-so interesting. During our walks, we passed very few other travelers, but did get the chance to see a few homes, gardens (complete with chickens running across our path) and locals enjoying their daily lives. We were even able to watch a handful of monkeys playing in the trees from afar.
During these hikes, we felt as if we had discovered a whole new side to Koh Phi Phi – one that doesn't often make it onto the typical tourist agenda.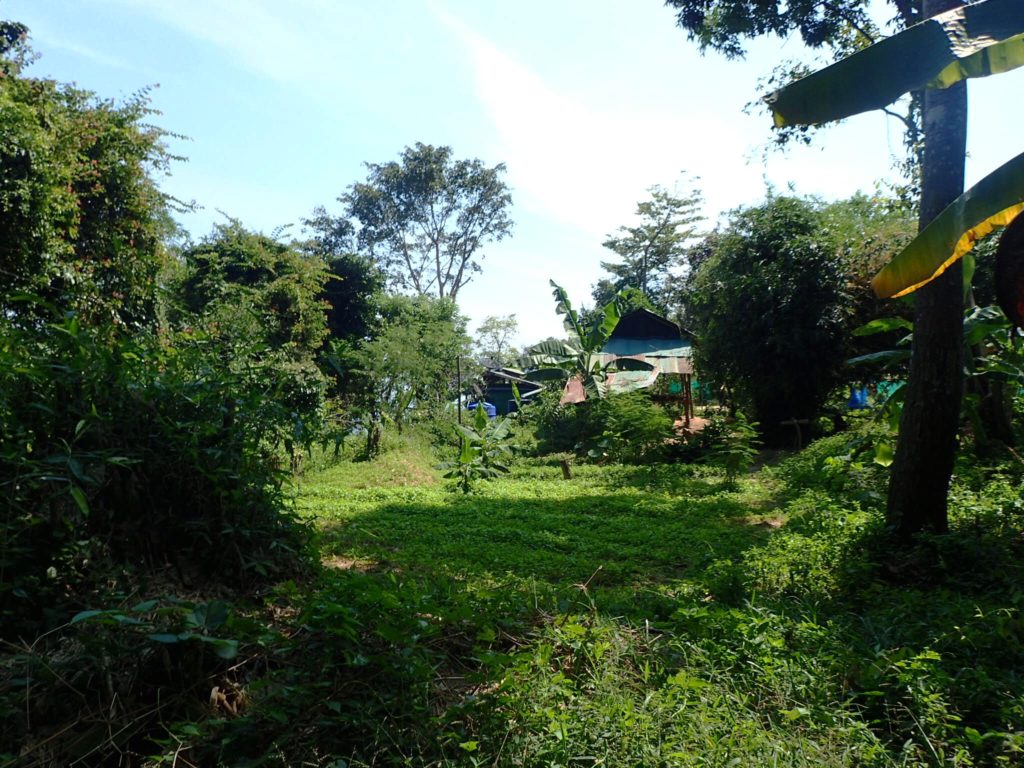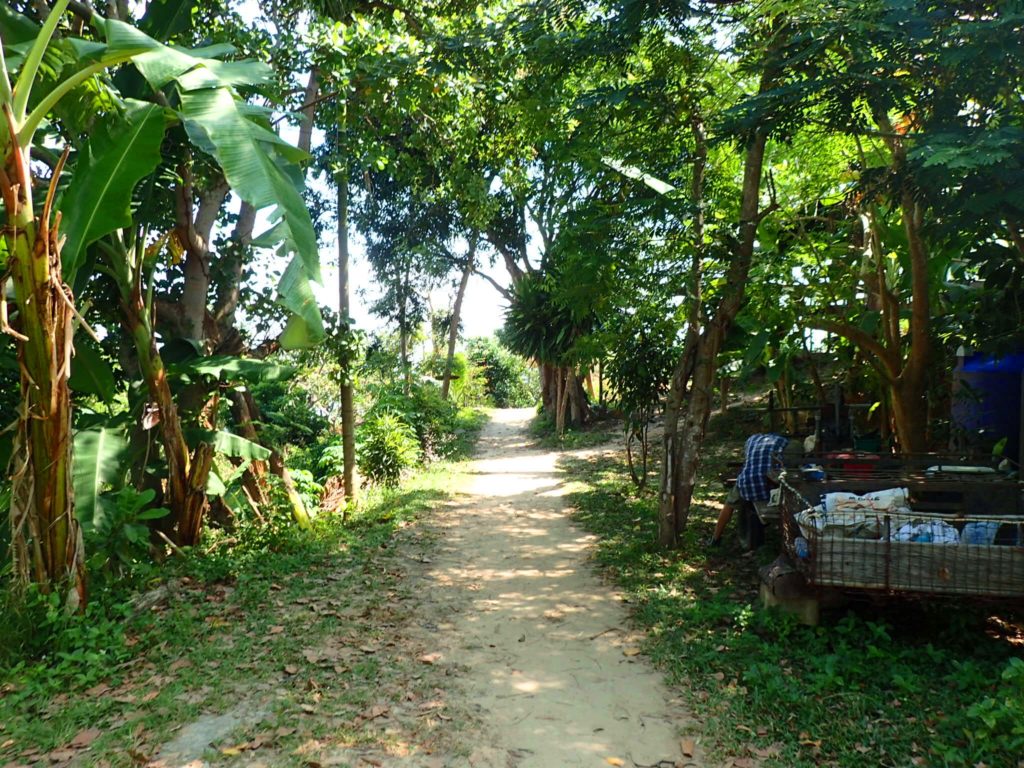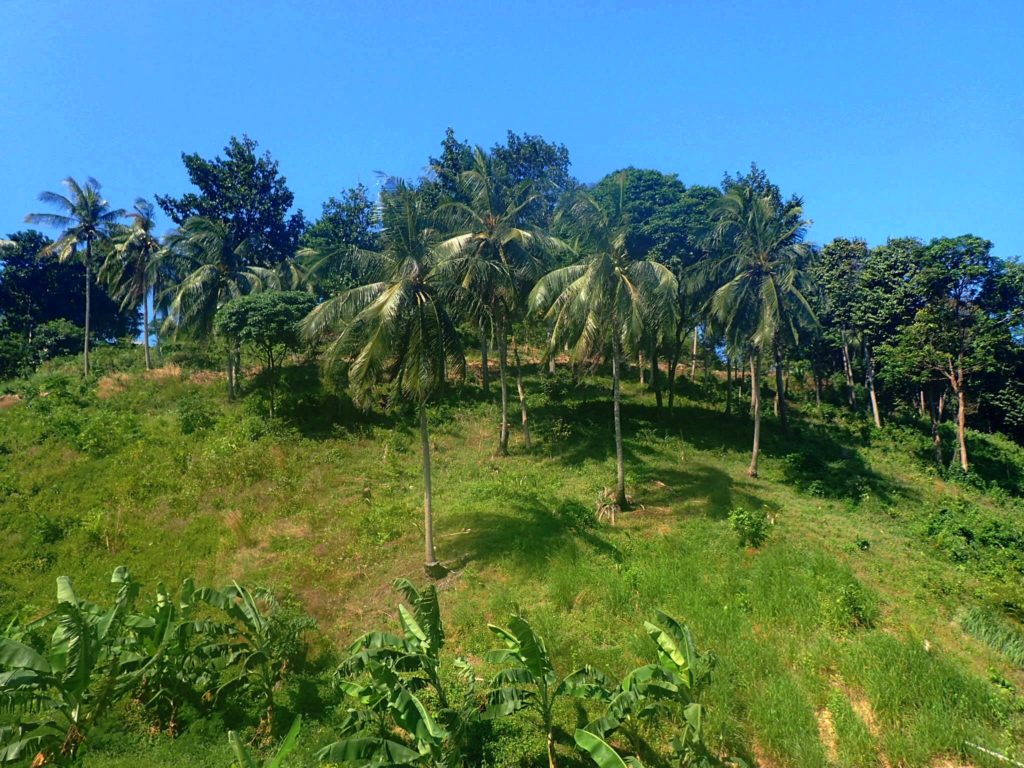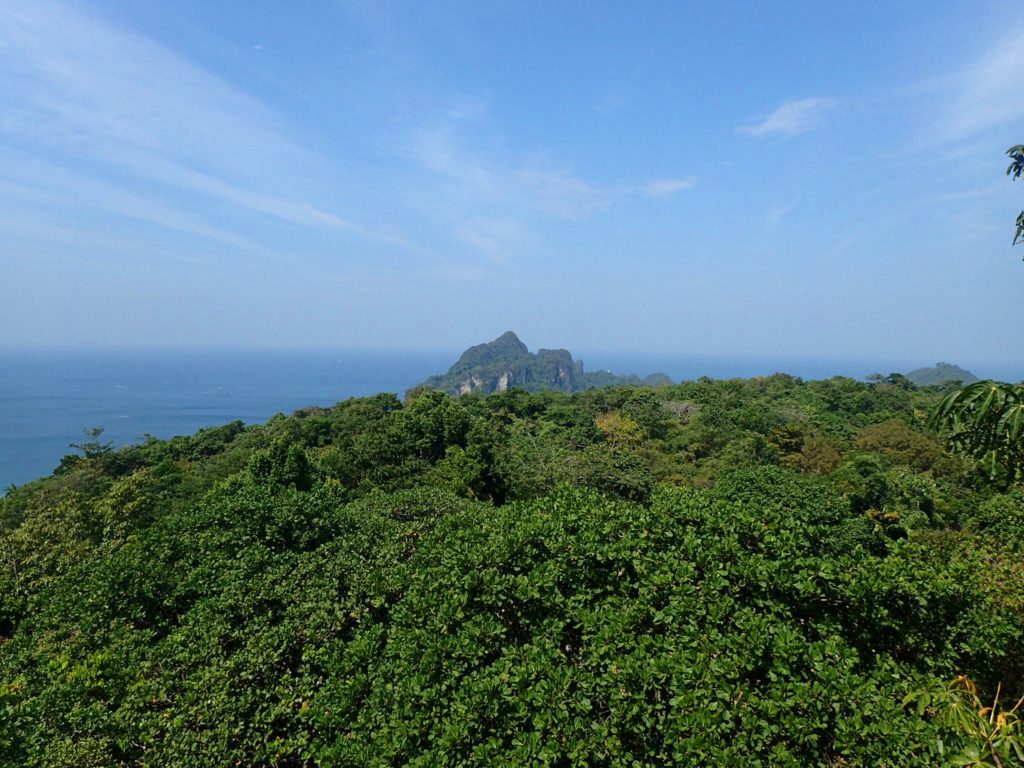 It's important to note that many of these trails are not official hiking trails, but rather just paths that have been created by the locals to help them get around. There are some signs (but not as many as we would have hoped) and some bits can be quite strenuous.
However, it's well worth it when you're rewarded with views like these along the hike:
The oft-forgotten Viewpoint #3
Surely no one would plan a visit to Koh Phi Phi without including a trip to the top of the island, to soak in the views from the famous viewpoint.
…But did you know that the island actually has three "official" viewpoints?
Typically, travelers will follow a set of cement steps from Ton Sai Village up a twisting path past guesthouses and restaurants. Most will breeze past Viewpoint 1 in favor of the iconic Viewpoint 2, which is definitely not something you want to miss.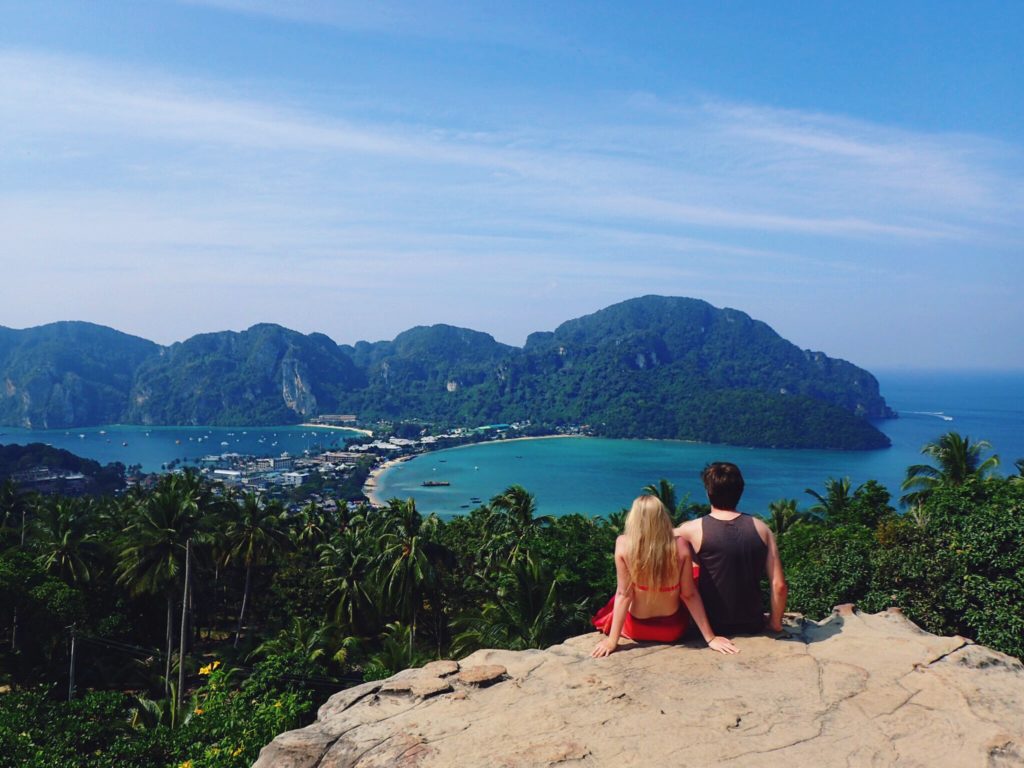 (Note: you can also use the jungle paths to take the long route from Long Beach to the viewpoint; this is a wide dirt path leading through the jungle, rather than the stone steps leading from town).
However, after stopping at Viewpoint 2, you can continue walking away from town and into the jungle. There's a dirt path that leads past a few buildings and a cart where you can buy fresh coconut milk, and if you keep going, you'll spot a wooden sign directing you towards Viewpoint 3.
This is the highest of Phi Phi's viewpoints and is not very well advertised, so the chances of having it all to yourself (like we did) is probably pretty high.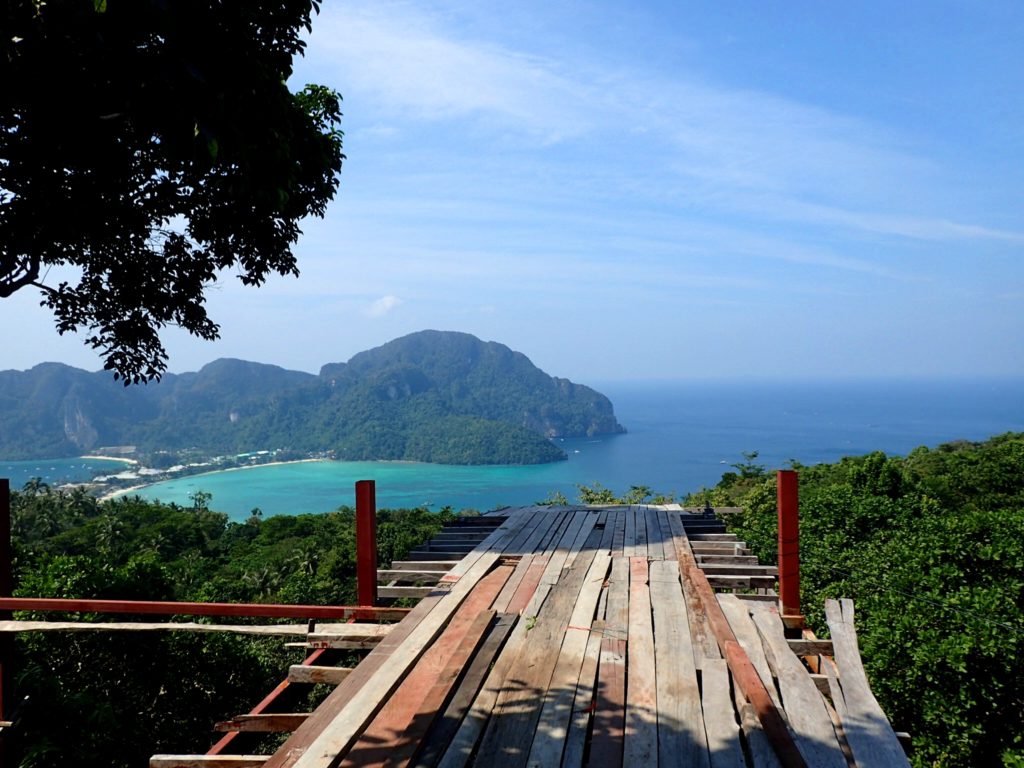 No, it doesn't offer those same iconic views, but there was an empty hammock and some shade, which we were quick to take advantage of.
Talk about relaxing, eh?!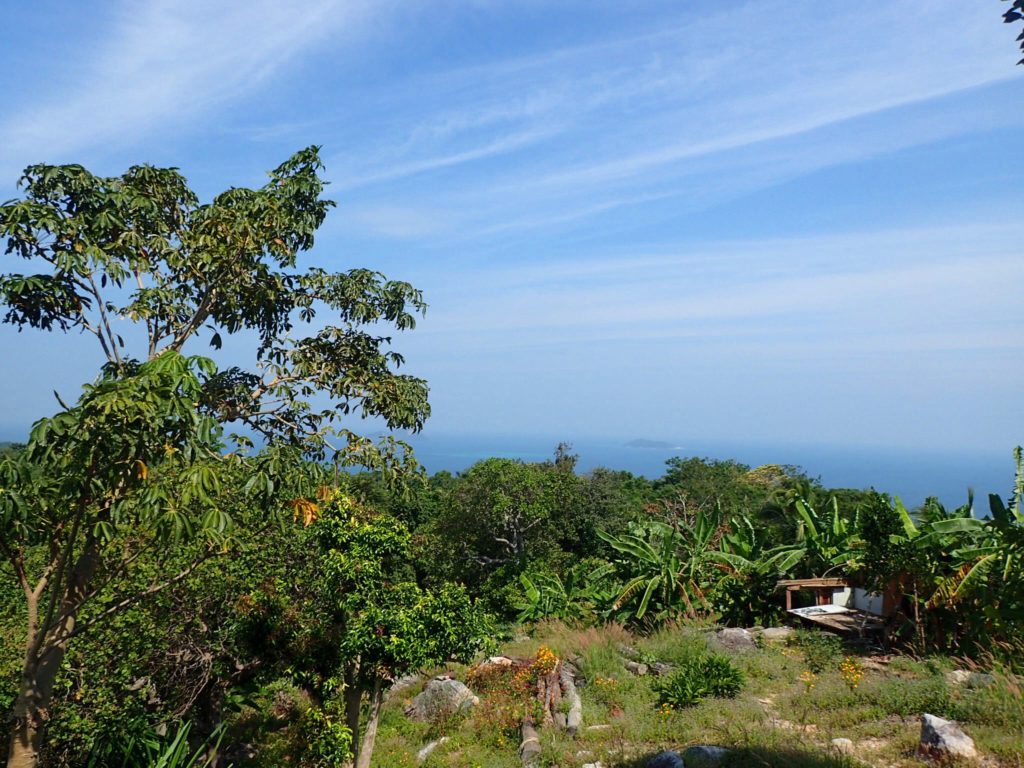 However…
As great as our experience on Koh Phi Phi was, there are definitely some negative things to be said about the level of the island's development.
The town center was bursting with neon tanks and cheap souvenirs. Loh Dalum was so crowded that it wasn't even close to being possible to snap a photo without hordes of tourists in every shot. There was trash and debris floating in the water near the pier. And the prices for food and accommodation were quite inflated, especially as you move closer towards the town center.
But is Koh Phi Phi a ruined island? In my (strong) opinion, absolutely not!
A photo posted by Kelly Borglum (@thewanderingblonde_) on
If you make an effort to steer clear of the heavily populated areas, and are willing to sweat a little (alright, in my case I sweat a lot) during hikes across the island, you will be rewarded with some truly clean, quiet, and picturesque hidden gems.
There are areas of the island where you can find a quiet moment alone, where you can admire the postcard-perfect beaches, where you can have a real conversation with a local, and where you can feel like you're in your own Swiss Family Robinson jungle-island paradise.
After all, "off the beaten path" doesn't have to mean going to a brand new place that no one has EVER gone to before; rather, I think it means creating your own adventures and doing things differently, even if you're in one of the top tourist destinations in the world.
It won't come easy, but it'll be worth it.
---
Have you ever been to Koh Phi Phi? What did you think of it?