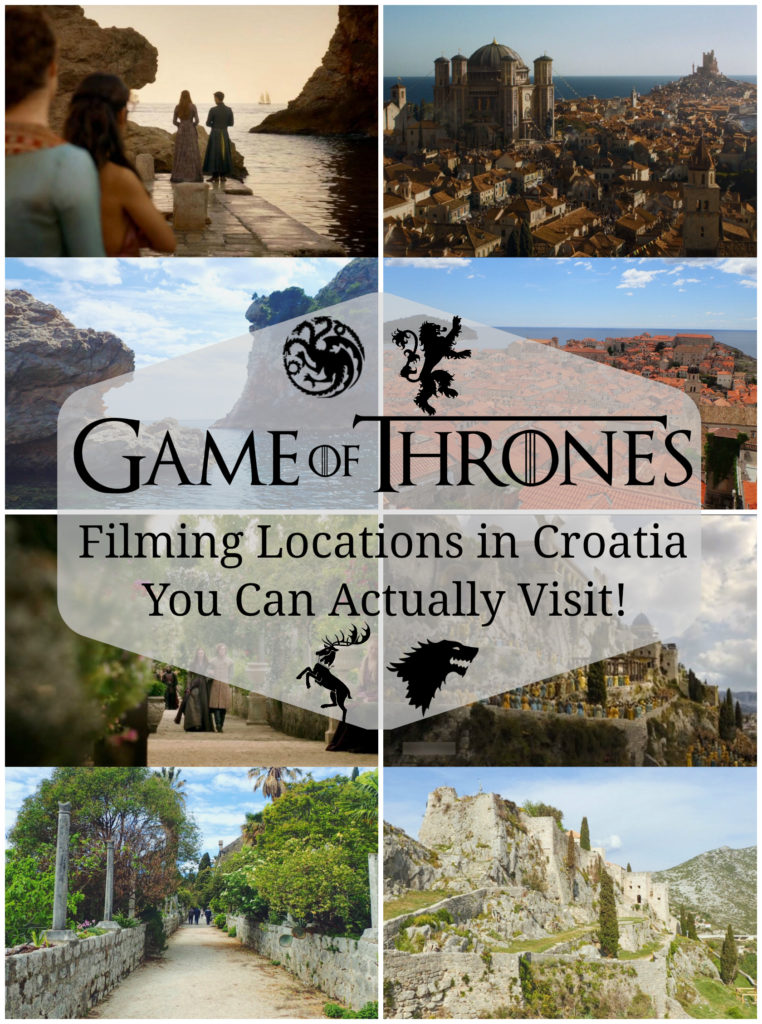 Let it be known that I am a HUUUUGE fantasy nerd. I grew up waiting for my Hogwarts letter to arrive until far too old of an age (…like, I'm kind of still waiting) and dreaming of exploring Middle Earth and other faraway lands from books and movies.
So naturally, the hit HBO show Game of Thrones is riiiight up my alley. I've always wanted to see the real-life filming locations of some of my favorite fantasy movies and TV series, and I finally had the chance to do just that during our honeymoon in Croatia, when we scoped out some of the coolest Game of Thrones filming locations in Croatia!
Although Game of Thrones filming locations are scattered – quite literally! – across the globe, Croatia has a very high concentration of them, making it one of the best places for fans to visit.
**SPOILERS BELOW!!!** Don't read if you're not fully caught up on Game of Thrones through Season 6!
Klis Fortress: The City of Meereen
Daenarys has long been one of my all-time favorite characters from the show. She's bold, charismatic, empathetic, fearless…and, uh, possibly a bit unhinged from time to time, but her heart is in the right place!
Much of Daenarys's storyline takes place in the great city of Meereen, which she and her army conquer in Season 4.
While many of the interior shots of the city were filmed in nearby Split, the exterior shots were filmed at Klis Fortress, a medieval castle perched above the small Croatian town of Klis.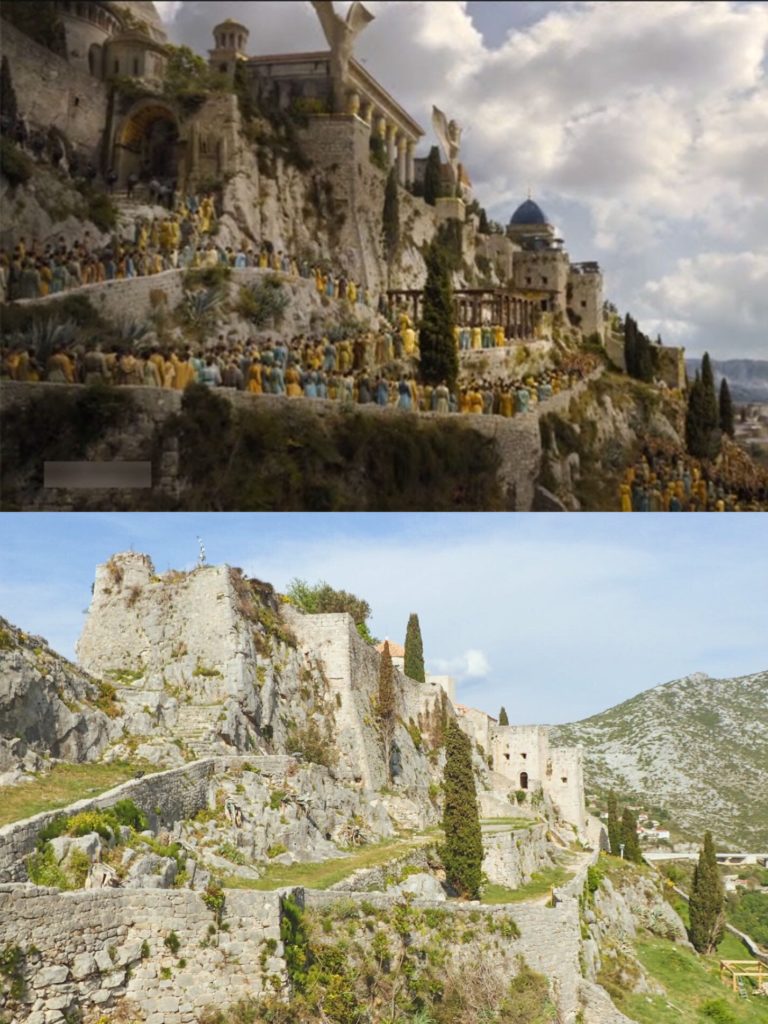 While many of the details in the show were added or altered using computer-generated imagery (CGI), it's still easy to see that the bones of both structures are the same. For example, in the image above, notice how many of the trees, walls, windows, and walkways are in the same spot?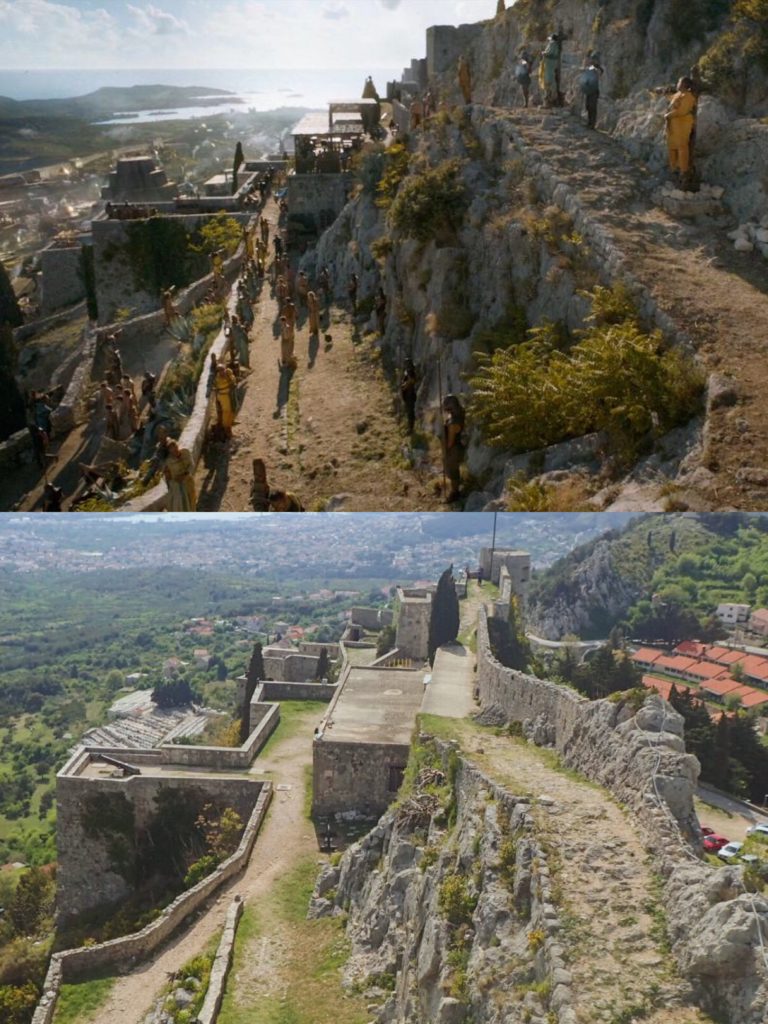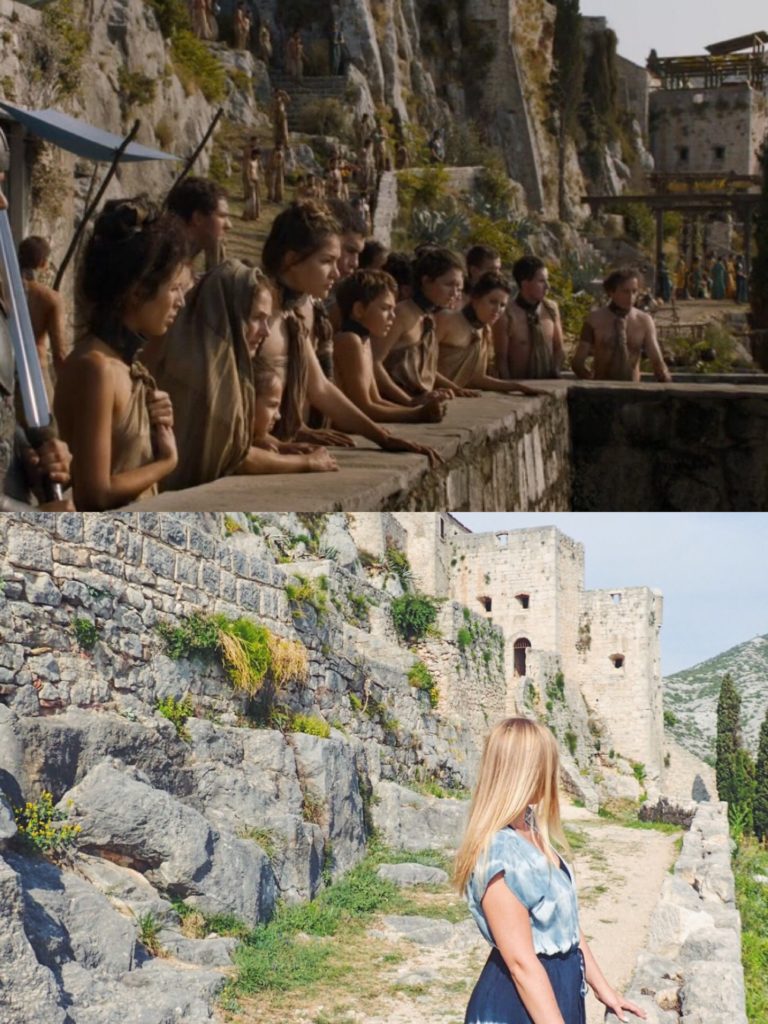 This was one of my absolute favorite filming locations to visit…and not just because I had a blast geeking out and pretending to be Daenarys!
I loved that even without having a picture of the CGI version of the location handy, I was able to scope out multiple vantage points and specific shots from the series. It's also one of the biggest and most interesting filming locations, and the most fun to explore outside of the context of Game of Thrones.
Trsteno Arboretum: Palace Gardens of King's Landing
We stopped by the gorgeous and lush Trsteno Arboretum on our drive from the Peljesac Peninsula to Dubrovnik. This was another location that I really enjoyed independently of Game of Thrones – it's just a beautiful garden to stroll through and explore.
Trsteno Arboretum has been used in quite a few seasons and episodes of Game of Thrones, but it's most recognizable as the place where Margaery Tyrell and her grandmother Lady Olenna Tyrell spend much of their time plotting and planning. In Season 3 they invite Sansa to meet them in the gardens for lunch, where they offer her lemon cakes (Sansa's favorite!).
The Tyrells Dine with Sansa (Season 3 Episode 2 + 4; Season 4 Episode 1 + 4)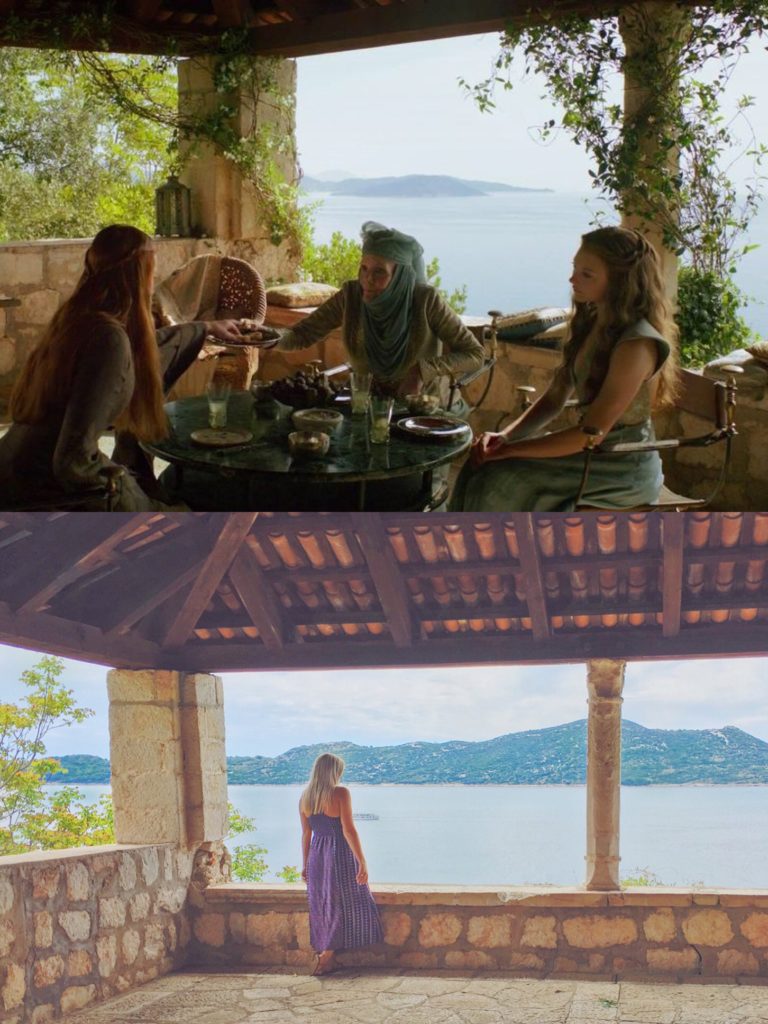 Sansa Walks with Loras (Season 3 Episode 8 – Second Sons)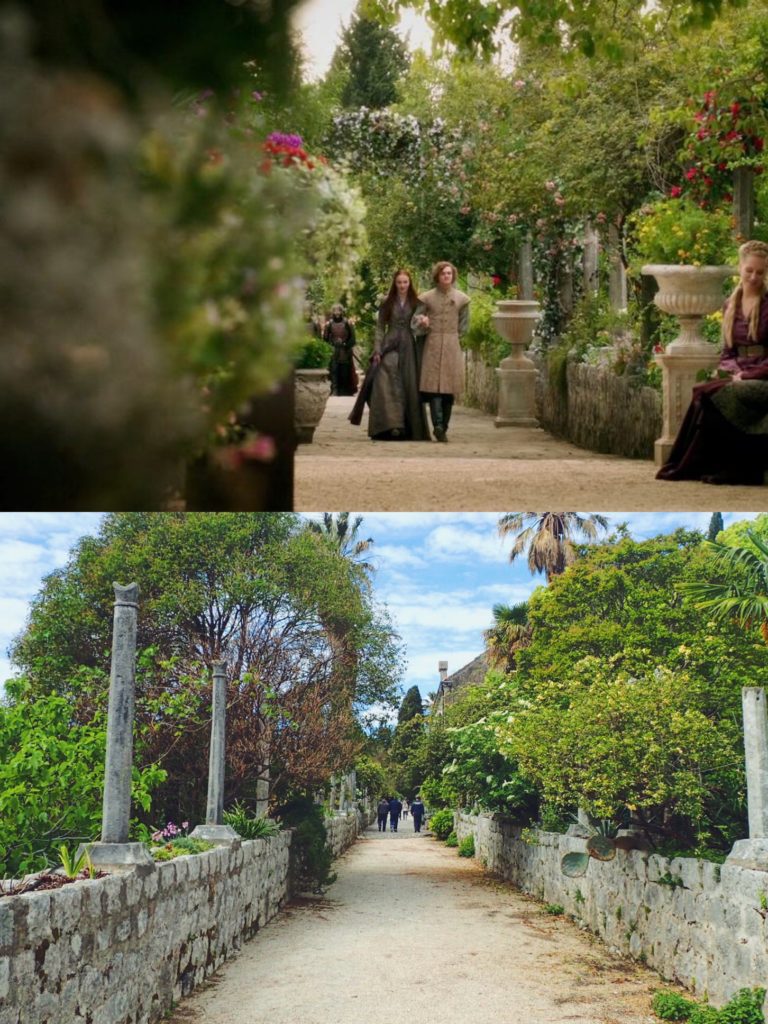 Dubrovnik: King's Landing
Dubrovnik is the GRANDDADDY of Game of Thrones filming locations in Croatia, particularly for scenes that take place in the capital of the Seven Kingdoms: King's Landing. Many, many scenes are filmed here (including a handful of scenes from the soon-to-be-released 7th season – eeeek!).
Walking around anywhere in Dubrovnik, you just feel as if you could be strolling through King's Landing, even if you can't match your location to a specific scene. The stone streets, the city walls, the sapphire sea, the red rooftops…it's all there.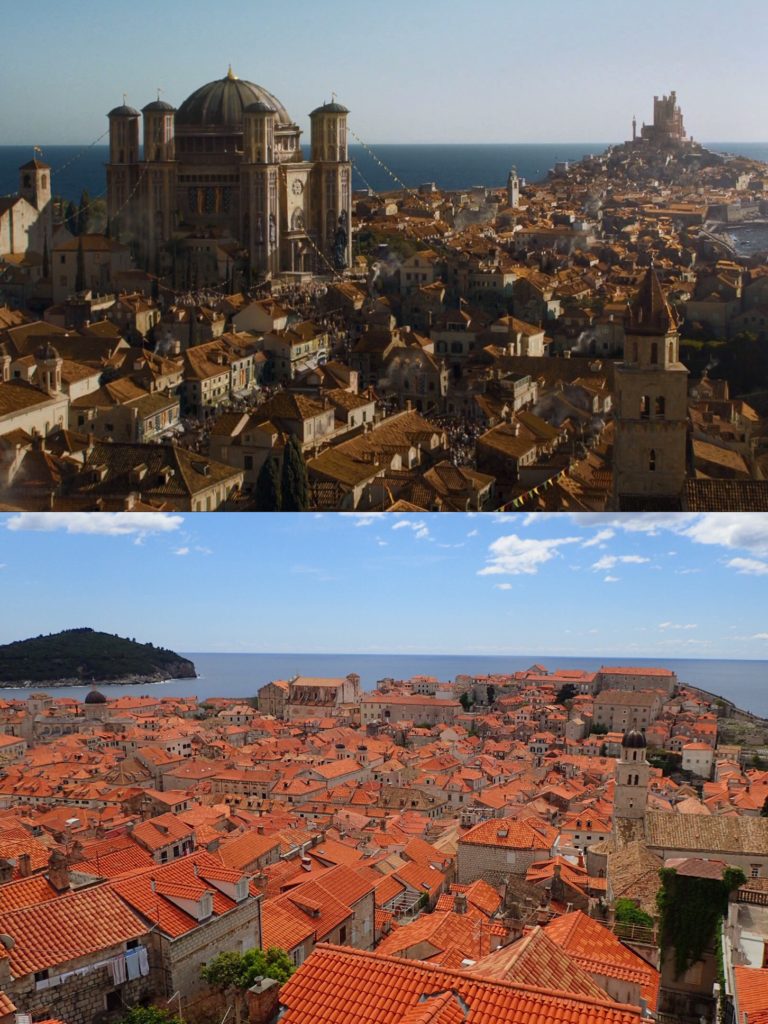 To be totally honest, there were WAY more filming locations in Dubrovnik than I was realistically able to capture on camera. We signed up for a Game of Thrones walking tour with Viator, and during our tour we spent three solid hours climbing the city walls, exploring fortresses, wandering down difficult-to-find alleyways, and peeking down various corridors and into buildings.
Some of the filming locations we saw looked SO different in real life (thanks to CGI/special effects or ongoing construction) that they just weren't worth snapping a photo of, while others were closed off to the public, making a good photo near-impossible.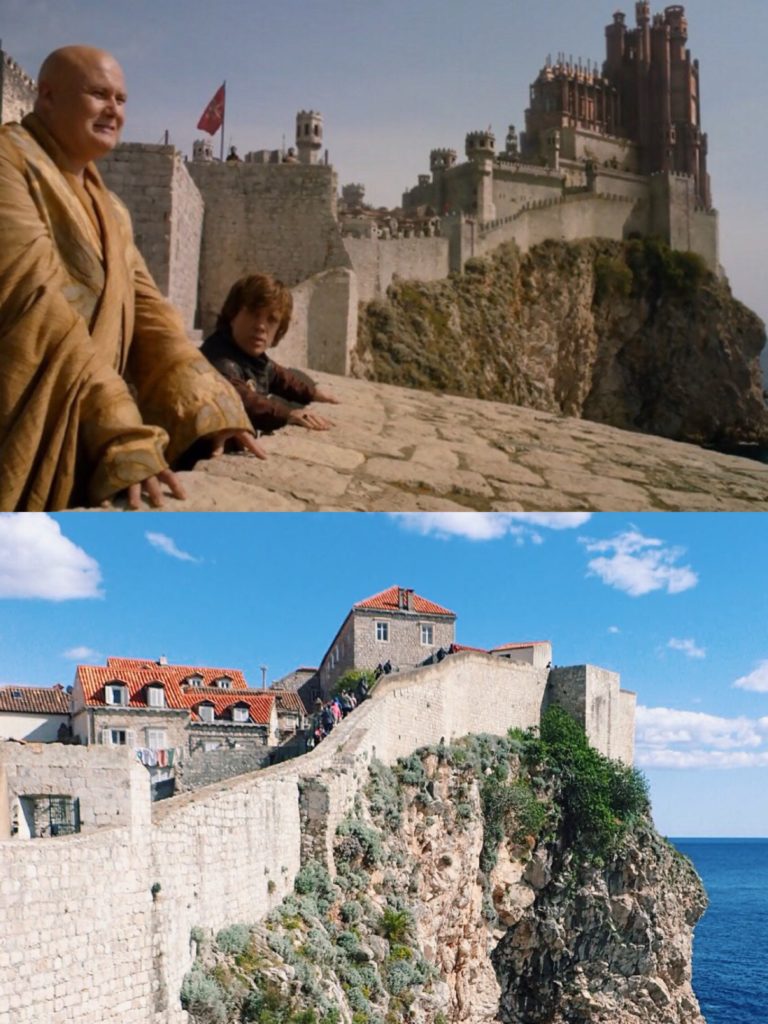 A lot of Dubrovnik's Game of Thrones filming locations were at Fort Lovrijenac, through we saw others along the city walls, at Pile Bay and Pile Gate, and scattered throughout the city streets.
Some of my favorite shots (or, um, the shots I was actually able to capture on camera and then find screen-caps for!) are below, but trust me when I say that there are plenty more…if you know where to look!
Fort Lovrijenac
Joffrey's Nameday (Season 2 Episode 1 – The North Remembers)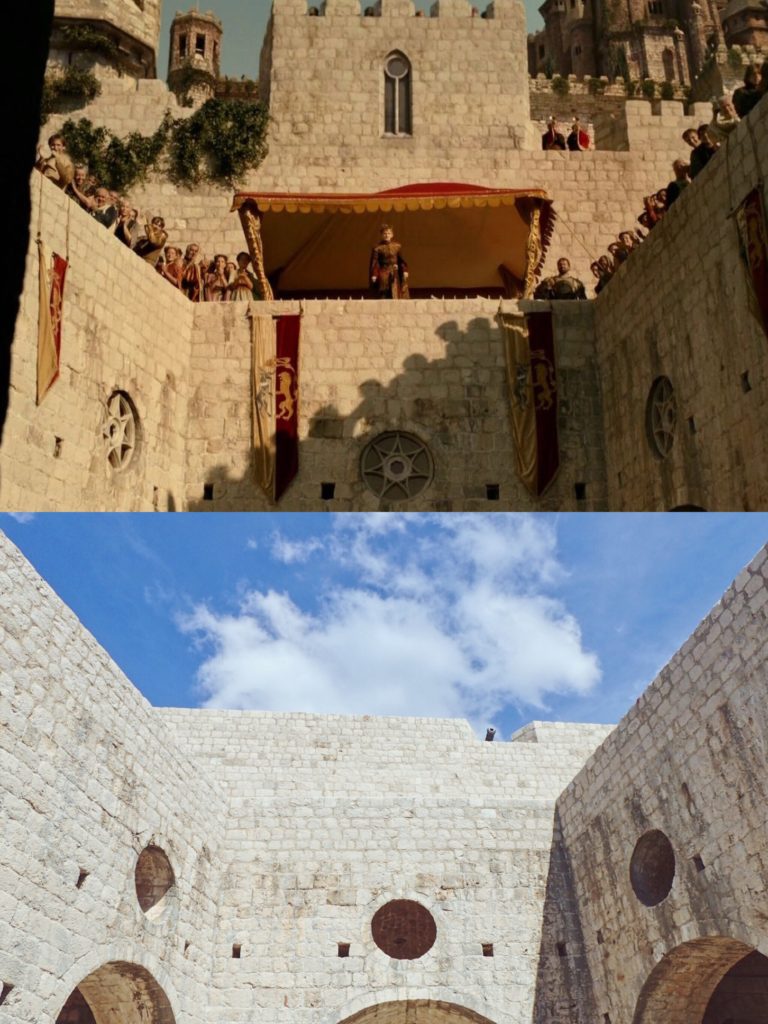 "Power is Power" (Season 2 Episode 1 – The North Remembers)

"I'm a knight now; knights are worth double" (Season 3 Episode 1 – Valar Dohaeris)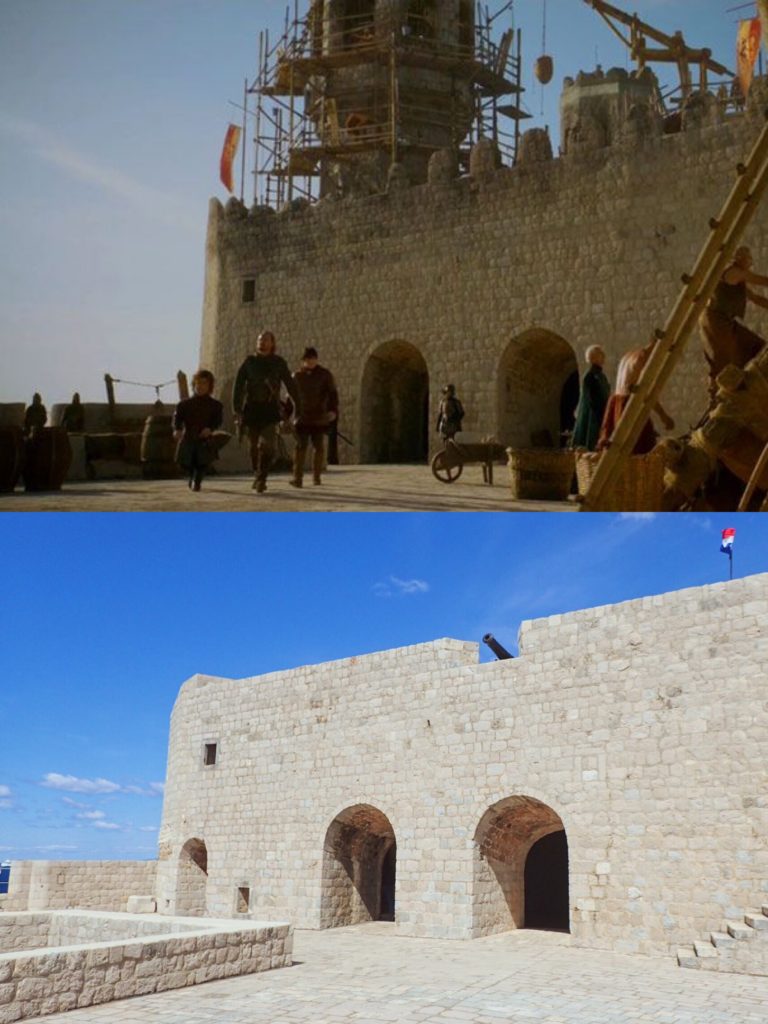 The Hound Rescues Sansa (Season 2 Episode 6 – The Old Gods and the New)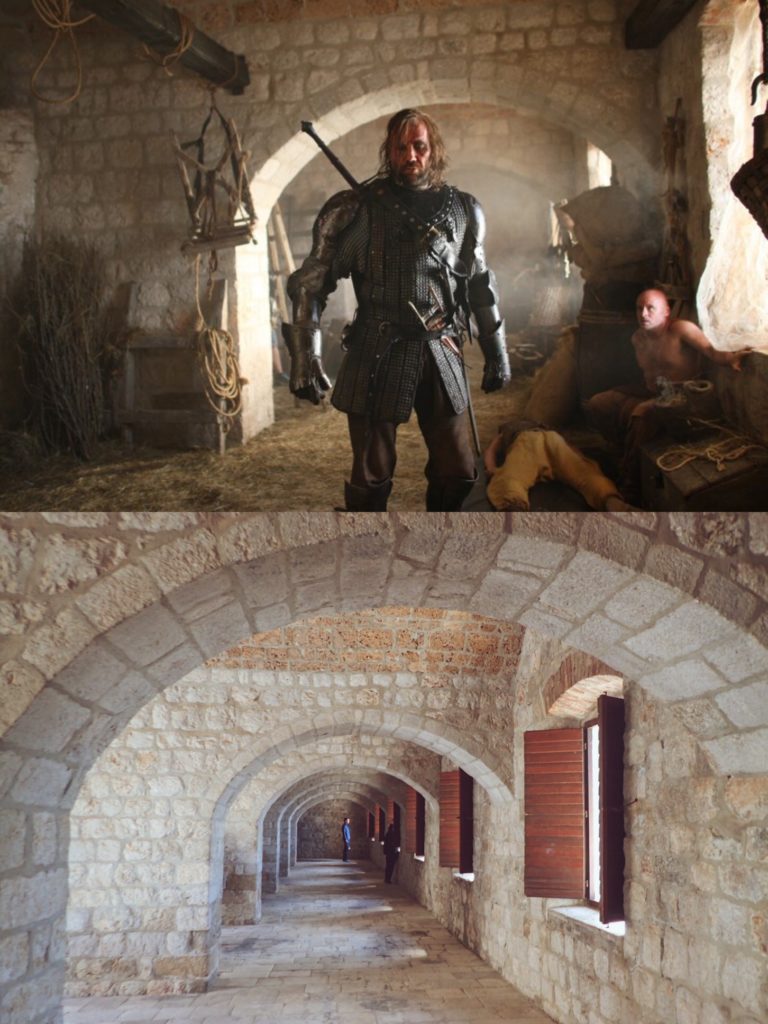 Tyrion Slaps Joffrey (Season 2 Episode 6 – The Old Gods and the New)
Jesuit Staircase
"Shame!" (Season 5 Episode 10 – Mother's Mercy)
Pile Gate
Riot of King's Landing (Season 2 Episode 6 – The Old Gods and the New)
Pile Bay
Littlefinger Offers Sansa a Way Out (Season 3 Episode 1 – Valar Dohaeris)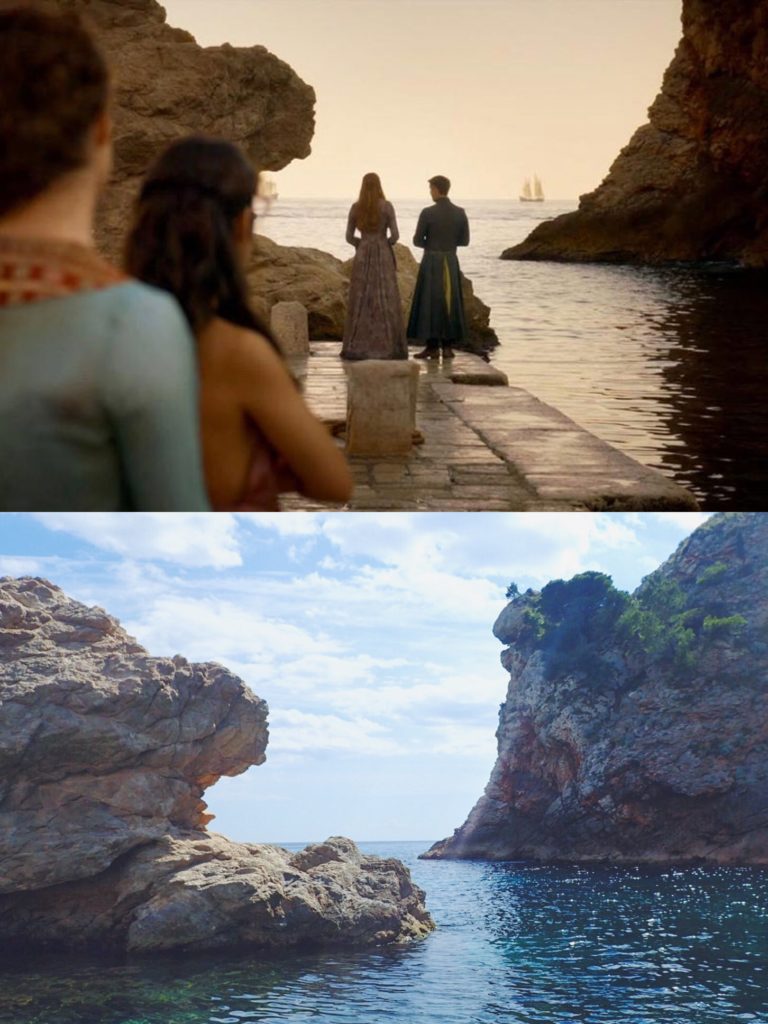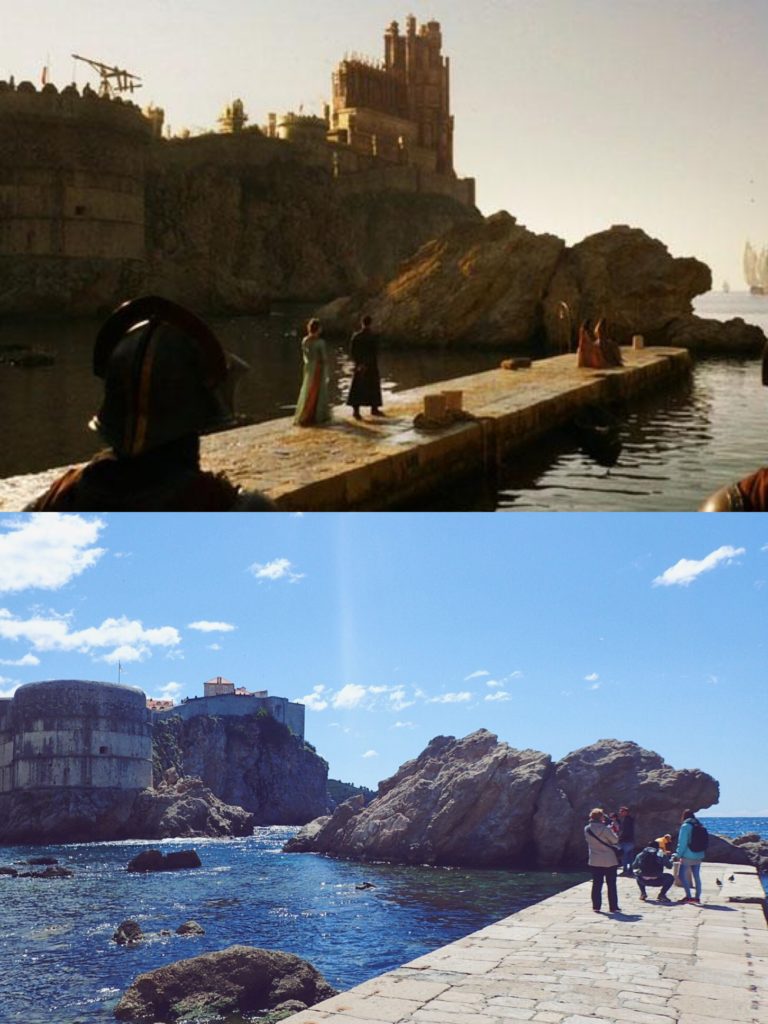 Cersei Waits for Myrcella to Return (Season 6 Episode 1 – The Red Woman)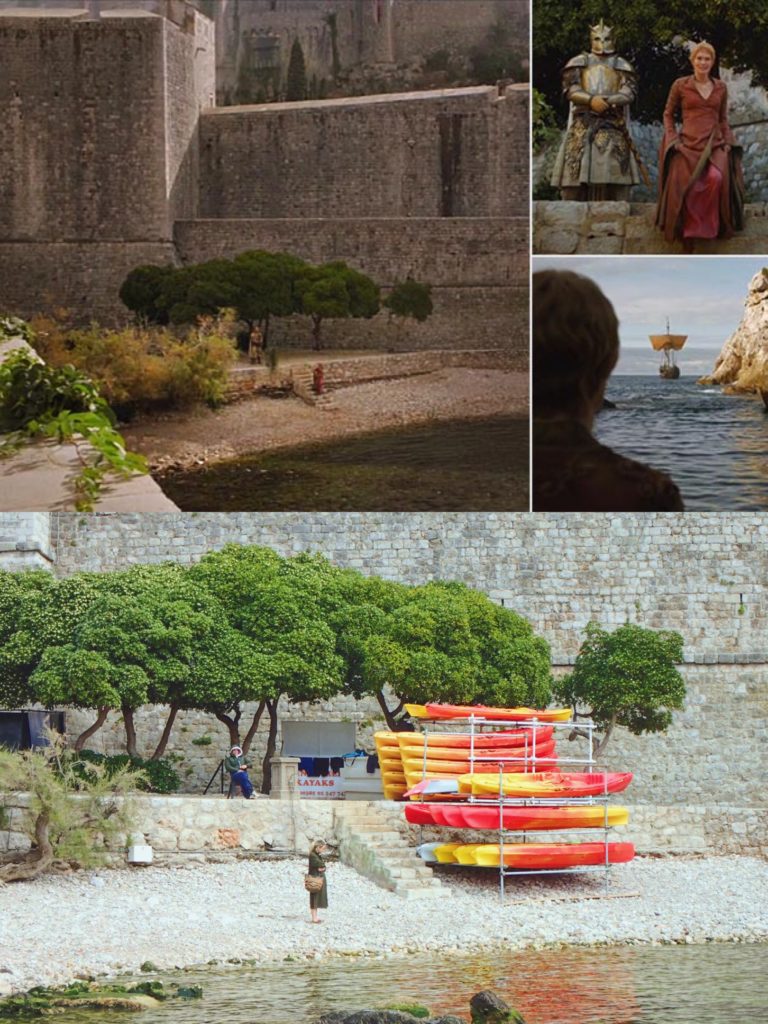 "Kill the Bastards" (Season 2 Episode 1 – The North Remembers)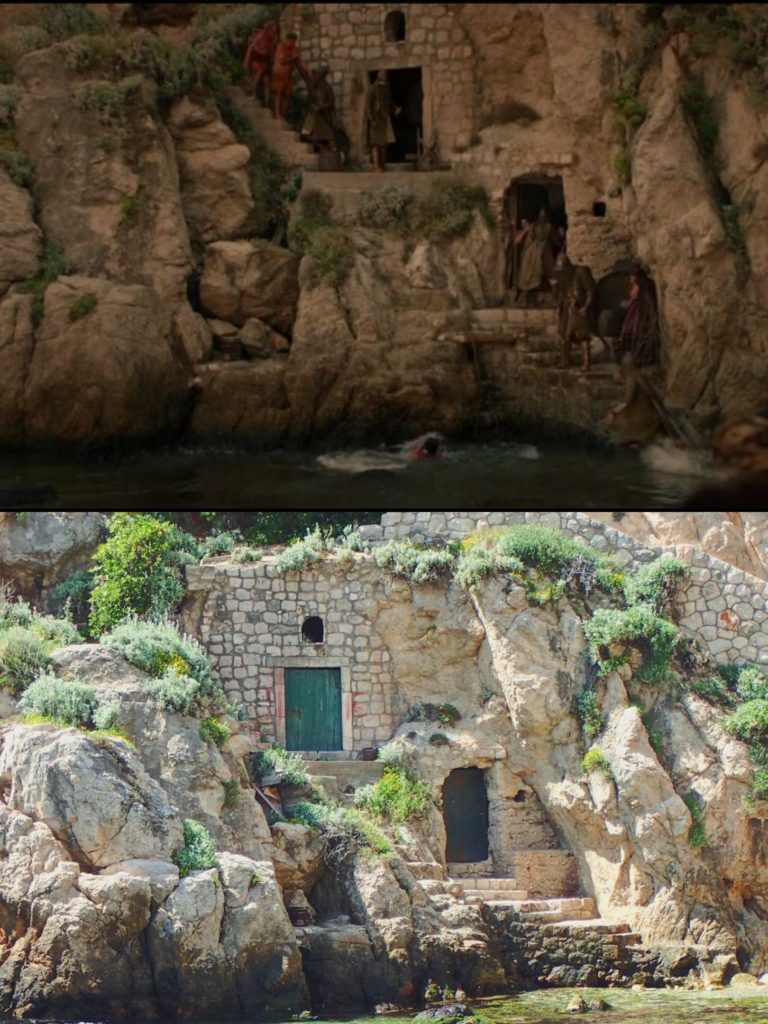 Rupe Ethnographic Museum
Oberyn Chats with Tyrion Outside Littlefinger's Brothel (Season 4 Episode 1 – Two Swords)
Minceta Tower
Daeynerys Searches for her Dragons at the House of the Undying (Season 2 Episode 10 – Valar Morghulis)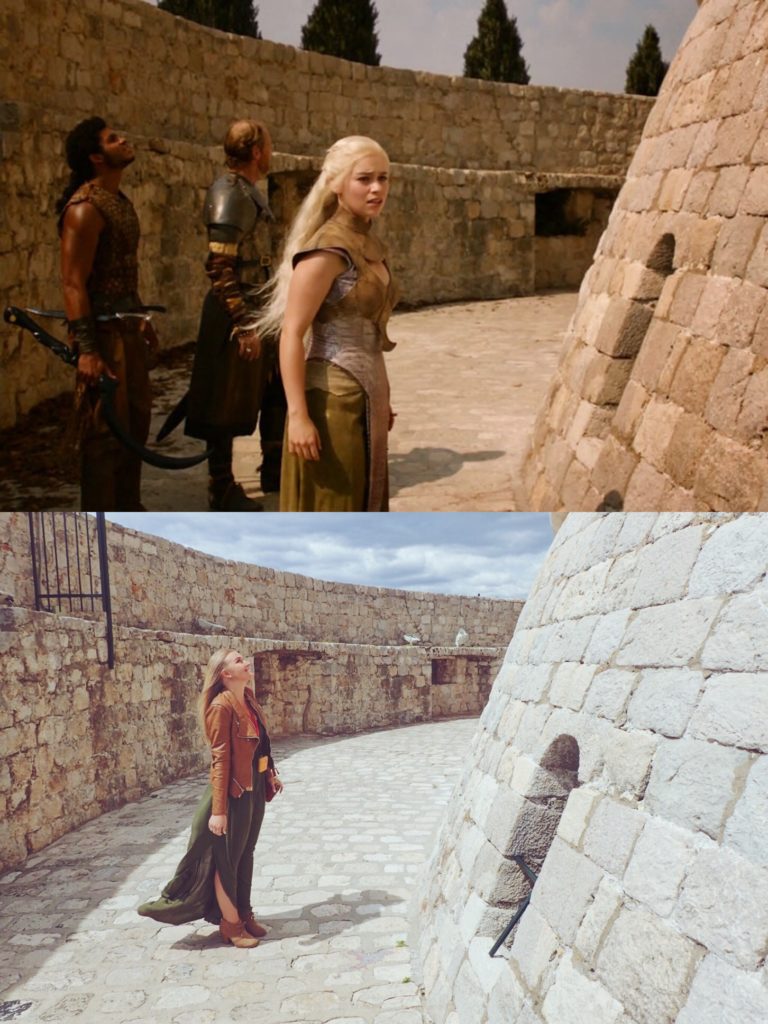 Lokrum Island: Qarth + Visit the Iron Throne!
Located just off the coast of Dubrovnik, Lokrum Island's botanical gardens and Benedictine monastery were used in a few scenes featuring the city of Qarth.
Unfortunately, I don't have any great side-by-side comparison shots featuring Qarth and Lokrum (a lot of CGI was used here), but I do have something much better: cold hard evidence that I look damn good ruling on the Iron Throne!
This particular throne was actually used during the filming of Game of Thrones (it's one of like…five? six? seven?…"real" Iron Thrones from the series) and was gifted to the country of Croatia by HBO.
It's free to sit and snap a photo, and you can also watch short video interviews from the cast and learn more about the various houses and regions from the series.
---
…And now, the answer to the question I know you've all been waiting for:
"Is the Game of Thrones tour worth it, or can I find the filming locations on my own?"
My answer? As someone who would rather sight-see independently rather than with a tour group 99/100 times, I definitely do feel that it's worth it to do the tour. Why?
Our tour with Viator was 3 hours long and $63 per person. For me, this was a good price and a good value, and the tour didn't feel too rushed or like it dragged on for too long.
We NEVER would have found some of these spots on our own. Many of the scenes were super obscure or brief, and it's hard to find a comprehensive list of all of them online. You may be able to find the major ones on your own, but I liked seeing the full spectrum of filming locations, from the big memorable scenes to the fleeting ones.
Our guide also carried a flipbook with screenshots from the TV show, which made it super easy to visualize the specific scenes that matched each filming location.
Many of the tour guides were extras in the TV series, and all of them have fun behind-the-scenes and insider knowledge that they're happy to share with their groups.
---
Pin It!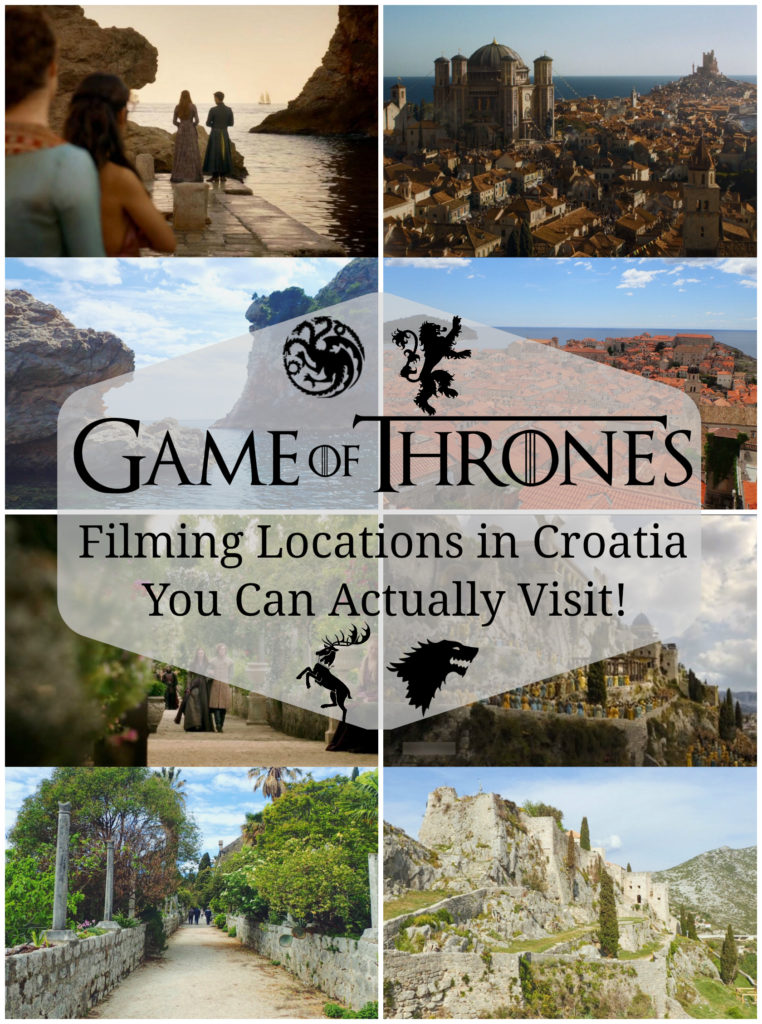 ---
Are you as much of a Game of Thrones nerd as me? Have you ever had the chance to see filming locations from your favorite movies or TV shows in real life? If so, which ones, and how was it?!