I DID IT!!
If there was one thing I never thought I'd do in my lifetime, it was scuba diving.
I've always been a bit claustrophobic, and not being able to breathe freely and easily is one of my greatest fears. I mean, I used to be uncomfortable with snorkeling. Breathing through a plastic tube, face in the water, with the possibility of breathing in droplets of water that splashed in? Not for me…making scuba diving totally out of the question.
…Until I came to Utila, Honduras.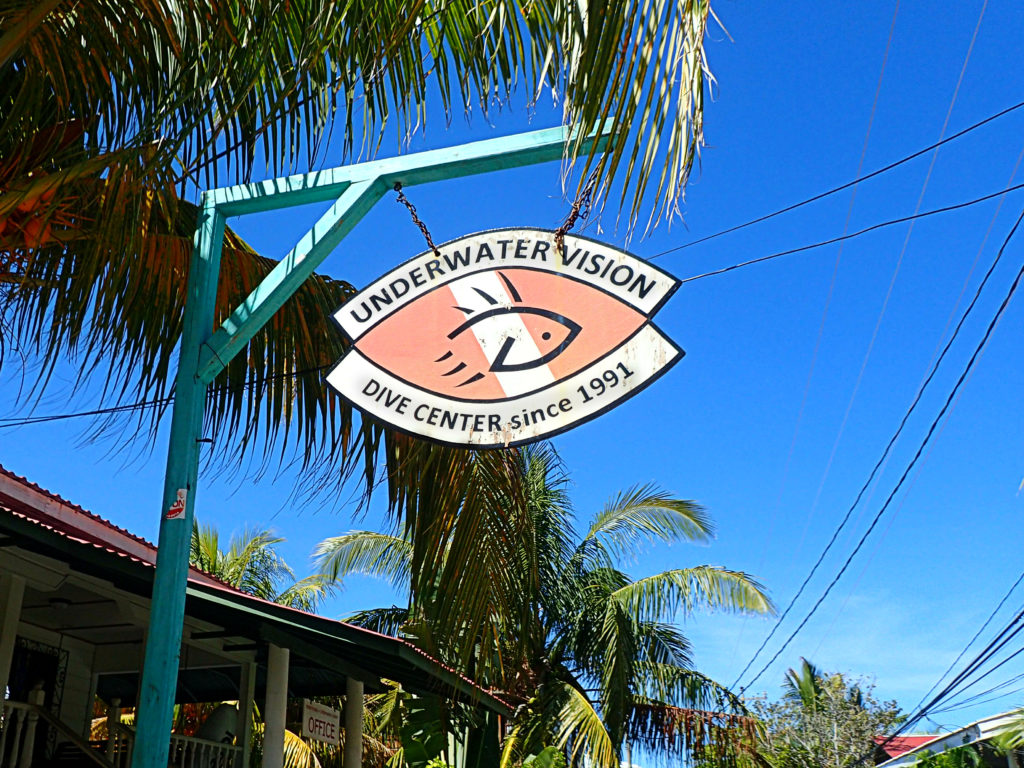 I decided to come to Honduras on a bit of a whim; the rainy season was in full force when I arrived in Antigua, Guatemala, and I had heard from fellow travelers that my next planned destinations (Semuc Champey and Flores) were just as wet and dreary. So when a new friend invited me to tag along to the sunny and tropical island of Utila, it was a no-brainer.
The only problem? Utila is first and foremost a diving island…and not much else. You don't come to Utila for the local history and culture; you come to dive by day and drink by night. I didn't plan to do much of either (oh, how naive I was…) but I decided to come along for the adventure aspect of it.
So, color me surprised when I found myself writing my name down for the PADI Open Water Diver course at Underwater Vision dive shop with the rest of the Antigua crew when we arrived.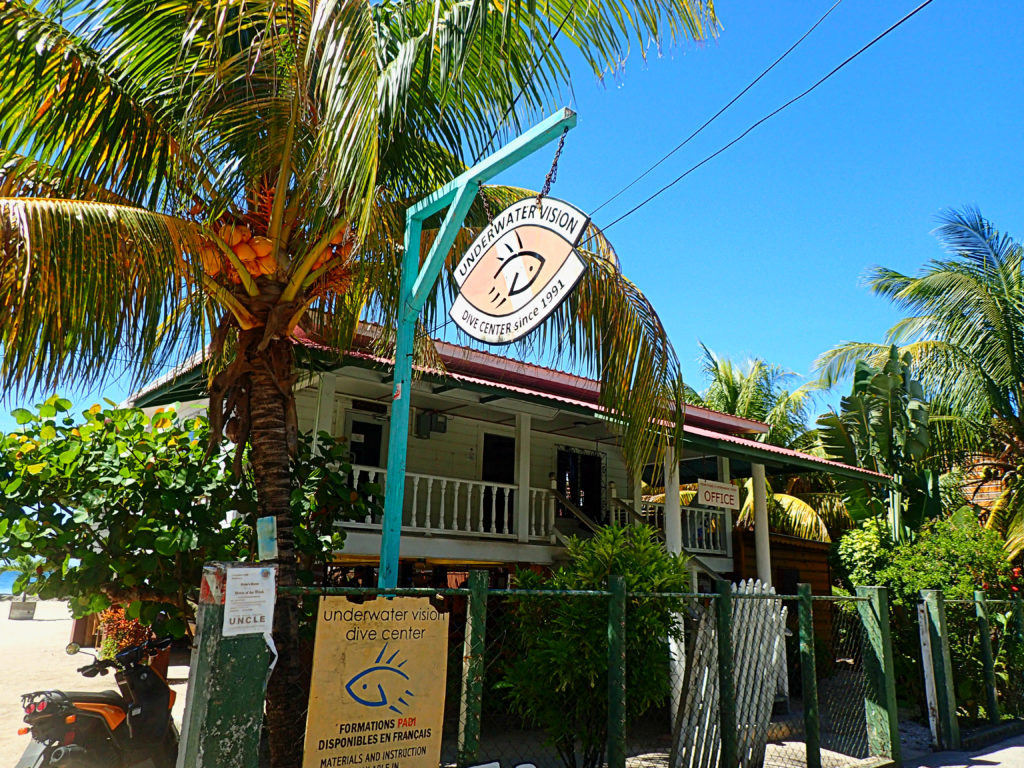 I was excited, but to be honest, fear was my primary emotion when I realized what exactly I had signed up for. I was going to scuba dive. I was going to breathe underwater. Through a regulator.
I actually had to force myself to not think too deeply about it. I was afraid that if I really let my imagination wander there–to what it would be like to be 18 meters (60 feet) under the sea, breathing from a tank–that I would back out and never look back.
Fortunately, I had some cushion to help me brace myself for the experience of actually breathing underwater. We had two days of classroom training before we even got in the water. We got started on our first full day in Utila, watching training videos, completing knowledge reviews, and taking exams.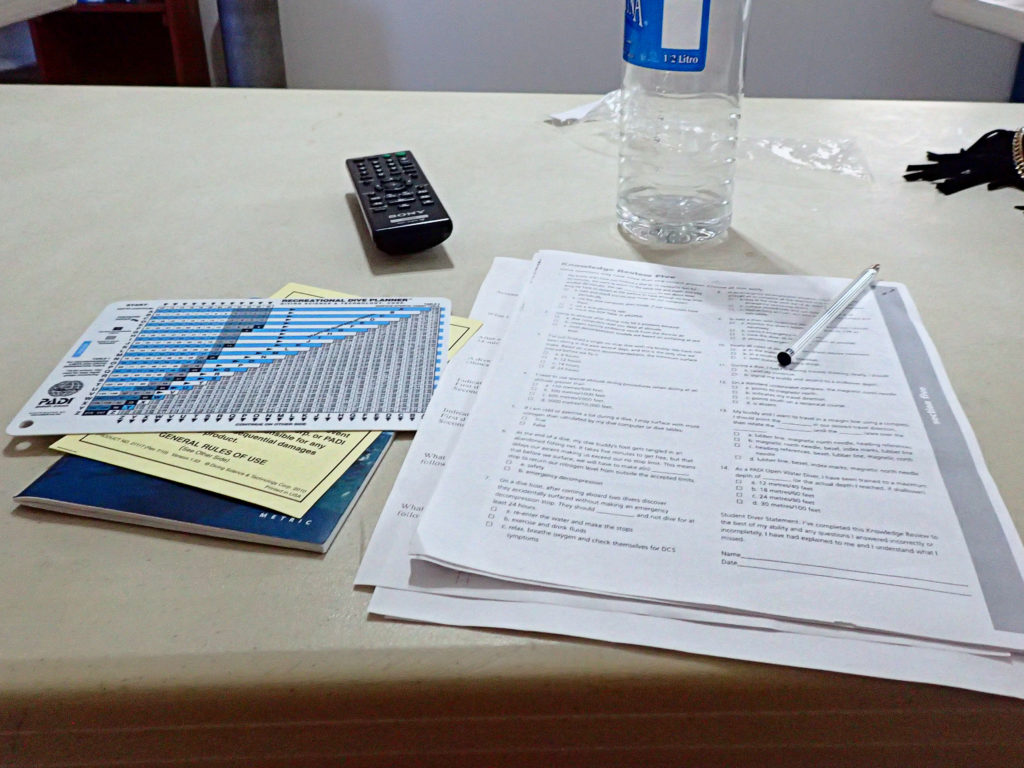 On the afternoon of day two, it was time to scrap the classroom learning and get some hands-on experience with our first of five confined water training sessions.
These sessions were all about getting comfortable breathing through the regulator underwater, using the equipment, and learning basic skills like clearing our masks and achieving neutral buoyancy. Even though we were starting in shallow water, I literally felt sick to my stomach with anxiety.
My hands were clammy and shaking, my stomach felt like it was going to come up into my throat, and my mind was racing with images of my lungs filling with sea water due to some dumb mistake that I was bound to make.
I was terrified.
There was a brief moment as I stepped into the water on that first day, struggling not to fall down the stairs as my heavy BCD and air tank weighed me down, when a thought crossed my mind: I just can't do this; there's still time to back out.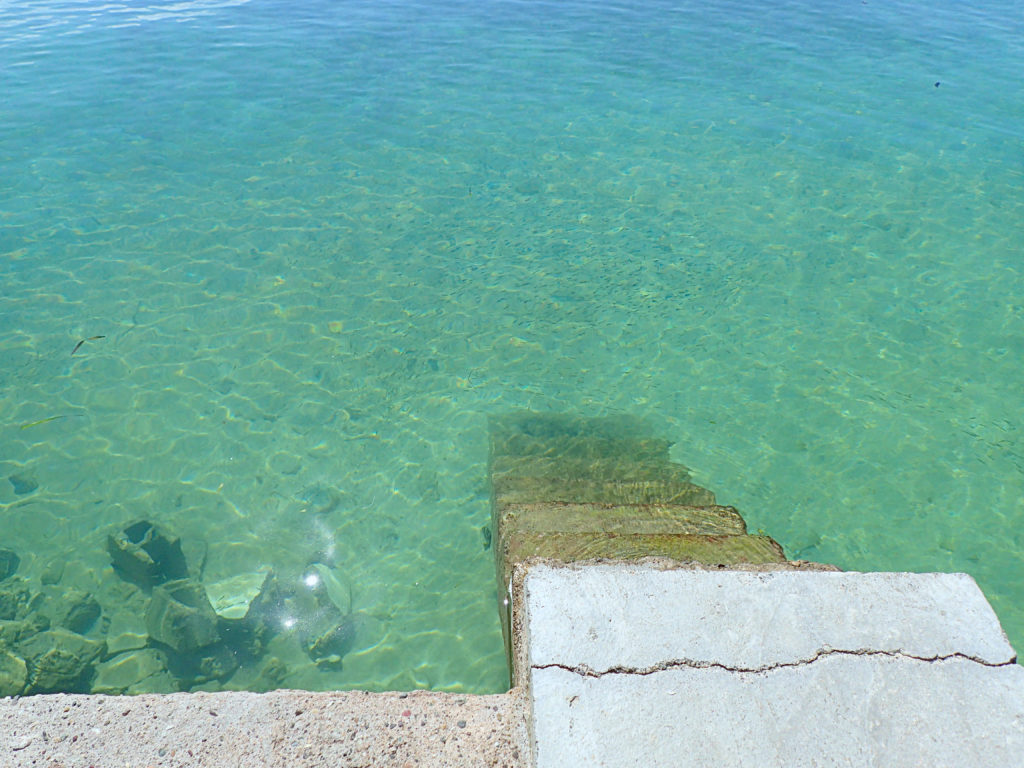 When it was time for us to descend one by one under the shallow water, my instructor looked to me first and my heart dropped. I was going to have to wait down there alone for all my friends to join me.
As my instructor helped me sink below the water, my heart was racing and I felt like I couldn't catch my breath. Every "NOPE" alert in my body was going off. And yet somehow–through some combination of my instructor's calming motions and reminders to breathe, my friends' presence underwater with me, and my own determination to succeed–I did it.
I made it through that first confined water session, as well as the following four. Now, it was time for the real deal. The next morning was our first open water dive.
I woke up that morning feeling both excited and nervous, as well as slightly stuffed up and congested. Allergies? A cold? It felt minor and I brushed it off.
As you know from my last post, it was not minor. That slightly stuffy nose ended up being enough to totally mess up ears on that first dive (okay, "totally mess up" is a slight exaggeration, but I did have a small tear in my left ear membrane) and also transformed into a full blown sinus and eye infection…
…one that stuck with me for the next 11 days.
I was gutted. I was so determined to get my certification, and I had already made it through the coursework, the five confined water sessions, and one open water dive. I had three open water dives to go until I received my certification, and I couldn't complete them as long as my sinuses were so blocked up.
I spent the next 11 days sitting back and waiting for my health to improve, and watched as my friends completed their open water courses, and then their advanced courses. Some of them even went on to become dive masters in training.
And I still hadn't finished my open water.
Don't get me wrong; Utila is a fun place to chill and hang out, and I certainly wasn't bored during my time here (between trips to gorgeous Water Cay, two days spent off-roading in golf carts, and possibly too many nights out, I was sufficiently entertained).
But I was extremely disappointed.
What was wrong with me? Why couldn't I do this?
Fortunately, all of that waiting paid off in the end: Exactly two weeks after beginning my open water course I was back in the water completing my second dive, and I received my open water certification the following day, after completing my final two dives.
The dives went as smoothly as possible. No ear problems, no sinus problems, no anxiety problems. I saw amazing coral structures and colorful fish, and felt an amazing sense of calm as we drifted along admiring the underwater world. In short, I LOVED it. I felt exhilarated, and I knew immediately after those final two dives that diving was something that I would never get tired of.
Breathing through the regulator on the ocean floor no longer terrifies me. In fact, I find the sound of each breath incredibly calming, and the light and color of the underwater world are so peaceful and relaxing.
Most people do it in four days; I did it in sixteen. But I did it.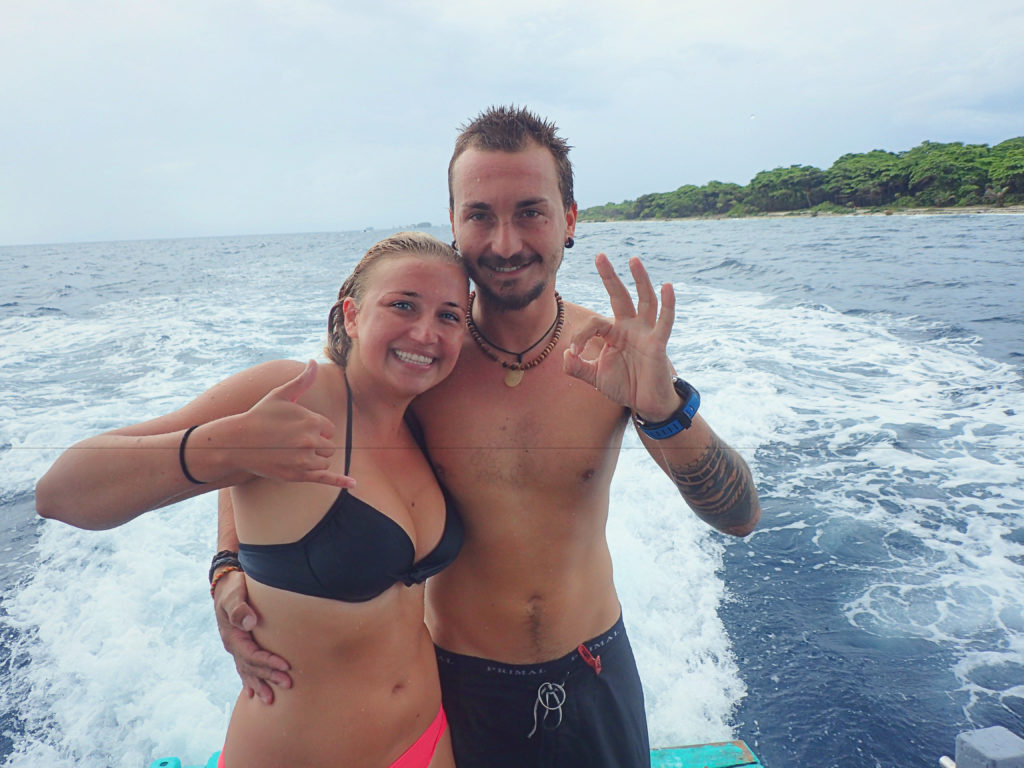 For me, overcoming my fear of diving and becoming scuba certified has made this backpacking trip so much more meaningful. I set out on this trip to see the world and have fun, but also to take some time to understand myself better as a person.
And honestly, becoming a certified diver has taught me so much about myself and the type of person I am.
I'm a person who can overcome my greatest lifelong fears. I'm a person who doesn't give up, even when things feel overwhelming and I'm struggling to keep up with my peers. And the really freaking awesome part? I'm a person who loves scuba diving.
Not only has this trip forced me to push my limits and rise above my fears, but it helped me discover a new passion…one that I never would have expected in a million years.
I'm so happy that I made the initial decision to complete my Open Water course, and I'm equally happy that I didn't give up when I got sick and couldn't finish my class with the rest of my group. It's been the highlight of my trip, and an experience that will stick with me for a lifetime.
And now? I decided to stick around even longer, to complete my Advanced Open Water course! Over the past two days, I learned to dive to depths of 30 meters (98 feet!!!), dove a wreck site, dove at night, learned underwater navigation skills, and worked on improving my buoyancy and control underwater. I still have four fun dives left that came with my Open Water and Advanced Courses, so I'll be hanging around diving for at least a few more days.
What can I say? I'm hooked, and Utila just may never get rid of me!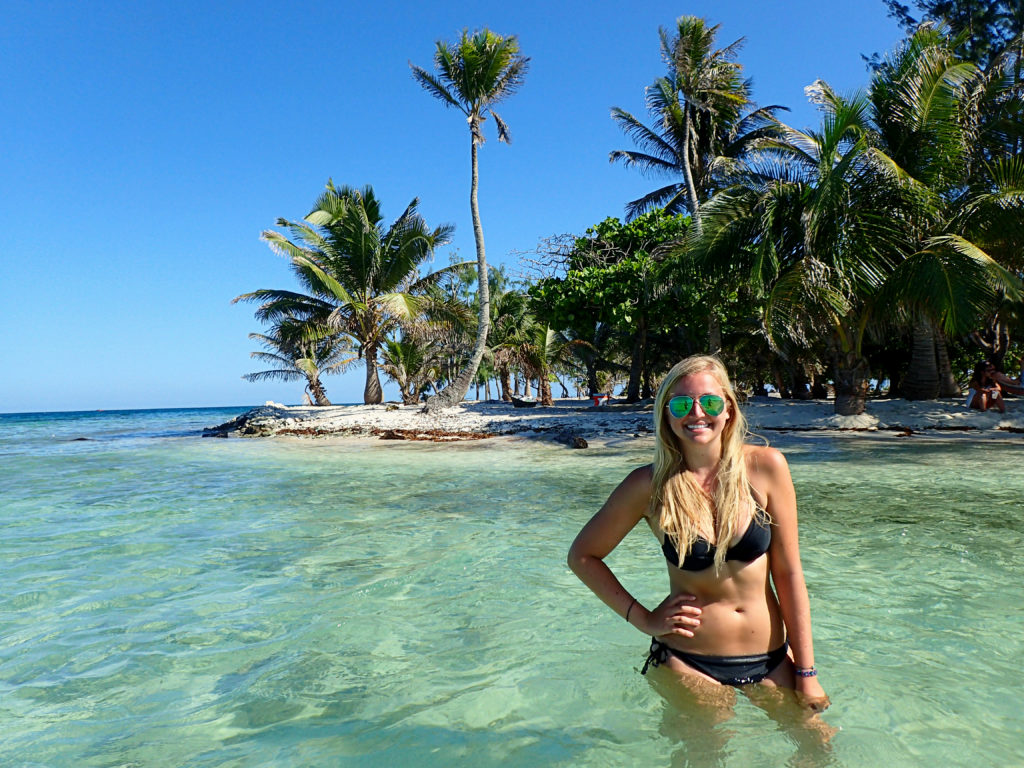 ---
Have you ever scuba dived? Would you want to?