Finally, after a depressingly long hiatus from traveling in Europe, I'll be back on the European continent for a short stint in the Bavaria region of Germany!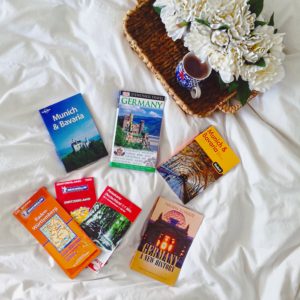 I've always felt very, very close to my German ancestry (even though it's only 25% of my heritage) so I'm ultra excited to finally visit Germany.
From what I've seen, heard, and read about Germany, there are essentially countless ways to go about visiting. Like all countries, different regions have different sights, histories, and experiences to offer visitors. What's more, two travelers could visit the same city or region in Germany and have completely different expectations and experiences.
So, out of all of the options available to me, why did I choose Bavaria?
It boils down to this: Bavaria is quintessential Germany. It's lederhosen, biergartens, and Bratwürste. It's snow-capped mountains, fairy-tale forests, and rolling green meadows. It's alpine towns, historic palaces, and quaint scenery. At least, that's what my guidebook tells me, and that's what I fully expect to encounter.
I'll be leaving this Thursday (July 2nd), and returning home on Sunday the 12th. Make sure to stay up-to-the-minute with my travels via my Instagram!
Here's the route I've mapped out for my trip: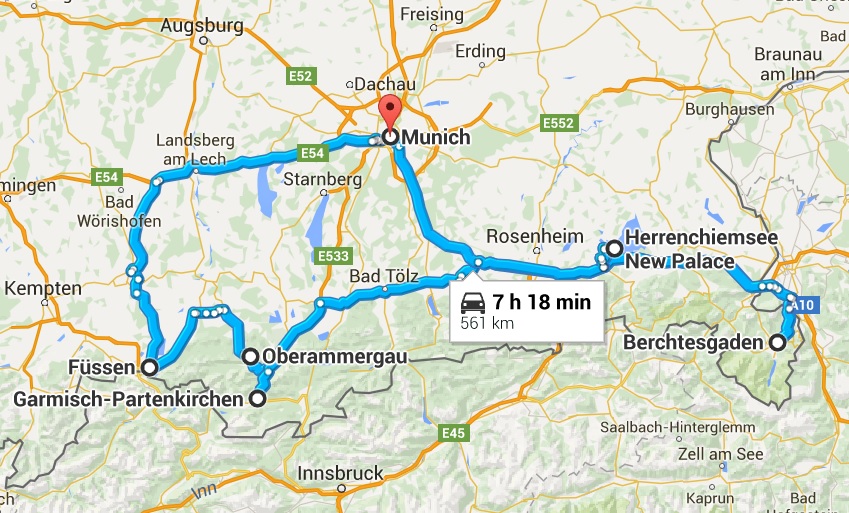 And, to put it in perspective, here's exactly where that route is located within Germany: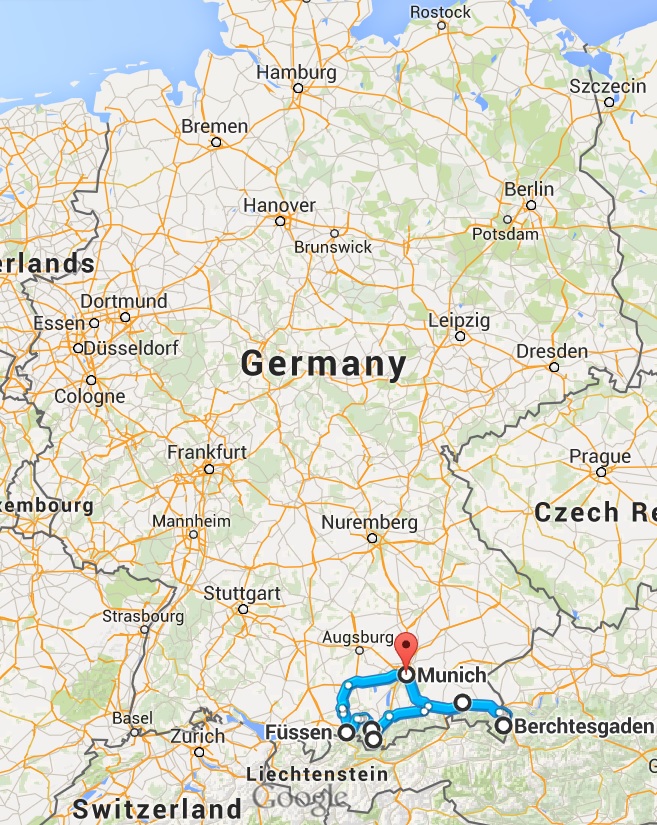 So yes, Bavaria is just one small region of Germany, and I'll be missing out on many others during this trip. I won't get to see Berlin, or Hamberg, or Dusseldorf, or Dresden, or Cologne.
But, there is SO much I will get to see, that my head is practically about to explode from excitement!
Although Bavaria is just one small piece of the entire country, I honestly wouldn't be willing to sacrifice one bit of the Bavaria trip I've planned out to make room for anything else. It just looks THAT freaking amazing. Plus, that just means I'll have to make a return trip to Germany one day to check out what I missed. Sacrifices ain't all bad, people!
So, what's on the itinerary?
Munich
Duh, you can't travel to Bavaria without visiting the region's capital city. I'll be spending a few days here, taking my time exploring the Altstadt, sampling some local brews in a beer garden or two, and trying to finally find some kind of German cuisine that appeals to me.
Fussen
I'll be using a rental car for the remainder of the trip, as I make my way through various towns in the alps. First on the list is Fussen, where I'll see the famous Neuschwanstein and Hohenschwangau castles.
Garmisch-Partenkirchen
Next on the list is beautiful Garmisch-Partenkirchen, which will be my home base for several nights. I plan to explore a few of the small alpine towns in the region, as well as the major sights like Linderhof Palace, Ettal Abbey, and the Zugspitze.
Berchtesgaden
I'll then move on to Berchtesgaden, where I fully expect to become SO moved by the scenic landscapes that I will just burst into song and dance a la The Sound of Music. I'll be continuing my obsession with adorable alpine towns by seeking out villages such as Ramsau, pictured below, and also spending some time on Lake Konigssee.
After I leave Berchtesgaden, I'll head back to Munich, making a stop at Herrenchiemsee Palace along my route.
I'm a bit nervous about driving this route on my own, but I absolutely love having a car to explore new places, since it makes it so easy to get off the beaten path and get lost in new and unique areas.
Oh, and did I mention yet? THIS IS MY VERY FIRST SOLO TRIP ABROAD. I have been waiting for literally years to make the leap into solo travel, and I've finally plucked up the courage to make it happen. Wish me luck!
Have you traveled through Bavaria? What was the best part of your trip? Share your secrets with me!