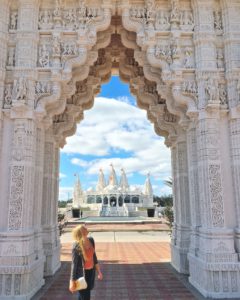 Since I've chosen to settle down in Houston for the time being, I've decided to start a new segment highlighting unique, unusual and impressive features of my urban hometown.
Unfortunately, Houston doesn't have the best reputation as a tourist destination…which is a shame, considering that it's the fourth largest city in the United States, has a Theater District second only to New York City, has more than 500 cultural/visual/performing arts organizations, is a total foodie heaven, and is home to some pretty incredible sites and attractions.
My goal with this Houston Highlights series is to shine some light on the best that Houston has to offer, in the hopes of showing what a great destination it can be for travelers.
First up: The BAPS Shri Swaminarayan Mandir.