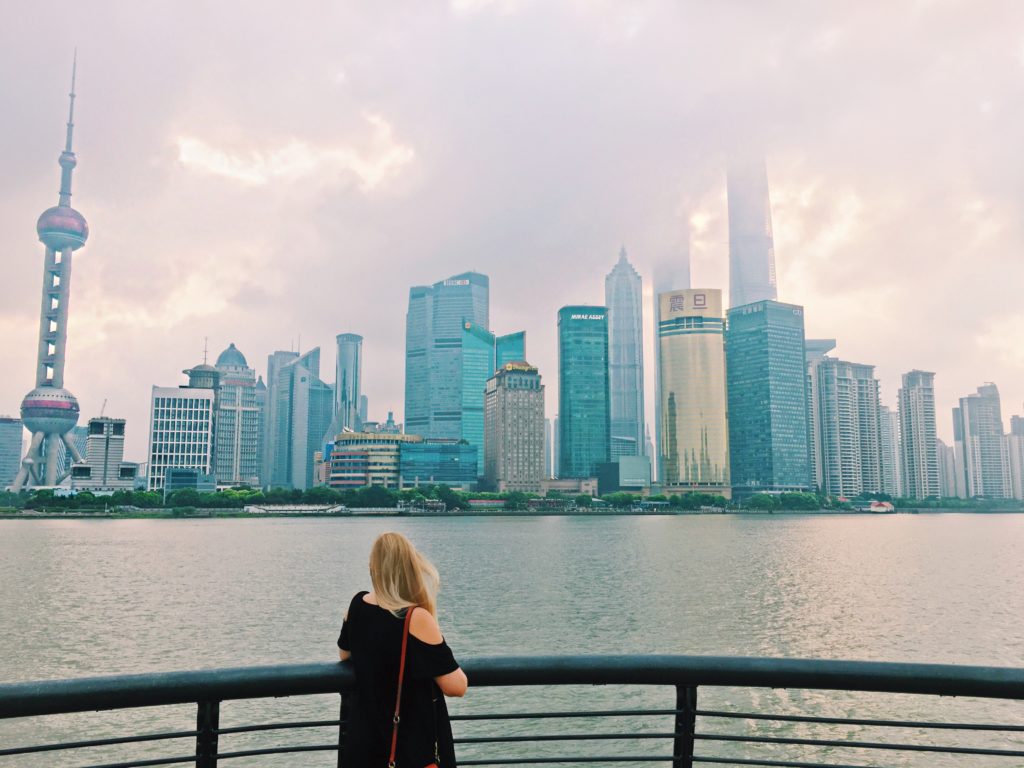 Alright, this needs to be said so let's go ahead and get it out of the way: one day in Shanghai is not enough.
Again, for those in the back: ONE DAY IN SHANGHAI IS NOT ENOUGH!!
Shanghai is the biggest city in China – and one of the largest in the world – with a population of 24.5 million people and an area of 2,448 square miles. This city has literally hundreds of things to do, see, eat and experience…and let's not even get started on day trips!
That said, I fully understand what it's like to travel on a time budget…and I also understand that some destinations have to get the short end of the stick. China is a huge and diverse country, and most visitors who travel here want to see as much of it as they can – which may mean only budgeting for one or two days per city.
If you're planning a trip to China, I strongly urge you to plan for more than 24 hours in Shanghai…buuuut if that just ain't in the cards, don't sweat it: you can still see the best of the city in a single day.
Here's how:
Shanghai Old City: 9:00 – 11:00 am
Old City is the heart and soul of ancient Shanghai, and one of the best places to get a taste of the city's history and culture. This walled neighborhood contains some of Shanghai's most picturesque streets, with buildings constructed in the traditional Chinese style.
Temples, markets, and tea houses are the norm in Old City – but so are staggering crowds.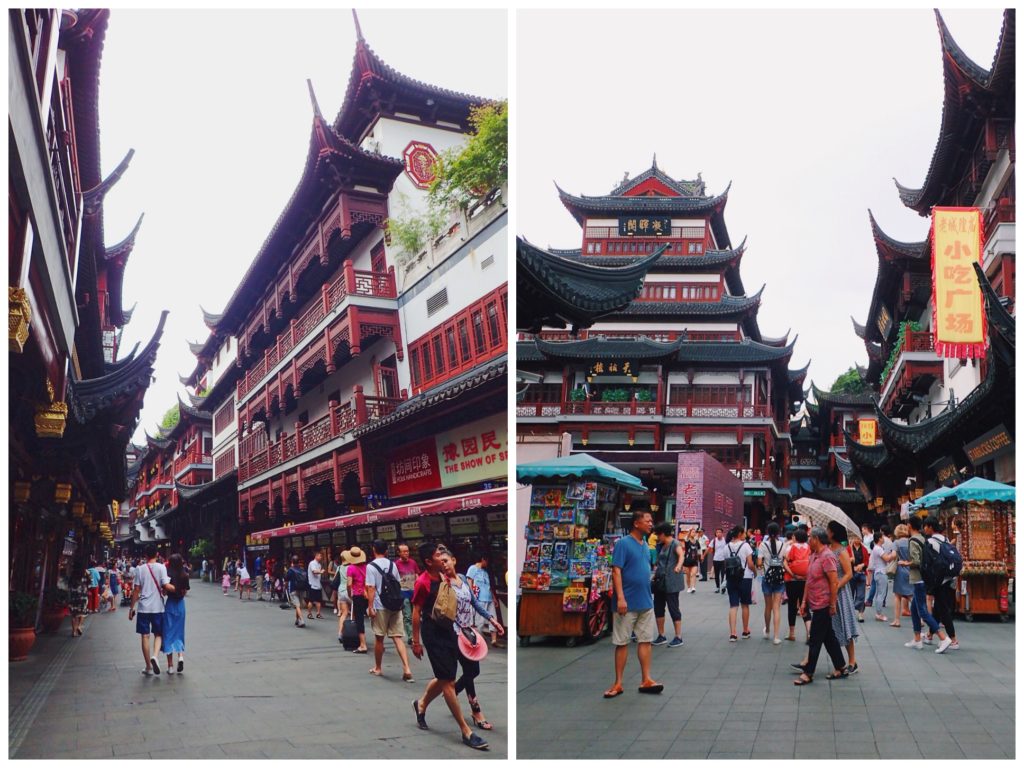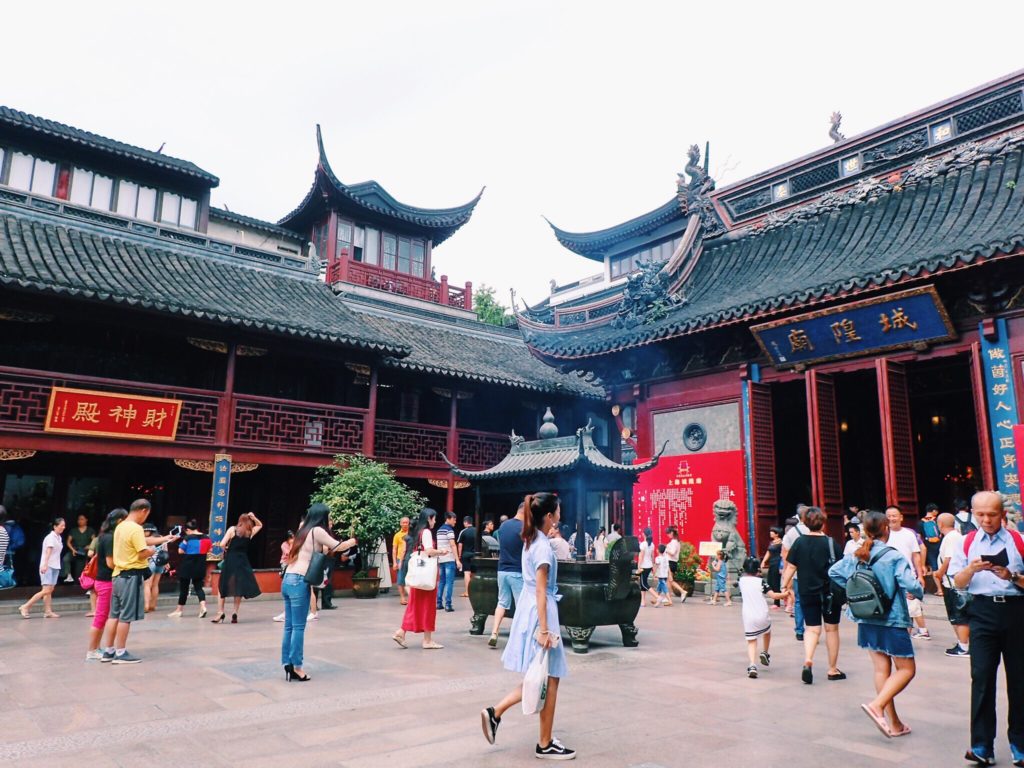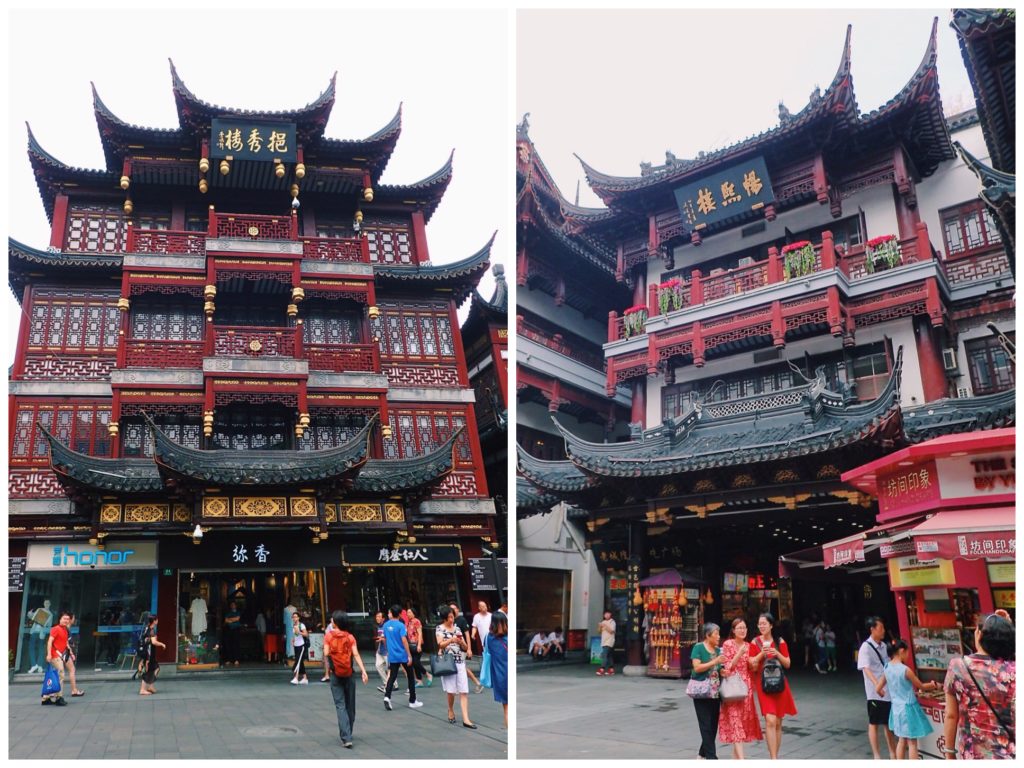 Shanghai's Old Town has the potential to be peaceful, but unfortunately the crowds create a feeling of chaos instead. That's why I recommend starting your day here – the earlier you arrive, the better your chance of beating out the crowds.
Below are some of my favorite things to see in Shanghai Old City:
City God Temple – The largest, most ornate temple complex in Shanghai's Old City. Very beautiful, and very bustling! 10 RMB to enter.
Food, art and souvenir stalls – Street vendors and small shops line the streets of the Old City, making it one of the best places to snack and shop for local goods in Shanghai
Chenxiang Ge Temple – A small yet impressive temple just outside the heart of the Old City, featuring a beautiful wooden carving on the upstairs level. 10 RMB to enter.
Old City Wall (Dajing Tower) – A small remaining section of the ancient city wall built in the 1500s during the Ming Dynasty. Not especially impressive or memorable, but appropriately priced at just 5 RMB.
Baiyun Guan (White Cloud) Temple – A Taoist temple adjacent to the Dajing Tower. It was completed during the 14th century, and contains 5 main halls.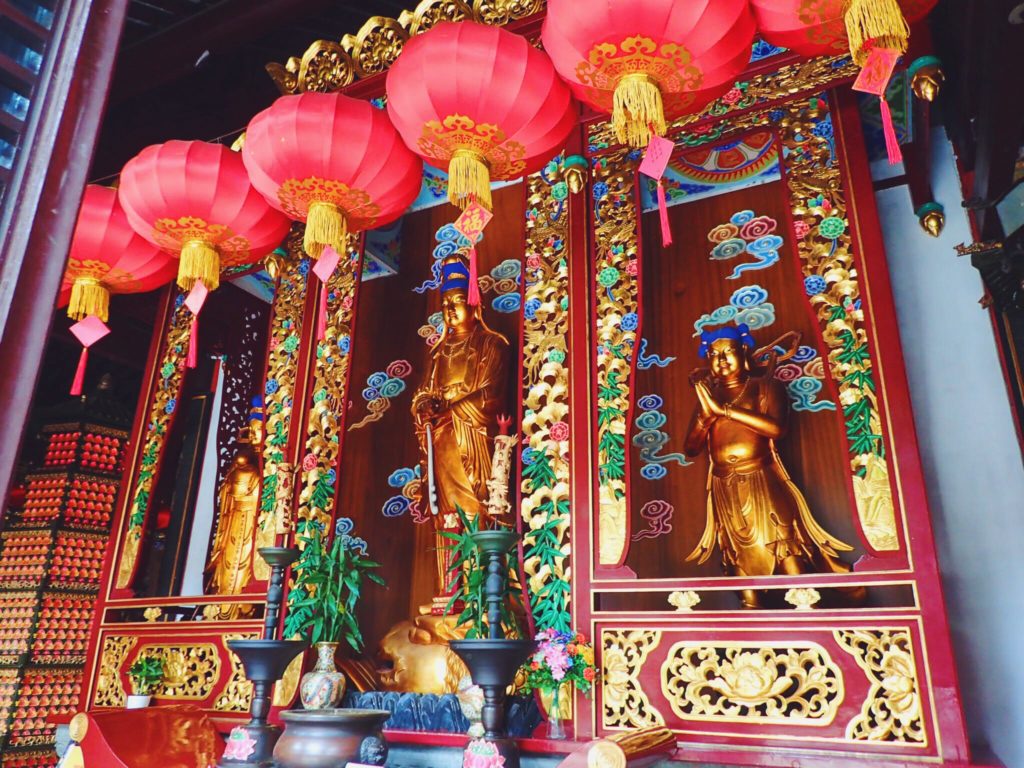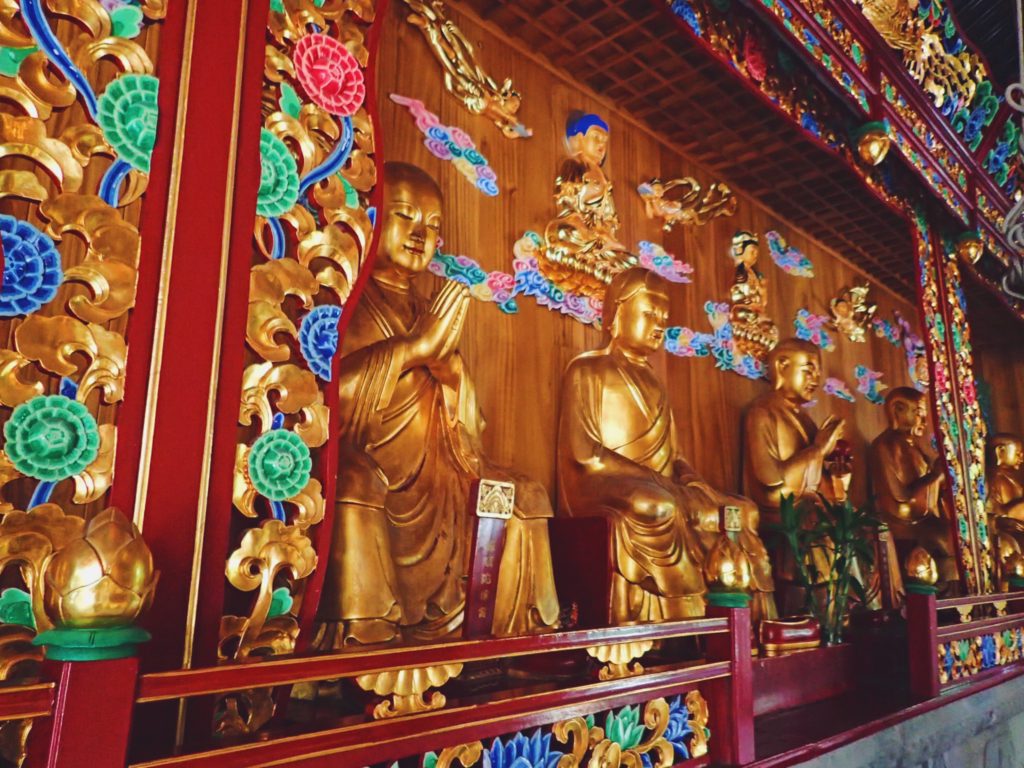 Yu Garden & Huxinting Teahouse: 11:00 am – 12:00 pm
When you're ready to escape the crowds of Shanghai's Old City, make your way to the small pond located just outside the gates of Yu Garden.
There, you'll find an ornate, classically-designed teahouse perched on stilts above the water. Leading towards the teahouse across the pond is the famously zig-zagging Jiu Qu Qiao Bridge, which is said to provide protection against evil spirits.
Huxinting teahouse is the oldest and most famous teahouse in all of Shanghai.
It serves some of China's finest, highest quality teas, including green, white, oolong, and scented teas.
While the bridge leading towards the teahouse can become incredibly crowded, inside you'll find a calm, quiet oasis where you can sip tea in peace and solitude.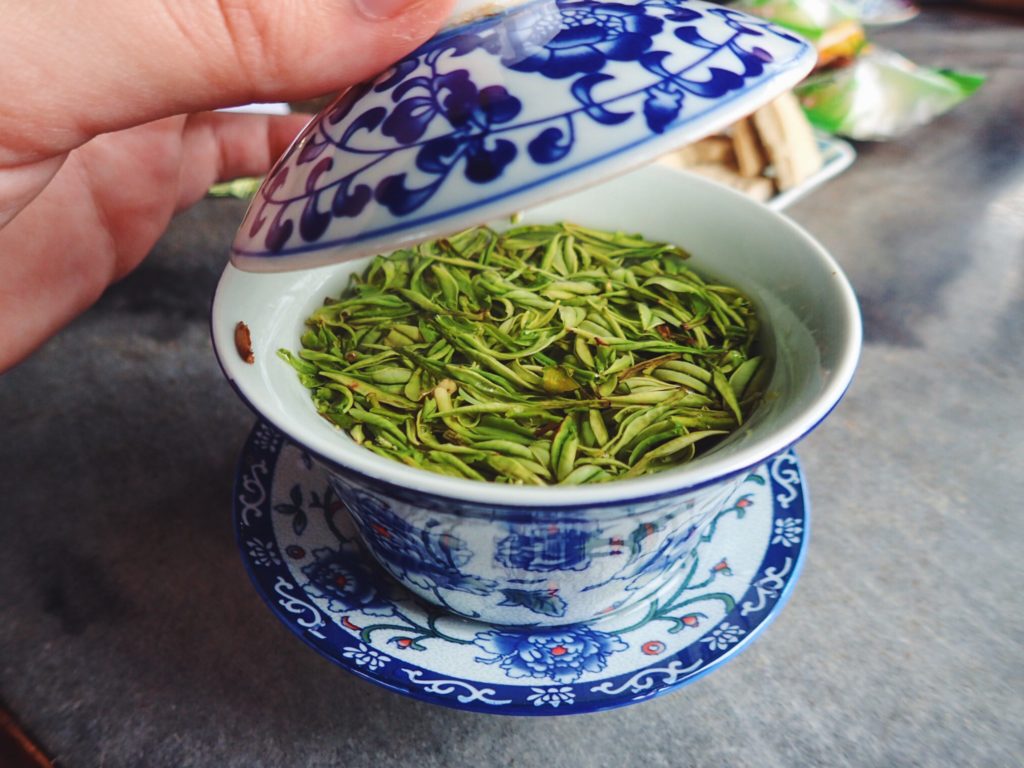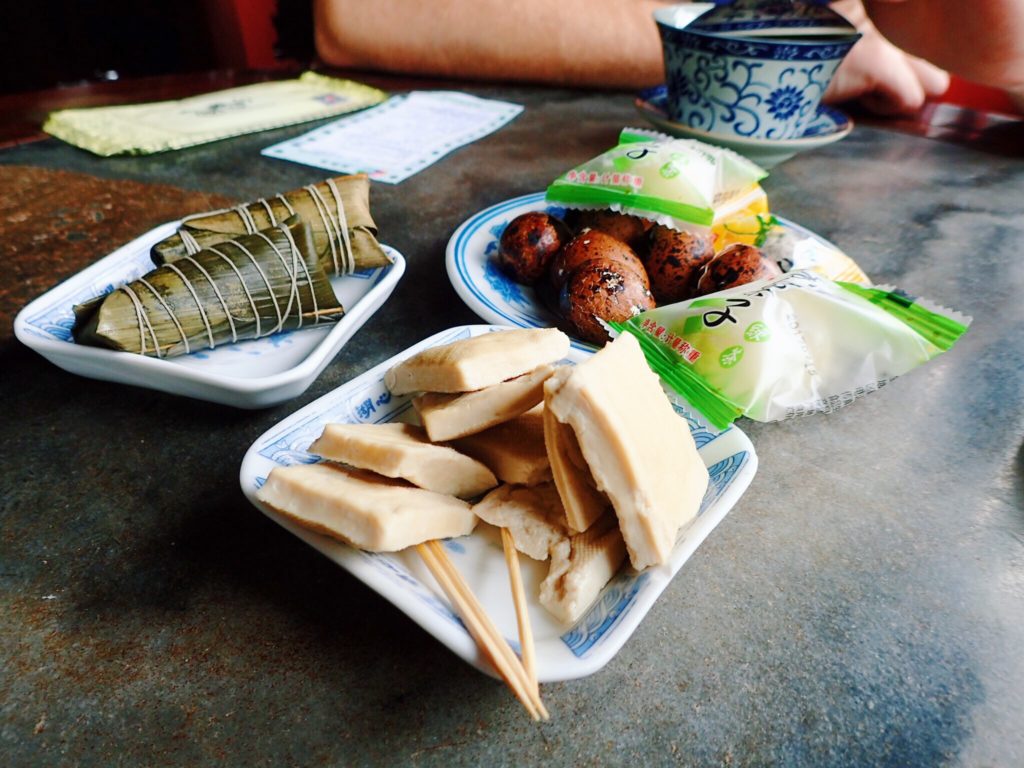 We visited Huxinting teahouse on a weekend afternoon – one of the busiest times to explore the Old City – and found that most of the tables were empty. We easily snagged a window seat upstairs where we could gaze down at the bridge below while we sipped!
When you've filled up on tea and snacks, pay 10 RMB to head into nearby Yu Garden. This "Garden of Happiness" was built during the Ming Dynasty and encompasses 5 acres of lush gardens, ponds, trickling streams, bridges, towers, pavilions, and jade rock designs.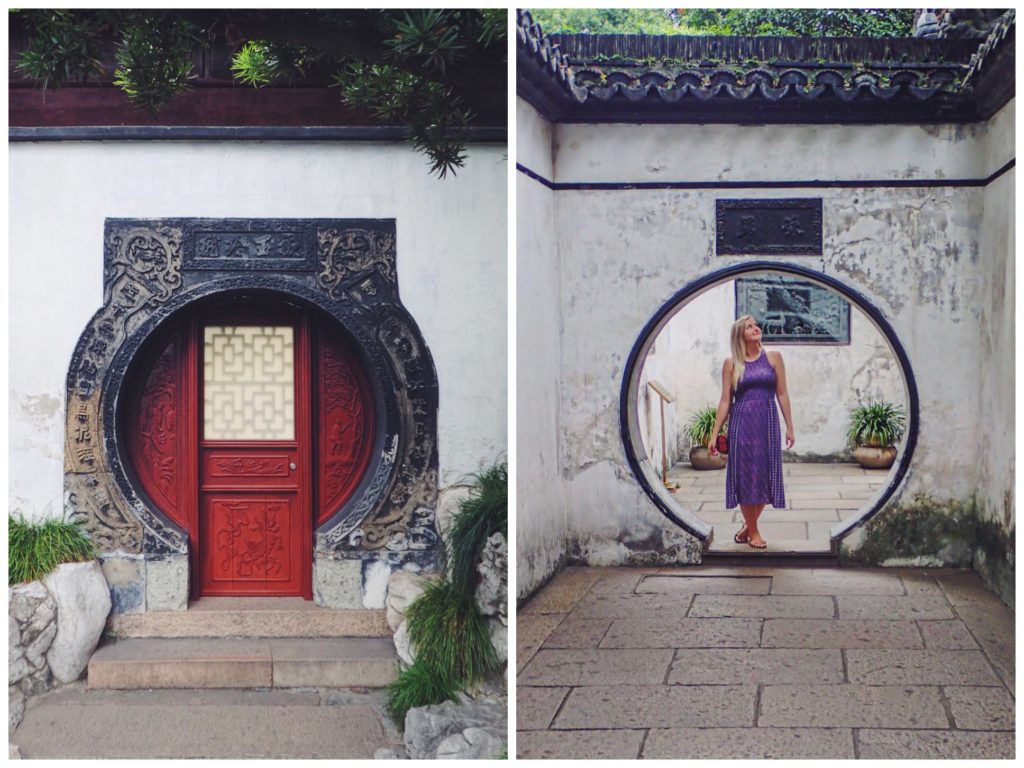 Lunch: 12:00 – 1:00 pm
Feel free to grab lunch at literally any location mentioned in this itinerary – every area offers its own great dining options, so you can't go wrong!
If you want to eat before heading over to People's Square, I recommend grabbing one of Shanghai's most famous delicacies (soup dumplings, or xiaolongbao) at Nanxiang Mantou Dian in the Old City. Famous around the globe for its dumplings, this classic Shanghai eatery often has a line around the block for to-go dumplings, but little to no wait for dining inside.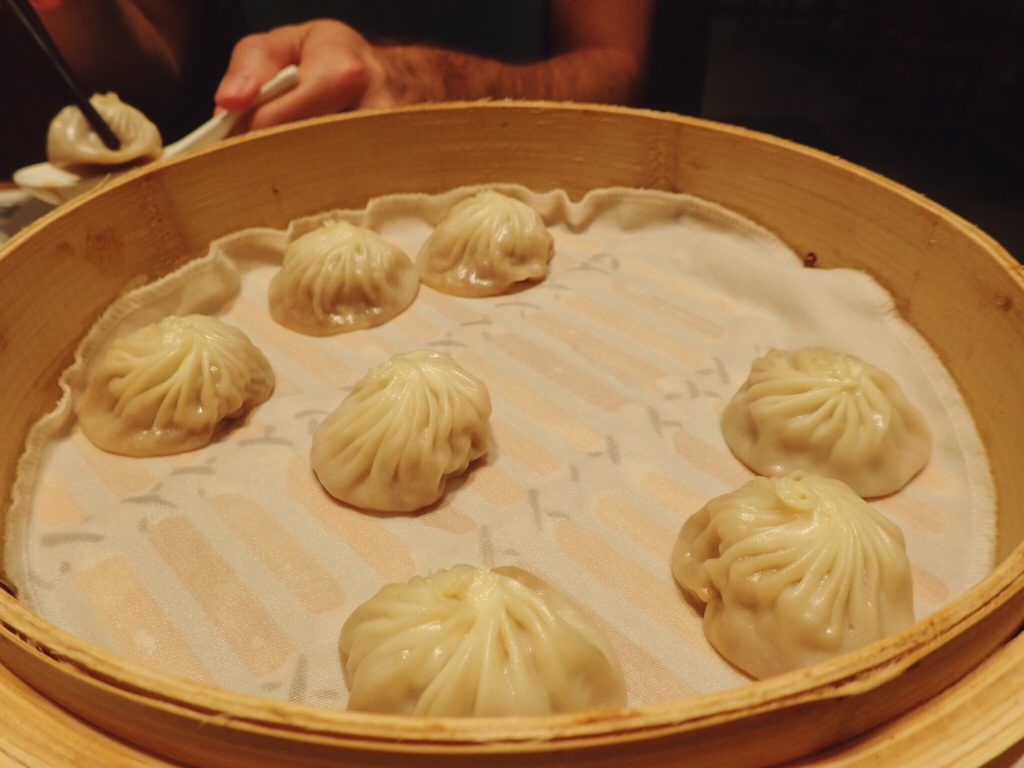 Otherwise, keep an eye out for tasty looking options during your commute from the Old City to People's Square – you're sure to stumble across something appetizing!
People's Square & People's Park: 1:00 – 2:00 pm
Next up is the spot that many consider to be the true "heart" of Shanghai: People's Square.
It's just under 1 mile to People's Square from Yu Garden & the Old City, so you can either walk (~20-25 minutes) or hail a taxi (5-10 minutes). You could also, in theory, take the metro…but with that short of a distance, one of the other options will likely end up being faster.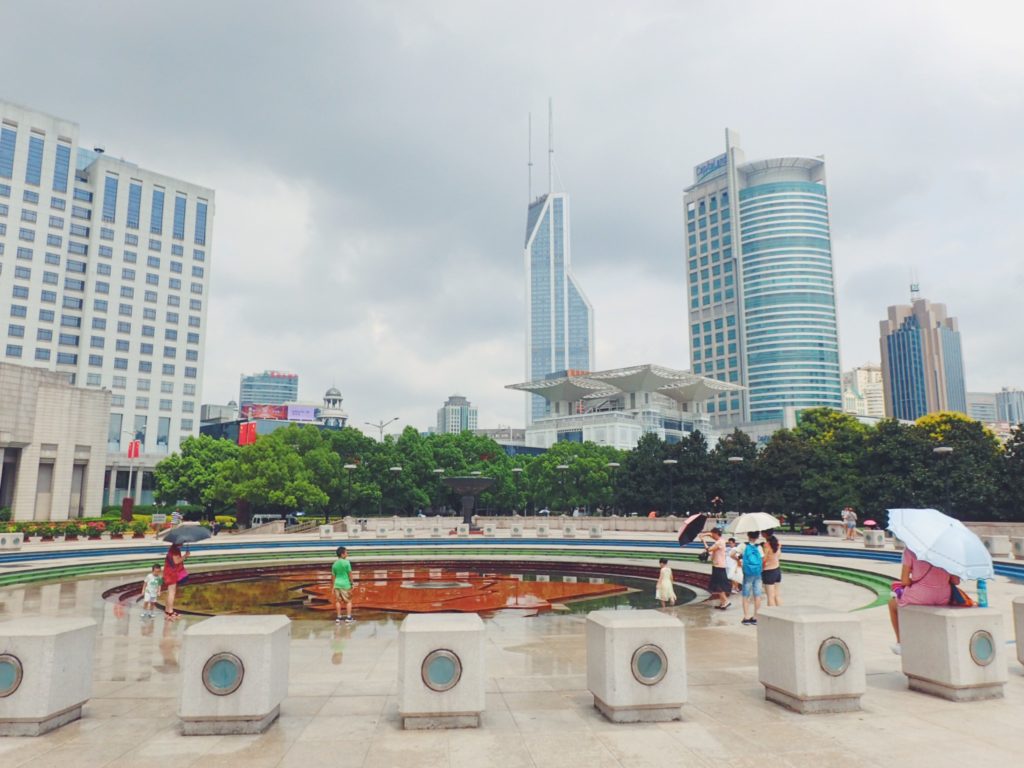 If you visit on a Saturday or Sunday, you'll be able to witness a rare and intriguing phenomenon: the Shanghai Marriage Market. Here, desperate Chinese parents pass out resumes detailing the benefits of marrying their single adult children.
On non-weekend days People's Square is much more relaxed, and you can watch people strolling and chatting, or children playing in the large fountain.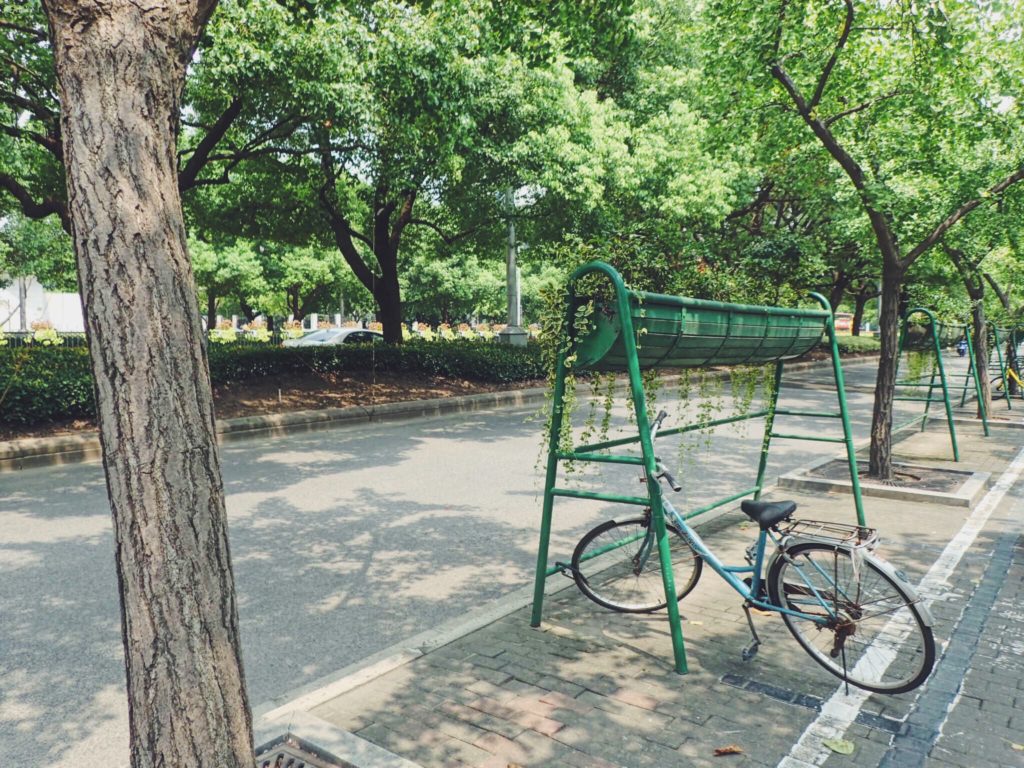 Nearby People's Park is lush and green, and you can catch the locals practicing tai chi, jogging, or enjoying the shade that the park's many trees provide.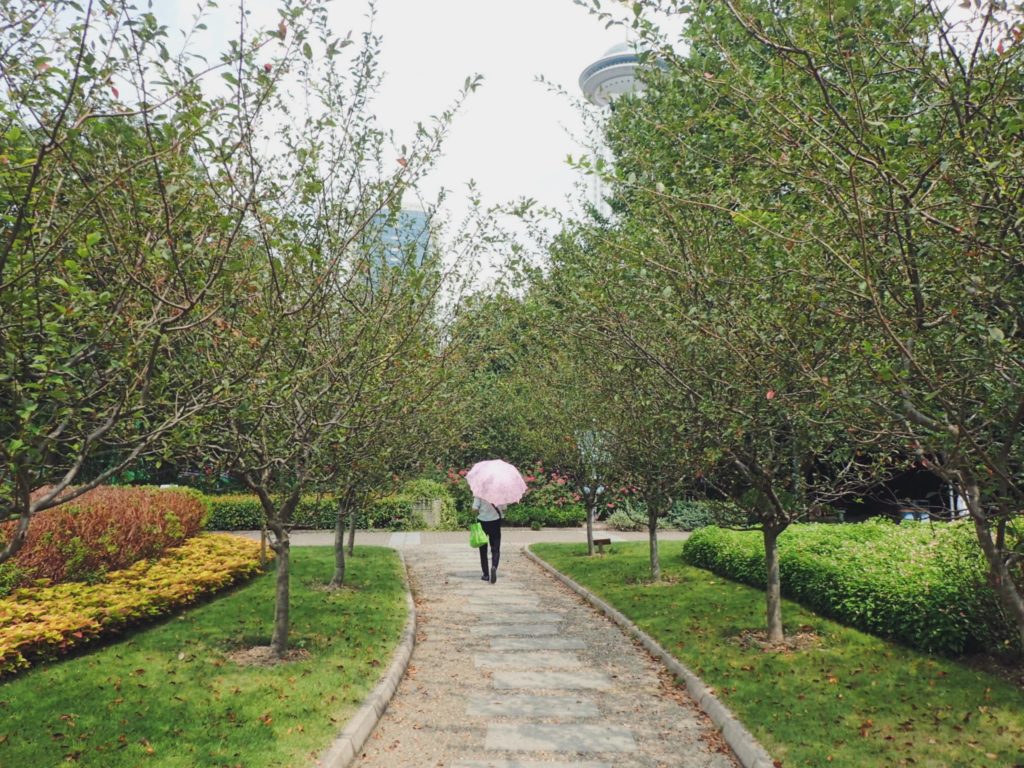 There's a milk tea stall just outside the entrance to the park, which I highly recommend stopping by. I opted for a green milk tea – so refreshing and yummy!
Shanghai Urban Planning Exhibition Center: 2:00 – 3:00 pm
Adjacent to People's Park and People's Square is the Shanghai Urban Planning Exhibition Center. I decided to go in on a whim (mostly to escape the heat; I'm not much of a museum person) and was blown away by one of the exhibits I found there: a scaled-down model of the city of Shanghai.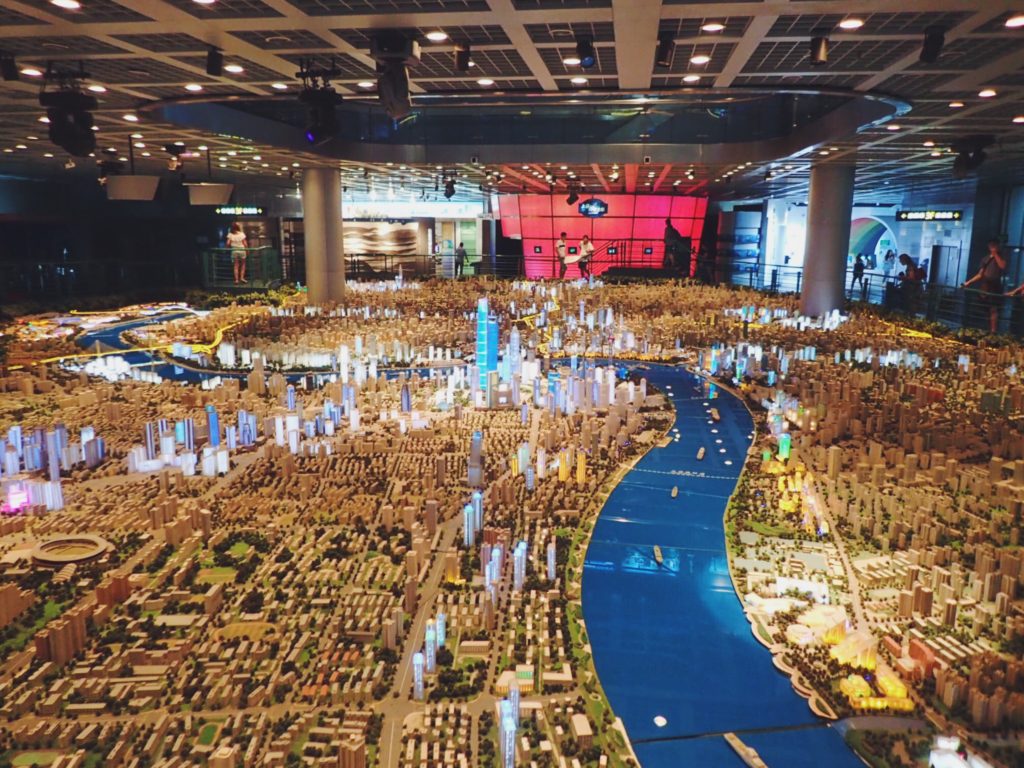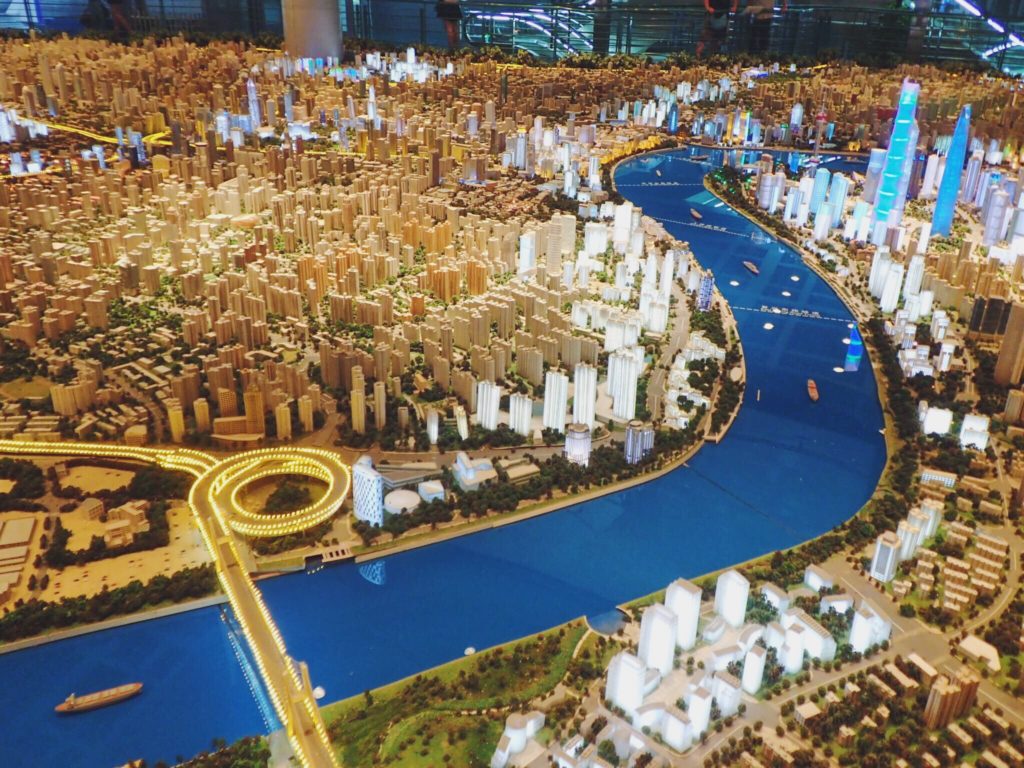 This city model truly puts Shanghai's sprawl into perspective; it suddenly all made sense how one city is able to fit more than 24 million people into its borders.
Nanjing Road East: 3:00 – 5:00 pm
This pedestrian street (one of the largest in the world!) conveniently runs from People's Square to the Bund, so you might as well make this your next stop.
Nanjing East Road is popular shopping street, with a massive variety of stores and outlets to explore. You'll also find an abundance of food on Nanjing, from small street stalls to busy restaurants.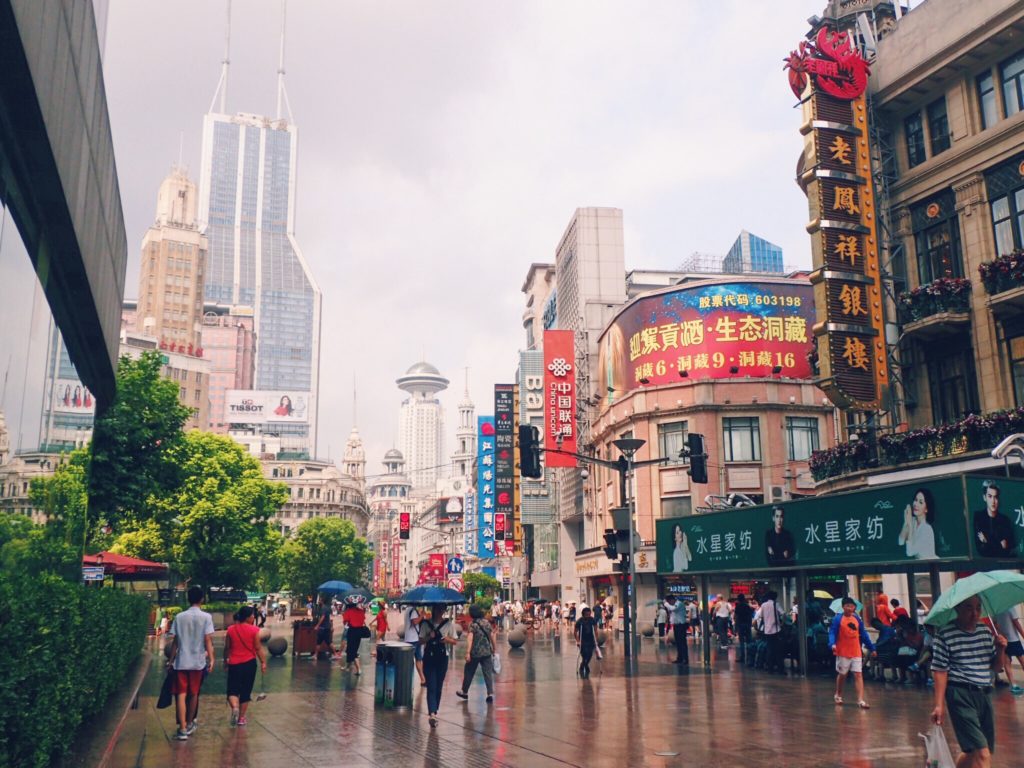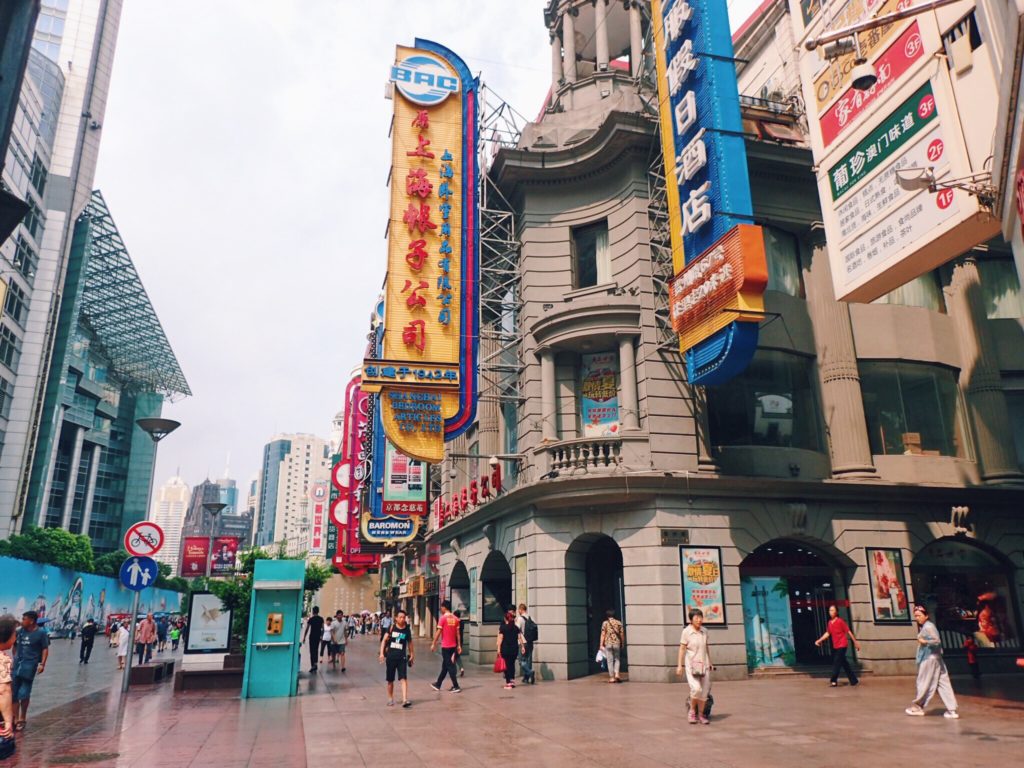 Personally I'm not much of a shopper, but if you're looking for the best shopping street in Shanghai, this just might be it! Regardless, strolling down Nanjing at least once is a must for any traveler. Bonus points if you're able to visit at night when the entire street comes alive with colorful neon light!
The Bund: 5:00 – 7:00 pm
The Bund is one of Shanghai's most iconic sights, and while it's worth a visit at any time of day (including early morning, when crowds are lightest) you'll see the Bund at its liveliest in the evening.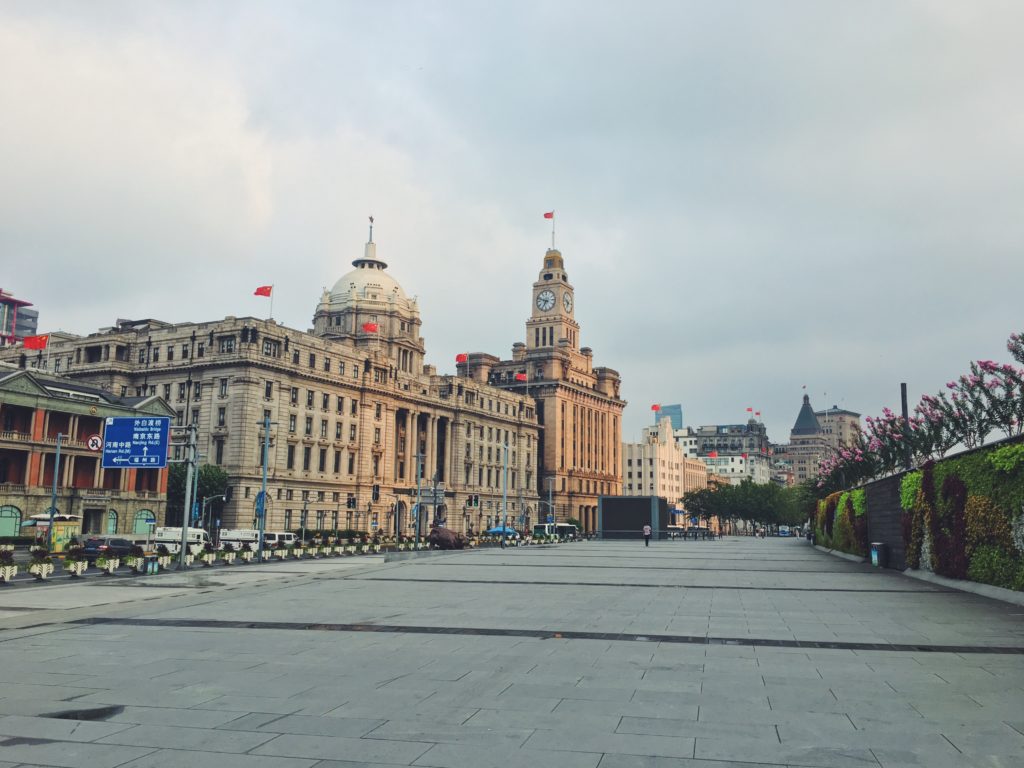 Hundreds of locals and visitors alike flock to the Bund at night to see the towering skyscrapers across the river in Pudong light up the city skyline. It's also a hotspot for drinking and dining, with numerous highly-rated rooftop bars and restaurants that offer some of the city's best views.
Those phenomenal views don't come cheap – you can expect to pay a pretty penny at any of the Bund's restaurants and bars – but having dined at several of the best ones myself, I can say they're worth every cent.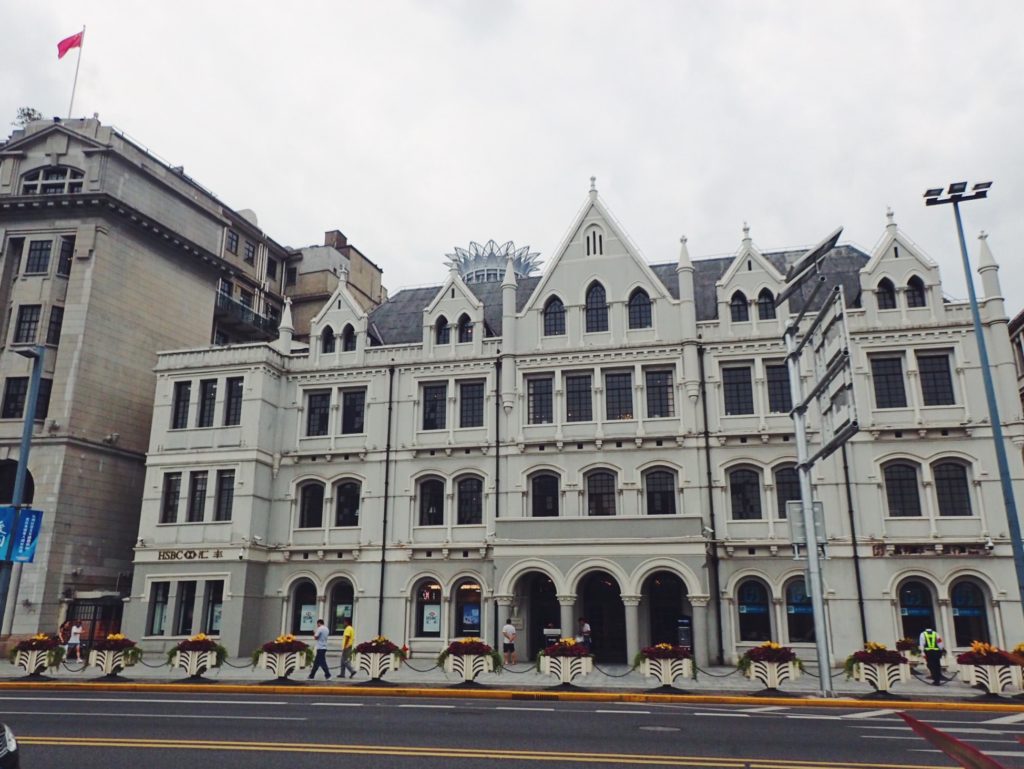 If you've got one day only for dinner in Shanghai, the Bund is the spot to be!
Drinks & Views in Pudong: 7:00 pm onwards
Speaking of those Pudong skyscrapers…while the views from across the river are incredible, there's nothing like getting up close and personal with them!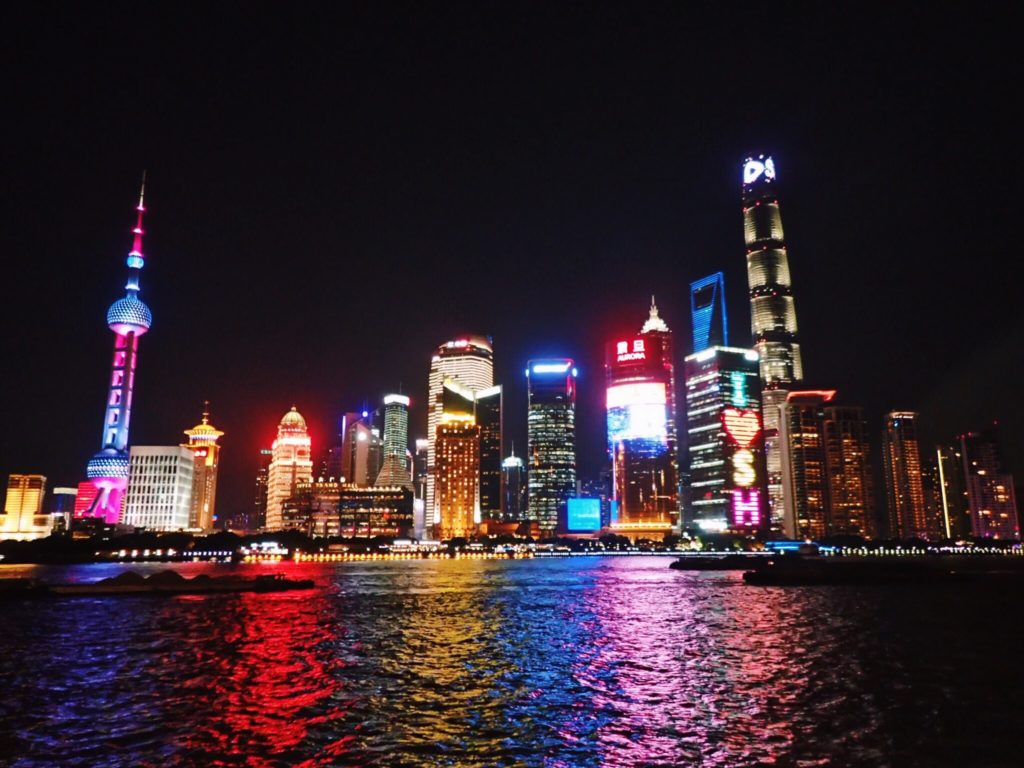 Grab a taxi or take the metro (or the touristy but fun Bund Sightseeing Tunnel) across the river and end your one day in Shanghai with drinks at one of Pudong's rooftop bars, like Flair Restaurant & Bar on the 58th floor of the Ritz Carlton.
The Shanghai Tower's observation deck – the highest in the city – is open until 9:00pm, so it may be worth taking a ride up in their high-speed elevator to soak in those sprawling city views before grabbing more drinks or heading off to bed.
---
Recommended Restaurants in Shanghai
Shanghai has THOUSANDS of restaurants and street food vendors to choose from, so writing a comprehensive list of the best places to eat in Shanghai is, quite frankly, above my pay grade.
That said, almost every bite of food I put into my mouth in Shanghai was absolutely wonderful, so here's my own personal list of the best spots to dine in the city:
Mercato – An upscale and trendy French restaurant in the Bund area. Quite pricey, but I ordered the lobster and shrimp ravioli which was incredible!
Goodfellows – Also located in the Bund area, this Italian restaurant fills up quick, so be sure to make reservations if you don't want to wait. I opted for the truffle risotto, which was tasty enough to make an Istrian restaurateur jealous!
POP American Brasserie – Yet another Bund restaurant recommendation (I told you this was the hotspot for Shanghai dining!). Disclaimer: the food from this restaurant was so-so at best, but the views from the outdoor dining area were among the best I experienced in Shanghai. Probably best to stick with drinks and appetizers only.
Din Tai Fung – Though it's not native to Shanghai (it's a chain restaurant based in Taiwan) "DTF" boasts some of the most well-known and delicious soup dumplings in the city. With thin skins, fatty pork and piping hot soup, these are xiaolongbao the way they're meant to be enjoyed. There are multiple Din Tai Fung locations across Shanghai.
Garlic – If you want to taste some of the best Turkish cuisine IN YOUR LIFE, check out this restaurant in the French Concession neighborhood. We had the most incredible lamb, with a flatbread appetizer and hefty pours of wine.
Hai by Goga – An excellent spot for sharing, we met up with a few of Derek's coworkers here and ordered round after round of small plates of pork belly, ceviche, sliders, California rolls and more. It also nice a nice terrace with views of the city.
Tajine – Moroccan food on the Bund? Yes please! Derek and I shared an entree of lamb cooked in a traditional earthenware "tajine" pot, Baba ghanoush, and couscous. SO GOOD.
The Nest – Hands-down one of the best meals we ate during our 11 days in the city, Nest is trendy and stylish, with a variety of vodka cocktails and culinary options. We split raw oysters, beef tartare, risotto, and a perfectly cooked steak.
---
Planning one day in Shanghai? What other questions do you have about visiting? Or, if you've visited the city before, what would you add to this itinerary?