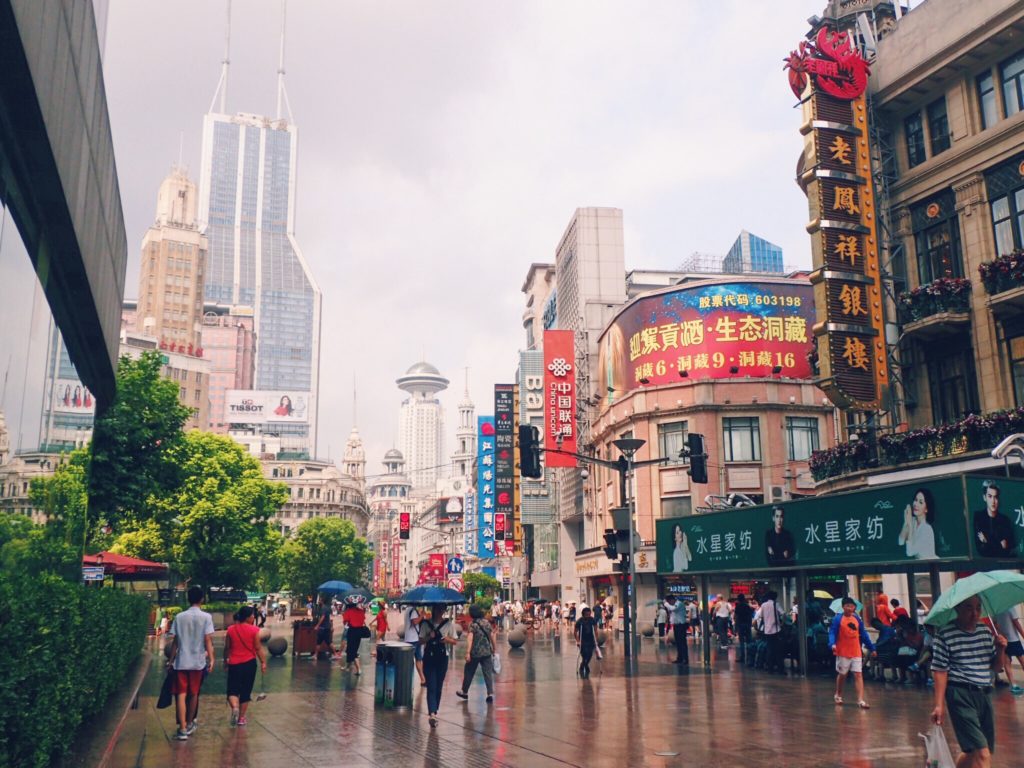 I always promised myself I would never write one of those sad "it's been awhile since my last post" posts…but, well, here we are.
In my defense, it has been a busy few months. Between the start of the holiday season, bringing home a new puppy, and being absolutely slammed with work (which honestly, I'm not complaining about!) there's been little time for blogging.
That said, I know I owe you guys some travel tips and stories from China! I kind of left you guys hanging after my 35 Photos That Will Make You Want to Visit post, and I'm sorry about that. You know I love to dive deep into a place, and it's killing me that I've still only scratched the surface of covering my 2 weeks in China.
I promise, in-depth guides and itineraries are coming! But for now, I want to share a few of my personal stories from Shanghai. I hope this gives you a small sense of what the "soul" of the city is really like.
---
Dancing in the Park
I can feel the sun beating down on me as I wander the streets of Shanghai's trendy French Concession neighborhood. Even the leafy, lush trees lining the road can't protect me; it's easily 95 degrees, maximum humidity, and a rare cloudless day.
I have only one thought: shade. So I check the map on my phone and choose my target: Fuxing Park.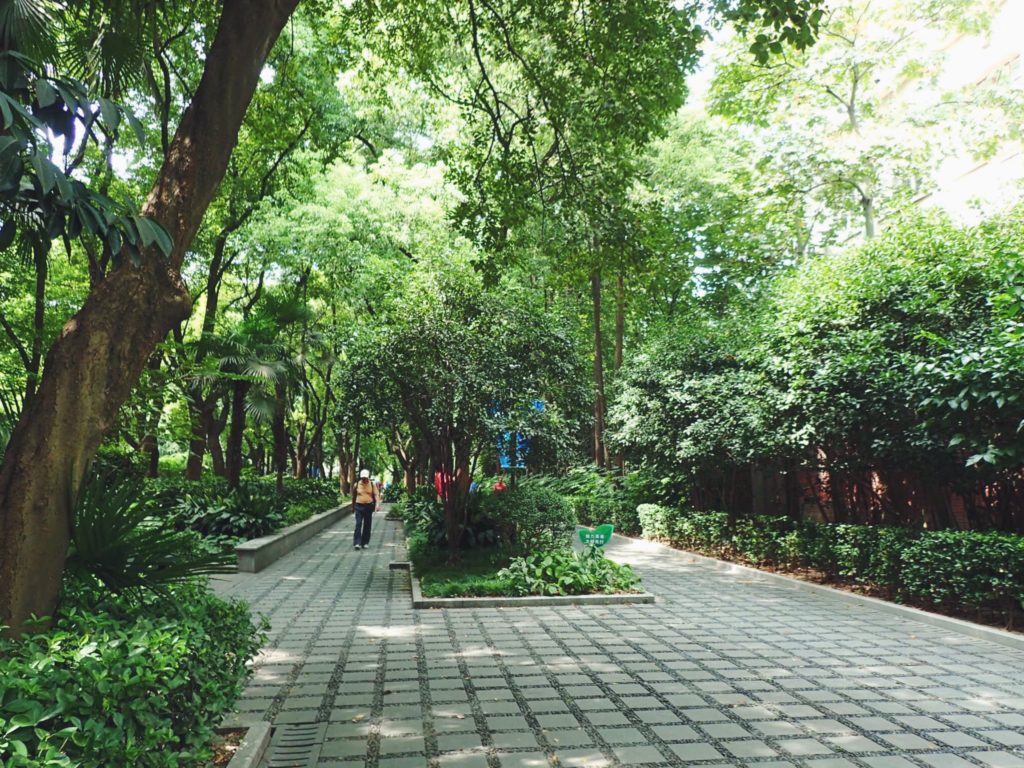 Following the directions on the screen in my hand, I round a corner and make out the sound of music. LOTS of music.
Multiple songs streaming from multiple sources, their words and notes jumbling together to form a sound that's both chaotic and amusing. I walk through the gates into the park, wondering what sort of scene awaits me.
And then I see it: Couples, hundreds of them, all in their 50s, 60s, 70s, and beyond.
Dancing.
Scattered around the park are at least a dozen speakers and boom boxes, each blasting their own classical Chinese music. And grouped around each of them is a crowd of oldsters, dancing and smiling and laughing.
I walk closer to one of the groups to watch, feeling both bemused and delighted about what I've just stumbled across.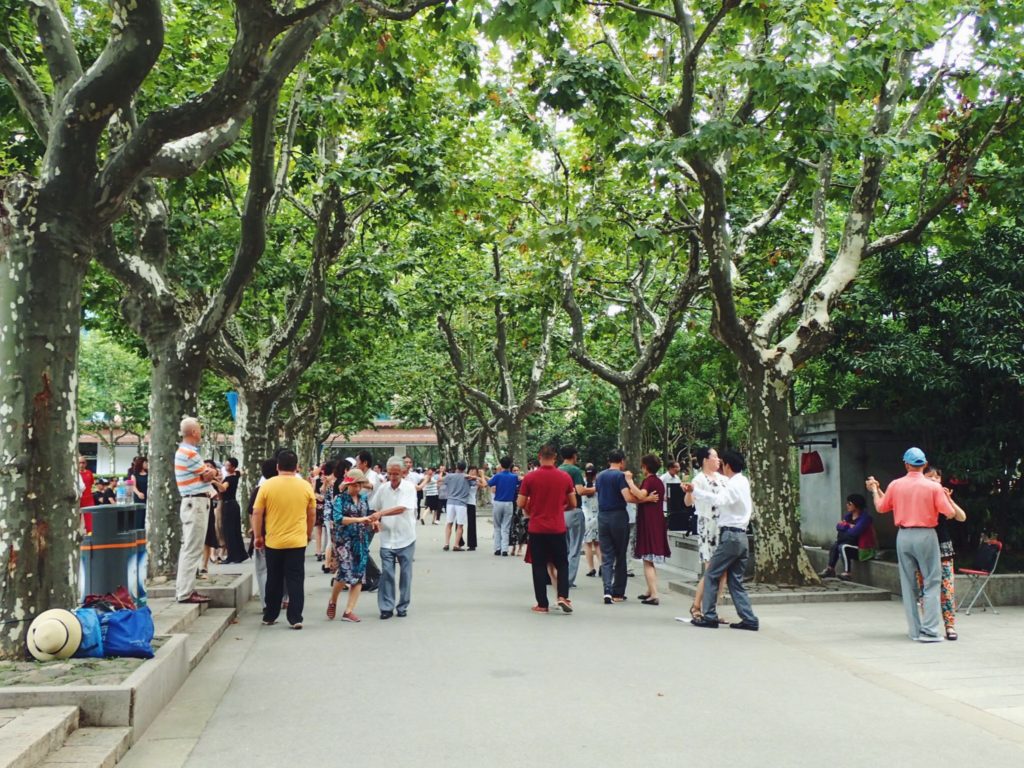 A very old man, several inches shorter than myself – at least with his hunched frame – makes his way over to me. He has a kind face, with deep smile lines and a cataract in one eye.
"You want to dance?" he asks, offering me his right arm. I'm surprised by how clear his English is, as well as how instantly drawn I feel to his warm demeanor.
I laugh, grateful but hesitant. "Oh, no thank you. I don't dance."
He accepts my answer and instead asks me about what I'm doing on my own in a park in Shanghai, how long I'm visiting for, where I'm from. When I tell him that I'm from California, his face lights up. He tells me a story about visiting Los Angeles, but the details get lost in translation. I smile and nod.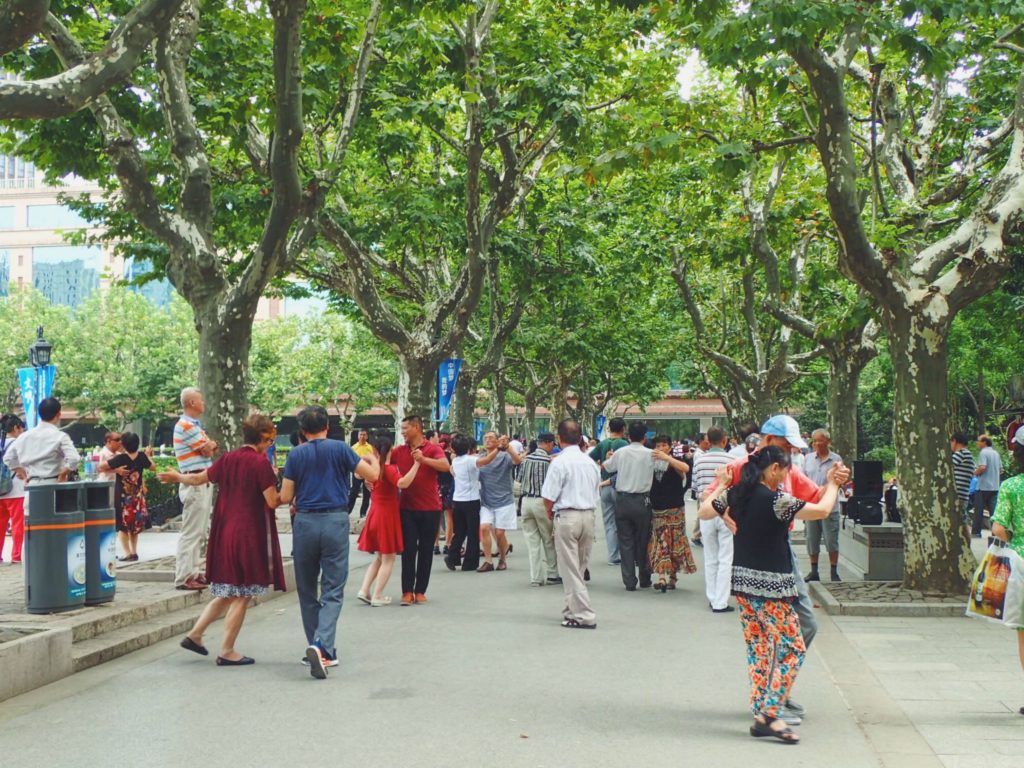 When it's clear the conversation is dwindling down, he turns to leave and says with a wink, "Next time, you should dance with us."
Then, he's gone. I watch the dancers a few moments more, before deciding to head back into town to search for xiaolongbao for lunch.
As I leave, I wonder if I should have danced with him.
Bright Lights
"Should we walk along the Bund? We haven't done that yet."
We've just finished dinner and it's getting late, at least 9:00pm. The sky is dark, and our bellies are full of rich, expensive food and wine from a trendy and upscale restaurant nearby.
We're tired from the heat and the food and the wine, but we decide to walk the few blocks east that will lead us to the waterfront Bund.
The first thing I notice is the crowds; thousands and thousands of people sitting and standing and walking and snapping photos. The sounds of voices and laughter mingles with the whir of traffic on the road behind us as we climb the small set of stairs to reach the promenade.
The second thing I notice is the lights. So. Many. Lights.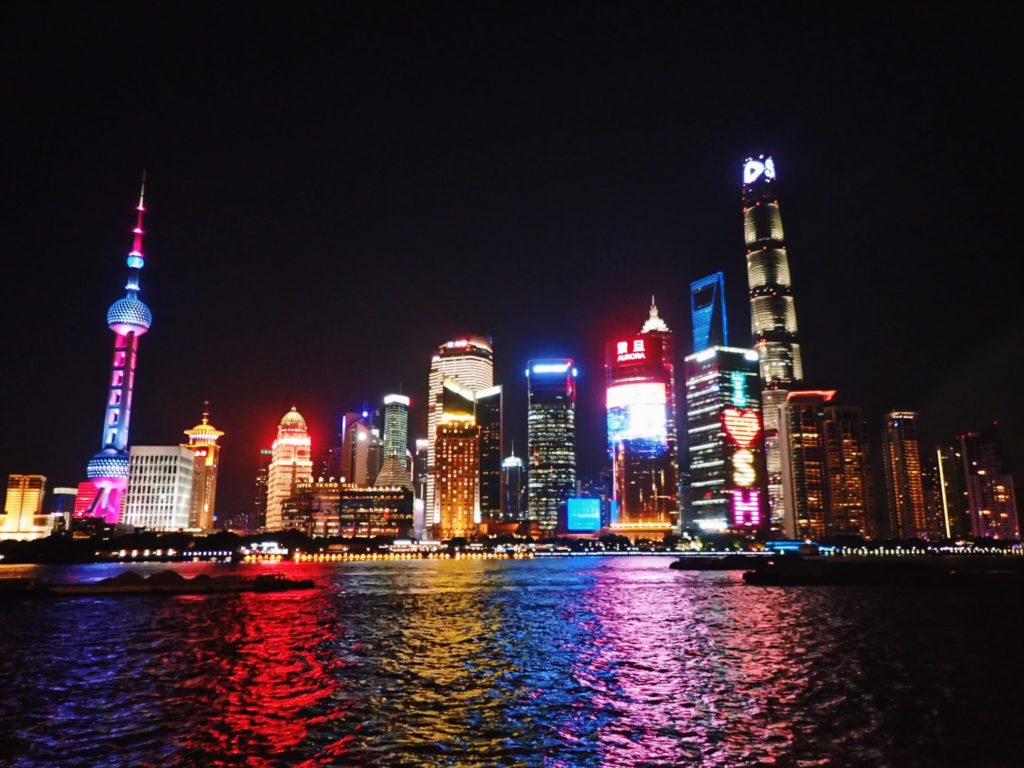 Pudong's futuristic skyscrapers rise up across the water with lights flashing, their rainbow of colors reflecting in the ripples and waves from the passing cargo ships below. Like a waterfront Times Square.
The crowds, the noise, the lights, the buildings so tall that their peaks are obscured by Shanghai's infamous smog.
It's all so vibrant, stimulating, striking and bold.
I feel invigorated and thrilled and amazed and empowered.
I feel alive.
Do You Believe?
"Are you Buddhist? Do you believe in Buddhism?"
The question catches me off guard for two reasons: primarily because it's the first time I've been addressed in clear English in days, but also because I'm always at a loss when it comes to answering those types of "do you believe" questions.
I've been burned before when voicing my lack of religious beliefs in heavily Catholic countries, like Nicaragua. Still, it doesn't feel right to lie; when pressed, I usually default to vague non-answers.
I turn my head to see that a Chinese woman has joined me in my walk across the courtyard of yet another Buddhist temple, one of my many I explored during my time in the city. She matches my pace, and her face is inviting yet curious.
I answer honestly: "I don't know what I believe."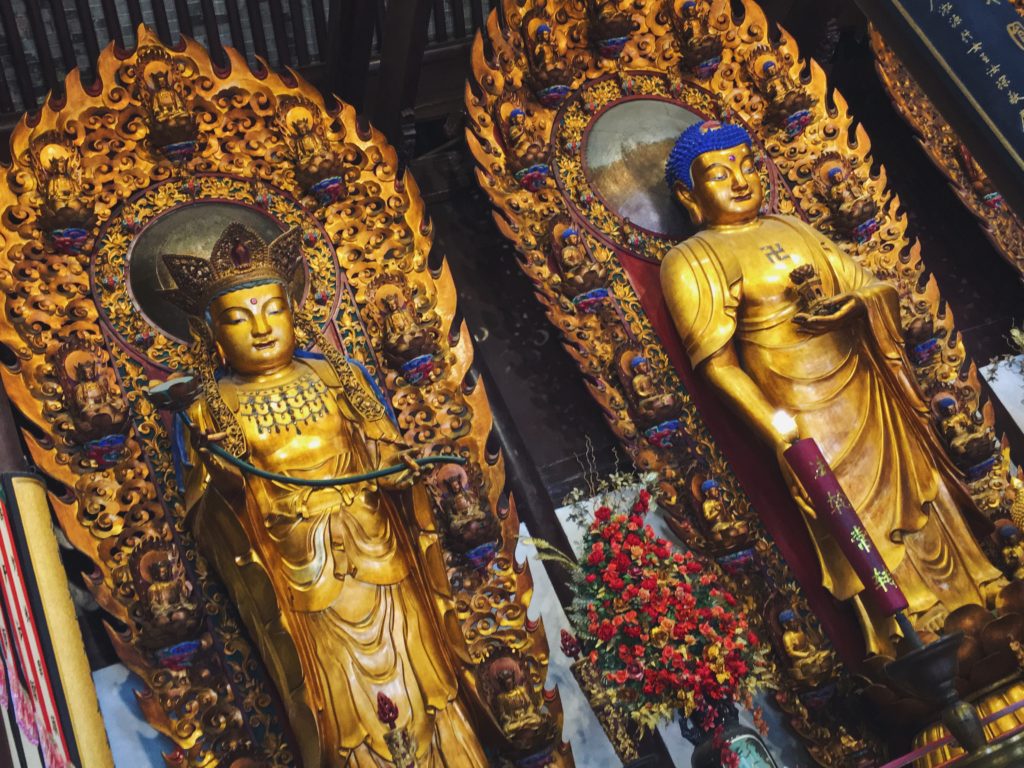 She nods as we continue to head towards the main hall, where inside a massive golden Buddha sits surrounded by ornate carvings and paintings and figurines.
I return the question to her: "Do you believe?"
She does. "I came to this temple to ask for help a long time ago. My prayer was answered, so now I'm here to pay my respects and say thank you."
We approach the entryway, its massive wooden doors opening up into the hall before us.
"Enter with your left foot," she says with a wink. We step in together, left feet first, and head our separate ways.
A Restful Teahouse Retreat
I inhale, tasting the smog and the dampness in the air as we make our way through Shanghai's Old City. It's Sunday, and the crowds have reached their full level of chaos and madness.
Weaving through the bustling streets – feeling the thick, humid air around us and trying to bump sweaty shoulders with as few people as possible – it's easy to overlook the ornate Chinese architecture that surrounds us.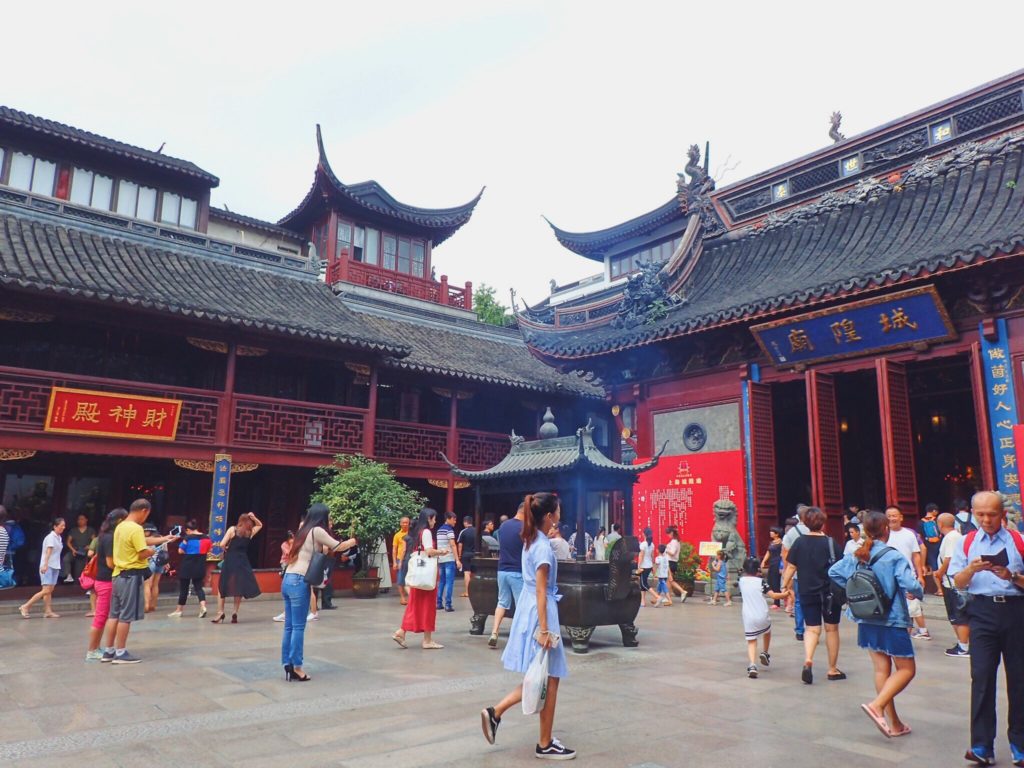 Beautifully sloped roofs with dramatic peaks, whitewashed walls with bursts of red and gold paint, and smooth, shiny brown teak wood beg us to slow down and admire the historic buildings we're hurrying past, but our eyes are fixated on the prize: the teahouse just outside the gates of Yu Garden.
Originally built during the Ming Dynasty, Huxinting Teahouse sits perched on sturdy stilts that rise out of a small pond. Winding towards the teahouse across the pond is a zig-zagging bridge, said to keep evil spirits at bay.
Evil spirits, perhaps; crowds, no.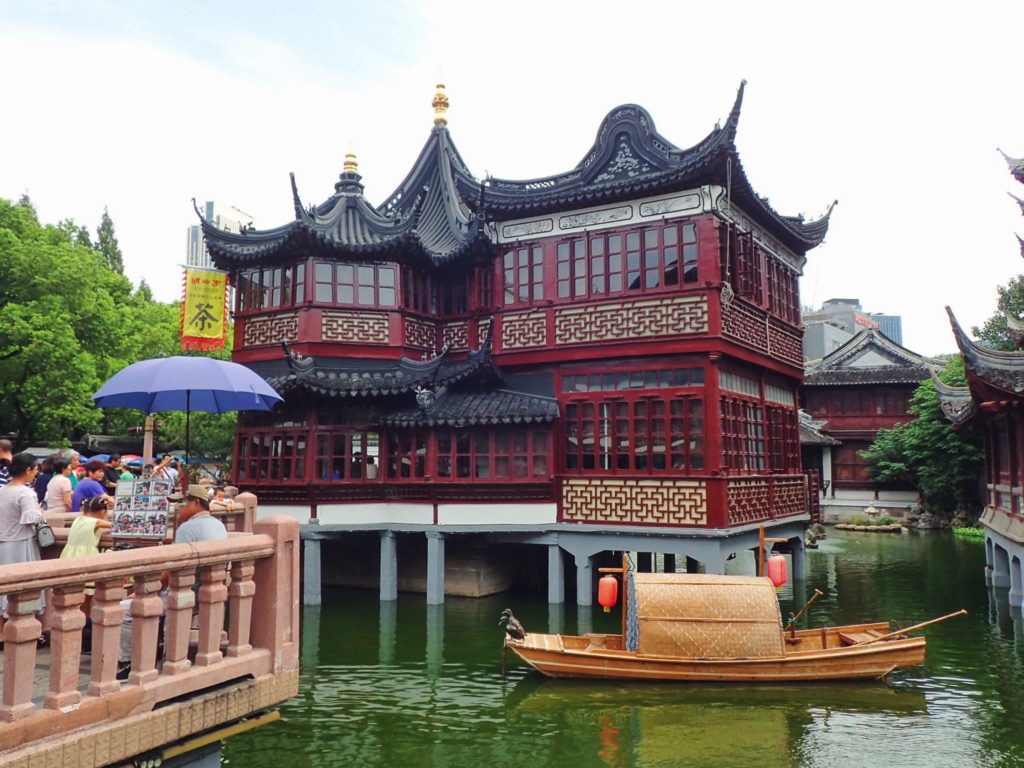 The beautiful bridge is packed to the brim with tourists, vendors, umbrellas and selfie sticks. We each take a breath before pushing our way into the crowd, maneuvering swiftly across the bridge and dodging wayward umbrellas.
We make our way to the thick wooden doors and push them open to find…
Peace.
In spite of the madness just outside the doors, the inside of the teahouse is nearly empty, and refreshingly silent. Near the doorway, a man is pan-firing a batch of green tea leaves.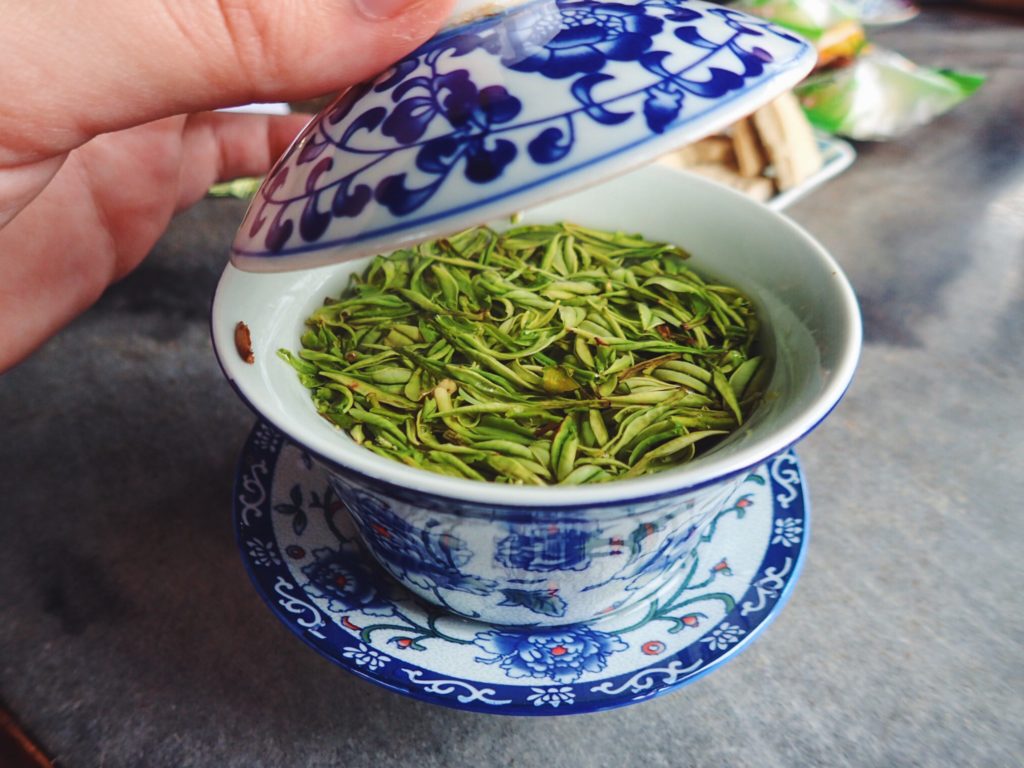 We climb the narrow stairway that leads upstairs, taking care not to slip on the slick wooden steps, and find that the second floor is just as deserted as the first. A hostess greets us, and leads us to a small table near one of the windows overlooking the garden below.
The teahouse interior is all smooth, dark, carefully-carved wood; beautifully ornate and unmistakably Chinese.
The windows are all propped open, sending a humid, cool cross breeze through the room.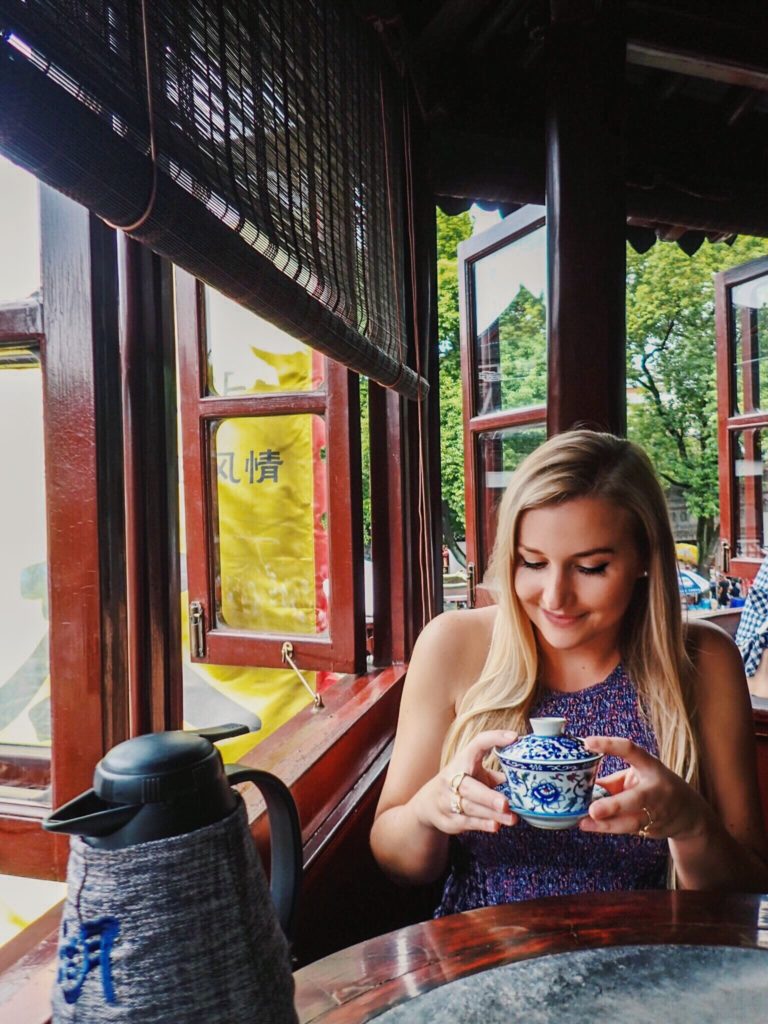 From our spot by the window, we can gaze down at the crowd below, buzzing across the bridge and through the surrounding streets of the Old City.
We order a pot of Longjing tea – one of China's highest quality varieties – to share, and sit in silence soaking in the beautiful colors and culture and architecture around us.
I exhale.
---
Have you ever been to Shanghai? If so, do these stories resonate with you? If not, what is your impression of Shanghai based on these stories? Does it seem like a place you'd like to visit?