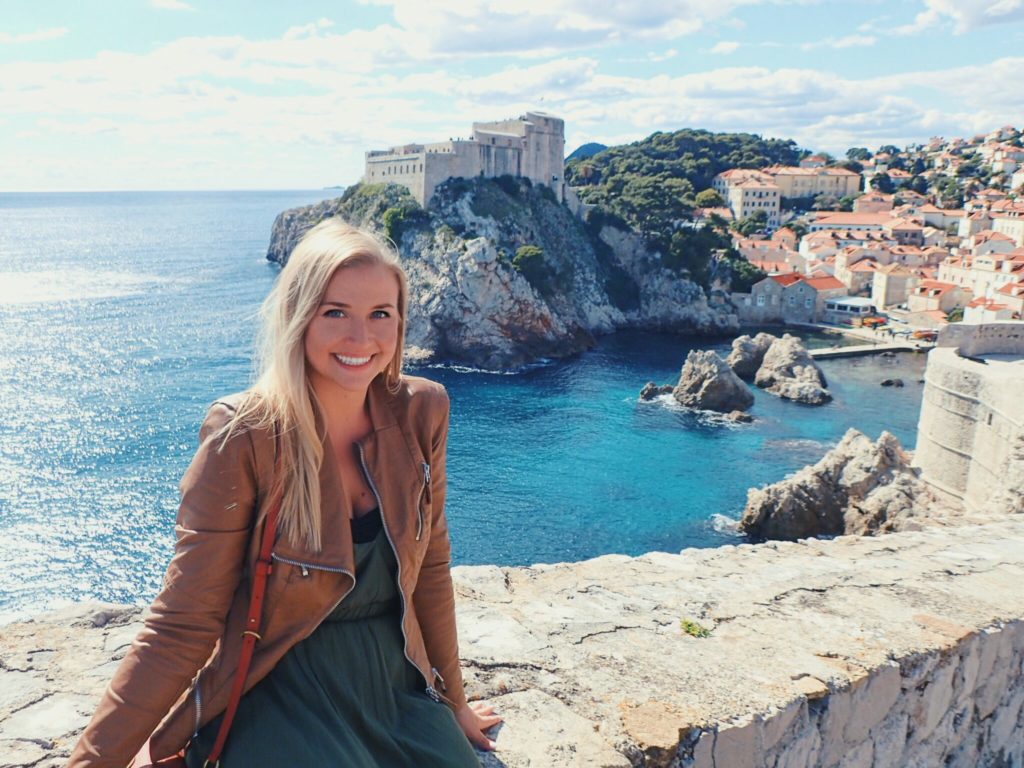 Croatia is a fabulous option for anyone who's looking to see something a little "different" on their next trip to Europe. If you've already seen the classics of Western Europe like France and Italy, Croatia presents a slightly more off-the-beaten path experience while still remaining an easy, safe choice for travelers.
There's certainly a lot to love about Croatia – the locals are among the most friendly and welcoming people I've encountered on my travels, the weather is (usually) warm and comfortable, there's amazing nature, fantastic history, and it's pretty much a heaven on earth for foodies and wine drinkers.
If stunning coastlines, sapphire seas, quaint medieval villages, incredible food and wine, rolling vineyards, gorgeous gothic and baroque architecture, walkable old towns, and charming colorful buildings sound like a good time (*enthusiastically raises hand*) then it's high time to add Croatia to your bucket list.
2 weeks in Croatia is a solid amount of time – you can't see everything within that timeframe, but you can certainly see the highlights at a leisurely, enjoyable pace. Below, I've outlined my ultimate guide to 2 weeks in Croatia, with detailed information about each location.
Helpful Tip: I've included a range, rather than an exact number of days, for length of stay in each location. This number of days does NOT account for driving/transportation time (in general, allot up to a 1/2 day for getting between each location), and instead represents the number of FULL days I recommend for each location. This itinerary allows for some flexibility, and could work for less than or more than 14 full days.
Motovun ("Green" Istria)
The Istrian Peninsula is hands-down one of the most charming regions I've ever had the pleasure of visiting, and the small hilltop town of Motovun is one of the best places to get a feel for the region.
The entire town oozes romance and relaxation, and it's easy to "get lost" and stumble across gorgeous vistas and photo-worthy scenes (although really, you can never stray too far from the center of town!).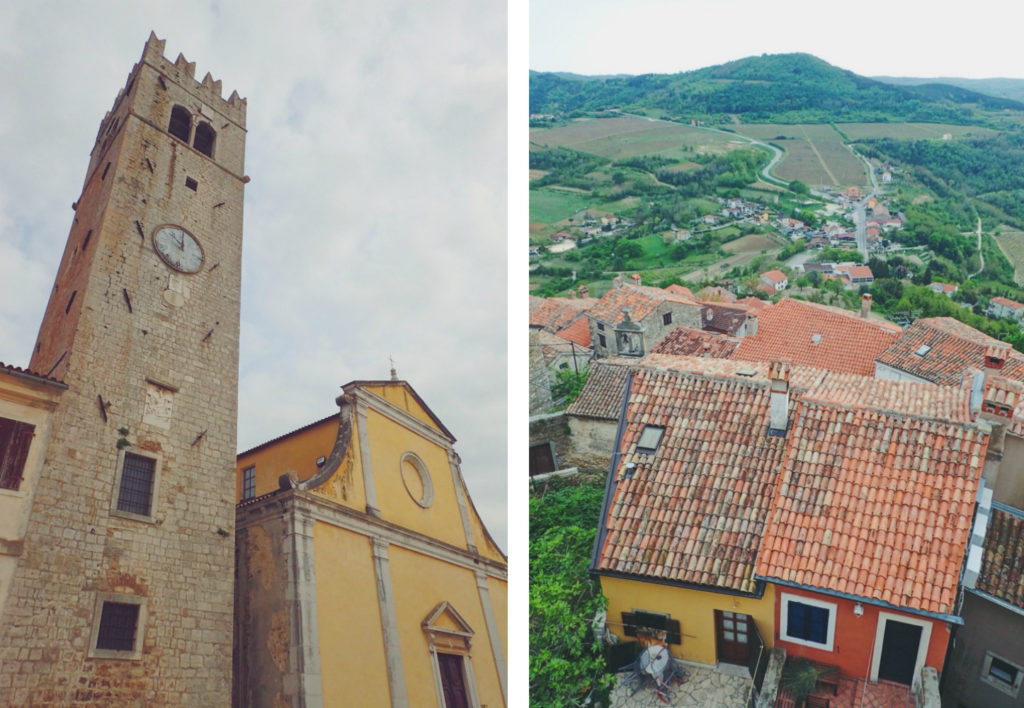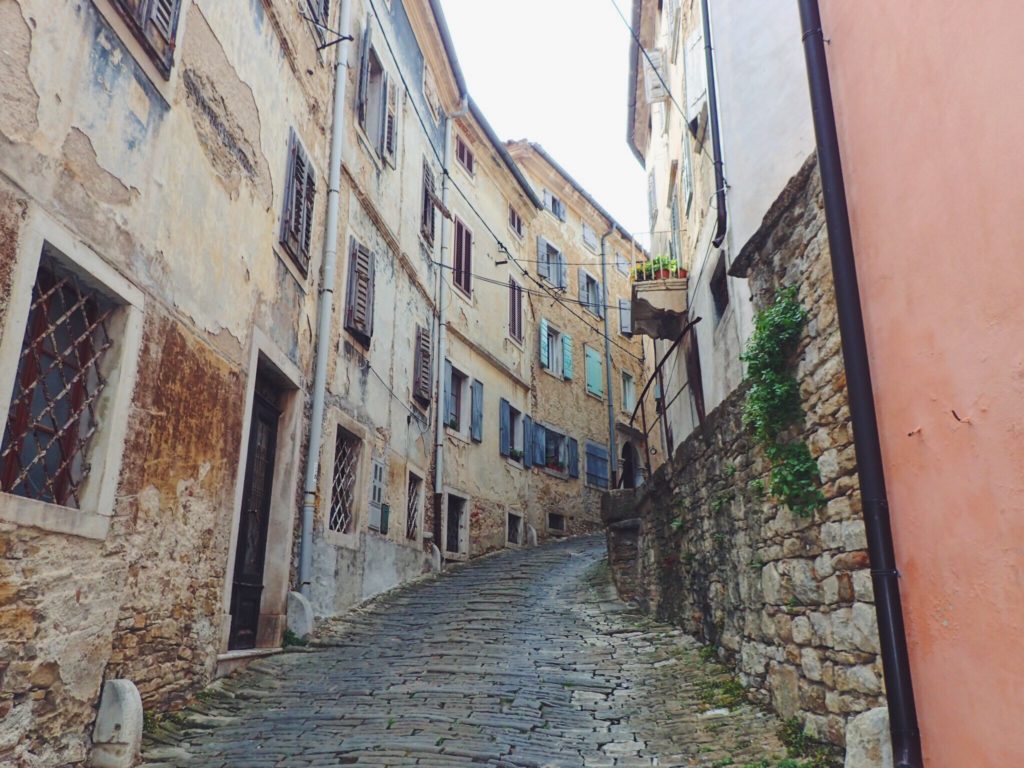 The Motovun Experience:
Sleepy hilltop villages, medieval stone walls, rolling green landscapes dotted with vineyards and olive groves, quaint red-roofed homes, lush forests, strong Italian heritage, charming stone alleyways, 12th century bell towers, black truffles and olive oil, cozy wine cellars.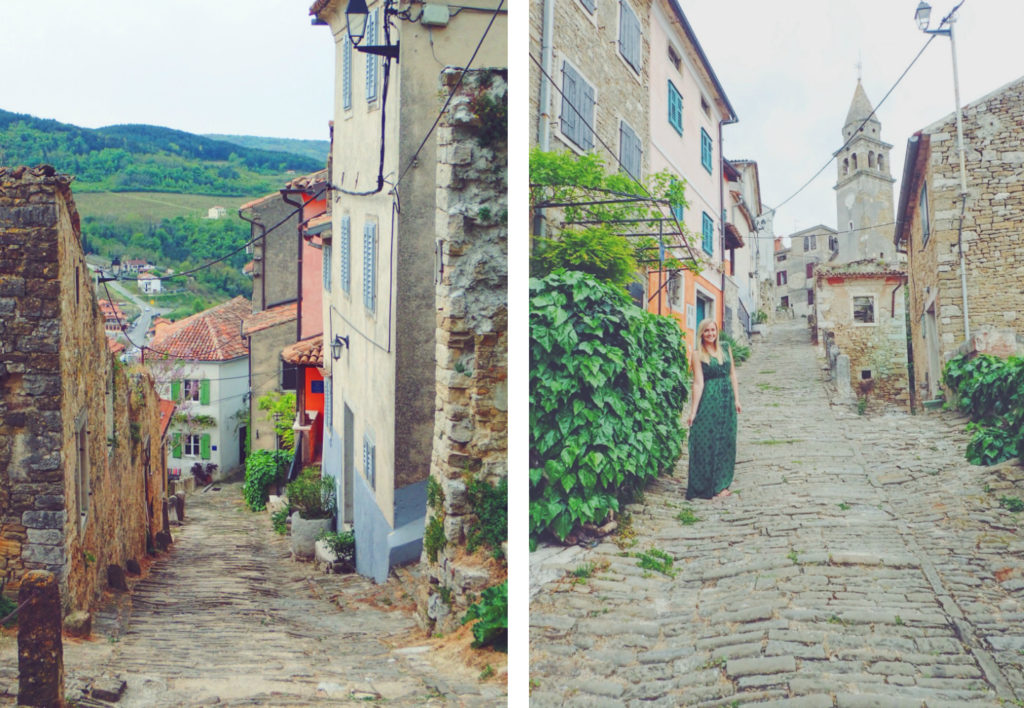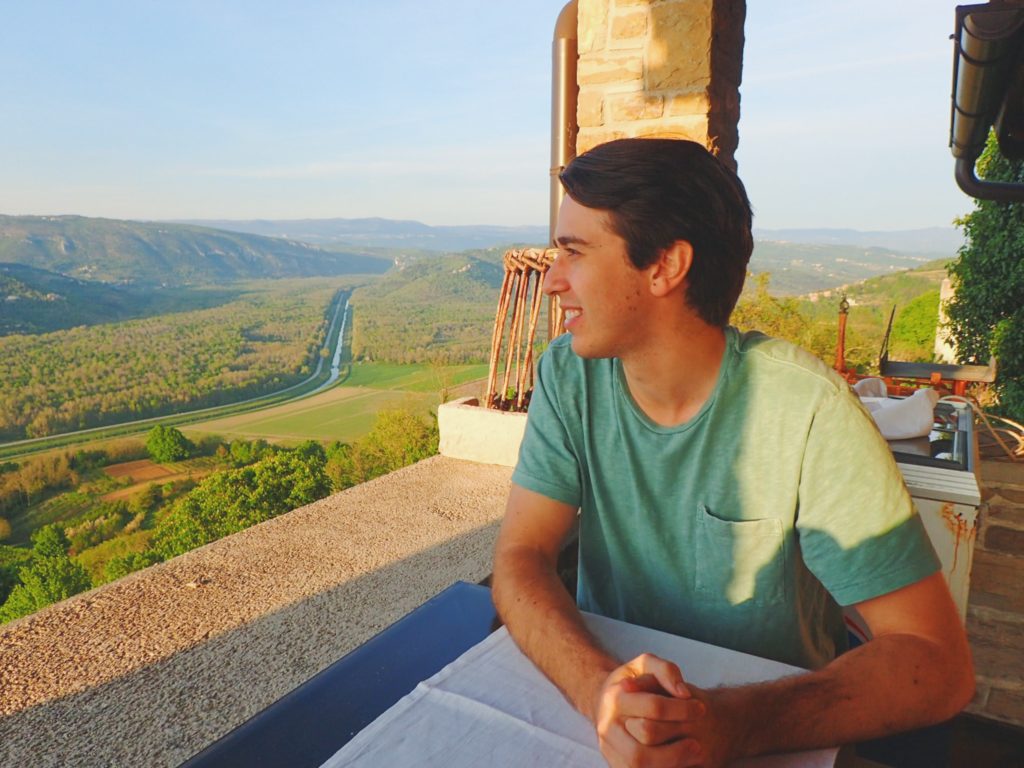 How Long to Stay: 2-3 Days
One day is really all you need to explore the town of Motovun itself. But you should also plan a second day for exploring the other nearby medieval towns, and it's nice to have a third day if you want to do an activity like a cooking class or truffle hunting expedition.
Where to Stay:
We stayed in a lovely Airbnb located close to the town's Gothic Gate, and not only did it end up being the perfect location, our hosts were absolutely phenomenal! They left us a sweet note and a homemade bottle of wine that their friends – local winemakers – had produced.
We ended up sitting out on the elevated terrace in their backyard one evening, watching the sun set over the hills while sharing the bottle of wine and chatting with them about travel and tourism in Croatia.
New to Airbnb? Get $40 off your first trip!
What to Do in Motovun:
Meander the cobblestone streets, soaking in the 360-degree views of the forests, vineyards, olive groves, and sloping hills below
Visit one of the many truffle shops to taste black truffles, white truffles, olive oil, and honey
Go truffle hunting
Hop in a car and spend a day exploring nearby villages (like Završje, Grožnjan, Buzet, Hum and Roč)
Sip locally made wines on gorgeous terraces, and frothy cappuccinos in inviting cafes
Take a cooking class
Enjoy heaping plates of truffle pasta at Mondo, a top-rated restaurant in Motovun
Check out the excellent pizza (and the even MORE excellent views) at at Montona Gallery
Get a bird's eye view by paragliding over the Istrian Peninsula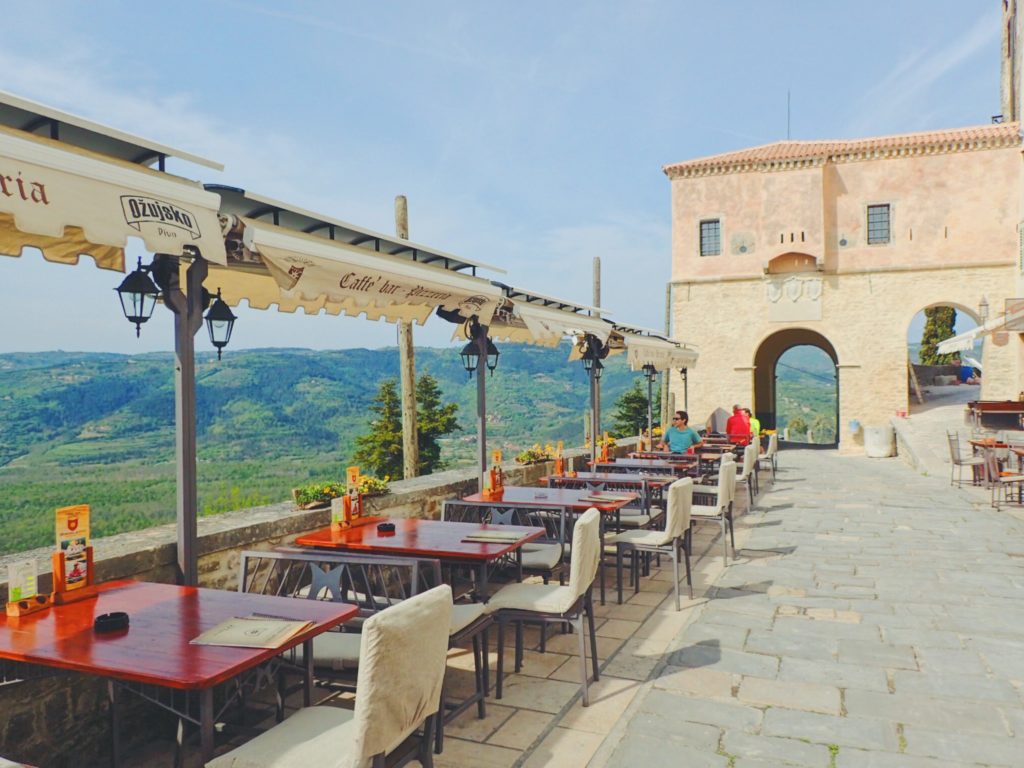 Read More: The Charming Hilltop Towns of Green Istria, Croatia
---
Rovinj ("Blue" Istria)
A stark contrast from the rustic vineyards and walled hilltop villages of Green Istria (but located less than one hour away by car) Rovinj embodies the very essence of Blue Istria: colorful winding alleyways, sapphire blue water lapping the rocky shore, and the smell of the sea in the air.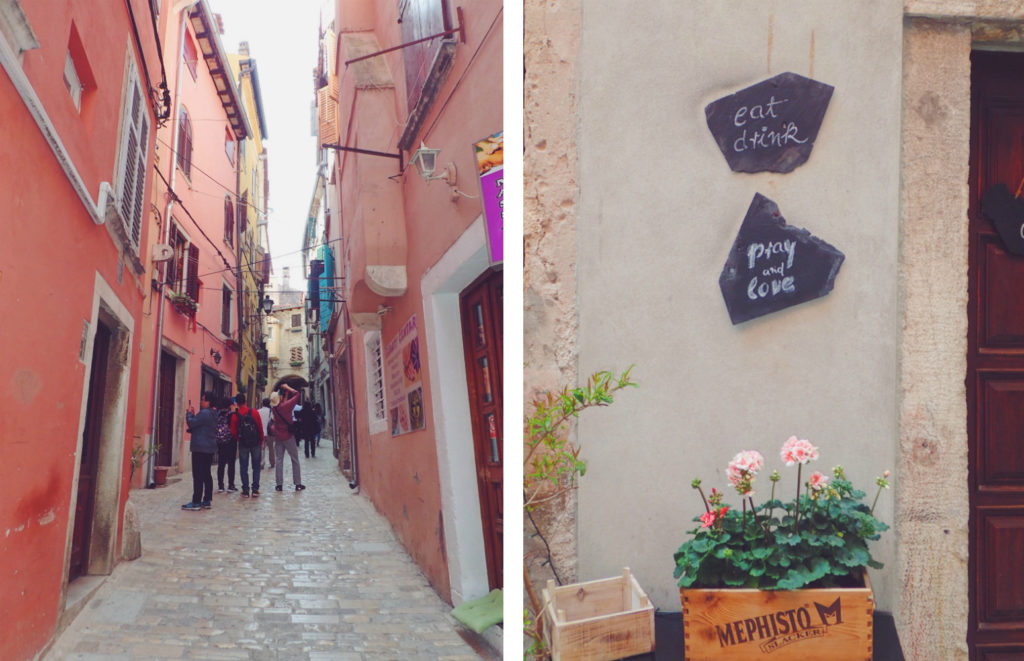 The Rovinj Experience:
Quaint seaside towns, vibrant pastel buildings, sapphire seas, bustling fishing ports, smooth stone streets, sunshine and ocean breezes, fresh seafood, historic churches, chic art galleries and boutiques.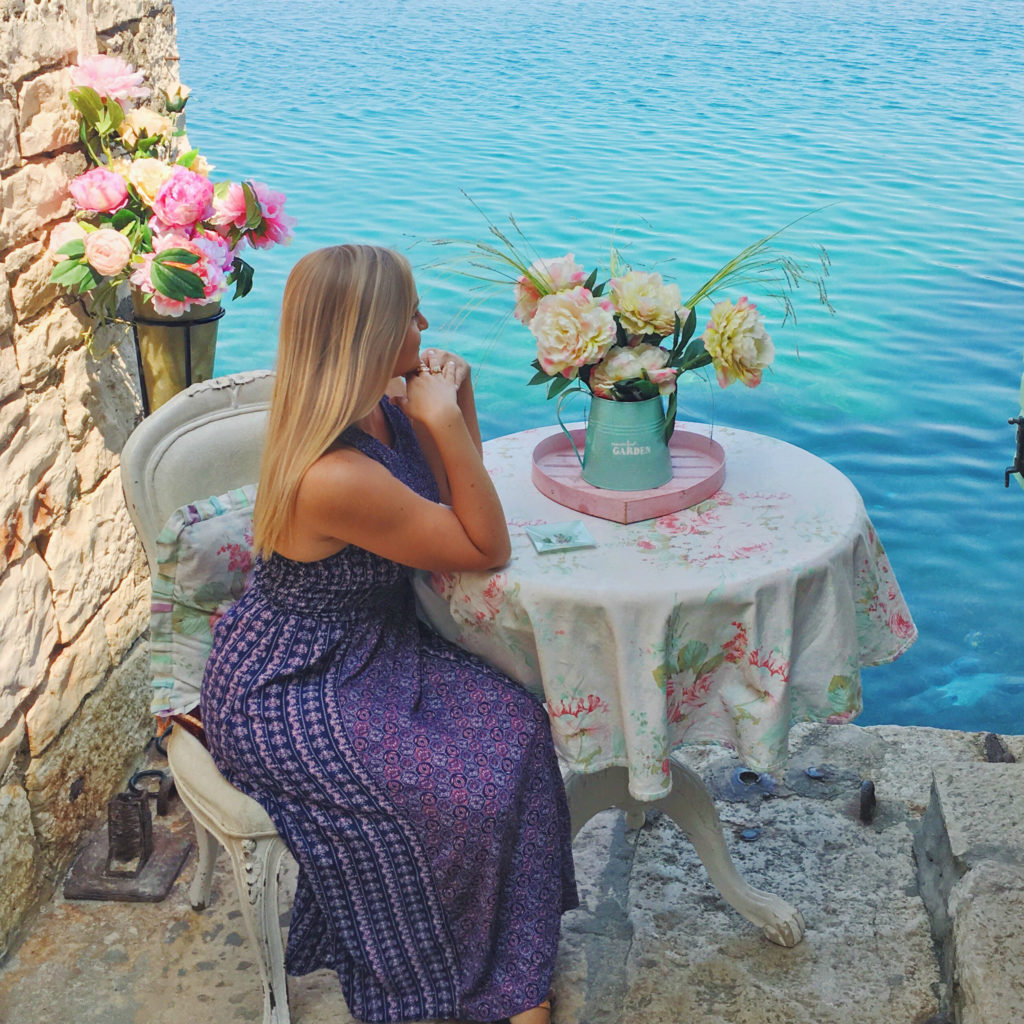 How Long to Stay: 1-2 Days
Rovinj itself is a small town, so one day should be plenty of time for soaking in its many charms. Add a second day if you'd like more leisure time, want to do an activity like a cooking class, or want to explore one of the other nearby towns in "Blue Istria."
Where to Stay:
For the most convenient location, I recommend staying in – or at least very close to – Rovinj's Old Town.
We had a great experience with Airbnb throughout Croatia, and Rovinj has plenty of sweet, charming, reasonably priced options like this cozy and well-decorated studio apartment, or this larger rental which accommodates up to four guests.
New to Airbnb? Get $40 off your first trip!
What to Do in Rovinj:
Wander along Grisia, Rovinj's main artist's street
Peek inside the Old Town's plentiful cafes, souvenir shops, art galleries, and boutiques
Marvel at the paintings and other artistic treasures found in the Church of St. Euphemia
Enjoy the views from the church's belltower
People-watch in the Port of Rovinj
Visit the nearby natural wonder Lim Fjord
Take a boat to St. Catherine Island and/or St. Andrew's Island
Visit the ruins at the archaeological site of Monkodonjo
Enjoy the nature (and beaches) at Punta Corrente Forest Park
Take a cooking class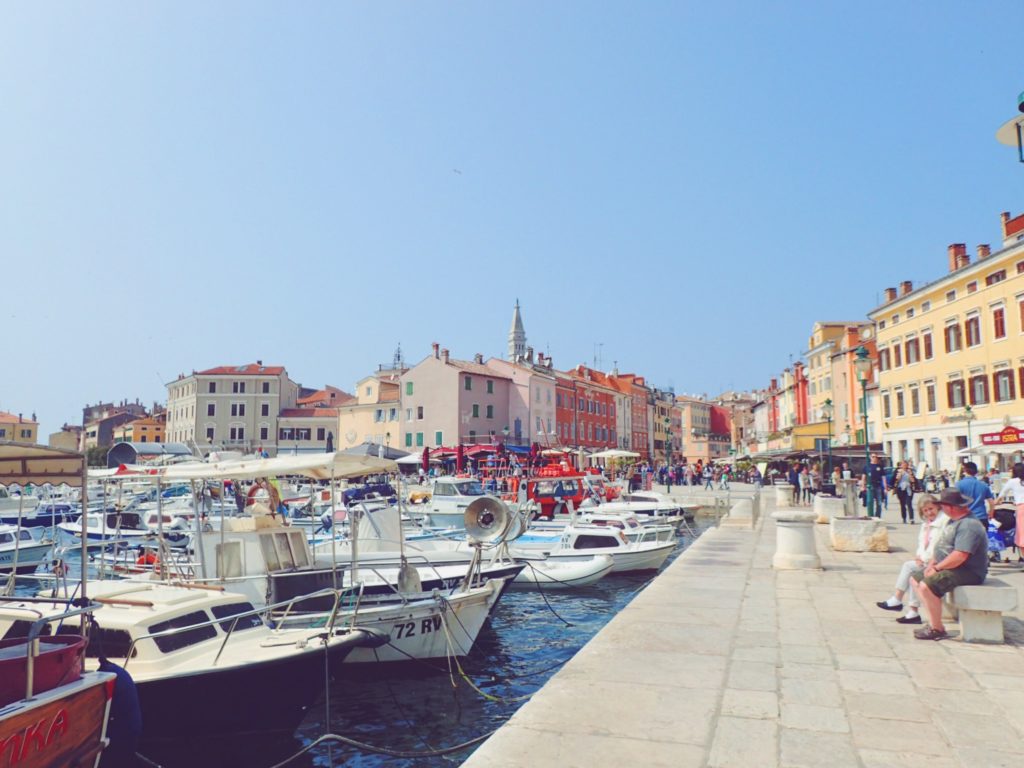 Read More: Ravishing, Romantic Rovinj: The Jewel of the Adriatic
---
Trogir
Trogir, nicknamed the "Stone Beauty" (also lovingly called "Little Venice"), is a historic harbor town on Croatia's winding Dalmatian coast. A UNESCO World Heritage site, this gorgeous seaside city is considered to be one of the best preserved medieval towns in Europe, and is dripping with Old World European charm.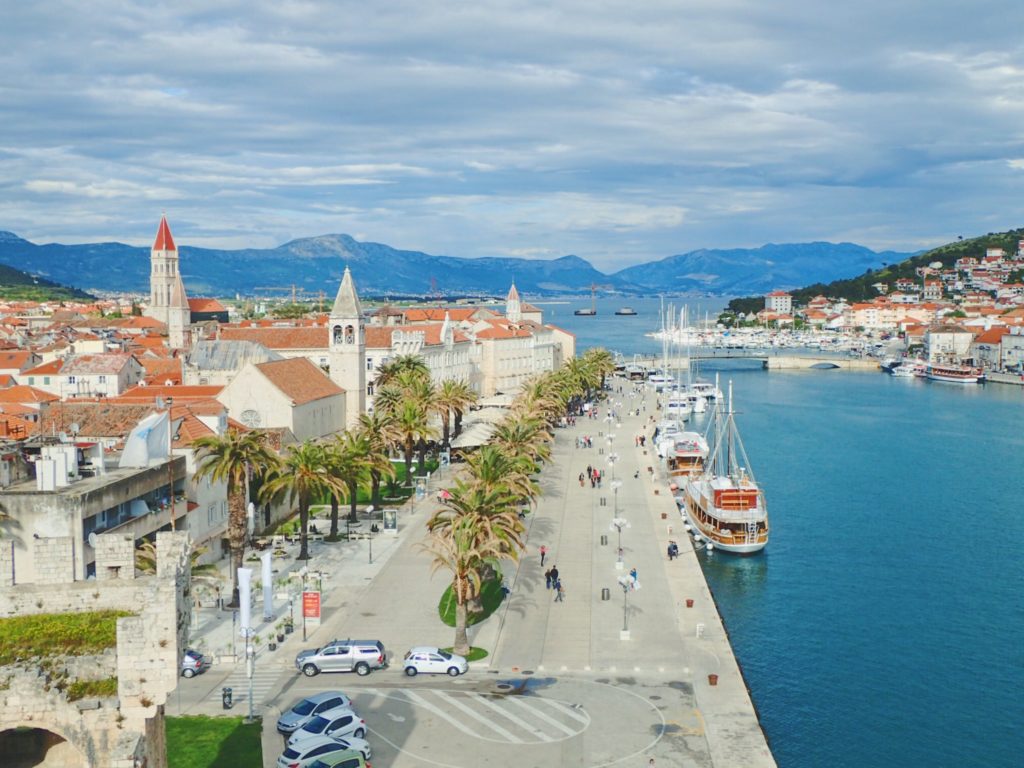 The Trogir Experience:
Sparkling seas, swaying palm trees, al fresco dining, catamarans, the smell of the sea, stone bell towers, pebble beaches, mountain views, enchanting alleyways.
How Long to Stay: 2-3 Days
Much like the other towns on this list, Trogir itself is quite small. One full day is plenty of time for exploring, but I recommend planning for one more full day to take a day trip to Split (assuming you're following this guide exactly, and not planning to stay there).
Add in a third day if you want to visit Klis fortress or spend a day lounging on one of the nearby beaches.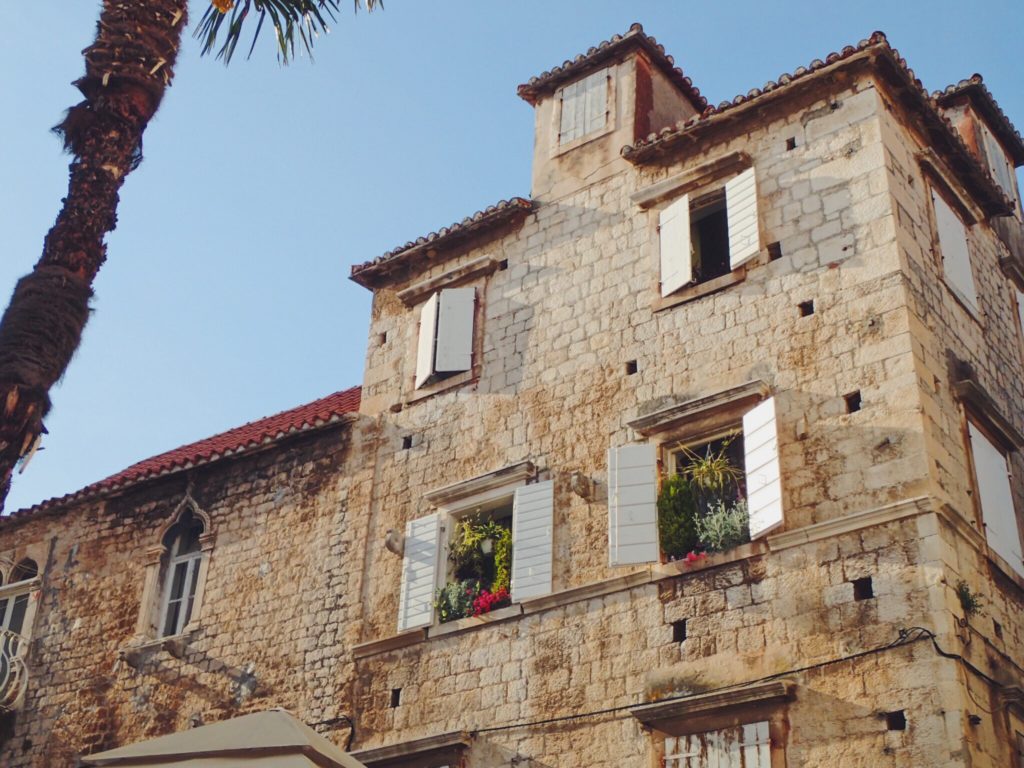 Where to Stay:
We stayed at Apartments Tragurion, which we booked on Airbnb. Since we had a rental car, our hosts met us at a parking lot just outside the city walls to give us a free parking pass and help us carry our bags up to the apartment. They were extremely gracious and welcoming, and even left us a few snacks and a small bottle of local liquor.
Our room was small but very comfortable, and the location was perfect – just a few steps away from the promenade!
New to Airbnb? Get $40 off your first trip!
What to Do in Trogir:
Stroll, people-watch, drink, and dine on the seafront promenade
Explore the maze of marble streets in search of cozy taverns and cafes
Enjoy the views from Kamerlengo Castle
Sample the seafood pasta at Pizzeria Kristian
Climb to the top of St. Lawrence Cathedral
Take a day trip to nearby Split (you can drive, but due to limited parking it's recommended to take the bus)
Hit the beach (Okrug Beach and Pantan Beach were the most recommended to us)
Visit Klis Fortress, aka Meereen for Game of Thrones fans (a car is recommended)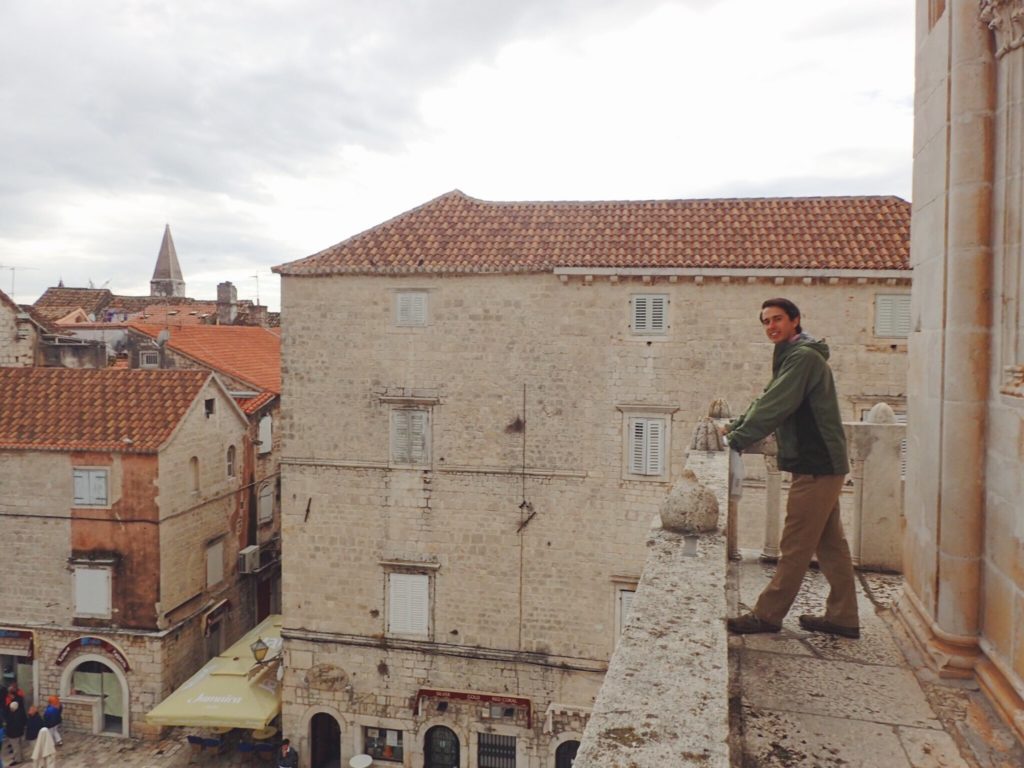 Read More: One Day in Trogir, Croatia's "Stone Beauty"
---
Peljesac Peninsula
The Peljesac Peninsula is a small strip of land – a bit less than 50 miles long – that juts out into the Adriatic Sea along the southern Dalmatian coast.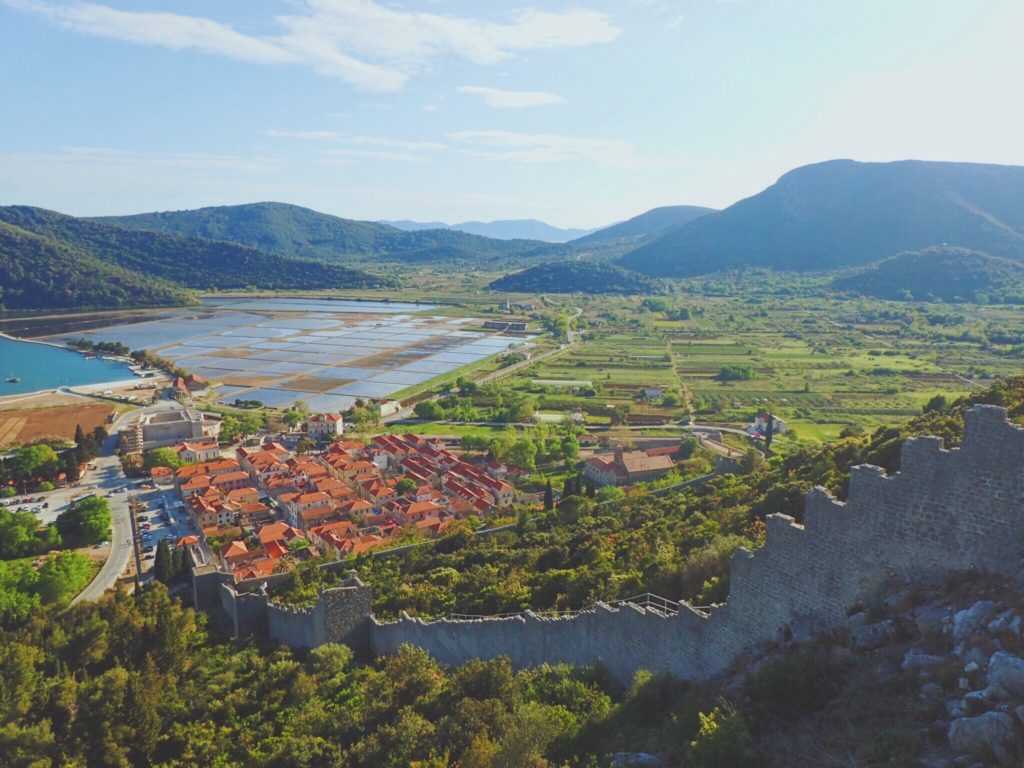 Although it's located just one hour north of Dubrovnik, and directly along the coastal route between Dubrovnik and Split, it's often passed over by travelers in favor of the more well-known destinations along the Croatian coast.
So for the travelers that do venture here, it's a nice escape from the typical tourist path (and the crowds that follow it, especially during the summertime).
The Peljesac Peninsula Experience:
Tiny red-roofed villages, rolling hills, salt flats, fresh oysters with lemon, family-owned vineyards, the "European Great Wall," turquoise seas, rocky beaches.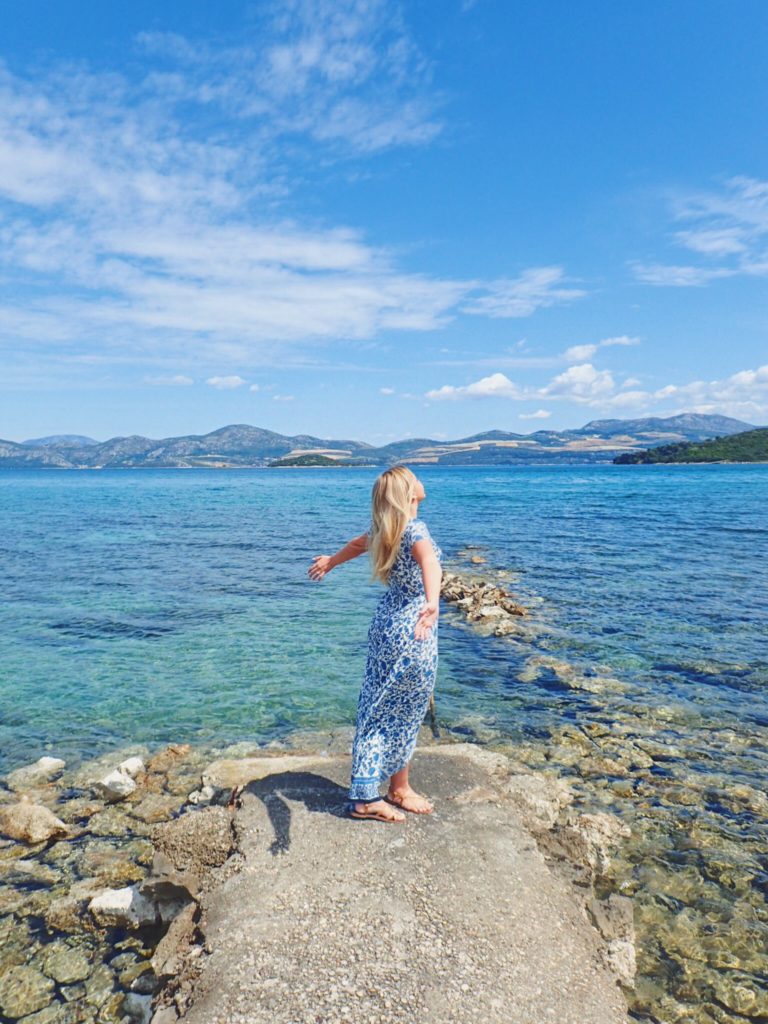 How Long to Stay: 1-2 Days
Personally, I think 2 days is the perfect amount of time to spend exploring the Peljesac Peninsula; one day for walking the walls and exploring the town you're staying in, and a second day for visiting wineries and/or driving along the coast.
Where to Stay:
Most travelers to the Peljesac Peninsula choose to base themselves in one of two towns: Ston is the easternmost town on the peninsula, and one of the largest with a population of 2,500. Orebic, on the far western side, is the most populated with roughly 4,100 residents.
We decided to base ourselves in Ston, and  booked a room at Ina Apartments, a cozy little building snuggled right up against the town's 14th century city walls. It was clean and comfortable, and had a small terrace where we could sit and watch visitors begin their climb up the walls.
New to Airbnb? Get $40 off your first trip!
What to Do on the Peljesac Peninsula:
Enjoy fresh oysters straight from the shell with a squeeze of lemon
Visit family-owned vineyards and taste Croatia's best wines
Walk the ancient walls of Ston
Take a scenic drive along the peninsula and explore the entire coast
Swim and sunbathe on the pebble beaches
Go sea kayaking, windsurfing, or scuba diving
Take a daytrip (by boat) to Mljet or Korcula
RELAX – what the Peljesac Peninsula is best known for!
Read More: Oysters, Wine, and Medieval Walls on Croatia's Peljesac Peninsula
---
Dubrovnik
Dubrovnik, Croatia has long been called the "pearl of the Adriatic," and it's not hard to see why: the charming coastal city's smooth marble streets and old stone buildings practically sparkle under the Mediterranean sun.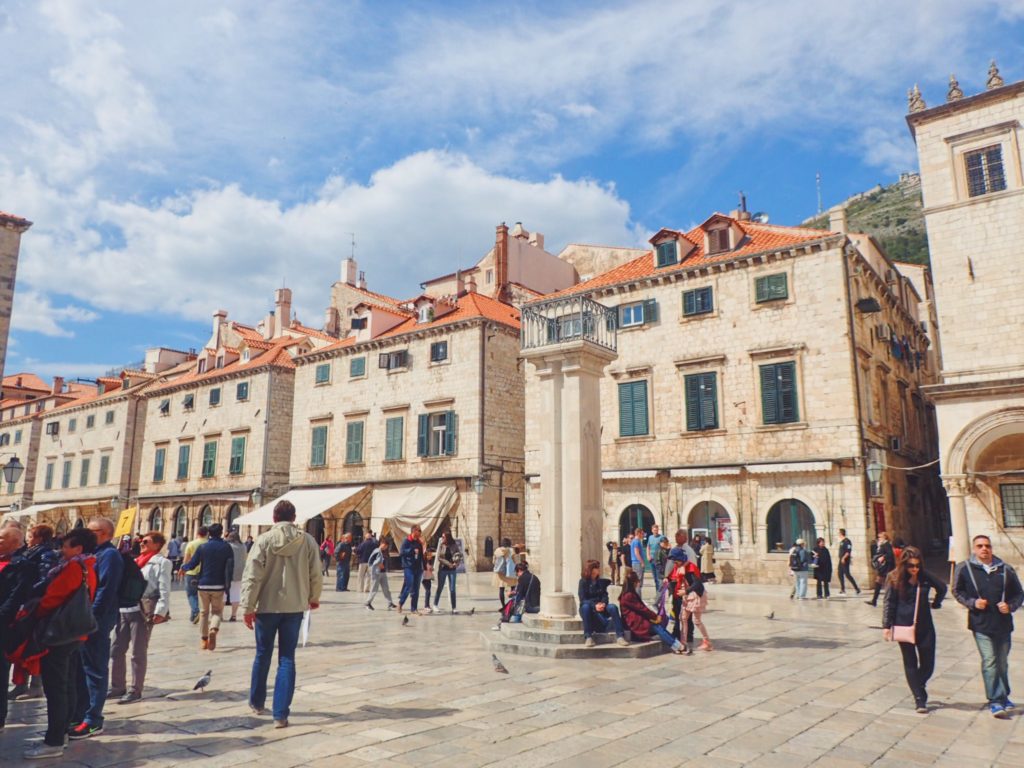 It's a must-see for any visitor to Croatia, although depending on the time of year you visit, you may be sharing the small city with a LOT of cruise ship passengers.
Pro Tip: If you're driving from the Peljesac Peninsula to Dubrovnik, it's super easy to visit Trsteno Arboretum – a gorgeous garden and another GoT filming location – along the way.
The Dubrovnik Experience:
Ancient city walls, azure seas, fortresses and churches, red roofs, wide marble streets, baroque buildings, steep narrow alleyways, cable cars, incredible sea views, hole-in-the-wall bars, King's Landing.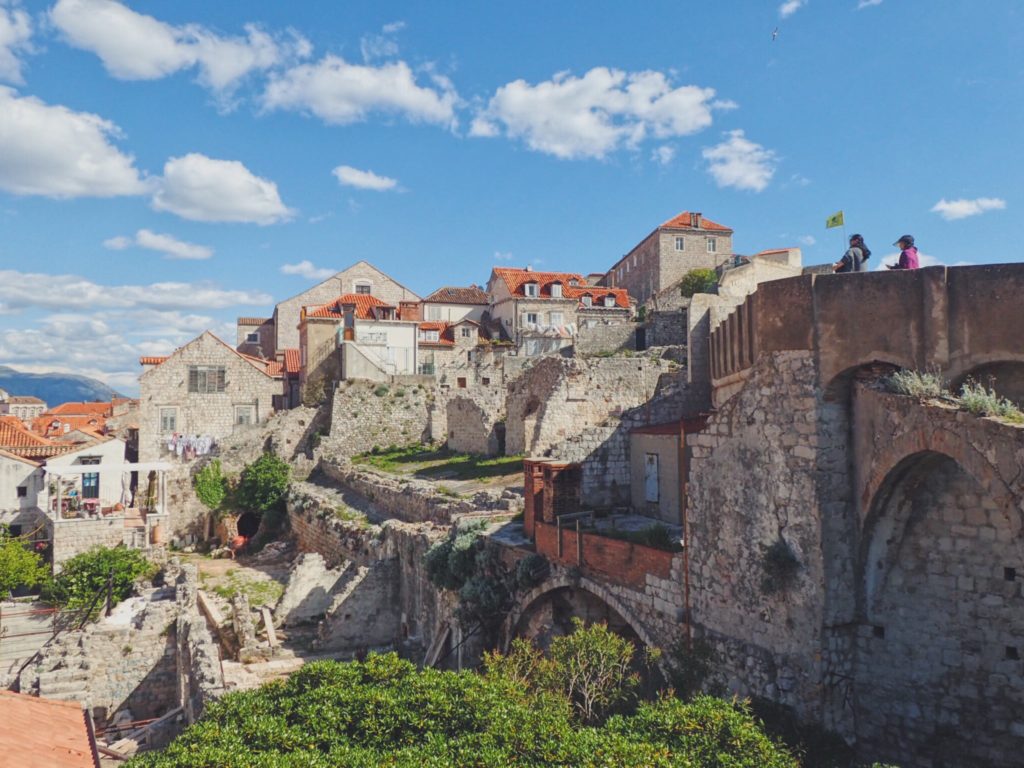 How Long to Stay: 3-4 Days
Dubrovnik deserves a solid day or two just for exploring and sightseeing within Old Town. We spent 3 days enjoying the charms of Old Town without getting bored, but for some, that third or fourth day might be better spent venturing out on a day trip (popular options include Kotor, Mostar, or the Elafiti Islands).
Where to Stay:
We scored an AMAZING Airbnb that was literally just a stone's throw from Dubrovnik's iconic city walls. The inside of the apartment was comfortable and clean, but it was the small porch that really sold us.
Every evening we would sit on the porch drinking wine, watching tourists meander along the city walls, and waiting for the sun to set behind Fort Lovrijenac. Just see for yourself:
Pretty epic, right?! I highly recommend booking this Airbnb if it's available!
New to Airbnb? Get $40 off your first trip!
What to Do:
Get lost (not really) wandering through Dubrovnik's Old Town
Walk the Dubrovnik city walls
Explore Old Town's top sights (Dominican Monastery, Franciscan Monastery, Rector's Palace, Cathedral of the Assumption of Mary)
Tour Fort Lovrijenac
See the Pile and Ploce city gates
Stroll down the Stradun, Dubrovnik's widest and most bustling main street
Watch the city transform into King's Landing before your very eyes with a Game of Thrones walking tour
Ride the cable care for a bird's eye view of Dubrovnik's Old Town
Take a day trip to scenic Lokrum Island
Have a drink at Bar Mala Buza or Buza Bar (yes, these are two distinct – but very similar – bars; we prefered the first)
Go sea kayaking in the gorgeous sapphire-colored ocean
Enjoy one of the scenic pebble beaches (Banje Beach, Sveti Jakov Beach, Lapad Beach, and Copacabana beach are among the most popular – learn more about Dubrovnik's beaches here)
Have an ice cream at Dolce Vita (I ordered a scoop of hazelnut and a scoop of Ferrero Roche – YUM)
Take a boat to the Elafiti Islands (Kolocep, Lopud, and Sipan) for swimming and hiking
Spend a day visiting nearby Kotor in Montenegro or Mostar in Bosnia and Herzegovina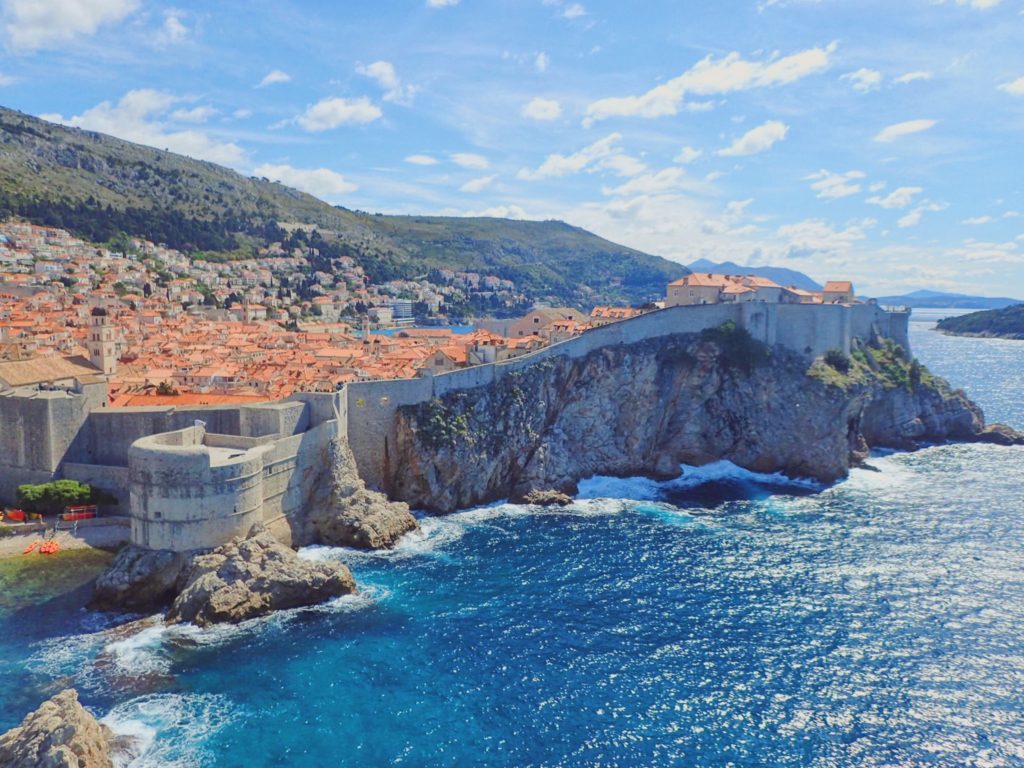 I'll be writing a full Dubrovnik itinerary post soon – stay tuned!
---
What I DIDN'T Include on this Itinerary:
Croatia is by no means a HUGE country, but it's not small either…and that means it's just not possible to see everything in 2 weeks without rushing (and I am fully against speeding through cities and sights just to check them off your list – where's the fun in that?!).
So, there are a few places that are often considered "must sees" in Croatia that we, well, didn't see! And you know what? We lived, and we don't have any regrets. Since we visited in April (i.e. the tail end of low season, when the weather was still chilly), some of these "must sees" just didn't made sense for us (swimming in April in Europe? No thanks!).
But depending on when you're visiting and what your interests are, it might make sense for you to swap out one of the locations I mentioned above in favor of one of these locations. Or, if you have longer then 2 weeks in Croatia, then definitely add 'em in!
Split (as its own destination, not a day trip from Trogir)
Zadar: A pretty city on the Dalmatian coast, best known for its musical Sea Organ
Zagreb: The cool and underrated capital city
Plitvice Lakes: Those gorgeous waterfalls you keep seeing photos of on Instagram
Hvar: One of Croatia's prettiest and ritziest islands
---
Tips for Success
If possible, I highly recommend renting a car and making this 2 week trip a road trip! It's easy, straightforward, and relatively inexpensive to rent a car in Croatia, plus it gives you much more flexibility than the bus system. Croatia also doesn't have a convenient train system for travelers.
I always think it's helpful to travel with a detailed guidebook, which can help you fill any down time or help you find a nice restaurant or attraction if you're not sure where to go. I recommend the 2017 Lonely Planet Croatia
, although Rick Steves Croatia & Slovenia
 also comes highly recommended.
In general, you don't need to know Croatian to travel in Croatia. However, I ALWAYS strive to learn at least a few basic words (hello, goodbye, thank you, yes, no, etc.) to avoid looking like the stereotypical "rude" American tourist. Lonely Planet has a good Croatian Phrasebook
if you need to brush up on your Croatian language skills before your trip.
And there you have it – the ultimate guide to 2 weeks in Croatia!
---
Pin It!

---
What do you think of my ultimate guide to 2 weeks in Croatia? If you've been to Croatia before, what would you add or change? If you're planning a trip to Croatia, what questions do you still have?
*This post contains affiliate links. When you make a purchase using these links, I will receive a small commission at no extra cost to you. These commissions help keep this blog running. Thanks!*
Let's Connect!