Surprise – I'm a wedding blogger now!!! Hah, only joking, but I am taking a break from the usual travel talk to share some stories and photos from my April 9th wedding in Austin, TX (and I couldn't resist the opportunity to use a stereotypical wedding blog headline).
I know some of my readers probably don't care about that type of thing, so if you're just here for the travel inspiration and advice I recommend checking out some of my most popular articles on Thailand, Central America, or Germany!
Our April Wedding in Austin, TX
I was never one of those little girls who dreamed of her wedding day, but pretty much as soon as Derek and I got engaged I had a clear vision of what kind of wedding I wanted to have: outdoors, somewhere beautiful, with a laid back, festive and celebratory vibe. Hello, Austin TX!
Since Derek and I are originally from the East Coast, we a had a huge number of guests flying in from out of town. Most of our guests had never visited Texas before, so we were determined to show them just how cool and fun our state can be. We figured if everyone's going to be traveling in from out of town anyways, we might as well have them travel to the city of live music, BBQ, food trucks, and "Keep Austin Weird" bumper stickers!
In addition to picking a location with the right vibe that our guests would love, it was also important to both Derek and I to have our wedding somewhere that you could literally feel the nature the around you. We're suckers for sunshine and a pretty view, and we've shared many special moments together in the great outdoors throughout our relationship.
So, we began envisioning a wedding day that had a natural, earthy, botanical and organic vibe, in a place where you could look around and see soft grass and big oak trees and wildflowers in every direction. From there, I started dreaming of rustic farm wood tables with long greenery runners, and mismatched crate centerpieces overflowing with succulents and mixed wildflowers.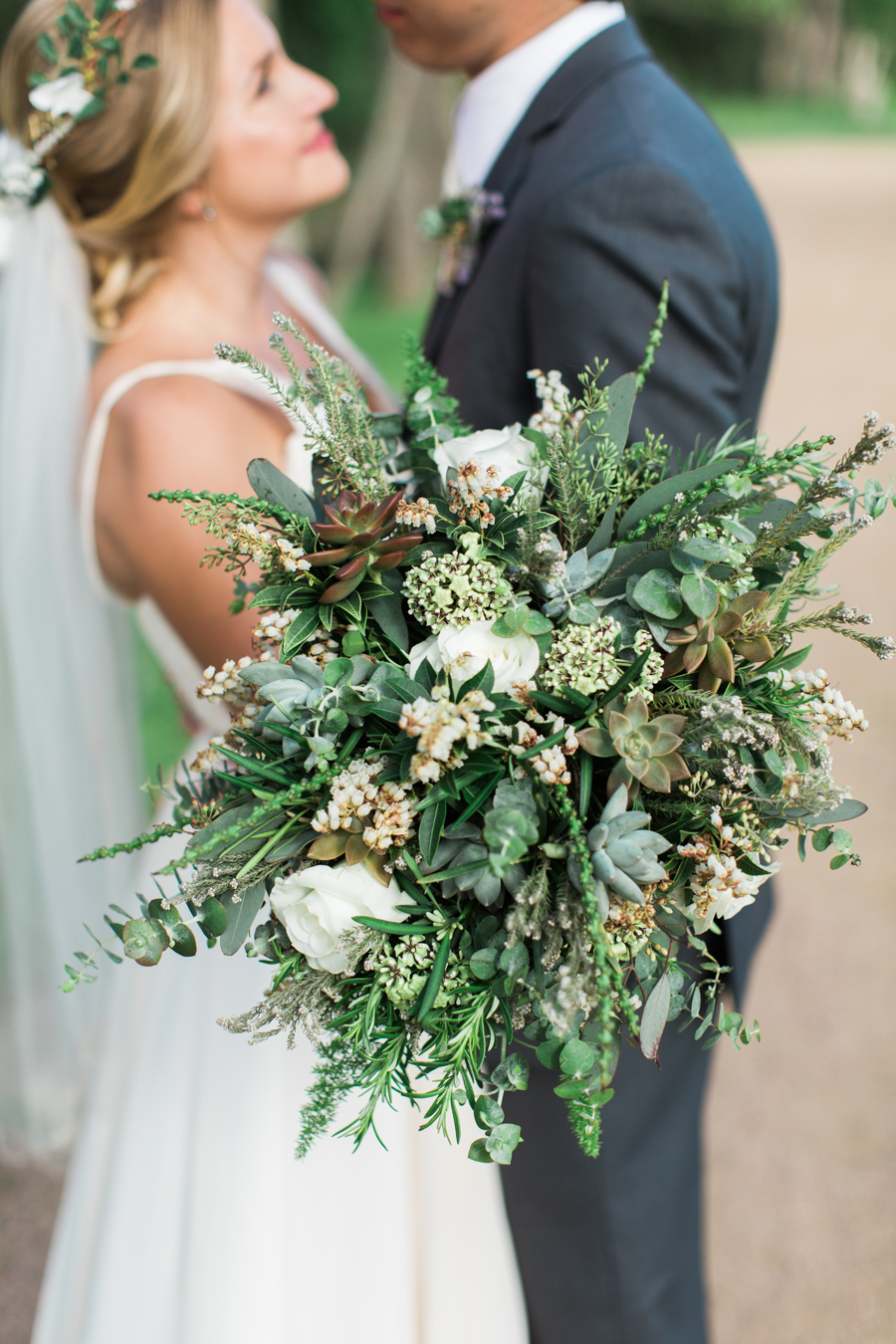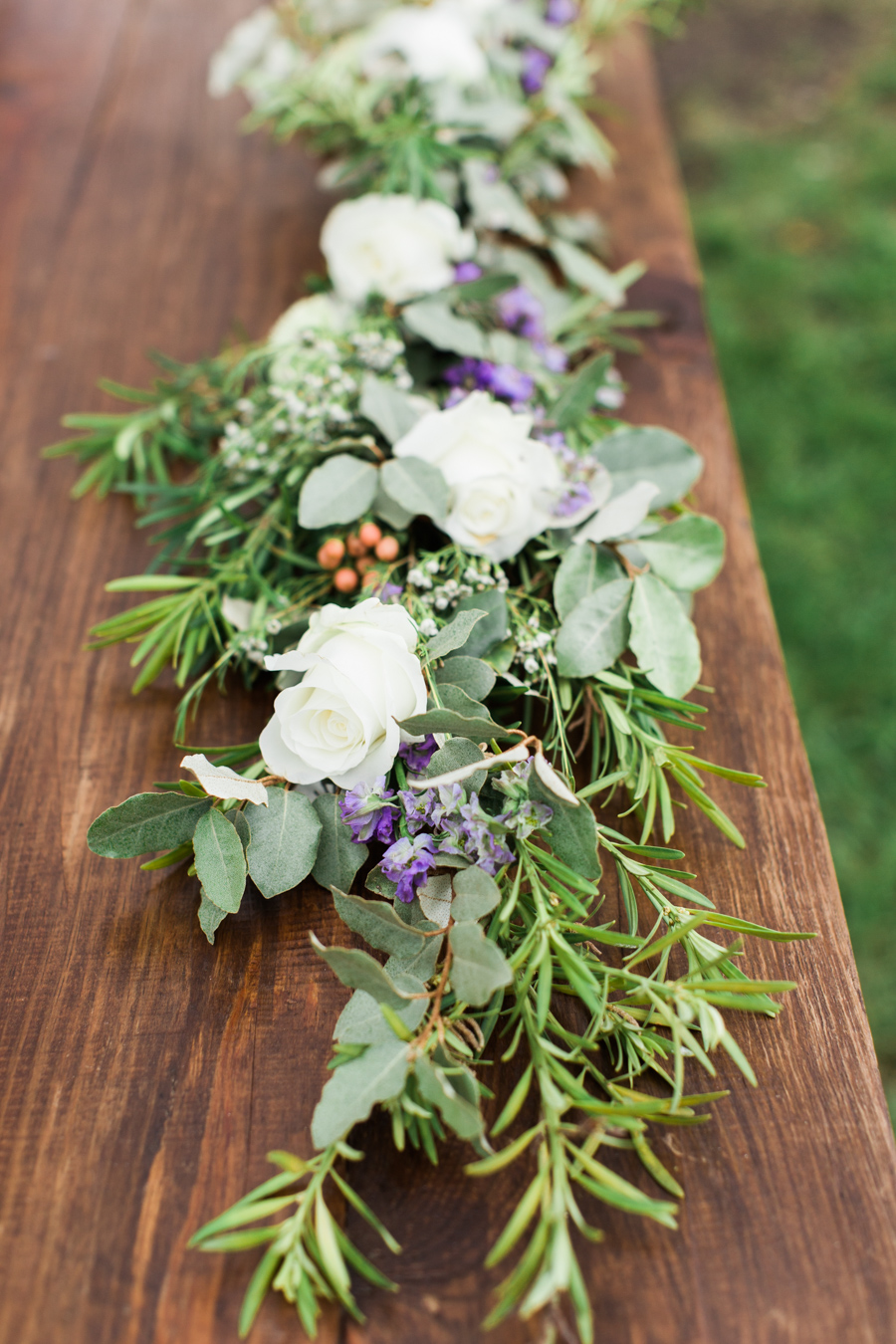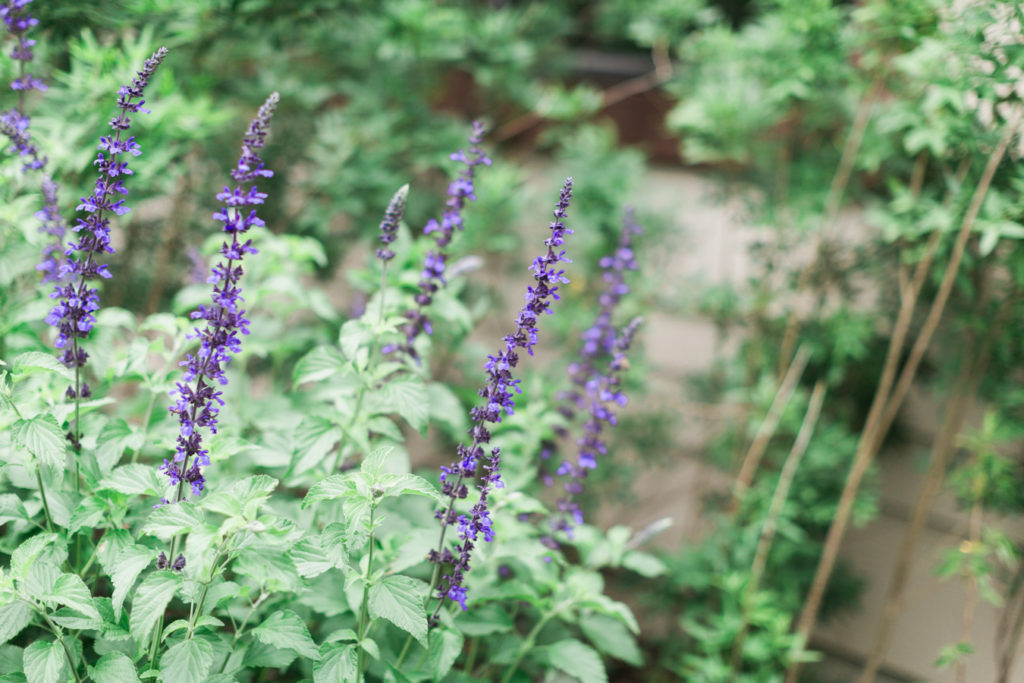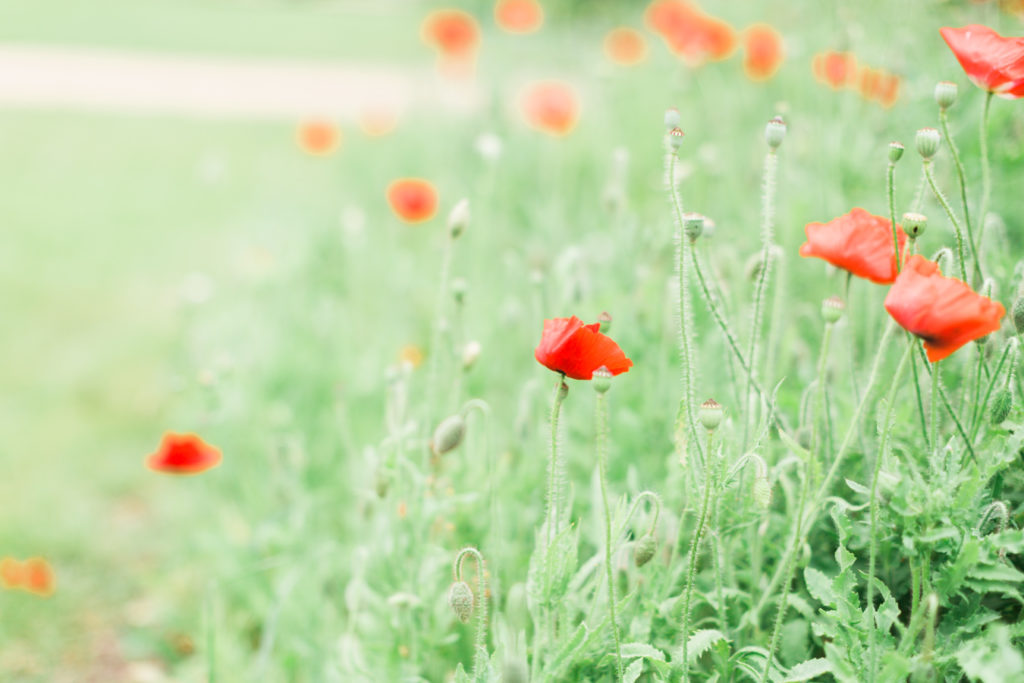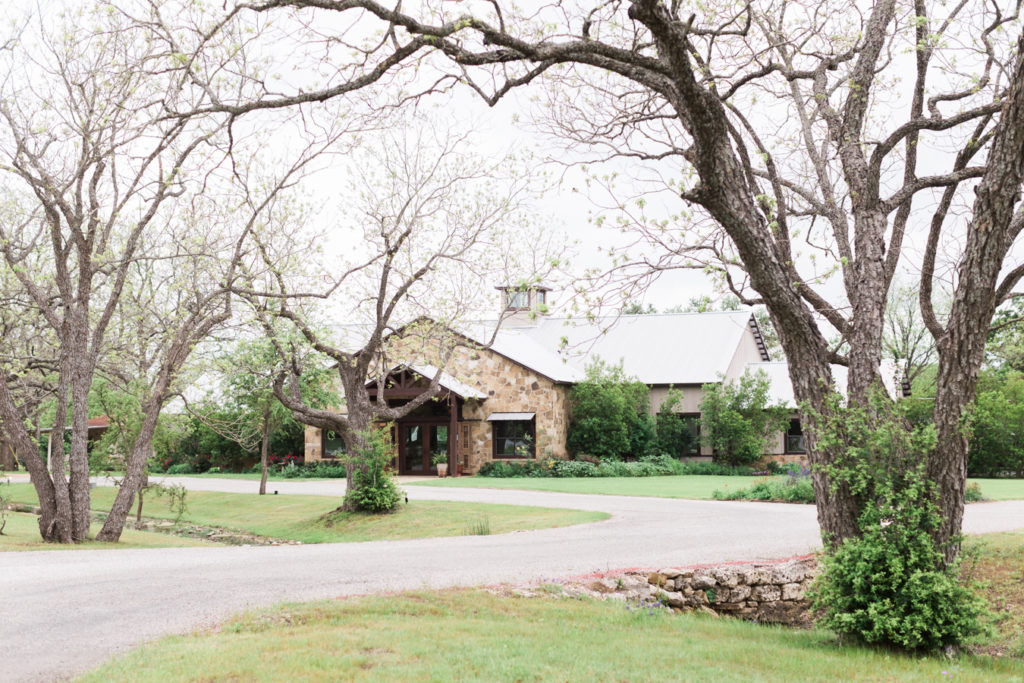 As soon as we saw our venue, Pecan Springs Ranch, we knew it was "the one." Situated on 17 acres of gorgeous land just south of Austin, the property is overflowing with beautiful old oak trees, shady pecan trees, and colorful Texas wildflowers.
I chose various shades of lavender, lilac, and wisteria to complement all of the natural greenery, and used these colors in my bridesmaids dresses, flowers, napkins, and other decorative details.
Then, I made a list of words that I wanted to describe the theme, mood, and atmosphere of the day: whimsical, celebratory, relaxed, boho, intimate, and romantic all made the list.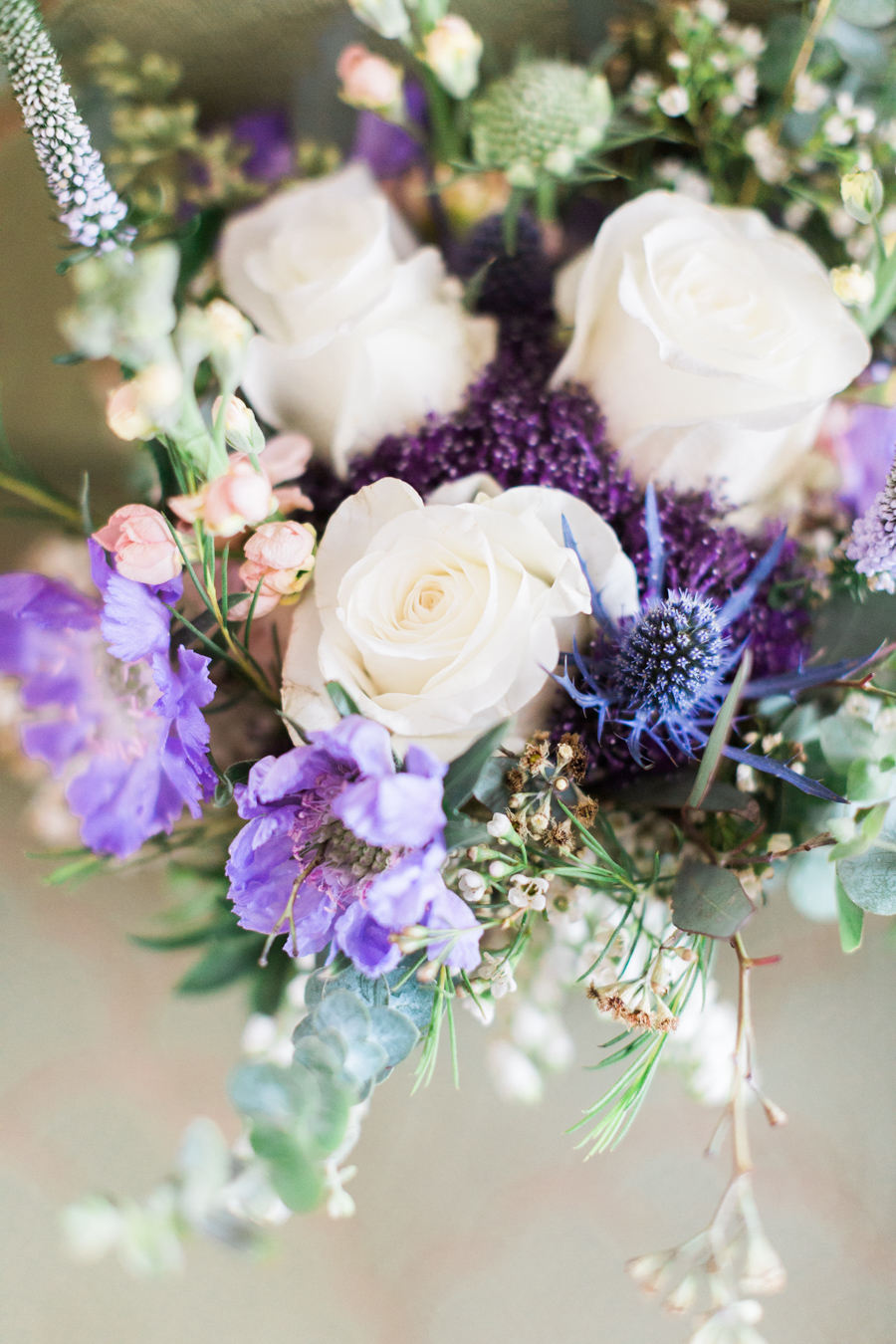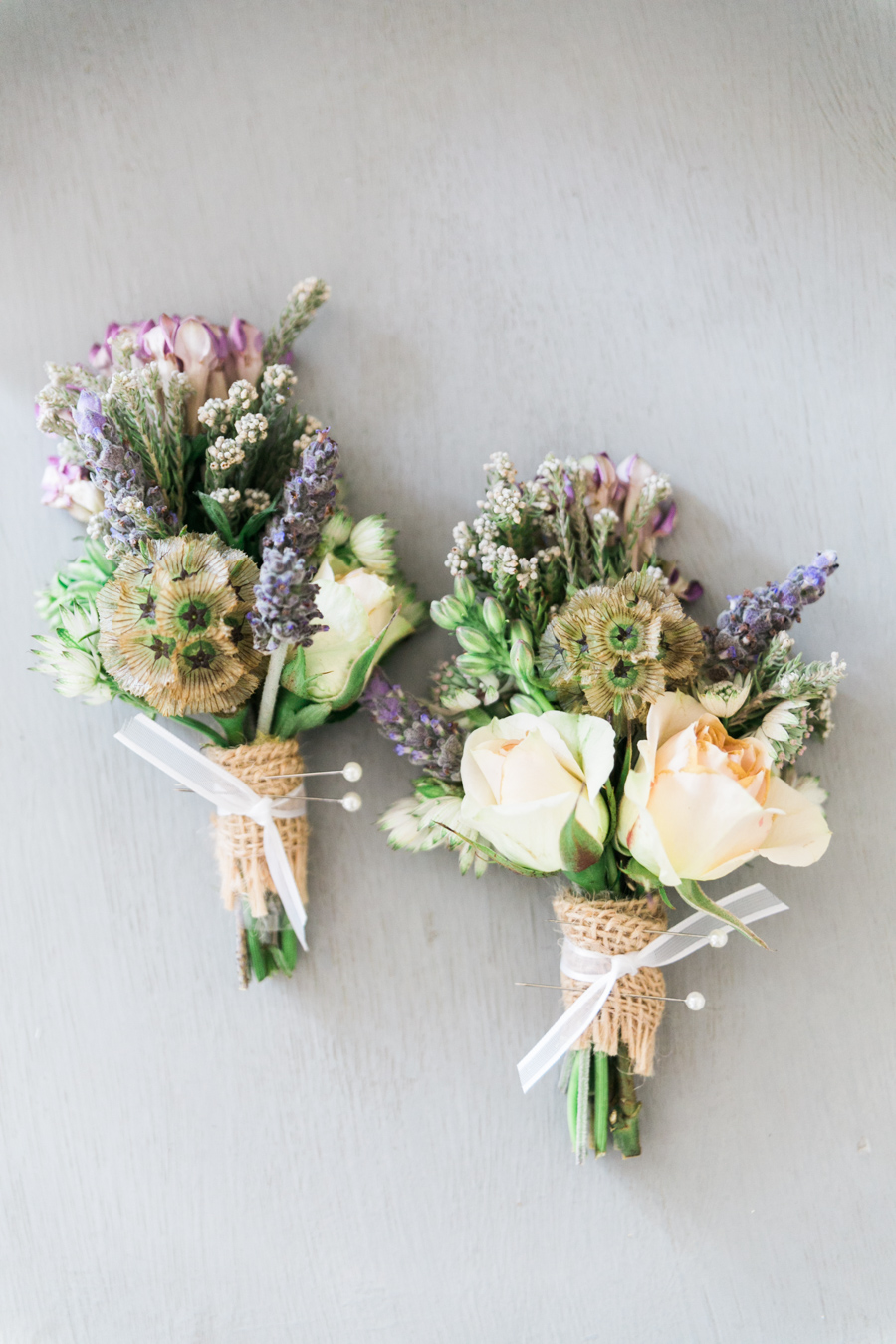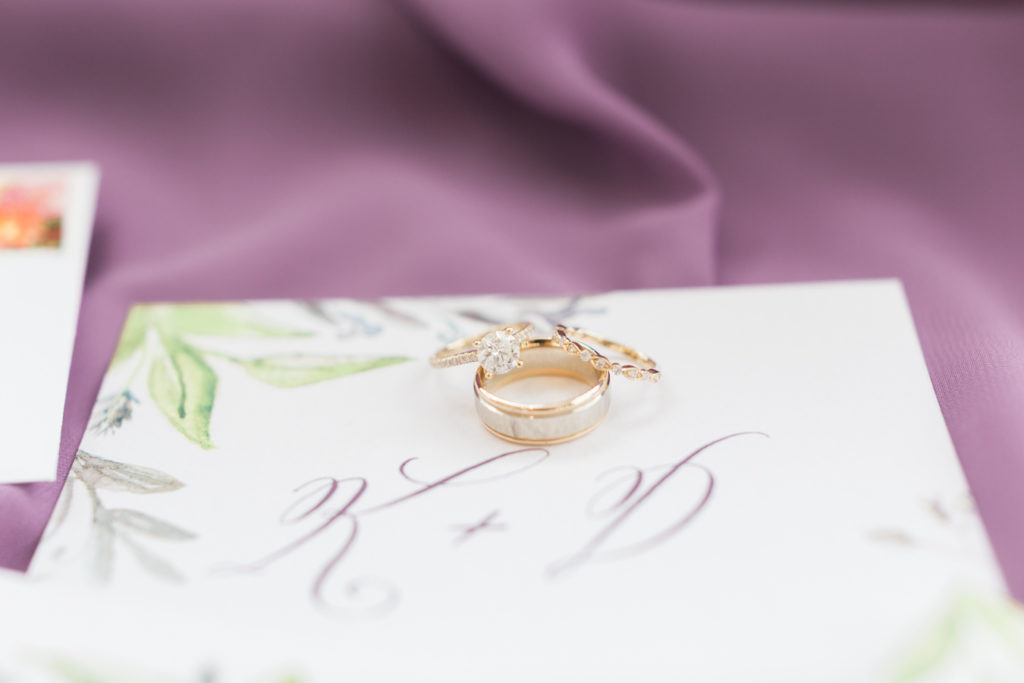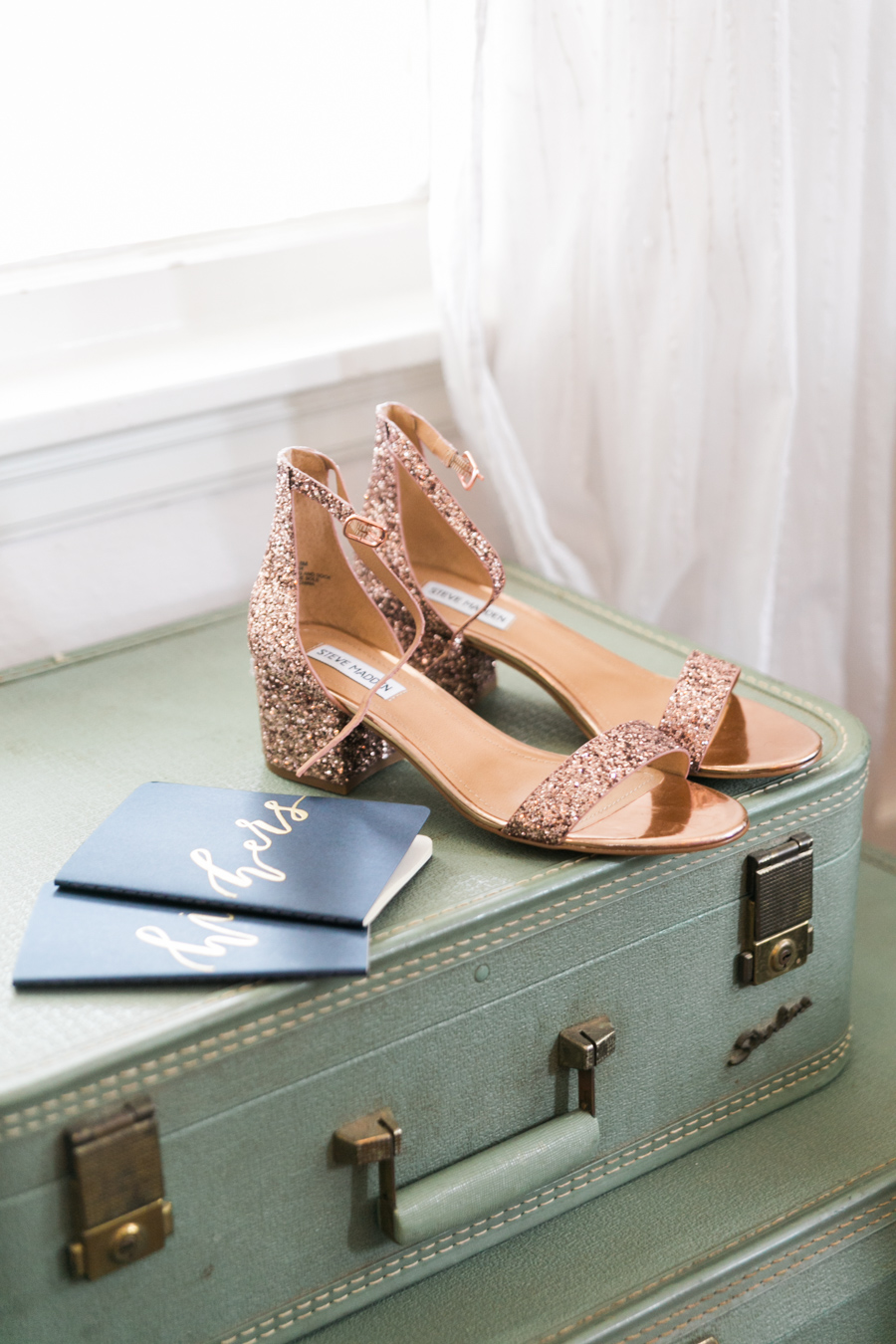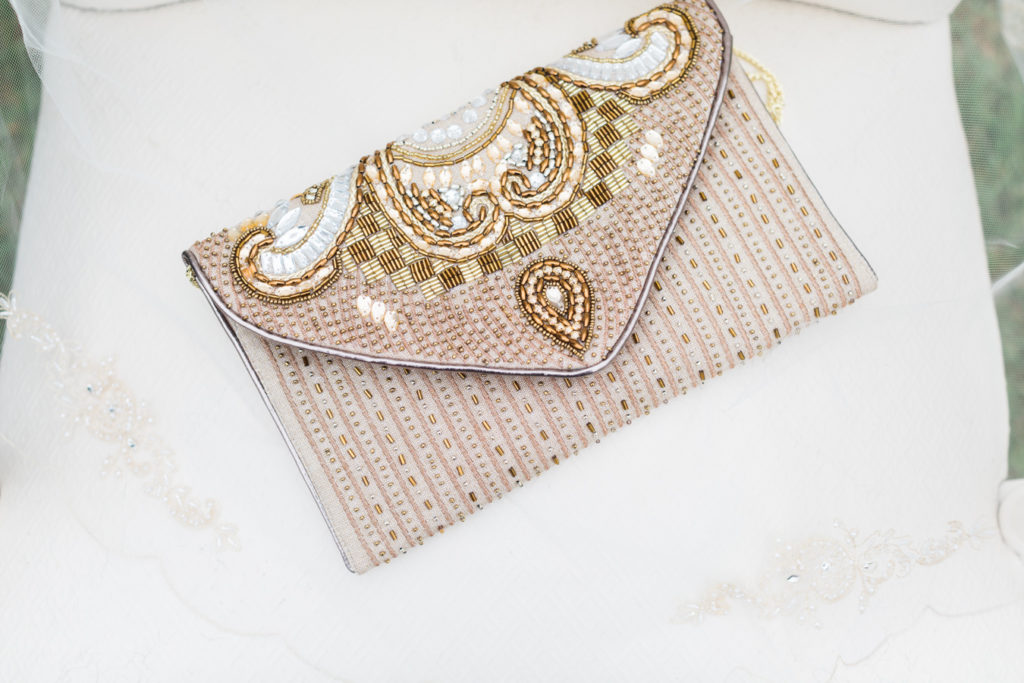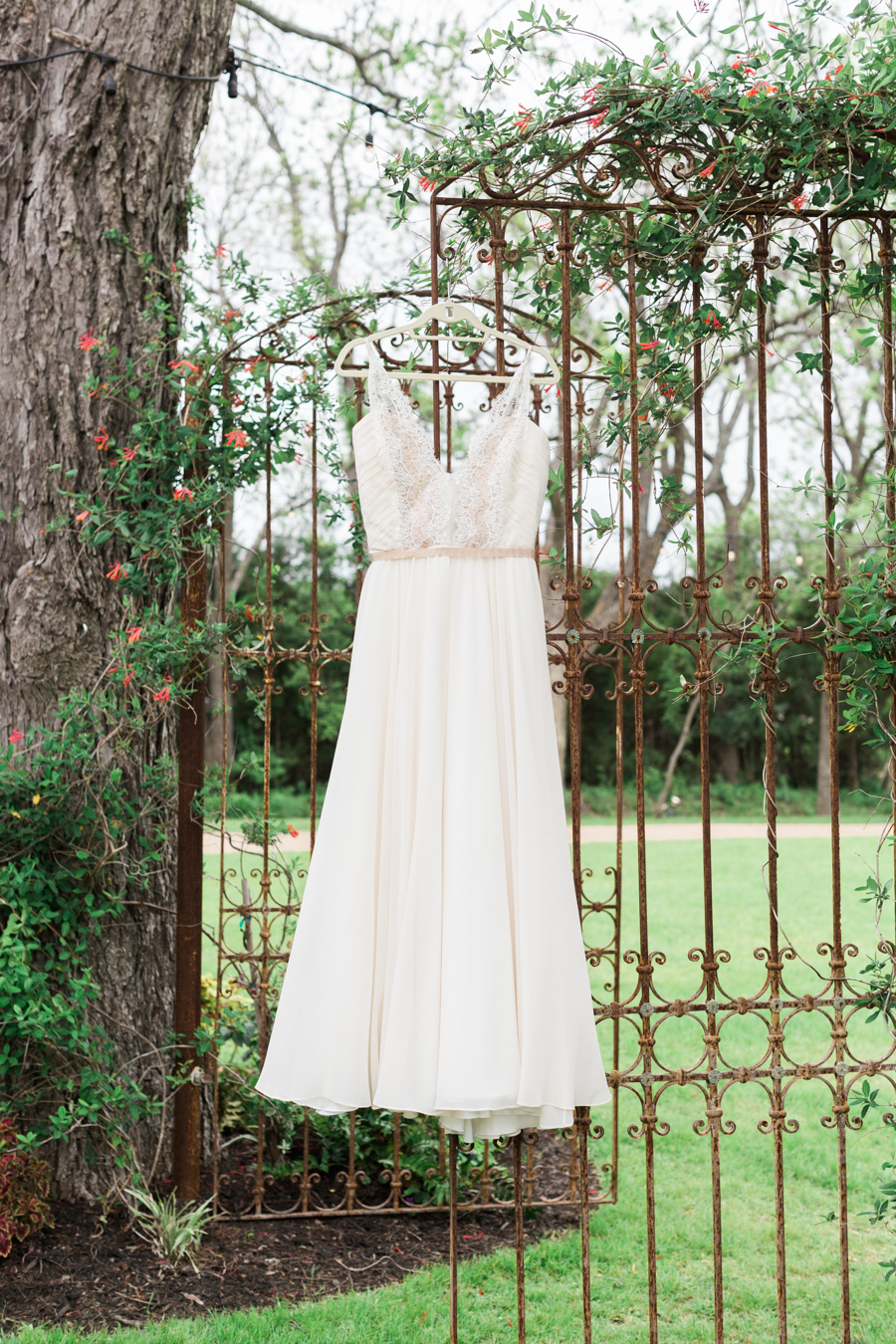 To ensure that our wedding day stayed true to "us," I had Derek and myself write down a list of 3 words or phrases that we wanted to describe our wedding day.
Here's what we each wrote:
Kelly: Down to earth; Heartfelt and meaningful ceremony + vows; Lots of smiles
Derek: Easy; Beautiful; Celebration
We realized afterwards that we had both written down essentially the same exact things, just phrased differently.
I referred to this list countless times during the planning process, and it helped me stay realistic and mindful about what was really important (yes: our ceremony and the start of our marriage, the presence of our loved ones, being good hosts and providing a fun, festive atmosphere; no: the color of the napkins or how many votive candles went on each guest table).
So, without further ado…here's the story of our wedding day!
---
Venue: Pecan Springs Ranch
Caterer: The Peached Tortilla
Cakes: Capital City Bakery
Florist: A family friend
DJ: DJ Johnny Bravvo
Rentals: Whim Hospitality
Hair and Makeup: LoLa Beauty
Photography: Angela at Loft Photography
---
Getting Ready
Our day got started early, with myself, Derek, the bridesmaids, and both sets of parents arriving at the venue at 10:00am to begin setting up. The venue took care of all of the heavy lifting, like setting up the tables and chairs, but our family and friends did SO MUCH to help with the decorations and details. Seriously, I was blown away by how much everyone was willing to do to help out, and our venue looked GORGEOUS thanks to everyone's hard work!
The hair and makeup artists arrived at 11:00am to start making everyone look b-e-a-utiful, and oh man did they do a phenomenal job! Guys, the ladies in that bridal cottage were GLOWING. My bridesmaids all had cute matching PJs to wear while we got ready, and they supplied plenty of champagne and fun cups that said "She said yaaas."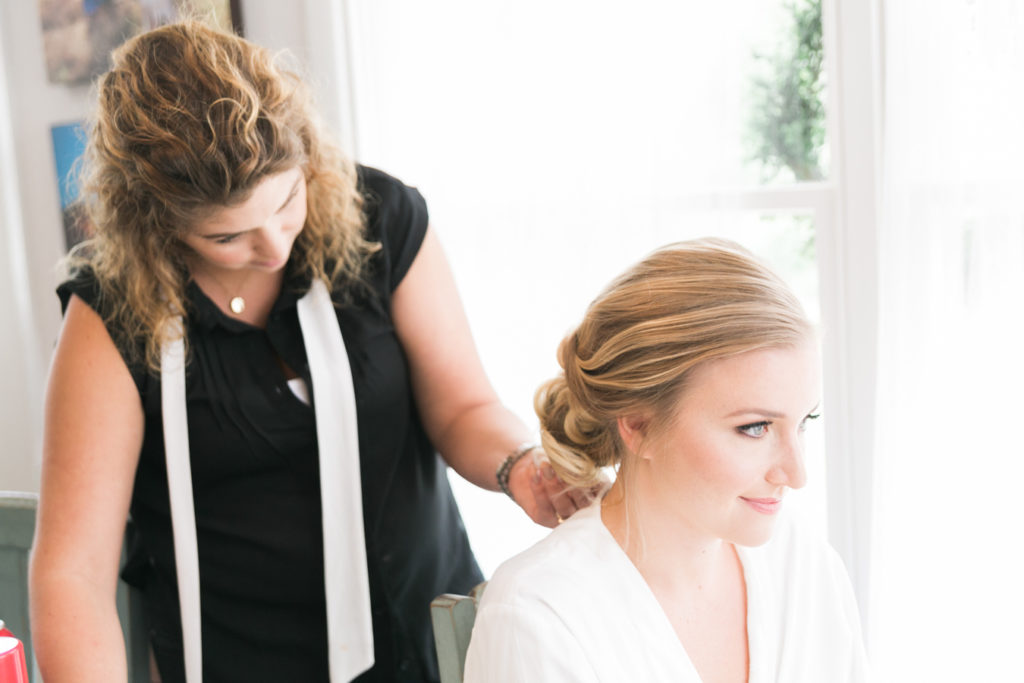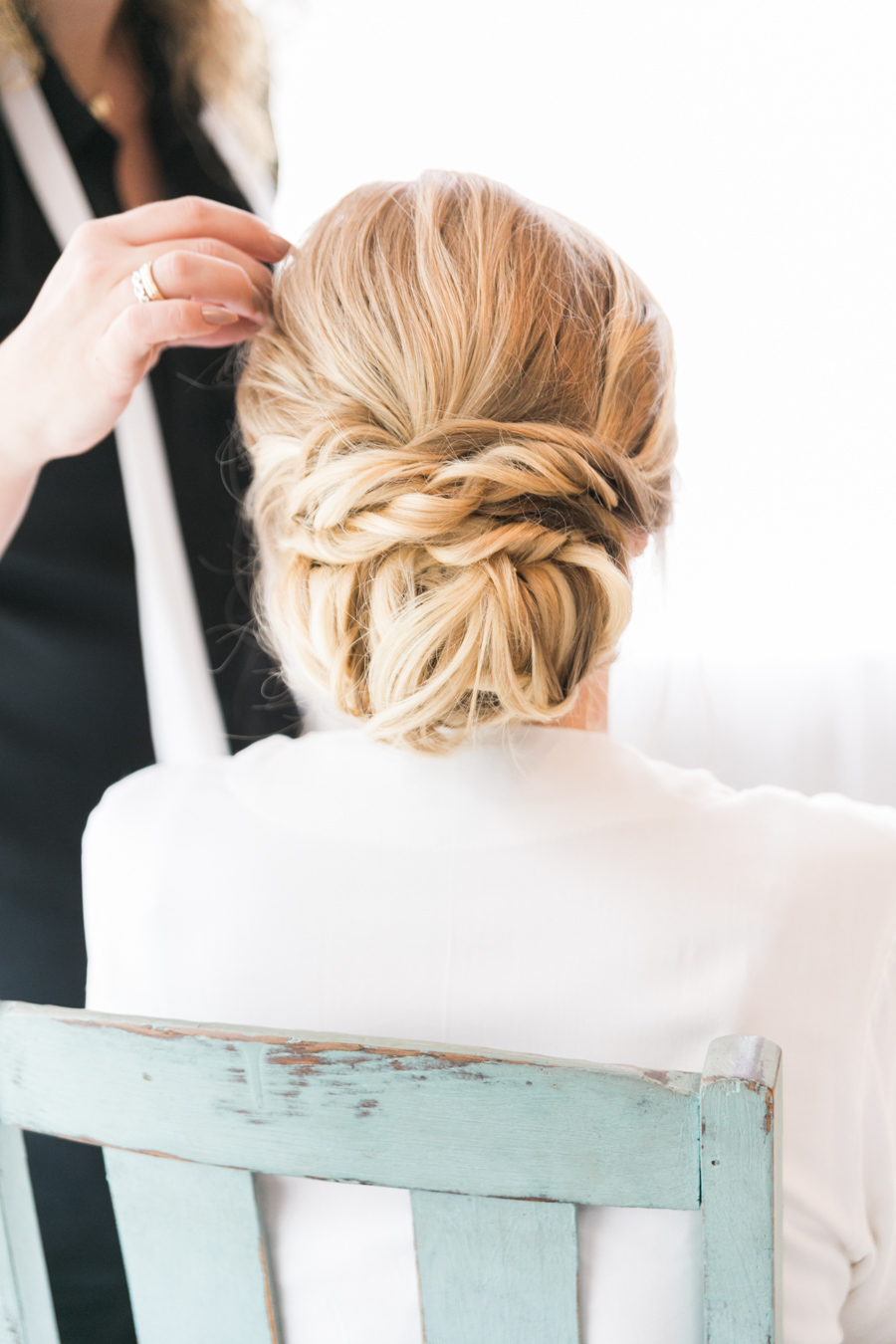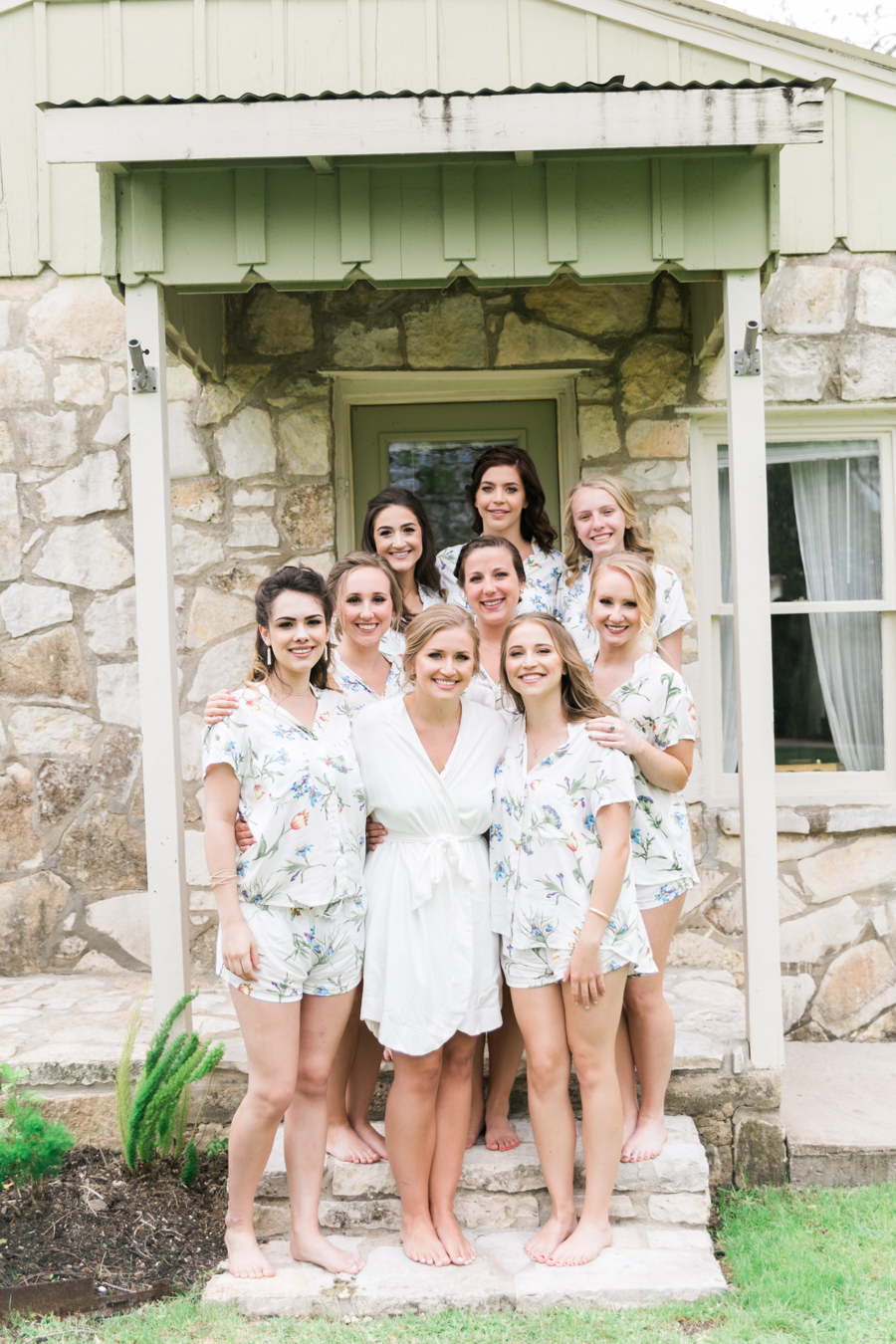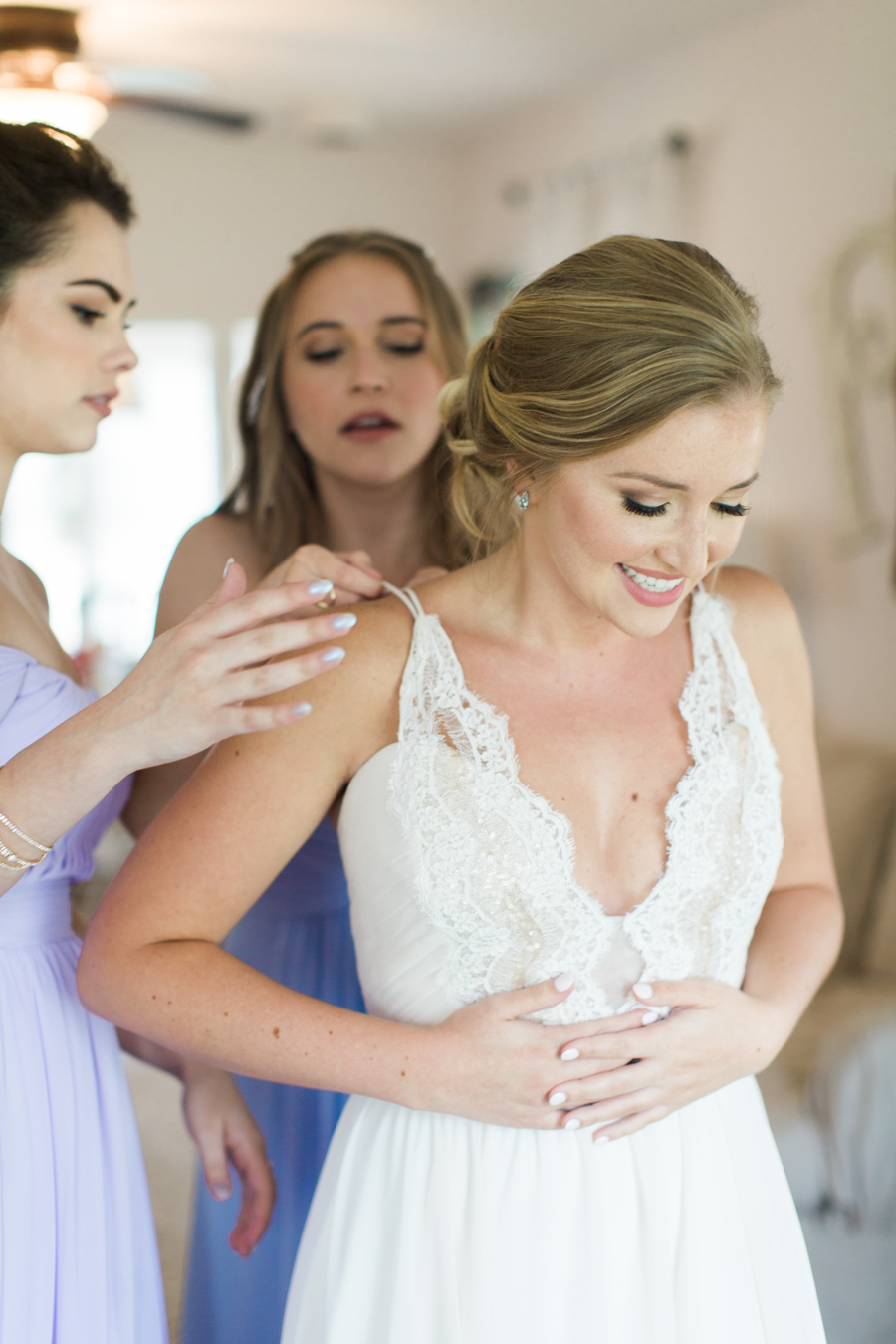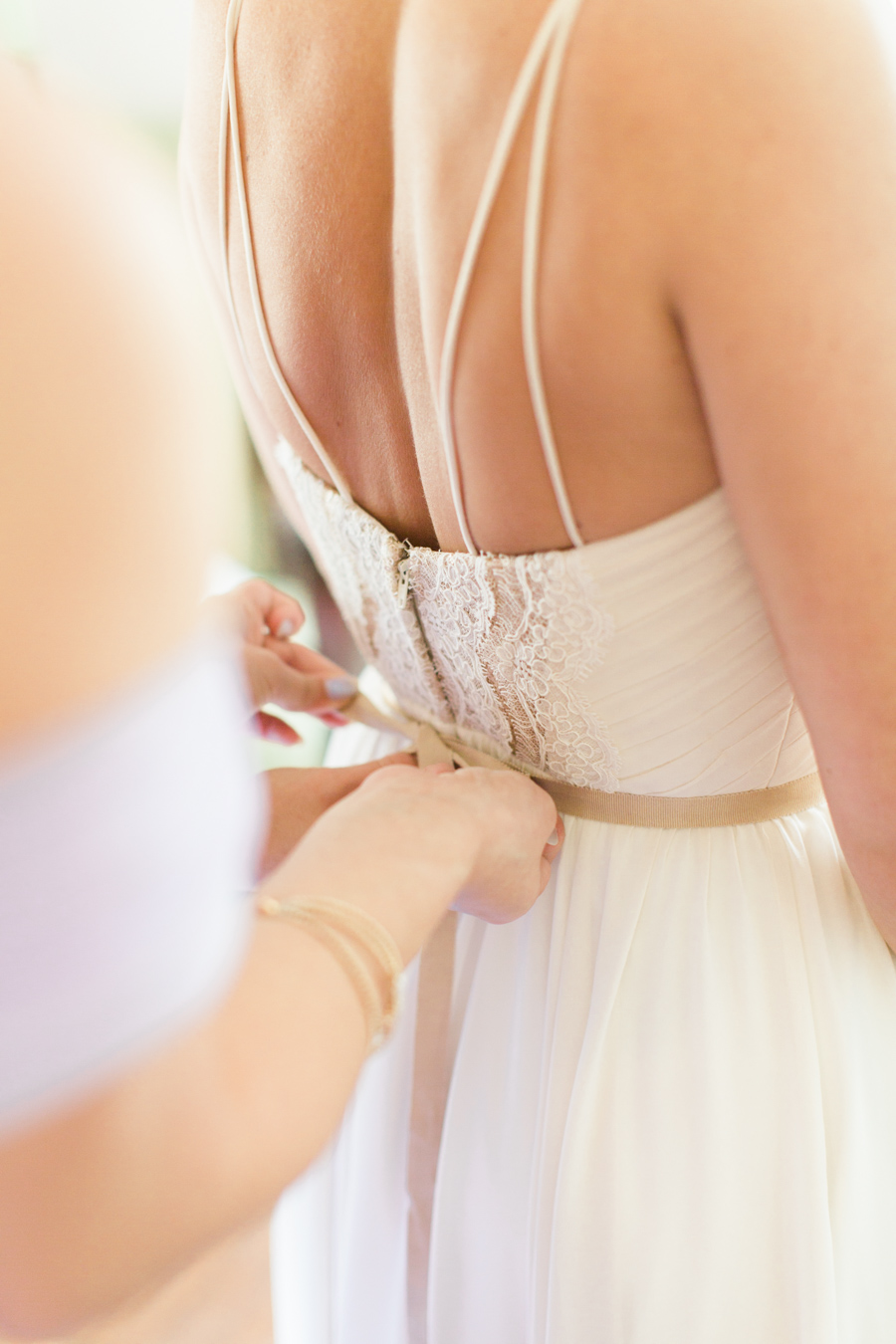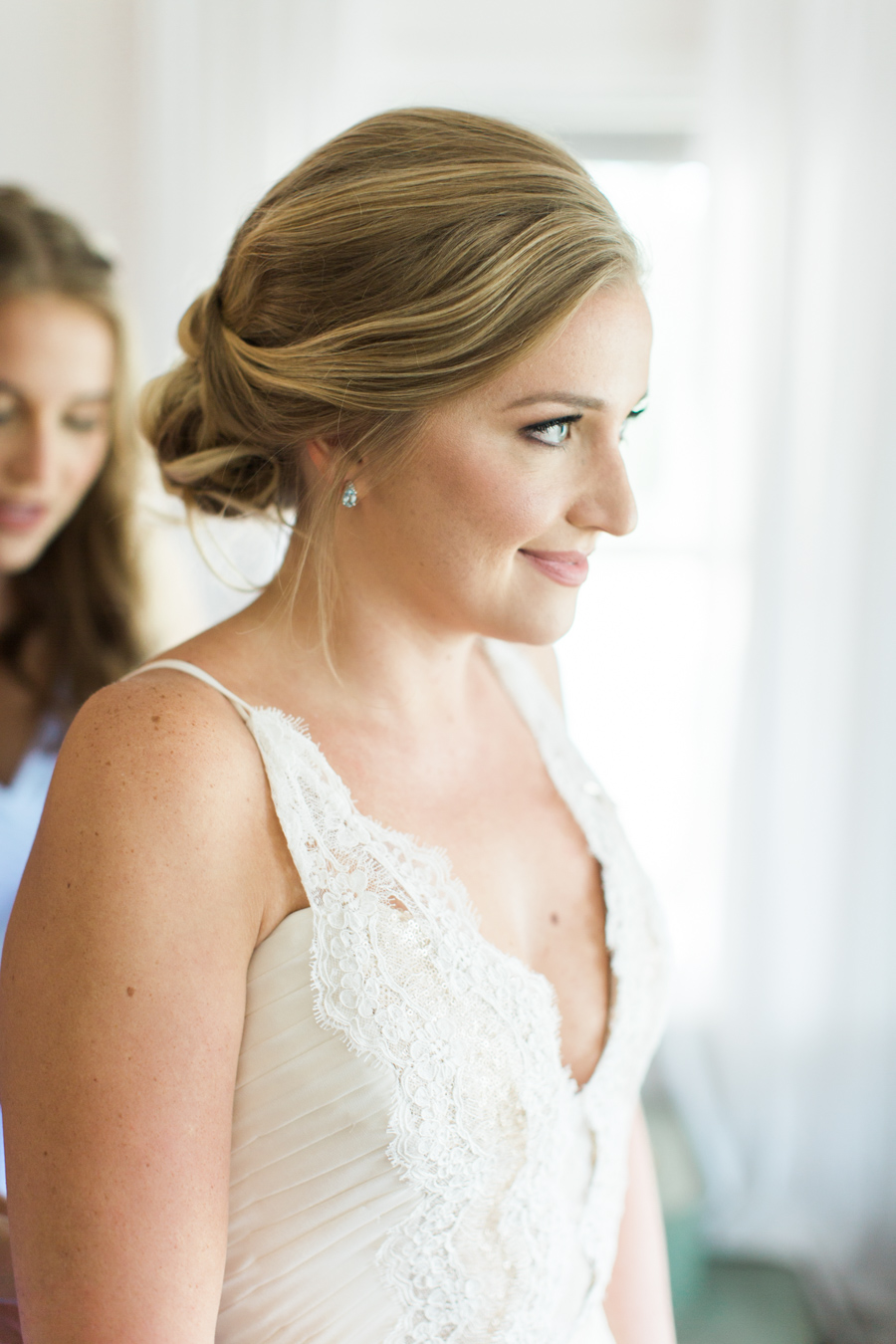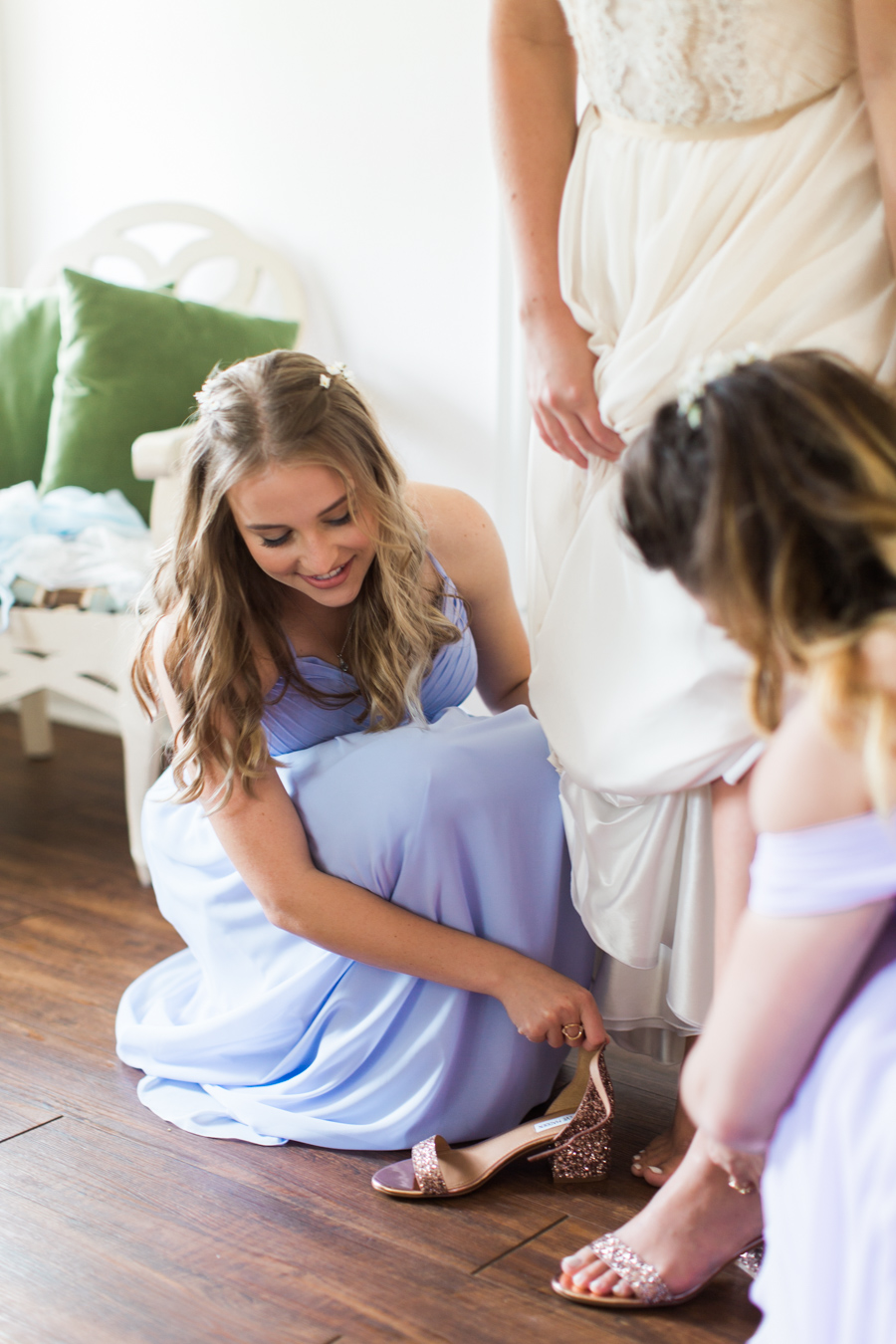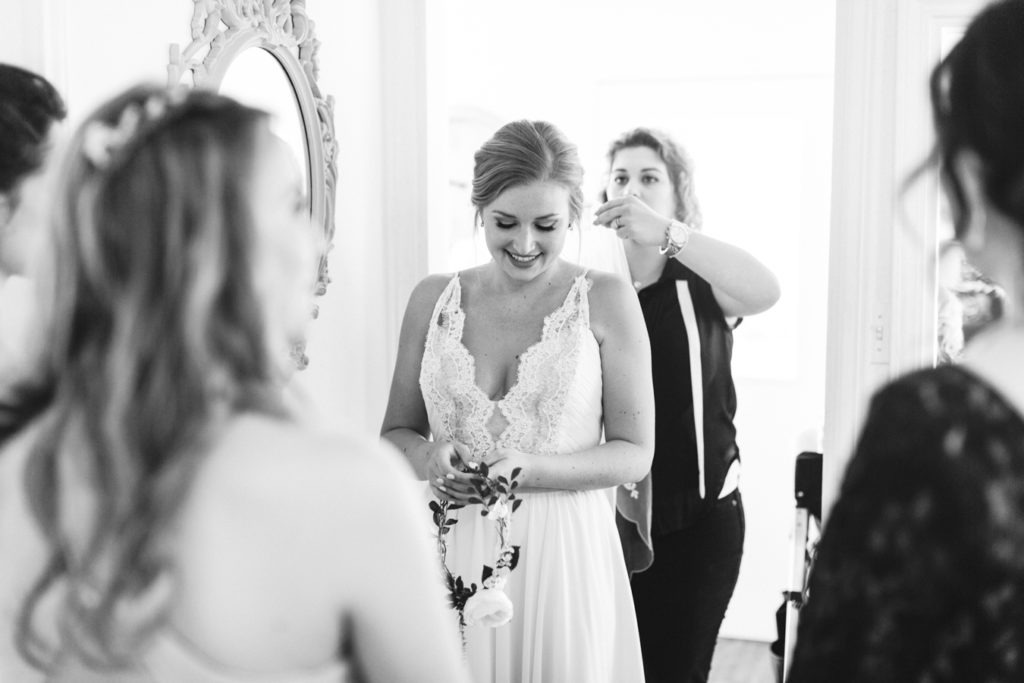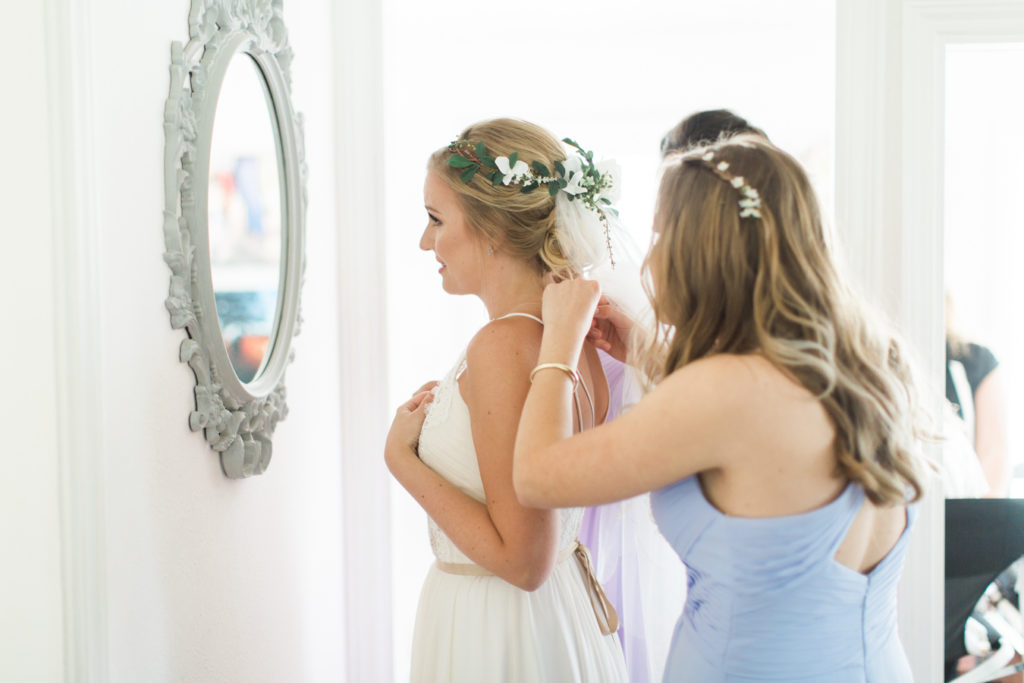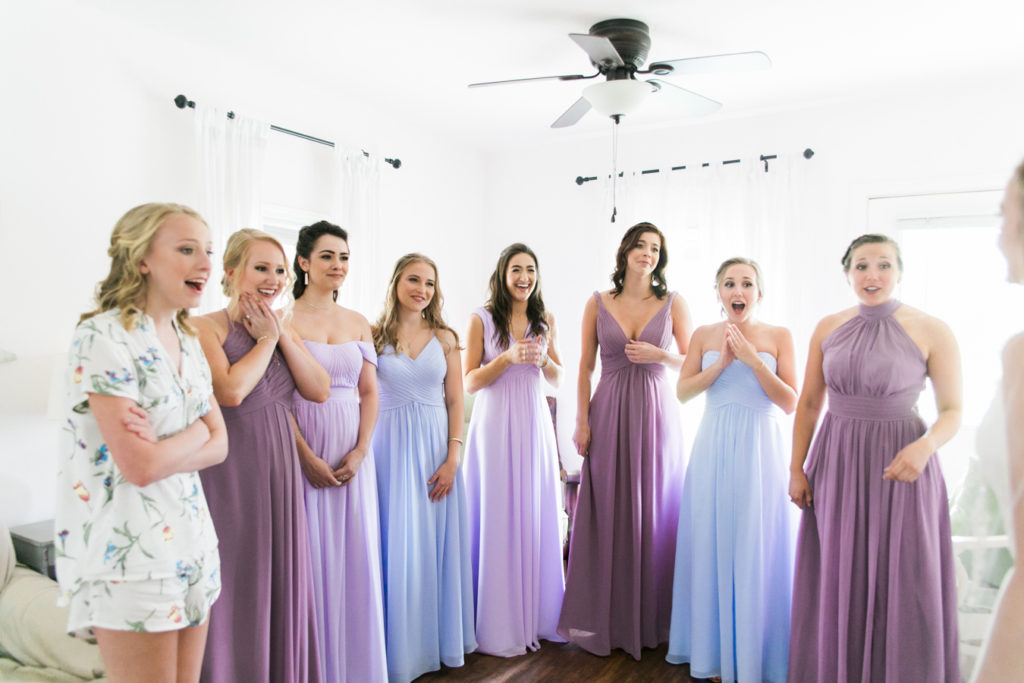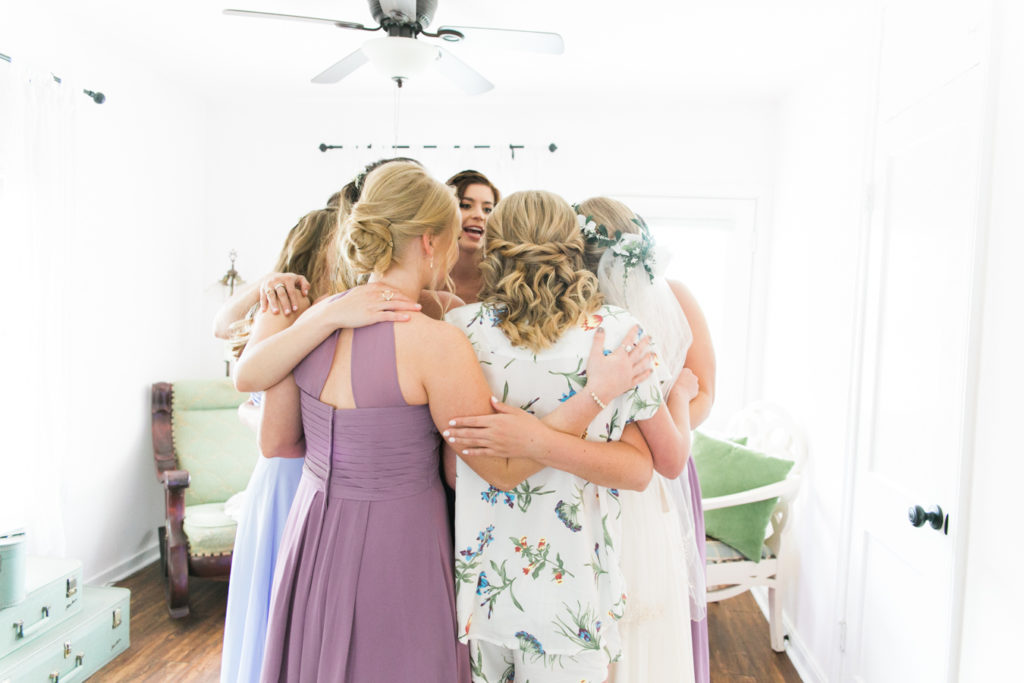 The entire getting ready process lasted from 11:00am until a bit after 2:00pm, and honestly, it was one of my favorite parts of the day! I cherished that time getting pampered with all of my favorite females, and still do. That bonding time just reinforced how much I adore every single one of those ladies: my two sisters (both of whom were my Maids of Honor), my new sister-in-law, my cousins, my college roommates, my (step)mom Christine, and my new mother-in-law.
Our First Look
Once I was all glammed up in my wedding gown, heels, veil, flower crown, and jewelry, it was time for the event I was most looking forward to: my "first look" with my future husband!
For those who are uninitiated, a "first look" is when the bride and groom see each other before the ceremony. It's a bit new and nontraditional, but Derek and I felt like it was the right decision for us for a few reasons; most of all, because we're both fairly introverted and sensitive (Derek will kill me if he reads this!) and we wanted to have a special, quiet moment together where we could feel free to cry and hug and talk and just be alone with each other.
In the end, our first look ended up being my favorite moment from the entire day.
I slipped out of the bridal cottage to a shady spot outside where Derek was waiting, facing away from me. I walked up behind him and tapped him on the shoulder, and the moment that he turned around and we saw each other's faces was truly one of the happiest and most emotional moments that we both experienced that day.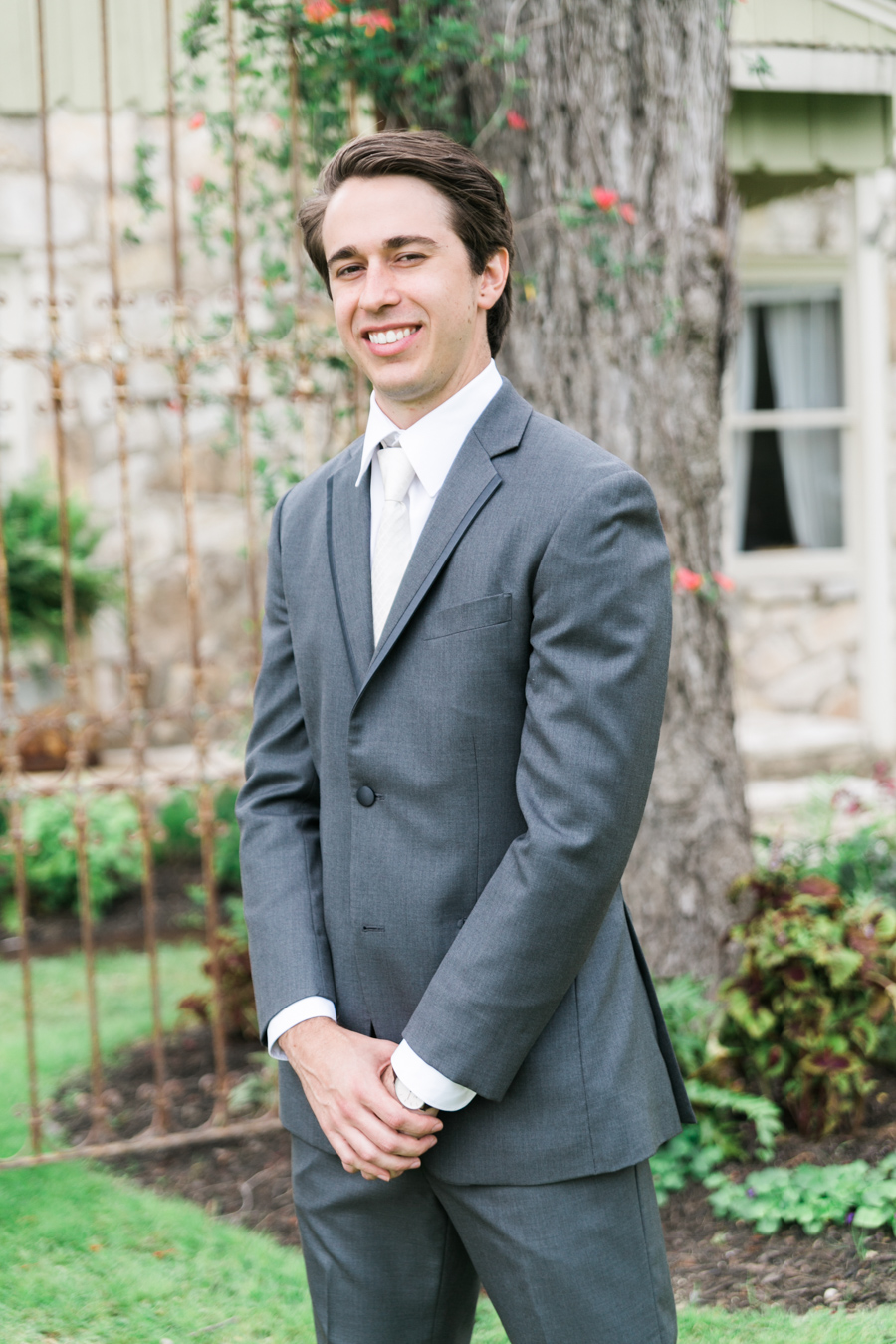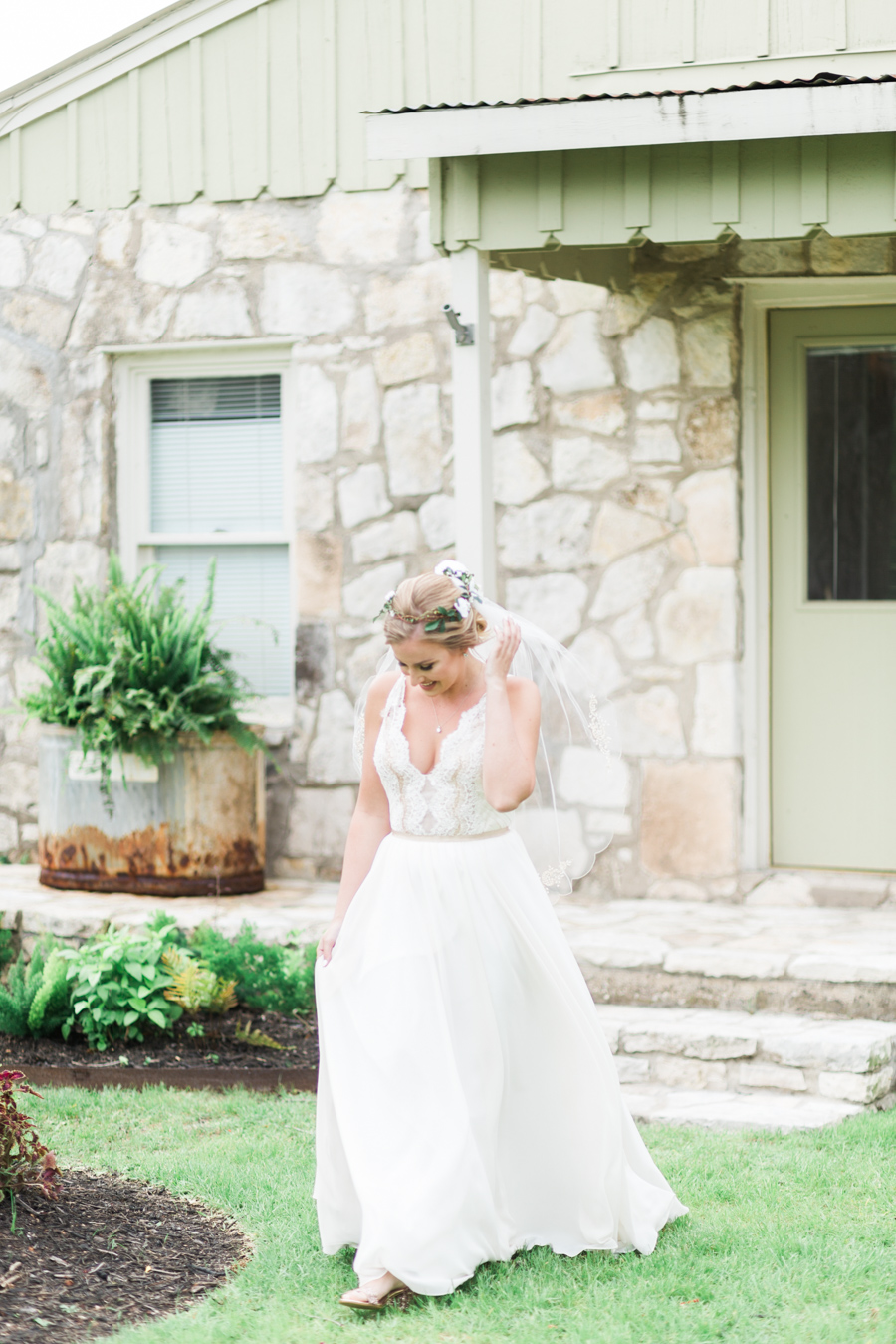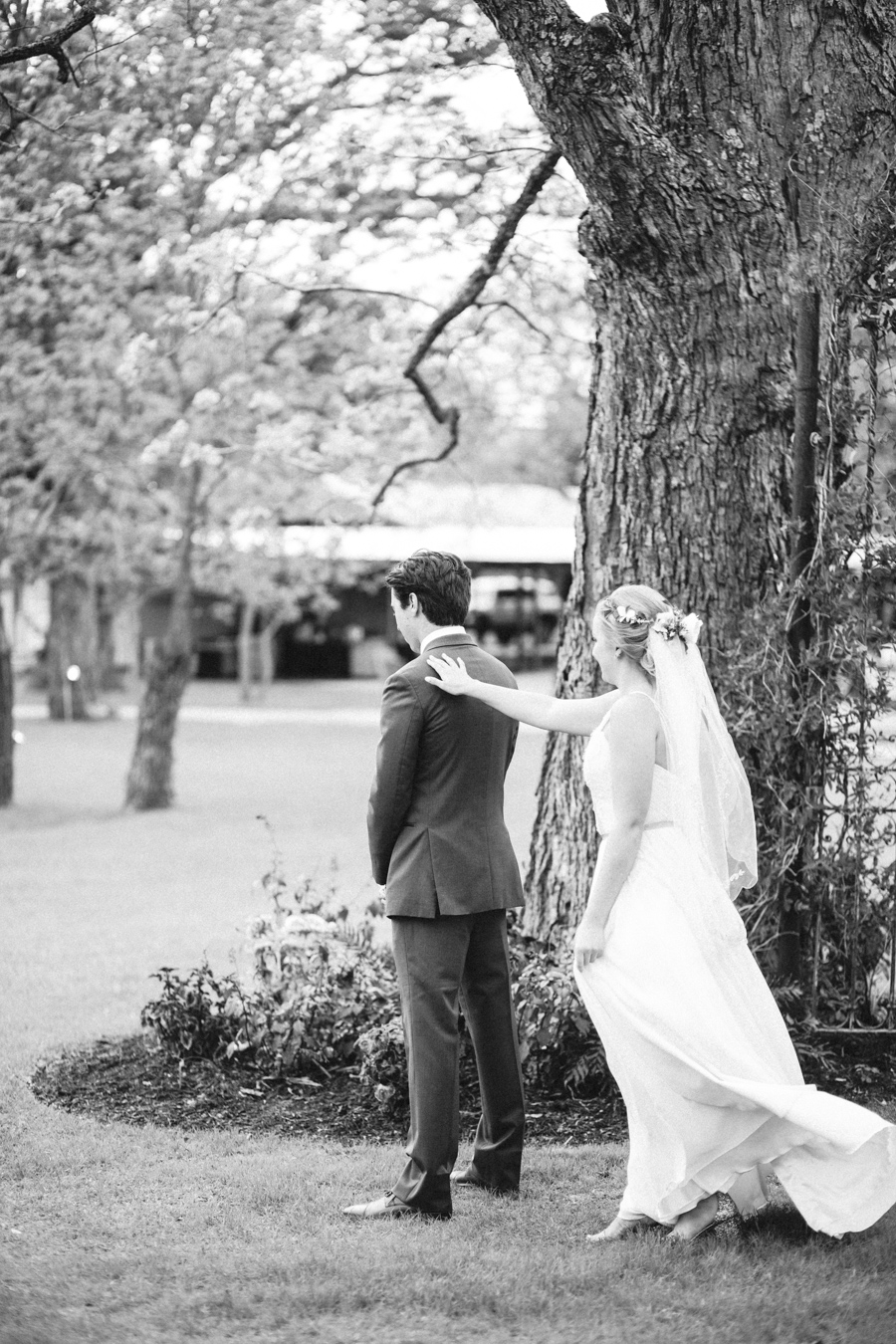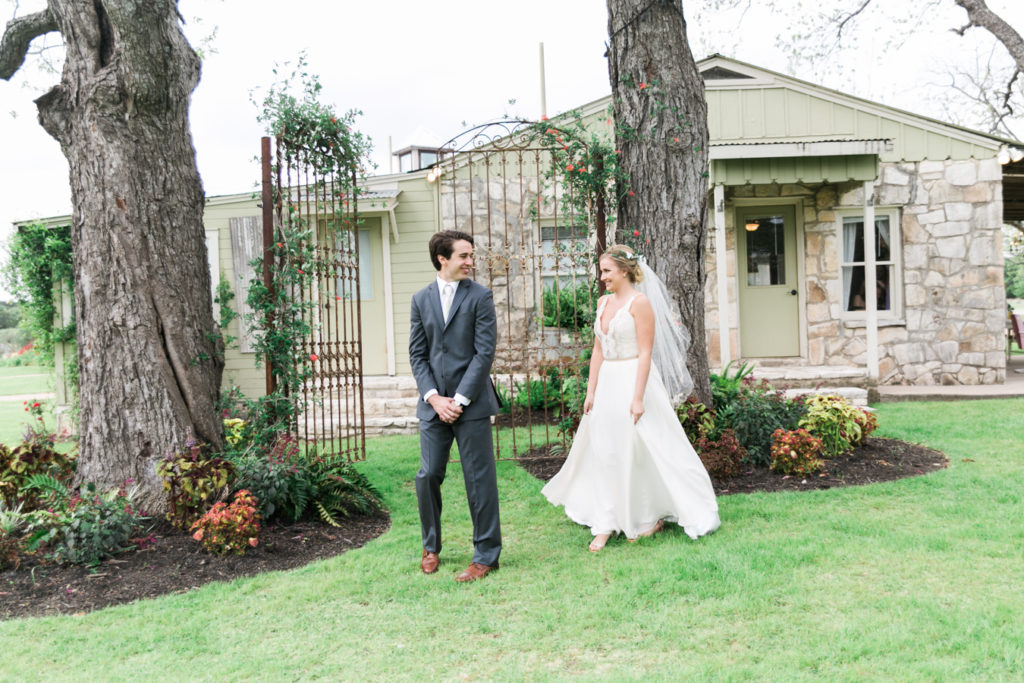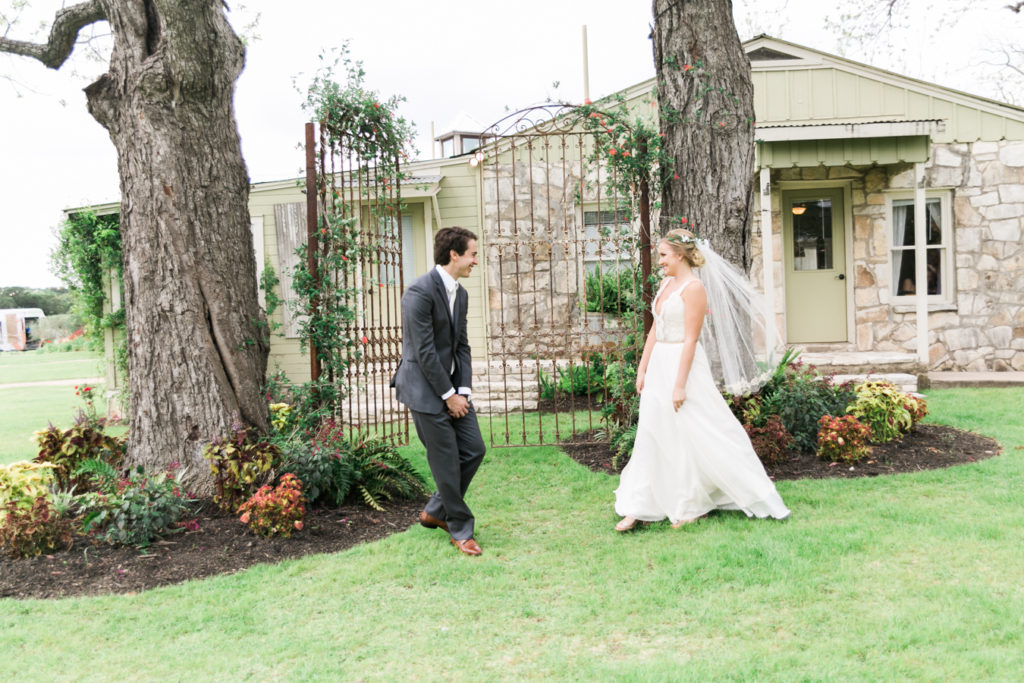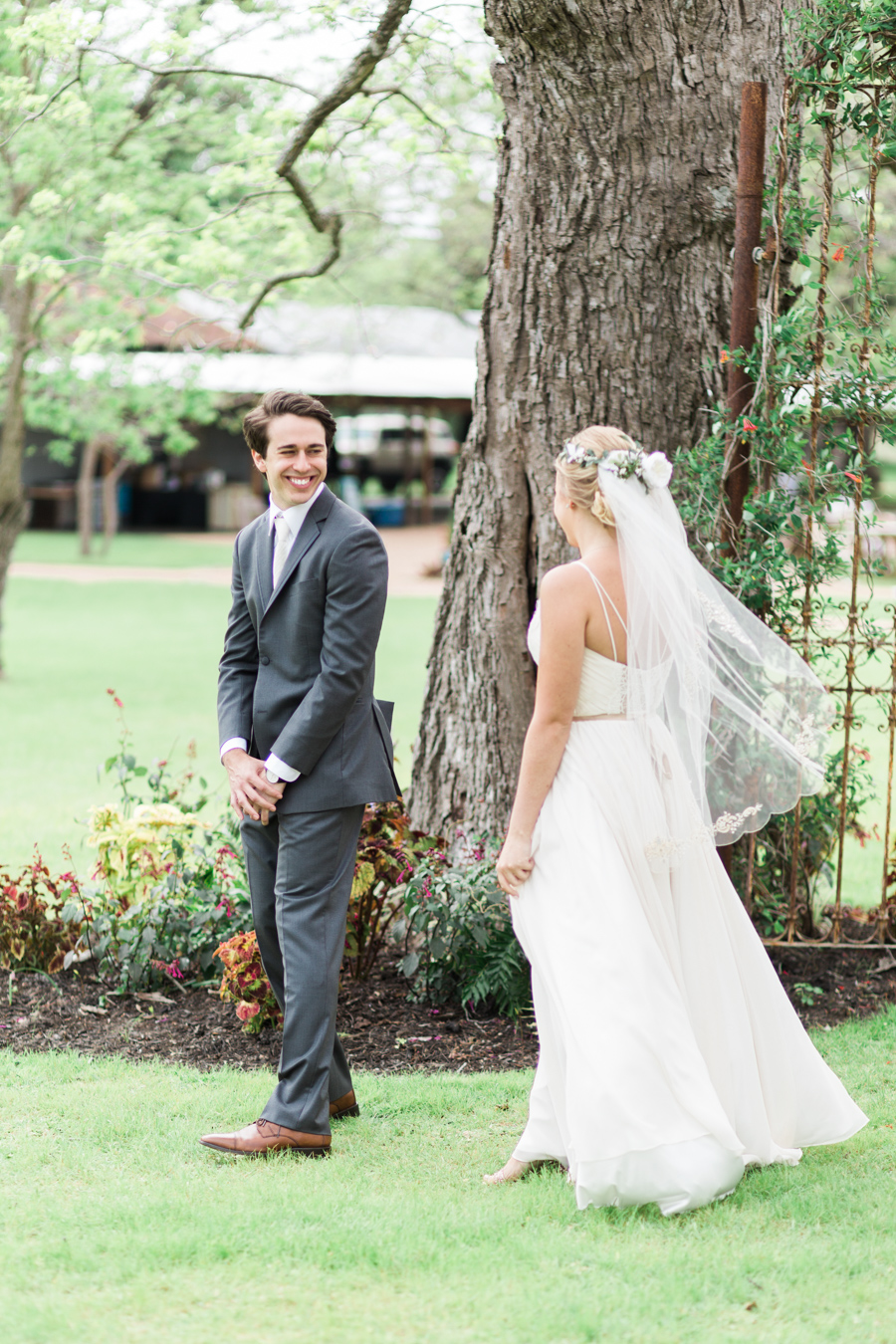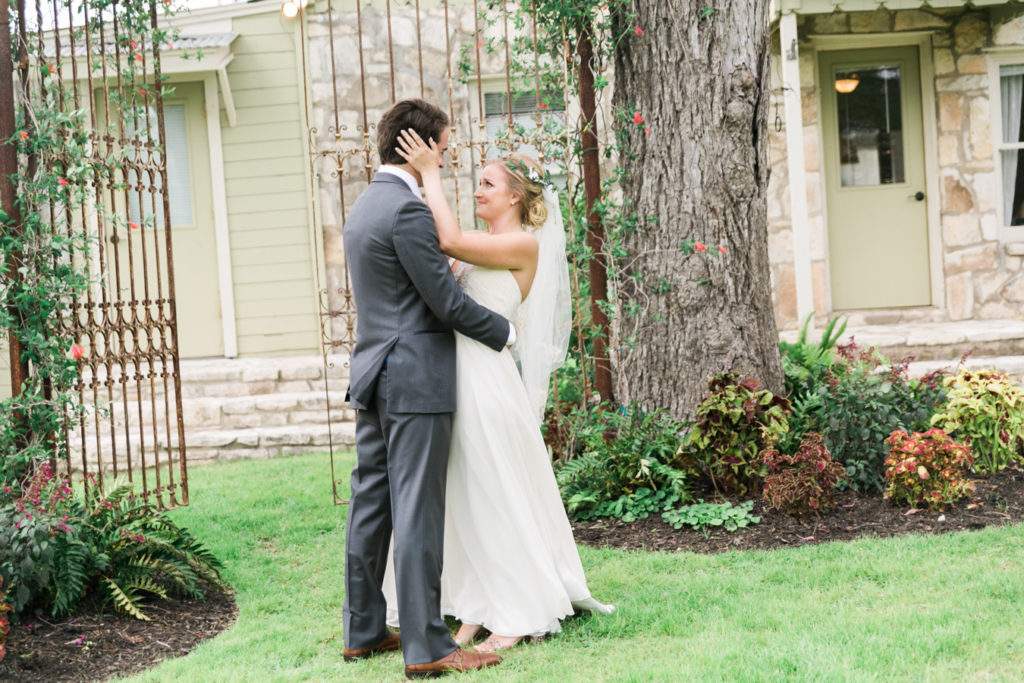 We spent a few minutes just holding each other and talking quietly, and it was probably the most calm and reassured I felt the entire day. In that moment, it finally all sank in – it was real, we were getting married, and this was one of our last intimate moments together as unmarried partners.
In short, it was a surreal feeling, and I'll always treasure that special moment that we shared together on that day, just the two of us.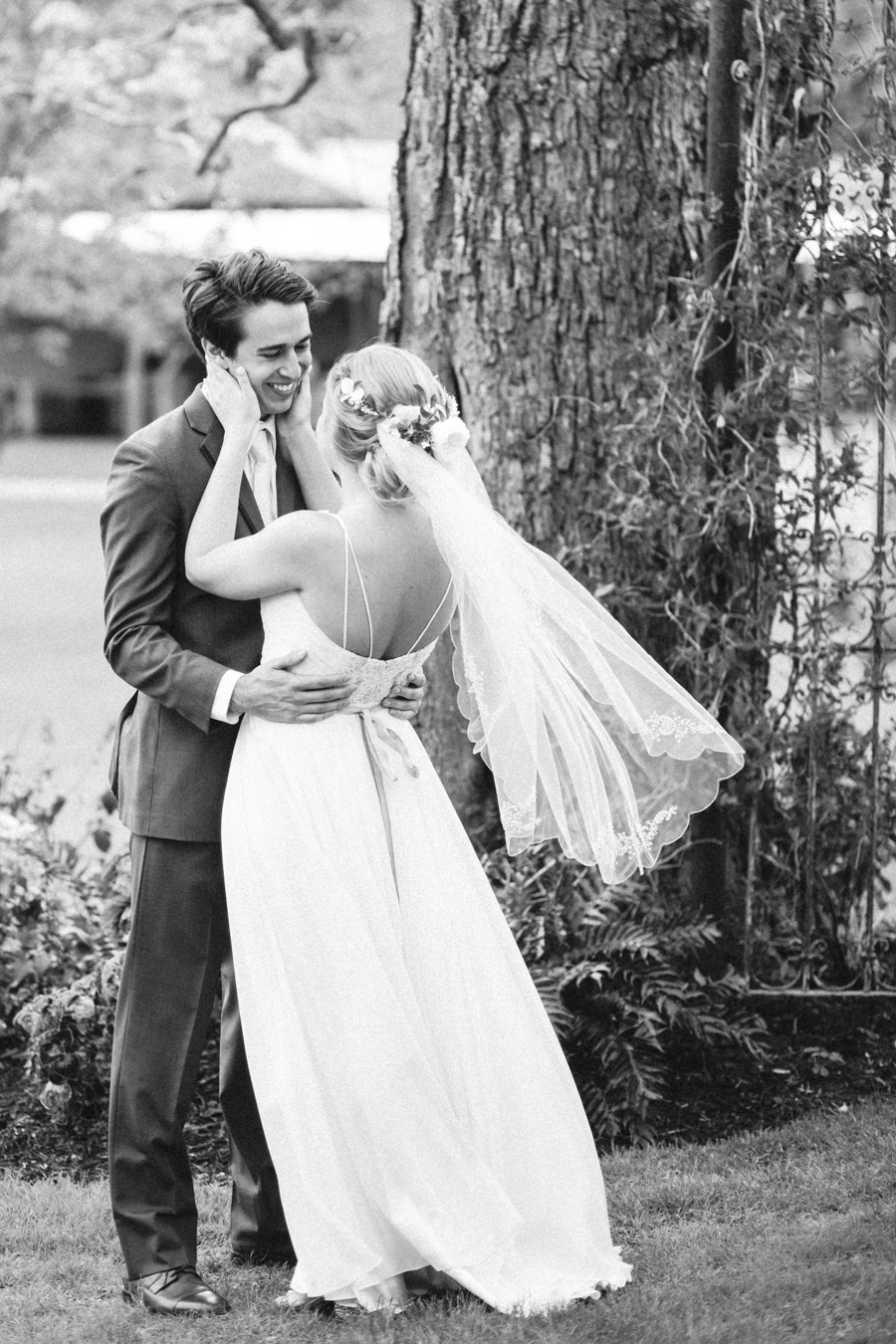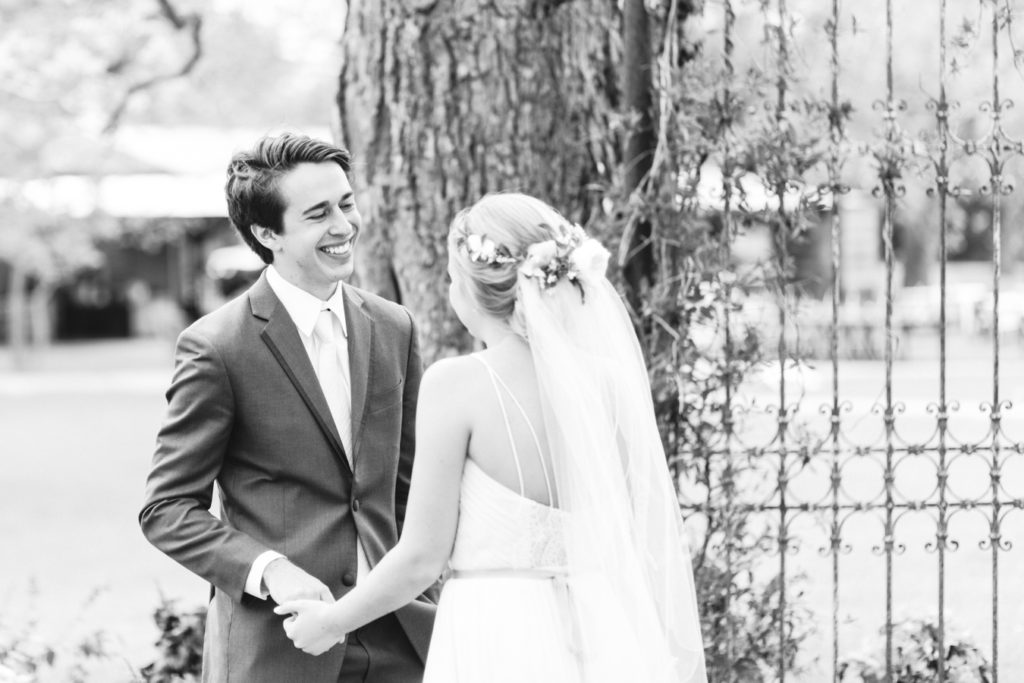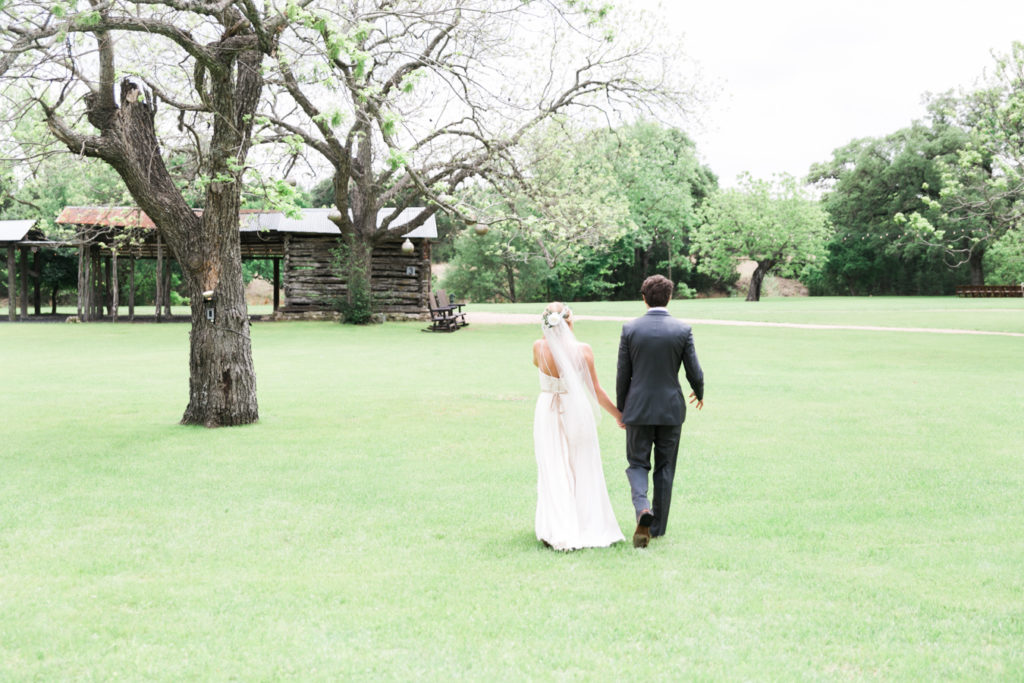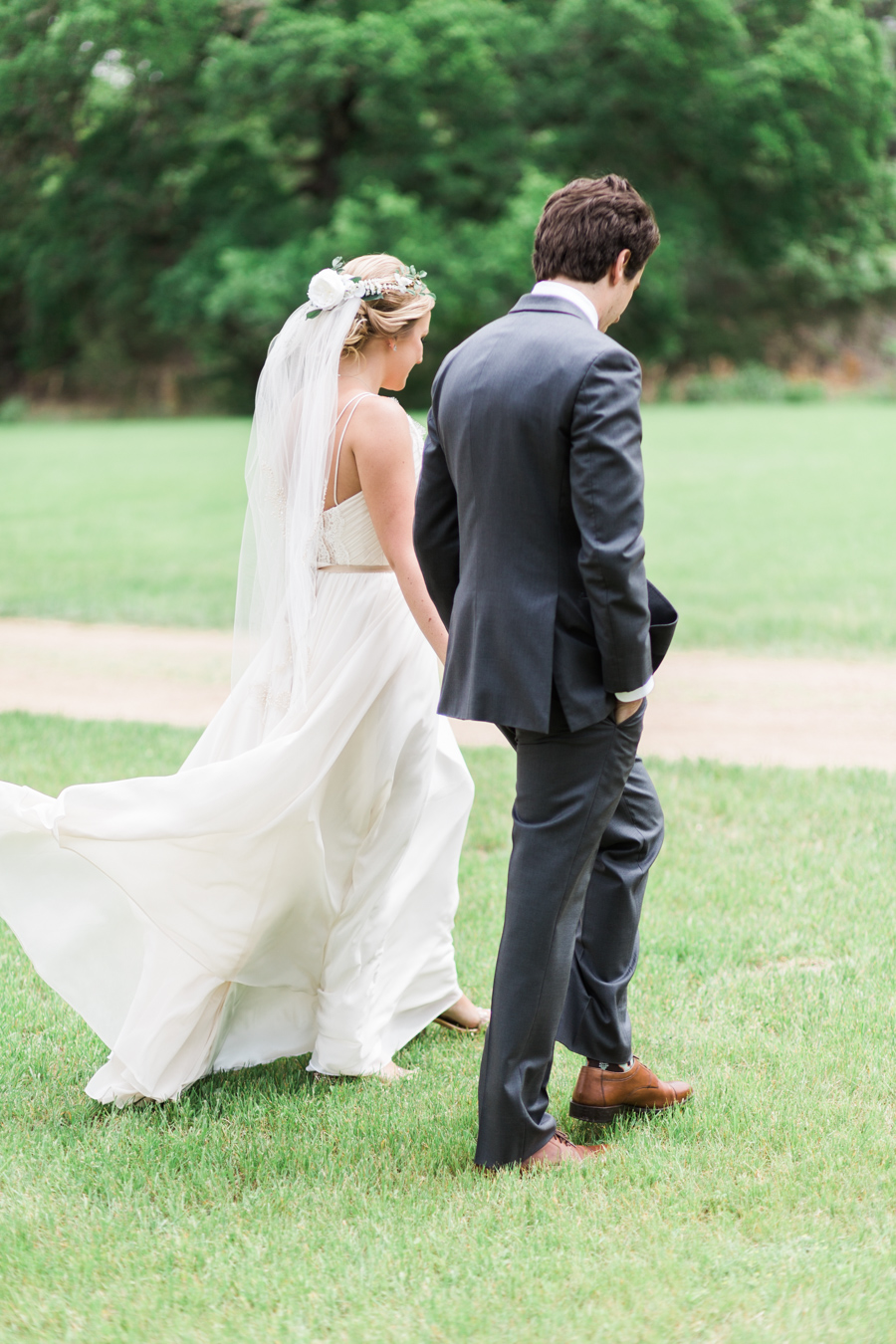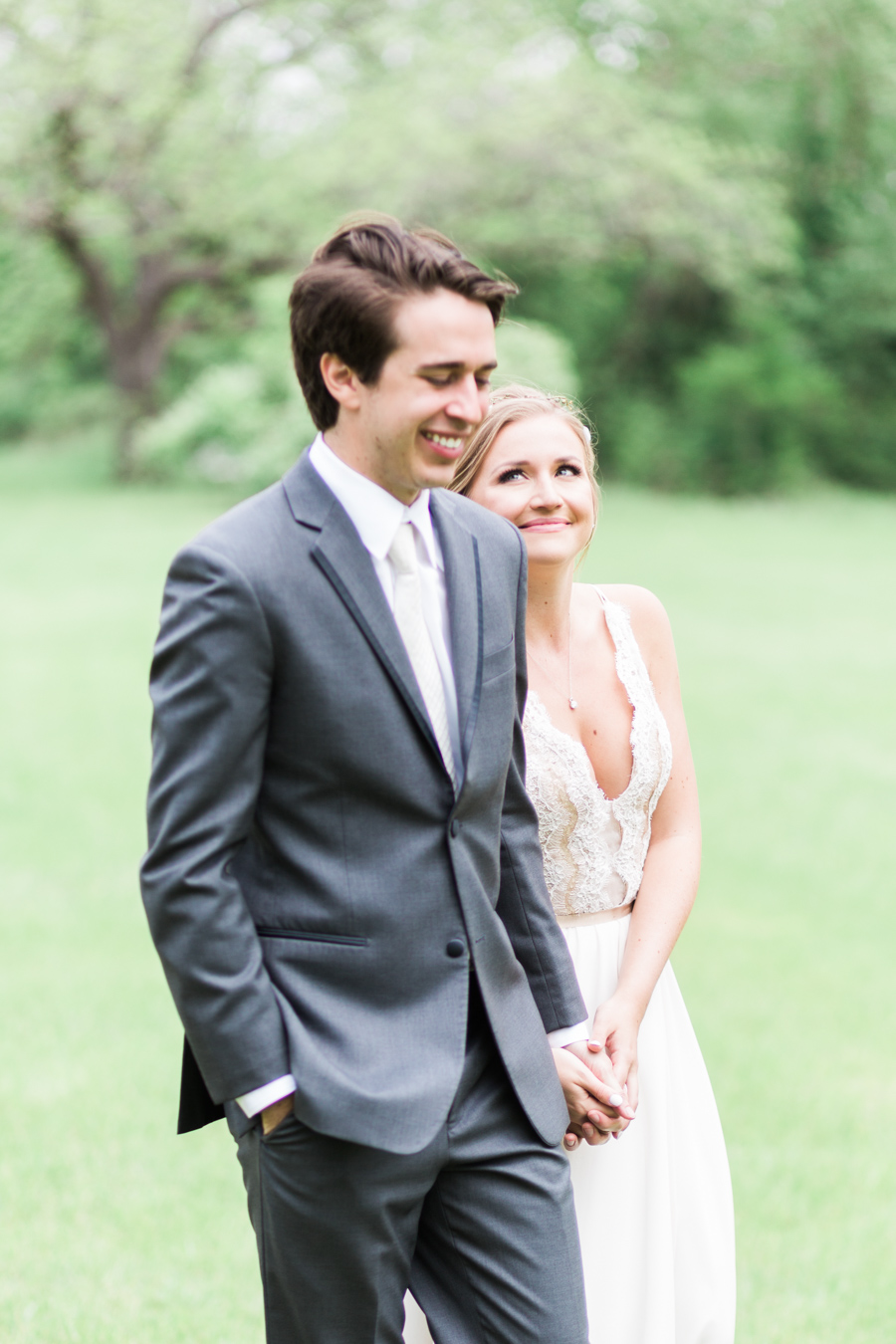 Not to mention, I think it was really good for both of us to get some of our emotions and nerves out before we were standing up at the altar (and responsible for reading our vows out loud in front of 100 other people). Derek was worried about being too choked up to speak, and I was worried about ugly crying in front of everyone, but we didn't have to care or think about those things during our first look.
…Not that we got all of our emotions out at this time – just enough to function during the ceremony. More on that later!
After the first look we moved on to portraits – a few with just me and Derek, and then group and individual shots with our bridesmaids, groomsmen, and immediate families.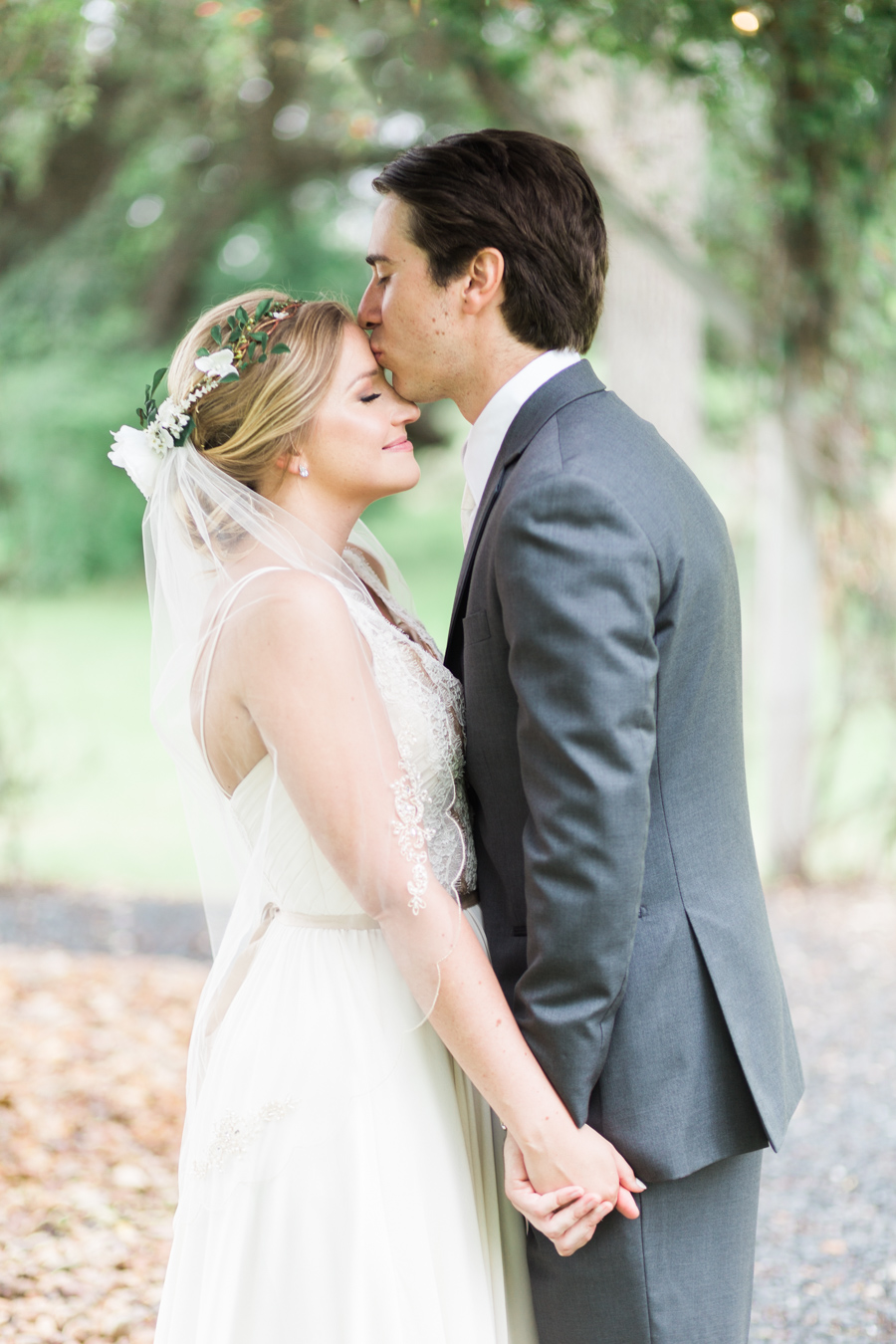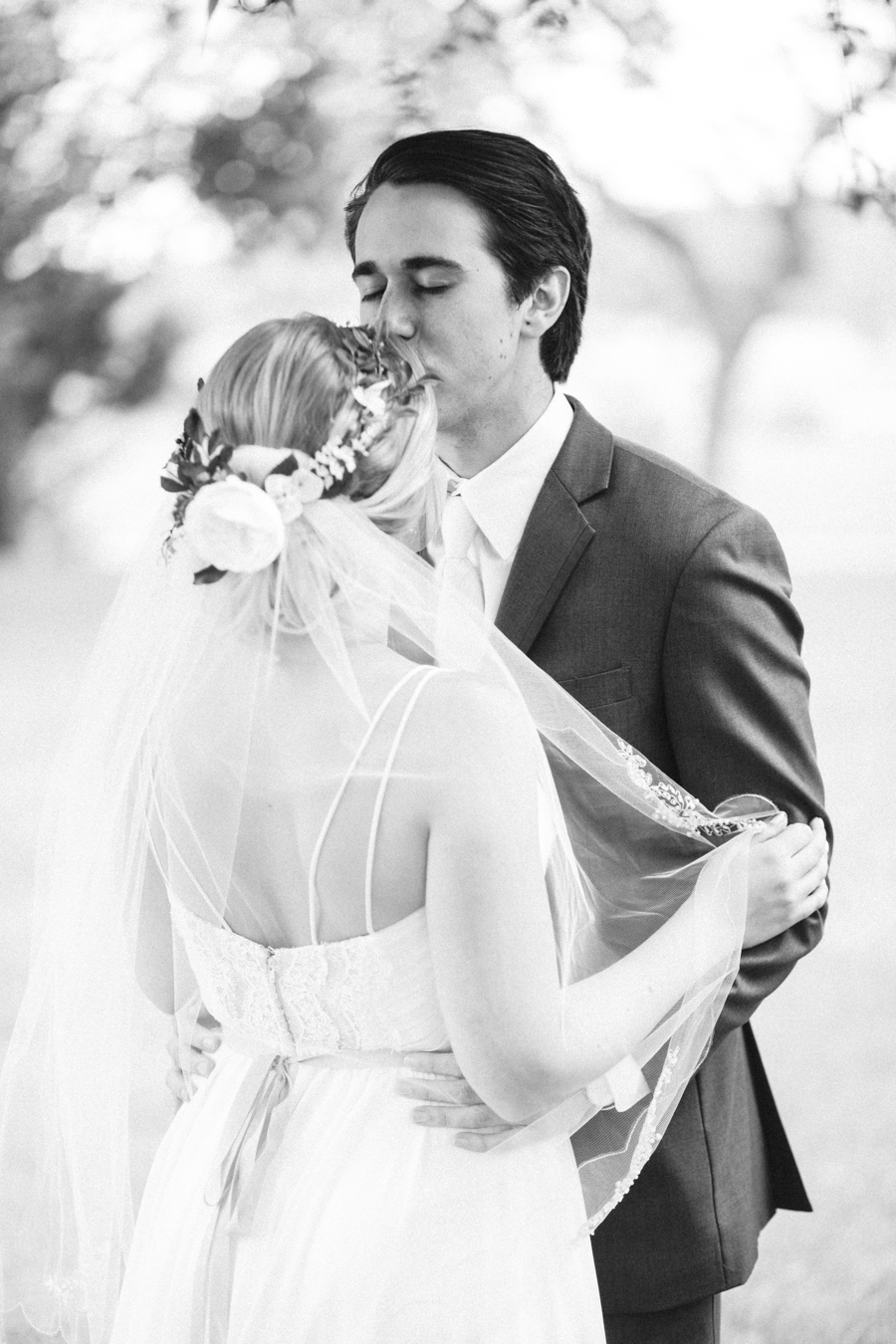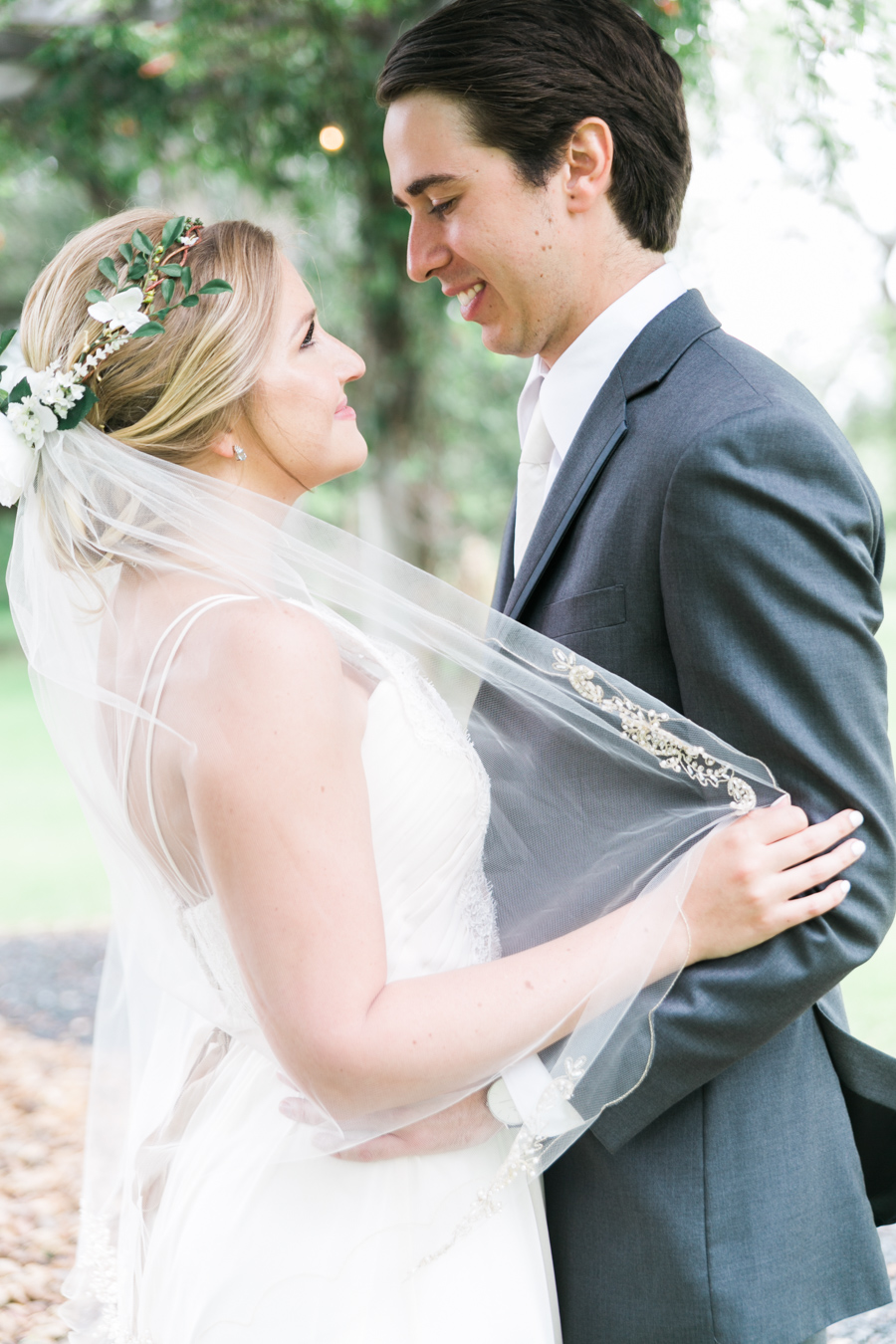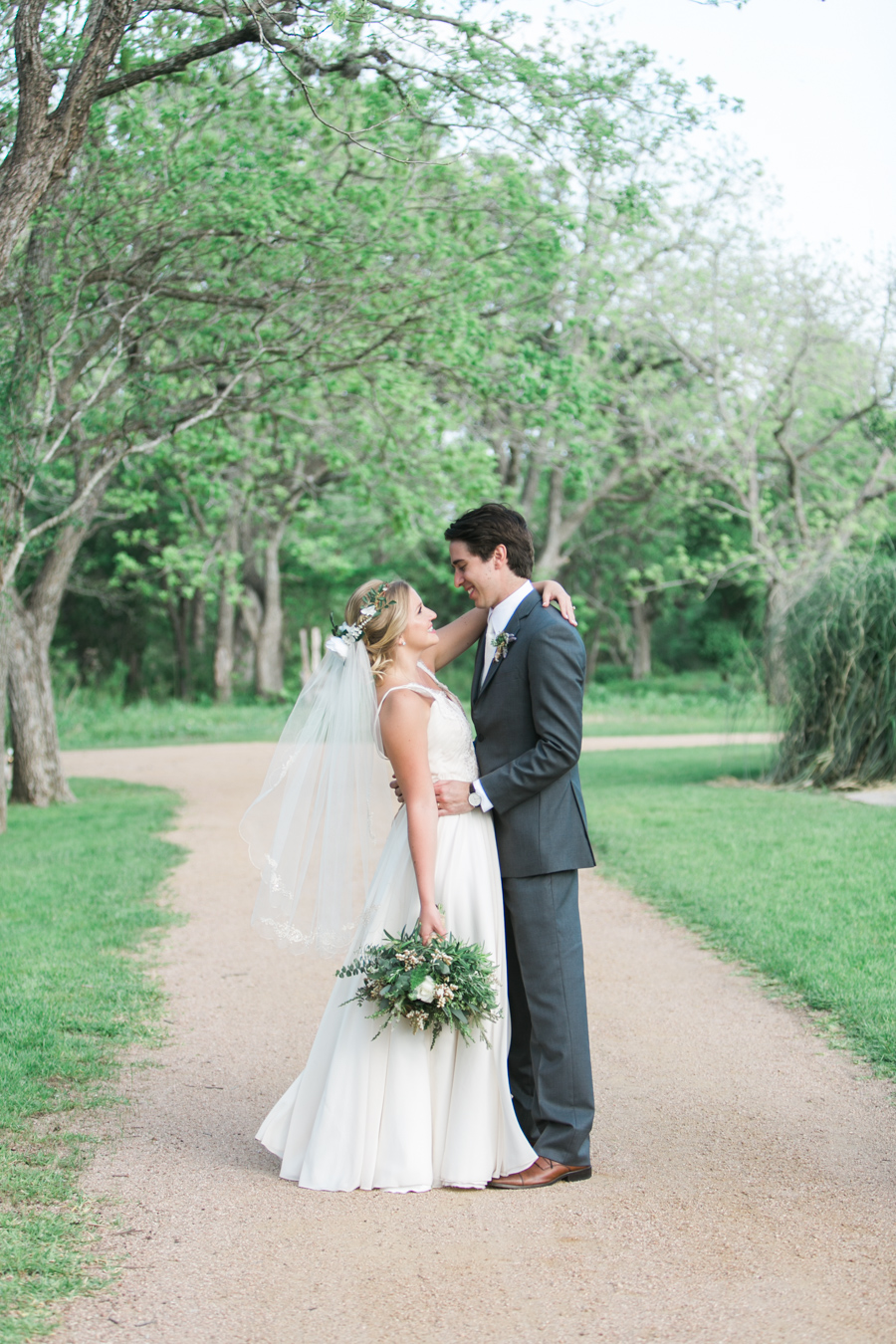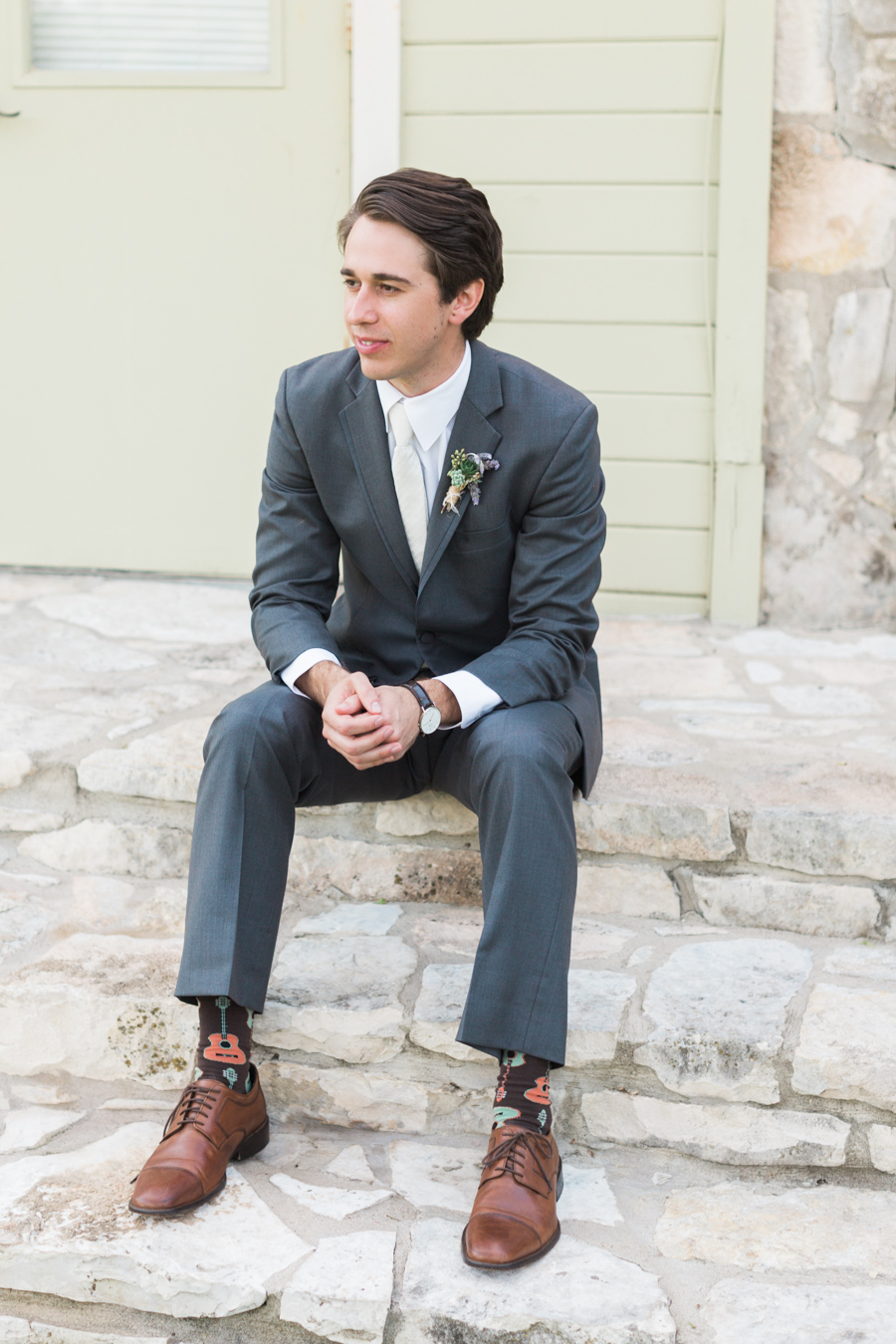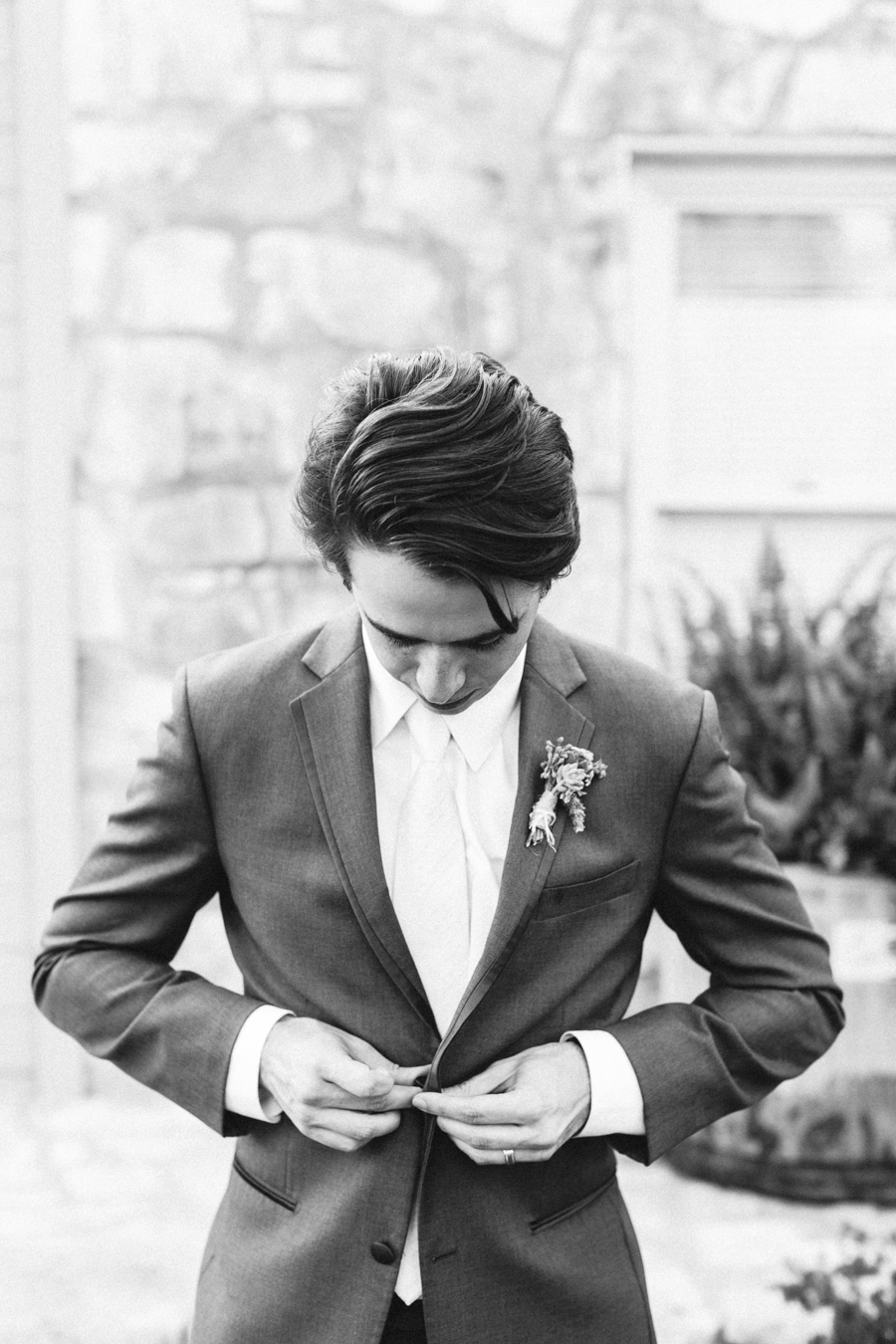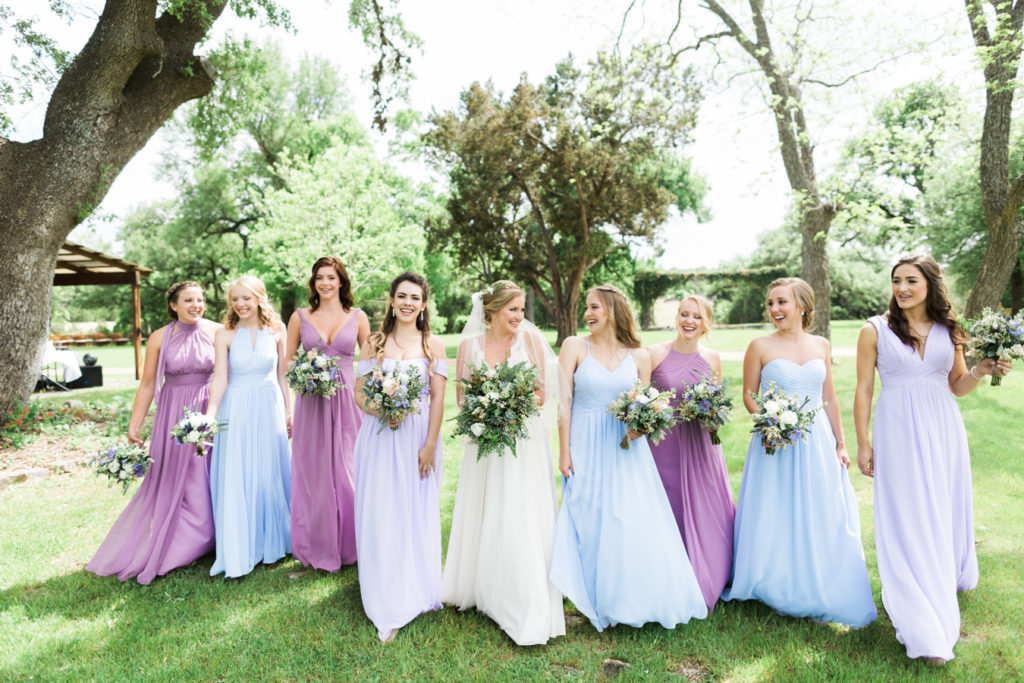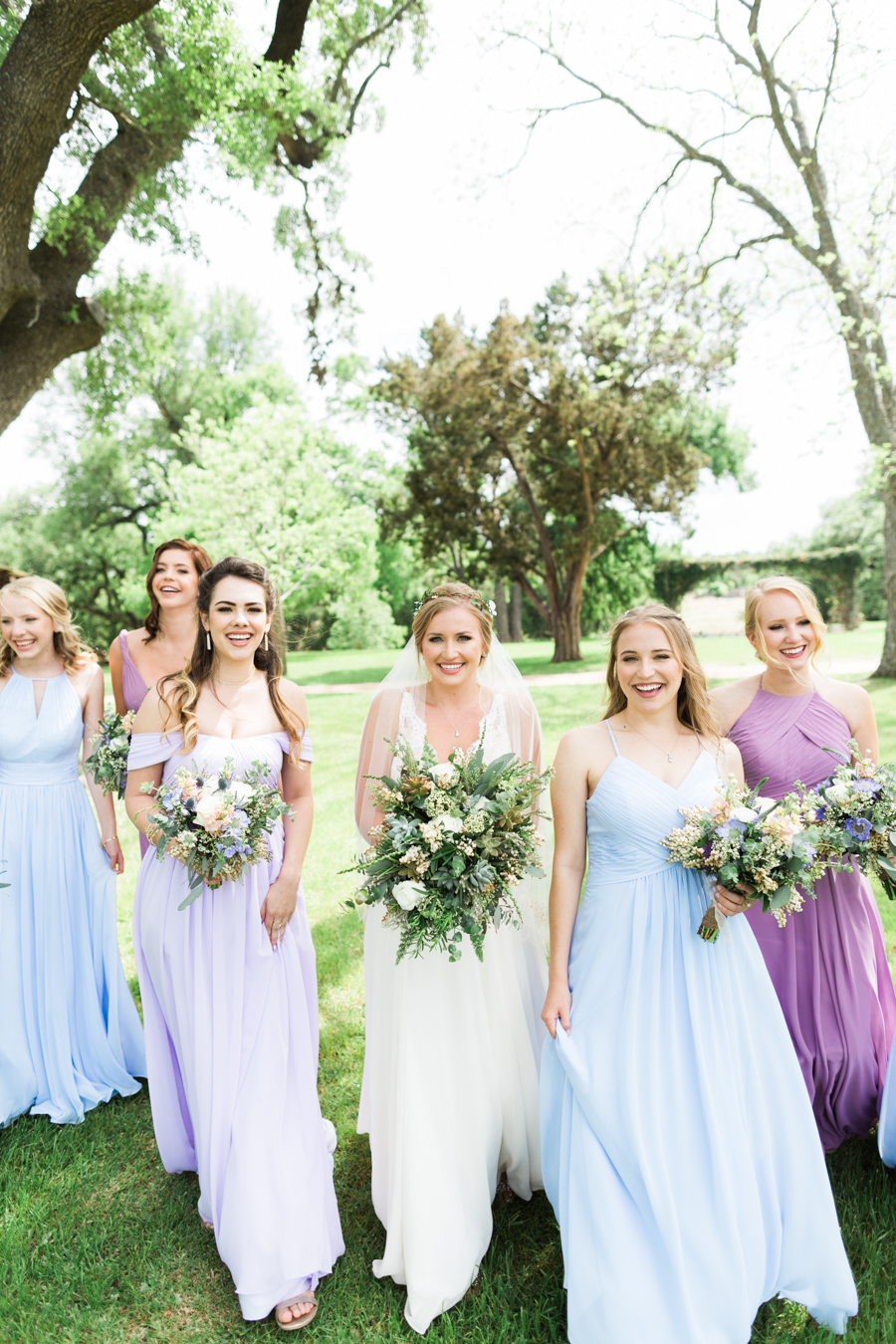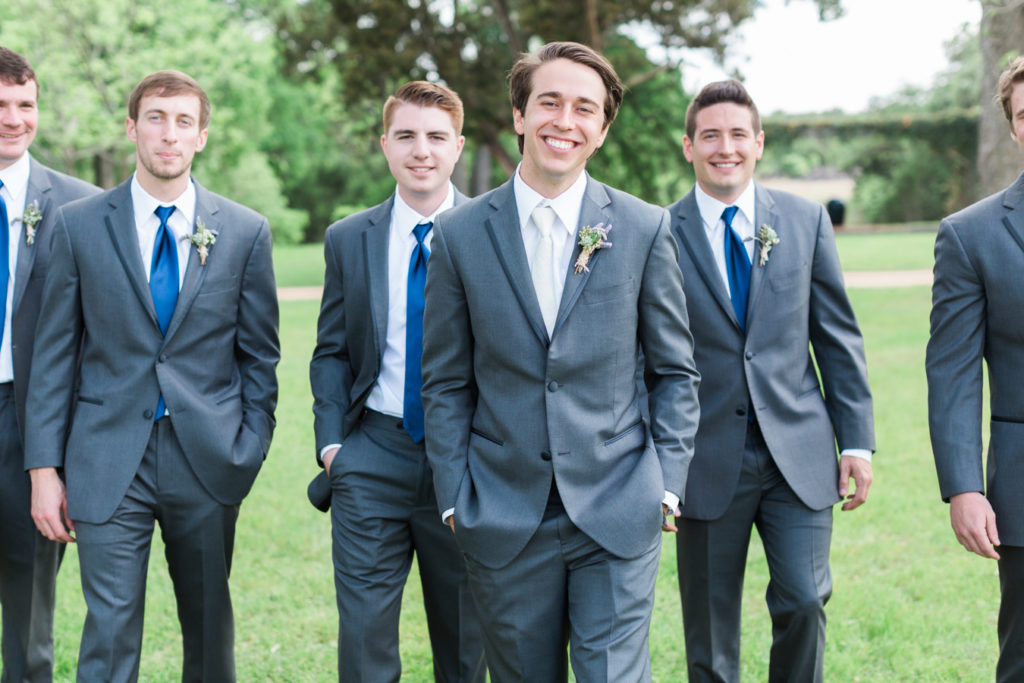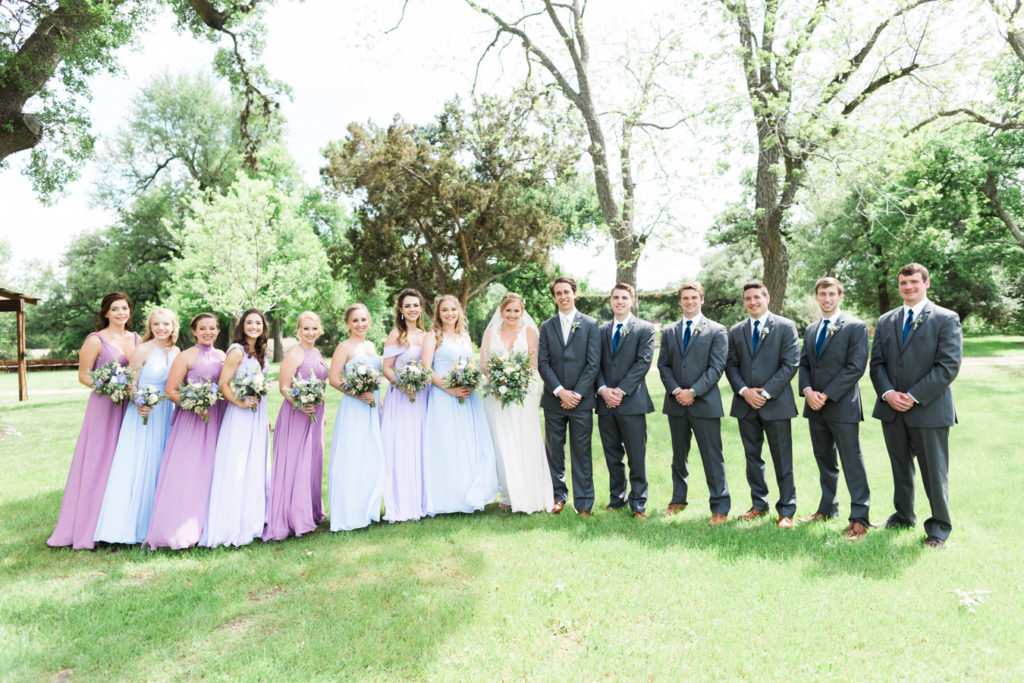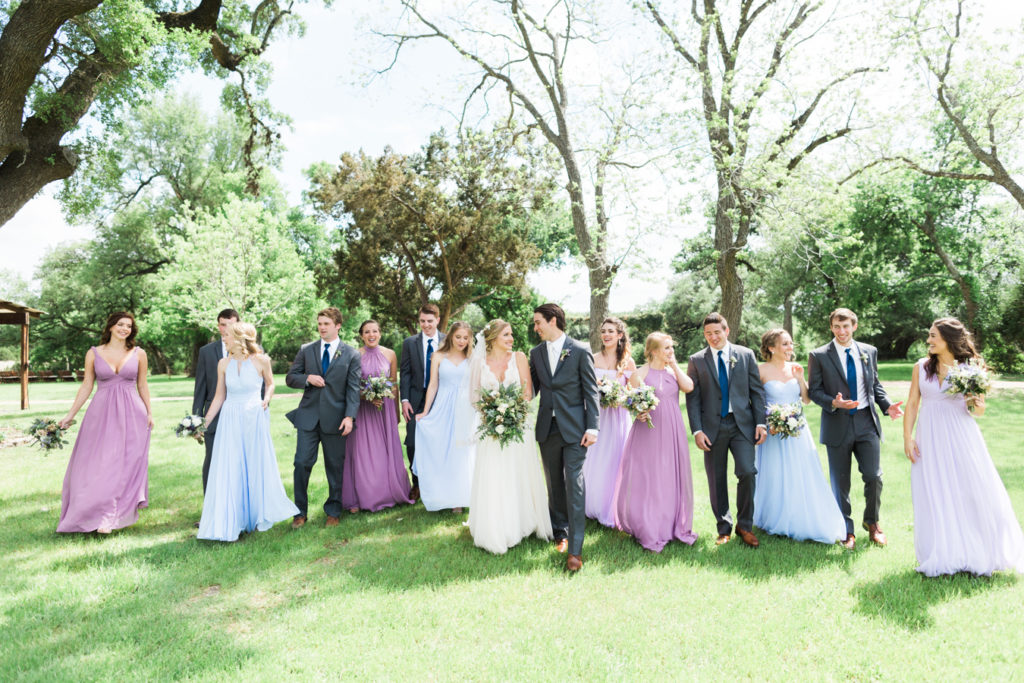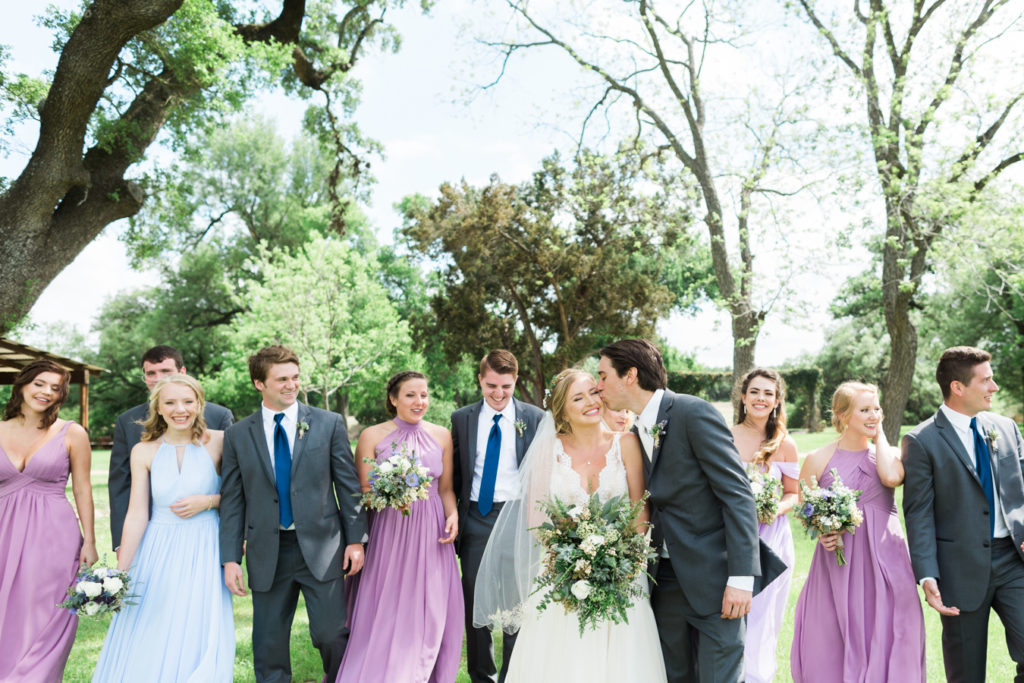 While I have no doubt that this part of the day was absolute torture for Derek, I loved seeing everyone all dressed up and standing together by our sides – my friends and family, his friends and family – #allthefeels! Plus, just look at how dang ATTRACTIVE everyone is!
And now, on to the juiciest story of the day: the story of how our officiant didn't show up.
…Yep, that one bears repeating: Our officiant did. not. show. up.
Less than 10 minutes before we were meant to walk down the aisle, we gave him a call to find out where he was. As soon as I heard the tone in his voice I knew it wasn't good, but when he spoke the words it was even worse than I had expected: although our contract and all of our communications clearly said it was a 4:30pm ceremony, somehow he had written down 6:00pm as the ceremony time…and he was 1.5 hours away from the venue.
(If you want to read all the dirty details – and trust me, the plot thickens! – you can read my full review/rant here).
Yes, panic ensued. Even with 8 bridesmaids, 5 groomsmen, and 2 sets of parents, there was nothing anyone could do – the officiant wasn't there, and couldn't be there, and there was nothing any of us could do about it.
Until: "What if Uncle Kurt did it?"
Now I can't even remember who suggested it – my dad? – but in no time at all we had flagged down my uncle – who actually officiated my parents' wedding ceremony nine years ago – and started working out a plan. Since we didn't have a computer or printer to use to print out the ceremony script, the venue loaned us their iPad and I began screenshotting the readings and custom ceremony wording I had sent the original officiant, so that my uncle could scroll through the images and read through them.
By some miracle, we were able to start just 30 minutes behind schedule – not bad for a ceremony where the officiant bailed at the last minute!
Fortunately, I don't think any of our guests minded the delay. The bar was open, the weather was beautiful, the DJ was already playing music, and the lawn games were out for everyone to use. Everyone may have had a slight buzz by the time our ceremony actually started, but hey – that was just fine by me!
…And just like that, it was time for us to tie the knot!
The Ceremony
Pecan Springs Ranch is a gorgeous venue with no shortage of possible ceremony locations (seriously – I can think of at least six!) but we chose to say our vows outside between two gorgeous, leafy pecan trees. Our florist created an amazing hanging floral installation that we hung between the two trees, creating a whimsical, flower-filled backdrop for us and our wedding party.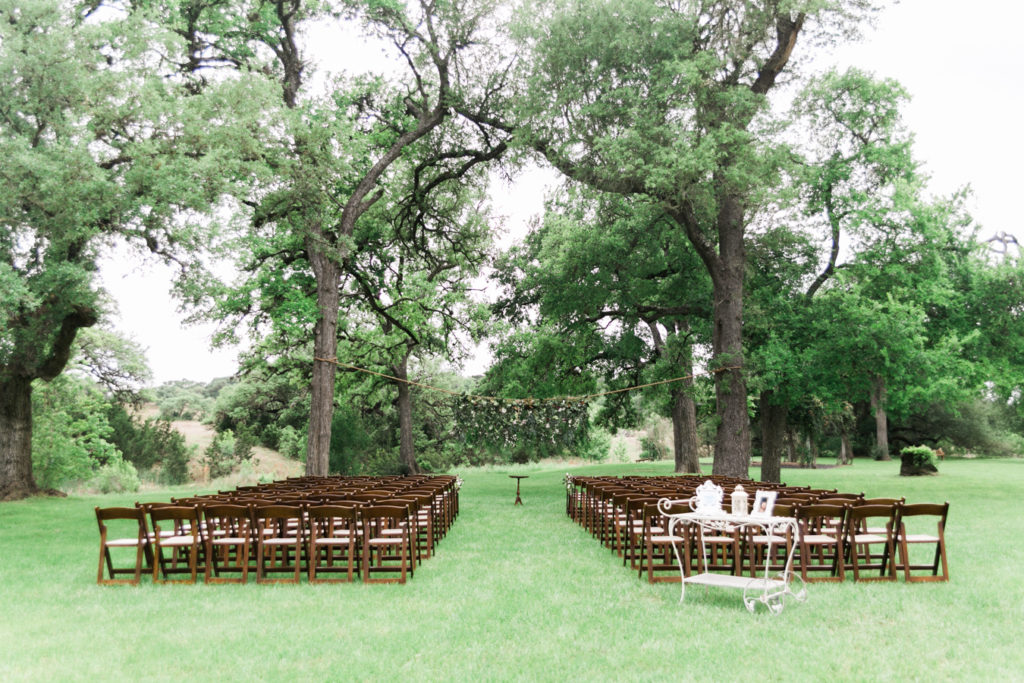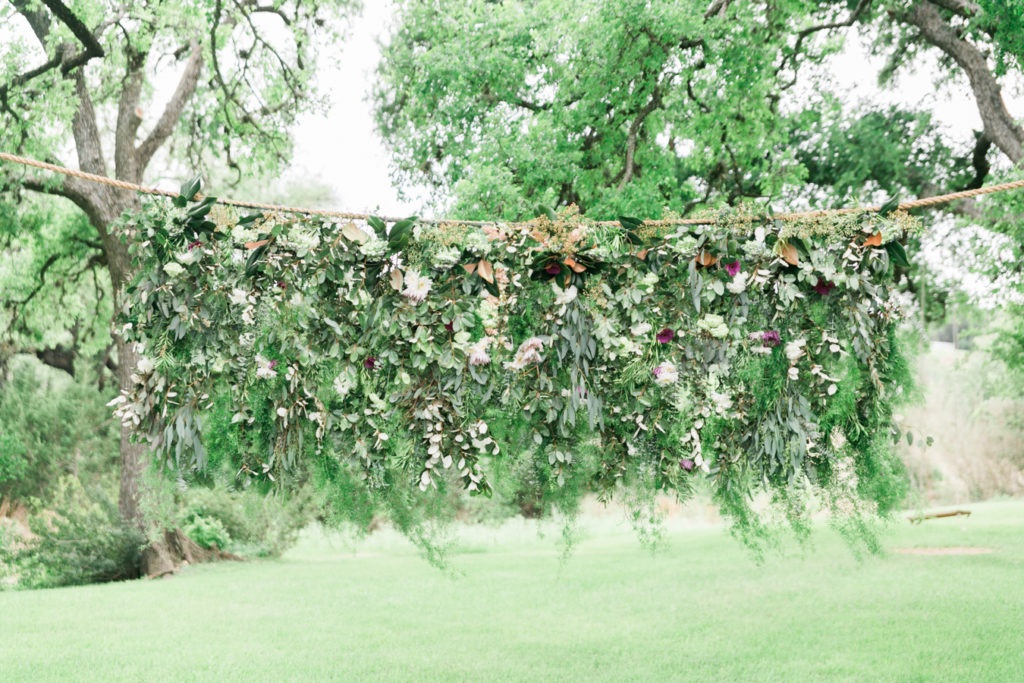 Even though Derek and I had already seen each other, I still cried like a baby when we got to the start of the aisle and I saw him standing up there. The music, the mood, and his beautiful face waiting for me at the end – it makes me misty eyed even just writing about it now!
Crying uncontrollably in front of all of our guests was one of my biggest fears leading up to the ceremony, but in the moment I couldn't have cared less about how ugly my crying face looked or if I was ruining my makeup with my tears – all I could focus on was the fact that I was walking towards my best friend to marry him and make him my husband.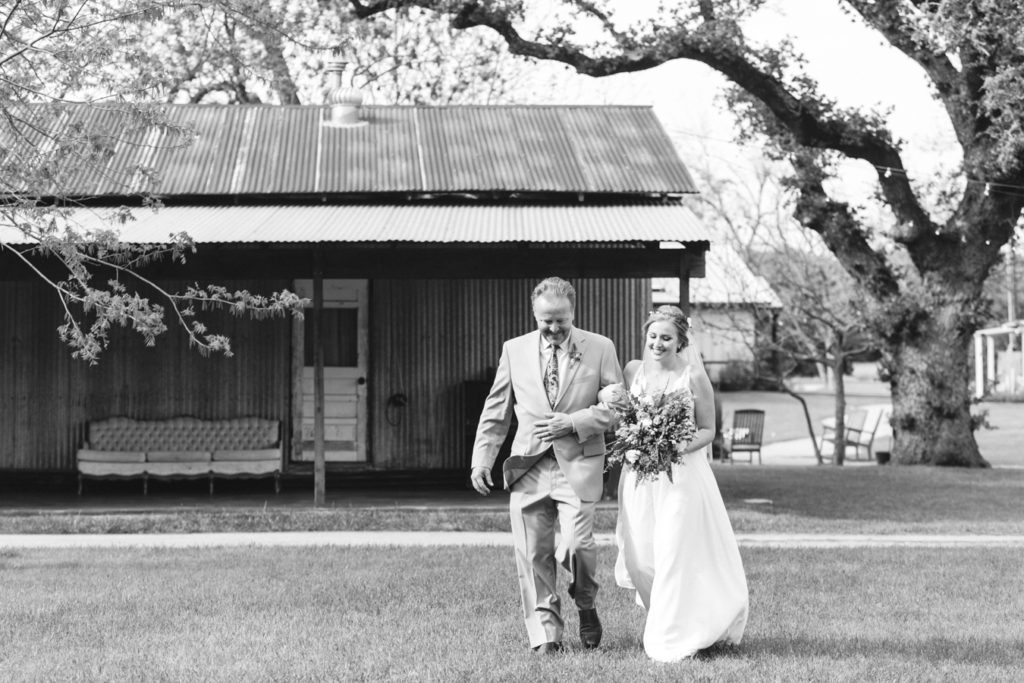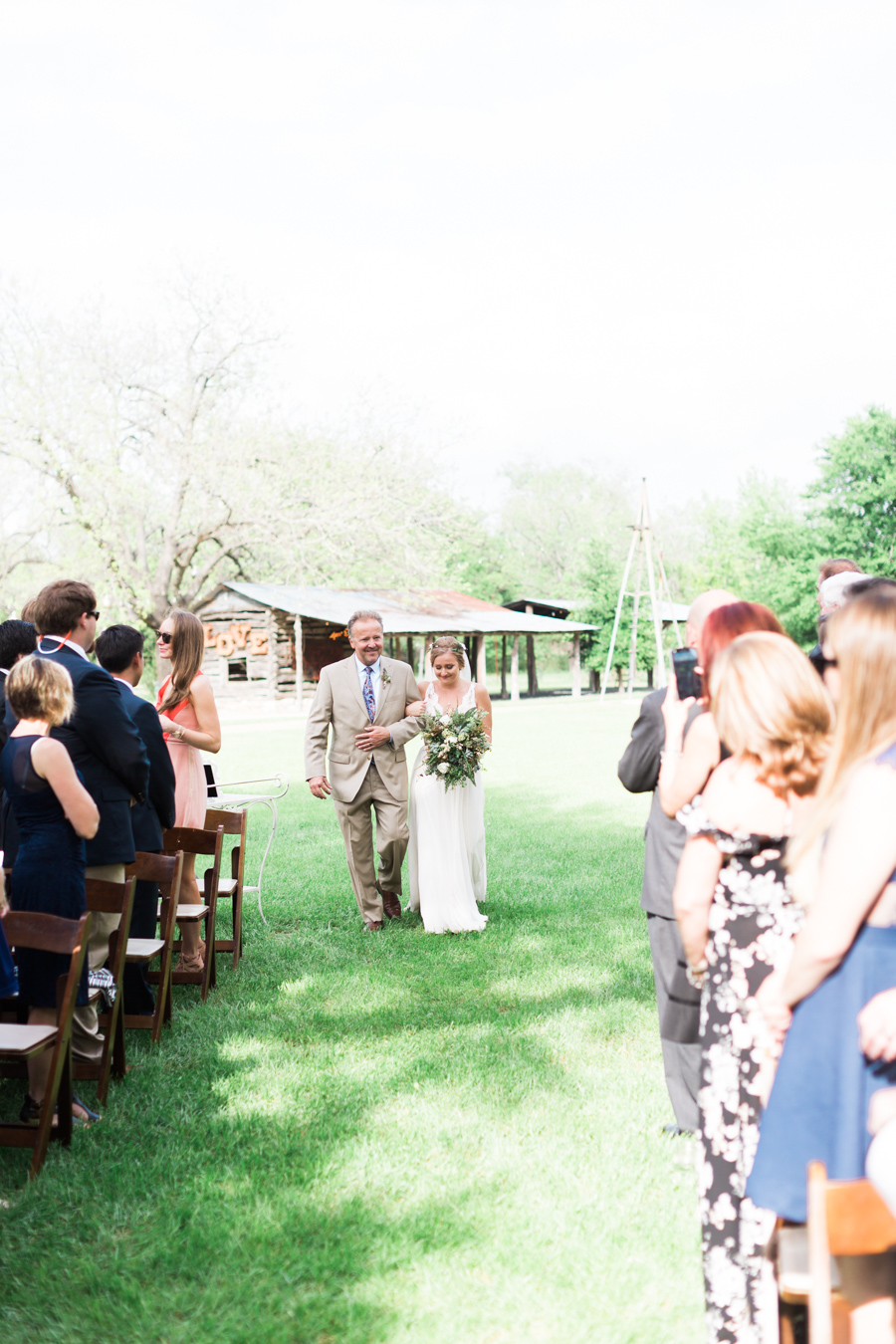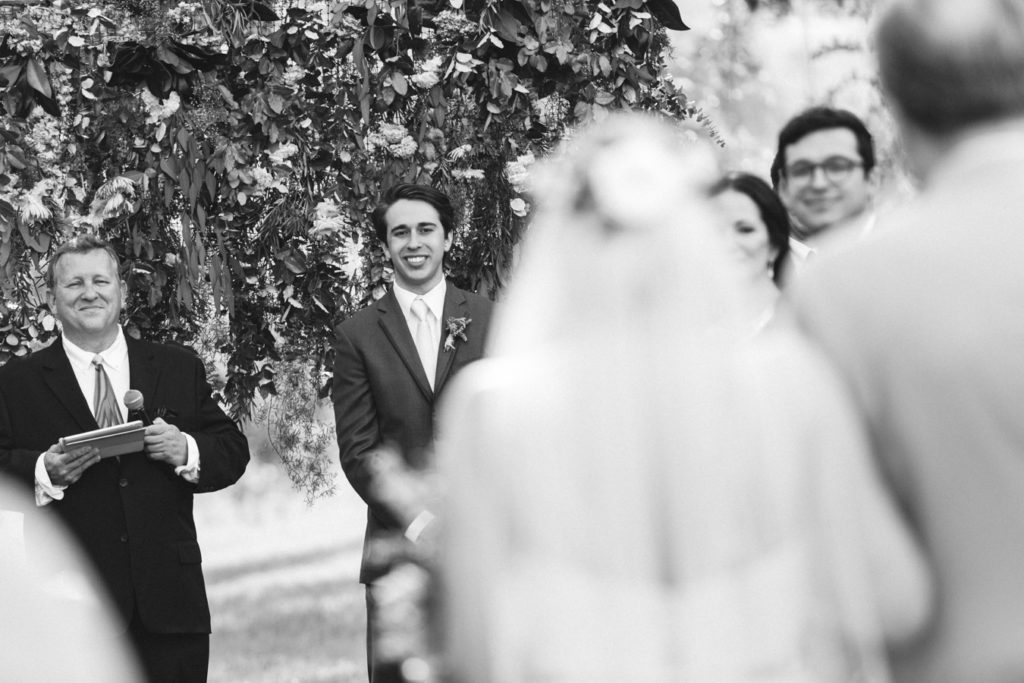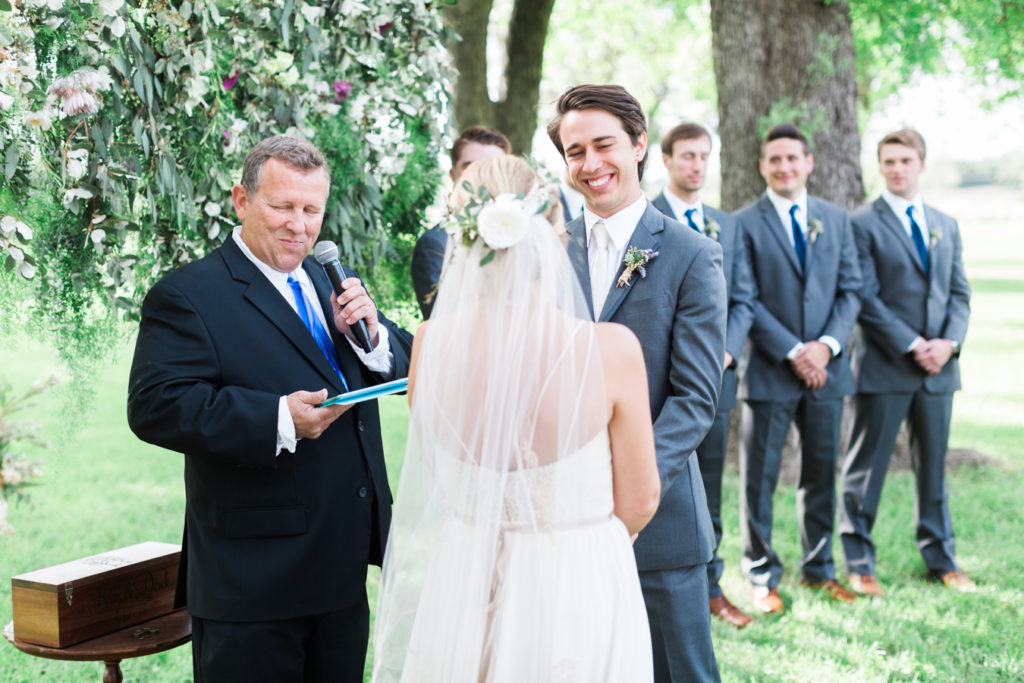 Derek and I decided to write our own vows and keep them a secret until the ceremony. Hearing Derek read his vows was one of the absolute best parts of the day; they were as sweet, funny, genuine, and caring as he is, and I had a hard time keeping the tears back.
After our vows we did a "love letter and wine box ceremony." In the days leading up to the wedding, Derek and I each wrote a letter to the other describing our feelings, hopes, and thoughts regarding our wedding and marriage. During the ceremony, we locked these two letters in a box with a nice bottle of red wine (purchased during our trip to Fredericksburg!) with the intention of opening it on our 10 year wedding anniversary.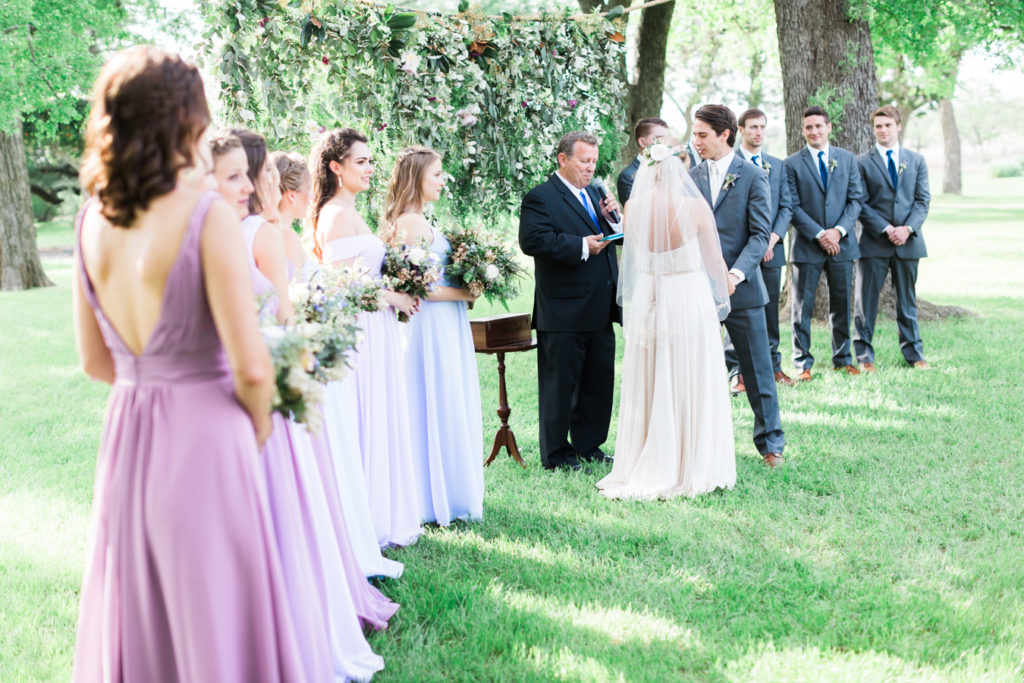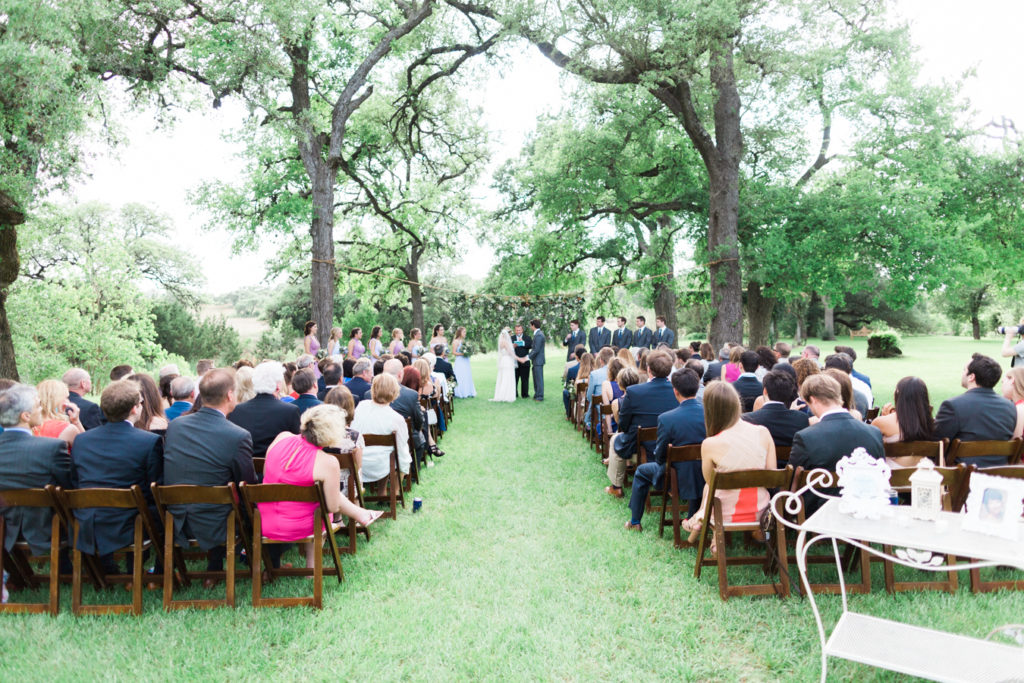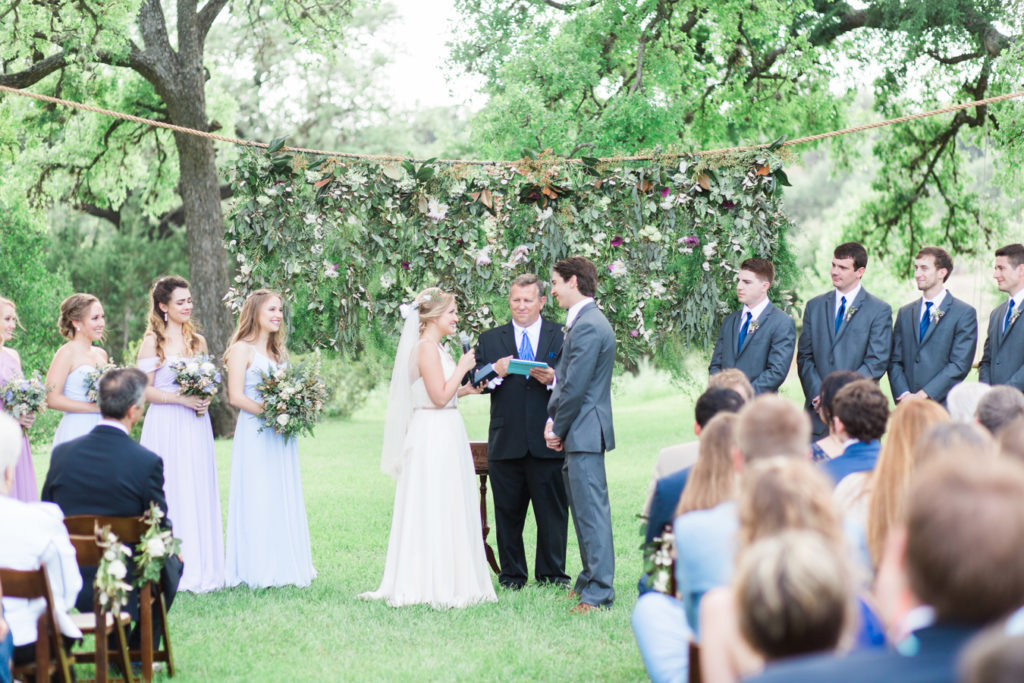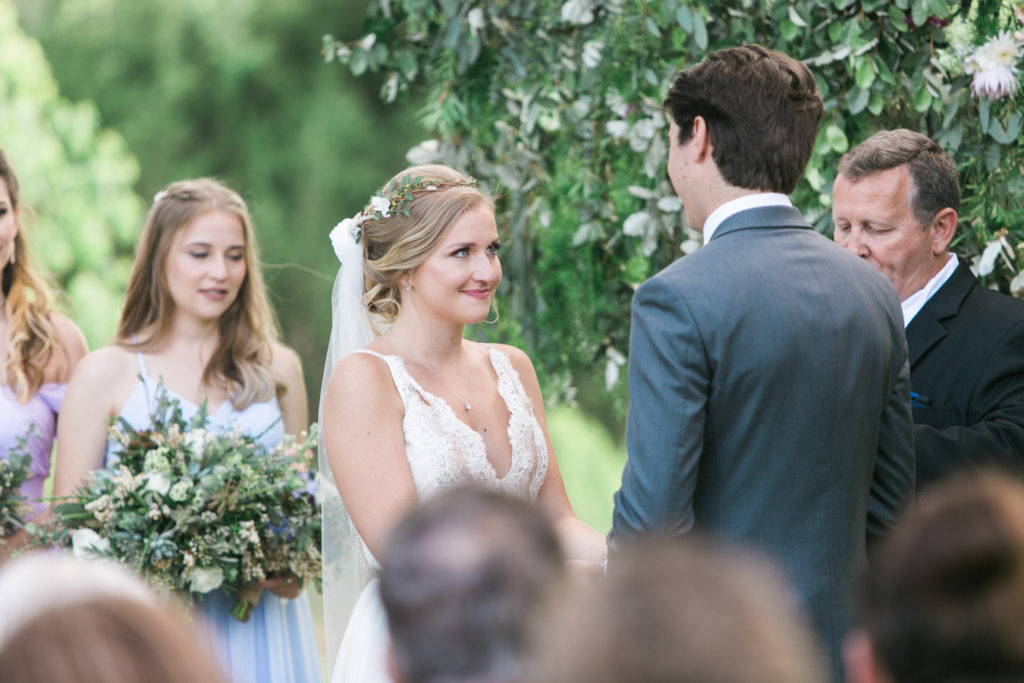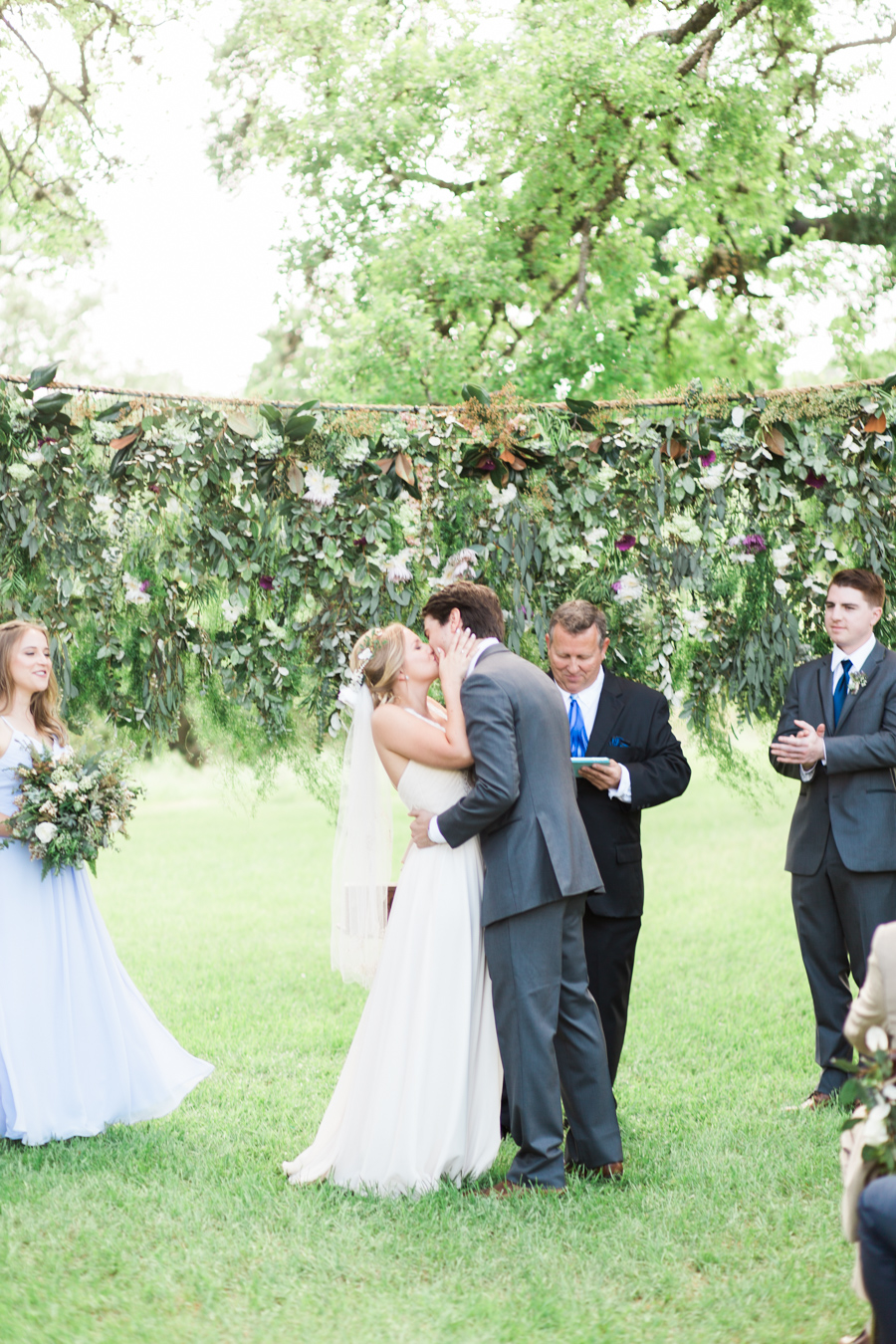 My Uncle Kurt did an AMAZING job officiating our ceremony, and although it wasn't the exact ceremony I had planned, it was still beautiful, sentimental and personal. Plus, I think it's pretty special that he performed my parents' ceremony, too. Naturally, everyone cheered and applauded once the ceremony was over and he walked back down the aisle!
Ceremony Music: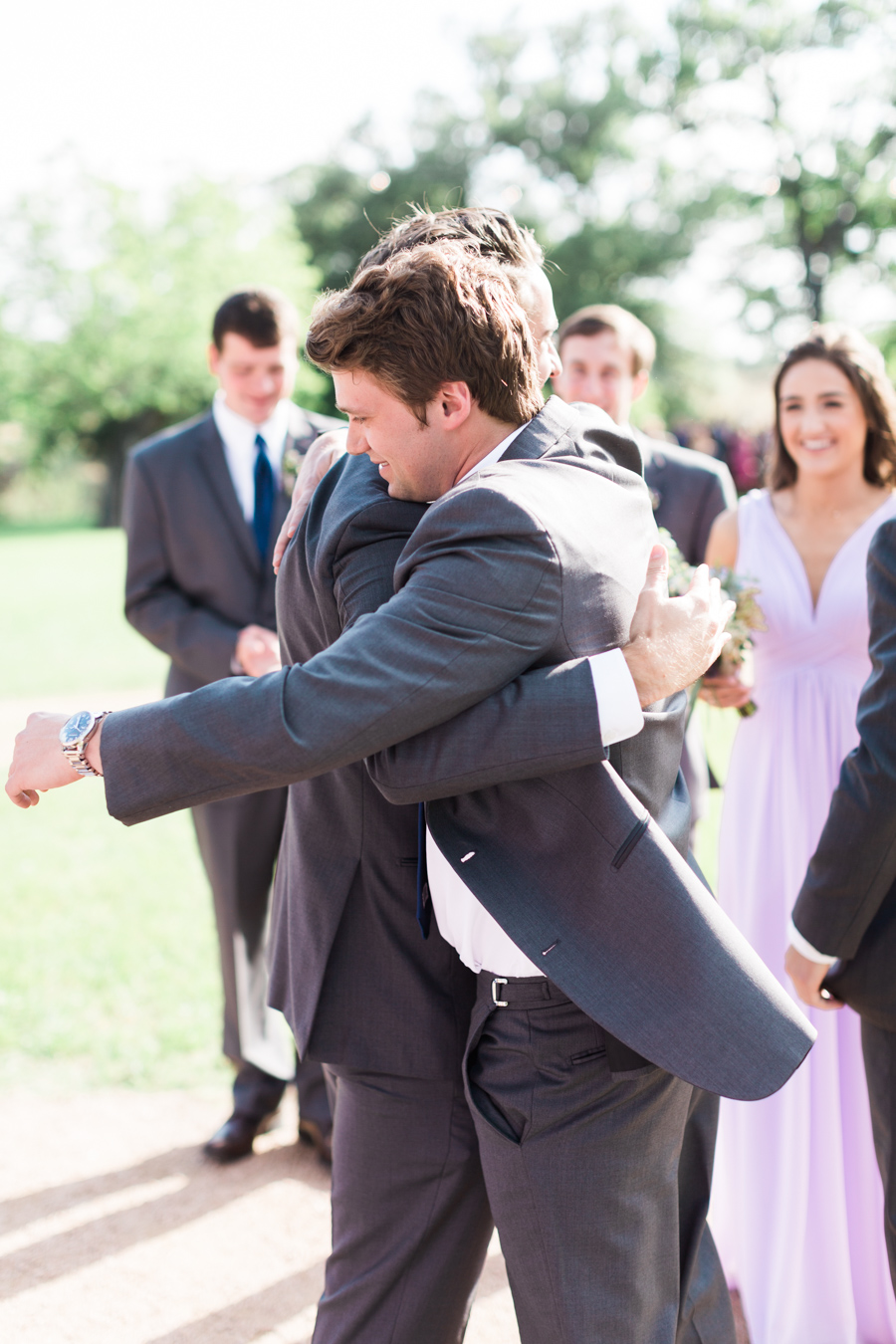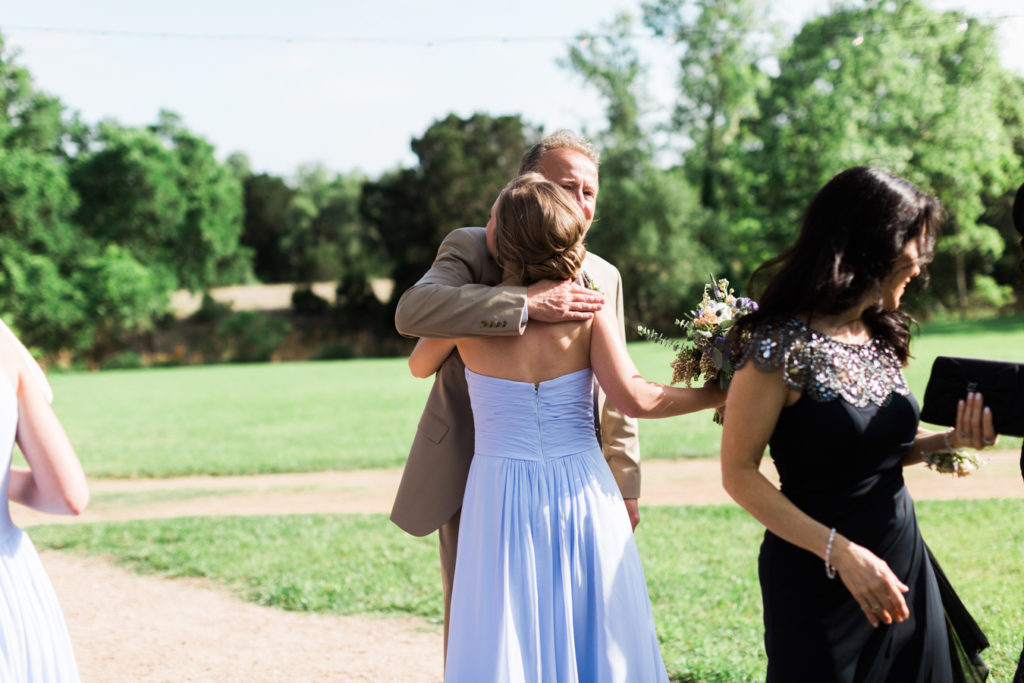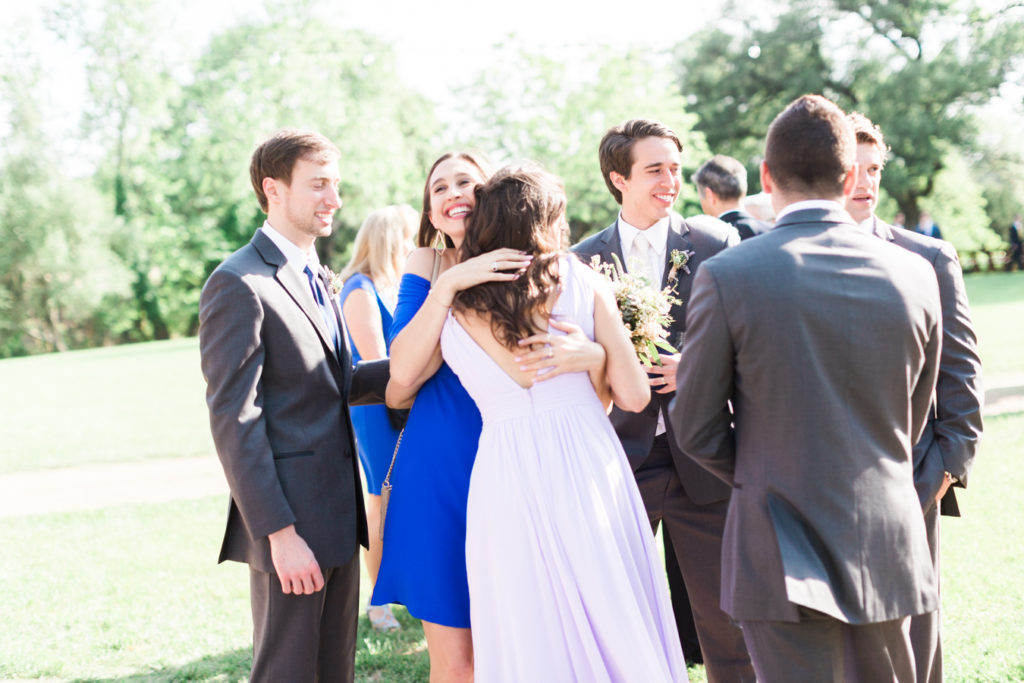 The Reception
We had planned to have a full cocktail hour from 5:00 – 6:00pm, but thanks to the problems with the officiant we had to cut it down to just 30 minutes to start dinner on time at 6:00pm. The entire reception – cocktail hour, dinner, and dancing – took place outside on the lawn and under the covered pavilion.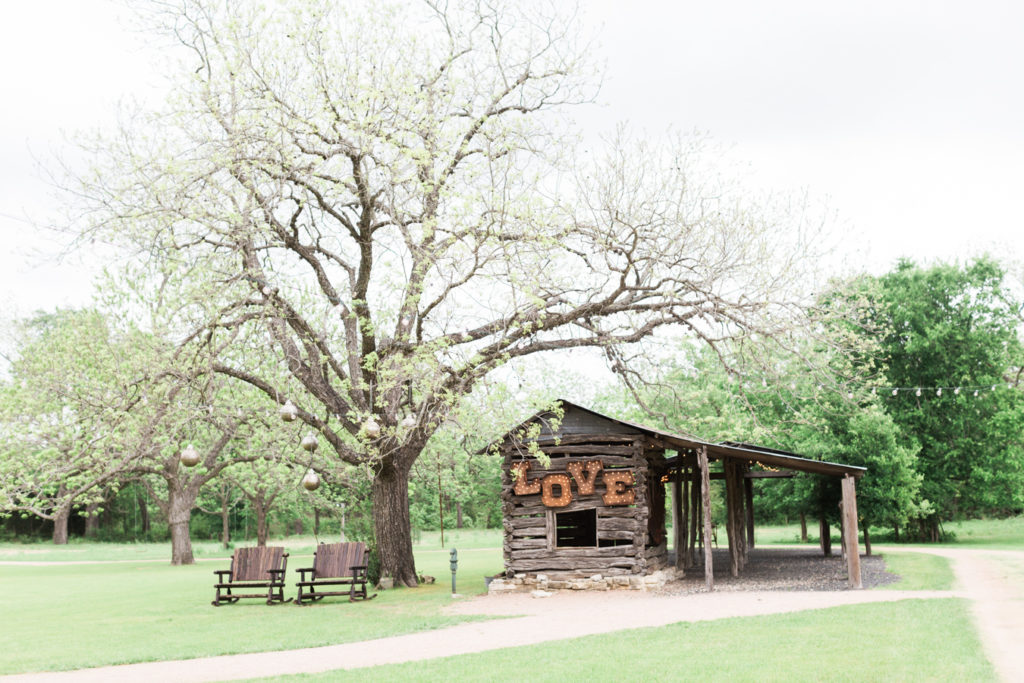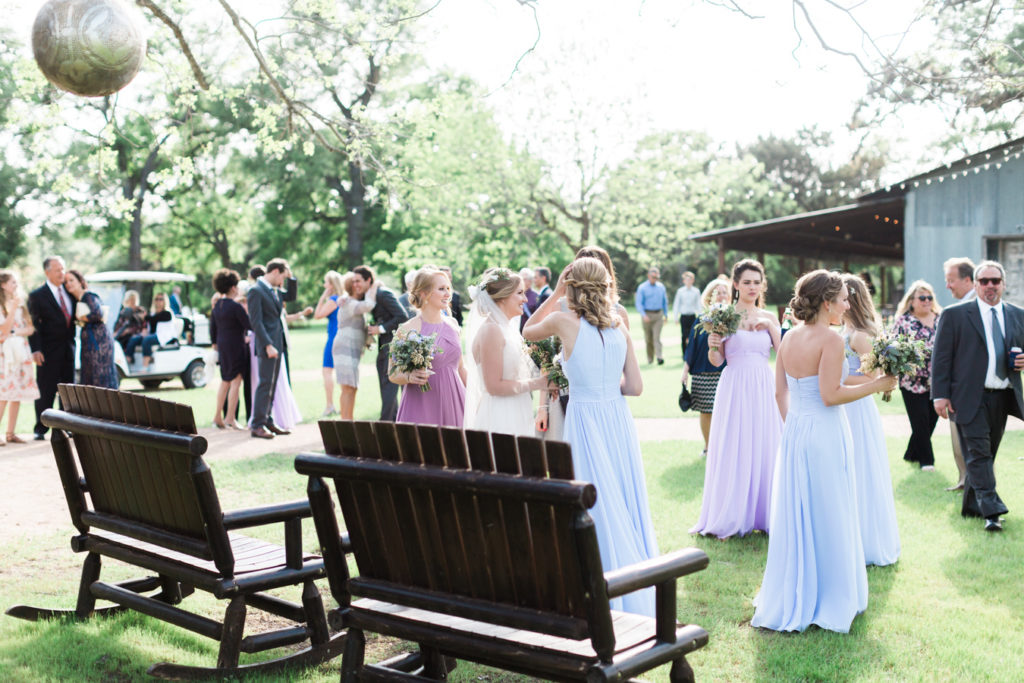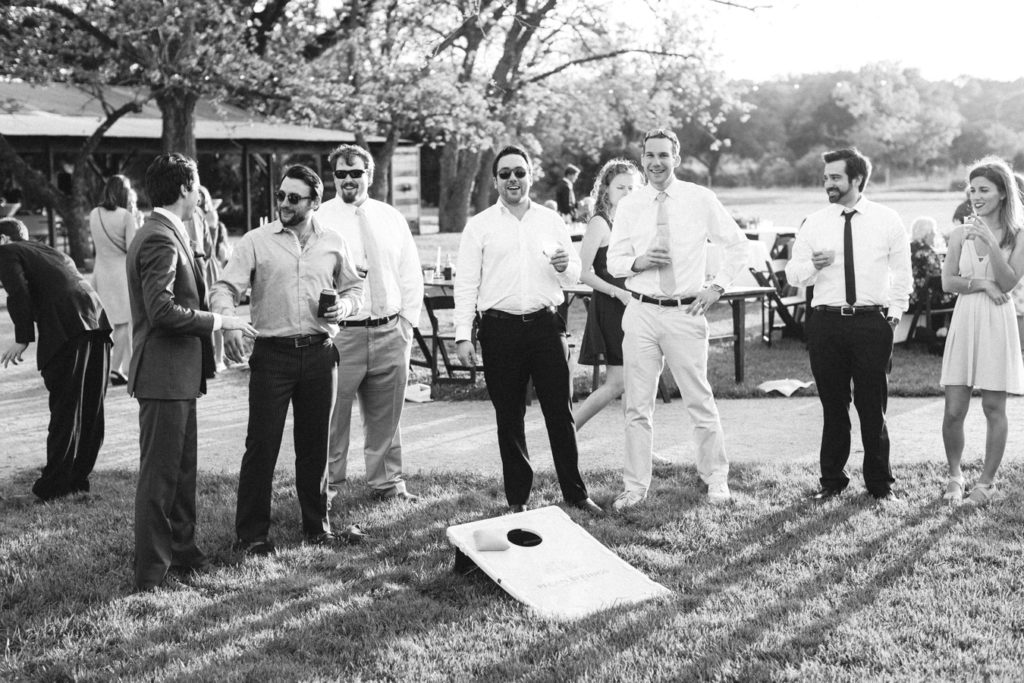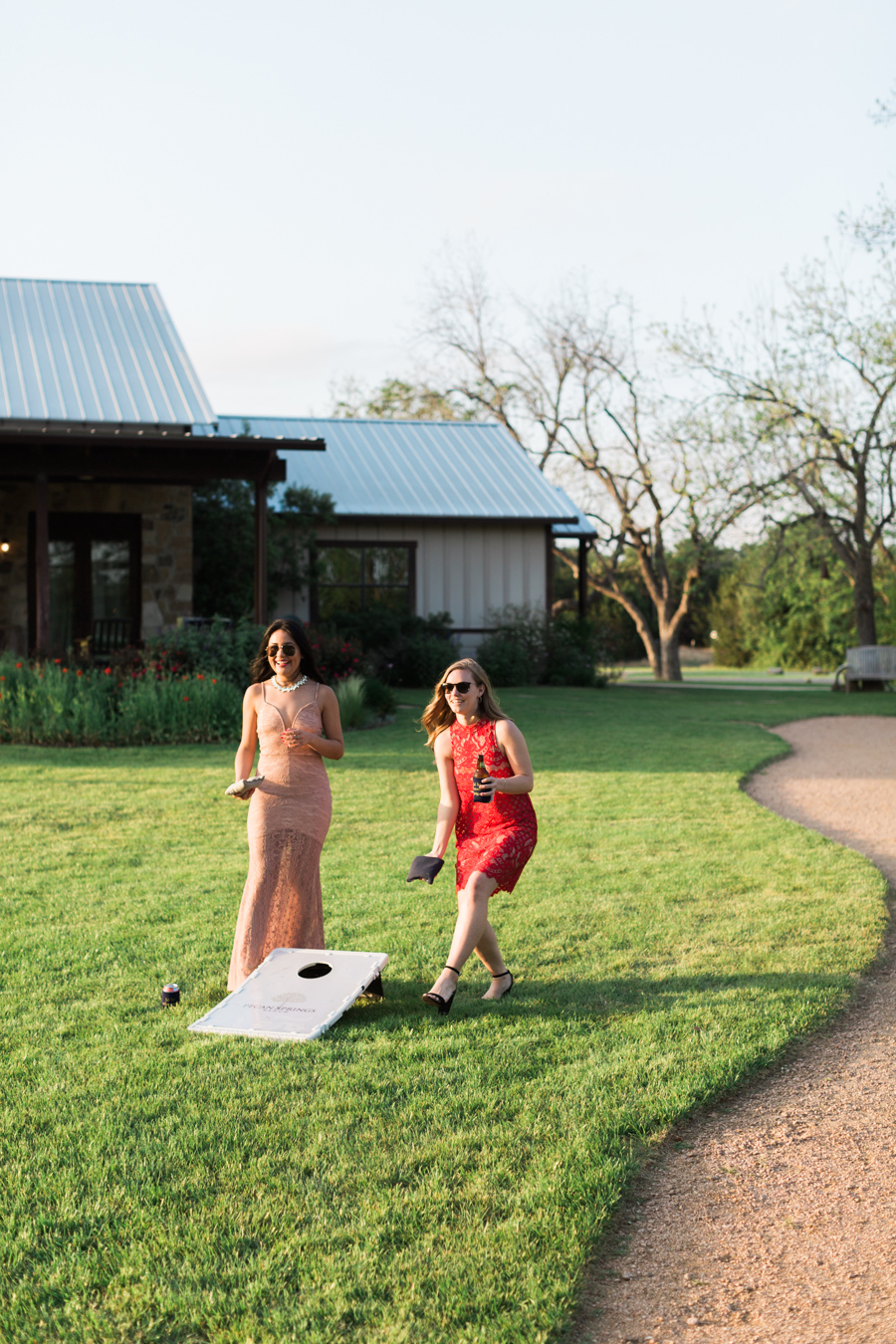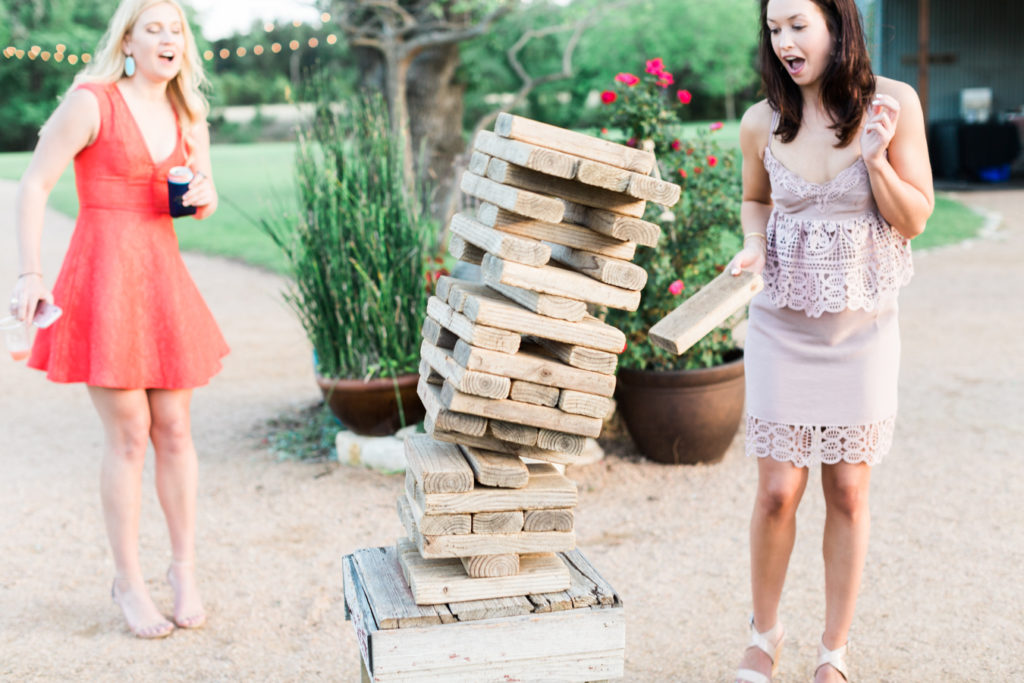 Our guests played lawn games, roamed the grounds seeking out the best photo ops (I'm pretty sure it was a toss up between the "Love Shack" and the "Let the Adventure Begin" swing for best photo location), and enjoying the shockingly perfect weather – warm, sunny, breezy, and mild. Rare weather indeed for a spring day in Texas!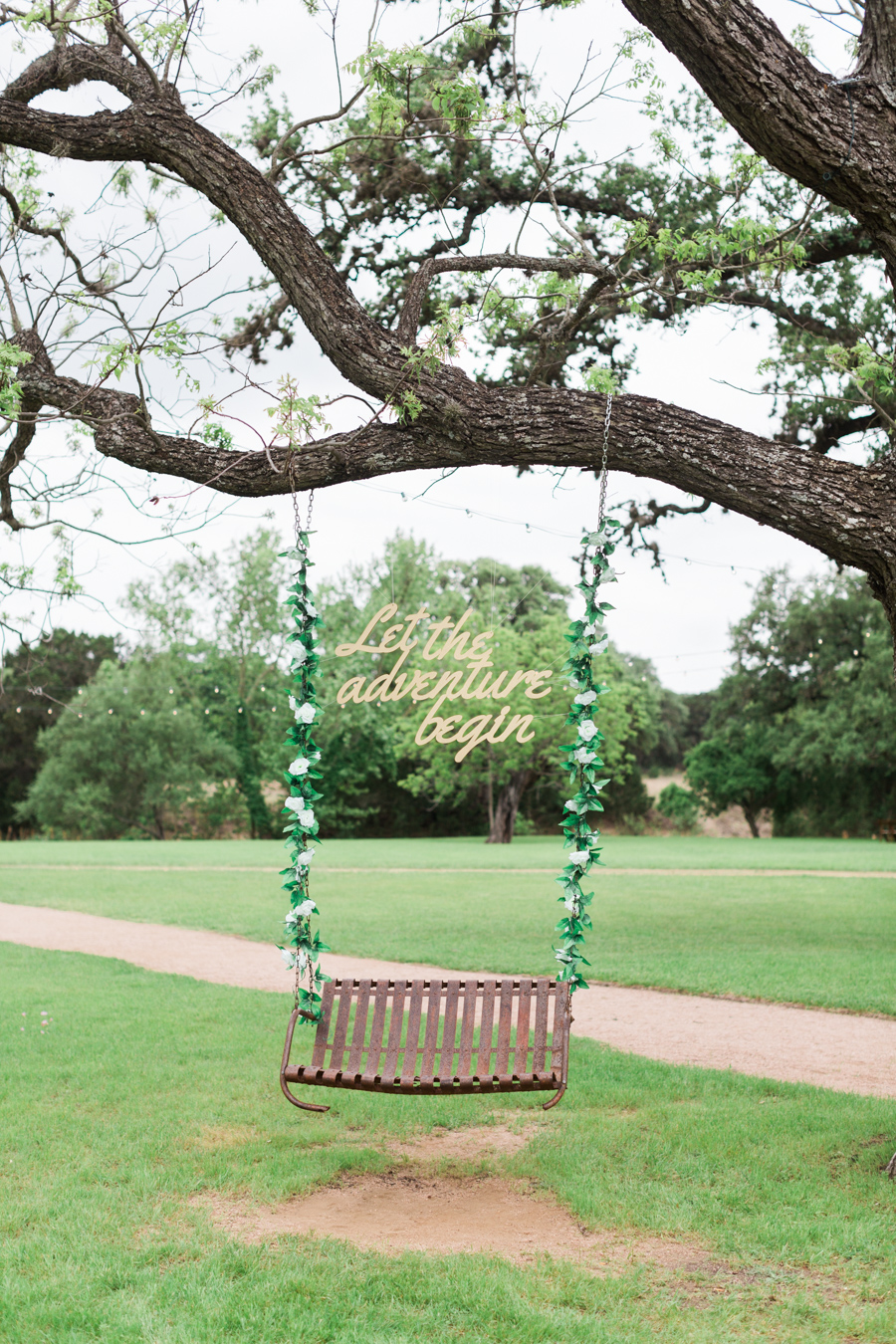 And guys – our venue was G – L – O- W -I – N – G.
Absolutely glowing! The early evening light cast this gorgeous golden color over the lawn, tables, and decor, and made the venue completely come alive. Everything just looked so vibrant and inviting. In fact, I mean this when I say that everything was even prettier and more perfect looking than I had hoped for!
One of our groomsmen, Aaron, said it best: "I think your venue just made every picture look better – it was like it had its own filter."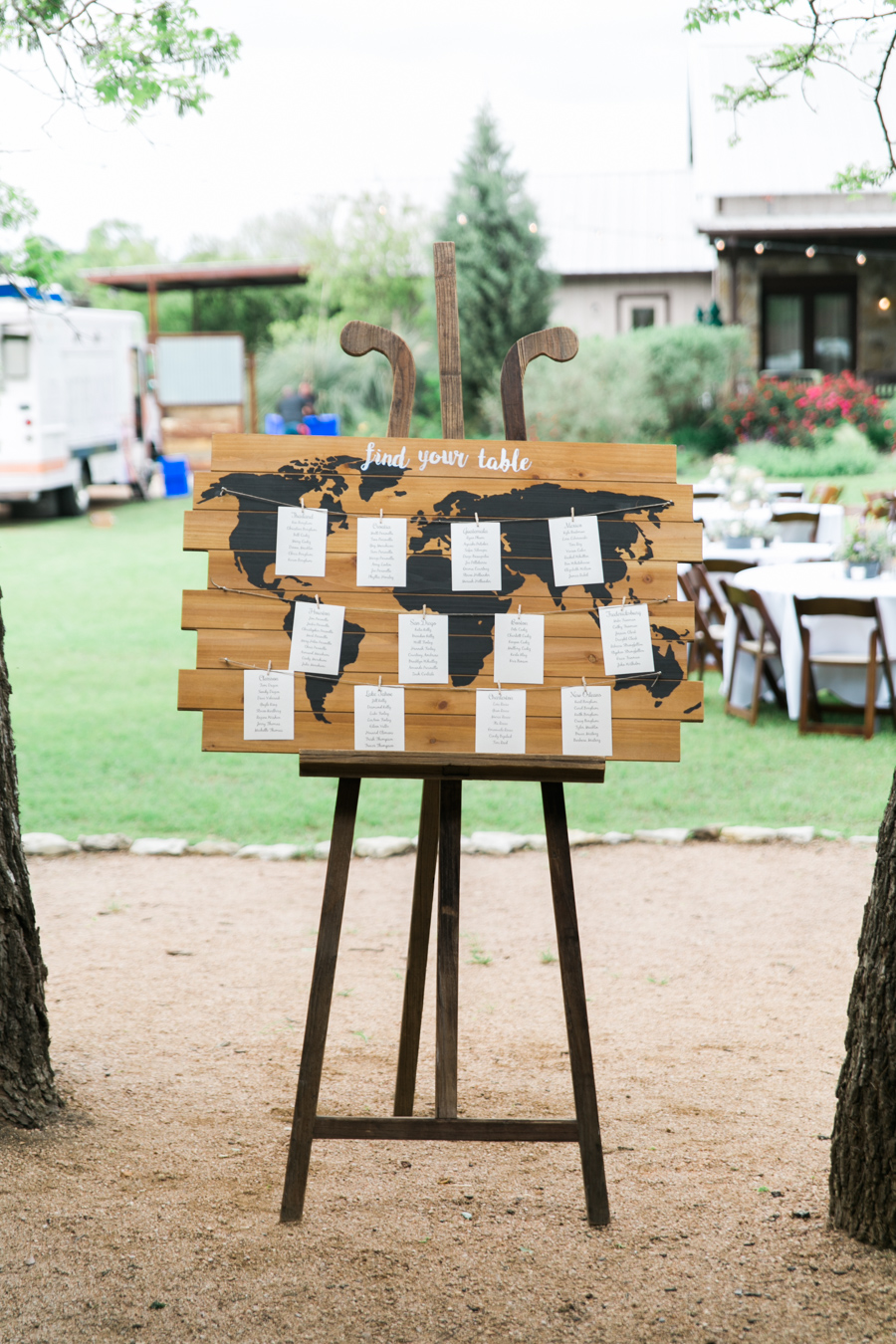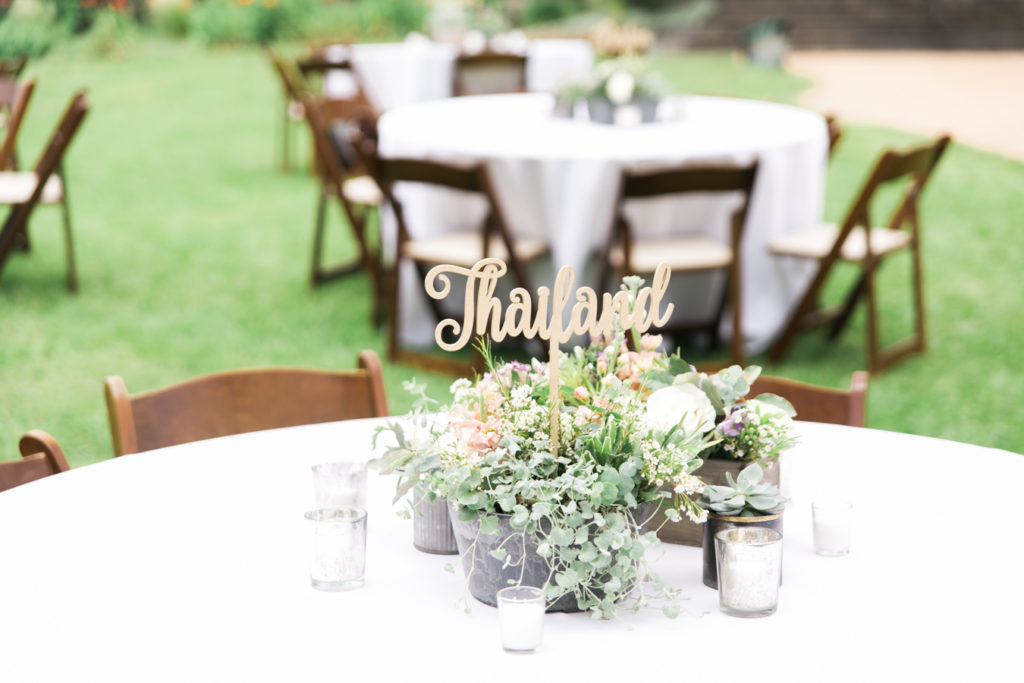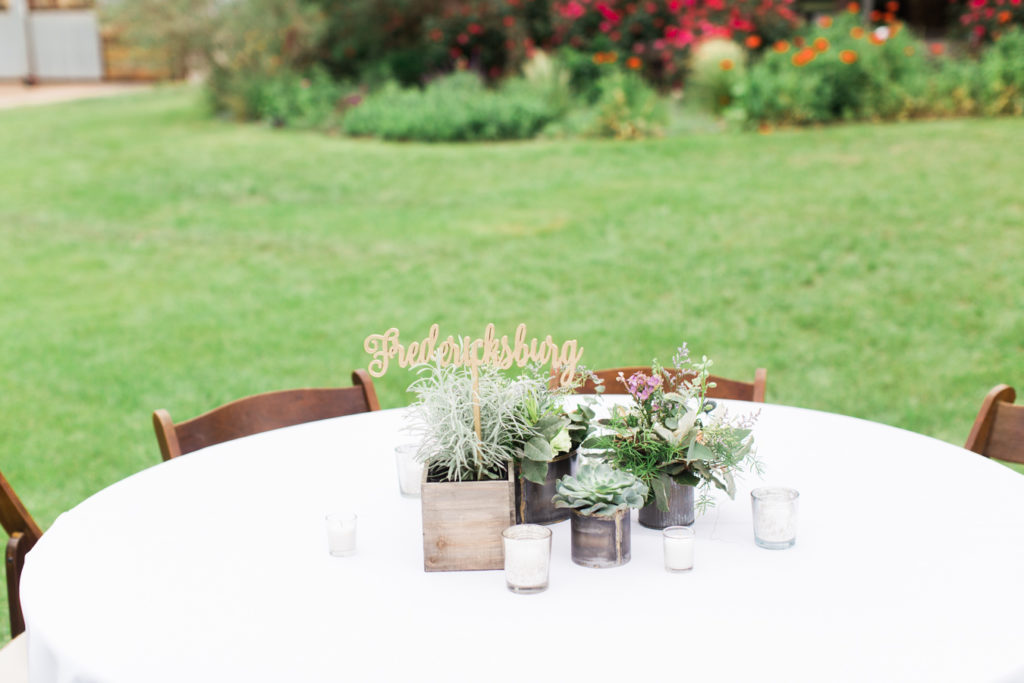 As you can see, we also incorporated some fun travel-themed elements into our decor, like our seating chart and table "numbers"!
Each table was named after a place that is special to Derek and I in some way, either because we traveled there together or because it was where an important event took place (like Clemson, where we met, or San Diego, where we got engaged).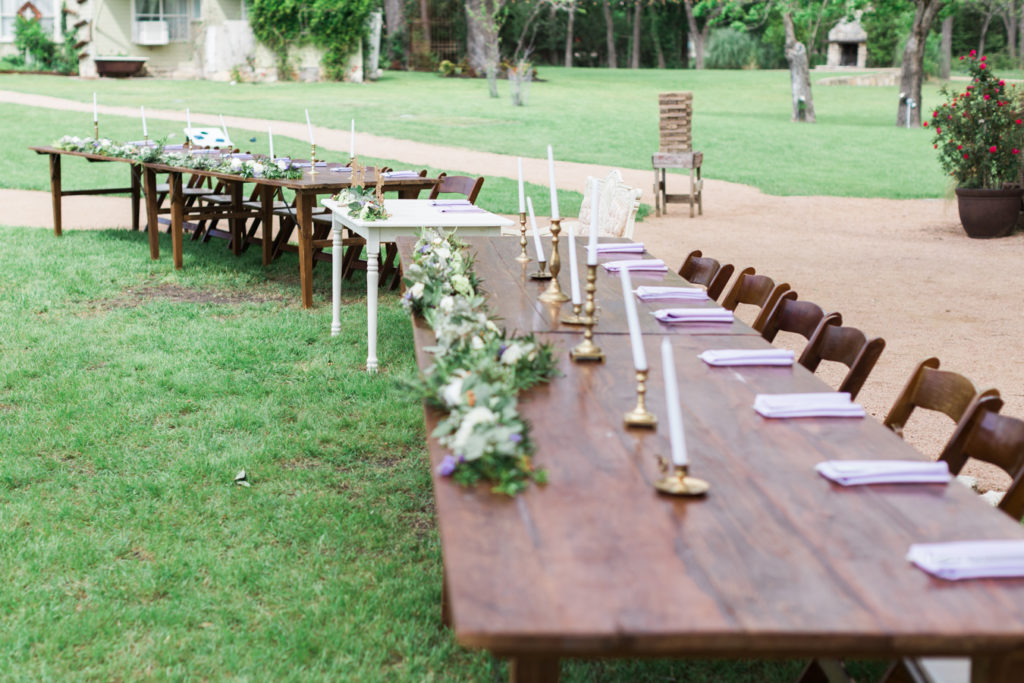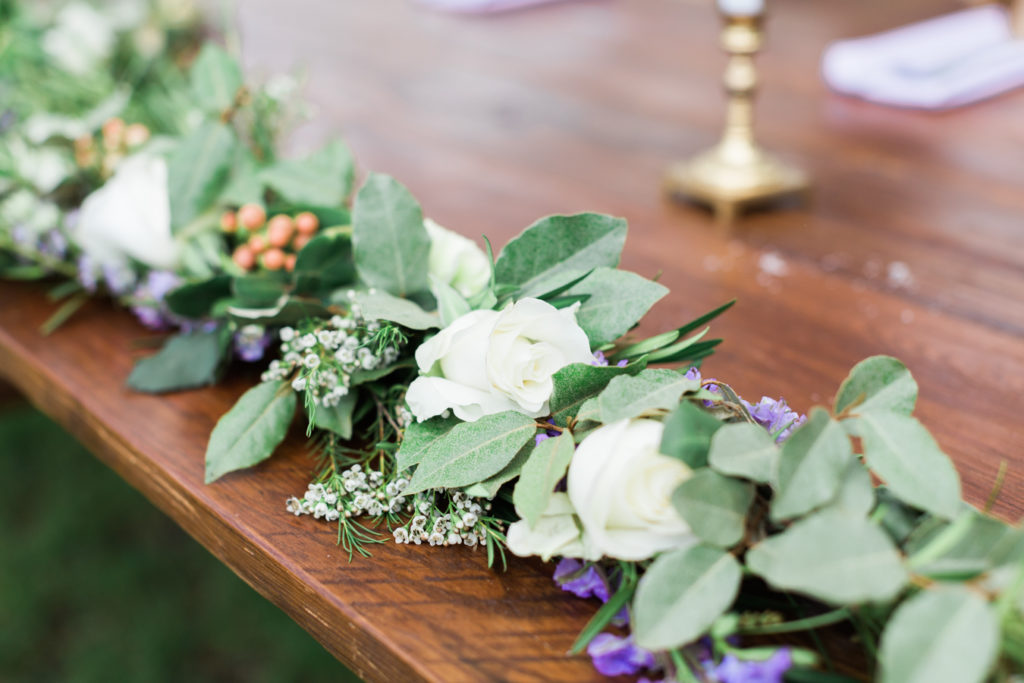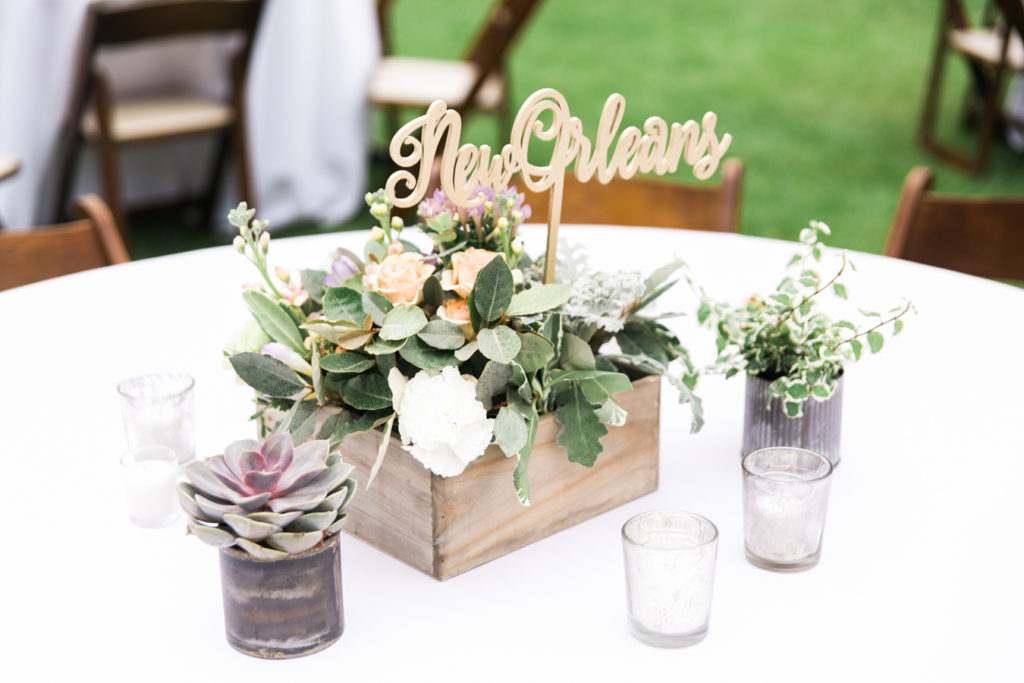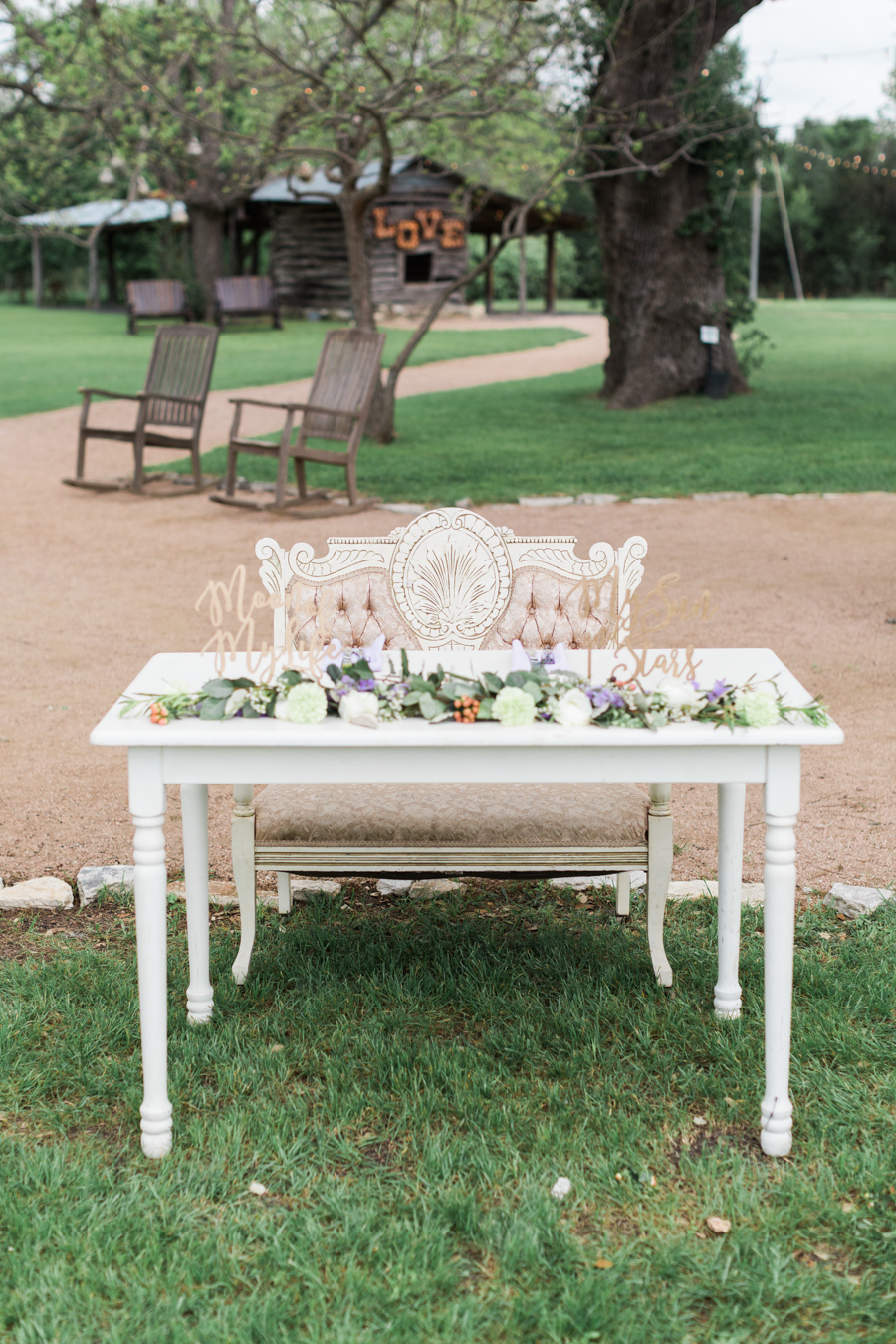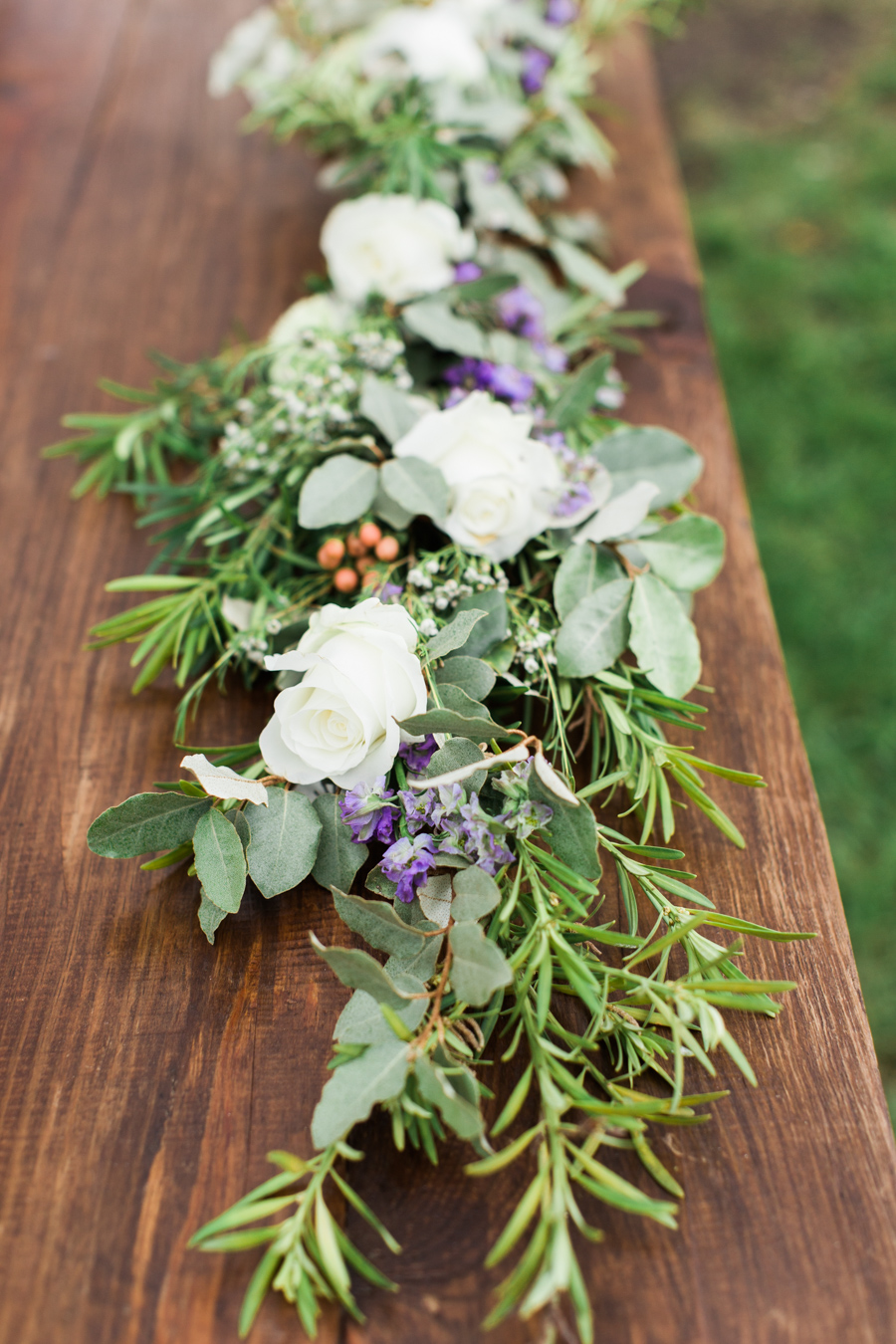 During that pre-dinner time our caterer passed around trays of kimchi "lollipops," mini brisket grilled cheeses, and pear and goat cheese bites, and our bar was open and serving up prickly pear margaritas, whiskey sours, red and white wines, and four types of beer.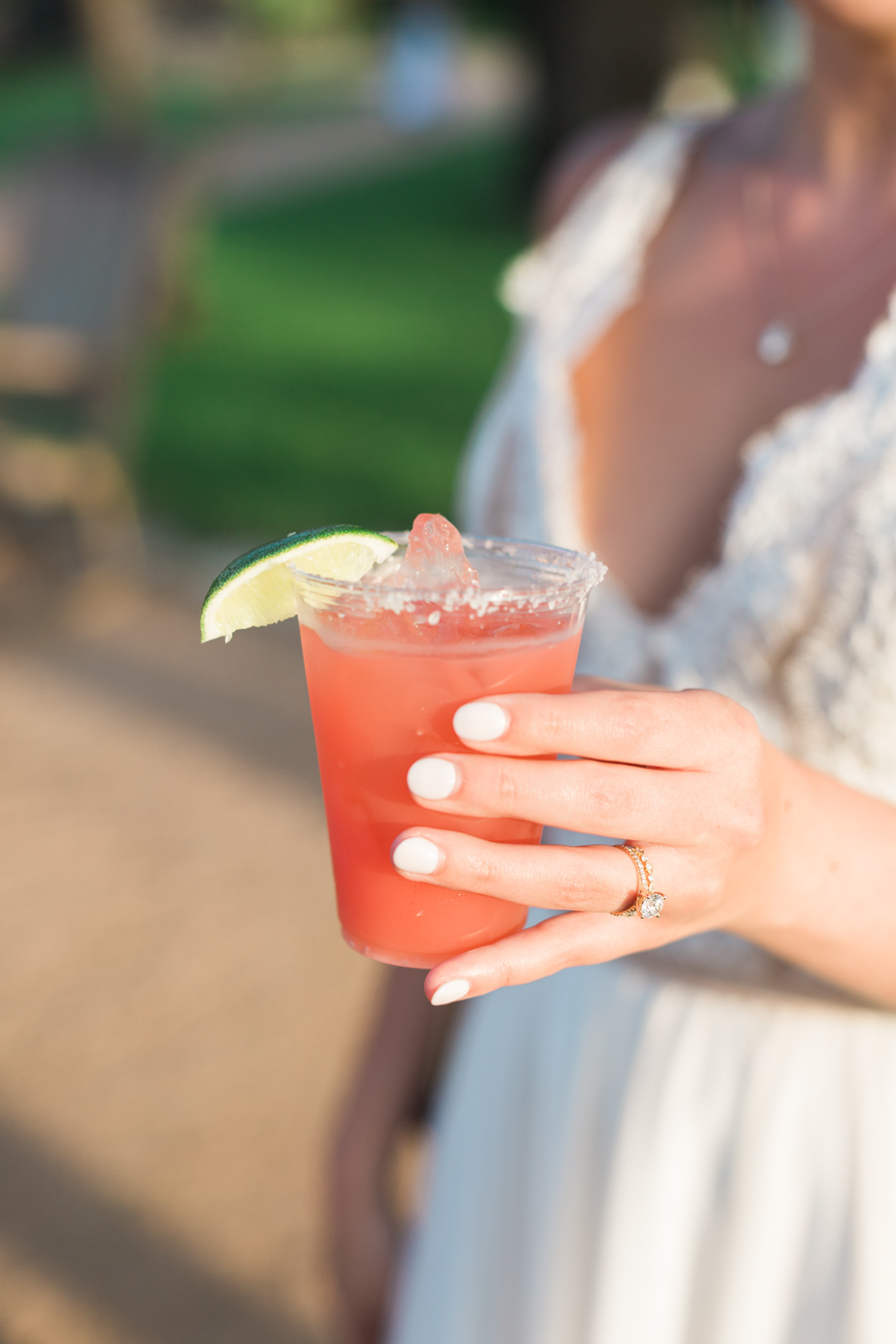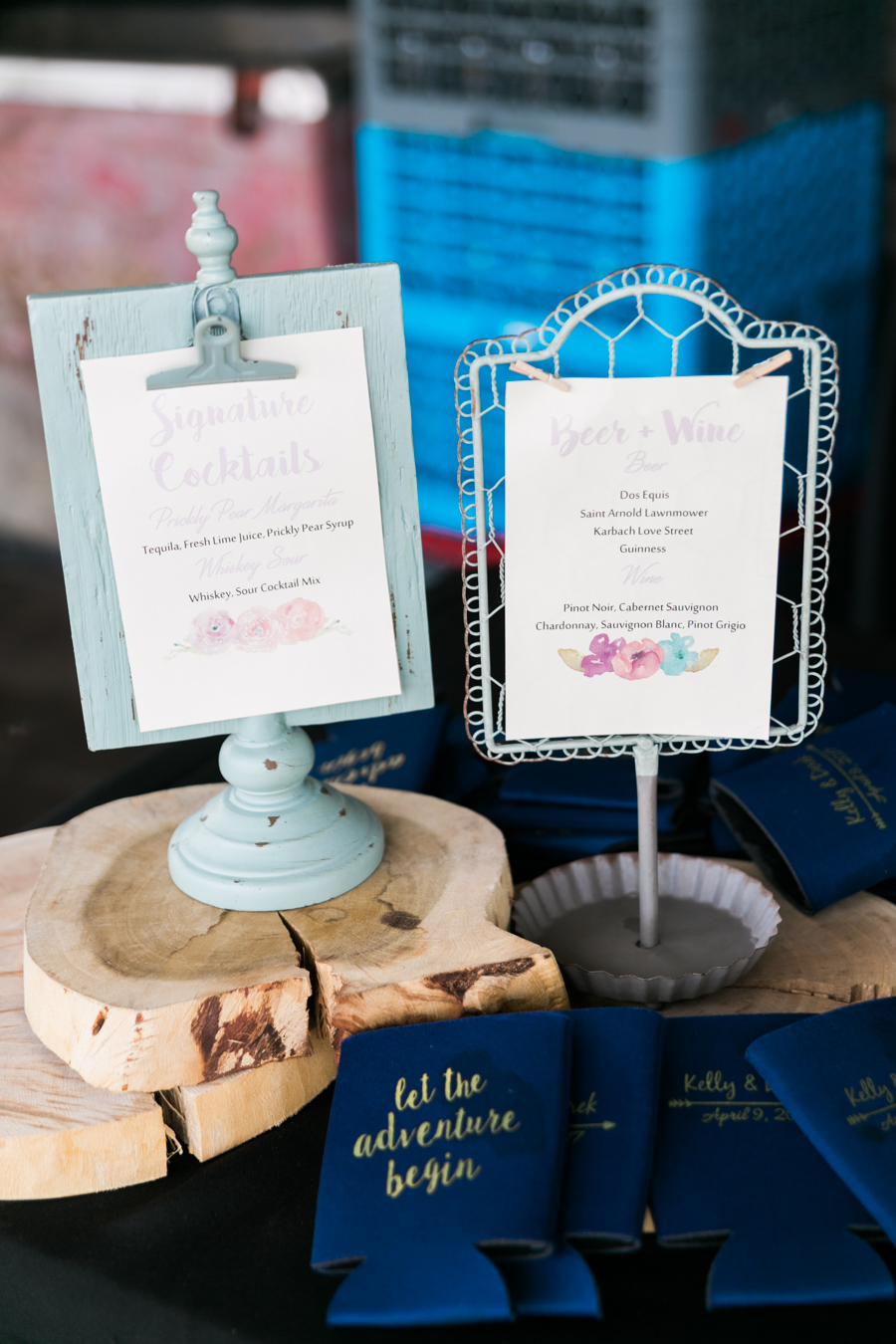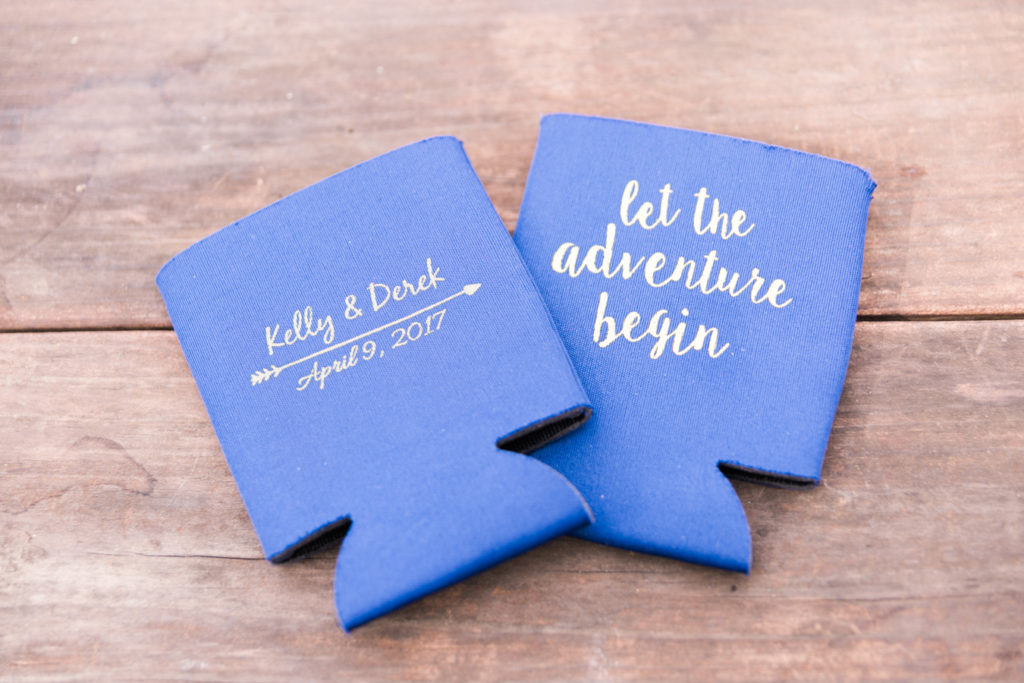 The DJ absolutely killed it throughout the whole afternoon and evening. For cocktail hour and dinner, we requested a mix of chilled out acoustic/bluegrass/alternative rock tunes, from artists like Dave Matthews, Trampled by Turtles, The Grateful Dead, The Eagles, Tom Petty, Mumford and Sons, Avett Brothers, and John Mayer. We even received a lot of compliments on our music selections, so it's safe to say he nailed it!
Cocktail hour was also when we brought out one of our favorite surprises for our guests: the drink donkeys.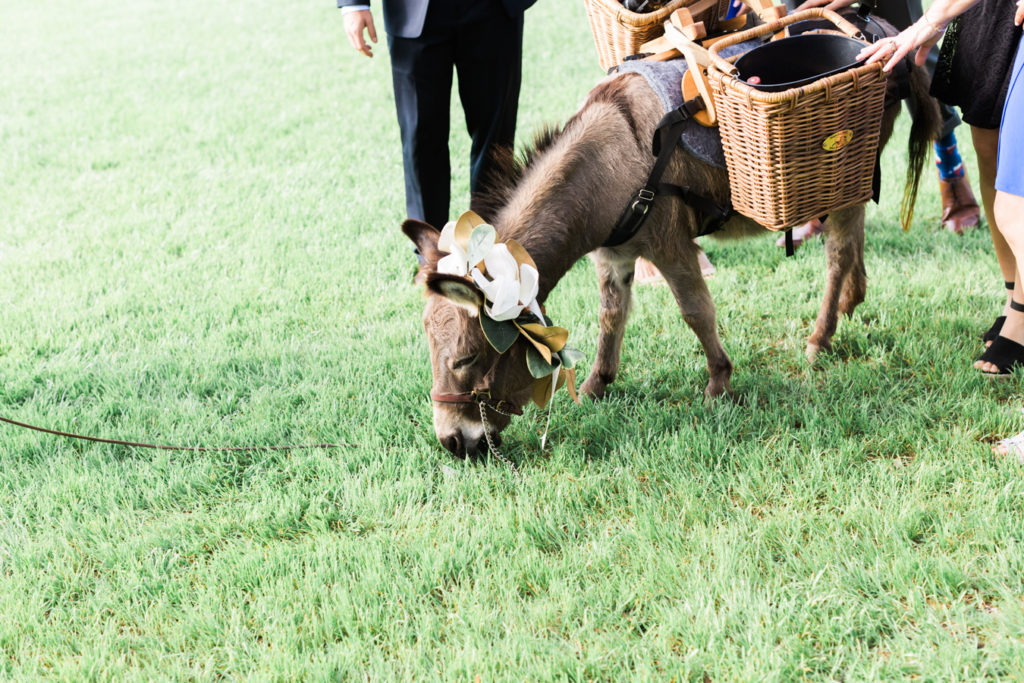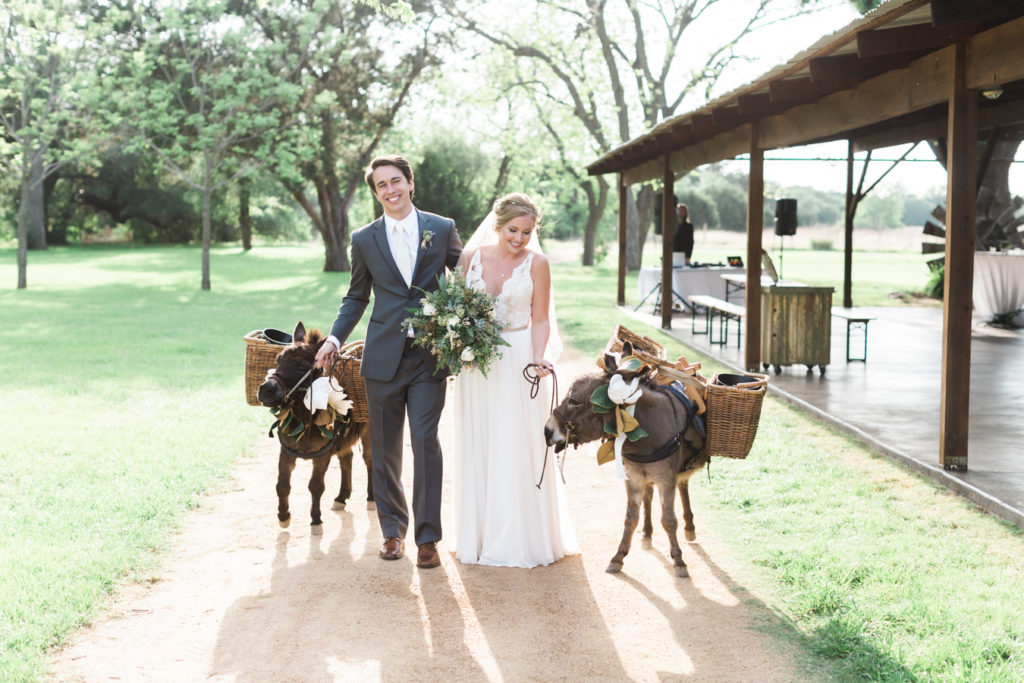 …Yes, that's right – DRINK DONKEYS. Their names were Opie and Sassy, and I'm prettttyyy sure they stole the show and were an actual highlight for a lot of our guests. I only wish they had been able to stay out longer!
For dinner, we paid homage to Austin's well-known love for food trucks by bringing in the cheery and colorful Peached Tortilla food truck. They parked right on the lawn near the tables, and guests went up to grab their plates from the window. On the menu: crispy fish tacos, Chinese chicken BBQ tacos, Korean kimchi sliders, wasabi mashed potatoes, and miso corn.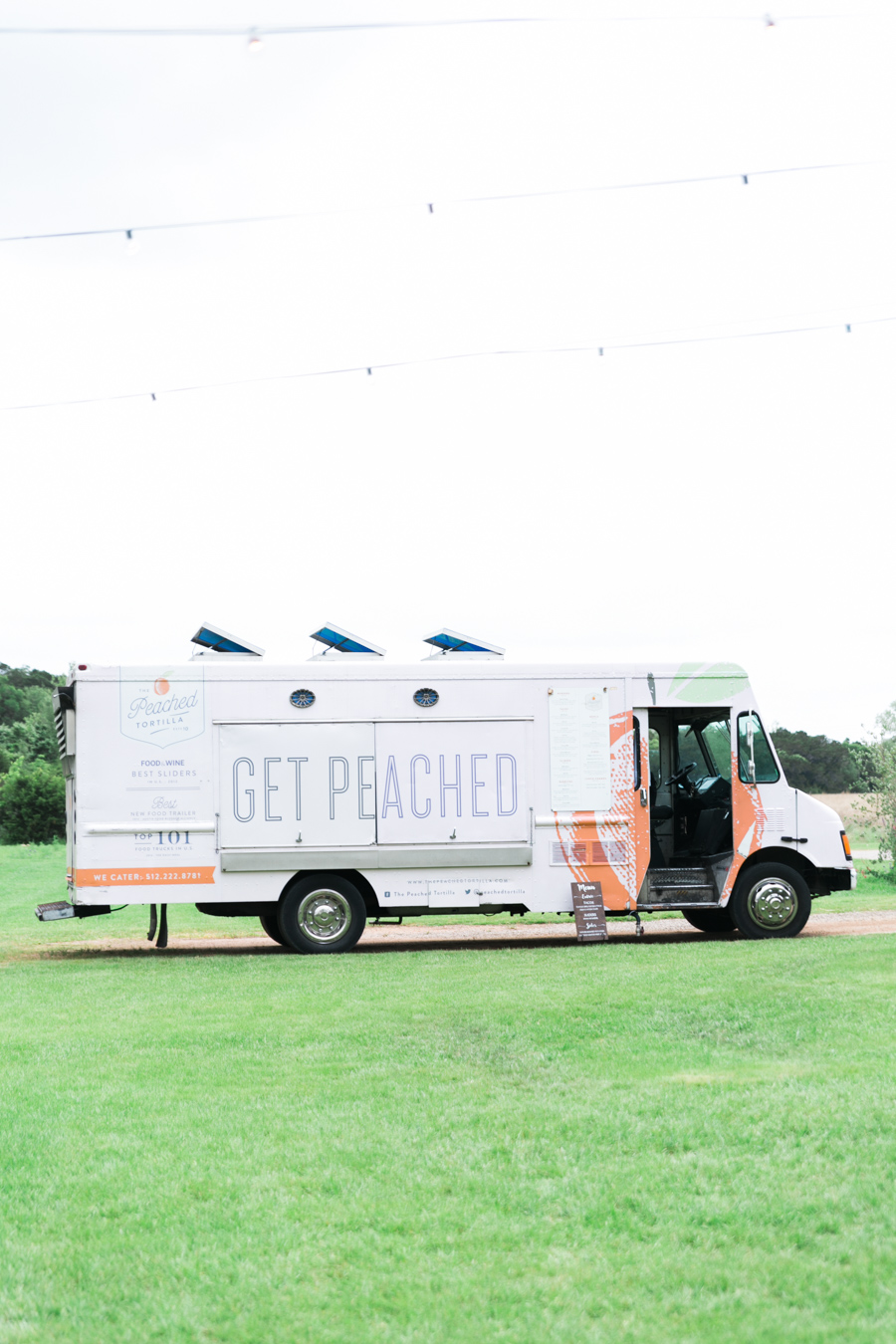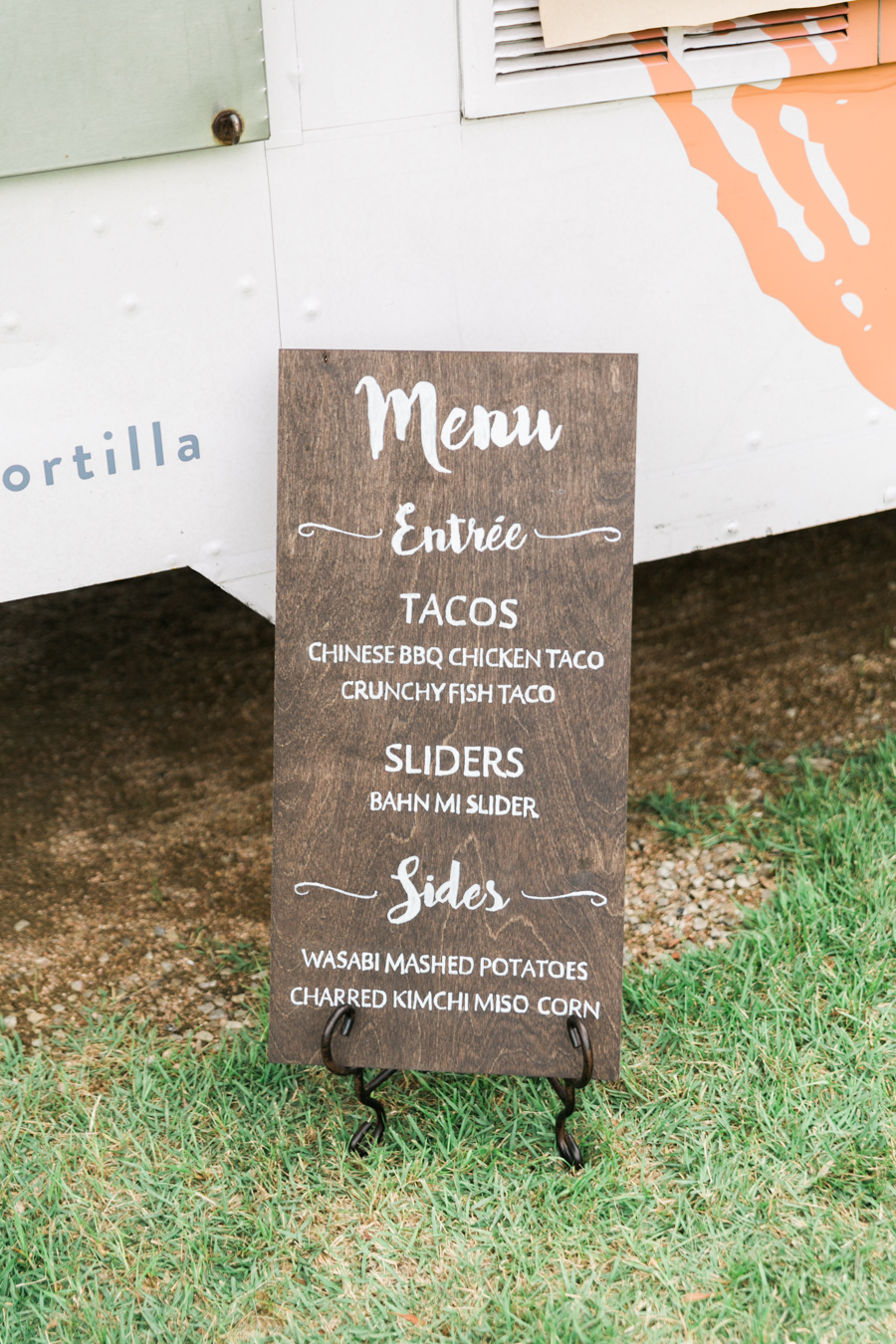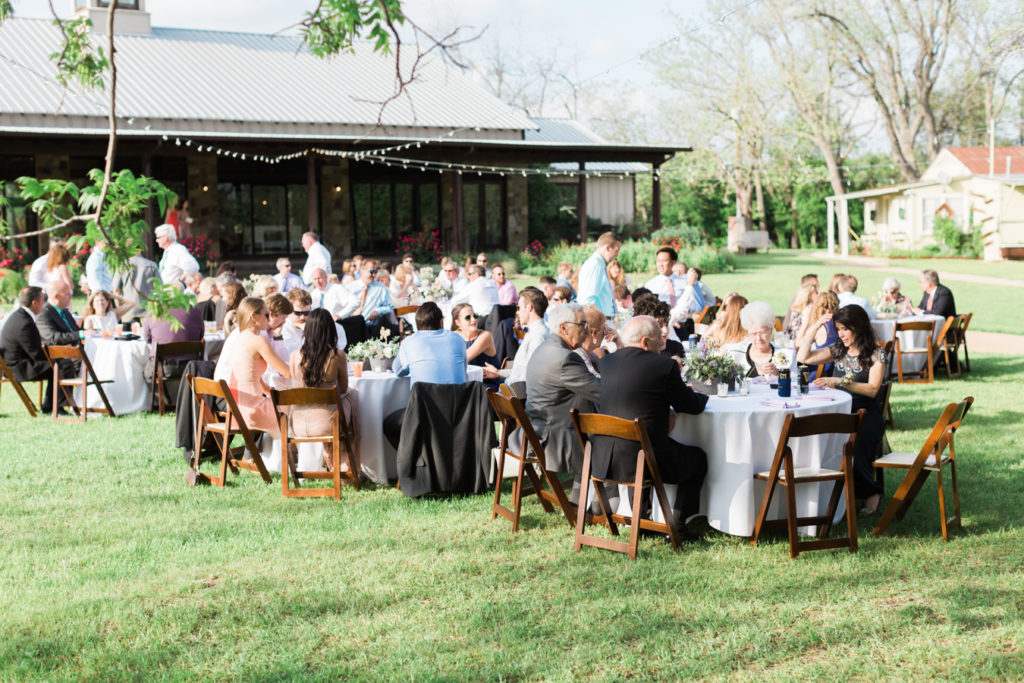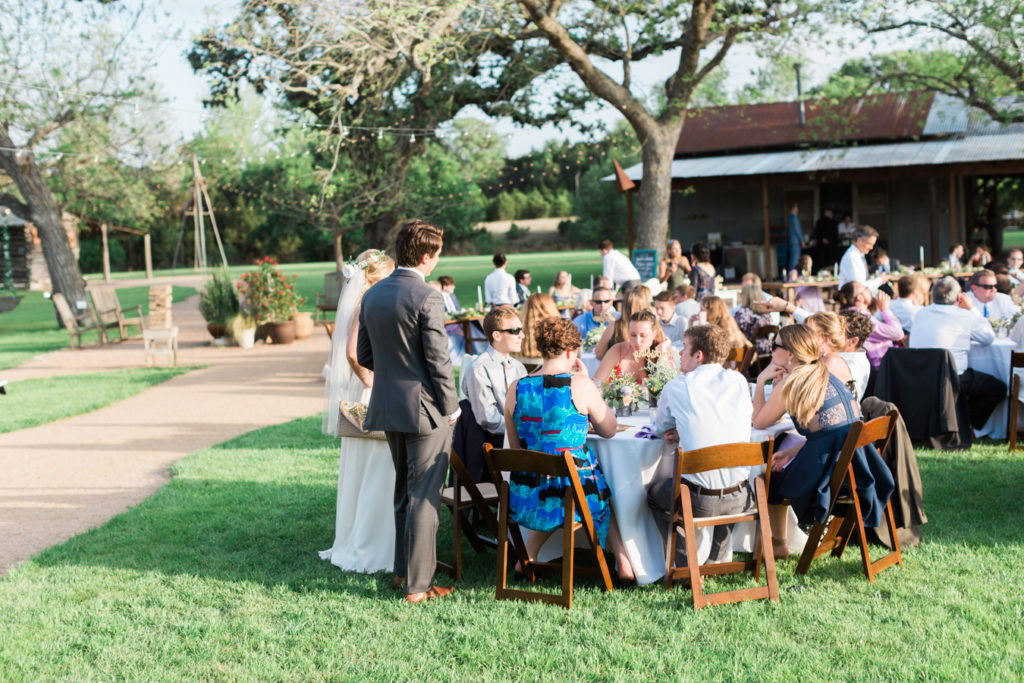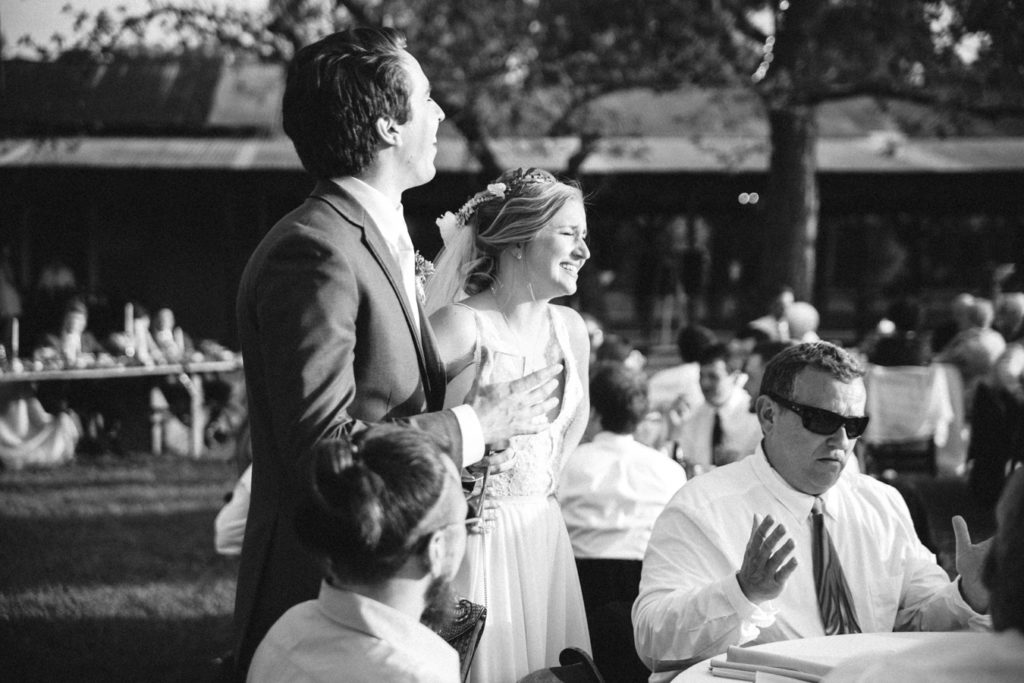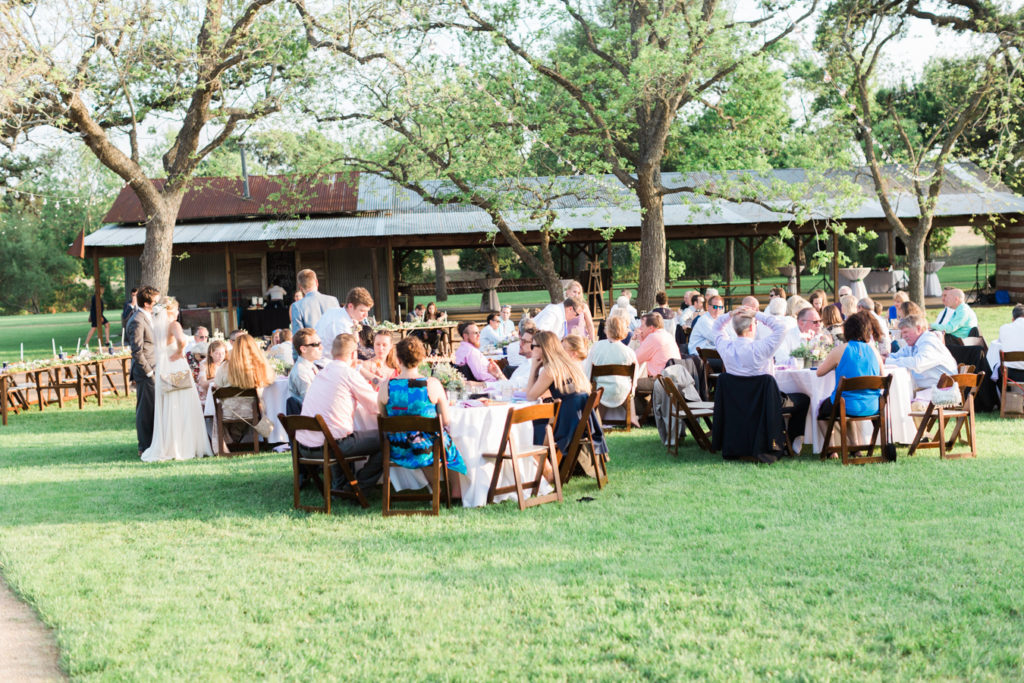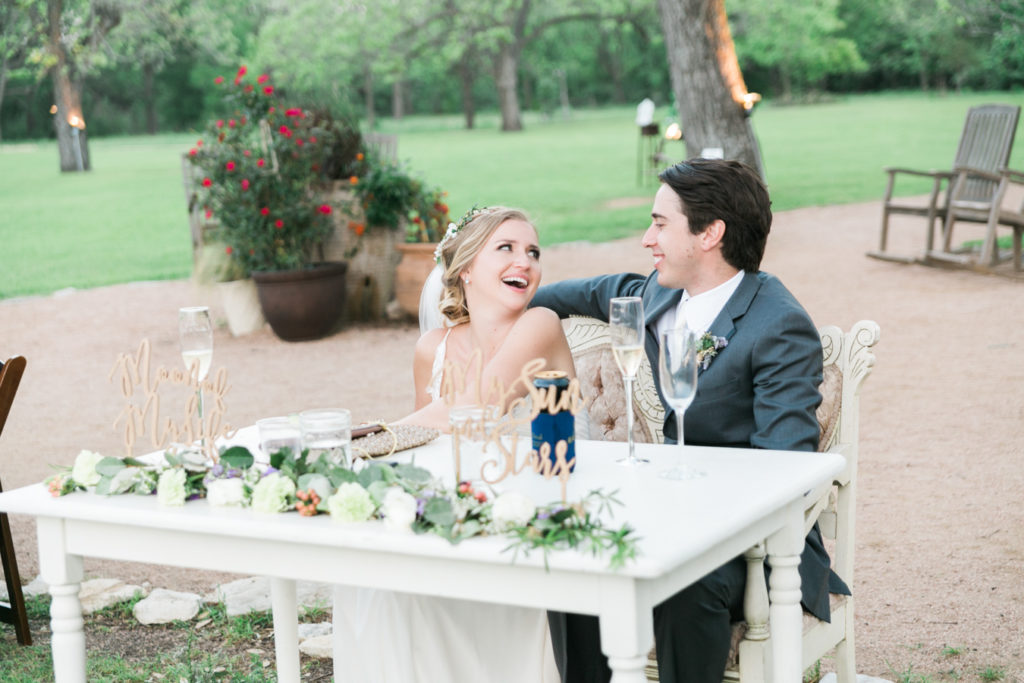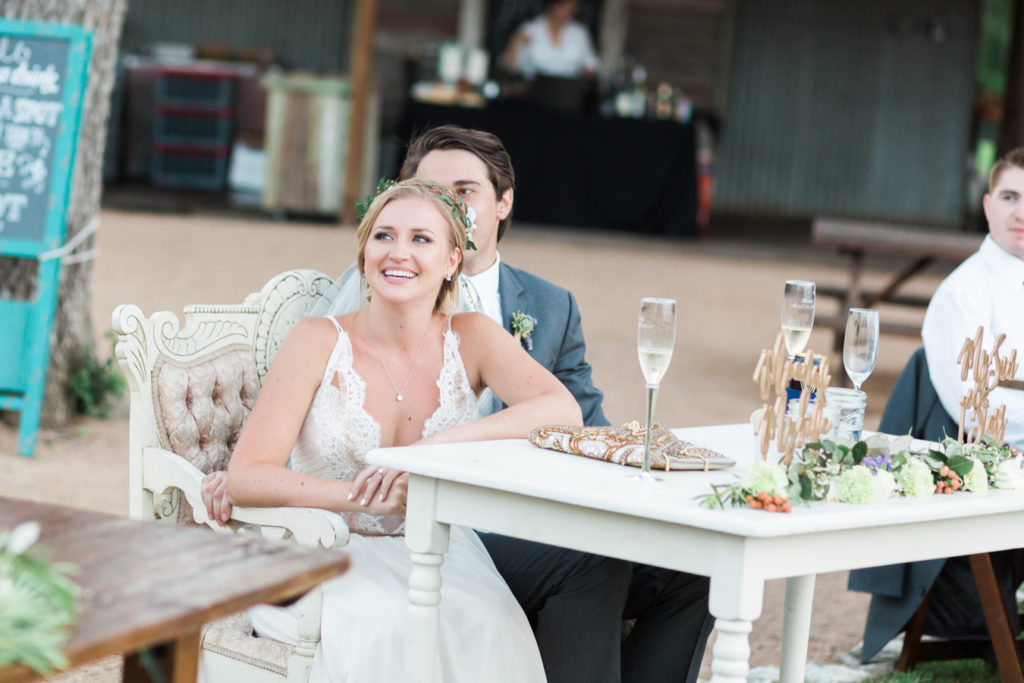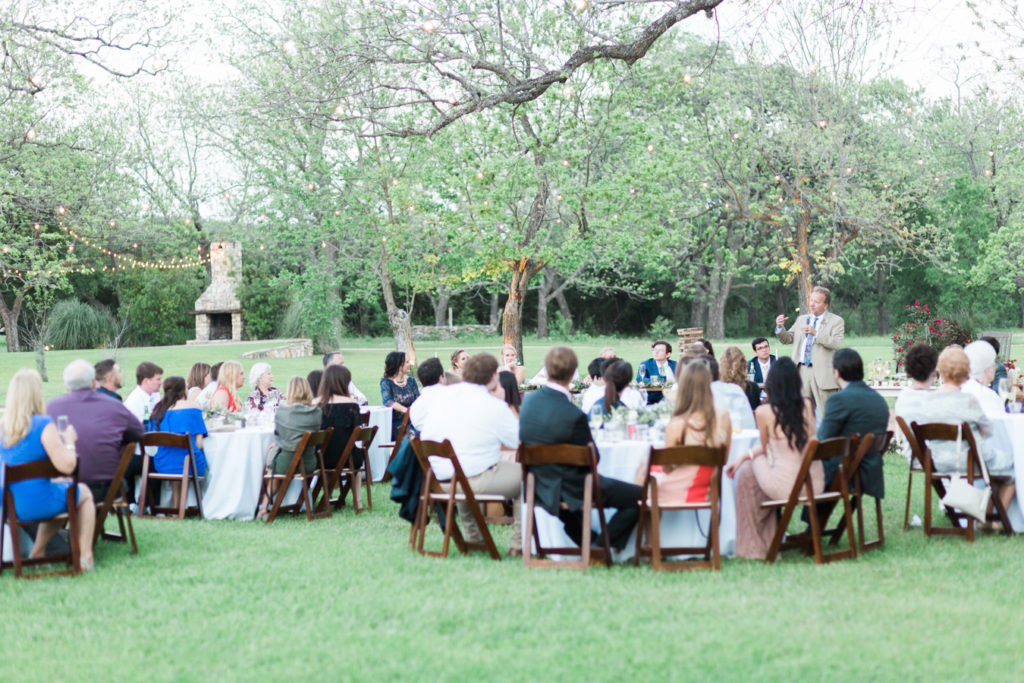 Once everyone had had their fill of the food, it was time for the champagne toasts. Both fathers gave a speech, as did the Best Man, the two Maids of Honor (my sisters), and Derek's sister.
Immediately following the speeches the caterers passed out the cakes – one for every table! (And all decorated with succulents and wildflowers, of course).
My (step)mom Christine was the mastermind behind this fun idea: when Derek and I cut into our small two-tiered cake (strawberry with lavender icing – YUM), a guest from each of the other tables would cut into theirs at the same time.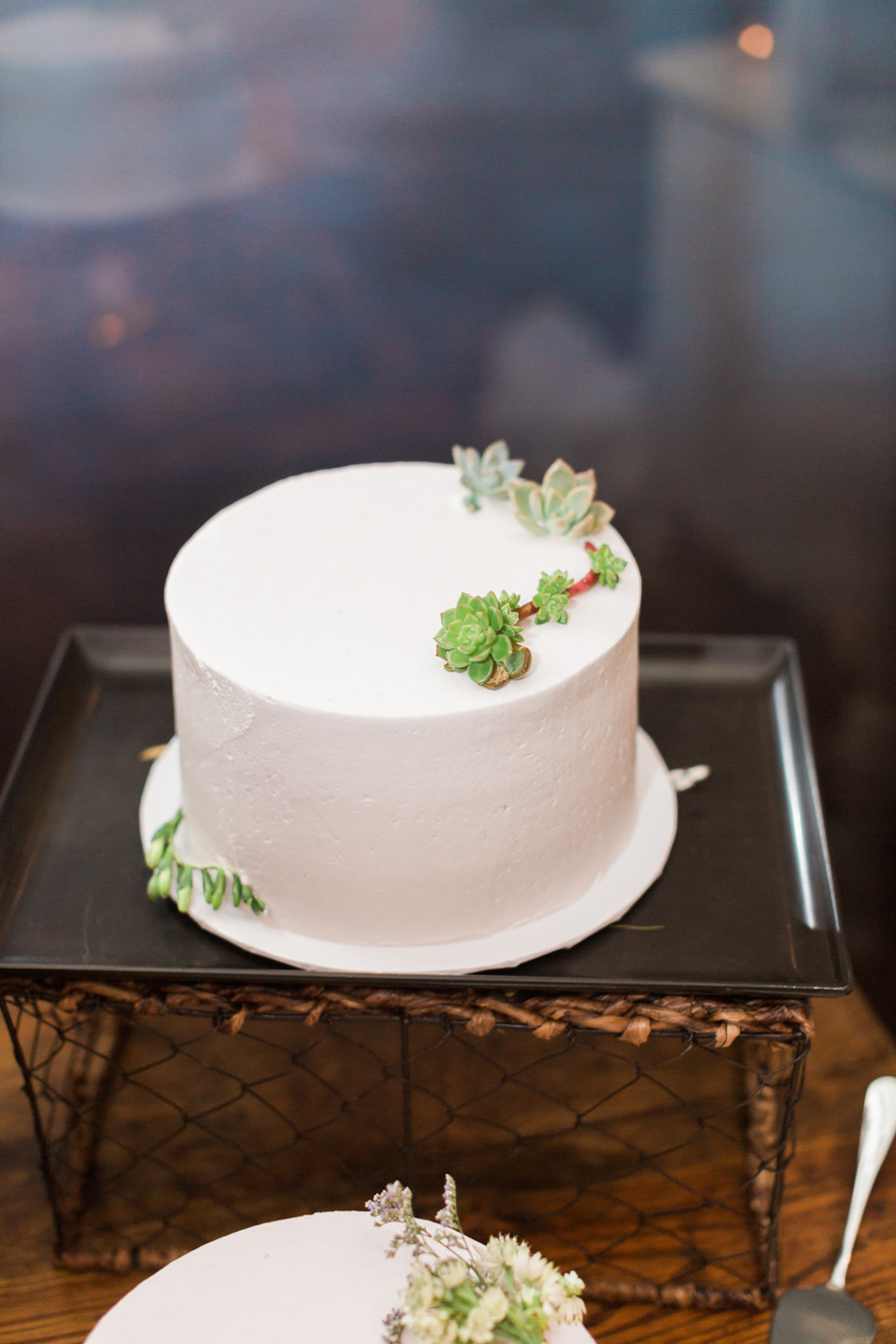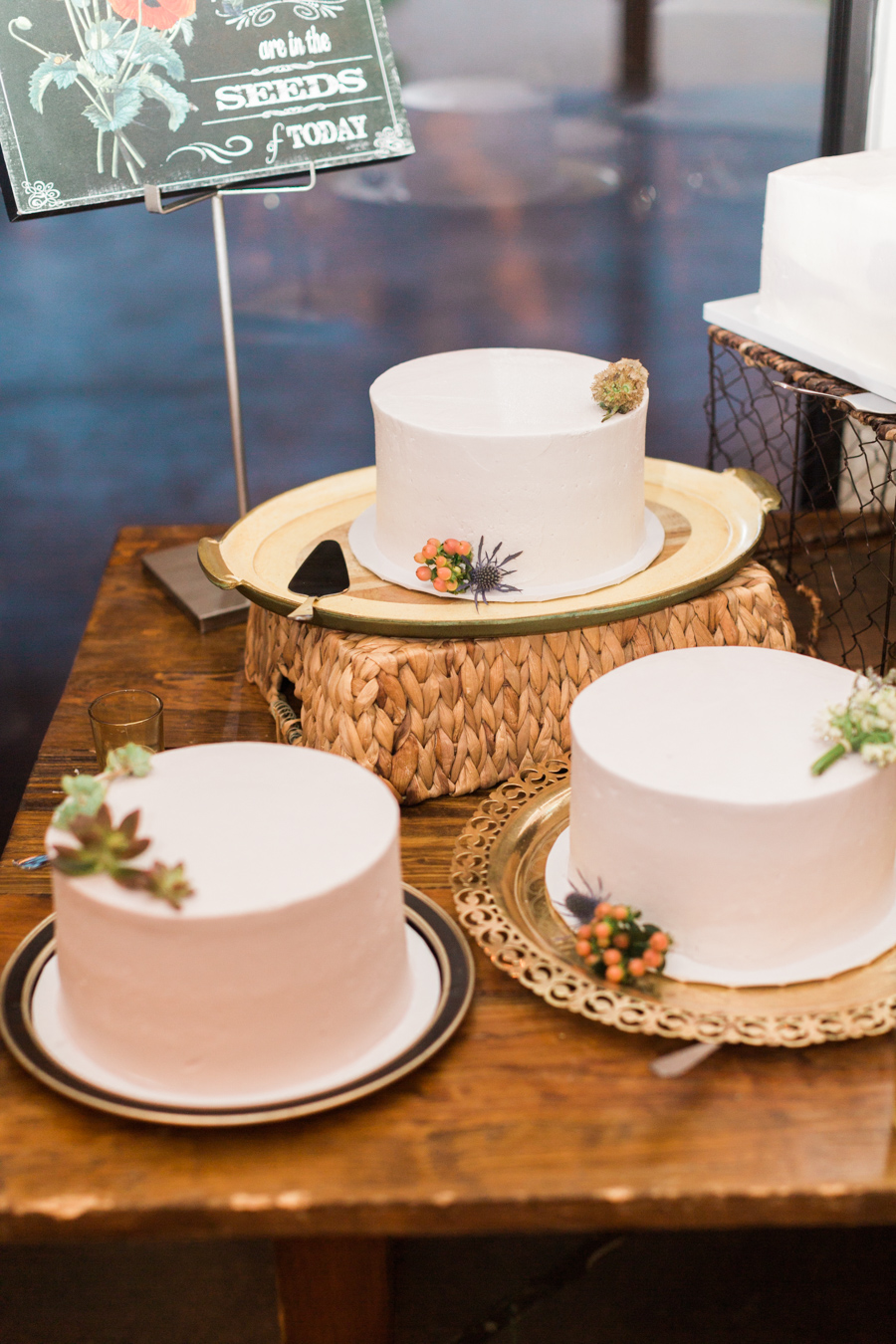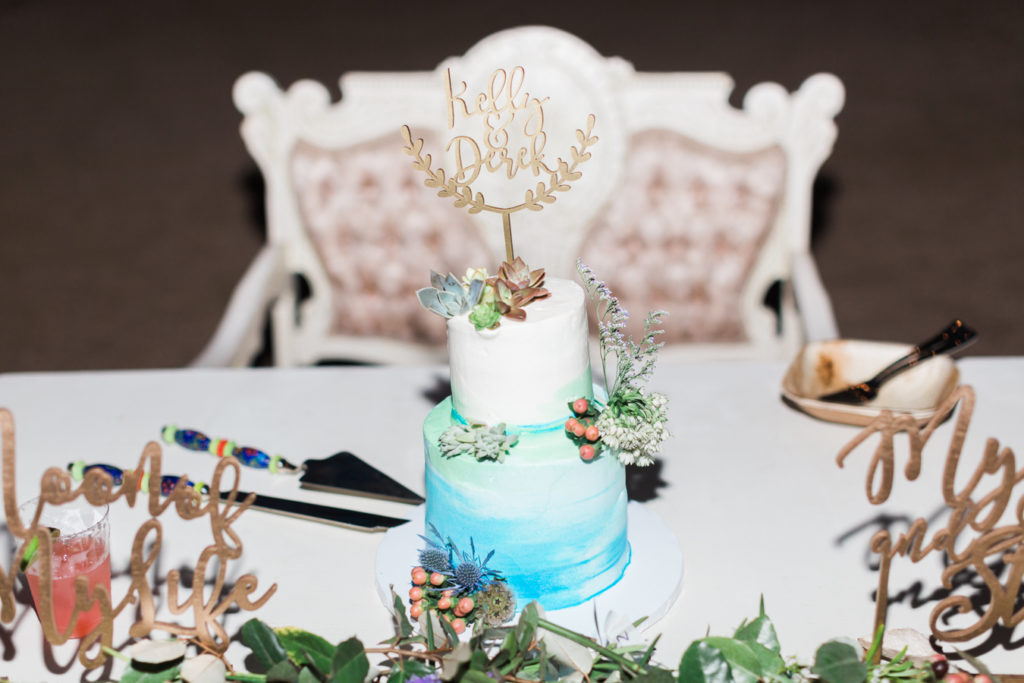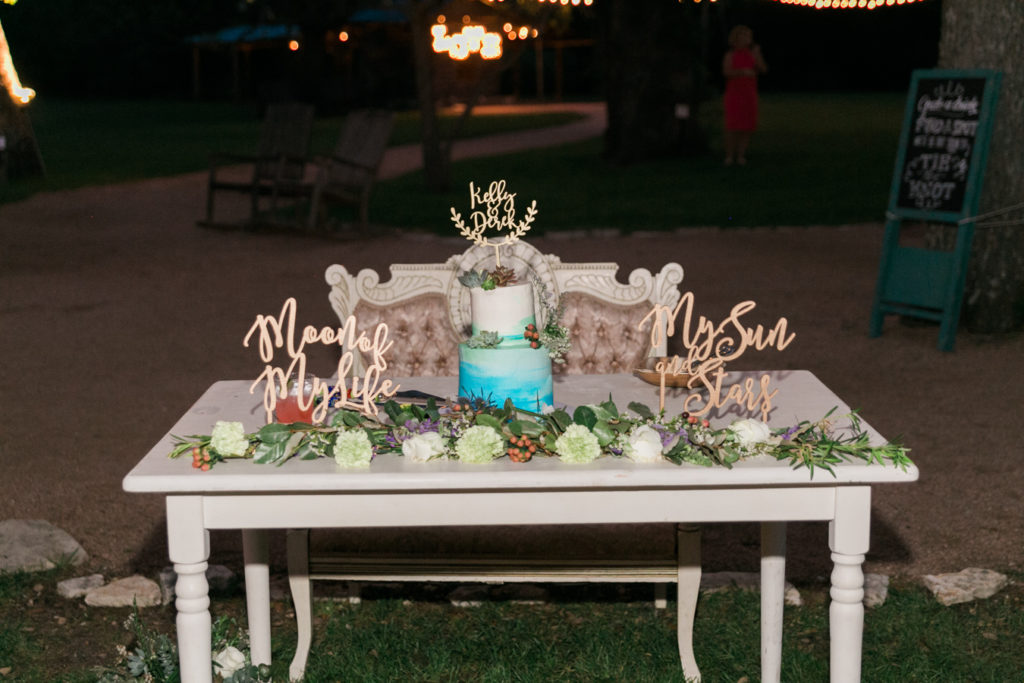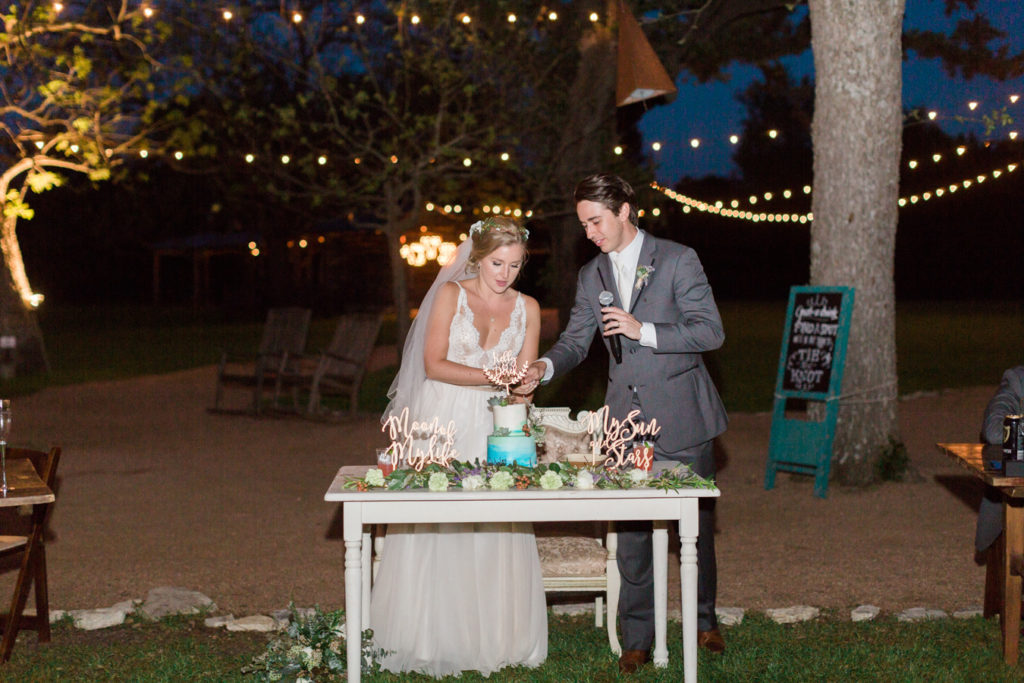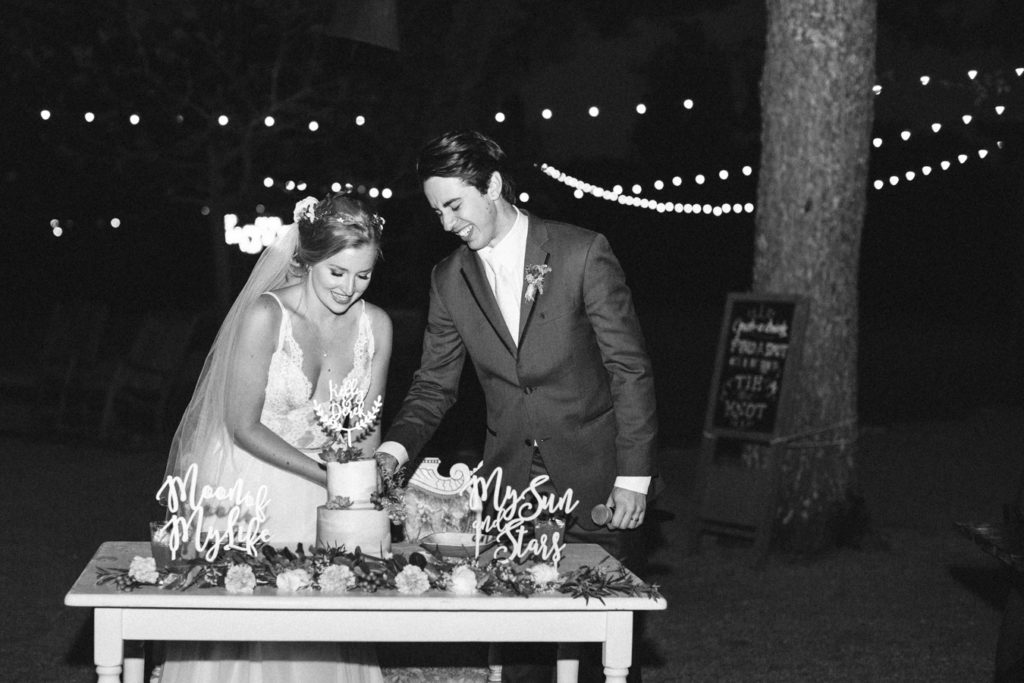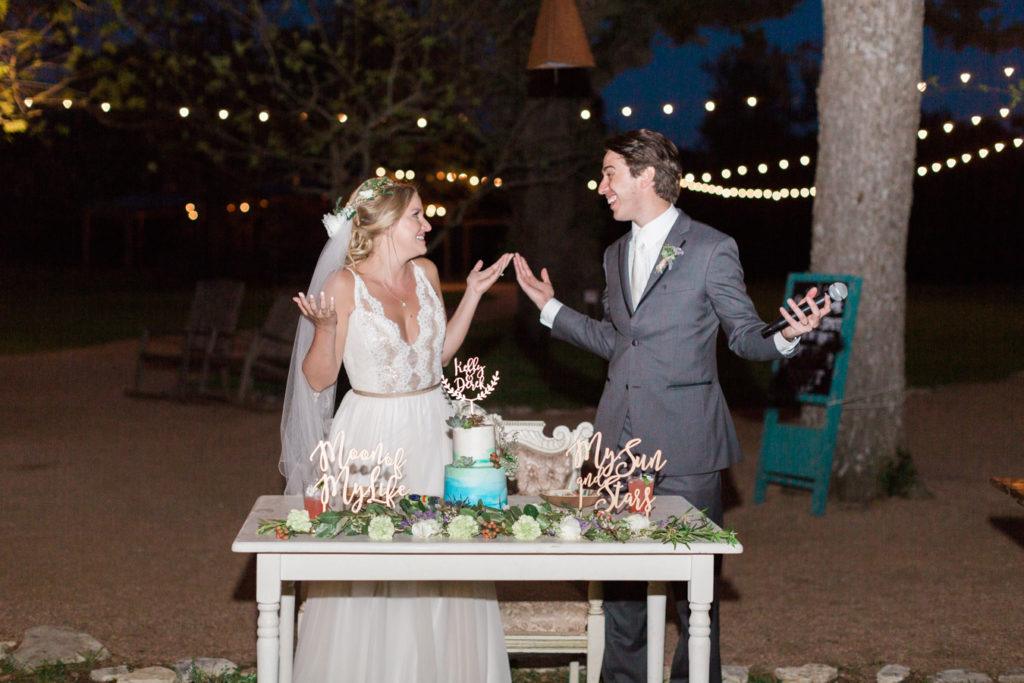 Then, we opened up the dance floor with the three special dances:
First Dance: An acoustic cover of "Heaven" by Bryan Adams – Derek and I have been listening to this song together since we first met (almost 7 years ago!) and have always thought it described our relationship well. We chose this version not only because it's beautiful and nice to dance to, but also because we liked that it featured male and female vocals, making it feel more two-sided than the original.
Father Daughter Dance: "Wildflowers" by Tom Petty
Mother Son Dance: "My Wish for You" by Rascal Flatts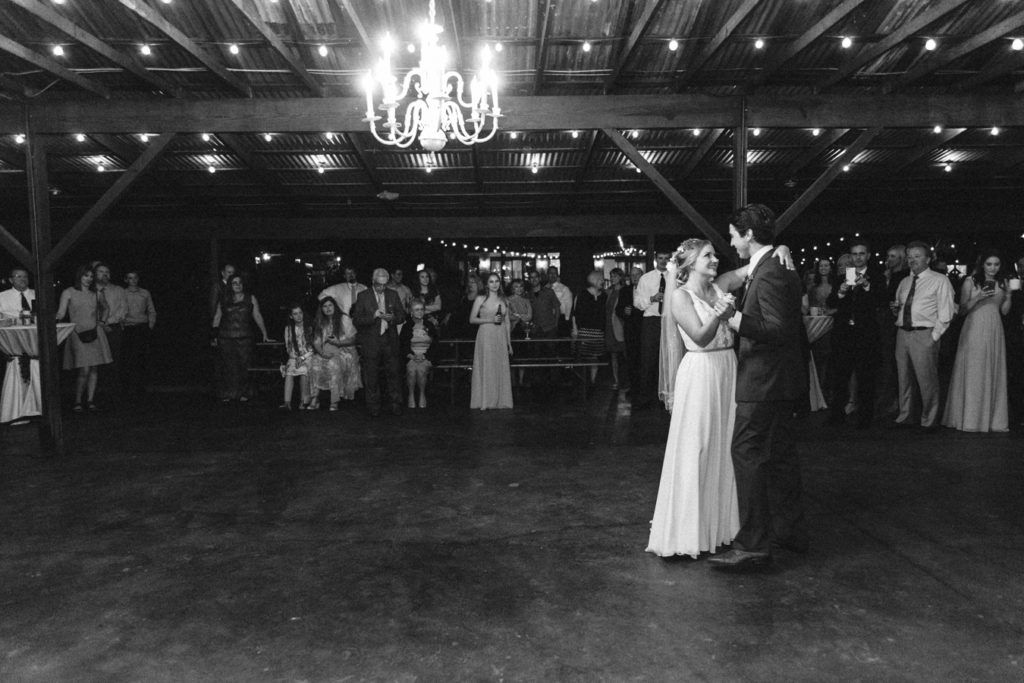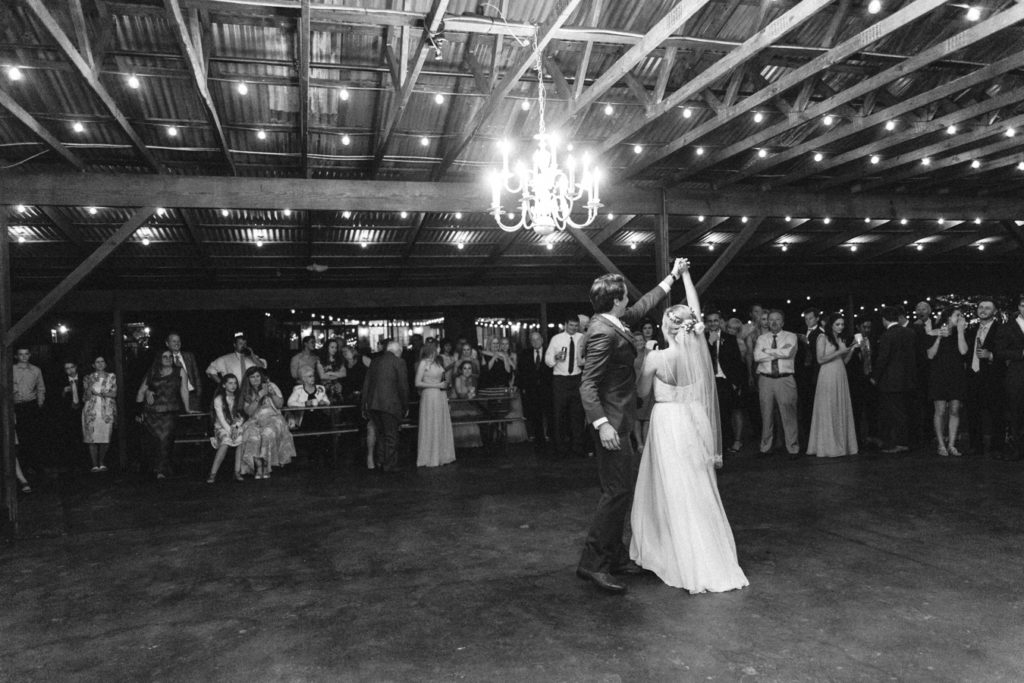 We wrapped up the night by tearing up the dance floor with all of our friends and family members. The DJ did a great job of reading the dance floor and playing a fun mix of 70s, 80s, 90s, early 2000s, and current dance music.
We had previously requested that our final song of the night be John Denver's "Country Roads," and guys – it was epic! Everyone ended up forming a giant circle, arms around each other's necks, and swaying back and forth while belting out the lyrics. It. Was. Perfect.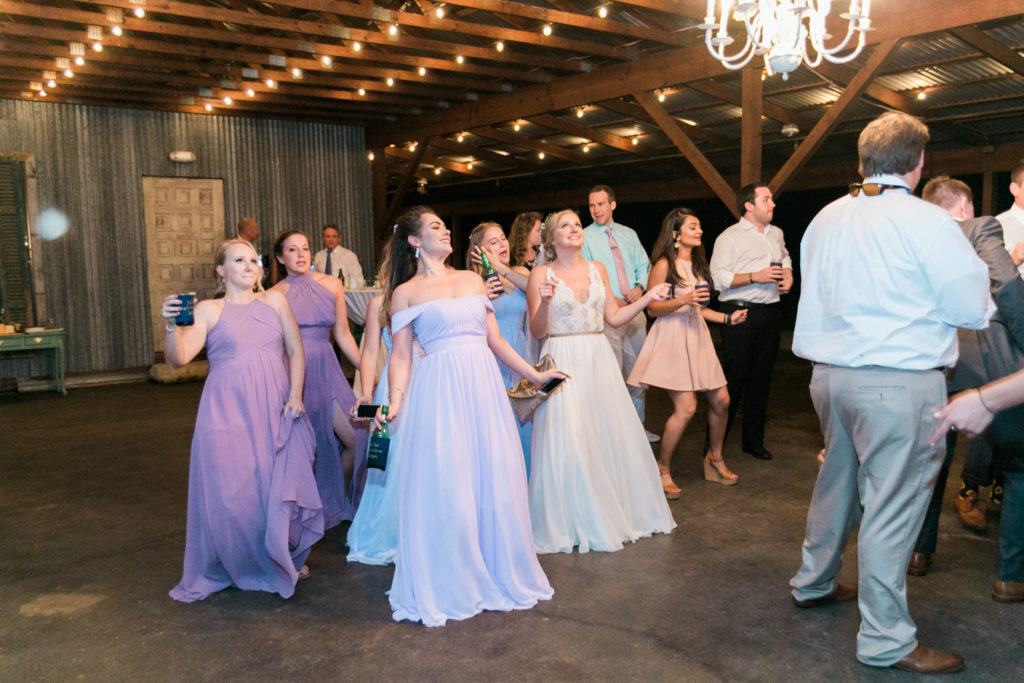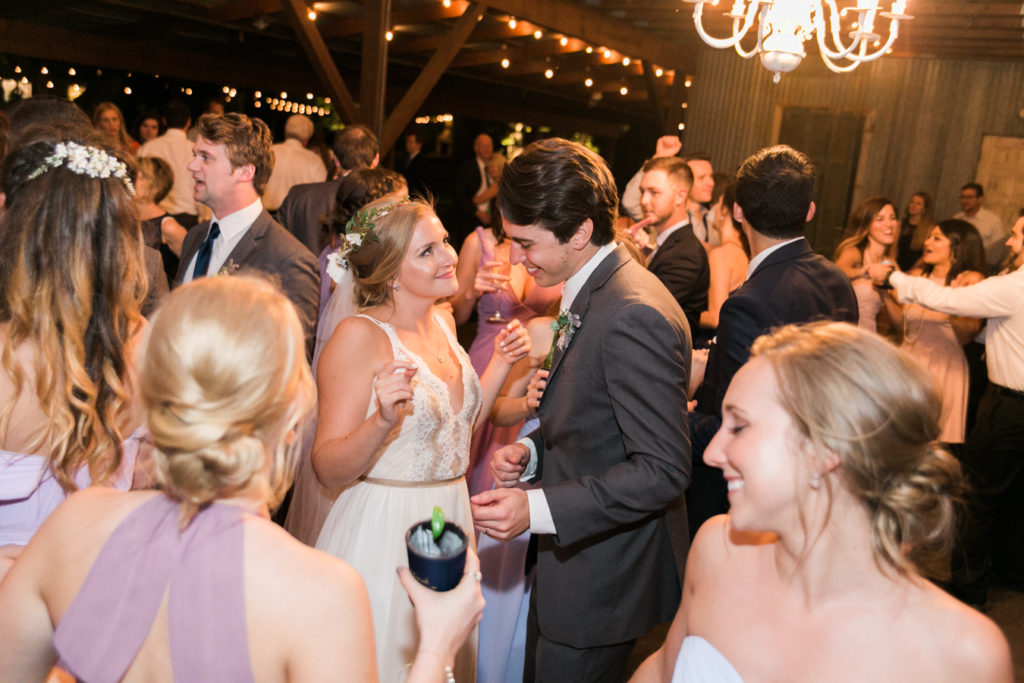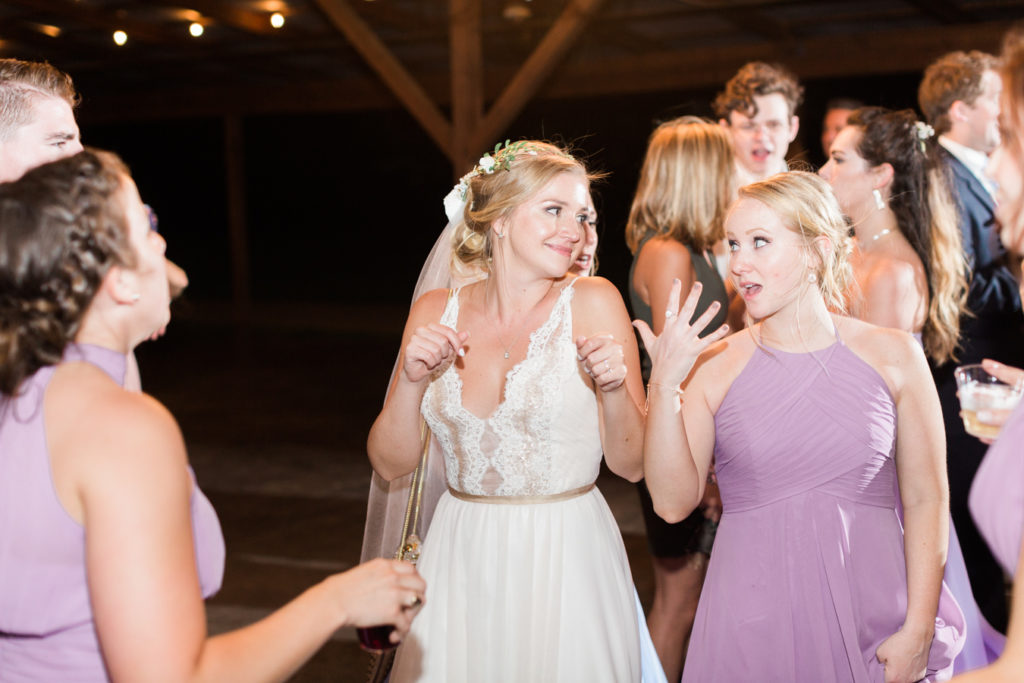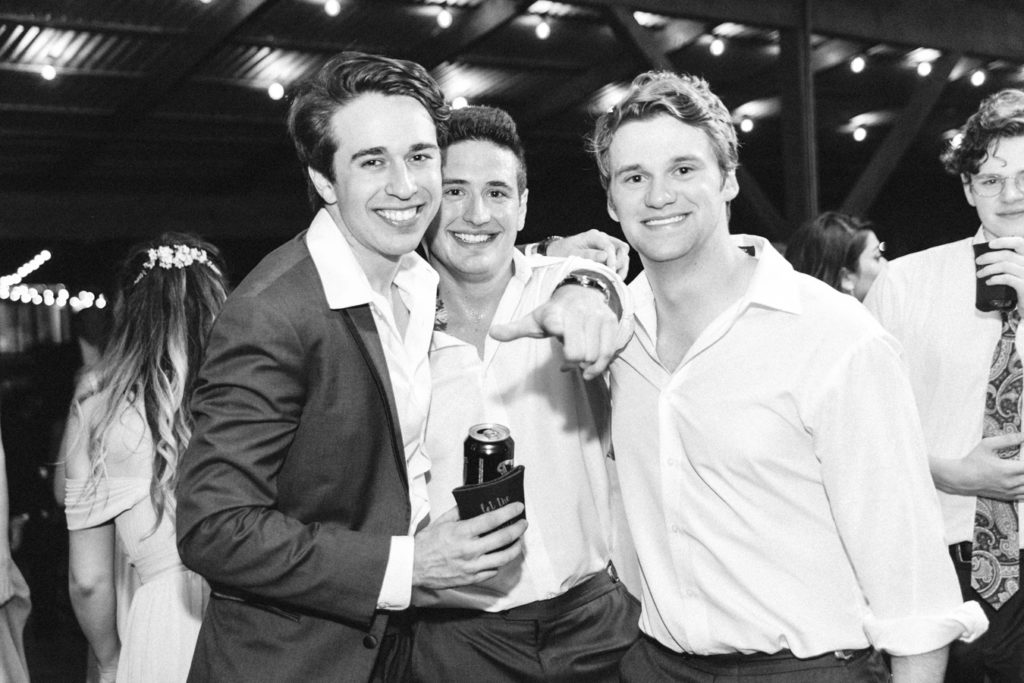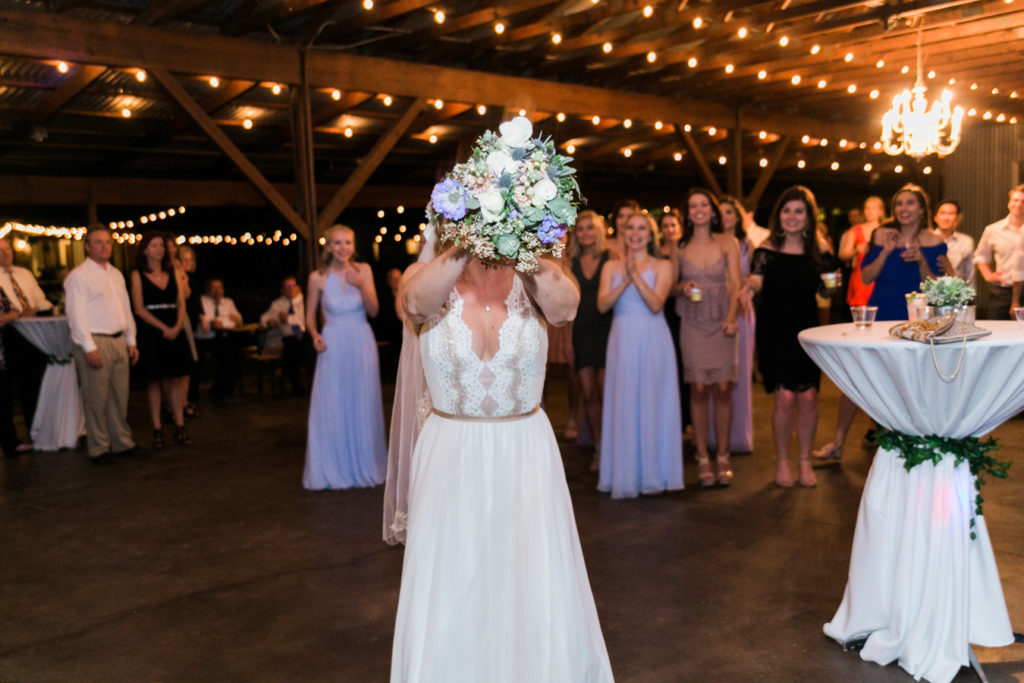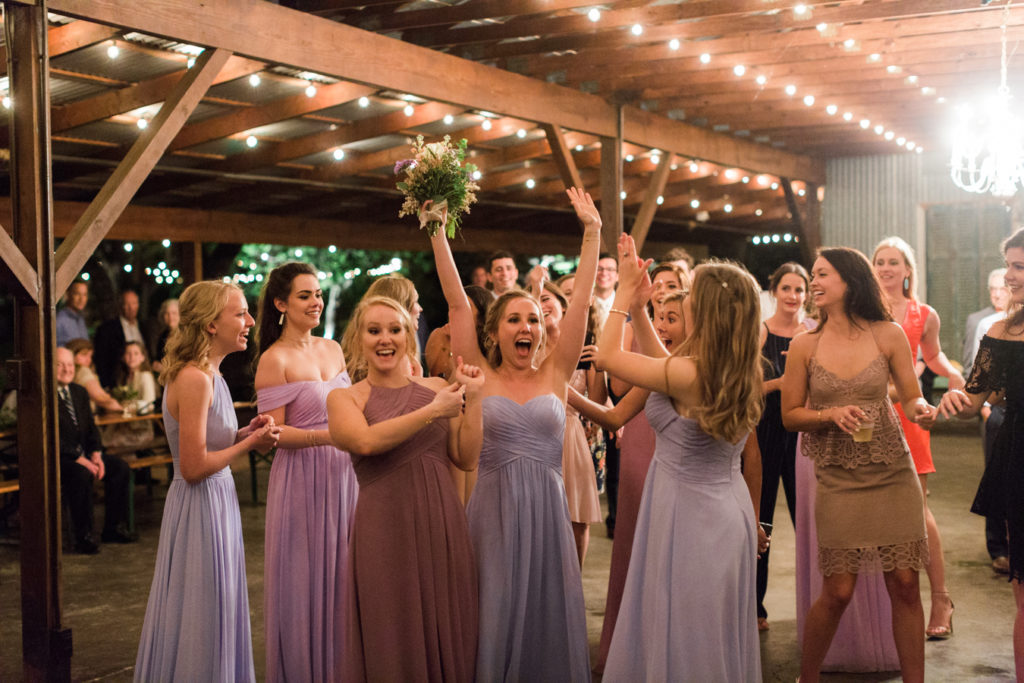 Then, we made our escape through a tunnel of sparklers, waving goodbye to all of our loved ones as we ran past, and hopped in the car that was waiting to take us home.
Almost as soon as we were in the car, both Derek and I were hit with the most intense exhaustion. I remember suddenly becoming aware of the fact that EVERYTHING hurt – my feet were swollen and had open blisters, my dress was squeezing my rib cage, my head was throbbing (no doubt thanks to the 8000 bobby pins in my hair, and my decision to leave my flower crown and veil on all night) and I felt mysteriously nauseous.
…But despite it all, I don't think either of us have ever felt happier.
There was a time before the wedding when Derek and I considered blowing it all off and eloping. It just seemed like so much work, so much stress, so much money. But in the end, it was really was the best day of our lives…and I mean that sincerely.
Several of Derek's friends commented that it was the happiest they had ever seen Derek, which just makes my heart swell when I think about it. There's really no feeling quite like looking out at a crowd and seeing the faces of those people who care about you so much, that they took the time out their busy lives to stop and celebrate a special life event with you.
Everyone involved truly went above and beyond to make us feel loved and to make our day perfect…because it was perfect.
Curveballs and all, the weather was perfect, the venue was perfect, the vibe was perfect, the people were perfect – and Derek and I are married, which is the most perfect part of all.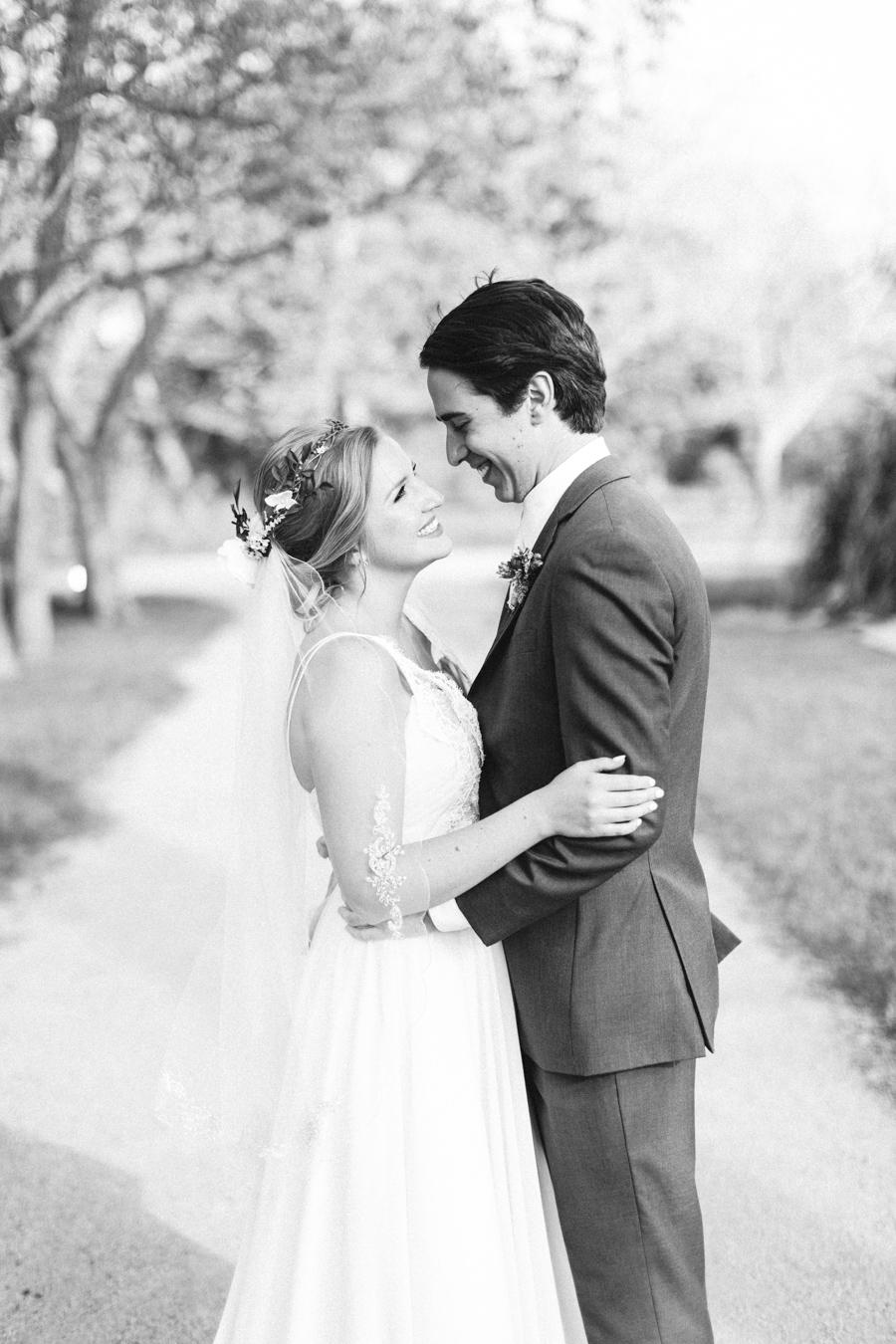 ---
If you're married, what was your favorite moment from your own wedding day? If not, what do you love most about attending  weddings?