From the moment I stepped foot onto Casa Elemento's grounds, it was clear that I had arrived in a uniquely special place.
It had been quite the journey to get there – a bus from Palomino to Santa Marta, a collectivo from Santa Marta to Minca, and a grueling 45 minute mototaxi ride up the mountain from Minca to the hostel.
When I hopped off the bike, brushing the caked mud off the bottom of my calves, I looked around at my new surroundings and breathed a sigh of relief – and not just because I was grateful to be done with my long day of travel.
More importantly than that, I knew I had just arrived at a place where I was going to feel very much at home.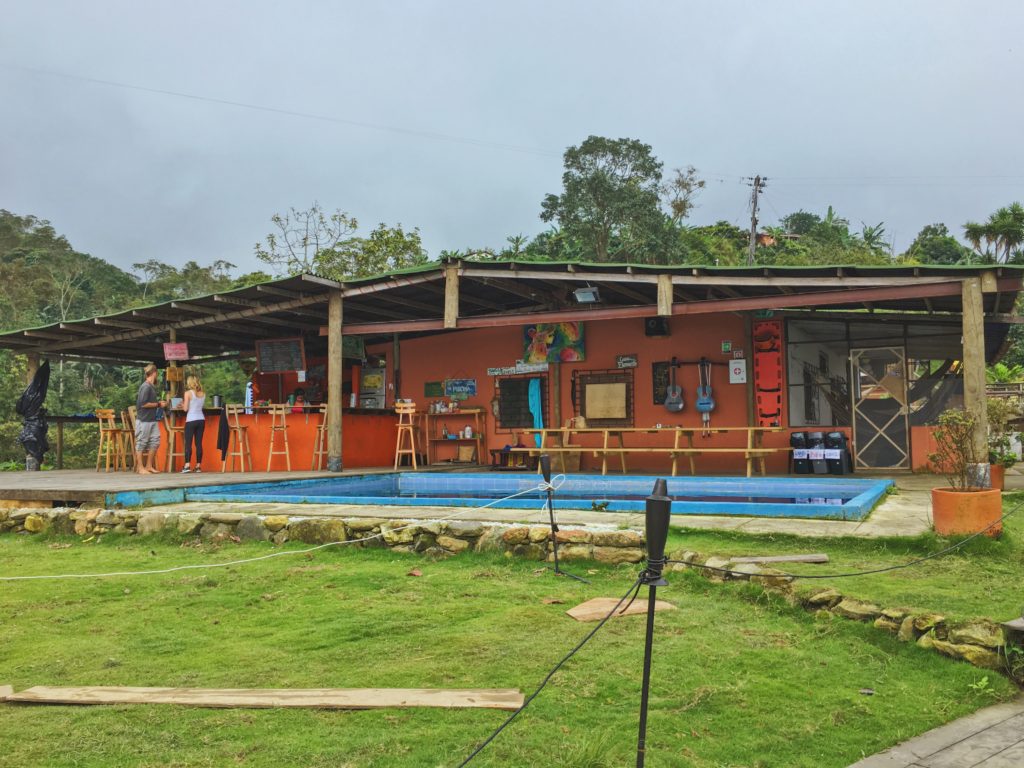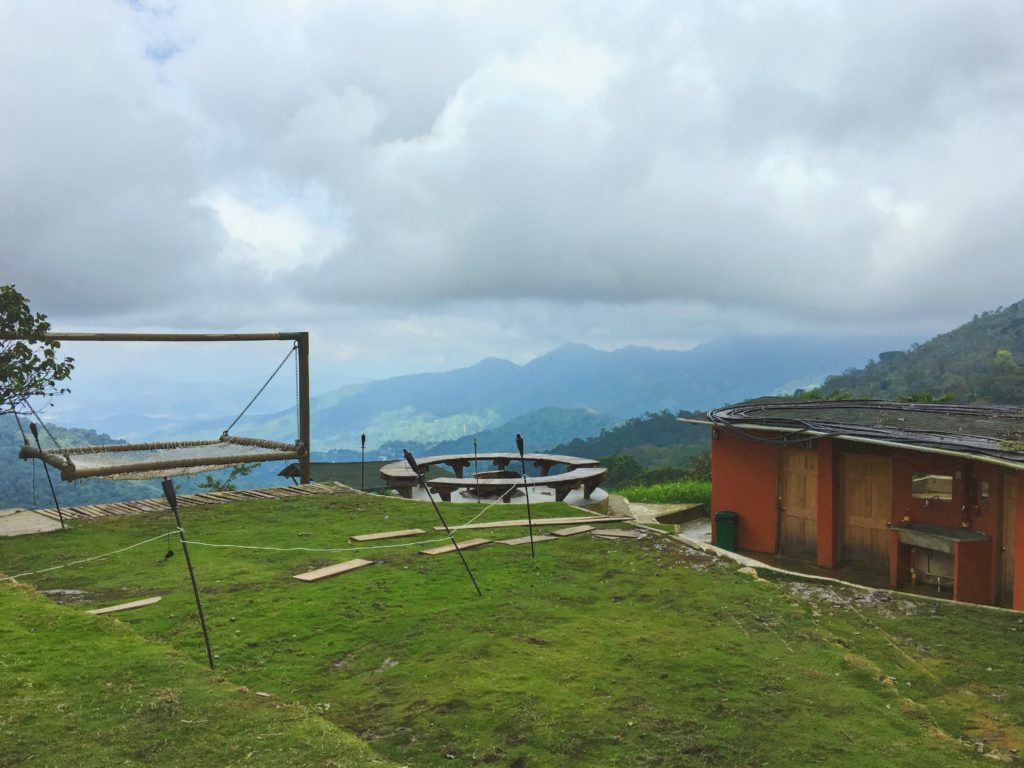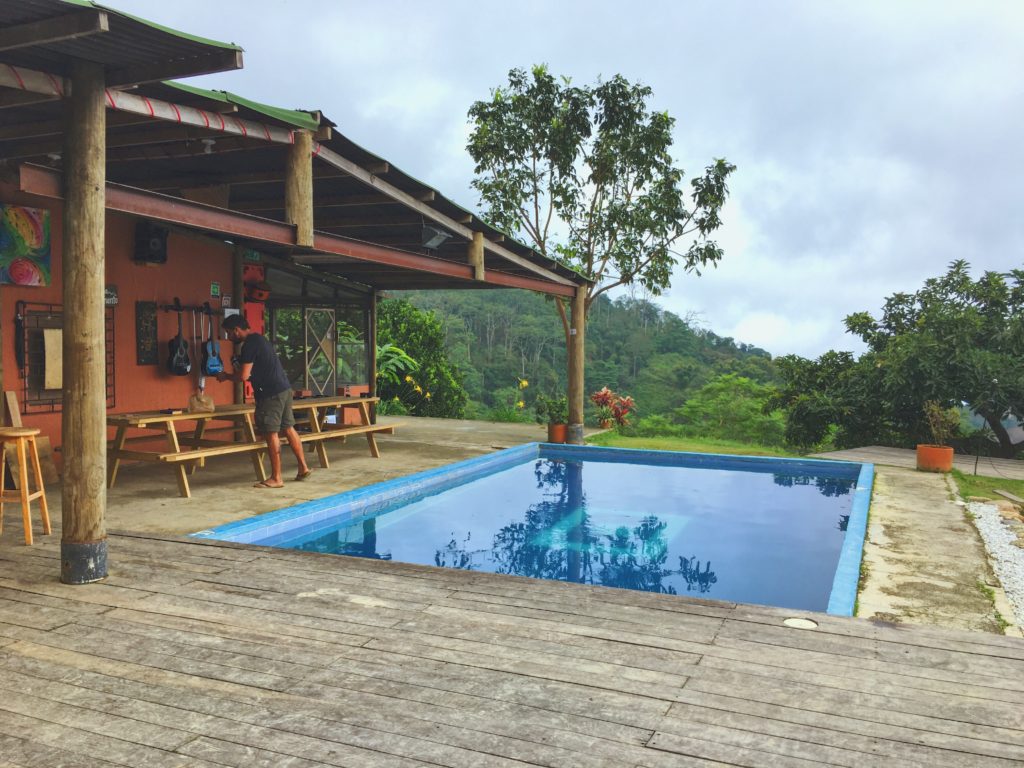 The air was fresh and crisp in a way that only mountain air can be, and in every direction there were views of endless mountain ranges and rustling tree canopies.
The property itself was quiet and still, yet familiar and inviting; the type of place where you instantly feel comfortable, despite not knowing a single soul around you. You could chalk it up to the funky, colorful decor or the warm personalities of the staff, but I think it even goes beyond that.
For me, Casa Elemento felt like a true sanctuary – not just an an escape from the urban city of Santa Marta below, but a real back-to-nature haven; a place to hide away from the real world and melt easily into the hostel's own little community and way of life.
There's no WiFi or A/C here and the accommodations are basic, but the friendly vibe and stunning Colombian scenery make Casa Elemento a one-of-a-kind place.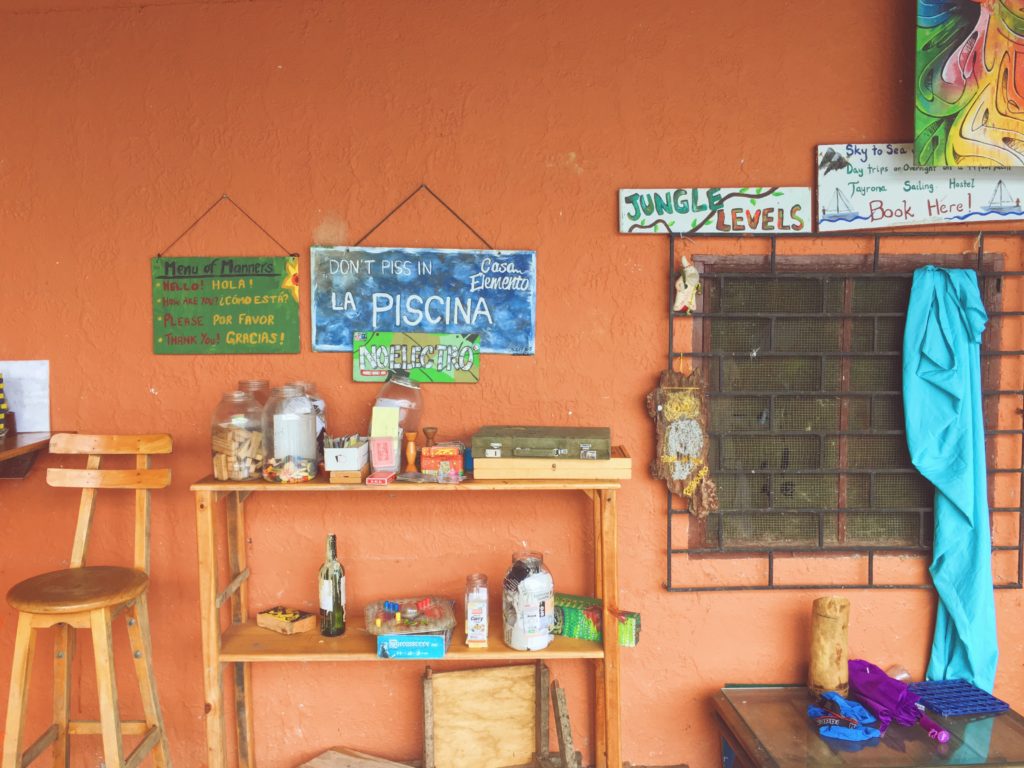 I had arrived just as the sun was setting over the mountains, as most of the travelers and backpackers were returning to the hostel from their various tours, activities and day trips. There were a handful of people lounging by the bar, smoking cigarettes and sipping beers, but I was eager to settle into my room and get unpacked before joining the hostel's social scene.
I had decided to "splurge" on a private cabana, which came out to roughly $45 per night. Casa Elemento's three private cabanas are a relatively recent addition to the property, and are perched on the side of a hill with sweeping views of the Sierra Nevada mountains and the seaside city of Santa Marta far below.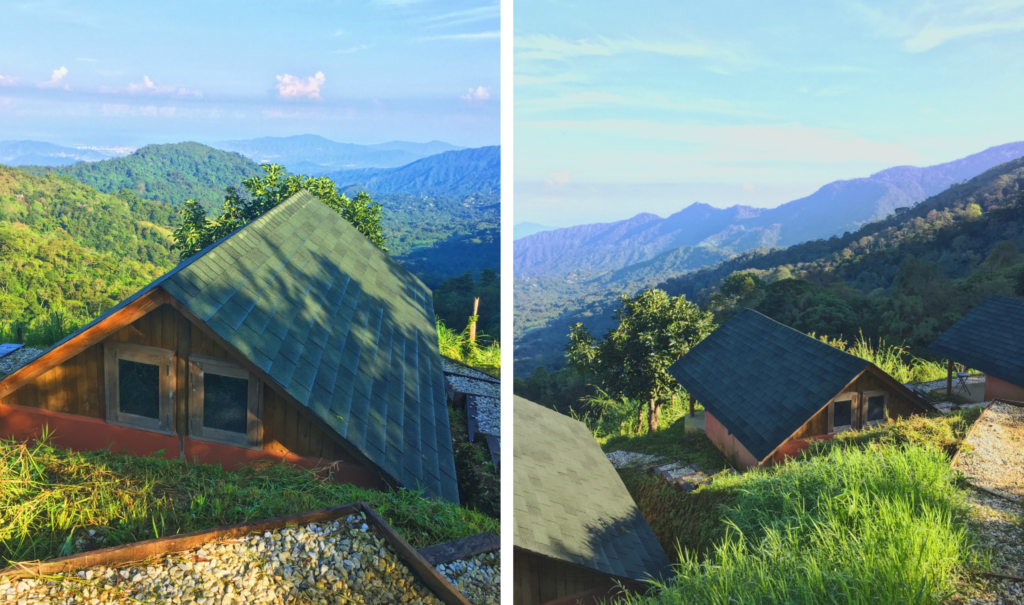 My little mountainside cabana was extremely basic; nothing more than an open-air hut with a small sliding wooden door that could be pulled shut, leaving a triangle-shaped section of space below the roof that remained fully open.
The floor space was meager but sufficient for storing my backpack and other belongings, and I was grateful for the working lights, outlets, and two little chairs on my private porch. The two welcome mats and fluffy comforter gave the space a homey touch, but the real draw to the private cabanas is the chance to soak in the incredible views from the comfort of your own little cozy hut.
I was slightly startled to see that I would be sharing my sleep-space with a fair share of "locals" – a number of creepy crawlies (namely moths and beetles, plus a few itty bitty spiders, a slug or two, and a handful of other unidentified bugs) who had occupied various spaces on the floor, walls, and ceilings.
Fortunately the bed came equipped with a mosquito canopy, which I promptly assembled and wiggled beneath. Still tired from my long day of travel, I made the most of my private room and laid in bed for a few hours doing a bit of reading.
In no time the sun had finished its descent below the horizon, and the night sky above the mountain ranges was pure black by the time I made my way over to the communal dining area for family style dinner at 7:30.

In case I haven't made my stance on family style dinners clear by now, here's my official on-the-record statement: I ADORE them.
Hand to heart, every time I've stayed at a hostel with family style dinners it's been a total 10/10 experience. They make it so easy to meet and engage with other travelers, and the food is always ridiculously good. There's just something so wonderful and heartwarming about sharing a sit-down meal with a table full of strangers from around the world.
I mulled over the idea of having a drink or two at the bar after dinner, but ultimately decided to get some rest and enjoy the peace and solitude of my private room instead. So, I retreated back to my room early, changed into long sleeves and pants, slipped on some socks, crawled into bed, and curled up under the covers to do a bit of reading.
Despite the mosquito canopy above my bed, a few moths and beetles had managed to make their way inside the net and spent all night fluttering frantically above my head. But between the pitch black night sky, the chilly mountain air, the cozy comforter, and soothing silence of the mountains around me, I was out like a light before 9pm.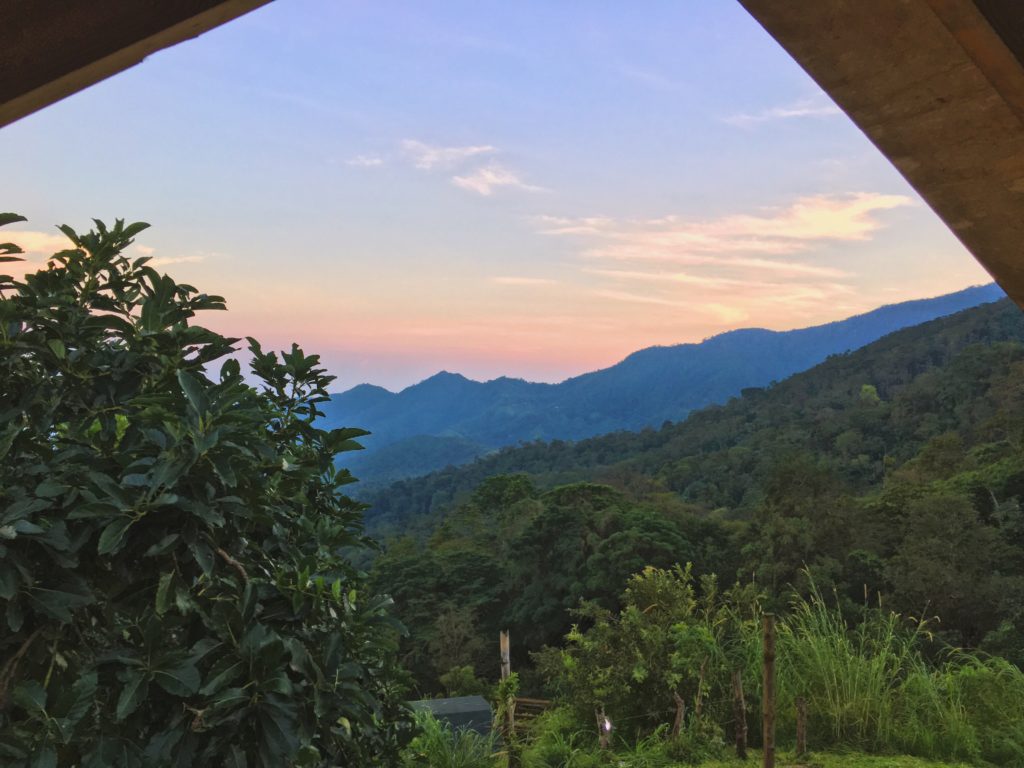 I woke up at almost exactly 5am, feeling refreshed but still too lazy and comfortable to move, until I spotted a hint of pinkish-orange color peeking through the opening in my little hut. I crawled towards the edge of the bed, and watched the morning sun lazily rise over the mountains.
When the sun was done putting on its dazzling display, I grabbed my toiletries and walked up the hill towards the bathrooms. There, I took a shower so unbelievably cold that it literally made me gasp out loud. I alternated between darting in and out from under the icy stream of water, carefully leaping over the moths that were fluttering on the ground below, until all of the soap had been rinsed away.
I was still trying to rub away goosebumps as I toweled off, changed into fresh clothes, and made my way back down the hill to stash my belongings. It may not have been the most comfortable shower of my life, but the one saving grace was that THIS was my view from the shower: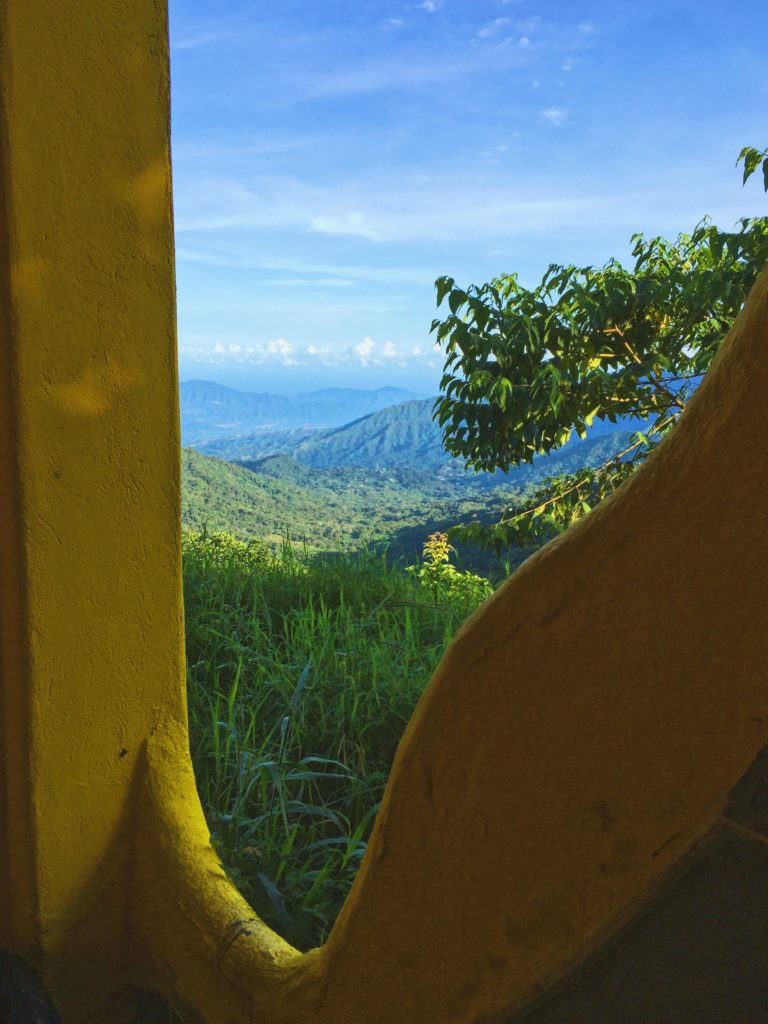 Not too shabby, eh?
Breakfast wouldn't begin until 8am, but I was able to purchase a hefty slice of homemade chocolate chip banana bread from the bar, which was more than enough to hold me over.
With my baked treat and my Kindle in hand, I made my way over to Casa Elemento's most memorable attraction – the giant hammock.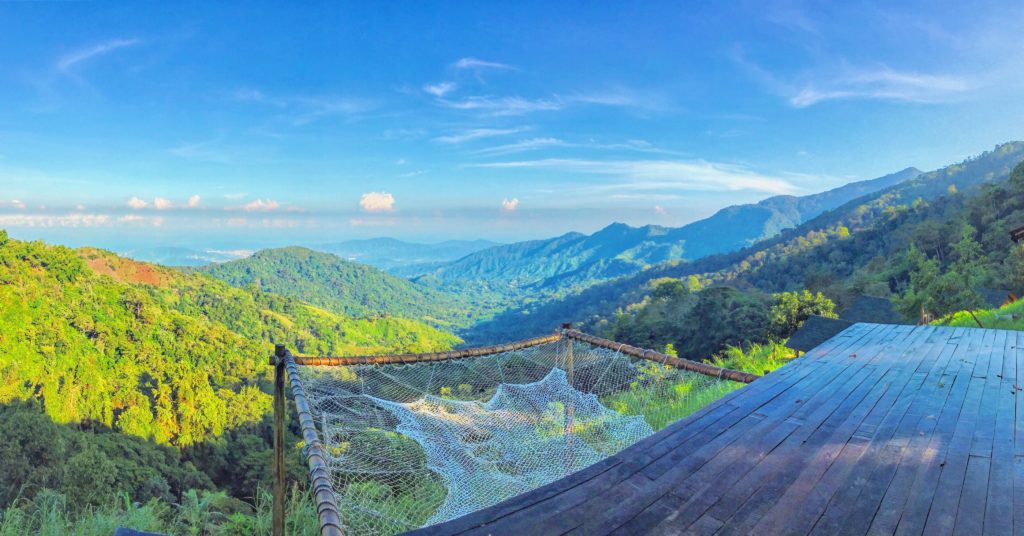 I wish I could say that I spent my day in the Sierra Nevadas touring a local coffee farm, exploring one of the countless hiking trails, swimming in a beautiful waterfall, or challenging myself on the hostel's high rope course…but nope.
Instead, I spent the better part of the day sprawled out on this hammock. But really, can you blame me?!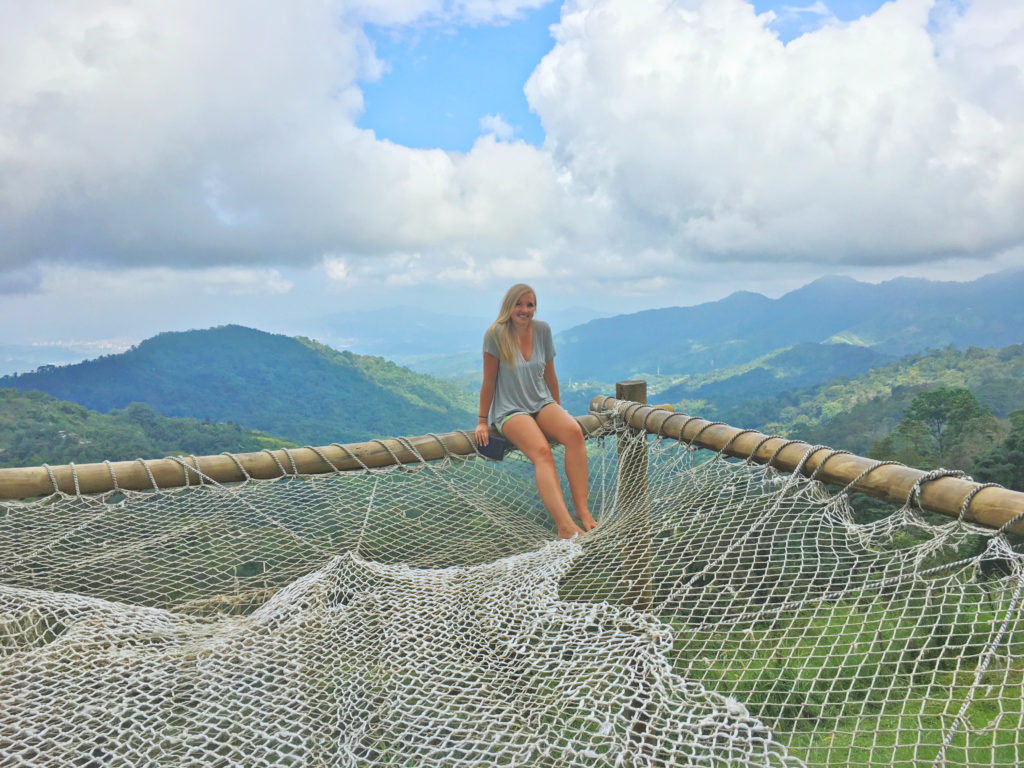 I know, I know – there's SO much to see, do, experience and enjoy in the mountains surrounding Minca, but what can I say? Kicking back and relaxing in the midst of some of the world's prettiest nature without having to lift a finger or work up a sweat is one of my favorite pastimes.
I spent an hour or so lounging on the hammock and getting lost in my book before I was joined by a group of travelers who had hiked up to Casa Elemento from another hostel down in Minca.
Soon after, a few people who were staying in Casa Elemento's dorms joined us, and then a few more, and before long we were having our own little hammock party with travelers from all over the globe sprawled across every section of the hammock.
Over the next several hours various others came and went, and we all laid there talking and laughing and sharing stories about our travels.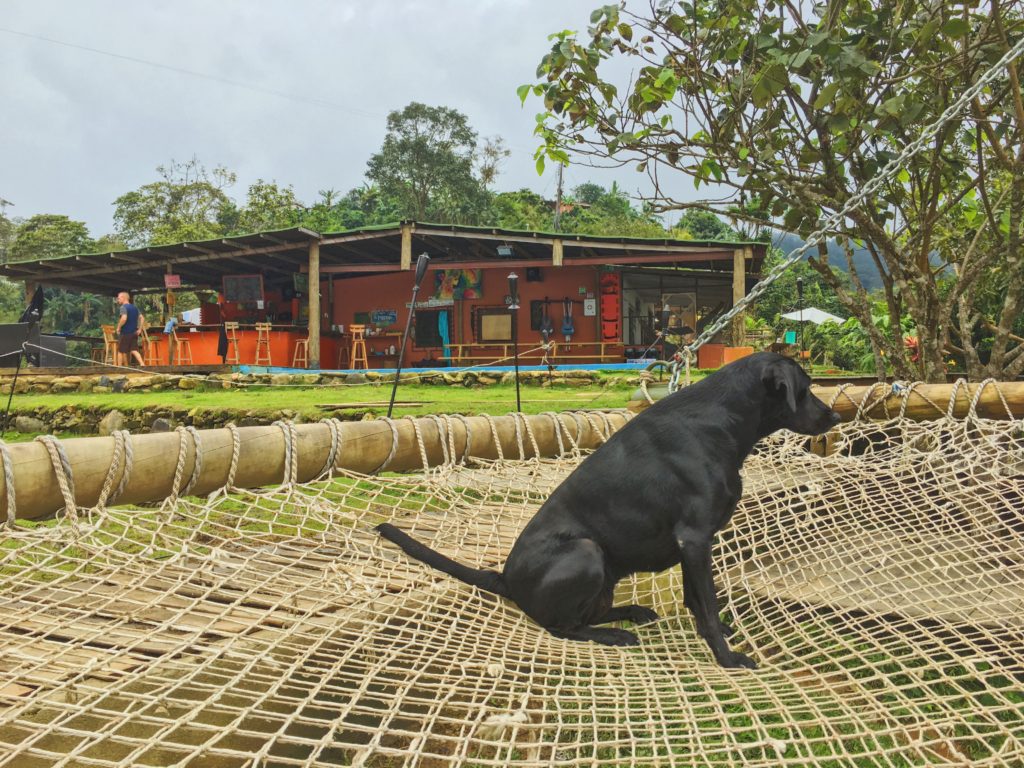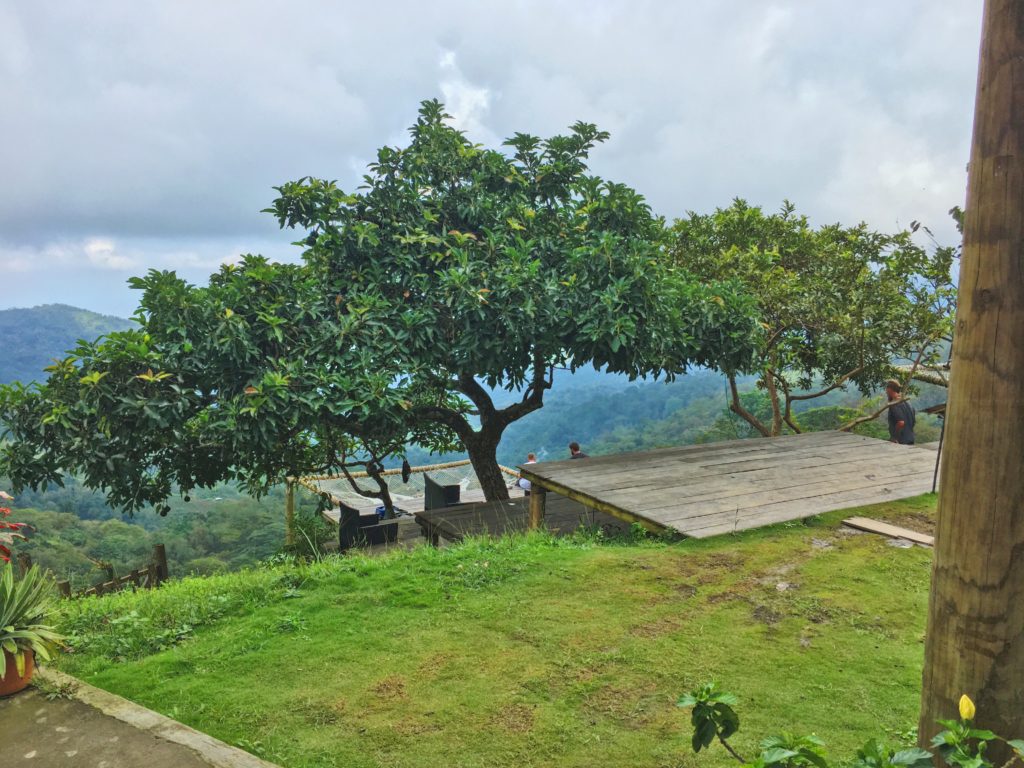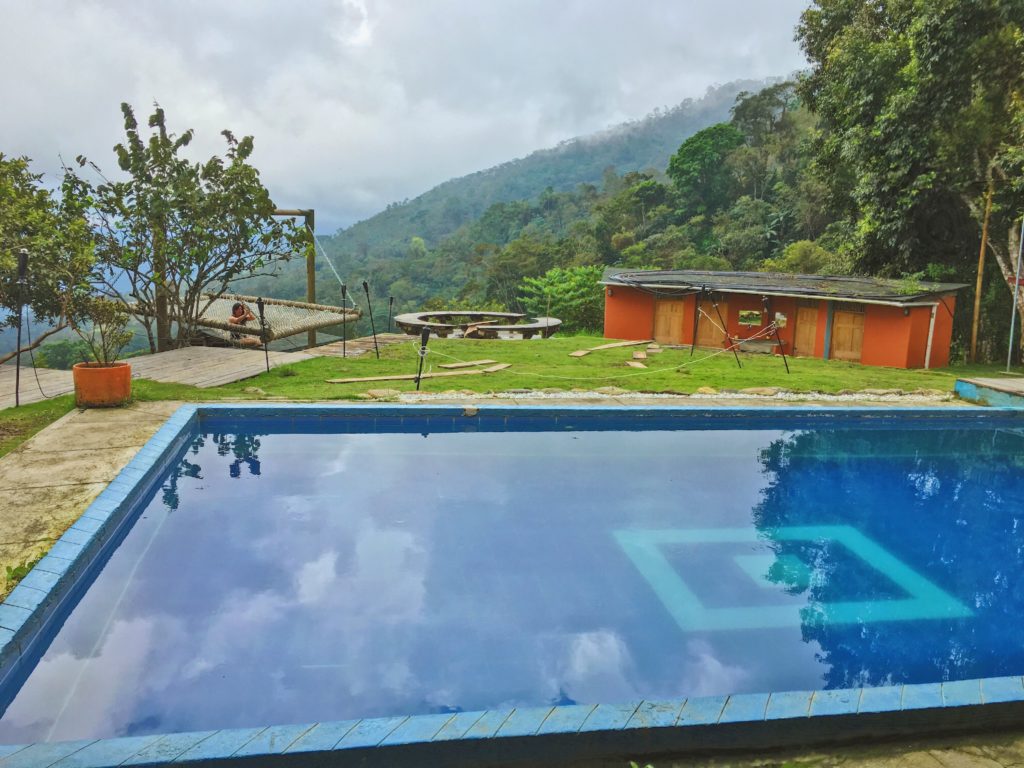 At some point after lunch, someone broke out a deck of cards and began attracting more and more people who wanted to join in. Before long, we had filled the whole table with fellow travelers and new friends, and spent hours playing card games, drinking wine, and watching the fog set in over the Sierra Nevadas.
Guys, we played cards until the sun went down!
The bar was open, the booze was flowing, the music was floating through the air, the laughter was strong and frequent, and before long it was time to gather for family style dinner again.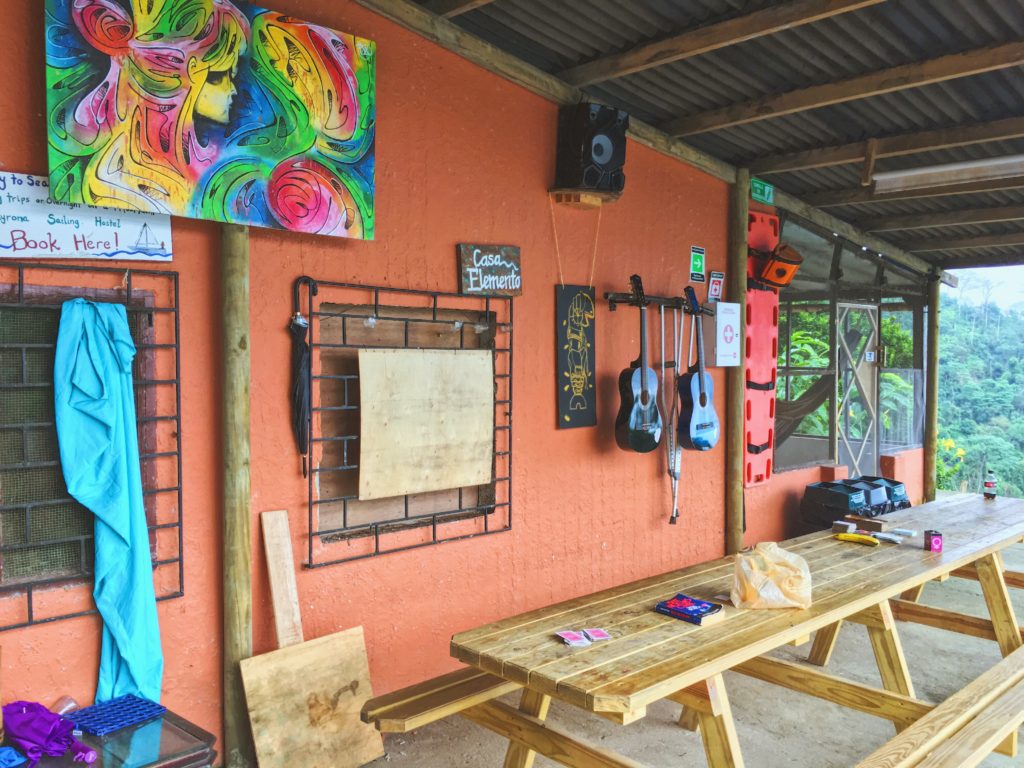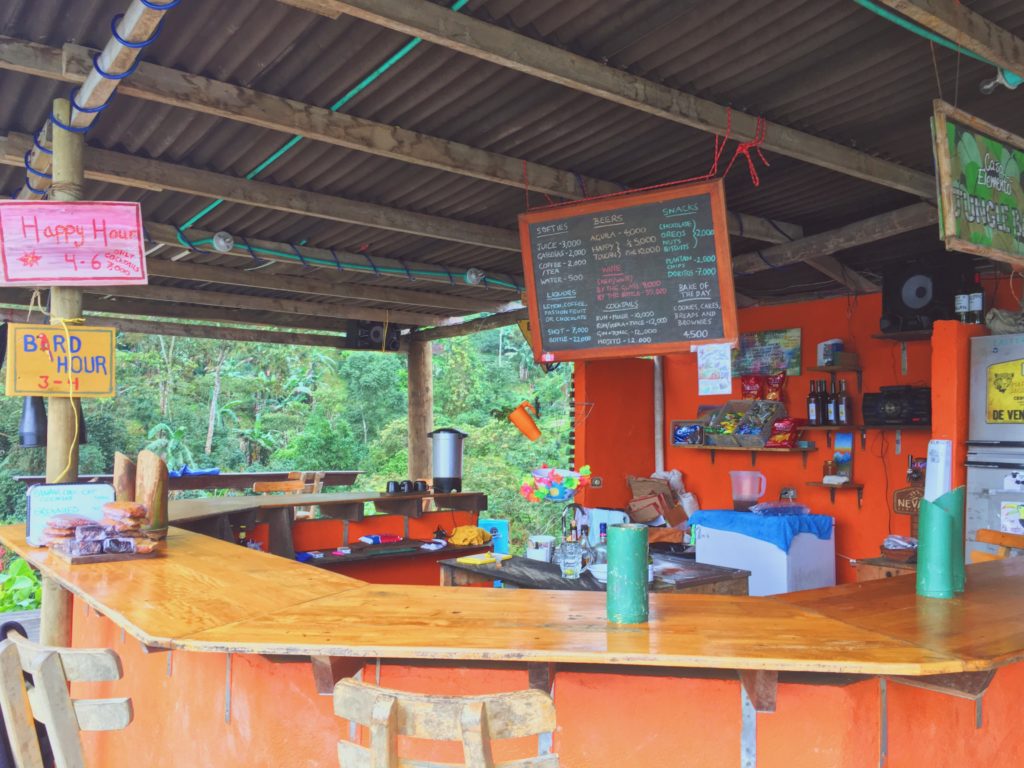 In other words, I wasted away an entire day indulging in freshly baked treats, engaging in hours of conversation with people I had never met before and would never see again, sipping on white wine, playing Cards Against Humanity (and trying failing to explain the definitions of the dirtiest words to non-native English speakers), and generally having an absolute blast.
Have I mentioned yet that Casa Elemento is basically my own personal version of heaven?
I don't want to paint a misleading picture – this hostel probably isn't for everyone. There's no heat or A/C here, so you're at the mercy of the elements (especially if you're sleeping in one of the hammocks on the porch). There's also no WiFi whatsover, you're a long way from "civilization," the grounds can be muddy when it rains, and there are bugs…in some cases, a lot of bugs!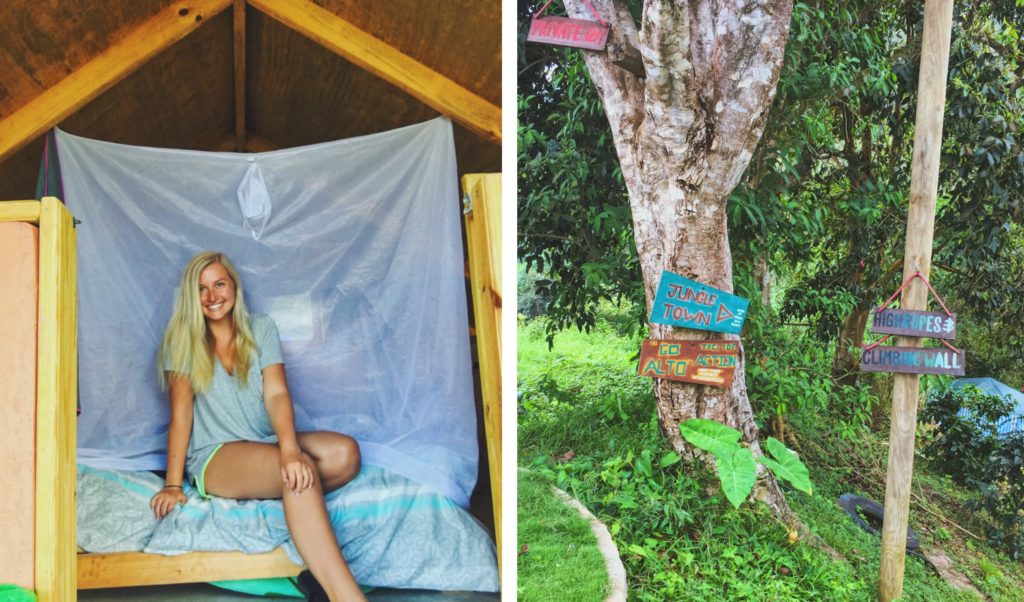 But for me, those are all contributing factors to Casa Elemento's overall charm.
Showering under a refreshingly cold stream of water, using thick blankets for warmth in place of central heating, spending a few days without being able to constantly check my phone or laptop, staring out at the sun setting over the mountains every night and watching the night sky come to life – it's all a breath of a fresh air and a welcome change of pace from daily life.
And that's exactly what makes it such an incredibly special place.
---
Pin It!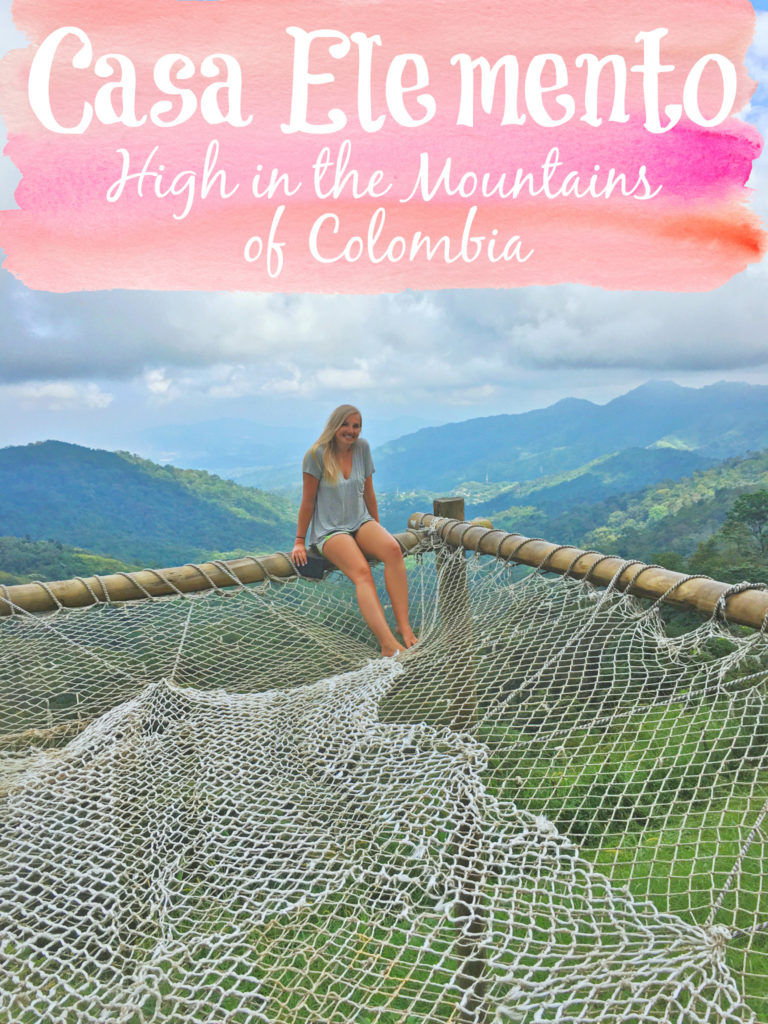 ---
Have you ever heard of Minca? What's the coolest hostel, hotel, or B&B you've ever stayed at? And – perhaps most importantly – have you ever seen a bigger hammock than this one?! If so, I NEED to hear about it! 😉