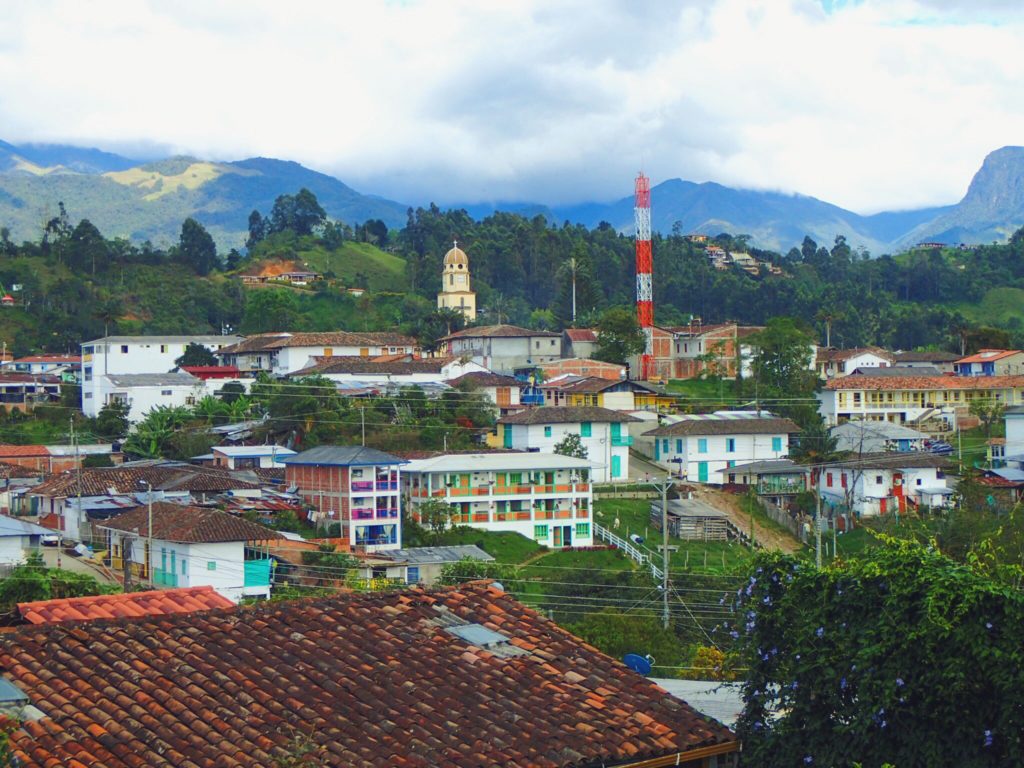 Longtime readers know that I have a love affair with small towns and sleepy villages, and the itty bitty South American town of Salento was no exception. Situated in the hills of Colombia's coffee growing region, Salento boasts a population of less than 10,000 and more charm per square inch than most towns could ever dream of achieving.
On first glance, Salento reminded me a bit of Tepoztlan – one of my favorite similarly-sized towns in Mexico – but I soon realized that Salento has its own quirks and unique stories to tell.
Not only is Salento planted right in the heart of one of Colombia's most naturally striking regions, but the town itself is colorful, quiet, quaint, and safe. It offers the perfect number of small mom 'n pop restaurants, cafes, bars, and shops to provide entertainment and variety, without losing its rural small town feel.
As you stroll along Salento's narrow stone streets, taking note of the colorful old buildings, rolling green mountain landscapes, and easygoing vibe, you'll have no trouble remembering where you are in the world – right smack dab in the middle of Colombia's hilly and lush Zona Cafetera.
In direct contradiction to the sloping green hills that surround the town, Salento itself is actually quite flat, so there aren't too many steep hills to conquer. The weather in Salento is pleasant but unpredictable – chilly but comfortable in the early morning, sunny and a bit hot in the late morning, foggy and cool in the afternoons with a chance of rain, and nights that are downright cold.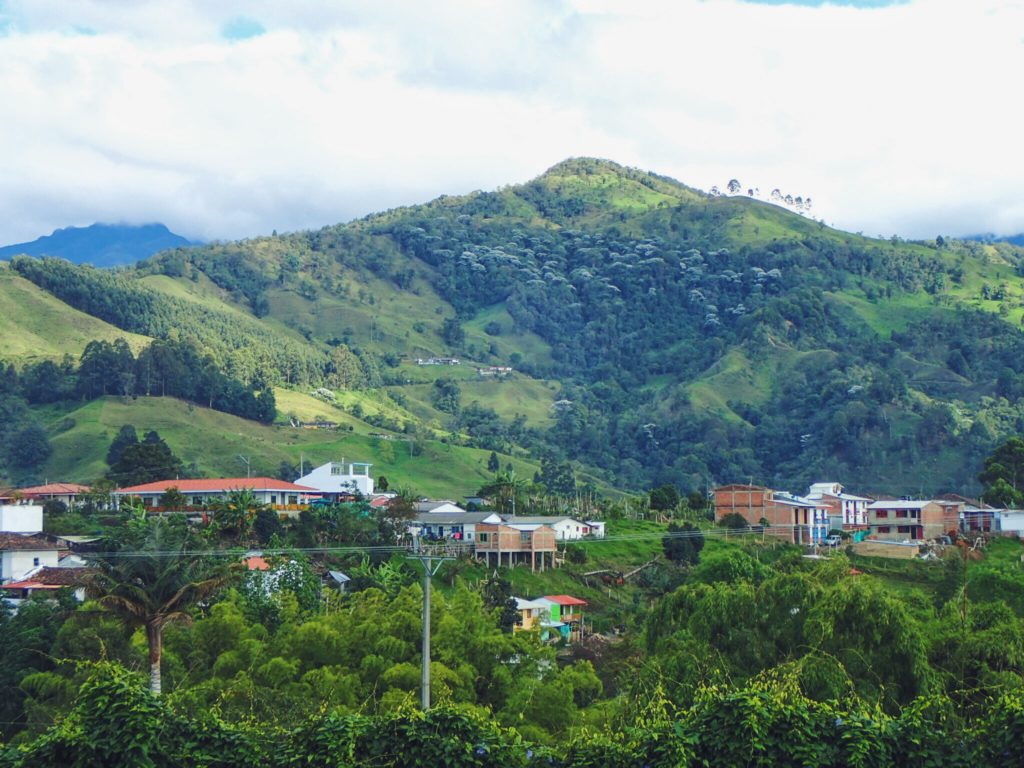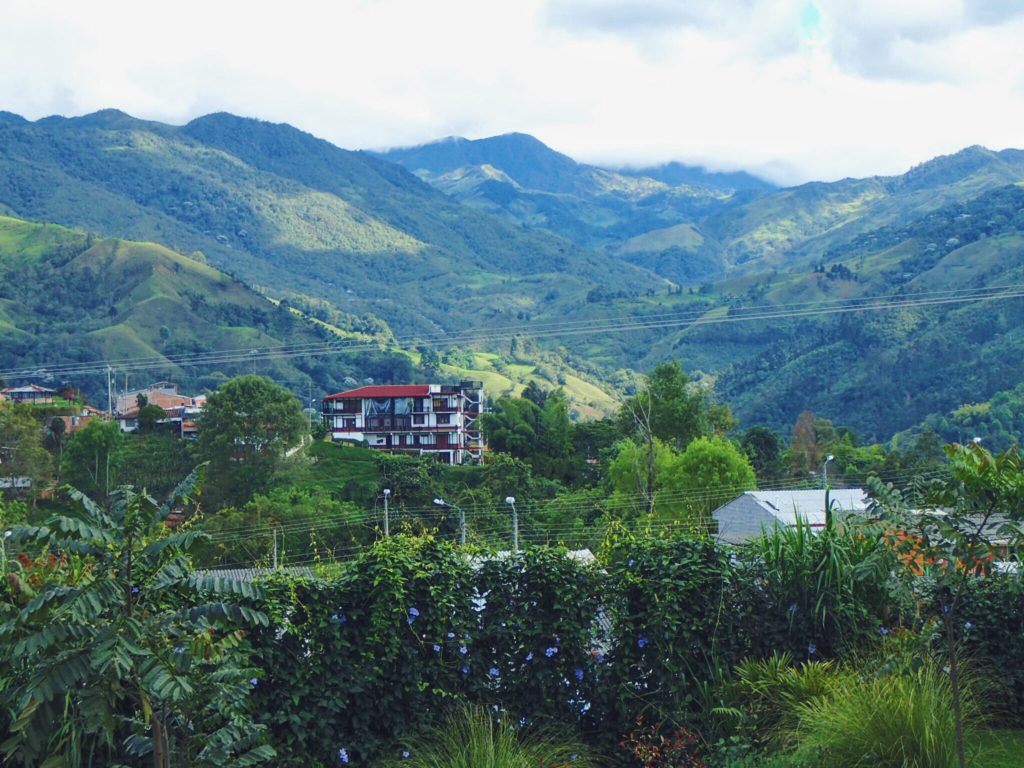 In addition to its many small town charms, Salento is also a popular spot for enjoying a game of tejo – a game native to Colombia that involves a metal puck, explosives, and almost always a heavy dose of alcohol.
…When in Colombia, eh?!
In other words, in spite of its small size, Salento is not a town that you can expect to be bored in! I spent 3 nights in Salento, and while I certainly had plenty of time to rest, unwind, and soak in the fresh mountain air, I also had a blast getting to know the town's personality and experiencing its many attractions.
These are my favorite memories from my time in Salento, and my top recommendations for future travelers:
Stroll Around Town
Salento is colorful, peaceful, scenic and very walkable. In fact, you could reasonably walk from one end of the town to the other in 20 minutes or less! For that reason, it doesn't really matter where your hotel or hostel is located – no matter what, it will be walking distance to everything else in town.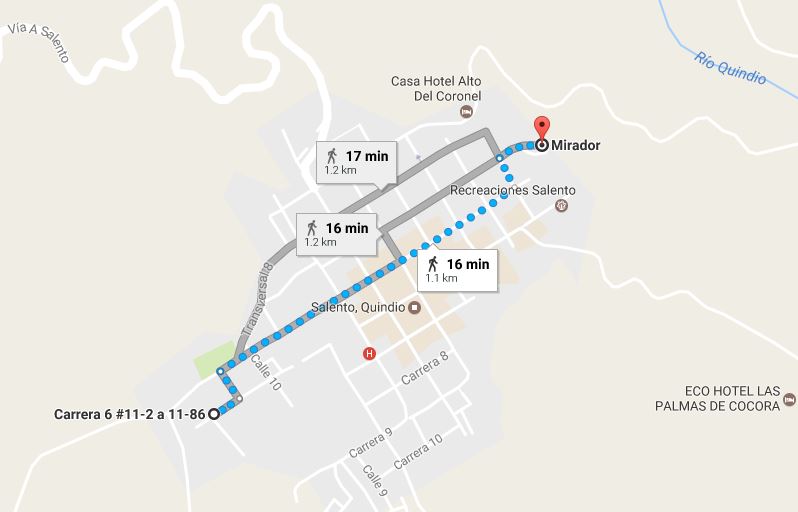 One of my favorite pastimes in Salento was simply wandering the streets, poking my head into intriguing shops, snapping photos of the scenic town square, and following the scent of freshly roasted coffee beans and other Colombian delicacies.
Salento is a beautiful town, and leisurely roaming the streets (it's hard to actually get lost in a town this small, but you can try!) is one of the best ways to uncover all of its charms.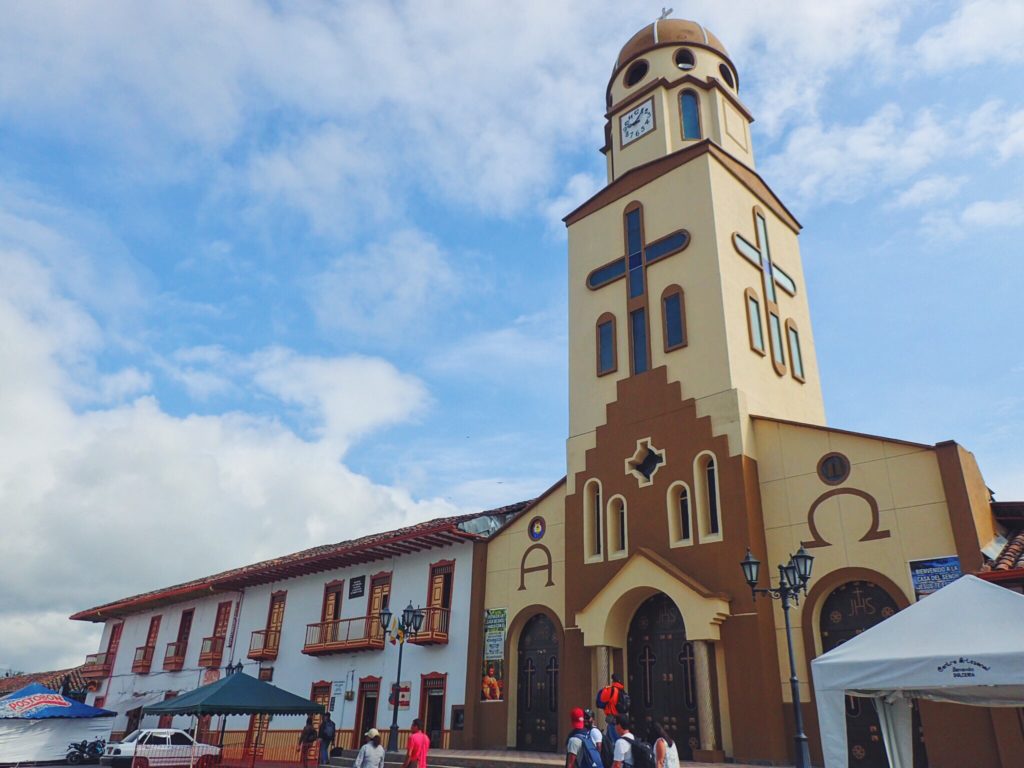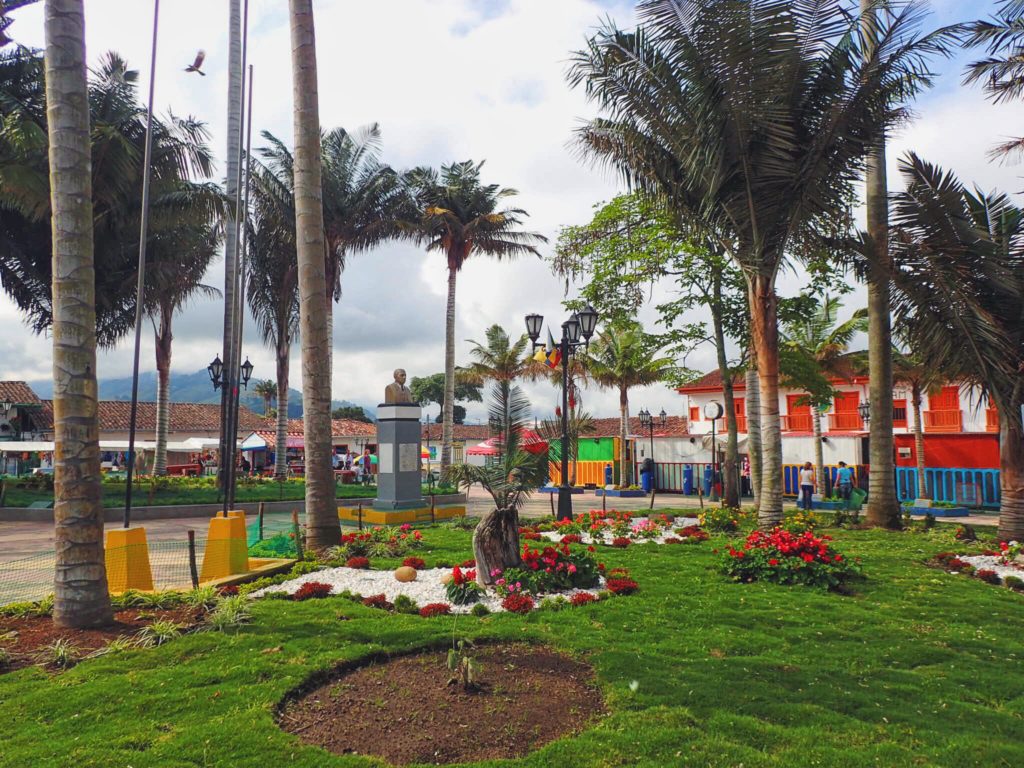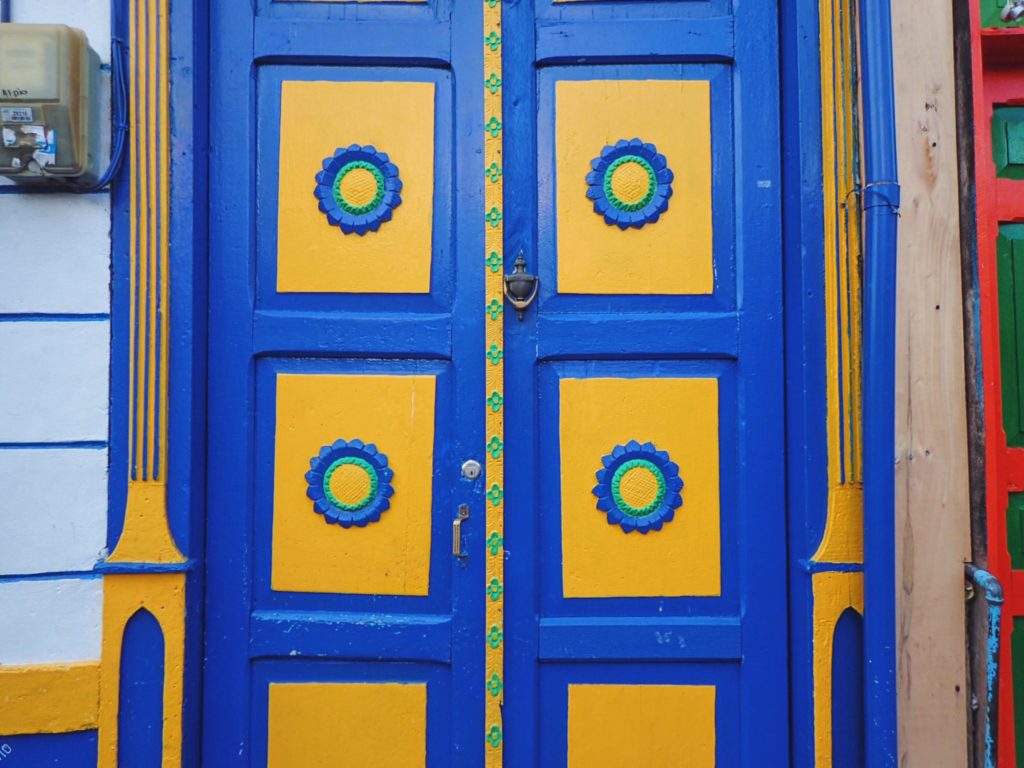 Most of Salento's tourists are Colombians from nearby cities, many of whom opt for short weekend trips. So, depending on whether you visit Salento on a weekday or weekend, it could either be quiet and deserted or lively and bustling. For that reason, I recommend visiting during the weekend if you can!
The evening is one of the best times for people-watching in Salento, when locals and tourists alike take to the streets to walk, socialize, and watch the sunset.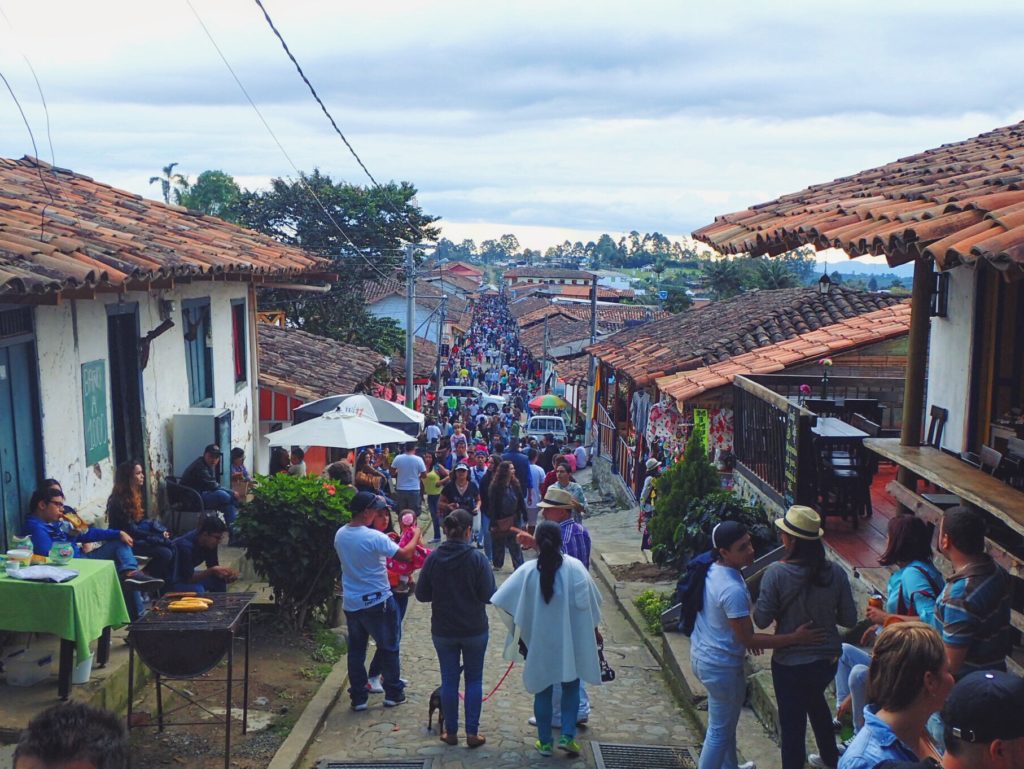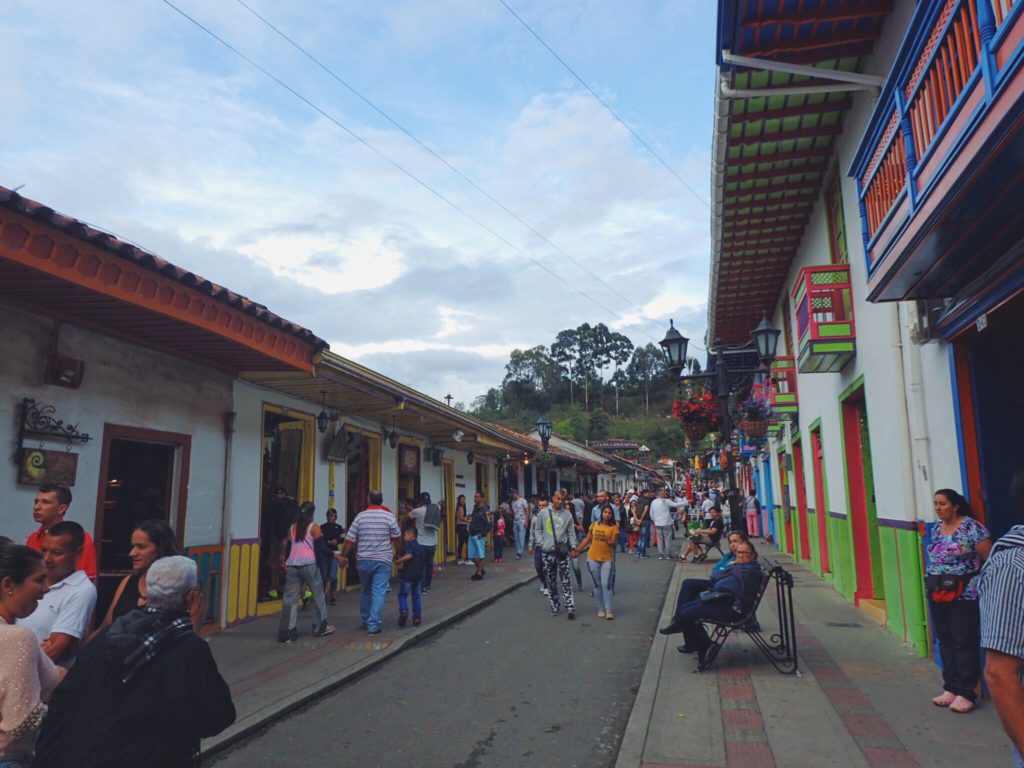 One of the most amusing things that caught my eye in Salento was the recurrent sight of elderly local women poking their heads out of their first-floor windows to get a good look at the passerby. Sometimes there would be several women craning their necks out of the same small window, and they would all turn their heads in sync to watch each and every person as they walked by.
I'm not positive, but I can only imagine that this was part of some gossip fodder ritual! Small town life, eh?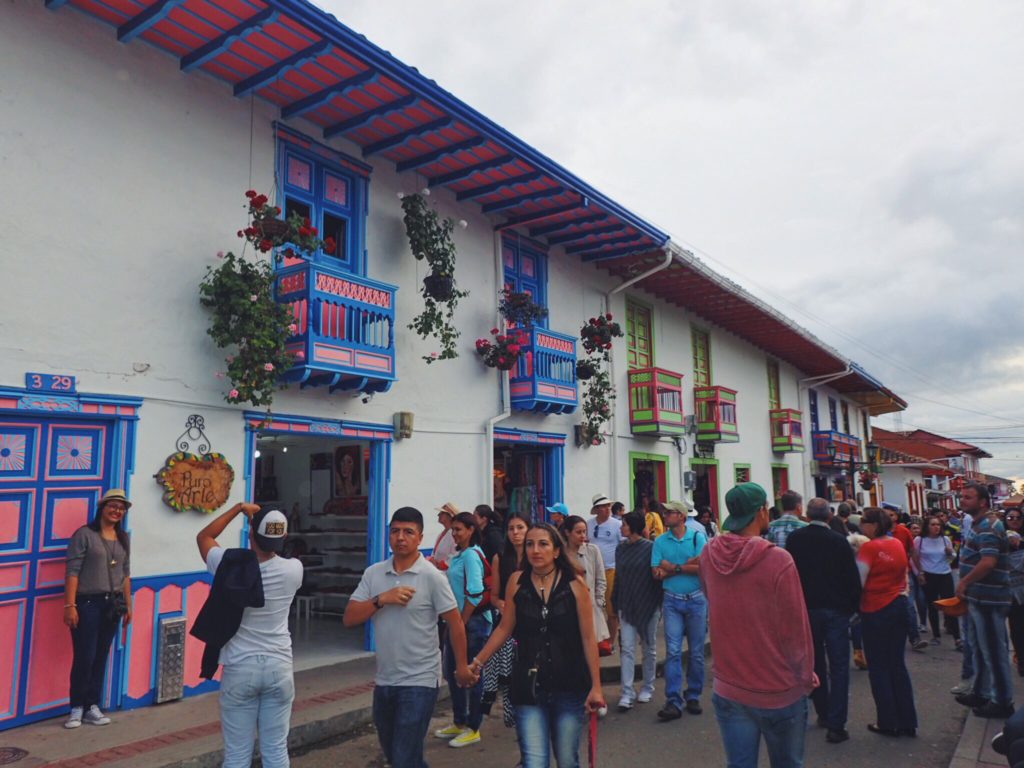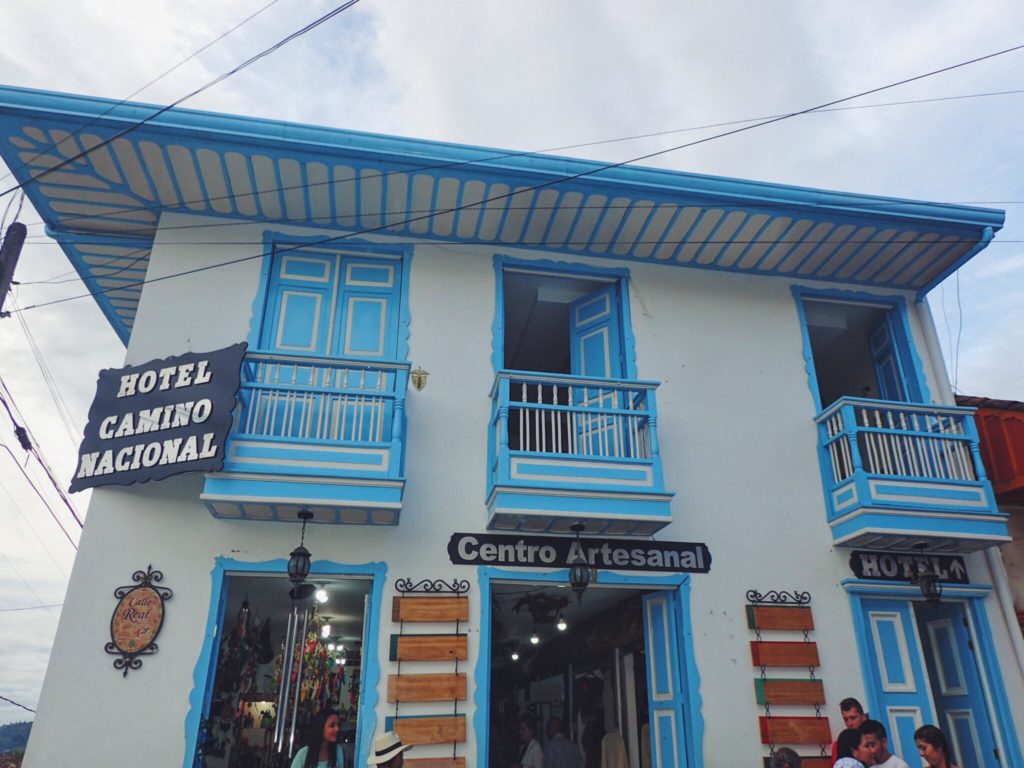 Stay at Hostel Luciernaga
It's rare that I think a hostel is worthy of more than a quick shoutout in any given blog post, but in the case of Hostel Luciernaga, I could go on and on and on!
In fact, Luciernaga (the name means "firefly" in Spanish!)  is much more than just a hostel – it's a local hotspot for good food, music, and drinks. The entire first floor of Luciernaga is made up of the bar, restaurant, and outdoor patio, while the hostel itself is located upstairs. The downstairs area is a place for gathering and socializing, but not in the way that a typical backpacker "party hostel" would be.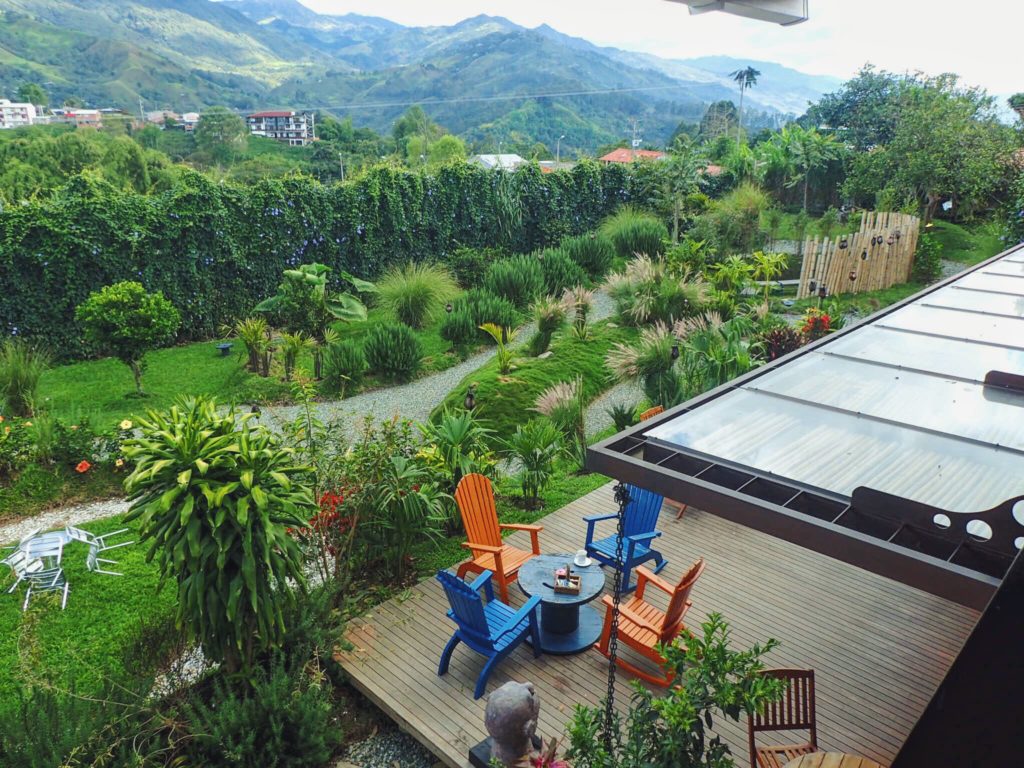 The energy at Luciernaga is casual, friendly, and laid back. I stayed at Luciernaga for three nights, and each night there was live music and an incredible happy hour special (Club Colombia beer was "buy one get one free" every night!).
The crowd was made up of locals, Colombian tourists, and foreign tourists who would gather at the restaurant's tables to split appetizers, order meals, chat, drink, and enjoy the ambiance. The waiters also brought around complimentary plates of popcorn each time we ordered a new round of drinks, which was much appreciated!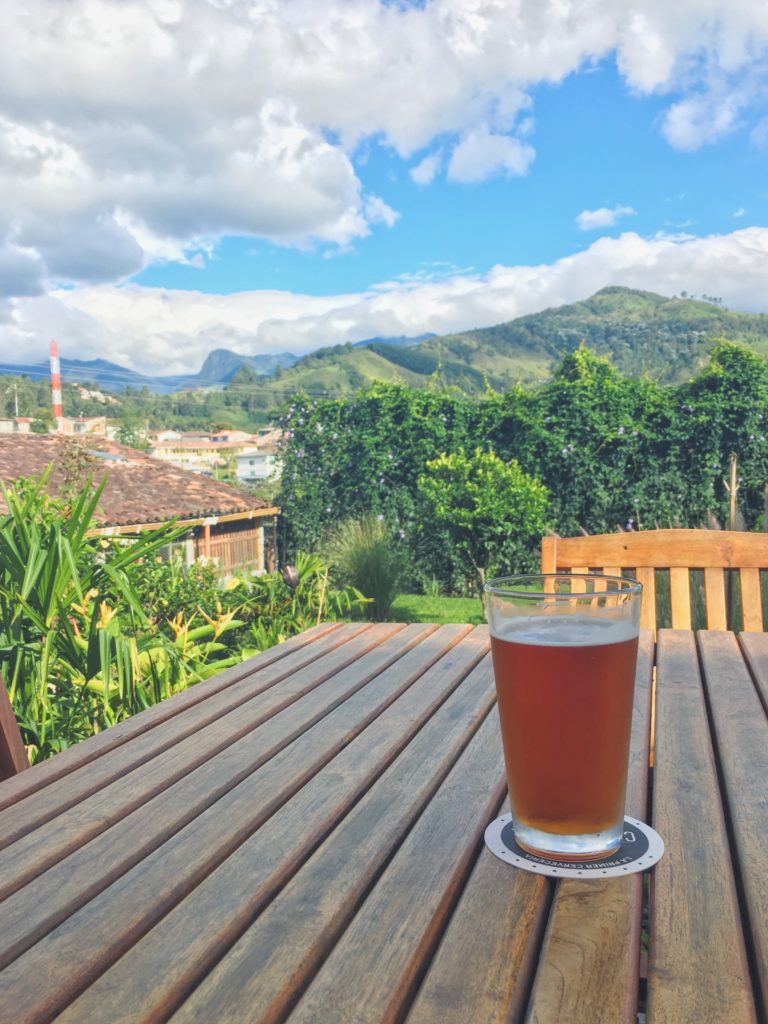 Actually, one of my favorite memories from my entire trip to Colombia was sitting outside on the deck one night, looking up at the stars and pure blackness of the sky, listening to the live band, consuming round after round of Club Colombia Roja and popcorn, and chatting for hours with a new friend from my dorm. It's the little things!
And while I'm sure there are some guests who would have loved to keep the "party" going all night, those of us who were actually sleeping at Luciernaga appreciated that the bar and restaurant closed at 11pm, meaning no noisy disruptions throughout the night!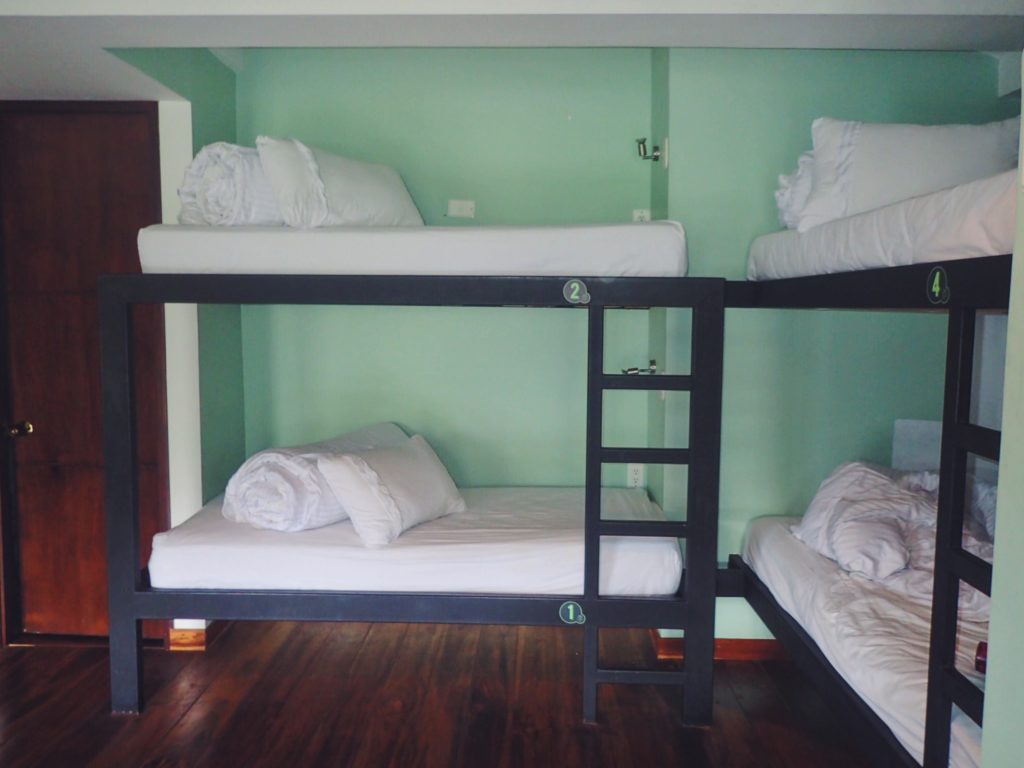 Speaking of sleeping, the beds at Luciernaga were hands-down THE comfiest I've ever experienced in a dorm room…or an any hotel room. Come to think of it, they may even rival the comfiness of my own bed at home! It was truly like sleeping in a fluffy, marshmallowy cloud.
During the day, the outside deck was perfect for soaking in some sunshine (and the beautiful views!) and possibly grabbing some breakfast before heading out for the day. I only ate two meals at Luciernaga, but they were both delicious!
(Note: I'm not in any way affiliated with Hostel Luciernaga and this endorsement is not sponsored…I was just really, really impressed by how spectacular this place was!)
Eat Lots and Lots of Trout
As you'll soon find out after arriving in Salento, trout is one of the main specialty dishes of the region. It's practically a crime to travel there without having at least one meal with trout, but the good news is that almost every single restaurant has it on their menu, so it's not hard to find.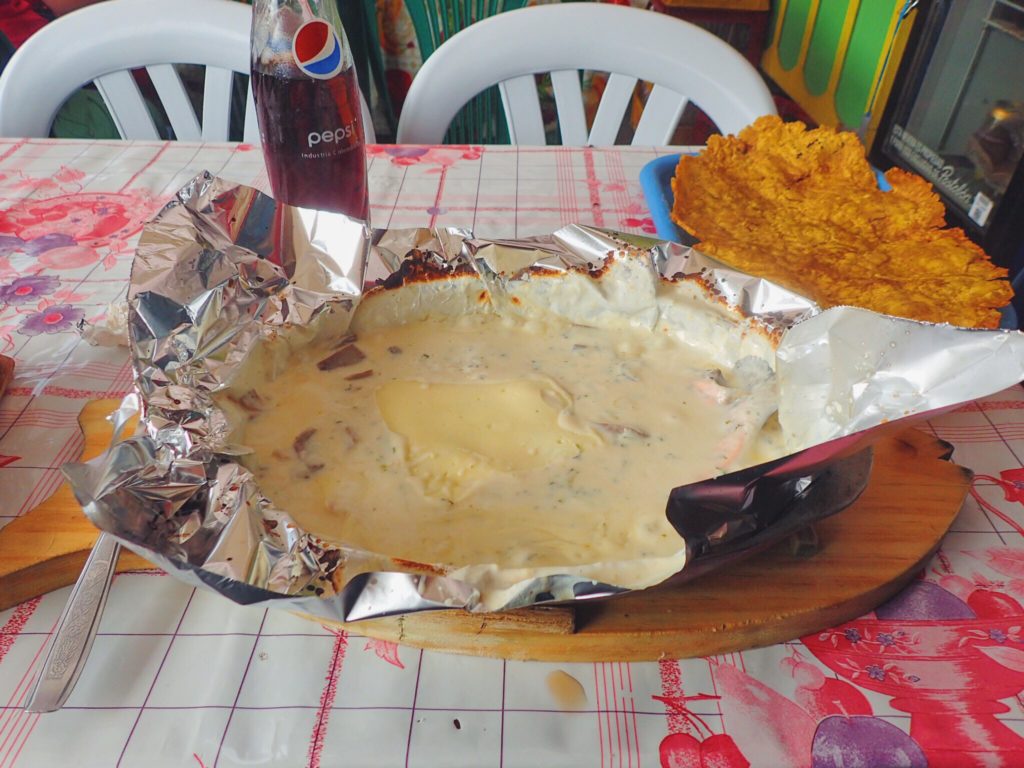 There are several street food-style restaurants in the main square (keep an eye out for their plastic chairs and colorful plastic tablecloths) that all have essentially the same menu, and I thought their dishes were amazing. My favorite was the trout that was served in a creamy garlic and mushroom sauce. SO GOOD.
The Peanut Butter Brownie from Brunch de Salento
It is actually almost painful for me to write about this, because just letting the thought of this brownie cross my mind for even a second sets off a craving SO intense that I'm tempted to book a flight straight back to Colombia just for this damn dessert!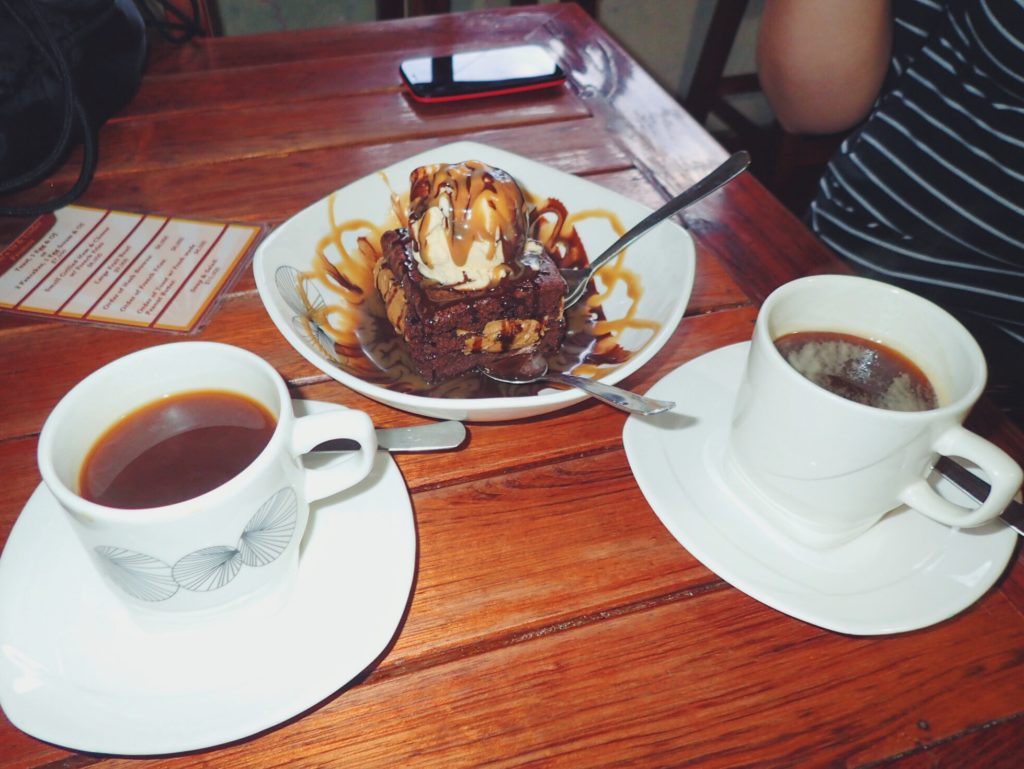 Picture this: two soft, rich chocolatey brownies with a layer of creamy peanut butter slathered in between, topped with vanilla ice cream, and drizzled with chocolate and peanut butter sauces.
*SWOON*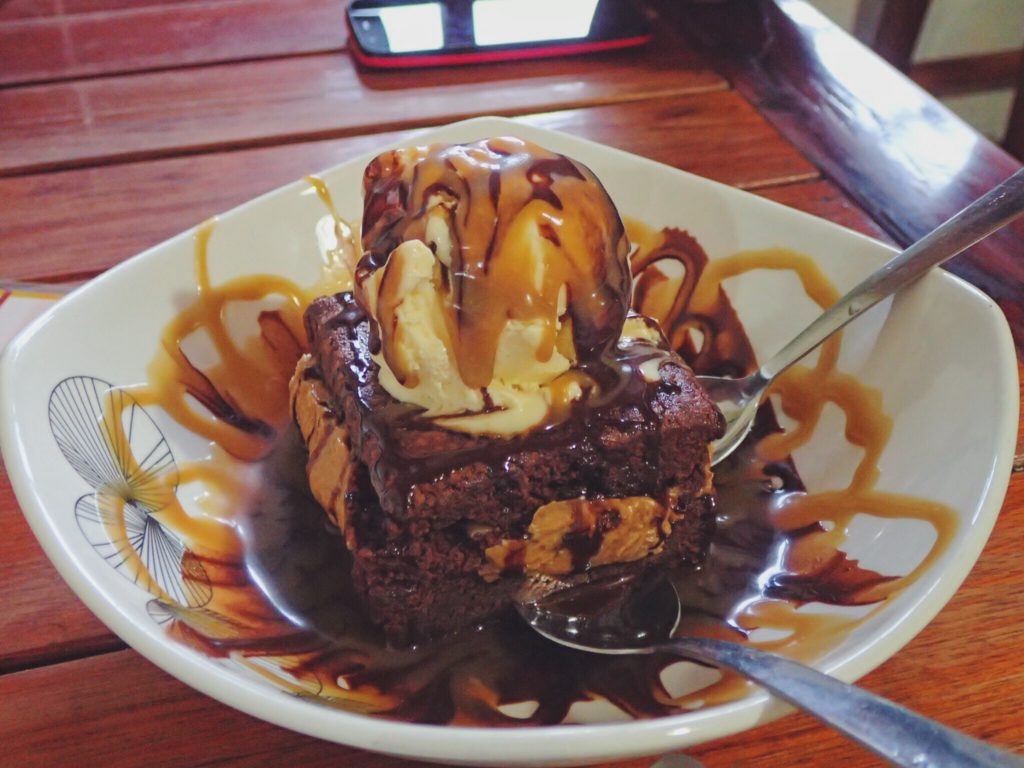 It's definitely big enough for two people to share, but I'd be lying if I said I hadn't been tempted to order one all for myself.
Cheap, Wonderful, Plentiful Food
In addition to the two previously mentioned dishes, Salento is home to a wonderful assortment of restaurants, cafes, and street food vendors that will keep your taste buds satisfied. One of my favorite street food snacks was the pan de queso – a warm, soft, cheesy bread. Yum!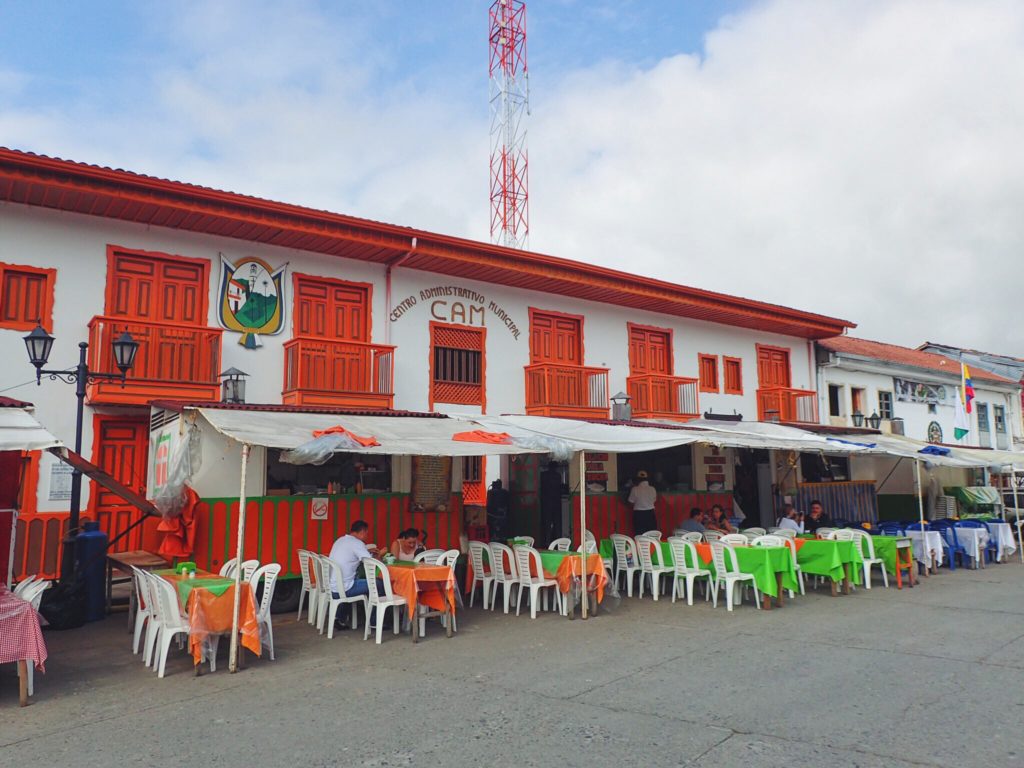 My favorite breakfast place in Salento was a small yellow restaurant just off the main square (at the corner of Carrera 5 and Calle 6), that served an amazing skillet egg dish that was topped with tomato sauce and plenty of cheese. It also came with a buttered arepa and glass of aguapanela, a typical Colombian drink that is essentially hardened sugarcane juice dissolved in hot water, served with a squeeze of lemon.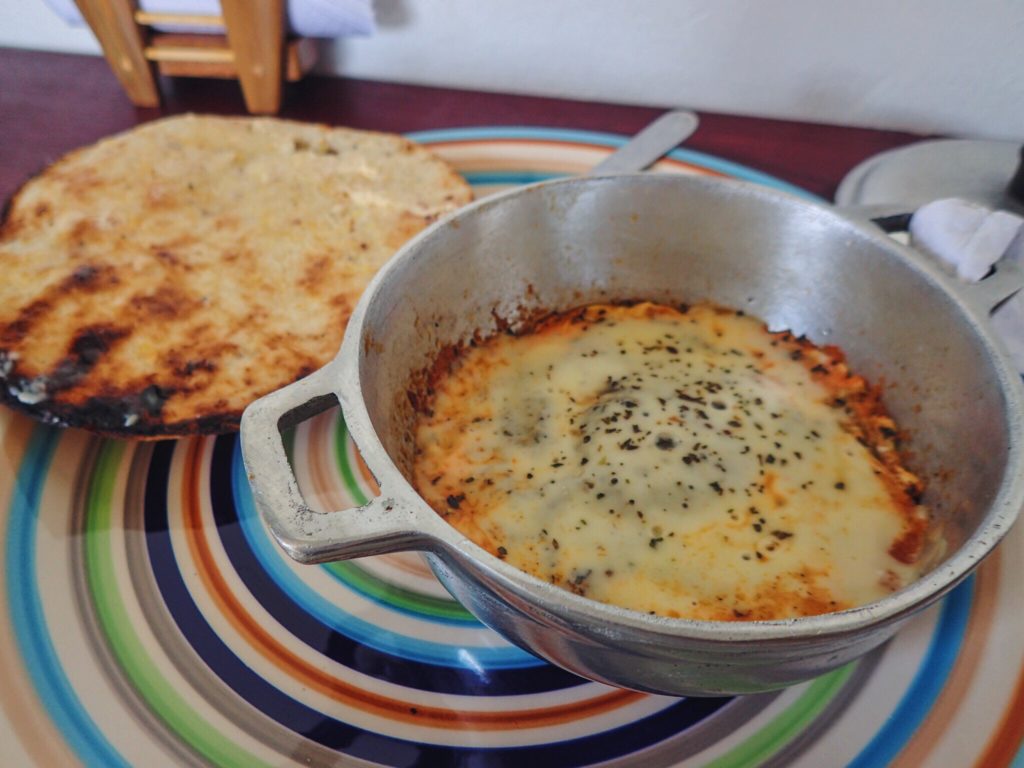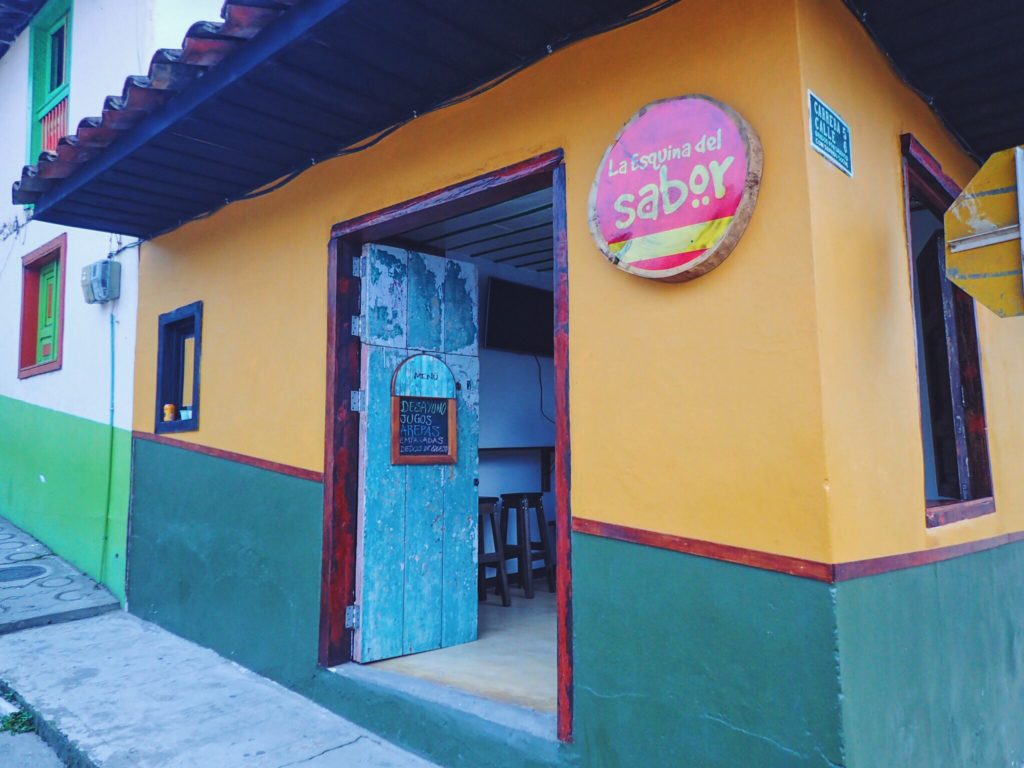 I also had a tasty and indulgent frozen coffee (made with espresso, condensed milk, whipped cream, and chocolate sauce) at Cafe Jesus Martin, also located just off the main square.
Check out the View from the Two Miradors
Salento has two miradors (lookout points) – one that overlooks the town itself, and a second that overlooks a lush green valley.
You can easily hit up both miradors in about an hour, and it doesn't matter which order you see them in. There will usually be other people walking up to both spots to check out the view, so just follow the crowds.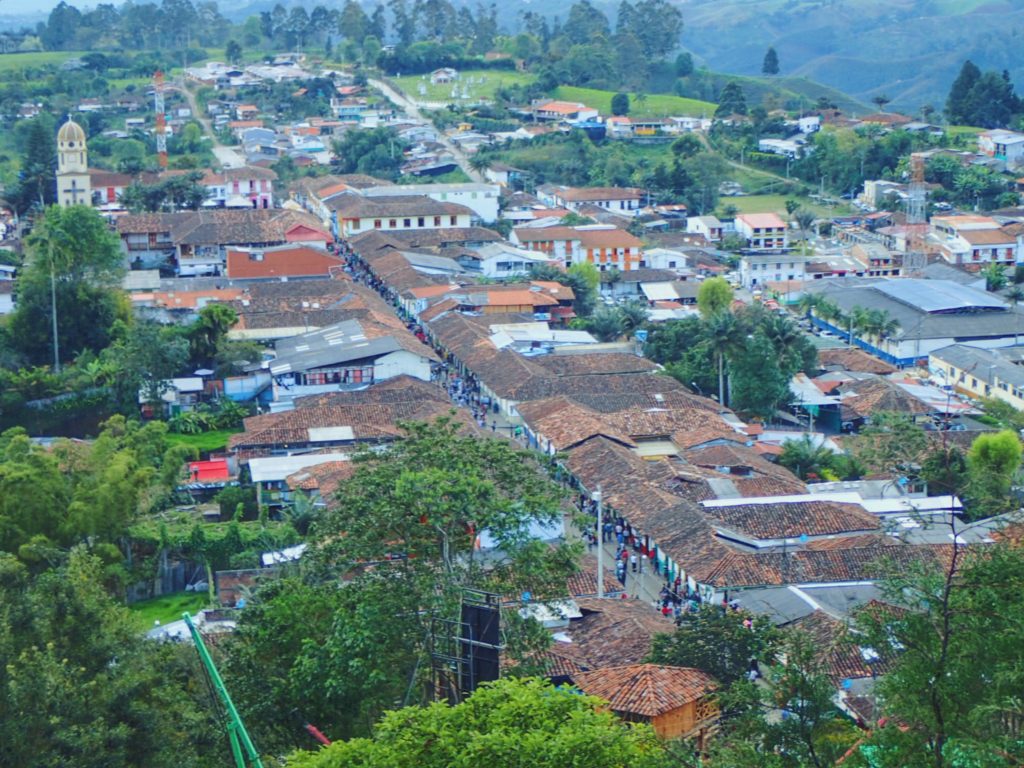 Coffee Tour at Finca el Ocaso
This wasn't my first coffee tour – I booked a lovely one in the mountains of Matagalpa, Nicaragua – but considering that Colombia is among the top 3 coffee producing countries in the world, there was no way I was going to miss out on sampling some of the good stuff while I was in town!


What I loved about this tour (aside from the absolutely beautiful mountainous location!) was that it was extremely hands-on. Every person in our small group was tasked with searching for and picking five ripe coffee beans. Then, our guide inspected our finds and let us know whether or not they would pass a true field test.
We peeled the beans and tasted them right there among the coffee plants, and then toured the processing buildings where the beans are sorted, washed, dried, and peeled.


We also learned that this coffee farm (and most other Colombian coffee farms) actually produce two types of coffee – a "first tier" coffee, the majority of which is exported to countries like the United States, and a "second tier" coffee which stays in Colombia, and which most Colombians drink.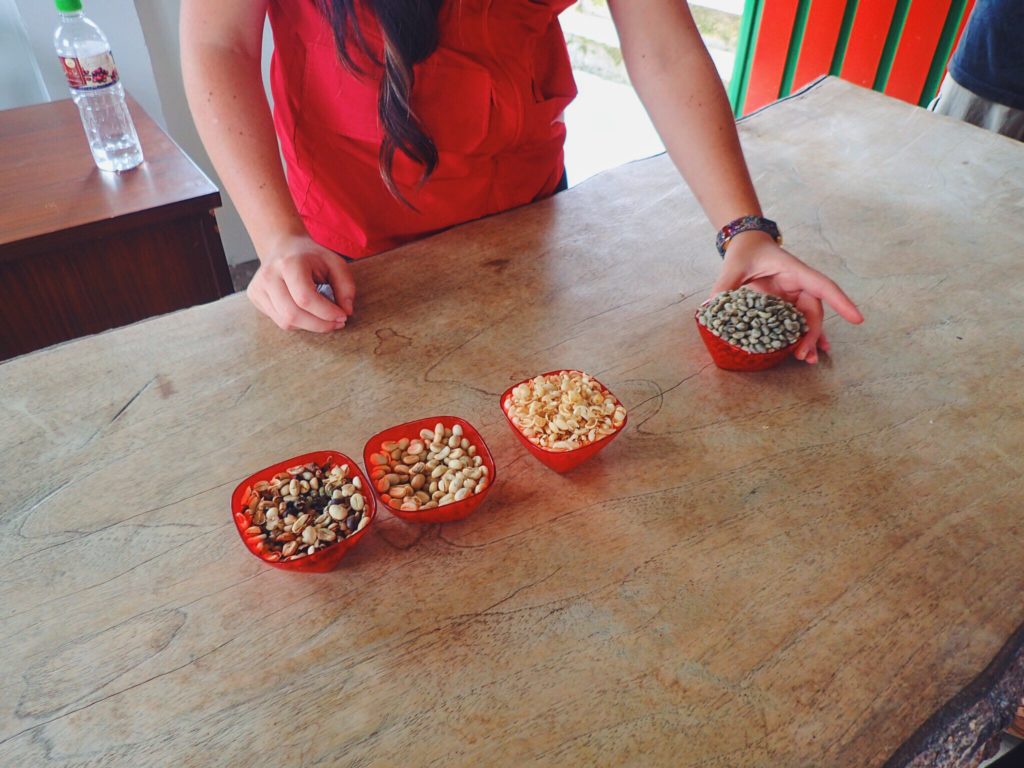 I walked up to the coffee farm with a new friend from Hostel Luciernaga, which took about an hour. I recommending walking if you can, because the scenery was absolutely stunning and it was nice to spend so much time soaking in all of the views. However, I definitely also recommend going with at least one other person, for safety reasons.
If you don't have anyone to walk with, just head into the main square in town and catch a ride in one of the jeeps. They leave frequently, so it shouldn't be hard to snag a spot.

Hike the Cocora Valley
Last but certainly not least, the Cocora Valley is pretty much THE reason people travel to Salento. For me personally, the Cocora Valley was one of my all-time Colombia highlights. I actually wished that I could have gone back a second day in a row, just to take in the views all over again!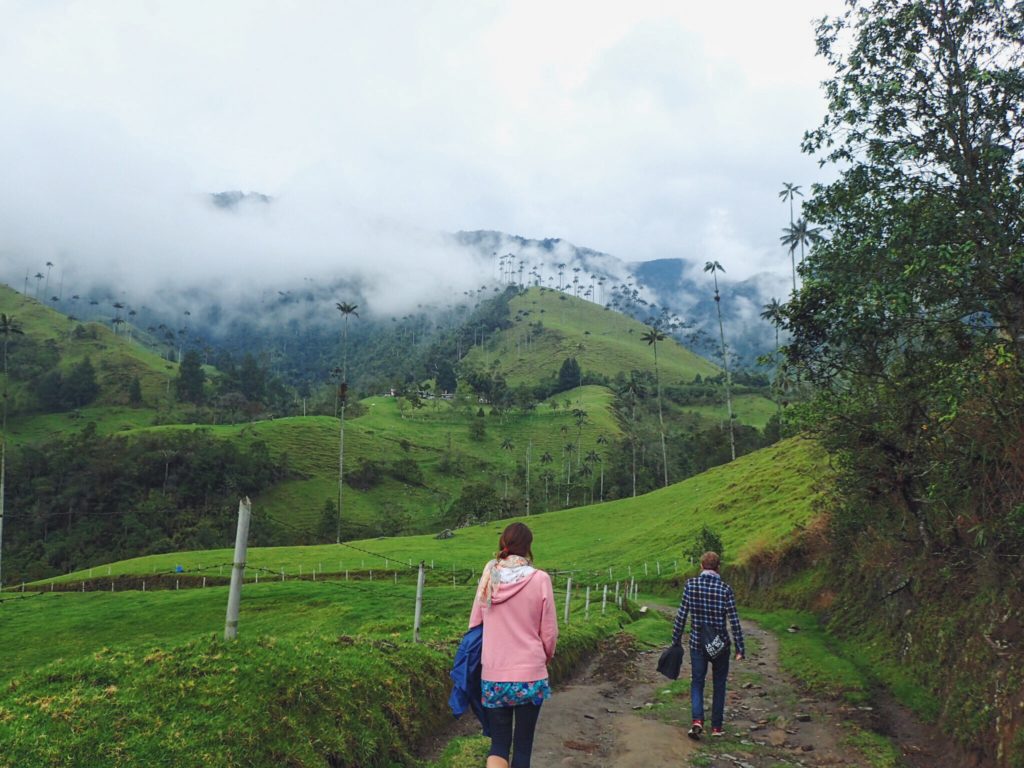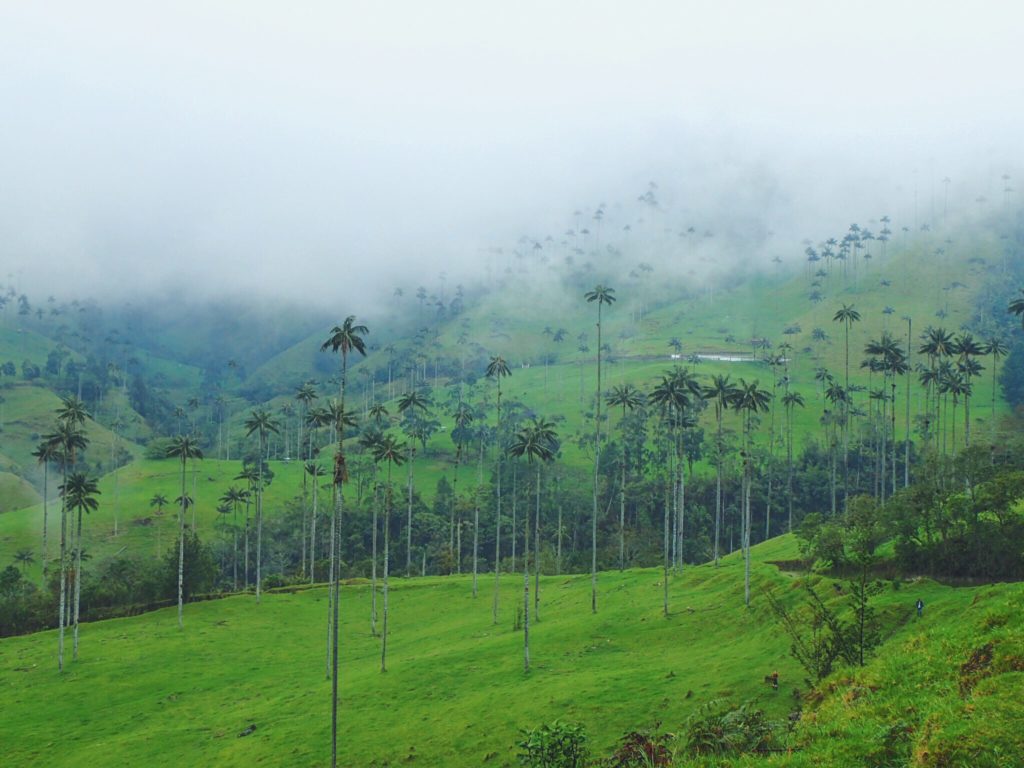 ---
Pin It!

---
Are you as obsessed with small mountain towns as I am? Have you ever been to Salento, or would you like to go?
Let's Connect!