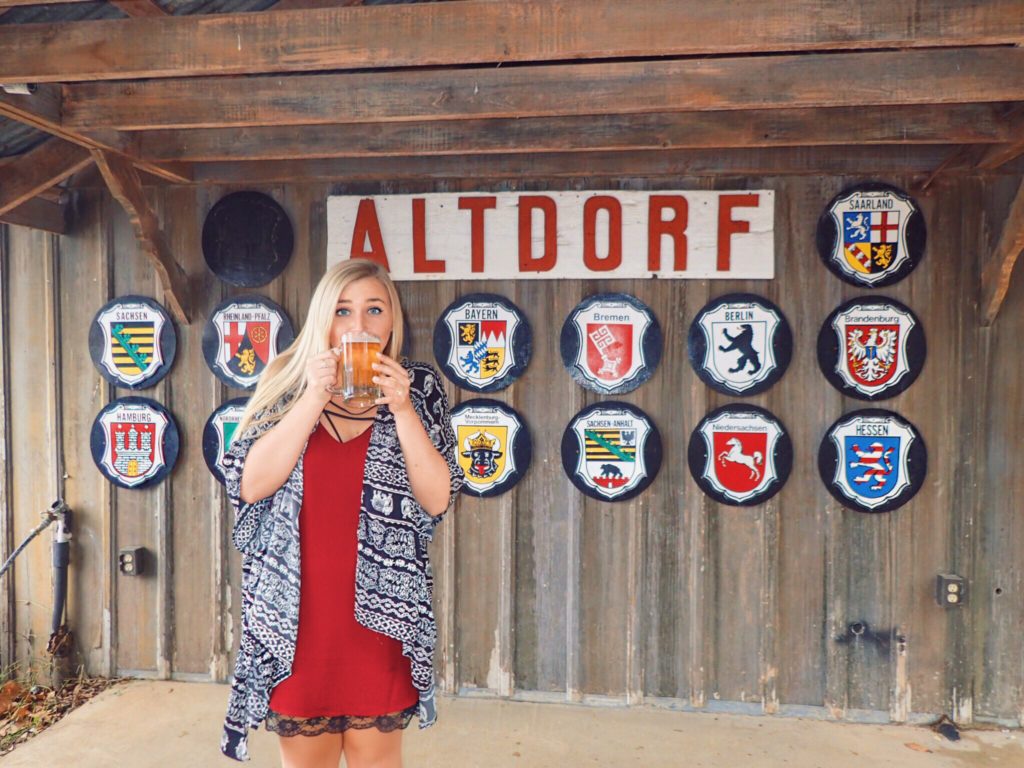 Have you ever dreamed of visiting a place where you could wear your Texas-made cowboy boots and your authentic German lederhosen…in one single, stylish outfit? Where you could have tacos for breakfast, schnitzel for lunch, bratwurst for dinner, and pecan pie for dessert? Where you could say "Guten morgen, y'all" and people wouldn't bat an eye?
…Um, probably not, because that would be an oddly specific dream destination, right?
Well, hold on to your horses folks, because this unexpected culture mash-up of a town actually EXISTS.
Fredericksburg is just one of the many Texas Hill Country towns established by German immigrants in the mid-1800s. The town was founded in 1846, and was named for Prince Frederick of Prussia.
Today, a unique dialect known as "Texas German" is still spoken by more than 10% of the local population, and the influence of German culture is still heavily apparent.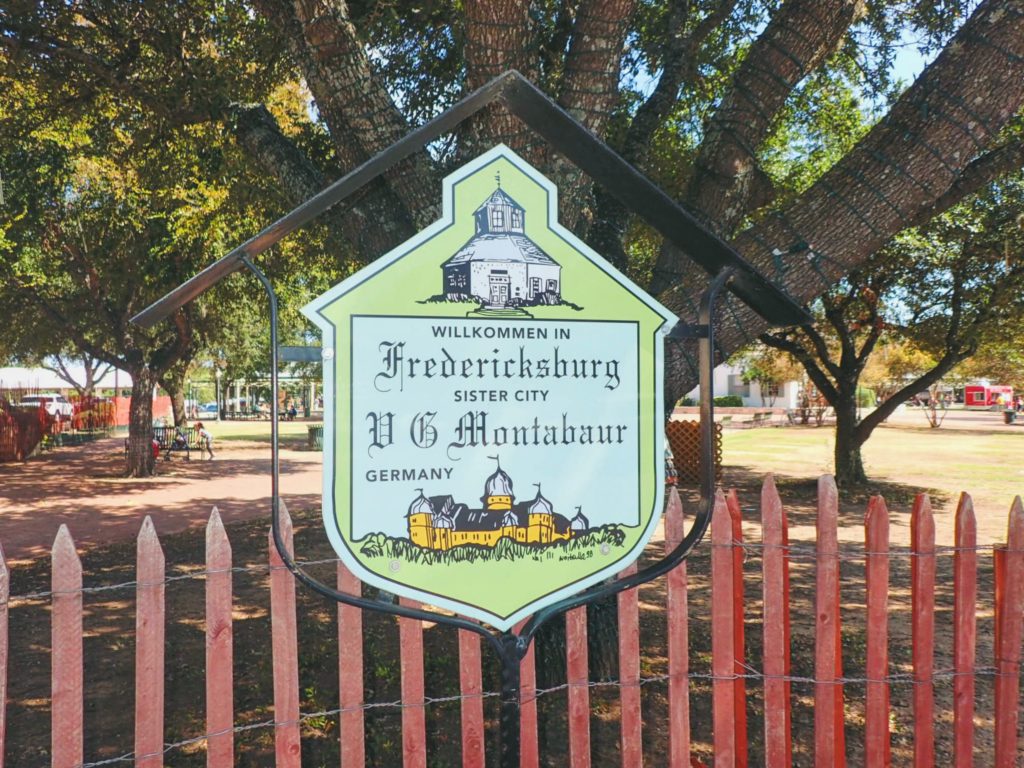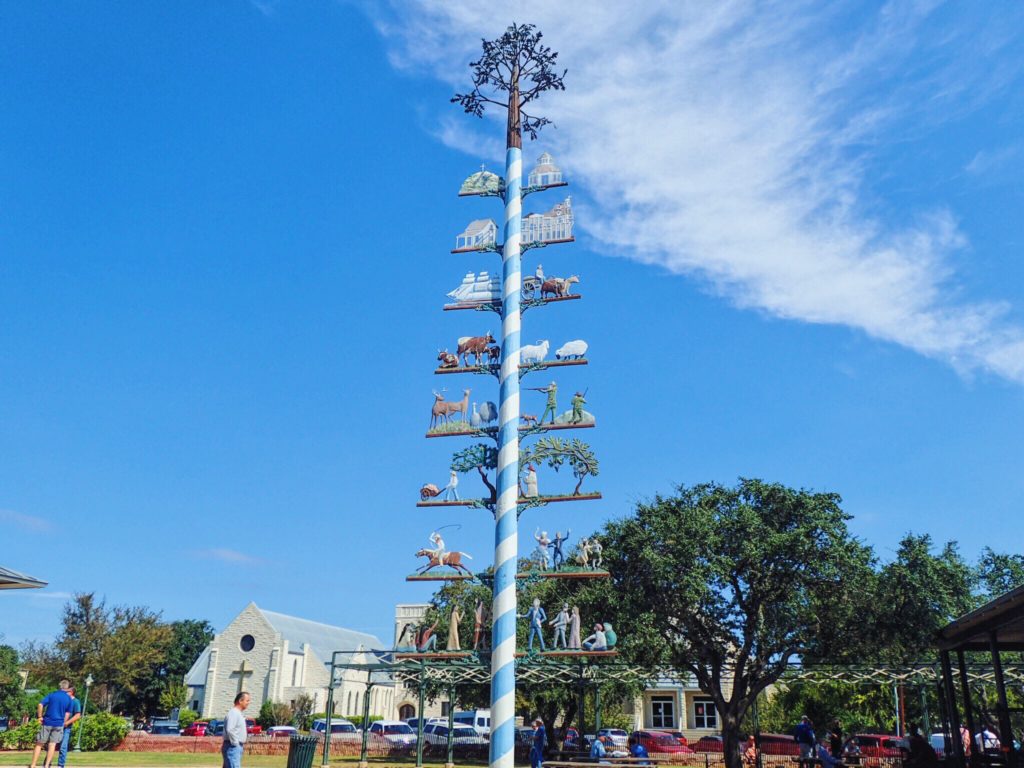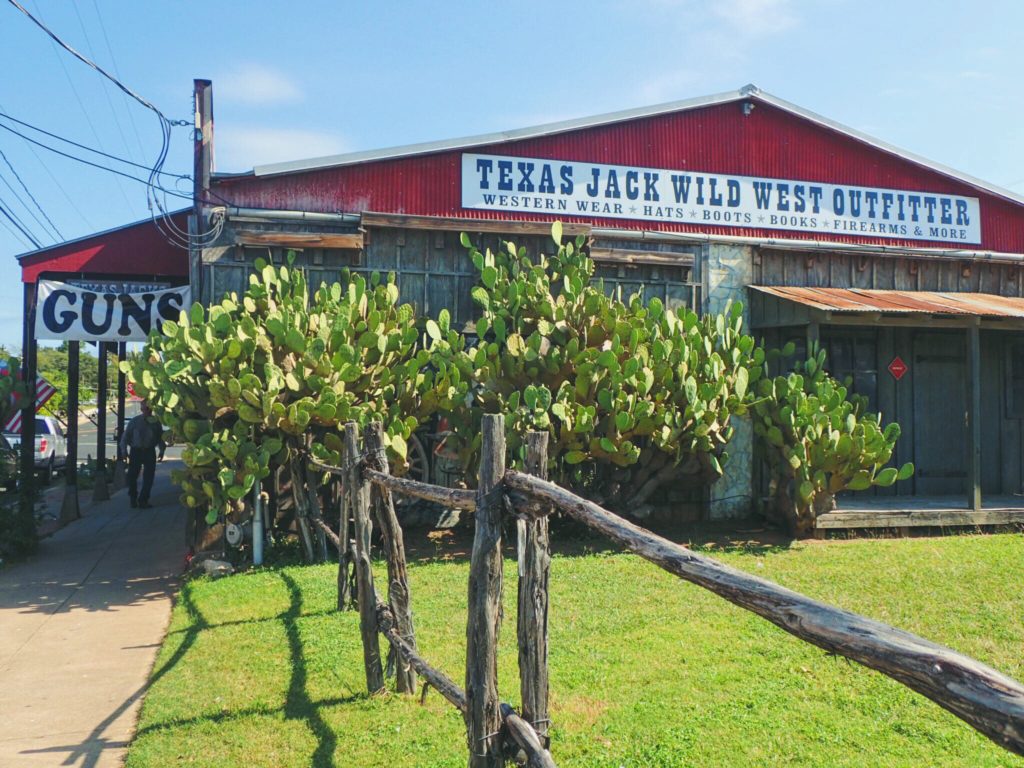 The Hill Country is one of my absolute favorite regions of Texas. The terrain is unexpectedly hilly and green, and the cultures and histories of the various cities and towns are surprisingly diverse, ranging from heavily Spanish-influenced to–yep, you guessed it!–heavily German-influenced.
Fredericksburg is a perfect weekend getaway destination, since you can easily see the highlights in just 2 days.
This is the exact itinerary we followed, with one day out of town exploring Wine Road 290, and one day in town exploring the historic shopping district.
Where to Stay in Fredericksburg
When it comes to visiting Fredericksburg, you won't find too many traditional hotels or hostels. This little Texas town is allll about B&Bs and rental properties.
Most of the inns, B&Bs, and rental homes are managed by a handful of reservation services. When you book accommodation in Fredericksburg, it's probably going to be through one of these companies. We used Absolute Charm to book the Bell's Suite at Lincoln Street Inn, and had a positive experience on all counts.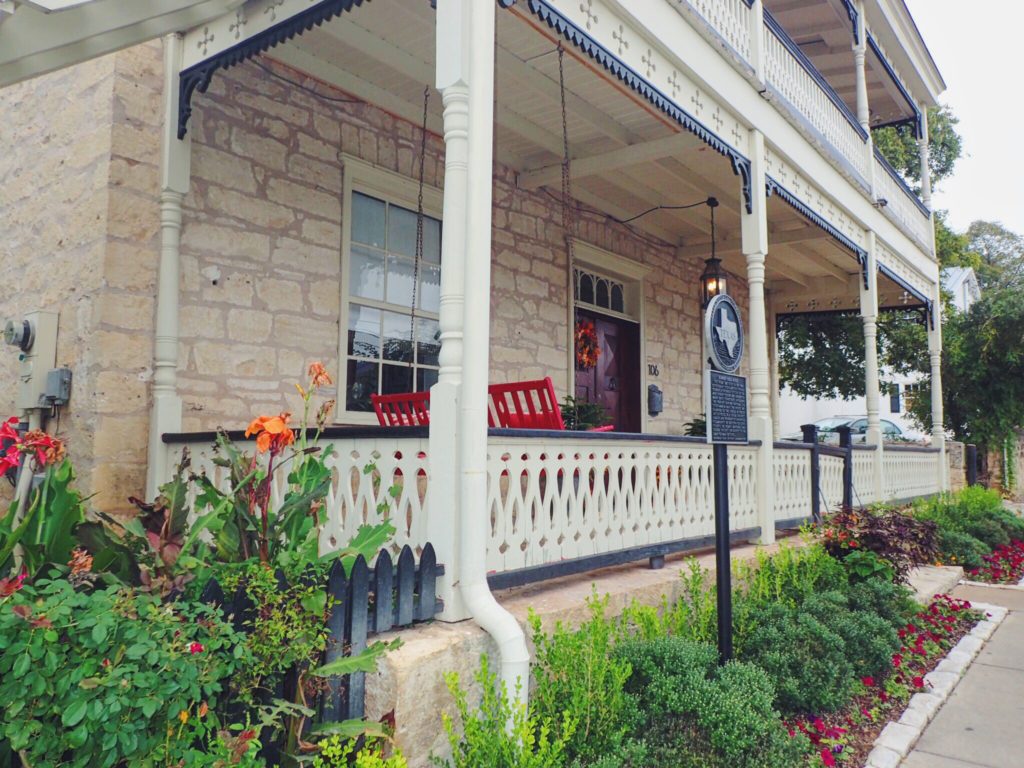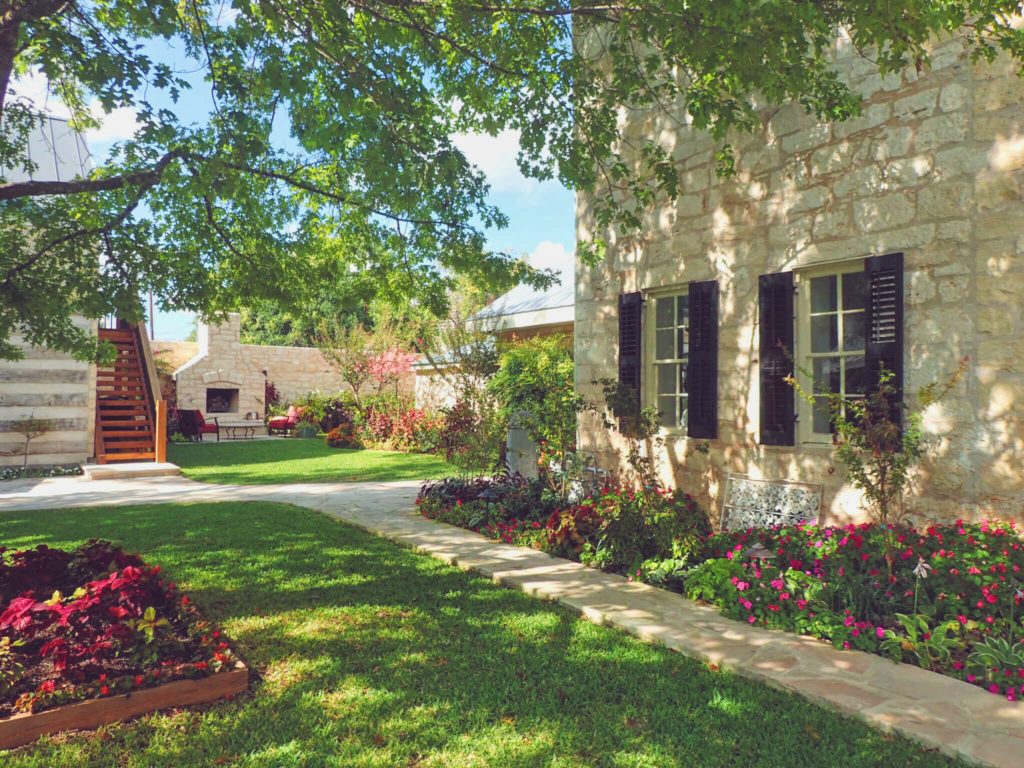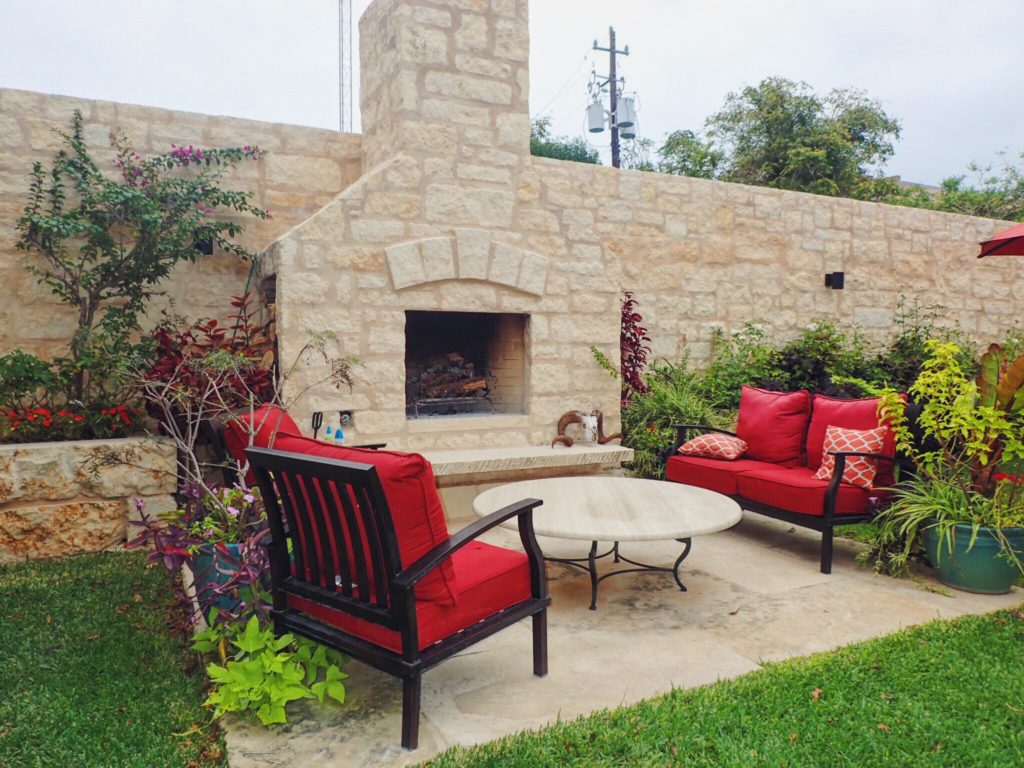 The Lincoln Street Inn actually wasn't our first choice of accommodation; we had flagged a few other properties that caught our eye, but ended up procrastinating for too long and missing our chance to book them. We really wanted accommodation that was right off of Main Street, and the Lincoln Street Inn was one of the last options left by the time we decided to book, so we figured we'd give it a shot and see what happened.
We ended up LOVING our room. It was cozy, comfortable, and oh-so cute – perfect for a romantic little weekend getaway in a small southern town like Fredericksburg!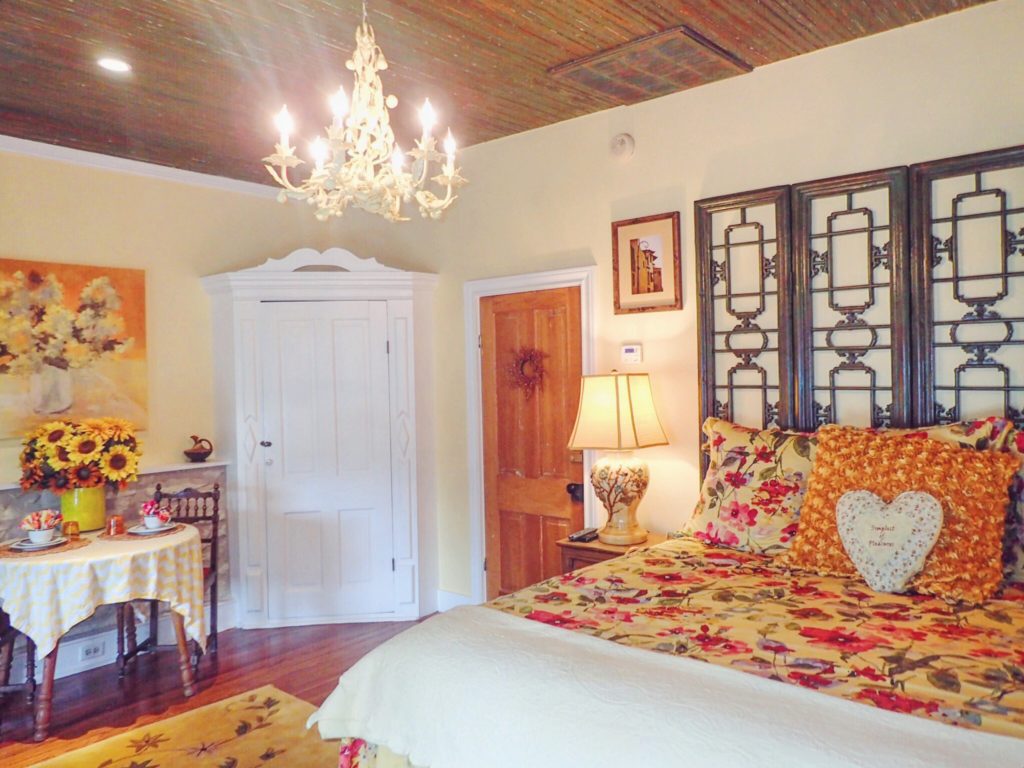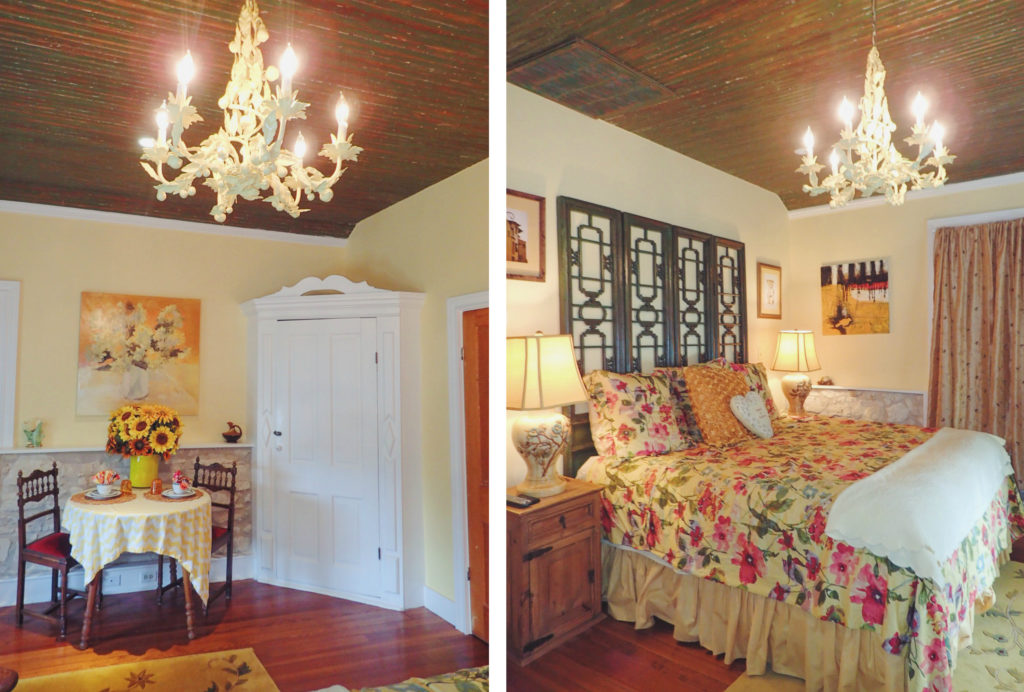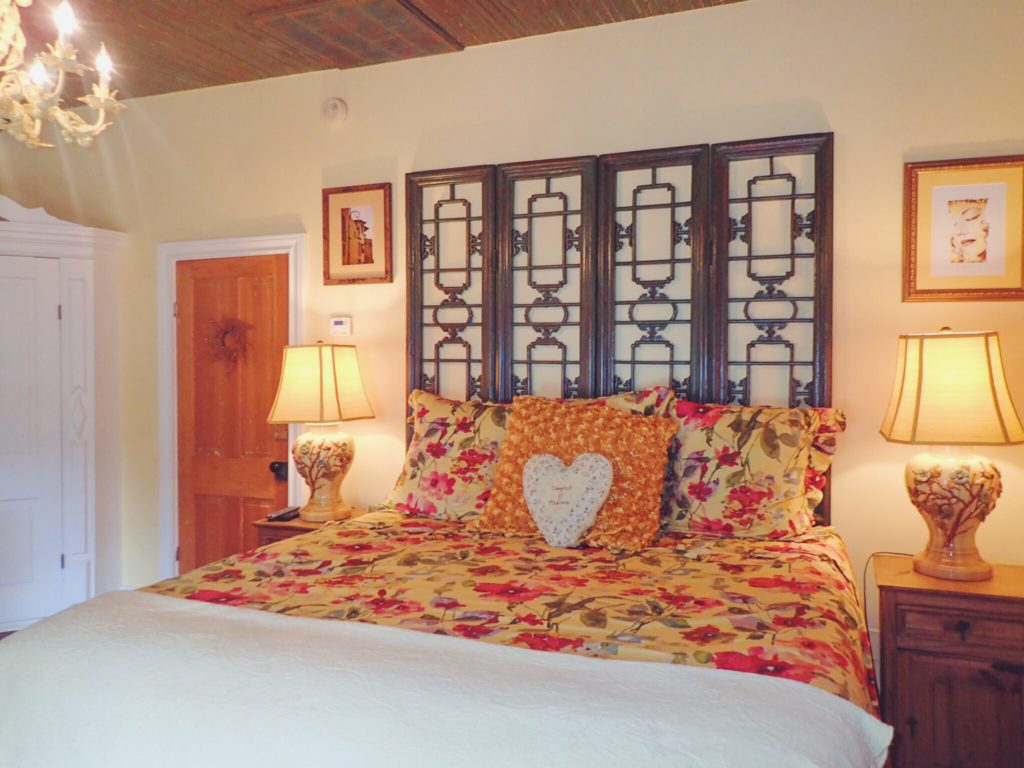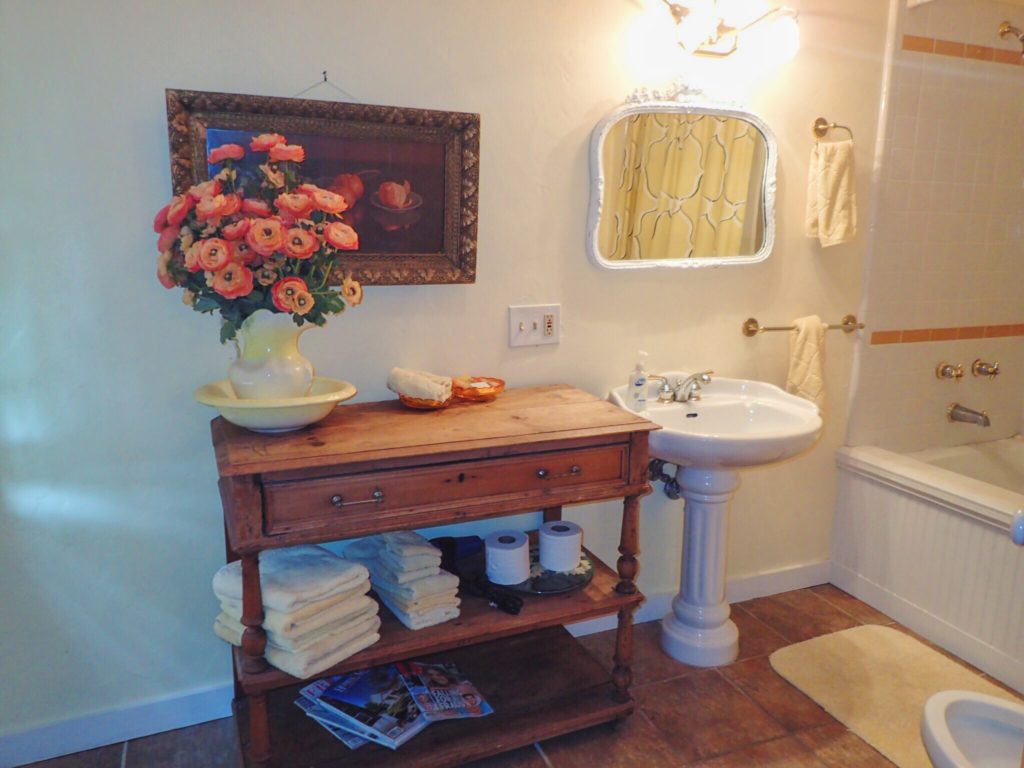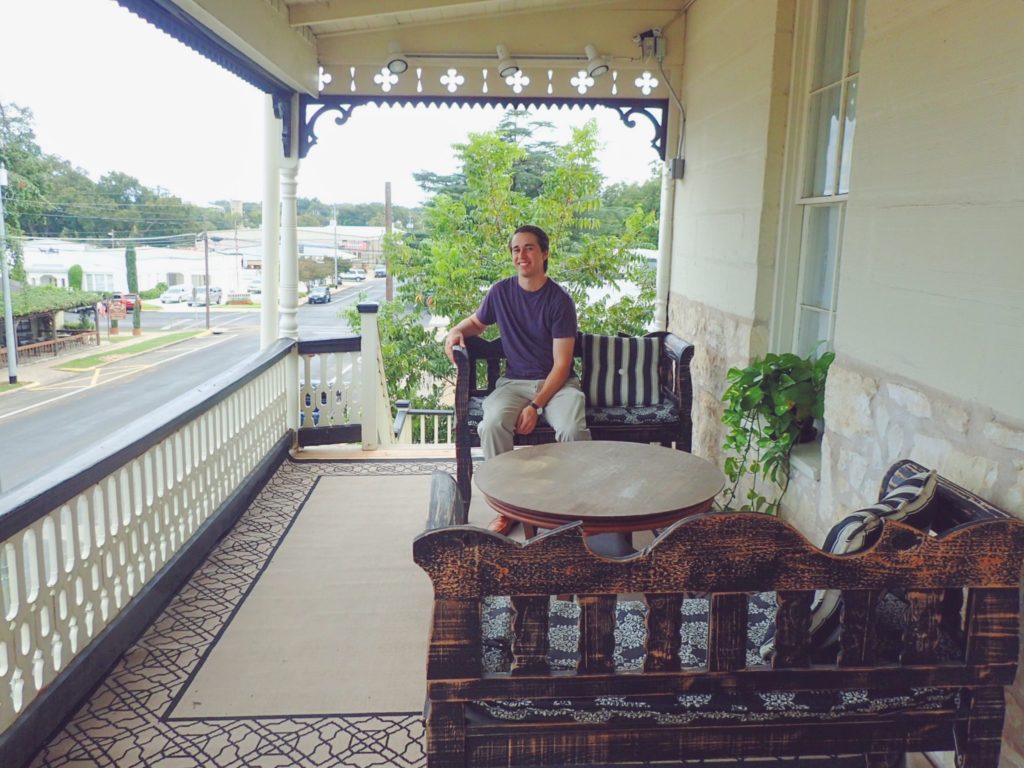 Best of all, it was literally just steps from Main Street, where all of Fredericksburg's shops and restaurants are located. I would stay here again in a heartbeat!
Day One: Wine Road 290
The Texas Wine Trail (also called Wine Road 290) is a gorgeous stretch of rolling hills and scenic vineyards just off of U.S. Highway 290 in the heart of the Texas Hill Country.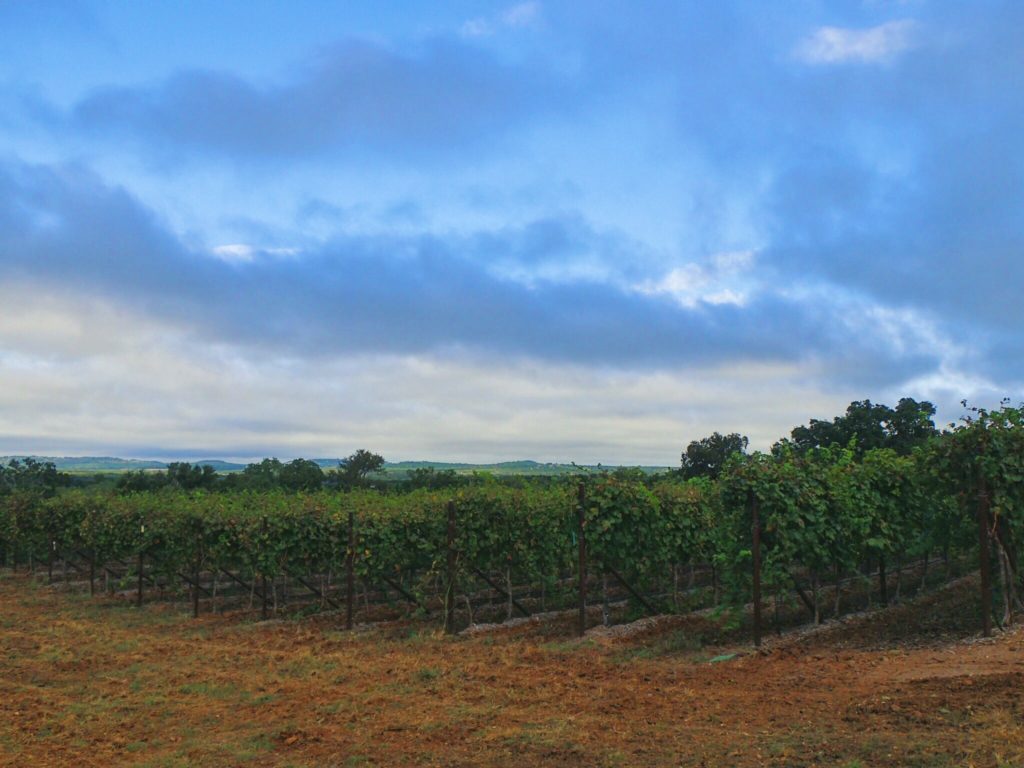 Texas may not be the first location you think of when it comes to wine producing destinations, but Texas is actually one of the oldest wine growing regions in the United States, and there are more than 50 wineries along this rural stretch of road.
Our winery tour with Grape & Grain Tasting Tours was absolutely the highlight of our Fredericksburg weekend getaway. We opted for the four winery tour, which lasted from 10am to 3pm and included a picnic lunch at our third stop.
The wineries we visited were: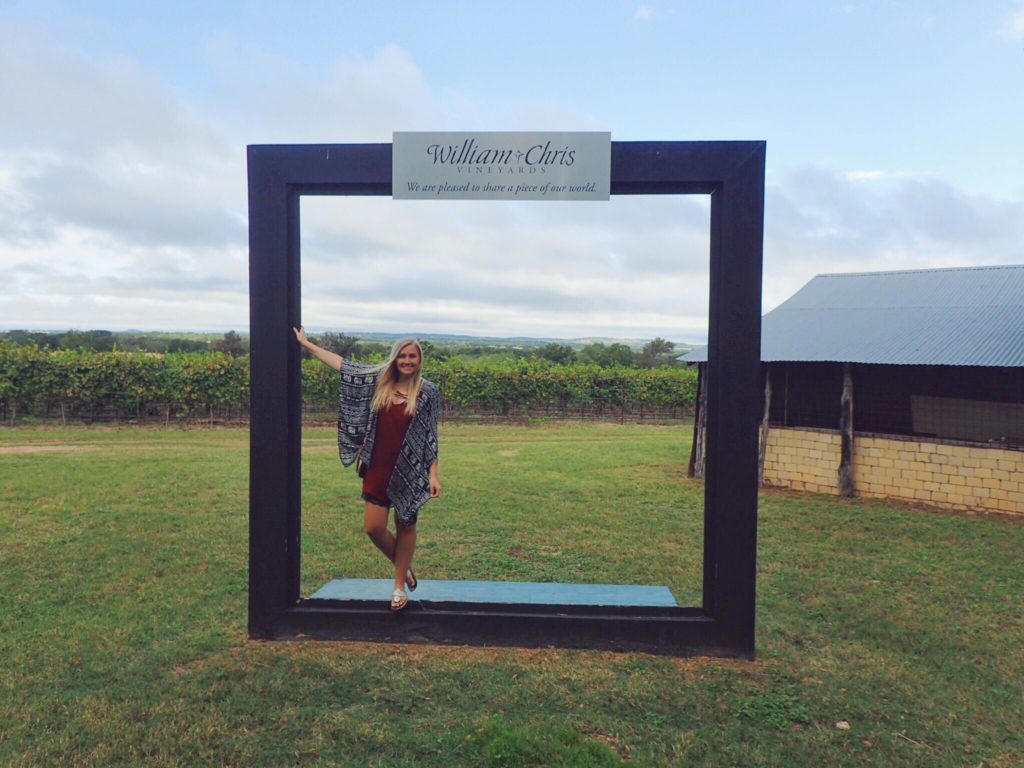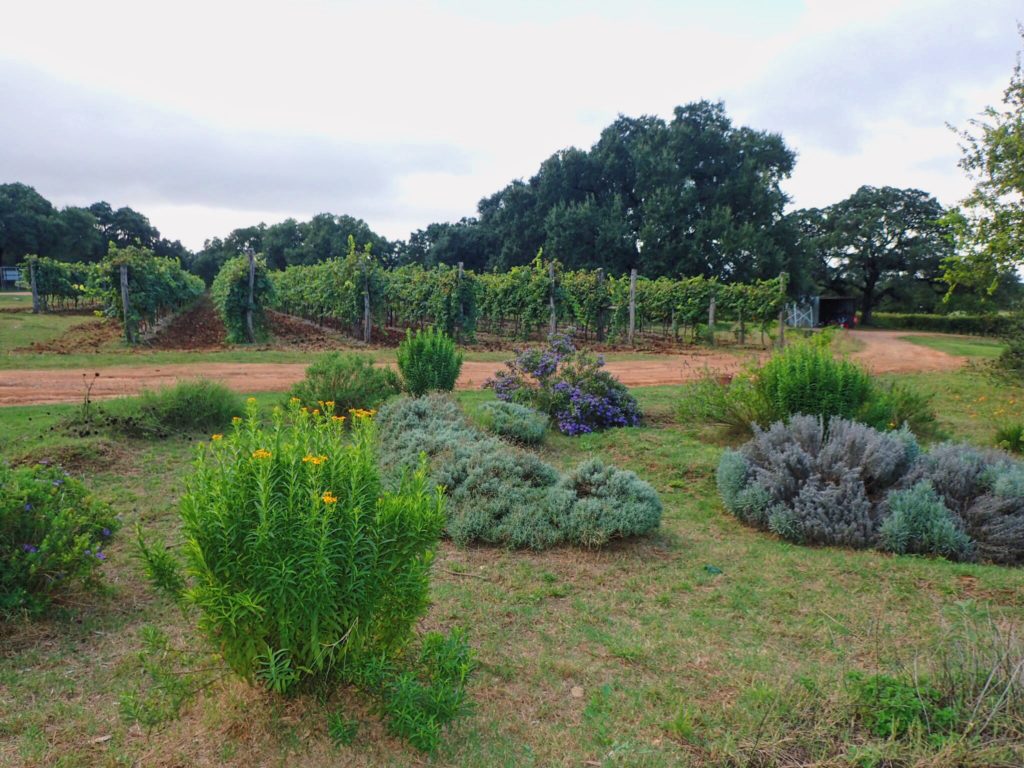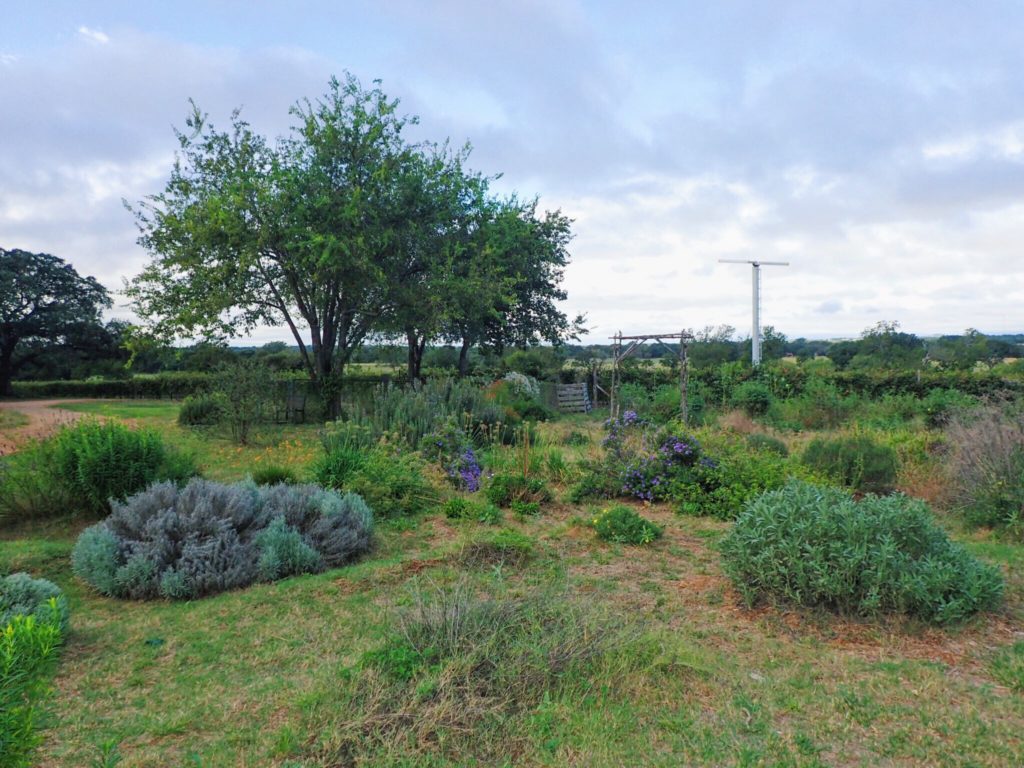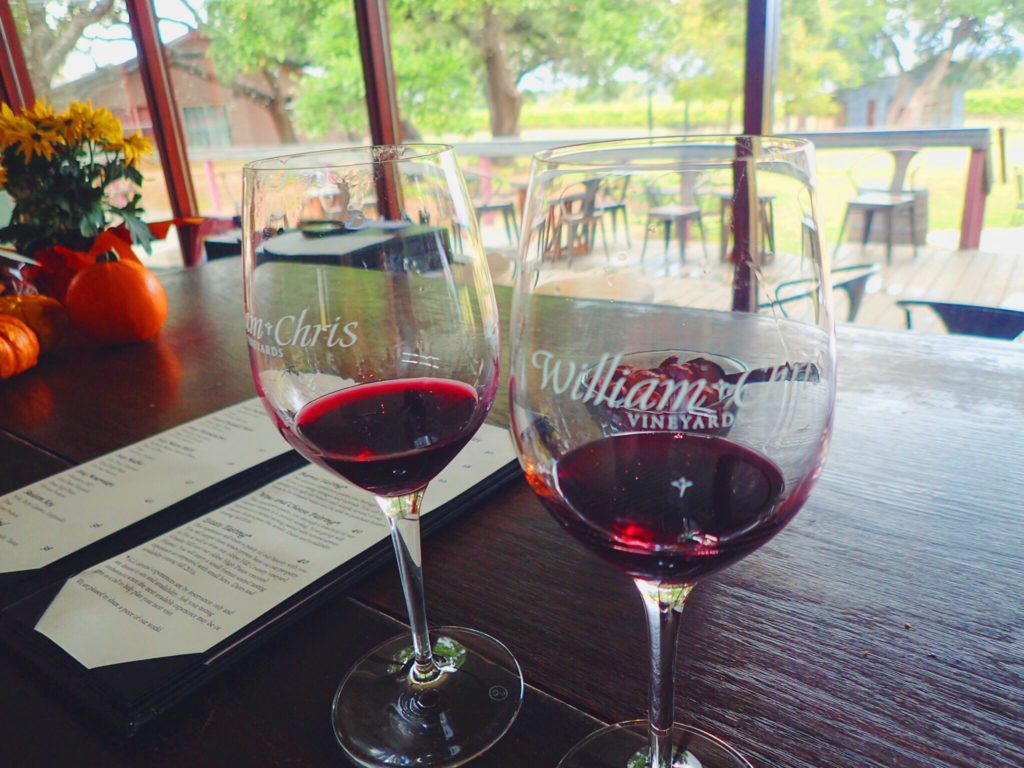 Not only did each of these wineries have a truly delicious selection of wines available for tasting, but I loved how diverse the vibe and scenery of each winery was. All four wineries had gorgeous views, whether those views were made up of rows upon rows of lush grape vines or beautiful old Texas oak trees swaying in the wind.
I REALLY enjoyed this tour for a number of reasons, but particularly because it took care of the issue of transportation. After sampling wines at four wineries Derek and I were both pretty tipsy, and it would *not* have been safe for either of us to drive. I'm really glad that were able to indulge in a way that was both safe and fun.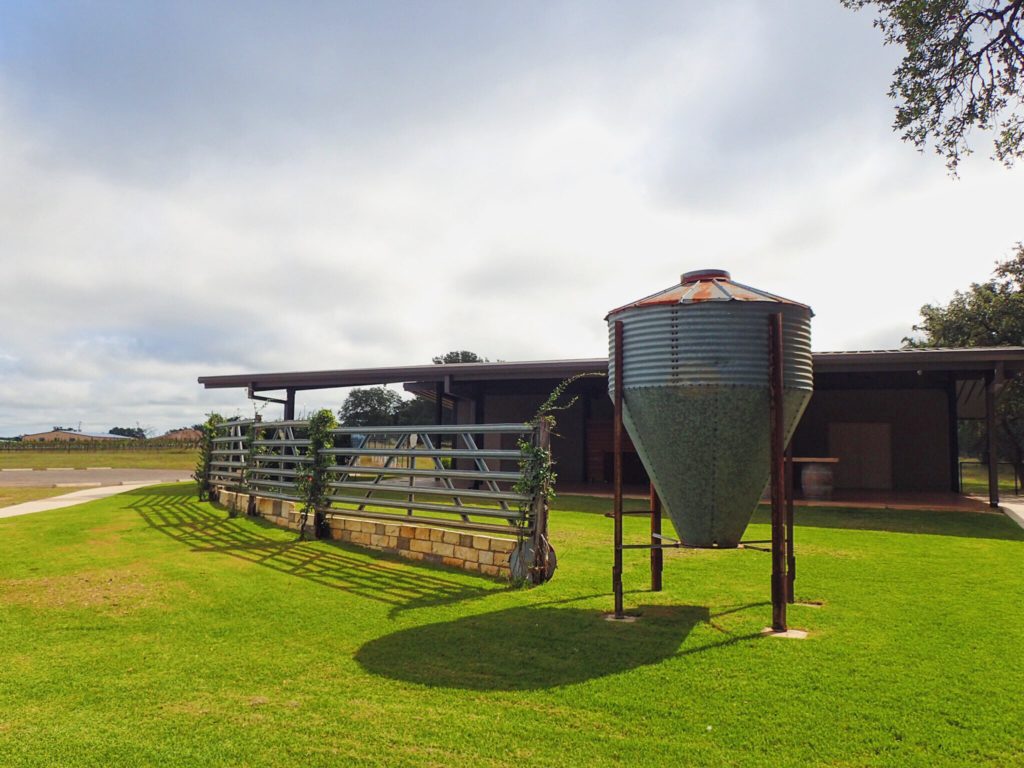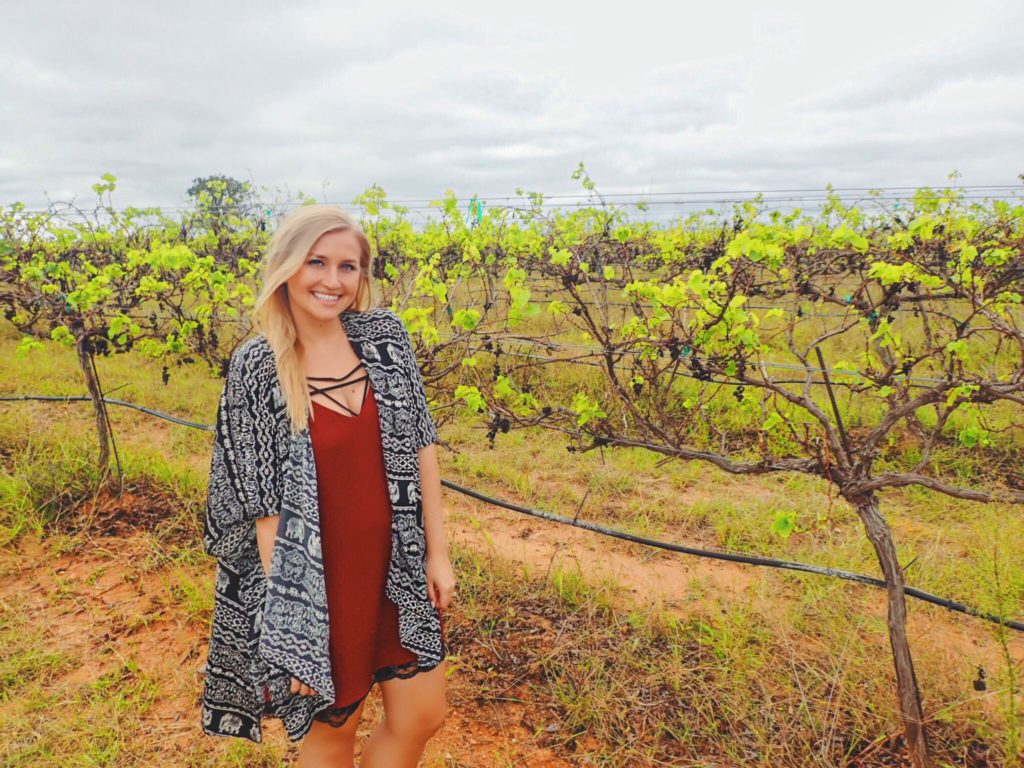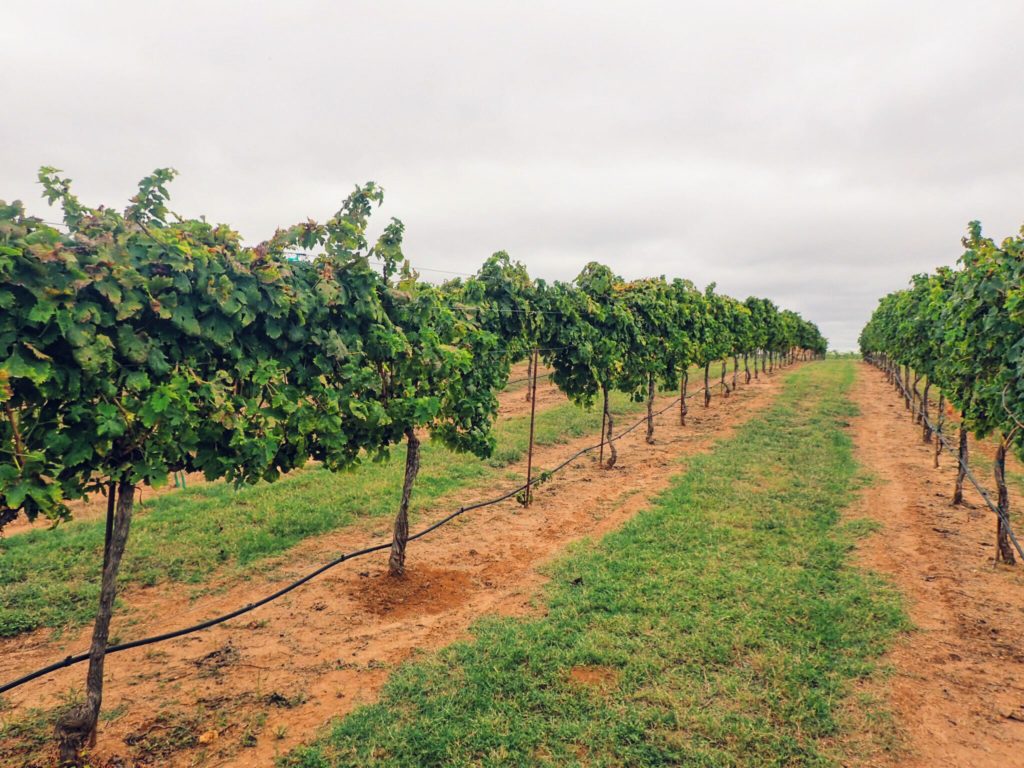 Additionally, while there are winery shuttles that follow a route between various wineries and town, I loved that this tour was personalized to our choices, and that we didn't have to spend too much time stuck on a bus, waiting for the shuttle to arrive at our stop.
While it only took us around 5 hours to visit 4 wineries–meaning plenty of daylight hours left after our tour–I highly recommend NOT planning anything too specific for the rest of your day following your wine tastings. Leave the rest of the day free to keep the party going, head home and take a nap, or indulge in some carb-rich foods as you see fit.
Day Two: Explore Main Street
After a full, luxurious day of indulging in whites, reds, and rosés, you may be wondering, "what now?"
Well, Fredericksburg makes it easy for you! The town has just one main street where all the hustle and bustle takes place, called…well, Main Street!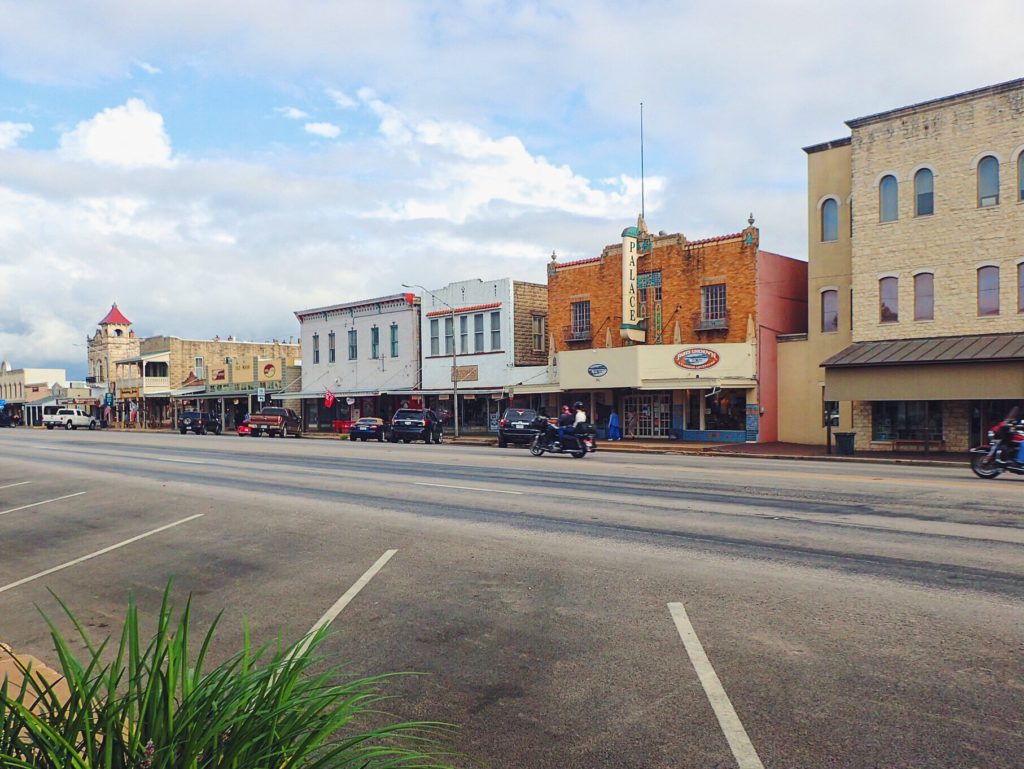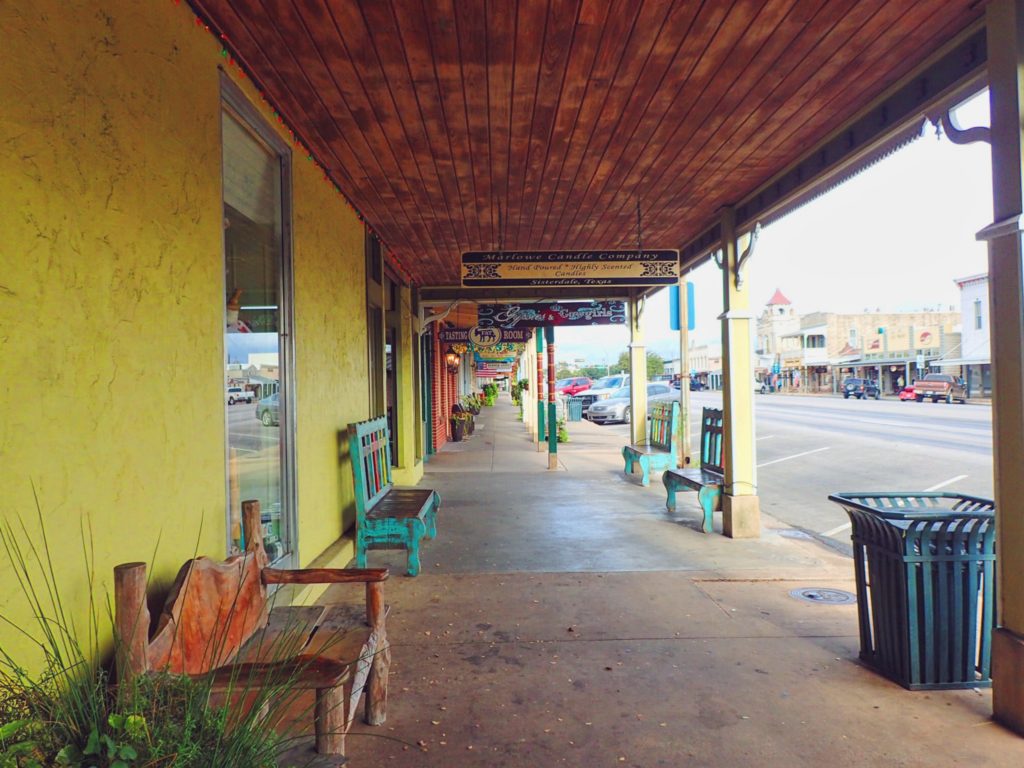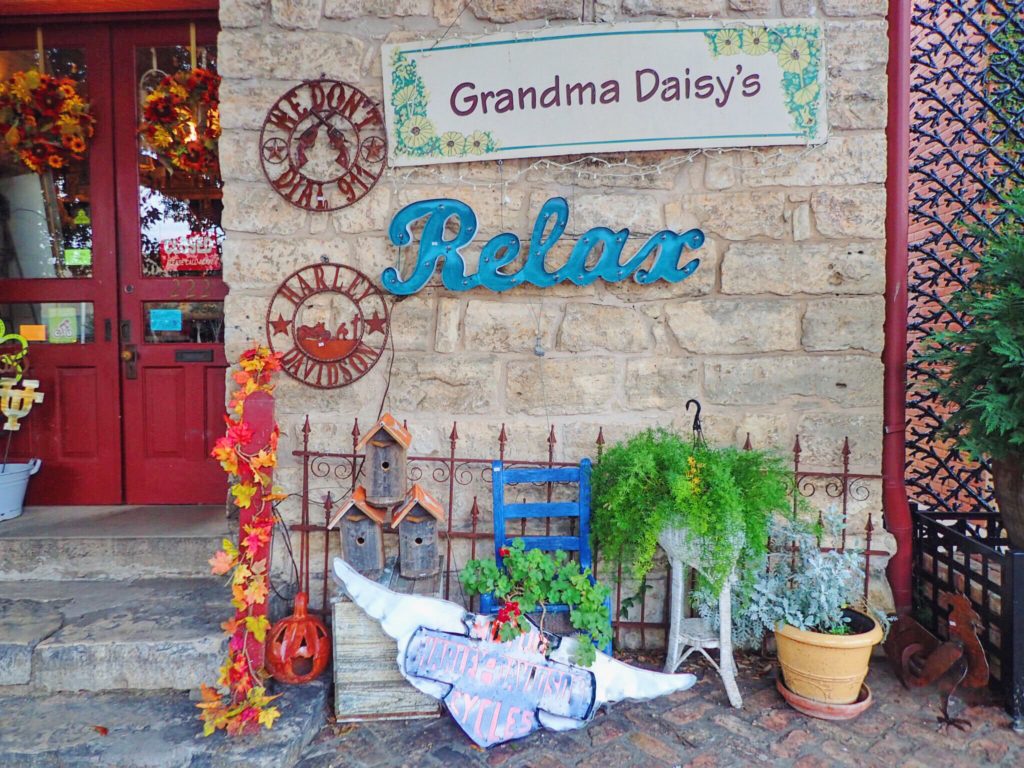 This cute and charming little street is lined with an abundance of shops, boutiques, cafes, restaurants, tasting rooms, biergartens, art galleries, candy shops, and more. You can (and should) easily spend a full day just roaming and soaking in all the scenery.
Start with a leisurely breakfast, do a bit of shopping, grab lunch, do some more shopping, enjoy some free snack or candy samples, pick up a to-go drink (yes, you can walk around with booze here! Just pop into any of the wine tasting shops or bars and ask for your drink to-go), wander around a bit more, sit down for some dinner, and end the evening with a bit of live music at a chilled-out outdoor bar.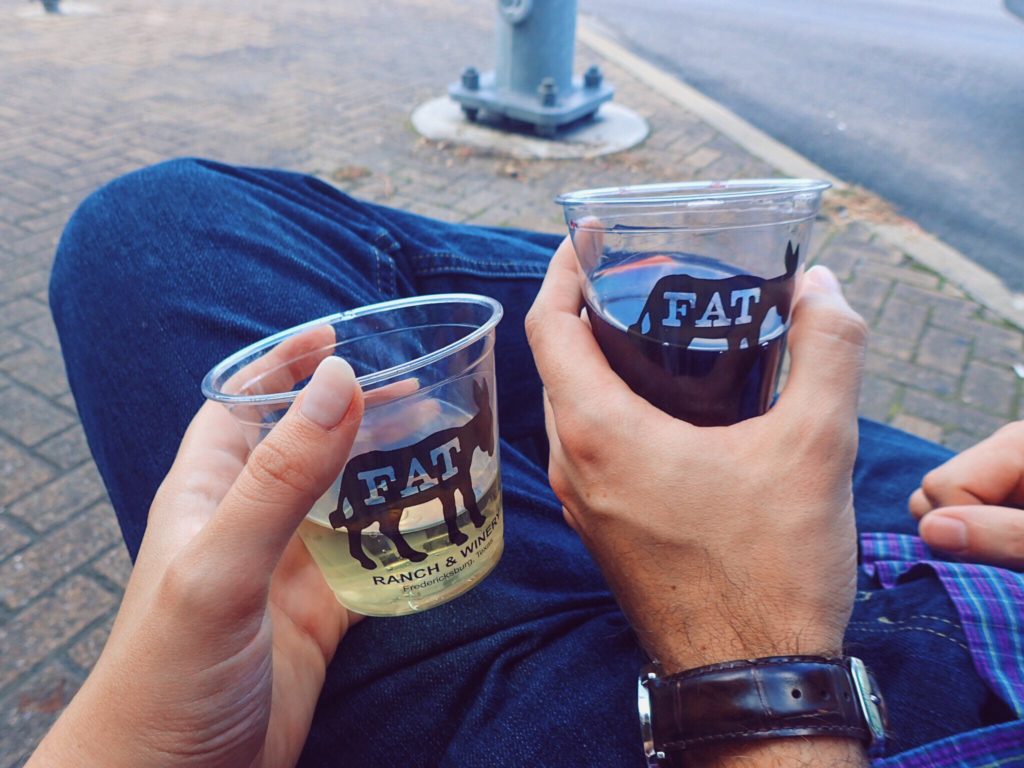 What a life of leisure they live out here in the Hill County, eh? Here were some of our favorite shops and restaurants along Fredericksburg's Main Street:
Rustlin Rob's
For someone as snack-crazed as me, this store was Heaven. On. Earth.
We meandered in with little idea what to expect, but then a selection of samples in the corner caught my eye. Not one to ever pass up free samples, I began wandering over to indulge, when I saw a different selection of samples across the store. And another. And another.
The whole store was samples.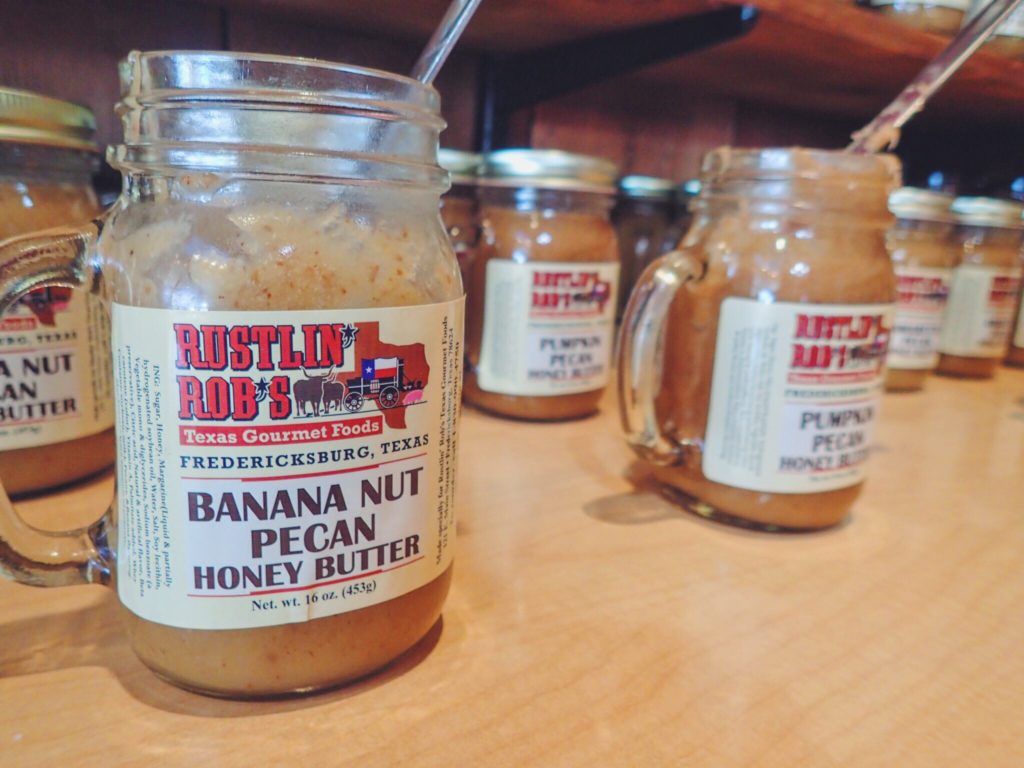 Literally the entire store was lined with shelves and tables of free samples, ranging from pickles and stuffed olives to pepper jellies, honey butters, preserves, salsas, and dips. Every few feet, there was a plastic tupperware filled with crackers, surrounded by an assortment of tasty samples.
We're talking…
Maple pecan honey butter
Pumpkin pecan butter
Prickly pear cactus jelly
Chocolate raspberry peanut butter
Blackberry jalapeno jelly
Strawberry habanero jelly
Hot pepper bacon jam
Onion blossom horseradish dip
Garlic stuffed olives
So. Freaking. Amazing.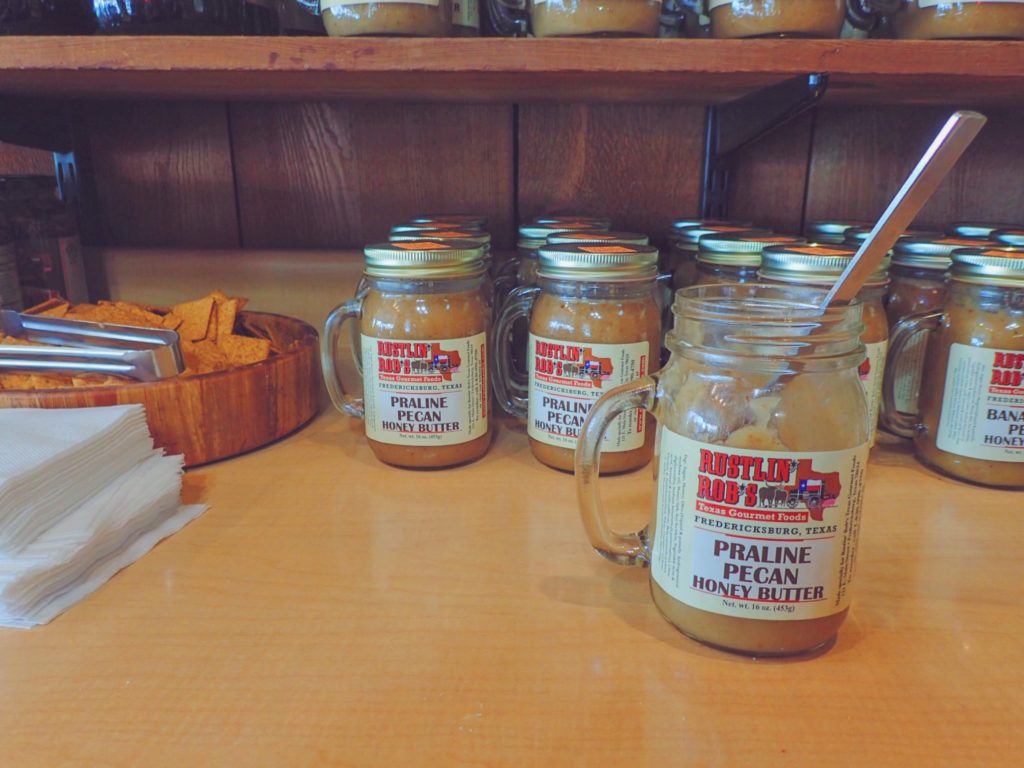 Derek's favorites were the sweet fruit preserves and the Banana Nut Pecan Honey Butter. My favorites were the spicy pepper jellies spread across a block of cream cheese (an old-school Southern appetizer that I am allll about).
The Christmas Store
Leave it to a charming little town like Fredericksburg to have an entire store that's dedicated to Christmastime year-round (because it's never too early to start shopping for more Texas-themed ornaments, y'all!).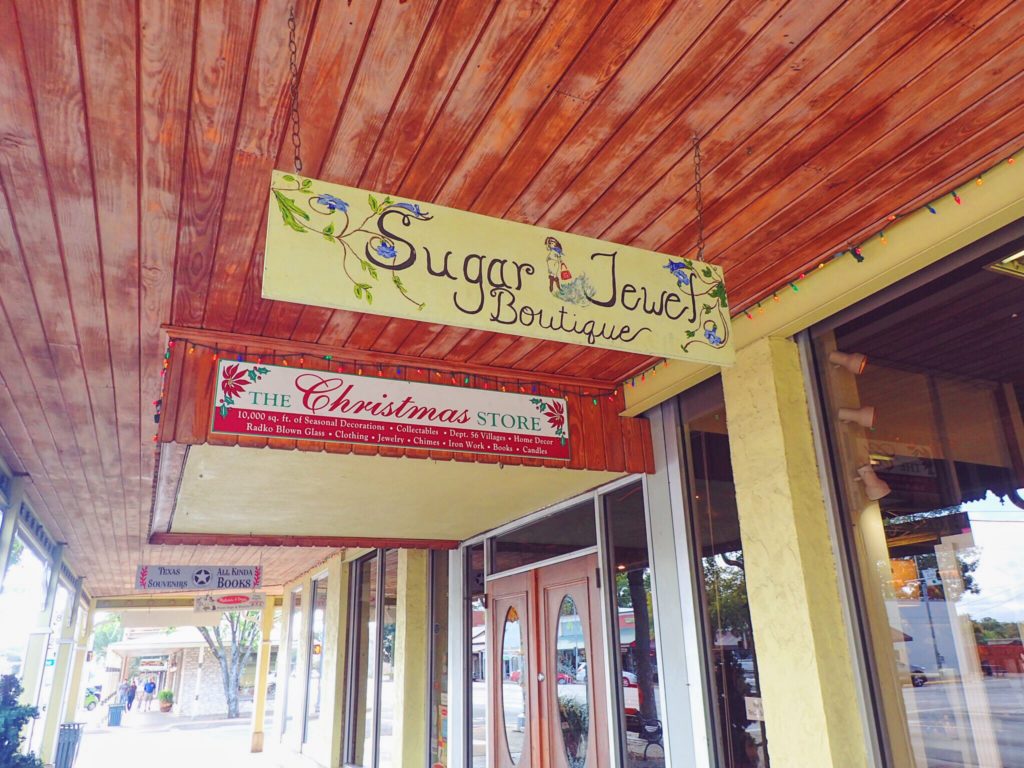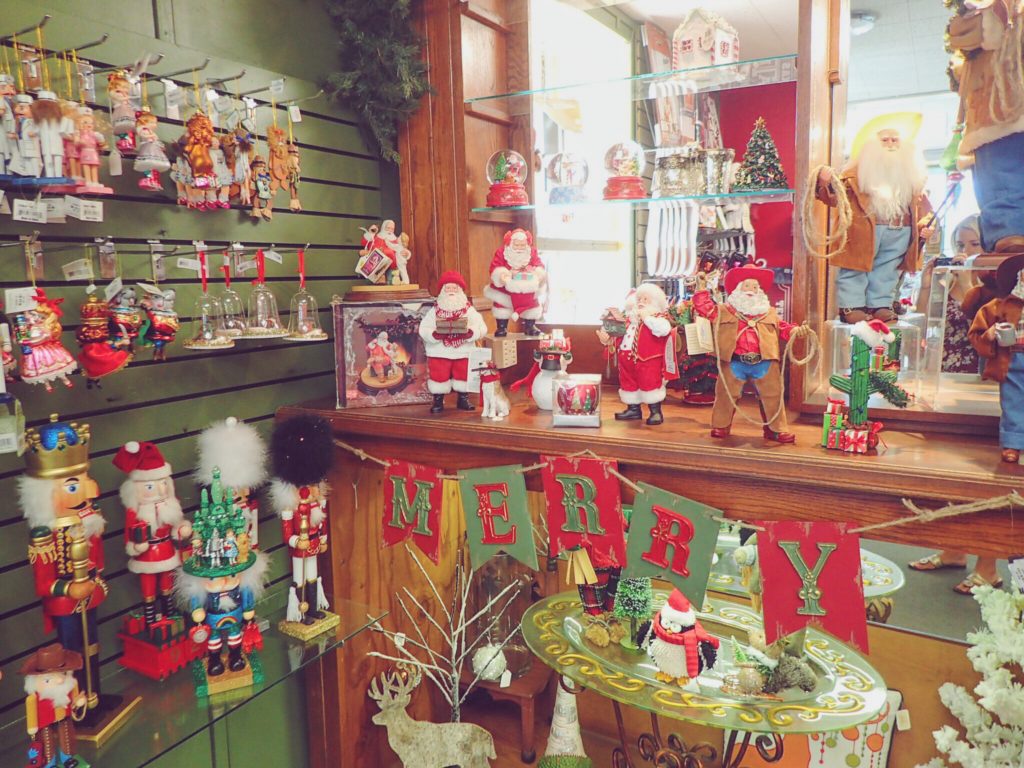 Lone Star Candy Bar
This fun little candy shop is stocked with old-school favorites like homemade fudge (more than 40 flavors, to be exact), saltwater taffy, and Jelly Bellys. They also have a fun selection of chocolate-dipped items, including chocolate-dipped pickles, bacon, jalapenos, and Twinkies.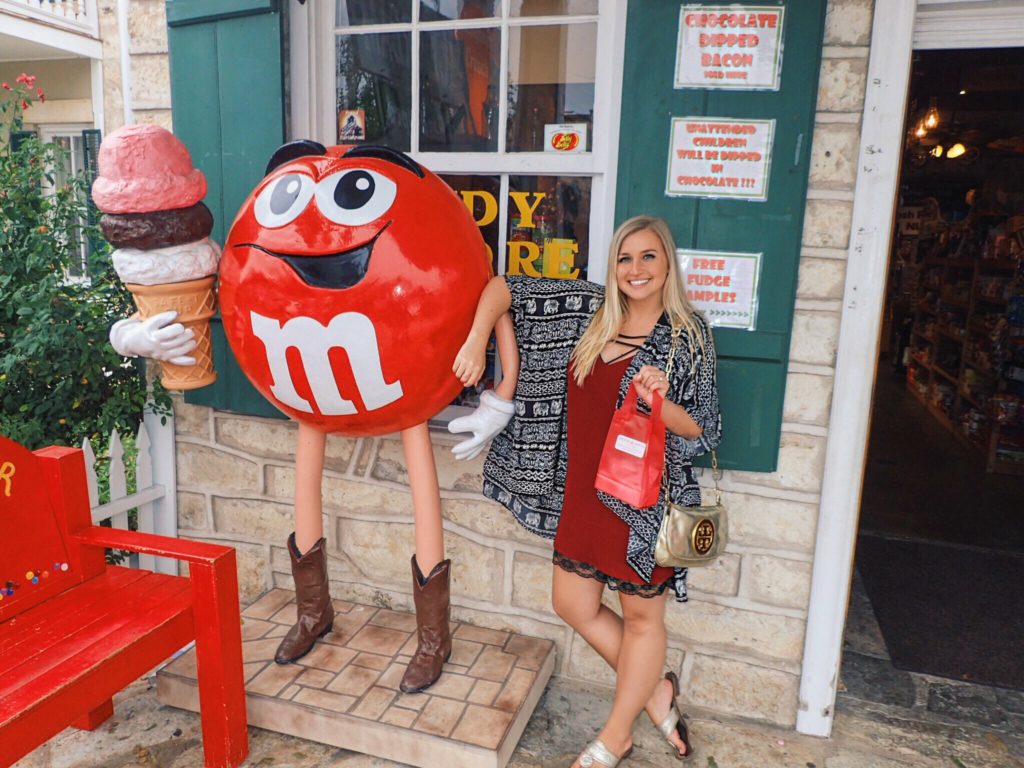 I wasn't brave enough to indulge in the more adventurous items, but I did sample a few flavors of fudge, and ended up purchasing a square of chocolate fudge and a square of peanut butter fudge.
Altdorf Biergarten and/or Ausländer Restaurant and Biergarten
Thanks to Fredericksburg's strong ties to traditional German culture, the town has a number of popular biergartens where you can enjoy German classics like schnitzel, bratwurst, and a pint of Hofbrau Original.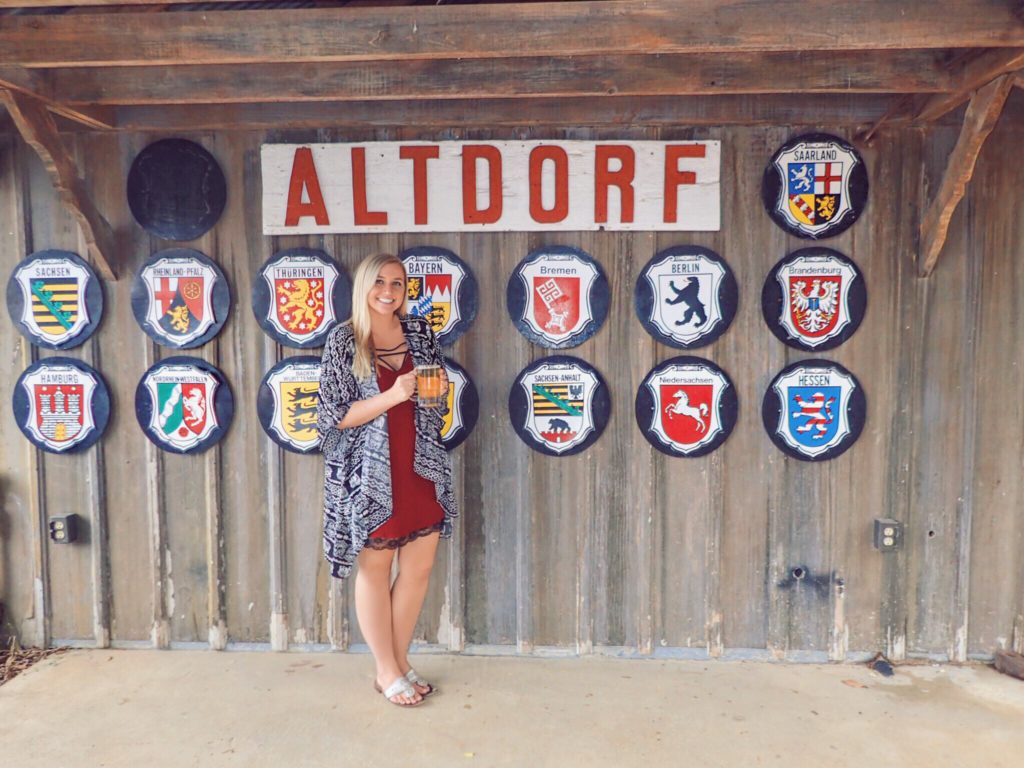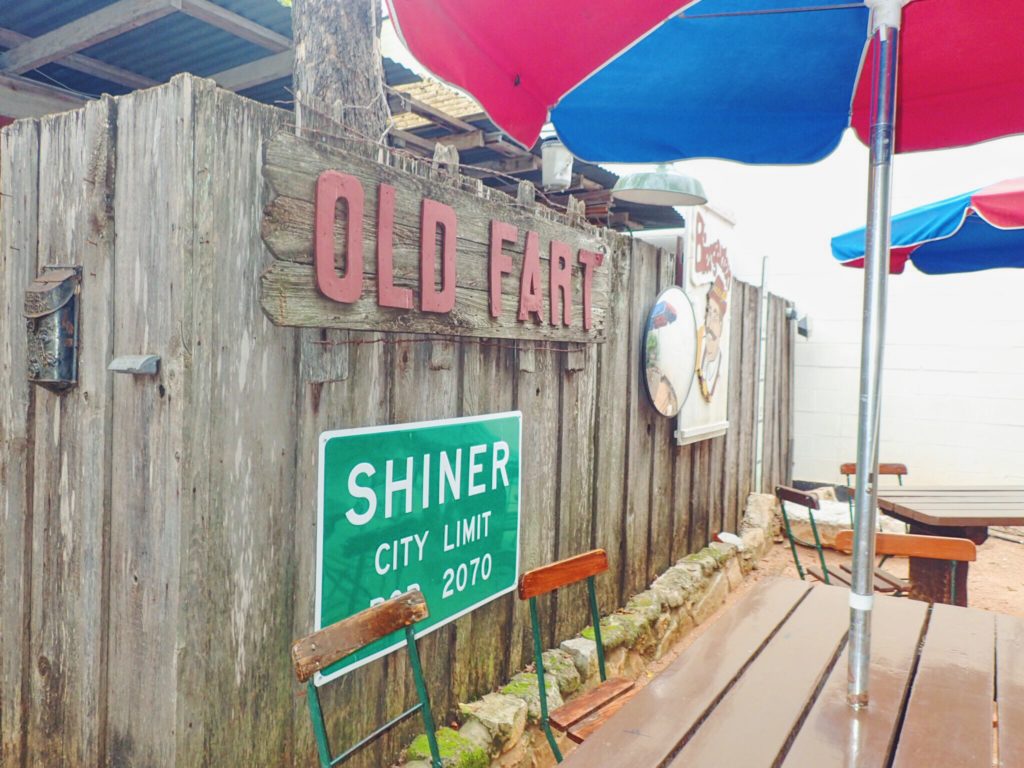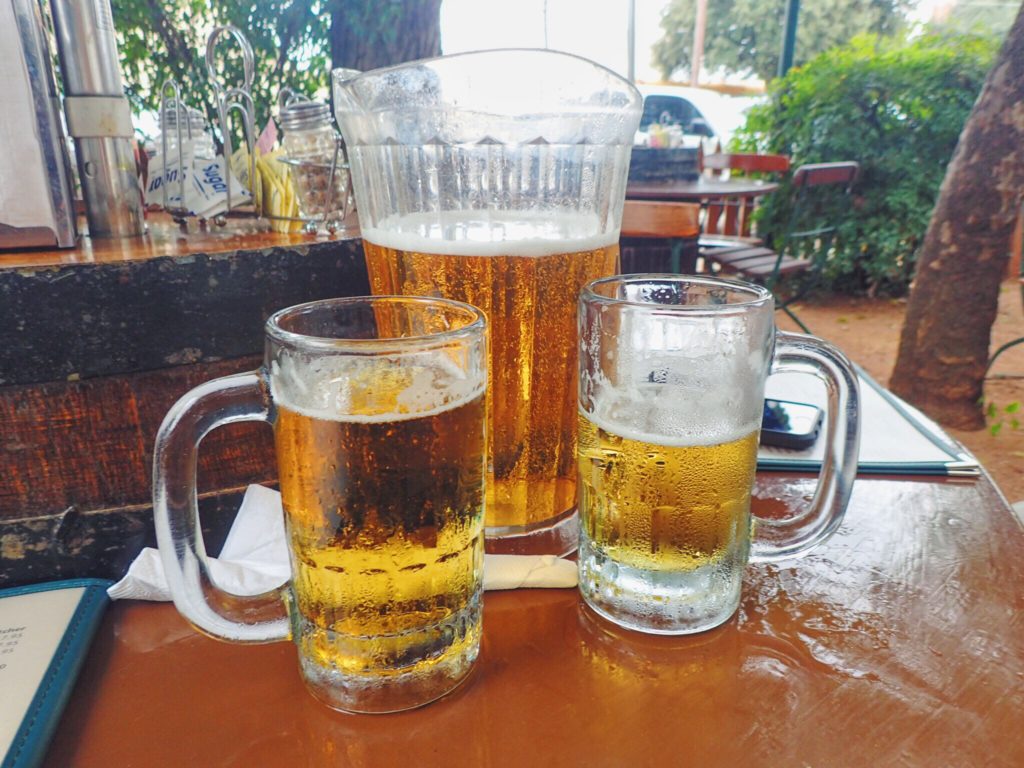 We ordered drinks at both Altdorf Biergarten and Ausländer Biergarten during our stay, although we didn't try the food at either restaurant.
Altdorf had a lovely fully-outdoor biergarten with plenty of tables and fun German decor, while Ausländer's biergarten was partially covered and felt a bit more crowded. But if you've got the time, I recommend stopping by both!
Clear River Ice Cream, Deli and Bakery Shop
This retro-style ice cream shop has hands down some of the yummiest ice cream I've ever tasted (and I've tasted a LOT of ice cream!). All of their ice cream is homemade in small batches, and is so ridiculously creamy and satisfying.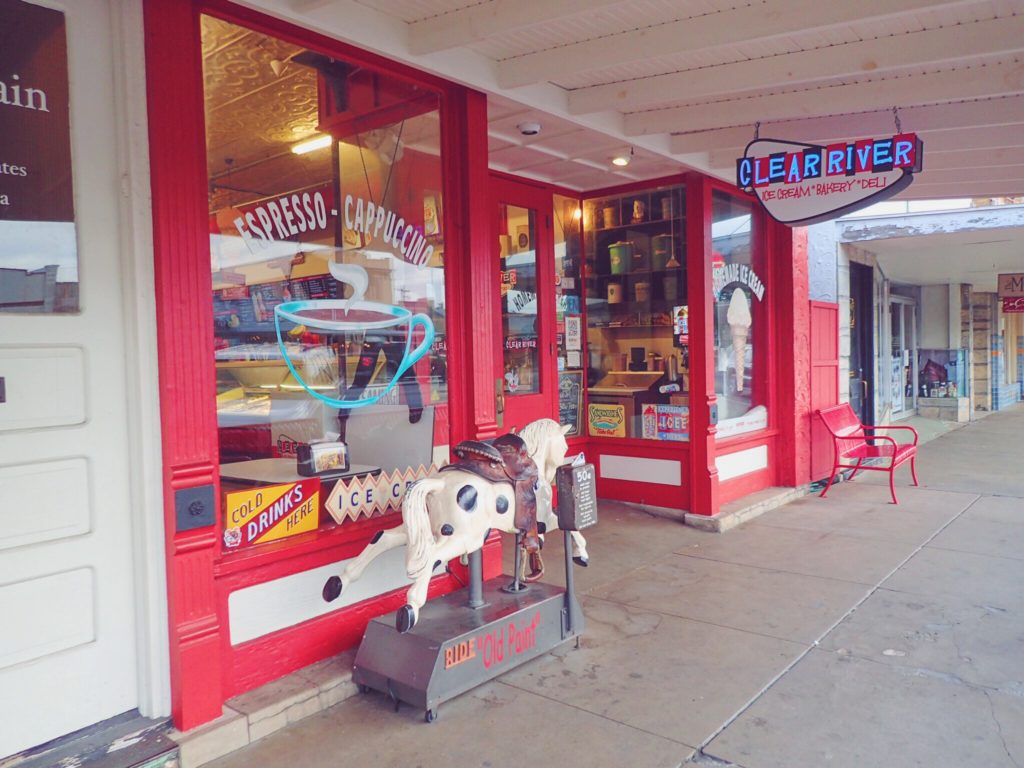 Also, they had Cookies n Mint ice cream which is my FAVORITE flavor ever. Seriously, why do more places not serve this?! Oreo cookies + mint ice cream = heaven on earth.
A note on Fredericksburg's food scene
Before visiting Fredericksburg, I had read a lot of hype online about what a great place it is for "wining and dining." I'll give them the "wine" bit with no questions asked, but I've got an issue with the "dining" part.
We had five meals in Fredericksburg, and I would label all of them as "just okay." Maybe it's because we're used to dining in Houston all the time (which is considered one of the top "food cities" in the U.S.), but we just weren't blown away by any of our meals and felt pretty lukewarm about Fredericksburg's whole food scene.
Here's where we dined in Fredericksburg, and what we thought of each location:
Burger Burger: Honestly, this place serves a damn delicious burger. Their menu is classic American with an assortment of burgers, fries, and shakes, and while it wasn't necessarily mindblowing, it was by far our favorite meal in Fredericksburg.
Vaudeville: Ranked as Fredericksburg's #1 restaurant on TripAdvisor, we thought that this place really under-delivered for the price. For $75 we ordered some thin crust pizza, one appetizer, and two drinks. It was all good, but we've definitely had very similar meals for a much lower cost.
Pasta Bella: Decent Italian food; again, nothing mind-blowing.
Rathskeller: Average eggs benedict…but, I mean, I really love eggs benedict, so it was all good.
Java Ranch: Really good coffee, really okay breakfast.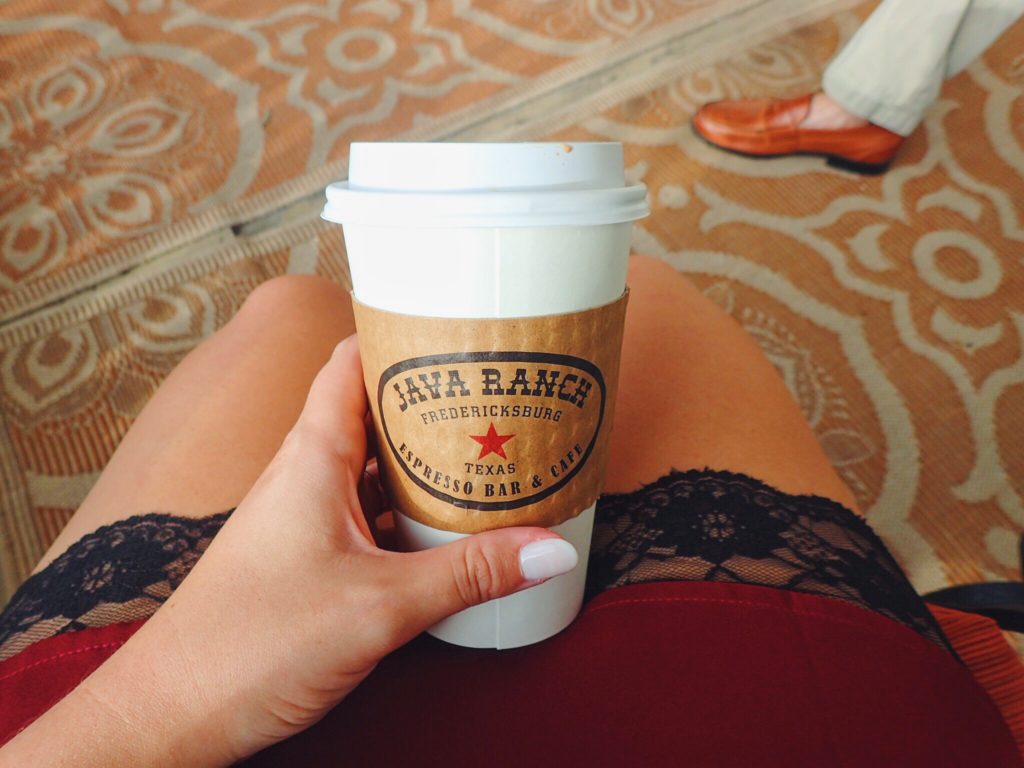 Derek and I are both huge foodies and food is always a big part of our travel experiences, but considering that this was Fredericksburg's only weak point (at least for us) we'd both still give Fredericksburg a gold star of approval as a travel destination.
(Plus, between an entire store stocked with free samples, multiple squares of decadent fudge, and the smoothest, creamiest ice cream we've ever had, how can we complain?!)
---
Pin It!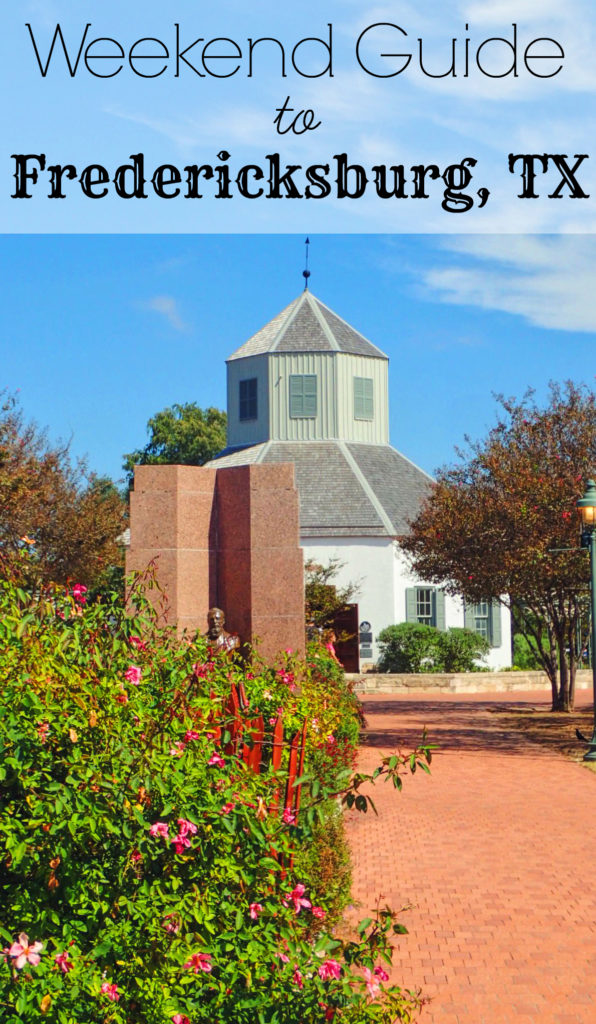 ---
Have you ever heard of Fredericksburg, Texas? Would you want to go here? If you've been to Fredericksburg, what did you think of the food scene/where else should we have eaten?! I'm dying to know!
---
Let's Connect!