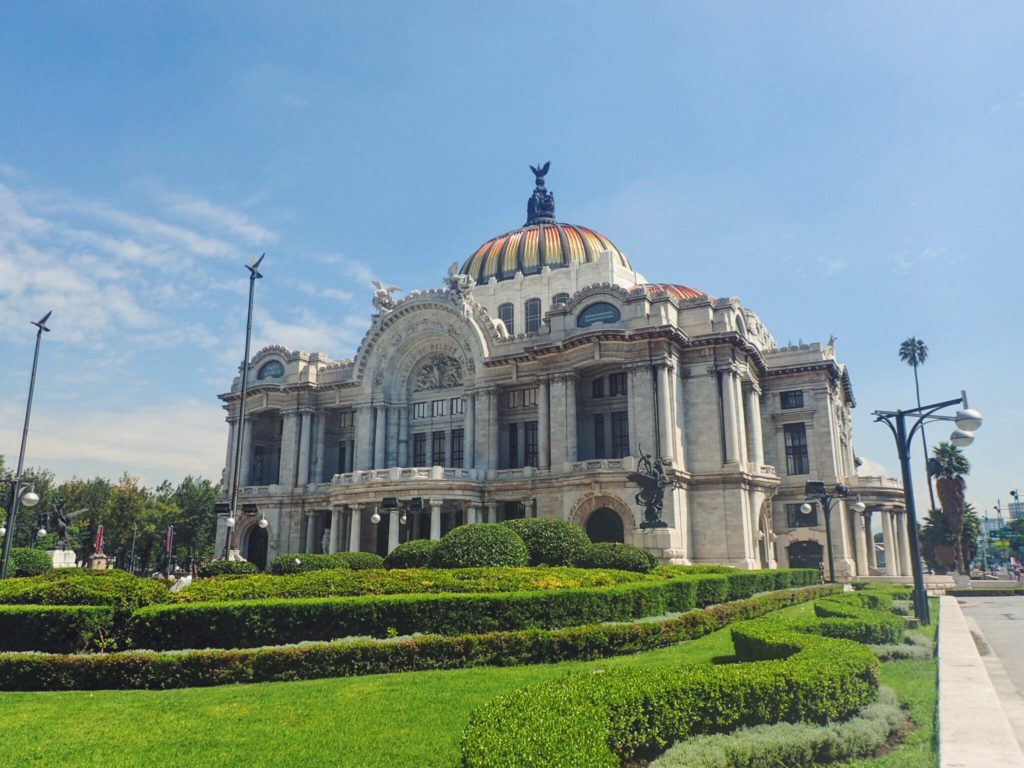 This guide is Part Two of a "Two Days in Mexico City" itinerary. See Part One here: "La Condesa, Roma & Chapultepec Park: One Perfect Day in Mexico City."
---
I know, I know…when am I going to shut up about Mexico City?
Honest answer? Probably never! I was so genuinely impressed with Mexico City's culture, food, museums, art, history, architecture, AND dirt cheap costs, that I'll probably spend the next year or so looking for ways to bring up the topic of Mexico City travel whenever I can.
"…Oh, did you say your favorite color was blue? Did I ever tell you about Frida Kahlo's cobalt blue house in Coyoacán…?!"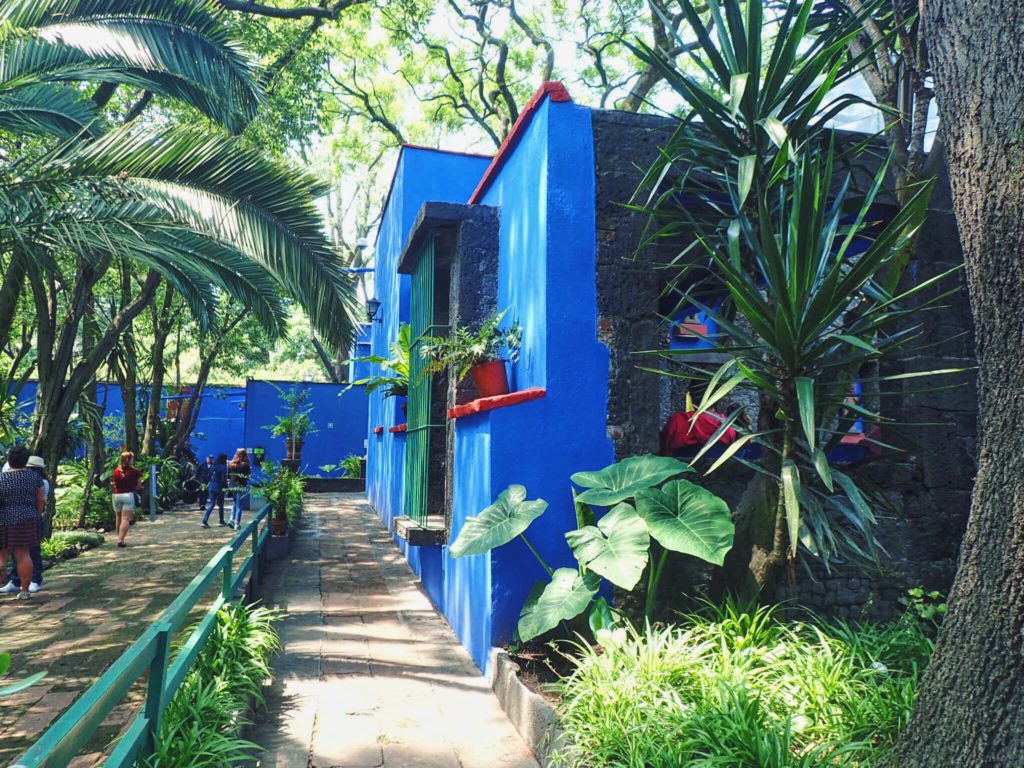 Anyways, today I'm following up on my promise to deliver a "Part Two" of my "Two Days in Mexico City" itinerary suggestions. While La Condesa, Roma, and Chapultepec are by far my favorite neighborhoods and regions in Mexico City, you'd be doing yourself a HUGE disservice by not visiting the city's Centro Historico, i.e. the historic center.
After all, the Centro Historico is the original heart and soul of Mexico City and is a designated UNESCO World Heritage Site.
The best part? All of these sites are located within less than 1 mile of each other! Yay for walkability in big cities!
Torre Latinoamericana
It's hard to get a true feel for the size and scale of Mexico City until you see it from above, and that's exactly how you should start off your jaunt around the Centro Historico.
The Torre Latinoamericana opens at 9am, and it costs 80 pesos to take the elevator (plus some stairs) to the mirador located at the top of the tower.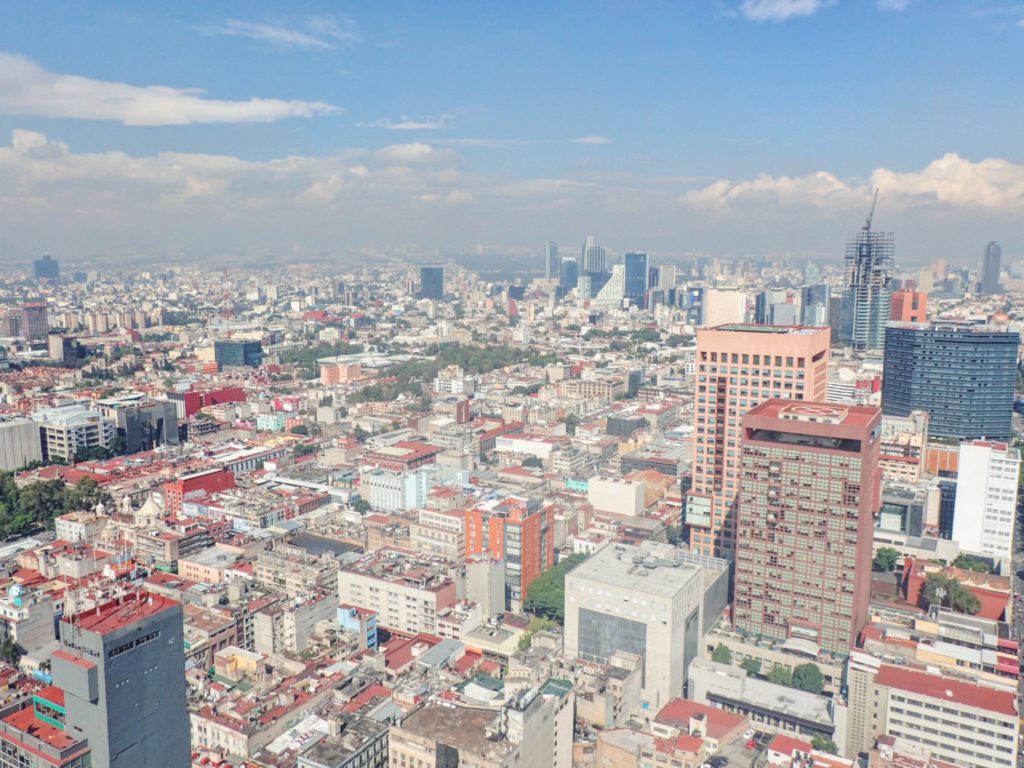 I recommend visiting the tower as close to 9am as you can…and not just to beat the crowds! Mexico City has a HUGE problem with air pollution, and the smog can put a real damper on those skyline views. The views are clearest in the morning, but as you can see from my photos, there was still some definite haziness even when we visited around 9:30am.
When you get off the elevator, you'll have the option to look around on the enclosed 42nd and 43th floors, but I recommend going straight to the terrace on the 44th floor for the best views and a refreshing breeze.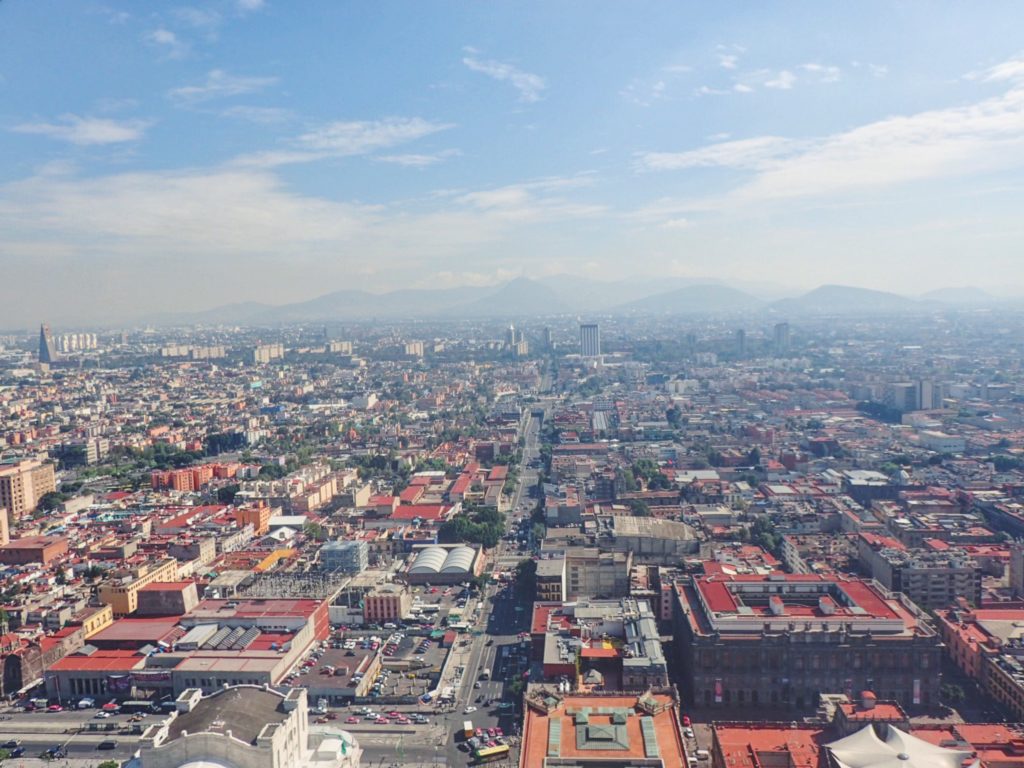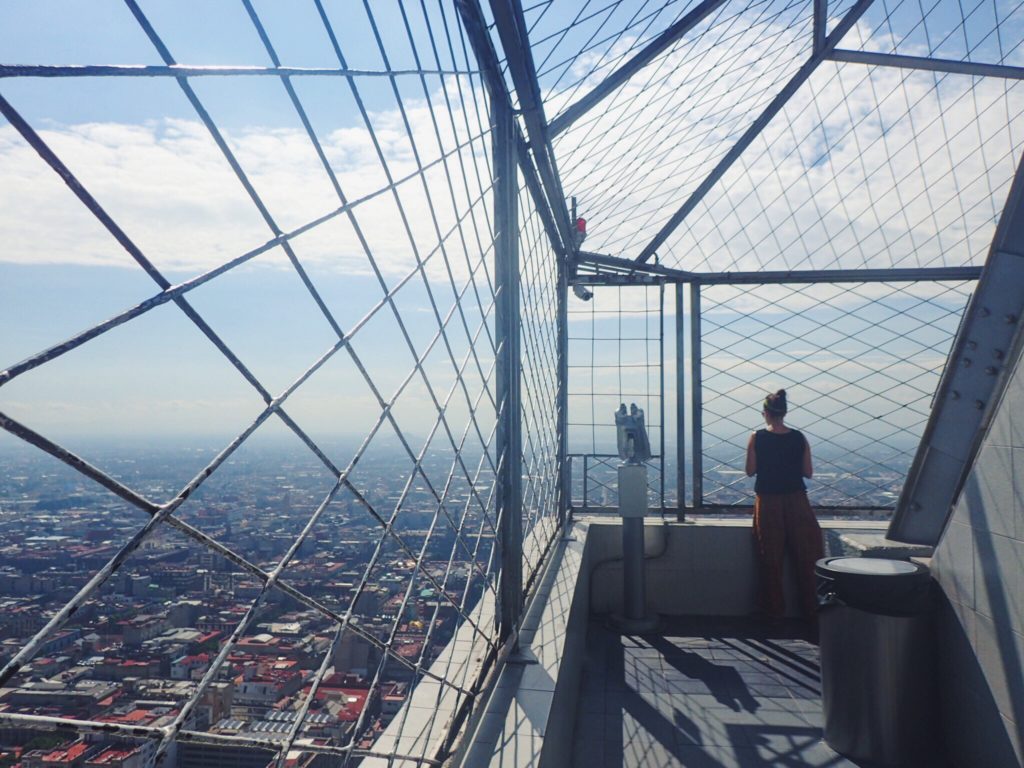 Palacio de Bellas Artes
While looking north from the Torre Latinoamericana, you'll spot an elegant white building to the right of a rectangular green park. This building is the Palacio de Bellas Artes, or the Palace of Fine Arts.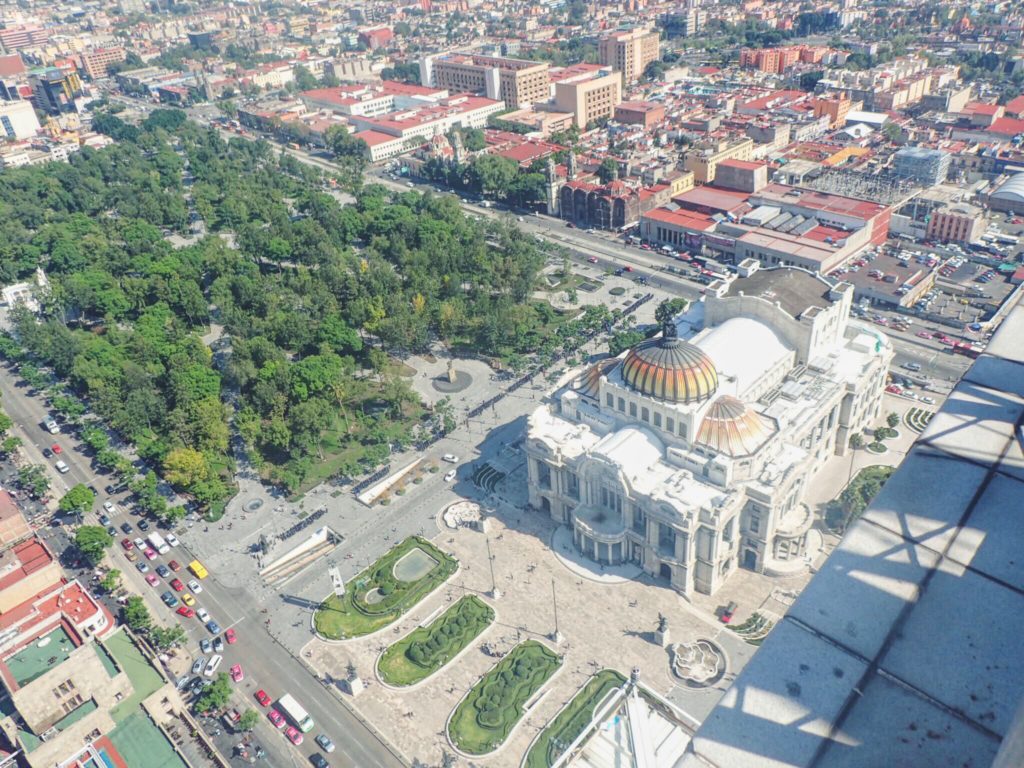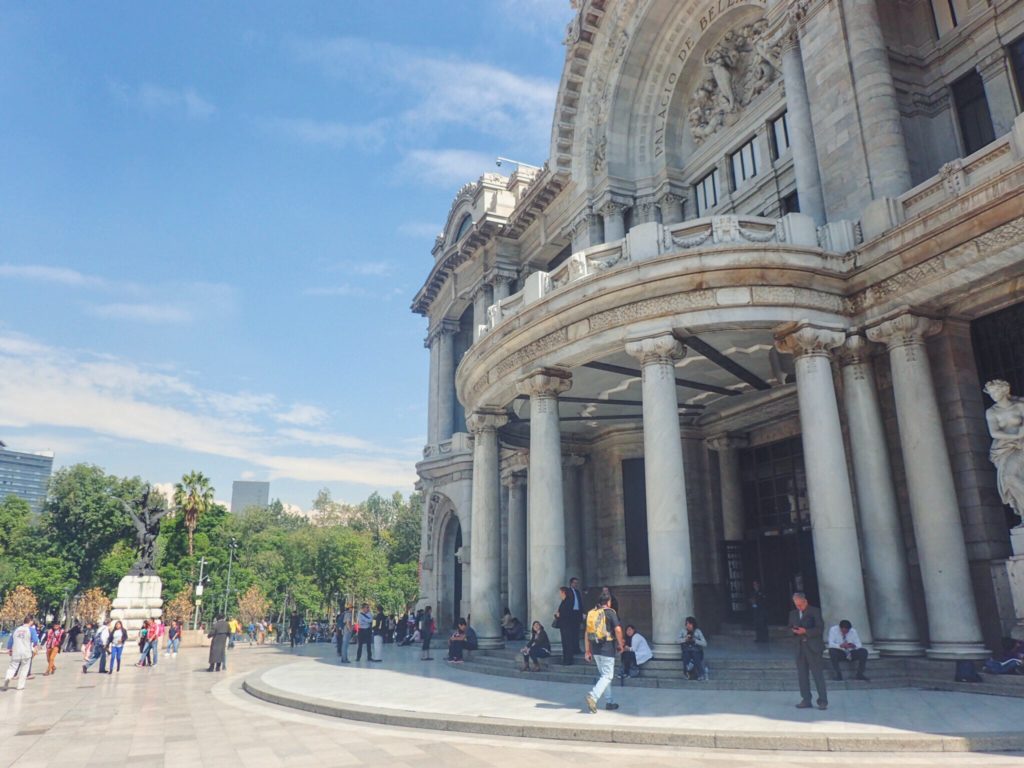 This fine arts museum houses works by some of Mexico's most prominent artists, including Diego Rivera. It's 49 pesos to look around inside the museum, but even if you opt not to check out the artwork, I highly recommend taking some time to admire the impressive exterior.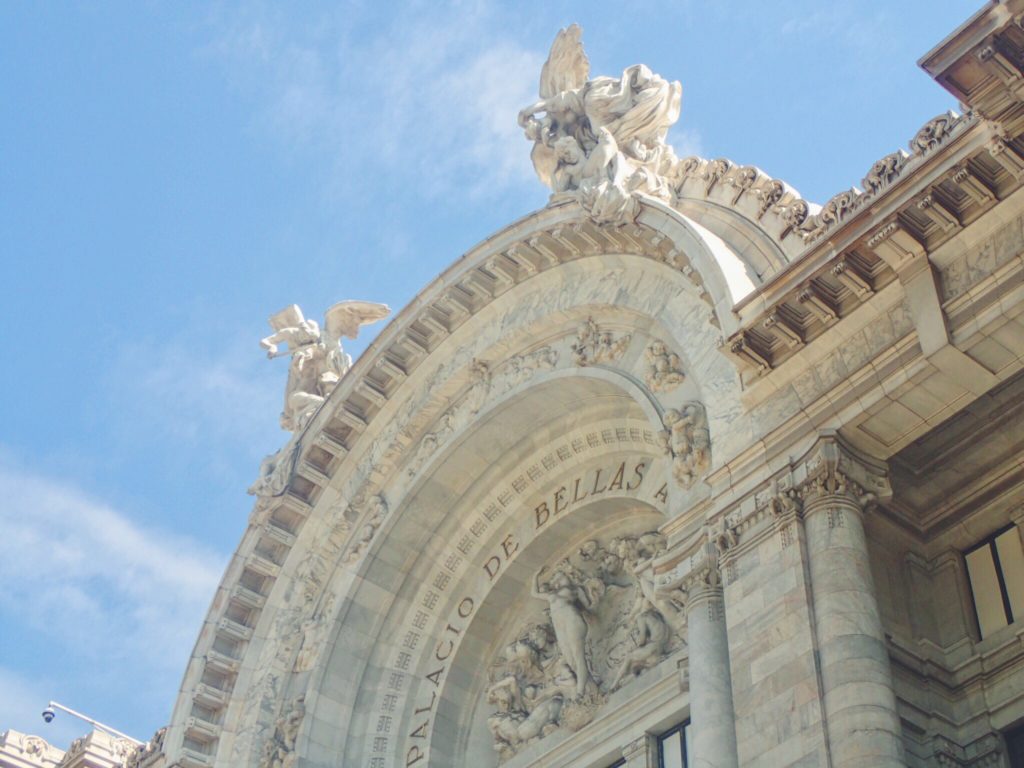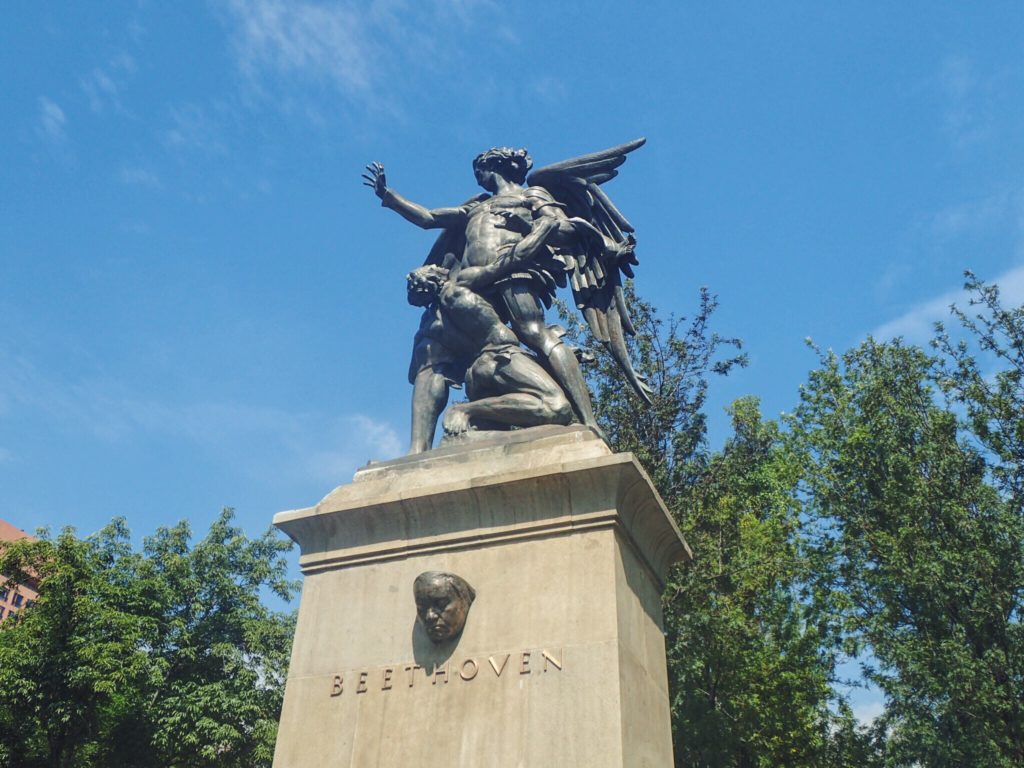 Alameda Park
Remember that pretty green park located next-door to the Palace of Fine Arts? That's Alameda Park, which has been gracing Mexico City with its beauty since the late 1500's.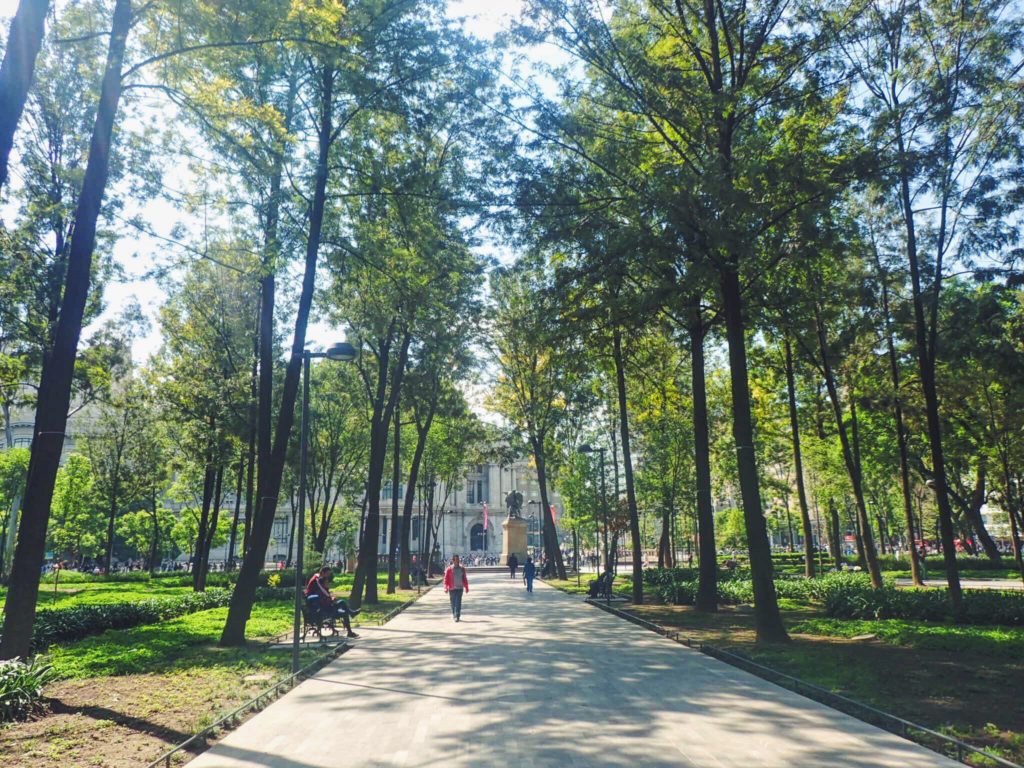 It's more polished, contained, and well-manicured than the lush, sprawling parks you'll see in La Condesa and Roma, but it fits well with the sophisticated Centro Historico architecture.
The wide walking paths, benches, fountains, and sculptures sprinkled around Alameda just may have you second-guessing whether you've actually ended up in Paris, not Mexico City!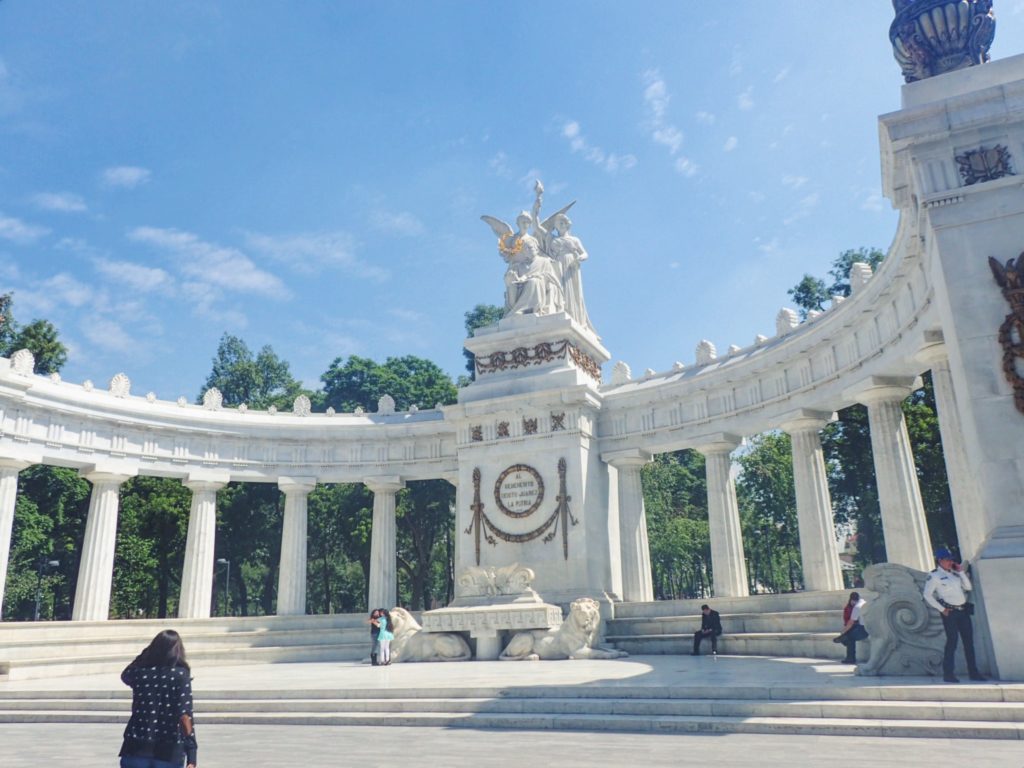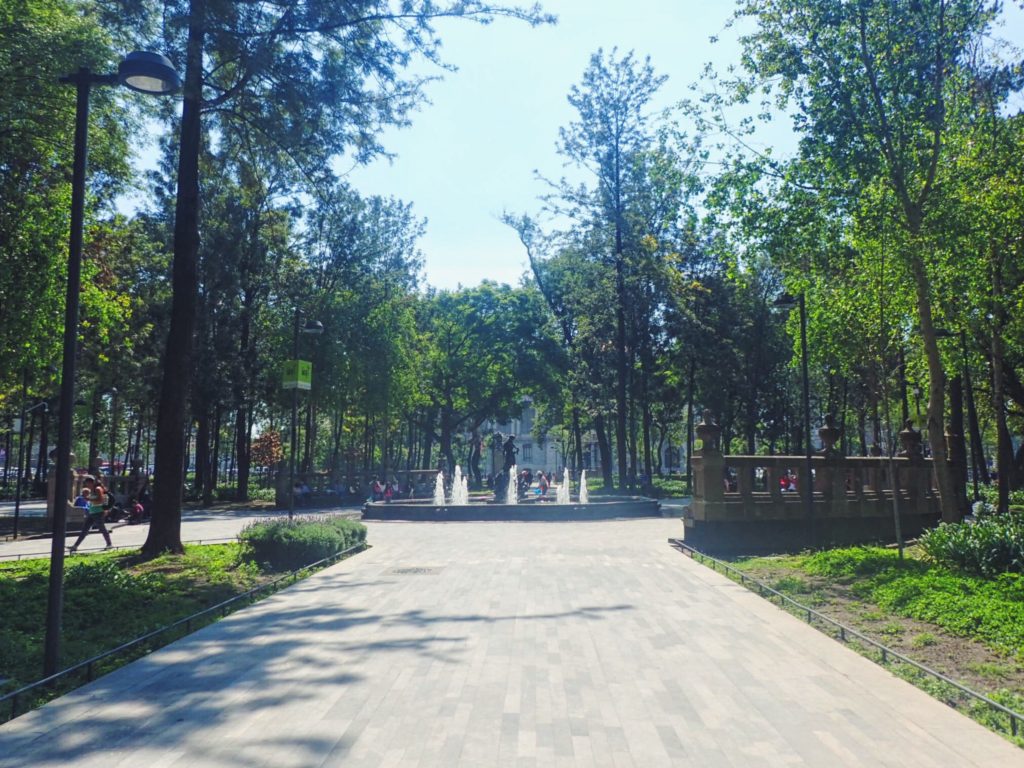 Casa de los Azulejos
After admiring the Palace of Fine Arts and strolling around Alameda, head back towards the Torre Latinoamericana and walk east down either Av. Juarez or Av. 5 de Mayo. Here, you'll find the stunning Casa de los Azulejos, or "House of Tiles."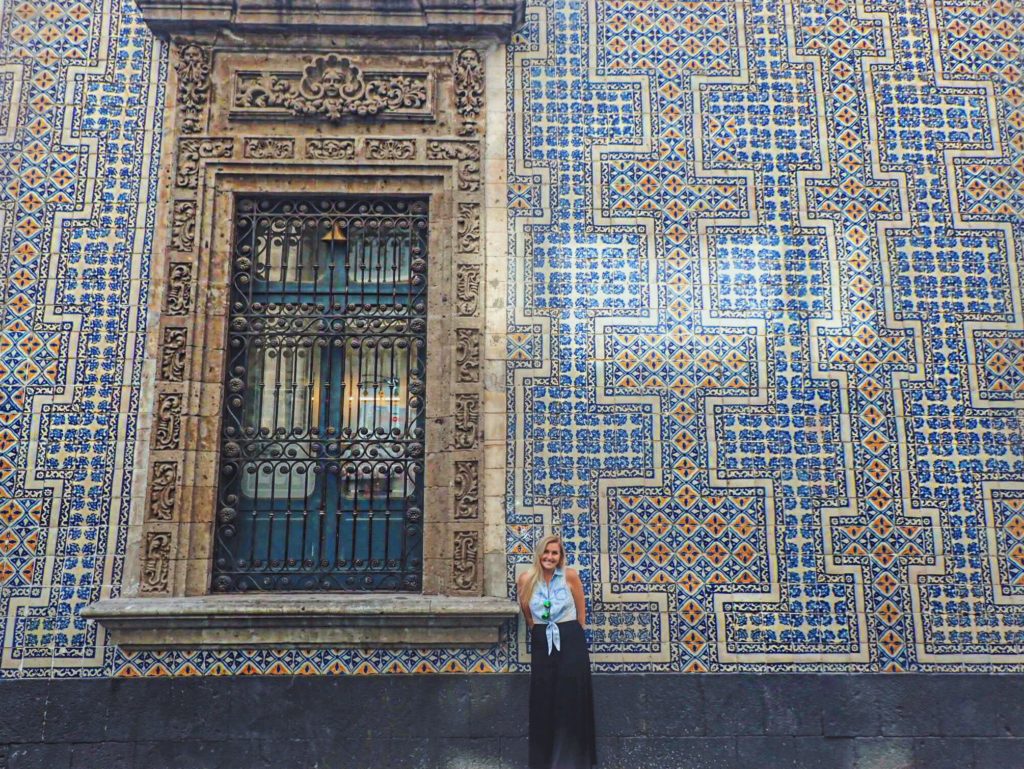 This gorgeous 18th century palace is covered in pretty blue and white tiles from the Mexican state of Puebla. While the building once housed a prominent Mexican family, the inside now houses a restaurant, and is a popular spot for breakfast. Go figure!
Continue walking east towards the Zocalo, Mexico City's main square.
There's plenty of gorgeous architecture to be seen along your walk from the House of Tiles to the Zocalo, so soak it all in! In fact, it was along this very walk that Derek commented to me that the architecture in the Centro Historico reminded him of the buildings he had seen in Milan, Italy.
Not too shabby, Mexico City!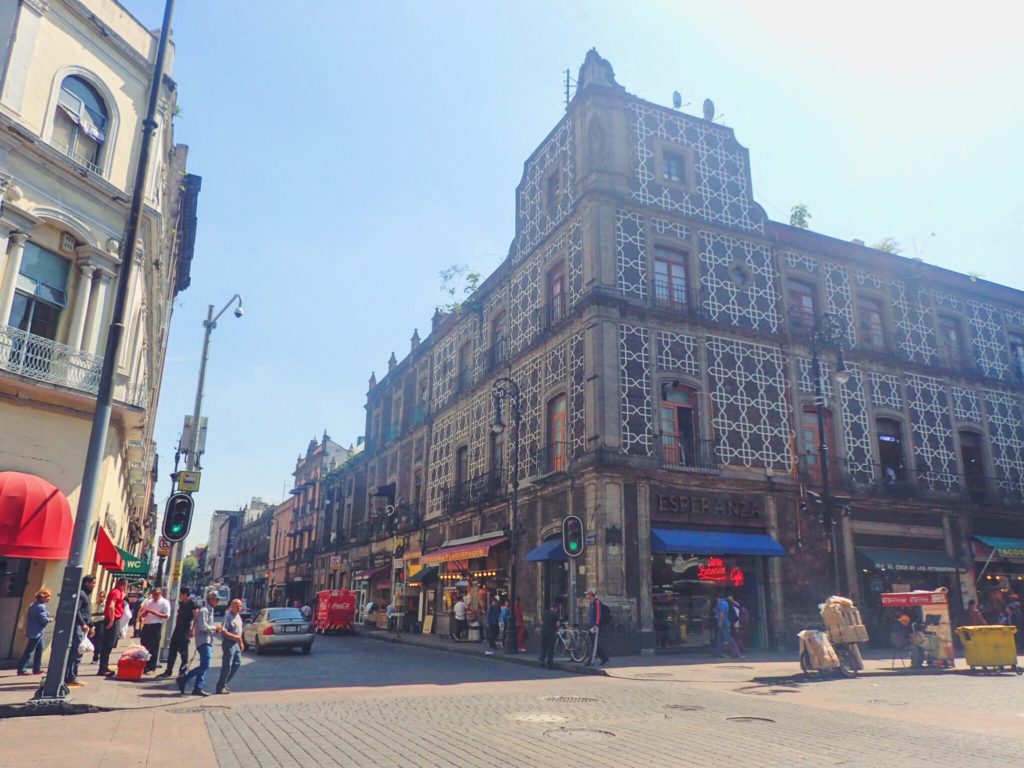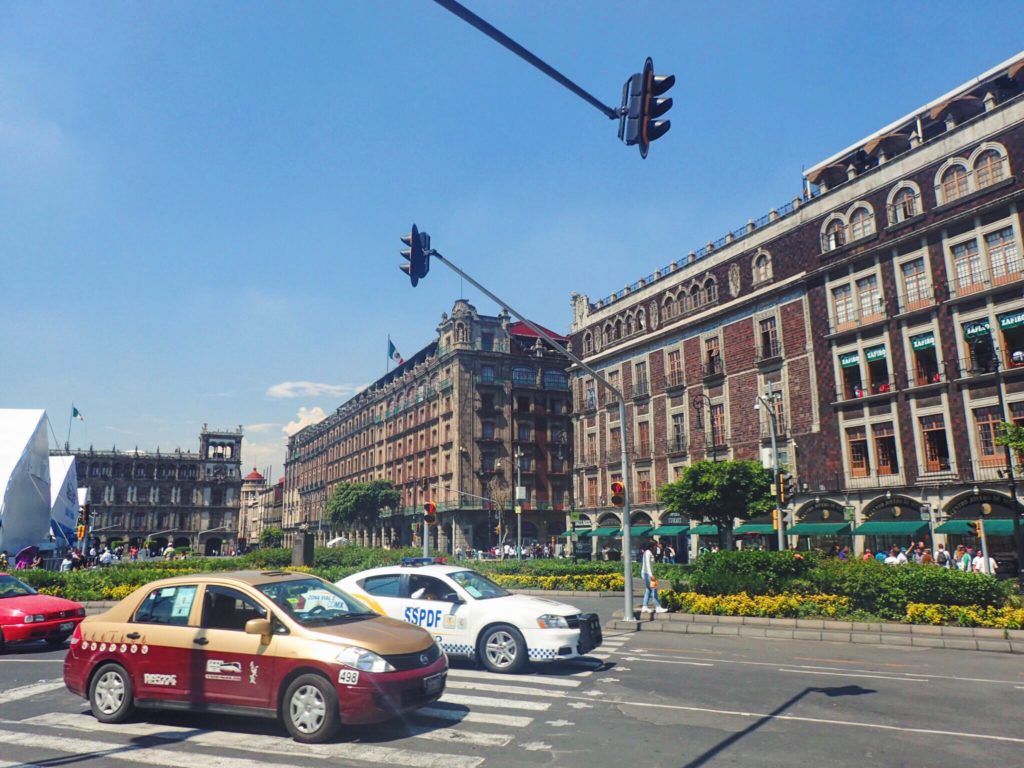 Zocalo: The Heart of Mexico City
Ah, the Zocalo, also known as the Plaza de la Constitución.
This square is truly the heart of Mexico City! The city's most important historical and architectural sites are located here, including the Palacio Nacional, the Catedral Metropolitana, and the Templo Mayor.
Mexico City's Zocalo is the largest square in all of Latin America, and can hold nearly 100,000 people!
The Metropolitan Cathedral may just have been my favorite of the city's surprises (and yes, there were many to choose from!).
Construction on this cathedral began in the 1500's, and while the exterior is certainly impressive in its own right, the inside is so ridiculously beautiful and ornate that I truly couldn't help myself from periodically continuously poking Derek in his side and asking if he saw every. last. detail.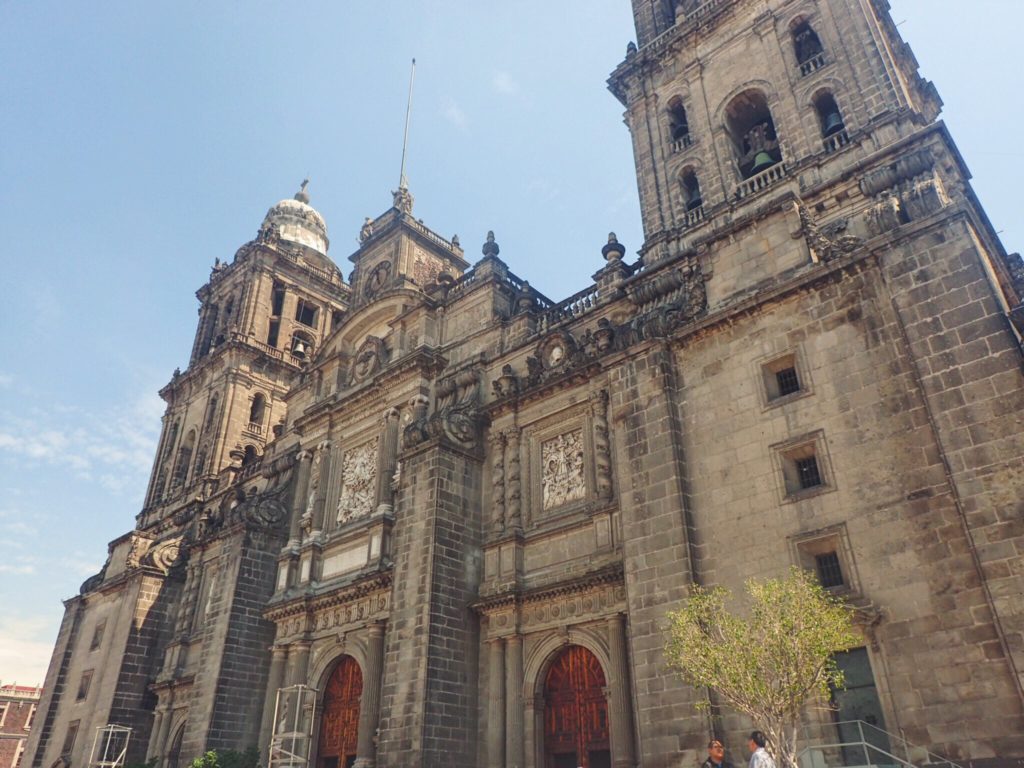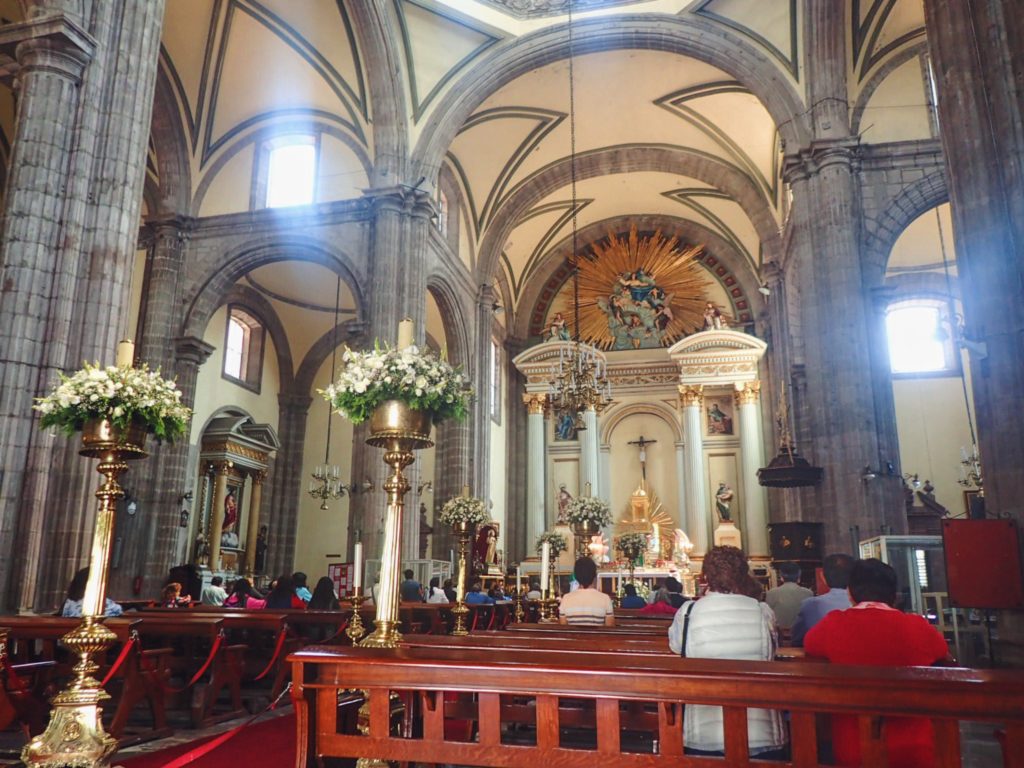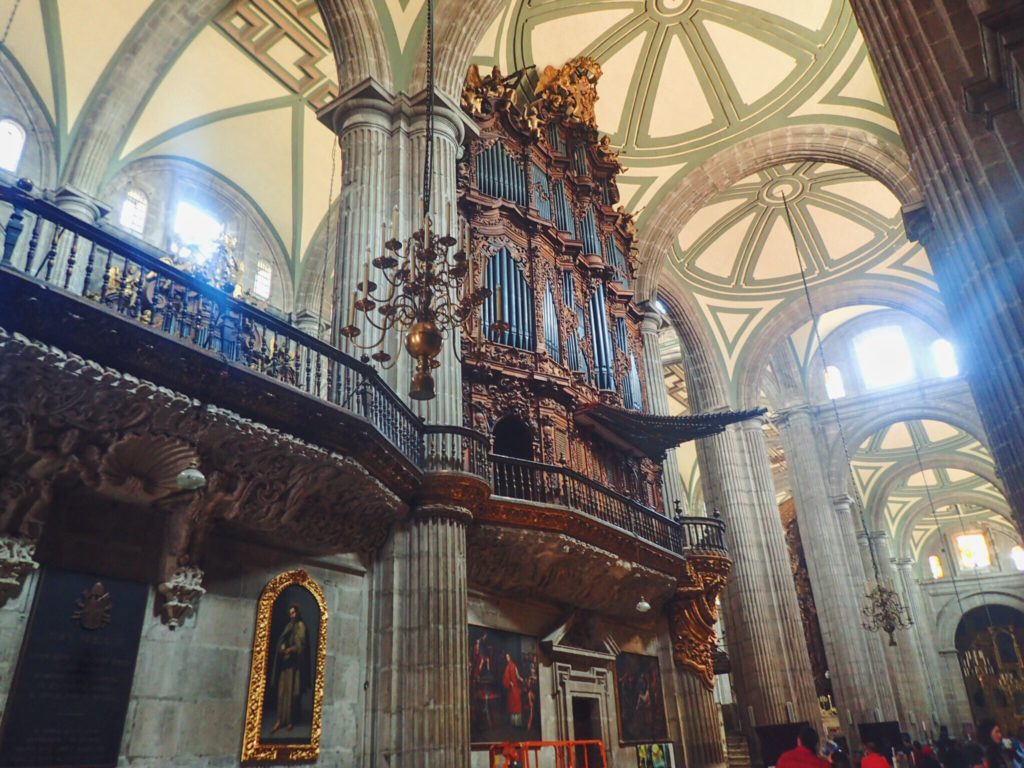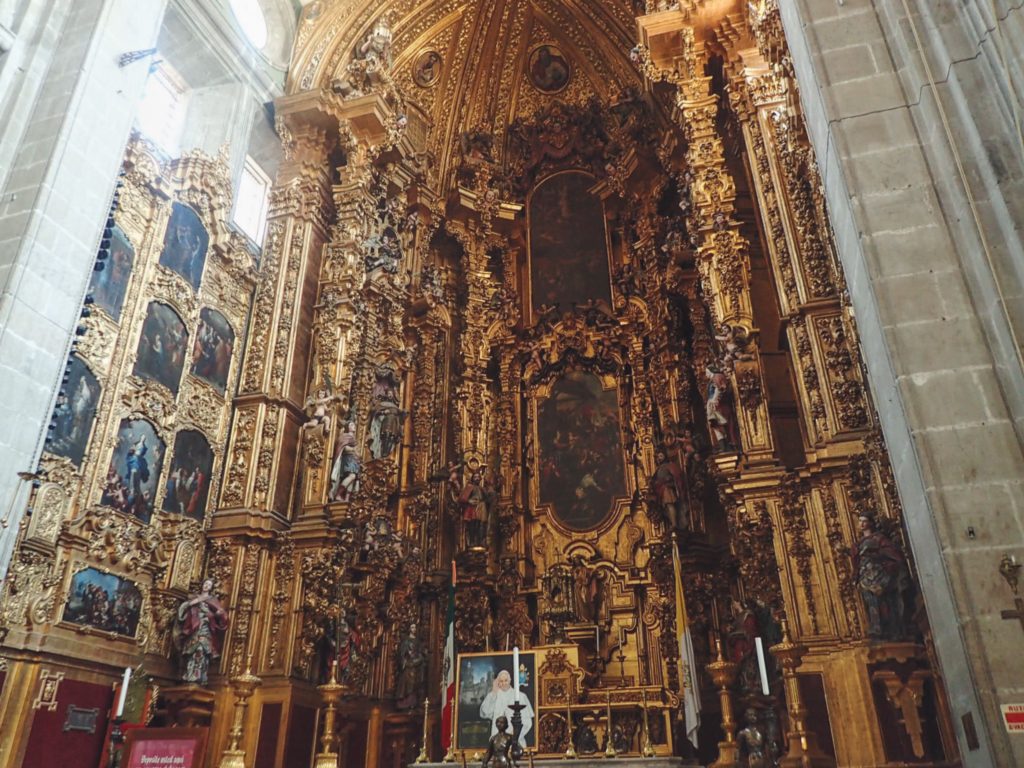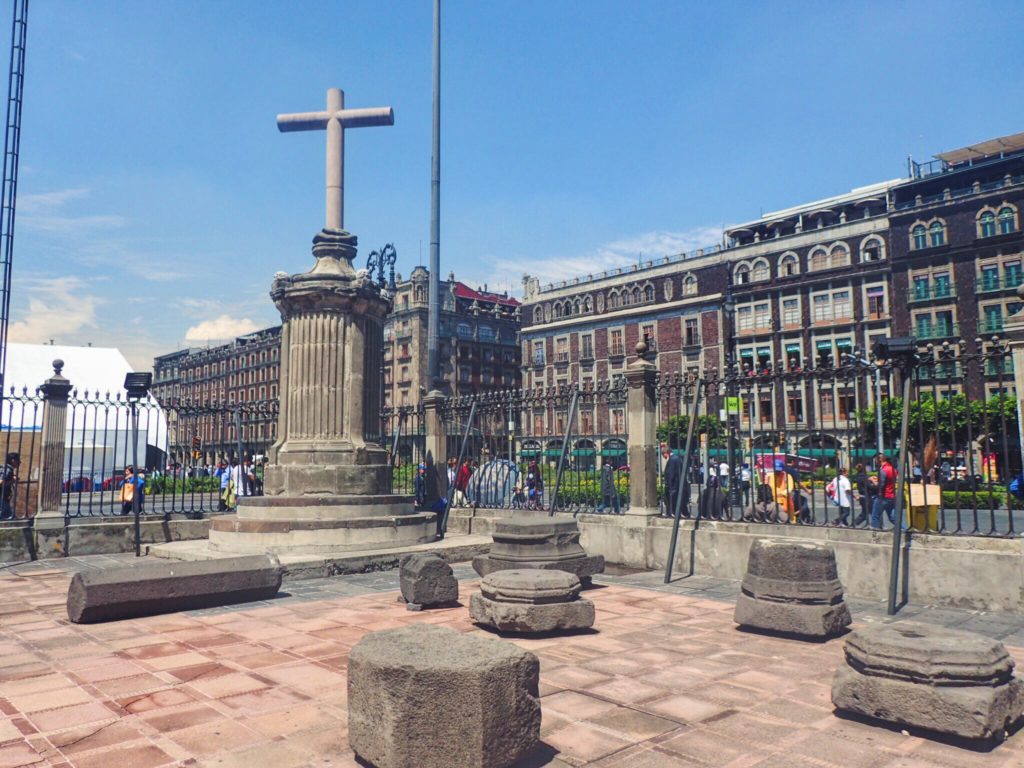 The National Palace is arguably even more famous than the Metropolitan Cathedral, thanks to the renowned Diego Rivera murals that are tucked away inside.
Tragically, this travel blogger did not actually make it inside the Palace.
…Why, you ask? Well, it's required that you have a photo ID in order to enter, and I had left both my passport and driver's license alllll the way back at our hostel in La Condesa. *Facepalm*
Talk about a traveler fail, you guys! Ah well, hopefully somebody learns from my mistakes (if that person is you, send me a snap of the murals so I at least feel better about it!).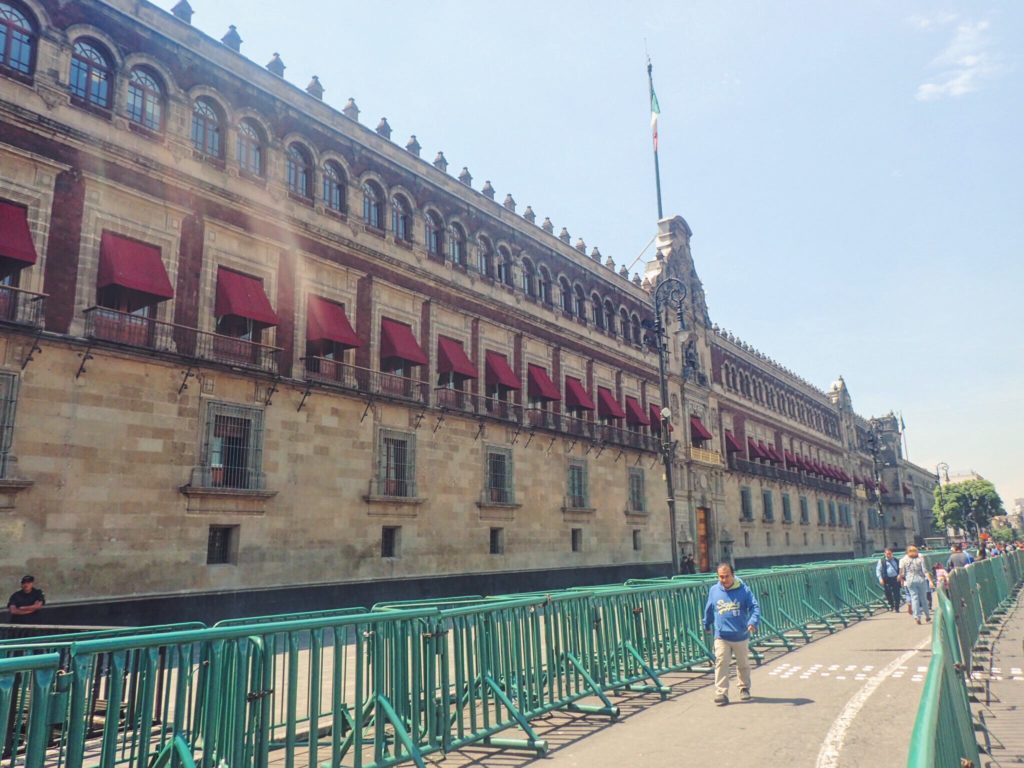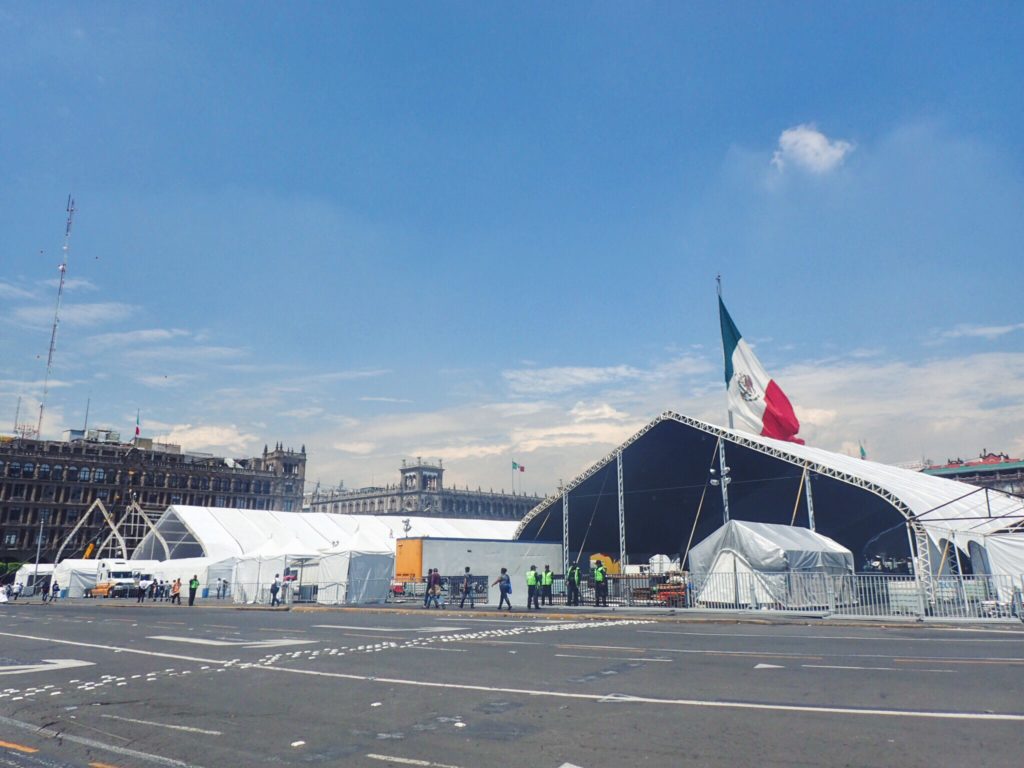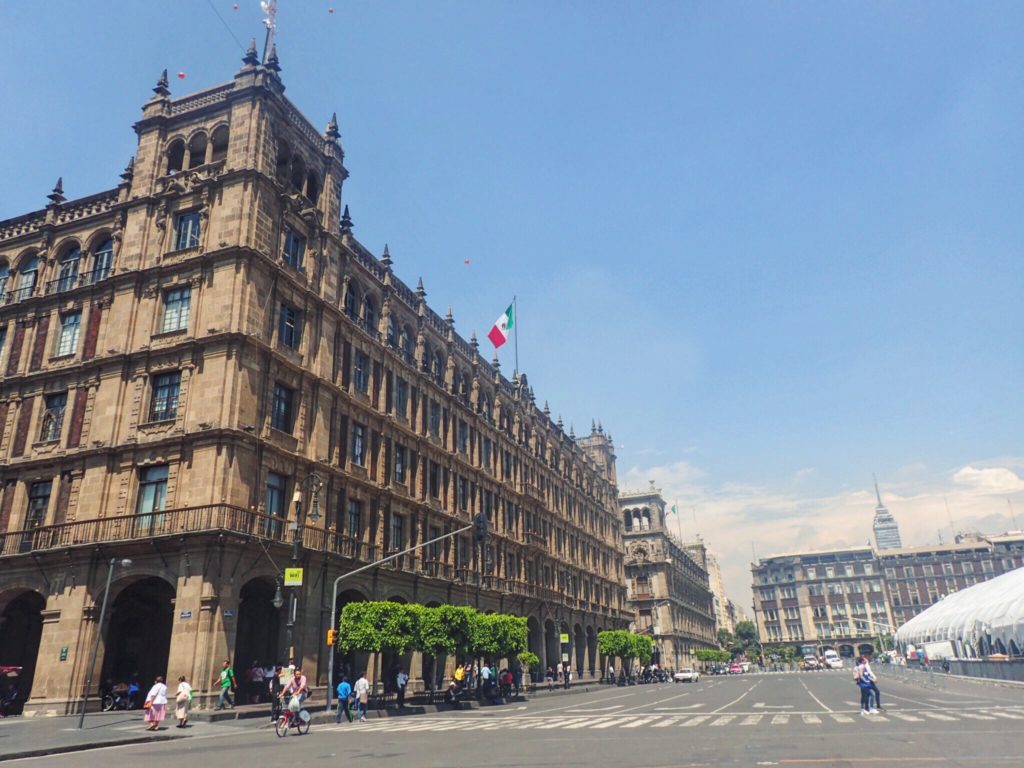 Hop-on Hop-off Turibus
Okay, ready for the all-time most touristy suggestion you'll ever see on this site?
Mexico City is a destination that requires a ridiculous amount of walking, so towards the end of our stay, Derek and I found ourselves searching for a way to keep exploring the city while letting our poor feet have a bit of a break.
…Guys, we found our solution in the form of a bright red double-decker tourist bus.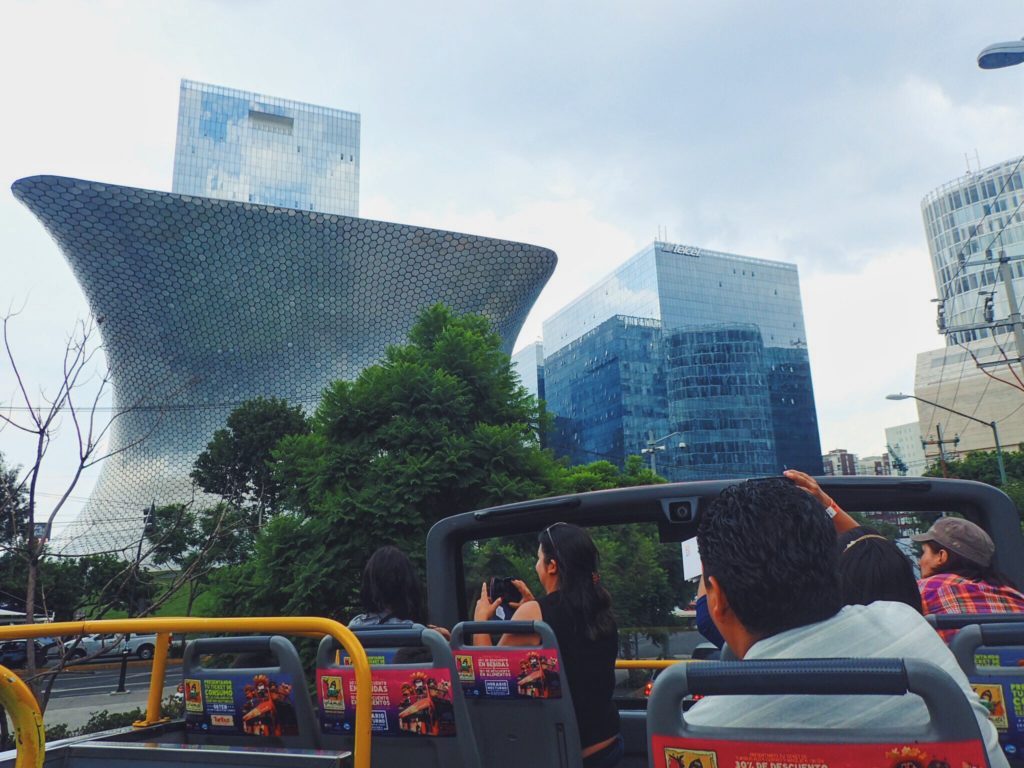 I won't lie – I actually wasn't crazy about the Turibus and found the entire ordeal pretty lame and uneventful, and we spent a depressing amount of time stuck in traffic.
BUT for just $7 you do get to see many of Mexico City's major neighborhoods (not just the Centro Historico) so if you've found your energy levels winding down but aren't ready to retreat back to your hotel room, it's definitely a viable option.
---
Other Suggestions
The activities listed above should definitely keep you occupied for a full day, but if you're interested in subbing out any of my suggested activities for something different, this map from Moon should give you an idea or two (click to see the full size):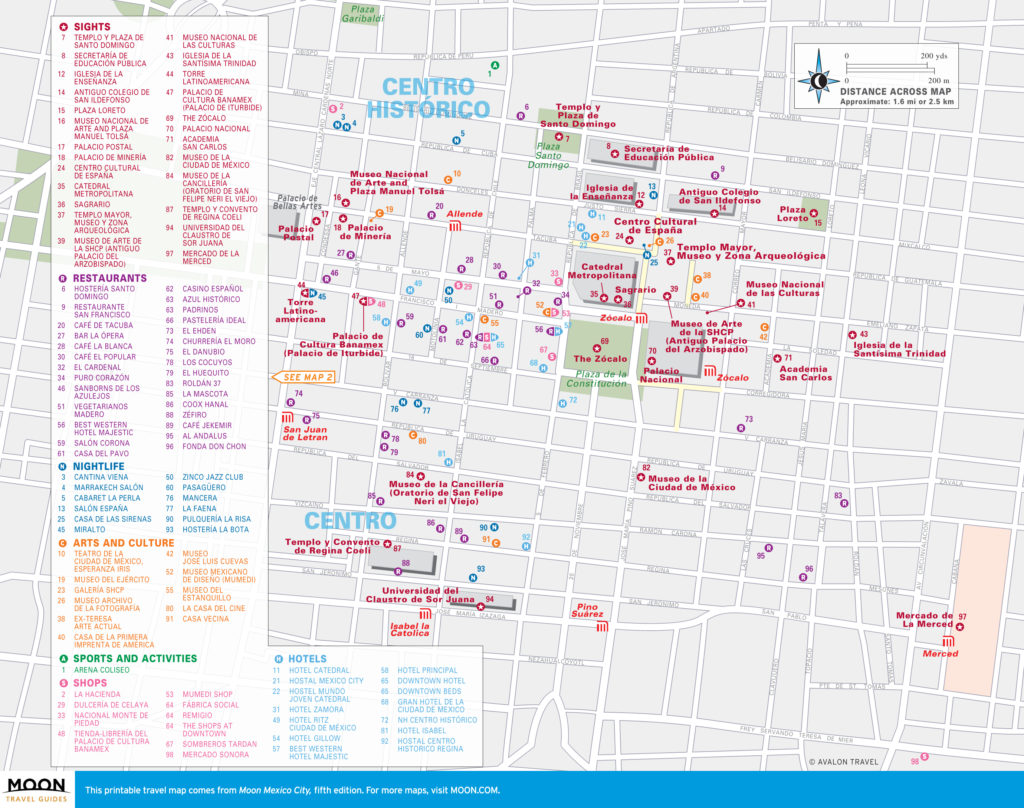 Have you ever visited Mexico's Centro Historico? Which neighborhood in Mexico City is your favorite, or which would you most like to visit?