Happy weekend, friends!
The weather is absolutely phenomenal here in Houston right now; high 70's, sunny, and ridiculously low humidity. That said, I've been enjoying plenty of outdoor time (…okay, maybe my idea of "outdoor time" is boozy brunches on open-air patios, but this is a no judgment zone, right?)
Anyways, luckily for me it's totally okay to kick my feet up and take a break from this blogging stuff for the weekend, because I've got a special treat lined up for you all today: My very first Q&A interview, featuring Maryrose and Reid from WanderluStyle!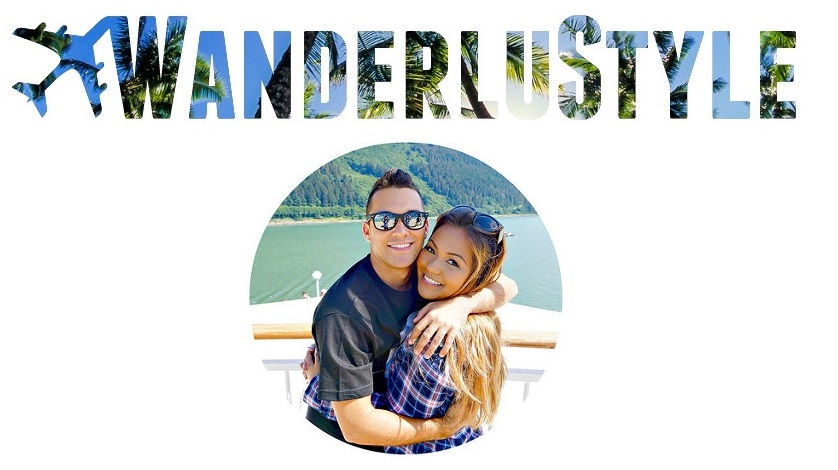 Get excited peeps, because they just might be the cutest traveling duo in the blogging world.
Maryrose and Reid created their blog WanderluStyle in early 2015. The name was thoughtfully decided upon by combining their two passions: traveling, and looking good while they do it.
Mary was born in the Philippines to a flight attendant mother, who brought her along for many of her trips abroad. When she was 11, her family embarked on the ultimate adventure when they packed their bags and moved to Oahu, Hawaii. Three years later she met Reid–who was born and raised on the island and had an equal passion for travel–and the rest is history. Today, they make the most of living on a tropical island by going on a variety of incredible adventures, which often include their son, Landon.
So, you live in Hawaii–talk about a dream location! What would you say is your favorite thing about living in Hawaii?
Oh man, there are many things to enjoy about living in Hawaii: the people, the weather, the climate, the chilled-out attitude, beautiful mountains, waterfalls, and sunsets. It can be easily taken for granted and many lose focus on what makes Hawaii so unique. Depending on where you live, the beach can be as far as, and no more than, a 30 minute drive in any area you live. For us, we are literally a five minute drive away from an awesome beach.
So our answer, how unfortunately predictable, would have to be beach access and photo opportunities!

Obviously the main focus of your blog is travel, but you also have quite a bit of outfit and style advice mixed in. So, two questions: How would you describe your travel style, and how would you describe your personal style?
Our travel style would have to be minimal. In our lifestyle we try to be as minimal as possible and try to keep what is necessary and only adds value to our lives. We try our hardest to never pack the "just in case items" because those items can be a burden to carry in the sense that it leaves you open to forgetting or losing one extra thing. So for us taking pictures and uploading are a big part so our dedicated camera bag and electronic bag is a must. 
It's hard to describe one's personal style as we dress according to what we have planned for the day and the weather. We definitely try to stay as comfortable as possible throughout our trip. For the both of us, I noticed that we try to go for the basics while traveling as you can pair this with multiple outfits. For more specific brands we wear would be The North Face, Nike, and we like to support local companies such as Exempli Gratia. Mary usually hits up a few stores at the mall (no particular brand) if she needs a particular clothing item.

Do you plan on staying in Hawaii for the foreseeable future? If not, where would you want to move to?
We always talk about moving to California or somewhere in the Western United States but have never fully researched or planned it out. I was born and raised in Hawaii, Mary has been here for 15 years; I think it's safe to say we are ready for a new ambiance.
Funny this question is asked because this conversation comes up more often than we like to admit. However, for right now, we will still be living in Hawaii as we have devoted our time to planning trips for the next two years rather than a permanent relocation!
Which three posts do you think are most characteristic of what your blog is all about?
We love spending our spare time outdoors so hiking definitely defines us. We also love trying new things, adventurous things; let's just say spontaneous but safe things! Last but not least, traveling. Traveling is an adventure in itself and when we can combine all three elements that we believe define us, it's turns into something entirely….different. Different in that it provides us the most joy when we can share our experiences with others and aid as much as possible for those on a similar journey as ours. In a selfish sense, whether our content ends up helping others or not, we love looking back as type of media diary for ourselves.
Blog posts related to…
What is your favorite travel experience or activity so far? What's one that you can't wait to try?
Our favorite travel experience HAS to be a most recent one: drinking water from a moving (a.k.a 'live') glacier in Alaska! It was the freshest water we have ever tasted, literally, no exaggeration whatsoever!
One thing we can't wait to try is SNOWBOARDING!!!! (Specifically Whistler, Canada!) We've never had a white Christmas as a family so we're very excited to try snow activities.
Do you have any tips or advice for kid-friendly travel?
Bring something your child enjoys! Whether if it's THAT one special robot toy that takes up half your backpack or those pesky legos. Take something that can provide some type of "home comfort" for your child.
If they are a little older, then usually electronics or a good book should keep them entertained throughout the trip. Although we allow electronics, we also limit Landon in certain occasions: if we are sight-seeing or taking a tour then we don't allow him to be on it. Instead, we want him to observe and learn all he can. If we are all waiting in line or need to pass the time, then by all means, electronic away!

What's one piece of local insider knowledge you can share with us regarding travel in Hawaii? Any secret locations or hidden gems?
I think a lot of locals wouldn't be to happy if we gave away our 'secret spots', but some spots that not many tourists get around to are Kaena Point Hike and Kalihi Ice ponds hike – both of which are easy, fun hikes. A great place to eat breakfast is Ethels Restaurant! 
As far as insider knowledge goes – If you are driving and plan on doing something outside of Waikiki/Honolulu, try to do it during the morning as prime time traffic can back up very bad. Believe it or not, at one point Forbes ranked Honolulu #1 in America as worst traffic so plan accordingly if you plan on making a drive in the afternoon.
Another one that is a given but must be said: respect all cultures and people, especially if it's your first time visiting. In Hawaii, locals highly dislike if you stare too long while making eye contact. Some tourists do not realize they are staring so if you're one that likes to watch, observe, and stare like me, divide that time by about two and force yourself to look away. Not sure where or when this developed but it is disrespectful and can lead to fights if handled incorrectly.

Where else can we find you on social media and the web?
Website
Instagram
Twitter
Facebook
YouTube
Pinterest
Reid's Instagram
Mary's Instagram
Thanks so much for your great answers, Mary and Reid! You can read more of their travel stories here.
Interested in being a featured blog? Learn more here!