I have attempted to write this post several times now, and have failed miserably each time.
I've taken different approaches and tried my best to accurately explain my feelings about this little mountain town, but I just can't seem to properly express myself…possibly because I'm still a bit unsure about how I really feel.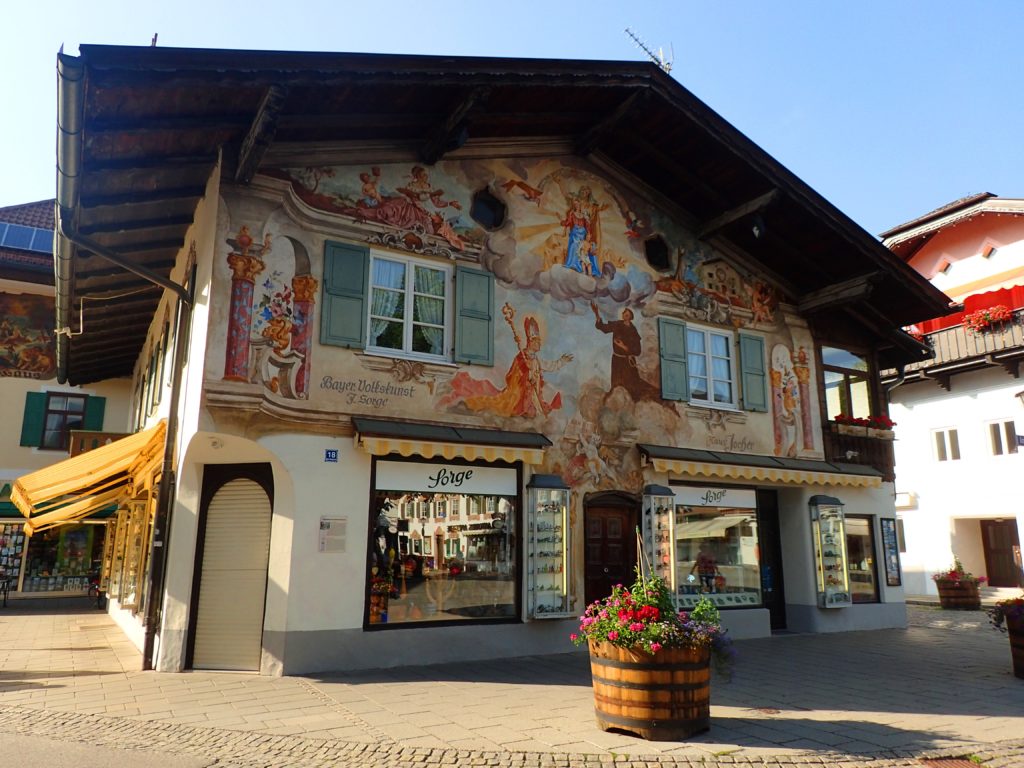 The simplest way to explain it is like this: Garmisch-Partenkirchen is beautiful, charming, picturesque, quaint, adorable and scenic. But…that's really all there is to it.
It's a wonderful place for strolling down cobblestone streets, eating at outdoor restaurants surrounded by mountain views, shopping for souvenirs, and taking photos of colorfully painted houses and buildings.
And, perhaps most importantly, it's the perfect base for anything outdoor sports-related: hiking, skiing, paragliding, you name it.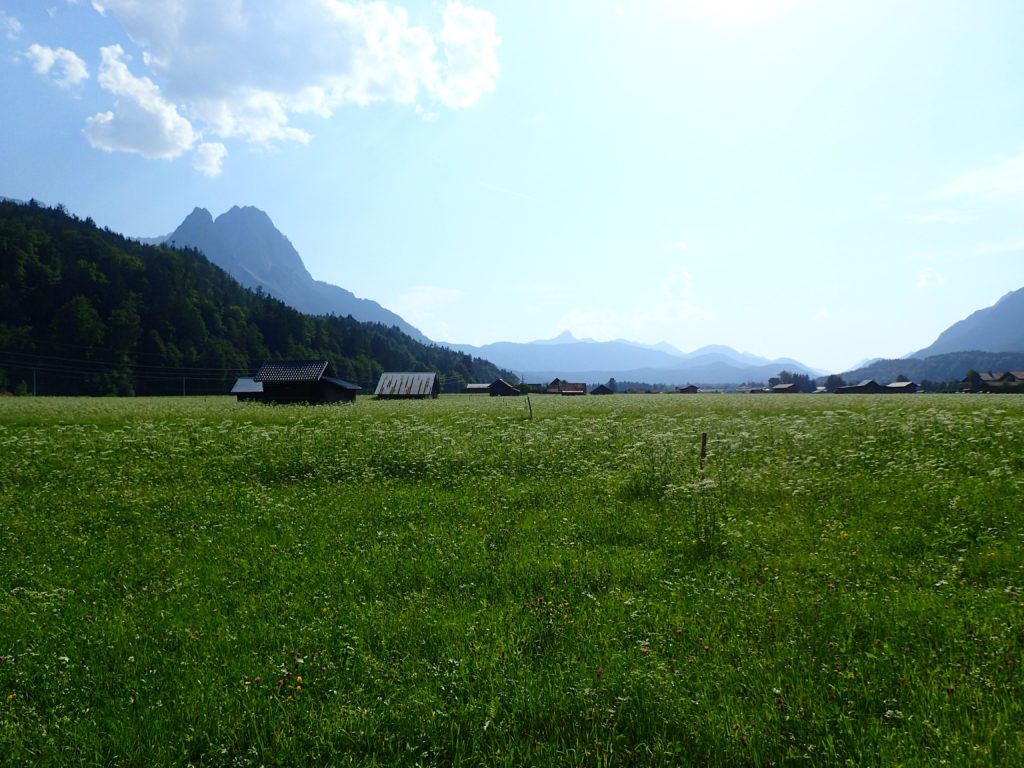 …So, maybe it sounds totally wonderful, right?
I get that; I expected it to be totally wonderful, and it was totally wonderful…but at the same time, I definitely felt like something was missing.
As beautiful as Garmisch was, I really, really struggled to connect to it any way. As hard as I tried, I failed to find any trace of genuine culture within the town perimeter.
Maybe I'm thinking about it the wrong way. My guidebook did in fact describe Garmisch as a "mountain resort town", so maybe I was wrong in expecting to find anything more than a little town packed with German tourists and outdoor gear shops.
To be fair, there was a bit more than that…there were a handful of good restaurants and fun souvenir shops, and you sure can't argue with the location. I guess it's just a bit of a letdown when a place so beautiful turns out to have very little depth to it.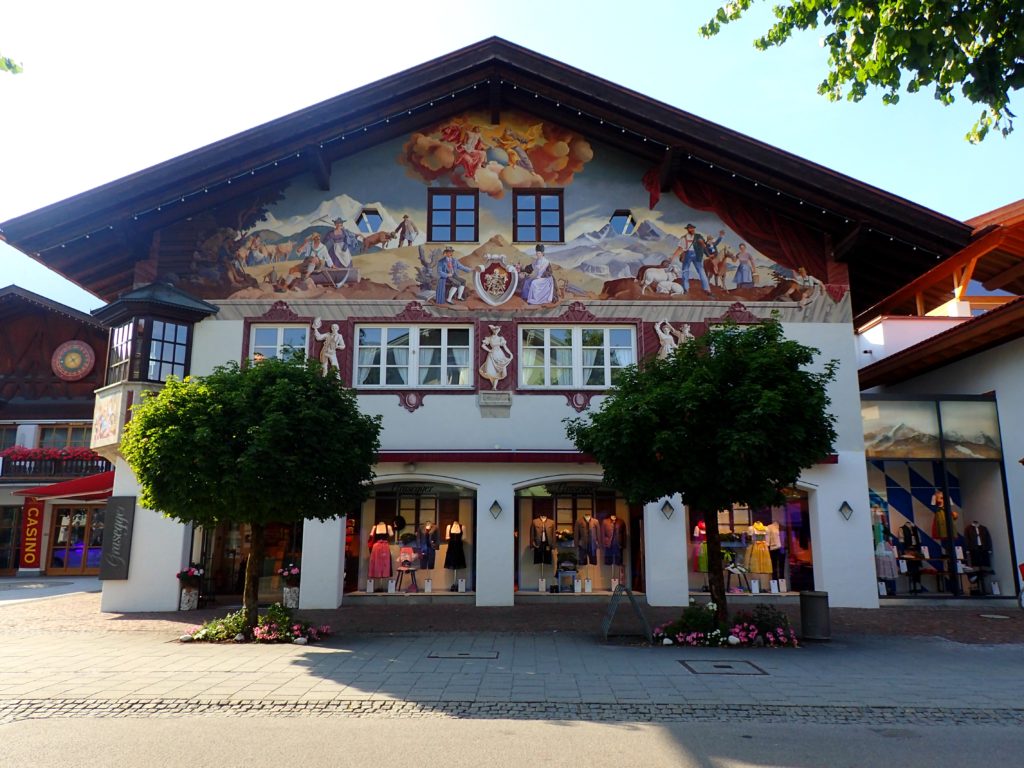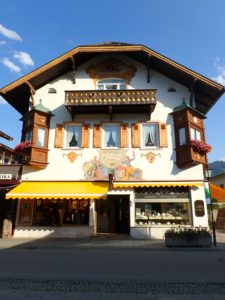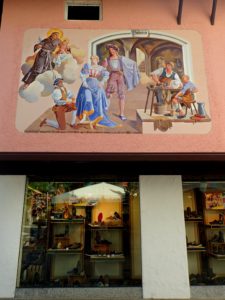 Even more confusing is the fact that I visited several other smaller towns in the same region as Garmisch, and they all offered some kind of glimpse into their history and local culture. They all had little hidden gems to uncover and appreciate and understand.
But Garmisch? It was all charm, with no reasoning behind it. It was difficult to buy into the idea that all of this charm and beauty was for anything other than the tourists.
And while I could appreciate the quaint little buildings, colorful painted walls, cobblestone streets and flowering gardens, it was impossible to ignore the fact that the town was basically nothing but shops geared towards outdoor enthusiasts and tourists.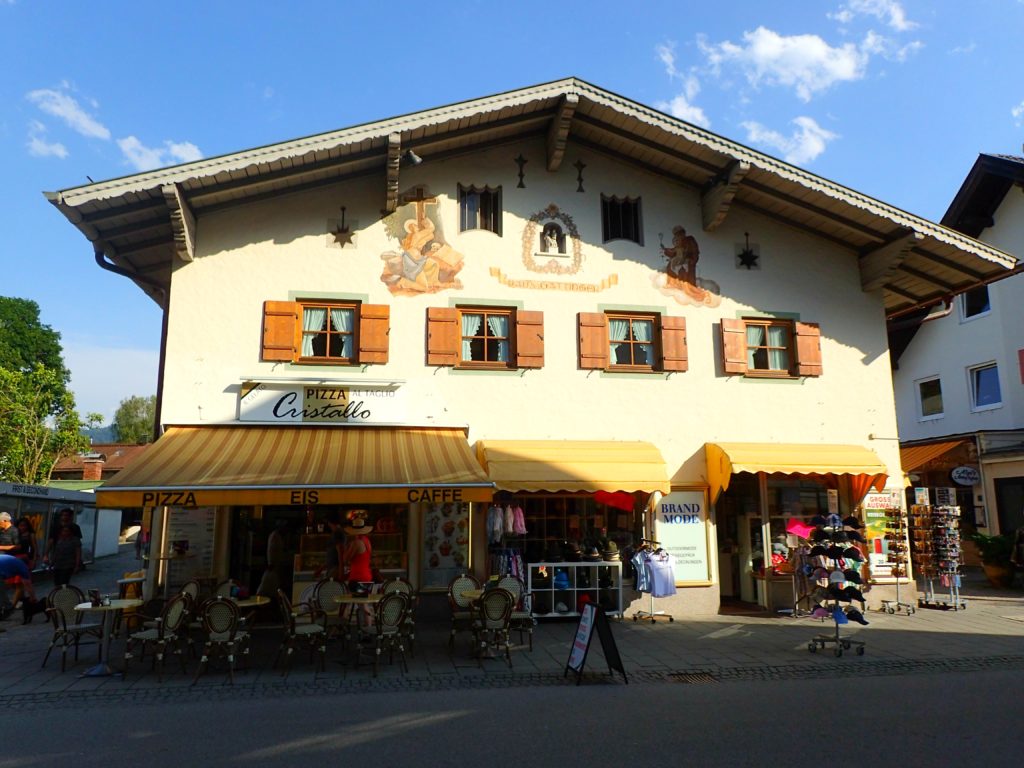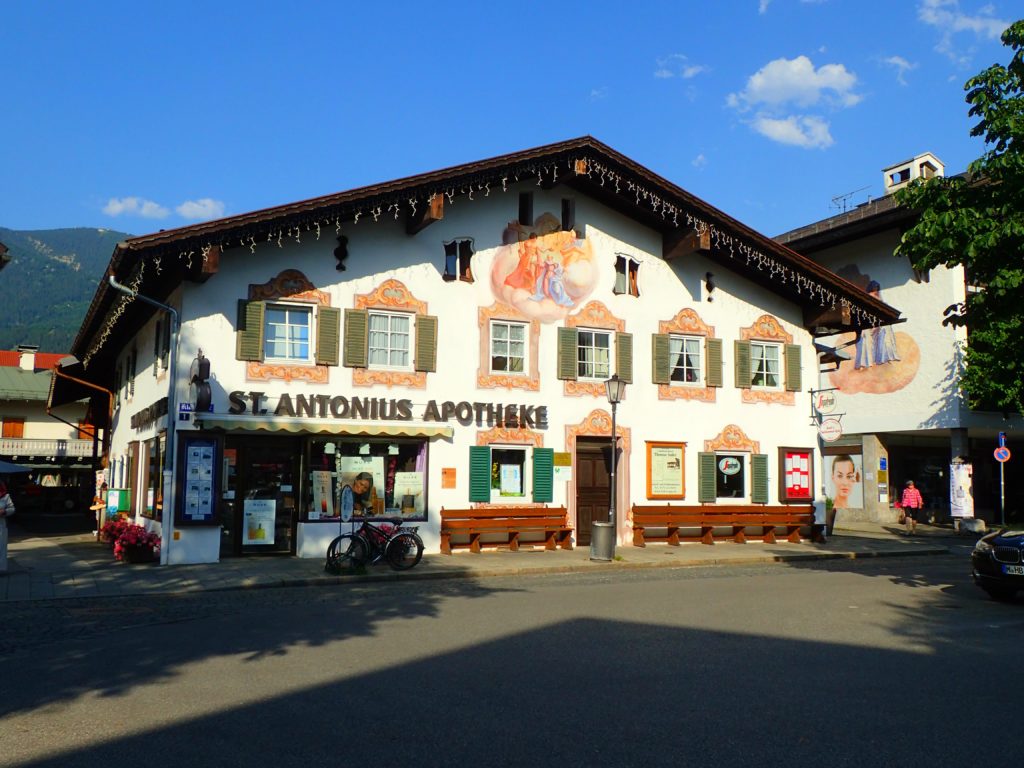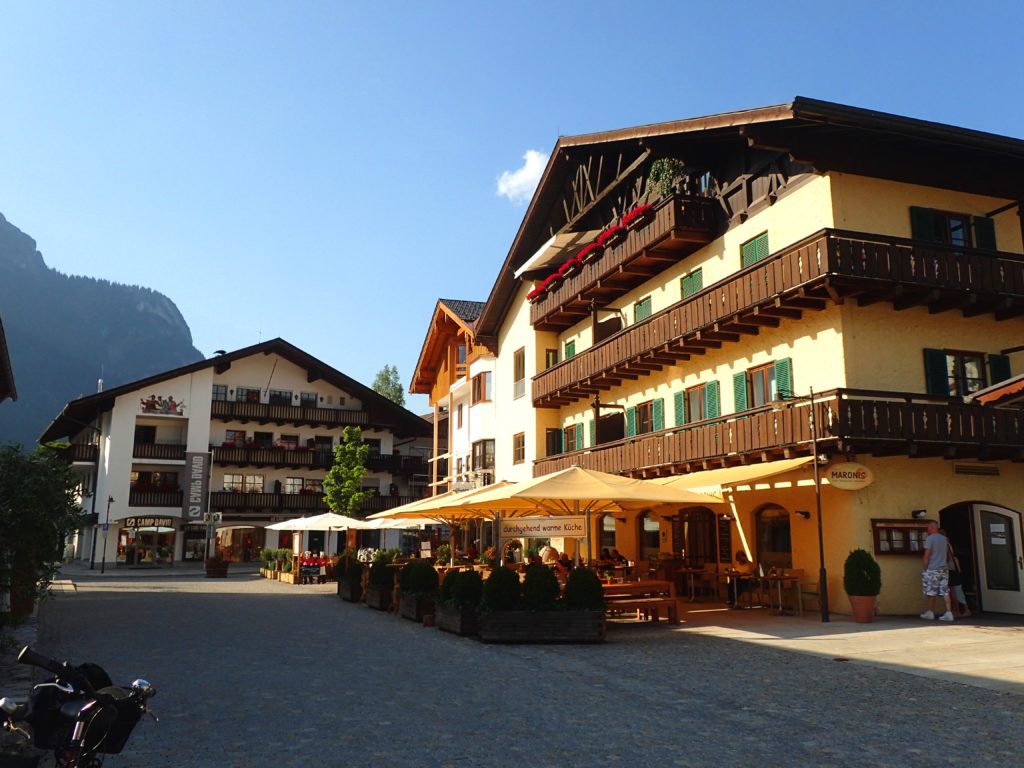 And yet, I did enjoy my time here. It was the perfect base for exploring nearby palaces and churches, and you could see the mountains from literally every last angle within the town. The people were friendly and the food was good.
Despite its lack of depth, I liked Garmisch. It was nice to be in a place that was SO pleasing to the senses, and it was fun to get swept up in the fairy-tale scenery…even if I did have to pretend a little bit.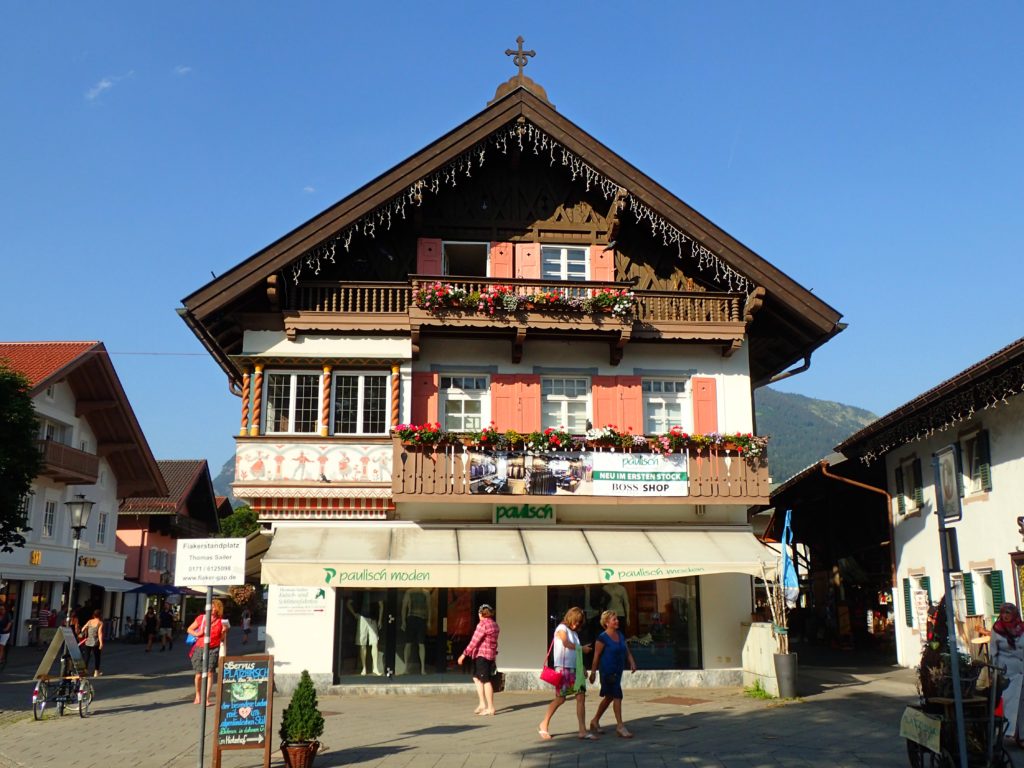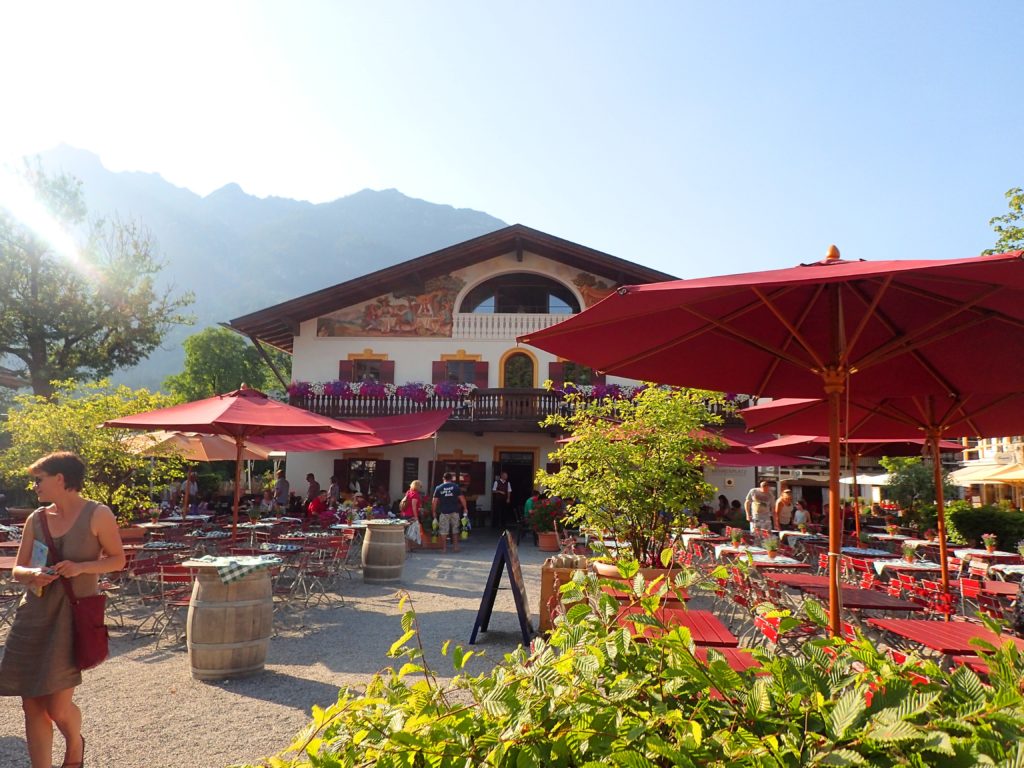 There was another big plus to staying in Garmisch as well, and that was that I actually had some time to relax during my trip. Who knew that you could actually relax while traveling?! What a revelation!
Because this town was so small, I literally couldn't find anything to do in it after dinnertime…the shops would all be closed, even though it was summer and peak tourist season!
I'd spend all morning and afternoon exploring various historic or natural sites outside of town, come back and walk around a bit in the afternoon and evening, eat some dinner, and then I was done for the day. I actually found myself with WAY more free time than I expected here, which was a kind of a nice surprise.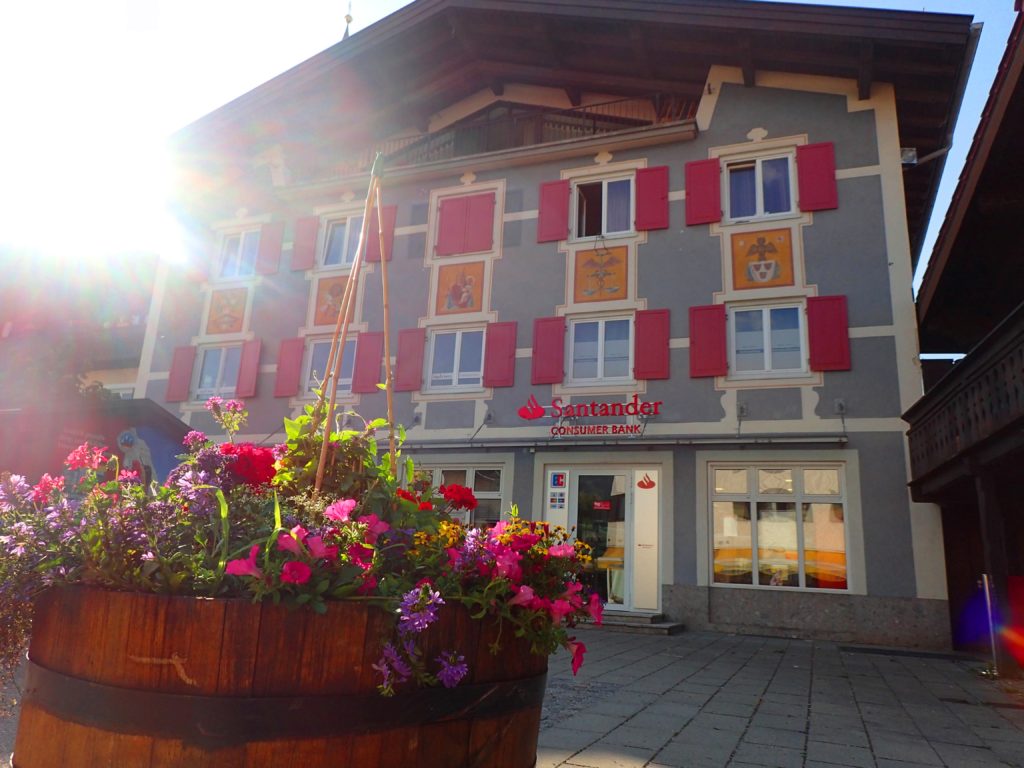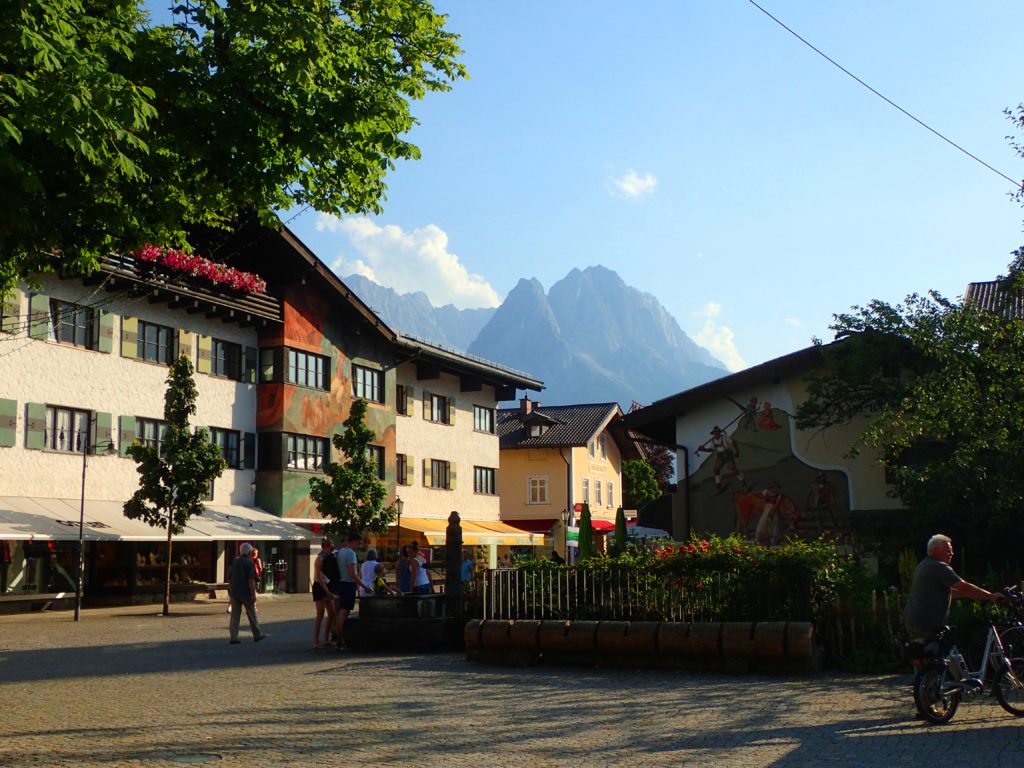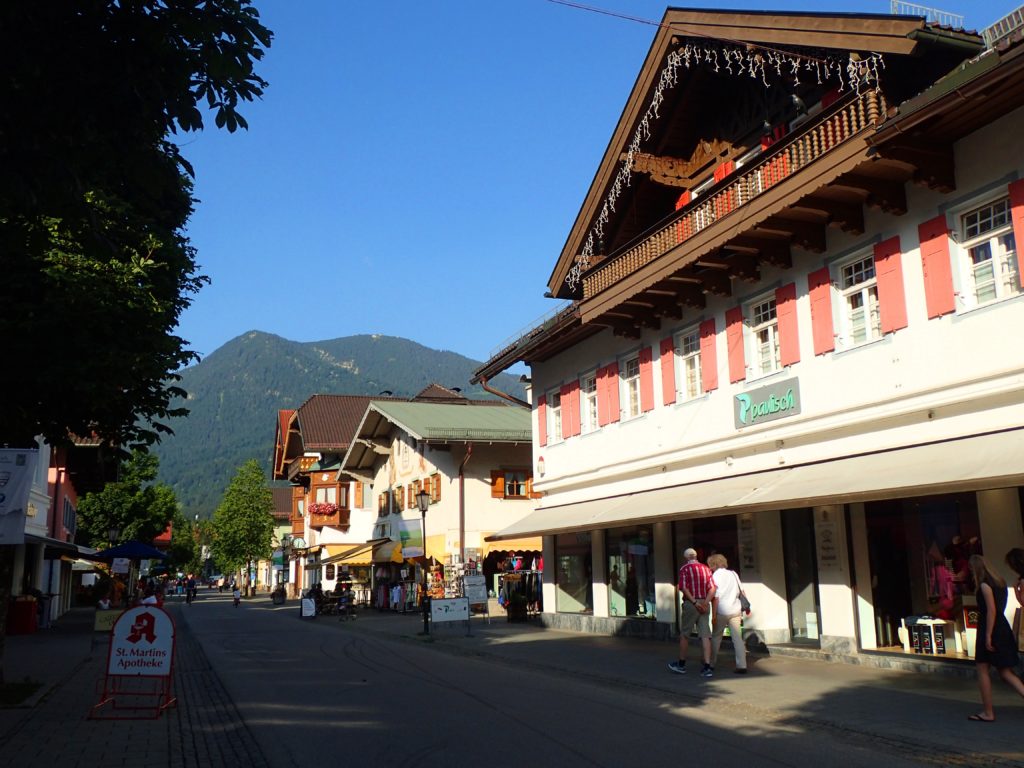 Luckily, I also had an adorable guesthouse to come back to when I was done exploring for the day.
I decided to treat myself to a break from hostel life during my time in Garmisch, which ended up being a decision that I was very happy with. I stayed at Alpenhof Garnihotel, in their only single room (they have 13 double rooms available as well).
It had a very homey and comfortable vibe, and their breakfast room looked like it belonged in an old fairy-tale cottage. I was immediately comfortable here, and it was the perfect place to spend some down-time.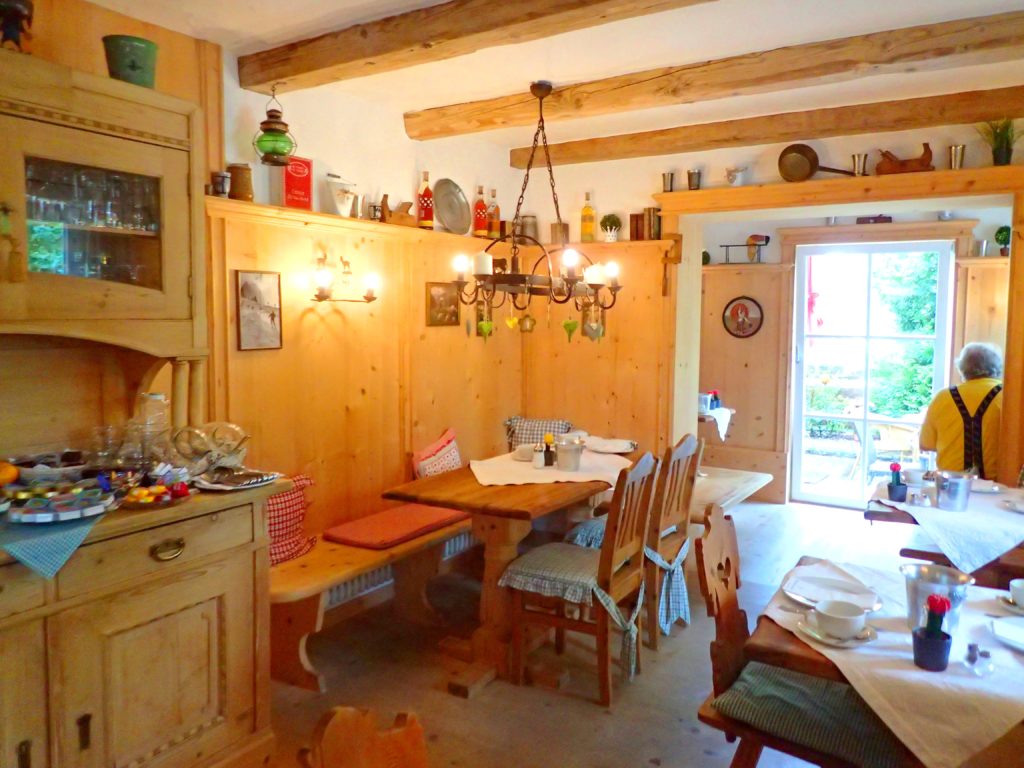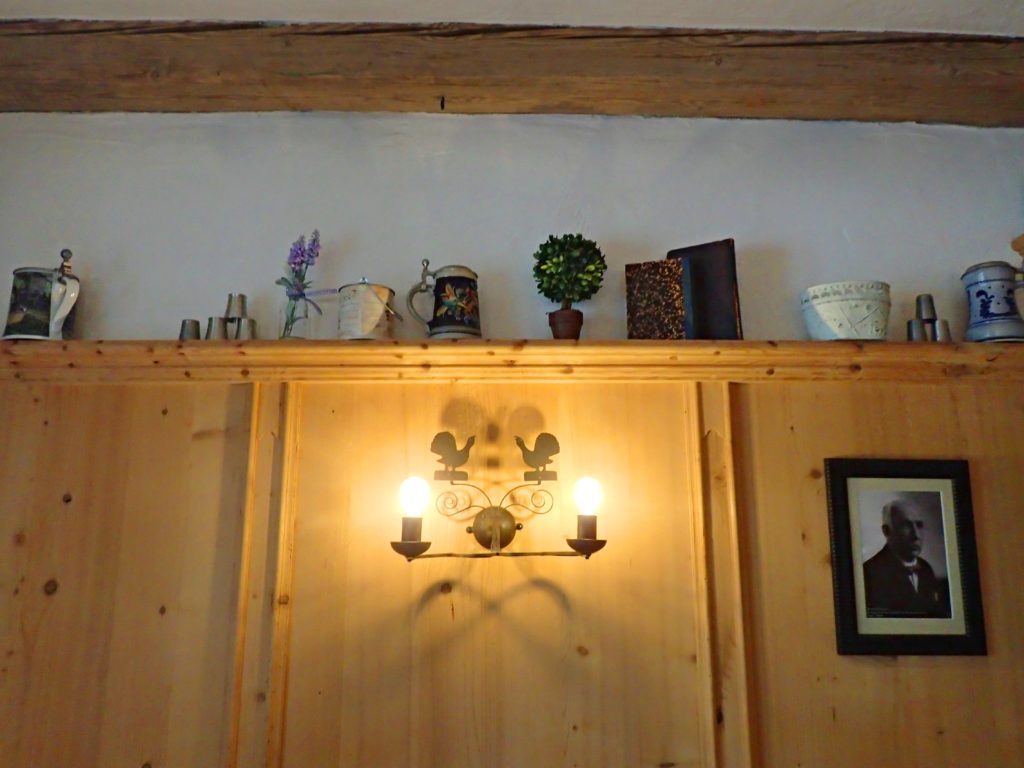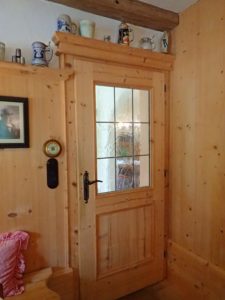 The area around the guesthouse looks and feels very residential, but I'm pretty sure that the majority of the other neighboring homes were guesthouses as well.
It's about a 10 minute walk to the center of town, and if you have a car (like I did) it'll take you no time at all. Oh, AND you'll be surrounded by mountain views almost constantly. Not bad, eh?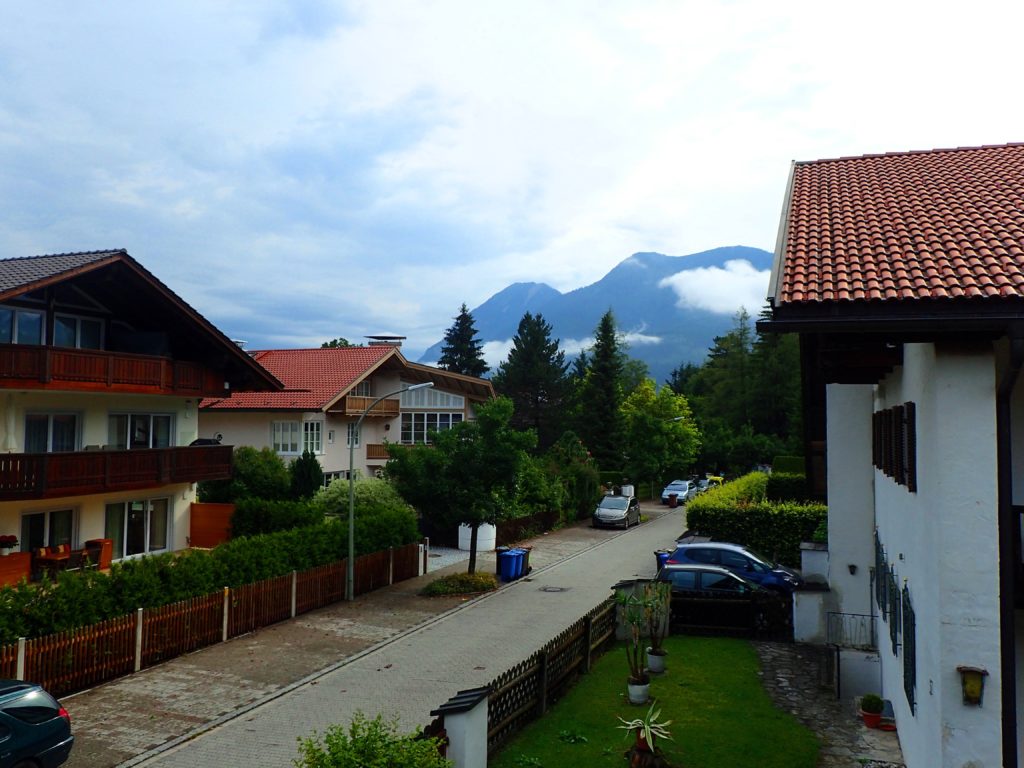 Perhaps the thing that I enjoyed most about my time in Garmich was the change of pace I experienced.
The weather was a bit overcast, chilly and foggy, and I took FULL advantage of that by retreating to my room by about 6pm every evening, opening the door to my balcony, curling up in my bed under the comforter, and reading my Kindle while enjoying the mountain air and scenery.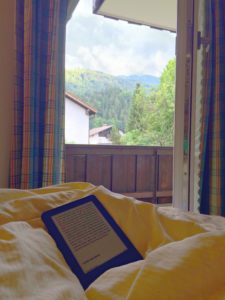 I also totally used my stay here as a chance to pretend I was a kid again, by reading all of the original Brothers Grimm Fairy Tales and imagining that all of the stories took place in the mountains and forests visible from my room.
Yes, I am basically a five year old. It was totally cheesy, but totally magical too.
…So, did I like Garmisch? Would I recommend it? The most honest answer I can give is, "I think so."
Despite not really connecting with the town in any way, I absolutely enjoyed my stay here and wouldn't skip it if I could do this trip over again. As long as you come here with your expectations in check, I think anyone can find something to enjoy about Garmisch.
What do you think: Is Garmisch-Partenkirchen truly charming, or just an illusion for the tourists? Have you ever felt this way about a place? Would you visit here?
---
Pin It!