It's a sunny, breezy summer day in Paris, and you're looking forward to spending your first day exploring in the City of Lights. You set off to tour the big sights: a visit to the Louvre for €12, a visit to the towers of Notre Dame for €8, and an evening ride to the top of the Eiffel Tower for €16.
These are reasonable prices, but they add up quick–35 euros later, you've still got to pay for your hotel or hostel (which is likely pricier than in most other European cities), 3 meals per day, any transportation you may need, and possibly a drink or two (you can't visit Paris without winding down at an outdoor cafe with a glass of wine!)
Paris, like most of Western Europe, is not considered a cheap place to visit.
The price tags of Parisian hotels, train and plane tickets, car rentals, meals, drinks and attractions can all come as a shock if you're used to exploring much cheaper destinations such as Southeast Asia or Central America.
However, worry not! There are actually many completely free ways to enjoy Paris and soak in the culture, art, architecture, and natural beauty there. Whether you're on a strict shoestring budget or just looking for a way to cut costs when you can, keep these Parisian freebies in mind:
1. Wander the Champ de Mars in front of the Eiffel Tower
Who says that you have to pay to enjoy the Eiffel Tower? While checking out the view from the top can be a cool experience, I actually prefer checking out the view of the tower itself from the ground.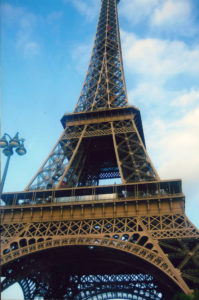 There is nothing quite like stretching out in the grass for a picnic in front of the Eiffel Tower to remind you that you're in Paris. At night you can check out the light show that occurs every hour; watching the Eiffel Tower twinkle and glisten on a clear night is supremely magical.
Good for: Everyone! The Eiffel Tower is quintessential Paris–you can't miss it!
2. Visit the Louvre on a free day/evening
A ticket to the Louvre is normally 12 euros–not a terribly high cost, but if there's a way for you to get in for free, wouldn't you like to take advantage of that?
The Louvre actually has quite an impressive list of ways to score admission for free. For instance, between October and March, entry to the Louvre is free on the first Sunday of each month, so you could try to plan your trip accordingly.
Also, if you're under 26 years old, regardless of nationality, you can enter the Louvre for free on Friday evenings between 6pm and 9:45pm–any time of the year. If you're a resident of the European Economic Area (EU, Norway, Iceland, Liechtenstein) and between the ages of 18 and 25, you can get in for free any time. Lastly, if you're under 18 years old, an art or art history teacher, or a disabled visitor or their guest, you can always get in for free. Pretty cool, huh?
Good for: Art Enthusiasts
3. Walk along the Seine
Ah, the River Seine. Is there anything more romantic than taking an evening stroll along the Seine at sundown? This is a great place to end a long day of exploring, or enjoy some of the most charming views of Paris.
Good for: Scenery-Seekers
4. Explore the Jardin du Luxembourg
Paris has some seriously awesome gardens, and this one is no exception. The Jardin du Luxembourg is actually one of my fondest memories of Paris. The fountains, flowers, and statues are beautiful, and it's a nice place to people-watch as well.
Good for: Scenery-Seekers
5. Look around at Notre Dame Cathedral
Exploring high in the towers of Notre Dame is definitely amazing, and if you were to splurge on one attraction, I would recommend that it be this one.
If that's not an option, you can still enjoy this cathedral completely for free! There is no charge to go inside, so it's worth exploring the inside of this iconic church. The Gothic style is distinctly beautiful, complete with stained glass, spires, arches and gargoyles.
Good For: Architecture Fiends
6. Enjoy the art at Place du Tertre
This square is a mecca for aspiring artists. Here, you can wander among the easels and watch as artists sketch scenes and paint portraits for the many tourists who flock here. It's an interesting cultural phenomenon, and worth checking out if you have an interest in art.
Good For: Art Enthusiasts
7. Meander through one of the open-air markets
Paris has an incredible selection of open-air markets to explore. This includes the Marché aux fleurs (a flower market near the Seine) and the Marché de Belleville (a popular produce market open on Tuesdays and Fridays). There are many, many markets in the city, and it's possible to just stumble across one you've never heard of as you walk down any given street.
Good for: Shopaholics 
8. Window-shop along the city's most luxurious shopping streets
It's no secret that Paris is one of the top shopping cities in the world. If you're a sucker for high fashion style yet can't afford the very hefty price tag, you can at least enjoy taking a walk down some of Paris's best-dressed streets.
Avenue Montaigne, Avenue des Champs-Elysées, and Rue du Faubourg Saint-Honoré are home to some of the most expensive designer stores in the world–and you can enjoy them completely for free.
Good for: Shopaholics
9. Pay a visit to one of Paris's free museums
Although significantly less famous than the Louvre, there are several museums in Paris that are always free of charge and home to some really nice collections:
Musée Cognacq-Jay: Fine enlightenment-era art and decor
Petit Palais, Musée des Beaux-Arts de la Ville de Paris: Medieval and Renaissance paintings, tapestries, and sculptures
Musée d'Art Moderne de la Ville de Paris: 20th and 21st-century era art movement collection
Good for: Art Enthusiasts
10. Tour the home of Victor Hugo
This apartment-turned-museum features a collection of writings, drawings, and personal items belonging to the celebrated writer Victor Hugo (author of The Hunchback of Notre Dame and Les Misérables).
It's always free to view the permanent collection, making it a unique option for anyone with a passion for literature or history (or anyone who just really loves the Disney movie…*raises hand*).
Good for: History Buffs, Art Enthusiasts and Architecture Fiends
11. Admire the Arc de Triomphe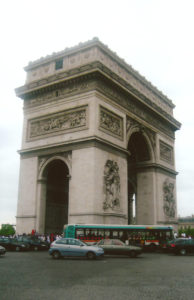 This arch, located at the end of the Avenue des Champs-Elysées, is yet another of Paris's most iconic sites. It costs a fee to check out the view from atop the Arc, but you can gaze upon it from the ground (while watching in awe as motorists attempt to navigate the crazy traffic circle surrounding it).
Good for: Architecture Fiends
12. Drift through the Père Lachaise Cemetery
This cemetery–the largest in Paris–is the resting place of many famous artists, poets, musicians and politicians. It is both eerie and beautiful, and includes the grave sites of Oscar Wilde, Chopin, Molière,Gertrude Stein and Jim Morrison.
Good for: History Buffs
Have you ever visited any of these free attractions in Paris? What else should be on the list?