Anyone who has ever traveled to Peru can attest to what I am going to say next:
The Peruvian people are undoubtedly one of the best things about the entire country.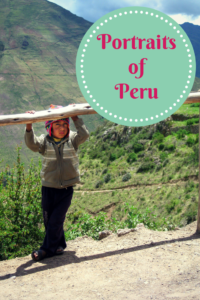 That's actually quite a loaded statement, as Peru is home to some incredibly remarkable things. Between Lima's killer food scene, Cusco's unique ruins, Arequipa's colonial beauty, the diverse landscapes, and epic Inca sites like Machu Picchu, there's a LOT to love about Peru.
And yet, I stand by my statement.
As amazing as each and every city, historic site, restaurant, and mountaintop view was, one of the most memorable and wonderful things about Peru for me was the hospitality and spirit of the people who lived there.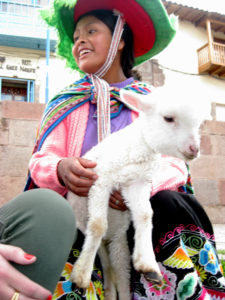 As a shy person, I can sometimes be tempted to keep my conversations with the locals to a minimum when I'm traveling. I'm not in fluent in any other languages, and don't want to come off as a typical America a**hole who assumes every last person in the world speaks English, nor do I want to draw locals into uncomfortable situations where neither of us can understand what the other is saying.
But in Peru, this was hardly a problem. Waiters, tour guides, taxi drivers, and market vendors alike struck up conversations with me, and if the language barrier ever did get to be too much, we found other ways to communicate.
There were the farmers in the Sacred Valley who pulled some of their coca leaves right out of the ground for us to sample.
There was the 30-something dude working in an Aguas Calientes market, who brought me behind the counter to give me a traditional flute-playing lesson, and openly laughed at me when I absolutely sucked.
There was the little girl who tried to sell me some small trinkets on the street, and when I refused, she gave up, looked around, shyly asked if she could touch my hair, and when I said yes, she ran a finger through my hair and said "pretty" with a small smile, before running away.
There were the young boys who shouted at us over and over again "Hola gringas!" and laughed at us as we ran through a South American-style downpour in the Sacred Valley, jumping up and down and waving excitedly to us.
And then there was this little guy I spotted in the Sacred Valley. Unlike some of the other children, he didn't run up to me with a big grin or a funny one-liner. Unlike the others, he was very, very unsure of me, taking a peek from distance.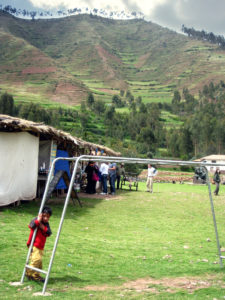 But right after I took this picture, I put down the camera and gave him wave–and you better believe that after a moment of intense decision-making, he gave me a wave right back, and a shy smile spread across his face. And that was more than enough for me.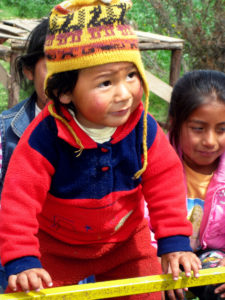 I was just continually inspired by how open, trusting, and welcoming the people we met in Peru were.
And I'm no fool–I know the difference between someone who just wants me to buy from their shop, and someone who genuinely wants to know where I'm from and how I ended up in their country.
Even when I was shopping around the markets, the people there were out-of-this-world polite and patient as hell with me, never making me feel rushed or pressured. I can't say the same for all street vendors in some other countries I've visited.
And when I did refuse to make purchases, the vendors weren't quick to turn their backs on me and seek out the next buyer–many of them actually gave up on the sale and started a new conversation, asking me where I was from, how long I was in Peru, if was I planning to see this or that, and what I thought about their country. It seemed that they really genuinely wanted me to love it as much as they did.
More than anything, it was the glimpses of everyday life that spoke to me the most. I love seeing the similarities and differences in lifestyles between my own country and other countries, and there were many, many of both to be seen throughout Peru.
These were the moments that made me want to know more about these people and their culture. The wonderful conversations and interactions I had with the locals drew me in, and the fleeting glimpses of the deeper parts of their culture I witnessed on the streets kept me hanging on and dying to know more.
What were their stories? Where were they going? Would I ever know?
What I'm trying to say is that Peru is one of those places that has stuck with me, and it's the people who live there that made that happen. Kindness, a strong sense of heritage and culture, and willingness to learn about the hoards of visitors who flock to Peru every year are just a few of the traits that make Peruvians such an amazing group of people.
So, here's my official shout-out to Peru: Thank you for always making me feel safe and welcomed, and thank you to all of the kind people who reached out to me and asked me questions or offered me advice or shared your culture with me during my travels–YOU are the reason I fell in love with Peru!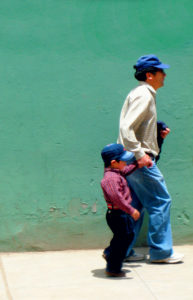 Have you ever been to Peru? Did you notice these same things about the people there? Where else have you met incredibly kind locals?